DON HOLLEDER, ALL-AMERICAN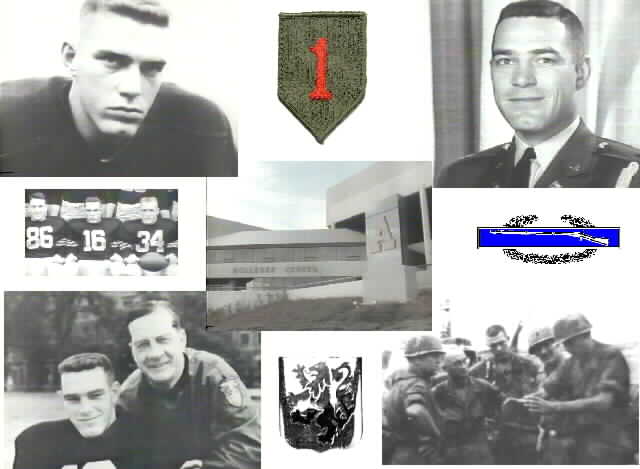 (Collage of photos and memorabilia lovingly provided courtesy of Dave Berry and Tom "Doc" Hinger)
(Clockwise from Upper Left: Don Holleder, All-American end; The 1st Infantry Division patch; Major Donald W. Holleder; Combat Infantryman's Badge; A photo taken on the morning of the Battle of Ong Thanh and printed from film recovered after the combat photographer, Verland Gilbertson, was killed - Don Holleder is in the center; The symbol of the Black Lions; Army's Colonel Earl "Red" Blaik and the man he chose to become his quarterback; Don Holleder in the front row of Army's 1955 team picture; MIDDLE: The Holleder Center at West Point)
By Hugh Wyatt
Led by senior quarterback Pete Vann and junior All-America end Don Holleder, and four outstanding runners in Tommy Bell, Bob Kyasky, Pat Uebel and Mike Ziegler, the Cadets of West Point led the nation in total offense in 1954, finished 7-2 and ranked seventh in the nation in the AP poll.
But with Vann graduating, Army's Coach Earl Blaik found himself facing the 1955 season without a quarterback. His solution, after considerable deliberation, was to approach Holleder, the returning All-America end, about making the switch to quarterback. Holleder, though a gifted athlete, had never played a down in the backfield.
Blaik was well aware of Holleder's limitations, but felt that he had other qualities that more than compensated for them. "I knew," the coach recalled in his autobiography, "that in the one season of eligibility he had left, he never could possibly develop into a superior passer, but he might do well enough to get by. On the plus side, Holleder was a natural athlete, big, strong, quick, smart, aggressive, a competitor. I knew he could learn to handle the ball well and to call the plays properly. Most important, I knew he would provide bright, aggressive, inspirational leadership."
After proposing the plan to an astonished Holleder, Blaik told him to go back to his room, think it over, and come back the next day with his answer.
After his first morning class, Holleder met with Blaik as agreed on. (He later told Blaik that he hadn't slept much that night.)
But then and there, Don Holleder, the All-American for whom Blaik had predicted brilliance had he remained at end, announced his willingness to make a personal sacrifice for the good of his team - a sacrifice almost unthinkable to the athlete of today. As Blaik remembered, "He said that if I thought he could do the job, he was willing to make a try at it."
In his 15 years at West Point, Blaik had made important personnel moves, but none so highly publicized, none so controversial, as this one. In the past, it was generally accepted that Blaik knew what he was doing and that results would prove him correct; but this move was greeted with skepticism in all quarters. In 1955, Army was still a very high-profile national football power, and once Blaik's decision was announced, his judgment was questioned on the radio, in the newspapers, and at West Point itself. Some even suggested that, at the age of 58, Colonel Blaik might be losing his senses.
And almost from the start, when Holleder broke his ankle a week into Spring practice, the skeptics appeared correct.
Injuries and graduation had required other personnel switches as well - so many, in fact, that only one Cadet started the 1955 season at the same position he had played in 1954. And the running back corps, originally expected to be a strong point, was depleted when Kyasky broke his collarbone in the opening game, and Ziegler was sidelined by disciplinary infractions.
Although suspect at several spots, the Cadets nevertheless opened the season with a pair of victories, one of them a 35-6 win over Penn State. Next , though, came two very good teams, Michigan and Syracuse. And when Army suffered back-to-back defeats, Holleder received much of the blame.
Michigan, whom the Cadets had defeated 26-7 the year before, turned the tables in 1955 by shellacking the Cadets, 26-2. Anyone looking for a reason for the loss needed to look no further than the turnover statistics: Army fumbled 11 times, and lost the ball seven times.
But when a team fails to score offensively, it is easy and convenient to point a finger at the losing quarterback, and Holleder hadn't helped his own cause, completing only one pass in eight attempts for just 15 yards. And even the one completion resulted in a turnover, with the receiver fumbling at the end of the play.
On the Monday morning following the Michigan game, the Academy Superintendent stopped by Blaik's office to convey his concerns about the quarterback situation. At a place acutely aware of the importance of leadership, a great many of West Point's officers and cadets were critical of Holleder's leadership, and much of their criticism had made its way to the Superintendent.
Blaik heard him out, then tossed the ball right back to the Superintendent, asking him to suggest someone else. "You tell me," he challenged. "If not Holleder, then who?"
When the Superintendent confessed that he couldn't think of anyone else, Blaik then asked him to voice his support of Holleder - publicly. Blaik, a West Point graduate himself, knew quite well that once others knew where the Superintendent stood on the matter, criticism of Holleder would be less open.
Shortly after the Superintendent left the office, Holleder arrived for his regular Monday meeting with the coach. And Blaik learned just how destructive the criticism of his quarterback was becoming.
Holleder told Blaik that on his way to the meeting, he had overheard a conversation between two other Cadets walking closely behind him. Unaware of who he was, they were discussing Holleder's play at quarterback; they were in agreement that Holleder had been an excellent end, but that either one of them would make a better quarterback.
Putting an arm around his quarterback's shoulder, Blaik told him that he still had his coach's confidence. "It doesn't matter what anybody else thinks or says around this place, " Blaik told young Holleder. "I am coaching this Army team. And you are my quarterback!"
Blaik recalled seeing Holleder's eyes start to fill with tears. He told Blaik that he had given thought to what he had just heard the two cadets saying about him, and that as he climbed the stairs to the coach's office, he was prepared to offer to go back to end. But in spite of the criticism, he told the coach, he really wanted to play quarterback - because he wanted to lead the team. "I was praying you would say just what you have said," he told the coach. "I'll show everybody around here that I can do more for the team at quarterback than I could anyplace else."
But Syracuse was next, and combined with a lifeless Army offense and the running of future NFL Hall-of-Famer Jim Brown, the Orangemen won, 13-0. After a second straight offensive shutout, the criticism of Holleder mounted. It subsided somewhat as the Cadets soundly defeated Columbia and, with Holleder throwing for three scores and running for the fourth, downed a good Colgate team 27-7, but it resumed in full force the next week, as the Cadets lost to Yale 14-12 before 70,000 in the rain and mud of the Yale Bowl.
A 40-0 win over a dismal Penn team did little to silence the critics, as the Cadets prepared to meet powerful Navy.
The Midshipmen, 6-1-1 going into the Army-Navy game, were led by quarterback George Welsh (now head coach at Virginia). Welsh, had been the hero of the previous New Year's Day Sugar Bowl win over powerful Ole Miss, and was the nation's leading passer.
The night before the game, traditionally played in Philadelphia, the Army team gathered for a few pre-bedtime words from Coach Blaik.
"I've grown weary, " he told his players, "of walking across the field to offer congratulations this year to Bennie Oosterbaan of Michigan, Ben Schwartzwalder of Syracuse, and Jordan Olivar of Yale. Now, I'm not as young as I used to be, and that walk tomorrow, before one hundred thousand people, to congratulate Eddie Erdelatz (Navy coach) would be the longest walk I've ever taken in my coaching life."
Blaik recalled a few moments of absolute silence. Finally, Don Holleder spoke up. "Colonel," he said, "you are not going to take that walk tomorrow!"
Once the game was under way, though, Holleder's words seemed an empty promise, as Navy took the opening kickoff and drove 76 yards for a score.
Controlling the ball for most of the first half, Navy threatened to put the game away with two more long drives, but the Cadets' defense stopped both of them at the Army 20. Holleder , playing both ways under the rules of that time, had a hand in both stops, first when he hit the receiver so hard he dropped a fourth-down pass pass, then when he fell on a Navy fumble.
Frustrated offensively for most of the first half, the Cadets finally managed to put together a drive of their own in the closing minutes, but stalled at the Navy one-yard line as time ran out.
Rather than discouragement, though, the Cadets seemed to gain confidence from the abortive scoring effort, coming out and driving 41 yards for a third period touchdown and, with the conversion, a 7-6 lead.
But led by Welsh, the Midshipmen roared back, driving 72 yards to the Army 20, but once again lost the ball on a fumble.
From that point, as if to demonstrate that wars are still fought on the ground, Army's running game took over, marching 80 yards to a score, then holding on tenaciously for the 14-6 upset win.
Despite the aerial heroics of Navy's Welsh, who threw 29 times and completed 18 for 179 yards and a touchdown, the contest was won by the infantry. Army finished with 283 yards total offense - all of it on the ground. Of the two passes the Cadets attempted, one was intercepted and the other fell incomplete.
"There hasn't been anything like it since the ancient days of the flying wedge," marvelled the New York Times' Arthur Daley.
General Douglas MacArthur, a long-time supporter of Army football and of its coach, sent Blaik the following telegram, indicating that he was well aware of the problems Blaik and Holleder had overcome:
NO VICTORY THE ARMY HAS WON IN ITS LONG YEARS OF FIERCE FOOTBALL STRUGGLES HAS EVER REFLECTED A GREATER SPIRIT OF RAW COURAGE, OF INVINCIBLE DETERMINATION, OF MASTERFUL STRATEGIC PLANNING AND RESOLUTE PRACTICAL EXECUTION. TO COME FROM BEHIND IN THE FACE OF APPARENT INSUPERABLE ODDS IS THE TRUE STAMP OF A CHAMPION. YOU AND YOUR TREMENDOUS TEAM HAVE RESTORED FAITH AND BROUGHT JOY AND GRATIFICATION TO MILLIONS OF LOYAL ARMY FANS.
Jesse Abramson, in the New York Herald-Tribune , had the last word on the move of Holleder to quarterback: "Never were a coach and a player subjected to so much criticism on a matter which involves a basic item of coaching: proper appraisal of an individual's ability to handle the job assigned to him."
For Holleder, who passed up a sure repeat spot as an All-America end because his team needed him elsewhere, the win over Navy was his final vindication. As he had promised, his coach did not have to make the loser's walk across the field to offer congratulations to the Navy coach.
The consummate team player, he received the ultimate individual recognition by making the cover of that week's Sports Illustrated.
But now he had a military career ahead of him. After graduation from West Point, Holleder went on to become an outstanding officer. Following Infantry Officers School and Paratroopers School, he spent two years in Hawaii, before spending a 3-year tour of duty as an assistant coach at West Point.
Speaking for both the Superintendent and himself, Coach Blaik stated in 1960 that it would not surprise either of them if Don Holleder were to go as far as a military leader as his "selflessness, courage and inspiration" had taken the Army football team.
Who will ever know? On October 17, 1967, as the West Point team prepared to meet Rutgers, Major Donald W. Holleder, the personification of the selfless leader and team player, a man who sacrificed personal glory for the good of his team, a man who persevered and ultimately prevailed despite the odds, a man who represented the very best America has to offer, was caught in an ambush 40 miles from Saigon, and killed by a sniper's bullet as he hurled himself into enemy fire attempting to rescue wounded comrades. He was 33 years old, father of four. (Newsweek Magazine, October 30, 1967)
Michael Robert Patterson, in his personal eulogy, wrote, "Major Holleder overflew the area (under attack) and saw a whole lot of Viet Cong and many American soldiers, most wounded, trying to make their way our of the ambush area. He landed and headed straight into the jungle, gathering a few soldiers to help him go get the wounded. A sniper's shot killed him before he could get very far. He was a risk-taker who put the common good ahead of himself, whether it was giving up a position in which he had excelled or putting himself in harm's way in an attempt to save the lives of his men. My contact with Major Holleder was very brief and occured just before he was killed, but I have never forgotten him and the sacrifice he made. On a day when acts of heroism were the rule, rather than the exception, his stood out."
In 1985, Don Holleder was installed in the National Football Foundation Hall of Fame. That same year, West Point's indoor sports facility was dedicated and named the Donald W. Holleder Center in his honor.
Author's note: As a football coach, it was a highly emotional moment for me when I visited The Wall in Washington, D.C. a few years ago. Undoubtedly feeling the same emotion thousands before me had felt, I hoped that somehow the name I was looking for wouldn't be there - that it was all a mistake. But, dear God, there it was - panel 28E, row 25 - Donald W. Holleder.
Further note: I have been privileged as a result of my research into the life of Don Holleder to have made the acquaintance of two men who were on the scene on that fateful day, Tom Hinger and Jim Shelton
December 18, 1998
Sir,
While surfing the net I came across your page, and the tribute to Major Holleder. I am a survivor of the battle in which he lost his life, in fact he died in my arms. A visit to West Point would not be complete without a visit to the Holleder Center. For those of us that were lucky enough to survive the Battle of Ong Thanh, the Center is a tribute to all our fallen comrades.
Thank you,
Tom Hinger
------------------------------
December 21, 1998
Dear Coach Wyatt:
A friend of mine , Tom Hinger, who held Don Holleder as he died in the jungle in Vietnam on 17 Oct 1967, introduced me to your web site. In 1953 I went to the University of Delaware as a center and linebacker. I played for Dave Nelson for 4 years. Mike Lude was our line coach. Mike later went on to become AD at UW with Don James, and you must know Mike. I was a guest of his at the Waldorf when Don Holleder was inducted into the College Football Hall of Fame. In 1955 we went up to West Point and scrimmaged Army. Don Holleder was the quarterback, and was a load to bring down. He couldn't throw, but he loved to belly to the fullback then keep the ball.Our defense was lousy (I was defensive captain) but prior to that scrimmage we hadn't worked a day on defense. Riding up the New Jersey turnpike in a bus to West Point Mike was telling me to call the defenses we had worked on in spring practice. None of our guys remembered any of those stunts. We sat in an Eagles 550. Army was taking big splits and we ended up using a goal line defense to shoot the gaps. Needless to say, a Dave Nelson (and Tubby Raymond) football team will always be an offensive minded ball club. We did score about 6 TDS in the scrimmage. It was a great experience for us. Twelve years later I found myself in an infantry battalion in Vietnam as S3(Operations officer) and Don Holleder was our brigade operations officer. I spent many hours laughing with Don over that football scrimmage.He was an indomitable man--courageous and bullheaded. When he saw those wounded men on the ground he dived into the middle of the fray and was immediately cut down by a sniper. I was later one of the guys who helped to identify his body, along with too many others. I couldn't believe that he could be dead--how a guy as powerful and full of strength could be so lifeless. It was a very sad day--unforgettable. Each year a small group of us trek up to West Point on a date near to 17 Oct to remember Don and our other comrades that were lost that day. In spite of the sadness we always have a good time. Tom Hinger and I are very close--with a mutual experience which transcends most everything else. I want to wish you continued success with your Double Wing system.
God bless America.
Jim Shelton
(If you enjoyed reading about Don Holleder, you will enjoy reading about the fabulous career of his coach, the great Earl "Red" Blaik, of West Point) COACH EARL BLAIK
See Also ARLINGTON CEMETERY/DON HOLLEDER