HARRY AGGANIS - THE GOLDEN GREEK
By Hugh Wyatt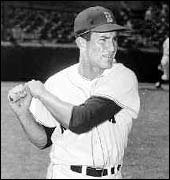 They called Harry Agganis "The Golden Greek." Today, with television making false gods of all sorts of disreputable characters who happen to be good athletes, America cries out for a role-model of Harry Agganis' stature. By all acounts, he was that rarest of athletes - a gentleman and a scholar.
Not only was he a great athlete and movie-star handsome - 6-2, 200 pounds and built, in the words of teammates, "like a Greek god" - but he was a man of great humility and dignity - nobility, even - beloved by his teammates, by the people of the neighborhood where he was raised, by the entire city of Boston; he was a clean-living member of his Greek Orthodox Church; he was a son utterly devoted to his widowed mother.
He was born April 30, 1930, the seventh and youngest child of George and Georgia Agganis, Greek immigrants who settled in the large Greek-American community of Lynn, Massachusetts. He was christened Aristotle George Agganis, but despite the fact that Greek was spoken in the Agganis home, the nickname "Ari" which his mother gave him eventually gave way to the Americanized "Harry."
He grew up playing baseball and football on the sandlots of Lynn and attended Lynn Classical High, where his feats as a left handed quarterback drew crowds of 20,000 to the city's Manning Bowl in those sports-crazed days right after World War II. In his two seasons as starting quarterback, Classical was 21-1-1, and following his junior year, travelled to Miami to defeat Granby High, of Norfolk, Virginia, in a packed Orange Bowl stadium on Christmas Day. Tennessee's General Bob Neyland, who witnessed his performance, said, "That young man could step into any college backfield right now."
(The team declined an invitation to a similar bowl game at the end of his senior season when Classical was told it could not bring its two black players.)
In his senior year, 1947, a total of 160,000 people attended Lynn Classical's home games, and Harry, wearing number 33, just as he would in college, in honor of his idol, Redskins' quarterback Sammy Baugh, never disappointed them.
In three seasons at Classical, he completed 326 of 502 passes for 4,149 yards and 48 touchdowns. He scored 24 touchdowns himself and kicked 39 extra points. Yet personal records were of little interest to him. In those days of quarterbacks calling their own plays, his high school coach, Bill Joyce, constantly had to urge him to throw more. On one occasion he even went so far as to tell Harry that if he didn't pass, he wouldn't play; Harry complied, naturally, but finally, after three quarters of play in which he was 23 of 32 for four touchdowns, he asked the coach, "Now can I let the other guys run?"
Following his senior year, he was named the All-America High School Quarterback. So outstanding was he that he was offered scholarships by more than 75 colleges around the country. Notre Dame's Frank Leahy called him, "the finest prospect I've ever seen." But Harry had a strong sense of family obligation: his father had died when Harry was 16, and Harry decided to pass over much better-known programs and attend small-time Boston U. in order to remain closer to his widowed mother.
It has been said that his decision to attend B.U. was influenced somewhat by the Pappas brothers, wealthy and prominent Greek-American food merchants who supported the school., and by Tom Yawkey, owner of the Red Sox, who hoped Harry's presence would draw larger college crowds to Fenway Park, where B.U. played its home games. (Since Harry was also a high school and semi-pro baseball player of considerable renown, it is probable that Mr. Yawkey may also have had the Red Sox' future interests in mind.)
During the Agganis years at B.U., the Terriers achieved a national prominence they had never known before, have never known since, and will likely never know again (since B.U. dropped college football following the 1997 season). His presence at B.U. generated such excitement that his freshman year, at a time when frosh were ineligible to play varsity football, B.U.'s frosh game at Holy Cross drew 18,000 people on a Friday afternoon.
Called up to serve in the Marines, he missed the 1950 season at B.U., instead playing service football and baseball for Camp LeJeune, North Carolina. Upon his return to B.U, he immediately picked up where he'd left off - arriving in Boston less than two days before the team's opener against William and Mary, he had exactly one hour of practice, then started and threw for two touchdowns in a B.U. win. His three varsity seasons at B.U. saw the Terriers compile a record of 17-10-1, playing out of their class against such powers as Miami and national champion Maryland with its famed Modzelewski brothers.
The 1952 B.U. game against Maryland drew 40,000 people to Fenway Park. (The legendary Vin Scully's first network job was the radio broadcast of the 1949 B.U.-Maryland game, from the roof of Fenway.)
Equally outstanding as a runner, passer, punter (46.5 yards average for three years) and defensive back (15 interceptions in one season). Harry set numerous B.U. records, yet he refused to enhance his personal glory by padding his personal stats. When his coach at Boston U., Buff Donelli, informed Harry that he should pass more because he was within eight touchdown passes of the national record with four games left, Harry told him, "Who wants records? Let's win the games!"
He capped his college career by playing 59 minutes in the Senior Bowl game, throwing for two touchdowns intercepting two passes, and winning the Most Valuable Player award as the North won, 20-14. His team was coached by the Cleveland Browns' Paul Brown. He had already been drafted first by the Browns in the hope that he would be the successor to their All-pro quarterback Otto Graham, but despite being offered a then-record sum of money (said to be $50,000) to sign with the Browns, he chose instead to cast his lot with baseball - and with his beloved Red Sox., and the chance to remain near his mother.
Baseball wasn't his best sport, but he said, "I've already proven myself in football. I don't know if I can make good in baseball - but I have the confidence I can." Not that he was all that bad in baseball - at the age of 14, during World War II, he was playing semi-pro ball against grown men, many of them major leaguers who had been drafted and were able to play ball while on weekend passes. As a high schooler, he played in all-star games in New York and Chicago.
Characteristically, he signed with the Red Sox a week before baseball's "bonus baby" rule took effect so that he could spend time in the minor leagues. Had he waited a week, the Red Sox would have been forced to keep him with the big-league club for two years, and he might never have had the chance to develop.
After one year in the minor leagues in Louisvile, where he finished second (by one vote) to Don Zimmer of St. Paul in the voting for American Association MVP, he was brought up to the Red Sox in 1954. In the Sox' home opener, he hit a triple that would have been an inside-the-park home run had he not been forced to slow down for the runner in front of him. Overall, his rookie season was only so-so; he batted .251 with 11 home runs.
A highlight of his rookie year came when he managed to play in an afternoon game at Fenway Park and attend his graduation from B.U. that same evening. His two-run homer broke up a tie in a game that was threatening to go into extra innings, and then he was able to hurriedly change into his cap and gown in the clubhouse - much to the amusement of his teammates - before racing up Commonwealth Avenue to arrive just in time for graduation ceremonies. The next day's Boston Globe ran side-by-side photos - on the left, Harry Agganis crossing the plate with the winning run; on the right, Harry Agganis receiving his diploma from Boston University, under the headline "HARRY'S HEYDAY."
True to character, he was unselfish with his new-found baseball wealth. When members of Lynn's Greek community threw a benefit dinner in his honor, he refused to keep any of the money raised, sending it instead to Loggonike, the little village in Sparta, Greece where his parents had come from, to be spent on athletic equipment for its children.
He offered to move his mother out of the second-floor flat in which she had raised her family, but when she refused to move, he instead made a sizeable donation to Saint George's Greek Orthodox Church in Lynn.
He as a man of strong faith. Wherever the Red Sox were on the road, he would seek out a Greek Orthodox Church. He was a man of intellectual dimensions as well, and enjoyed attending stage plays and musicals with his girfriend, Jean Allaire (who herself would go on to a long career on Boston television as the star of Miss Jean's Romper Room).
His second year got off to a promising start, and he was hitting .313 (with a respectable slugging percentage of .458) in the early going, when he began having problems with his health. He was hospitalized briefly with pneumonia, but returned to action - perhaps too soon. On June 2 in Chicago he went 2-for-4 against the White Sox and was robbed of a third hit by a great catch by Jim Rivera. One of his hits, though, should easily have been a triple, but he had to pull up, exhausted, at second base.
That night on the train, coughing and feverish, he contacted the trainer, who called Joe Cronin, the Red Sox GM, back in Boston. Cronin ordered Harry flown back immediately to Boston, where he was hospitalized with a case of pneumonia, along with phlebitis (an inflammation of the walls of veins) in his right leg. He would never leave the hospital.
On June 27, 1955, as doctors sat him up in a chair for the first time since he was admitted, he suffered a massive pulmonary embolism (a blood clot which works its way to the lungs), and was dead within minutes. Harry Agganis, the Golden Greek, was dead at the age of 26, a life of personal and athletic promise left eternally unfulfilled.
"Harry Agganis was one of the greatest," said Red Sox teammate Ted Williams, the all-time great who had been his mentor.
His wake was attended by an estimated 30,000 people, and another 20,000 lined the streets as his funeral procession passed. He was buried in Pine Grove Cemetery in his native Lynn, next to his father. His mother, broken-hearted by the loss of her beloved Ari, joined them 12 years later.
In 1974, Harry Agganis was inductd into the College Football Hall of Fame.
Every year, the New England Sports Writers present the Harry Agganis Award to the outstanding New England college football senior.
For 39 years, the Harry Agganis All-Star game has featured some of the state's top football players in a charity game.