JOHNNY BRIGHT - AMERICA'S LOSS - by Hugh Wyatt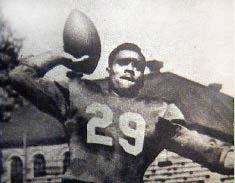 Johnny Bright was a great American athlete. He set professional football records that still stand. Yet today few Americans even know his name, much less his story.
If only as an act of contrition, it is important that they do.
Nearly 50 years after the incident that changed his life forever, it is almost as though America made a conscious effort to forget it ever happened, and in the process forgot about him, too.
Johnny Bright might very well have become the first black Heisman Trophy winner, until a brutal, unsportsmanlike act of racism cost him whatever chance he had. He was a first-round NFL draft choice, but he had already experienced first-hand the physical, racially-directed violence that Jackie Robinson, for all his courage, had only been threatened with. Unsure of his safety on the playing fields of his own country, he left it for Canada, the first NFL first-round draft choice ever to do so. And instead of becoming one of the best players the NFL has ever seen, he became one of the best players in the history of Canadian football, and a valued and respected member of his community when his playing days were over.
At Central High School in his native Fort Wayne, Indiana, Johnny led the football team to a city title in 1945, and as a 5-foot-10, 180-pounder who could jump high enough to touch the rim with his elbow, led the basketball team to a pair of appearances in Indiana's prestigious Final Four. He often won as many as five events in a single track meet. And he was an outstanding boxer.
Yet for all his accomplishments, no home state school recruited him. Purdue never showed any interest, Notre Dame didn't recruit blacks at the time, and according to his high school coach, Indiana's coach said he "already had enough black running backs."
So Johnny settled instead for a track scholarship to Drake University, in Des Moines, Iowa, on the condition that he could also try out for the basketball and football teams. After sitting out his freshman year because of the freshman-ineligibility rules of those times, he made the football team as a sophomore, and it became immediately apparent to the coaches at Drake, then struggling to play big-time football, that they had something special in Johnny Bright. As the tailback in Drake's single wing attack, he ran for 975 yards and threw for another 975 in nine games to lead the nation in total offense, and the Bulldogs to a 6-2-1 season in 1949. He also lettered as a sophomore in basketball and track, but decided after that year to concentrate on football.
As a junior, Johnny once again led the nation in total offense, with an NCAA record of 2,400 yards - 1,232 yards rushing and 1,168 yards passing. Heading into his senior year, he was considered a pre-season Heisman Trophy candidate.
For the third straight year, Johnny Bright was leading the nation in offense when, on October 20, 1951, Drake travelled to Stillwater, Oklahoma to play Oklahoma A&M (now Oklahoma State).
Two years before, as a sophomore, Johnny Bright had been the first black man to play on the Oklahoma A&M field. This year, early in the game, a vicious blow to his face in those pre-face mask days by the Aggies' Wilbanks Smith - well after the play was over - fractured his jaw. He managed to shake it off and throw a touchdown pass on the very next play, but a few plays later, following another hard hit, he was forced to leave the game.
Following the game, Drake officials accused A & M coaches of encouraging dirty play, and a sequence of photos by the Des Moines Register's John Robinson and Don Ultang (which later would win a Pulitzer Prize) confirmed for the nation the sheer savagery of the act. The word "racism" had not yet been coined, but it was difficult for anyone who saw those pictures to avoid the conclusion that Johnny Bright was targeted not so much because he was a very good football player, but because he was black. As a youngster, I had been following Johnny Bright's career in the newspaper, and I remember seeing the photo sequence and being shocked by the brutality of the hit and by the thought of the blind hatred and cruelty that must have inspired it.
As a result of what came to be known as the "Johnny Bright Incident," Drake ultimately left the conference - the old Missouri Valley Conference - and the NCAA soon after required players to wear face masks and mouth guards.
Fitted with a makeshift face mask of his own, Johnny did manage to return two weeks later for one last college game, and rushed for 204 yards to finish with more than 6,000 yards in total offense for his career, averaging 236 yards per game and scoring 384 points in 25 games. Any thoughts of his winning the Heisman Trophy, though, had been dashed. (Which is not to diminish the worthiness of the winner, Princeton's Dick Kazmaier, who passed up Johnny as the total offense leader, led the Tigers to an unbeaten season, and finished first on the ballots in every section of the country, ahead of Tennessee's Hank Lauricella, Kentucky's Babe Parilli, Stanford's Bill McColl - and Johnny Bright.)
Johnny was the first pick of the Philadelphia Eagles in that year's NFL draft, but he spurned their contract offer. "I would have been their first Negro player," he later recalled, adding, "There was a tremendous influx of Southern players into the NFL at that time, and I didn't know what kind of treatment I could expect." So he chose to head north, signing with the Calgary Stampeders of the Canadian Football League.
(The signing of Johnny Bright, the first NFL first-round draft choice to elect to go to Canada, was a major coup for the CFL, which at that time had aspirations of competing with head-to-head with the NFL for talent. The next year, the Heisman Trophy winner, Billy Vessels of Oklahoma, would also pass up the NFL to play in Canada.)
After a couple of seasons in which he was slowed by injuries, Johnny was traded to Edmonton. It turned out to be the best thing that had happened to him in several years. His personal career took off, and teaming with such standouts as legendary Canadians Rollie Miles and Normie Kwong and Hall-of-Fame quarterback Jackie Parker, he helped lead the Eskimos to Grey Cup titles in 1954, 1955 and 1956. In 1958, he rushed for 1,722 yards, then a CFL single-season record and nearly 500 yards ahead of the second-place finisher. In 1959, following his third straight season as the CFL's rushing leader, he was voted the Schenley Award as the CFL's Most Outstanding Player, the first black athlete to be so honored.
Johnny Bright retired in 1964 as the CFL's all-time leading rusher. (George Reed has since surpassed him, in yardage, he had a lot more carries - Bright's 1,969 career carries are well behind Reed's incredible 3,243). In his 13 seasons, Johnny Bright rushed for 10,909 yards, had five consecutive 1,000 yard seasons, and led the CFL in rushing three times. For five straight seasons, he had 200 or more carries. In 1957 he had eight consecutive 100-yard games. His CFL records for most career playoff touchdowns, most yards gained in a Grey Cup game, and, as proof of his toughness and durability, most consecutive games played - 197, at both linebacker and running back - still stand. He was inducted into the CFL Hall of Fame in 1970, and into the College Football Hall of Fame in 1984.
On several occasions he was approached by the NFL about returning to the States, but it was common in those days for CFL players to hold other jobs in addition to football, and Johnny, a college graduate, had already embarked on a teaching career in Edmonton. "I might have been interested," he once recalled, "if the offers could have matched what I was making from both football and teaching."
After his retirement from football, he devoted his full efforts to his other career, education, eventually becoming a junior high principal in Edmonton. In Canada, where high school coaches are unpaid, Johnny willingly gave of his spare time to coach youngsters, many of whom had no idea of the legendary sports career of their "Mr. Bright".
Sadly, his life ended early, on December 14, 1983, at the age of 53, when he suffered a fatal heart attack while undergoing knee surgery. He was buried in Holy Cross Cemetery in his adopted home of Edmonton.
There, 400 miles north of the land of his birth, a land that never fully appreciated him, Johnny Bright is lovingly remembered as a great football player, but even more so as a warm human being and a valuable member of his adopted community.
Copyright © 2000 Coach Hugh Wyatt. All rights reserved. Do not redistribute or publish in any form without permission from Coach Hugh Wyatt. All material - content, graphics, logos and backgrounds - is the sole property of Coach Hugh Wyatt and may not be redistributed or published in any form without specific permission to do so.