MIKE LUDE... An Originator of the Wing-T
By Hugh Wyatt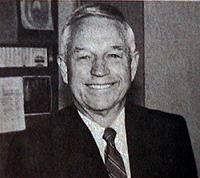 For some time, my friend Jim Shelton, of Englewood, Florida, had been after me to get in touch with Mike Lude, and I finally did.
Jim, now retired as a General in the US Army, played guard at Delaware, the cradle of the Wing-T, and Mike Lude was his line coach. Mike Lude played a major part in the invention of the Delaware Wing-T. That in itself would have been enough to interest me in talking with Mike, but to a Washingtonian, Mike Lude is also highly respected as the AD at the University of Washington from 1976 until his retirement in 1991.
I managed to catch Mike at home not long ago, and we talked at length. What an amazing career he's had!
Mike Lude grew up on a farm ("220 acres of hills and stones") near Vicksburg, Michigan in Kalamazoo County. His college was interrupted by World War II and service in the Marines, but following the war he returned to Hillsdale College, where his coach was a former Michigan player named Dave Nelson. Mike was Dave's first captain, and in August of 1947, Dave hired Mike to be his line coach at Hillsdale.
In 1948, Coach Nelson moved on to take an assistant coaching job at Harvard, and after one year on Art Volpey's staff there, was offered the head coaching job at the University of Maine. He offered Mike a position on his staff at Maine, and the two men would work together, side-by-side, from Hillsdale to Maine to Delaware, for15 years.
During their time together, the "Delaware Wing-T" was conceived and perfected. Dave Nelson is properly credited as being the Father of the Wing-T, but Mike Lude was with him every step of the way, instrumental in the development of the line play so essential to it. In his book, "Scoring Power With the Winged T Offense," co-authored with Forest Evashevski, Coach Nelson acknowledges Mike as one of those who "helped originate the system."
Many otherwise knowledgeable football people aren't aware that the "Delaware" Wing-T" was actually launched at the University of Maine.
For four years, Mike said, Dave Nelson had continued to run the Michigan single-wing he knew and believed in, going all the way back to his days playing with Tom Harmon, but finally, finding to their dismay they "couldn't keep our tailbacks healthy," the Maine staff resigned themselves to having to convert to the T-formation.
But, because "we didn't want to lose our blocking principles," they looked for a way to adapt the basics of their single-wing offense - using the same blocking they'd been employing - to the T-formation snap and T-formation handoffs.
Coach Nelson dispatched backfield coach Harold Westerman to Notre Dame "follow Leahy around" (Notre Dame's Frank Leahy) and learn about the center-quarterback exchange and any of the other T-formation mechanics they'd need to incorporate in their planned new offense.
But despite all the hours they put into the effort, Mike recalled, the staff was up until 2 AM the night before the players were due to report for practice for the 1950 season, still debating whether to make the move.
Finally, Coach Nelson made the fateful decision that would have repercussions that affect the football world to this day, saying, "Ah, let's not lose our guts. Let's go ahead and do it."
And that was that - a total commitment to making their new system work, with never a thought given to turning back. "We never had any doubts," Mike remembered. The important thing, they all believed, was to "teach what we knew best."
In 1952, Coaches Nelson and Lude left Maine for the University of Delaware, and in 1962, Mike struck off on his own, leaving Delaware to become head coach at Colorado State. After eight years there, he was between jobs, working as a scout for the Denver Broncos and making the rounds of colleges during their spring practices.
Lou Holtz, then head coach at William and Mary, told him, "They're looking for an athletic director at Kent State. Why don't you apply? I know the president."
MIke's next stop on the spring practice tour was the University of Virginia, where AD Steve Sebo seconded Coach Holtz' suggestion.
So Mike did as they suggested, and sent a resume to Kent State, and waited. And waited. And waied.
And in the meantime, on May 4, 1970, the so-called "Kent State Massacre" took place. Four Kent State students, taking part in a campus protest against the anti-Vietnam War, were shot and killed by National Guardsmen.
Mike remembers receiving the call from Kent State, in July. It was the faculty representative, asking him if he'd be interested in coming for an interview. "Uh, you know we've had a little trouble here..." the professor told him.
That didn't deter Mike, though and he went for the interview. That was July. And he didn't hear another word from Kent State until October, when out of the blue the President called and offered him the job and asked, "When can you be here?"
"Tomorrow," was Mike's answer.
"How about next Monday?" offered the President in compromise, and they had a deal.
Immediately upon his arrival at Kent State, the head coach, Dave Puddington, made the noble gesture of offering to resign, "so you can hire your own guy."
Mike turned him down, though, and would do so once again, when Coach Puddington approached him after a tough loss and handed him an envelope. "I don't even want to see that," Mike told the coach.
But later in the season, when Coach Puddington once again offered him the envelope, Mike reluctantly said this time, "I'll take it." Inside was the coach's resignation.
Now he had to hire a coach, for a program that was down. He turned to a guy he'd known from his days as coach of Colorado State, an Ohio native named Don James, who was serving as defensive coordinator at Colorado.
"Don had everything," Mike told me. "He had experience coaching in high school. He grew up in Massillon (Ohio). His best friend was Paul Brown's son. He played quarterback at Miami (Florida). He was a GA (graduate assistant) at Kansas under his old high school coach, Chuck Mather."
And as defensive coordinator at Florida State, Michigan and Colorado, he had worked in quality, big-time programs in positions of responsibility.
It was a hire of sheer genius. In four years, from 1971 through 1974, Don James was 25-19-1 at Kent State, despite getting off to a 3-8 start. But such coaching in the Mid-America Conference does not go unnoticed by the bigger guys, and in early 1975, Joe Kearney, then the AD at Washington, called Mike and asked for his permission to talk to his coach.
"I'm not going to give you permission," Mike recalls joking, but at that point, he knew he was going to be losing Don James.
Sure enough, Washington hired James. And later that year, when Joe Kearney left to become AD at Michigan State, he asked Coach James to go with him. Coach James, in his book, says he told Kearney that he liked it in Seattle and he and his family didn't want to move again.
So Don James stayed at Washington, and soon had a chance to pay Mike back for hiring him at Kent State. He told the people heading the committee set up to hire Kearney's successor that while he didn't wish to get involved in university politics, he would appreciate it if they'd take a look at "my old boss back at Kent State, Mike Lude"
And so the two men were reunited. They worked together for 15 years, years of great growth in Washington football and Washington athletics in general, until Mike's retirement in 1991. Under Mike's leadership, the Huskies made four Rose Bowl appearances and shared a national championship with Miami, and Husky Stadium was enlarged from 59,500 to its current 72,500.
Mike's retirement was brief. He went to work for TV producer Raycom and for the Blockbuster Bowl, and later was brought in by the president of Auburn University to help straighten out an athletic department run amok, while trying to mitigate impending NCAA sanctions. (He had a few interesting observations on the Auburn situation that had best remain untold until he writes his personal memoirs.)
I enjoyed occasionally steering our conversation back to the Wing-T, as Mike recalled Dave Nelson's "collaboration" with former Michigan teammate Forrest Evashevski on the Wing-T bible, "Scoring Power With the Wing-T." The spectacular success Evashevski's Iowa Hawkeyes had using Nelson's Wing-T brought the offense a lot of national attention and created a great deal of interest in the book, but, said Mike, despite their co-authorship, "Evy didn't have much to do with it."
The influence of the Delaware Wing-T at all levels of football has been enormous and widespread. Numerous high schools have won state championships running it, and besides Evashevski and Iowa, such coaches as Paul Dietzel, Ara Parseghian and Eddie Robinson - not to mention Dave Nelson and his successor at Delaware, Tubby Raymond - have won college football cha,mpionships with the Delaware Wing-T. And don't forget that Marv Levy actually ran it at Kansas City in 1978 - and finished second in the NFL in rushing.
Still clear in Mike's mind is the hot, muggy summer day back in the late 1950's when he had just finished doing a clinic at Southern University in Baton Rouge. He'd already put in a hard day of work, when Bill Peterson, then Paul Dietzel's offensive coach at LSU, called him and asked him to come over and show them the ins and outs of the wing T.
(Bill Peterson would later be Don James' boss for six years at Florida State, and Coach James credits Coach Peterson - and, through him, Coach Dietzel - with greatly influencing his career.)
Mike agreed to help, and LSU decided to go with the Wing-T. And for that entire season, Mike recalls, the LSU offensive staff would call Delaware every Sunday, and over the phone the two staffs would review the Tigers' game of the previous day, play by play.
LSU would call again on Tuesday night, and again on Thursday night, dotting all the i's and crossing all the t's of that week's game plan. (Coach Dietzel was generous in giving credit to Delaware for the Tigers' success with the wing-T, which included a national title in 1958.)
Mike and I are of one mind regarding blocking techniques. He probably understands the principles of Wing-T blocking as well as any man alive, and he agrees that the point of blocking in our offense is not to shove a man away, as most people nowadays try to do, but, in his words, to "stay welded to him.".
While AD at Washington, Mike served a term as chairman of the NCAA rules committee, and as he told me, "If I'd been on the rules committee (when they passed the current blocking rule), they wouldn't be pushing and grabbing."
Mike currently lives part of the year in Tucson, and spends his summers in Bellevue, Washington. Still not exactly retired, he remains active in NCAA affairs, and especially so with the National Association of Collegiate Directors of Athletics (NACDA), of which he is a past president.
Want to find out more? Mike's recently-released book, "Walking the Line," is a great read. From his boyhood in rural Western Michigan, to his playing days at Hillsdale College, from his service in the Marine Corps to his joining Dave Nelson as his right hand man, from his first - and only - head coaching job at Colorado State to his second career as an AD, starting at Kent State and moving to Washington and then to Auburn, Mike has seen it all, and he tells about it in a way that is both interesting and informative.
Here's how to order a copy - go to www.huskyfever.com and down at the bottom right, look for "Walking the Line.")