RICK RESCORLA - THE TRUE SPIRIT OF 9/11
By Hugh Wyatt
"People like Rick were put here to show the rest of us wimps what a real man is supposed to be like"
My friend Tom Hinger, who won the Silver Star for gallantry in combat in Vietnam (he will be ticked at me for writing that), recommended some time ago that I read "We Were Soldiers Once.. and Young", long before it was made into the movie ("We Were Soldiers").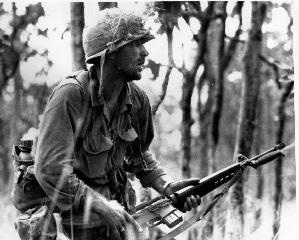 He said that it was the truest representation of combat he'd ever read. In the book, the author, Lt. Gen. Harold G. Moore, mentioned a young Englishman - that's right, an Englishman serving in the United States Army - named Rick Rescorla. He is mentioned or quoted on 37 pages of the book, and he is the combat infantryman who appears on the book's cover. (the photo at left, shot by Peter Arnett)
Call him a soldier of fortune if you wish. Call him a Cornishman, too. Rick Rescorla, a Cornishman (from Cornwall, in the farthest southwestern part of England) fought for the British in Cyprus and Rhodesia before joining the United States Army. As an American lieutenant in Vietnam, he is referred to in the book as a "battlefield legend." His platoon was known as the "Hard Corps."
Once, as he prepared his men for an enemy assault, one of them remembered asking him, "What if they break through?"
Calmly, he replied, "If they break through and overrun us, put grenades around your hole. Lay them on the parapet and get your head below ground. Lie on your back in the hole. Spray bullets into their faces. If we do our job, they won't get that far."
Guys, we are talking real-life John Wayne.
Yet the movie, "We Were Soldiers," for all of Mel Gibson's heroics, mentions Rick Rescorla not at all.
Thirty-seven years later, Rick Rescorla, by now an American citizen, had earned a law degree in Oklahoma, and was serving as Vice President for Corporate Security for Morgan Stanley Dean Witter, whose corporate offices were in the south tower of the World Trade Center.
When the first plane hit the north tower on September 11, official voices came over the loudspeaker system in the south tower telling people to stay put - don't leave the building - the area is secure, blah, blah, blah.
Rick Rescorla was on the phone at the time to his best friend. "You watching TV?" he asked. "The dumb sons of bitches told me not to evacuate," he said as he watched the news. "They said it's just Building One. I told them I'm getting my people the [expletive] out of here."
And so he did, and miraculously - on a day when miracles were few - he directed the evacuation to safety of 2700 of Morgan Stanley's employees. Only six of the company's employees perished. Rick Rescorla was one of them.
He is becoming famous, as well he should. NBC's "Dateline" devoted a major portion of a show a couple of weeks ago to Rick's story. Thanks to Cornwall native (and Double-Wing coach) Mike Kent, I even knew enough about Cornish tradition to recognize "Trelawny", the Cornish National Anthem, being sung in the background.
Now, many Americans who recognize the man's true bravery are calling on President Bush to award him the highest honor that can be bestowed on an American civilian.
HAVE YOU SIGNED THE PETITION ASKING THAT RICK RESCORLA BE AWARDED THE PRESIDENTIAL MEDAL OF HONOR? DO IT NOW, AND TELL YOUR FRIENDS TO DO IT, TOO! I was #3533.
EVEN IF YOU DON'T SIGN, GO TO THE SITE AND READ WHAT SOME OF THE SIGNERS HAVE TO SAY, AND YOU'LL FEEL A GREAT SENSE OF PRIDE http://www.petitiononline.com/pmfrick/petition.html
***********
"Hugh, I am so pleased you mentioned Rick Rescorla on your website. He became an American citizen but was also a Cornishman.By the way don't ever make the mistake of calling a Cornishman an Englishman, at least not in a pub in Cornwall.
"It is said that he was singing Cornish folk songs like " Camborne Hill " whilst evacuating people from the World Trade Center.
"Here is a good site where you can listen to it and other songs like "Trelawny", that was played at Rick Rescorla's memorial service in Hayle. Trelawny is the Cornish national anthem, and if you have any Cornish blood at all it will make the hairs on the back of your neck prickle when you listen to it.
http://www.rogerj.co.uk/music.htm
"I read a quote (that I've since been unable to find) by one of his friends that said something like "People like Rick were put here to show the rest of us wimps what a real man is supposed to be like"
"Here is a picture of him in Vietnam - http://www.lzxray.com/18.htm
Cheers, Mike Kent, Liskeard, Cornwall, England