a Coach Wyatt Exclusive!
TONYA HARDING'S COMMUNITY SERVICE
Former world-class figure skater Tonya Harding was at the cemetery in Camas, Washington on Tuesday, sprucing it up for Memorial Day as part of the community service ordered by a local judge after her conviction for throwing a hub-cap at her live-in boyfriend, and our reporter was sent to cover the story. He came back with these astonishingly revealing shots, shown exclusively on coachwyatt.com. (Actually, I was the reporter, and the cemetery is right across the street from my house. I had no problem getting past a former student of mine who was cleverly disguised as a Camas police officer, and I was careful to dress very casually - sloppily, even - so that I would pass for a real reporter.)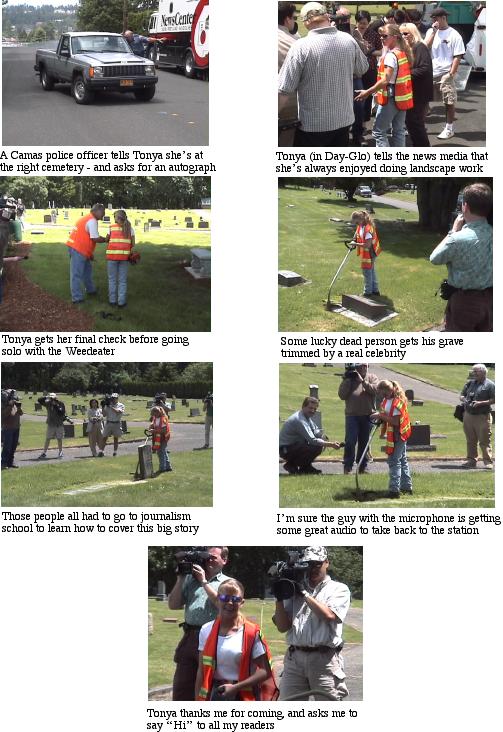 Copyright © 1998 Coach Hugh Wyatt. All rights reserved. Do not redistribute or publish in any form without permission from Coach Hugh Wyatt. All material - content, graphics, logos and backgrounds - is the sole property of Coach Hugh Wyatt and may not be redistributed or published in any form without specific permission to do so.