By Hugh Wyatt
Whenever you've thought about throwing a curve at an opponent, the idea of running the Single-Wing may have crossed your mind. Perhaps you've actually seen it in action - after all, a handful of schools still run it. Or maybe you've heard the old-timers talk about its legendary power and deception. You just know that its uniqueness alone would drive defenses crazy. You'd like to look at it, but you don't know how to start.
In that case, you might want to take a look at our "Wildcat" package. Nicknamed for our school's mascot, it's our direct-snap package - an adjunct to the Double Wing system that we've been running since 1990. Complex? Not at all. Thanks to the versatility and flexibility of our system, we were able to install it in one day of practice - and actually use it three days later!
Our Wildcat series may not be the single wing of old - a Princeton, a Michigan, a Tennessee or a UCLA - but it does provide the deception, the brute power and the uniqueness of a single-wing offense - without the usual risks.
Let me tell you from first-hand experience about a major risk which our Wildcat has eliminated.
Since 1983, when I started running the Delaware Wing-T, I've messed around with the single wing - even used it in games on a couple of occasions.
And we've always devoted some practice time every day to an offensive package that we run out of our tight punt formation. (DIAGRAM 1-A) We do all of our punting after shifting into it. We'll just say "Tight Punt... 88 power"; "Tight Punt...6-g," and so forth.
And once or twice a season, on fourth and short, as our punter is back-pedaling into punt formation, we'll short snap it to the fullback and run our wedge. (DIAGRAM 1-B)
| | | |
| --- | --- | --- |
| | | |
| DIAGRAM 1-A | | DIAGRAM 1-B |
Two years ago, I planned a single wing surprise for a particularly tough opponent. In order to take advantage of the new rule that protects the center on a kicking play, we lined up with our tailback seven yards deep. That way, I figured, they wouldn't be able to pound on our center.
Turns out they didn't even have to. Without any great pressure from the defense, three of our snaps sailed clear over the tailback's head - in the first half alone.
When we ran the single wing correctly, though, its potential was obvious. So I didn't give up on the idea of a Single-wing-type addition to our basic Double-Wing attack.
And then, late last season, I happened to be talking on the phone with a double wing coach from another part of the country. He told me about a coach somewhere near him who was running something that looked a lot like our double wing, except that he was using a direct snap.
When I hung up, I felt as if I had finally struck pay dirt. After the usual amount of scribbling on paper, it still looked good. That was on a Sunday. I couldn't wait to show it to the kids. The next afternoon, after looking at films, we went outside while there was still some daylight, and took a look at it.
After lining up in our basic "Tight" set, we moved just two people: our fullback, whom we moved half a man to the right, so now he was straddling the center's right foot; and our quarterback, whom we moved out from under center and back next to the fullback, straddling the center's left foot. That put the fullback and the quarterback foot-to-foot and almost cheek-to cheek, toes about 2 yards back of the ball. (DIAGRAM 2)

DIAGRAM 2
We put them both in a deep crouch, hands close to the ground and close together, scooped like a shortstop about to field a low grounder. We told them to rest their elbows on their knees.
(It was essentially the same thing our fullback had always done on punting downs, anyhow.)
Now came the real revelation: making the snap was unbelievably simple. Our center never had to look back. Without ever having to stick his head between his legs, he could make a blind snap and get on with his job!
All he had to do was make a low, easy snap either to the right or the left - whichever the play called for. Just so long as he didn't snap it high or hard, the ball was easy to handle. We stressed keeping his tail low. He could roll the ball back, for all we cared - it was no big deal to have to pick it up
In fact, the idea of rolling the center snap along the ground reminded me of my rugby-playing days in college. In rugby, the ball is rolled ("hooked") back through the feet of men bunched together (in a "scrum") until finally the "scrum half" is able to reach in and pick it up. Then, much like a football quarterback, he starts the play.
Our kids liked it immediately. Our quarterback liked the fact that he was going to be able to run more; and being a tough kid, he didn't mind blocking, either. Our center said he liked it better than the T-formation snap - he told us he felt it interfered less with his blocking.
Taking the snap was easy, too - much easier to teach than the T-formation exchange. In a matter of minutes, players who had never taken T-formation exchanges were flawlessly handling the short, soft direct snap. (I defy you to take an inexperienced back and in five minutes have him ready to take a T-formation snap with better than 90 per cent chance of success.)
The first play we ran was our wedge (DIAGRAM 3), since we'd already been practicing it every day from short punt formation, anyhow.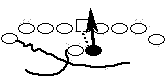 DIAGRAM 3
To capitalize on the multiple threat of this set, we made a few changes in the backfield action on the Wedge play. With the quarterback no longer needed to make the handoff, we had him simulate receiving a snap, then spin as he normally does and fake a handoff to our "A" back (who had been sent in motion) and fake a bootleg. Now, sending the fullback up the gut while simultaneously threatening a handoff to the "A" back or a keep by the quarterback, we created additional worries for the defenders who normally pinched hard from the outside.
From there, it was just a short step to adapting other double-wing plays to our new set. Since we used the blocking rules we already had in place, our linemen had nothing new to learn. In fact, other than the obvious difference in the exchange, there wasn't that much new for anybody to learn.
After the wedge, we added a power play (DIAGRAM 4) and the various plays that it sets up - a "g" play, a trap, a counter, a bootleg, and a keep.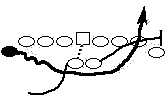 DIAGRAM 4
And taking a page from the Power-I, we added an extra blocker to our iso play. (DIAGRAM 5)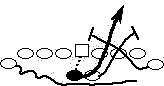 DIAGRAM 5
To capitalize on the ambidextrous nature of the system, we installed every play - run or pass - to the right and to the left. (Still in the early stages of this, we've so far kept the quarterback on the left and the fullback on the right.
We've scarcely touched on the Wildcat's potential, and we've just begun to adapt it to our spread, slot and unbalanced fronts. (DIAGRAMS 6-A-B-C)
DIAGRAM 6-A

DIAGRAM 6-B

DIAGRAM 6-C
Here are the advantages of our Wildcat that we see so far:
(1) It lets you make maximum use of a gifted runner-passer (or two). It increases the involvement of the passer in the running game (and the runner in the passing game) without your having to commit to an option offense.
(2) It lets you make better use of good all-around athletes who are not finished quarterbacks - when you don't have time to develop them.
(3) It is insurance against an emergency, such as the sudden loss of your quarterback or your center.
(4) It is deceptive, forcing the defense to stay home by simultaneously threatening it at several points.
(5) With all the backfield action, and with the defense unsure which "tailback" got the snap, it's an additional distraction for reading linebackers.
(6) It makes us truly multiple - by combining balanced, unbalanced and "Wildcat", by shifting in and out of it, as well as in and out of tight punt, shotgun, or conventional T formation, it approximates the "multiple offense" of Biggie Munn and his great Michigan State teams of the early 1950's.
(7) It is a four-back offense. You can involve every one of your backs in the running or passing game.
(8) It "steals" practice time from your opponents. Because the "Wildcat", just like unbalanced, gives you the look of an entirely different offense without your having to make extensive changes in assignments, it is my contention that for every minute of practice time you spend preparing to run it, your opponents will have to spend at least two minutes of their practice time preparing to stop it.
(9) It gives you an extra lead blocker on inside power plays.
(10) It is fun.
Besides current Double Wingers, I can foresee three other groups of coaches who might find the Wildcat useful:
(1) Youth coaches, because the exchange is so easy to teach and to execute.
(2) Eight-man football coaches, either by employing a single-wing set (DIAGRAM 7-A), or by moving the quarterback to where he becomes half quarterback- half fullback giving them a perfectly-balanced set. (DIAGRAM 7-B)
| | |
| --- | --- |
| | |
| DIAGRAM 7-A | DIAGRAM 7-B |
(3) Run-and-shoot coaches, because it gives them a serious power package. (DIAGRAMS 8-A AND 8-B)
(8-A) (8-B)

DIAGRAM 8-A

DIAGRAM 8-B
A word of caution:
(1) You do need two ball-handlers. (But try the ball-handling for yourself, and you'll find that this is not that demanding an assignment.)
(2) For the Wildcat series to be truly ambidextrous, the man in the quarterback spot has to be able - and willing - to block. (But if that's a problem, I don't really see anything wrong with flipping the quarterback and fullback.)
(3) If you attempt to spread your formation and run a quick passing package, it will be slightly more difficult, since the passer first has to look down to catch the ball. (But it's no more a problem than it already is for people throwing from shotgun, and our passer does get the ball quicker than in shotgun.)
(4) (If you're already running the Double Wing) You think people laugh at you now? This is not what the people in the stands consider football. (But then, if you already have the "necessaries" to run the Double Wing anyhow, this is just another step down the same road.)
After introducing the Wildcat package on a Monday and practicing it on Tuesday and Wednesday, we unveiled it in a Thursday night game. Mixed in with our base Double Wing set, we used it 25 times for 117 yards, and upset a league-leader at their place, in overtime. The next week, in our final game of the season, we used it 23 times for 193 yards. Granted, results from two games are not conclusive, but 310 yards on 48 plays was enough to convince me that we were on to something.
Meshing perfectly with our philosophy of being able to run a core of plays from multiple sets, the Wildcat is now a basic part of our offensive package.
One final note: In doing some research recently, I came upon this, by the great Amos Alonzo Stagg, in The History Of American Football, by Allison Danzig (Prentice-Hall, 1956):
"In my final year of play (at Yale), 1889, our center, Bert Hanson, bent over and bounced the ball back between his legs with his hand. The fullback and the halves that year stood quite close in, in what is now known as the T Formation. The quarterback was almost down on one knee, reaching low to get the 8- to 10-inch bounce which the center put on the ball."
How do you like that? Amos Alonzo Stagg was using our "innovative" center-quarterback exchange over 100 years ago!
So much for originality.
FOR MORE INFORMATION ABOUT MY WILDCAT - AND OTHER INSTRUCTIONAL MATERIALS