INSTRUCTIONAL MATERIALS by Coach Hugh Wyatt

The GOLD STANDARD Since 1996

About COACH WYATT

46 years of coaching - 20 years' experience producing Double-Wing Materials and conducting camps and clinics

Starting in 1997, after the 1996 publication of his first materials, Coach Wyatt has put on more than 200 clinics or camps in 29 states - Alabama, Alaska, Alberta (Canada), California, Colorado, Georgia, Illinois, Indiana, Iowa, Kansas, Kentucky, Maine, Manitoba (Canada), Maryland, Massachusetts, Michigan, Minnesota, Missouri, Nevada, New Jersey, New Mexico, New York, North Carolina, Ohio, Oregon, Pennsylvania, Rhode Island, Texas, Virginia, Washington, Wisconsin - and four foreign countries... He has personally coached the Double-Wing in Finland, Denmark and Germany, and as head coach or offensive coordinator at 9 different US high schools

FOR MORE INFO: coachwyatt@aol.com

NEW! 5-DVD OPEN WING "VIRTUAL CLINIC" - If you've been followIng my site for the last 3+ years, you know that I've been working on combining the solid, sound blocking and running game of the Double Wing with the passing game of the Run and Shoot that I ran way back in the early 80s. I came to call what resulted the "Open Wing" (thanks to my friend Brian Mackell) and in our first year of running it at North Beach High (Ocean Shores, Washington), while testing it and refinining it, we finished 7-3, only the school's second winning record in ten years. In 2014 and 2015, as we got better at what we were doing, we had back-to-back unbeaten regular seasons, finishing 10-1 and 9-1. In 2015, we were the highest-scoring team in the state at all levels in the regular season.

Now, after three years of work, I believe I have something to share with other coaches. (Several of us got together at a clinic in Kansas City back in the spring, and the coaches who attended seemed to think so, too.) If you weren't able to make it to that Kansas City clinic, here's your chance to "attend." Because I was able to record the clinic, I have been able to re-create it, assembling all the video that I showed, plus quite a bit more that I felt I needed to add. The result is a series of five DVDs, each roughly an hour in length: the first one gets you started with the basics, and from there, each DVD is can stand on its own - the second one offers a basic offensive package to get anyone started, the third introduces our passing game, the fourth shows how we have expanded the offense through formationing, and the fifth gets into the Open Wing with a QB under center - plus the very basic but solid Double Wing package that we jump in and out of.

Because I believe that the entire series is important, I've priced it as a set so that you can purchase all five DVDs for less than the cost of buying four separately. The first three DVDs will be ready to ship by June 6, and numbers 4 and 5 will be shipped no later than July 1.




OPEN WING CLINIC DVDS -$39.95 EACH, $150 FOR ALL FIVE - A SAVINGS OF $49.75! (YOU COULD TAKE YOUR WIFE TO DINNER!)



BUY THE ENTIRE SET OF 5 - $150








VIRTUAL CLINIC - AN ENTIRE COACH WYATT CLINIC - 5-1/2 HOURS - ON ONE DISC!



VIRTUAL CLINIC 2010 was shot at the 2010 Providence clinic and represents the latest stage in the continuing evolution of the Double Wing.

For your convenience, the entire clinic - roughly 5-1/2 hours in length - has been compressed to fit on one DVD

If you didn't attend a 2010 clinic, you'll find a lot of new and useful material in this DVD. And even if you did attend one, every clinic differs slightly - and besides, you couldn't possibly have written down everything!

VIRTUAL CLINIC 2010 is $69.95...
DEMO-DECK

----- A

GREAT

TEACHING AID!
The DEMO DECK of heavy, laminated cards provides you with 13 of the most common defenses we Double-Wingers see - drawn against a Double-Wing and using actual drawn-to-scale players rather than X's and O's. And, just in case - there's a bonus card with no defense on it at all!
The DEMO DECK comes with seven double-sided, laminated, heavy-duty 8-1/2 x 11 cards. You'll find a million uses for them!.......

.

$29.95

I field-tested DEMO DECK cards for n entire season, and found them to be possibly the most useful teaching aids I've ever used. You'll find endless uses for your DEMO DECK...




*** Planning for an upcoming opponent? No need to draw up the same defense, over and over! Just draw up a play with Dry-Erase, then scan it. Erase and repeat the process for each play. Run off as many copies of each play as you need, in the size you need.

*** Out on the practice field? ILLUSTRATE assignments on the spot... Diagram a new play or an adjustment to an existing play... Do it in a way kids can visualize and understand...

*** Maybe best of all - HELP GET YOUR SCOUT DEFENSE LINED UP QUICKLY AND CORRECTLY!

*** During games? Save time... Eliminate confusion... Find out what your kids are facing... How are the opponents lined up?...Is it what you prepared for?... Make quicker halftime adjustments... Help your press box spotters identify what they're seeing...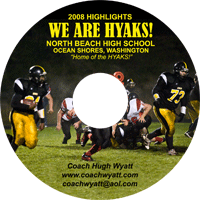 STILL GREAT ! Late in July, 2008 (the 23rd, to be exact), I took the job as head coach at North Beach High School, in Ocean Shores, Washington. North Beach had not had much success in recent years, finishing 1-9 in 2007. Long story short - The North Beach Hyaks finished 2008 with a 7-3 record. And the three losses were all close - by a total of just 11 points. Why were we successful? I applied all the lessons I've learned (many of them the hard way) over the years, and had the help of some very good assistants and a small but hard-working group of kids who really bought in. And also my Double-Wing system: we rushed 504 times for 3670 yards (7.28 yards per play) and outscored opponents 353-172. Not bad for a group of kids running it for the first time. And although we were pretty basic in sticking to a solid core of plays, we didn't stick to just one formation. True to the versatility that I've been advocating for several years now, we ran only 32 per cent of the time from plain old double tight-double wing - and that was in the early going, before we took off the training wheels. We wound up running more than 10 per cent of the time from unbalanced, 22 per cent of the time from slot, 22 per cent of the time from Stack. We passed pretty well, too. Only 26 attempts, but 13 completions for 327 yards (more than 12 yards per attempt) and four TDs. This highlight video shows it all. 2008 North Beach Highlights - $29.95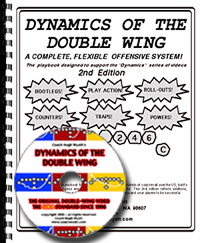 DYNAMICS OF THE DOUBLE-WING - this package is the operating system...if you want to take advantage of my full system, this is where you need to start!
THE VIDEO is organized into sections on powers, fullback plays, misdirection plays and play-action passes, and a special section showing those plays run from multiple sets and motions (including unbalanced lines). It is professionally produced and edited, using digital graphics and hundreds of video clips of plays from actual game situations. Explained in a step-by-step way that makes it easy to understand, it clearly explains my unique, easy-to-teach play-calling system. - VIDEO SEPARATELY $56.95
THE PLAYBOOK IS CURRENTLY BEING REVISED AND WILL NOT LIKELY BE SHIPPED BEFORE THE FIRST OF THE YEAR; TRUST ME - IT WILL BE WORTH YOUR WAIT. TO HOLD YOU OVER UNTIL THE NEW BOOK IS READY TO SHIP, WE ARE SENDING YOU A "PLACE HOLDER" BOOKLET CONTAINING THE BASE PLAYS.
VIDEO & PLAYBOOK PACKAGE PRICE..... $86.90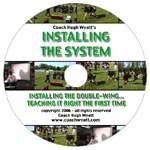 Now that you've bought and studied "Dynamics of the Double Wing" and you've got a good understanding of what you've got to teach... it's time to go out on the field and actually teach it. Now what? Here's help - INSTALLING THE SYSTEM is an indispensible teaching tool, with shortcuts and coaching points to help a coach introduce the offense and get his team up and running!
Follow Coach Wyatt through a day of teaching his Double- Wing system to a high school team that's never been exposed to the offense before.
The video starts out at a clinic session, going over some of the things you want to watch out for before you even go out on the field. On the field, it gets into certain basics such as stance and blocking and teaching our terminology, and from there, it gets into the teaching of our core of plays. Notice all the little coaching points that help things go so smoothly and quickly. --- $39.95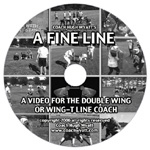 If you run a double-wing, or single wing, or wing-T offense, the biggest difference between what you do and what everybody else does is in the play of the offensive line!
A FINE LINE deals with our unique alignment and stance, and explains that while these things may be different from what "everyone else" teaches, they've been found through trial and error to help us do best the things that we need to do.
A FINE LINE shows how we teach "drive blocking" - and why - and progresses from beginning to advanced drills.
A FINE LINE deals with such techniques as drive blocking, down blocking, pulling and trapping, pulling around and walling off, reach blocking and double-teaming. It finishes with the teaching of the Wedge, and deals with different center-quarterback exchanges.As befits an "old school offense," it is in black-and-white. --- $39.95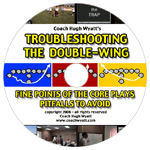 The Double-Wing is simple in concept, but the devil is in the details... And unless you're a detail-oriented coach, there are a lot of little things that can slow your progress! What is a "small" detail, anyhow? If it's enough to make a play fail, it's not so small, is it?
"TROUBLESHOOTING THE DOUBLE-WING" points out the sort of details that make the difference between a powerful, successful Double-Wing attack and one that could have your staff starting to find fault with a system that has been proven to work, over and over! Using Coach Wyatt's "Green-Yellow-Red" measuring stick, take stock of what you've been doing.
"TROUBLESHOOTING THE DOUBLE WING" takes an up-close look at the key areas where you might encounter problems in core running plays... Powers... Counters... Traps... "G" ... and the play that Coach Wyatt brought back and popularized from its days as a single-wing staple - the Wedge... and shows you how to avoid those problems! --- $39.95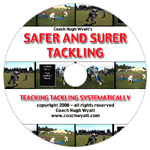 "HEAD DOWN!" "TACKLE LOW!" "GRAB HIM AROUND THE LEGS!" Yikes! That may have been the way you were taught, and that may be what you hear from all the "experts" on TV, but dropping the head - either out of carelessness or because that's the way it's been taught - is a major factor in serious football injuries. Among the most serious are those to the cervical spine, which can sometimes result in paralysis. According to Ron Coulson, Director of Sports Medicine at the University of Georgia, "In most cervical spine injuries, somebody came in and put their head down."
Of course you want to practice safe techniques, but at the same time, if your players can't tackle, you aren't going to win a lot of games! So what can you do? Understanding that football is a rough sport, and there is no way of making tackling completely safe, this is a way to teach tackling that enables your defenders to hit hard and bring down The ball-carrier without ducking the head.
Hugh Wyatt has been coaching since 1970, and coaching this system of tackling since 1980. In that time, he has taught it to players of all ages, including college- age men in Europe who had never played tackle football before. (They went on to become Finland's National Champions!)
"Safer and Surer Tackling" enables the coach to begin teaching tackling to the greenest of beginners, and works its way to drills that will keep even the most experienced of players' skills sharp. Here's a look at the first live tackling drills we used this past season, on the very first day we were allowed to have contact --- $29.95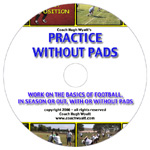 Despite its name, "PRACTICE WITHOUT PADS" is useful any time during the season! But it will be especially useful to any coach who needs to make those early-season or off-season practices more than just conditioning sessions.
BE ORGANIZED! KEEP 'EM BUSY! TEACH 'EM USEFUL THINGS! One of the most important things in working with kids is being organized - knowIng what you need to do, when you need to do it, why you need to do it, and how you're going to do it. "Practice Without Pads" is great for all coaches, but it's especially useful for the coach who's new to practice organization, and it's also great for any coach who's ever in a situation where he has to conduct a practice all by himself, without any assistants. It deals with subjects ranging from the organizational details that you must cover before you even start to practice, then moves to pre-season workouts, and takes you all the way through a typical practice, demonstrating drills dealing with flexibility, strength training, form-running and agility, as well as the foundations of proper blocking, tackling and ball-handling. It ends with numerous fun- type drills, the sort of things to help build competitiveness and morale among your kids - and send them home wanting more. And the best part of it is, although you will see players on the video performing some of the drills while wearing helmets and pads, and although these drills are still plenty useful once you're allowed to put the pads on and hit, they are all drills that you can do in the off-season or in the preseason, before you're allowed to have any contact!
Whether working with a large group, a small group, or one player, whether working indoors or out, in-season or out, every coach will find "Practice Without Pads" to be a great resource. --- $39.95
VIRTUAL CLINICS - THE NEXT THING TO BEING THERE!

"VIRTUAL CLINIC " and "VIRTUAL CLINIC II" - A PAIR OF 3-DVD COLLECTIONS OF TWO NORTHERN CALIFORNIA CLINICS, ARE AVAILABLE AT $49.95 EACH... PURCHASED TOGETHER (6 DVDS) - $89.95

THEY DEAL NOT ONLY WITH THE NITTY-GRITTY OF THE DOUBLE WING'S BASICS BUT ALSO WITH ADVANCES TO MY SYSTEM.

THEY RANGE FROM A "TUNEUP" ON THE OVERALL BASICS, TO COVERING NOT ONLY FINE POINTS OF THE CORE PLAYS - POWER, WEDGE, COUNTER, TRAP, SWEEP, "G", AND ROLL OUT AND BOOTLEG - BUT ALSO VARIATIONS OF THOSE PLAYS FROM A WIDE VARIETY OF FORMATIONS SUCH AS SLOT, SPREAD, AND STACK.

AS ANYONE WHO HAS ATTENDED ONE OF MY CLINICS KNOWS, I MAKE AMPLE USE OF VIDEO CLIPS.

WEDGE REVERSE, QB REVERSE, 66-G AND THE NEW "800/900" PASSES ARE JUST A FEW OF THE PLAYS SHOWN HERE FOR THE FIRST TIME ON ANY OF MY VIDEOS.

IF YOU'VE NEVER BEEN TO ONE OF MY CLINICS, THEY ARE A MUST. IF YOU DID GET TO ONE OF THOSE CLINICS, THESE WERE FILMED AT THE END OF THE CLINIC SEASONS, AND REPRESENT THE CULMINATION OF EVERYTHING COVERED IN ALL THE PREVIOUS CLINICS OF THOSE YEARS. (EVEN IF YOU WERE THERE, YOU COULDN'T POSSIBLY HAVE TAKEN NOTES FAST ENOUGH TO TAKE DOWN EVERYTHING!)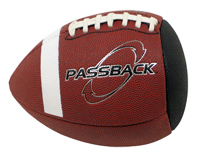 HOT and new! Maybe you've noticed, as I have, that not enough kids come to us with the ability to throw and catch the ball. Maybe it's because they don't play catch the way they used to - maybe because even when they play baseball they're not taught to catch with two hands. Whatever, as football coaches we've just had to live with it. Until now. Now, though, we can do something about it. Better still, the kids themselves can do something about it!
Now, for the first time ever, there's a training device that looks, feels, throws and catches just like a real football - and a player can use it by himself. No trying to find someone to throw to!
It's the Passback. It's not a toy. A patented nose is fused onto a real football so that it throws just like any other football - but it bounces back to the thrower! Watch a young QB demonstrate
The Passback is NEW and I predict it will revolutionize coaching the skill positions. I was so sold on it that I worked out an agreement with the US licensee to become a Passback dealer. I took a quantity with me to my recent Providence and Philadelphia clinics and sold all I had!
I'm now selling them for $19.95 + $3 shipping ($22.95) for the youth-size ball or $29.95 + $4 shipping ($33.95 total) for the regulation size. Trust me - you're not just going to want one for each of your quarterbacks - you're going to want enough for your receivers and backs. DB's, too.