HOME PAGE
NOVEMBER 2008
FRIDAY, NOVEMBER 29, 2008- "Everyone has a plan until they get punched in the face." Boxer Paulie Malignaggi
WILDCAT UPDATE! Thanks to all who wrote in with your recollections of your personal introduction to my Wildcat! As I mentioned, Scholastic Coach and AD magazine plans to reprint my December, 1998 article, "Wildcatting it with the Double Wing" in its January, 2009 issue, and it also plans on distributing free copies to all coaches at the AFCA convention in Nashville. And in this week's Sports Illustrated there is an article about the single wing by Tim Layden which suggests what you and I already know - that I might, indeed, be the originator of the term "Wildcat" as applied to a direct snap formation.
*********** The evidence is mounting... from this week's Sports Illustrated comes this excerpt of an article by Tim Layden, a senior writer for SI with whom I've been talking about the history of the single wing
(http://msn.foxsports.com/nfl/story/8850240/OLD-IS-NEW-NEW-IS-OLD-BACK-TO-THE-FUTURE-WITH-THE-Single-Wing)
The Wildcat was born at Springdale (Ark.) High in the fall of 2001. Springdale coach Gus Malzahn, then 35 and in his 11th year of high school coaching, had a speedy flanker named Dusty Johnson, who had been a junior high quarterback. "We were just trying to think of ways to get him the ball," says Malzahn, now the offensive coordinator at Tulsa. "We put him in the shotgun and ran the speed sweep, reverse, quarterback power. Had some pretty good success with it. People started asking me if I had any background in the single wing. I didn't know what they meant."
At Springdale, Malzahn called the formation Heavy. He was hired as offensive coordinator at Arkansas in 2006 and installed the formation there, with future NFL running backs Darren McFadden at quarterback and Felix Jones at wingback. Here the name Wildcat emerged, says Malzahn, because Arkansas already had a similar formation in place and it was called Wildcat. It later became the Wild Hog, for obvious reasons.
At least one coach disputes Malzahn's story by claiming prior ownership of the name, and his case is compelling. Hugh Wyatt is an energetic, entrepreneurial 70-year-old Yale graduate who has coached high school Football for 32 years (he is currently coaching in Ocean Shores, Wash.) and has developed a wide following through clinics and the sale of DVDs explaining his double wing offense. In December 1998 Wyatt wrote an article for Scholastic Coach and Athletic Director magazine, describing a direct-snap, double wing formation similar to what Malzahn would install three years later at Springdale. In his article Wyatt suggested to coaches looking for a curveball, You might want to take a look at our "Wildcat" package, and he went on to explain that it was named for the mascot at La Center (Wash.) High, where he was employed at the time. "I believe Gus Malzahn has a selective memory," says Wyatt.
Nonplussed, Malzahn says, "I'm sure I saw it somewhere, but I can't remember where."
Hmmm. Yet another famous Arkansan with memory problems. (Whatever did happen to the Rose Law Firm records, anyhow?)
Those of you who know me well know that I am on my very best behavior when I say that someone "has a selective memory."
*********** Coach,
Just saw the artice in Sports Illustrated regarding the Wildcat. Way to set the record straight, ol' boy!

(Nice little plug for the Double Wing, to!)

Coach Scott
Livermore, California
*********** Bellevue, Washington is what you'd call a powerhouse program. A couple of years ago the Wolverines ended De La Salle's record 100+ game win streak, and a year later they thumped storied Lonf Beach Poly.
But finally, someone on Washington figured out a way to stop Bellevue's Wing-T.
Friday, the bus carrying the Bellevue team to its Class 3A semi-final game in the Tacoma Dome against Capital High of Olympia overturned on Interstate 5 south of Seattle.
The accident backed up southbound traffic for about three miles, and although no one was seriously injured, several players were taken to hospitals with minor inuries.
The game was postponed and rescheduled for Monday.
*********** Can you believe Tennessee hired a non-southerner with no head coaching experience? (Unless you count a half-season sparring with Al Davis.)
*********** When world's collide... Charlie Weis needs a good showing to keep his job, but at the same time Pete Carroll needs a big win to buff up USC's claim to a good BCS slot.
*********** You guys on the East Coast who fell asleep and missed the UCLA-Arizona State game... what you missed looked like a Detroit Lions intrasquad game.
*********** The Pac-10 gets seven bowl slots, but there is a strong likelihood the conference will have only five bowl-eligible teams.
*********** Coach: I love the web site. I've enjoyed seeing your posts in the past on the Army Scout forum. (I wish ARMY would hire you as offensive coordinator! )
Anyway in reading your site I notice that you run/ran your option out of super tight OL splits. As a big fan of Navy football spread option I noticed PJ ran his sets with very wide OL splits to "spread" field. Why did you choose the tight formation and what do you think of PJ's spread attack.Just curious.

Keep up the good work and Happy Holidays,

Regards,
Jim Lawler
Dear Jim,
Nice to hear from you. I hope the current Army staff can turn the corner soon.
To answer your question as simply as possible - the option is just a minor sideline in my system. I don't live and die by the option as Paul Johnson does.
Ara Parseghian once observed that there are three basic ways of running the ball - power, misdirection and option, and you'd have to be good to be able to do two of the three. Three of the three were pretty near impossible.
Over the years, I've found that to be the case. And also, the more you concentrate on the passing game, the less likely it is that you'll be good at even two ways of running the ball. You've probably noticed how primitive most NFL running attacks are.
My deal is power and misdirection and I think we do a good job of those two, but I just don't have time to practice a very effective option to any extent.
For my purposes, minimal splits are a huge help..
I love Paul Johnson's offense and I have a great deal of respect for him as a coach.
In actuality, he's running the old wishbone - but a souped-up version of it. For that, he needs giant splits. He needs to create a crease for his fullback to run while at the same time moving the handoff key as far from the center as possible, to give his QB more time to read that key; and in the event that the QB does not hand off to the fullback, he also needs his next key, the guy who will determine whether he keeps or pitches, , to be as wide as possible, too.
With his Paul Johnson's, he would not be able to run as effective a power game as we do. I'm quite sure he's aware of this, and he's willing to make that sacrifice in order to run the triple option as well as he does. With our tight splits, we couldn't run an option as a steady diet, and that's a concession I have to make.
There are other significant differences between us to be sure, but I think the line splits are perhaps the most significant.
As with any offense, it's a matter of what you believe in and what steps you know are necessary to enhance your chances of success.
*********** For two seasons at Madison High in Portland, it was my good fortune to be Andy Jackson's coach. Andy, son of head coach Tracy Jackson, was an outstanding running back and defensive back, and easily one of the most competitive kids I've ever encountered. Andy, a junior free safety at Western Oregon, was recently named first team DB Great Northwest Athletic Conference
*********** For some reason the BCS has Texas ranked ahead of Oklahoma, which means that in the likely event of a 3-way tie in the Big 12 South, since BCS standing will be used to break the tie, Texas goes to the title game ahead of both Oklahoma and Texas Tech.
Texans at the A & M game were revelling in their win over Oklahoma, with taunting "45-35" signs (the score of the UT win over OU) everywhere.
But get this - if Oklahoma State should beat Oklahoma Saturday, Texas is screwed. Texas Tech would win the resulting 2-way tie with Texas on the basis of their having won head-to-head.
So the unthinkable is about to take place - Texans pulling for Oklahoma.
*********** Coach Wyatt - Greeting on this Thanksgiving Day!

Just wanted to report to you the results of our first season running the DoubleWing/Double Tight offense. Our final record was only 3-7, but that's a one game improvement over the past two years....this school hadn't won 3 games since 2005......and we finished the season playing the best football we've played since I got here 2 years ago. We had a close 32-20 loss to our arch rival in our next to last game....a team that beat us 36-0 last year.....and a 37-0 victory in our last game vs a team that beat us 23-16 last year. Offensively, we improved to over 1,900 yards of offense this year compared to just 1,000 in 2007; we reduced our shutdout losses from 5 in 2007 to just 2 this year; in 2007 we scored only 70 points, this year we scored 195, including 3 passing touchdowns to zero passing TDs in 2007; our average yard-per-rush in 2007 was 2.7 yds (can't win like that!!), in 2008 our average yard-per-rush was 4.1 yards (you CAN win with that!). There's lots of other statistical improvements that I won't bore you with, but most notably for us was the difference controlling the ball and making 1st downs made on defense. Our defense had two shutouts in 2008 compared to none in 2007, dropped the yards against per-game average almost 100 yards PER GAME, plus we scored on defense four times this year compared, again, to zero in 2007. I would have to say we ran Power or a version of power over 50% of the time...primarily Super Power or a variation. We used Tight Stack Power extensively and I love that play....lots of folks getting to the point of attack. I remind you that we had all these improvements in spite of being undersized physically (I had ONE lineman over 200 lbs. and he was a Senior playing his first season of football) and as a team (we never dressed more than 19 except for our last game when we moved some of our JV up. Most of our opponents were dressing 25+ and as many as 35-40 in several cases). Needless to say, I am a Double Wing/Double Tight advocate forever!
.

Using your "Ice pick" blocking techniques, we had ZERO holding penalties this year and cut our overall penalties down to almost nothing. I don't think we had five total penalties on our TEAM all year....only one facemask (the result of teaching your tackling techniques), one defensive offsides and one procedure penalty (a wingback leaned forward on a First Hut call in one game, thereby illustrating your issue with the wingbacks NOT LEANING).

I have to say that I probably made a mistake with my linemen by dropping their butts too much when I taught the offense, but by the time it dawned on me that you didn't have your OL butts that low (after rewatching one of your CDs to see some mechanics on a play), I didn't want to change them. I'll make that change going into next spring, but I was extremely happy that we didn't shoot ourselves in the foot with penalites. Now, we did have a fumble problem on the snap throughout the year. I have the center rotating the football and I think that caused a problem a few times. More frequently, though, the problem with the center-QB fumbles was either the QB pulling out too early OR not pulling the ball into this belt buckle when he received it from the center and it got knocked out by a pulling guard. Another of our "Do Betters" for next year will be to really emphasize the mechanics of the QB getting the ball to his belt buckle. The QB who started the last 3 games for me was a Freshman I moved up from the JV, so I have three years to get him straight.

All the best to you and your wife. Happy Thanksgiving!

Coach Doug Pettit
Taylor High School
Pierson, FL
*********** The official announcement out of New Haven was that Yale coach Jack Siedlicki had retired, and had accepted a job as assistant athletic director.
Gimme a break. Head coaches don't retire to take desk jobs. And Yale doesn't fire coaches.
So Jack Siedlecki was "reassigned." Kicked upstairs, so to speak.
As written in the New Haven Register,
Going 4-8 against Ohio State will get you fired at Michigan, going 4-8 against Oklahoma will get you fired at Texas. Going 4-8 against Harvard will get you reassigned at Yale.
*********** Did I see that you slipped in a split end from your team in the first-team all-league selection? :) Or was that just a very good TE who they had to classify as a split end? Rick Davis, Duxbury, Massachusetts
Hahahaha.
Very observant of you to notice that I "slipped in a split end."
Actually, since they asked for receivers, and I felt that one of our tight ends, Russell Alfaro - who actually is a very good receiver - was deserving, I nominated him. Apparently the other coaches agreed with me.
Russell caught seven passes, which isn't a lot, but they were good for 188 yards, which is.
And he did line up at least 25 per cent of the time in slot formation, which technically makes him a split end!
*********** A major part of the reason for Oregon State's success is the Rodgers brothers - James and Jacquizz. They are fast. They are exciting.
They are also small. But James is a reall all-round threat, and Jacquizz, even though he may miss Saturday's Civil War game against Oregon, is on pace to become the first true freshman to lead the Pac-10 on rushing.
They are from Texas.
Now, how did guys like that get out of state without any of the big guys moving on them? How is it that Texas didn't even send the Rodgers kids a questionnaire?
Apparently, that's what Mack Brown would like to know. According to the Portland Oregonian's John Canzano, Brown recently was "screaming" at his assistants, asking "Where the (fill in the word) were we on these Rodgers brothers?"
TUESDAY, NOVEMBER 25, 2008- "They can run, but they can't hide. " Joe Louis, legendary heavweight boxing great
WILDCAT UPDATE! Thanks to all who wrote in with your recollections of your personal introduction to my Wildcat! As I mentioned, Scholastic Coach and AD magazine plans to reprint my December, 1998 article, "Wildcatting it with the Double Wing" in its January, 2009 issue, and it also plans on distributing free copies to all coaches at the AFCA convention in Nashville. There is also the possibility of a mention in Sports Illustrated of my being the "likely" originator of the Wildcat. Hey- that's better than a poke in the eye with a sharp stick.
*********** Coach - Congratulations on your Coach of the Year Award! Well deserved.
Quick question coach. When can you and when can't you shift from say "tight shift to stack I". The white hat told me once we went into a three point stance we could not shift back. My C back was on the LOS when we set (three point stance) then shifted back to the regular C position. He said once I "covered" the Tight End with my wing, he could not shift back. Make sense?
Your eligibles can shift up and down, back and forth all you like so long as (1) everybody's set for a full second before you snap (or send a man in motion) and/or (2) the officials don't decide that you are "simulating a snap."
The official is thinking about interior linemen, who once they put a hand down are prohibited from moving..
*********** Sports satire from SportsPickle.com...
Players-only meeting spent discussing whether to admit kicker and punter
The struggling New Orleans Saints held a closed-door, players-only meeting today, but spent the entire session debating whether to admit the team's kicker and punter.
"Look, I know I'm new here, but it has to be said: kicker and punters are queers," said tight end Jeremy Shockey. "They are not real football players. They are little homo girls. If they get in, we may as well just let the cheerleaders in, too."
*********** Back when he was at West Virginia (and coaching winning football teams), I heard Rich Rodriguez brag on TV about the hundreds of high school coaches who came to Morgantown to learn his offense.
Those hundreds of high school coaches... what do you suppose happened to all the ones who went back home and installed it, lemming-like, without ever realizing that to make it work you had to have great players?
*********** Speaking of Richie Rich Guy ... the excuse we've been given for for the worst season in Michigan's long history is that he doesn't have the players to run his offense.
So could somebody please explain how Paul Johnson, who runs absolutely, positively the most unique offense among all the BCS schools, was able to come in at Georgia Tech and win with the players who were already there?
Shouldn't he have simply written off this year, as Rodriguez thinks the Michgan fans should do?
*********** I really wasn't planning on taking sides in the Texas Tech-Oklahoma game, but then I saw that a**hole Donald Trump showing us the game ball that his buddy Mike Leach had given him after Texas Tech beat Texas, and saying that he expected to get one after the Raiders beat Oklahoma, and it was "Go Sooners!"
*********** 1. When you say you would "jump into split backs", as a DW coach what do you mean? Do you move a wingback into the backfield (traditional split backs)? Does the FB stay in his sniffer position?
I have covered this in clinics and it is on my Virtual Clinics. We move one wingback behind one tackle and slide the B-Back over behind the other one. By the way, I find the term "sniffer" offensive. It is not a part of my terminology.

2. In a recent post on your website you talked about using "no line splits". In the past you wanted "dollar bill" length splits. Have you switched to using no splits?
We vary. My teaching base is zero splits. One thing I refuse to do is monitor split sizes.
3. For the season we averaged 5.90 ypc on wedges. Do you think this is acceptable? I ask because I didn't feel we got enough on the wedge and maybe I need to coach it better, especially against an even front. I think this is why my wedge didn't work well against this defense. One of my off-season tasks is to completely review all of your materials on the wedge to see if I am missing something. On a side note, our OL was small but we had some height. My FB did have very good speed but was somewhat light. We had several wedges go very long gains but too many went for 0 – 2 yards.
I wouldn't let the yards per attempt worry me if I were you. I can stop anybody's wedge and so can you and so can your opponents. You can't will the wedge to work. If you coach it well and the defense is not prepared for it you will gain yardage. Yards per attempt really don't mean much to me beccause they're often simply a function of the speed of the kid carrying the ball. On the wedge, it's often a matter of whether the defense was expecting it or not. Did it get you what you needed, when you needed it?
*********** Somebody's watching!
Coach Koenig,
The community of Beloit can be proud to have you as the leader of the football program. The team had a lot of success with wins again this year and of course that is important. I certainly recognize the success on the field, but I saw when you first came to Beloit that you had a plan for the football program. What was very evident to me was that you were going to stress discipline, team work, and commitment. I knew the football program was headed in the right direction because young men want to be held accountable and they want to be part of a real TEAM. Sadly, most teams do not have your leadership qualities and the result is the team never comes close to reaching its potential. Instead they have parts of the team going every different direction and not working together. It is my personal belief that your 2008 Beloit Trojan football team came very very close to reaching its highest level of performance.
I learned from my father, who won 125 of the 160 football games he coached, that no individual is more important than the team. I mentioned to you after the game at Conway Springs that dad would have loved watching your TEAM play football. Dad's teams always played very physical, with excellent execution, and most importantly sportsmanship! His teams usually beat the opponent by a large margin, but they always did it with class.
I am a proud follower of Beloit Trojan football because each individual puts the TEAM first. It is not always easy to win by large margins with class, and of course it is difficult to lose big games with class. The 2008 Trojans showed me they will:
* PLAY AS A TEAM
* PLAY WITH DISCIPLINE
* PLAY PHYSICAL
* DISPLAY GOOD SPORTSMANSHIP
* STAY COMMITTED TO WINNING THE RIGHT WAY
Congratulations to you and your team. I look forward to more good football in the future!
Todd A. Clover
*********** And I have to do a little bragging... from our local paper, The North Coast News...
Editor:
All too often we recognize excellence but fail to express our gratitude by not sharing that experience.
Mr. Hugh Wyatt and his charming wife Connie have made a lasting impression on our community. He coached the Hyak football team to a 7 and 3 season, losing those games by a total of only 11 points.
But in my mind he not only taught those young men how to play the game but more importantly how to be responsible young adults. Something that will serve them well throughout their lives.
Thank you, Hugh and Connie Wyatt. You made us proud to be a part of the Hyak family.
Jaen P. Henry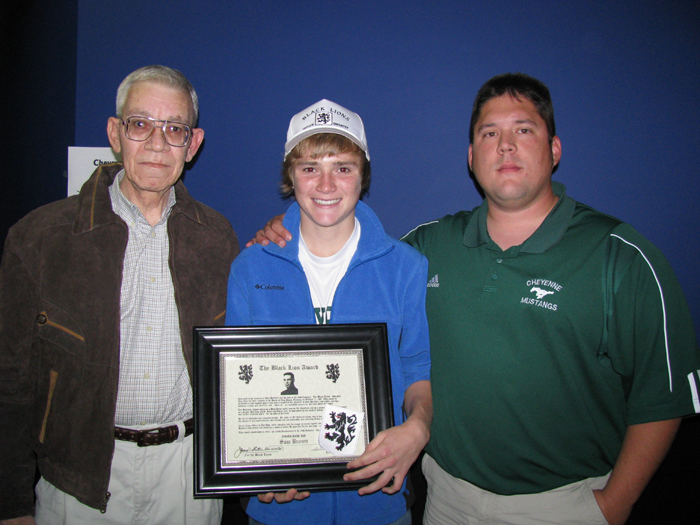 Edmond, Oklahoma: (L to R) Black Lion Doc Phillips, Black Lion Award winner Sam Brown, Coach Gabe McCown
Coach, What an amazing event. It was a true honor to present the award and to have Ross (Doc) Phillips of the Black Lions on hand to make the presentation. I've attached photos of the event. It was truly breathtaking, you could have heard a pin drop. Doc was kind enough to present me with a Black Lions Cap, Pin, and a 28th Infantry Regiment Association coin which I will treasure forever. I plan to wear the pin on my collar or hat and carry the coin in all games I coach from here on out. It's an unbelievable honor to be a part of the award.
Gabe McCown, Piedmont, Oklahoma
*********** Charlie Weis announced that the cure to what ailed Notre Dame's sickly offense was to relieve his offensive coordinator of his play-calling duties and assume those himself. Forget the fact that there was no noticeable improvement, and consider this...
Q. Who's the first person the University of Washington interviewed to replace Tyrone Willingham?
A. The former Notre Dame offensive coordinator.
WTF?
*********** Speaking of Charlie Weis... among the thousands of letters to the South Bend Tribune, mostly by devout Notre Dame fans, there was this gem...
I think Weis lost his "decided schematic advantage" when his staff couldn't surreptitiously record the other teams' practices. This guy is a classless fraud and a failure, and he knows it: think of how it must eat at that puffed up ego to be publicly unmasked every week like this. We are all fortunate he is not publicly depantsed as well.
It was no surprise that Weis took over play calling for what should have been the squishiest part of a very soft schedule, Navy and Syracuse. He was probably going to hand it back to Haywood for the USC game after showing the kid how it's done, but I guess Weis has surmised (or wants us to surmise) that Haywood broke it so badly that not even God can fix it.
Others have mentioned Jimmy's Clausen's standard "eh, whatever" reaction to the Syracuse humiliation, but what character and grit should we expect from him? He had tremendous success in high school as part of a small private high school program with numerous D1 athletes, and he was 19 years old playing his senior year against opponents who might have been as young as 15. He's like a Dukie trying to make his way in the NBA…gee, it's not so easy when the talent evens out, and what's with these other guys working so hard? Notre Dame should study the ways of Clausen's high school coach: here's a guy who can pack a roster like Weis but can also coach the recruits to dominate a light schedule.
It is the enduring legacy of the Notre Dame brand that there are still highly regarded recruits lining up to play for, or around, the demonstrated worst coach in college football.
*********** Still on Weis... In completing 30 of 43 passes for 415 yards and 3 touchdowns, the Patriots' Matt Cassel, who never started a college game (granted, it is possible to get stacked behind some pretty good people when you go to USC), became only the fifth quarterback in NFL history to throw for over 400 yards in consecutive games. And all that without the benefit of Charlie Weis' coaching!
*********** What a day of football...
*Beavers miracle win
*Huskies blow it again
*Penn State romps as Paterno pledges another year
*Oklahoma absolutely thrashes Texas Tech
*Northwestern throttles Illinois
*Cincinnati puts itself in position to win the Big East
*Utah wins the "Holy War" in style
*Maryland's wacky season continues.
*And of course........Notre Dame loses to Syracuse!
Ed Wyatt, Melbourne, Australia (To which I would add, Ohio defeats Michigan for record fifth straight time, sends Michigan to a record nine-loss season. Imagine how bad Michigan would have been if they hadn't paid Rodriguez all those millions and had simply hired a guy - a Michigan guy - off of Lloyd Carr's staff.)
*********** In view of the current and projected state of our economy, and with the lessons of the dot.com and housing bubbles still fresh, it's useful to keep in mind that nothing keeps going up forever. Yet spending on big-time football continues unabated.
Yes, there have always been those on the academic side who have decried the extravagance of the spending on big-time athletics, but for the most part they've been drowned out by the howling masses, or dismissed as fuzzy-headed intellectuals. And what college president who likes his job would dare speak out against big-time football?
But things are changing. As one example, at a time when one out of five people in the state of Michigan is on some form of public assistance, and the executives of the Big Three automobile firms are flying (in their corporate jets, of course) to Washington to beg for taxpayers' money, how unseemly is it that Michigan's flagship university pays a man millions of dollars a year to coach its football team?
Yes, yes, I know - it's private money that pays those huge salaries. It's not money that comes out of university funds or taxpayers' pockets or student's fees. Blah, blah, blah.
But still... when a major university's tactics in building its football program into big-time status rate a scolding editorial in the New York Times, it's safe to say that the battle has begun...
Rutgers, the biggest and most important public university in New Jersey, has spent millions of dollars furthering its ambition to become a major football power that might otherwise have been devoted to academics. It has done so during a period of rising tuition and budgetary cutbacks in academic departments, and, worse, without any real oversight from the university's president, Richard McCormick, and its Board of Governors.
A review committee appointed by Mr. McCormick has now issued a scathing report accusing him of being "too passive in exercising his authority" over the athletic department and football program. The report suggests that he and the board turned a blind eye while the university's athletic director, Robert Mulcahy, signed the football coach to multimillion-dollar contracts and employed a sports marketing firm that once hired Mr. Mulcahy's son. It also criticizes a secret side deal engineered by Mr. Mulcahy in which the marketing firm paid the football coach an extra $250,000.
Mr. McCormick, who long cheered on efforts to make Rutgers a football powerhouse, appointed the committee last summer after The Star-Ledger of Newark reported out-of-control spending at the university. A campaign to raise $30 million in private contributions for a $102 million expansion of the football stadium has fallen short of its goals, and the university has neither the cash nor the borrowing capacity to complete the job. To save money, the university has downgraded teams including tennis, swimming and fencing to intramural status.
Alfred Koeppe, co-chairman of the nine-member committee, said that new internal controls over the athletic department must be established and that the culture among top officials must be changed. That raises the question of whether Mr. McCormick should be fired.
In fairness, the crucial decisions - to spend lavishly on football, to pay a new coach a huge salary and to allow the athletic department to function without significant checks - were made several years before Mr. McCormick came to Rutgers in 2002.
But while Mr. McCormick did not create the mess, he did nothing to clean it up. If he knew what was going on with the football program, he was negligent by not stepping in; if he didn't know, he should have. This leaves him a choice: put the brakes on the stadium project and immediately clean house at the athletics department or resign and make way for someone who will.
************ Coach, Knappa reached the State Championship game for only the second time in school history with a 36-8 pounding of Scio on Saturday. Scio's double wing ran 68 plays for a total of 220 yards while we ran just 25 plays for 325 yards. We had the ball for only ten minutes in the game but made the most of it. The combination of Power, Tackle Trap, and G-Reach were all that was needed until late in the game when Wedge punished a broken defense. Their Power gained more yards against our defense than any other team has this season, but it was not nearly enough. Saturday we play the defending Oregon State Champs, the Culver Bulldogs who feature the two-time State Offensive Player of the Year at Quarterback AND a big 2,000 yard Tailback. It is a challenge we welcome and we look forward to the chance to win Knappa's first football state title.
Jeff Miller,
Knappa, Oregon (Best of luck to Coach Miller and the Loggers. I know I've mentioned it before, but in my first year as a high school coach - 1976 - I coached against his dad. HW)
*********** I almost spit out my pop when I heard this little tidbit. For some odd reason (boredom?) I turned on the Raiders/Broncos game on CBS, and I think it was Dick Enberg talking about the Wildcat Offense. Well he went on to say that the originator of the offense was now coaching in Florida!!!!

When did you and Connie make the move??? I thought you said you like the mountains and the views up in the Northwest?? Surely, CBS with all the money and research available knows about the originator of the Wildcat Offense, correct?? How in the hell did you get a job in Florida so fast after such a great year in Washington?

Hmmmm...

Best,

Bill Murphy, Chicago (Hahahahaha. It would take a lot more than a coaching job to get me to leave the Pacific Northwest. It is God's country. Its only negative is that for us it's so far from so many of the places we like to visit. But then, if it were closer to major population centers, it would soon become packed with people, just like California. Or Florida. HW)
*********** "Cougin' it" is an expression known mostly around the Evergreen State. It refers to the well-known tendency of the Washington State Cougars - the Cougs - to, um, choke. And at the worst possible time.
So when Washington State came from 10 points down to kick a field goal with no time remaining to tie Washington, then beat the Huskies in overtime, the Tacoma News-Tribune came up with the headline of the season:
HUSKIES COUG IT
*********** Let Ron Prince's firing at Kansas State serve once again as fair warning to anyone who dares to try succeeding a legend.
Just a couple of weeks since the delusional K-State powers that be decided that Coach Prince wasn't God, Bill Snyder, the man Ron Prince succeeded, is back on the job. Let that be an additional warning - dismiss from your mind any idea that when you take over at a place, it's wise to be kind and courteous in your treatment of your predecessor.
Considering that Coach Prince graciously allowed Coach Snyder to keep his old office - right across the hall from his - the temptation to suggest that there might have been some, uh, "undermining" of Coach Prince is impossible to avoid.
*********** Even if you don't send any other Christmas cards this year, send one, and send it here:
"Holiday Mail for Heroes"

P.O. Box 5456,

Capitol Heights, MD 20791-5456
It will go to a recovering American soldier.
FRIDAY, NOVEMBER 21, 2008- "Never set a rule that you can't apply to everyone." Bob Devaney, builder of the once-great Nebraska dynasty
*********** From The Index-Journal, Greenville, South Carolina
By MATT ANDERSON/Index-Journal sports writer
Wednesday, November 19, 2008
WARE SHOALS -- Through the first 35 1/2 minutes of its second round Class A, Division II playoff game against Great Falls High School's football team Saturday night, Ware Shoals assumed a three-point lead using big offensive plays.
Over the next eight minutes, the Hornets followed a much different script in essentially sealing the game.
Following a Great Falls touchdown that brought the Red Devils within three points with 19.5 seconds remaining in the third quarter, Ware Shoals embarked on a 16-play, 80-yard touchdown drive that took seven minutes, 40 seconds and accounted for the final points in a 31-21 Hornets win, setting up Friday's Upper State finals matchup against Williston-Elko.
"It's just what the doctor ordered," Ware Shoals coach Jeff Murdock said. "That's what we needed, is a long drive, eat some clock, punch it in on a defense that hadn't given up much.
"That was a lot to help our cause, as far as their psyche, when they're able to come out, eat clock, drive and drive and drive then punch it in. That helped us tremendously."
Taking over at their own 20-yard line following a touchback, the Hornets, who had used big passing plays in scoring three of their first four touchdowns, ran the ball all but one play of the drive and converted two fourth downs.
With wingback Lance Richardson carrying seven times for 25 yards, wingback Ladarius Hawthorne carrying seven times for 45 yards and fullback Demond Hammonds carrying twice for 10 yards, Ware Shoals' offense scored its fifth touchdown of the game despite the fact only two plays went for more than 10 yards.
Running the ground-heavy Wing-T offense, the Hornets adhered to the character of the scheme during the drive thanks in large part to success on first down and a lack of penalties.
Before Richardson scored on a first-and-goal from the 1, four of Ware Shoals six first down plays had gone for at least five yards and the team had averaged 7.6 yards per rush on first down; the Hornets were also not penalized on the drive.
"When they get into a rhythm and they're picking up their blocks and the backs are seeing the field and the quarterback's executing, that's when it's really fun to call this offense," Murdock said. "They've got the visual picture in their minds and they're picking their blocks up. Nobody's tricking them."
On its two fourth down conversions, Ware Shoals' execution was especially vital.
On a fourth-and-1 from midfield, Hammonds gained the yard he needed to keep the drive moving on a dive play. Five plays later, Hawthorne -- with four touchdowns in the game -- made his biggest play of the night without even finding the end zone.
Facing a fourth-and-6 from the Red Devils' 25-yard line, Ware Shoals came to the line of scrimmage without a play called. Two Great Falls defensive linemen appeared to jump on quarterback Jake Amick's hard count, but no flag was thrown and with the play clock running down, Murdock called a timeout.
In the timeout, Murdock called a reverse to Hawthorne, who broke two tackles that would have brought him down short of the first down on the play and eventually gained 13 yards, extending the drive.
"I love watching him run," Richardson said. "When he bounced off both of those, he showed his toughness, and showed how good a ball carrier he is."
With a first-and-10 at the Great Falls 12-yard line following Hawthorne's run, Richardson took the ball into the end zone on three toss plays -- of 9, 2 and 1 yard, respectively -- and after a Josh Culbertson point-after, the Hornets led 31-21 with 4:40 to play.
"If we wouldn't have scored that touchdown that Lance got, it would have been a close game and gave them an opportunity to score," Hawthorne said. "But we got the touchdown and that gave us more leg room in the game and we felt more comfortable about the score."
Given almost eight minutes of game-time to recover from Great Falls' late third-quarter touchdown drive, the Ware Shoals defense got takeaways on its final two series, clinching the team's first second-round playoff win since 2005.
"We were kind of going neck-and-neck there for a while," two-way Hornets tackle Bo Brown said. "They get the ball they score, we get the ball we score.
"Offense, we were just trying to do our stunts, run the ball down their throats the best that we could (on the long drive)."
That's exactly what the Hornets did on the drive, gaining 51 yards on runs to the right, 10 yards between the guards and 19 yards on runs to the left. Ware Shoals' lone passing play, a wingback pass from Hawthorne intended for Richardson on the 11th play of the series, fell incomplete.
In gaining all 80 yards of the drive on the ground, the Hornets averaged 5.3 yards per carry and on the strength of their offensive line and backs, ground their way to a potentially season-defining touchdown drive.
The success, Murdock said, is attributable to the team's season-long work in practice.
"We practice a script of so many plays just over and over and over and over and over," Murdock said. "It's bread and butter time when it gets down to something like that. We're not tricking them; they're not tricking us. It's time to go out and execute."
(Congratulations and best of luck to Coach Jeff Murdock, a long-time, dyed-in-the-wool "Wyatt-Winger". HW)
***********Best of luck to "Wyatt Wingers" in playoff action this weekend, including Ware Shoals (South Carolina), South Mecklenburg High (Charlotte, NC) and Corning West High (Elmira, New York)
*********** North Beach had four kids named to the Pacific League's All-Star team; old coach was honored, too - http://www.thedailyworld.com/articles/2008/11/18/sports/04sports.txt
*********** Regarding my profile...
http://www.thedailyworld.com/articles/2008/11/16/profile/profile.txt
You sure do not appear to be or act as though you are 70. I would have guessed you to be 55-60 TOPS. A Spring Chicken you still are (okay Late Spring, almost summer..LOL)
I love how you pointed out you focus on teaching, and that has made you a better coach. I learned that in about year 4, and have used it ever since. I think it was actually the Great Mentor CHW (you) who taught me that.
Has been the most valuable piece of advice I have ever been given, and is SO very true with the players I have. PJ claims I am the most patient man alive, I tell him it is not necessarily patience, it more the understanding that with a group of kids that have never played football for the most part, and a group that has never been able to trust anyone in their lives for the most part, and with a group that has never done anything as organized as what we do, it is counter-productive to do anything but teach, and use every little mistake as a teachable moment (be it on the field mistakes, or mistakes in life, or mistakes on campus etc.). Once this group of kids learns that they can put 100% trust in you, they will absolutely do anything you ask of them, and will do it at 100%. It is an interesting group, and the dynamic personalities are an absolute joy to work with. I really feel at many levels more satisfied in this job than I ever have before. Am I making a difference? Only time will really tell I guess, but hopefully I am teaching them that not everyone in life is going to be out to get them, and that they will always have at least 1 person in this world they can turn to and lean on in the tough times. My phone rings non-stop during the day from kids who have been discharged calling to check in with me, and that is more rewarding than any paycheck I ever get.
Brad Knight
Athletic Director/Head FB Coach
Clarinda Academy
Clarinda, Iowa
*********** Hi Coach,

I have greatly enjoyed getting acquainted with the double wing through your website and continue to visit it regularly. I am the son of a long time football coach (40 years of experience including one state championship). I was around football a lot earlier in my life but lost touch with it until my 7 year old decided he wanted to play football. I helped coach his team and have found the coaching bug is in my blood.

There is a local high school that is very small and in need of a football coach for next year and they would be a perfect fit for the double wing. I have prior coaching experience at this level but not head coach experience. Should I go for the interview and see what happens or should I hang out in the youth leagues for awhile?

Your website is great and I look forward to your "truthful, straightforward, and no-nonsense" response. All the best and congratulations on your season.
You didn't say where you are located, and since I have only a slight insight into your experience, I can only go with what I know.
I wouldn't worry that much about football knowledge. Right now, it may very well be enough, because keeping things simple enough for the kids to understand is a great virtue. The trick is not in what you know - it's in how you teach your players what you know.
I think that being old enough and mature enough is in your favor, too, because a lot of younger guys take a job like the one you describe merely in hopes of putting a couple of winning seasons behind them and then moving on.
I can tell you that without prior head coaching experience, you are in for quite a treat, because the stuff that goes on under the surface that the head coach has to deal with and nobody has any idea is going on is the stuff that can really grind you down. There's really no substitute for having dealt with that stuff before, and even when you think you've seen it all, and despite your best precautions, there will still be surprises.
I am not discouraging you.
I would start out by speaking to the people who will be doing the hiring and asking what they are looking for in a head coach - and then, if the job still interests you and you think you have a shot at it tailoring your approach to fit their needs.
And then, figure out what you're going to do and how you're going to teach it. Don't try to do too much. And never allow yourself to think that you can get by with less effort or knowledge just because it's a small high school, because there are some very good coaches at all levels.
(You didn't say whether your father is in good health and/or near enough to where you live, but he would be an invaluable resource.)
*********** Is it possible that as college coaches acquire the wealth of tycoons they also acquire all the haughtiness, all the arrogance of today's CEOs?
First, there's Charlie Weis...
John Muckian, from Lynn, Massachusetts, wrote,
Coach you gotta read this article that was in the Chicago Tribune - tells you everything you need to know about that A-hole Charlie Weis

http://www.chicagotribune.com/sports/college/chi-14-greenstein-charlie-weis-nnov14,0,669500,full.column
Wow.What a read. I knew the guy was arrogant, but I had no idea it was that bad.
If he'd pulled that "wanna take a picture of my Super Bowl ring?" crap with me I'd have said, "How about if I just genuflect and kiss itt?"
Then, there's Rich Rodriguez...
Remember in Vietnam when the joke was that they had to destroy a village in order to save it?
Rodriguez evidently has had to destroy the Michigan program in order to save it.
Understandably, not all Michigan fans are happy with that approach, and Rodriguez apparently is beginning to hear them. He says "you almost want to tell them to 'get a life.'"
There are more important things than Michigan football, he says. The economy, for one.
Economy, huh? Like Michigan people need a aoch who hasn't been in their state a year yet to tell them about that. Michigan's been in a near-recession for nearly six years now, and the last thing those people needed on top of all their other troubles was another losing football team to go with the Lions.
Coincidental with his "get a life" comments, I happened to receive an e-mail from Amazon.com advertising the book, "I Remember Bo: Memories of Michigan's Legendary Coach."
I think I'd better act fast if I want one, because if a certain "R. Rodriguez" in Ann Arbor, Michigan is smart, he'll buy up all of Amazon's copies (and he has the money to do it). The last thing he needs is for all those fans with no lives to be reminded of Bo Schembechler.
In fact, unless Michigan should somehow upset Ohio State, look for another book out soon - called "I Remember Lloyd."
*********** If you ever had any respect for the sports media before, if you ever took them seriously, what do you think now that they refer ,in all seriousness, to Chad Johnson as "Chad Ocho Cinco?"
*********** Don Shipley, son of my one-time semi-pro coach, sent me some old photos he'd come across from the early days of the Frederick Falcons.
Some of them are from the first game we ever played, in August, 1968, on a Sunday afternoon in Red Lion, Pennsylvania, near York. God, was it hot.
I thought I was going to die of heat stroke afterwards. I was 30 years old, and I hadn't played a football game in nearly 10 years.
I was saved by beer - by the tub of ice-cold National Beer in the trunk of my car. (At the time, I worked for the National Brewing Company, and I got a large quantity of beer free every week for "sampling" purposes.)
I remember being stopped at a traffic light on the way home (we drove our cars) and teammate Gene Snowden, who was a couple of cars back, walking up to my window and asking if I had any more beer. I left the engine running, got out, popped the trunk and got him a couple 16-ounce cans. Such was life in the days before open-container laws.
*********** It has been a frustrating, injury-plagued high school career for Alan Castro, son of my friend Armando Castro, of Roanoke, Virginia, and so it ws nice to see the treatment Alan,a quarterback with great potential, received in this article...
gohttp://www.roanoke.com/sports/notebookplus/wb/184268
*********** You might get some ideas from this video of West Point's Indoor Obstacle Course --- http://www.youtube.com/watch?v=QuQqWYCfmmk&feature=related
*********** Hugh, Our season didn't end the way we would have liked, losing in the semi-finals to a very good and determined Lombard Falcon team. They went on to win the BGYFL 130lb Gold Super Bowl the following week. For most of these boys at the 130lb level, this is the last year before high school football starts. The great thing about the rivalry between our two towns is that as little as 3 years ago, there was a lot of animosity between us. When Bob Gibson (head coach of our team) and I took over the team, we stressed sportsmanship first. When our boys made a good hit, they reached out to give a hand up. If they were hit hard, they patted the guy on the back in recognition of a good play. It's funny how contagious that kind of behavior can be. It didn't take long before they were responding in the same way. At the end of our hard fought game, as we were going through the line shaking hands, some players were hugging each other, patting each other on the back and encouraging a win in the championship game. After the teams had their end of the game talks by their coaches, and the boys started to disperse, the Head Coach of the Lombard team and his son came over just to talk about what a great rivalry it was and hang out. It was a great sign of respect and was truly a great thing to watch.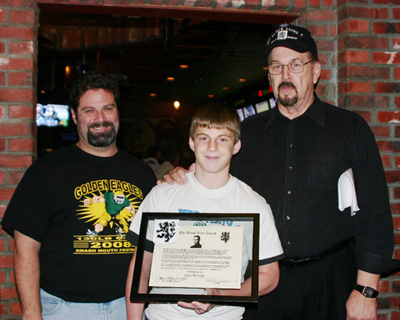 Last night we had our end of the year banquet. We ate. We reminisced about the past two seasons and watched a highlight video. But the true highlight of the evening was the Black Lion award ceremony. Zach Hassan was the winner this year. He personified our "team" first concept as well as our commitment to what we call our 4 D's: Dedication, Desire, Discipline, and Determination and fit the description of a Black Lion to the letter. It was our privilege to have Ronald Keen a Vietnam Veteran present to give out the award for us. Ron entered the Army at Richmond Va. May 1967. Upon completion of his training, he was assigned to the Delta Company, 2/28th Infantry, 1st Infantry Div. He joined the unit on October 18, 1967, the day after Major Don Holleder died in the battle of Ong Thanh. He served as an infantry squad leader for 1 year. His last assignment before discharge was serving with the Infantry Honor Guard at Ft. Benning, Georgia. Although he is not a public speaker, he gave a great talk about his experience and the Black Lions that was well received by the entire room. The attached picture shows from left to right, our head coach, Bob Gibson, Zach Hassan, and Ron Keen.
Thank you for letting us be a part of this wonderful experience. Your time is appreciated.
Bruce Fisher
Glen Ellyn, Illinois
*********** What's with everybody jumping all over Donovan McNabb for not knowing that an NFL game can end in a tie?
Is it that essential to his job?
*********** It's not often that a meeting between two teams, each with 10 losses, generates national interest. Maybe that's because it's never happened, at least between two BCS teams. But with what's at stake - the dubious claim to worst BCS conference team ever -, this year's Apple Cup (Washington-Washington State) is getting a lot more attention nationwide than it normally would.
*********** A friend showed me a video of an Idaho high school coach shoving one of his kids to get him away from a fight, and in return for his troubles being socked by the kid.
I understand the kid has been charged with assault, but as for any chance the coach might have of successfully suing young Mister Hothead...
The defense's case will be based on the claim that the coach had no right to put his hands on the kid, and that he actually provoked the kid by shoving him.
Now, we all know what that coach was doing - and why - and many of us would have done the same thing. BUT - stop and think about this a minute - we live in an age where "child abuse" trumps everything, and I'm telling you, a coach had better not shove any kid, at any time, for any reason.
The general public will NOT understand.
There will not be any coaches or coaches' wives or former football players on the jury. The kid's attorney will see to that.
************ Black Lion General Jim Shelton tells me he was at General Petraeus' change of command ceremony at MacDill AFB in Tampa. Said it was very impressive. Also said that the people in the audience had difficulty seeing because someone in charge overlooked a very important detail that all coaches could profit from knowing: Never make the troops face the sun.
*********** Anybody catch those feathers (?)on the shoulders of the Oregon Ducks' uniforms last week?
*********** There's a distinct possibility that Boise State and Utah will both finish the season unbeaten, with one of them missing out on a BCS bowl. While this is probably unfair, it's a situation brought on by the fact that the Mountain West and the WAC are both weak leagues perceived (rightly so) as inferior to the likes of the SEC and the Pac Ten.
But there is a simple solution. Combine the two leagues into one big league, with a Mountain Conference and a West Conference. Have a championship game with the winner guaranteed a spot in the BCS.
It's an easy breakdown, but first you have to kick out the interlopers, Louisiana Tech and TCU. You lose nothing with La Tech out of the picture, and while TCU has a very good football program, Fort Worth is just too far out of the way to help what's essentially a Western league.
This is what I'd do if I were in charge of the Mountain West and the WAC. Start a new league called the WAC. Split the league into two divisions:
Mountain Division: Air Force, Boise State, BYU, Colorado State, Idaho, Utah, Utah State, Wyoming.
West Division: Fresno State, Hawaii, New Mexico, New Mexico State, Nevada, San Diego State, San Jose State.
Eight teams in each, nice and even. The Mountain Division schools would all be on the Mountain Time Zone and include the markets of Denver, Salt Lake City and Boise. There would be natural rivalries between Air Force, Colorado State and Wyoming, as well as Boise State and Idaho. And by grouping BYU, Utah and Utah State together, you'd have all three major programs in the Beehive State in the same division.
The West Division would be less compact, but would include the markets of the Bay Area, San Diego, Las Vegas, Albuquerque and Honolulu.
Suddenly, instead of two weak conferences begging for bids, you've got one pretty strong league that covers the West and fills in where the Pac Ten doesn't go. It's still no SEC, but it might give the Big East a run for its money.
Ed Wyatt, Melbourne, Australia (Good proposal except for one detail.
Easy for you to sit in Oz and give TCU the hook, but I have to stand up for the Frogs. They would be a credit to any conference.
Distance? The distance from Fort Worth to, say, Salt Lake is no greater than that from Seattle to Los Angeles, something the PCC/Pac-10 people have dealt with forever. The ACC seems to think that Miami-to-College Park (roughly the same distance) makes sense (I don't), and Miami to Boston is even farther.
The ACC let in Boston College thinking the people in the Northeast would care.But at least there was the possibility of entering big TV markets. I question whether your new league would be content with the TV numbers in Boise, Fresno and Honolulu while abandoning the far bigger numbers of the Dallas-Fort Worth Metroplex. HW)
TUESDAY, NOVEMBER 18, 2008- "Morale creates effort - and effort wins for you." Bud Wilkinson
WILDCATTERS! Scholastic Coach and AD magazine is planning an article on the REAL origin of the name "Wildcat" and is interested in teams at all levels that have run MY Wildcat (not Arkansas' or Miami's). If this is you, you can be a part of this effort by e-mailing me < coachwyatt@aol.com > your name and your team's name (and town) along with any comments you might wish to make such as how you found out about it, how long you've been running it, and what kind of results you've had. But - you've got to act FAST - they're facing a deadline.
*********** Rick Anderson, sports editor of the Aberdeen, Washington Daily World, a consummate pro and an ardent supporter of high school sports, wrote a very complimentary article on me that ran in Sunday's paper...
http://www.thedailyworld.com/articles/2008/11/16/profile/profile.txt
Photos - http://www.thedailyworld.com/news_galleries/profile/
*********** The 1968 Frederick Falcons held their 40th Reunion Saturday night in Frederick, Maryland. For an assortment of reasons, I couldn't attend. Stan Goldberg was a young sportwriter fresh out of the University of Maryland back when I played with the Falcons, and now, the sports editor of the Frederick News-Post, he wrote a great advance article on the reunion.
http://www.fredericknewspost.com/sections/sports/display.htm?StoryID=82718
What a wonderful story. I'm sure that those in attendance had plenty more to add. I'd have been glad to contribute my share, but I was a continent away, busy wrapping things up after a long football season.
It's fair to say that playing with the Frederick Falcons changed the whole direction of my life. That's the reason I'm coaching.
When I started out with them, I was on the corporate fast track as a marketing executive with the National Brewing Company; when I left, it was to become a football coach. And that's been my life ever since.
And, yes, that was my first exposure to real "diversity," and it was all the evidence I needed that with the right leadership, diversity works.
This wasn't just diversity in the black-white sense. This was city guys and country guys, family men in their 30s and kids right out of high school, high school dropouts and college grads. Our defensive leader was deaf, a teacher at the nearby Maryland School for the Deaf.
I should also mention that we were law-abiders but at least one of us was a criminal. The day before one of our games, one of our younger players took part in the robbery/murder of an elderly retiree. (He then played in the game.) He has since, I'm told, done his time and paid his debt to society and, now in his late 50s, is gainfully employed.
Clarence ("Motts") Thomas and I were two of the handful of college graduates on the team. Motts, a black man, and I, a white, became fast friends and have remained friends for life.
Dick Shipley, a former University of Maryland football player in the days when the Terps won a national title, was our coach.
Thanks to Dick's leadership, the Falcons became a very good football team, but even more, a great demonstration to a small southern town of diverse people working together toward a common goal.
I owe a lot to Dick Shipley.
*********** Results from the first round of the Washington State Class 2B playoffs...
Both of our league's representatives won convincingly
WILLAPA VALLEY 33, Tacoma Baptist 7.... (four weeks ago: Willapa Valley 22, North Beach 19)
NASELLE 34, Seattle Lutheran 7... (three weeks ago: Naselle 37, North Beach 35)
Now, to show how intelligent our state association is - Willapa Valley and Naselle meet in the next round!
*********** Good friend Greg Koenig writes from Beloit, Kansas, "Beloit lost 44-12 on Friday night to a very good Conway Springs football team in the quarterfinal round of the state playoffs. Here is the story from the Salina Journal: http://www.nckssports.com/article/87.php

Thanks for your support throughout the season. Take care and God bless you."
*********** The loggers are sure to win Saturday... The Knappa Loggers defeated Santiam, 27-0, to reach the Oregon state Class 2A semifinals Saturday against Scio. Scio, a timber community just like Knappa, is also called the Loggers. The game is scheduled for 5:30 PM at Wilsonville High School.
*********** I am now coaching a small D3 college in (----). I have a question.....

Can you direct me to a source or tool to help me or teach me how to break down film? I have actually heard of people that have pre-printed worksheets that they use to help them breakdown film.

Do you know of anything like this? Or even an instructional video?
There are three ways to go, in order of price and usefulness.
(1) Pure pencil-and-paper. Log each play, noting down and distance and hash mark.
(2) Spreadsheet - set up an Excel spreadsheet with appropriate columns for entering every detail on every play -
such as
quarter
yard line
hash mark
down
distance
formation
motion
run or pass
(If run) ball carrier, blocking scheme
(If pass) set up, pattern, receiver
result
Then, you can sort on one or more of the variables (for example, all fourth-quarter pass plays on third and long)
With a spreadsheet on each opponent, adding in every game you have, you can sometimes find some interesting things - such as the fact that when they line up in a certain formation, there is only one thing they ever do.
(3) Scouting program. Good ones run around $1,000 or more. Landro makes a good one; TD Video makes a good one for Macs only. These are basically databases that enable you to enter all the necessary details for every play, but also accompanied by a video clip of the play itself. What this enables you to do is run the same sort as in (2), but what you would get would be a collection of all the video clip of all the plays that meet the sort criteria. And then you can assemble those clips to show your coaches and/or players.
Obviously, I'd recommend (3)
*********** I try to keep myself on course by remembering the words of a legendary coach in Waukegan, Illinois:
No player is more important than the team

No coach is more important than the staff

No game is more important than the season

No season is more important than the program
It's amazing how often this provides the answer to a tough decision
*********** There are several million reasons why this year's World Series TV ratings were down, and I'm one of them.
Look. I made it through baseball season with a minimum of bitching. (Wasn't I good?)
But now it's football's turn. So enough, already. Stop. No more baseball. It's over.
I think I speak for a lot of football fans when I say don't really give a sh-- about this C.C. Sabathia character, whoever he is, and I'm tired of them breaking into football games to tell me the status of his f--king negotiations with the Yankees.
*********** But as long as we're on baseball...
Tim Lincicum was just named the National League's Cy Young Award.
He is a Seattle kid - went to high school in nearby Renton, and then played at the University of Washington.
So why didn't the Mariners sign him? I mean, they are one of the worst teams in baseball. Could this be why?
See, the kid is only 5-10, 160, and everybody knows that a guy that size can't throw hard, right? Or if he can, he can't hold up for long, right?
At least, that's what Mariners' (former) GM Bill Bavasi and (former) scouting director Bob Fontaine must have thought.
Said Lincicum's father after his son won the Cy Young, "Let me see if I can say this tactfully. The Mariners' guys, Bavasi and Fontaine - they were idiots."
*********** Strong words from an old-timer. Bob Feller, in my mind one of the greatest pitchers of all time (he would have won at least another 100 more games if he hadn't enlisted in the Navy immediately upon hearing of the Japanese attack on Pearl Harbor), had this to say after hearing of the death last week of one-time Cleveland Indians' pitcher Herb Score...
"Herb Score, who was signed by the same scout, Cy Slapnicka, as I was, would've been just as good if not better than Sandy Koufax if it wouldn't have been for the injury to his eye (Score, a fast-balling lefthander, was hit by a line drive off the bat of the Yankees' Gil McDougald and after a long recovery was never the same dominating pitcher). And Sandy Koufax was the best pitcher I ever saw in my lifetime."
*********** So five - FIVE! - Florida State wide receivers were involved in a brawl in the student union at noontime. NOON!
So that's what Ole Bobby had to do to get FSU back on the winning track - he had to thug up.
Considering the normal no-BS cynicism of the news media, how much longer will they continue to give Ole Bobby and that Aw Shucks/Gee Whiz/Dadgummit shtick of his a pass?
*********** The NFC and AFC championship games are both scheduled for Sunday, January 18, one an afternoon kickoff, the other in the evening. Should the Giants and the Jets both advance to their conference's championship game, and should both be the the higher-seeded team, both games would be played in Giants Stadium.
Uh-oh. No way they're going to play two games on the same day in that stadium.
"Logistically impossible" says a spokesman for the New Jersey Sports and Exposition Authority, which operates the Stadium.
"You would have to empty it, clean it, get 80,000 out of the parking lot and get another 80,000 people in," said the spokesman.
And not any 80,000 either. 80,000 New Yorkers and New Jerseyites, quite possibly inflamed by their reaction to the game, many of them quite likely under the influence.
*********** Coach,
I wanted to let you know that there was some serious double wing action in Connecticut tonight. Haddam Killingworth beat Tolland 22-14 in double overtime in the rain and mud. Lots of super power, g-o down, trap, and counter from both of us. We missed a field goal to win it with about 30 seconds in regulation and they got the better of us in OT. It was a great football game. My only regret (other than losing, of course) is that I sat down with Dennis O'Rourke, HK's head coach, a few years back when he was thinking about going to your system and I encouraged him to make the change. I should have kept it a Tolland's little secret.
Congratulations on your fine season. It is amazing how for even a short period of time a winning football team can unite a community.
Respectfully,
Patrick Cox
Athletic Director
Head Football Coach
Tolland High School
Tolland, Connecticut
*********** Coach,
The kids "Played to Win" on Friday night in the New York State Quarterfinals and we now move on to the Final Four. So much for State Rankings (great for the kids); I congratulated the kids before the game on Friday night on making it as far as they have and considering it wasn't too bad that we had moved from Honorable Mention to #20 in the State with only 8 teams still in the hunt. That's why RESPECT has to be earned. We then went out and rushed 63 times for 451 yards with a heavy dose of 44/55 Base Lead, Super Power, and G-Reach. The lead in to the article read POWER vs. finesse. POWER WON 28-26. We are really proud of what the kids have accomplished this year and are really excited about having the opportunity to play in the State Semi-Finals this coming Friday with a chance to WIN and go to the Carrier Dome for the State Championships Thanksgiving Weekend. We play a very athletic team out Buffalo and we will need to be on top of our game. They have more team speed, size, and athleticism, but we have a system. We have the DOUBLE WING. It will give us a chance and our people believe in it. We do what we do! I think that thats been said a time or two this year when we have been outmatched. I also had a couple of guests on Friday night. Two former assistants who are now Head Coach's, and good one's at that, came and helped spot and make suggestions. Jeff Matthews, from Sidney HS in NY, who won the State Championship a couple of years ago and John Dowd, from Oakfield-Alabama in NY, who got beat in the State Championship a year ago. We had a good time reminiscing and joked that we would fly you in next week for the game. I have attached the article of the game.
http://www.the-leader.com/sports/x1772949387/West-powers-into-state-semifinals
Thanks again for all of your help... Congratulations on another great season, too bad about the playoff system there.
Thanks Again,
Mike Johnston
Corning West HS
Elmira, New York
*********** The post in your NEWS yesterday about the 1st year coach asking questions about line splits and your reply to him was vintage Hugh Wyatt. I recall the biggest dividend of running the Double Wing with tight splits and hips welded together blocking on the defensive front really created a "toughness" that simply permeated through our entire football team. I recall too, teams in the 4th quarter "giving up" because they simply were getting tired of getting their asses whipped along the front.
Don Capaldo, Hamilton HS, Hamilton, Illinois
*********** I was thumbing through an old program from a game my team, the Hagerstown (Maryland) Bears played against the Triple Cities Jets in Binghamton, New York in 1972, when I had one of those WTF? moments.
I came across an ad for a place in Binghamton called Sharkeys' that billed itself as "The Largest Clam and Spiedie House in Upstate New York."
Say, "Spiedie House?"
Might that be pronounced "Speedy?" A thousand old jokes come to mind, including the one about the guy who was double-parked.
Hmmm. Time to check Wikipedia.
The spiedie (IPA: /sp?d?/) is a dish local to Greater Binghamton in the Southern Tier of New York State, and somewhat more broadly known and enjoyed throughout Central New York state.[1] Spiedie consists of cubes of chicken and pork, but it may also be made from lamb, veal, venison or beef. The meat cubes are marinated overnight or longer (sometimes for as long as two weeks under a controlled environment) in a special spiedie marinade, then grilled carefully on spits (if steel skewers are used, they are called "spiedie irons") over a charcoal pit. The freshly prepared cubes are served on soft Italian bread or a submarine roll, skewer and all, then drizzled with fresh marinade. The roll is used as an oven glove to grip the meat while the skewer is removed. Spiedie meat cubes can also be eaten straight off the skewer or can be served in salads, stir fries, and a number of other dishes. The marinade recipe varies, usually involving olive oil, vinegar, and a variety of Italian spices and fresh mint.
To think that I have lived seven decades and only today learned what a spiedie is! To think that I was once in Binghamton and never tasted one!
*********** Hugh, Lower Cape Raiders 13, Bridgeton 6.

We played is similar weather to what you had, only we were lucky enough to have a few hours lull from the heavy wind for the game. I was disappointed about the closeness of the score but we did dominate the game with the exception of a long lucky pass. As you know it's tough to play in that kind of weather. Poor coaching on my part. I feel I called a game, " not lose" rather then just play.

We play Galloway (Absagami's Jr high Group IV) for the Championship next Sat. afternoon. They are undefeated and very good. they beat us in the first game of the season.

Frank Simonsen
Cape May, New Jersey
*********** A frend sent me an article about an investigation into the death of a high school football player who collapsed at a practice that has been turned over to prosecutors, and asked where I thought we were headed "if lawsuits start dictating how coaches coach."
My response - lawsuits, or at least the fear of them, have been dictating how we coach for years.
It's why players have to have physicals, and have to have a certain number of practices before they can play.
It's why smart coaches teach safe tackling, and it's why they don't administer tough "punishment" drills.
And it's why smart coaches write "water break" right into their practice plans - and then make sure their players drink.
Most states (at least southern states) have restrictions on what you can do once the temperature/humidity index reaches a certain point.
The list goes on.
So, yes, lawsuits are already dictating how coaches coach.
*********** Good morning!
Congratulation on a fine season! And it was Blanton Collier who later was the Cleveland Browns coach.
I don't know why I remember this but I do. You may have run a piece on him when you used to do your "Remember Who?" series.(I know that's not the correct name.) If I remember correctly he had an excellent staff with several coaches who would go on to success as head coaches.
It's a great day to be alive!
Dennis Metzger, Fountain City, Indiana
*********** Blanton Collier - I remember the picture from Scholastic Coach of football staffs that seem to breed head coaches. Kentucky was one of those
Coach Kaz - Mark Kaszmarek, Davenport, Iowa (How about Don Shula and Bill Arnsparger, to name two?)
*********** Coach Wyatt;

Just a quick note: we've made it the Championship game this weekend....!! We'll face a team who beat us a month ago 13-6. One in which we didn't have our starting QB available or starting left tackle..... Once again coach you've been a great mentor and friend and I'm blessed to have someone of such good character in my corner. Darlene and the kids say hello.......

Respectfully;

Dwayne Pierce, Washington, DC
*********** Hi Coach, I am not sure if I told you but Kerry (my wife) moved over to HP a year ago. She really enjoys the culture and people she is working with. Recently, she had to give a speech on a rather dull topic. There were about a 1000 people in the audience...of which...probably 90% were males over 40. With her knowledge of football and what will grasp the attention of most men...she used the double wing formation in her speech as an analogy for the benefit of a tightly integrated methodology. She even had the DW formation as a visual in the presentation. Kerry said using football as an underlying theme was very effective. In fact, after her speech, someone came up to her and said that his HS coach from 25 years ago has ran that offense (it was actually the Delaware Wing-T) for quite a few years.
Anyways...I am awfully proud of my wife!
John Lambert, La Center, Washington
PS: Congrats on a great season!
*********** Coach,

Just wanted to drop you an e-mail to tell you we concluded our season tonight with a 34-13 victory over an opponent that was their league champion. We went 10-0 this year and scored 426 points. We played 2 varsity games and 8 JV games with sophomores only this year at my new school. We had to play with our back-up QB most of the game because our starter injured his thumb and couldn't grip the ball. We made a living on power and lead criss-cross. Thanks for all your help, 15-0 in two years running the double wing and starting a school and football program from scratch. Can't wait to see what these kids are going to do next year as juniors and playing a full varsity schedule in 2009.

Greg Gibson
Head Football Coach
San Juan Hills High School
San Juan Capistrano, California
*********** Coach, I was at a freshman game last night to watch some of my kids from last year. Andrew Buron and Tanner Wood (former Black Lions) were important in the team's 6-0 win, and Andrew, blitzing from his LB position, sacked the other team's QB late in the game when they were driving...it was a devastating hit and everyone took a knee while the trainer saw to the QB (that has to be a remnant from soccer). I spoke with Andrew's mother in the stands to see if he would help me present the Black Lion award at our banquet.... she said that he still wears his game shirt with the Black Lion patch all the time, watches the highlight films all the time, and would be glad to come to my banquet.
Thanks
Rick Davis,
Duxbury, Massachusetts
*********** The e-mail read... I just read your article on Wildcatting the double wing. This is my first year running double wing- and I would like to put the wildcat in. Do you have examples of the plays you could send me so I can begin the implementation. I have two very good QB's that are tuff-physical kids- and this would be a great fit!
Although we've never had any dealings, this is the second time you have written me for something, so I find myself describing a parallel situation...
I'm a Mac user, and I buy 90 per cent of my software and hardware from one Apple store. Part of my reason for doing so is that when I call their service department for advice, they provide it as a customer service. They're really helpful. But surprise- when they get calls from people who haven't dealt with them, they're not helpful.
That's the way the world of "tech support" works.
I've worked long and hard and gone to considerable expense to acquire the knowledge that makes my system work and the ability to teach it, and it's been my good fortune that people have been willing to pay me for that knowledge and ability. And in return for their loyalty, I put in a lot of time and effort trying to provide them with technical support - doing everything I can to help them be successful.
Since I first hung out my shingle, others have come down the pike, claiming to offer the same thing I do, and certainly coaches are free to deal with them. But when they come to me for "tech support," my approach is understandably the same as the folks at the Apple Store - I suggest that they go for help to the place where they acquired their Double-Wing.
FRIDAY, NOVEMBER 14, 2008- "Success is mostly luck. Ask any failure." The late George Stanich, of Portland, Oregon, one of the world's great innkeeps.
*********** Coach Wyatt,
I once again went back to your website this week after many years of looking at your articles.
This was the first time as a Head Coach. I am currently the Head Coach at ------ in --------WA and I just finished my first year.
I am a Wing T guy and like you have done extensive research and study on the history and application of the offense. We could not block it as effectively as needed this year and it really hurt us. We had our moments but we also had a tough stretch were we could not move the ball at the end of the season. We could not score points.
I am wondering your thoughts on your switch to the "tight splits". Was your idea to simplify the line assignment by cutting down the distance for your linemen to make the blocks?
Is your offense and its application simply the Wing T with tight splits in the line?
This year we ran power, counter, the buck series, belly series and down series. It looks like your plays and play book are so similar but your splits are foot to foot. Is this the basis of your offense or is there something that I am missing?
I am putting my check in the mail right now for "A fine Line" I have really learned how important O Line play is. I will probably order more as I go along in my investigation of your offense.
Thanks so much!!
The short answer to your question is yes, I am running the Wing-T - in compressed form. I use the same terminology I used when I ran the Delaware Wing-T (which is not Delaware's terminology, but my own, I should add). And my blocking rules are, for the most part, Delaware's. That is why I get such a laugh out of youth coaches who think they can reinvent a system that goes back to the Michigan single-wing of Fritz Crisler and has been refined over the years by people like Dave Nelson and Mike Lude and Tubby Raymond and Ted Kempski.
Our tight or nonexistent splits accomplish several things:
(1) EVERYTHING we do on the line, including our stance and alignment, is designed to eliminate penetration. By tightening our gaps, we made them much more difficult to penetrate.
(2) We don't have to spend a lot of time on blitz pickup. Blitzes just aren't very useful against us
(3) We never have a situation where an offensive lineman has a man on him AND a man in his inside gap. There simply isn't room.
(4) We wedge block a fair amount of the time, and the thing that kills a wedge quicker than anything else is breaking through the seams between our blockers.
(5) We double-team quite a bit, and it is easier to teach the basic concept of "hips together" when we are already tight. Double-teams occur naturally when your linemen are so tight.
(6) We don't have far to go to reach a man when we're running outside.
(7) Our pulling backside linemen don't have so far to run
(8) Pass protection is easy to teach
(9) We don't have to be constantly coaching splits.
The most important distinction I find is that tightening the splits changed us from being a finesse offense (which the Wing-T is) to a power offense the sometimes employs finesse. When I ran the Wing-T, I never had the sense that we had worked people over. Now, win or lose, when we get finished playing people, they know they've been in a football game.
*********** Ever think you've been shafted? Be glad you don't coach at Ellensburg, Washington High.
From the Yakima Herald ---
ELLENSBURG — Perhaps he was waving to someone in the stands.
Or, only a bit prematurely, perhaps he was waving goodbye to Ellensburg's postseason hopes in what would be, for the Bulldogs, a season-ending 19-14 defeat.
But whatever Othello's Devon Lind was doing while he awaited the punted ball to land in his hands barely 1 1/2 minutes into the game, it must not have been motioning for a fair catch. Apparently it only looked precisely like that.
It certainly looked like that to the Ellensburg players bearing down on Lind.
"There was like five guys that just stopped, right there, all around him," said Bulldog senior Ben Luce. "It was pretty obvious. Fair catch."
"He waved. And you could see, all our guys stopped," said sophomore Bobby Riddle, who - along with Willy McClary and Tyler Morris - were probably within a yard or two of Lind when he caught the ball. Lind took a hesitant step forward - with McClary basically stepping out of his way to avoid touching him - and then started tentatively continuing, picking up his pace as he went.
The Bulldogs, meanwhile, started looking around for a flag. Isn't that illegal after a fair catch? He can't do that, can he?
Well, he did, and by the time any Bulldogs (6-3 CWAC, 6-4 overall) realized the officials hadn't blown the play dead, Lind was well on his way to the easiest 65-yard punt return for a touchdown anybody ever had.
That put the Bulldogs - who, with a victory, would have forced a three-way playoff for second place in the CWAC - into a 7-0 hole before they knew what hit them.
"We had 10 guys stop. You're telling me we had 10 guys stop and it's not a fair catch? Unbelievable." Ellensburg coach Randy Affholter exclaimed. "Difference in the game. That's a big situation. Down a touchdown, in a game like this."
(Almost makes you want to coach your kids to gut the next guy who calls a fair catch, doesn't it? At the very least, I'm going to teach them that if the guy makes one false move, they should take him out, and we'll take our chances with the penalty.)
*********** Yes, redistribute the wealth. We will donate 1 of our wins this year as well (so we tie for the best season in school history) to a team that did not win at all, as my kids think that it is quite unfair that even though some teams did nothing to get any better so they could win, they still did not experience any success. We also would like to donate several of our days of hard work to teams next year so they can get better, and we will help with doctor bills so that other teams (when injured) can get healthy enough to compete.
PS- After reading your news today I am changing offenses. I am now running the Wyatt Wing 100% next year and forever.
Wyatt Wing is SO much superior than any other attack I have ever seen. And will you demand your damn royalties already? If Tony Kornholer (LOL) says you should get them well by God you should.
Had the honor of listening to a Vet speak today here at CA, Robert Reed. He had been deployed in Afghanistan (3 tours) and was instrumental in helping get the ball rolling in the first ever election there (provided security to all the dignitaries who came to greet the president elect and was shot at in the city they were protecting), and all I can say is WOW. In his 15 minute speech to our students I would bet there was not a dry eye in the building as he talked of the sacrifice made by not only our Veterans, but by the families of Veterans (specifically wives and children). His wife and children were in attendance, and when they were asked to stand Robert was overcome with emotion as they received perhaps the greatest standing ovation in the history of CA. Another moment at CA that leaves this poor sap speechless. Our kids are amazing sometimes (and amazingly stupid others) but they care so much for the people who take the time to come and visit, talk, tour, and help them.
Brad Knight
Athletic Director/Head FB Coach
Clarinda Academy
Clarinda, Iowa
*********** Nationally-ranked Long Beach Poly beat Double-Winger Compton, 40-13 last Friday. But wait - this was the first time all year that Poly, whose defense has given up just 58 points all year, allowed more than a touchdown.
*********** Near the end of her life, Mother Teresa was asked if, after years of caring for the poor and ill in Calcutta, she was discouraged because she seemed to have made so little progress.
"No," she replied. "God doesn't call me to be successful. God calls me to be faithful."
*********** The boys and I were watching Monday Night Football when Kornheiser went on his little spiel about the Wildcat package. (My son) Jacob turned to me and made the comment, "We know who named the direct-snap the "Wildcat". Why can't they figure it out?"
(My other son) Caleb's response was "If I know Coach Wyatt, he's watching this, and he'll let them know who came up with that name."
Good luck with it, and hopefully the knotheads at ESPN will give credit where credit is due!
DJ Millay
Vancouver, Washington
*********** This is what you call class...
The letter, on the official University of Washington Football letterhead, read...
Dear Coach,
The news of a change in the coaching staff at the University of Washington should have reached you by now. However, if it has not, the administration has decided to move in another direction in 2009. I would like to thank you for the time, energy and consideration you have given the UW, our football program, my staff and me.
Our goal was to create an environment that would produce champions on and off the field. Though we did not accomplish our goals on the field, it is our sincere wish that the next staff take the Huskies to levels not seen in many years. We would ask the you and the young men you coach keep an open mind about the UW as they work through one of the most demanding decisions in their young lives.
The UW is an outstanding place for a young man to reach all of his goals. Again, thank you, and if we can assist you and your young men in the future, please do not hesitate to contact us.
Sincerely,
Tyrone Willingham
Head Football Coach
University of Washington
*********** A coaching friend writes,
I honestly believe that one of our major problems – besides both physical and mental toughness – is that most of our players don't know how to be led. ----- and ----- both tried numerous times to "rally" the kids on the sidelines during games, but most of the players ignored them. I just kept telling them to work with the ones who got involved - the others won't improve. It's weird, and since I'm only around the kids at practice, I can't really put my finger on it, but it's as though a lot of the players resent the ones with talent who also try to show some leadership. Too much of a "me first" mentality from a lot of the kids – and most of them don't even get much playing time and can't figure out why that is.
You have hit on two very important things - first, that kids have to somehow feel that they are a part of a TEAM, and that any success they have will only come if the team is successful. Second, that anyone can lead, kids have to learn to follow. In our anti-authoritarian society, a lot of kids are actively taught by their parents that they should "question authority."
At West Point, whose main job it is to develop leaders for our Army, the entire first year is spent teaching not how to lead, but how to follow.
*********** Do you use different formations besides the Double Wing? Do you compress the split of the split end in the 100 or Wing Right formation? I see you used some "Double Slot" or 500 formation? Did you have the splits of the Split Ends or WR at 5 yards instead of 10?
Do you use a Tight T formation or any other formations that have been used in basic Wing T football? Or do the formations really matter as much with the fact that the splits are so much closer?
Second, what happens when you get that really talented QB type of kid? Do you open up the passing game a little more?
Although our base is Double Tight/Double Wing, we use a lot of different formations, for reasons too numerous to get into.
"Open up the passing game?" That's a job for another system. Another coach.
We averaged 7.3 yards a rush this year (3670 yards, 504 rushes). That's not an uncommon number for teams I deal with. I do know how to make use of a quarterback - WITHIN MY SYSTEM. I had a good young quarterback this year and he gave us an effective passing game to complement our running attack.
But no quarterback, no matter how talented, could tempt me to change my overall offensive philosophy, which is based on "run first." Passing teams don't seem to mind third-and-long. I do.
*********** Coach,
We played great defense on Saturday to win the Sectional Championship. We intercepted a pass in the endzone with 20 secs. left to seal the victory. We are currently 9-1 and now advance to the State Playoffs with only 8 teams left. We didn't move the ball consistently, but did enough to get a win. We play a very athletic New Hartford team on Friday night in Syracuse to advance to the Final Four. They run No Huddle, can throw it, can run it, and were pretty impressive when we scouted them. We will need control the clock and have long drives to keep the ball out of their hands.
Here is the short cut to our game article from last week. http://www.stargazette.com/article/20081109/SPORTS0805/811090347/1002/sports
Thanks,
Mike Johnston
Corning West HS
Elmira, New York
*********** Coach Wyatt, It's been a long time since I have emailed you, however, I always read your site and was happy to see you coaching and doing well. I just completed my 11th year as Head Football Coach at Archbishop Curley HS in Baltimore, Maryland. We had a another solid season running the Double Wing offense. We finished the year 8-3, ranked 7th in the State among private schools and had both our A & C backs rush for over 1000 yards. Since installing the Double Wing in 2001 our varsity record is 53 - 31 with three conference titles and our JV is 59-18 with three conference titles. This, coming from a school that had only one winning season from 1978 - 2000. There is no doubt that our program's success is directly related to this offense. It just matches the type of kids we have here at Curley. I think the best decision I ever made as a high school coach was installing this offense. It's made our kids tougher and more confident. Our opponents HATE playing us because of the physical style. I have had more fun running this offense then I ever anticipated. It's a lot of fun, especially when you see your opponents sucking wind after the first quarter. I don't see myself ever changing. Some say I am too vanilla with the offense, I stay predominantly in a tight set and run the core plays. I really enjoy watching our kids control the ball on the ground and eat up the clock. This is coming from a former wide receiver on the college level who never thought I would coordinate an offense that didn't throw at least 60% of the time.

Anyway, just had to email and let you know we are still running the offense and having a blast. I really believe if it hadn't been for one of my asst. coaches (Mike Dison)finding this web site and convincing me to attend your clinics and change our offense I might not be the coach here at Curley. Thanks for all you do for the game of football. Enjoy the Holidays and my very best to you and your family.

Sean Murphy
Head Football Coach
Archbishop Curley HS
Baltimore, Maryland
I admire the way Coach Murphy, an outstanding receiver at Towson University, put aside his personal likes (we all have them) for what he believed to be the good of his kids. And I'm especially glad that his decision to do so was rewarded by success.
As a one-time Baltimorean, I know what Curley is up against in the Loyolas and Calvert Halls, etc., and Curley's success under Coach Murphy is remarkable. HW
*********** Hugh: Congratulations on a great season! Seven wins and no playoffs? The only words that come to mind are, "That sucks!!" Bill Lawlor, Crystal Lake, Illinois
In Washington, It's all done by league standings. Each league is allotted a certain number of playoff spots. We happen to play in a pretty tough seven-team league, which got two playoff spots. (Last year it was three, and next year it will be three, but that's how it goes.)
Meanwhile, though, a 5-4 second place team in a very weak 5-team league had losses to our leagues' #3 team (us) and #4 team. Weak league, did I say? One of this team's wins came by forfeit when one of the league members couldn't field a team; two more of its wins came against a team that we beat 53-8; and a fourth came against a big school's JV team.
And it's in the playoffs.
Washington's share-the-wealth playoffs.
Give me the Illinois system. Or the Ohio system. There's a lot to be said for computer rankings. Curse the BCS computers all you like, but I feel like we finished third in the SEC and got aced out by the second-place finisher in the Sun Belt.
*********** Permit me to brag about Kentucky's Rich Brooks, a real man and a great coach. I first met Rich back in 1977, when I used to work at his summer camp. In the days before Oregon had Nike money at its disposal, Rich built a woebegone Ducks program into a Rose Bowl participant. It could also be argued that he laid the foundation for the Rams' Super Bowl championship, until the Witch of the West, Georgia-the-Woman-of-Many-Husbands, pulled the pin on him. He was Atlanta's DC during their one Super Bowl appearance and then, despite what I once heard him say about never taking a job east of the Rockies, he took the Kentucky job. He took it at a terrible time, when UK was facinf probation, but after suffering through some really tough times, he has repaid his AD's patience by giving Kentucky three straight seasons of six wins or more. The last time the Wildcats had three straight six-win seasons was 1954-1956. FIFTY YEARS AGO!
QUESTION: Who was the Wildcats' coach then? (HINT: it was not Bear Bryant)
*********** Coach Mark Rangel, of Lathrop California, sent me the following link to an article about the (to me) semi-spooky practice of players' taking a knee when an injured player is being tended to...
http://www.modbee.com/2103/story/495792.html
I haven't the slightest idea where the practice started, and it mystifies me. Maybe it does derive from soccer, in which case I am against it reflexively.
I hadn't seen it before this year, when a week or so into workouts one of our players got laid out in practice and I went to tend to him and when I turned around to make sure the team was getting back to business, I'll be damned if they weren't all on a knee. I remember saying to myself, (at least I hope it was just to myself) "WTF?"
I guess I don't see any harm, although it does seem sort of touchy-feely to me. I mean, both teams taking a knee every time a kid has a cramp?
*********** Hugh, I hope all is going well for you and your family.
Later in the week I'll be sending you the Black Lion write ups for the Hinsdale Falcons 80 pound Gold and Silver teams and our 115 pound Silver team.
Our season at 80 Gold (my team) went very well. We ended up 8 – 2 and a trip to the Super Bowl. Unfortunately we were beaten in the big game as we were the smallest team in the division and our guards & tackles couldn't protect their inside gaps. Also, in the 3rd quarter we lost our top 3 athletes to injury when we were down 0 – 6. As you could image the dam broke open at that point. The Double Wing was great this year as we averaged 7.05 ypc and averaged 4 TDs a game which is a lot in the shortened youth games.
I trained our 115 Silver coach and he runs the exact offense and defense that I run. In the playoffs he asked me to call the plays for him and we were able to win the championship so I was 1 – 1 on championship weekend.
I'm trying to catch up on all of my end of the season tasks. Once I do I will send you a formal statement of endorsement for all of your help that you can use for your website or whatever way you want.
I also had a very odd defense thrown at me in the semi-finals. I will draw it up and send it to you in a few weeks to get your opinion on how to block it. It was very clever and very potent against a 9 year old youth team where passing is difficult. We still beat them and gained 209 yards but they held us to 4.45 ypc.
I hope all went well for you this season.
As always I thank you for the help!
Take care,
David Marco
Hinsdale, Illinois
*********** Coach,

Now that I know we will be presenting the Black Lion Award I feel obligated to make sure the presentation does the award justice. Any suggestions on what to do? Powerpoint on the award history, presentation from a Black Lion, what would you do?
It's great to have a veteran or an active service member do it, but you can do it yourself. When we send the award, we include a copy of an article by Don Holleder's West Point roommate, Retired Air Force General Perry Smith, that you'll find to be a big help in making your presentation.
TUESDAY, NOVEMBER 11, 2008- "In America, the young are always ready to give those who are older than themselves the benefit of their inexperience." Oscar Wilde
*********** A SALUTE ON VETERANS DAY TO ALL THOSE WHO HAVE SERVED OUR COUNTRY IN UNIFORM. MAY THE SO-CALLED WAR ON TERROR HAVE AT LEAST ONE SALUTARY EFFECT ON OUR NATION: MAY IT RESULT IN AN INCREASED NUMBER OF SERVICE VETERANS IN OUR CONGRESS. IT'S JUST THIS ONE PERSON'S OPINION THAT AS THE NUMBER OF VETERANS IN OUR CONGRESS HAS DECLINED, SO HAS THE LEVEL OF CORRUPT SELF-INTEREST INCREASED.
*********** He was talking about the Wildcat, and I heard Tony Kornheiser say. "whoever invented it ought to get royalities."
Ahem. That would be me. I invented it, to the extent that anyone "invented" an adaptation of Pop Warner's work. What I did do was give it its name.
I have just heard someone on ESPN refer to "The Wildcat" for about the 10,000th time and I've decided to go to war.
Like most of what goes on in the NFL, the name "Wildcat" is not original, but they have the marketing clout to make it appear so.
I coined the name when I was coaching at La Center (Washington)High School (home of the Wildcats) in 1997.
My proof? I wrote an article about it in December, 1998 in Scholastic Coach and Athletic Director. (Article- "Wildcatting It")
Further proof? Try my playbook, published in 1999.
The "Wildcat" name for a direct-snap package first came into widespread use at Arkansas (home of the Razorbacks) in 2005 or so. I rather doubt that it was a randomly-chosen name. Why not the Razorback? My suspicion is that my article, in a magazine read by thousands of coaches, was what prompted someone in Fayetteville, Arkansas, to call their direct-snap series "The Wildcat."
*********** I spent an entire season at Ocean Shores, Washington wondering when the honeymoon was going to end. It still hasn't.
Don't let anybody tell you that he doesn't care whether he's appreciated or not. We all like to know that people are appreciative.
At North Beach, the appreciation and support has been unreal. The AD has been unfailingly supportive. Members of the faculty went out of their way to express their appreciation for the job we were doing in insisting that our kids be better students and better citizens. My wife and I have been guests at the superintendent's home (to watch football), and the superintendent called me on numerous occasions to thank me personally for what we were accomplishing. The principal, a former football coach, took me aside on Friday of our homecoming game to do the same.
Both the Supe and the Principal said they'd never seen school spirit like we had.
It's hard to describe the excitement that a winning football team can generate at a place that hasn't had one. The kids in the stands became like Duke basketball fans, chanting non-stop the entire game. A busload of them paid $10 apiece to ride two hours to an away game - where they out-hollered the rivals at their own homecoming (gee- I wonder why we were their homecoming opponent.)
A member of the school board who owns the local hardware store said the turnaround in North Beach Football was all his customers wanted to talk about.
More than one customer at the Pirates' Cove has treated the coaching staff.
A police officer came up to us at breakfast and thanked us.
Everywhere I go, people want to talk about North Beach football.
What a revelation this is. What an insight into the American character. We can try all we may to emasculate our boys and downplay winning so that we spare the feelings of the losers - but we still think winning is important.
The most amazing thing of all for me was just before our homecoming game. As I headed back into the locker room following our pre-game, the band broke into a medley of Yale football songs - songs I hadn't heard in years because they're only played at Yale games, and, well, I'm usually a little busy during football season and a continent away at that. (Not to mention the fact that if I do go to a college game it won't be an Ivy League game.)
But show me the guy who doesn't get fired up at hearing his old school's fight songs.
Turns out Steve Horton, the North Beach band director, had called the people at Yale and told them there was a Yalie coaching at his school, and they sent him sheet music of Yale songs and he taught them to the kids in the band. And on Friday night they paid me one of the greatest honors I have ever received.
It goes on and on.
I got to coach with great men such as Jack Tourtillotte, Mike Creamer and Maynard Reed, who cared about kids and held them to the high standards we set.
And above all, I got to coach a small band of wonderful kids who bought in and paid the price and earned their reward - the thrill and satisfaction of turning a 1-9 2007 team into a 7-3 2008 team by putting the team ahead of themselves.
One of these days, I expect I will wake up.
The writeup of our final game (they even sent a reporter and a photographer to a North Beach game!) http://www.thedailyworld.com/articles/2008/11/07/sports/01sports.txt
*********** November 9, 1912: the great Jim Thorpe led the Carlisle Indian School to a 27-6 victory over powerful Army at West Point, N.Y. The Cadets' squad featured nine future generals, including future President Dwight D. Eisenhower. The Indians are believed to be the first to run the"double wing" formation. The reason? I am not kidding - to spread out defenses.
*********** I heard Al Michaels on Monday Night Football refer to Mike Singletary's "four male siblings."
Say, "male siblings?"
Have we become so neutered, so feminized, so enmired in sociobabble that even on a football broadcast we can't say the word "brothers?"
*********** Write-up of our final game:
*********** From the newspaper article: " Tribe coach Tom Sanchez summed up. "Tonight is a perfect reason why (the double-wing) is the perfect offense for that school."
Hugh,

Why for just that school? I guess he has to many players on his team, and it will only work at the youth level or at small high schools.

We have two teams running Double-wing. One in the Tri County Youth Football League, and One in the Cape May and Atlantic County League ( that is most of South Jersey ). Both are 8 and 1 and playing for Championships. I may add that neither team has or is considered to be a good team.

BUT, I have finally figured it out. Double-wing teams are just LUCKY.

Frank Simonsen, Cape May, New Jersey (Actually, Coach Sanchez meant no slight by his quote. I certainly can't argue with him. Coach Sanchez runs a veer offense at South Bend High School and does a nice job of it; if I had been in his shoes I could just as easily have said "the veer is the perfect offense for that school.")
*********** Hugh -
I need your advice. This is my third season as an assistant coach at -------- High School. We are currently 2-6 with two games left this season. To say the least it has not been a good seaon and this our second season under the new HC that was hired last summer. There is major discontent on the coaching staff for multiple reasons. I find myself not enjoying coaching that I once did. However, I would like to bring up my concerns without seeming dis-loyal or attacking him. However, I have approached him on many occassions through e-mail and have been completely ignored. For instance, after we lost a tough 26-25 game that put us 1-5 with four games left. I e-mailed him suggesting that we need to tackle the last four games like a new season. I suggested holding a senior meeting and encourage them to hold a players only meeting. I also suggested getting back to the basics in practice (tackling/blocking) on a daily basis plus a few other motivational ideas.
I received no response or acknowledgement of my suggestions. I do not expect a HC to implement any of my ideas but a response would have been nice.
It sounds as if the HC has shut 'er down.
I think that you did the right thing in making the suggestions you did, with one very major flaw- you should have made them to his face. Too many people nowadays use the e-mail approach, and it's too easy to blow them off.
Try addressing him directly. Tell him, if you wish, that your concern is those kids - that they didn't plan for things to work out the way they have, and regardless of their record, they're entitled to being coached the same as if they were winners. Tell him that you're concerned for him - that he seems to have lost his fire. Tell him that you really think that even a slight change could improve everybody's attitude.
If you address him directly and he still blows you off, screw him. Tell him - to his face - that you're very disappointed in him. Tell him it's just a matter of time before someone tells the administration what's going on - but assure him that it's not going to be you. Tell him that above all you are loyal, even if he hasn't exactly been loyal to you, and that if he should hear anything getting out, he can be sure that it didn't come from you.
It's possible that he's under quite a bit of strain and maybe he even suspects that there is disloyalty on the staff, and his way of dealing with this is not to deal with it at all, and instead withdraw into his bunker.
Do not do or say anything that could be interpreted as disloyal. Not to the kids, not to parents, not to other coaches, not to the AD.
I do hope that someone blows the whistle on him. There is one very serious issue here that not even you have brought up - he is CHEATING THE KIDS. They deserve better.

*********** Coach,
Knappa rolled to a 27-0 victory in the first round of the State Playoffs. We had far too many penalties and didn't execute as well as we are used to, but we did manage 300 yards on the ground on 53 carries and 110 yards through the air on 4/6 passing. More importantly we held the State's top ground gainer (2500 yards on the season) to just 20 yards on the day. Our defense was dominant all day and gave up a total of two first downs! Next up is Santiam in the Quarterfinals. They are a Wishbone team with very good speed. Should be a very good game. Congratulations to you, your staff, and your players on a wonderful turnaround season at North Beach.
Jeff Miller,
Knappa, Oregon
*********** Um, I mentioned that we played our game last Thursday night in the "wind and rain." How much wind and rain? In the 48-hour period between Wednesday night and Friday night, our county (Grays Harbor County) received 11 inches of rain. Wind gusts reached 60 mph.
*********** Coach Wyatt,
Today the Kittitas Grid Kids 8/9 year old team won the Yakima Valley Championship for their age bracket. Congrats to Head Coach Mike Helgeson and assistants, Jeff Wallace, Rob Weber and Matt Ellinger. Kittitas beat the Wapato team 13-6 finishing the season undefeated at 9-0. Mike runs the double wing. Kittitas is the smallest town participating in this league by a considerable margin. Kittitas has been very successful since converting to the double wing 7 years ago.
Mike Studer
Kittitas, Washington
*********** Coach Wyatt,
I have been using the DW for the last 10 years and we have made the playoffs every year; before that we hadn't been in the playoffs for 10 years. We will be dropping to 8 man due to decreasing enrollment. We would like to try using the DW but are not sure about it. Do you have any ideas or any material on 8 man. I do have your playbook and several of your tapes and dvd's.

Skip Ross
Fort Benton High School
Fort Benton, Montana
*********** Hugh
Congratulations on a great season at North Beach! It's great to see you back on the sidelines – I can tell that you (and the kids!) are having a great time!
It's that time of year again and I wanted to share our 2008 Black Lion nominee with you. As you know I have been blessed to be the coach of a Black Lion School since the very beginning, first at Coral Springs Christian and now at Palmer Trinity. By helping to create this award you have allowed me to not only recognize some of our Best and Brightest young men over the years, but you have also allowed me to develop friendships with Steve Goodman and Jim Shelton, both of whom will be presenting our award this year! Thanks again, for everything – including helping to inspire a skinny, slow foot wide receiver to become a football coach some 28 years ago!
This is the nominating letter from our Head FB Coach, Mr. Darryl Maple –
The Palmer Trinity School Falcons' 2008 Black Lion nominee is senior Linebacker, Nicholas Benenati. Nic has been a varsity football player at PTS for 4 years and from the very beginning, he has not just "bought in" to our program, he has embraced it! Nic is that classic old school type of kid who is the first one on the practice field and the last one to leave. You will find him working out extra on his own, but more often he is working with a younger player or with a group of team-mates trying to squeeze in a little more technique, a little more tackling on the sled, or just working to pump someone else up. Nic is not the biggest kid on the team but everyone knows that he comes ready to play. His love of the game and his love for his team is evident in everything he does. He is frequently heard during practice, as well as games, shouting encouragement to the other players both on the field (he's a starting LB) and from the sideline. When the team needed a long snapper, Nic stepped in (and excelled!). When the team needed a Blocking Back for the short yardage formation, Nic volunteered. At another school, Nic would probably be a Fullback and have an opportunity to carry the ball and score a lot of TD's. On our team we need him as a LB – a lot of kids would chafe under this and ask for a chance to run the ball but in true Don Holleder style, Nic has always said, "Whatever it takes, coach – I just want to help us win!" I know that might sound cliché to someone outside of our program, but EVERYONE knows that when Nic Benenati says it, it is truly from the heart. Coach Vonscherer told me that General Shelton once said that the Black Lion Award is mostly about "Love" – the love that a player has for his team. I can tell you with all of my heart that Nic Benenati LOVES his team and that he will be a great representative for the Black Lions. Thank you for creating this award. Coach Vonscherer has spoken with our team several times this year about the Don Hollender story and how important this award has been to him. I can tell you that our players have embraced this ideal and that I am proud to be their coach and prouder still to be able to honor the memory of a great American and a great football player. Thank you Coach Hugh.
Darryl Maple, Head Coach
Palmer Trinity Falcons
I can second Darryl's comments about Nic –he's one of those kids that every coach would want to have on their team. Our Awards Program this year is Friday, Dec. 5th. If possible we would appreciate having the certificate in little bit in advance of that date so we can get it properly framed. Thanks again for everything coach!
Jake von Scherrer, Director of Athletics
Palmer Trinity School
Palmetto Bay, Florida

*********** Its that time of year were we are putting in for the "Black Lion Award" however we have 2 players that are hand in hand or should I say head to head the same when it comes being a Black Lion Award. Have you ever had this happen to you and how did you handle it? Thanks Coach
On my own team I could select more than one. But the rules stipulate that I can't. I can't say how to handle your call, but I would suggest actually listing specific instances in which each player met the award criteria. (That will also make writing your letter of nomination easier!)
In any case, I wish you luck!
And be grateful that you have two. One of the purposes of letting your players know about the award is the hope that in striving to earn it, they will be better team members.
Sad to say, some coaches write me to inform me that they didn't have anyone!
*********** The Beloit Trojans have advanced to the elite 8 in the Kansas 3A State Football Championship with a hard fought 34-17 victory over a very solid Norton Bluejay team.

Beloit trailed 14-0 early in the first quarter but cut it to 14-8 going into the 2nd quarter. Following a Trojan fumble on their own 8 yard line, the Trojan defense forced Norton to settle for a field goal and a 17-8 lead; but Beloit scored before the half to make it a 17-14 game with 2 quarters remaining.

After Norton drove nearly 70 yards and ate up over 6 minutes of the third quarter without scoring, Beloit took the lead 20-17 late in the 3rd quarter and put the game away with a dominant 4th quarter.

Next week (probably Friday) the Trojans will travel to Conway Springs for a quarterfinal match-up featuring the single wing of Conway Springs and the double wing of Beloit. Let's hope that two wings are always better than one!

Coach Greg Koenig
Beloit High School
*********** With the season over, I got to spend my first full fall Saturday doing nothing but watching college football. When you live on the West Coast, that means you start watching at nine in the morning and go until the last dog dies. And since I had to drive to Portland to take coaches Jack Tourtillotte and Mike Creamer to the airport, I spent the day at home in Camas with my multiple TV sets and and my beloved ESPN GameDay.
Overall, the day was a bummer. Penn State lost, Kentucky lost, Kansas State lost, Duke lost, Minnesota lost. Let's not even get into what continues to happen to Washington and Washington State.
But it wasn't a total loss. BC did beat Notre Dame. Granted, it's the worst Notre Dame team since Jimmy Clausen's freshman year. Wait - this is only Jimmy's sophomore year.
Under the field generalship of the legendary Clausen (who unlike earlier Irish legends who earned their legend status on the field, earned his when he announced his decison to go to Notre Dame on the steps of the College Football Hall of Fame, after arriving in a stretch limo) the Irish offensive machine, designed and honed to perfection by former NFL offensive genius Charley Weis, had something in the neighborhood of 50 yards of total offense in the first half. Imagine how bad they'd have been if their coach weren't so brilliant.
Their "running game" consisted mostly of a single back with no speed trying unsuccessfully to sweep the BC ends. Their "passing game" consisted of the aforementioned Clausen dinking and dunking to short receivers.
Absent was the quick release we'd all heard about. Nowhere to be seen was the accuracy that enabled him in high school to put up big scores against teams with lesser talent. What we saw was a backup talent with a rag arm who repeatedly missed anyone beyond the line of scrimmage by wide margins and had no more than four pass plays of more than 10 yards. Which by coincidence happened to also be the number of interceptions he threw,
His protection, against a BC defense that seldom blitzed, continued to suck, just as it did last year, even though ND fans were assured that last year's problems were because the linemen were so young. Part of the reason for the poor protection, though, is Clausen himself. Someone forgot to dump the concrete out of his shoes, and until they do, he will continue to be a sack magnet.
Year after year we hear that Notre Dame has signed the "best recruiting class in the country." Sure makes you wonder what happens to all that talent once Charley Weis gets hold of it.
This much we know - he doesn't know how to coach a running game, and he doesn't have the stones to take the ball away from a quarterback who can't throw.
*********** I had to watch some of the Hampton-Bethune Cookman game after hearing that Bethune Cookman was running the "Wyatt Bone."
No jokes about Viagra, please. It's the name given to the flexbone attack of coach Alvin Wyatt, whom some of you may remember as a one-time Oakland Raiders' DB.
Hmmm. "Wyatt Wing?"
*********** Let's see... there's me and there's Dick Jauron. There may be more, but there aren't too many of us Yalies coaching football.
So it did bother me a bit when I heard Dick Enberg call my fellow Eli "Dick JAHR-in," rather than "Dick juh-RONN."
*********** The son of a friend of mine is a freshman at a big school and he was called up to the varsity to serve on the scout team for the state playoffs.
My friend wrote, "(My son) is ticking seniors off. Apparently while playing defense on the scout team Monday, he didn't make any tackles, but he "held his own". I told him "holding your own", wasn't good enough, you got to kick a little tail. So, with those words of wisdom he set sail, and by the end of practice Tuesday, the head coach and line coach were yelling at the varsity guys "how could you let an inexperienced freshmen tear you up". The varsity linemen asked him to take it easy and he said "nope".
Good for him. Real maturity in a football player - or in the classroom - is not listening to the turds who want you to take it easy.
The slackers in the classroom would like you not to study because you're making them look bad.
They want you to come down to their level.
PS- Those "take it easy on me" seniors got their asses kicked in their first-round playoff game. Is that any surprise?
*********** Mental toughness can be a problem at a private school. A friend of mine in New England who coaches at a private school told the coaches at my Providence clinic last spring that one of his problems is that so many of his kids are at his school because their parents knew they'd get stuffed into lockers at public schools.
*********** From the Yakima Herald - Toppenish 27, Wapato 0 - Carlos Ramirez, the CWAC's leading rusher, ran for 144 yards — including a 30-yard scoring scamper — on 20 carries as the Wildcats under first-year coach Jason Smith won their sixth game to secure their first winning season in 10 years.
Oscar Ramirez added 98 yards rushing and a touchdown, and Rosendo Aguilar ran for 75 yards and two scores for the Wildcats, who totaled 414 yards on the ground.
(You may remember photos of the Toppenish Wildcats from our camp last spring)
*********** Hugh, I have been running your system since 97. The last 8 seasons of the double wing have been on the middle school level. We finished the season undefeated and in 8 years we are 58-3. We had a good center and 2 good guards but the flexibility of the double wing which allows you to maximize your talent saved our bacon. We over came a returning starter moving before the season started, injury to our best player that kept him out of the last 4 games, kicking off our 2nd best player after week 3, not having a single player on the team that could consistently catch a football (less than 50% completion % against no defense), both wingbacks had never played organized football before. Funniest quote of the year from an opposing player going through the line shaking hands after the game "Y'all ran the same play the whole game" I am a firm believer that you can run this system no matter what your talent level is and get the most out of what you have. I plan on making a clinic this year and would like to see some ways to take advantage of a running quarterback.
Keep me anonymous because when people congratulate us and comment on our offense they call it the flex bone or wing-t.
thanks for everything and I will see you in the spring
*********** Jason Whitlock wrote a very interesting article about Ron Prince's firing
http://msn.foxsports.com/cfb/story/8762902/Black-coaches-need-to-pick-
the-right-jobs
I like Jason Whitlock and I wrote to him and told him I enjoyed the article.
Frankly, I don't think Ron Prince's problems with players were with the ag-student types; I suspect they were more with the JC-transfer types that K-State has to recruit if it is to survive.
Tough, was he? How else is a black coach to make his way in major college football except as the stern-father type? If he goes the buddy route, he will almost certainly be stereotyped as having no discipline.
Hard on his assistants? Humiliated them? I would need to know more. I do know that those guys are paid handsome sums to do a job that many, many people would kill to have. Frankly, I think a lot of the problems this country is going through right now were caused by people who screwed things up for others and - at the least - should have been humilated, yet instead were rewarded with enormous bonuses.
*********** I'm going to ask my kids how they feel about giving up some of their "windfall" wins to a nearby team that went winless.
Hell, we could give up a couple of wins and still be 5-3, which isn't bad, and then those other kids would be 3-10 and feeling a whole lot better about themselves.
I'm sure I'll be able to sell my kids on it as the fair thing to do.
FRIDAY, NOVEMBER 7, 2008- "Too many coaches worry too much about what their opponent does, and not enough about what they need to do to make their own guys better." John Wooden
*********** After 30+ years of living in the Pacific Northwest, I thought that I'd coached in some foul weather. But nothing topped the storm in which we played our final game at North Beach Thursday night. Nonetheless, despite the wind and driving rain and a field left boggy by more than a day of steady downpour, the North Beach Hyaks managed to rush 56 times for 322 yards to defeat the South Bend Indians 21-6 Thursday night in the battle for third place in the Pacific League.
Big (6-2, 200) Jamaal Lind carried 29 times for 150 yards and two touchdowns. It was his seventh game rushing for more than 100 yards - he had three other games of 94, 92 and 89 yards - and he finished the season with 1390 yards on 198 carries.
Amazingly, we had no fumbles - until the third quarter, when we fumbled three times and lost two of them. A change in strategy corrected the problem, and from that point C-Back Maurice Alfaro rushed for 91 yards of his 119 total yards. Maurice, who also scored a touchdown, finished the season with 1017 yards on 139 carries.
We scored on our second drive of the game and - amazingly - converted our PAT, then punched another one in with a minute left in the first half after punter (and QB) Derek Archer, seeing the South Bend rushers failing to contain, kept the ball on fourth-and-fifteen and ran for a first down.
South Bend scored on the second play of the fourth quarter to pull within seven at 13-6, but the Hyaks, behind the running of Maurice Alfaro, drove for the clinching score. Maurice got the final 30 himself, and his brother, Russell, clinched the deal by making the two-point conversion with a great catch of a Derek Archer pass.
After the usual post-game handshakes, our kids celebrated by diving in the mud at midfield.
And then, in the locker room, the usual end-of-season hugs. Actually, I should add, these were a little muddier than usual.
Our season is over, but what a season it was - an amazing turnaround for our kids, who last year finished 1-9, their only win coming against a team that dropped football following the season.
The 2008 Hyaks finished 7-3 overall and 4-2 in league play. We were undefeated (6-0) at home. Our three losses were by a total of 11 points. The seven-team Pacific League is only allocated two state playoff spots, which means that the Hyaks, which lost to the first place team, 22-19, and the second place team, 37-35, failed to qualify.
All told, we rushed 504 times for 3670 yards for an average of 367 yards per game, and scored a total of 353 points for an average of 35.3 points per game. Although we had good speed, we lacked great speed, and as a consequence most of our scores came on concerted drives. Reflecting that fact is our average of 22.1 first downs a game.
Amazingly, we punted only five times all season, two of them in the foul conditions of the final game.
Defensively, it was another story. We gave up a total of 172 points, or an average of 17.2 points per game. Short of defensive linemen, we scrambled to find something - anything - that would keep us in a game so our offense could win it. But that "strategy" came at a price - although we won one game, 34-33, we lost another, 37-35. Fortunately, we finally found the solution in our final two games, giving up 12 points in our homecoming game win and holding our final opponent, a good South Bend team, to just 115 yards on 27 carries and its lowest point total of the season.
Game writeup late Friday in the Aberdeen Daily World - it's an evening paper - http://www.thedailyworld.com/articles/2008/11/07/sports/01sports.txt
***********A non-coaching friend told a Double-Wing coach of his acquaintance that he enjoys watching our offense.
He said the coach replied, "You're one of the few. I keep hearing from the crowd that it's boring and to throw more. My wife loves it, though, because it gets me home faster"
*********** THE PRE-GAME
DALLAS SCRIP dscrip@gbtribune.com
Playing against yourself is something that was only possible in video games, until a late season upset sent Beloit to Hoisington in the first round of the Class 3A football playoffs.
Beloit had their perfect season come to a end at the hands of Phillipsburg in the final game of districts. The loss to Phillipsburg dropped Beloit to the No. 2 seed in District 14 and set up a date with the District 13 champions, Hoisington.
When Hoisington coach Lonnie Irvin was asked if he was surprised to see Beloit in his bracket, he said, "In a way I was and in a way I wasn't. Phillipsburg lost some games early and they lost some kids early. I thought that was a team that could give Beloit some trouble with how physical they are."
Hoisington (7-2) and their double wing offense will begin another playoff run when they host Beloit (8-1), and their double wing offense, tonight.
Lots of teams run the double wing, but the similarities do not stop with the formation, they both learned the offense from it's inventor, Hugh Wyatt, a high school coach in the state of Washington.
"We are both double wing teams. We both learned the offense from the same guy," Irvin said. "We do some different things, but for the most part it is pretty much similar schemes."
With both teams running similar offenses there should not be any surprises.
When Irvin was asked about the defenses having and advantage because they get to practice against the offense all season, he said, "I am not real sure how to stop it and we run it everyday. I am sure they are in the same boat."
Irvin said, the double wing offense is able to adapt to opposing defenses, make adjustments and eventually become successful.
"If your linemen know the adjustments and regulations, it takes a series or two to figure out the defense," said Irvin. "Once we figure it out, we will be pretty successful at it."
As both offenses will be able to adjust to the defense, intangibles will become even more important.
"The No. 1 key, we have to eliminate any turnovers, we can't have any penalties that stop drives," Irvin said. "We have to have a pretty error-free game I think."
Which team runs the double wing better? The answer will come after 48 grueling minutes tonight. Kick-off is slated for 7 p.m.
AND THE GAME WRITEUP---
Running wild
Hoisington's season comes to an end at the hands of Beloit
DALLAS SCRIP dscrip@gbtribune.com
HOISINGTON - On a day where red and blue makes all the difference, the black and orange of the Beloit Trojans covered the most ground in Hoisington, as they ended the Cardinals' season in the first round of the playoffs with a 52-20 victory at Elton Brown Field Tuesday.
With both squads running the double wing offense, defense was at a premium. The powerful Cardinal running game was held to just 203 yards.
When Beloit coach Greg Koenig was asked about his defensive effort, he said, "The plan was to be aggressive and force them out of their game plan. I thought we did a good job of that."
Beloit was dominant on the ground with their speed as Cas Spangler and Logan Eck combined for 352 yards rushing against the Cardinals.
"Speed kills, it was pretty obvious, they had the speed and we didn't," said Hoisington coach Lonnie Irvin.
The Trojans began the game on their own 26 yard-line and proceeded to pound the ball on the ground. Beloit put together a nine-play 74-yard drive that culminated in a eight-yard touchdown run by Spangler.
After a three and out by Hoisington, Beloit went back to work.
It took the Trojans just four plays on their second drive to find the end zone, as Eck broke a 23-yard run to paydirt.
"They executed a little better than we did and they got off to a better start than we did," Irvin said.
Trailing 14-0, Hoisington seemed to solve the Trojan defense, as they mounted an 11-play drive that resulted in a one-yard touchdown run from Corey Engstrom. Engstrom paced the Cardinals in rushing with 68 yards.
On the ensuing drive, Hoisington's Jerad Powell stripped a Trojan ball carrier, giving the Cardinals the ball at Beloit's 23 yard-line.
The man that caused the turnover finished the drive for the Cardinals. Powell completed the five-play series with an eight-yard scoring run. Powell's touchdown tied the game 14-14.
"They stayed with (their offense) and we had to make some adjustments," Koenig said.
The game was not even for long, as Spangler broke a 72-yard touchdown run on the first play to give Beloit a 22-14 lead.
"Cas comes to play and he is a difference maker," said Koenig.
Hoisington was forced to punt on their next possession, before Spangler struck again. The Beloit Bullet turned the corner on first play of the next series and weaved through a Cardinal defense for a 70-yard touchdown.
After another Trojan fumble, Hoisington had a chance before half to cut into the Beloit lead only 28 yards from the end zone. The Cardinals drove the ball inside the five yard-line but put the ball on the ground, ending the threat and sending Beloit to the locker room with a 30-14 lead at halftime.
"We had a chance to put one on the board right before half, but we fumbled inside the five," Irvin said.
In the second half, Beloit's ground attack continued to kill the Hoisington defense. Eck busted a 58-yard scoring run five minutes into the second half.
Hoisington would add another score, as Carl Hickel found the end zone from two yard out to cut the lead to 38-20. Hickel finished his night with 57 yards rushing.
After the Hoisington touchdown, Beloit stole the momentum again. Spangler returned the ensuring kick-off 75 yards for his fourth score of night. Spangler would add his fifth score on screen pass in the with under four minutes to play in the contest. On the night, Spangler ran for 204 yards.
The loss concludes Hoisington's season at 7-3, but before bowing out, the Cardinals picked up another district title. Beloit's season continues, as they will face Norton Community Saturday.
*********** Compton vs. Long Beach Poly. You could call it a big game... You could call it a VERY big game.
I was talking on Wednesday with Coach Calvin Bryant, of Compton. His team is 7-0, and Friday night he travels to Long Beach to take on nationally-ranked Poly, 8-0.
Poly has not given up more than a touchdown in any game this year, but if anybody has a shot at the famed Jackrabbits, it's Compton and Coach Bryant's versatile Double-Wing.
HIs two wingbacks are both state track qualifiers in the sprints. One of them, Coach Bryant tells me, has rushed for 836 yards. On 26 carries. Say that slowly - 836 yards on 26 carries - and then do the math. It's 32 yards per carry.
*********** The double wing rules.
34 to 6
Last year was my first year as a head coach after 7 years of coaching. I played one team in that team that gave me fits as a defensive coordinator.
That was the double wing. I decide when I was making the call, that was the offence I was going to run.
Last we only lost 3 games all last year and got knocked out in the second round of the playoffs. This year running the same scheme 10-1 champs of our conference and still going.
Thanks Bill Utter
Monroe Twp, New Jersey
*********** Coach, I am on your page now and I am scrolling thru the tips section looking to see if you have posted anything about the rules for assisting the runner.
I have an idiot coach that said our Wedge is illegal and has openly on our county message board sought the opinion of the head person of the Champions Officials Group, which are the refs that do our games.
He is trying to get input on if we are illegally running a play that I know is not because we don't push the runner. Would you be able to give me the exact rule number so I can silence yet another ignorant coach that fears us so they want to play every angle to stop us OFF THE FIELD before the games are even played.
Non-Double Wingers will do anything for a playoff win I see.
Thanks,
Coach Brian Mackell,
Pasadena, Maryland
I dealt with this to some extent in Tuesday's NEWS.
This is covered in Rule 9 Sections 1 and 2
The following things are prohibited-
Section 1 - Assisting the runner - "An offensive player shall not push, pull or lift the runner to assist his forward progress."
Section 2, Article 1 - "An offensive player (except the runner) shall not (b) Grasp or encircle any teammate to form interlocked blocking."
Section 2, Article 2 - "The runner may not grasp a teammate."
We do not coach or advocate any of those things; in fact, we make sure that our kids know those rules and we coach against breaking them.
Nothing else that we do in the Wedge is prohibited. Notice that there is no prohibition against pushing a teammate other than the runner, so long as you don't "grasp or encirlce" that teammate.
Challenge those football-illiterate opponents and the officials to pull out a rule book and show you where anything involving the Wedge as we teach it is prohibited. Assuming they even have rule books, they will be up late for many nights trying to find anything that helps their cause. Ultimately, they will be unsuccessful. But that takes time and effort. It is far easier to simply run their mouths.
I ran the wedge when I was in high school more than 50 years ago and I take great pride in my role in making the wedge, one of the oldest plays in football, a part of modern-day football (at least by our definistion of "modern-day"). You might tell them for me that the wedge is much older than any of them and it will be around long after they are gone.
Unless, of course, the pass-first guys succeed in emasculating our game.
*********** A good man is gone at Kansas State. Two weeks after the death of his father, Ron Prince is gone. The bastards didn't even give him three years.
Kansas State had nothing whatsoever in the way of winning football tradition until Bill Snyder came along in 1989 and pulled off what Barry Switzer has called the greatest job of coaching in college football history. I can't disagree.
Now, though,, because he has not been able to keep the miracles coming (although he did manage two nationally-televised upsets of Texas), Ron Prince, Bill Snyder's successor, is history.
Memo to the fans of Kansas State: like it or not, through no fault of your own, you are the Washington State (it's not Wazzu's fault, either) of the Big 12, and you always will be. You cannot win without going out of state for recruits. And out there, you are recruiting against the Bug Guys. You will have your good years now and then, your big wins every so often. But year in and year out, you will simply not be able to compete with the larger war chests of the Nebraskas, the Oklahomas, the Texases.
Don't believe me? Consider - since 1934, Kansas State has had 15 coaches. Only one of them - Bill Snyder - had a winning record. And to take nothing away from the great job he did, he was unapologetic about scheduling lots of early-season cupcakes. For the record, in his first three years at K-State, BIll Snyder was 1-10, 5-6 and 7-4. But that 7-4 was deceiving, with wins over Indiana State, Idaho State and Northern Illinois.
There is one consolation for Coach Prince, a good man who ran a clean program but didn't win enough to satisfy the insanely unrealistic expectations of people who think that they are Nebraska... or Missouri... or Oklahoma... or Texas: After all that Bill Snyder did for them, K-State fans grew tired of him, too, after he went 4-7 in 2004 and 5-6 in 2005.
*********** West Point held "Branch Night" last Sunday. Branch Night is the night on which the members of the First Class (seniors) learn what branch of the Army they will spend their careers in.
On hand to address the class was an illustrious graduate of the Class of 1959 (Lord, can it really have been 50 years), Retired Brigadier General Pete Dawkins, whose list of honors at West Point, including the Heisman Trophy, is legendary. I quote from "J. Phoenix's" account of his address...
When BG Dawkins approached the lectern, the Class of 2009 greeted him with an enthusiastic, standing ovation. Then he spoke to them in conversational tones about the significance of Branch Night in their overall development as officers and as human beings. He began by noting that his reflections on life had made him realize that our sense of who we are - our lives - are really a sequence of experiences that become "knit together" into what we think of as the fabric of our lives. The more meaningful of those experiences are the passages - the periodic transformations we undergo at formative times. In a military career, branching is one of those passages, setting an officer onto a path to the field of his profession. Pinning their branch insignia onto their uniforms gave them, in effect, a new identity. BG Dawkins concluded with brief remarks on the centrality of leadership to their profession and the absolute, unwavering commitment the cadets had made to being leaders of character. This commitment to character seemed the core bond, tying them all together as Army officers and defining their professional stance.
Incidentally, despite what many people might think, Infantry remains the branch of choice.
Writes "J. Phoenix,"
The first member of the Class of 2009 in order of general merit chose Aviation, but the second chose the Queen of Battle (Infantry), followed by 199 other men, including 50 who opted to incur an additional active duty service obligation (ADSO) in return for the honor of being called a "Grunt" and earning a Combat Infantryman Badge.
Did you get that? There were 50 graduates who offered to serve for an additional term of activce duty in return for "the honor of being called a 'Grunt.'" Trust me - there is no more respected decoration in the Army than the Combat Infantryman Badge, because, as its name implies, there is only one way to earn it.
*********** Coach Wyatt,
In 2002, I bought all of your tapes and coached a Pee-Wee team to an undefeated season. The following year, the commissioner of the park insisted that every team run out the "I" formation and I left the program. I have been an assistant varsity coach for the past two years and this year I was fortunate to be the head coach of our school's 6th grade team. We had 18 players and only four had ever played tackle football before.
We just ended our season with a perfect record of 8-0 after winning the South Florida Championship game against a team with a 45 man roster. Throughout the year, it was amusing to see how many bad decisions the opposing coaches would make. My biggest fear was that they would line up with tight splits and run between the ends – like us. Instead, many teams ran a spread offense and even an NFL style passing attack.
I found that we stayed more basic against our best opponents and we often ran Super Power or Wedge 75% of the time. Thanks again for being there for me and my team.
Mike Kahn
6th Grade Head Coach
University School
Davie, Florida
*********** Hey Coach,
I just read your news today and I am sorry to see that you won't make the playoffs. It sounds like your season has been successful in many other ways, though.
I wanted to update you on our season, which ended last week. If you remember, I e-mailed you several weeks ago asking advice for our timid 7th grade o-line. Well, after I wrote you we had a bye week and got back to basics. Although we had been teaching blocking daily all season long we felt like we needed something more "intense". What we did was paint a circle on the ground (so the backside linemen could run the circle) and set up a half-line blocking drill. We lined up defenders in various places and emphasized double teams, base blocks, and running the circle; basically we just got after it. We spent three straight practices doing nothing but "circle drill" with two coaches watching the line, one coach watching the wings, and no mistakes uncorrected. Somewhere, a light bulb turned on for our OL because in our next game our boys blocked their butts off, racked up 300+ yards rushing, and won 38-20. The double teams were amazing. In fact, over our last three games we never had to punt, ran wedge, SP, counter, roll pass, and scored 30+ each game. I feel like a doofus for not implementing a drill like this sooner. We finished 4-3 which was good enough for 3rd in conference. I am convinced that had we been running a conventional offense with this group of boys, we would have struggled to win 2 games. Thanks for all of your help!
Our 8th grade team was much more talented and finished 6-1 (tied for first in our conference) again running mostly wedge, SP, counter, and roll pass (with some "G" and criss-cross sprinkled in). We finished our season by beating our rival 22-20, with the winning scoring drive covering 70 yards and taking 6:14 off the clock. We basically went down the field on 88 SP (right side was working that night) and 47-C. We milked the clock and scored with 47 seconds left in the game. I almost felt embarrassed calling the same play over and over again, but hey, they never showed me they could stop it. What an exciting win for our boys because we had trailed 20-8 at half time.
Sorry for such a long e-mail, Coach. There is a lot more I could tell. Our program is 20-8 running the double wing the last two years. I look forward to seeing you at your clinic in NC in the spring. Do you have a QB video out yet? If so, I want one. That is where I need to get better as a coach. Good luck and "Keep Coaching"!
Jim Crawley
China Grove Middle School
China Grove, North Carolina
TUESDAY, NOVEMBER 4, 2008- "As I grow older, I pay less attention to what men say. I just watch what they do." Andrew Carnegie
WELCOME TO THE BIRTHPLACE OF THE WILDCAT (1997)
*********** The North Beach Hyaks rebounded from two tough road losses, amassing 522 yards in total offense to win their homecoming game over Ocosta, 56-12.
I can only imagine what the Ocosta coach must have thought when his team won the toss and elected to receive, then his players watched as our kick took a high bounce that was fielded on the run by one of our players who never broke stride in racing in for the score. Touchdown, ruled the referee. Shhhh, said Coach Wyatt, knowing damn well that while you can recover your own kick, you can't advance it.
Fortunately for the good of the game, one of the officials knew that, too, and all we got was possession on their 30. No matter. It took us just four plays to score.
I can also imagine what the coach must have thought when his kid returned the following kick into our territory - then fumbled. We took over and put on a 9-play drive to score again.
It was 21-6 at the end of one quarter, 36-6 less than halfway into the second period, and 42-6 at the half.
Tres Pope got the first two touchdowns of the game early in the first quarter, on runs of 3 and 6 yards.
Jamaal Lind scored two touchdowns , and was the leading rusher with 173 yards on 22 carries. He also made a 2-pt. conversion.
Derek Archer completed five of eight for 97 yards and a touchdown. Two long passes to end Russell Alfaro set up two other scores. Archer himself closed out the scoring with a 56-yard dash on a naked bootleg.
In all, we rushed 54 times for 425 yards.
It was easily our best defensive effort of the season: we intercepted four Ocosta passes and held them to just nine completions in 27 attempts for 120 yards.
Now 6-3, we play South Bend this Thursday. We needed a South Bend win over Naselle Friday to set up the possibility of a three way tie for the league's second playoff spot, but Naselle rallied with two fourth-quarter touchdowns to win 21-20 in the final 24 seconds and lock up the second spot.
Such is life.
*********** Coach,
We beat Portland Christian for the Northwest League Championship 28-17 Halloween night. They had beaten us by a combined 92-0 over the past two seasons and came in to the game undefeated in league. An early punt return and a 40 yard field goal was all the scoring they had until a late TD. After trailing 7-6 at halftime, our kids came out and established a physical dominace that was beautiful to watch. We threw zero passes in the second half and wedged and powered them for three touchdowns to take control of the game. The victory brings our record to 8-1 and gives us a home playoff game this weekend! A Halloween to remember for sure!
Jeff MIller, Knappa, Oregon
*********** Coach Wyatt-
It hurt me to read of your loss this morning! By reading your
"blog" (News you can Use) I can tell that I am not the only one
rooting for the Hyaks! I hope things work out and whatever needs to
happen, maybe an upset, will happen so your team can get a playoff shot.
I just wanted to let you know that the Alamo Red Devils (5th and 6th
grade) finished their second season undefeated (15-0) using the DW!
We finished this season by outscoring our opponents 248-60 and gaining
2,121 yards in just 7 games! My C-Back is a special player that has a
bright future, gaining 915 yards on 39 carries and not getting to see
much 2nd half action. His last game for me was a 172 yard performance
on 4 carries for 4 touchdowns in the Little Cotton Bowl! And to top
it all off, he is in the top of his 6th grade class and doesn't really
know how good he can be! Thanks for allowing me the opportunity to
use the system and for allowing me to "pick your brain" from time to
time! My next year returning players are already asking who will be
playing in certain positions, even asking who is going to get to play
guard and get all those "cool" kick out blocks! It is a great system
and one I firmly believe in.
Good luck the rest of the season! I will be keeping up with you.
Brooks Rawson
Alamo (TN) Red Devils
*********** I thought I should share with you a portion of the letter written by LTC Pat Frank of the 1st Infantry (Big Red One) on behalf of Ian Campbell's candidacy for the Coach John Wooden Citizenship Cup Award. (Ian, as many of you know, is Kansas State's Black Lion.)
Ian Campbell is an exceptional civic leader and a role model for children of Army Soldiers - many of those Soldiers are deployed in the Global War on Terror; making it even more significant for local sports heroes from Kansas State University to set an example through the ABW Code of Living. As a freshman, Ian joined the KSU team as a non-scholarship player. His hard work and determination quickly grabbed the attention of his team mates and coaches as he was honored with the Purple Pride award following his redshirt freshman year. This award is given to the walk-on player who, through his effort on and off the field, best represents Kansas State football with quality play, leadership and work ethic. Ian is active in the Manhattan community with children, participating in Junior Cats, Senior Cats, and Read and Achieve. The Team Captain's commitment to the Code of Living was recognized by the deployed Soldiers of 1-28 Infantry. Through the partnership with the Black Lions, Ian and the Wildcat Football players invited children of the 1-28 Soldiers to spend a day at the KSU Athletic Facility. Ian led the event, taking children on a weight room visit, tour of the locker room, walk through the coaches' offices, watch Wildcat Football videos on the Jumbo-Tron, and a capstone event of touch football on the stadium playing field. Every Black Lion Soldier that called home from Baghdad that week listened to an excited child recall the great visit they had with the Kansas State Football Team and the Captain Ian Campbell #98. For a Soldier in combat, there is nothingmore important than to know his / her Family is being taken care of - Ian Campbell and his Wildcat Teammates were doing that for the Black Lions.
*********** Schools from California 114, Washington Schools 0. Put another way - Stanford 58, Washington State 0 and USC 56, Washington 0. Washington is now the sole remaining BCS conference team without a win. Aargh. it reminds me of the days 20 or so years ago when poor Kansas was the Suffering State - when Kansas and Kansas State both vied annually for the unwanted honor of worst team in the United States.
*********** The NFL media love to brag about its great finishes, but in reality, rare is the pro game with the spontaneity, the unpredictability of a good college game.
NFL? Exciting finishes? Come on. A team scores to go up by a point with two minutes to play and you know damn well what's going to happen. And so do the announcers, those NFL lackeys, paid to tell us how exciting the pro game is. And they let on that they know by blurting, "they may have scored too soon."
It's scripted - the kickoff will go into the end zone and they'll start at the 20. They have a relatively short time but they only have to get the ball to the opposing 30 - only half the field, if you do the math - and thanks to the accommodating rules of the game, they will be able to use even incomplete passes to their advantage.
The goal is simple- get the ball into "field goal range," which keeps creeping out toward midfield more and more each year, milk the clock down to a few seconds, bring in the closer - the kicker who makes 80 per cent of his kicks - and it's Game Over.
Undoubtedly it's exciting to the passionate fans of the team making the winning kick, but otherwise, it's NFL football as usual - boring and predictable.
What a pity the Sunday drunks don't watch college football. Last Saturday, they'd have seen at least eight games settled either in the last seconds or in overtime (real overtime) - Michigan State-Wisconsin, Texas Tech-Texas, Arizona State-Oregon State, Northwestern-Minnesota, Pitt-Notre Dame (OT), Purdue-Michigan, Georgia Tech-Florida State, East Carolina-Central Florida (OT), Duke-Wake Forest (OT) - and only Michigan State-Wisconsin was decided in regulation by a last-second field goal.
*********** It happened to us a couple of times this year, and it happened at Texas Tech Saturday night - play stopped and both team stood by while a guy lay on the field and they treated him for a cramp. For a cramp. Yes, it's quite painful, but is there a medical guy out there who can tell me why they had to bring play to a stop - why they couldn't have just dragged (or carried) the guy off the field and then administered their treatment?
*********** Based on his overall play, on his value to his team, and on the way he played and conducted himself Saturday night against Texas Tech, Colt McCoy is my Heisman favorite.
*********** In trying to excuse Notre Dame for the loss at home to Pitt, Lou Holtz, who has to be lobbying to get into the Notre Dame Sports Hall of Fame, said that the Irish had just had to put forth a big effort the week before - against Washington. Pitt alum Mark May wasn't going to let that one pass. "Washington," he noted, "hasn't won a game."
*********** Last week in the game the white hat told me that my players could not push their teammates or the pile on the wedge! Needless to say, it led to frustration all day (although he never actually called it just warned me several times.) I cannot find the rule regarding aiding the runner. Do you have it (as if I needed to ask!)
The rule book isn't big enough to include all the things that you CAN do, so it's limited to the things you can't do. Pushing on your teammate (other than a runner) is NOT one of them. The only thing that blockers are not permitted to do with each other is lock arms.
I suggest that you challenge Mister Big Time Official to show you where the rule book prohibits it, because what isn't prohibited is permitted!
*********** Coach, my name is A.J. Massengale. I don't know if you remember me but I get to your clinic up at T.F. Green Airport (in Providence) most years. I wanted to let you know that we rushed for 634 yards last night in a true defensive battle (60 - 34). Our A back had 219 / 4TDs, B Back had 120 / 3 TDs and our C back had 249 / 2TDs. The rest were from our younger kids at the end of the game. This is our fifth year with the offense and it is the only offense I have run as a head coach. Also, I played for Coach Mike Emery back in the mid 90's. He is back coaching at Fitch this year. We have them in two weeks.
Talk with you soon.
A.J. Massengale
Stonington Football
Pawcatuck, Connecticut
*********** That triple option stuff that Paul Johnson ran at Navy... that would never work at a big school, would it?
*********** "I know I am guilty of leaning heavily on football jargon in speeches and off-the-cuff remarks, but this is understandable. I know of no other sport that demands so much and returns so much. The experience of playing the game can be applied to the rest of your life, and drawn from freely. I know it is easy to find similarities in politics. How you can't make it in either field without teamwork and great leadership. How you can attract grandstand quarterbacks by the droves. In football you hear them during and after the game. In politics we hear them 30 seconds after our last speech. Or during it. Most grandstand quarterbacks have never played either game, yet are the loudest and most knowledgeable critics. The thick skin developed in football pays off."
Vice-President Gerald R. Ford, writing in Sports Illustrated in July, 1974. Mr. Ford was captain of the Michigan football team in his playing days, and assistant coach at Yale while attending law school. A month after writing this, he became President of the United States when Richard M. Nixon resigned.
*********** Call it the Bass-Ackwards Bowl. Oregon was at Cal, and it was raining to beat hell. Back in rainy Oregon, it was not. And with Cal in its garish, all-yellow uniforms, Oregon - Oregon! - was easily the better-dressed team.
*********** Responding to a coach about employing a wacko formation for more than one game...
I usually figure that an offensive surprise has a short shelf life. The first surprise (an offense that the opposition has never seen before) is in favor of the offense; the second surprise (a defense for that offense that you've never seen before) is in favor of the defense.
*********** Leadership tip from West Point ----- As the 19th Secretary of Defense, 1994-97, William J. Perry oversaw nuclear arms reductions between the United States and Russia and directed operations in Korea, Japan, Somalia, Haiti, Bosnia and the Persian Gulf, while at the same time downsizing our forces by more than 85,000. He also was the first Secretary of Defense to make an extended series of visits to military installations around the world to see, firsthand, the status of our forces and to solicit comments from military personnel of all ranks. During his presentation in Washington Hall (at West Point), he told the cadets that initially he thought that the soldiers would be reluctant to speak candidly to him, but he was wrong. Instead, he received insights that he never could have obtained from his office in the Pentagon and suggested that, as new platoon leaders, the cadets do the same, employing the tactic of Management By Walking Around. He admitted that some of the best advice he ever received was from "Grunts on the ground."
*********** For those who think that spell-check is the answer to their writing difficulties:
"Eye strike the quays end type a word/End weight four it two say/Weather eye am write or wrong/It tells me strait aweigh."