FRIDAY, OCTOBER 31, 2008- "Do others, or they will do you." James Michael Curley, one-time Mayor of Boston, who served part of one term while in federal prison.
*********** It's the perfect storm for us at North Beach - Homecoming and Hallowe'en on the same night.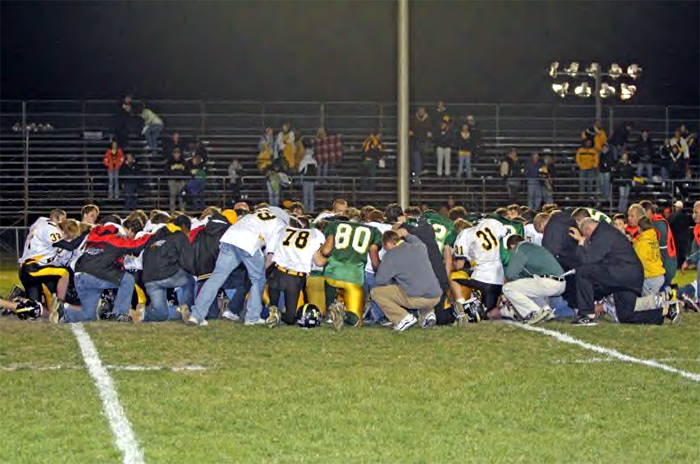 Coach Wyatt: a photograph from the (Iowa) substate playoff game between Lawton-Bronson and Council Bluffs Saint Albert on Wednesday, October 29th. Lawton-Bronson is a double wing team. Saint Albert won 35-10.

What a great testament to the kids and coaches of these two teams!! Obviously more than good coaching is going on within these two programs.

Makes a fellow football coach very proud!!!!

Keep Coaching!!!!!

Scott Lovell
Alta High School
Alta, Iowa
*********** On Hallowe'en night, October 31, 1959, LSU's Billy Cannon returned a fourth quarter punt 89 yards for a touchdown to give the Tigers a 7-3 win over Ole Miss in Baton Rouge. The fame gained by the Halloween- night run helped Cannon win that year's Heisman Trophy.
*********** Saturday will be the 82nd birthday of John Gagliardi, winningest coach in NCAA football history. Now in his 59th year of coaching - 57 of them at St. Johns in Minnesota, Coach Gagliardi has compiled a 458-124-11 record with a .782 winning percentage. In 1993, the Gagliardi Trophy was introduced as the Division III version of the Heisman in his honor, and he became the first active coach enshrined in the College Football Hall of Fame in 2006.
*********** Trick or Treat.
A federal judge in Missouri on Monday temporarily blocked parts of a new state law that requires sexual offenders to remain in their homes on Halloween evening and to avoid any contact with children related to the holiday.
The judge, Carol E. Jackson, of United States District Court in St. Louis, said the law was unclear, questioning language that prohibits "all Halloween-related contact with children" and allows sexual offenders to leave their homes from 5 p.m. to 10:30 p.m. only if they have "just cause."
Two issues raised by the case were whether sexual offenders could celebrate the holiday with their own children or grandchildren, for example by hanging decorations or carving pumpkins, and on what grounds they could leave home during the curfew.
The ruling came after four anonymous convicted sexual offenders sued this month, represented by the American Civil Liberties Union of Eastern Missouri. They say the law is not only vague but also unfair and unconstitutional, an argument their lawyer vowed to keep pushing. "Once people have completed their sentences," said the lawyer, Anthony E. Rothert, "you can't go back and punish them for the same crime."
(From a story in the New York Times)
*********** Vernon Davis evidently doesn't see anything wrong with what he did.
His reaction to coach Mike Singletary's going off after his knucklehead play?
Um, I guess that's his coaching style.
Or, in Davis' own, unique eloquence, "I guess that's the way he do it."
*********** A daily newspaper noted that a certain Double-Wing coach back East has won most of his games by big scores, but he scored far more points in the first half of games than in the second.
Well, duh.
All season long, he has been subbing early in the second half and doing other conservative things to keep the score down.
Now, as playoffs approach, the newspaper guy says that the same old playbook might not be enough - they might have to open it up, and maybe to get ready they should have done some of that during the season.
Double-wingers can't win. First the doubters say it doesn't work. Then, when it does, they say that you can't pass.
But when can a really good Double-Wing team pass?
The coach in question built big leads doing what he does best - running. He was moving the ball on the ground and the opponents couldn't stop him, so why would he throw? And then, once he had a big lead, he couldn't throw, because everyone knows it's bad form to throw the ball when you're way ahead.
*********** There is a video circulating on YouTube in which a kid on the kick return team from an Idaho high school takes a running start and, timing it perfectly, crosses the restraining line and levels the opposing kicker, who happens also to be the quarterback. Lays him out.
It has been rightfully called in some quarters "Cheap Shot of the Week."
http://sportsillustrated.cnn.com/2008/extramustard/10/27/marisa-miller-monday/index.html
I have subsequently seen correspondence among some coaches asking what the big deal is, and suggesting that maybe we should all play flag football, etc.
What's the big deal? Come on, guys - hitting a kicker an instant after he's kicked the ball is a no-guts-required act comparable to hitting a baby with a baseball bat.
For those who "don't know what the fuss is all about" I cite the American Football Coaches Association Code of Ethics, Article 3.5 - "A coach must remember that IT IS NOT the purpose of football to hurt or injure an opponent by legal or illegal methods."
Watch the video yourself and then tell me that that guy went after that kicker simply to block him out of the play (with the ball 40 yards downfield). And tell me also that that vicious stunt wasn't practiced, over and over, until the kid got the timing down. I can see his coaches yuk-yukking at the prospect of flattening a defenseless opponent.
Shame on a coaching staff that would encourage such malicious conduct. If that kid were to be injured as a result of that sort of "coaching," they could - and should - face criminal charges.
*********** A woman in Port Angeles, Washington, suffered a brain injury several years ago and now recently, out of nowhere, she has begun speaking English with a European accent. Experts call it "Foreign Accent Syndrome."
Football coaches have long been demonstrating it. Who among us, no matter where he was brought up, hasn't at some point found himself out on the field slipping into a southern accent to make his point?
*********** Not long ago, Shaun Alexander was one of the NFL's premier running backs. But almost overnight, he seemed to lose it. Now, he's back for one more shot.
With the Redskins, whose head coach, Jim Zorn, was quarterbacks coach of the Seahawks a few years ago, when Taylor was The Man.
Based on what Zorn knows about Alexander, it's possible he can get Alexander back on track.
But don't bet on it.
"Shaun didn't have a great work ethic in Seattle," Zorn said. "He didn't. He said he felt practice was for everybody else."
*********** Coach, I just spoke with Ross Phillips - Black Lion '67 who is a twice wounded combat medic. He contacted me based on your forwarding of our conversations. He has agreed to present it as a part of our end of season banquet on November 18th, 2008. Thanks!
Gabe McCown
Piedmont, OK-USA
*********** His team still winless, Tyrone Willingham was informed this past week that he will not be back at the University of Washington. It is a pity, because he did everything right. Everything except win.
At Washington, Don James is the gold standard of coaching, and in every respect except the winning, Coach Willingham was compared closely to Don James.
So what's scary for all of us traditionalists is that it's possible that the Don James/Tyrone Willingham approach - emphasize pride and responsibility; play down the flashiness and concentrate on substance; recruit quality people and demand that they be accountable - may no longer work.
That's the theory put forth by Seth Kolloen in the Seattle Post-Intelligencer this past Wednesday; he suggests that to be successful nowadays coaches must dress their players in flashy outfits (Oregon), and run flashy offenses (Florida, etc, etc.). It doesn't hurt at all for them to be motivator types, either. (Neuheisel?)
Writes Killoen:
If Willingham and Don James have the same attributes, but Willingham has been a disaster, doesn't that mean that Don James would be, too? It took a winless season for me to admit this, but the James way may be passe.
I don't think the players have changed. They want to win and they want to play in the NFL. I doubt that James' players had different goals. What has changed are the circumstances.
Back when James was coaching, players needed the exposure of a major college to get on national television and attract the attention of NFL scouts.
Now, practically every college program in America gets at least a Versus telecast. Fact: Versus showed the whole nation Dartmoouth vs. Columbia last weekend. Live! Hasn't our nation suffered enough?
Since recruits know they'll get national exposure even at Dartmouth, of course their decisions come down to such things as uniform colors, style of play, and a coach's personality.
So prepare yourself. The future likely will include color combinations that will make Tim Gunn vomit. (I looked it up. Tim Gunn is a fashion consultant. HW) Players more interested in developing their sack dance that their tackling skills. Maybe even a hip-hop version of "Bow Down to Washington."
*********** Coach, Was at a Pee Wee game on Saturday. The losing team was down 6-0 with 6 seconds to go.
They break a long run for the score. On the run for extra point, ( counts for 1 ) they make it, but there is a flag.
A parent ran onto the field and hugged her son after the play ( He was the one who ran it in ). On the replay of the down, they are stopped.
This parent had been previously been given a warning.
The team lost in OT.
Right call?
Dennis Cook, Roanoke, Virginia
No.
Eject the parent. Prosecute if necessary. But for God's sake don't punish a bunch of kids for the actions of a knucklehead parent.
How, after all, could the kids have prevented it?
What, exactly, is the lesson that this is supposed to teach them?
*********** Despite all the bad news concerning our economy, despite all the billions lost by big investors, one group of the very rich remains comfortably insulated from it all: professional athletes. The World Series body wasn't even cold yet and the guys on ESPN were already speculating on who would get what on the free agent market.
But wait - General Motors, going in the tank, has announced that starting in 2009 it will no longer be advertising on Super Bowl telecasts. And it's fair to predict that under new Belgian/Brazilian ownership, Anheuser-Busch may not lavish the money on TV sports that it has in the past.
Considering their eagerness to remove the risk from every business transaction in America, don't be surprised if our esteemed lawmakers propose a bailout for professional sports franchises.
*********** The letter read,
Dear Hugh Wyatt,
We are excited to announce that Northwest Airlines is now a part of Delta!
Great. Early in my travels around the country, I switched over to Northwest from Delta because Delta sucked. That was more than 10 years ago, when air travel was still somewhat pleasant. I can only imagine, with airline service in general as dumpy as it is, how bad it must suck now.
*********** Anyone catch the owner of the Phillies in his post-game interview? Now that was no absentee owner, no out-of-town investor who lives elsewhere and flies in for Phillies games. One sentence out of the guy and you could tell he was Philly born and raised.
*********** Just one more sign of a civilization in decay - The Long Island Railroad has a disability rate three to four times that of the average railroad. Since 2000, thousands of its retirees have collected a quarter of a billion dollars in disability payments from the federal Railroad Retirement Board. Turns out that management of the railroad has been advising workers close to retirement on how best to game the system, including sending them to sympathetic doctors, so that they could claim disabilities, which pay them more than normal retirement.
TUESDAY, OCTOBER 28, 2008- "You must be a model of stability in a moment of crisis." John Wooden
*********** The North Beach Hyaks lost to Naselle, 37-35, Friday, and we may have lost our shot at making the playoffs. We played our usual great game on offense (we haven't had to punt in four weeks) but we fumbled twice and we had some serious lapses on defense. The lead changed hands eight times until Naselle scored with 4:13 to play. We mounted a drive and made it to their 15 where we narrowly missed a field goal attempt with nine seconds remaining.
The game story, from The Aberdeen World...
*********** NASELLE — North Beach's state playoff hopes were damaged after a 32-yard field goal drifted wide left with nine seconds remaining in a heartbreaking loss to Naselle in Pacific League play.
The Comets' Nick Hines scored the go-ahead touchdown from 52 yards out with 4:13 remaining. The Hyaks responded, driving to the 15-yard line, but Russell Alfaro's kick just missed.
"It never entered my mind that we weren't going to win the game before the kick," North Beach coach Hugh Wyatt said. "We have a lot of faith in our kicker and I'd do it again if we were in the same position again. It wasn't a shot in the dark; we all felt it was going to go."
Both teams rumbled through the opposition's defenses, with the Hyaks rolling up 332 yards on the ground and passed for another 39 for 371 yards total offense, while the Comets amassed 364 yards. Maurice Alfaro ran for 193 yards on 23 carries and four touchdowns to lead North Beach (2-2, 5-3), while Hines led Naselle (3-1, 4-4) with 133 yards on 14 carries and four total touchdowns.
"We just couldn't stop them; I guess to a certain extent, the defense has been our Achilles heel," Wyatt said. "Over the last couple of weeks, we felt like we did the job offensively, but we hurt ourselves with fumbles and giving up big plays defensively. This was a great effort, no question, but geez, we lost three games by a total of 11 points. That's tough on the kids."
Quarterback Derek Archer also threw for one touchdown, a 34-yard pass to Russell Alfaro. The latter kicked three PATs and ran for a two-point conversion.
On Friday, North Beach hosts Ocosta.
*********** "Mike Singletary is the greatest coach in NFL history," was the heading of the e-mail from Ned Griffen, of New London, Connecticut, and as proof he sent me this story,,,
The confrontation with (Vernon) Davis (highest-paid tight end in the NFL) started after Davis was called for an unnecessary roughness penalty for slapping a Seahawks defender's head after a tackle on a 7-yard reception in the third quarter
Davis tried to avoid his coach as he ran to the sideline but Singletary got in his face and gave him an earful before sending him to the bench. Singletary said he was upset by what he considered a nonchalant attitude by Davis, who did not seem to understand why his coach was so upset
Singletary later walked over to talk to Davis on the bench, yelling some more at the former No. 6 overall pick in full view of his teammates. Then with 10:41 remaining in the game, Singletary went back to Davis and told him to go to the locker room. Davis started walking before being called back to get his helmet. He then waved his helmet at the crowd as he left .
And this clip...
http://www.nfl.com/videos?videoId=09000d5d80bf84eb
*********** Coach,

Clearly it's not enough for the NFL to murder your national anthem (like they always do)...

Now they have to murder OURS as well...

Ben Armstrong, United Kingdom (Give the NFL enough time and soon enough, just like us, you'll forget you even had one. HW)
*********** It's that time of the year again - I'm beginning to receive letters of nomination for Black Lion Award winners, and as in other years I am amazed at the letters that emphasize the fact that the nominee "never complains," as if that were one of the criteria for selection.
(For the record, the criteria are: "leadership, courage, devotion to duty, self-sacrifice, and - above all - an unselfish concern for the team ahead of himself.")
I must say it is a quite an indictment of the way our boys are being raised, and quite distressing to consider what a bunch of whiners the other kids on a team must be, if a kid's major qualification as his team's Black Lion is that he never complains.
*********** Hey Coach,
Quick question for you: What do you like to do vs. a 7-1 Defense?
We are playing this week to make the playoffs. We are 5-4, and if we win this game we finish in 2nd place in our region. Lose this game and we don't make the playoffs. Should be a fun week.
To us, a 7-1 is really just a 5-3 with the OLB's walked up in "7" techs.
If by some chance those "7"s line up in "6's" or "8's", we will run 6-G/7-G until they move those people.
We will trap the "3" techs and sometimes the "7" techs.
We will run the counter, doubling with our TE and T on the "7" techs. We will have our playside guards scramble-block the "3" techs.
We will run block Power the same way on the playside, with the wingback coming over the top for the MLB, but we will call Super O and cut off the backside "3" with our backside tackle (since that backside "7" will probably prevent our backside TE from shoeshining that "3".
And we will sweep them (Rip 88 G-reach/Liz 99 G-Reach) until the cows come home because when the widest man on the line, the one responsible for forcing the Power, squuezes down to do so, he becomes very easy for our wingback to hook, And then we get our B-Back out on that corner and we are off to the races.
*********** Hi Coach, We earned another big win on Friday night over our crosstown rival Corning East. It is a big win heading into playoff play. We now have to play a team that we played two weeks ago to earn the right to play in the sectional championship game. We got off to a quick start and led 30-6 at halftime. Mike Johnston, Corning West High School, Corning, New York
*********** Coach Wyatt,

Wanted to inform you that the boys from Rio HS in Rio, WI have done it again. Since converting to the Double Wing in 2006, they have had a combined 17-4 conference record, made it to the WI playoffs for three consecutive years (the only 3 years in program history), and finished off this season with a 9-0 record, a #5 ranking in the state, and earned their first conference title since 1969. Not bad for facing 11 men in the box every game and throwing it only 37 times all season!!!!

I took a different job this spring and am no longer the head coach there, but our D-coordinator from the past few years took over and has been doing a fantastic job. The playoffs start on Tuesday, and this town is abuzz with excitement and no longer begs for the boys to throw it!

Nick Crawford
Rio, Wisconsin
*********** Not saying that Philadelphians are fanatical sports fans, but my mother-in-law, who lives in suburban Abington, Pennsylvania, stayed up to 1:30 the other night watching the Phillies' rain-delayed game. She is 100 years old.
*********** I like June Jones, and I hope he'll be successful at SMU, but I do have to laugh at the irony of the leading proponent of run-and-shoot football (aka grass basketball) losing to a Navy team that didn't throw a single pass!
*********** I heard the people on the Kansas State-Oklahoma broadcast Saturday quoting KSU coach Ron Prince's dad, a career Army man, as saying, "I was nobody until the Army made me somebody."
Little did I know the context in which they were quoting him. SFC Ernest Prince had passed away the day before. Here was how I learned...
Gentlemen,
Wanted to let you know the sad news that Coach Prince's father SFC Ernest L Prince passed away on Friday. The Division will be involved with services for SFC Prince this week - Funeral Home hours will be TUES-WED, Division Chapel Service on THURS, with Graveside Military Honors to follow. Know that each have followed Coach Prince's involvement in the Black Lion Football Award - what you may not know is that we always felt that Ron Prince's drive, mentorship of young athletes, leadership philosophy, and thoughts on service were inspired from his Non-Commissioned Officer father's example. With the contributions of Coach Prince and K-State Football to the Black Lion
Football Award Program and 1-28 IN Soldiers and Families - we thought you would want to know of services this week, possibly notifying the Black Lion Award Board members.
DUTY FIRST
Very Respectfully,
Pat (LTC Pat Frank, United States Army)
Coach Prince wrote to say that his dad, "was a good man who lived a good life." With him when he passed were his wife of 49 years, his son, his daughter-in-law, and his four grandchildren. Wrote Coach Prince, "We'd all call that a win."
*********** The turning point in the Washington Huskies' dismal season may have come against BYU when with seconds remaining, the Huskies' Jake Locker scored to pull Washington within a point. In his exuberance, Locker flipped the ball in the air and was called for excessive celebration. Bingo. 15 yards walked off. And the long PAT attempt is blocked.
A game or two later Locker broke his thumb and there went any hope of Washington being able to move the ball, and any hope of Tyrone Willingham keeping his job.
So although I found myself impressed last Thursday night by West Virginia's dazzling offensive display,I was angered by the officials' overlooking all the strutting and chest-thumping and "God-bothering" (as the Australians call it) following every score.
*********** A friend wrote me about having to deal with a disciplinary issue that came up on a game day.
I wrote,
I agree that you need to deal with it strongly as a team disciplinary issue and also one that you can use as an example for the whole team. On Monday.
Thinking of ALL the kids and all the time and work they've put i, I learned a long time ago that there is VERY LITTLE that ever needs to be taken care of on a Friday and can't wait until Monday.
It would have to be REALLY bad before we would deal with curtailment of playing time, because that does affect the work of many other kids. (Not to mention the fact that the community, for all their talk about wanting a disicplined pogram, would never understand.)
On Monday, we will deal with it, and EVERYONE will understand then that we are not running a loose ship.
************* Coach Wyatt, it has been awhile since I last wrote, just want to say congratulations on your success thus far at North Beach!! I am sure that your young men will have great memories of this season for the rest of their lives.
Did you catch the Sports Reporters on ESPN this morning? At the end of the program each reporter gives their weekly rant and during Mitch Albom's turn he brought up something about the ink on Rich Rodriguez' 6 year 15 million dollar contract not being dry as Michigan State was beating them yesterday. During the rant they showed highlights of the game and I caught a glimpse of State at the Michigan 3 yard line, 7:04 left in a 21-21 game, lined up Double Tight, and Stacked! Wow, the line down blocked, blocking back sealed in the DE, Full back kicked out, Voila....the game winning TD. Wish I would have gotten that game on my DVR.

As for our program out here in the desert, we have begun the playoff's, Midget's lost in Mexicali last night, but our undefeated Jr. Pee Wee team won against Mexicali, and our undefeated Jr. Midget's won against Yuma. Next Saturday they will play for our conference championship. I will update you next Sunday.
Sincerely,
Matt Marrs
Mid Valley Pop Warner, Imperial, California
*********** The visually-challenged leading the visually-challenged...
A long-time Double-Wing coach who has seen it all writes this about watching a first-time Double Wing team. Let it be a lesson to anyone who thinks they can "tweak" my system or get advice from online experts and still be successful.
I just went to scout --------- , who may be a possible playoff opponent, and they were playing --------- (0-9) I did see a double wing from ----------- but I did not see one power, trap, or G........it was not pretty. Seems like they decided to line up in double wing but take ALL the shortcuts that teams want to do when they don't have immediate success or "feel that they are out-manned"............I have a feeling that sometime over the summer they stopped at the puppy mill to pick up their new double wing.
(As for the "puppy mill" reference - there are lots of people allegedly "running" a "Double-Wing," and lots of them got their information from people whose credntials are slim and whose experience is, to say the least, highly limited. I liken it to going out and buying a dog - if you want to know what your puppy (your Double-Wing) is likely to look like and how he (or she) is likely to act, you deal with a reputable breeder. But if you want to save a little money, you get your puppy from a puppy mill, and you take your chances. HW)
*********** Most coaches hate homecoming and all its distractions, but it could be worse. A lot worse.
Consider:
A game between two Seattle-area high schools began getting out of control a week ago, and when an incident broke out in front of one of the team benches and a fight ensued, officials mass-ejected players until one of the teams did not have enough players to continue play, at which point the officials ended the game. The league, which consistently leads the state in ejections and has become something of a pain in the ass to the state association, subsequently ruled that neither team should be awarded a win.
Meanwhile though, since an ejection carries with it a suspension for the next game as well, the "losing" team did not have enough players to play this past Friday, either, which greatly complicated things for its opponents - it was their homecoming.
Not wanting to disappoint the entire school by telling the kids that there would be no homecoming game, the administrators did something that would never have happened in the days before all sports became equal - they rescheduled their girls' soccer game from Thursday night to Friday night.
Uh-oh. In the interest of fairness and all that, I can see this catching on in some places.
*********** Hugh:

Just an update....Crystal Lake Central defeated Grayslake North last night 38-8, in a driving rain storm (delayed a few times for lightning). It was a complete mud and bath bowl as both sides could not even hold on to the snap due to the mud coated ball. In the end we rushed for 268 yards to their 84 and we secured a playoff berth. I am on my way to the team party where they will announce the playoff pairings on TV. I am just happy for the kids and this opportunity to continue playing football. Hope your kids played well last night. Bill Lawlor, Crystal Lake, Illinois
*********** The Beloit Trojans are 8-0 after another impressive performance on both offense and defense in their 54-0 home victory over Hays-TMP. Beloit led 16-0 after one quarter and then erupted for 32 points in the second quarter. The second half was played with a running clock, and Beloit's JV offense scored the final points of the night in the 4th quarter. The Trojan defense continues to play a very fast, swarming style, coming up with 2 interceptions and a fumble recovery. Hays-TMP had just 41 yards rushing on 22 carries and 12 yards passing on 4 completions in 12 attempts, and the Monarchs were only able to gain one first down for the entire game. Beloit's Double-Wing offense gained 454 yards and 20 first downs on 49 rushing attempts. Senior wingback Cas Spangler had 19 carries for 231 yards and 2 TDs while junior wingback Logan Eck had 18 carries for 190 yards and 4 TDs.

The Trojans are 2-0 in district play and have secured a playoff berth for the second consecutive season. They will travel to always tough Phillipsburg on Thursday (Oct. 30) to finish the regular season. The winner of this game will be the #1 seed from District 14 and will host a first round playoff game the following Tuesday while the loser will be the #2 seed and will have to travel for the first round of the playoffs.

Thanks for your continued support. TROJAN PRIDE!

Coach Greg Koenig
Beloit High School
Beloit, KS
FRIDAY, OCTOBER 24, 2008- "The only thing worse than going into a game convinced you can't win is going into a game convinced you can't lose." Jake Gaither, legendary Florida A & M coach
Bsports.org Washington Class 2B State Rankings
1. Asotin (6-1)
2. LaSalle (7-0)
3. Colfax (5-0)
4. Willapa Valley (7-0)
5. Toutle Lake (6-1)
6. Concrete (6-1)
7. Adna (5-2)
8. DeSales (5-2)
9. Garfield-Palouse (6-0)
10. Reardan (4-1)
TEAMS TO WATCH: White Swan (5-2), North Beach (5-2), Seattle Lutheran (5-2), Liberty Bell (6-1), South Bend (5-2), Napavine (5-2), Darrington (5-2)
With three games left in the regular season and three teams - North Beach, Naselle and South Bend - tied for second place in the Pacific League, the North Beach Hyaks travel two hours south to Naselle Friday to slug it out for the league's second playoff spot.
***********Found this online.....
You're an 18 or 19 year old kid. You're critically wounded, and dying in the jungle in the Ia Drang Valley, 11-14-1965. LZ Xray, Vietnam. Your Infantry Unit is outnumbered 8 - 1, and the enemy fire is so intense, from 100 or 200 yards away, that your own Infantry Commander has ordered the MediVac helicopters to stop coming in.
You're lying there, listening to the enemy machine guns and mortars, and you know you're not getting out. Your family is half way around the world, 12,000 miles away, and you'll never see them again. As the world starts to fade in and out, you know this is the day.
Then, over the noise of all hell, you faintly hear that sound of a helicopter, and you look up to see a Huey, but it doesn't seem real, because no Medi-Vac markings are on it.
Ed Freeman is coming for you. He's not Medi-Vac, so it's not his job, but he's flying his Huey down into the torrent of machine gun fire, after the Medi-Vacs were ordered not to come.
He's coming anyway.
And he drops it in, and sits there in the machine gun and intense mortar fire, and loads 2 or 3 of you on board.
Then he flies you up and out through the gunfire, to the doctors and nurses.
And, he kept coming back...... 13 more times..... and took about 30 of you and your buddies out, who would never have gotten out.
Medal of Honor Recipient Ed Freeman died last month at the age of 80, in Boise, Idaho......May God rest his soul.....
*********** Coach Wyatt:
The Hoisington Cardinals improved their record to 5-2 with a 40-12 win over the Ellsworth Bearcats. We rushed for over 340 yards and for the 2nd consecutive week we had 2 backs over 100 rushing ((A & C). 47-56 CC was very good to us again this week. Lonnie Irvin, Hoisington, Kansas
*********** Coach,
Joining a new team has had its challenges and naysayers with respect to the DW, but last Saturday night it all came to fruition. We have been winning steadily (we were 3-0 league, 4-2 overall) going into a tough league battle with our archrivals and city nemesis the Racy Raiders, an organization with a storied past and reputation. The Tracy Cougars varsity team had never beaten the Raiders in the existence of the Cougar organization…until now. The DW was too much for them. Basics like 88 & 99 Super power was the order of the day. This team was big, strong and well-coached, but we confounded them with our inside/outside game all night. G-O's, G's and the awesome Wedge set the tone as we rolled up 369 yards. Our defense played very well for the first time all season.
As the game ended and I was shaking off the ice water poured over me, I shook the opposing coaches hand and heard him say, "I hate playing against this offense, but you sure run it well." I have known Coach Vada for several years and, always gracious in wins and defeats, his words were a true compliment.
Parents were crying and congratulationing the boys and the coaches…and not one negative word about that "strange offense you brought with you!".
Richard Scott
Livermore, California (That is GREAT. Very exciting. You have put a lot of time and effort into learning the offense, and by now I'm sure that you are miles ahead of anyone trying to stop you. If there's any secret, it's knowing what you're teaching and how to teach it, and then going over it. And over it. And over it. HW)
*********** Arizona coach Mike Stoops certainly is a Man of Stones. When his starting tailback, Nic Grigsby, fumbled at the end of a 10-yard gain, Stoops gave him the hook. It was just the second offensive play of the game for the Wildcats, but it was Grigsby's fourth fumble in the last five games, and Stoops had had enough.
He benched Grigsby, the Pac-10's leading rusher. "This is becoming habit-forming," Stoops told the Pac-10 sports writers in their weekly conference call, "and there's got to be a consequence."
Don't know whether Grigsby learned his lesson, but I have a feeling that the coach got his attention. If he didn't, his replacement, Keola Antolin, did. Antolin rushed for 149 yards and three touchdowns as the Wildcats hammered Cal, 42-27.
*********** While the media are going hogwild (or maybe catwild?) over the Dolphins' "radical," "new" offensive package (which I generously allowed them to call the "Wildcat"), fairness requires me to point out that the Fish have rushed for all of 671 yards in six games. That's roughly 112 yards per game. Gimme a break - plenty of Double-Wing teams have rushed for that much in one quarter. (One twelve-minute quarter, I might add.)
*********** Scary - the TV spot featuring Lawrence Taylor, so dissolute he looks like the Devil himself as he holds a football and says, "this is our religion - this is our cathedral."
So now he's telling us we can find salvation in a football game, is he?
Of course, this is the same guy who set out to lick his drug and alcohol problems by playing golf.
*********** Coach - Would you mind sending me the citation of the rules violations concerning grabbing the o-lines ankles please?
It's pretty simple and straightforward:
Rule 9, Section 2 Article 3- A defensive player shall not (c) use his hands or arms to hook, lock, clamp, grasp, encircle or hold in an effort to restrain an opponent other than the runner.
*********** A coach who is making the conversion to the Double Wing past the mid-point of the season asked me for some tips on play-calling.
Overall, play-calling with this system is a matter of feel. The main advice I would give you is - make them stop you. Start out with a base play and if it works, keep running it. Don't stop yourself. Don't permit yourself to get bored if running the same play over and over is getting you yardage. Don't get away from what's working simply because you think people expect you to run something different
*********** Have you read "You have to pay the price " by Earl Red Blaik?
Tim Brown, Jackson Tennessee
It was one of the first books I read after becoming a coach and it has been a major influence on me from my earliest days of coaching. I have such respect for Colonel Blaik and West Point.
Several years ago I summarized the book for others to read.
http://www.coachwyatt.com/BLAIK.html
*********** LTC Pat Frank at Ft. Riley, Kansas sent me this amazing story about an Alaska National Guardsman who's stationed at Ft. Riley before heading to Afghanistan. He also happens to be offensive coordinator of a high school team in Anchorage, and how he has managed to keep coaching - from Kansas - is quite a tale.
http://www.adn.com/news/alaska/story/559831.html
*********** Is there a particular front you'd prefer to see to run 6G? Is there a front that you find it more difficult to do so?
We run it against any front.
It kills a 5-3 or an Eagle.
It can be tough to run against a well-played 4-4 with ends in "7" techniques who are stronger than our TE's
*********** Coach,

We ended our season tonight with a 40-0 victory in the conference championship game. We are Edmond City, North Division, and Metro Conference champions. We outscored opponents 273-48. We could not have asked for a better group of players. This team is a rarity in our sport, in 8 games we had no discipline issues and no eligibility issues. All of these kids have great character, morals, work ethic, and discipline. More than one of them switched positions or played in multiple spots for the good of their team. In 5 seasons since I began running the double wing and found out about the Black Lion Award I have searched unsuccessfully for a player who I truly believed was worthy of the legacy of Major Holleder. This year, in a year where I had several players to consider for the award who met the standards, one player stood out above the rest.

After 5 years of searching it is my honor following a unanimous vote of the coaching staff to nominate for the Black Lion Award our B Back, Sam Brown. Sam is a young man of outstanding character. He is the smallest and slowest of our four varsity backs but he has the biggest heart of any player I have ever coached. Sam is a player who excels by sheer effort both on the field and off. When we began the season Sam was in contention for the job of starting quarterback before being moved to wingback. When it became apparent that there were other, more physically gifted, backs Sam volunteered to fill an empty position at fullback. Our staff informed him that moving to B Back would mean that he would spend the majority of his time blocking for the other backs and that he would not get as many carries or receptions. Sam's response was that someone on the team had to pave the way and if we felt it was best for the team he would not only do it, he would love to do it. Every practice of the 2008 season Sam Brown was the first player on the field and the last one off. When others took their time getting dressed he was always on the hop and always looking for a way to help. I can't remember a single instance where he wasn't offering to carry gear or set up drills. Sam Brown was the heart of our team. In good times and in bad the rest of the players drew courage from the poise, hard work, and never say die attitude that Sam took on every down from the first play of the season to the last. Most importantly Sam Brown would do anything, he would make any sacrifice, he would go any distance for the good of the team. It is players like Sam who make the game worth coaching.

Thank you for all you've done for me and for our program over these last few years and thank you for considering the nomination of our Black Lion, Sam Brown.

Gabe McCown
Piedmont, OK-USA
TUESDAY, OCTOBER 21, 2008- "First and foremost, what I have learned is that a coach must be a teacher. I was able to learn this from a person who I truly believe to be one of the best coaches and teachers ever: Rip Engle. Rip would never let us put in more than the kids could handle. He was constantly evaluating the assistants to determine how much new material they were putting in, and how quickly the kids were comprehending it." Joe Paterno
*********** We (the North Beach Hyaks) dropped a tough one Friday, 22-19 to Willapa Valley, the #4 team in the state. It was at their place and there was a big crowd, especially considering the SMALL size of our schools. And although Willapa Valley, in Menlo, Washington is an hour and a half away, there was a large contingent of fans from North Beach. Willapa Valley is a very solid team that came in unbeaten and had played a tougher schedule than we had, and no one (except us) expected us to stay with them. But after being down 14-13 at the half, we held the ball for all but a minute and a half of the third quarter, and we led, 19-14 with under 4 minutes remaining, when one of their kids made a great (if disputed) touchdown catch on a fourth-and-goal pass. But we had been moving the ball quite well all game, so I really thought we would take the ball and drive for the winning score. But we'd also stopped ourselves a couple of times earlier with turnovers, and sure enough, we turned it over one more time - and that was that. We gave up an opening drive, but came right back with a drive of our own, and then settled down on defense and went toe-to-toe with them. I am not going to claim that we outplayed them, because they won the game and they had a few blown chances of their own, but we did win the statistical battle. We wound up outgaining them, 350 yards rushing (on 51 carries) to 231 overall (they rushed for 193 and passed for 38), and we had 22 first downs to their 15.
Yes, the loss hurts. North Beach had never - ever- won at Valley, and now we've got to wait two more years for another chance. But as a way of measuring our progress, the game was invaluable. We moved the ball well offensively and began to gel - finally - on defense. What was most encouraging was the fact that our kids were not in the least intimidated, they never got down, and they fought from bell to bell.
We are now 5-2, our two losses by a total of nine points. We still have a shot at a playoff spot, but the only way to assure ourselves of our league's #2 spot (Willapa Valley has the #1 spot locked up) is to win out.
The game story... http://www.thedailyworld.com/articles/2008/10/18/sports/02sports.txt
*********** In seven games at Nortth Beach we have rushed 342 times for 2594 yards , an average of 371 yards and 49 carries per game. Our leading rusher is A-Back Jamaal Lind, with 978 yards on 129 carries, followed by B-Back Kevin Braden (823 yards on 107 carries) and C-Back Maurice Alfaro (596 yards on 56 carries).
*********** The Pasadena (Maryland) Chargers 90-pounders, , coached by Bryan Mackell, are now 5-2. It is Coach Mackell's first year with the club, but by no means his first year with the Double Wing. He has been a regular at my clinics and for the past several years I've started the day at my Philly clinics having breakfast with him and his buddy, Jason Clarke. He's had extensive experience coaching my system at the youth and high school (Archbishop Curley of Baltimore) level. He wanted me to make sure to mention that his B-Back is only in a 2-point stance for the photo!

The kids are (o-line left to right:) Y=Trey, 4=Michael, 2=Jake, center=Tyler, 3=Dayton, 5=Khari, X=Sean... (backfield) C=Tyson, B=Gabe, QB=Brandon, A=Troy
*********** Corning West Wins 30-6 to go to 6-1 and clinches a playoff berth...
Well, Red-Red Throwback went for a TD, so it came in handy. Thanks. I have attached the address for you to check out the article
http://www.stargazette.com/apps/pbcs.dll/article?AID=/20081018/SPORTS0805/810180324/1002/sports ...
Appreciate your help. I will be in touch this week.
Mike Johnston, Corning West HS, Elmira, New York
*********** I recently ordered the playbook and have been running the system with my team of 7 year olds. It has been pretty tough. The kids know what they need to do, but our timing is off big time. The biggest problem is our backs are beating our lineman to the p.o.a. If we could correct this one problem I feel that we could really do some damage. I will say that we did pick up about 40 yards on our 47 criss cross today only to be shut down on our powers. If you have any advice on how to correct this problem I would greatly appreciate it. The other problem that I'm facing is coaches coaching for the wrong reason. I'm in a real bind with this because I'm the youngest coach, and I've always been taught to respect my elders. Basically I was wondering if you had any experience in dealing with coaches who like to coach so they can have a whistle and hold a clip board, and if you have how did you handle the situation. Again I'm the youngest guy and I'm not the head coach so I feel like I just have to keep my mouth shut and just get through it. It's amazing how I've really enjoyed every part of coaching except for dealing with the adults. Thank you for reading my ranting, I hate sounding like I'm writing Dear Abby, but from what I know you are the guy to ask questions to. I know my high school coach has a great deal of respect for you and I have a great deal of respect for him, so again thank you very much for your time.
Coach, I would suggest (1) that you run Super Power without motion. That is sure to improve your timing. For several reasons I haven't used motion for Super Power for some time; (2) that you move your wingbacks a yard wider than your tight ends; (3) that you work REALLY hard on making sure that those pulling linemen "stay in their lane" - the inside lane - as they round the corner. Often what you see as the backs beating your linemen is really your linemen "drifting out" into the running back's lane and getting in his way; (4) tell your runner to push on your tackle's back with his inside hand (after catching the ball, of course).
As for your second problem ---- these guys are all too common, and it can be very frustrating for a guy who takes coaching seriously, especially when guys who haven't put in the time or effort are always there and ready with opinions.
At some point, you should probably try to find a team headed by a guy who takes things as seriously as you do.
For now, though, my suggestion is to try to suffer through it - and put this in your book of things to avoid when you become a head coach.
*********** Coach,
We beat Corbett 47-6 on Friday to run our record to 7-0. They gave us the pass all night and we took advantage throwing 14/18 for 255 yards and three TD's. We had our lowest rushing total of the year but still managed 33 carries for 259 yards and four TD's. Our A- back was a Sophomore getting his first playing time of the year (normal starter was injured in practice) and he ending up rushing for 109 yards on 9 carries and caught 5 passes for 100 more yards. A great night for a deserving kid. We have outscored our opponents 280-20 on the season but our kids know that stats will not help us in our final two games of the regular season. We have two huge games left. Both teams are ranked in the top 10 in Oregon 2A and both teams have beaten us the past two seasons. We have much to improve upon and will need to execute to near perfection in order to get these critical league victories against very strong, athletic, well coached opponents. Good Luck to the N.B. Hyaks as your regular season winds down. Jeff Miller, Knappa, Oregon
*********** I was talking Monday with Master Coach Mike Lude, co-inventor of the Delaware Wing-T, who after spending his summer in Bellevue, Washington is now back at his home in Tucson for the winter. I mentioned to Mike the number of coaches I see who seem to be constitutionally incapable of repeating a successful play. He said he notices the same thing all the time and then chuckled, recalling an occasion whenhe was head coach at Colorado State and ran a successful play- and then came right back with it again. He said his assistant in the press box said, "That's the play we just ran - they'll be ready for it."
Mike fired back, "We're gonna run it until they wear it out."
*********** Hugh -
We finished the regular season undefeated 7-0 (first time since 1986). We beat winless Holley 45-6. We start playoffs this week so we tried to work our passing game A LOT. Saw some good things - QB making reads and good throws. Saw some bad things - 7 dropped passes (3 in the endzone). QB went 3-12 for 73 yards and a TD, but couldve had over 200 yards and 4 TD's. The one TD pass was on spread red (fade). We ran 32 times for 296 and B back/Aback Brad Riner had 6 carries for 134 yards and 3 TD's. We begin the class C playoffs this week (sectionals). We open up with 3-4 Dansville. We clinched the #2 seed. The road to the championship will be tough. We will likely have to beat Pembroke again (won 25-24 with 20 sec. left last time on a 2pt play) and then play Leroy for the title (Leroy has won 15 sect. titles and has been to the state titles 3-5 times). If we stay healthy we can make a run.
Keep Coaching,
John Dowd, Oakfield, New York
PS - saw you lost a tough one. Sorry to hear that. I'm sure you'll get them back on track though
*********** Randy Jennings wrote an article last week in the Dallas Morning News about the virus-like proliferation of spread offenses in Texas football, and included the following (my responses in bold type)
FIVE REASONS FOR THE SPREAD'S SPREAD
1: More fun for players (yeah- at least for the ones who make the most noise - the wide receivers. Last I heard, thouogh, even spread teams didn't use more than four of them. So what about the offensive linemen? There are five of them. Has anyone ever asked an offensive lineman who's played both a trapping, drive-blocking, kick-ass offense and a spread, push-and-pull pussy-blocking offense which one he thinks is more fun?)
2: Great offensive linemen not essential (no, not if you work really hard at teaching your average linemen to hold)
3: Rule changes over the years have favored passing (that's for sure - and the next one will probably require defensive coaches to submit their game plans to their opponents at least one week in advance)
4: UIL allowing 7-on-7 competition (damn shame they have to ruin it all by bringing in linemen once the regular season starts)
5: Scholarship opportunities enhanced since most colleges also employ the offense (Can't argue with that one, except to say that last I heard, my job was to help all my kids be successful, even the ones that don't have D-I potential.)
*********** Believe it or not, we are running into to teams that are using the old Coach Bruce Eien defense against the Double Wing. I can recall you and I talking about this circa 1998 or so. You and I both know Bruce and he is a hell of a coach. He did admit later that parts of this defense were illegal for encouraging the defense's to "grab the ankles" of the offensive linemen. We saw this last week and though I pleaded for penalties, none was ever called. We lost the game. I saw it again yesterday and I pulled a Bobby Bowden when I yelled to the head official to "wait one cotton pickin minute...I need to talk to you about an illegal defense". We talked, on his time out, and explained to him about defensive holding and that the defense was doing this. That he was obligated to call it. He agreed by warning the opposing team then making TWO defensive holding calls before they quit doing it. We won the game.
*********** where do I sign up? This A-11 offense is a joke. I played 7 years of arena football and it looks like arena football for the 11 man game. I've seen a few go routes and some mis direction but overly unimpressed. Pete Porcelli, Lansingburgh, New York
*********** Clarinda Aacademy (Iowa) 34, Riverside 20.
We played a great first half, were down 0-7 (with their score coming on a interception returned for a TD on a bad call by me). We had several chances to score but penalties and TO's kept us from doing so. Defensively they kept us in it the ball game. In the 2nd half we played much better, and due to the point system in Iowa to determine the tie breaker on who goes to playoffs and who does not we knew to have any chance we needed to win by 13. We scored on 88 SP with 57 seconds left to go up 22 to 20. We scored again after intercepting a pass which we ran back to their 20. Red Red found our C Back wide open in the end zone. We kick off with 8 seconds left and they try the music city miracle and we recover it with 2.7 on the clock up 28 to 20. We call Blue Blue and our A Back is wide open in the end zone as time runs out for a 34 to 20 win.
On the game 70 rushing attempts for 352 yards.
A Back 40 for 205 1 catch for 20 yards(TD), 2 rushing TD's and 1 2 point conv.
B Back 2 for 8
C Back 26 for 132 (1 catch for 20 yards (TD), 1 rushing TD and 1 2 point conv.
QB 2 for 7, also 2 for 9 for 40 yards 2 TD, 1 INT
With the twin tilt we held them to 25 carries for 103 yards and 10 for 23 passing for 164 yards (with us having 2 INT's)
Brad Knight, Clarinda, Iowa

*********** The drop in prices has already created problems for oil producers. Iran and Venezuela both need oil prices at $95 a barrel to balance their national budgets.
We are such chumps. Next thing you know, we'll be sending foreign aid to the starving bastards.
*********** State high school associations are oh, so concerned about safety. They impose all sorts of restrictions on coaches, all in the name of safety.
For example, our state requires a kid to have 12 days of practice before he can participate in a game. Other states have similar requirements.
In southern states especially, they'll make you shut down practice when the temperature-humidity index reaches a certain point.
They limit the number of games you can play and whether or not you can scrimmage against another team (we can't). Many states limit a kid's playing time to a certain number of quarters per week, so that a kid won't play an entire varsity game on Friday night and an entire JV game on Monday night.
It's all in the name of safety, folks.
Yet in North Carolina last week, a high school team had to play a varsity game on Friday, another the following Monday, and a third the next Friday. That's three varsity football games in eight days.
Did I hear somebody say something about the kids' safety?
*********** Hugh,
After three rough weeks, our kids stuck with it and kept plugging away. The end result was a 36-21 win over #5 ranked Stark County. What a great feeling.
I have to admit a few things. Following our loss last week, I didn't feel our offense was at fault (they scored 61 in the first half), but felt that we needed a jolt somehow and defense wasn't going to be where we could get it.
So, taking some of your advice from earlier about "having to do something so it doesn't look like you've given up, but not so much that it looks like you've abandoned what you do," I did something. We lined up in the spread. I know how painful it is to read that (it burns my fingers to type it), but let me explain. We lined up in split backs with our qb in shotgun (we installed shotgun from double wing last year after getting a film clip from you via email), two split ends, and put our fullback in the slot. We then proceeded to run Power
all night long. We doubled down, halfback kicked out, guard turned up to the wall (tackle stayed at home to shoeshine). Our counter was basically our regular counter except the qb kept the ball. We also ran the qb on reach. So, we ran the "spread" to the tune of 47 rushes for 441 yards, 4 passes for 0 completions. In the fourth quarter, when we needed to salt the game away, we lined up in the double wing (dubbed Delaware around here) and kicked the snot out of them until we took a knee.
Here's what I figured out: When your quarterback is your best athlete he needs to carry the ball (19 for 177). When you can still run your base stuff you're not a spread team, you're just a team that put the opponent in a bad spot (7 in the box instead of 11). Our opponent this week has to prepare for two offenses, while we get to keep running the same one with a new formation.
So, according to our kids, we now run the "shotgun double wing", not the spread, because the spread is not "Trojans Football" in their eyes (or mine).
If we win this week we are in the playoffs, having played the toughest schedule in the state (their stats, not mine, although I agree).
Todd Hollis
Head Football Coach
Elmwood-Brimfield Coop
Elmwood, Illinois
I have been in the same situation and I'd have done the same sort of thing you did.
Your job is not to remain a Double Wing purist. It is to do whatever you have to do to put those kids in a position to be successful, and for doing that I congratulate you.
That was a great and innovative approach to a difficult situation, without in any way appearing as if you gave up on the kids or changed your basic philospophy or junked what you'd been teaching all along.
*********** Isn't it a bit arrogant of a coach who has Michigan off to its worst start in years to change the Michigan jersey - the one that was good enough for Crisler, Oosterbaan and Schembechler? (As well as Moeller and Carr?)
Or is Rodriguez just so homesick for West Virginia that he had to stripe the Michigan jersey to make his players look like Mountaineers?
*********** If Washington's major college football teams were people, they would be selling their blood, living under bridges, and drinking RWL. Understandably, then, the Seattle newspapers have begun featuring stories about college basketball. The Washington Huskies could be decent, and the Washington State Cougars could be very good. Again.
So I read an interesting article about WSU basketball coach Tony Bennett in which he talked about all the things youngsters have to learn, including how to practice.
Noted a freshman named DeAngelo Casto, "At this level, you have to learn how to practice, how to condition, how to go to bed, how to eat right. Al those little things that people don't realize in high school."
Add to the list, "how to act civilized," and you begin to see how the NBA has been hurt by the constant influx of teenagers who've never learned these things.
*********** A friend who coaches in the UK wrote to tell me that, just like many of you, he has his detractors, owing largely to his offense, which as we all know "won't work."
One of the detractors is an American, part of a special breed that loves to fool Europeans into thinking that simply because they're Americans, they must know something about American football.
My friend wrote me with a great suggestion: "Do us a favour Hugh, get the U.S government to stop sending us your idiots, and we'll stop sending you ours,
*********** It had been 24 years since Washington State failed to score in a football game, but Saturday, USC shut the Cougars out, 69-0.
I was listening to the Cougar postgame show and some Cougar fan called in, really upset because she thought they should at least have kicked a field goal. She really thought that 69-3 would have been a lot better than 69-0.
*********** Is the NFL a ripoff or what? Two teams - the Jets and the Raiders - battle it out for four quarters, using real football players and real football plays and everything, and then, in Sudden Ennui Overtime, a keeker comes in and seals the deal with a 57 yard field goal.
It's a pretty sick game when the goal of an offense is to make it to the other team's 40-yard line.
(This is all hearsay, you understand. There is no way I would have sat and watched that dreck.)
*********** Got to love the Nike commercial, showing Ladainian Tomlinson and Troy Palomalu growing up in parallel universes, then coming together on an NFL field - in a near-perfect tackle.
Not the kind of "big hit" or "big stick" on a helpless receiver that the guys on ESPN salivate over, either. Just a great tackle, head up and all.
Wonder how many takes it took an NFL player to make a really good tackle.
*********** U-G-L-Y - YOU AIN'T GOT NO ALIBI!
In Georgia, eight McIntosh High School cheerleaders were suspended for being drunk while performing during a varsity football game on October 10.
The cheerleaders all received 10-day school suspensions for consuming alcohol on school grounds.The penalty can be reduced to seven days if they agree to participate in an alcohol and drug intervention program, but they'll also be suspended from cheerleading for 25 percent of their current season, which means their football season is over.
***********Hugh,

Read my message to CSM Dockter before you read his reply.
Greg Koenig, Beloit, Kansas
I hope things are going well for you and Nancy. Since today is very significant for the Black Lion Award (http://www.coachwyatt.com/blacklionhomepage.htm), I was wondering if you have any special words of encouragement for our team tonight? If so, I would be honored to share them in our pre-game meeting. Thanks.
Here was the reply of CSM (Command Sergeant Major) Cliff Dockter, of the Black LIons at Fort Riley, Kansas...
Trojans
I would like to congratulate the team on their success thus far and take this opportunity to emphasize what I believe to be the most important part of what they have done. It is not absolutely trouncing the competition, but, well what can you say, except "wow!" Very impressive.
Winning is indoctrinated into our culture and although important, it unfortunately somewhat overshadows how you got there. Something imperative is often overlooked by players and their family members within a good athletic program. That is the experience of having got where you are right now. Whether you realize it or not you have the rare opportunity of having been indoctrinated into a culture that has become part of your lives and hopefully will grow throughout the rest of your lives. It is a culture nested in principles of leadership,courage, devotion to duty, self-sacrifice, and - above all - an unselfish concern for the team ahead of yourselves.
These principles are applied through the things your coaching staff has structured throughout the year and are self evident in the tenacity, the ground pounding Trojan football style that is truly enticing to listen to, even all the way up here in Alaska. The experience of becoming Trojans, that's what I'm talking about. Being able to go out on the football field and play so hard your heart is ready to explode in your chest and when you think you just can't go on ......you do. You do it because there are 10 other men on that field who are counting on it, on the sidelines they expect it, and most of them are waiting for their turn to do there part of it.
The people in the stands - they love to watch it when you're winning but unless they have played the game and have had the same good fortune of being a part of what you are right now, they not only don't see it, they won't understand it. It is the essence of who you are as a football team and what facilitates the unbearable heat unleashed against your opponents throughout the year. How you got here is your legacy as a football team. To name it I would simply call it "Trojan"
FRIDAY, OCTOBER 17, 2008- "The person who has nothing for which he is willing to fight, nothing which is more important than his own personal safety, is a miserable creature and has no chance of being free unless made and kept so by the exertions of better men than himself." John Stuart Mill
*********** They were teenagers, many of them. Kids like yours. But instead of spending their fall playing football, they were spending it in Vietnam.
On this very day 41 years ago, October 17, 1967, 140 young American soldiers - Black Lions, men of the 28th Infantry - marched into the jungle north of Saigon in search of the enemy.
They found him. Or, to be more accurate, the enemy found them. The Black Lions walked into an ambush by a force of North Vietnamese ten times their size, many of them snipers firing automatic weapons from the trees.
By the time the day was done, only 12 of the orignal 140 were not either killed or wounded. 58 of them were KIA and two were MIA.
So heavy was the fire they encountered that they were unable to remove all the dead and wounded before dark, and so they were forced to stack the bodies and then protect them from the enemy with a "ring of steel" - a circular pattern of artillery fire - until morning came and they could evacuate them.
"They Marched into Sunlight," an epic work by David Maraniss, tells the story of the horrors the Black Lions faced and the incredible heroism they displayed on that day 41 years ago.
One of those killed that day was Army Major Donald W. Holleder. Overseeing the battle site from a helicopter, Major Holleder ordered the chopper to land so he could assist in evacuating the wounded. He raced across a clearing, calling on others to assist him, but was cut down by sniper fire as he entered into the jungle. A young Army medic named Tom "Doc" Hinger, of Latrobe, Pennsylvania, who himself was wounded in the battle (and would later be awarded the Silver Star for his acts of bravery that day) was the first to get to the Major, who died in his arms. Major Holleder was well aware of the danger he faced, but he saw it as his duty to rescue his fellow soldiers.
Twelve years earlier, Don Holleder had been a star football player at Army, then a major football power. And he had been a part of one of the most controversial coaching moves any sports writer at the time could ever recall - an All-American end as a junior, Holleder was asked by his coach, the legendary Earl Blaik, to switch to quarterback. Coach Blaik knew that Holleder would never be a great quarterback in the techcnical sense, but at a time when the quarterback called all the plays (coaching from the sidelines was prohibited, and limitations on substitution made it impossible to send in plays with substitutes), the coach knew that Holleder was the leader the team needed.
Holleder would have been a two-time All-American had he remained at end, and his coach gave him that option. But "Duty, Honor, Country" is the West Point motto, and Holleder, understanding full well that it was his duty to do so, accepted the challenge and the move to quarterback.
Some wise-guy sportswriter tagged the move "Blaik's Folly," and in the early going it seemed to be just that. Army lost some games it shouldn't have, and part of the blame had to lie with ineffective quarterback play.
But when it really counted - at the Army-Navy game in Philadelphia, before the usual 100,000 fans - a Holleder-led Army team upset a nationally-ranked and heavily-favored Navy team that the previous New Year's Day had defeated Mississippi in the Sugar Bowl.
In 2001, the Black Lion Award was established to honor the men of the Black Lions, true American heroes, by recognizing young football players who, in the spirit of Don Holleder, have put their teams ahead of themselves through conspicuous examples of leadership, courage and self-sacrifice. And duty.
*********** Coach Wyatt,
I am enclosing a copy of the Yukon Rangers Black Lion Award winner. This young man has been with me for several years, well since 2005 as a football and baseball player and he has proven time and again what the meaning of the Black Lion Award is. Never does he complain, always at every practice, gives 100 percent and is always eager to play wherever he is assigned since he has played many positions on Offense and Defense for me over the years. Each year becoming more and more difficult as a player and team because they are maturing in age and as we all know the sport becomes more difficult and physical as they grow. These boys (Rangers) are 9 years old now and #40 Jaiden Prince has been with me since the beginning of this team in 2005. He has been an inspiration to the team. One other thing about Jaiden Prince is that he has Multiple Sclerosis and gradually has lost the use of his left hand and has limited mobility due to issue with his left leg, yet he never gives up, never backs down and never ever loses faith. We have lovingly given him a nickname "The Claw" because when he plays defense and he has been a starter for me since day one, his good hand reaches out of the pile and just seems to drag the QB or running backs to the ground. Once the "Claw" gets you, you are finished.
I just wanted to thank you for letting me submit Jaiden Prince for this award last winter. We decided that we would give the Award to him this year at the beginning of the season so he could proudly wear the patch on his Uniform.
We are in midseason now as a 1st year Double Wing team, so far when the offense is in full gear all we hear the other sideline yelling is SWEEP, or REVERSE. We run basically Wedge, Power and Counter and have averaged around 250 yards per game. Itwould probably be more but the Defense has been kind enough to give us a short field to play on. The Rangers record to date is 6-3, we even went to one of the neighboring towns and played their 11 year olds and won 18-12. I have really enjoyed watching the boys grow into the system and they have really bought into it knowing they can out man the other guys. It is still ugly but it works.
Mike Watts
Yukon Rangers 9U
Yukon, Oklahoma
*********** Coach Wyatt -
Just wanted to touch base & make sure our teams are registered for the
Black Lion Award...we have been promoting it & talking about it with our 3
levels to our football program - Varsity, Junior High, & Youth Football.
I am very excited to be a head coach again & running the double wing the
Wyatt way. I was previously at Red River High School in Grand Forks, ND
(1998-2002). Now I am at Larimore High School in North Dakota, just down
the road 30 miles to the west. We have transitioned from a spread & chuck
it team (the past 4 years) to the double wing. The kids caught on quickly
& are loving it. Last week (Game 7) was the first week that we have not
had a 100 rusher (95 yards), but rushed for 277 as team. Most weeks we
have two (both A & C backs. The team we played ran a ball control offense
too & we had trouble getting defensive stops, so less carries.
I just want to thank you for all the information that you have done for me
as a coach through your videos, clinic, and philosophy that is instilled
in the offense. My young coaches are checking your site often.
Thanks for all you do.
Paul Peterson
Head Football Coach
Larimore High School
Larimore, North Dakota
*********** From a regular correspondent who writes professionally but chooses to remain anonymous ...
Howdy, I decided to look and see just how Piedmont and its revolutionary A-11 were doing:
9/06/08 @ Drake L, 7-21
9/12/08 vs. Stallworth L, 34-61
9/20/08 @ Laguna Beach W, 17-15
10/03/08 vs. St. Mary's W, 35-14
10/10/08 vs. Encinal L, 18-39
Wow – 111 points in five games
You can't get that kind of production out of the triple option
I can just hear a pitchman shilling the offense on late night TV:
"Why waste your time with vanilla offenses when you can average three touchdowns a game using the revolutionary A-11! Impress your friends, administrators and your player's parents with formations they've never seen before! They'll think you're an offensive genius! And because you're passing half the time, they'll think they're watching the stuff they see on TV! Why settle for boring offenses like the I-formation and wing-T when you can do something that receives valuable Internet hype! Join the in-crowd! The A-11 can be yours on seven DVDs for $496.65 at American Football Monthly. That's just $71 a DVD! Isn't your team worth that kind of investment? Buy now and reap the benefits of going three-and-out in under a minute!"
To be fair to Kurt Bryan and company, $495.65 is about $3,000 less than what Tony Franklin charges for his course
"See the glory of the royal scam" - Steely Dan
($495.65? HOLY SH---. Wonder if that comes with a money-back guarantee when the hoax is no longer legal. HW)
*********** This has not been a good football season for Washington's major college teams. The Washington Huskies have yet to win, and with the latest word that QB Jake Locker, who fractured his thumb a few weeks ago, will probably not return this season, it seems almost certain that Tyrone Willingham's time in Seattle is drawing to a close. Damn shame.
Meantime, at the eastern end of the state, Washington State, despite at least having one win (albeit over D-IAA Portland State), is almost certainly the worst team in all the BCS conferences.
Last Saturday, the Cougars lost to Oregon State, 66-13. Lopsided scores like that have been routine - the Cougars have given up 63 points or more in three of their four Pac-10 games - but this one seemed especially to rankle. Seems that with the Beavers way out in front, their backup quarterback got into the game (for the first time all year) and - gasp! - threw a touchdown pass. Omigod.
There was weeping and wailing and gnashing of teeth. Running it up, whined the Cougars. "No class," said one of their players afterward about Oregon State coach Mike Riley.
Whoa. Gimme a break. You'd have thought that the Washington State players were actually paying their own way through college, while being forced to play on Saturdays against scholarship athletes.
One WSU assistant was said to have been so indignant about the Beavers' "running up the score" that he stood on the sideline, arms folded, "glaring" across the field at the Beavers' bench for five minutes or so. Uh - Five minutes? That's five minutes, it would seem to me, that might have been better spent coaching than pouting.
Exhibit A: the backup OSU quarterback, who started last year but hadn't played a down since last year's Emerald Bowl, came to the line, saw there was no WSU safety, and checked off to the pass that resulted in a Beaver touchdown. Well, duh.
As for OSU coach Mike Riley? "We played everybody on our bench," he said. "I don't ask them to not do something."
*********** Coach Wyatt:
We are currently 4-2 and running pretty smoothly again this year at Hoisington High School here in Kansas. I know I have read in the past about what rule states that you cannot cut a Fullback. Could you give that rule number to me we have a few officials here in Kansas that do not believe in that rule exists. We beat Hillsboro 28-21 the other night, we rushed for 347 yards. We ran only 88-99 SP and 47-56 CC our line ate them up. Lonnie Irvin, Hoisington, Kansas
Coach,
It is rule 2 section 17 article 2-a - essentially, blocking below the waist is permitted in the free blocking zone if all players involved in the blocking (below the waist) were (1) on the line of scrimmage and (2) in the zone at the snap (your B-Back may or may not be in the free blocking zone but he obviously is never on the line of scrimmage)
I am really dismayed that your officials do not seem to understand this rule, which was clarified a year or so ago.
Perhaps they don't realize that "blocking" is not just something done by an offensive player to a defensive player, but the converse applies as well.
Keep up the good work!
*********** Good Morning Coach Wyatt,

My name is ---------, I'm the new O.C./Assist. H.C. at -------- High School, in ----------
Just yesterday, Monday Oct. 13th, I spent 5 hours talking double wing football with my friend, --------
He's a Hugh Wyatt Double Wing follower. I've had the pleasure, or mis-pleasure, of coaching against --------- back in our Youth football days.
As I can remember he's always been very successful with running the Double Wing.

Anyways Coach, over the years I've coached a Pro Set to a Wing-T system. This year I've installed the Spread at my H.S. We're doing ok with it, but we're not putting points on the board, and we're not controlling the ball.
Last week we decided to install the Double Wing, to at least give us a chance to control the ball. We did a good job of controlling the ball versus a team that is clearly better than us. We didn't score, but we did has several successful drives against them, thus keeping their offense, and possibly the best running back in the league, off the field.

I installed the following:
Super Power
Counter & Counter XX
Trap
Wedge
Power Pass
Flood Pass

I ran them out of:
Double Wing
Nasty (had the ends 1-2 feet outside of the wings)
Spread Right/Left (the Wing-T Ace Wing)
Spread (both ends split out wide)

My question to you is, I'd like to run both the Double wing and the Spread hand in hand, is there anyone that you know who's running both successfully together? If so, would they be willing to offer suggestions?

Any assistance that you can offer is greatly appreciated. I'm sure ------- is going to get sick of me because I'm going to pick his brain….
Coach,
As you may know, my business is providing people materials - and clinic information - that help them become better coaches, and then supporting those people. I am kept plenty busy working with my coach/clients so I don't normally take the time to respond to inquiries from people who have already gone ahead on their own.
You are probably not going to like what I am going to write, but you asked for assistance, and so, for the good of your development as a coach I believe you need to read this.
First of all, that's an awful lot of Double-Wing to install in a week, so I hope you'll understand when I say on the basis of seeing hundreds of high school coaches go through the process, it's not likely being run very well. Please don't take offense, but anybody who has run my system successfully for more than a couple of years would be shaking his head at your playlist, because with what you are running, and the multiple sets that you say you are running from, I doubt very seriously that you are running any of it very well.
The real secret to running my system successfully is to run what you do run flawlessly. And with what you're attempting to do, you can't possibly have the practice time - or the know-how - to do so. There is a lot of detail involved - a lot of things that can go wrong - and tending to all the details requires both a trained eye and a lot of time.
And "it takes a set." It takes the willingness to commit to all the little things we do, including the way we block.
Which gets me to my next point. Yes, there are a few people who are trying to do a little bit of both, but not as well, in my opinion, as if they did one or the other. For the most part, they are not running any kind of Double-Wing that I'd be proud of. For one thing, they don't have two offensive lines, so they can't change their mind-set from one series to the next from zone blocking with the hands to using the shoulder pads, and without the latter it is very hard to be a good Double-Wing team.
I don't even see colleges, with 85 scholarship players and God knows how many assistants, doing anything more than dabbling in any kind of sophisticated running game.
I certainly wish you well, but I can't in good conscience recommend that approach to any high school coach, and I believe that --------- would agree. I know this sounds harsh, but my interest is in having people run the Double-Wing as well as it can be run, because if they're not committed to doing that, they won't be doing it long.
*********** Coach,

We Did it! We are the Edmond City Champs!
The upset is complete. The Double Wing rules the fog bowl!
Cheyenne (6-1) 16
Summit (6-1) 6
Tonight we played previously unbeaten Edmond Summit. They beat the team that beat us last week 6-0 and ran the exact same defense we saw in last weeks loss. We got better this week. Their coach stated after the game that this was the most physical performance he's seen and that the majority of his players might not make the next game for the beating. We rushed 28 times for 266 yards and completed 5 of 8 passes for 36 yards.

A Back- Curtis Woods- 13 carries 125 yards 1TD
C Back- Jackson Gray- 11 Carries 127 yards 1 TD
B Back- Sam Brown0 6 Carries 15 yards
Next week we go on the road to Putnam City CAPPS to play for the conference title.
The guys from Beloit will understand this one. We have finally, officially, hit a team until their momma's complain!

Gabe McCown, Piedmont, Oklahoma
TUESDAY, OCTOBER 14, 2008-"The ultimate result of shielding men from the effects of folly is to fill the world with fools." Herbert Spencer
*********** Braden powers Hyaks over Gulls
Hyaks 42, Gulls 12
OYEHUT— Kevin Braden rushed for 149 yards and four touchdowns as North Beach beat Raymond, 42-12, in a Pacific League game Friday night at Oyehut.
Jamaal Lind had a 10-yard run in the second quarter and rushed for 92 yards on 14 carries. The Hyaks racked up 427 yards of total offense.
Maurice Alfaro ended the game for the Hyaks (2-0, 5-1), with a 14-yard TD run. He rushed for 131 yards in nine carries. Brother Russell Alfaro made all of the PATs and had a 43-yard reception.
Kevin Newman had a 3-yard touchdown run for the Seagulls (1-2, 1-5), in the first quarter. He was their leading rusher with 52 yards in 17 carries. Dalton Collins made the other Gull TD in the third quarter.
"They couldn't stop us," said Hyak coach Hugh Wyatt. "We stopped ourselves four times, but once we settled down offensively, we played well."
Wyatt commended Derek Archer for an outstanding interception.
"We improved offensively, but they have a couple of the best backs in the league," said Seagulls coach Tim Newbill. "Our effort was too inconsistent."
Newbill cited Newman and Roger Vongmixay for running the ball well.
Raymond will host South Bend on Friday while North Beach travels to Willapa Valley.
NOTE: For those of you who have never been misquoted, beware: I did NOT tell the reporter, "they couldn't stop us," an arrogant statement for which I apologized in a Monday phone call to the Raymond coach. Raymond was well-coached and played hard, and we fumbled way too many times, so as a result when Raymond scored with a little under three minutes to play in the third quarter, we led just 21-12. But on the first play after the Raymond score, we broke it open when QB Derek Archer launched a long pass (88 Brown X Corner) which X-end Russell Alfaro pulled in way downfield for a 43-yard gain that put us on the Raymond 10. Interestingly, at least 100 of our 384 yards rushing came on wedges, run by both B-Back Kevin Braden and C-Back Maurice Alfaro. While there will be those games when people totally sell out to step the wedge, Raymond stacked people on our right side to stop our big (6-2, 195) A-Back, Jamaal Lind. To an extent, they did a pretty good job, holding him to 92 yards on 14 carries.
Many thanks to coaches Scott Barnes and Mathias Bonner for their help. Next game: the perennial power Willapa Valley Vikings, undefeated and everyone's favorite to win our league.
Coach Barnes took the photo below at our game Friday night. It's a great shot of a Double-Wing team!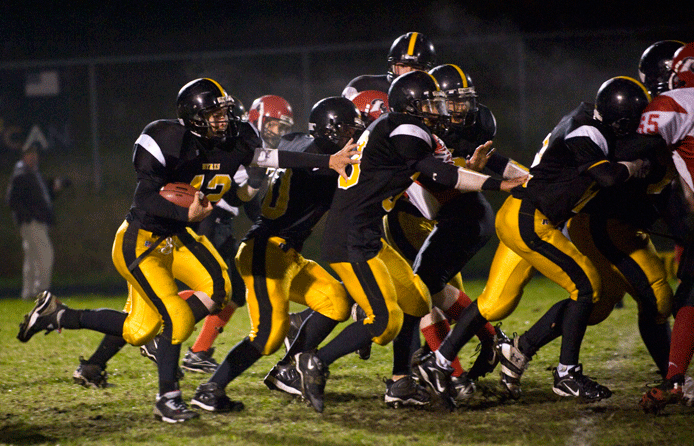 *********** From an article in philly.com by Don Beideman
Inquirer Staff Writer
Although its use is already banned by several state high school athletic associations, the controversial A-11 offense appears safe from a ban by the PIAA - at least for this season.
According to Brad Cashman, executive director of the PIAA, the National Federation of High Schools will hold its annual football rules committee meeting in January, and it is expected to look at the spread offense developed by Piedmont High, a small school in the San Francisco Bay area.
"I'm almost positive it will be on the rules committee agenda," said Cashman, who is chairman of the federation's rules committee.
As a member of the federation, the PIAA would have to abide by any decision to ban the A-11 offense by the rules committee.
The A-11 offense, which spreads players across the field, uses an exception in the normal player numbering system that potentially makes all 11 players eligible to catch a pass. Normally, only players numbered 1 through 49 and 80 to 99, who line up on the end of the line or in the backfield, are eligible to catch a pass. The exception does not change the number of players (five) allowed to catch a pass, just the numbering requirement.
The formation has created such an uproar that National Public Radio did a segment on it.
Although no school in Pennsylvania is known to be using it, several coaches in this area said earlier this season they would take a look at it. Piedmont coach Kurt Bryan decided to design the offense to offset a size disadvantage his team faced at virtually every game. Piedmont has a student body of 800. Many schools it plays are more than twice that size.
The North Carolina High School Athletic Association is among 10 states that banned the radical offense. Its director of officials, Mark Dreibelbis, said it's "unfair to the defense and cannot be officiated.
"The exception was put in in 1978 for scrimmage kicks," Dreibelbis said. "The long-snapper is a skilled position, and teams didn't always have a player numbered 50 to 59 to perform that skill. Rules makers never dreamed of making an exception for a specific play situation [scrimmage kick] into an every-play down."
Cashman, on the other hand, said he doesn't see the offense creating the problems Dreibelbis mentioned.
"It's not illegal," he said. "It's nothing more than a spread offense. It's not that difficult to defend, and it not difficult to officiate. I heard the NPR piece. I think the coach [Bryan] simply uses the offense as a motivator."
The guy in North Carolina has got it right. He understands football. You coaches in Pennsylvania - I feel sorry for you. The head of your association is clueless. He is definitely not looking out for you or for our game. Not that difficult to defend? Not that difficult to officiate? What kind of fool would say something like that? Uh, fella - isn't that the only reason why people are running the damn thing?
*********** Coach:
This is Coach Torrence from Philadelphia. I just got finished watching something on ESPN about the "Wildcat" formation. I read your column about where you got the name from. Matter of fact, I knew about the origin a few years ago. I thought it was laughable that the name for the DOLPHINS is Wildcat...whereas the Arkansas offense was called Wildhog...funny, when I tried to implement the double wing at my last head coaching stop about 4 years ago, I didn't have a QB so I said we were going to go "Wildcat" (because I strictly used your terminology).
On another note, I am now an assistant coach at another Pop Warner team, using the double wing that I brought from my last stop. My current head coach took over (for me) after I had to leave 3 years ago for work purposes. He has been running the double wing for the past 3 years). We are now 5-1 going back to my old place (where the double wing wouldn't work because it was for the "suburb kids"). It's going to be a great homecoming of sorts. I am waiting to show my old squad what a "suburb "offense" looks like run by inner-city kids. I think I have call a total of 4 plays, the powers, wedge, and the counter (all wedge all the time!!!).Thanks for all of your help and emails.
Coach Torrence (who knows the origin of the Wildcat)
*********** The Beloit Trojans are now 6-0 after their impressive Homecoming victory over the Lakin Broncs by a score of 66-7. The lone Lakin score came on a 3 yard drive after they intercepted a Trojan pass and returned it to the 3 yard line late in the second quarter. For the game the Trojans allowed 98 yards of total offense. The Trojans' Double Wing offense ran for 476 yards and passed for 5 on their way to 9 TDs. They also converted on 6 of 9 two pt. conversion attempts.
Next week the Trojans will travel to Russell for the first of three district games.

Coach Greg Koenig
Beloit High School
Beloit, Kansas
*********** Lansingburgh 44, Scotia-Glenville 14

b back Santell Mauzon 14 carries 165yds 2td's

marcus hepp 108 yds on 10 carries 2td's

We are presently 4-2 and need a win this week for a share of the division title

Pete Porcelli, Lansingburgh, New York
*********** Coach Wyatt,

I had always wondered about the "Wildcat" name. I knew that the name was yours and then I started to see (and hear) it popping up everywhere. I saw it on ESPN last night where they were going to discuss the "WILDCAT" and had the name plastered across the screen of my TV. I shook my head and thought, "I wonder if anyone has asked the 'experts' at ESPN where the name originated from?" Hopefully (or not), you'll be getting a film crew from ESPN to visit you out in North Beach.

So how in the world did Coaches Barnes and Bonner appear on your staff? Are they there "on-loan?" Did you have to forward a deposit?

With each success you're having this season, I eagerly look to your news for the result. I can't tell you how happy and excited I am for you. This has got to be great fun. The transition this team has made in less than a season is amazing and only reaffirms my belief in the power of coaching.

I can't wait for your clinic in the spring. I want to hear all about this season!

We're having a pretty good time with our middle school team. In 2004 and 2005, they were winless. When our group of coaches came in in 2006, we went 4-3 with the DW. Just convincing the kids we could win was a major chore. I left last year to take over as OC at another middle school where we went 5-2, but led the conference in scoring (28.5 ppg). This year, my previous school asked me to come back (as their OC left for a high school job). While they had already named a new OC, he wasn't expererienced in the DW. I said there would be 4 requirements for me to come back: 1) We would run the Core DW and not the DW as a hybrid; 2) I would be responsible for the offensive line; 3) We would use my terminology; 4) It would be a paid position. They met all four and we are 5-0 and have outscored our competition, 126-12. This is also the least talented football team I've ever had.

What sort of exercise regimen do your players have in-season? Or is yours an "off-season only" program?

We're teaching our players French. One of our players takes a French class at his school and we've asked him to learn how to pronounce some of our drills. He learns them from his teacher and brings it back to us. Then we share it with the rest of the team and ask them throughout the season how to say our drills in French. His name is Noah and we have two kids named Noah on the team, so we call one kid "Domestic Noah" and the other one "French Noah." There are worse things to be called, I suppose...or perhaps not.

Good luck tonight!

Dave Potter, Durham, North Carolina (Dave,
Mathias and Scott just happened to be able to find the time to come on out and spend a little time.
Glad you're doing well, and glad that you're able to find the time and energy to work with two teams again.
I wouldn't say we have an in-season strength program. Our kids don't have athletic weight training in the curriculum, and most of them play other sports, so after-school lifting is not much of an option.
We simply work on the "TANS" (Triceps-Abs-Necks-Squats) every day. Incidentally, I was hired in late July, and didn't arrive in Ocean Shores until August 10, so there was no summer weight training program here. Big deal. Coaching can overcome a lot. Despite what some people will try to tell you about "losing games in last summer's weight room," I don't buy that garbage. That is a copout and an attempt to blame the kids (or someone else). In 30+ years of coaching I have found numerous ways to lose games, but I have never lost a game in the weight room. HW)
*********** Coach,
I had an interesting experience last night. I was asked to attend the
monthly meeting of the local football Officials Association and talk to
them about professionalism and dealing with coaches and AD's. The
president of the Association had heard me speak at a basketball camp
last summer, and contacted me. It seems they have had some "issues with
officials getting into coaches faces" as he put it.
He introduced me as a basketball official and football coach, and the
first comment anyone made was "Why is there a coach here?" Sigh...I
spoke for about 25 minutes, and by the end they gave me a round of
applause and a bunch of them came up and shook my hand - including the
guy who made that comment.
It seems like they have huge chips on their shoulders and some seriously
bad attitudes toward coaches in general. Hopefully I helped them
understand some better ways to deal with coaches rather than telling
them to "Shutup" as I have heard has happened. I even invited some of
them to come next fall and present the new rules and Points of Emphasis
to our players - so the players can get a different perspective on the
officials. They acted like they had never heard of such a thing...
Anyway, it was an interesting evening. I stuck around for the rest of
the meeting. They had video clips sent in by different coaches with game
situations to discuss. The ------- coach sent in clips of his game
against --------r - who run the Doublewing. Seems the --------
coach was upset about all the "Illegal chop blocks" thrown by the ------
TE's! Interestingly enough, the ------ defensive tackles were throwing
the same blocks. Consensus amongst the officials was that the blocks
were legal as they were in the FBZ - they made copies of the pertinent
rule book sections to send to the --------- coach.
Coach-
"Why is there a coach here?," indeed!
That sort of attitude confirms what most of us suspect, and makes me despise guys like that all the more. To think that coaches work their tails off and put their livelihoods on the line only to have some vengeful a**holes put their own grudges ahead of the kids and the game.
To our officials' credit, after a terrible start to the year, with some really officious jerks, the crews the last couple of weeks have been really good. I work really hard to teach our kids to be respectful, and it makes it very tough when the officials come right out playing hard-nose.
It sure would help if they would send the video back to the guy at -------- with an explanation of what a chop block really is, since it's obvious he doesn't know.
*********** Dear Hugh,

Just to add to your discussion of Tony Franklin's firing at Auburn, it seems he wasn't supported by Tommy Tuberville to implement his "System". Maybe a supreme example of the pressure from boosters, parents, fans, and administrators to put the ball in the air more, and Tommy hadn't really drunk the kool-aid when he hired Franklin, just he had taken a sip hadn't swallowed yet, and spit the sugar water out this week. You better than anybody know how frustrating it can be for an offense to commit to an idea half-way.

God Bless,
Tyler Sellhorn
Teacher, Assistant Football Coach
Fort Wayne South Side HS (It could be one or the other or a little of both. I think the main thing that all the spread geniuses are finding is that when you have the man (MIssouri, Kansas, West Virginia '07 with Pat White) you are downright scary, and when you don't (Auburn, Michigan, West Virginia '07 without Pat White) you are fairly ordinary.
Oh - and ask the people who want you to spread it out how the Patriots have been doing lately, without Tom Brady. HW)
*********** Coach - A few of us were talking on another site the other night and I mentioned about Tony Franklin getting fired and we discussed his "System". One coach, who I can trust, sent me this. John Torres, Castaic, California

A couple years ago we went to "the system" hoping to get more #'s and more athletic kids out......Went to the clinics and everything with Tony and all and well, to make a long story short, IT DIDN'T WORK!!!!!
We had run the double wing before going to "the system" and after going 0-5 in the 1st five games, our kids requested that we go back to the DW, and we haven't looked back since! In the remainder of that season we won 3 of our last 5 games beating 2 playoff teams, even though we didn't make it ourselves.
Here are some stats from that fateful year. What makes this argument for the DW so compelling is that it is comparing the exact team, 1st 5 games "the system", 2nd 5 games the DW. You are not comparing apples and oranges here. It's the exact same group of kids.
1st 5 games (Spread) Us Them Record (0-5)
Total Points scored 54 215
AVG. w/l of opp.(4-6)
2nd 5 games (DW) Us Them Record (3-2)
Total Points scored 106 122
AVG. W/L of opp.(5-5)
FRIDAY, OCTOBER 10, 2008- "Beware of the young doctor and the old barber." Benjamin Franklin
*********** This has been an interesting week for the North Beach Hyaks. Assistant Jack Tourtillotte is back in Maine for the christening of a grandchild; this was arranged before Jack even came on board, but I know it's not easy for him to be away from our kids, and of course we miss him. Filling in in Jack's absence are two old friends and coaching associates, Scott Barnes from Rockwall, Texas and Mathias Bonner, from Hamburg, Germany. No, we are not running a fantasy camp for Double-Wing coaches, but it's not a bad idea.
***********Coach,

Hope all is well, and relatively dry, in Ocean Shores. I have attached pictures of our varsity team and of our starting offense.

What do you think of Auburn firing the OC midseason? For me it was pretty surprising to hear. It was more surprising when I found out that he was fired when his spread offense failed to produce. With the trouble in Auburn, Michigan, and several other programs who have converted to that style of play are we seeing the early stages of the spread fad passing into history?

Good luck this week.
Gabe McCown
Piedmont, OK-USA (I sure do hope that the Tony Franklin thing will cause some people to realize that his was NOT the offense of the future. Meantime Tommy Tuberville threw a good man, Al Borges, over the side simply because Tony Franklin seemed to have magic going for him.
Considering what's going on at Bama these days, I predict that his daliance with the "offense of the future" will ultimately cost Tommy Tuberville his job. HW)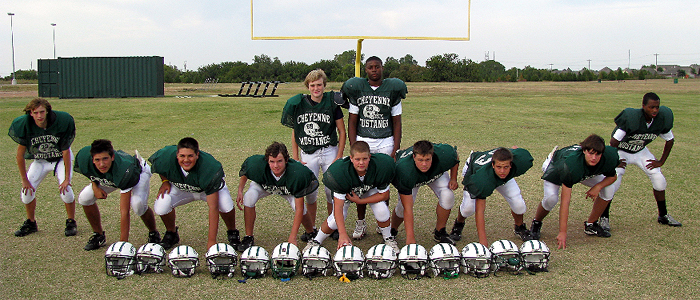 The Cheyenne Middle School Mustangs
*********** Coach, I'm not sure if you remember me but I met you and your wife at West Point to pick-up some videos. Just want to let you know our running back set a New York State record on Saturday. He ran for 485 yards on 41 carries, scored 8 TD's and 5 2pt conversions.The record was 54 points, Nick scored 58 points in a game, which was set in 1929!!! We won 66-57, I know, I'll be hitting you up for defensive videos next!!! We are 4-1 right now starting 4 soph's on the o-line. I hope all is well with you.
Thanks,
Sean Keenan
Millbrook HS
MIllbrook, New York
*********** As many of you know, I am the coach of the North Beach Hyaks. "Hyak" (meaning speedy, quick) originated in a trading language known as Chinook jargon, once quite common in the Pacific Northwest. Much of the northwest Washington coast is inhabited by native Americans, and Hyak honors the native American tradition.
In researching Chinook jargon, I came across this: "hyas muckamuck," which meant the chief. The big boss. Many of us certainly are familiar with the "English" term that derives from it: "High Mucketymuck" used to refer derisively to a manager, especially a member of top management.
*********** Coach Wyatt;

I just wanted to send you an e-mail about a past Black Lion Award Winner, who, I believe, was the first reciepient from the State of West Virginia.

Jacob Blosser was the reciepient of the Black Lion Award in 2002 and has since moved through Middle School and is now a Sophomore for the Scott Skyhawks in Madison, WV. Jacob is a starting Middle Linebacker and Starting Offensive Guard for Coach Shane Griffith.

The Skyhawks of 2007 were eliminated in the State Semi-Finals after a wonderful season. Jacob, I have been told, is a very fundamental football player, one that puts his team values over those of his own, and one who works hard to make sure that the team goals are acheived. Hearing that from his high school coaches was no surprise to me, Jacob was selected as our Black Lion receipient based on these facts and more. It is just nice to know that Jacob is still practicing the traits that made him our receipient of the Black Lion award 6 years ago.

Just thought you would like an update. It was truly a pleasure to coach Jacob is his youth football days, and it makes me even prouder to know that he is still playing football the way he learned, with PRIDE, DEDICATION AND TEAMWORK.

I will be sending you our nominee for the 2008 Black Lion Award in the near future.

Sincerely

Bryan S. Justice, Head Coach
Danville Panthers Midget Football League
Danville, West Virginia
*********** Dad, I sent your Scholastic Coach article to a couple of my friends and Adam (the kid from WVU) sent me an email back saying "He should have named it the Wyatt-cat offense." Very funny. Saw Chad Pennington on Pardon the Interruption talking about it. Bizarre.
My ESPN HD has made an interesting choice this weekend. We get a triple-header, but they're all Big Ten games. Ouch. Can you believe that? Big Ten fans don't even wanna watch a Big Ten triple-header!
Ed (Wyatt), Melbourne, Australia

*********** Pity the poor high school football coach nowadays. First it was having to combat the insidious trickle-down effect on his kids of the jackasses in the NFL, and now there is the trickle-up effect of the insane selfishness of youth-football parents and their jumbled list of priorities.
In the Seattle area last week, a team had to face its league-leading rival without the services of its starting fullback/nose guard. The kid had been averaging nearly 100 yards a game rushing.
But he missed the whole week of practice. He'd gone on a cruise with his family.
*********** Notre Dame's radio color man must be a fool...he said Stanford's Toby Gerhart shouldn't be affected by the previous week's concussion. Not because it had healed, but because "I've been a running back, and as long as your wheels are OK, you can sustain any injury to your upper body." Christopher Anderson, Arlington, Virginia. (Anyone who would say something like that is not only a fool. He is certifiable. HW)
*********** A friend wrote me about his idea to move his B-Back to TE for just one practice in an attempt to motivate him to step up his play at B-Back... I wrote
Sorry to hear about ------- . He is a very gifted athlete, but it's possible that he just can't get it done at B-Back. I'm assuming that you have confronted him with these issues.
Not that I am advocating surrender, but maybe his value to you could be as a split or flexed end. He is fairly fast and he does have excellent hands.
Sometimes we are forced into making radical moves by the manpower we have.
Rather than going ahead and making a switch to split end or TE just to let him know you're serious - and wasting an entire practice at a new position - you might try the "Do it right, or move to TE, or sit on the bench" first, before actually taking action. You might tell him that you have three practice plans - one with him at B Back, on with him at TE, and one with him out of the picture - and give him the choice. Just so he knows you're serious.
My friend wrote back... Coach, I pulled ----------- aside before practice yesterday and shared the "three practice plans" with him. I asked him to choose one and he chose to stay at B-back. I let him know what we required from him at that position and he responded with his best practice of the season! He absolutely crushed the DE on our Powers, and when he ran the ball he stayed low, was hard to find, and even harder to tackle. Thank you for that advice. Of course I told him afterwards that my expectations of him had gone up even higher now that I had seen what he could do when he really wanted to!
*********** Coach, Hope your season is going well.
I have been busy and not gotten to the website. I have a couple of things to run by you. First last week I was listening to one of the ESPN football gurus talking about how after Miami beat New England with the single wing this one particular guru said " Parcell's probably met with the coaches and said that was nice you beat the Patriots. Now you need to get back to smash mouth football. So expect more out of the I and other formations." I was not surprised this came out of one of those guys mouth.
Also I see Auburn is in need of an offensive coordinator again today. Apparently drinking the spread kool-aid did not work out.
Arnold Wardwell
Eugene, Oregon
Nice to hear from you. Things are going pretty well here in Ocean Shores. We are 4-1. Our only loss was back in the 2nd game when we blew a 16-point 4th quarter lead and lost 35-29.
As you know, I don't care for the term "smashmouth football." I think it is a media term, concocted by people who've never even played the game and seem to think it is cool whena player "get his bell rung." As a member of the AFCA - the national association of football coaches which every coach should belong to - I subscribe fully to its commitment to eliminate terms such as "smashmouth" from our coaching vocabulary. I must admit I do find it interesting that a certain former middle school coach who has been boastfully marketing his system as "Smashmouth football" is now in his first year as a high school head coach, and, I am told by reliable sources, has already had more concussions on his team in one season than most coaches experience in a career.
Although I liked Al Borges, the man Tony Franklin replaced, I certainly don't wish anything bad for Tony Franklin. But I must say some of those spread-no-huddle guys sure were getting pretty cocky in his name. Hell, they wouldn't even be in business if they had to teach real blocking - if the cowardly officials would just enforce the rule against holding as stringently as they enforce the rules against coaches stepping one yard onto the playing field to call a play. HW)
*********** Hugh, Good luck this week in your game - seems like your team is starting to really come together. We face Pembroke and we are 1-4 against them, and as usual (4 out of 5 years) both teams come in undefeated. Hopefully we can exorcise our demons and get the big win. By the way - the Tony Franklin system is no more at Auburn... somehow I think they paid him more than the $5,000 he charges HS coaches who want to learn the high powered spread.
John Dowd, Oakfield, New York (Nothing against Tony Franklin, but I do think that people should have spent a little more time looking at who was running his program successfully, and what kind of players they had. Hoover, Alabama? Gimme a break. With the players Hoover somehow found and somehow kept eligible, Hoover could have run full-house T and beaten its opponents every bit as badly. And I could have saved them the $5,000 - or more. For a lot less than that, I could have have sent them a DVD of the 1953-1954 Army football highlights. Army's Coach Earl Blaik had an offensive assistant named Lombardi - Vince, I think it was - who ran a pretty decent full-house T. HW)
*********** Coach Wyatt -
Congratulations to you, your staff and your team! I have been keeping up through the website and wish you continued success. As you know, I installed your system at Alamo last year for our 5th and 6th grade team. We went 8-0 then and this year are 6-0! This year, we have scored less than 38 points only once (22 points) and have racked up close to 2,000 yards in just 6 games. We have 1 more game left this season, as the 8th game on the schedule was cancelled. You never want to compare teams from year to year and I have tried to refrain from it, but I can tell you that this years 6th graders that had a year under their belt in the system allowed us to do a little more with the offense. The core plays are still the majority of the calls, but it has allowed me to install the core plays in the "wildcat" formation (which by the way, we all know where that name came from!). It made for some fun practices and the kids loved it! And all I did was move the QB back and the b back over a half step and run 88/99 47/56 and 2 wedge! I have said it before, but again, thanks for a great product and an open line of communication to you for questions and celebrations! I'll let you know how the final game goes.
Brooks Rawson - Alamo (TN) Red Devils, Alamo, Tennessee
TUESDAY, OCTOBER 7, 2008-"'Tis better to be much wronged than to know it a little." William Shakespeare, in "Othello"
TODAY'S PAGE WAS DELAYED BY A VIOLENT STORM THAT HIT AT THE END OF YESTERDAY'S PRACTICE AND WOUND UP KNOCKING OUT OUR POWER FROM ABOUT 9 PM (WE MISSED THE END OF THE VIKINGS-SAINTS GAME) TO ABOUT 1:30 (YOU WILL DEFINITELY WAKE UP WHEN EVERY TV, LIGHT AND ELECTRICAL APPLIANCE IN THE HOUSE COMES ON AT THE SAME TIME.) INTERNET SERVICE WASN'T RESTORED UNTIL 9:30 IN THE MORNING. APPARENTLY THIS IS ALL THAT UNCOMMON OUT ON OUR PENINSULA.
*********** NORTH BEACH HYAKS NOW 4-1
Excerpted from the Aberdeen World... TACOMA — Jamaal Lind rushed for 184 yards and two touchdowns as North Beach nipped Tacoma Baptist, 34-33, in a non-league game Friday night.
Up 34-20 in the fourth quarter, the Hyaks (4-1) survived a late Crusader comeback. After Griffin Lowe's 9-yard TD pass to Sam Spiro narrowed the margin to seven, Tacoma Baptist's Matt Thompson broke a 25-yard scoring run with 3:05 remaining.
Although their kicker had gone 3-for-4 on previous conversion attempts, the Crusaders opted to go for two points and the lead following Thompson's touchdown. The conversion pass failed.
The Hyaks recovered the onside kick and ran out the clock to seal the win.
Lind had touchdown runs of 1 and 24 yards. Running mate Kevin Braden, who rushed for 85 yards, adding scoring jaunts of 10 and 22 yards.
Quarterback Derek Archer provided the final Hyak TD on a 28-yard keeper. He passed to Russell Alfaro for one conversion, while Alfaro kicked two others.
North Beach led 19-13 at the half but the Crusaders took the second half kickoff and drove for a score to lead, 20-19.
The Hyaks played turnover-free ball and did not commit an offensive penalty.
"The most important thing was we didn't make any serious mistakes on offense," said North Beach coach Hugh Wyatt. "We gave up a lot of yards, but we made a couple of key stops."
Lind was cited for particularly fine play.
The Hyaks return to Pacific League action Friday at home against Raymond.
KEY STATS: North Beach rushing: 53/371; Passing: 1-1-14; First Downs: 21
*********** From the NFL Original Ideas Department...
Sunday, I heard the NFL announcers repeatedly referring to San Diego's adjustment to "that Wildcat formation" of the Dolphins.
"They should call them the Miami Wildcats," I heard one of the press box fools say.
Grrrr.
Permit me to point out to the Original Thinkers in the NFL, and the fawning Sunday announcers and all others who promote the idea that the NFL invented football, that I was about 10 years ahead of them in using the name "Wildcat" in this way.
Giving the name "Wildcat" to a direct-snap formation was MY idea. Mine.
It was in 1997 that I first ran my Double Wing with a direct snap. At the suggestion of my players - the La Center (Washington) Wildcats - I named it for our mascot. But then, a couple of years ago, Arkansas didn't start running a direct snap package to Darren McFadden, and I'll be damned if they didn't call it the Wildcat. The what? Why not the "Razorback?" (In fact, since the departure of the offensive coordinator who "invented" the name Wildcat, they're taken to calling it the "Wild Hog.")
Not coming right out and accusing anyone of a lack of originality, you understand, but it does make you sort of wonder how someone in Arkansas "came up with" the name "Wildcat," doesn't it?
And now the Dolphins?
Actually, it doesn't make me wonder in the slightest. I know exactly where they got the name.
HINT: I wrote an article about MY Wildcat in the December 1998 issue of Scholastic Coach (that would be almost 10 years ago, for those few NFL people interested in the dark ages of football).
Here's the link to the article, as it appeared in Scholastic Coach:
http://www.coachwyatt.com/wildcat.html
***********Coach,

Who would have thought it...
5-0
Our kids turned out another great performance tonight vs Edmond Cimarron. Here are the stats
Score: Cheyenne(5-0) 47 Edmond Cimarron (3-2) 0
Total Offense: 307 yards on 43 plays
Rushing: 37 carries 273 yards
Passing: 2-6 for 34 yards
A Back- Curtis Woods - 10 carries 49 yards 1TD 12pt
C Back- Jackson Gray- 11 Carries 116 yards 2td's 1 2 point 1 reception for 1td
B Back- Sam Brown - 8 carries 54 yards 1 TD 2 2pts
QB- Kahari Hodgkins - 1 carry 3 yards 1 2pt
B Back - Emanuel Joseph - 3 carries 24 yards 1 TD
A Back - Curtis Watson - 3 carries 6 yards
C Back - Blake Sutton - 1 carry 3 yards
They were in a 6-7 man front the entire night, first time we have seen that exclusively with crabbers and grabbers this year. They were bearcrawling the entire night.
Our defense held their offense to 11 total yards and 1 first down. They would have been in negative yardage without a 13 yard run vs subs with under a min to play.
Tomorrow it's film and a light workout as we began preparing to host Edmond Central (3-1 before tonight) next Thursday.
Gabe McCown
Piedmont, OK-USA
*********** We all know that our politicians will do anything - anything - to stay in office, even going so far, I am told, as to use their power - and our money - to buy votes.
We also know that Title IX is the greatest thing that ever happened to American women. Billie Jean King (is she starting to look like Michael Jackson?) tells us this all the time.
But as stupid as they are, could even our politicians have foreseen that Title IX would prove such a Godsend to women who can't even vote for them?
Get this: no fewer than 50 per cent - 50 frigging per cent - of all Division I women's ice hockey players are foreigners! And 50 per cent of Division I women's tennis players.
Hey- got to make sure we hand out the same number of scholarships for women as for men - even if that means the scholarships are going to foreign women.
With all the screaming by the femmies about men having more opportunities than women, is it possible that they care more abour foreign women than American men? Why else would they be willing to overlook suchdiscrimination against American women in handing out so many scholarships to foreign women?
Hey Congressmen - they can't vote for you! Yet.
*********** Thank-you, Thank-you, Thank-you.

I ran Stack I 7C after setting it up with 88 Super Power a couple of times and ran it for 41 yards. I'd say that adjustment worked!!

Name Withheld
*********** Hugh, I just received the message below from our chemistry teacher, Betsy Reinert. What a great message on game day! I love it! Greg Koenig, Beloit, Kansas
Greg,
In chemistry this week I am teaching them about heat energy. Your football theme this year is about "Turning up the Heat." In science the unit used to label heat energy is Joules (pronounced "jewels"). Therefore, what do you think of the slogan "Kick them in the Joules?"
Hahahaha!
it takes a set of Joules!
You know you have the faculty behind you when a chemistry teacher - a FEMALE chemistry teacher - comes through like that!
*********** The last game, the official told me that my A back was going in motion too late (to close to the snap of the ball) and said it was "simulating the snap" and we would be flagged for it if he kept doing it. I reminded him of item #7 of the Officials checklist...again, as I had done at the start of the game. He didn't care, although…funny thing...he never did call that penalty.
7. IT DOES NOT MATTER HOW SOON BEFORE THE SNAP OUR MAN STARTS IN MOTION OR HOW LONG HE IS IN MOTION BEFORE THE SNAP. WE CAN SNAP THE BALL AS SOON AFTER MOTION STARTS AS WE WISH, SO LONG AS ONLY ONE MAN IS IN MOTION, AND HE IS NOT GOING IN MOTION TOWARD OUR OPPONENTS' GOAL
Richard Scott, Lathrop, California (This "simulating a snap" business is garbage, I am up to here with officials who won't even let you shift without penalizing you if the other team jumps! But they stand idly by and ignore teams who teach holding. HW)
*********** Hi Coach,
I'm looking forward to retirement and thought I'd ask you about the ups and downs of coaching over there. I got the bug again.
Coach,
The ups are that it can be a fun place to coach and there are no insane parents.
The downs will vary from place to place. A lot of it depends on the point of view of the American coach. It helps to be a "glass half full" kind of guy and not the kind who gets upset over what he doesn't have.
The major "down" is that overall they do not take the game - especially the practices - as seriously as our players do. There are exceptions, of course, and they are usually the most successful organizations, but in general, Europeans' casual approach to practice attendance has chased away more than one American coach.
I was uniquely prepared because I had coached a lot of semi pro football in the states, which meant dealing with adults, guys who had jobs and families, and I had coached at a lot of small high schools where facilities are sometimes lacking and the shortage of numbers means constantly being ready to improvise.
There are some Americans in Europe who aren't really coaches at all but have the Europeans faked out, but there are also some very good American coaches over there.
*********** Coach: We took one on the chin Friday night 24-0. We just could not get it going offensively and I thought some of our linemen gave a less than 100% effort. They give us a look that is the hardest thing I have ever had to deal with.......The typical stinger type kid over our wing and coming down like a mother to the heel line of the tight end with excellent discipline. Another strong athlete linebacker 1.5 yards head up the tight end that is a hard reader of our end. We block down and he fills as hard as possible. Defensive ends over our tackles and the Mike stacked over the Nose. They play three over the top at 8 yards and the Free Safety flies to flow with major intensity and is a great athlete. This look and the fact that our kids were less than intense led to them dictating the action. We only had 7 first downs. When we tried to double the backer over our end and run power......we got blown up on the edge. When we ran G sweep our ends were just a hair too slow on the backer and we had no answer for the very fast flowing free safety who I assigned the QB to.
I am assuming you run "G" Some other possibilities...
(1) A "PIN" call, instructing the playside wing to block down on the stinger. Our wings, by the way, are one full yard split outside the TE.
(2) Slot formation - how will they line up against that?
(3) "Up Tight" - what does the stinger do now? Now can we reach them?
(4) Stack - It might help to give the tailback a little discretion as to where he runs
*********** Coach: I was watching the Texas-Colorado football game last night when an odd play ocurred: Texas kicks off into the end zone. The CU kick returner fields the ball about six yards deep in the EZ, then casually walks toward the goal line looking at the referee. A Texas player pushes off a CU blocker then grabs the returner who now has his toes on the goal line. The play was whistled dead, reviewed and ruled a touchback with CU in possession on its own 20-yard-line. I said it should have been a safety because the CU return man never made the ball dead by placing his knee down in the EZ. My brother says, no, if the kicking team tackles a returner in the endzone, it's a touchback as long as the ball never fully crossed the goal line and goes into the field of play.

Which is it? And yes, I'm sort of embarrassed to be asking a question about so basic a football rule.

-- Jim Stovar, Houston, Texas
Dear Jim,
Whether it is a safety or a touchback is decided by the question of who provided the "impetus" or force - that is, which side provided the impetus that put the ball into the end zone.
According to the NFHS rule book, "responsibility for forcing the ball from the field of play across a goal line is attributed to the player who carries, snaps, passes, fumbles or kicks the ball, unless a new force is applied... the muffing or batting of a pass, kick or fumble in flight is not considered a new force."
When the impetus is provided by the kicking team (from the force of the kick itself, for example), the result of such a play as you describe will be a touchback. If, however, a "new force" is provided by the return team (by a return man actually carrying the ball into the end zone) it is a safety.
Where this really drives the reasonably knowledgeable fan nuts is when a punt grazes off a return man (making it a "muff") and continues bouncing into the end zone, where it is fallen on by a member of the kicking team. Safety? Nah. Touchback. Why? Since the muff is not considered a new force, the impetus - the force - came from the kick, not from the return man.
*********** New York - Corning West 22, Elmira Free Academy 3. Ernie Davis' alma mater falls to West's Double Wing attack, as West (4-1) rolls up 292 yards rushing on 42 carries, and throws for 51 more.
*********** Former USC Quarterback, assistant coach and radio analyst Craig Fertig, 66, died last Saturday in Newport Beach, California. Among other things... his sister married Marv Marinovich, and with him they begat the infamous Todd Marinovich. In 1976, Fertig succeeded Dee Andros as head coach at Oregon State, and went 10-34-1 the first in a long succession of losing Beavers' coaches. . Andros had gone 6-5 in 1970, and that would be the Beavers' last winning season until 1998.
*********** I see you won a thriller over Tacoma Baptist on Friday. Congratulations! We also continued to have success, rushing 40 times for 567 yards. A -back had 14 carries for 271 yards and C -back had 12 carries for 202 yards. Also had a 30 yard TD pass on 49 Brown O. Final score was 54-0 with a running clock the entire fourth quarter. We are now 6-0 but our toughest games are all still in front of us. We have so many areas to improve upon, but it is nice to keep winning while we keep learning! Hope you enjoy continued success with the Hyaks.
Coach Jeff MIller, Knappa, Oregon
*********** This Reggie Bush guy... he's pretty good, isn't he? I wonder why no college thought about doing something special to get him, like buying his parents a house or something.
*********** Coach Wyatt,

All six of my RBs are Black. But then, so are 32 of my 35 players. lol As far as "physical superiority," the only two conference teams that have beaten us in the past eight years were "predominantly white" teams. I don't know what this says about genetics (or perhaps my lack of coaching ability). If every Black kid I ever coached was in all ways physically superior to the White players I've coached, I might put some stock in the ESPN findings. I think what's far more likely is that more Black kids play sports (per capita) than their White counterparts. If kids have "other options" to pursue recreational opportunities, then they will. Since many White kids do have more options, they pursue other activities. If you are a child with fewer options to pursue, you'll pursue the only options you have.

Dave Potter, Durham, North Carolina(Don't forget also - very few black kids are out wasting their precious athletic development years kicking a ball around. HW)
*********** A note passed on to me by a friend back East. It was written to him by a nearby coach who attended one of my clinics last spring....
Wow. My heart can't take this but for the second week in a row we pulled one out that we should have put away 3-4 times but fumbled the ball away. Final score 20 - 14 in OVERTIME. They must have thought they were in the NFL because they won the toss and took the ball. On the third play, also their 3rd pass of the series, my kid picks it and goes 80 yards for the TD. Their spread passing that did get them 2 TD's bit them in the ass at the end. They only completed 3 passes out of about 85% of their plays that were passes but my one corner got beat twice. We moved the ball all over them - no stats but we had mega yardage on the ground and completed our one obligatory pass. They had no idea what a trap was and are still looking for the ball.
*********** Tulane was ranked ninth in the NCAA in rushing defense, allowing 68.5 yards per game; no opponent had rush for 100 yards against the Green Wave this season. Army came in and rushed for 291 yards, shocking Tulane, 44-13.
In what may have set a record for beating the point spread, Army came into the game 20-point underdogs, but in scoring seven more points than they'd scored all season, went out winning by 31 points.
*********** A friend whose son is a good HS QB is upset because his son's team is 1-4 and showing no signs of improvement on offense - and yet the coach refuses to do anything different for fear, he says, that the kids will think he's "quitting on them."
Au contraire, Monsieur Le Coach - in my judgment, you are quitting on them if you do NOT do anything to try to help the situation. And I told my friend so, and that I thought his son and other seniors should ask to meet with the coach and express their concern that their senior year was slipping away; and that they hoped that with his knowledge of the game (okay, okay - a little unwarranted flattery) they were hoping that he had some ideas.
My friend wrote, I passed your suggestion to (my son). He told me that they have been told time and time again that players do not have input in his coaching. Even in the games he does not want to hear what (my son) has to say. Sad huh. Well, keep praying. I will keep you informed.
I don't encourage input from players, either, in the sense of suggesting plays or tactics, but this is a good deal more than suggesting plays.
There is something fundamentally wrong with the team and it is, after all, the kids' team. I don't think taxpayers fund a football program so that the coach can have his own little toy.
And I don't think that there is an administrator is America that would back a losing coach who won't sit down and listen to his team leaders.
Good talking with you, too.
*********** The Beloit Trojans improved their record to 5-0 on Friday night with another dominant performance, winning at Minneapolis by a final tally of 64-0. The Trojans were efficient on offense, running 40 times for 316 yards and 5 TDs and completing 5 of 10 passes for 135 yards and 3 TDs. Beloit's defense continued to play very aggressively in shutting out their fourth consecutive opponent, allowing 13 yards rushing on 13 carries and 9 completions for 125 yards on 28 pass attempts. The Trojans intercepted 4 passes and blocked a punt which they returned 40 yards for a TD as well. Maybe the most impressive stat was commiting only 2 penalties for 10 yards as the Trojans were the most penalized team in the league in the first four weeks.

This week the Trojans will host the Lakin Broncs (3-2) for Homecoming. Lakin may be the best team the Trojans have seen at this point in the season, so they look forward to the challenge.

Thanks for your continued support. God bless all of you.

Coach Greg Koenig
Beloit High School
Beloit, KS
*********** I had an anonymous email complaint that we don't break the huddle like we are "supposed to" and "like everyone else does" and that our kids look like they "couldn't care less about what they are doing" going up to the LOS. We haven't scored less than 44 in the first half this year, went to a state title game last year, and have won 80 percent of our games in our three years at Tolland. At least we've gotten them to stop yelling "throw the ball!" Patrick Cox, Tolland, Connecticut
*********** Coach Wyatt:
We faced a team that played us in a 4-4-1-2. The 1 was a yard behind the 2 MLB in the 4-4 sort of a robber scheme. We had our center always go back side to get the 1 or the 3 so we could account for the robber but the backside MLB ate us up. Any ideas if we see this offense again.
By rule no matter what does the TE always shoe shine a 3 tech?
Thanks for the help.
Coach-
If you are concerned about the reading of the center's head, you may not be running a reach sweep, in which the center blocks playside - destroying the key.
Another alternative is to run super "O" and have the backside tackle shoeshine the backside "1" or "3"
Our TE does not shoeshine a "3" tech if the center is also blocking down on himhim (which he might) because that would constitute an illegal chop block. In such a case the TE "pull-hinges."
Good luck!
FRIDAY, OCTOBER 3, 2008-"Congress is never more ridiculous than when it tries to look like it is serious." Economist/columnist Dr. Thomas Sowell
*********** We've had a very good week of practices. The weather has been great for several weeks now, but it started to turn today. It has been raining, and the wind has been pretty stiff. Looking out our window, we can see the waves crashing against the jetty; no fishing boats are heading out into the ocean. In other words, Double-Wing weather.
Who knows what it will be like tomorrow in Tacoma, 2-1/2 hours to the east of us, where we play Tacoma Baptist, a spread no-huddle team? We'll be on an artificial turf surface, so footing shouldn't be a serious problem for either team. Of course, if the wind were to pick up a little more...
*********** What do you do if kids are sick injured etc.? I hate not starting a good kid even for 3-4 plays - if I know they are sick. HOWEVER, our policy of not starting sick and injured kids has kept TONS of kids from missing with minor illness and injury. I feel like a real jerk sometimes, but I know its only a few plays and it seems to really help with discipline. I always emphasize to the kid that they aren't being punished and that Im letting another guy who has worked hard and made all the practices get announced as a starter and get a few plays in. My center is sick today - I hope he comes in later with a note (if they show by 11:00 - with parental permission they can practice). WE are down to next to nothing for that first series. On a side note, we should be all right the first half once our sick kids get in - I moved my TE to OT and we will go mostly spread. When we do go Tight I'm going to move him to TE and put a little guy in at tackle (My TE will be inelidgible due to number, but we are going to change his jersey at the half and get all our starters in.) Heres hoping that we can keep it 0-0 in the first half.
Yes, it's tough having to draw the line, but coaching itself is tough, and standing firm on stuff like this is what makes you a coach and another guy a clipboard holder. Or an ex-coach.
Think I don't know about scrambling? Yesterday one of our seniors - a hard worker, starting DE and utility backup on offense - withdrew from school (after his stepmother threw him out of the house, a long story), and we had 18 kids in uniform at practice.
It especially complicates things when you're trying to prepare your defense.
But that's why we're paid the big bucks, right?
Funny, but a lot of guys at clinics seem surprised when I tell them that the major reason we run certain formations is simply because it's dictated by the kids we have and what they can do, and not by any strategic thinking.
My illness policy is the same as yours. It isn't fair to the stand-in not to give him the start. Our school policy requires attendance for at least half the day, even if the absence is excused, or a player can't practice. Any unexcused absence (such as a lengthy tardiness) for any part of the day and he can't practice. And if he actually cuts a class - is truant - he must miss all practices and games that week.
Last week my starting A-Back was late 15 minutes to his first period class on Wednesday, and at first it was defined as a truancy! That meant he couldn't practice Wednesday or Thursday, so we went on with life - we redid the game plan and got another kid ready.
Then, on Friday morning, the school administration to its credit revisited their original decision and determined that it was actually an unexcused absence - which meant that the kid should only have had to miss that day's (Wednesday's) practice.
This meant that he could play, but I still had to deal with the fact that missing Wednesday's practice unexcused - he shouldn't have been late to class - so we started the player who did practice. Normally, the offender would have missed at least a half, but because in my view the kid had already been through quite a bit, not knowing whether he'd even get to play, that I decided to just hold him out for the first quarter.
Disaster averted. Justice served. We won. All's well that ends well.
*********** Gimme a break - the UMass women are called the Minutewomen.
*********** Boy, was it fun watching Sara Palin kick Blowhard Joe Biden's ass.
***********Coach, Wanted to give you an update on our season so far. Just beat another varsity team on Thursday 30-22 to run our record to 3-0 this year. Two of those games against varsity teams. In the game Thursday we threw for 218 yards and 3 TD passes.

Greg Gibson
Head Football Coach
San Juan Hills High School
San Juan Capistrano, California
*********** Hugh:

We are 5-0 and had a blowout homecoming win against Grayslake Central 46-7. We had a lot of kids sick and missing practice during last week, plus all the homecoming BS going on.....and of course the fact that our opponent was 0-4 and not very good. It was a trap game 100%. The funny thing is now everyone around town is saying we played an "easy schedule" and we are a paper tiger 5-0. They might be right but the funny thing is that every school we have beaten has between 200-1,000 kids more than us. We used to be the joke of the league who couldn't beat anyone and now the same teams are "weak opponents".....oh well.

We play Prairie Ridge this week and then two other very strong programs with winning records, so we will see how good we really are.........Congrats on the big division win!

Bill Lawlor
Crystal Lake Central HS
Crystal Lake, Illinois
*********** Coach,
This article was sent to me by a friend.
http://sports.espn.go.com/espn/page2/story?page=hill/080926
We traded a few emails and he blames YOUTH coaches (he is one) for the disappearance of the white running backs.
I laughed at him because I told him that my B-back is white. The other thing I told him was I personally don't see color, I see PRODUCTION!
Woody Harleson may have starred in White Men Can't Jump, but if I have a child on my team that can run the way I need ANY of my back to run, he starts.
If any coaches purposely withhold a child from reaching his potential at any position then you probably have a DAD coaching his son's team and that DAD wants to insure his son's induction to the YOUTH Hall Of Fame. I will admit that I have seen a few youth teams that had black head coaches that also had speedy white kids and they played them at the tight ends.
Just think, it was only a few short years ago when "they" said there would never be black QBs; maybe one day the only color that will really matter is the jersey on their backs.
Regards,
Brian Mackell
Pasadena Chargers 90lb HC
Pasadena, Maryland
Coach,
It's a good article and it treats a potentially delicate subject very fairly. For sure, we don't want to get into genetics or else we'll open things up to Hitler-like eugenics.
Maybe there is some profiling involved in putting certain kids at certain positions, but I doubt that much of it exists any more. (Yes, black QBs were once rare, but interestingly, black centers were even rarer). Football coaches aren't complete fools. Although they don't always succeed in getting the best kid for every position, that's their goal.
I can suggest one weird explanation for the Black Tailback Phenomenon - a flip side to racism in which a white coach might actually play a black kid ahead of a white kid rather than be tagged a racist.
But considering how competitive football coaches tend to be, I think that most coaches are going to put the best runner they can find at tailback, and if that works out to a majority of tailbacks being black, that's just the way it is, and I'll leave the explanations to the professional researchers.
Who knows? It's a complex issue. All I know is that as shorthanded as we are, if a family - black or white - with two or three football-playing sons would like to get away from the big city and move to Ocean Shores, a quiet coastal community (where it does rain a little), we would welcome them.
*********** We may never see anything like this again...
On Sunday, September 28, 2008, the academic elite private-school members of Division I-A - Duke (3-1), Northwestern (5-0), Rice (3-2), Stanford (3-2), Tulane (2-2) and Vanderbilt (4-0) were a composite 20-7, and not one of them had a losing record. (Okay, okay - I admit to a certain prejudice in excluding USC and Notre Dame from the "academic elite" category, at least where football players are concerned.)
*********** A coach asked me about my roll-out package. What we are doing is something I have been working on extensively for the past year in trying to marry some of the principles of my long-ago passing attack with my Double Wing, and I like what I'm seeing our kids do.
On playside we normally run a 1-3 or a 3-1. A "1" is a short out - four steps upfield, (always starting our count with a step with the outside foot), two to the corner (about 60 degrees) and then a sharp "snap" break toward the sideline. A "2" is a deep out which is mainly run by a split end; a "3" is a corner - four steps upfield then a sharp break to the corner.
In other words, initially, both receivers are showing the threat of a corner route. (Long-time followers will notice immediately that I am no longer running the rounded-off "banana.")
The wider of the two receivers, in this case the wingback, runs the first numbered route, the next man in runs the second.
So if we say "88 Brown" (telling us the playside, the QB action and the blocking) and tag it with "3-1" the playside wingback, the widest man, would run the "3" and the TE would run the "1")
(If we were in "slot" formation, the flexed end would be widest, so he would run the first numbered route, the wingback the second)
We have other playside variations, but this is standard. If we just call "88 Brown" the QB or the receivers know that it will be either a 3-1 or a 1-3 and I let them decide who runs what.
The backside wing blocks as the outside man in our backside hinge - we will throw a throwback screen to him - and the backside end's default route is a "dig" - 5 steps upfield, four steps to the post, then a cruise flat a ross the middle toward the playside sideline at about 10-12 yards depth.
Our left end is our X end, and we adjust his route with words: "88 Brown X post," "88 Brown X corner," etc.
I should say that one thing that seems to really be helping our playside receivers is our alignment - my wingbacks line up a yard outside the tight ends, which among other things allows the TE an outside release if they are trying to jam him. Another benefit is improving the wingback's path around a defensive end and onto an inside LBer on power and "G" plays. This minor adjustment , incidentally, has not adversely affected our running game: through four games we have rushed 189 times for 1488 yards, an average of 372 yards per game and 7.9 yards per carry.
*********** Coach, Had a pretty great honor today. Coach Bob Cortese (formerly of Colorado U under coach Crowder, Mesa State, Fort Hayes State, and the Oklahoma Yard Dawgz arena team) visited our practice. He is now a sportswriter for the Edmond Sun and is assigned to cover our game this week vs Edmond Cimarron. When he asked what we ran offensively and I told him Doublewing, he stated "Don't laugh, but I used to run that offense." He proceeded to talk football with us for a few min and then when we began practice with blocking progressions he asked if he could jump in and he jumped right in and began teaching alongside our staff. Man can he coach! It was obvious within seconds that he is top notch and it was a real treat to have him there. Best of all he is old school and he knew our style of blocking to a T. He stayed for 20-30 min and I really wish he would have stayed longer. I'm hoping to run into him tomorrow post game and get his thoughts, hopefully I can convince him to have lunch sometime and talk football.

Gabe McCown
Piedmont, OK-USA (He has seen a lot, and we could all learn a lot from a coach with his experience. You were extremely fortunate to actually see him coach. Get around him and listen. Treat him like a treasure. The man has so many things he can teach younger coaches. HW)
*********** Coach have you ever heard of a series of plays in the DW called the "Buck Series" where both the backs cross each other? Do you know where I can find some information on this?
Coach, You might call the Buck Series a "Double Wing" series, but actually it is a central component of the Wing-T, from which my Double Wing derives.
In turn, the Wing-T Buck Series has its roots in the single wing buck-lateral series.
The Buck Series simultaneously threatens both sides and the middle as well with one initial action that can result in three different plays, all starting out looking the same.
In its simplest form, it starts with a straight-ahead "Buck" (an old football term for a line plunge) by the fullback, followed by a sweep to one side by a halfback , followed by a bootleg to the other side by the quarterback.
(In most Wing-T offenses, the straight-ahead buck has been replaced by a fullback trap, but the basic action is the same.)
In the QB's case, whatever the play called, he fakes the other two plays, so that defenses can't overcommit to stopping any one of them for fear they'll be wrong. One very good high school coach in Michigan said his secret to defending against a Wing-T team was to have his scout team offense practice without using a football.
In teaching the buck series, we use the "multiple ball drill," in which the QB starts out with two footballs, one in each hand. He hands one ball to the fullback and the other to the halfback, then gets a third ball from a coach standing in the backfield and runs his bootleg (run or pass).
Hope that helps.
*********** Coach, I've got it. It's no longer the double wing. It's the double invert slot. Stay with me here. You could tag is as the "Double I", since the NFL tends to run so much I, people would identify with that. Plus, if one I is good, then double that must be better, right? Also, you could abbreviate it D-I, as in Division I. We could all then say we run a Division I offense!
Or, call it what many opposing coaches call it, the "scrum." I'm fine with that.
Todd Hollis
Head Football Coach
Elmwood-Brimfield Coop
Elmwood, Illinois
thollis@elmwood.peoria.k12.il.us
*********** I was corresponding with John Bothe, long-time coach in Oregon, Illinois and mentioned what all small school coaches have experienced at one point or another - the scary realization that you're often just one injury away from chaos, and he wrote back, "The average high school fan that shows up Friday night at 7:00 pm has no idea what goes on with coaches and kids during the week. As the old Kansas State coach bill Snyder said in a clinic 'a crisis will jump on your desk every day.'"
As my friend and fellow coach Tracy Jackson used to say when I would arrive at practice every day and ask him how his day had been going, "Day ain't over yet."
*********** Coach Wyatt, I am in need of some serious head shrinking today. Please allow me to sit on your "couch" and give me some good advice. As you know we lost our last game and now it is two in a row. I can rationalize the first one by telling myself "they we better athletes." This time we just got outhustled outcoached and outplayed. The team is in terrible disarray. I can't find a leader to step up and take ownership. After the game I usually do a 5 minute debriefing in the endzone. I had several players laying on the ground and had to redirect several kids who were looking in the stands as I spoke. So far I've dismissed three kids off the team. One for getting in trouble at school. One for grades and one because he decided to take a weeklong camp. His mother somehow forgot to tell me about this at the beginning of tryouts. I have suspended players for stealing other players shoes or had them in inschool suspension every single week this year. There is no real competition for jobs on the team. Our best know that there isn't anyone to challenge them because our back ups are really bad. We have scored on our opening drive in every game, but soon lose focus and give up big plays just before halftime. I am trying to build on the positives but this group of kids are very undisciplined. Our second string offense has 7 special ed kids and 2 others who take remedial classwork because they failed their end of year reading test. I can't get a parent to film any of the games so I'm not real positive on what the exact nature of our problems are. Sorry to unload on you with all this garbage.
No charge for the first visit.
First of all, if by the "doubt" in your subject line you mean self doubt, I would suggest you forget any idea like that. You can coach. I will vouch for that.
But if you have doubts about the culture of the place you're in, figure that it took a while to get to this point - 11 or 12 years in the case of a lot of the kids - and none of us can change that stuff overnight.
None of us is capable by ourselves of changing such a culture, at least overnight, and if the administration does not want it to happen, you're fighting a lonely battle, and probably a losing one.
Since bailing is out of the question... Surely you must have some good kids who appreciate your coaching. Concentrate your efforts on them and on getting them better and screw the knuckleheads. Ignore them
Give it your best shot and do not take this as a reflection on your coaching abilities.
***********: Good morning! Congratulations on your team's success; it shows what can be done when you can teach what you know well and you have players who learn and want excellence!
You probably have already heard from some Run & Shoot guys but the poem ("He's dropping, I'm stopping")comes from Tiger Ellison, the inventor of the Run & Shoot.
Good luck this weekend!
Dennis Metzger
Fountain City, Indiana
Thanks for the note.
I am embarrassed. I should have remembered that. Tiger Ellison was a true contributor to our game.
I haven't heard from any run-and-shooters because I doubt that there are many true (Tiger Ellison) run-and-shooters left, even though many of the spread attacks we see are really Tiger Ellison's offense without the motion. Or the running game.
Speaking of Tiger Ellison, we saw a team that lined up in Lonesome Polecat on every PAT and went for two. In my opinion, it works a lot better when they have room to operate and doesn't work very well when the zones are compressed vertically. And it also requires a QB who can scramble.
Nice to hear from you!
*********** "Don't know that I'm exactly "legendary,'"
Believe me, you are. I drop your name every chance I get. ("Well, Coach Wyatt says..." "When I was talking with Coach Wyatt..." "When I was at Coach Wyatt's clinic...") I hope you don't mind.
"I know well the frustration of working with inner-city kids. Actually, when they're on the field, there's not much difference between them and country kids or suburban kids."
Thank you for saying that. And it's something that can't be said often enough. For years, I've heard (from other parents and coaches) the "assumptions" made about my kids based on their skin color and where they're from. Racism is far from removed from today's society, even when those who make the remarks aren't trying to insult.
Dave Potter, Durham, North Carolina
Thanks, Dave- I'm flattered.
As for the racism - I would prefer to think that it's more a matter of not understanding another culture. The average American citizen - black, white, Hispanic, Asian or American Indian - has mainly negative perceptions of life in the inner-city, and doesn't have the opportunity (or desire) to know its people.
Those of us who have been blessed with the opportunity to know and work with their kids have to deal with the heartbreak of knowing that we're probably not going to save many of them. But we can try, and we may save some of them, which is a lot better than consigning them to wasted lives.
Football coaches can perform a wonderful service for those kids, but as I wrote, they've only got them for a couple of hours a day, and for the rest of the day (and night), kids being kids, they are subject to all sorts of influences, many of them pernicious.
I do wish that there weren't such a deep-seated distrust of the military in the inner city, based on an irrational but strongly-held belief among many of its residents that it is all part of a government plot to kill young black males.
My hat is off to guys like you and Coach Dwayne Pierce in DC and the many others like you who provide a time of structure and stability for your kids every day.
*********** 1) Do you ever have your QB block back side on power to prevent backside pursuit?
No, but you could. If you're running power, I recommend criss-cross to deal with that problem. Or a simple naked bootleg.
2) I am running zero splits. Should I widen them out to 8 inches to slightly spread the defense?
I don't see any need to "spread" the defense from end to end. In that area, you create holes vertically, not horizontally, by either blowing people back with double teams or inviting them across (to trap them).
3) When running Stack I, what is the depth you recommend? They started chasing us down backside and I'm back about 9 yards.
We put our I-back at 9-10, but we are talking high school kids with pretty good speed. I'm guessing yours should be at 8 or even 7. If backside chase is that big a problem, you need to run 7-C and 6-C.
*********** Coach Wyatt,

Penn State QB Coach/Passing Game Co-ordinator was pimping the Nits offense as the "Spread HD" back in January.
God Bless,
Tyler Sellhorn
Teacher, Assistant Football Coach
Fort Wayne South Side HS, Fort Wayne, Indiana