DOUBLE WING SUCCESS STORIES -
HIGH SCHOOL, MIDDLE SCHOOL, YOUTH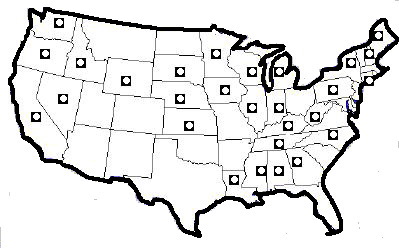 (SQUARES MARK STATES WITH AT LEAST ONE HIGH SCHOOL PLAYOFF TEAM, 1997-98-99)
The little town of Gueydan (pronounced "GAYE-dahn"), in the bayou country of south-central Louisiana, calls itself The Duck Capital of the USA. It's also the home of Gueydan High School, whose football team over the years has not been a point of special community pride. Not until this past season, that is, when Coach Ward Courville's Gueydan Bears broke all sorts of school records. Most significant, perhaps, was winning five games for the first time in school history; but the Bears didn't stop there, finishing with the first winning season and the first post-season playoff spot in school history. Coach Courville was kind enough to send me a tape not only of the Bears' highlights, but also of some of the treatment Gueydan's great season received from local TV stations. The Bears did a nice job in their first year of running the Double-Wing, and Coach Courville is already excited about next season.
Coach Wyatt: Been meaning to write since our season was over. Just finished my 29th year. We were an 11 man team for 23 of those years, but the last 6 we've been 9-man. Purchased your original playbook & video last year, modified it for the 9-man game and implemented the offense this past season. Worked great. We went 8-3 with a very young team and made it as far as the quarter-finals of the state touorney. Just recently reviewed your upgrades, I like this stuff a lot. Your Tight Rip 88 Power and Super Power becomes, for us, Tight 66 Power and Super Power. Stan Olson, LeRoy-Ostrander High School, LeRoy, Minnesota
We are a 7-8 (grade) configuration here. Your videos and playbook have proven invaluable. We just finished our inaugural season of full contact football with our 9, 10 and 11-year-olds as expansion teams in the Boise Optimist League football program. We played all of our game in Mountain Home, Idaho which is a good two hours from Hailey. Our 9-year-olds were 5-2. Our 10-year-olds were 6-1. Our 11-year-olds were 5-2. We were told that our kids competed better than most expansion clubs. Our 11-year-olds weren't expected to win a game, in great part due to the fact that that they would be playing teams that had been together for two years already. We attribute a large part of our success to the Double-Wing. The very first Saturday our three teams scored a total of over 70 points. Pretty good for kids that had never played the game before. No team was shut out all season (the DW factor). The league did try to schedule sub-500 teams from the previous year to play us. Our 10- and 11-year-olds did play some teams that were over 500, though, and competed well. So, we now run the DW grades 4-8. I have coached football for 21 years now and can't believe that so late in my career I have adopted a new offensive system. It has been fun and enjoyable and has given me a new challenge. It's fun to be so excited about change this late in my career. Thanx for your support. It is very much appreciated. Coach Jim King, Wood River Middle School, Hailey, Idaho.
Coach Keith Lehne, Grantsburg, Wisconsin, writes: "The Wildcat package was great not so much because of the yards we gained but because we didn't have a back up quarterback. In three different games we put our reserve fullback in when our quarterback had to come out for minor injuries. It allowed us to continue our normal offense(minus all passes except Red-Red) without having to worry about fumbled snaps and or a nervous skinny freshman quarterback turning the wrong way or forgetting the play."
Coach D. J. Harris, offensive coordinator at Kankakee, Illinois, tells me that 12 of the starters off their 9-1 1999 team will be going on to play college ball somewhere next year. B-Back James Kinney will be going to Missouri, C-Back Akil Grant will be going to Northern Illinois, and A-Back Joeron Hill can go "anywhere he wants," according to Coach Harris, once he's fully qualified academically. And then there's QB Ronnie Jones, mulling over whether to go to Harvard. (Whoa! Even if he breaks a leg in the first drill of two-a-days, he's still in Harvard! Millionaires would - maybe actually do - kill to get their kids into Harvard!) And yet, despite losing players of that caliber, Coach Harris says the Kankakee staff is excited about next year - the whole line is back, last year's soph team went 6-4, and last year's frosh averaged 48 points a game on their way to an 8-1 record.
From Edmonton, Alberta, one of the northernmost strongholds of the Double-Wing, comes news from Coach Brian Buchkowsky that Jasper Place High School, Alberta provincial champion, has been named co-national champion.
Coach Mike Walk, offensive coordinator at Lyman, Wyoming, wrote to tell me that in addition to winning the state Class 2-A title, Lyman's Head Coach Loren Huntsman was also named Wyoming Class 2-A Coach of the Year. No doubt Coach Huntsman was too modest to tell me himself when we spoke earlier this week. Coach Walk, I'm told, was one of the nominees for Class 2-A Assistant Coach of the Year. After joining Coach Huntsman as offensive coordinator three years ago, he has seen a program that had experienced one-win seasons in '95 and '96 go 4-4 in '97, 6-2 in '98 and 9-1 (and a state championship) in 1999 - in part because he had the "stones" to buy into the Double-Wing. "With this offense," he says, "we are able to punish our opponents on the offensive as well as defensive side of the ball."
I received a call yesterday from Tony Loughran, head coach at Coxsackie-Athens High, on the Hudson River about 20 miles south of Albany, New York. Coach Loughran just wrapped up his first year of running the Double-Wing, and was pretty excited - "I can't tell you," he said, what a difference the offense made. He said he didn't have many problems selling it to his kids, once they went to a pre-season camp at SUNY-Albany and they found themselves moving the ball against some playoff teams. Coxsackie-Athens finished the 1999 season 5-4, after going 1-8 in '97 and 3-6 in '98, but after a rugged non-conference schedule, the five wins gave them a perfect 5-0 Capital Conference record, and a spot in the playoffs for the first time in school history - "by far the best season we've ever had," Coach Loughran told me. One of the wins of which Coach Loughran was most proud was a defeat of powerful Watervliet - "they hadn't been beaten at their place in years." Eight of Coxsackie's players were named all-league, and running back Damon Villaronga was named Capital Conference Player of the Year. With an SAT score of 1550, he has the Ivy League schools all over him.
I received an e-mail over Christmas break (oops - Winter Holiday) taking me to task because I hadn't given Lyman, Wyoming credit for winning a state title running our stuff. Now, I didn't even know that Lyman was running the Double-Wing, and even if I had known, I wouldn't have known where to find its scores, so as soon as schools reopened after the New Year, I got on the phone to the man who had ordered materials from me back in '98, Head Coach Loren Huntsman, and I got my answers. Coach Huntsman, just finishing his fourth season as head man at Lyman, in the southwest corner of the state, was 1-7 and 4-4 in his first two seasons before his assistant, Mike Walk, talked him into going with the Double-Wing. He made the move in 1998 and went 6-2; this past season, helped by "eight talented seniors," the Lyman Eagles went 9-1 and won the state 2-A championship, avenging the only loss on their record by defeating Mountain View, 16-6 in the final game. The Eagles averaged over 400 yards rushing and over 40 points a game. Two of their backs ran for over 1,000 yards, and one of them, a senior named Mark Huntsman, scored a touchdown in the state championship game. (The other touchdown was scored by Mark's younger brother, Jason, which had to be a great thrill for Dad.) Coach Huntsman says they now run 100 per cent from the tight Double-Wing, and although he has chosen to retain most of his own terminology, he otherwise runs the plays as they come out of the book. (I'm hoping Coach Huntsman can make it to the Denver Clinic to say a few words.)
"I'm a J.V. coach from Bridgeport, Connecticut. I found your DW site last year and have been reading about the success of Fitch High School from Groton, CT coached by Mike Emery. I went out to see Mike's team play against East Lyme High School. I was about 15 minutes late getting there because of bad traffic and it was already 21-0 in the first quarter! Fitch ended up winning 60-14 and East Lyme's points all came in the last quarter when the J.V.s were in. I was impressed with how well they ran the toss off-tackle play even with 9 men in the "box". Their wing and tight end smashed down on the end of the defense like a big bulldozer, and here came the fullback, quarterback, and two linemen crashing through the line like a battering ram. The running back had to hesitate a moment at the point of attack while the tornado struck, but then he took off in a hole large enough for my full sized pickup to drive through (no exaggeration). The interesting thing is, East Lyme tried to run the DW a couple of times. I'm interested in attending your nearest seminar, hopefully one in which Mike Emery will be talking. Will you be having a seminar in Providence this year? I know you're a busy guy, thanks.
Dear Coach, I know Coach Robinson has already related our Junior (15-16) success story to you. (City Champs). I just wanted to let you know our Senior (17-18) team also has a very successful season as well. We captured our division championship for the first time in 10 years going undefeated. We scored a record 218 points and allowed only 18. We ended up losing in the semi-finals to the eventual city champs. With only 4 starters leaving, and some talented juniors moving up I am looking forward to another successful season next year. The system is perfect for our small school, and proves you do not need huge linemen to blow people off the ball to win. Thanks so much for all of your hard work and updated material. I look forward to attending another one of your clinics in the near future. Have you given any thought to a Detroit clinic? Sincerely, Chris Marcus - South Secondary School, London, Ontario (Canada)
Hugh - I finally wrapped up the 1999 season. Inventory,ordering, player and coaching evlauations are all finished. I wanted you to know that we went 8-2 at the varsity level. We got beat by the 2nd place team in Division 2 in Ohio state playoffs, and the 8th place team that happen to knock off the #1 team in Division 2 in Ohio. After two years our players are sold on the DW. Our JV went 7-2. We are expecting a good year in 2000. After the season the administration offered me an assistant AD job. It would be more money and less pressure. After talking it over with my family, praying about it and weighing all the pro and cons I turned it down. I love coaching football, but more especially the athletes make the job fun. I feel I can make more of an inpact on the players life as a coach and not an administrator. Hugh we had 14 All league players, one player made all state and we set a record with 5 players making the all Wood county team. This is the same group of kids that went 2-8 as juniors. They stuck with me and they never gave up. I will send you our highlight video after the first of the year. We ran a lot of offense. Many thanks to you and all your positive work with the DW. Ray Pohlman, Perrysburg, Ohio
He bought some materials from me a couple of years ago, and that was the last I heard of Coach Keith Wilkes. Until last week, that is, when I read something about the success that Carver High of Winston-Salem, North Carolina had been enjoying. Recognizing Carver as Coach Wilkes' school, I took a chance and called him to congratulate him and see how much of a part the Double-Wing has played in his success.In the course of our conversation, Coach Wilkes told me that he has mixed our Double-Wing ("We use a lot of it," he said) with his Delaware Wing-T. He's still a little reluctant, though, to expose his quarterback by having him lead on the Super-Power. Coach Wilkes, who just completed his seventh season at Carver High, finished 12-3 this past season, narrowly losing out in the state Class 3-A semi-finals to Burlington Williams. It was Carver's first loss to a 3-A school since 1997. Last year, Carver was 16-0 and won it all. In the seven years he has been at Carver, Coach Wilkes has seen 80 players go on to play Division I-A, Division I-AA or Division II college ball. One of this year's running backs, Lashun Peoples, was the MVP of last year's championships, and is being recruited by Alabama, Tennessee and "everybody in the ACC." As usual, Coach Wilkes will lose a talented crew, including Peoples, who he considers the outstanding player in the state, but that doesn't keep him from predicting that the 2000 edition of his Yellow Jackets will be tough once again. "We've been able to plug 'em in and keep rolling," he told me. No doubt Carver would be good with or without the Double-Wing. But it's sure nice to be associated with programs like this.
From the town of Graham, North Carolina, just outside Burlington, comes an amazing Double Wing success story. Coach Richard Lee, a native North Carolinian who has been running the Double Wing in Tennessee, happened to be back in Graham last summer visiting with Graham coach Pat Moser, who once played for Coach Lee. Coach Lee, who has been a regular at my clinics the last two years, happened to say, "Let me show you this Double-Wing," and after a long session at the chalk board, Coach Moser said to Coach Lee, "I want that!" Shortly afterward, he ordered some materials from me. To make a short story of it - Coach Moser, in only his second year as a head coach, taught the Double-Wing (including a whole lot of "Spread" formation) to a team that was 3-9 in 1998 - and took it to the Class 1-A state finals! Only a 317-yard, four-TD performance in the title game by Williamston's D'Brian Hudgins prevented the Red Devils from taking their first-ever state championship. As it was, the 40-20 championship-game defeat was Graham's first loss to a Class 1-A opponent all year. (Graham's two in-season losses were to Class 2-A Western Alamance, and eventual 3-A finalist Burlington Williams.) The Red Devils ended a long football drought in the town of Graham,winning their first conference title in 32 years, and making their first appearance in the finals since 1966. Instrumental in the enormous turnaround was 5-10, 200-pound John Carter, who threw for 1044 yards in 1998 as a quarterback, but asked to be moved to running back in the Double-Wing. This year, Carter ran for 967 yards from C-Back, and C.J. Jenkins, at A-Back, ran for 1406 yards.
Dear Coach Wyatt, I attended your clinic in Cleveland last year and it made our conversion from the Wing-T to the Double-Wing much easier. Thank goodness we made the change. Two weeks before the start of the season my two QB's inform me that their select team hockey coach no longer wants them to play football. Since their parents pay close to $1,000 apiece for these kids to play on this travel hockey team you can guess what sport they decided that they were going to focus on. With two weeks to go before the start of the season I have to replace two outstanding QB's, two kids who were in our program since 7th grade. The only other kid who could throw the ball on my team was my kicker. Needless to say we ended running the ball 99% of the time. In 8 games we ran for 2,700 yards and scored 180 points. We also threw for 200 yards and 2 TD's - 150 of those yards came in the last game. We only lost three games, all against teams that were ranked in the top five in Western NY, and all the games were very close. In our opening game we played Salamanca who went 12-1 and lost in the state championship game. Our game was 14-14 with two min to go. We ended up losing 21-14. The difference in the game was the one and only pass we threw - it was intercepted and returned 99 yards for the winning TD. Without the Double-Wing we would have had to depend much more on our passing game, and with our kicker playing QB I doubt very much that we would have done as well. Chuck Tilley, Head Football Coach Cheektowaga Central High, Cheektowaga, New York
Hey coach, just wanted to tell you that we had a very successful year with our offense in an extremely tough conference. One of the first things I learned was how important the sweep is to the offense and the necessity of taking advantage with respect to the wingback's position on the defensive end. I was not able to coach the Buck Sweep well enough. I suspect that the fullback faking up the middle loses its effectiveness when the defense can't see him in the first place (we played ours extremely tight). I am intrigued by a power sweep (we shall see). We went almost exclusively with the "wings-on" approach which further stabilized our double-team at the point of the power play and enhanced the effect of the counter. The traditional counter (47-c) was too much of a crapshoot in our youth league where even a strong passing team will face eight men in the box if you catch my drift. There were times I swear I counted 12 guys stuffed in there somehow!!! Instead of "lead, criss-cross" we tagged our misdirection plays 66 and 77 Reverse. What a play! Even when the defense knows that it is coming it can still be extremely successful because of its tremendous power and it seems that a defender will hesitate to assert himself until he can see the ball. One thing was an enigma for us and that was the 7-man front. To my way of thinking there are four different combinations we can use and my indecision got in the kids way at times. (Ironically, for us, the use of blocking combinations instead of individual rules seemed to make us more aggressive.) The double-team became sort of an attitute for us and the kids worked hard with their partners at every practice. I remember a couple of youngsters mocking me one afternoon as they watched us practice, 'HIP TO HIP! HIP TO HIP!' (giggle, giggle) needless to say we had a lot of fun. One thing I found out, that at least at the youth level, we could maintain a very successful double-team on a man that is lined up a shade outside of the TE. With the proper rotation and the wing getting good leverage on the man we could often times place the DE in the lap of the Linebacker without allowing penetration. All in all, the kids loved the offense. It gave them a swagger and a dagger! They submerged themselves in the intricacies of the blocking schemes. They really dug at the underlying philosophy of what we were trying to accomplish which allowed them to make their own adjustments during the heated conditions of game time. We had offensive success against teams that clearly out-manned us. A telling statistic showed that against the two top teams we had about as many first downs as they had total offensive plays! We couldn't catch 'em, but we sure as heck could double team them. The future of the double-wing power offense intrigues me. What will defenses start to do as the plays become more widespread and recognizable; and conversely, which offenses will be more successful, those that counter with new plays or those who work harder at the basics? A penny for your thoughts.. Thank you coach and keep up the good work! Russell Ponce Jr., Santa Rosa Stallions, Santa Rosa, California
"A little news you can use" was the way Coach Bruce Eien headed his note, and he got that right. "The Camp Kilpatrick Running back is the state's single season leading rusher. His coach was at your DW clinic in Glendale. I ate lunch with him and relived old memories of when we met in the play offs back in 1991....Merry Christmas to you and your wife Bruce Eien" --- I remembered meeting Coach Sidney Ware, head man at Kilpatrick, and gave him a call Thursday to congratulate him on a great season. What a story! Since 1992 Coach Ware has been coaching at Camp Kilpatrick, a correctional facility that's unique in Southern California in that it offers its kids a chance to play football. What a revolutionary concept! (Can't hide my sarcasm.) Is it just possible that kids might benefit from being in a situation where strong male role models teach them about hard work... rules... respect... responsibility... teamwork... sportmanship? Coach Ware has a unique coaching challenge, too- every year, he has to start over with a new group of kids - he said he "almost never" has players return for a second year. This past year, he told me, nobody on his offensive line had ever played football before. Nevertheless, he molded them into a strong unit, and coached the Kilpatrick Mustangs to a 9-5 record and a spot in its division championship (California does not have state championships); and one of his running backs, Jermaine Marshall, broke the all-time California high school single-season rushing record with 3,586 yards, running the Double-Wing, which Coach Ware has been using for three years. (He said he got a lot of mileage out of the Wedge, which he picked up at last spring's clinic.) Marshall's 57 TD's were just two short of the single season record set a few years back by DeShaun Foster, now playing at UCLA. The 6-foot, 215-pound Marshall had a single-game high of 454 yards, and rushed for over 200 yards in all but three games. For all those splashy stats, though, his future is not assured. His life to this point has not been smooth. He was raised by his grandmother who is now confined to a wheelchair. He never met his father. He has had his problems at the public school he originally attended and, obviously, with the law. And although he is a sure-fire Division I prospect, he may not qualify academically and may have to go the Junior College route. Nevertheless, Marshall's conduct on and off the field at Kilpatrick has raised hopes that he can continue to excel in football while, more importantly, living a good life. Coach Ware remains optimistic. Although he knows the frustrations of seeing former players get back in trouble - "it's terrible," he says - he prefers instead to talk about the successes - like the young man who served his time at Kilpatrick then returned to his regular high school, went on to junior college, and just signed with Nebraska. Jokingly, I suggested that he probably didn't get too many of his former players coming back to visit, but Coach Ware said that, to the contrary, he gets a lot of calls from former players wanting to come back and talk to the incoming kids! Thanks to people like Coach Sidney Ware for hanging in there with these kids, and thanks to Coach Bruce Eien for putting me on to this great story.
Coach Wyatt, We had 6 players make all-district. 4 offense, 2 defense. We return 10 starters on offense next year. My son, Chris was also selected to the Jackson All-Metro team as a wingback. My younger son will fill in for him next year as he moves on to college ball. My defensive coordinator is Steve Pruett, son of Marshall head coach Bob Pruett. I look forward to another great clinic in the area this year. Steve Jones, Florence, Mississippi (Coach Jones modestly neglects to point out that the Florence Eagles just finished their first winning season since 1986.)
Another argument for using our terminology. This is no kidding. It really happened. I heard it from one of the participants, who for reasons that should be obvious doesn't want anyone's names used. Start with two coaches - Coach A and Coach B - who have a very close relationship. They both run the Double-Wing, and both use our play-calling system. Coach A, his season completed, was on the sidelines at Coach B's game. Early in the game, Coach B protested an official's call, a bit too vigorously as it turned out, because he wound up with two unsportsmanlike calls - and the ejection that goes along with them. Since he normally calls his offense, he had to think fast, and on his way out of the stadium, he turned to Coach A and said, "You gotta help me." So for the rest of the game, Coach A, who is quite knowledgeable about the Double-Wing and, fortunately, completely familiar with the terminology being used, was able to advise the offensive assistants in their play-calling. I won't tell you the score for fear of disclosing anyone's identity, but our guys won.
Hi Coach.....Just wanted to let you know how we ended up. We ended the season undefeated and went into the Super Bowl against a team that hadn't lost in 3 years. Remember, our boys had won 1 game out of 2 last year. The team we played, Herbert Hoover Boys Club, had outscored their opposition 186-12 in 6 games this year. We ended up losing by a 39-32 score, but it was considered a win by all of us. They could not stop our offense. We had an awesome season, and I attribute it totally to the double wing. Our coaching staff will be back next year and I will be contacting you shortly about the newest playbook. Steve Fangman - St. Charles Buccaneers 14's - St. Louis Junior Football League
"Coach Wyatt, I finally had a chance to write you about our season here in Hoxie. We had the first winning season in 13 years. This is our 2nd year of running the Double-Wing and we still love it. We averaged 320 yards per game, and our C-back (a junior) rushed for 1500 yards and 14 TDs on 190 carries. His name is Greg Meyer and his brother Clay, who led our JVs to a winning season also will be our QB. My staff and myself can't wait to see you again in Denver. We had great success running out of the Stack I formation. If you need anyone to speak at the Denver clinic I would be honored to share what I have learned from you and your system. Hope to see you soon and God bless you and your family this holiday season. Scott Moshier, Head Coach, Hoxie, Kansas" (As a matter of fact, Coach Moshier is one of a number of experienced Double-Wing coaches who will be talking at this year's clinics about how they use the Double-Wing in their programs.)
A coaching associate from Framingham, Massachusetts (who does not himself run the Double-Wing), called to straighten me out because he noticed there were no mentions on my site of Massachusetts high school teams running the Double-Wing. (I knew they were out there - my problem has been not being able to locate a site that has the Massachusetts HS scores on it.) Not that my friend felt left out; he just felt that as long as his school had to play two Double-Wing teams this year, he ought to let me know about them and assure me that the Double-Wing is alive and well in the Commonwealth. (His school lost to both teams, and he didn't care to go into the results of either game in any detail.) Coach Bill Maradei and Austin Prep, of Reading, went 11-1 - losing only to much larger Bishop Fenwick - and defeated St. Dominic Savio, of East Boston, 21-20 in their league's key matchup. Savio Prep, coached by Gavin Monagle, a former assistant to Coach Maradei, also ran the Double-Wing and wound up 8-3.
Hugh, Just wanted to let you what we accomplished this season at Sprayberry. We finished the season 6-4 and at one point ran off six straight wins in a strong region. We qualified for the playoffs for the first time in 11 seasons, a major turn around for this community. As you know we beat North Cobb 23-0, which was a big game for us; the students that feed into Sprayberry and North Cobb come from the one middle school so they know each other very well. We had about 25 seniors including my son, but my coaching staff and I are looking forward to the 2000 season. Thanks again for the DW and looking forward to the next clinic nearest me. Coach Billy Hamilton,Sprayberry High School , Marietta, Georgia
STATE CHAMPS!By any measure, Fitch High in Groton, Connecticut is a quality program. Coach Mike Emery's team was state Class L (Large schools) runner-up in 1997 and 1998, and this past Saturday, won it all! I received this note from one of Coach Emery's assistants: Coach Wyatt, Finally we can put to rest the quote, "The double-wing is a nice offense, but can it be successful in the playoffs". We recently concluded our third consecutive undefeated regular season with the Connecticut Class L State Championship. After trouncing our semi-final opponent 61-0, our Fitch High School team beat undefeated (11-0) Farmington 50 - 7 in the Class L finals. This is our school's first football state championship since 1976. The celebration that followed on Saturday night will be forever etched in the minds of our players and coaches. Although the groundwork for this state championship been built by many players and coaches for several years, this years team, through offseason hard work and inseason concentration, was able to finish the job successfully. Some interesting facts from our season: We scored 100 touchdowns in 12 games (88 offensive). Our 3 year starter at quarterback, Raheem Carter, finished as the all-time touchdown pass leader in the Eastern Connecticut Conference with 42 Tds (We found this to be interesting to all the negative people who still think, "How could you possibly pass out of that formation?"). We averaged 58 points a game (which would have been a state-record if Bloomfield did not play on Saturday afternoons. We play on Friday nights, and Bloomfield always seemed to score 1 more touchdown than us). Our average margin of victory was 48 points. Finally, I have been with Coach Emery for 14 years (4 as a player, and 10 as an assistant), and I've never been happier for an individual. He has taught hundreds of student athletes the proper values of life. He leads by example. Coach Emery deserved this state championship. Thanks for the offense. McD And then I heard from Coach Emery, who was nice enough to send this note: Hugh, I'd like to thank you once again for introducing us to the Double Wing. Yesterday (Saturday) we completed the final step of a three year journey with a win in the Connecticut Class L State Championship. The final score was 50-7 again'st Farmington High School which entered the game 11-0 and had allowed about 8 points per game throughout the season. We won our semi-final game 61-0 again'st Pomperaug High School. Our team averaged about 59 points per game. We had one thousand yard rusher (left halfback John McCoy) and one thousand yard passer ( QB Raheem Carter). Our FB gained about 900 yards, and we had 24 people score points in a varsity game this year. We had 100 touchdowns in 12 games. I believe the number one reason we were able to "finish the job " this year was the resolve of the kids to make themselves physically better by spending long hours in the weight room. They learned in the previous two seasons, which both ended in disappointment, that if you're going to play against the elite teams in the state you cannot rely on God-given talent alone. You must put in the hard work to receive the highest awards. It is a lesson that I hope remains with them the rest of their life. The other thing that truly put us over the hump this year from a technical stand point was the addition of the " reach fly sweep" Whenever teams bunched up to stop "super power" we simply reached them and sprinted for the sideline. I spent a lot of time talking to Chuck Raykovich from Chippewa Falls, Wisconsin about this play, as he had enjoyed success the year before with this play. (Rocket 38 Reach and Lazer 29 Reach, described and shown in "Dynamics IV"- HW) Judging from the scores I saw this year, it looks like they had even more success this year. Well thanks again Hugh, it's been a wonderful three years running the Double Wing. Good Luck and much success with your new team. Mike Emery, Fitch Senior High School, Groton, Connecticut (After seeing several schools make it to the finals, I do believe that this is the first state championship - at least by a large school - running our system.)
From Paul Maier, Mt. Vernon, Indiana- "Brad Hall, C back and DB, made first team in the AP, 2nd team in the HT- Herald Times (a Bloomington, IN paper that has done an all state for years). Micah Kessler, LB made 2nd team in both; Dustin Choate, G made honorable mention in the HT; Nathan Naab, K,DB,C back; made Hon. Mention as a kicker in the HT and 2nd team in the AP; Seth Rainey, A Back, our freshman, made 2nd team all State and first team HT. Not too bad for a team that has had only 6 all state players previously." Mt. Vernon set several new offensive records this season: Rushing Attempts--559; Yards gained--3233; Total Offense--3971; First Downs by rushing--125; Seth Rainey, the freshman A-Back, carried 311 times for 2095 yards and 17 TD's. As Coach Maier reminded me, Mt. Vernon rushed for 1300 yards three years ago - before converting to the Double-Wing.
4 out of my starting 5 offensive linemen, were overwhelming voted in by the other coaches. All of our opponents indicated that we had the "Best Coached Line" in the confernence. Quite and honor for my boys. B Back Paul Rosales was also voted in. Funny thing last night, Right Guard Nathan Jones practiced with the offensive coach last night (they are running an "I") and he said, "Coach JT, our splits with this "New" offense is almost 2 feet between the tackle and I. I feel almost naked without our tight splits....!" John Torres, Castaic, California
Trevor Hightree, an outstanding running back in Coach Jason Sopko's Double-Wing offense at Homer, Nebraska, was named first-team All State. Quite an honor in a state that takes the running game seriously.
Dear Coach: Success took 2 years but it finally paid off. We went 7-3 this year for the first ever winning season in school history (50+ years). We also qualified for the playoffs for the 1st time. We finished the season with over 3000 yards on the ground. Thanks, Coach Ward Courville, Gueydan High, Louisiana - Home of the Bears
Coach - Beat Reseda 42-30 in a hard fought contest. The Castaic Cougars rushed for 357 yards with B-Back Paul Rosales rushing for 157 of those. The game was nip n' tuck for the majority of it until Reseda made the mistake of going to a 9 man front, figuring we could not pass. We scored twice on a 88 SP Half-back pass and a 2-Red. The passes put them back in a "sound" defense, whereas we continued to pound them out and literally wear them down. We ran 7 different offensive formations and even ran an East-West motion for the first time all year! Should have put it in earlier, the kids loved the east-west motion. Coach Wyatt, as you know this will be my last season, and it ended on a positive note, thanks to your and your great system. Sincerely, Coach John Torres, Castaic (California) Cougars. Valley Youth Conference Midget Division 3rd place winners!
Hugh. I thought that you would like to know that we have won the Thames Valley Conference Division 1 Jr Championship for the second consecutive year. In addition, the Division 2 Champion was also a Double Wing team. Last year we lost all of our starters except 4 on both offence and defence. To win the final we had to play the perennial powerhouse in our conference. We were able to run superpower almost at will. The Double-Wing is having a huge impact on our local football scene. Joe Robinson, South Secondary School, London, Ontario
Hello Coach, We had a great year! We are the Juneau Youth Football League Junior Division Champions! The Steelers ended the season with a 9-1 record...we scored 36 points 5 times this season. The coaches and players rally dig the system. The rest of the league is memorizing 60-70 plays. We have 10 plays that all work. We have ha d a 2-tear battle with the refs re: the wedge blocking rules. Finally they admitted they were wrong after 2 years. Better late than never. Thanks, Coach Rory Niere, Juneau, Alaska
Coach Tim Rice, of Boothbay Regional High, in Boothbay Harbor, Maine was selected Maine Class C Coach of the Year for the third straight year. Coach Jack Tourtillotte, his offensive coordinator, said Tim stood up in front of 500 people and gave much of the credit for his success to the Double-Wing. Naturally, I think that's wonderful, but Jack said he nearly had a hemorrhage when he heard Tim say it! (Actually, it's not as if Boothbay's success with the Double-Wing is a big secret in those parts anymore.)
Coach Terry Verrelli's Wilmington Area Greyhounds (New Wilmington, Pennsylvania) completed another successful season. It was an honor meeting Coach Verrelli at last year's Cleveland clinic, because he has built a powerful program in Western Pennsylvania. Beginning in 1994, his Greyhounds won four straight district championships, and were runners-up the past two seasons. This past season was another good one, with the Greyhounds finishing 9-2 and narrowly losing the district title to Sharon, 13-6.
Well coach - a pretty good end to a pretty good season - we went 3-1 in our tournament, getting beat in overtime by a team from up North (Montabello; 18-12) - they were featured in the Denver Post last weekend as an "unbeatable" pee wee team for the past umpteen seasons..it was followed up by a story a few days later about all the falsified birth certs, etc..in the Police Athletic League that they are a part of..I guess that would explain the fact that not one of their front 5 on defense was under 130lbs! asking your 62lb guard to trap is a tall order!! - We played in the "A" division, which was all the Super Bowl and Semi-Final teams from around Denver - Ended up 3rd place - Here's the best part - Our final game was against our nemesis - the team QB's by little Jack Elway - We haven't beat them in 3 years, including this year when they gave us our only regular season loss in the first game ..we hadn't completely gotten the offense down yet - anyway, my boys SPANKED them tonight, 39-7 and it could have been worse but I backed off - they just couldn't stop our Super Powers - it was a great way to end things - Scott Barnes, Parker, Colorado
I told Coach Durgin, from Lynn, Massachusetts that I was a little upset with him because I hadn't been able to find his scores anywhere online, while there he was having a 9-2 season at Lynn Classical High - and not even telling me about it! It was Coach Durgin's third year at Classical, and his second year running the Double-Wing. It was also his second straight winning season, the first time Lynn Classical has had back-to-back winning seasons in 19 years. Thanksgiving Day games are still very big in the Northeast, and this year's 20-0 win over city rival Lynn English made the season extra special. Matt's dad, Hal, a former coach himself, accompanied his son to last year's Providence clinic, and still helps coach the line. (He likes the Double-Wing.)
In what has been called the most unbelievable comeback in West Virginia high school football playoff history, a Double-Wing team, the number-one ranked Parkersburg Big Reds, scored three touchdowns in the final five and one-half minutes to pull out a 21-18 victory over 9th-ranked Huntington in the quarterfinals of the state Class AAA playoffs. Needless to say, they did not do it by grinding it out and controlling the ball. Huntington's third touchdown, with 8:02 left in the game, capped a 17-play drive and gave the visiting Highlanders a seemingly insurmountable 18-0.Parkersburg managed finally to get on the scoreboard with 5:35 remaining to make it 18-7, but appeared doomed when the onside kickoff failed, and Huntington began a drive, aided by a pass interference penalty, that took it to the Parkersburg 20 before running out of steam, with 1:47 left. Four passes put Parkersburg in the end zone with 55 second remaining, and a successful two-point conversion put the Big Reds within field goal range at 18-15. This time the Parkersburg onside kick was successful; four plays later, Parkersburg threw complete for the apparent winning touchdown with 28 seconds remaining, only to have it brought back because of an ineligble man downfield. On fourth down from the Huntington 27, the Parkersburg field goal attempt was off the mark, but Huntington was flagged for roughing the kicker, with 9 seconds showing on the clock. Parkersburg Coach Marshall Burdette's decision to try another field goal - now from the Huntington 13 - was overruled by his players, and the resultant pass was successful for the winning score, with 2 seconds left.Parkersburg, now 12-0, will host Musselman, winner by 29-13 winner over Morgantown, in a semifinal game this weekend.
Coach Wyatt, Well, we finished up 7-3. I'm sorry you are out of the playoffs, but congratulations to you on a great year. Ron Myers and MVC beat us 28-3 to secure his first spot ever in the playoffs for MVC. They also run the Double-Wing and are very tough. We won our last game 48-6 against Santa Cruz and missed the playoffs by a point. Our league plays in the playoffs in the California Central Coast Section and they go on a points basis rating the teams you play as A, B, or C. Its a complicated system and since we are not in the San Jose area our league is considered a B league even though our league usually does well in the playoffs. Both MVC and San Lorenzo Valley are in the playoffs and both won first round games this past weekend. This year completed our second of running the Double-Wing exclusively and last year we were 8-2 so for the combined two years we are 15-5. That's pretty fair country football in my book! Also our little B back Carlos Flores broke our school rushing record which has stood since the mid 70s with 1050 yards, averaging 8.1 yards per carry with 8 TDs. He's only a junior so we are looking forward to having him back next year. We led the league in offense, averaging 331 yards per game. Hugh, I hope you are planning to do a clinic in San Jose again this clinic season. I look forward to meeting you in person and talking double wing football with you. Thanks for all the support this season and taking the time to write back to me and for having such a great website! Your old shoulder blocking devotee and true believer in the DW system, Brad Elliott - Line Coach Soquel High School
Jasper Place (Edmonton, Alberta) Wins Provincial Championship! "On Saturday the Jasper Place Rebels defeated the Raymond Comets 39-37 to win the Provincial High School Tier I Championship (schools over 900). The Rebels handed the Comets their first loss in 48 games against Canadian teams. The 3-time Provincial Champions were stunned at the ability of the Rebels. The difference, no doubt the Double Wing. The game was an offensive battle throughout. Coach Wyatt, thanks for all your support. We will send more info and stats soon. Thanks, Rebels Coaching Staff" (It "took a set" for Head Coach Bryan Buchkowsky to envision how our Double-Wing would work in the Canadian game, and he and his staff are to be congratulated not only for having the necessary courage and foresight to commit to it, but also for being able to sell the offense to their kids, and then making it work. In a phone conversation Monday with Coach Buchkowsky, I learned something about the dedication of Canadian coaches: he has a seven-man staff for his senior (17-18) team, and a seven-man staff for his junior (15-16) team; in keeping with the practice at most Canadian high schools, no one is paid a stipend.)
"Dear Coach Wyatt, I am writing to say thank you. We took over a program in Nebraska that was really down on its luck, and the double wing proved to be an incredible equalizer for us; it allowed us to be competitive. We finished 3-5 and we were truly in every game. The school was 0-8 in 1998 and 9-22 the previous four years. Our community, our kids, our teaching staff, etc., all doubted whether we could be competitive, and playing against many C-1 teams we were competitive. We lost to C-1 Oakland (8-1) 20-0 and C-1 North Bend Central (7-2) 14-7. In all, we lost to five schools with winning records and four playoff teams. Our worst loss was 38-8 to DW team Homer. In that game we reeled off 306 yards rushing on 76 plays and ground out 19 first downs. We made mental mistakes in the Red Zone, and turned the ball over or had drive-ending penalties; otherwise, we were even in that game. Also, there was the matter of Trevor Hightree from Homer. He is incredible. By the way, we even won our Homecoming Game, beating state Class C-2 quarterfinalist Scribner-Snyder 15-14 - driving the ball eighty-plus yards in the final three minutes on one bootleg pass for 24 yards and six consecutive criss crosses. Then, we went for two at home for the win. Many of the coaches who played us said that the 1999 Lyons football team was the most physical Lyons team in recent memory. We attribute the physicalness, both offensively and defensively, to the Double Wing. We are excited about the future here. Our kids are after it in the weightroom (We use Bigger, Faster, Stronger) and they are already talking about the future. Also our undefeated seventh graders are already talking about when they are in high school, and 10 of them are even going through BFS everyday (including agilities). Thank you coach Wyatt for everything. I look forward to meeting you at one of the clinics. Remember, football 365 days a year." Yours in football, Coach Steve Cozad Lyons-Decatur Northeast High School, Lyons, Nebraska
"Coach, I've got to tell you what a blessing it was to me to find your web page last winter. Your ideas and coaching philosophies seemed very close to ours and some I stole! Please let me give you some background first before I go on about our season. Last year, 98, I helped coach a freshman team that went 8-2 and 5-0 and ended up as leaguue champions. But, I believe in always looking for ways to improve so I looked up the double wing on the net and found your web page. There are more and more teams around the North State running this offense and it seemed like a good offense. So I ordered your video and we loved it. We made the commitment to install it during the offseason and got a lot of grief because we are a Wing-T program.Apparently our head coach here at Lassen coached against Don Markham down south and hates it. And Foothill High out of Redding runs it but they haven't won the section title with it yet so there are some doubters up here. We ended up going 10-0 and repeated as league champs at the J.V. level this year. We ran a total of 12 double wing formations and 4 wing-t formations. We agreed with your thinking to show as much of your offense as possable and we did. We purposely ran as many formations as possible especially when we knew our opponants would receive film on us. Going into our big game and biggest rivalry we got a big kick seeing them still going over all our formations before the game. We beat them 40-13. Their coach, Bob Hall, is very well respected around here and has won Varsity section titles recently. We made a living off of the super power pitch and wedge plays. In fact our Varsity coaches were giving us a hard time saying that we only had 4 plays, Pitch right, Pitch left, Wedge, and Boot pass. But, really we had so much more. When teams would do everything they could to try to stop us we of course had the counters and would go to our other formations. Besides throwing for 10 td's we would go back to the wing-t. Believe when I tell you that using so many formations and being able to run both offenses we were pretty much unstoppable. We would stop ourselves with turnovers more than defenses would stop us. I have to admit though we received alot of grief over installing this offense but we believed in it and put it in this summer and stayed with it. Now the best part, The Varsity team is going into the playoffs,9-1, seeded first and have installed a couple of double wing formations to use in the playoffs. We feel vindicated. Even though I have already told you that alot of teams in our section are going to this offense they are only using usually one formation out of it. What I would call,X-SPLIT. Instead of double tight end they have the wide receiver spread out. I believe they are missing it! The key is running numerous formations and we did that. It can be done and we did it running a total of 16 for the year and would use most of them during the game. We used your tight splits and had the type of qb who loved going up through the hole and block. We loved this offense and will be running it again next year! Thanks again for your help and helpful ideas" Coach Paul Prince, J.V. Coach, Lassen High School, Susanville, California
All the luck in the world to Coach Gary Hartman and his staff at Scottsbluff, Nebraska, as the Bearcats, 11-1, prepare to take their Double-Wing into the state Class B (second-largest) finals Saturday night in the University of Nebraska's Memorial Stadium against number-one ranked Elkhorn. After losing their opener 15-13, the result of five fumbles, the Bearcats have run off eleven straight wins, breaking school and individual rushing records along the way. Scottsbluff has been in the state semi-finals three of the last five years, but this is the first time in the finals. (An interesting note: with all classes playing their finals in Lincon this weekend, the state coaches are holding a clinic in conjunction with the activities; Coach Hartman is scheduled to talk about the Double-Wing at 9 AM Saturday! Even if his opponents sit in, I'm sure he's not going to give away any secrets - they'll still have to deal with why and when - and how well - his teams do the things they do.)
Coach Roger Brookes, from King William, Virginia, informs me that his Cavaliers finished the regular season 8-2 and Northern Neck Distroct Champs, ending with big wins over Northumberland, 50-6 and Rappahannock, 35-0. The first round of the playoffs was a complete runaway, with King William defeating Arcadia, 82-0. This week, the Cavaliers face 11-0 New Kent, "our nemesis" in Coach Brookes' words. Best of luck to a great coach and a great program.
Double-Wing success from the home of the Eskimos: The Jasper Place (Edmonton, Alberta) Rebels defeated the Bev Facey Falcons 42-6 in the Provincial Semi-finals Saturday. This Saturday, the Rebels will host the Provincial finals, taking on the Raymond Comets, defending Provincial Champs from Raymond, Alberta. Best of luck from your fellow fraternity members down here in the States!
"We ended the season 8-4. First winning season since 1985 and only the 4th 8 or more win season in school history. We averaged 30.4 points per game and 298 yards of offense a game in a strong defensive district. I hope you plan to clinic again in the area this spring! I plan to bring my entire staff." Coach Steve Jones, Florence, Mississippi
"Coach Wyatt, This is the best news I can possibly share with you........we made it to the playoffs!!!! We finished with a 5-5 record and third place in league. We have had a good season. This was our turnaround year. Our five losses were all by 10 points or less. We outgained everyone in our league!!!! We had a thousand yard rusher in Kenny Ramirez. The other running backs all had over two hundred yards each. We even began to throw the ball well. We will be taking on a #2 seed team that is a perennial powerhouse. Everyone except us believes this team will kill us on the field. They score a lot of points. They scored 70 in their last game of the season. We have run so many different sets and still run the same basic plays, yet teams complain about having to coach up their team with very little success on the variety of sets that we have. Everyone in the community is excited. This is only the fourth team in McFarland High School history (since 1928) to make the playoffs. This is the first team in ten years to get to the playoffs. Thanks again for all your help." Coach Jim Beltran, McFarland, California
"Coach : We ended the season 9-0 the first time in Wells history. Justin Stumpf the A back was voted MVP of the league. All the rest of the backfield received first team. Stumpf ended the season with 1397 yards. Joe Dangaran the C back finished with around 800. Don Hall was also voted the defensive player of the year." Coach Martin Linford, Wells, Nevada (NOTE: Last Saturday, Wells defeated Lincoln, 37-13 in the state semi-finals, and the Leopards now play Meadows for the state title next Saturday on their own field.HW)
"Coach Wyatt, Sorry I have not kept up with weekly updates. I get so busy this time of year, and with two young boys at home the last thing they and my wife want is for me to be on the computer talking more football. Well, the Mankato Loyola football season ended last Friday, Nov. 12, in the section finals! we ended the season 6-5 and after going 0-9 last year this was a tremendous turnaround. In my seven years at Loyola I have had some very good teams, we have made the section semi-finals five out of my first six years but this year we made it to the finals. I believe not only is the Double-Wing responsible, but more so that my kids believe in the system and as you well know that is huge when it comes to their confidence levels. We rushed for over 2700 yards and passed for another 500 (actually 2 black-O became one of our most successful plays... especially on 3rd and short) Our B back, a sophomore, rushed for 1300+ yards and scored 12 TDs, A back, a senior, 800+ yards and 4 TDs, C back, a junior, 600+ yards and 7 TDs. He only carried 41 times but most were big hitters. (Mostly 47-C, 77 Power and what we called 77 Super Power) Our X end scored five TDs, mostly on 2 Black-O. Our QB had no rushing TDs but late in the season came up with some big first downs on plays that we called "follow"... 6-G follow, Rip 7-C follow etc... teams concentrated so hard on stopping our B back that we simply faked those plays and the QB kept with him lead blocking, always worth five or more yards! In closing... the system is easy to teach, the kids believe in it, and it works!! We put this in with our 6th and 7th grade teams this year and there is nothing more satisfying to a head coach than to see 12 and 13 year old guards and tackles pulling like they have done all their lives. I can't wait until they are Jrs. and Srs.!!! 'It Takes A Set'" Coach Jim Neyers, Mankata Loyola HS, Mankato, Minnesota
"Coach - congrats on a big season for sure. Just to let you know what happened with us- we lost in the first round 36-40 against a team that is now playing in the finals. In the three playoff games after us their opponents have scored only 15 points! We scored more than that in 1 quarter against them!! We ran Knights (Wildcat) and screwed their dline into the ground!!!! I know that a coach cannot compare scores and all that, but the kids sure do and right now they have a fire for next year. It has given them confidence that they could be a very good team next year. We lose 5 seniors, 1 on offense, and 3 on defense. We finished the year 6-3, best in 12 seasons, set 11 school records, rushed for over 3,000 yards while passing for under 300, had the leading rusher in the 11 man football (over 180 teams) leading scorer 166 points, and was 3rd in team rushing. needlesa to say, it was a good year for the Homer Knights." Coach Jason Sopko, Homer, Nebraska - Coach Sopko adds a PS: "Oh- I saw the Huskers Whoop up on Kansas State Sat. They may be back, too bad they struggled against Texas. They have a very salty defense and the crowd loves it. If you are part of the Coaches Association, you can get tickets to the game for $1, so it is a good deal. Take care and will be looking forward to attending another clinic."
"Dear Coach Wyatt, As I said I would, here is an update on the Manchester Bears. They won the 1999 New Hampshire Seacoast Football League championship with a great win over Dover, 28-26, culminating a 9-0 season. Thanks" Jim Tseronis, Manchester Bears (My congratulations also to Head Coach John Trisciani, a "career" youth coach. HW)
From Coach Bill Lawlor, in Hanover Park, Illinois: "Hugh: I am very happy to say that we are the 125 pound lllinois Bill George League Super Bowl champs....I am so happy for the kids right now. This group of kids had been to this game as 75 pounders and last year as 110 pounders semi finalists in all other years and this was their last shot. They always had a great defense but no offensive scheme and it always cost them in the big games. The first time I saw your tape I had this team in mind to run it. We actually were down for the first time in a game this year 6-0. The kids were playing in Northern Illinois Stadium under the lights and on the turf, so I think the nerves were pumping, as we turned the ball over three times in the first half. At the five minute mark of the third quarter Bryan Mead went untouched on Rip 3 trap at 2 for 56 yards. We controlled the ball in the fourth quarter and Leon Wiggins punched in a Rip 88 SP to seal the game at 14-6. There was a few tears of joy had by all players, coaches and parents. We have been going full steam since August 2 and I think I am already having football withdrawals. I will miss this group of kids! Thank you for your emails, patience and comments, they were much appreciated and I hope to see you at the next Chicago clinic."
Congratulations to Coach Frank Simonsen and the Lower Cape May Raiders, 30-6 winners over Ocean City, and undefeated Cape May County (New Jersey) Youth Football champions.
Congratulations on a great year to Coach Chuck Raykovich of Chippewa Falls, Wisconsin High, whose Cardinals went 11-0 before finally falling in the state Class 1 (Largest schools) semi-finals to eventual state champion Marshfield.
Woodberry Forest School, in the foothills of Virginia's Blue Ridge, concluded a highly-successful 7-2 season with a 17-14 win over long-time rival Episcopal High School of Alexandria, Virginia. Congratulations to Coach Bill Davis and his Tigers.
Coach Jay Minyard, in his second year at South Albany, Oregon, managed to get his Rebels into the state 4-A (largest schools) playoffs for the second straight year, and only the third time in the school's history. Until Friday night, though, the Rebels had yet to win a playoff game, but the long wait is now over - playing on the home field of Number 7-ranked Gresham High, where crowds commonly exceed 6,000, South Albany stunned the Gophers 38-19. While holding Gresham to 39 yards rushing - Gresham did pass for 218 yards - South Albany threw only twice as Rebels Jason Schreiber and Kevin Richmond ran for 171 yards and 139 yards respectively. Next up are the Grants Pass Cavemen, 27-0 winners over Benson of Portland.
From George Contreras, at Rio Mesa High in Oxnard, California, who ended his season with a 15-12 win over playoff-bound Dos Pueblos (one of nine playoff-bound teams on Rio Mesa's 1999 schedule): "Our winning TD came in the 3rd quarter on a World Record tying (forget Canada) 99 yard Super Power."
"PARKER HAWKS 22, Highlands Ranch Warriors - 21 - Did you ever have one of those games where the Wedge wouldn't even get you a yard? Well that pretty much describes our first half as we found ourselves down 21 - 6 at halftime. I talked to the boys and told them that we were just going to keep pounding the ball and if they played 4 qtrs of hard football that the other guys would quit on them...and sure enough, by the 4th qtr their defense was just flat beat up and tired of getting hit. Overall, a great football game on both sides. So with our first year running the DW, we find ourselves SUPER BOWL BOUND BABY!!!!!! My guys get to play in a real stadium with announcers and the whole deal...a great experience for them...Hope to give you a good update this time next week!" Coach Scott Barnes, Parker, Colorado
"Dear Coach Wyatt, I am writing to you to thank you. My name is Mike Silva and I am the Commissioner of Attleboro, Massachusetts Pop Warner Bombers and also the head coach of the Peewee team. During this past spring one of my coaches, Fred Pardey, came to me with your offense and toegher we put it in place throughout our organization. Previous to this, we as coaches had no system and every year the kids would have to learn totally different offense depending on who their coach was. In the past we would be lucky to have one team with a winning record and send that team into post-season play. Well, after going to your clinic in Providence, meeting with you and your guest speakers, I decided that even if we fell on our face we were going to run this system, and that's something we never had before. I cannot believe how easy the kids in our system absorbed it and ran it from the beginning. To let you know, our children range in ages from 7-15 depending on weights and birthdates. This is a summary of how each of our teams fared: Instructional Team #1 went 5-3; Instructional Team #2 went 7-1. Officially, both of these teams don't keep score due to the ages of the kids (7-9 years old.) Junior Peewee (9-11 years old) #1 went 4-4, winning their last 3 in a row; Junior Peewee #2 went 4-4, winning their last 3 games also. Peewee Bombers (10-12 years old) went 8-0. A perfect season for us. We won our division and conference but lost in the Super Bowl this past Sunday 21-17 to Foxboro. During the season we outscored our opponents 236 to 30. And we scored using 5 different backs. Can't wait until next year. Junior Midget Bombers (11-13 years old) went 8-0. A perfect season. They won their division but lost in the conference championship game. They also outscore their opponents 240-18. Midget Bombers (12-15 years old) went 7-1, missed out on the divisional playoff but went into the consolation round. They won their first game 31-0. They are still alive in it. They also outscored their opponents 240-8 for the regular season. Our league consists of 36 different towns. Some have multiple teams in each level of play, so you can see that for someone to send 1 team much less 3 teams it is a testament to what your system has done for us. My coaches and I hope you will return to Providence, RI for anothr clinic and look forward to seeing you. I hope that this can become one of your success stories. Thanks again. Coach Mike Silva, Commissioner, Attleboro Pop Warner."
"Coach Wyatt, We ended the season with a win! We rolled up 497 total yards, 416 rushing in a 51-43 shootout with Macon High. A Back Joel Burton had 27 carries for 254 yards. B Back Brad Lees had 17 carries for 123 yards and 2 TDs. One TD came off a 62 yard Wedge! Injuries were huge for us this season. For example we played 6 different kids at C Back Friday night. QB Cord Hagedorn threw 6-8 for 76 yards and a TD. We scored 30 points in the 4th Quarter to come from behind for the win. While 2-8 isn't the way I would like my coaching career to start, that win will send us into the off-season ready to work! Thanks for all your help this season. I look forward to meeting you at a clinic this spring. Good luck with the remainder of your games." Coach Sam Knopik, Moberly, Missouri (Actually, it's pretty impressive coaching to have a bunch of kids who are 1-8 go out and play that hard and score 30 points in the fourth quarter. HW)
"We won our third game of the year 54-13 on Friday. We had 550 yards rushing, none passing. We had nine backs who carried the ball, with three of them over 100 yards. We scored on 7 consecutive possessions and only did not score when we knelt down on the 8th possession. In the last three games we have scored 99 points and rushed for 1215 yards. We play a 4A school (we're a 2A) this Friday to close out our season and this would be a big win for our program. Our JV's went 5-2 and so we have more total wins in the program this year than they have had here for the last four years combined. We certainly think we have things headed in the right direction here." Ron Timson, Umatilla, Florida
Coach Keith Babb, a youth coach in the Chicago area, managed to take in a recent game of North Shore Country Day School, which just concluded a highly successful 8-2 season, and wrote me about his thoughts afterward: "I'm glad I went to the game to see another coach's approach to implementing the DW. In all, my first year experience with running and watching the DW has been terrific. The greatest advantages for running the offense include: 1) Ball control - RC received the 2nd half kickoff and held the ball for the first 10 minutes before being held 6 yards short of the end zone. 2) Easy to teach - By the end of the season, our 7th and 8th graders knew and ran effectively over 110 different plays. In reality we had 6 base running plays ( and their mirrors) and 2 base passing plays run out of 10 different formations. 3) Productive - Even when key personnel were missing due to injury or other reasons, our boys could compete. Our toughest loss would not have been a close game if we weren't running the DW. 4) Flexible - There were times this season, when I had to remind myself to keep it simple because of all of the ways the DW can attack the opposing defense. 5) The constant improvement - We played our best ball at the end of the season, winning our last 3 games. In short, thanks for your help in making your system available to our program. I can't wait until next year, when more experience should help us prepare our team better for the season. Also, thanks for answering my questions throughout the season. I look forward to seeing you again should you hold a Chicago area clinic during the off-season. Good luck in the playoffs, go Panthers! Regards, Keith"
"... we played error free football and ran a Tight 88 SP and Under Tight 99 power for TD's. During the last quarter we needed a first down fast and utilizing good patience we waited to use 47 C Criss-Cross when we needed it most. We ran it and got a first down! We won 18-14.. The opposing coach told me after the game, "We practiced all week for your 'wing T' and then you run the I formation." Little did he know that we were running the same offense as before except from a Tight Stack!" John Torres, Castaic, California
"Coach Wyatt, We served notice that Corning West H.S. does have a football team that can compete with the best in N.Y. state in Class A. We pulled ahead to a demanding 35-7 lead last Saturday 3-minutes into the 3rd quarter only to hold on to win 35-29. I learned a very valuable lesson, and that was, to bury 'em, and then be a nice guy and get your other athlete's into the ballgame. The fact of the matter is that Corning West put on an offensive display in the second quarter, good enough to get us to the Syracuse Carrier Dome this coming weekend to compete in the NYS regional quarterfinals against the #13 class A team in the state. The Double Wing is a thing of beauty when you execute like you're capable. It's now a 3 game season, with the 3rd game being the State Championship, but as for that, one game at a time. What a feeling to be able to see so much progress in such a short period of time. Good Luck to you in the playoffs. CORNING WEST 35, Owego 29 - Thanks," Coach Mike Johnston, Corning West H.S. Painted Post, New York
Two weeks ago, the Lower Cape May (New Jersey) Raiders faced the first of two back-to-back games against their biggest rivals, Middle Township. And right smack in the middle of the week's preparations, Coach Frank Simonsen, skipper of an oil-spill recovery vessel, was called out to respond to an oil spill in Delaware Bay. No matter- his kids were well-enough prepared that they beat Middle Township, 31-12. This past week, the Raiders played Middle Township again. But this time, Coach Simonsen was able to be at every practice. So what happened? Raiders 30, Middle Township 12.
"Well, Coach, we came up with one of the two championships. The Senior Rebels defeated the Ross Sheppard T-Birds 30-20 in the City Final game. They will now play against the Bev Facey Falcons (Sherwood Park, Alberta) for the provincial semi-final. The Junior Rebels lost their City Final game against the Parkland Predators 22-6. Parkland was the only team the Junior Rebels lost to the entire season.We will keep you posted with provincial results." Kyle Wagner, Jasper Place High School, Edmonton, Alberta, Canada
"The Double wing did its job. Our sophs beat the powerhouse John Muir (Pasadena) H.S. sophs 19-18. It was our first victory over Muir (annual League Champs) since 1992. They were so frustrated we ran super powers and criss-crosses, there were confused. We ate up the clock walked to the line and kept the ball away from there track guys. A back Ebony Henry had 9 carries for 125 yards. We won the game with 40 seconds to go, on a 99 black O , a pass from Jose Pompa to C back Paul Rodrigues. It was like they had won the Super Bowl. I am really proud of our sophs, this will be their first winning season since '92. Our future looks great, we have all our starting back field coming back (Juniors) as well as 5 starting sophs on varsity. And this soph team now is no joke. they know how to win. I love coaching this game!" Pete Smolin, Glendale, California
In Sterling, Virginia youth football, the Bears, 3-7 in the regular season, combined ball-control offense with a tough defense to defeat the Jets, 12-0 and advance to the semi-finals next Saturday.
"Hugh: We returned to hard core Tight Double Wing football after playing with the stack and 5-1 and - Hanover Park Hurricanes 27 Glendale 0. 'Canes are now 12-0, including pre-season and playoffs. Ball control and great team defense held Glendale to only 18 offensive plays for the WHOLE game. We actually "opened it up" a bit, throwing 5 waggle passes with four completions to B-Back Bryan Mead. A back, Leon Wiggins picked his spots and had another 125 yard plus game on very limited carries. We installed Rip 7-C and scored with it inside the ten. Hugh, we could have made a video with our success with 3 trap at 2. Backup B-Back, Scotty Kruk (5'1" and 89 pounds of him) gives new meaning to the disappearing fullback. Next stop - Northern Illinois University and the Illinois State Bill George League Super Bowl. The kids are so jacked about playing on the astro turf! Hope to have good news for you next Saturday. Good luck in the playoffs." Bill Lawlor, Hanover Park, Illinois
"We finished the regular season Friday night with a 51-6 win over Canton. 8 wins-3 loses . The BEST season since 1983 at Florence. We will be playing 8-3 Pontotoc in the Grenada Lake Bowl in Grenada, Mississippi next saturday. How 'bout them dogs!!(Miss State) 8-0. Ranked #8 in the nation. I am a proud former Bulldog player. Good luck in the remainder of your season!!!" Coach Steve Jones, Florence, Mississippi
"Just wanted to let you know that we won our last 3 games and have earned our second straight playoff bid. (second year of the DW, and only the third time in the schools 27 year history that the Rebels have gone to the second season). I told you earlier this year about our success with that fly motion ("Rocket" and "Lazer") . We have been using it quite a bit and it's been giving our opponents all sorts of trouble. Everybody wants to run a 7-2 down here against us, but this gets us outside easily, and it causes them to widen so the trap opens up big time. Anyways, thought you could pass that on to anyone having trouble getting outside. Good luck in the playoffs." Jay Minyard, South Albany High School, Albany, Oregon
"Coach Wyatt; MV 6 Heritage Hills 3!!! First sectional championship in school history! We advance to the regionals next Friday. We are one of only 8 teams left playing in the state (in our class). We took our opening kickoff from our own 1 yard line and drove 99 yards in about 10 minutes and 18 plays for the score. Our defense was superb--Heritage Hills, #2 in 3A, drove inside our 10, 3 times and came up with 3 points! We went for it on 4th down 3 times and converted 2, we also ran 2 fake punts--yours, I might add, and converted both. The kids played tremendously well, I am so proud of them. Our skinny little 14 year old freshman dominated, he had around 200 yards and absolutely punished them when they tried to tackle him. It was a big win for us. Thanks for this offense!" Paul Maier, Mount Vernon, Indiana (I couldn't be prouder, because I liked Paul from the first time I met him, and I believed that I saw in him the makings of an excellent coach. Selfishly, I consider my judgment vindicated, but more than that, I am pleased to see our profession being recharged with young men like Paul Maier who will keep our game strong for years to come, and leave it better than they found it. Heritage Hills, by the way, was 11-0 going into the game against Mount Vernon (6-5), and had shut out eight of its opponents along the way. The win marks Mount Vernon's first-ever sectional championship - in fact, the first time in school history that the football team has survived long enough to play more than ten games.)
"Coach, we won again .We defeated the Hillcrest Knights 21-8 (In the Idaho State Playoffs) . We will not know who we play next week until Monday . Coach Kurt Young (Rigby, Idaho) " onward and upward with the double wing"
"Hi Coach, DW came through again as we finished the regular season undefeated.This week we host a Semi final game against a tough Winnacunet squad.Our starting backfield of Mike Laferriere,Sean Flanigan,Ryan Snee and QB John Trisciani have led the offense averaging better than 300 yards per game.As a testament to the DW the backs are 1st year running backs and the QB is in his first year at the position.Snee 5'9'' 190 and Trisciani 5'8'' 135 are 7th graders and will be returning along with 5'9'' 195 guard Jason "Pig Pen" Gagnon.I can't thank you enough Coach Wyatt and plan on sending you a film to check out soon." Coach John Trisciani, Manchester, New Hampshire
"Coach Wyatt, its been almost a week since our JV season ended with a 41-24 victory in our ninth game of the season. The past 12 weeks have been a whirlwind of excitement for our program. Varsity Coach Mike Johnston has been a real plus for us in deciding that this is the offensive scheme that will help our program develop. Boy, what a development our JV's finished 7-2 up from last years 6-3 record not a bad two year run for a jv program that hadn't won a game in the previous five seasons. Everyone is estatic and our program is really looking forward to the future. Coach Johnston's varsity team plays Saturday 11/6/99 for the Class A section 4 title in New York State the first time our High School has reached this level since 1984. This will be the 4th time in our schools history that they are playing for the sectional title(by the way I been in the program for all of these title games, I must be getting old but the competitor in me really still enjoys this and I still get the goose bumps thinking about this type of game.) Getting back to our JV season we scored 399 points this season and averaged nearly 420 yards per game and its all attributed to the Double Wing and all its possiblities. All our players think highly of the offense and it made us the talk of the area. If we work on off season conditioning we can expect another season like this one. Our success brings the would be football candidates out of the woodwork, this year we had 63 9th and 10th graders out for the team and with this added sucess of this season our numbers hopefully will rise again. Thanks for all your support and keep the advice coming the Double Wing is outstanding and really unstoppable..... " Lou Condon , Head Junior Varsity Coach, Corning West High School, Painted Post,NY
"Coach, the Internet has been down for a couple of days. We beat Tonopah 14-6 and clinched home field playoff for the rest of the way. We play NYTC (Nevada Youth Training Center - Humorously referred to by some as "Nevada Yacht and Tennis Club" - HW) today in the final regular season game. Justin Stumpf led the way for us with 30 carries for 187 yds. He is now third in the state in rushing this year and 2nd in scoring. That's third in the state includes all classifications." Coach Marty Linford, Wells, Nevada
The Rigby, Idaho Trojans, who finished a perfect 9-0 in their first season running the Double-Wing, play their first playoff game tonight.The last time Rigby went undefated in regular season play was in 1950.
Running the Double-Wing in Canadian football, the Jasper Place High Rebels of Edmonton, Alberta, have placed both their senior (17-18) and junior (15-16) teams in Saturday's City Championship finals. The seniors advanced by defeating the McNally Tigers, 20-18, in the city semi-finals, while the juniors qualified by winning their semi-final game over the M.E.Lazerte Voyageurs, 42-7.
Coach Mike Emery's Fitch High Falcons, of Groton, Connecticut recently passed their two stiffest tests of the season. In fact, they earned grades of A+ in both of them. Unbeaten after six games and averaging over 50 points a game, Fitch two weeks ago downed previously unbeaten Waterford 70-12, rushing for 560 yards and accumulating 690 yards total offense. This past weekend it was Montville High, also unbeaten and having given up only 29 points in six games. Leading 35-30 with 10 minutes to play but Montville on the move, Fitch intercepted a Montville pass on its own 29, then proceeded to put the game away with a 71-yard scoring drive that required 16 plays and took eight minutes off the clock. Final score: Fitch 42, Montville 30. Last year, Fitch was state runner-up. This could be the Falcons' year. I know Double-Wingers everywhere send their best wishes to Coach Emery, who was a guest clinician at my Providence clinic last spring. Those who were at the clinic will remember some of the videotape he brought along - his kids can run this offense!
Coach Gary Etcheverry, an assistant coach with the Toronto Argonauts in the Canadian Football League, is a passionate believer in the Double-Wing, and manages to keep abreast of the offense by occasionally visiting this site. He writes, "Due to one visit I made I learned about Coach Gene Tundo, OrchardPark... snuck down one Friday eve & caught a 14-0 win (making them 7-0), then hooked-up with Gene & coaches afterward at a small local pub in shadows of former Rich Stadium (Buffalo Bills Home)... GREAT FUN!" It really is like a fraternity when Double-Wingers hook up.
From a youth coach back East who asked not to be identified (with playoffs coming up): "We had to go to Wildcat this week as our first unit QB has a hurt thumb and could not take a snap under center without a lot of pain. We had the other team on the run as they could not tell who got the ball or who was handing it off."
"Hi Coach. Just a few words of thanks for your great playbook. My football team (Southampton Stags in the UK) have just won our 1st game using your playbook. We beat the Bristol Bullets 33 - 6. I had 8 different backs carry the ball 2 A 3 B 3 C. The A backs carried 10 times for 61yards and 1 TD the B backs 18 times for 81 yrds and the C backs 18 for 186 yrds and 4 TDs. We set everything up with 88 super power and killed them off with 47 c. Thanks again I'll keep you up to date. yours in football." Coach Mick Hogan, Southampton, England
I am having some difficulty getting playoff scores now, but I do know that in Illinois, Rich Central, of suburban Chicago (Olympia Fields) is very much alive, after handing 9-0 Chicago Collins its first defeat, 30-8. Guy Smith, C-Back, carried 15 times for 171 yards and a TD, while B-Back Tyreece Jones had 80 yards and two TD's on 14 carries...In Indiana, Mount Vernon won in the second round of the state playoffs, defeating Gibson Southern, 42-7, and avenging an earlier-season loss to the same team...Chippewa Falls, Wisconsin, remained unbeaten and advanced to the state quarter-finals with a 57-12 win over Green Bay East...I have no idea how things work in New York State, but Orchard Park, ranked number one most of the season in Western New York, lost to Lockport, 22-21, and evidently that's it - Despite finishng 8-1, Orchard Park's season is over. All I can figure is that game #9 must have been a playoff game.
"Dear Coach: Just a note to let you know that we have installed your system and have been running the double wing for two seasons. Three years ago we were 2-7. Last season we finished 4-5 (1st season with double wing). We are currently 5-3 with one game to go. We currently lead the district in rushing by over 400 yards. We will just miss the playoffs this year. Much of our success has been because of the double wing. Our fullback leads the district in rushing. It is nice having a 205 lb. fella that can run. The trap has been one of our most productive plays. Just thought you'd like to know." Will Azinger- Defensive Coordinator- Logan-Magnolia HS - Logan, Iowa
Coach Tom Bauer, of Mondovi, Wisconsin, has taken an early lead in this week's Tough Loss of the Week contest. Playing in a Tuesday night first-round playoff game, Mondovi, ranked #7 in the most recent state-wide poll, dropped a 23-22 squeaker to Cumberland. Tuesday night's Double-Wing winners in the Badger State include Chippewa Falls, 50-16 over D.C. Everest in Division 1 (Largest); Cadott, 49-14 over Bloomer in Division 4 ; Peshtigo, 20-14 over Southern Door (that's a county, not a company) also in Division 4; and Birchwood-Weyerhaeuser, 28-12 over Elmwood in Division 6.
In the quarter-finals of the Alberta provincial playoffs, the Jasper Place High Junior Rebels (ages 15-16) defeated the Victoria Redmen, 50-0. Remember, this is the Double-Wing being played under Canadian Football rules, with three downs to make ten yards, 12 men on a team, multiple men allowed in motion (in any direction) at the snap.
Rich Central is one of four Illinois Double-Wing teams in attendance at last winter's Double-Wing clinics that will be playing in the first round of the state playoffs this weekend. In Class 1-A, NORTH SHORE COUNTRY DAY (8-1) plays Palmyra (6-3); in Class 4-A, RICH CENTRAL (6-3) plays Chicago Collins (9-0); and in Class 5-A, KANKAKEE (8-1) plays Lansing Thornton Fractional South (6-3), and OTTAWA TOWNSHIP (6-3) plays Rock Island (8-1). Best of luck to them from Double-Wingers everywhere.
Evidently "upstate" New York (the great majority of the state which is not New York City, for the benefit of those unfamiliar with the Empire State) has some sort of JV playoffs, and as a result, Albany High and its Double-Wing, after an 18-7 semi-final win over Saratoga in last Thursday's semi-finals, has made it into this year's JV "Super Bowl" game against Troy, whose varsity teams have won several state championships in recent years. Best of luck to Albany coach Pete Porcelli, former Arena Football player, and his staff and kids.
"Hugh, A true cautionary tale for double wingers. We have had a good season to this point ( 3-4 but a huge improvement). I suspend a QB and the backup wins one when he plays. I fall in love with the 1st -teamers arm and open up in the shotgun Friday. With 5 minutes to go in the 3rd we are trailing 21-0. I even heard one of my players mutter" why are we playing p.... football." I wake up in time to stick the back-up in at Qb and we win 22-21 to go 4-4 ( the exact number Louisa had won the last 3 years combined). We threw one pass and ran only 2 plays ( 3 trap at 2 and superpower). We won the game on 2 straight..........WEDGES!! ( You may remember I was anti-wedge for a while). Congrats on your season." Charlie Jones (Coach Jones is in his first year at Louisa County, Virginia, after cutting his teeth on the Double-Wing at Montgomery Catholic High in Alabama.)
This from Coach Bill Davis, head coach at Woodberry Forest School in Virginia, now 5-1 after a 42-21 win Saturday over St. Christopher's of Richmond: "I have to tell you what one of the Landon (Washington, D.C.) coaches told me last week. He said " that is the ugliest, most efficient offense I have ever seen". We have only punted the ball 8 times in six games because we generally go for it on 4th and short. Last week we went for it on fourth down \ and three on our own 45 yard line. We made it and a couple parents questioned me about it after the game and all I could say was 'we made it, didn't we?'" (Coach Davis is now 12-3 since converting to the Double Wing.)
"Coach, I haven't e-mailed you this year but we were at your Chippewa camp in '98. Well, two seasons of Double-Wing and this year we made the playoffs. Only the third time in 20 years. Coach Huseth was sold on your offense and last year was a learning year and this year we made it. Coach Huseth has taken a troubled program and in three years has brought them to the playoffs. Hats off to you and Coach Huseth." Tom Daniels Assist. Varsity Coach, Cameron, Wisconsin
Orchard Park, Double-Wing power in the Buffalo area and ranked #1 in Western New York, made it into USA Today's national rankings this week, picked #10 in the East.
Coach Jon McLaughlin of Rich Central High, in Olympia Fields, Illinois has to be excited. His Olympians just won their fifth straight (after opening with three losses against a brutal early schedule of three ranked teams) and are one win away from a likely playoff spot (In Illinois, seven wins guarantee a spot, six all but assure one). But he has two more reasons to be optimistic: RC's sophomore team is 7-1 and its freshman team is 6-2.
The Rebels of Jasper Place High, in Edmonton, Alberta, are successfuly employing the Double-Wing in Canada. Yes, in 3-down, 12-man Canadian football, they are currently ranked #2 in the province, after a 31-7 defeat of the Strathcona Lords.
Coach Wyatt: My brother Dan and I coach a JAAF Midget team (12,13 and 14 year olds) here in Southern Cal. We took the team over this year. Last year they won 1 game. We obtained your tape and installed the offense. We are now 4-2, yesterday we had over 500 yards of O on he ground...Thanks for being a great resource!" Rick Tyler
After six games, Assumption High, of Davenport, Iowa is 5-1; Assumption, coached by another old WFLer (New York Stars) Mark Kaczmarek, has rushed for 1588 yards and thrown for 809, which works out to an average of 400 yards total offense per game!
With its 28-21 last-second win over power Owego Free Academy last Saturday, Corning West High, in Painted Post, New York, is riding the crest of a three-game winning streak. But Saturday's win was anything but easy, according to Corning West coach Mike Johnston. "We began the game with our backs against the wall right from the get go, " he writes. "In pre-game our best lineman, who plays offensive tackle and defensive tackle, went down with a possible season ending shoulder injury. Ok, so we move on to his backup, a kid who has seen considerable time this year at offensive tackle and starts for us at defensive tackle. Well, on the 2nd series on defense he injures his knee, and he, too, is looking at a season ending injury. Things would be looking pretty dismal if we hadn't been running the double offense. We went to our #5 tackle on the depth chart and he plays a solid game for us at offensive tackle, to say the least. After starting our first drive out on our own 20 and then punting the ball into our up-backs back on 4th down, we gave up a score after playing good hard tough-nosed defense for 7 or 8 downs. Again, I attribute our toughness on defense to the double wing offense and its development of mental and physical toughness."
Northwest Halifax High in Roanoke Rapids, North Carolina, ranks second in the state in rushing with 377.3 yards per game.
"Coach Wyatt, we did it again! Florence 26, Yazoo City 6. We move to first place in the district at 3-0 and 6-1 overall. By the way, we lost our Quarterback to an off-the field injury prior to the Wingfield game. We have won the last two with a sophmore backup. (Good example of the fact that this offense is not QB intensive!!) Thanks for your help and the great clinic. By the way, we assured ourselves of the first winning season since 1986." Coach Steve Jones, Florence, Mississippi
Coach D.J. Harris called me from Kankakee, Illinois to give me an update. Kankakee is now 5-1, but headed into a murderer's row over the next three weeks, preparing this week to play #5-ranked (Class 5-A) Thornton Fractional South. Kankakee is not unarmed, though, with a B-Back who is being recruited by Missouri and two wingbacks being recruited by Wisconsin. Coach Harris said the Double-Wing "has helped us from top to bottom." They're now running it in all three high school programs (varsity, JV, frosh) and in the middle school and youth programs as well. Kankakee had 54 kids turn out for frosh football this year, the largest number on years. Coach Harris attributes the large number to the fact that they don't lose skilled kids to other schools the way they used to when they ran I formation and only one back was featured. (On the Kankakee varsity, as many as six kids will get 9 or 10 carries a game.)
"Coach, After Attending your clinic last spring, ( North St. Paul) I was excited to try your offense. Being a coaching minor, at UW-River Falls , I was looking for an offense to run that would help me become a better coach and help me in my coaching practicum class this fall. So for my class I had the choice to be an assistant at high school level or be a head coach at 5th and 6th grade level. I chose 5th and 6th grade because I wanted to install and run the DW. Boy Did I have fun. The Rules only let us play with nine men and six had to be on the line of srimmage; no motion is allowed. Our basic set was an uptight formation. I played with an E/WB on each side depending who was up. To make a long story short we went 6-0 and won our league championship! The kids were excited. I overheard one parent comment that we looked like the old army offense! I just smiled. This success we had even-though we had 5 first year players and this league is Flag!(Shoulderpads and Helmets) One coach commented, later on in the season how he hates our wedge play!. I laughed. ( The kids love it.) Our Trap play was also very fun to watch. I just wanted to E-Mail you and tell you, thank you and I really believe in the DW and think I now have an offense to run as a coach and be successful AT ANY LEVEL!" Grant Weir, River Falls, Wisconsin
"On Saturday, I saw my son's team, Lake Forest Academy play North Shore Country Day School, who runs the DW. I had mixed emotions as I wanted my son's team to win but I also wanted to see the DW do well. North Shore won 24-13. North Shore got off to a slow start but they began grinding out the yards in the second quarter and eventually took a 13-7 half time lead. It was all North Shore in the 2nd half. I was particularly impressed with the coach's call on a 2nd down and 17 at his own 35. He ran 3 trap at 2 for about 15 yards then wedged it for the 1st down. There was nothing the LFA defense could do to stop the power running game in the 2nd half. After the game, I introduced myself to North Shore's coach and told him how impressed I was with how they ran the offense. He said that this was the 2nd year they had been running the DW and he really liked it for how it got all of the kids involved. You're doing a great job of spreading the DW word. It's fun to watch a team run plays I'm familiar with because they're from "my" playbook. I just hope no one I coach against wants to run the DW anytime soon." Keith Babb, Deerfield, Illinois
Chris Davidson of Philipsburg-Osceola High in Central Pennsylvania experienced his first shutout in three years as a head coach with a 24-0 white-washing of Indian Valley. The score was only 3-0 at the half, though, and as Coach Davidson tells it, "Apparently there were 3 old men following me up and down the sideline all game making disparaging remarks about my coaching ability and the things we were doing. I did not hear them because I was wearing the double ear headphones. But at half I was coming off the field and one of these fine gentlemen said, 'Come on, coach - just give it up and run the 'I'!' All this did is solidify my commitment to the D.W. In fact in the second half I did not break the wing even once, and we dominated the game. Funny though, couldn't find those old men after the game....." Some of you may have heard me tell about Chris' AD watching one of his first practices and, after seeing our goofy Double-Wing for the first time, asking Chris to promise him that if he didn't have 300 yards rushing after three games, he'd consider running the "I". Chris had over 300 yards after one game.
IT TAKES A SET! I'll let Coach John Bowen, of Glascock County High in Gibson, Georgia, tell you his good news in his own words: "We were able to break our school's 81 game losing streak in a 12-6 win over AAA Cross Creek High School. It was a great example of DBL WING versatility: A-Back: 8-98, 1td; B-Back: 15-60;C Back 7-28; QB: 4-21 rushing, 6-11 for 80 yards passing. Next week we host Pike County who defeated our DBL WING last year 16-14 (with our starting QB out). A chance to start a streak the other way? Our school has never won 2 games in a row in its football history. 2 wins is the most ever won in one season. Those were against a school that no longer plays football." This was my reply to Coach Bowen: "My kids were sure excited on Friday night after defeating their arch-rivals, but I'll bet no kids in the country felt the excitement and sense of accomplishment that your kids did. I am very happy for you and your kids. I am also very proud to be associated with you and men like you who work with kids day after day, week after week, trying to convince them that no matter how grim things may get, they still have a chance if they'll just stick with it. Your kids have gotten something from football that people who have never played the game will never understand." Take a minute and send along your good wishes to Coach John Bowen and his kids at : jddb@JeffersonEnergy.com
From a coach in Nebraska: "Coach, we played JV's last night in the rain. As the game got into the 4th quarter our center went down. Our second center was already hurt. Needless to say wet ball new center fumbled snap after fumbled snap. My assistant begged and pleaded for us to go to Wildcat. Our JV's had only run a few plays in the preseason in Wildcat and so I didn't want to do it. After 3 possessions without getting a snap I decided it couldn't get any worse. Guess what? We moved the ball. We didn't score because we ran out of time but we did show our fans something new and we got every snap run from Wildcat." (READ ABOUT THE "WILDCAT" DIRECT-SNAP PACKAGE)
"Dear Hugh, What a weekend!!! First, as promised, we got back to basics. We ran the core plays only with only DW and Tackles over DW formations. At the end of the 1st Qtr. our faith was sorely tested as we were down 0-10, but we stayed the course. Final score Rio Mesa 35 - Agoura 24. We had 69 rushing plays for 401 yards (QB, A and B each had over 100 yards). "Air Rio Mesa" was 3 for 8 for 24 yards, including 2 Two Point PAT's and a key first down in our last TD drive.After the game my wife and I went home, got up at 3:00 a.m. Saturday to catch a 6:30 flight to Seattle for the UW-Colorado game. I'm a UW grad and my wife worked there. We go to one game at UW each year as a semi-reunion with old friends. I can only do this because of my faith in our coaching staff. Great Weekend Part Two: As we got off the plane I bought a Seattle paper and saw the score "Washougal 43 - LaCenter 27". Congratulations on your first win at your new school!!! Great Weekend Part Three: UW 31 - CU 24 - Good luck this week. - George Contreras, Rio Mesa H.S., Oxnard, CA"
Coach Scott Moshier, of Hoxie, Kansas, writes: "We started a little league team here in our small town (pop. 2000) and they only had 4 practices in full pads, and with the double wing offense played their 1st game to a 20 -20 over-time tie. I helped them with the offense and they did a good job in running it. 56-c went for 2 scores."
Jeff Leahy, head coach at The Hill School, a prep school in Pottstown, Pennsylvania, has to wonder what he has to do to get away from the Double-Wing. I coached against Jeff in 1991 in Finland, where my team, the Southeast Eagles, was doing a pretty good job of running the offense, and gave his team fits. This past Saturday, Jeff went up against Coach Bill Davis' Woodberry Forest Tigers, from Virginia, and lost 35-0. Coach Davis, a former wide receiver at the University of Virginia, was a noted advocate of the passing game, and his last passing QB is now on the squad at the University of Florida. But sensing a change in the talent coming in, Coach Davis took a suggestion from his freshman coach, Dick Glover, and went to the Double-Wing last season; he was pleasantly surprised by a 7-2 season. Coach Glover, highly-successful wrestling coach at Woodberry Forest, played his college football at Wabash College, where his coach was the legendary Dr. Ken Keuffel. (Single-Wing fans know Dr. Keuffel as the head coach at Lawrenceville School in New Jersey, and probably the game's leading expert on the Princeton Single-Wing.) Coach Davis, incidentally, is one more coach who has noticed an increased interest in football, with 74 players, all of whom live a considerable distance from the school's remote location in the foothills of the Blue Ridge, reporting back for early football practice.
"After being rained out on Tuesday, we squeaked out a 22-18 win on an overcast, wet and drizzly Wed. afternoon. Twelve practices seemed hardly enough to get ready, but we ran 88/99 power, 2 wedge and 47C. We must have run the wedge 10 to 12 times (not counting the PAT's). It's not very pretty, but I'll take positive yardage on a damp afternoon anytime. I told them at halftime the wedge could bust open for a long gain or possible score. Wouldn't you know it? With less than 2 minutes to play and our opponents with 3 timeouts and us inside our own 10 yd line (no place to have to punt), we called on the wedge. Two plays and a first down! One more wedge and it broke for a 70 yard TD sealing the victory." Yours truly, Don Gordon, Frontier Regional Middle School, South Deerfield, Massachusetts
This from Coach Todd Solberg, of Birchwood-Weyerhaeuser High School(s) - it's a co-op team between two high schools in Wisconsin: "as a fundraiser, we set up a Yard-a-Thon. Each player was asked to get pledges of $.01 to $.05 per yard or just get a dollar amount for a donation. I will report back and let you know what kind of money we made by this event. Our QB got a pledge of $.10 from one fan which equals $47.10." (The Cats gained 471 yards on Friday night.)
Coach Lou Condon JV coach at Corning (New York )West high writes: "We rushed for a total of 466 yards and and won by a 66 -16 score. Our players are true believers in the Double wing system and think they can score any time they touch the ball. The team we played this weekend accused us of running up the score but our second and third teams scored 24 points in the 4th quarter. It's hard to tell kids of this age who work hard all week in practice not to try to get into the end zone. The opposing coach was really screaming at me and I let him know that all our subs were in the game. He still continued so I yelled across the field to him if I should ask the cheerleaders to go into the game - they were the next likely subs."
Need some ammunition in persuading parents to let their kids play football? Instead of ammunition, how about a broadside? It seems that a youth coach in the Chicago area (A fellow Double-Winger, I might add) noticed that under "occupation" on a questionnaire he had sent home to parents, one of his kids' dads had written, "Retired Professional Athlete." As it turns out, this coach has the privilege of coaching the son of Mr. and Mrs. Michael Jordan! Respectful of their privacy and their right to raise their kids as normally as possible given Michael Jordan's fame, I asked the coach to see if Mr. and Mrs. Jordan would object to my passing this information along - I mean, at a time when mommies and daddies everywhere are unloading the kids out of the SUV's and setting up the lawn chairs to watch soccer practice, here comes the greatest vote of confidence youth football - football in general - could possibly ask for! In return for my pledge not to name their son or his coach or give any other particulars, Mr. and Mrs. Jordan (which is how the coach addresses them) have consented to my making this information semi-public.We should all be grateful to them for allowing their son enjoy our great game; I am grateful to them for allowing me to let other coaches know that the greatest basketball player in the history of the game thinks it's okay for his son to play football. Incidentally, tell those people out there who think kids should concentrate on one sport and not play them all that Mr. Jordan disagrees. According to the coach, Mr. Jordan doesn't think kids should specialize in one sport until college. Interesting. That's the very thing I heard a couple of weeks ago from former Penn State and Seattle Seahawks' running back Curt Warner.
8-man update: "Hi Coach ! It's me, Coach Earl in Avalon. We decided to bastardize our 11 man Double Wing that we learned last year from you tapes and use it for 8 man football. If you recall, you faxed me some 8 man plays, keeping the fullback and a single wing back. While we use this formation, we had tremendous luck using the double wing (which we still call "tight") formation, using the QB for the wedge while antagonizing the defense on the Superpower, going outside or inside depending on the block of the pulling guard. As usual, just when they knew they had to watch the middle, just when they tbought they had the Rip and Liz motion figured out, we would use a crisscross, bootleg pass, or and inside ("C") handoff. In 8 man it gets even easier! Our play call is condensed to Tight Rip Superpower. We don't need the first digit to tell the FB where to go. We don't need the second digit since we read the block of the pulling guard and run to daylight. The guys knew the offense and we learned the plays in one day, giving us time to install some of the traditional spread type passing (yeah, some people still want to watch their kid catch a pass !!) and running options etc. Here is all we say in the huddle, going left or right simply by the motion direction. Tight Liz or Rip Power, Superpower, Crisscross, Bootleg Keep, Bootleg Pass, and Scissors. (Scissors is just like the "C" -an inside handoff. They seem to be less confused when we say scissors to signify an inside handoff, such as "Tight Liz, Scissors". We use the scissors on our single wing plays as well. We still use the play call 2 trap at 3 or 3 trap at 2 out of the I formation, letting the FB lead and giving the ball to the TB. We scored 6 TD's today and 4 of them were from the Double Wing system you taught me. I thought you should know ! In appreciation, Earl Schrader, Avalon Lancers, Catalina Island, California PS...NO ONE HAS BEEN ABLE TO STOP OUR WEDGE UNDER 5 TOUGH YARDS !!@!!! What a rockin' play!"
"Coach Wyatt , We opened our season today with a tough team, very well coached . We went down 13 - 0 in the first half making mistakes along the way . In the second half we settled down and ran our Double Wing for 228 yards ( 341 over all ) and 4 touch downs . The final score was 26 -13 going away ! The big hitters were TR 47 C plus the XX and Stack 88 and 99 . The thing that impressed me the most about our team was the toughness on defense . The second half was a shut out , I think it's due to the DWing . It's made our kids like contact and gives them the confidence to come from behind. Coach Glade Hall, Seattle, Washington." (341 yards in a youth game, with 8-minute quarters, ain't bad!)
Coach, Last year we were the only team to beat the Upper Township Indians. However they did beat us in the championship game and were considered to be one of the best teams again this year. Last night we opened at their field and showed them what this "O" will do with good athletes. The score was Lower Township Raiders 28, Upper Township 0. We had 3 TDs. called back (all 40+ yards). The league has an 18 point rule. When a team gets ahead by 18 points they must put in a second team. Our second team played most of the 2nd. half and also had a score....Another selling point for the system: we have another F-ing hurricane coming and will hold practices the rest of the week in a church gym. Try that with trips, slots, and single back "Os". With our Bird dog drill looking at all the different "D" sets and multiple ball drills, etc. we can get a lot done. Of course I still soak a ball in a bucket of water and make them practice in the rain if we are going to have a wet game. Don't want to make total pussies of them." Frank Simonsen - Cape May, New Jersey
Coach, Opened well! Played a local 4A J.V. Had 320 yards rushing. 8 different people scored. Havelock 51 West Carteret 6. The thing that is most amazing - it was raining cats and dogs! Long live the double wing! Coach Andy Bulfer, Havelock, North Carolina
Mount Vernon, Indiana's JV's (in Indiana, they call 'em reserves) piled up 471 total yards in a 36-18 win Monday night. Their A-Back, Marshall Steward, gained 325 yards and scored four touchdowns! I know their JV coach, John Mitchell, and he obviously knows enough to keep sending a man through an open door.
North Delta Colts 22 - North Surrey Eagles 0 (Vancouver, B.C., Canada) - "We (Jr. Bantam North Delta Colts)in the Vancouver Mainland Football League (12 man football) won the first game of the season using the Double Wing. Using mainly the Wedge, Tight Rip 88 Super O, 3 trap at 2, Tight Liz 99 Super O and 47 C, we rolled up 250 yards rushing (A back- 140, B back 80, c back 30), winning 22-0. The opposition coaches were arguing amongst themselves on the sideline, trying to figure out the offense. My kids (12-13 year olds) feel special." Roger Kelly, Delta, British Columbia
REVERSE SUCCESS STORY - This time last year, Richmond Heights (Ohio) High, in suburban Cleveland, had started on its way to a 9-1 season under Coach Mike Glodowski. Not so very long before, Richmond Heights had gone several years without a win. I had a chance to visit Cleveland and witness first-hand what Mike was doing there in accomplishing one of the great turnarounds in Northeast Ohio football history. Last spring, unfortunately, Coach Glodowski and most of his staff reluctantly resigned their positions in protest of an administrative decision. Clearly, he is missed: last Saturday, Richmond Heights lost to Waynedale, 66-0. Anyone looking for a very good double-wing coach?
"Dear Coach Wyatt, I am running your offense for the first time this season and it has rejuvenated my passion for the game.This is my 20th season coaching players 8 thru H.S. and my 8th as the head coach of the Manchester, N.H. Bears. I stumbled on to your site looking for dbl. wing option info. and after finding a set ordered your tapes and began installing the offense.We have been practicing for three weeks and open up on Sept.12.We have played in a jamboree and had a scrimmage and have been very succesful running only 88,99 Power and Super Power,2 Wedge,6G,47C and Thunder.My team is doing well with motion and we have introduced 56C and 7G. We have been very succesful in the past as a feeder for the local H.S. programs and compiling a record of 54-12 and 5 State Championship game appearances over the past 7 seasons.We also have a scholar athlete program where each player and cheerleader receives a trophy for G.P.A. of 3.0 or better.Our program is much more than football to our kids and your site has been a breath of fresh air to me.I go to your site every day for news and tips.Our team site is www.manchesterbears.com if you get a chance to check it out and my e-mail is jktrish@mediaone.net.I look forward to meeting you some day and please realize that you do make a difference in keeping the game we love strong.John Trisciani, Manchester, New Hampshire"
Alan Andrus, a youth coach in Salt Lake City, Utah writes: "We played our first league game today using your offense, and it went well. We won 28-0 and the officials had no problem with our wing-backs pushing on the tackles. We used only 88 super, 99 super, 47-C, criss-cross 47-c, 6-g, 3 trap at 2, 99 power keep, (my QB is a tough runner and good passer), 5-x, 58-C, 2 wedge, and 3 pass plays. The lighting throwback to "C" was open 3 times and we scored once on it. We will add a couple of plays this week. Our "D" was outstanding with a base 5-3, shifting into G.A. Moore's 10-1 and 10-1 special, allowing only two first downs. The team we played today was much bigger and was well coached. I agree with G.A. Moore when he says he doesn't agree with going against a physically superior opponent with the conventional look, and saying okay, because this is what we see on Sunday, we will use it and get beat. He says, "find a way to compete". Thanks to you and Coach Moore, and Coach Jack Reed, my teams really compete. I agree with you and Coach Moore, in that if you have superior personnel, you will be successful, even if you don't really execute. However, you guys find a way to compete when the talent isn't as good, and that is the philosophy I try to relate to my teams. Thank you, Alan Andrus" (Coach G.A. Moore is a successful high school coach in Texas who has popularized a 10-1 defense, and Jack Reed (www.johnttreed.com)has published "Coaching Youth Football" and "Coaching Youth Football Defense," in which he praises his experience with Coach Moore's 10-1)
"Hugh, I have really been working hard since March to build a solid foundation for the football program here at Kingwood. We have put in a $8,000.00 weight room and had great participation during the summer off season program. We won our fall jamboree game by a score of 14-6. Last Friday night we opened the regular season with a 28-6 win, which ties the wins for last year ( they were 1-9). We had 321 yards of offense. I had a sophmore C back rush for 171 yards on 12 carries and score 3 touchdowns. Last spring I started out with 22 players. Now I have 30 on the varsity team and 23 on the junior high team. Each day I have more players wanting to come out. I have already had to buy extra equipment. The players are real excited about the Double Wing offense. You were right, it is really easy to teach. I have 1 Russian, 1 Frenchman, 1 African, and 3 German foreign exchange students and they have already picked up the system very well. I will keep you posted as the year goes along." Coach Jerry Stearns, who retired this past spring after a long, successful run at Birmingham, Alabama, Woodlawn High, has just taken over at Kingwood Christian School in Alabaster, Alabama.
Congratulations to Coach Mike Benton and his staff, from Lincoln, Illinois. Coach Benton and four members of his staff attended my Chicago clinic this past spring, and on Friday night their efforts were rewarded as the Railsplitters ended an 18-game losing streak with a 16-14 win. Coach Benton did mention on my answering machine that his team rushed for 340 yards, but in his excitement, he neglected to tell me who his team's opponent was.
"Coach, Just wanted to drop you a note to say that after 3 weeks of practice implementing your DW system things are going great! I was concerned that no one on my staff was with me - but after speaking to you my offensive coach, Mike Cahill, was immediately excited and that was all I needed. The rest of my staff, who looked at Mike and me like we were crazy, are now fully involved. Of course it does help that in scrimmages with our sister team (5-3 last year) we (1-7 last year) have consistently outplayed them. Looking forward to a Weds scrimmage with a team that beat us soundly last year and opening day Sept 12. Thanks, Jim White, Head Coach - Guilderland NY Pop Warner - Jr. Pee Wee "B" team
"We had our first scrimmage against another team on Saturday. We outscored them 8 touchdowns to 1. We ran a total of 30 plays and our opponent ran 40. Using the methods in your SAFE & SURER TACKLING tape, I'm pleased to say that we had only 1 missed tackle. The kids didn't have any problems learning the system . We installed the system using the same methods as the INSTALLING THE SYSTEM tape. We're now fine tuning and repping. Our first league game is September 11th. Thanks again, Howard Johnson, Cerritos (California) Steelers"
"I know this isn't a win but in a way it is. Our JV team just tied Gobles 12-12. Last year they were beaten 35-6 by this team. We actually played well enough to win but a missed clipping call let them have the lead at half time. The highlight was a 4th quarter, minute drive to tie the score with only 39 seconds left in the game. The 2 point conversion failed". Coach Mike Hause, Kalamazoo (Michigan) Christian HS
"Recently our 7th grade coach quit due to personal reasons so I was asked to coach the 7th grade team. I agreed to do it but since I also coach at our highschool I haven't had time to really get a lot done. I put in the double wing offense immediately. The kids only have an hour to practice it 3 times a week so going into our first game yesterday I was a little scared of how we would look! Well we moved the ball up and down the field all day, never punted once!!! We scored on wedge and 47 counter twice. The kids were running the old coach's wishbone before we switched to the doublewing. Our kids LOVE this offense.... the 45 minute bus ride home the boys shouted NO SPLITS, NO SPLITS, the entire way home, I was happy to see the boys truly feel as if they can't be stopped in their new offense!!! The defensive coach on the other team used all 3 of his time outs in the first 5 minutes of the 1st quarter trying to figure out our offense.. thanks for your video, it made a difference!!!! " Shawn Clayton, New Augusta Middle School, Indianapolis, Indiana
"Coach, we won our first game 20 to 0. Our fullback had 125 yards and 2 tds off of 3 trap at 2 ,2 wedge,5lead,and 6g. Our A back had 90yards off of 88 super power and fake 47 crisscross. C back made several crucial 4th and long conversions - one of his crisscrosses went for 60 yards on 4th and 10. We passed for one extra point off of 6g pass. This is a great offense. We never punted once or turned over on downs. We just kept moving the ball. They couldn't stop us - they never knew where the ball was.We have a very tough team next game but they will be just as confused. Thanks for all of your work and help and I will keep in touch on every game." Kurt Young, Rigby, Idaho 7th Grade Coach
"Dear Coach Wyatt, We had our first scrimmage the other day and scored on the first play (88-super-power) from 50-yards out. The first pass we threw (tight-2-black-0) was also a touchdown. We also love over-rip 6 as a veer option play. thanks for the offense - Rick Desotell - Rochester Hills Lutheran Northwest"
From Bill Lawlor, youth coach in the Chicago suburbs: "Received your fine tuning ("Troubleshooting the System")video last night and was able to review it this morning. Thank you for sending it so quickly! We had our annual pre-season invitational bowl game today. Three refs and about 300 fans, so it did not seem like the pre-season to me or the kids. We beat Streamwood 36-6. My A-Back, Leon Wiggins ran for over 225 yards in the first half alone on just Rip 88 Super Power and Liz 56-C. He is quite an athlete (and human being), who also ran back two punts for 124 yards and two touchdowns! Obviously you can see why I skipped 47-c and went right to 56-c, in order to get him more touches. We have had thirteen practices (8 offensive) so I am happy with the total offensive output of 313 yards. None of my starters played in the second half. What was really fulfilling to watch was my three second string backs. All under 100 pounds in a 125 pound league, drive 68 yards and eat up 9:57 of the third quarter clock.
"Coach - I have been reading quotes from the other coaches and have sensed their excitement and amazement at times with the Double-Wing. We had our first scrimmage today and did well, I was neither suprised nor amazed. Just glad for the Double Wing. The main reason I was not suprised or amazed is that in being a DW "veteran" coach I am already aware of its potential and ability to neutralize a faster team. As usual we were a lot slower than our opponents, however with your DW we were able to "pound it out" with our ball-controll offense. We had our first scrimmage yesterday and scored 4 times. Once on an 88 Power, once on 47 C, once with 99 Super Power and once with 3 trap at 2! Total yardage amassed was 357 yds. Our A back had 71 yds, B-Back had 106 and the C-Back had 131! To get some of the newer players some playing time and game-like experience we played them 9-on-9 (we went to a spread offense) for a while. We also ran slot and over tight. Did I mention that our opponents today, a team from the San Fernando Valley, did not score? Good luck with your new team this week! "Coach John Torres - Castaic (California) Cougars
From Coach Jon McLaughlin at Rich Central High in Chicagoland - "We have been working on the tackling drills that were in your tape. We have spent a lot of time on this in practice. We are using the wristbands and the kids have eaten it up. Our freshman coaches were explaining it to their guys on the chalkboard and one of the Freshman said, have you ever thought about using two colors? One across the top and different ones going down the side. Bill remarked in the coaches office that it was scary when your kids are smarter than the coach. We did have a bit of trouble with no-huddle. The kids were making some blocking mistakes and I felt I was putting the cart before the horse. So I backed off and had the kids start huddling again. I have to be confident that the kids know their assignments first. We were scrimmaging last night against ourselves and the kids can really run the superpower. I would tell the defense here it comes again and the defense couldn't stop it. Our second team did the same thing."
From Coach Scott Barnes in Denver: "on Coach John Braganini's comments- 2nd day and coaching blocking/tackling interchangeably is a REAL winner! We had a great practice tonight - much better than the previous - ran Tight 88/99 - will add power/super and Rip tomorrow - piece of cake - I went over the numbering system for about 20 minutes having the kids point and run up and touch the number - I also had them yell out the position name(some first year players) - then we went to blocking drills, tackling drills, some conditioning and the tire relay (something else I stole from your videos!) - ended up practice bringing them back full circle to the beginning and having them name the number/position of the offense when I pointed - they NAiled it! then I called a few numbers like 38, 47, 88 - I asked them "where does the fullback go"? and "where does the ball go" and "who carries" ? they got it(with a couple of exceptions) --- you ALWAYS have some of those, huh?) anyway, I'm pumped right now! "
Coach John Braganini, of Kalamazoo Christian Junior High, had these kind words to say: "First two nights awesome! Kids worked on conditioning and we worked 'em real hard. Already well into drive blocking and the shield tackle. What a SUPER video!!!!!!!! Safe and Sure Tackling is the best coaching help I have ever had. Thank You! We are teaching blocking and tackling interchangably. What a great idea. We got hitters. Most of the kids already know the plays so we will ready to start srimmaging next week. I've never been so excited about coaching a team and your system is the biggest reason. Thanks for giving me the tools to do the job right!. A father came up to me and told me that the only reason he was letting his son play was because the coaches in our program weren't "jerks" and that we were teaching proper techniques. What a boost."
Coach Kurt Young, middle school coach in Rigby, Idaho, called excitedly to describe his first scrimmage as a Double-Wing coach: 23 plays, nine touchdowns. Two touchdowns each on 88 Super Power and 2 Wedge.
"Coach- I had to tell you I just had my smoothest first day of practice I've ever had with an offense and it was because of your offense. In one hour I was able to teach the J. V. team, who had never heard of this offense before, the cadence, stance, motion, hole numbering, etc...We even were able to run 88/99 Super Power and 47/56C in team. Anyone who wonders about this offense will become a quick believer after the first day.I had to let you know. I'll let you know how are first game goes. Thanks and Good Luck with your new team." - Joe Cantafio- West Seneca, New York
This from Coach Don Capaldo, coming off an unbeaten season (his school's first-ever) at Keokuk, Iowa: " Just finished our first day of regular season practice w/o pads. Ran a 3 day camp last week. In all four practice sessions we were able to work on blocking and tackling progressions and not risk injury to our kids. We are light years ahead of our previous seasons in teaching fundamentals. Thanks mainly to the ideas we learned watching your video, Safe & Surer Tackling. Our coaches liked it so much they felt it would be good for me to show our parents at our parent meetings just conducted recently. What a huge success. I know we have won some parents over with our methods of teaching fundamentals of a violent sport. In particular I am looking to see if it helps bring our middle schoolers along quicker. No fear, no reason not to hit. If they can experience success this way our numbers will undoubtedly improve."
Roger Kelly, youth coach in Delta, British Columbia, a suburb of Vancouver, called to tell me how well his first scrimmage went. Playing with 12 men as Canadian football rules allow, he has been using the 12th man as a flanker to one side or the other, and playing normal double-wing otherwise. NOW IT CAN BE TOLD: Coach Kelly is a former PR Director for the BC Lions of the Canadian Football League, and so he was rather excited to pass along the news that the Toronto Argonauts had made effective use of the Double-Wing when they were in town recently. Coach Gary Etcheverry of the Argos is an old Double-Wing guy, and he has been instrumental in persuading the head man to install a "Big Man" package. They use a very athletic defensive back at quarterback, and a very athletic (aren't they all) defensive end at fullback, and their 12th man is an extra offensive lineman on one side or the other. They ran it at the start of the 3rd quarter against BC to run off some clock, and in the process drove for a crucial score in their 28-26 win. The last thing that a defense in that wide-open style of ball is prepared for is a team that lines up Double-Tight and shoves it down their throats. Those of you who attended my clinics last spring may remember some clips I showed of a Canadian team - the Argos, I am now free to state - running the Double-Wing successfully. I said that I was showing them to answer those ignoramuses who insist that the Double-Wing is (a) a Pop Warner offense; (b) a small-school offense; or (c) a gimmick offense. Now, Coach, if you happen to know one of those guys who's been belittling our offense without really understanding what it's all about - I don't care how big his school is, or how great his program is- just tell him there is a team up in Canada that can line up in this Pop Warner offense and kick his butt.
From Coach Bruce Reeder, Nashville, Illinois: "We are going to run a lot of no huddle with the wrist bands as you suggested at the clinic. We did it in our first scrimmage and it worked great. I have put another twist on it and it worked fine. I bought enough wrist bands for the whole team and we have the grids. I signal from the sideline to the whole team the coordinates. Each player then looks at his band to get the play without any discussion. We still have the plays listed many different times according to how many times we run that play. I think it has great possibilities. I know in practice by not huddling and doing the same thing we run more plays and the players get used to the fast tempo. One last note: if you want to add Nashville to the state playoff list we were the state runnerup in class 3A
Coach Jimmy Williams, at East Wake High outside Raleigh, North Carolina could scarcely contain his enthusiasm after his first scrimmage running the Double-Wing. It took some persuading to get him to tighten his line splits, but going up against what he described as a "very physical" Cape Fear High, his guys led off with the wedge. Five yards. Then another wedge. Four yards. And one more. Four more yards. "That wedge is awesome," he told me. Next, they ran 88 Power, for 30 yards. Then, after a few more powers, the first time they ran a counter, it went for a score. They only ran one trap, and it went for 40 yards, causing his players to tell him, "Coach, it happened just like you said it would!" Best of all, said Coach Williams, "There are so many little things we can get better at!"
I got this from a coach in the South (Without wanting to paint a target on him just yet, I have left his name off, although I will go so far as to say that he was at the Durham clinic) : "Thought I'd let you know we had our first jamboree Saturday night. We played a half vs a team that beat us 52-0 last year. In that game we had minus yards rushing. WE WON!!!! Beat them 13-7 and had 150 yards rushing in a half. OUR SHORTEST RUSHING PLAY WAS FOR 2 YARDS, WE NEVER LOST AN INCH. We got the ball with two minutes left. In days past that may have been a problem, but Saturday night it was over for them. We are only running power,superpower,G,wedge,blue,red,and keep left, and 47-c. We just put in slot and have only been in it one time. Keep Left has scored in every scrimmage and Jamboree every time we ran it except once. Hope things are going well in your new job."
From Coach Paul Maier, heading into his second year (and his first 1999 scrimmage) at Mt. Vernon, Indiana: "I am still cautiously positive. Our line is coming along nicely, we still occasionally have breakdowns, but they are becoming fewer and fewer. We even have a couple of linemen that regularly correct Kyle (offensive line coach) and me! They are right 99% of the time!! " Coach Maier is discovering the wonder of a system in which linemen know their jobs - really know their jobs. If it's true as they've always said, that confused players can't be aggressive, you've got to like it when your players are correcting you.
Early returns from a coach somewhere in the South whose team just held its first scrimmage: "COACH !!!!!! Last year we could not get a play off! This year we drove up, down, sideways, and crossways across the field !!!!! We started with the wedge and got 5 then the power, G, 47-C, we scored on 38 G keep left . It was a three way scrimmage and you should have seen the other team's defensive coordinator scratching his head too! We are pre-season picks to finsh last in the region. The other teams are picked to finish second and third. COACH! WE KICKED THEIR BUTTS ALL OVER THE FIELD! WE DID ANYTHING WE WANTED TO DO ON OFFENSE! I know that my enthusiasm may be premature, but when you are coming off a 1-9 season, this is a confidence builder for the kids and coaching staff. Thank God for the internet."
Nothing like a sincere compliment from a guy who uses the product, this one from Michael Carman, in Port Townsend, Washington: "As a Senior on (Coach) Dan Fountain's upcoming Port Townsend H.S. Redskin football team, I'd like to say a thank you for helping to repopularize this extremely effective and fun to play offense. I play Center and I especially enjoy Wedges and the criss-crosses. Having played on the scout defense for two years I can attest to how many problems this offense causes for defenses. Even those that see it every day in practice."
I got this from a California youth coach: "Funny converstation last night with a fellow coach from another team. I am having trouble finding scrimmages and short of begging, no one is returning my calls. He finally took my call last night. He said, 'Coach, I don't want to get off on a bad foot by scrimmaging you all...Not only are you guys big, you run that damn double wing. I don't want my kids to face that.'"
This from Coach Frank Simonsen in Cape May, NJ - youth coaches will understand. "Just another plug for the numbering system. This is the first year I have ever gone into the season with everyone on the team knowing the "O." These are 12 to 14 yr. olds. Usually the younger and slower kids go through the entire season never playing "O," because they do not know the plays etc. We end up letting them run out for a pass or play a little safety. This year I feel we will be able to spot play them without worrying about them running to each other."
An early return on my Tackling video from Fred Pardey, Jr., youth coach in Attleboro, Massachusetts: "Just like to say thanks for the great tape on tackling. I have done a clinic on the drills and shown the head coaches what we are looking for. It is one of the best done tapes I have gotten over the years...I would just like to say thank you again, it is what has been needed for years."
Thanks to Jack Reed, coach and author of several books on coaching, for sending me a story from the Contra Costa Times about the 34th Annual Times-United Cerebral Palsy All-Star game between teams from Contra Costa and Alameda Counties, two populous counties in Northern California's East Bay area. I mentioned some time ago that Coach Tim Murphy, on the strength of the job he has done at Ygnacio Valley High, was chosen to coach the Contra Costa All-Stars, and that he - being a man with stones - planned to run the Double-Wing. Contra Costa, which had won only once in the last seven games, had gone two years without a win, and Tim evidently had a bit of a struggle at first, convincing the kids, especially his runners, that the offense was going to work. "They didn't trust the offense at first because there were so many blockers in front of them. I took them in to watch some of Ygnacio Valley's game film, and I got them to believe. It took until Tuesday or Wednesday of this week before they said, 'OK Coach.'" Okay, indeed. The game is usually close, Jack Reed tells me. Not this year. Contra Costa rolled up 333 yards rushing on 48 carries, routing Alameda 35-7, Alameda's only score coming in the final minute of play. Terrell Roberts of El Cerrito High scored three touchdowns and rushed for 82 yards, 80 of them in the first half. Ronshay Jenkins of DeAnza High rushed for one touchdown and 115 yards, while Travis Vandevoir of Clayton Valley rushed for 58 yards on seven carries and Ygnacio Valley's Walter Olsen ran for 41 yards and caught a TD pass from Vince Padilla of USA Today's National Champion De La Salle. Those who have observed how ineffectively offenses normally perform in All-Star games, and how seldom All-Star coaches are able to put together any kind of a running game, have to respect the job Coach Murphy was able to do in just one week.
I had an interesting conversation with Coach Rick Desotell, offensive coordinator at Lutheran Northwest High in Rochester Hills, Michigan. He stepped into a program that was 1-9 in 1997: it "racked up" only five first downs all season, and its only win came as a result of a forfeit, when an opponent was later found to have used an ineligible player. Progress is coming slowly, but it is coming: in 1998, Lutheran Northwest won a total of three games and played several others close. In the process, they broke every school offensive record. Coach Desotell told me about running into an opposing coach during the off-season, who boasted, "we knew every play you were running." Evidently that knowledge didn't do them a lot of good, because Lutheran Northwest beat them by more than 30 points.
I am indebted to Houstonian Jon Walk for the following: " You forgot Houston Christian made it to their state championship game in Texas' TAPPS 3A. They lost to Arlington Grace Preparatory, coached by former Houston Oilers and Los Angeles Rams tight end Mike Barber, by a score of 35-17." Houston Christian was coached by Ted "Rock" Knapp, a devoted Double-Wing enthusiast whom I first met at my '98 Houston clinic.
Coach Steve Fickert writes from Finland: We (Seinäjoki Crocodiles) survived Midsummer. Actually, I, my family and our 2 American Players decided to stay in Seinäjoki and not join the team at the summer cottage! The players decided they needed to workout (too much partying, and they were getting out of shape) and my son needed to lift/run to prepare for Prep School. We played cards and watched videos and RELAXED!!! We beat the East City Giants yesterday (Saturday) 42-3 in Seinajoki. Their coach (I don't remember his name, was very nice and he said he remembered you...and the Double Wing!). We played without our best RB (we kept him out because he was injured in the first half against the Roosters and we wanted him ready for the Stars-next week's opponent in Roveniemi, AND our starting Left Tackle got injured in warmups. Anyway, I tried to keep the score down and we still had 293 yards Rushing on 39 attempts, 7-12 passing for 159 yards 2 Interceptions and 2 TDs, for a Total Offense of 452 yards on 51 plays! Not bad for 48 minutes and we did not play our a few of our best players and really kept it basic in the 4th Quarter! We are tied for 2nd Place in the Maple League with a 3-1 record with the loser of the Trojans-Roosters game today.
Kalamazoo Christian coach Mike Hause is sold on the double wing. He went to college with Jerry Vallotton, author of "The Toss," and after going 1-8 in 1997, his first season at KC, he bought my basic package, took his staff to the 1998 Chicago clinic, and decided to go to the double wing whole-hog. The 1998 KC Comets tripled their win output, doubled their point output, and increased their rushing yardage from 900 yards to over 2000. In one game, against their arch-rival (which KC won) they put on a 90-yard drive that took 22 plays and covered 10 minutes, eating up what was left of the third period and lapping over into the fourth. And in that drive, 21 of the 22 plays were either 88 Super Power or 2-wedge. Offensive coordinator Roger Doorn, who obviously understands the importance of not stopping your own offense, at one point ran five straight 88 Super Powers!
Paul Herzog, of North St. Paul High, is one of the charter members of the Double Wing Club. When Paul took over at North, there were 19 kids in a football program that hadn't won a game in two years. He brought in the run-and-shoot that he had run at a St. Paul city high school, but quickly came to the realization that (1) his quarterback was getting beaten up; (2) his offensive linemen weren't having any fun; and (3) his defense was spending too much time on the field. So he did a survey of the teams playing "in the Dome" (the Hubert H. Humphrey MetroDome) for the state championship, and found that only one of them was a passing team. And that's when he decided to look for a running offense. His first year, he ran the double wing on the basis of an article in Scholastic Coach. He only won one game - the last game of the season - but as Coach Herzog puts it, "we were getting closer." Best of all, he said, "our kids were having more fun. They were getting excited about a game, because they got to get after somebody." He adopted my terminology before the next season, and "it simplified the system for us. Our kids understood it." North won 6 games in 1997, and in 1998, again won 6 regular season games, then went on to win its sectional championship. Having just completed his fourth year of running the double wing, Coach Herzog is more convinced than ever that it is no fluke. He mentioned finally beating a local power that had seen his offense at least six times before. "We got better at it," he said. "We have started to beat teams that have seen it before."
Coach Bob Drysdale, from Wellington Junior High in Wellington, Colorado, has seen his kids get pummeled over the years by the Fort Collins schools, most of them twice Wellington's size. Not in 1998. The same kids who had scored only 42 points in the entire 1997 season, scored that many in one game in 1998.
Coach Steve Pazzie, from Augusta, Kansas, just east of Wichita, attended my Denver clinic with six members of his staff. Augusta has been running the double wing for several years now, and after struggling a bit at first, has become a district power, despite being one of the smaller schools in its district. Coach Pete Overman, Augusta's offensive coordinator, said, "It (the double wing) saved our program." Not an easy admission for an Emporia State guy, who was brought up in a passing atmosphere. Now, though, he's sold on the running game. Coach J.D. Hand, the defensive coordinator, described his first look at the double wing that Augusta was running when he arrived: "it looked like a covey of quail running around." But don't say I didn't warn you - even with the success the double wing has helped Augusta enjoy, it still has its detractors. When Coach Terry Alley, the frosh coach, told a local fan that he was going to Denver to attend a double wing clinic, the fan asked, "You guys still gonna run that offense?"
Coach Scott Moshier of Hoxie, Kansas told how close his kids came to a winning season - at a school that hasn't had one in 17 years. Hoxie is a small high school in western Kansas, and with the kind of distances they have to deal with, schools Hoxie's size often find themselves playing bigger schools, just to save on travel. Class 2A Hoxie found itself in a strange position last year, building a 22-8 halftime lead over top-ten 4A Goodland, and when they came out of the locker room to start the second half, there were a lot more people in the Hoxie stands - not accustomed to their team winning, many fans had stayed home, until they were roused from their homes by fans who had left the stands at halftime to go get them!
Coach Mike Emery, Of Fitch High in Groton, Connecticut, may be the only Double-Wing coach in America in 1998 who didn't have a 1,000-yard rusher, yet had a quarterback who threw for 1,100 yards! Not that Coach Emery, who spoke at the Providence clinic, is a mad bomber type - he threw the ball an average of only 9 times a game last year. The 1,100 yards passing is just an example of how effectively he used the Double-Wing passing game. And as to the lack of a big-stats rusher, going undefeated in the regular season undefeated and finishing 10-1 - losing only in the state final - Coach Emery alternated so many quality backs that no one back had enough carries to gain 1,000 yards. Coach Emery, who brought most of his staff to the clinic, said that when he came across the Double-Wing, he'd been searching for five years for something other than the Delaware Wing-T which he'd been running. The problem he was running into was the difficulty his wingbacks were having blocking defensive ends on the buck sweep, and people blitzing the A-gaps. He purchased my first tape, and said, "within five minutes of watching the film, I knew." Now, "game planning has become easier." For Coach Emery, as with most of us, it starts with one play. "You've got to have something to hang your hat on," he says. "For us, it's the Super Power. We ask them to get us four yards." Coach Emery was good enough to show us some of his favorite plays, including "Tight Rip 58 Black All-Deep," great against the 2-deep coverage that so many of us see so much of the time. He also throws a nice screen right to the "A" back off of that same action. Coach Emery, who is not afraid to innovate, has found that for his purposes, it helps him to have his wingbacks face straight ahead, rather than angled in, a move that he made midway through this past season. He believes that it has helped them to join hips better when double-teaming with their TE, and that it has improved their reach blocking. The Double-Wing remains a work in progress, and when someone can tweak it and improve his performance, it helps us all. Groton, where our nuclear submarines are built, is a Navy town, and its people expect to win. With just four starters graduating from 1998's state finalist, and his entire backfield returning, Coach Emery appears poised to provide the people of Groton with another winner in 1999.
Coach John Irion was a guest speaker at the Providence clinic. Coach Irion has been at Queensbury, New York just two years, and in both of those years, he's taken his team to the New York state Class A finals! He has the rare good fortune of coaching in the town where he grew up, but it took him a long time to get back home. His dad was the superintendent of schools in Queensbury, and so long as Dad ran the schools, there was no way that John was going to be hired as coach there. So John spent 15 years at Class AA Central Square, near Syracuse, while keeping an eye on his hometown, which from 1976 throuogh 1996 experienced only three winning seasons. When the coaching position at Queensbury - a school of 1100 kids - came open two years ago, John's dad had by then retired, and John was hired. One problem - it was already July. John, a nationally certified strength coach, was frustrated by his inability to do much to get his kids stronger in that short a time - "they didn't think lifting weights was important; they just thought the bench press was important." He had to change some attitudes about more than weight lifting, though. The first thing he had to change, he said, was the mind-set: "It was almost understood that we wouldn't win." Secondly, he had to change the offensive mentality. In his first year at Queensbury, he wound up passing 42 times in the entire season. The year previous to his coming, Queensbury once threw 42 times in one game. He had looked at the double wing in his last year at Central Square, and now he felt that this was the right time to put it in. "The thing that sold me on it," he said, "was the terminology. It was easy to teach. I had to teach kids who had never run before how to run a running offense." At first, he said, the players and coaches laughed and said, "what is this?" and he admitted that he had to fib a bit and tell them that he'd run it at Central Square! Fortunately, he did inherit a good staff which was willing to work with him. He knew he had something when he went into the first scrimmage with just two plays! But running only trap and super power, Queensbury went up against a defending playoff team, and in the first 10 plays scored four times and ran for 10 yards or more on the other six plays! By the first game, consistent with his "500 play" philosophy ("I told the kids I wasn't going to run a play in a game until we had run in 500 times in practice") he had four plays - trap, super power, criss-cross and wedge. Things just snowballed from there, as his kids became believers in themselves, and Queensbury made it all the way to the 1997 state finals before losing to a much stronger Vestal team. Coach Irion had known that strength would be a problem that first year, and he set out to do something about it. That he has done. In 1998, Queensbury made it to the state finals again, and after a beautiful opening drive against Rochester Aquinas (Don Holleder's alma mater), appeared ready to capture the title. But three costly fumbles deprived Queensbury for the second year in a row. In the meantime, there is no doubt that Coach Irion has made Queensbury into a state power. In all 26 games he has coached except the 1997 finals against Vestal, Queensbury has rushed for over 300 yards. He never uses fewer than seven backs in a game, and on one occasion, used 16 different ball carriers ("the stats people weren't very happy with that," he said. "Neither were the newspapers"). His 1998 team set state playoff single-game records with 9 touchdowns in a game, 4 touchdowns by one player, 510 yards rushing, and 29 first downs. Best of all, he says, "we mobilized the community. People come to me and say, 'We never thought Queensbury would be a football school.'" His total program - 7th grade, 8th grade, JV and varsity - has gone 56-8 in his two years there. "Even without great athletes," he says, "we're going to be successful." Two-for-two in his two years at Queensbury - where does he go from here? According to Coach Irion, who knows what it takes to get to the top, this year's team could be every bit as good as the previous two, and with the right kind of breaks, his kids could once again be down on the floor of Syracuse University's Carrier Dome, playing for a state title.
Jack Tourtillotte, offensive coordinator at Boothbay Regional High, has helped head coach Tim Rice take the Seahawks to the state Class C finals. Boothbay Regional - smallest school in the state playing football, with 285 students - won only 30 games in the 30 years between 1965 and 1995, but finished 1998 with a 10-0 regular season record, the Western Maine class C title, and a berth in the state final. For his effort in the enormous turnaround, Coach Rice was honored as Maine Coach of the Year for all classes. Coach Tourtillotte told of being 0-7 in 1996, and deciding, with two games to go and nothing to lose, to try the double wing, based on my article in Scholastic Coach. Already a wing-T team, the Seahawks fit the Double Wing seamlessly into their current system, and broke into the win column on the very first try. The next week, they upset a playoff team, to finish 2-7. What impressed Jack most about the potential of the offense was Boothbay's opening drive in that game: deep in the hole after fumbling the opening kickoff, they proceeded to drive 96 yards in 26 plays, consuming 18 minutes! In this past year's state final game, against traditional power Stearns High of Millinocket, with the score tied 6-6 and three minutes to play, Boothbay was at the Stearns 38 and driving. A criss-cross picked up 25 yards, but the Seahawks were called for holding on the play. Set back to midfield, they stalled and had to punt- and Stearns returned the punt for the winning touchdown!
Coach Bob Shaffer, of Truckee High, in Truckee, California, wrote to order some materials, and said, "We incorporated the double wing with our Wing-T package and went 13-0 this year. In the state championship game, we used it exclusively the second half, and won, 28-14. (Truckee, at the crest of the Sierra Nevada, is in one of the most spectacular locations in the U.S.) Interestingly, Truckee's championship was in Nevada! Winter snows often make travel to other California schools impossible.)
Coach Marshall Burdette, of Parkersburg, West Virginia High, wrote, "we put in the wing-T in 1994 and have been in 5 straight playoffs. We put the Double Wing in in 1997 and in 1997 we were in the state finals and this past season, 1998, we were in the semi-finals. We broke our old scoring record of 417 points (set in 1917) by scoring 531 points this past season (1998). Coach Burdette also passed along his program's web site address: www.PHSFootball.com. (I checked it out - the 1999 web site is under construction, but the 1998 version is good. So was Parkersburg. The "Big Reds" weren't too bad on defense, either, shutting out nine of ten regular season opponents. Their only loss, 24-15 in the state semi-finals, came at the hands of Nitro, and their nationally rated QB, J. R. House.)
Mike Nobile, youth coach in Glastonbury, Connecticut, called to register his staff for the Providence clinic. Since putting in the double wing in the final week of the season a few years ago, Mike's 13-14 year-old team has gone 20-3, and last year scored 258 points in 9 games. He told how he was able recently to get his kids together in a high school gym for a workout, their first since the season ended at the end of October. He ran the kids though 10 plays, and in his words, "they didn't miss a beat." Coach Nobile said that the amount of the offense that they had retained, despite not having run it for over five months was "unbelievable."
"Last year we installed your offense in our program and we were very successful with it as well. In past years we averaged two or three wins per season. Last year we finished 8-1-0 and won the league championship for the first time in our organization's history. We also stopped a team's 64 game win streak. We averaged 39 points per game on offense and gave up just 6 per game. This is quite a success story, and the coaches and myself are true believers in the "double wing" offense. It even caught the attention of our High School Head Coach. Thank you for your time. We are excited to run your offense again this year along with the "Wildcat series". Hopefully we can send you more success stories." Jim Yodice, Head Coach Highpoint Midget Football Branchville, NJ
D. J. Harris, offensive coordinator at Kankakee, Illinois High, called recently to make arrangements to attend the Chicago clinic again this year. He attended last year's clinic, and he said that when he returned home and described what he saw and heard to head coach Dan Wetzel, they held a staff meeting that Wednesday night, and made the decision right then and there to run the double wing. Result? "It's the defining point that brought our team together," Coach Harris told me. "The numbering system was the best thing for us," he said, in describing their smooth transition to the new system, which helped them go from 2-7 in 1997 to 7-3 and a playoff appearance in 1998. Coach Harris said he felt that the fact that lots of players make a contribution - in Kankakee's first four games, a different player rushed for over 100 yards each game - helped build more team unity. He also marvelled at the willingness of other double wing coaches to help him. "The thing I like about it," Coach Harris said, "is people will share."
We finished the year 2-6, but led the Conference in scoring,(25 per game), rushing (289 per game) and yards per snap (5.8) - But we also started 7 sophs and 2 juniors. We are very excited about next season. Not only that but we have redone our lifting program and have had a great turn out so far, last season we did not have ONE starter that could bench 200!! Right now we have all the projected starters but one that does well over 200 - that is encouraging. My QB carried109 times for an ave. of 7.3 a carry;the wings averaged 6.8 and 5.3 Coach Jason Sopko Homer, Nebraska
Coach, I received your flyer recently and I am excited that you'r e coming back to town for another clinic. After your last clinic, I saw how committed our High School coach, Paul Herzog of North St. Paul, was to the double-wing. As the youth director and a youth coach, I decided the kids better learn the system now rather than later. We were 6 and 4 the year before your system, and this year with the D-W, we were 10-1. We went undefeated as divisional champs, outscoring our opponents 247-33. We went on to the Championship game only to turn over the ball 7 times, have a rash of penalties and lose the game by only three points. My "A" and "C" backs both had 15 touchdowns on mainly 4 plays: tight rip 88 superpower, 99 superpower, criss-cross, and 88 superpower A wing option pass. (And they didn't play much in the 2nd half) The trap at 2 was another bread and butter play. If these 10 and 11 year olds can learn the double wing with no coach in the huddle, just the QB with an arm band, anybody can learn it. Thanks for everything and we'll see you in May! Tom Lynch - Youth Football Director and 5/6 Grade Football Coach (Coach Lynch is to be commended for recognizing the value of integrating his program with the local high school's)
Tim Murphy, head coach at Ygnacio Valley High in Concord, California, will be the head coach of the Contra Costa County All-Stars in this summer's game against East Bay Area rival Alameda County. Last year at this time, Coach Murphy was coming off a 2-7 season, and not in line for such an honor. But those two wins came in the last two games of 1997, after Coach Murphy made a mid-season switch to the Double Wing. And this year, he will be coaching his county's All-Star team, because in 1998, Ygnacio Valley finished 9-1-1, and won the co-championship of the Bay Valley Athletic Conference. Along the way, Coach Murphy's kids set 12 school offensive records. In 1995, the year before his arrival, Ygnacio Valley, a school of 1500 kids, ended the season with 15 football players; Coach Murphy had 172 9th-10th-11th graders at a recent meeting. (They'll have to be ready - one the schedule for '99 is defending USA Today national champion DeLaSalle!) Incidentally, he says his All-Stars will run - the Double-Wing!
Coach Wyatt, I just wanted to give you some information on the success that we have had at Nashville since we started using the double wing pretty much as you detailed it in the book, with the foot to foot splits which are crazy but great. This was our second year to run this offense. I have run almost every offense you can think of and have been successful with most but this is the greatest. It causes the most problems for our opponents. We had a very talented bunch of players for the last two years and that helped. Next year will be the true test. The last two years we have been 23 and 3. Last year we won the conference title for the first time in 14 years and made it to the quarterfinals. This year we were undefeated going into the state championship game in class 3A. We lost 21 to 7 but what a great season it was. We are the only team in Southern Illinois that runs the double wing with the tight splits and that has to be one of the big keys. Coach Bruce Reeder - Nashville, Illinois (PS- I got to meet Coach Reeder and two members of his staff, Coaches Scott Clark and Chad Malawy, at this weekend's Louisville clinic.)
Sam Komp had been a head basketball coach for 22 years when he got his chance as head football coach at Peshtigo, Wisconsin, north of Green Bay. He has now been the guy for three years, and he is making his mark. He spoiled the local fans right out of the gate, going 12-1 his first year. But in '97, he switched to the double wing - and lost his first three. He got things together, though, and ran off six straight before losing in the state playoffs. This past season, Peshtigo went 11-1, losing only in the state quarter-finals. In their 8-game conference schedule, they outscored their opponents 346-8. Coach Komp likes the double wing. "It's been good to us," he told me.
"I retired from coaching in 1982 and when my son Jim got the coaching position at West Seneca (near Buffalo) he talked me out of retirement. We put your double wing in for the 1997 season and went 4 and 4 with a team that in the past 10 years had won a total of 8 games. In 1998 we went 7 and 1 with two backs over 800 yards each, and averaged 28-plus points per game. We were at your clinic in Cleveland and enjoyed it, we also look forward to being there in April of this year. My son Jim has been communicating with you and truly believes in the offense. I have always been a Power I person, but he is winning me over also. Thank you, Len Kuhn"
Success - and tough luck. I spoke on the phone with Coach Daryl Allen, of Hertford County HS in Ahoskie, North Carolina, whom I met at last year's clinic in Durham. Coach Allen's club was cruising along this past year at 10-0, averaging 46 points and 400 yards rushing per game, when the wheels came off. In the first quarter of game number 11, he lost both his starting B-Back, who had rushed for over 1400 yards, and his starting A-Back. Any of us who's ever been there can guess what happened next: with backups at two key backfield positions, Hertford County lost that game, finishing its regular season 10-1, and lost its first-round playoff game as well.
"Our (St. Thomas the Apostle, Grand Rapids, Michigan) 5/6th and 7/8th grade teams switched to the D-W this year and had great results. My 5/6th team went from 1-7 in '97 to 7-1 in '98. We were the smallest team in the league (17 players vs. avg. of 26 players), but nevertheless made it to the City Championship. We lost that game 26-20, scoring all our points in the last five minutes of the 4th quarter (one on-side kick away from winning). Our 20 pointswere the only points given up all year by the league champion. All thanks to your offense, and great advice learned in John Reed's books. Coach Jim Ens"
I received a fax, and a follow-up phone call yesterday, from George Contreras, head coach at Rio Mesa High, in Oxnard, California. Coach Contreras wrote, "We got your tape three years ago, and 'dabbled' in the double wing as part of our wing-T that we've used since 1978. This year we went to it exclusively the last 2-1/2 games in what had been a terrible offensive year. What a difference!!!" (The underlines are Coach Contreras'.) Now, I don't know about you, but that "2-1/2 games" had me scratching my head, until Coach Contreras explained. Seems they were 8-1/2 games into the season, and down at halftime, 13-0. Worst of all, in the first half they had run only 22 plays, gained only 11 yards, and made just one first down. Right then and there, Coach Contreras made as radical a halftime "adjustment" as most of us will ever make - he decided at that moment to take the plunge, and run the double wing exclusively! His kids went out and ran 47 plays for 207 yards, while at the same time shutting down the opponents (he did mention that they had had a bad offensive year but they were tough defensively), and pulled within a point at 13-12 with under a minute to play. Uh-oh. Their 2-point conversion repertoire consisted entirely of Wing-T plays, and they came up short. Winning their next - and final regular season - game 23-7, they qualified for the playoffs, against a very strong San Luis Obispo club. Rio Mesa fell, 38-22, but made a game of it, rolling up 351 yards and holding the ball for 73 plays. George's B-Back, who had run for 400 yards in the entire regular season, gained 197 yards in that one play-off game - a lot of them on wedges! Here's what has Coach Contrteras excited about next year: In 2-1/2 games, his club ran 173 plays for 787 yards. And in those 2-1/2 games, they scored seven touchdowns - they had scored only 14 in the previous 8-1/2! George says what he likes best about the double wing is that, with more and more defenses wanting to crowd the line of scrimmage against his wing-T, and bring everybody, it really takes them out of their game. NOTE: This story is what is so great about football coaching and football coaches. In how many other areas of life nowadays - business, politics, education - can you find leaders with the guts to make the kind of decision Coach Contreras made?
Hello Coach Wyatt, Just thought I would let you know how it's been going these last two years. Since installing your system two years ago we have made great strides. During the first year of running the offense we broke an over 20 game losing streak, defeated the defending league champs, 33-6 at their place, and because of my good assistants, I was voted Co-Coach of the year in the Skyline conference. Now in our second year of running the double wing, we have had the first winning season since 1970, we placed 11 players on the all league team, we had our wing lead the league in rushing with a school record 1612 yards & 17 touchdowns, and, we defeated North Valley for the first time in school history! Our 6-3 record was tied for third in our league but we lost the playoff spot because of a head-to-head loss to the other team we tied with. Well, I really just want to say thanks for the help when coach Wardwell and I came to visit with you. Also thanks for the great videos and play book. I have finally found an offense "I can hang my hat on". I look forward to talking with you again and seeing what is next from you. Thanks again Perry Sheehan - Illinois Valley High School p.s. Arnold Wardwell is coaching with me here now! He is a great help with your offense also
Hugh, I talked to you last year and let you know that we finished the 1997 regular season 10-0, but lost in the semi-finals. This year we went 9-0 regular season, won the semi-final game, but lost in the final game 18-12. We threw the ball 11 times and some of our fans complained we threw too much. Can you imagine a double wing coach being criticized for throwing too much?? Actually, an interesting thing happened to us this year. Many teams played us in cover 2 and we were able to get open deep so often that our quarterback threw for about 1100 yards. And we only threw 9 times a game! Anyway, we were pleased with our season but next year we need to finish the job. Thanks, Mike Emery, Fitch High School, Groton, CT
Jon McLaughlin, head coach at Rich Central High in Olympia Fields, Illinois, was kind enough to put together an offensive highlights tape and send it to me. I was at Rich Township last spring to put on a clinic for Coach McLaughlin and his staff, and spent a couple of days working with them and the kids. I was impressed then with the kids and with the quality of the football men Jon has on his staff, and I was no less impressed by what I saw on the tape. "RC" had some real speedsters, and broke more than 30 plays of 20 yards or more - 16 of them for more than 40 yards. B-Back Tyreece Jones looked good on several traps, and ran four 6-g/7-g plays for a total of 197 yards. Tyreece is back, along with QB Kendall Gant and C-Back Guy Smith. In fact, nine members of RC's offensive starting unit return. But one of the departing seniors will be difficult to replace - he's 6-6, 270 right guard Aaron Hodges, who has decided to join his older brother at the University of Illinois. He is a great person as well as a super football player, and he is a real catch for the Illini.
Coach Wyatt, I really enjoyed talking with you on the phone. I really had a lot of fun with the double wing offense this year. We went from a 3 and 7 record to a 10 and 4 record (State Semi-Finalist) using the offense. Rushing Offense - B-Back - 1,636 Yards 19 TD's-- - A-Back- 969 Yards 14 TD's --- C-Back-1,349 Yards 15 TD's Passing Offense - 498 Yards 7 TD's Bob Robertson - Huntland, TN NOTE: Coach Robertson is the current guardian of one of the most storied football programs in the state of Tennessee. Years ago, Coach Shirley Majors compiled a 72-6-1 record there, once going 50 games without a loss. His son, Johnny Majors, played for him at Huntland, then went on to become an All-American as a single-wing tailback at Tennessee, finishing second to Paul Hornung in the 1956 Heisman Trophy voting. Son Bobby played defensive back in the NFL. Johnny Majors is better known to current coaches as a successful college head coach himself, at Iowa, at Pitt (oops- the new AD insists that we call it "Pittsburgh") and at Tennessee. He won the National Championship in 1976 at Pitt (does the name Tony Dorsett ring a bell?), but at Tennessee Coach Majors, although successful, was not successful enough in the eyes of some, and was asked to step down. Naturally there was disappointment - and some resentment - in Huntland at the move, but Coach Robertson did point out that UT at least had the wisdom to select as his successor a man from just up the road. Philip Fulmer, who just won a national championship, comes from nearby Winchester, 13 miles away.
People sometimes ask me, skeptically, if the double-wing can work at a "big" school - against "bigger" kids. An answer came in the mail recently from Chuck Raykovich, head coach at Chippewa Falls, Wisconsin. Chippewa Falls plays in Wisconsin's largest classification, and trust me - if you saw the Rose Bowl, it was not an illusion - they really do grow them big in Wisconsin. Chuck kindly sent me a copy of the Cardinals' 1998 Highlights Video. It's nicely done, and reflective of the kind of season Chuck and his guys had. In the process of compiling an 8-3 record, and earning the first playoff win in school history, the Cardinals posted some impressive stats: 460 points scored (41.8 per game)...5320 yards total offense (483.6 per game)... 592 rushes for 4945 yards (449.5 per game)..2 Runners over 1000 yards: Luke McDonnel (A Back) 1492 yards on 140 carries (10.7 per carry); Jordan Hedrington (C Back) 1304 yards on 121 carries (10.8 per carry). The Cardinals' only losses were to traditional powerhouses - 54-44 to Eau Claire Memorial, 26-21 to Menomonie and 35-27 to Appleton East in the second round of the playoffs. Paul Herzog, of North St. Paul, Minnesota has to take some pride in what Chippewa Falls accomplished. Chuck hosted a double wing camp last summer, where, because of state regulations preventing coaches from working with their own kids, Paul was assigned to coach the Cardinals. Incidentally, the camp must have been helpful - of the seven teams represented, five of them - Birchwood-Weyerhaeuser, Chippewa Falls, Colfax and Mondovi, Wisconsin and North St. Paul, Minnesota - went on to make their states' playoffs.
Dear Coach, I just wanted to share with you the success my program had this 1998 season. I am a first year head coach at Snow Hill High school on the Eastern Shore of Maryland. I installed your system based on the advice of a good friend Doug Williams at Catoctin High School in Thurmont MD. I coached with Doug during his first year at Catoctin in 1992. I entered Snow Hill after coaching four years of varsity and junior varsity football at Stephen Decatur H.S. a much larger school. I compilled a 31 - 9 J.V.record but knew I could not rely on my past offensive philosophy to win the kids' respect at Snow Hill. Needless to say with the aid of your offensive scheme we set a school scoring record (369 pts) and finished with an 8 -2 record just missing the playoffs by 4/100's of a point. The best part is that we beat Stephen Decatur. We also can look forward to better things next year as our junior varsity team finished 6 -2 and we only lose 3 seniors to graduation. The kids love the misdirection and find the play calling very easy to interpret. I plan to install a little more option next year as I return a very talented running qb. Any suggestions on your part would certainly be welcome. Have a great New Year! Your friend, Doug Baker - Snow Hill H.S. Head coach
Coach, Please use our success here at Bennington to highlight the double-wing. We have gone 14-5 the last two years, made the state playoffs in 1997, and were defeated in the qualifying round this year to finish 7-2. We lost our first game and our last game this year, but went undefeated in our conference for the first time since 1989. We have three of our starting backs (A,B and QB) returning next year. We averaged 300 yards per game and we are getting more comfortable with the double-wing each season. We used some wings-on quite a bit this year and we also went unbalanced quite a bit. Above everything else, we make people stop the wedge. My kids, their parents, and the fans love a good "tight 2-wedge" for about 7 yards. I certainly enjoyed taking part in your clinic in Denver last year and have been corresponding with some of the people I met there over the last year. I also have linked up with some other double-wingers and am trading some game tapes, etc. I am always ready to talk and exchange ideas with any double-wing coaches. Thanks for all your help and support coach, and I am sure wewill stay in contact. Ron Timson - HFC - Bennington, Nebraska
Just finished looking at the highlights tape put together and sent to me by Jack Tourtillotte, offensive coordinator, principal, and - now - video editor at Boothbay Regional High in Maine. Not a bad job! But as a video editor, Jack is already spoiled, because it's a whole lot easier to do a highlights tape when there are a lot of highlights. And in a magical season in which the Boothbay Seahawks finished the regular season unbeaten and made it all the way to the state Class C final game, there sure were a lot of big plays. The audio portion is helped along by the fact that all Boothbay games were televised over the local cable channel, and Jack chose to use a lot of the game commentary. To say the least, the guys in the booth do get excited. I've had the pleasure of meeting one of them, a Maine lobsterman named Dan Kayler, who especially likes the double wing because it suits his philosophy of football. Dan isn't crazy abour passing, and he hates punting - "Oughta make punting illegal! If they knew you weren't gonna punt, they'd try harder!" Seahawks' Coach Tim Rice was rewarded for his efforts by being named Maine's Class C Coach of the Year; in the final seconds of the semi-final win, Tim got the obligatory ice-bucket shower - and didn't even flinch! Tim has worked as a lobsterman in Maine's chilly waters, so maybe it felt warm to him. Boothbay, with a student body of 270, is the smallest school in the state playing football - next smallest school in its class has 400 students. Six years ago, the citizens nearly gave up football in despair. Since switching to the double wing two years ago, Boothbay's record has been 20-3, and at this year's championship game, there were 3,000 Boothbay fans on hand - Boothbay Harbor, a summer resort town, has a winter-time population of less than 6,000. The sign outside a downtown restaurant said "Tim Rice for Mayor." (I'd suggest he stick to coaching.)
Coach, Just a note to let you know that Army Navy Academy in Carlsbad, CA, had its first winning season in 8 years. We went 8-2-1 this year, and that included a playoff loss to The Bishop's School of La Jolla, who are the two time defending CIF champs! We ended up being co-champs of our league (Citrus, San Diego Section). We averaged over 340 yards of total offense per game. This offense has dramatically turned our program around. This is the second year running the system and the kids have bought into it. Thanks for the help. Coach Damian Gonzalez
Jay Minyard, who in his first year as head coach used the double wing to guide South Albany (Oregon) High to a 9-3 record and the school's second playoff appearance in its entire history, was named Valley League Coach of the Year. The Valley League, centered around the Salem area about an hour south of Portland, is traditionally one of Oregon's toughest, and a high point of South Albany's season was its stunning defeat of defending state AAAA champion McNary High. (I had a chance to see South Albany play in the state quarter-finals, and in their first year of running the double wing, I must say they did a really nice job of it.)
I spoke last night with Matt Durgin, coach at Lynn Classical High, one of four large high schools in Lynn, Massachusetts, north of Boston. I first met Matt at my Philadelphia clinic last spring, when he was coming off a 1-10 season in 1997, and looking for some offensive ideas. Matt obviously has "a set of stones" because he went to my double wing exclusively , and was very pleased with the results. He won his opener, 36-12, turning the tables on a club that had beaten him 42-0 in 1997, and topped the season off with a big Thanksgiving Day upset of archrival Lynn English. Classical finished the season 6-4, including a win over powerful Salem, and lost two games by the narrowest of margins. Matt, who coaches the line, says he really appreciates what the offense lets the linemen do. And he says his Dad, a former college lineman at Villanova, likes that, too.
"Coach Wyatt, I wrote last year to tell you how Queensbury High School in NY made it to the Class A (2nd biggest in NY) State finals. We did it again and played in the Syracuse Carrier Dome yesterday. Unfortunately we lost 33 to 14. We had 5 turnovers (2 inside the 10) We still managed to go 12-1. Two years of 12-1 seasons aren't too bad. We still had over 300 yards of offense even in the loss. We had an unbelievable amount of teams cutting our O line which at times messed up our ability to keep our wall intact. The d line would also grab our linemen and pull them down on top of them (sacrificial lambs). We still averaged almost 400 yards of offense per game and set a playoff record of 510 yards rushing in a game. Thanks again for everything you have done. I'm glad your team had a successful year. Talk to you again soon. John V. Irion Queensbury Football Coach"
"Coach, Just a few lines to let you know about a success story north of the border. On 21 Nov 98 my junior football team won the conference title after a 52 year drought. We installed your offense two days before our first game and subsequently beat the defending conference champions 7-0.As the team and coaching staff became more familiar with the system we continued to improve. We ended the regular season at 4 wins 1 loss and went through the playoffs with very little trouble. The final score of the championship game was 27-5 and their defence could not stop our offence. This title is a huge victory for our school. We are one of the smallest of 16 schools in our conference, but using your system we were able to not only play with larger teams but beat them soundly. It is the type of system that a school like ours can be successfull at. You have made us believers in the double wing and we will continue to use it with continued results. If you are looking to run a clinic in South Western Ontario or more likely up state NY or Michigan we would be very interested in attending. Cheers, Joe Robinson London South Secondary School London, Ontario Canada"
"Coach Wyatt: My name is Gary Hartman and I am the head football coach for Scottsbluff High School in Nebraska. I have bought your book and video and found it quite helpful. We have just finished our third year running the double wing and have had excellent success running it. I first got the offense from Phil Bravo @ Centaurus high school in Colorado. I sent two of my assistants to your clinic in Denver last spring. This past fall we finished with a 6-4 record with a very young team.We made the quarterfinals in the state of Nebraska and finished 10th in the final ratings in class B. Class B is the second largest class in Nebraska. If you would like to add us in your double wing state ratings I would appreciate it.We should have an excellent team next year as I have 7 starter returning on both sides of the ball. Yours in football, Gary Hartman Scottsbluff High School Scottsbluff Nebraska"
Tim Smith, Head Coach at Warner Christian Academy, in Daytona Beach, Florida, called to inform me that there is a successful Double-Wing program in Florida that has until now escaped my attention - his. Warner Christian, in only its second year of varsity football, finished 1998 7-3, averaging 38 points and over 370 yards of total offense a game. Tim's JV team finished 7-1, and with most of his varsity starters remaining, it's understandable that he's looking forward to next year! (For some reason Florida, a prime football state, has been slow to accept the Double Wing - must be the Steve Spurrier influence.)
"Coach: Thanks for sending your play book last week!! Even though I had only three days to introduce your plays into my offense, we adapted your style to our existing double wing plays successfully. We used the Tight Rip 88 Super Power and Liz 99 Super Power along with a reverse off of these two plays, we also used tight rip 6 G. We also successfully passed as a counter off of the tight rip power by rolling the QB play side along with a spectacular option. We were up 30 to 0 by the half using your plays. As a test, I went back to our old stuff in the third quarter and did not score a point. The team we beat was undefeated until today. Thanks again (Name withheld at Coach's request)"
Dear Coach - Just a note to fill you in on our final season stats. We went 11-0, were unstoppable and the football morale is higher now than ever and growing, thanks to the Double Wing. Over 2 seasons my Jr. High boys are 20-3. Thanks for the great videos. Keep in touch. Make sure I get all your mailers, especially for clinic dates next spring. Semper Fi, T.E. Shaffer - MCC Football Maranatha Christian Center - Arvada, Colorado
"HI COACH, WELL OUR REGULAR SEASON IS OVER. WE ENDED IT WITH A 31-0 SHUTOUT OVER MATHEWS DICKEY, AN INNER CITY TEAM. WE SCORED 5 TDS, 88 POWER-1, 47C-1, TIGHT 2 WEDGE- 2, 43 TACKLE TRAP 1. THE DOUBLE WING SCORED MOST POINTS IN OUR ORGANIZATION, BEST RECORD IN OUR ORGANIZATION, MOST YARDS RUSHING. THE TOP THREE RUNNING BACKS WERE MY A,B,C. EACH ONE HAD OVER 600 YDS AND THEY ONLY PLAYED 3 FULL GAMES APIECE. THE REST OF THE TIME WE RAN SECOND STRING. WHAT IS FUNNY IS MY SECOND STRING B BACK WAS FIFTH IN RUSHING IN OUR CONFERENCE. THIS OUT OF TWENTY BACKS IN THE CONERENCE. ALSO, REMEMBER WE PLAY ONLY 6 CONFERENCE GAMES WITH 8 MINUTE QUARTERS. IT'S OFF TO THE PLAYOFFS WE GO!!!!!! THE 4-4 DEFENSE IS GOING GREAT TOO. THEY HAD NEGATIVE YARDAGE THIS WEEKEND!!!! PAT PIMMEL, ST. CHARLES, MISSOURI"
(Just got this e-mail)- You may want to take a look at Western Pennsylvania football, especially District 10. One team, the Wilmington Greyhounds, have been using it for two years now. They are a "AA" school who have won the District 10 Championship 4 years in a row and are looking to make it 5 this coming weekend. They won 40 straight Mercer County Athletic Conference games and were Western PA state semi-finalists last year. Other teams in the area have seen their success and are now trying it. (NOTE: I am well aware of the quality of Western Pennsylvania football - Cowher, Ditka, Dorsett, Namath, Montana, Unitas, Kelly, Blanda, Lujack, Parilli, Marino, Bill George, Jack Ham, Joe Schmidt and countless others - and I am also aware of the powerhouse Coach Terry Verrelli has built at Wilmington Area H.S., in New Wilmington. But - I can't find their scores anywhere. The very best of luck to the Greyhounds this weekend. And will somebody please send me the score?)
"Coach thanks, I ordered your video last winter and installed the offense, what a turn around - 8-2 record, rated second in final state poll.3200 total yards, 38 pts a game, Conference champs- Troy Gauer - Grant Deuel High School - Revillo SD"
"Coach Wyatt, just wanted you to know we won our homecoming game 18-12. Then we won the next game to clinch a playoff berth 29-0. This is the first time Wells has ever gone to the playoffs in 11-man football. They went twice in 8-man. We've had a successful year so far and are 4-2 in the conference. We added an innovation a couple of games ago. We are running a lot of the passing game out of the shotgun. We are also able to run the core running plays from it to keep people honest. On fullback plays, we snap it directly to the fullback. It's been really effective. We'll have to show you when you come next year. We have two games left before the first round of the playoffs so we'll let you know how it goes. Coach Linford and the Leopards. Wells, Nevada"
---------
CHIPPEWA FALLS WINS PLAYOFF OPENER BY STUART GROSKREUTZ THE CHIPPEWA HERALD, CHIPPEWA FALLS, WISCONSIN
MERRILL - Weather aside, Green Bay East head coach John Kolstad says he didn't have the foggiest idea how to stop the Chi-Hi offense. "I didn't have much on them," the coach admitted. "I knew they had one real fast, good running back. Boy, now I really know it. That was quite a thumping."
McDonell and company put on a record-setting performance as the senior rushed for 304 yards on just 12 carries and scored four touchdowns and a two-point conversion in the Cards' 46-24 rout of the the Red Devils in Tuesday's WIAA Division 1, Level 1 playoff contest at 'Jay Stadium. The Cards (8-2) move on to face Appleton East, ranked fourth in the Associated Press' final Division 1 state football poll, on Saturday . Appleton East (10-0) dispatched Wausau West 22-0. Game time for their Level 2 contest is 1 p.m.
McDonell turned in a record-setting performance, but Chi-Hi's offense was just above average - it's own average that is. "That was a Chippewa Falls football performance tonight," Raykovich said. "We've had three other times where we've scored 49 points and if we hadn't missed a couple of extra points, we'd have had that 49. We played a par game for us. Anybody that's in the playoffs is a good football team and if you win you have to be just ecstatic. It means one more game and a little more time you get to spend with your players."
The victory was the first-ever in the playoffs for Chi-Hi, which was 0-4 in its only previous appearances, all of which have come in Raykovich's 13-year tenure. "We've got to get back to work," the coach said of facing an undefeated Appleton East squad. "I think we'll have good days of practice and everybody's healthy, which is good.
"One game at a time, that's our motto and it has been all year. You can't look ahead to the one after Saturday because you may not be there."
---------
Armstrong Named Europe's Coach of the Year
Fred Armstrong, whose Double-Wing helped take the Stuttgart Scorpions to the semi-finals of Germany's top-division Bundesliga, was named European Coach of the Year by Ampro, which ranks Europe's American football teams.
In one full season, Coach Armstrong took the Scorpions from a 3-10 last place finish - and having to play a "relegation" game just to avoid being dropped to a lower division - to this year's 10-3-1 and, at one point, #8 ranking among all European teams. At Stuttgart, Coach Armstrong is assisted by Michael Krause, who serves as line coach and player (and e-mail liaison with me- HW). Coach Armstrong, a New Jersey native, has coached at the Division 1-AA level in the US, and has been coaching in Europe since 1990.
This was his first year running the Double-Wing, and he is still getting the feel of it, but he has already seen enough to convince him it could win at the college level in the US. "The offense was just amazing," he says. (My videotape, "Dynamics of the Double Wing", is now available in PAL version for compatibility with European VCRs.)
-------
Richmond Heights remains unbeaten - October 4, 1998 - By DON FRIEDMAN- CLEVELAND PLAIN DEALER REPORTER
Pretty soon, people are going to think this Richmond Heights football team is for real. The Spartans knocked off Independence, 30-15, last night in a key Metropolitan Area Conference-8 football game at Richmond Heights.
The Spartans improved to 5-0, 2-0 in the MAC-8.
J.R. Atkinson, the area's leading scorer, scored 18 points to boost his five-game total to 118. Atkinson got the fans on their feet early. He returned the opening kickoff 88 yards to the end zone, but it was nullified by a clipping penalty.
"That kickoff got me revved up, but I was scared in the second half," said Atkinson. "That's a great team, but we're trying to go all the way to Massillon (site of the state championship game)."
"Two big defensive stands saved the day for us," said Richmond Heights coach Mike Glodowski. "This was no soft touch," Glodowski insisted. "It was a harder game than I thought it would be. We don't take anything for granted. Independence is a well-coached team. It won't lose many more. The kids were pumped when they came to school this morning and it just carried over onto the field."
-------
CARDS RUN ALL OVER HUSKIES - By Ron Buckli - Eau Claire (Wis.) Leader-Telegram (Oct. 3, 1998)
The Eau Claire North football team stepped onto the Carson Park field and directly into the path of a runaway freight train Friday night.
In what may have been the most awesome display of offensive football ever seen at the field, Chippewa Falls overpowered the Huskies 51-23 in a key Big Rivers Conference encounter. "Chippewa Falls lined up and their big kids kicked our big kids right off the line," said North coach John Phelps. "They just came out and kicked our butts."
The Cardinals, executing to near perfection, rolled up 35 first downs, 653 rushing yards and 700 total yards in their march up and down the field. All are Big Rivers Conference records and believed to be field records.
"With a team like this, I'm never sure how they'll react," Chippewa Falls coach Chuck Raykovich said. "They're not rah-rah guys. The locker room before the game is like study hall. I guess you'd say they're the kind of team that gets their lunch pail and goes to work."
The Cards, who fumbled the ball away once and and punted once, scored on their first five possessions and led 35-7 at halftime against a team fighting to stay atop the Big Rivers standings.