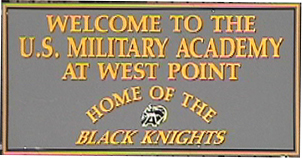 THE BLACK LION AWARD COMES TO WEST POINT
It was my great honor to be invited to the U.S. Military Academy in West Point, New York to be on hand for the announcement on Friday, November 5, that beginning this year the Army Football Club, the association of former Army Football Players, would present the Black Lion Award to an Army football player.
There was a certain amount of conflict attendant to my cross-country trip, since it meant that I would miss our team's (Madison High, Portland, Oregon) final regular season game. As offensive coordinator, I was placing quite a burden on the shoulders of my head coach, Tracy Jackson, and only the fact that we'd qualified for the playoffs the week before made the thought of leaving bearable.
After a flight to Hartford, Connecticut, a battle with Hartford's rush-hour traffic (for a smaller city, Hartford had big-city traffic) and a two-hour drive across Connecticut, my wife and I arrived at West Point late Thursday evening and caught some rest before our busy weekend.
The next morning we got together with Black Lion Tom Hinger and his wife, Jane. It was my first chance to meet Jane, and my wife's first meeting with both Tom and Jane. The ladies hit it off well - what were the chances they wouldn't? - and we were off to take in a morning of sights.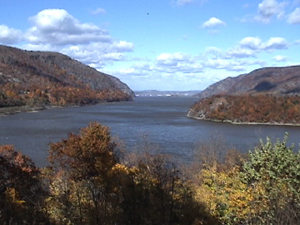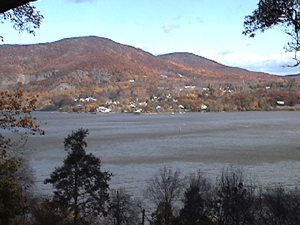 Although it had rained rather hard on our drive over from Hartford the night before, Friday was sunny, and between the autumn foliage and blue sky, West Point and the Hudson River Valley it overlooks were at their most beautiful.
After breakfast in the adjacent little town of Highland Falls, New York, we passed through security and went "on post" (notice how easily I slip into military lingo). Even with no football game going on, you could easily spend a weekend just walking around - emphasis on walking - the campus is large and hilly, and you take your parking spaces where you can find them.
We had just a few morning hours to spend before our meeting with the Army Football folks, so we hit two places that interested me the most- the cemetery and the athletic complex.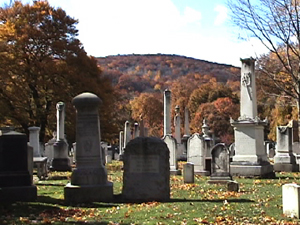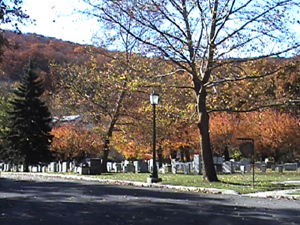 Don't laugh at the idea of visiting a cemetery. In the post cemetery, a beautifully-wooded little pocket of land overlooking the Hudson, are buried some of West Point's most illustrious graduates. There, you'll find the graves of heroes of every one of America's wars, as well as former superintendents, former Army coaches and former Army players. General Norman Schwarzkopf's father is buried there, as well as the Whites - astronaut Edward White II, killed in 1967 at Cape Kennedy, and his father, Major General Edward White, who outlived his son. General White's stone also notes, sadly, that he and Mrs. White lost another son, Major James White, declared missing in SE Asia, November 24, 1969. America loves winners, yet there is still something that attracts people to the grave of one of our most famous losers, General George Armstrong Custer, killed with his entire command at the Battle of Little Big Horn by the forces of Sitting Bull.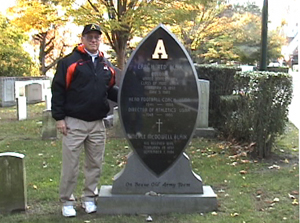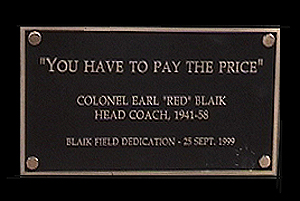 Legendary Army coach Colonel Earl "Red" Blaik has been a great inspiration to me since my earliest days as a coach. He is buried here with his wife and it is important to me that on a visit to West Point I pay my respects.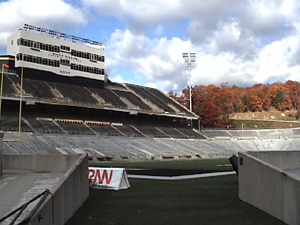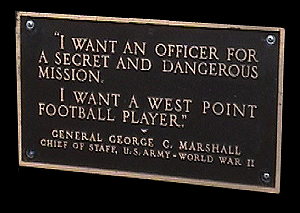 From the cemetery we went next to Michie Stadium, around which the Army athletic complex is built. Michie (pronounced "Mikey") Stadium seats about 41,000, roughly twice the size it was during the heyday of the great Blanchard-and-Davis teams of the 1940's. There is no track, so spectators sit right on top of the action, and with a large upper deck on one side and relatively small end zone sections, most of the seating is between the goal lines. An ultramodern, multi-deck press box, with luxury boxes occupying its lower floor, looms high above the upper deck.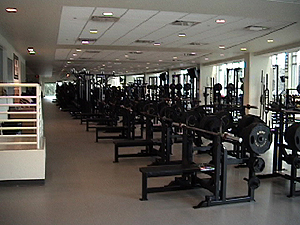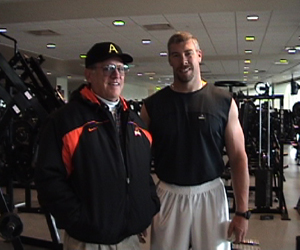 At the South End of the stadium, with large picture windows looking out on the field, the Kimsey Center houses the football offices and meeting rooms, state-of-the-art athletic training and rehab facilities, and a giant weight room. (That's Army strength coach Scott Swanson in the photo at left.)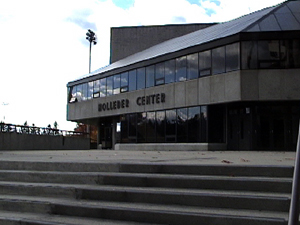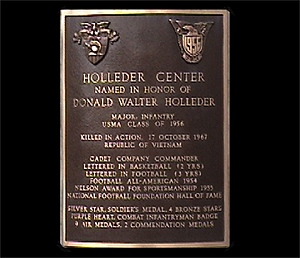 Across a pathway from the stadium and the Kimsey Center is the Holleder Center, where Army teams play home basketball and ice hockey games. It is named for Major Don Holleder, former football All-American and basketball player who was killed in action in Vietnam in 1967. Don Holleder, whose story appears elsewhere on my site, is the reason why I was at West Point in the first place - he was the inspiration for the Black Lion Award.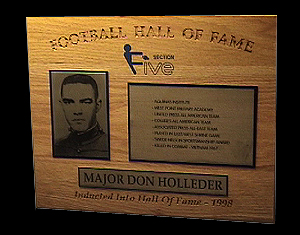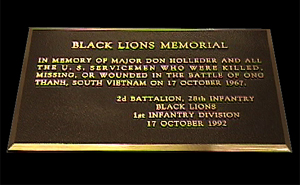 In the lobby of the Holleder Center are numerous mementoes of Major Holleder, one of West Point's most illustrious athletes: medals, plaques, newspaper articles, portraits, and enlargements of photographs of him that appeared on the covers and in the pages of Sports Illustrated. And in the middle of all the memorabilia is the plaque memorializing the Black Lions - Don Holleder and the men who died with him on October 17, 1967.
On a lighter note, in the upper lobby is a trophy case devoted to the era of Army's most famous basketball coach - Bobby Knight. (Did you know this is where he started?) There's also a photo of one of his captains, and unquestionably his most famous player - a dark-haired young cadet named Mike Krzyzweski.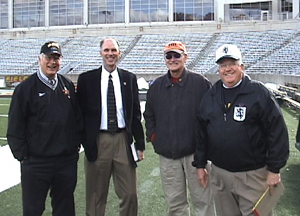 At the time appointed, we assembled on the artificial turf of Michie Stadium where we hooked up with Black Lion board members General Jim Shelton, and Bob Novogratz, an All-American guard/linebacker on the unbeaten 1958 Army team. Jim had driven up from his hometown of Franklin, New Jersey along with longtime friend Don Kovach, himself a former football star at Virginia, and friends Dave Schorr and Mike Murray. Bob introduced us to General Dick Stephenson, a teammate of Don Holleder and former president of the Army Football Club, and John Simar, current president. (Left to right in the photo: Dick Stephenson, John Simar, Bob Novogratz and Jim Shelton)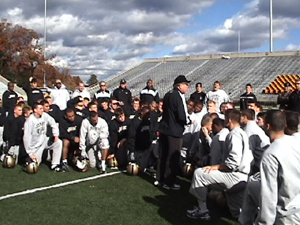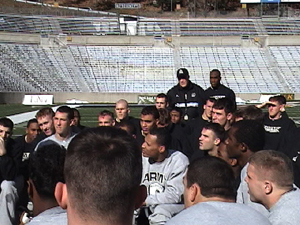 The team was wrapping up its Friday walk-through, and at its conclusion, head coach Bobby Ross gathered the players on the home sideline where he briefly reminded them of the Don Holleder story (which they all knew from NFL Films' "100 Years of Army Football"), and then introduced John Simar.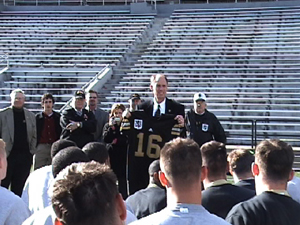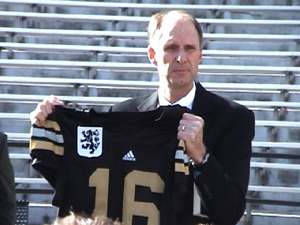 John told the team about the Black Lion Award, and informed them that starting this year one of them would be selected as the Army team's Black Lion. That player, he said, would wear the Black Lions patch on his shirt in the Army-Navy game, on national television, and to illustrate, he held up a #16 Army jersey (that was Don Holleder's number his senior year, when he was switched to quarterback) with the Black Lions' patch sewn on.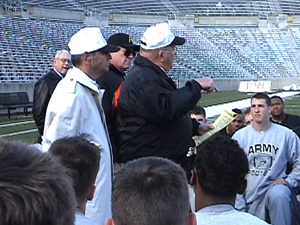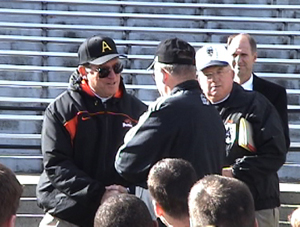 John Simar then introduced General Shelton, who had Tom and me join him as he told the players about the award's origin, and its significance to him. (He just had to get in the dig that I was a Yale graduate, but added, "we won't hold it against him.")
Coach Ross, in the best military tradition, gave Tom, Jim and me each an Army Football commemorative coin. (You Army guys reading this will understand.) Suffice it to say that I treasure it.
When our brief ceremony concluded, the team got together for a "break," then the players headed briskly off the field to change, eat, and go someplace. In a hurry. At West Point, it seems, every Cadet always has to get someplace - in a hurry.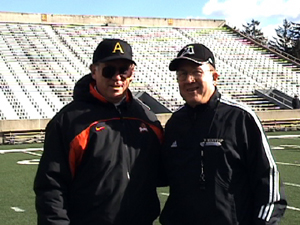 Coach Ross stayed around for a few minutes and visited with us. He does have that trait which some important people never seem to master - while it is obvious that he is highly focused and all business, he still finds the time to talk to you - and make it appear that the honor is all his.
And then we broke for lunch, 15 or so of the best people you'd ever want to sit down with, and listened to some of the best stories you'd ever want to hear.
Dick Stephenson is a great American success story - he told of how, as a fatherless boy in Fort Worth's Masonic Home, he was recruited to West Point by assistant coach and former Army star Bobby Dobbs. Dick started both ways at tackle for three years, and went on to a military career in which he made Major General. (As I have mentioned, Dick Stephenson was a teammate of Don Holleder; Don Holleder was killed on October 17, Dick's birthday.)
Dick also told us about getting together with Bobby Ross, shortly after he was hired as West Point's coach. Dick and Coach Ross had played against each other in 1956, when the latter played for VMI. Army pretty much had its way that day, winning 36-12, and Dick remembered that he'd had a pretty good day too, getting in several good licks on VMI's second-string quarterback, a guy named Ross. But when they got together that day, nearly 38 years later, he wasn't sure whether Coach Ross would remember their first "meeting."
Before Dick could say anything, Coach Ross put a tape into a VCR and began to play it - it was black-and-white, clips taken from the original film of that 1956 Army-VMI game; play number one showed a big Army tackle - number 65, Dick Stephenson - mauling a little VMI quarterback; play number two showed more of the same; ditto play number three. By play number four, the plucky little quarterback, Bobby Ross, was no longer in the game. Coach Ross switched off the tape player, turned to Dick Stephenson, and said. "I know who you are."
After lunch, we said good-by to Jim Shelton, who left for Franklin, where he was scheduled the next day to be grand marshal of the town's Veteran's Day Parade, and to speak at a ceremony honoring the young people of Sussex County who were killed in Vietnam.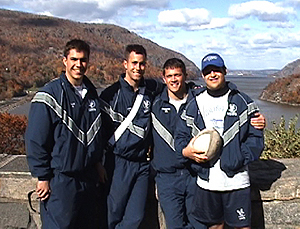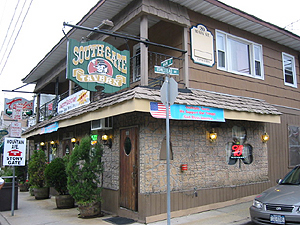 We simply had to watch some of the Army-Air Force rugby game early that evening, in order to keep a promise we'd made earlier. On our walk around the campus we'd run into four Air Force rugby players (shown at left) who - no surprise - impressed us with their friendliness, courtesy and professional manner. They invited us to come watch their game. We watched a half, then went out to dinner. Dinner that night was at one of my favorite places, the South Gate Tavern - a typical New York bar - with the Hingers, old Double-Wing friend Keith Babb and his wife, Eileen, who had driven from Chicago to accompany their daughter, Melissa, a high school junior checking out the academy, and Cadet Joey Snowden of Ridgefield, Washington, a former student of mine who is now a West Point First Classman (senior). Joey showed us all his recently-acquired class ring, and we were all duly impressed.
And then it was back to our motel room to follow the progress of our game back in Portland, which started at 10 PM Eastern Time. From kickoff to the game's conclusion, I called every 15 minutes and listened helplessly to updates from fellow assistant Ryan Miller, my season-long companion in the press box. To be brief, the game did not go well for us; it seemed that every time I called, Ryan would begin telling me what had happened since we last spoke, then suddenly blurt out, "Sh--!", and explain that the opponents had just made a first down on third-and-long, or we'd just fumbled. When I finally hung up at 12:30 or so, it was with a heavy heart - we'd lost, 28-0.
TO BE CONTINUED- DAY TWO