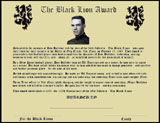 The Certificate Presented to all winners

T

The Emblem Presented to all winners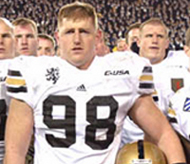 Army's first-ever Black Lion, Will Sullivan, proudly wearing the Black Lion emblem in the Army-Navy game!
The Black Lion Award is given in memory of Major Don Holleder, former West Point All-American who died in combat in Vietnam on October 17, 1967 and the men of the Black Lions - the 28th Infantry Regiment - who died with him that day.

Any youth, middle school or high school team is invited to participate and present the award. In Don Holleder's honor, the Army Football Club presents the Black Lions Award annually to a member of the Army football team.

The Black Lion Award is NOT an individual award in the same sense as a Most Valuable Player award, because it is intended to go to a player who personifies team play - "who best exemplifies the character of Don Holleder: leadership, courage, devotion to duty, self-sacrifice, and - above all - an unselfish concern for the team ahead of himself."

Enroll your team now - There is no cost to participate in the Black Lion Award. The Black Lion Award program is privately funded and administered and is not affiliated with any commercial enterprise or connected with any branch of the United States armed forces.

The Black Lion Award is given with the approval of the 28th Infantry Association, and with the permission and approval of Major Holleder's family.

VIDEO! CSTV's Feature Story on the Black Lion Award

Proud Black Lion Award Winners!