TUESDAY, DECEMBER 30, 2008- "A lie can travel halfway round the world while the truth is putting on its shoes." Mark Twain
*********** A warm welcome to Rich Ellerson, leaving Cal Poly to become the new Army coach... "I could only have left for a job like Army, which is more than a great coaching opportunity. It is as important a coaching job as exists in college football," Ellerson said. "I will always consider myself part of the (Cal Poly) Mustang family."
Ellerson is the son of a career U.S. Army officer - his father, Col. (Ret.) Geoffrey Ellerson graduated from the U.S. Military Academy in 1935, and two of his brothers are West Point graduates as well. His oldest brother, Maj. Gen. (Ret.) John, lettered three times in fo otball and served as the team captain in 1962 while another brother, Col. (Ret.) Geoffrey D. Ellerson Jr., graduated from West Point in 1963. Ellerson's nephew, Geoffrey Ellerson III, is an Army Colonel currently serving in Iraq.
In addition, his father-in-law is a retired Army general.
"I will never receive, nor have I ever received, a finer compliment professionally or personally than to be entrusted with the Army football program at this point in its history," Ellerson said.
"I grew up with Army football. I was part of a typical Army family. When I was a kid, I was watching those guys at West Point, my father was a West Point graduate and we were living on Army posts all over the world. I just grew up thinking that West Point was the center of the universe. It's a little bit of a catharsis."
I would merely add that in addition to running a clever flex triple option offense at Cal Poly, Coach Ellerson, while defensive coordinator at Ariizona under Dick Tomey, was responsible for the so-called "Desert Swarm" flex defense that terrorized college football.
FOR A QUICK LOOK AT RICH ELLERSON'S STYLE OF FOOTBALL...
http://www.youtube.com/watch?v=8fhnqALcjrQ&feature=related (vs SDSU)
http://www.youtube.c om/watch?v=oaXRXTHBEBU&feature=related (winning drive vs SDSU)
http://www.youtube.com/watch?v=AAMlQ7OtLzs&feature=related (vs NCCU)
*********** Hugh,

I believe we have a Large high school school State Champion from PA. and NJ. Plus two Jr high school runner-ups in South Jersey, one in the Tri-County league (Cumberland, Salem, Gloucester, and Camden), the other in the Cape-Atlantic League (Cape May, Atlantic, and Ocean Counties, and Bridgeton from Cumberland ).
ALL RUN THE "WYATT DW SYSTEM".

I understand the Dennis Township JV team is a Black Lion member.

Frank Simonsen, Cape May, New jersey
*********** I read something on an Army football forum that illustrates the difference between strategy - what you plan - and tactics - how you actually carry out your plan. It is instructive because there are those people who think that strategy is everything - that you can script an entire football game, without taking into account all the variables that can occur.
I'm a planning expert. After Harvard Business School I spent 11 years in strategic business consulting with Bain and Booz Allen, I've run technology companies, I've done international energy development, and now I rebuild infrastructure systems in post conflict situations. I've done a lot of plans. And what I've learned from that is that while setting your objective is extremely important, just about any plan will do to initiate the action. Once action is initiated, all bets are off. You don't control everything any more, and you have to be a good counter puncher. Your plan will change 3, 4, 5 times.
*********** Brilliant!
(You wrote) "You and I know it as the age-old Rote Method, of course, but they'll claim they named it in honor of NFL Hall of Famer Kyle Rote, and trademark it."
Actually, it's beyond brilliant! LOL
--Dave Potter, Durham, North Carolina
*********** Hey Coach Wyatt,,,,Good to see your web site and that you are still active in your clinics.
I don't know if you remember me but I thought of you when the Dolphins started running the "wildcat." I was telling my girlfriend we ran the wildcat with out 5th & 6th grade team.

I coached the Seabrook (N.H.) Rams. I moved to Cocoa, Fl. 6 years ago this coming February. I got into flipping houses then the market went bust. I have a custom cabinet / counter top shop in Cocoa.

Just wanted to say Hello.......I have mentioned your site to a few coaches and I really try to promote The Black Lion Award.

Good luck Coach,,,,David Marcotte (Keep telling people you were running the Wildcat long before the Dolphins were and I'll vouch for you! HW)
*********** Rich Banbury, a college classmate, wrote me to ask, "Do you know the story of the only player who won varsity football letters at both Harvard and Yale? It's documented on page 64 of Sam Rubin's book Yale Football."
I had to confess that I didn't know, and asked for help, and here was the answer...
"Wayne Johnson Jr played fullback for Harvard in 1942, including a 7-3 loss to Yale. He then joined the Marines and was assigned to Yale for officer training (and perhaps decoding), making him eligible to play for Yale. The first time he carried the ball as a Bulldog, he broke his neck and was temporarily paralyzed. He recovered and was awarded a major Y at the football banquet."
I should have thought about World War II, and the strange movements it caused. Elroy Hirsch played for Wisconsin and then Michigan and then - after the War - Wisconsin; Skippy Minisi started at Penn and played against Navy, went to Navy and played against Penn, then returned to Penn to graduate - and play against Navy.
*********** Sometimes I think I've gone through some sort of a warp and into... the Romper Room Zone...
A few weeks ago, I heard the guy on ESPN - a grownup, I thought, because he was big and he was wearing a grownup's clothes - telling me that Tony Romo had an injured "pinkie."
Recently, I heard another large person, presumably also a grownup, telling me that Marion Barber, Jr. was doubtful for a game because of an injury to his "pinkie toe."
What's with the baby talk? Are there people out there who would have to run for their dictionaries (yeah, right - like they even have dictionaries) if they heard "little finger."
Excuse me while I go fwow up.
Can you see where this is headed?
"Eli Manning and Tom Brady are listed as doubtful his week, boys and girls... Eli has a boo-boo on his elbow... Tom's mommy says he can't come out and play until he cleans his room.."
*********** To give you an idea of just how far once-mighty Notre Dame has fallen, Charlie Weis actually described the Irish bowl win over mighty Hawai'i as "a great step forward for us."
Lee Corso said it well the next day: "It's a sad day when the Irish are crowing about a 7-6 season and a win over Hawai'i."
*********** On the other side of the coin from Notre Dame's bowl game ineffectiveness is Florida Atlantic head coach Howard Schnellenberger, who is now 6-0 in bowl games and leads all present coaches who've had four or more bowl appearances.
For those of you who only know Coach Schnellenberger as that sharply-dressed old guy with the mustache, and the handkerchief tucked into the pocket of his blazer, you need to know that he has a football background. I mean a BACKGROUND.
He played at Flaget High School in Louisville, famous also as the school of all-time great Paul Hornung.
He played his college ball at Kentucky for a guy named Bear Bryant.
After a career in the NFL, he joined Coach Byant's staff at Alabama, and helped the Tide win three national championships - 1961, 1964 and 1965.
Hired by George Allen as offensive coordinator of the Los Angeles Rams in 1966, he left in 1970 to join Don Shula's staff in Miami as offensive coodinator of the Dolphins. Yes, he was coordinator of the 1973 Dolphins, only undefeated team in NFL history.
He became head coach of the Baltimore Colts in 1973, and after going 4-10 his first year, he was fired in 1974 after an 0-3 start and replaced by the guy who fired him, GM Joe Thomas (those were the ugly days of the reign of Bob Irsay, who first ran the Baltimore Colts into the ground and then hustled the franchise off to Indianapolis.
Schnellenberger, meanwhile, returned to the Dolphins, where he stayed until leaving to take over at the University of Miami.
He's the person responsible for the ascendancy of the Miami Hurricanes program to a national power. Stepping into a nearly-dead program, he applied the hard-ass approach he had learned from Coach Bryant and a pro-style passing game that put him way ahead of most other college programs, and concentrated his recruiting in the "State of South Florida", going outside only to "high spot" - to get outstanding players. The upshot? His Hurricanes won the national title in 1983.
After leaving Miami for a shot at the short-lived USFL, he took over at Louisville in 1985. As with Miami, he deserves much of the credit for Louisville's position today as a football school. He won only eight games in his first three years, but by the time he moved on after ten years at Louisville, the Cardinals had become a force in football as well as basketball. In the 1991 Fiesta Bowl, Louisville's first-ever appearance in a New Year's Day bowl game, they thumped Alabama, 34-7, and finished the season 10-1-1.
In 1995, he took over at Oklahoma, but for various reasons things did not go well, and he lasted just one year at Norman before resigning. (Or "resigning." Who will ever know?)
In 1998, he was hired to start a football program at Florida Atlantic University. Charged with finding a coach, he chose himself.
Good call.
After four years at the D-IAA level, Florida Atlantic moved to D-IA in 2005, joining the Sun Belt Conference.
FAU has been to bowl games the last two years, defeating Memphis in the 2007 New Orleans Bowl, and Central Michigan in this year's Motor City Bowl.
*********** I'm sure Missouri QB Chase Daniel is a good kid and all that, and he's had a great career, but why did he have to stand on the sidelines with that damn ball cap on backwards?
*********** With home foreclosures setting records in many parts of the country, it's estimated that there are tens of thousands of abandoned home pools in California, as many as 5,000 in Sacramento County alone.
That's not bad news to skateboarders, who relish the idea of skating in empty pools. They check real estate tracking sites and Google Earth to locate abandoned pools, and they travel with the necessary tools - including gas-powered pumps - to empty them.
The New York Times says that skaters from Europe and Australia are heading to places like Fresno to take advantage of the great "pool skating."
One Fresno skater told The Times, "There are more pools right now than I could possibly skate."
*********** A must on any ESPN list of things to do in the off-season: improve Shaun King or replace him. Please.
And while you're at it... stuff a big red Christmas stocking in Ed Cunningham's mouth. He is unbelievably negative, and he thinks he knows more football than any coach who's ever stood on a sideline.
*********** Three NFL head coaches bit the dust Monday. Yes, they were well paid (if not fully appreciated) for their efforts, but still...
Several years ago, a former student got a job right out of high school apprenticing to a local tattoo artist whose business in downtown Camas goes by the name of Painless Ric's.
One of the kid's jobs was to answer the phone, and he told he of the time he answered, and a guy on the other end asked, "Do you tattoo penises?"
The kid relayed the question to Ric, who was busy on a job. He said Ric looked up and said, "There's not enough money in the world to get me to hold another guy's (crude synonym for male member)"
That's kind of the way I feel about coaching pro football. I don't think there's enough money in the world to get me to coach the kind of (crude synonym for male member)-heads that you find in today's NFL.
*********** To give you an idea of how suddenly a person's world can turn upside-down, Ned Griffen, of New London, Connecticut, sent me this amazing story from Walla Walla, Washington about a young basketball player who suffered a concussion and lost all memory... http://www.komonews.com/news/36581724.html
*********** Hi Coach, I am coaching an 8,9 and 10 year old team for an 8 vs 8 league. We live in Anthem Arizona and it's our first time playing in an 8 on 8 league. We have 15 kids on the team and of the 15 kids 8 have never played football before. I'm seeing some of them stop before impact both on offense and defense. Some of the kids are stopping and the some of the kids stop and drop to their knees on defense. Also, on offense most of the new kids are running straight up.
What are some drills that are really good at getting the kids over thier fear of impact and on offense what's a good drill to get the boys running with a forward lean. Any help will be greatly appreciated.
The way so many American kids today are being softened up by a feminized society that doesn't even allow them to play dodgeball, I'd be surprised if you came up with 11 kids who come to you eager to hit and be hit.
My experience is that very few kids are willing to attempt hard contact until they are very confident that they can survive it. Confidence comes from successful repetitions of the correct techniques.
For that reason, I advocate teaching blocking and tackling very slowly and methodically, in a step-by-step progression. If you are patient and understand that this won't happen overnight, you will begin to see results. Different kids will "get it" at different paces, but over time, you will begin to see the results of your teaching in games.
I can't stress enough the need for patience. The late, great Bud Wilkinson likened it to teaching swimming. You must not jump ahead before the kids are ready. This is a major flaw in the teaching of football to younger players - I have seen way too many bloodthirsty coaches who seem to live to throw kids into full-contact situations whether they're ready or not, shouting, "Let's see who wants to hit." They might get kids injured, and they're likely to convince some of them that football isn't for them. (Now, isn't that a hell of a note - scaring kids away from the game before they've even learned how to play it?)
For sure, though, they won't teach them anything.
For years, now, I have sold my "Safer and Surer Tackling" video ($29.95 and well worth it), showing how I have taught tackling since the early 1980's. We teach it that way at every practice, and even before every game. If you were to grab one of my kids from this past season at North Beach High and ask him to show you how to teach tackling, I guarantee you he could do it.
My "Practice Without Pads" video (just reduced to $39.95) is also helpful in building up to full contact.
There are plenty of good drills illustrated in both of them.
Whatever your drills, though, I can't stress enough the need to be a teacher. Without good teaching skills, drills are useless. You have to be patient. And you have to be persistent. As a coach, after you've thoroughly explained and demonstrated, and explained and demonstrated, and explained and demonstrated - you get the idea - and then walked through a drill, you have to insist on correct repetition after correct repetition. That means you have to be willing to correct them, and unwilling to accept incorrect technique. And listen to an occasional whining, "this is boring." You can't give in to the kids on this.
*********** A great presentation on a great US Marine, sent to me by George Honeycutt, of Myrtle Beach, South Carolina---
http://oldbluejacket.com/CarlosHathcock.htm
*********** Internet humor...
A man called home to his wife and said, 'Honey, I've been asked to fly to Canada to go fishing with my boss and several of his friends. We'll be gone for a long weekend. This is a good opportunity for me to get that promotion I've been wanting so could you please pack enough clothes for a 3 day weekend? And could you also get out my rod and tackle box from the attic? We're leaving at 4:30 pm from the office so I'll swing by the house to pick my things up. Oh! And please pack my new navy blue silk pajamas.

Following the long weekend he came home and his wife welcomed him and asked if he caught many fish.
'Yes!" he said excitedly. "Walleyes, Bass, Pike. But why didn't you pack my new blue silk pajamas like I asked you to do?"

"I did," she replied. "They're in your tackle box."
FRIDAY, DECEMBER 26, 2008- "Those of you with only one child cannot really be considered parents like the rest of us. First of all, if something's broken, you know who did it." Bill Cosby
*********** A Merry Christmas from the beautiful Pacific Northwest.
For only the eighth time in the past 112 years, we had a white Christmas.
And for only the fifth time in all those years - and the first time since a trace fell in 1990 - it snowed on Christmas Day.
I feel like a little kid.
*********** Good Morning Hugh,
Enjoyed the news this morning -- the last thing I did was read the news before getting ready to leave for Lowell and Christmas with our daughters and sons in Law.
Congratulations to both Andy and Nick, both great kids and examples of what hard work and desire can do. I have been fortunate over the years to coach some good kids but Andy Smith was one of the toughest I have seen and pound for pound one of the best. Who says you can't run the DW with a 150 pound tackle.
I got a kick of the humming bird picture and the snow. I remember the birds well when eating pizza on your front deck and talking about football. I bet Connie is having a blast feeding the birds and squirrels in the snow.
We had two feet of snow on Monday-- a classic Nor'easter the damn stuff just keep coming and coming, It took most of the day yesterday to get cleaned up. The temperature this morning is balmy 7 degrees.
I can't tell you how excited I am that coach Creehan is going to Wesleyan == a great choice for the school and you can bet he will bring Wing-t principals to his offense. I have had the pleasure of hearing him speak on a number of occasions and couple of years ago had a chance to meet him personally when I spoke at the Great New England football clinic in Newport RI. He was class act and very easy to talk to. I know he will do well.
Merry Christmas to you Connie and the family.
Jack Tourtillotte
Boothbay Harbor, Maine
*********** Coach, Maybe you remember me as the nut that drove 5 hours to Beloit, KS to watch a few hours of d-wing practice. Here is what I just sent out to my 7th & 8th grade team.
We were undefeated of course, and I owe more to your pre-game than anything. The drive blocking exercises paid off more than anything else. Course it helps when you got some athletic wide loads up-front and speed everywhere else... Just thought I'd let you know and thank you. Hope your season was as successful.
Merry Christmas to you and your family.
Sam Barbee, Jefferson City, Missouri

Game 1 Broncos 24 - Chiefs 6
Game 2 Broncos 60 – Rams 0
Game 3 Broncos 12 – PAL Gold 0
Game 4 Broncos 36 – Harrisburg 22
Game 5 Broncos 30 – PAL White 6
Game 6 Broncos 12 – Blair Oaks White Falcons 8
Game 7 Broncos 35 – Bears 0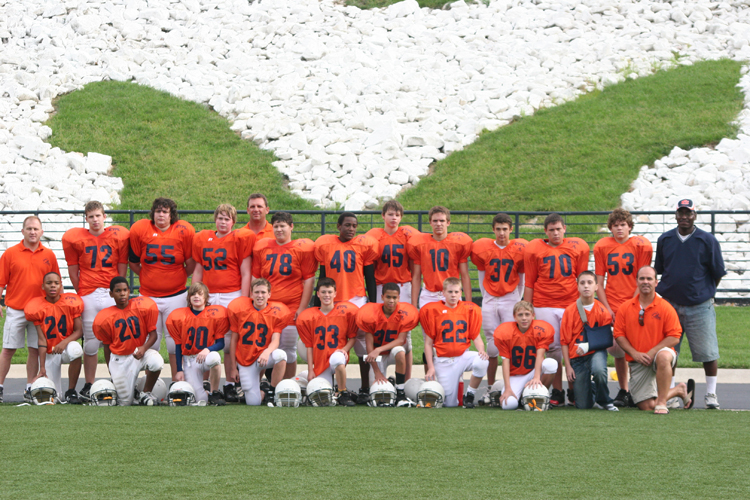 *********** If you'd like a to take a peek at where Title IX could take us someday...
http://msn.foxsports.com/golf/story/8979000/Ladies-tees?-Long-drive-champ-used-to-be-man
*********** Get a life, numbnuts. I heard some poor schmoe in Boston saying, after hearing the news that the Yankees had signed another millionaire (and the Red Sox hadn't) "My Christmas is ruined."
*********** Dennis Cook, in Roanoke, Virginia, sent me an article about a high school coach in Pulaski, Arkansas who refuses to punt. Crazy, maybe, but his team won this year's Class 5A state championship. http://highschool.rivals.com/content.asp?CID=892888
There are many good and well-established reasons for punting, of course, but like so many unconventional things, if it what works for him, it works for him.
Danny Kaler, a tough old Maine lobsterman (see Dan, Dan the Lobster Man) who did a very colorful job of color analysis on cablecasts of local high school games used to crack me up: every time a team was faced with a fourth down play, he'd shout, "Don't punt!!! Oughtta make puntin' illegal!!! If they knew you weren't gonna punt, they'd try hahdah!" (translation for non-New Englanders: "harder.")
Actually, it did make a certain amount of sense.
Not that that was our strategy at North Beach High, but this past season we punted only 3 times in ten games. And one of those punts was a courtesy - we could have gone for it, but we were winning big and there was no point in trying something tricky on our own side of the 50.
Yes, a major reason that we seldom punted was that we didn't need to - we drove until we scored. But there were a few times when we gave up the ball on downs and a few (well, more than a few, unfortunately) when we turned it over. Once, our punter mishandled the snap and took the loss, and twice he ran for a first down.
*********** I was watching the California championships last week and who(m) should they decide to interview at halftime of one of the Long Beach Poly game than that distinguished Poly alum and renowned youth coach, Calvin Broaddus, aka Snoop Dogg. Snoop for short.
Despite the rapper's unsavory reputation, he was treated like a god. "Talk about your love for football," they said.
And then Mr. Dogg told us how he is helping young men to improve themselves by playing in his football league. "We tell 'em," he said, "they gotta maintain a 2.0 GPA to play football."
A 2.0? Wow. That'll put a kid on track for academic success. I believe that's called the soft bigotry of low expectations.
*********** A great story about football's power to do good, sent me by readers Dave Potter, of Durham, North Carolina and Ryan Miller, of Portland, Oregon- http://sports.espn.go.com/espnmag/story?section=magazine&id=3789373
*********** Coach, I wanted to give you an update on our 4th season running your offense. After 4 undefeated seasons( The first was a wing-T, last three with your doublewing) in the "B" league, we moved to the toughest league in Maryland. The team we moved to had some very good players already, so when we added our seven kids we had some talent.
We went 14-0, won our league, and won the state tournament which was held at M&T Bank Stadium (Raven's home). The final game was 51-0.
We averaged 37 points per game and 9.6 yards per play. The only things that stopped us were penalties and a running clock in the second half. The starting wingbacks and the backup fullback averaged 10+ yards per carry. When we did pass we averaged 18 yards per completion. We won the turnover battle 46-10 ( only 3 we from the starting offense.)
I am firmly convinced that the double wing is the best offense for youth football and I am waiting for a chance to prove it at the high school level.
Happy holidays and thank you for all your help.
Garrett Pfeifer, head coach Perry Hall Gators 10-12, Baltimore.MD
*********** Texas-San Antonio will be starting up a football program to play at the D-IAA level.
*********** Former Army football player and wounded Iraq warrior LTC Greg Gadson will speak at the kickoff luncheon of the Armed Forces Bell Helicopter Bowl
*********** LSU is promoting something called "Paint Atlanta Purple" for their game against Georgia Tech in the Chick-fil-A Bowl. Not sure what that means, exactly, but if they're serious and they'll provide the paint, I'm sure I could round up a few skateboarders who'd be happy to fly down there and help them out.
*********** Hearing that Southern Miss made it 15 straight winning seasons with their bowl win over Troy, it's hard to believe they let Jeff Bower go last year after he'd given them the first 14.
*********** Apart from the enormous cost of firing Charlie Weis, think of what Notre Damers might have missed if they'd let him go. A bowl win over a poor Hawai'i team - whose last game was an impressive 24-10 thumping of Washington State - and the excitement of watching Jimmy Clausen shoot fish in a barrel, throwing against a team that couldn't decide whether to rush or cover and finally compromised by doing neither.
Give Notre Dame credit. They finally found somebody they could beat in a bowl game, and if that meant having to spend the holidays in paradise, so be it. What they found was an opponent that couldn't rush or cover... an opponent with a one-dimensional offense built around a quarterback who couldn't run. Yes, Hawai'i did finish 7-6, but they needed wins over Weber State, New Mexico State, Idaho and Washington State to get there.
Give Charlie Weis credit, too. He showed that when he's calling plays from up in the press box he's a good enough offensive coordinator that some day he might make somebody a good college head coach.
*********** Phil Taylor, in Sports Illustrated, quoted linebacker Takeo Spikes on new 49ers' coach Mike Singletary's approach to practice: "He'll make you do a drill three, four, five times if you don't get it right, and at first you get mad..."
Wow! Imagine that! Doing a drill over and over until you get it right.
What will those innovative pros think of next? Quick - somebody call Chris Berman.
Before long, knowing what copycats the pros are, the whole league will be doing it (assuming the NFLPA has no objections).
And in the off-season, in the clinics they put on, they'll be showing impressionable youth coaches this radical new approach to coaching that they've invented.
You and I know it as the age-old Rote Method, of course, but they'll claim they named it in honor of NFL Hall of Famer Kyle Rote, and trademark it.
*********** Where were these guys when I was looking for somebody to vote for? http://hottytoddyblog.blogspot.com/2008/12/hog-wash.html
*********** Before ESPN gets hold of the story and gives it the "based on a true story" treatment, be sure read the true story first... the story of Mike Balogun. Here's a guy who never played high school ball, knocked around semi-pro ball, went to a JC in Pennsylvania, and now, at the age of 25, is a junior linebacker - not yet a starter, by any means - for the Oklahoma Sooners. http://www.nytimes.com/2008/12/25/sports/ncaafootball/25oklahoma.html?th&emc=th
*********** Dear Coach Wyatt;
I've been meaning to write to you for close to two months now and congratulate you on your well-deserved honors and successful season with the Hyaks. It was very much an honor to attend your game and do some scouting for you, and please keep me in mind for next year if you need scouting done in this area.
I saw your personal mission statement, and it really jarred me. As you know I teach Applied Technology at the middle school level. One of my responsibilities is to teach modern students to think and write while using a keyboard, which is a different mental exercise from writing with pen and paper. To accomplish this, we do a weekly journal write in class that is based on prompts from our planners.
In mid-October there was a prompt to "Write a personal mission statement." This is something I've been meaning to write for some time and never gotten around to it. It can be a difficult concept for many people, especially students. A mission statement isn't a list of goals, it's a description of how you will APPROACH those goals.
As it happens I was reading your NYCU that day and I came across your description of the three "Rs" you live by on the football field. After some thought I realized that everything I wanted to say about my personal mission in life could be summed up by reprising those simple concepts, and now, my mission statement is: "Every day I will find some way to demonstrate respect, resiliency, and responsibility."
In a way you could say that you gave me a Christmas present early. That afternoon I was requested to interview for the head JV wrestling position at our middle school. It was a spur-of-the-moment call, and I was completely unprepared: no current coaching CV, no background prep on the league or even on current wrestling rules, no recent experience as a wrestling coach.
But I had a new mission statement, and when my AD asked me to describe my coaching philosophy in one sentence, the words I'd strung together four hours before came tumbling out.
Wrestling has been a challenge to coach this year. Sixteen wrestlers, shoddy uniforms, torn mats, academic issues-- but I don't recall ever asking for easy.
Just another way you've changed my life.
All my love to Connie, Merry Christmas to you both (and tell her I'm sorry I spoiled her shot with my excitement!)
Very Respectfully;
~D.
PS: I am confirmed to start my student teaching, in addition to teaching technology, in January. By March I should be done with the teaching preparation program and fully certified.
Derek A. "Coach" Wade

Coach,
Thanks for the note. It was great getting you involved in our season and I hope we can do it again! With two, maybe opponents in the Puget Sound area, we'll need to call on you again for sure!
I'm glad that you've been able to get some use out of my sharing of my mission statement and my fundamental principles. They keep me on course and they allow others to judge me on how I'm doing. They help you handle an interview because you show that you know yourself and have yourself on course. It's a lot easier to be responsible for others when you have a plan for yourself.
When I say that I'm going to set high standards for the kids, the three R's are what I'm talking about, and when I say I'm going to hold them accountable, I talk to them in those terms - "Don, that's not showing respect..." or "John, we can't depend on a guy who's not responsible..." or "Mike, you have to put that mistake behind you - that's what being resilient means."
And so forth.
You could say that finally distilling all my thinking into these short guidelines has been a present to myself. It has enabled me to look at every aspect of my coaching from a healthy perspective.
So you're welcome, and I'm flattered that you've found use for my 3 R's!
Merry Christmas.
(Coach Derek Wade, a long-time Double-Wing coach in Tomales, California while stationed nearby with the Coast Guard, was able to help us out with some scouting this past year, and was able to attend our game in Tacoma. Needless to say, he is more than welcome to help out in any way he can. HW)
*********** What a shame that a fool like Plaxico Burress has all that money and doesn't know what to do with it. He's being sued by a woman in Florida who says he rear-ended her vehicle while driving his $140,000 Mercedes. He had no insurance. A letter from Allstate says he "neglected to pay his premiums."
He's so f--king dumb he doesn't even know that you can pay an agent to take care of those things.
At the rate he's going, he's liable to get thrown out of pro football - and then he'll have to go buy a Senate seat.
*********** Coy Bacon, a 3-time All Pro offensive linemen, died at age 66 in his native Ironton, Ohio. I had to mention his hometown town because my favorite morning DJ out here is from that area of southern Ohio-West Virginia and says if you're really from Ironton, you say you're from "Ahrntnohio." Really fast.
One of the NFL's all-time greats, the Bears' George McAfee, also came from Ironton. I'll always remember him because I saw him play when I was a kid and he was the first football player I'd ever seen wearing low-cut shoes. I thought he looked so cool that when I got home I got some shears and cut the leather tops off my shoes, and from that point on, with the exception of my freshman year in college when we had to wear school-issue hightops, I wore low-cut shoes. I was cool.
Now an old fart, I shake my head at some of the things kids nowadays do to try to look cool. I think I may need to remember that some of my college coaches probably thought I was a hot dog because I persisted in wearing low-cuts.
*********** "What the Yankees have done over the past few weeks isn't in the best interest of baseball at all - but what does best interest of baseball have to do with anything? Major League Baseball established the financial rules in conjunction with the union, and the Yankees live well within those guidelines. Of course, there are no financial guidelines, so it's kind of hard to live outside them." Dave Solomon, New Haven Register
*********** IN an exchange with Dave Potter, of Durham, North Carolina, we got going on the recent ESPN show on the "Greatest Game Ever Played"...
The ESPN show was enjoyable. Like you, I found there were things they could have done to improve it a lot, but considering what ESPN has done with other stories, I thought it was pretty good. Just got finished watching it again.
I also thought that they cut off some of the interviews too quickly. I remember Tony Dungy saying something that absolutely demanded a response from Raymond Berry, and they cut to game footage before he could respond.
Berry never said much as a player, and it's always great to hear him talk now. He is very intelligent and well-spoken and knowledgeable of the game.
That's something I always appreciated about you and Connie. As far as the "Ballmer" Colts were concerned, y'all "got" it. Y'all understand just how near and dear that city loved their football team. Perhaps only the Packers in Green Bay were as loved. It's been so long since the Colts moved, I'm afraid that most people have long since forgotten that not only were the Colts originally in Baltimore, but there was a love for that team and those players unlike any other. I will curse the name of Irsay until I die. And when I do, I'd like my ashes to be spread over what used to be the field of Memorial Stadium.
I always get misty when I think of those days in Ballmer, the Colts' heyday.
What still hits me more than anything else is that those guys were heroes - gods almost - but they were accessible. They were not aloof. They were ours. They were regular guys who were good enough to play for our team, and nobody begrudged them the money they made because we could comprehend numbers like $30,000. They lived in nice enough houses, but they didn't live in gated communities, and they didn't travel with posses.
And they all had off-season jobs, many of them around Baltimore.
I would give a lot to go back to those days for one football season.
Thankfully, just by chance, we were back east several years ago, and driving through Baltimore, we read that the Ravens were playing their first exhibition game that night. We grabbed our two grandsons, who were visiting in the DC area, and brought them back to Baltimore to see the Ravens' first game ever, and to watch one last game in Memorial Stadium.
The only former Colts that I've met have been Bill Curry and Joe Ehrmann. Coach Curry was kind enough to sign his autobiography for me. He also gave me his e-mail address and we corresponded back & forth several times. Joe Ehrmann was in town to promote his "Building Men for Others" work. He was kind enough to pose for a picture with me and sign a copy of his book. While Coach Curry seemed to understand my (over?)zealous appreciation for the Colts, I'm afraid Joe Ehrmann thought I was a bit too serious about it all. LOL (i.e. "Colts-Geek" fan boy). Anyhoos, meeting both was a thrill for me, but being able to actually sit down with the man who was coached by Dodd, Lombardi and Shula and worked with Starr and Unitas was an incredible thrill. Add to the fact that Bill Curry is such a class act!
In Joe Ehrmann's defense, he wasn't there in the glory days and just wouldn't understand. He came on board in 1973, a year after Carroll Rosenbloom pulled off the franchise switch that got him the Rams and turned the Colts over to that drunken lout Bob Irsay (someday you should hear what I really think about him). Baltimoreans still continued to love the Colts but Irsay did his damnedest to turn them off, and Joe Ehrmann played in that atmosphere.
Bill Curry, on the other hand, was a part of the Golden Age of the Colts, and would understand where you were coming from. In my book, Bill Curry is a class act in every respect. Former Duke coach Ted Roof, who played for Coach Curry at Georgia Tech (and is now DC at MInnesota), said the same thing, and said he is exactly the classy way he appears on TV - "what you see is what you get." From what I'm told, the Atlanta community is excited about the return of Coach Curry, a native son, to start up the program at Georgia Tech.

*********** I was reading the obituary of an old gentleman who'd died recently. He was from the northern part of our county, up in what was once wild logging country and even now, even though it's no more than 20 miles from downtown Portland, is heavily wooded and sparsely populated, He'd made his living as a logger, a mechanic, and a truck driver. And he was a lifelong member of the Apostolic Lutheran Church, which to people in these parts means that he was very devoutly religious. And also that he had a lot of kids.
Well. He left seven sons and four daughters, all married, and all but two still living in northern Clark County, Washington. And 73 grandchildren and 101 great-grandchildren.
TUESDAY, DECEMBER 23, 2008- "My son is not playing soccer. I will hand him ice skates and a shimmering sequined blouse before I hand him a soccer ball." Sports talk show host Jim Rome
MY ANNUAL CHRISTMAS WISH FOR FOOTBALL COACHES EVERYWHERE (First printed in 2000, and printed every Christmas since): May you have.... Parents who recognize that you are the football expert; who stand back and let you coach their kids; who know their kids' limitations and don't expect them to start unless in your opinion they are better than the other kids; who don't sit in the stands and openly criticize their kids' teammates; who don't think it's your job to get their kid an athletic scholarship; who schedule their vacations so their kids won't miss any practices; who know that your rules apply to everybody, and are not designed just to pick on their kid... A community that can recognize a year when even Vince Lombardi himself would have trouble getting those kids to line up straight... Opponents who are fun to play against; who love and respect the game and its rules as much as you do, and refuse to let their kids act like jerks... Students who want to be in your class and want to learn; who laugh at your jokes and turn their work in on time... Freshmen who listen carefully, hear everything you say and understand all instructions the first time... Officials who will address you and your kids respectfully; who know and respect the rulebook; who will have as little effect on the game as possible; who will let you step a yard onto the playing field without snarling at you... Newspaper reporters who understand the game, always quote you accurately, and know when not to quote you at all... A school district that provides you with a budget sufficient to run a competitive program... A superintendent who schedules teachers' workdays so that coaches don't have to miss any practices... An athletic director who has been a coach himself and knows what you need to be successful and knows that one of those things is not another head coach in the AD's office; who can say "No" to the bigger schools that want you on their schedules; who understands deep down that despite Title IX, all sports are not equal... Assistants who love the game as much as you do, buy completely into your philosophy, put in the time in the off-season, and are eager to learn everything they can about what you are doing. And if they disagree with you, will tell you and nobody else.. A booster club that puts its money back into the sports that earn it, and doesn't demand a voice in your team's operation... A principal who figures that when there is a teachers' position open, the applicant who is qualified to be an assistant coach deserves extra consideration; who doesn't come in to evaluate you on game day; who makes weight-training classes available to football players first, before opening them up to the general student body; who knows that during the season you are very busy, and heads off parent complaints so that you don't have to waste your time dealing with them; who can tell you in the morning in five minutes what took place in yesterday afternoon's two-hour-long faculty meeting that you missed because you had practice... A faculty that will notify you as soon as a player starts screwing off or causing problems in class, and will trust you to handle it without having to notify the administration... A basketball coach who encourages kids to play football and doesn't discourage them from lifting, or hold "open gym" every night after football practice... A baseball coach who encourages kids to play football and doesn't have them involved in tournaments that are still going on into late August... A wrestling coach who encourages kids to play football and doesn't ask your promising 215-pound sophomore guard to wrestle at 178... A class schedule that gives you and at least your top assistant the same prep period... Doctors that don't automatically tell kids with little aches and pains to stay out of football for two weeks, even when there's nothing seriously wrong with them... Cheerleaders who occasionally turn their backs to the crowd and actually watch the game; who understand the game - and like it... A couple of transfers who play just the positions where you need help... A country that appreciates the good that football - and football coaches - can do for its young men... A chance, like the one I've had, to get to know coaches and friends of football all over the country and find out what great people they are... The wisdom to "Make the Big Time Where You Are" - to stop worrying about the next job and appreciate the one you have -... Children of your own who love, respect and try to bring honor to their family in everything they do... A wife like mine, who understands how much football means to you... Motivated, disciplined, coachable players who love the game of football and love being around other guys who do, too - players like the ones I've been blessed with. A nation at peace - a peace that exists thanks to a strong and dedicated military that defends us while we sleep. Merry Christmas.
Sounds like the things I have - may you be blessed to have them, too.

And one special wish for those coaching brothers who find themselves "between positions" at this time of year - May your Christmas joy not be dimmed by the fact that you are temporarily without a team, and instead brightened by the belief that your next job is just around the corner. And if my experience is any indicator, it will be a far better one, anyhow!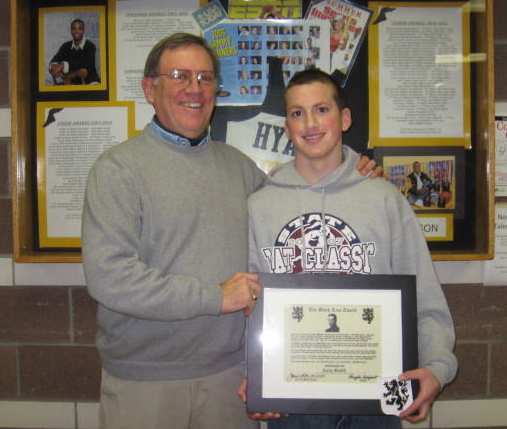 That's me and North Beach's Black Lion, Andy Smith. I know what you're probably thinking - isn't he a little small to be a high school football player?
Well, you might think, maybe he's a wide receiver. But wait - doesn't Wyatt play a lot of the time with two tight ends?
Okay, then, you say - he's probably a return specialist. But how could a guy who just returns kicks be his team's Black Lion?
Surprise. Andy Smith was no part-timer. He was a full-timer. He was our starting right tackle on offense and an all-purpose linebacker on defense. He never came out of a game. Not on offense, not on defense, not on kicking plays. Never. Which is just as well, because we had no replacement for Andy.
Andy never weighed more than 150 pounds (I never even dared to ask), but he managed to combine toughness, quickness and the leverage he learned as an accomplished wrestler with the techniques that the Double-Wing provided him, to deal with guys who outweighed him by 100 pounds or more.
When our league's coaches selected him as an offensive linemen on our all-league team, it was just icing on the cake, because we coaches all knew how important Andy was to our success, and his teammates were in awe of his willingness to throw himself into anything for the sake of his team. We couldn't work him hard enough. He always wanted to run one more sprint. He never seemed to feel pain. He knew no fear. And he had that thing we all like in a lineman - a bit of a mean streak.
Let this be a lesson to anyone out there who's tempted to select his team on the basis of what he sees in off-season workouts, when the players are still in tee-shirts and shorts: wait to judge them until you first find out whether they can play football. Unless you do, you could miss out on the toughness and leadership and inspirational play of an Andy Smith.
*********** Hugh, This statement should be on your headstone someday! What a great creed to coach by!:

He treated kids right…..
He set high standards and held his kids to them….
He taught as much football as humanly possible….
He gave kids an experience they could take with them the rest of their lives.
If you think he was a 'hard ass' well, you're a 'pussy' and unfit to teach young men!
Hugh Wyatt on Hugh Wyatt

Don Capaldo, Keokuk, Iowa (I remember Pepper Rodgers - great coach at Kansas, UCLA and Georgia Tech - once saying that his epitaph should read, "HERE LIES PEPPER RODGERS - HE COULD COACH GOOD PLAYERS BUT HE COULDN'T COACH BAD PLAYERS." HW)
*********** Coach Wyatt,

I read your "Personal Mission Statement" comments at the end of your NYCU section today and I have but only one word for you….AMEN!!!!

I only wish we could have operated that way at Oxford this past season.

Obviously, we did not as we finished 0-10 and I'm sad to report we deserved every bit of it.
If a head coach and his staff lives by that, or something roughly approximate, you'll even be able to deal with 0-10, because you'll know you'll have done your best and you'll have been honest with each other.
Merry Christmas!
*********** Maybe the R + L Carriers Bowl Game between Troy and Southern MIss was a meaningless bowl game to some of you, but not to the Southern Miss kids celebrating their overtime win after blocking a field goal attempt. Who are we to disparage any game if someone is willing to pay to stage it? It is supposed to be for the kids, right? (Helluva game, by the way.)
*********** That little pissant keeker from Troy? The one who threw a tantrum after Southern Miss blocked his kick in overtime? Will someone please turn him over their knee and give him a good spanking before he throws his helmet to the ground one more time?
*********** At the end of the HBO special on the "Greatest Game Ever Played" we were told that in 1958 the average price of an NFL franchise was $1 million.
There were 12 teams in the NFL then. That meant the whole league was worth $12 million.
Terrell Owens is going to be paid 13 million dollars this year.
You can see where this is going.
What do you suppose people like Gino Marchetti, Rosey Grier, Art Donovan, Andy Robustelli, Johnny Unitas or Lenny Moore would have said if you'd told them back then that an overpaid, big-mouth, selfish lout who always puts himself first and never won a championship would one day make enough in one season to buy the whole f--king league?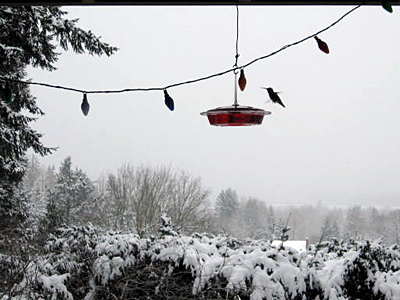 *********** I took the photo at left on our deck Monday. I wanted to ask, "Hey, fella - shouldn't you be in Arizona or someplace like that?"
We have lots of birds hanging around our deck. You should see the hummingbirds. Talk about aggressive - those little bastards can't stand the sight of another hummingbird. But in winter? When it's freezing out?
Like people elsewhere in the country, we've had a bit of wintry weather this past week, and with temperatures under freezing for several days now - very rare for us - my wife's been going outside every hour to change the hummingbird feeder as soon as the other one freezes.
There's about 9 inches on the ground where we live, and they're all saying this is our worst storm since 1980. (Where's Al Gore spend the winter, anyhow? Why don't we ever see him giving a speech at the same time there's a couple hundred thousand people in New England without power?)
Part of the routine around here, any time there's a storm predicted, is to send reporters out to the truck stops in Troutdale. Troutdale, Oregon, sits aside I-84 at the western entrance to the Columbia River Gorge. Interstate 84 is the only road from Portland to the east, and it runs through "The Gorge," as it's known out here. The Gorge is notorious as a mainline for nasty weather conditions as it slices through the Cascade Range. I-84 has been closed since Saturday.
Last Friday, the TV guy - one of those actors with a mic - asked a truck driver where he was headed, and when the guy said, "East on 84," the actor with the mic said, "You know, don't you... this is the gateway to the Gorge.... and I guess they're requiring you to chain up..."
The driver stood by patiently while the actor with the mic finished his act, then started to speak very authoritatively, whereupon the actor handed him the mic, and he look at us and told us, "I-84's closed from (milepost) 64 to 82, and from 252 to 269..."
Hire the guy.
*********** Coach -
I saw the News Page today.... WOW! It never occurred to me that I did not include anything about Nick's parents in his nomination letter.
Dad is a Chicago Firemen and a mason/brick worker on the side. A very hard worker, I know he instilled a great work ethic in Nick.
Mom is a teacher aid at Queen of Martyrs. Again, another hard worker, his mom was involved in a lot of the stuff that goes on helping to run a football program, ALWAYS was there to help out in anyway, set up, fundraise, clean up, photos, gifts, etc, etc. .
I only wish they had about 4 more boys!

Have a Merry Christmas!
Best to Connie, you, and your family.
Bill Murphy, Chicago
*********** Congratulations to Denny Creehan, just appointed head coach at West Virginia Wesleyan. You may recall that I shamelessly promoted him for head coach at West Point back in 2004. I still think he would have been a great hire at Army.
By great coincidence, West Virginia Wesleyan happens to be the alma mater of my good friend Jack Tourtillotte. It's where Jack, a Mainer, met his wife Susan, a native West Virginian.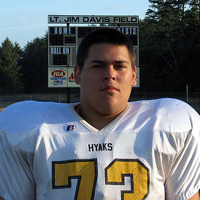 *********** Nick Poplin, shown at left, who played right guard and defensive tackle for us this past season, was named to the AP All-State Class 2B team. It is an honor richly deserved and I'm honored to be his coach. Nick, 6 foot and 275, was instrumental in our offensive success, and on defense he was solid at the nose and at defensive tackle. I think he can play college ball.
*********** Fresno State and Colorado State - two teams with quarterbacks under center. It's like taking a time machine back to the 1950s and watching two single wing teams go at it.
*********** Colorado State's Gartrell Johnson is a beast! And I'm not talking about that mane of hair, either.
*********** The announcers were beside themselves. "I'm stunned," said the color guy.
Down 21-13, and on the Fresno State 22 with nine second left in the half, Colorado State passed up a field goal (and "a chance to go in with some momentum," as the broadcast guy said) and threw into the corner of the end zone. Touchdown.
I wouldn't have done that, they said. What if they'd been sacked? What if they'd thrown an interception?
But they didn't do either. They showed some stones, and it worked out.
And then, after rolling the dice like that, they went and kicked the f--king extra point, and went in at halftime one point down.
WTF?
*********** Time to pull the f--king plug on this replay sh--. They held up the Arizona-BYU game for FIVE minutes while the stripes reviewed a decision. And it still wasn't clear cut. I think we were all better off when we had to learn to deal with finality, even if it seemed unjust. If we can't even live with an official's decision in a stupid game, is it any wonder that murderers feel entitled to appeal after appeal?
*********** Haw, haw. Maybe they should leave the tricky stuff to youth coaches and players, who know what they're doing...
It was the third quarter. Cowboys' ball, third and one. Cowboys' QB Tony Romo took the snap and started right... and so did the running back, Tashard Choice... and I nearly jumped out of my chair. "Look at this!" I yelled to my wife excitedly. "They're running an option!"
Damned if they weren't. Romo took it right at the option key, and - wisely - pitched.
Uh-oh. Choice, who in fairness to him is making NFL slave wages - $734,000 - bobbled the ball out of bounds, in a way that would indicate to me that they'd never practiced the play. And the 'Boys lost a yard!
They looked like a youth team running the option for the first time. A bad youth team. Apologies to youth coaches everywhere whose kids are able to execute a simple option.
***********When I saw Wake Forest come out in those hideous old-gold jerseys and Navy in those gooney white jerseys with blue shoulders, I thought they'd win the Butt-Ugly Uniform Bowl hands down. But then I saw Southern Miss in all-canary play Troy in all-burgundy. Fortunately, in both games they played a lot better than they dressed.
*********** Watched some of the Californis state championship games Saturday... Whew! Unlike other states, California doesn't have a true state playoff system, but instead a series of bowl-like games, somehwta on the order of Massachusetts' Super Bowls.
There were five games on TV, in ascending order of size, pitting Northern California schools against Southern California schools. Only one of the games was won by the Northern California entry.
In the Open Division game, Sacramento Grant scored with 1:11 remaining to upset Long Beach Poly, 25-20. Poly, the #1 tam in the state, was all it was cracked up to be, but I was astonished at the speed of the Grant defense.

Running back Tyler Gaffney (USC, ND, Stanford) rushed for 329 yards and five touchdowns to lead San Diego Cathedral Catholic to a 37-34 victory over St. Mary's of Stockton in the Division II game. St. Mary's QB Cod Vaz, who's headed to Oregon State, completed 31 of 46 passes for 336 yards and four touchdowns with no interceptions.
*********** It bugs the crap out of me that I work to get boys to stop saggin', and then I can't see a bimbo on TV who doesn't feel like she has to show everybody the crack between her jugs.
*********** ESPN's Wendy Nix, sharing the set with two former players: "Blah, blah, blah, blah, blah, blah, blah, blah, blah, blah, blah, blah, blah, blah, blah, blah, blah, blah, blah, blah, blah, blah, blah, blah, blah, blah, blah, blah, blah, blah, blah,blah, blah, blah, blah, blah, blah.........
Wendy Nix' interviewing technique: "Blah, blah, blah, blah, blah, blah, blah, blah, blah, blah, blah, blah, blah, blah, blah, blah, blah, blah, blah, blah, blah, blah, blah, blah, blah, blah, blah, blah, blah, blah, blah,blah, blah, blah, blah, blah, blah. What do you think?"
*********** My friend Tom "Doc" Hinger has been through a few battles in his time. In Vietnam, he was wounded in the Battle of Ong Thanh, and was the first to reach the lifeless body of Major Don Holleder. In the years since, he has had his scrapes with cancer. A little over three years ago, he was diagnosed with pancreatic cancer, and had to undergo one of the most complicated and risky of all surgical operations, known as a Whipple Procedure. (You would need plenty of time to recover after just reading about it.)
He said that last week he was at the VA hospital in Tampa, and happened to run into the surgeon who had performed three operations on him.
The doctor said, "I forgot to give you your card. I need to punch it."
"Huh?" Doc asked.
"Yeah," the doctor said. "After the ninth one, the tenth one's free."
*********** I suppose it's not totally unreasonable that there could have been 150-some Big 12 fanatics who put Graham Harrell on their Heisman ballots along with Sam Bradford and Colt McCoy, and left Tim Tebow off. Still...
*********** For those fools who supposedly left Tebow off because they didn't want him to win it two years in a row... did it not occur to them that if either Sam Bradford or Colt McCoy won it, they'd be facing the same problem next year?
*********** For those who think that the BCS sucks, I need to tell you that it was once worse. Much worse. There are still some of us around who can remember the days when the news services voted for the national champion before the bowl games. There was a year when Maryland's national champions then went out and lost in the Orange Bowl to Oklahoma, and another when Minnesota's national champions lost to Washington in the Rose Bowl.
So isn't it time for people to realize what a farce they're allowing the Heisman become? We hear that to win it, a playe should have a "breakout" game, and yet we deprive players of the opportunity to show a national audience what they can do in a bowl game.
Yes, yes, I know - ESPN needs the Heisman show for that dead weekend between the end of the regular college season and the start of the bowls, but in the interest of integrity (if that matters to anyone anymore) it's high time the Heisman people waited until after the bowl season.
(Oh- and while they're at it, they need to cull out all the nitwits who cast their ballots early this year, before either the SEC or Big 12 championship games are played. Simple solution - don't even mail out the ballots until after New Year's Day. Come to think of it, why are they even using mail any more?)
*********** Amidst all the discussion on the Army board about the search for a new head coach who will run "option," I felt it necessary to answer those who honestly believe that Army can run the sort of "option" that Rich Rodriguez is famous for...
There seems to be some confusion here about what "spread option" means. Most college teams nowadays "spread" their formation, and many of them run option as well. But Navy and Georgia Tech run option with a QB under center, really a glamorized descendant of the wishbone, while most others do so with a multi-talented guy back in the shotgun. Think Bradford/McCoy/Tebow.
The shotgun spread option is heavily reliant on an unusually talented QB, and on keeping that guy healthy. If Pat White hadn't gotten hurt against Pitt in 2007, West Virginia would have gone on to play in the BCS title game and Rodriguez might still be at WVU. If Dennis Dixon hadn't been injured near the end of the season, Oregon might have been in the title picture, too. When that one guy goes down, not even West Virginia or Oregon can have another guy ready on a moment's notice.
The shotgun spread also requires better receivers than Army can recruit. Ever notice how many of the great receivers in the NFL are knuckleheads? It seems to go with the position. No way are guys like that going to be able to deal with West Point - or the converse.
Thanks to the Internet and various scouting services, if a kid nowadays is deemed good enough to play at the major college level in that offense, he has been evaluated over and over, at one camp or combine or another. He has had enough contact with recruiters and had enough smoke blown his way that he just knows that he will go on to play in the NFL some day. He may be unrealistic, but he is sophisticated enough to know that a service commitment will interfere with his plans.
Navy, on the other hand, recruits the kind of QBs it needs from an entirely different pool, and seems to be able to replace a starting QB without missing a beat. As for receivers, we seldom get to find out whether theirs can actually catch the ball. They seem mostly to be split wide because as Lou Holtz once said, "If you put a guy out there with no arms, they'll still put a guy out there to cover him."
*********** It's four years old, but it's worth reprinting, just to see if we're getting closer to any of this coming true...
(From the Net) Headlines from the year 2035.
Ozone caused by electric cars killing millions in the seventh largest country in the world, California .
White minorities fighting to have English recognized as California's third language.
Spotted Owl plague threatens Pacific Northwest crops and livestock.
Baby conceived naturally... Scientists stumped.
Couple petitions court to reinstate heterosexual marriage.
France pleads for global help after being invaded by Jamaica.
Castro finally dies at age 112; Cuban cigars can now be imported legally, but President Chelsea Clinton has banned all smoking.
George Z. Bush says he will run for President in 2036.
Postal Service raises price of first class stamp to $17.89 and reduces mail delivery to Wednesday only.
35 year study Shows Diet and Exercise is the key to weight loss.
Massachusetts executes last remaining conservative.
Supreme Court rules punishment of criminals violates their civil rights.
New federal law requires that all nail clippers, screwdrivers, fly swatters, and rolled up newspapers must be registered by January 2036.
Congress authorizes direct deposit of illegal political contributions to campaign accounts.
Capitol Hill intern indicted for refusing to have sex with congressman.
IRS sets lowest tax rate at 75%.
Florida Democrats still don't know how to use a voting Machine.
*********** Coach-

I just read all of your tips- It was great- I know it will make me a better football Coach- Thanks!

Steve VerBurg
Davison, MIchigan
*********** Next time you get your butt beaten, try to remember Lakeland, Florida.
Year in and year out, Lakeland is good. A couple of years ago, Florida signed seven of their kids.
Lakeland has played in six state championship games, and lost only one of them.
That loss came last Saturday against Fort Lauderdale St. Thomas Aquinas, USA Today's #1 ranked team.
scored on the second play of the game, led by 28 points after running just eight offensive plays and beat Lakeland, 56-7 in the 2008 Florida Class 5A Football finals at the Citrus Bowl before 9,038 fans.
*********** I got your DVD's. Really enjoyed them. Thanks for the North Beach 2008 DVD.

I've got one problem. I really did like you using the analogy of the double wing offense is not a convential offense, the opponents hate playing us...we don't fight fair. They hate playing us because We don't play basketball on grass like others do. BUT.......
I wish you would have used the American Revolution War instead of the Veitnam or Iraq conflicts as examples.
The turn for US during the Revolutionary War was when we got out of the conventional way of battle..you know, get in straight lines and one team shoots first, then the other team shoots while the enemy reloads. Once we decided to turn the battles over to the militia, thing really turned the way of the unconventials. They hid behind tree and rock, they suprised the enemy at every river crossing they came to.
They didn't line up and fight a war by the Queen's Rules. They attacked and kept attacking. They would "wedge" the enemy's straight lines. They swept their flank with "power". They would often make the enemy think they were going to be attacked at one flank and then "counter" to the other.
Yes, our country was built on the shoulders of guys just like us. God Bless America .
Wayne Gandy,
Joaquin, Texas
Well, Coach,
You're certainly correct, and to be honest I just used those two more recent examples - as distastefu l as it is to me to use our enemies as illustrations - because thanks to the failure of our schools to teach history the way we once did, fewer and fewer people even know the difference between the Revolutionary War and the Civil War.
There sure were lots and lots of examples of our use of what Basil Liddell Hart called "The Indirect Approach," which is found in everything we do.
Merry Christmas!
*********** I came across this on one of my old News pages - July 2004 -
One of my very favorite authors is John Irving, whose works include Cider House Rules, A Son of the Circus, Hotel New Hampshire, The World According to Garp, and A Prayer for Owen Meany.
First and foremost, he is a great story teller. He has a superb appreciation of human foibles, and a sly sense of humor: with a straight face, he is able to put his characters into some of the the most improbable - if not downright absurd - situations. His plots can take some of the damnedest twists, and he can go so far off on a tangent and get you so absorbed in what's happening at the moment that you forget something that went on earlier, and then - wham - he always manages to put all the pieces together, and frequently in unexpected ways. And, of course, he understands the English language and how to make best use of it in telling his story.
I just finished reading "A Widow for One Year," a fairly typical Irving work.
In one scene, Eddie and Hannah, two old friends of the novel's main character, Ruth, are driving to Vermont to visit Ruth and her new lover, Harry, a Dutchman, and her young son, Graham. Along the way, Eddie tries to make small talk with Hannah.
"I understand that Harry has taught Graham how to kick a soccer ball," Eddie offered in faint praise.
"American kids should learn to throw balls," Hannah replied. "It's those f--king Europeans who like to kick them."
*********** "As important a regular season game as we've seen in years!" That's what one of the announcers breathlessly called the Giants-Panthers game Sunday. So you mean to tell me there would have been even more empty seats if it hadn't been so important?
*********** Could it be that New York fans have grown soft? Not Chicago fans. I got cold watching Monday's night's Bears-Packers game. But Soldier Field was packed.
*********** Speaking of watching the Bears-Packers game... while they replayed Hester's "catch" over and over, I happened to notice the bottom of his shoes, and I swear that his cleats were at least an inch long.
FRIDAY, DECEMBER 19, 2008- "There is a grapevine in the ranks of all the services. The men make it their business to find out who their officers are. There is a special respect for those who would carry the ball on a football field, throw a wicked block, or make a dead-stop tackle." Slade Cutter, Famed Naval Academy athlete, winner of the Navy Cross as a World War II submarine commander, and later Athletic Director at Navy
*********** Sammy Baugh, who died Wednesday, was a charter member of both the College Football Hall of Fame and the Pro Football Hall of Fame.
Since 1997, when Don Hutson died, Baugh had been the only surviving member of the College Football Hall of fame's first class, which besides him and Hutson included George Gipp, Red Grange, Chic Harley, Pudge Heffelfinger, Nile Kinnick, Elmer Layden, Bronko Nagurski, Ernie Nevers, Jim Thrope and coaches Walter Camp, Knute Rockne, Amos Alonzo Stagg, Pop Warner and Fielding Yost.
Baugh played both ways. In the NFL. On offense, he led the league in passing. On defense, he led the league in interceptions. Punting? He still hold two records: most years leading the league in punting - 4, from 1940-1943 - and highest average yardage for a season - 51.4 (35 punts for 1799 yards) in 1940. He's second all-time for highest average yardage for a career - 45.1
Summing it up, great football writer Dan Jenkins, who has seen them all (and who can be forgiven any bias since, like Baugh, he is a TCU alum), said, "Sam was the greatest passer, punter, and signal caller that ever played the game. Other than that, he didn't do much."
*********** Sammy Baugh was a hard-bitten West Texas guy, well-known for talking straight. From a 1969 interview in Sports Illustrated -
Another thing that helped men like me was the T formation. I had played seven years of tailback in the single wing and it about killed me; blocking on the end, carrying the ball a few times, stuff like that. I weighed only 175 or maybe 178. After every game my shoulder would ache. Still, when Mr. Marshall decided to go to the T formation in 1944, I didn't like it at all. Marshall brought in Clark Shaughnessy to teach us the T, and that year we were the most uncomfortable ball club you ever saw. The blocking was all different. In the single wing you had a lot of double-teaming and stuff like that, but in the T you had single blocking—man-on-man blocking. And taking that ball from center, handing it to somebody, faking it some—that was very uncomfortable for me. Shaughnessy had been with the Bears, and he told me that when he started teaching the T to Sid Luckman, Sid actually cried over the thing. It was hard for him, but he developed into a real good T quarterback. So Shaughnessy told me, "Don't worry about it—it'll come to you gradually and you'll love it under there." Sure enough, after about half the season was gone I wouldn't have gone back to the single wing for anything.
(When he first signed with the Redskins) I didn't know how much pro players were making, but I thought they were making pretty good money. So I asked Mr. Marshall for $8,000, and I finally got it. Later I felt like a robber when I found out what Cliff Battles and some of those other good players were making. I'll tell you what the highest-priced boy in Washington was getting the year before—not half as much as $8,000! Three of them—Cliff Battles, Turk Edwards and Wayne Millner—got peanuts, and all of 'em in the Hall of Fame now. If I had known what they were getting I'd have never asked for $8,000.
*********** If two players on your team were to be arrested, would your local newspaper say "two teams were arrested?"
I doubt it.
Yet whenever they write about our forces in Iraq, the media say, "two US troops were..." when they really mean two US soldiers (or Marines, or such).
Now, I realize that a lot of people who write for newspapers or TV are not as good with the English language as they'd like you to think they are, but I don't see how even they could miss anything so simple.
A "troop" is a gathering, and generally a large one, of soldiers, or boy scouts, of whatever.
Thank God when they write "two US troops were killed," they are mistaken. Even the loss of two soldiers is too much, but to a person who understands our language, "two troops" immediately calls to mind a couple hundred.
*********** "I was one of those who put a curse on the Colts when they left Baltimore..."
Having grown up in Woodlawn (a Ballmer suburb) and bled Colts blue through my formative years, I almost teared up when I read that statement in your latest NYCU. I think the two most depressing days of my life as a football fan were the day after Super Bowl III (I get the shakes even now, as I write that) and the day I heard about Irsay's great Midnight Bailout (oops ... did I say bailout?).

Belated congrats on a great season for the Hyaks and on your personal honors. Great to know you still get to do what you love -- and are still setting a standard of excellence at it.

Mike Brusko (for those who don't understand, "Ballmer" is how Baltimoreans pronounce their city's name.Baltimorese - if it's still spoken, in these days in which accents everywhere are being homogenized by such influences at MTV - is a dialect all its own, strange to the ears of Philadelphians to the north and Washingtonians to the south.
When I first arrived in Ballmer (sometimes "Ball-a-mer") in early 1961, on one of my first visits to a tavern I heard a rather heated discussion taking place, and one guy, apparently serving as an arbiter, said, "One a youse is a f--kin' lahr." I found out that he was suggesting that someone was lying.
We were protected by the "fahr" department and the "PO-lice." If someone got sick, we called an ambulance, but the "lance" part was fully-pronounced, just like the weapon. Try it and see how funny it sounds.
One of the best ways to tell whether a person was truly a Baltimorean and not a newcomer was to ask him what he cut his grass with. The Baltimorean would say, "paramour." HW)
*********** Just for your information, after 5 seasons in the DW, our record is 56-7, 5 state championship appearances with 3 championship titles and 2 runners-up. Total points scored is 1762 or an average of 28 points per game. Thanks again for all of your help with the system.

John Bell
Murfreesboro, Tennessee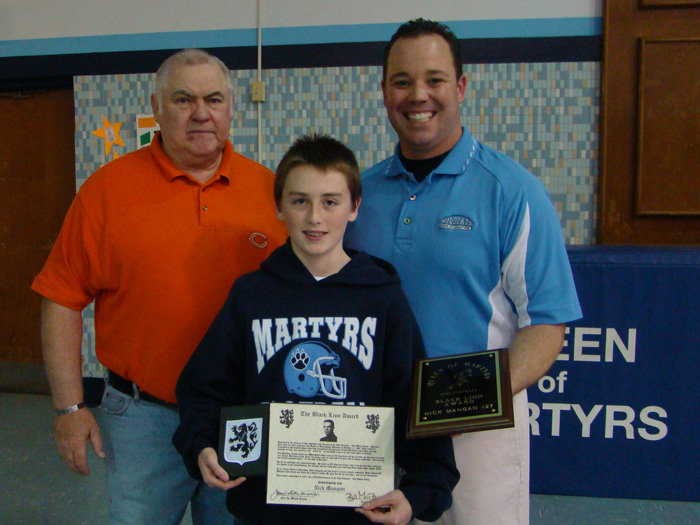 *********** Coach - Enclosed is the photo of the 2008 Queen of Martyrs Wildcats Black Lion Award winner, Nick Mangan, along with Ed Enright, and myself. (You can see that I stopped the Nutri-System during the season - ouch!)
Ed Enright gave a wonderful talk this year about teamwork. He included everyone in the gym, from the 4th grade players to the 8th grade players, and all of the parents present in a demonstration of what teamwork involves. It ended with everyone in the gym rocking the foundation with the sounds of "Hoohaah" as Ed finished his speech.
Sorry it took me so long but this is the first photo I have sent since joining the Mac cult. I am starting to get the hang of it.
Best to you and Connie. Merry Christmas!!!!
Bill Murphy,
Chicago (Bill Murphy, coach of the Queen of Martyrs Wildcats, is a Chicago cop in his real life. Thanks to Bill, I was able to go on a ride-along with him a couple of years ago - through the South Side, where he works. If you are a cop and you like action, you will find all you want , and then some, in the streets and back alleys of the South Side. And in its projects. We spent part of our day driving through Altgeld Gardens, the enormous public housing project where Barack Obama got his start as a "community organizer."
Ed Enright is a great man; in terms of the Black Lion Award, he is a real prize - a Vietnam-era Black Lion, a retired Chicago Fire Chief, and a former youth football coach.
Because so many Chicago fire fighters and police officers happen to live in the Martyrs parish and play for the Wildcats, I'm suspecting that Nick Mangan is himself the son of a Chicago firefighter or police officer. He sure sounds like quite a young man. In Coach Murphy's lengthy letter nominating Nick for the award, he summed things up by writing, "Nick Mangan is a stud football player, a young man who gets it, and a person worthy of being considered part of the brotherhood of Black Lion Award recipients." HW)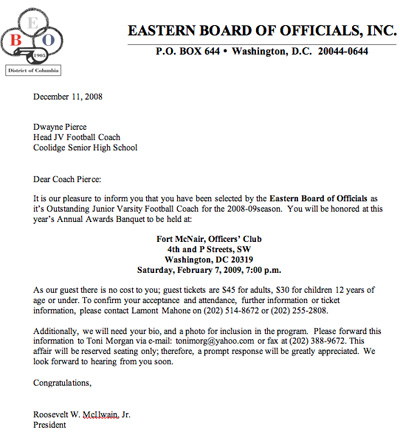 *********** Coach Wyatt;

Hope all is well this holiday season... Just wanted to drop you a line about the end of our season...... We made the playoffs and had to face an undefeated team....... We played our BEST game and won 13-6 to advance to the DCIAA JV Championship...!! We played a team who beat us earlier in the season. The day was overcast and raining. As you know Spread Teams don't do very well in the rain. The kids I believe were in awe of the moment and overwhelmed. needless to say we didn't play our best football that day and lost by 3 scores. I must say it sure was fun..!!! On the bus ride back to school, most of the kids were laughing and joking as if nothing had happened. There were a few who were in tears and understood what took place. After the dust settled the AD gave me a message from the School principle... "tell coach Pierce congratulations , the schools JV team has NEVER played in a championship game..!" " Tell coach Pierce when the other schools come looking for a new Varsity Head coach...I'll tell them he's not available...He aint' going nowhere..!!"

Coach I've had a blast this season and my faith has been restored. I've got one more surprise for you when you open the attachment. Coach Wyatt once again thank you for EVERYTHING......... !!!

Respectfully;

Dwayne Pierce
Head JV Football Coach
Calvin Coolidge SHS
(The letter details the honor Coach Pierce was accorded as Outstanding JV Coach in the Washington DC area. The honor is richly deserved. Only Coach Pierce and I and a few other people know the price that he's paid to earn this recognition! HW)
*********** In an e-mail from Yale President Richard C. Levin came this: "... our best estimate of the endowment's value today is $17 billion, a decline of 25% since June 30, 2008... It is important to recognize that $17 billion is still a very large endowment. This was where the endowment stood as recently as January 2006. Still, the 25% decline we have experienced has a very significant impact on our operations because income from the endowment supports 44% of the University's annual expense base of $2.7 billion."
Hey- they lost $6 billion. But it's not all bad. Maybe this blast of cold water will bring Yale back down to earth. When Yale was flush, thanks to the go-go growth of its endowment, it felt it could afford to give the finger to us little guys who complained about the kind of in-your-face arrogance that led to the admission of the former PR guy of the Taliban.
*********** Speaking of Yale, I was no fan of former coach Jack Siedlecki, who recently "retired." Come on, Yale, shoot straight and pay the guy off. "Retired?" What coach with anything left in him "retires" voluntarily?
Jack Siedlecki was a cold fish. On top of that, he twice gave me the brushoff when I called him about some potential players I'd encountered in my travels. I mean, even if he thought I was full of sh--, all he had to do was glad-hand me and thank me and act as if what I'd just told him was the news he'd been waiting for ever since he first arrived in New Haven.

How many other high school coaches, I wondered, did he treat that way? How many other alumni? How many of them (unlike me) had the ability to write big checks to Yale and after getting the Smilin' Jack treatment said, f--k 'em?
I've heard that there is a strong list of candidates to replace Siedlecki, including Don Brown, now head coach at UMass. Now, that excites me. Coach Brown has impressed me as a good football man, and a good guy with no pretensions.
I met him a couple of years ago when I was at West Point to watch the Army-UMass game, and he was nice enough to let me watch their Friday workout, even after I told him that I was a member of the Army Football Club. He put a good team on the field the next day, too.
*********** Things are going very well for college football right now, and while there is no proof that this would not continue with a playoff, it is instructive to consider other playoff-driven sports...
Ratings show that although the Final Four is BIG, there is little overall (i.e., outside their own fan base) interest in regular season college basketball.
The NBA has rendered its regular season irelevant. Outside the Lakers and Celtics, there is little national interest in the league. The Portland Trail Blazers are one of the most talented teams in basketball but it doesn't matter what happens out in the hinterlands because the league's ratings tank without a team from a major market in the finals, and it won't feel healthy until it does something about the Knicks.
Hockey's ratings aren't worth even mentioning.
MLB? Baseball is a regional sport and outside a 200 mile radius of any major league city, who cares? Where once baseball had the World Series - period - it now has God-knows-how-many layers of playoffs. And even the World Series can't get TV ratings without the Red Sox or Yankees.
The NFL? Without gambling, would most people give that big of a crap about most regular season NFL games? Like most other sports, they have had to expand their playoff field to keep people from tuning out regular season games. (It was in reference to the NFL and its playoffs that the late Howard Cosell gave us the term "meaningless game.")
"Everybody else has playoffs" doesn't wash with me. I'm not convinced that the business model of the professional leagues, which seems to be that if playoffs are good, more playoffs are even better, is a sound one. It is possible, you know, for one person to be right and everybody else to be wrong.
A playoff is great for D-IAA, which has no bowls. A playoff is the only post-season football that anyone would care about. But even then, its championship game won't draw 30,000 people.
Some think it's good that James Madison and App State, the #1 and #2 ranked regular season teams in D-IAA, are not in the championship game. Personally, I don't.
A D-IA playoff would still be decided by polls, to the extent that they would determine who gets in and who plays whom.
And seeing the way the BCS monopoly on the major bowls is hurting the lesser bowls, we're already getting a taste of what would happen to the minor bowls if there were a playoff.
Not that it matters, because we're not going to live to see the NCAA get its hands on post-season football money.
And since this keeps us arguing about college football, it can't be all that bad.
*********** "If I fall, I fall. It's just another challenge."
http://sports.espn.go.com/broadband/video/videopage?videoId=3696478

*********** From the Internet...
Katie Couric, Charlie Gibson, Brian Williams and a tough old U.S. Marine Sergeant were captured by terrorists in Iraq . The leader of the Iraqi terrorists told them he'd grant each of them one last request before they were beheaded and dragged naked through the streets.
Couric said, ''Well, I'm a Southerner, so I'd like one last plate of fried chicken.'' The leader nodded to an underling who left and returned with the chicken. Couric ate it all and said, ''Now I can die content.''
Charlie Gibson said, ''I live in New York , so I'd like to hear the song The Moon and Me' one last time..'' The terrorist's leader nodded to another terrorist who had studied the Western world and knew the music. He retur ned with some rag-tag musicians and played the song. Gibson was satisfied.
Brian Williams said, ''I'm a reporter to the end. I want to take out my tape recorder and describe the scene here and what's about to happen. Maybe, someday, someone will hear it and know that I was on the job till the end.'' The leader directed an aide to hand over the tape recorder and Williams dictated his comments. He then said, ''Now I can die happy.''
The leader turned and said, ''And now, Mr. US Marine, what is your final wish?''
''Kick me in the ass,'' said the Marine.
''What?'' asked the Islamic terrorist, 'Will you mock us in your last hour?''
''No, I'm NOT kidding. I want you to kick me in the ass,'' insisted the Marine.
So the terrorist shoved him into the yard and kicked him in the ass. The Marine went sprawling, but rolled to his knees, pulled a 9 mm pistol from inside his cammies and shot the leader dead. In the resulting confusion, he emptied his sidearm on six terrorists, with his knife he slashed the throat of one, with an AK-47, which he took, he sprayed the rest of the terrorists, killing another 11!
Like that , all of them were either dead or fleeing for their lives.
As the Marine was untying Couric, Gibson and Williams, one of them asked him, ''Why didn't you just shoot them all in the first place? Why did you ask him to kick you in the ass?''
''What!?!'' replied the Marine, ''and have you three a**holes report that I was the aggressor?''
*********** Hugh,
My wife is really one of the best. She's a through and through Penn State fan, having attended the university, even serving as a "Lion Ambassador." Her oldest brother even walked on as a linebacker. She likes football and understands the game. It's great to watch a game and here her say "did you see that block?"
Still, the difference between a good fan of the game and a coach of the game was highlighted for me when I told her I was really excited about the first bowl game this Saturday.
She didn't understand why I would want to watch one of the early games. I told her it was Navy. She didn't understand. I then told her I also wanted to watch Georgia Tech. She didn't understand. I told her I could watch those offenses all day and not get bored. She didn't get that either. It wasn't worth getting into. I just know I'll be recording them and watching them on my own time. Let me say this about exciting football - every time Navy or Georgia Tech snaps the ball I am on the edge of my seat because something big could happen. I'm not that way with Texas Tech, Oklahoma, etc.
Have a Merry Christmas.
Todd Hollis
Head Football Coach
Elmwood-Brimfield Coop
Elmwood, Illinois (With you on the excitement of watching Navy and Georgia Tech. I sure hope that the Army job goes to a guy who runs an exciting (NOT spread shotgun) offense. None of us who've been at this game any length of time could do it and stay happily married without the love and support of a good woman. Every Christmas time, I'm impressed by the number of ladies - moms, wives, girl friends, sisters - who write me ordering something for the coach in their lives. That is not the act of a woman who sees football as a rival for a man's attention. That is an act of respect for the things that he loves. It's an act of love. I hope the guys realize how lucky they are. Maybe we need a National Football Coaches' Wives' Day. HW)

*********** I too watched "The Greatest Game Ever Played"
Wow - what a cool show. My wife even liked it because of the way it was done. I did not like the current players other than Michael Strahan (Adam Viniateri was okay too, but he's a kicker) - I did enjoy the old guys though. I liked that the camera work was in close so you could see the game - UNLIKE - todays zoomed out spread shotgun friendly camera shots. I loved seeing sweeeps and traps etc. Lenny Moore was a stud - and I thought the same thing, you don't see a lot of graceful sleek runners like that anymore. Marcus Allen and maybe now Reggie Bush are the few recent runners who have that kind of build (I think that the bulking up of RB's is the same as the bulking of linemen... nothing wrong with weightlifting, but these guys are being built for one style of football - straight ahead single back inside zone etc. The disappearance of sweeps etc. has taken away from the Reggie Bush style of runner to the point where they are role players. Back as recently as the 80's you could still have 2 backs play at the same time to have both Thunder and Lightning in the game at the same time. I too liked Raymond Berry and how he and Johnny U worked together after practice (and how Lennny Moore started working with them after the wise old vet talked to him about that). Imagine that - receivers who arent A-holes. Frank Gifford was a stud, but Vince Lombardi should have done something about all that fumbling. Finally, I thought it interesting how Johnny U walked off the field after the big score. He was classy. Im not saying I would have been upset if he got excited though - because it would have been a classy celebration with teammates (unlike todays game). What a cool customer. Last thought - they really painted Jim Lee Howell to be clueless, Gifford said all he did was take rolL on the bus (ouch).
Charlie Conerly was a tough looking dude! And from what I've read on your website and in other places a true tough guy. I wish all football games were even half of what they used to be. Imagine --- people saying that TO and Tony Romo were "just regular guys", like the people of Baltimore described Johnny U and the Colts. One other thing that ticked me off was when Rosie Greer asked the current O lineman if he was embarrassed by how much he made in comparison to them and he gave him a flat no. At least pretend to have some humility.
Man I wish I coached back in the old days - I was born in the wrong time. Glad to hear you are on for one more year with the Hyaks. Let me know when you will be holding your east coast clinics.
John Dowd, Oakfield, New York
*********** On Wednesday I spoke with Mrs. Perian Conerly (Charlie's widow) to ask if she'd seen the ESPN show on the Colts-Giants 1958 NFL championship game. (Mrs. Conerly's late husband was the Giants' quarterback, and I got to know her in doing research for a piece I wrote about him.)
Mrs. Conerly is quite a lady. She knows her football. In fact, she may very well have been the first woman sports reporter. While Charlie played for the Giants, she wrote a guest column for the New York Times, giving readers an inside look at life in the Giants' family. No doubt the guys in the sports department at the Times were shocked to find that the wife of the Giants' quarterback actually knew the game.
She lives in her (and Charlie's) native Clarksdale, Mississippi, and is still a big fan if the Giants ("Once Giant, always a Giant," she says, echoing the phrase that has stood for years as the expression of the kind of family the Giants once were) and of Ole Miss, where Charlie was a football hero.
She was in Phoenix for the Giants' Super Bowl win (she was also rooting for Eli Manning, a former Ole Miss star like her Charlie and himself the son of Ole Miss star Archie), and she'll be in Dallas on New Year's Day to watch the Rebels play Texas Tech in the Cotton Bowl.
She said she enjoyed the show, and she voluntarily verified "Frank's" (Gifford's) statement that "Jim Lee" (Howell), the Giants' head coach, didn't do any coaching at all, but pretty much "just took roll." She pointed out, though, that he was smart enough to delegate to his assistants (Vince Lombardi and Tom Landry) and just "stay out of the way." She said he never pretended that that was not how it worked, (unlike a lot of NFL head coaches who take most of the credit when it really belongs with the coordinators.)
She also noted, consistent with Rosey Grier's remarks, that "Sam Huff was conspicuous by his absence." She as way to polite to say so, or even to confirm it when I suggested that Sam Huff might not have been the most popular player on the team.
I asked her how the Giants took the defeat, and she said as she recalled, they pretty much felt that after all they'd had to go through for weeks, all the close calls they'd had, just to get into the game, the Colts were probably the better team.
While on the subject of Charlie Conerly... In reading "Footsteps of a Giant," the memoirs of Emlen Tunnell, Giants' Hall of Famer who was the first black man ("negro" in those days) to play for the Giants, I discovered that he and Conerly - a white man from Mississippi, then perhaps the most segregated of all southern states - were very close.
That, Mrs. Conerly said, was no lie. "He and Em were great friends," she said. "Em would take him night clubbing up in Harlem."
Tunnell ended his book by relating a conversation he had had with a friend who asked him, "Don't you realize that if your people (must have been a white guy, using that phrase) organized their own pro league, you'd be a mortal cinch to be a head coach?"
"Sure," Tunnell replied, "but I'd be suspended right off the bat."
"Suspended?" the guy asked.
"Sure," Tunnell said he told the guy. "Because the first thing I'd do would be to hire Charlie Conerly as my offensive backfield coach."
(If you don't know about Charlie Conerly, "Best quarterback who's not in the Hall of Fame", reead this...
http://www.coachwyatt.com/CharlieConerly.pdf
*********** How many people think a woman named Caroline K. Schlossberg would have any shot at being named Senator in New York?
*********** A young coach whom I respect and who runs a very good program says he sometimes wonders if he's maybe a bit of a hardass. I told him that based on my personal mission statement, I didn't think so...
My Personal Mission Statement
1. To treat kids right
2. To set high standards for the kids and hold the kids to them
3. To teach them as much football as is humanly possible
4. To give them an experience they'll take with them the rest of their lives
I do not bend on thee things. If anybody thinks that makes me a hardass, then they're a pussy and unfit to be teaching young men
TUESDAY, DECEMBER 16, 2008- "Football incorporates the two worst elements of American society: violence punctuated by committee meetings."George Will
*********** Congratulations to Sam Bradford. He is one-sixteenth Cherokee and only beginning to learn about that part of his heritage, but native Americans take pride in his winning the Heisman.
I must say that I wouldn't have been unhappy no matter which of the three Heisman finalists won the award. They were all deserving, and they all seem to be good people.
Not that t he horse isn't long out of the barn, but I do wish that the Heisman could have been earmarked for seniors only, and awarded on the basis of an entire college career.
*********** Quick observations on a quick visit to Milwaukee:
They're featuring Favre #4 jerseys at a store in the Airport. Jets jerseys.
Cheesehead hats on sale at airport gift shops: $24.95 for a medium, $29.95 for a large.
The password to use the complimentary WiFi in the Northwest Airlines Club at the Milwaukee airport: "GOPACK"
*********** Big Ten Commissioner Jim Delaney told USA Today's Mike Lopresti that the BCS system is doing its job. It was designed to keep the bowl system intact while at the same time arranging a match between #1 and #2, and considering that a 1-2 match had taken place only nine times in the 45 years prior to the BCS system, it has worked.
He argues that in the long run a playoff would be destructive of what makes college football so popular, and I agree.
"I understand the paradigm of the American sports fan is to play it out," he said. "I know we're swimming upstream on it. But we've grown the fan base, we've grown the regular season, and we've maintained the post-season."
He noted that in a recent survey of 12-17 year olds college football grew by 9 per cent in popularity. By comparison, NASCAR and the NFL grew by 1 per cent..
Why? He argues that it's because college football's regular season is still important.
"Every other sport has devalued the regular season," he said. "You look at college basketball, and I would say there's probably one must-see game during the regular season. Duke-North Carolina. What else? We don;t have that in college football. We have a lot of must-see games. CBS is covering it. NBC is covering it. ABC is covering it. ESPN is covering it. Fox is covering it.
"I don't want to see the regular season turned into a seeding process.
"The price (of a playoff), I think for a lot of us, is too high. The price of that buzz is the possibility of undermining 13 weeks of buzz."
In sum, he said, "There is nothing more powerful than the regular season in college football."
*********** Just in case you want to know another reason big why the BCS conferences don't want any part of a playoff - Did you see all the empty seats at the NCAA soccer game - sorry, "Match" - between Maryland and St. John's? There may have been 1,000 people in a stadium that appeared to seat 40 or 50 times that.
In the soccer final, two ACC teams met. In Frisco, Texas. Are you kidding me?
Guys, somebody is paying to put on revenue-sucking events like the soccer tournament, and it ain't the folks in the stands. A D-IA football playoff will almost certainly mean the NCAA getting its grubby hands on football's post-season money and using it fly soccer teams to "matches" all over the country. I say let them have nil.
*********** Last year, a Vermont high school basketball team lost 16 games during its regular season, many of them by huge scores - 56-15, 80-20, 87-22, 74-28, 70-29 and 90-36. (And this was boys' basketball, too.)
So when it came time for the post-season, one of those "everybody makes the playoff" deals, the kids notified their coach that they didn't care to play their first-round game, in which they, as 16th seed, had to play the Number One seed, which had beaten them 87-22 earlier in the season.
"We just decided enough was enough," said one of the players.
So your point, Wyatt, is....?
This: The larger the field, the greater the likelihood of some uncalled-for, unwatchable matchups. And let's not kid ourselves - despite all the noise about determining a "true national champion," it's the thought of watchable games that has the TV guys interested in a playoff.
Look - a 16 has never beaten a 1 in the history of the NCAA Men's basketball tournament. Kansas vs. Portland State is not good TV, and its football equivalent would be even less watchable.
But wait - when we see a 1 against 16 in basketball, that's not exactly what we're seeing. What we're really seeing is the Number One seed in that regional against the Number 16 seed in that regional. In other words, that Number one seed is one of the top four teams in the entire 64-team field. And the Number 16 seed is actually one of the four worst teams in the entire 64-team field.
So what we are actually watching is Number 1, 2, 3 or 4 against number 61, 62, 63 or 64. But fans are too smart to buy that. 1 vs 64? Fuhgeddaboudit.
But 1 vs 16? The NCAA can sell us that. Give us enough wings and cold beverages, and we'll watch.
In football terms, a 1 vs 64 would be a rematch of Number One Oklahoma and Number 64 (Sagarin ratings) Baylor. Their first meeting was a 49-17 Sooner win. Fuhgeddaboudit.
But 1 vs 16? 2 vs 15? Not necessarily bad.
This is what a 16-team football playoff would look like, seeded according to BCS rankings (See? There's no way getting around those damned rankings!!!)
There are some interesting first-round matchups. I especially like 6 vs 11, 7 vs 10 and 8 vs 9
1 Oklahoma vs 16 BYU
2 Florida vs 15 Georgia (Uh-oh. Been done already. No longer watchable.)
3 Texas vs 14 Georgia Tech
4 Alabama vs 13 Oklahoma State
5 USC vs 12 Cincinnati
6 Utah vs 11 TCU
7 Texas Tech vs 10 Ohio State
8 Penn State vs 9 Boise State
If it were an 8-team playoff...
1 Oklahoma vs 8 Penn State
2 Florida vs 7 Texas Tech
3 Texas vs 6 Utah
4 Alabama vs 5 USC
Hmmmm. Some pretty good matchups there
*********** Isn't there somebody, somewhere, with the stones to tell Terrell Owens to take his act and shove it?
*********** In my opinion, in balance replay hurts the game more than it helps. Did anybody believe that bogus overturn of the 2-point call in the JMU-Montana game? Or the same soret of overruling, this time for a TD, in the Steelers-Ravens game?
*********** QUIZ: Two guys won awards recently, and here were their comments upon being notified:
(A) "All these awards are special - and they mean a lot to me - but they don't compare to winning the championship because you share that with everyone on the team."
(B) "You always think you're going to win, but you just never know for sure."
YOUR QUESTION: Which one was the wide receiver?
*********** I have to laugh whenever I see a photo of the notorious Rod Blagojevich, because he looks like he's growing his hair out so he can go join the Leningrad Cowboys. (Go to http://www.leningradcowboys.fi/ and see what I mean)
*********** Be careful, Doc...
Charlie Weis is set to undergo surgery on both knees.
You will recall that a couple fo years ago, in order to slim down (the better to get a head coaching job), he elected to have stomach-stapling surgery done. Then, when things didn't go well - mainly, as it turned out in doctors' testimony, because he didn't listen to his doctors and do the preparatory things they called for, and then returned too quickly to work - he sued his doctors. And lost.
Lemme put it this way... knowing that this guy has been known to sue, would you repair the knees of a guy who weighs upwards of 300 pounds?
*********** I'm not particularly a fan of Arena Football. But it does provide opportunities for coaches and players. And from what I've seen, there are people willing to pay to watch it. So it's sad to hear that the AFL (Arena Football League) may elect to forego this season.
Just think... one less wide receiver from each team in the NFL and the savings would keep the Arena League in business. Talk about a win-win.
*********** Sent to me by Ned Griffen, of New London Connecticut, under the heading, "A youth football debacle that didn't involve Snoop"...
The Dorchester Eagles, a Pop Warner team from the Boston metro area, went undefeated this season, making it all way the national championship at Disney World. To pay for their trip, they got a grant from the NFL plus donations from parents and assorted benefactors. But then, once in Florida, they got into a brawl with another team... http://www.boston.com/news/local/massachusetts/articles/2008/12/13/dorchester_pop_warner_squad_involved_in_brawl/
*********** Well. When the people at ESPN decide to do something right, they can actually do it. I'm referring to the "Greatest Game Ever Played" two-hour show that followed the Heisman presentations.
In retrospect, the project offered so many opportunities to go off and really do an in-depth job on any of a number of topics, but they only had two hours, and they barely scratched the surface.
Observations...
The idea of juxtaposing characters from the original cast with players and coaches from today was a good one, but I suspect that in many cases they settled on who was available. Some of the by-play between the old-timers and the present-day guys seemed a little forced, some a little irrelevant, and several times they cut away and left a major point unmade, but there were some great moments that highlighted how much the game has changed, Sadly, too many of the changes involved the way money has taken over the game.
Those old guys really cared. I think of Raymond Berry staying after practice, and Plaxico Burress skipping practice.
Nothing could possibly portray the all-ecompassing "Colt Fever" that swept the Baltimore of those days, but at least ESPN tried.
I was glad that people could get a look at Lenny Moore. The guy was electric. Looking at him again, he looked so... sleek. He was long and lean, and capable of incredible cuts. I don't see much of his kind of running the ball nowadays, and I suspect it's because today's guys are so big and bulky.
I found it interesting that Moore, who could have made the Hall of Fame as either a runner or a receiver but made it by being both, confessed that he didn't really become a part of John Unitas' offense - yes. it was his offense - until he took Berry's suggestion that he stay after practice, too.
Those old Colts knew that fullback Alan "The Horse" Ameche had nearly cost them the game, yet never said a word. Down inside the Giants' 10, John Unitas called "428", a running back pass, but Ameche heard only "28," the call for the running play, and ran the ball instead of passing. And as Ameche was being thrown for a loss, there was tight end Jim Mutscheller, the intended receiver, wide open in the end zone. And only now, after all those years, for whatever reason - I prefer to believe that it was the fact that you didn't publicly blame a teammate - did we hear the real story.
Sam Huff was the face of that great Giant defense, largely because of a prime-time TV show called "The Violent World of Sam Huff," which showed him up close and gave people a look at the pro game that they'd never had before. But over the years on old pro or another has hinted that Huff got far too much credit for the play of a Giant defense that was designed to make him look good, and Roosevelt "Rosey" Grier as good as said that on the ESPN show. (Those were the days when everyone played the "pro 4-3," and everyone had a very good middle linebacker. Several of them - The Eagles' Chuck Bednarik, The Bears' Bill George and the Lions' Joe Schmidt, in addition to Huff - are in the Hall of Fame. As an example of how overrated his evidently peers thought Huff was, Bill George was quoted as saying "If they make it (The Violent World of Sam Huff) into a movie, they'll have to get Joe Schmidt to play him."
I was pleased to hear Dave Anderson of the New York Times say something that's been said, over and over, but still needs saying: "Charlie Conerly is the best quarterback who's not in the Hall of Fame." Read about the great Charley Conerly http://www.coachwyatt.com/CharlieConerly.pdf
I didn't think they made enough of the fact that those old-time quarterbacks - with the exception of whoever was Paul Brown's quarterback - all called their own plays.
They had real running plays, real traps and real sweeps, with faking and everything! Why that would be, when they only a handful of coaches on their staffs, I'll never know.
They didn't get deeply enough into the restrictions on blockers back then, all of which led me to wonder whether NFL teams nowadays would have any offenses at all if they couldn't hold.
The hitting wasn't nearly as vicious as it is nowadays, as defenders go for the big hit that'll get then on SportsCenter. but I swear that tackling then was a lot surer. Bringing the man down was the primary aim, and not secondary to putting on the big hit, or trying to pry the ball loose.
There was absolutely NO showmanship at the end of any play. The best example of this was the stoic John Unitas, who watched Alan Ameche score the winning touchdown in overtime and simply turned and headed toward the locker room.
I was one of those who put a curse on the Colts when they left Baltimore, but I do have to admit that Tony Dungy was one coach I could accept as worthy of coaching the Baltimore Colts, and although there will never be another John Unitas, Peyton Manning is a worthy successor.
They wasted a lot of man-hours colorzing the oroginal B & W film. Those of us who weren't at Yankee Stadium all watched it in black and white the first time, and that's the way we remember it. That would have been good enough for me.
FRIDAY, DECEMBER 12, 2008- "The conduct would make Lincoln roll over in his grave" Patrick J. Fitzgerald, US Attorney for the Northern District of Illinois, announcing the arrest of Rod Blagojevich, governor of Illinois ("The Land of Lincoln")
Here's what I wrote not so long ago...
WILDCAT UPDATE! Thanks to all who wrote in with your recollections of your personal introduction to my Wildcat! Scholastic Coach and AD magazine plans to reprint my December, 1998 article, "Wildcatting it with the Double Wing" in its January, 2009 issue, and it also plans on distributing free copies to all coaches at the AFCA convention in Nashville.
Here's what I heard on Tuesday, December 9 from the now-former editor of Scholastic Coach...
Coach & AD is no longer in business. Scholastic decided to shut it down last week. Our last issue was the Dec. one.
Now it's all coming together. Don't you see? The vast conspiracy by the NFL to conceal the real origin of the name "Wildcat?" Why, they even went and bought an entire magazine from Scholastic, just so they could close it down before I could make any more noise. Now, all they have to do is silence me, and the Wildcat story dies with me and they have it all to themselves. I've been getting strange phone calls lately, and when I answer all I can hear is heavy breathing. A friend recommended a body guard - a guy he said used to play football for the Giants. Name's Texaco, or something like that. Said he's real good with a gun. Wait - there's a knock at the door. I have to go answer it. I'll be right back .............................
...........................................................................................................................................
...........................................................................................................................................
...........................................................................................................................................
...........................................................................................................................................
(Hugh Wyatt seems to be away from his desk, but as we were going through his papers, we found these notes with instructions on how to upload them to his Web site "in case anything should happen to me," whatever that means, so here goes)
Actually, I haven't been able to find any public notice of Scholastic Coach and AD's demise, but assuming that it's true and that I'm not the victim of a practical joke, it would mean the end of a magazine that has been of enormous service to coaches at all levels, especially football coaches, since 1931. Perhaps it was the fact that advertising revenue is down for all forms of print publications, or perhaps Scholastic Coach and AD, in trying to be all things to all coaches or all sports, fell victim to the trend toward specialization, toward coaches wanting to concentrate on publications specific to their sports. In any event, it is sad to see its passage.
*********** WILDCAT UPDATE... Okay, okay - maybe you're getting tired of this, but I'm not. And if I don't keep swinging, THE NFL WINS! Don't you see? If i don't fight them, who will? And if they defeat me, what's next? Federal legislation outlawing double teams... Running the ball with a lead blocker... Too many backs in the backfield?
Labor legislation requiring us all to employ at least four wide receivers at a time?
The fight continues. Below, on the left, is a little clipping from the front page of the Vancouver, Washington Columbian, and on the right is a piece from the Portland Tribune.
It hasn't hurt my cause any that way back in my distant past I handled the public relations for a Portland World Football League team, and as a result I got to know some really good young reporters who are now, 30 years later, uh, really good "seasoned" reporters. One of them is Kerry Eggers, who at the time I first met him was fresh out of Oregon State, and now, a veteran of Oregon sports reporting, writes for the Portland Tribune...

From the Portland Tribune - By Kerry Eggers
Old friend Hugh Wyatt showed up in, of all places, Sports Illustrated last week.
In an article visiting the rebirth of the old single-wing offense with the "Wildcat" formation that has become all the rage, the Camas, Wash., resident and former Portlander rates mention for claiming ownership of the "Wildcat" name.
"And his case is compelling," Tim Layden writes of Wyatt, 70, the one-time Madison High coach now coaching in Ocean Shores, Wash.
Wyatt "has developed a wide following through clinics and the sale of DVDs explaining his double-wing offense," Layden writes. "In December 1998, Wyatt wrote an article for Scholastic Coach and Athletic Director magazine, describing a direct-snap, double-wing formation ... in his article, Wyatt suggested to coaches looking for a curveball, 'You might want to take a look at our Wildcat package,' and he went on to explain it was nicknamed for the mascot at La Center, Wash., High, where he was employed at the time."
"It irks me to some degree to hear these guys claim the origination of the Wildcat, when clearly it's a case of plagiarism," Wyatt said last weekend, adding with a laugh, "I'm going to set this thing straight once and for all."
The Wildcat, if you don't know, features a back – usually a running back – taking the direct snap from center and usually taking off on the run.
"I'm not the person who originated the formation," Wyatt says. "That was Pop Warner. At La Center, our quarterback was a pretty good runner. We'd put him back there with another back, and either one of those guys could run or pass the ball or hand off to anybody else. It was just a way to stir things up a little bit, essentially a way to get us four guys in the double wing who could handle the ball on any play instead of three. And since our nickname was the Wildcats, I said, 'Let's call it the Wildcat.' "
Wyatt first emerged in Portland as assistant general manager of the Portland Thunder of the World Football League in 1975. His coaching carousel took him to Gaston, Banks, Central Catholic and finally to Madison (offensive coordinator in 2003-04, head coach in '05), along with Southwest Washington stints at Hudson's Bay, Washougal, La Center and Ridgefield. He also coached seven summers in Finland.
Last year, Wyatt re-emerged at North Beach High in Ocean Shores (near Aberdeen), where he coached the Hyaks to a 7-3 record, with the three losses by a total of 11 points. He'll be back for at least another season, and he really doesn't care if he gets credit for the Wildcat formation.
"It's not fair to say anybody has copied anything I've done, because it's really stuff I've seen from the 1920s," Wyatt says. "It's going to be over pretty soon, anyway. Defenses have been caught with their pants down, but (defensive coaches) aren't stupid. They're going to figure this thing out."
http://www.portlandtribune.com/sports/story.php?story_id=122884041642875100
*********** OUCH! MORE SHARP NEEDLES FROM THE NAVY GUYS!
A guy who looks a lot like Hitler reams his staff officers - for losing to Navy...
http://www.youtube.com/watch?v=6aVUb5nAKTE
THE GROWING LINE OF DUXBURY BLACK LIONS...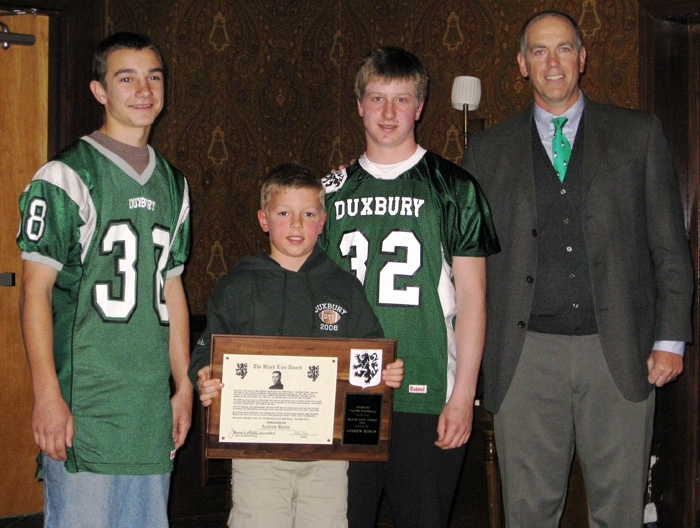 Coach, I thought that I'd drop a note (and picture) to tell you about our team party and Black Lion award presentation last night. As you know, I've been fortunate to get a West Point Cadet football player to help me present the award in years past. This year, I thought that I would try something a little different. I asked 2 of my former players and Black Lion award winners to help me present the award to my mite team (8,9 year-olds). It was a big hit. I showed a quick 4-minute clip of some highlights from the 2 boys when they were youth players (it was hard cropping out plays, I think I started with about 20-minutes worth of highlights). During the clips, my boys were enthusiastically cheering and afterwards, one boy asked if they were getting a copy of the clips to take home. I had Tanner Wood (2007 winner) and Andrew Buron (2006 winner) say a few words to the boys before I presented the award (I gave them each a little homework assignment on what I broadly wanted them to talk about). Both boys, despite being 2 of the quieter boys I've coached, exceeded my expectations with their talks to my players. They hit upon all of the important aspects of being a Black Lion and the traits of being a good teammate. It was a great night and it was especially nice to present the award to Brad Backlund and to read some of the great quotes about Brad from my assistant coaches (from their Black Lion award nominations). It was the highlight of the evening for me as always. I've attached a picture from last night....from left to right, Tanner Wood, Brad Backlund, Andrew Buron, and yours truly.
Here's wishing you and your family a Merry Christmas.
Thanks
Rick Davis
Duxbury Youth Football
Duxbury, Massachusetts
*********** ANOTHER STATE TITLE IN THE PALMETTO STATE! For the second year in a row, the Double-Wing produced a champion in South Carolina... The amazing thing is that the Scotts Branch seniors were 0-10 as freshmen. What it took was the coaching hand of Leonard Johnson, with a small assist from his offense...
Coach Wyatt,
Here are the articles. Just as I said to you on the field you were very instrumental to our success here at Scott's Branch High.
Leonard Johnson
Scotts Branch, South Carolina
Story in the Aiken Standard... http://www.aikenstandard.com/localsports/1129Class-A-state-football-championship
Story in the Florence/Sumter Item... http://www.theitem.com/apps/pbcs.dll/article?AID=/20081129/ITSPORTS01/711290187
Story in the Columbia State ... http://www.thestate.com/sports/story/605046.html
*********** Hi Coach,

Congratulations on your season and honors. I want to give you an update on the Trinity H.S. season, We finished 8-2 following a tough 21-16 loss to Saint Thomas Aquinas in the Division 5 semi-final game. We went into the playoffs as the number 2 seed behind eventual champion Pelham H.S. We had defeated Saint Thomas 2 weeks earlier 27-26 in overtime. They outplayed us and deserved the playoff victory. Saint Thomas is a classy program coached by Rod Wotten who has 331 career wins.

The Wyatt Double Wing continues to help us compete at Trinity. We led the league in scoring and rushed for 2,997 yards using a host of backs. Four of our games had the starters out early which helped us control scoring and yardage. At Trinity we are all about winning and not statistics. Don't get me wrong, we enjoy dominating the clock and rushing yardage in a competitive game. We had 19 different backs carry the ball in two seperate games.

Nothing fancy as usual although we ran a bit of Slot and Unbalanced and threw a few passes. We even went on 2 a few times! We lose 9 Seniors and return 50 players including 9 starters on Defense and 8 starters on Offense.

This being our first season back in a league was very succesfull. We are back in the weight room and are looking to work hard and win the Championship in 2009.

Best wishes to you and Connie.

John Trisciani
Trinity H.S.
Manchester, New Hampshire (It is hard the describe the state of Trinity football before "Coach Trish" took over. HW)
*********** Coach Wyatt,
Good afternoon! ! ! I was just wondering about a comment in your most recent "News" column - "Bimbo to Tim Tebow, post-game: 'Do you deserve to win the Heisman?'"
I am sure you are well aware that if these female journalists (and there are a lot of them) were not on the sideline (thus being without a job) and asking the most bizarre questions, the unemployment rate would rise
in the U.S. by close to five percent. What's a country to do?
Mike O'Donnell
Pine City Minnesota (I wouldn't feel nearly so bad about billions for bailouts it some of my money were used to get the eye candy off the sidelines. HW)
*********** Speaking of bailouts... the banks and brokerage firms and insurance companies and all the other corporate beggars standing at busy intersections with their hands out have a lot to learn from pro sports franchises, who've been getting away with this scam for years. They've long been masters of the Pre-Bailout.
Give us the taxpayers' money now, they say- before we lose money. Or else.
They don't say they'll go under, throwing people out of work. They say they'll move. Not to Mexico, or China. But to Los Angeles. Or San Antonio. Or Oklahoma City.
So here we are with are with the economy ailing, yet the Yankees have agreed to pay C.C. Sabathia $20 million next year, and a total of more than $100 million over five or six years. Which happens to be almost the same amount that New York taxpayers have agreed to pay the Yankees - a pre-bailout - to help them build their new Yankee Stadium.
And a continent away, in little old Portland, a very wealthy young man by the name of Paulsen, whose daddy happens to be the very wealthy US Secretary of the Treasury, wants the taxpayers of Portland to give him a multi-million dollar pre-bailout so he can bring the baseball stadium up to "MLS standards" so his proposed MLS team can play there. Oh, but that will mean his Class AAA baseball team will need another place to play, so if the taxpayers wouldn't mind an additional multi-million-dollar pre-bailout...
I suspect that New Yorkers have better uses for their tax money, but I know first-hand that Portland does. It's public schools are crumbling...
*********** Please do put me on the mailing list... I have been running the Wing T for years and while I love the offense, it has been my main focus and I havent strayed much, except incorporating Spread Shot Gun Wing T and a bit of The Spin......until I started to watch film of the double wing....to say I am fascinated by this offense is an understatement. I will be placing an order soon. I am also able to secure a copy of The Toss, would you recommend that too? Thanks again and I look forward to your clinic in -----.
Hi Coach- You're on the mailing list (e-mail).
I would not recommend getting The Toss unless you're planning on running that. I would not recommend it as a way of learning more about my system. With all the people offering Double-Wing materials, many people think that we're all Double-Wingers and it's all designed to do the same thing, but the truth is that there are significant differences between us, and it can get very confusing to a guy wondering what to think and who to believe and which way to teach something.
I liken it to to turning yourself over to a golf pro - you have to choose one. And then stick with him and do what he says, and not listen to all the other well-meaning guys and their suggestions. What they say may work for them, and some of it might even work for you for a while. But in the long run it will lead to confusion and almost certainly to a hybridization of your offense to the point where you're not really running a system, but instead you're running a little of one guy's stuff and a little of another guy's stuff and you miss out on the value of running an integrated system.
Hope that makes sense.
*********** Dear Coach Wyatt,

Hello, it's Francis Amar from New Jersey, formerly of st. augustine prep, just dropping in once again to say hello and see how you are doing. i want to start off by congratulating you on your successful season at North Beach High School.

The primary reason for the email is to inform you of yet another success story for the double wing, Holy Cross High School (8-3), led by head coach Tim McAneney, won its second consecutive New Jersey non-public Group 2 championship yesterday with a 7-0 victory over Hudson Catholic.

As much as it was a success for the double wing, it was a tremendous personal triumph for coach mcaneney, who won his first non-public group 2 championship after two previous losses in the championship game while he was the head coach at Bishop Austace. Also, Coach McAneney inherited a dysfunctional situation: in spite of Holy Cross being one of the high profile programs in South Jersey, Tim was the third head coach in four years. Holy Cross is a school whose enrollment is hemorrhaging, and weathered a scandal a few years back with a principal misappropriating funds (mainly misappropriating them to his wallet). and aside from the usual resistance to the Double Wing, Tim had to deal with the fact that over the past 15 years, Holy Cross has carved its niche in South Jersey football as being the preeminent passing team. (Fellow Double-Winger) Mike Wilson and I have been talking about it, and we hope that Holy Cross' success spurs another team to try the double wing, or at the very least to open people's minds that it isn't just "a youth league offense".

I hope that you and your wife are doing well, and I look forward to hearing from you soon.

sincerely,

Francis Amar
Richland, New Jersey
(Coach Amar is a former Double Wing offensive coordinator who knows what it is to win -but not win with the "right"offense;
Coach McAneney is a long-time "Wyatt Winger" who spoke at my Philadelphia clinic several years ago.
"I told them in pregame that I was so proud of them," Coach McAneney told the Camden Courier-Post. "I'm their third head coach, this is their fourth defensive coordinator, their third offensive system and second offensive philosophy in four years. Kids shouldn't have to go through that stuff. At the end of the day, they did a great job."HW)
*********** Doesn't it piss you off to think of how many of the pompous asses in the United States Senate got their jobs in somewhat the same manner proposed by Governor Rod Blagojevich?
*********** IT'S CHRISTMAS, FELLAS - STAY OUT OF THE DOGHOUSE - http://bewareofthedoghouse.com/VideoPage.aspx
*********** In The Netherlands, a gay group said it is planning a "Pink Christmas" festival in Amsterdam, featuring a manger scene with two Josephs and two Marys.
***********Which reminds me... Did you call in gay on Wednesday?
*********** From the Internet...
As many of you know, I had ambitions of finding a simple, uncomplicated part time job after retiring from my "day job".

Unfortunately, as I have gotten a little older, I have become a little less sensitive. So after landing my new job as a Walmart greeter, a good find for many retirees, I lasted less than a day.....
About two hours into my first day on the job a very loud, unattractive, mean-acting woman walked into the store with her two kids, yelling obscenities at them all the way through the entrance.
As I had been instructed, I said, pleasantly, "Good morning and welcome to Wal-mart. Nice children you have there, are they twins?"
The woman stopped yelling long enough to say, "hell no, they ain't twins. The oldest one's 9 and the other one's 7. Why the hell would you think they're twins? Are you blind, or just stupid?"
So I replied, "I'm neither blind nor stupid, Ma'am, I just couldn't believe you got laid twice. Have a good day and thank you for shopping at
Walmart".
My supervisor said I probably wasn't cut out for this line of work...
*********** Coach Wyatt- My name is Kitt Thein and I'm a first year head coach of Pawnee High School. I don't know if you remember me but I had the pleasure of meeting you this past March at your Chicago Midwest Clinic in Park Ridge. I took over a program in which there had not been a winning season in twelve (12) years. At the Clinic you introduced me to your double wing offense. By utilizing your videos, playbook and information from your website, we installed your offense. My staff and players bought into the system completely.
We are the smallest 1-A school in a conference of 2-A/3-A schools. Last year our varsity had a record of 2-7 averaging only 13 points per game while allowing 28 points per game. This year we went 8-4, reaching the quarter finals of the State playoffs, and going farther than any previous Pawnee team. We averaged 24 points per game while allowing 12 points per game. We rushed for 3,019 yards on 532 attempts and averaged 5.7 yards per carry.
Thanks to you sharing your knowledge through your materials and website our community enjoyed the best season of Pawnee High School Football in school history.
Kitt Thein, Head Football Coach
Pawnee, Illinois
*********** Even the NFL is feeling the pinch of hard times.
They just laid off 10 per cent of their office staff. I'm guessing they're people whose average salary is maybe $50,000 a year, which in New York ain't all that much.
I submit that they could easily spread the pain around...
Teams don't really need all those players. Who's kidding who? If teams were all to cut their rosters by 10 per cent no one would even notice.
But it's Christmas time, and I don't want to put anybody out of work. Except for a certain few loudmouth wide receivers. And besides, the first guys to be let go would be the backups, the ones making minimum wages.
Or each team could let a coach or two go. You and I all know that given the average NFL staff, with anywhere between 15 and 20 coaches, the loss of one or two of them - a 10 per cent layoff - on each team wouldn't be noticed in the quality of play. But I've been an unemployed coach myself, and I don't want any coaches to lose their jobs, either.
Which leaves us with only one possibility: all players being paid more than a million dollars a year could offer, for the good of the league and all its fans and in the spirit of our President-elect's stated desire to spread the wealth around, to take across-the-board 10 per cent cuts.
Yeah, right.
Merry Christmas from Big Football.
*********** This Saturday night, ESPN will help us celebrate the 50th anniversary of the Best Game Ever Played (as Sports Illustrated's Tex Maule referred to it in his game story) by showing a digitied, colorized version of the Colts-Giants NFL championship game, won by the Colts (the BALTIMORE Colts, I should add, as a former Baltimorean) in sudden-death overtime.
If the date of the anniversary hasn't registered with you - that was the NFL championship game. The game was played, and the NFL season concluded, before Christmas!
*********** There goes Colt's Heisman, at least among big city voters...
I heard some radio guy interviewing Colt McCoy, and I heard Colt said he liked to "relieve the tension" of football by "spotlighting." When asked by the interviewer what spotlighting was, McCoy said it was going out at night and "hunting varmints" (that's the word he used) - armadillos, coyotes (he said "KYE-oats") and possums.
The radio guy, no doubt ensconced in a studio in New York or L.A. - definitely not a Texan - sounded aghast at the thought of such blood sport.
Upon learning of the interview, Oklahoma's sports information department immediately got busy e-mailing Heisman voters with photos of Sam Bradford holding a kitten. Florida, pulling out all the stops, Fed-Exed each voter a golden retriever puppy with an orange-and-blue ribbon around its neck and a tag attached to the ribbon reading, "Happy Holidays from Tim Tebow and the folks at PETA."
*********** Tom Benjey, of Carlisle, Pennsylvania, who has produced a nice video about the first single-wing game ever, writes, "Maybe Army should bring back Bobby Knight, this time as football coach."
*********** Colin Cowherd say it and when I heard it I damn near died laughing: "Soccer doesn't do well in countries that have more options. In America, you're gonna have to do better than three hours and no goals."
*********** Three members of the Beloit Trojans' team were named to the Kansas Football Coaches Association 3A All-State team: Running Back Cas Spangler, Guard Braden Hager, and defensive tackle Tyler Jamis
*********** Finalists for the 2008 "Liberty Mutual Coach of the Year" Award:
Division I-A: Mack Brown, Texas; Brady Hoke, Ball State; Pat Fitzgerald, Northwestern; Urban Meyer, Florida; Joe Paterno, Penn State; Chris Petersen, Boise State; Nick Saban, Alabama; Bob Stoops, Oklahoma; Jim Tressel, Ohio State; Kyle Whittingham, Utah.
Division I- AA: Mike Ayers; Henry Frazier III, Prairie View; Mickey Matthews, James Madison, Jerry Moore, Appalachian State; Danny Rocco, Liberty
Division II: Chuck Broyles, Pittsburg State; David Dean, Valdosta State; Danny Hale, Bloomsburg; Chuck Martin, Grand Valley State; Bill O'Boyle, Chadron State
Division III : Greg Debeljak, Case Western Reserve; John Gagliardi, St. John's; Larry Kehres, Mount Union; Dan MacNeill; SUNY Cortland; Mark Speckman, Willamette
TUESDAY, DECEMBER 9, 2008- "Honesty is the first chapter in the book of wisdom." Thomas Jefferson
*********** Sent to me by Bill Bruning of Barker, New York, who saw it in the Buffalo News...
By Mark Gaughan
ASSOCIATED PRESS
Question: Is it true the term Wildcat was taken from the West Genesee High School Wildcats near Syracuse? A Dolphins assistant coached West Genesee. — Boris Lundgren, Bolingbrook, Ill.
Answer: I asked Dolphins head coach Tony Sparano about it Wednesday. His answer: "I don't know if that's true or not. I would say probably not."
It's true that Dolphins quality control coach Steve Bush was West Genesee's head coach from 2005 to 2007. But Dolphins quarterbacks coach David Lee came to Miami this year from Arkansas, where he was offensive coordinator. Arkansas ran what was called the Wildcat formation with backs Darren McFadden and Felix Jones. (Arkansas fans then dubbed it the WildHog.) The Dolphins adopted some of the Arkansas plays.
Lee worked with Sparano in Dallas from 2003 to '06. Before that, he was QB coach with Arkansas.
Why did Arkansas call it the Wildcat? Some attribute it to a longtime coach in the state of Washington, Hugh Wyatt, who ran it for the La Center High Wildcats.
As a side note, this formation is not even new to the "modern" NFL. Marv Levy ran a variation of the Wildcat — the Wing-T— with Kansas City as the Chiefs' primary formation in 1978. It was used out of necessity. The Chiefs' defense was horrible, and Levy simply wanted to keep it off the field.
(Actually, as a side note, Marv Levy ran the pure, unadulterated Delaware Wing-T at Kansas City. He didn't have a lot of talent, and the Chiefs didn't win many games, but they did lead the NFL in rushing. HW)
*********** For those who insist on a playoff (to determine a "true national champion," the argument goes )...
Isn't a one-game playoff exactly what the Big 12 has chosen to do in attempting to determine its "true conference champion?" And doesn't the shafting of Texas (and in some peoples' minds, Texas Tech) point out some of the flaws inherent in any playoff system?
Short of a 128-team everybody-gets-in playoff field, any playoff will have employ some system similar to the Big 12's to determine (1) who gets into the playoff and - even more important - (2) who plays whom.
While acknowledging the flaw in the Big 12 tie-breaking formula, under the constraints of time it's probably the best solution they can come up with.
Of course, they could always flips a coin. Many high school leagues settle three-way ties that way now. I rather doubt that the public would accept that in the case of the Big 12, unless there's some way ESPN can turn a simple coin toss into a one-hour show.
Wait. I shouldn't have given them any ideas.
*********** Call Nick Saban whatever you like - depending on whether or not you pull for Alabama - but don't call him stupid.
Noting that the head coaches of four of the teams Alabama beat this year - Clemson's Tommy Bowden), Tennessee's Phillip Fulmer), Mississippi State's Sylvester Croom and Auburn's Tommy Tuberville - are no longer coaching, he remarked, "I guess we're 5-7 away from the same thing."
*********** Well Coach, the Santa Clarita Wildcats had FOUR DOUBLE WING teams in the finals on Saturday, out of the 6 games. And we won 3 of them!! The best game of all was Coach Scott French's J1 team - went go into overtime and won with a 6G call on 4th and 2 yards. Coach Dan Gutierrez' team won handily by running 88 Super Power down his opponents throat all day. Coach Chris Barkley dominated an older and more experienced team with a very well run double wing. Unfortunately, my team lost, but damn, it was good while it lasted. We had a great season!! John Torres, Santa Clarita, California
*********** Why is it still the "Rose Bowl Game Presented by Citi?"
*********** Just wondering... can a bank use taxpayer bailout money to make payments on a stadium naming-rights deal it entered into back when it was spending its own money?
*********** Before I go on about Army's camouflage stunt...
It's worth my retelling the story about the reason for Penn State's famously plain-Jane uniforms.
Joe Paterno's predecessor, Rip Engle, a great coach in his own right, had the same answer for anyone who might suggest a flashier uniform: "How's it going to look if we lose?"
*********** From my perspective Army's uniforms sucked, but perhaps kids like them, which means it could help recruiting ("Gee, I want to wear a camo helmet and get my ass beat by Navy every year").
In addition to showing it was absent the day they taught the lesson that no team that's playing bad should ever run the risk of looking bad, too, Army also got one-upped by Navy in the messages that the teams' uniforms conveyed.
Not that anyone could read it, but I'm told that on one side of Army's pants it read "Boots on the Ground," which could be interpreted by other services as a dig - as Army's subtle way of saying "we do the dirty work."
But here, Navy beat Army at its own game, cleverly getting the point across with the eagle/globe/anchor logo on the jerseys, and the blood-red stripe on the Marine-dress pants, that "Navy" can also mean "Marines," who have been known to put a few boots on the ground, too.
*********** You can't say you didn't see this sort of stuff coming when you sent guys out on the field wearing camouflage..
"Army looked like the Oregon Ducks got lost on their way to a gun show"
And
"Boots on the ground" should have been, "butts on the ground"
Undoubtedly the work of some Navy jokesters, who, I'm sad to say, have earned the right to ridicule.
*********** I guess Army's camo look is getting some positive feedback from younger guys but I doubt that it's going to have any impact on West Point's football recruiting. I suspect its appeal is mostly to the sort of wannabes who love to wear their camouflage while they play their video games, but couldn't imagine going to school at a place where they'd have to get up early - every day - and go to class, or shave and keep their hair cut short, or salute their superiors. (Yes, junior - this will come as a shock to you, but in the military there really are people superior to you.)
*********** "Failure to wear the required equipment" was called against USC. Hadn't seen or heard it called in years. You don't suppose they were referring to wearing the pants (and therefore the knee pads) above the knees, do you?
*********** Boy, it was so cool to see USC and UCLA both wearing their colored jerseys.
USC-UCLA has always been special to me, going back to when I was a kid back East and I'd come in from playing when it got dark out, and there on the TV (12-inch Philco, and black-and-white, of course) would the USC-UCLA game, being played in front of the usual crowd of 100,000. In broad daylight! WTF?
Apart from the sunshine - always - there were the elaborate card tricks in the stands... a fog horn that blew whenever one of the teams - I forget which - scored... and cheerleaders using loudspeakers - none of that effete Eastern megaphone crap for them!
I stayed riveted to that set, and although there were no replays, and no highlights later that night, I can still tell you the names of the great ones from both sides of those epic battles. And I can still see that single wing that Red Sanders' UCLA teams ran so well. Hell, I can still see their "serpentine" as they came out of their huddle into wing left!
*********** Maybe the greatest tackle of all time... http://rivals.yahoo.com/ncaa/football/blog/dr_saturday/post/Louisville-takes-out-night-of-dread-on-Jourdan-B?urn=ncaaf,127181
*********** Bimbo to Tim Tebow, post-game: "Do you deserve to win the Heisman?"
*********** It's amazing how many people fail to drill this into their punters' heads... The Arizona punter went low to field a low snap and touched his knee to the ground. Tweet. Arizona State's ball at the spot where he touched his knee down.
*********** The Navy snap sails high and hard over the punter's head, all the way to the goal line. I'm yelling, "Kick it out of the end zone." What the hell, it's only two points. Besides, it would have kept Army from being shut out. But Army had a return on, and seemingly no one was charged with making sure the ball was kicked, so the punter was able to chase the ball down, pick it up, turn around and still get off a decent punt.
*********** The Ball State runner is clearly in, it seems both to me and the guys calling the game, but it's no use - even after the replay seems to confirm ur belief, the Cardinals are still denied the score and given the ball at the Buffalo one. And on the next play the Ball State QB fumbles, a Buffalo defender catches the ball in mid-air and returns it all the way for a TD, and the Cardinals' dream of an undefeated season is toast.
*********** I read that police had arrested a woman accused of poisoning her fiancee by spiking his Jaegermeister with pesticide, and I realized why I'm still alive to write this: that's exactly what Jaegermeister tasted like the only time I ever tried it.
*********** I am bummed by the Washington Huskies' hire. Washington, once a national power and the scourge of the West Coast, seems to have descended to the point where established coaches with solid credentials don't want the job.
What hath Barbara Hedges wrought? (Barbara Hedges was Washington's Great Exercize in Political Correctness who as AD cost them Don James. And hired Rick Neuheisel. At far more than market value.)
So they wind up throwing a million-plus at a guy who's had two seasons as OC at USC, a place where it's not exactly tough to recruit and a place whose offense doesn't require much more coordinating than getting them to line up correctly and run you over.
Did they even ask Turner Gill?
*********** Some of us stubbornly refuse to be brainwashed. When the guy from ESPN apologized to coach Mickey Matthews of James Madson for still saying "Division One Double-A" instead of the NCAA-approved "FCS" or some damn thing, Coach Matthews said, as if to reasssure the TV guy, "That's what we call it, too."
*********** When their starting quarterback pitched to a tailback who ran for his third touchdown to make it 62 points, it sure looked like Oklahoma was running it up. Christopher Anderson, Arlington, Virginia (Makes you wonder why there isn't a mass exodus of backups from the run-it-up places - Rutgers had its starting QB in the game at the end of the third quarter, despite the huge score against Louisville. Backups at OU and such could start at 90 per cent of the D-I colleges. Now, other than the possibility that those kids would rather play backup for a national power than start for someplace less, it brings to mind the battered women who refuse to leave their "men." HW)
*********** There was an article in Sunday's New York Times about the ways tough times have affected America's retailers. Using Best Buy as its main example, the article notes that some companies have figured out something you and I have always suspected, as we roamed through aisles looking for someone - anyone - to answer our questions: one way to improve sales is through a concept new and alien to many of America's retailers - better customer service.
*********** There once was a coach (whose name escapes my memory) who was asked why the only linemen he recruited were defensive linemen. He answered, "If they don't work out, you can switch 'em to offense. But if you recruit offensive linemen and they don't work out, all you got are fat managers."
*********** Interesting, isn't it, how the NFL announcers have gone ga-ga over the Wildcat, which as everyone knows originated this year, in Miami. I give it another year at most. Defensive coaches are not stupid, and as any wing-T, double-wing, single-wing (or Wildcat) guy knows, the NFL version of the Wildcat is doomed without our line play!
*********** Bellevue High won the Washington class 3A (Washington's second-largest class) title Saturday, 35-6. It wasn't that close. Bellevue led 28-0 at the half after narrowly missing a last-second TD on a pass that fell a yard short. That was one of just two passes Bellevue attempted as they rushed for 448 yards on 41 carries.
It was Bellevue's sixth state title since 2001.
Think people don't have trouble with Bellevue's Wing-T?
Think it isn't an advantage to run something counter to the trends, and run it really well?
Since 2003, they are 24-1 against people playing them for the first time.
***********Hello Coach.
How are you? Hope all is well. Congrats on a great season and experience at North Beach. I managed to catch the Bellevue, WA state title game on my satellite. I was familiar with their success and knew they ran a Wing T, but what style Wing T is that? Is that Delaware? Big splits.
Adam Wesoloski,
Pulaski, Wisconsin
Yes, that is Delaware - at least originally - but over the years the coach, Butch Goncharoff, has added some of his own touches.
Bellevue has been running that Wing-T since at least 1983, when they won their first state championship. Butch Goncharoff got his start as a touth coach in the Bellevue system.
He does not teach. He has a business. The booster club pays him upwards of $80,000 a year to coach.
******************************** Florida Black Lion ***************************************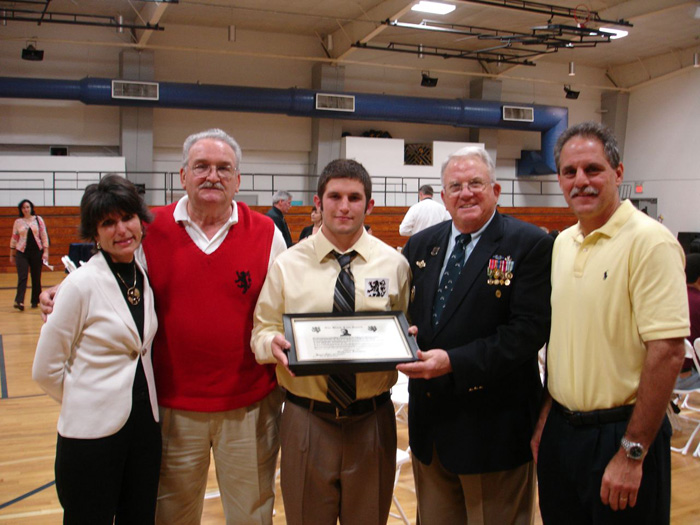 Hugh, I wanted to send you this picture of our 2008 Black Lion Honoree, Nic Benenati, along with his mom and dad and our old friends, Steve Goodman and Gen. Jim Shelton. This was the first year for my new school, Palmer Trinity, and I know you won't be surprised when I tell you that there wasn't a dry eye in the house when Steve and Jim finished their presentation. I was also quite moved, even though I've been doing this since the very first year. You would have been proud of the ovation that these two real heroes received when I first introduced them, and prouder still of the thunderous applause when they made their way down from the stage. I think it took about 45 minutes for them to navigate the mob of parents and students who wanted to shake their hands and thank them for coming. Nic was a great choice for our school – he's also considering West Point – and his parents were so appreciative of the award. My thanks to you for helping to create this great opportunity to recognize our best and brightest while also honoring the memory of a great American.

Thanks Again!

Jake von Scherrer, Director of Athletics

Palmer Trinity School
Palmetto Bay, Florida
*********** Coach, I went to the Big 12 title game on Saturday. I was at the OU-Tennessee Chat. game early in the season and was totally unimpressed by OU's offense. This team has drastically improved. They are so incredibly good in person, the speed is amazing. I still hate the everyone stand and gawk at the sideline with your hands in the air no huddle offense. Can you explain for me how offensive linemen are permitted to put their hand on the ground and twist their entire body around in their stance to try to hear the QB's audible? If the hand is down and they are moving around isn't that a violation? Unless the rule has change, once the o-line sets don't they have to remain set and unmoving? Did I miss something? Either way at least Bob Stoops will never get caught wearing attire that could be mistaken for PJ's. I hate the hoody sweater trend.

You run across very interesting people tailgating. One of them was a local man selling his invention. When he walked up and said I got something to show you guys and unzipped his pants I was a little worried...but what we he has invented is very interesting. www.gamedayundies.com Pictures attached.
Gabe McCown
Piedmont, OK-USA
(Ah, capitalism. Isn't it great? Coach McCown sent me a photo of OU in I-formation! It's like a bird watcher getting a photo of an ivory-billed woodpecker! I told him he must have taken an awful lot of shots to get that one, and he said, "I almost missed it! They shifted to an I and I fumbled like crazy to get my camera on before the snap. Luckily they audibled twice before they ran a play!" HW)
*********** In my opinion, USC would beat either OU or Fla but interestingly, I don't hear any outcry about the Trojans being screwed. Can they be that unpopular?
*********** A team from near us, Wishkah Valley, made it to the Washington state 8-man finals, but lost - are you ready for this? - 64-62.
If you haven't seen 8-man football, scores are usually high, but this one was high even by 8-man standards.
The Seattle Times reported that as a Wishkah Valley player entered the Tacoma Dome, where the state finals are played, he looked up in the stands at the band of Union High School of Vancouver, and said, "that's more kids than we have in our whole school."
He may have thought he was joking, but he was right. Union has 160 kids in the band. Wishkah Valley has 55 kids in its entire school.
******************************** Kansas Black Lion **************************************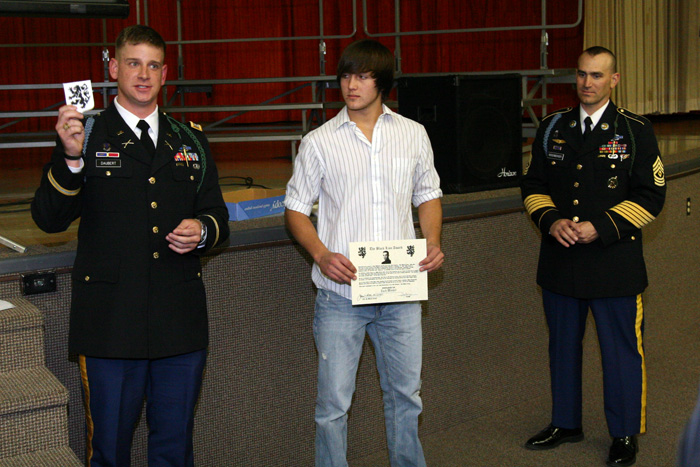 *********** Hugh,
I apologize for taking so long to pass along a report of our Black Lion presentation. Anyhow, we were fortunate to have Cpt. Justin Daubert and 1SG Michael Rosenberger join us from Ft. Riley to make the presentation. As you may recall, we only give one team award, the Black Lion Award, and having actual Black Lions on hand to make the presentation makes it even more significant. We had a great banquet, and the presentation was very well received. I have had lots of positive feedback on our choice for the award this year, senior linebacker Zach Winkel. The Black Lions brought Zach a t-shirt and a Black Lion coin, and I received a coin as well. It is very cool.

Thanks again for this special award. It is an integral part of our program as the players, coaches, and parents all know what we are looking for in our players and what we expect from them. I was pleased with the warm welcome that the Black Lions received from our players and parents as it shows great respect for what those men are doing in service to our country.

Take care and God bless.

Greg Koenig,
Beloit, Kansas
********************************* Atascadero Senior Hounds ********************************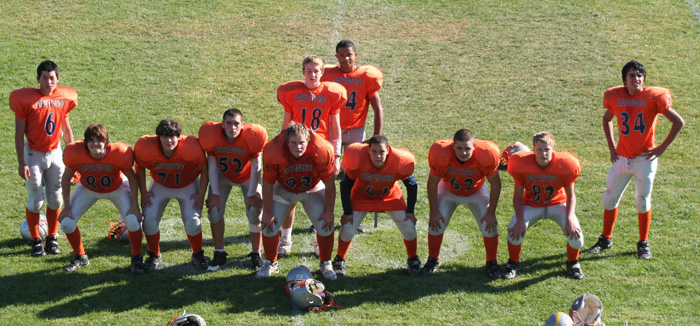 Hi Coach Wyatt,I hope you had a great Thanksgiving.I'm attaching a picture of my 2008 Atascadero Senior Hounds.We lost in the first round of the playoffs but had a very successful offensive season.In 9 games we rushed for 2,742 yds,passed for 504 yds,and scored 36 touchdowns.Our C-Back ran for 1,273 yds,and our B-back had 1,003 yds.Neither one had ever played football before.Thank you for all your help and inspiration to us here. Kurt Heinke, Atascadero California
FRIDAY, DECEMBER 5, 2008- "If you don't have many interceptions, you have a good passing attack." Woody Hayes
WILDCAT UPDATE! Thanks to all who wrote in with your recollections of your personal introduction to my Wildcat! Scholastic Coach and AD magazine plans to reprint my December, 1998 article, "Wildcatting it with the Double Wing" in its January, 2009 issue, and it also plans on distributing free copies to all coaches at the AFCA convention in Nashville. The claims of people in Arkansas and Miami notwithstanding, it is proof conclusive that I am, indeed, the first person known to use the term "Wildcat" in connection with a direct snap formation, so I eagerly await the royalty checks.
*********** Between living in two different places and difficulties with my mail servers, and then breaking in a new computer, I have had a few problems keeping the site up to date.
ALSO - I may have failed to receive or respond to e-mail over the last month or so. If you have sent me an e-mail and I haven't responded, please try again.
FLASH - IT MAY BE JUST A RUMOR, AND I HAVE MY DOUBTS, BUT... FROM SOMEONE WHO CLAIMS TO KNOW...
Army football players will have a new look for the Army-Navy game Saturday.
Army will trade in its gold helmets for camouflaged ones. Players will also wear camouflaged pants.
Nike made new blankets for the Army mules to match the new uniforms.
MY GUESS IS IT'S JUST A HOAX, BUT WITH NIKE INVOLVED, YOU NEVER KNOW. ON THE OTHER HAND, A GOOD FRIEND WITH A DRY SENSE OF HUMOR SAYS WHEN YOU'RE 3-8, YOU MIGHT WANT TO HIDE
*********** ARMY NAMES ITS BLACK LION
Linebacker John Plumstead, #42, from tiny Honor, Michigan, will be wearing the Black Lion emblem on his jersey in Saturday's Army-Navy game.
The following announcement came fromLTC Bill Lynch, Director of Football Operations
Sir,

It is with great pleasure I can tell you that the Coaching Staff selected John Plumstead, Team Captain and linebacker on Sunday. Coach made the announcement to the team on Sunday and the patch is already sewn on his jersey. I read the certificate citation to the team explaining the Black Lion Award and made sure that the team knew that the formal presentation will be at the Banquet on 16 JAN 09.

As are all of our cadets, John is an outstanding young man who I believe will make the Black Lions proud. John was humbled and honored to be chosen for this special award. # 42 will wear the Black Lions Patch with Pride on Saturday.
This from the Army Football media guide...
Emotional leader of Army's linebacking corps ... fiery performer who flies to football ... plays game with a great deal of passion ... high-energy performer with burning desire to succeed ... physical defender with nose for football ... caught eye of coaching staff early in West Point career with stout special teams play ... former "walk-on" ... recruited to participate in track and field ... boasts excellent football instincts ... hits with a vengeance ... earned starting berth midway through junior campaign ... emerged as one of club's top leaders ... presented with squad's "Sledgehammer Award" this spring ... honor bestowed upon Black Knights football player who "consistently demonstrated the greatest physical and mental toughness during Army's spring workouts" ... award first instituted by former Army head coach Bobby Ross in 2004 ... joined running back Nicholas Sabellico as this year's recipients ... product of USMA Prep School ... three-year letterman.
HIGH SCHOOL : All-state performer at Benzie High in Benzonia, Mich. ... played for head coach Hal Holman ... four-time letterwinner ... all-area selection ... split time between running back and free safety positions ... served as team captain final two seasons ... rushed for school-record 2,068 yards during junior campaign ... established another school record with 5,500 career ground markers ... also set school standard with 13 career interceptions ... garnered three additional varsity letters in basketball, four in track and field ... served as team captain for both sports ... specialized in sprint and shot put events in track and field ... posted school-record throw in shot put with heave of 57 feet, 11 1/4 inches ... claimed pair of state championships in that event.
PERSONAL: Born Dec. 11, 1985 ... given name is John Robert Plumstead ... parents' names are Marty Plumstead and Nancy Frederick ... father, Marty, lettered in football at Michigan Tech University ... paternal grandfather, Peter Plumstead, served as first lieutenant in U.S. Army ... John enjoys fishing in spare time ... hails from small hometown with population listed at 299 ... goal is to become U.S. Army Ranger ... claims to be an "incredibly talented" fisherman ... nicknamed "Tazmanian Devil" by teammates ... lists venison and mushrooms as favorite meal ... majoring in Environmental Geography.
"Fishing," huh? Likes venison, too. Comes from a tiny town. Wants to be a Ranger. How American can you get?
*********** Hey Coach, Saw the link to the SI article. Finally, the truth!

Just like you said once, "a lie travels half way around the world before the truth puts its boots on"!

Regards,
Matt Bastardi
Montgomery, New Jersey
*********** Coach Wyatt,

I just read the SI article with great interest! I was pleased to see that you are getting your due. The coaches on staff here with the Lathrop Titans take great pride in knowing that they have been studying this 'Wildcat Series' since it was introduced to us back in 2001 at your NOR-CAL Clinic (7 years before the NFL had seemed to discover it) . Keep fighting the good fight!

Coach Mark Rangel
Lathrop, California
*********** Coach,
Congratulations on Coach of the Year honors. You definitely deserve it. Speaking of accolades, Coach John Torres (JT) just recorded his 100th win last Saturday when his Santa Clarita Wildcats claimed a 22-8 semi-final victory in the Gold Coast Youth Football League in Sothern CA.

Watching a JT-coached team perfom the Double Wing is always a joy and this night was no exception. As always, the excellent football instruction was only a small part of the win. The teamwork, camaraderie, and respect for each teammate and coach has been forefront through the team's journey this season. Coach Torres truly embodies the standard of the "teaching of life's lessons".

Coach Torres and the Wildcats (appropriate name, don't you think?) go for win 101 in their championship game (Super Bowl) next Saturday. Good Luck Coach JT!

Richard Scott, Livermore, California
*********** Coach Wyatt - The story behind the story is that Coach Scott was there to assist me, tremendously. He prepared a "tendency sheet" for us and was calling out their offensive plays before they ran them. I would say he was accurate 75% of the time. Offensively, due to our love of the Double Wing, he suggested several plays that worked very well including a wedge reverse and red red. Us double wingers are a tight knit bunch.

Call us crazy. Call us different. Just don't call us an offense, we are a system!

John Torres, Santa Clarita, California
*********** "Football is my passion and my life, Every guy in this league works hard to stay off the sidelines. Did you know that carrying a loaded illegal gun will now get you a minimum of three and a half years in prison? And just like on the football field, there are no excuses, do-overs, ifs, ands or buts. Don't get sidelined; don't carry an illegal gun."
That was Jets' DB Kerry Rhodes, in a public service announcement recorded back in 2007 on behalf of New York Mayor Bloomberg's stricter gun law.
Plaxico Burress was probably out nightclubbing every time it ran.
*********** Speaking of Plaxico... How in the hell does any normal, sensible person go to a nightclub and shoot himself, accidentally or otherwise? Wait - I just answered my own question.
*********** So we're supposed to trust the BCS, right? So then how is it that BCS #! Alabama will play BCS #4 Florida on Saturday - and Florida is a 9-1/2 point favorite?
Consider that one of the components of the BCS rankings is the Coaches Poll, that absurd compilation of the likes and dislikes and prejudices of America's college coaching fraternity that somehow can justify jumping Texas over Oklahoma on the strength of Texas' win over a weak Texas A & M team, while Oklahoma was beating 12th ranked Oklahoma State.
And consider that the oddsmakers in Vegas who come up with the point spreads keep their jobs by being right a lot more than they're wrong.
And then tell me that you've got $10,000 to bet (legally, of course - in Nevada)and you are such an Alabama fan that you'll take the Tide without the points.
Suggestion: screw the polls and the computers. Leave it up to the guys in Vegas.
*********** Sent to me by Brad Knight, in Big 12 Country...
After determining the Big-12 championship game participants the BCS computers were put to work on other major contests and today the BCS declared Germany to be the winner of World War II.
"Germany put together an incredible number of victories beginning with the annexation of Austria and the Sudetenland and continuing on into conference play with defeats of Poland, France, Norway, Sweden, Denmark, Belgium and the Netherlands. Their only losses came against the US and Russia; however considering their entire body of work--including an incredibly tough Strength of Schedule--our computers deemed them worthy of the #1 ranking."
Questioned about the #4 ranking of the United States the BCS commissioner stated "The US only had two major victories--Japan and Germany. The computer models, unlike humans, aren't influenced by head-to-head contests--they consider each contest to be only a single, equally-weighted event."
German Chancellor Adolph Hiter said "Yes, we lost to the US; but we defeated #2 ranked France in only 6 weeks." Herr Hitler has been criticized for seeking dramatic victories to earn 'style points' to enhance Germany's rankings. Hitler protested "Our contest with Poland was in doubt until the final day and the conditions in Norway were incredibly challenging and demanded the application of additional forces."
The French ranking has also come under scrutiny. The BCS commented " France had a single loss against Germany and following a preseason #1 ranking they only fell to #2."
Japan was ranked #3 with victories including Manchuria, Borneo and the Philippines.
*********** A high school coach who understandably wishes to remain anonymous writes,
I got the Tackling video (and Practice Without Pads) last year and felt that it helped with our JV and Varsity teams.
One of the biggest obstacles I face is the "Hit 'em low" idea that parallels baseball's "keep your elbows up" mis-teaching. My 8 year old's team had an assistant last season that chewed into the kids for hitting with their chests up (and demonstraing pretty good form) instead of driving (diving) into 'em (dropping his head and looking like textbook bad technique). Anytime a coach has to overcome parents with their own flawed ideas it puts the kids in a bad position. I told the head coach that I appreciate the way he is trying to teach the proper form and encouraged him to get his assistants on the same page (without trying to assert too much head coach "bullying" the youth coaches into the equation.)
*********** Hey, all you young coaches out there... Before you start getting the off-season stuff really cranked up, take a little time to be nice to your wife. Really nice. Buy her flowers. Take her to dinner. Then sweep her up in your arms and take her upstairs, just like Rhett Butler in "Gone With the Wind."
See, America is going to need babies. A lot of them. And we're going to need them to grow up to be useful and productive citizens (i.e., taxpayers) because there's going to be some huge bills coming due.
Listen to this: according to a guy named Jim Bianco, who runs a firm called Bianco Research, the total of all the money committed to bailing out the devils of the American economy exceed, in today's dollars, the combined cost of the Louisiana Purchase, the New Deal, the Marshall Plan, the Korean War, the Vietnam War and the Savings and Loan Crisis.
So get busy, Dad.
*********** Hi Coach Wyatt,I was reading the San Luis Obispo Tribune today and there is a rumor that Cal Poly Coach Ellerson is being considered for the Huskies job. He runs the same offense as Ga.tech, and it has been very successful.The paper called it a "wing-T",but I know it's not. A lot of coaches are calling it the Flexbone. What do you call it? You can read it at San Luis Obispo Tribune.com. Kurt Heinke, Atascadero California
Nothing would please me more than to see the Huskies hire a guy who runs an offense like that. (Assuming that he has all the other necessaries.)
I did see some clips of Cal Poly's game against Wisconsin, and I couldn't believe the way they took the Badgers into OT - in Madison! I've heard wing-T also, but from what little I've seen it sure looked like Paul Johnson's flexbone. (Or as it was originally called by Emery Bellard, the "Wingbone.")
If it is, indeed, the Flexbone, Paul Johnson's success at GT didn't hurt Coach Ellerson's chances at UW.
I just hope they'll get 'er done soon!
*********** Name the two states without a single state university playing football.
(Hey! Did I hear some wise ass in the back of the room say "Washington?" I don't appreciate that!)
Actually, they're Alaska and Vermont.
But now, thanks to one very energetic guy, football - at least as a club sport - is back at the University of Vermont for the first time since 1974...
http://www.nytimes.com/2008/12/03/sports/03vermont.html?pagewanted=2&th&emc=th
*********** Passers who can't throw accurately, and can't run away from 300-pound defensive linemen... receivers who can't catch balls thrown right at them... running backs who can't avoid tacklers... offensive linemen who can't block anyone who doesn't run right at them...
Is it me, or is it possible that the great god "Athleticism" at whose feet NFL announcers worship is a false god?
*********** Has there been any worse rule passed in recent years than the one that lets a coach call a time out nanoseconds before the opponent snaps the ball ?
*********** Not that it would have mattered, considering that Oregon State couldn't stop Oregon, but still... 2nd and goal for Oregon State and Beavers QB Lyle Moevao drops back then decides to run, and at the five yard line - with the goal line ahead and the Rose Bowl on the line - he hookslides.
*********** Although it's going to cost the Pac-10 millions by not having two teams in the BCS mix, after watching the Oregon Ducks put 696 yards of offense on the archrival Oregon State Beavers I have to think it would have cost the conference a lot more in prestige if it had sent the Beavers up against Penn State in the Rose Bowl.
*********** My wife came home from shopping to ask me, breathlessly, if I'd heard the "breaking news" out of Oregon.
"Mike Bellotti's retiring!" she said.
My first question was, "Did they give the job to Chip Kelly?"
She said, "Yes," and I went, "Whew!"
Chip Kelly is the New Hampshire guy who came west two years ago to become Oregon's offensive coordinator, and in that time he's shown himself to be something of an offensive genius. I do not use the G-word loosely when discussing people who coach games.
Well.
So much for the breaking news.
Turns out that, yes, Bellotti is going to retire. Sometime in the future. Maybe this year, maybe in ten years. Who knows?
And when he does retire, Chip Kelly is going to replace him. Maybe this year, maybe in ten years. Who knows?
But see, Kelly has become a hot property, and once Oregon heard that Syracuse was after him, they did what they could to keep him around.
Similiar plans of succession are already in place at Kentucky, at Florida State and at Texas.
A cynical person might think that by handling succession this way, colleges are hoping to avoid the pressure of the Al Sharptons to hire a black coach. But in the case of Kentucky, at least, they'd be wrong - Joker Phillips, the Wildcats' offensive coordinator and Rich Brooks' designated successor, is a black man.
*********** I have nothing against Lane Kiffin. He appears to be very bright and personable, and as the son of famed defensive coach Monte Kiffin, he certainly comes from a good football background.
But I do have to wonder what there is about a guy whose only head coaching experience has been a year and a half in the NFL, at the head of one of the worst teams in pro footballat that, that prompted the people at the University of Tennessee to make him next in a long line of coaching giants such as General Robert Neyland, Bowden Wyatt, Bill Battle, Johnny Majors and, yes, Philip Fulmer.
And that got me to thinking about the Black Coaches Associationand their concern that there are now only three black men heading up D-1A programs.
Granted, I do not have the perspective of a black coach who has spent years learning the trade only to see jobs go to white guys with questionable credentials.
But, I don't agree with them that the percentage of black men coaching a sport need reflect the percentage of black athletes playing the sport, any more than it should reflect the percentage of black people in society at large.
Nor do I suspect prejudice is at work just because a black man is passed over for a job.
On the other hand, though, as if they should be grateful for any job at all, black coaches often get hired at the sort of places where they're doomed to fail, and when a job like Tennessee, goes to a white guy with skimpy credentials, you have to wonder if there couldn't possibly have been some black coach, somewhere, better qualified.
*********** Unless there's more to the Tennessee hiring than simply getting the best coach...
Philip Fulmer said he got a call from Doug Dickey, former outstanding coach at Florida was as AD at Tennesee hired Fulmer. Coach Fulmer said Dickey explained why he was fired: "You don't have a football problem," he said. "What it is is a marketing issue."
Hmmm. E vidently enoughpeople at Tennessee demanded change, without thinking too much about what that might mean.
Hmmm.
*********** Next time some well-meaning (or not so well-meaning) fan or parent tells you that you need to spread it out, remind tham that even Hal Mumme needed good players to make a spread offense work.
Not that they'll remember Hal Mumme, but he's the guy whose wide-open, no-huddle passing game at Kentucky turned the SEC on its ear, and begat the spread passing games of Mike Leach and Tony Franklin.
Hal Mumme, who knows as much about the spread passing game as any man alive, was just fired by New Mexico State.
*********** Randall Cobb, Kentucky's true freshman QB, is also the Wildcats' punt returner (!)
*********** "FIFTEEN YARDS IN TOTAL OFFENSE! THIS IS NOTRE DAME!" that was Mike Patrick, saying on ESPN what the shills at the Notredame Broadcasting Company (aka NBC) surely would have been tempted to say but couldn't, because the network has so many millions invested in the broadcast rights - millions that Notre Dame then passes along to Big Charlie.
Yet as bad as the Irish offense sucked - less than 100 yards - and as ineffective as Jimmy Clausen was (you got to admit - the name "Jimmy" just doesn't seem to fit a major college QB ) he must be all they have - he was the only QB to take a snap against USC.
*********** *********** Congratulations to Coach James Martin and the South Mecklenburg Sabres, of Charlotte, North Carolina.
It's been a surreal 12 months for them.
Last year about this time, their dream season came to an end as they boarded the bus for their first playoff game. Victims of a state ruling that all the i's hadn't been dotted nor all the t's crossed in the transfer of one of its players, they were notified that they had to forfeit all their wins, which meant they didn't qualify for the playoffs after all.
This year, they ran into a spell of hard luck in midseason that cost them some games and cast doubt on their even making it to the playoffs.
But make it they did, and even though their seeding has meant having to go on the road for all their games, they've gathered steam as they've gone along.
Last Friday night, they travelled up into the mountains to Asheville, where they beat Ashevillle Reynolds, 10-7. The margin of victory was provided by Tim Palmer's first-period field goal. What made it special was that Tim, who's been an outstanding A-Back for three years, had never kicked a field goal before.
And they're now in the state Class 4A semi-finals.
Friday, the Sabres travel once again, this time to Fayetteville to meet storied Seventy-First High School, 28-3 winners over Greensboro Page.
Thanks to Double Wing coach Matthew Haney, in Canton, North Carolina, who writes
hope you and your wife had a very happy Thanksgiving. I enjoyed my
friday watching South Mecklenburg play AC Reynolds a local high school
here in Western North Carolina. I was very impressed with Coach Martin's
team. Reynolds is a powerhouse every year, and South Meck continually
pounded them. I had the pleasure of meeting the South Meck staff two
years ago at the Atlanta Clinic. I am a Double Wing middle school coach
here in Western NC, and enjoy seeing it at the high school level any time
I can. I just don't get to see it live very often.
Congratulations on a great job coaching up in Washington. The football
staff and I were rooting for you reading your updates every week. I am
looking forward to your clinics this spring. Have a Merry Christmas.
Coach Haney sent me this link to the story in the Asheville paper...
http://www.citizen-times.com/apps/pbcs.dll/article?AID=2008811290329
*********** From Bill Lawlor, in Crystal Lake, Illinois
Interesting items from the state championships in Champaign this weekend:

Class 1A Triopia - Wing T team
Class 2A Immaculate Conception - Spread team that runs the ball 90% of the time.
Class 3A Illini West - Double Tight/Double Wing team that used to be a Wing T program and runs a ton of traditional waggle, buck sweep, buck sweep, trap, etc.
Class 4A Bloomington Central Catholic - Spread Team - Traditional power in Central Illinois.
Class 5A Wheaton St. Francis - Multiple Formation Wing T team that was 3-6 last year and had only 7 winning seasons in the last 80 years. Their head coach won a handful of state championships in Iowa and came over and turned the program around in three years.
Class 6A Springfield Sacred Heart Griffin - Powerhouse spread program from the state capital that has been running 4/5 wide since 1997, long before Urban Meyer jumped on the bandwagon. Fourth state championship in 7 years.
Class 7A East St. Louis - The all black powerhouse from east of the Mississippi seems to be back. They won 6 state championships in the 1980's under Bob Shannon but have not been to the title game since 1991. They have at least five D1 players on this very fast spread team.
Class 8A Maine South - Finally got a state championship after three runner-up finishes in the last five years. Great spread team. Helps to have 4,200 kids enrolled in the school.

• In total there were five teams running some type of DW or Wing T flavor downstate. But as we see everywhere, spread is the flavor of the decade.

• Driscoll Catholic lost in the Quarterfinals after winning 7 consecutive state titles.

• It was the first time since 1985 that Mt. Carmel Catholic, Providence Catholic or St. Rita Catholic was not in a state championship game. Pretty incredible fact!

• 4 Catholic Schools win state titles. (As usual - but they don't recruit)

Hope you had a great Thanksgiving and enjoy the upcoming holidays!!!
*********** I heard some NFL guy being interviewed on TV and when he was asked about his long, floppy hair, he started in on the cultural business ("this is how my people wear it"), then went on to how it was a biblical thing - Samson and all that - and then he finally came clean and admitted that it was to make him stand out on the field.
*********** Coach,
Tolland wrapped up the season 8-3 with a 36-7 win over our border town rivals on Thanksgiving. We averaged 36 points a game while giving up only 11. Two of our three losses were by a score to playoff bound teams and our third was to a high quality DW team in double overtime. All in all it was another fine year for Tolland football, despite the near wins.
Though we missed the playoffs for the first time in three years, there is a DWer in the SS semifinals this Tuesday. Rocky Hill will take on Seymour (who beat us 44-34 in the state title game last year) at Seymour. My staff and I are making the trip and will be rooting on Rocky Hill as they try to pull off the upset. This is the link to the article about them that ran in the Hartford COurant this morning. I thought you might like it. http://www.courant.com/sports/highschool/football/hc-hsfeat1130.artnov30,0,288904.story
Congratulations to you on your excellent season and your Coach of the Year Award. That's quite an honor!
Enjoy your holidays and I will keep my eyes on your clinic schedule. Hopefully I will see you in Providence.
Patrick Cox
Tolland High
Tolland Connecticut
P.S. Georgia Tech is really good. How mentally and physically worn down do you think the Bulldogs were in the second half of yesterday's game?
*********** Knappa wins Oregon 2A title - First state title in school history...
Coach,
Knappa completed a dominating run through the Oregon state tournament by defeating Culver 20-6 for our first ever State Championship. In the playoffs, we outscored our opponents 110-14 and held the State's four top rushers to a combined 164 yards on 80 carries! Three of these runners were averaging over 200 yards per game by themselves. In the championship game, we held a 7-6 lead at the half and then the double wing really went into action. Two possessions in the third quarter resulted in TD drives and the only possession of the fourth quarter ran the final 5:00 off of the clock four yards at a time. It was a moment of Wyatt Wing beauty and a record breaking season on both sides of the ball for the Loggers who were decided underdogs against the defending champions in the Final. Thank you for your advice and encouragement this season.
Jeff Miller
Knappa High School
Knappa, Oregon (I watched the game Wednesday night on Fox Sports Northwest. It was classic. I don't want to demean the opponents, the defending state champions, by calling the second half a schooling, but it was the nearest thing to it. Coach Miller's description of the final five minutes as "four yards at a time" describes it perfectly. HW)
*********** Started out slow this year losing five in a roll. New back, small but quick.
We are in the smallest Division in Texas, Class 1A.

Lost to three division 2A teams. First 3 games.
Lost to our district champion at their place 21-20. I went for two after a touchdown with 1:50 remaining in the game, didn't make it.
Lost to #13 team in the State 38-20

Won the last three games, all by more than 5 touchdowns.

Got beat in the play-offs by the two time defending State Champions 25-13.

My two backs (A&C) finished the season with over 1000 yards rushing.
A back had 1128 yards, C back finished with 1589 yards.

Backs total since I started running the Double Wing:
2002 - Bradley Gandy 2636 yards All State (1st team)(my Son)
2003 - Wade Lawson (C) 1210
Kory Byrd (A) 1319
J.J. Jones (A&C) 1117
2004 Wade Lawson (C)1345
2005 Patrick Gandy 1565 All State (2nd Team)(my Son)
Wade Bonner (A) 1487
2006 Patrick Gandy (C) 1622 All State (1st Team)(my Son)
Eric Permenter (A) 1537 (2nd Team)
2007 Patrick Gandy (C) 2226 All State (1st Team)(my Son)
Eric Permenter (A) 2096 All State (2nd Team)
2008 Jeffry Rico (A) 1575
Reyes Rico (C) 1123
In 2007 we finished 2nd in the Nation in rushing offense, 5876 Yards, 452 rushing yards per game. The team that beat us ran over 100 more plays than we did.

Thank you so much for your help from the videos

Wayne Gandy
Athletic Director
Head Football Coach
Joaquin High School
Joaquin, Texas
*********** Hugh,
Our awards banquet was held last night and concluded another successful
season. The record of 5-5 wasn't the greatest by some standards, but
recognizing that we played six playoff teams, five of whom won their
first round game, two made it to the quarterfinals, and one was the
state runner-up, I think those in attendance agreed that we did pretty
darn good. Additionally, we implemented a character development
program, and that was received well. Our involvement with Easter Seals
and the $9000 we've raised to date this year (goal of $15,000 by March)
makes us winners every day of the year in my book.
Now, for the reason that I'm writing. Thanks to your efforts to help
me locate a Black Lion to present our award this year I was put in
contact with George Basso, a retired colonel. Mr. Basso arrived for the
banquet and I had the pleasure of eating dinner with him. Part of our
discussion involved the thirteen years he served in Germany and the
advice he had for my trip to Ukraine for an adoption early next year.
We talked about how he rose through the ranks from private to colonel.
We talked about the award and I filled him in on Major Holleder's
football career at West Point. When I told him that Major Holleder led
the team to victory over Navy he let out a muted cheer. Colonel Basso
then informed me, while reading the certificate, that "I now know why
they asked me to present this award. I was there that day in Vietnam."
Hugh, I was speechless. This man, a lieutenant in the 28th Infantry,
2nd Battalion, was five kilometers from Major Holleder when he was
killed. The story was horrific, albeit brief. As he told the group
when introducing the award, "the next day we moved into this area to
bring people out. Then we pursued the Viet Cong all the way to the
border (Cambodia). We made them pay dearly for what they had done."
Colonel Basso recounted that all of the officers were killed in thirty
minutes that day, and that their replacements were dead within two
hours. He stated that they survived because a man was always willing to
take the place of that fallen leader, all the way down to specialists
and privates, when necessary. It was amazing.
Hugh, thank you for the work you did to help me get into contact with
Colonel Basso. I can't express to you how humbled I was to meet with
him or to have him present this award.
Pictures of the presentation will be coming.
Thank you,
Todd Hollis
Head Football Coach
Elmwood-Brimfield Coop
Elmwood, Illinois
***********Next time some fool kills somebody with a gun and the goo-goos start howling about restricting our rights, you might ask them how many of those people in Mumbai would have died last week if law-abiding Indians had been allowed to pack.
We've read plenty about the horrible terrorist attack, but not much about the fact that the good guys were simply outgunned: many of India's police are unarmed, carrying only bamboo sticks instead, and it's nearly impossible for an Indian civilian to own a firearm.
Talk about a win-win: sentence Plaxico Burress to serve three years in Mumbai as a security guard at the Taj Mahal Hotel.
*********** It's interesting to hear a member of a high school scout team describe his duties.
Our local newspaper has been reporting on the preparations of an area team that's in the state finals, and it devoted a story to the scout team players, who've extended their own seasons to help the starters prepare (well, also because the head coach told them they'd win varsity letters if they did).
The scout team quarterback said it really wasn't that difficult "learning the offense."
"A bunch of lines on the paper tell you where to go," he said. "All you have to do is go where they tell you. That's it."
If only. The team happens to be preparing to face Bellevue, one of the best Delaware Wing-T teams in the country. Any coach who's ever held up a play card in front of a bunch of scout teamers knows that every one of those lines is subject to the interpretation of a 15-year-old sophomore who knows that when the ball's snapped he's going to get his clock cleaned.
es and fresh mint.
To think that I have lived seven decades and only today learned what a spiedie is! To think that I was once in Binghamton and never tasted one!
*********** Hugh, Lower Cape Raiders 13, Bridgeton 6.

We played is similar weather to what you had, only we were lucky enough to have a few hours lull from the heavy wind for the game. I was disappointed about the closeness of the score but we did dominate the game with the exception of a long lucky pass. As you know it's tough to play in that kind of weather. Poor coaching on my part. I feel I called a game, " not lose" rather then just play.

We play Galloway (Absagami's Jr high Group IV) for the Championship next Sat. afternoon. They are undefeated and very good. they beat us in the first game of the season.

Frank Simonsen
Cape May, New Jersey
*********** A frend sent me an article about an investigation into the death of a high school football player who collapsed at a practice that has been turned over to prosecutors, and asked where I thought we were headed "if lawsuits start dictating how coaches coach."
My response - lawsuits, or at least the fear of them, have been dictating how we coach for years.
It's why players have to have physicals, and have to have a certain number of practices before they can play.
It's why smart coaches teach safe tackling, and it's why they don't administer tough "punishment" drills.
And it's why smart coaches write "water break" right into their practice plans - and then make sure their players drink.
Most states (at least southern states) have restrictions on what you can do once the temperature/humidity index reaches a certain point.
The list goes on.
So, yes, lawsuits are already dictating how coaches coach.
*********** Good morning!
Congratulation on a fine season! And it was Blanton Collier who later was the Cleveland Browns coach.
I don't know why I remember this but I do. You may have run a piece on him when you used to do your "Remember Who?" series.(I know that's not the correct name.) If I remember correctly he had an excellent staff with several coaches who would go on to success as head coaches.
It's a great day to be alive!
Dennis Metzger, Fountain City, Indiana
*********** Blanton Collier - I remember the picture from Scholastic Coach of football staffs that seem to breed head coaches. Kentucky was one of those
Coach Kaz - Mark Kaszmarek, Davenport, Iowa (How about Don Shula and Bill Arnsparger, to name two?)
*********** Coach Wyatt;

Just a quick note: we've made it the Championship game this weekend....!! We'll face a team who beat us a month ago 13-6. One in which we didn't have our starting QB available or starting left tackle..... Once again coach you've been a great mentor and friend and I'm blessed to have someone of such good character in my corner. Darlene and the kids say hello.......

Respectfully;

Dwayne Pierce, Washington, DC
*********** Hi Coach, I am not sure if I told you but Kerry (my wife) moved over to HP a year ago. She really enjoys the culture and people she is working with. Recently, she had to give a speech on a rather dull topic. There were about a 1000 people in the audience...of which...probably 90% were males over 40. With her knowledge of football and what will grasp the attention of most men...she used the double wing formation in her speech as an analogy for the benefit of a tightly integrated methodology. She even had the DW formation as a visual in the presentation. Kerry said using football as an underlying theme was very effective. In fact, after her speech, someone came up to her and said that his HS coach from 25 years ago has ran that offense (it was actually the Delaware Wing-T) for quite a few years.
Anyways...I am awfully proud of my wife!
John Lambert, La Center, Washington
PS: Congrats on a great season!
*********** Coach,

Just wanted to drop you an e-mail to tell you we concluded our season tonight with a 34-13 victory over an opponent that was their league champion. We went 10-0 this year and scored 426 points. We played 2 varsity games and 8 JV games with sophomores only this year at my new school. We had to play with our back-up QB most of the game because our starter injured his thumb and couldn't grip the ball. We made a living on power and lead criss-cross. Thanks for all your help, 15-0 in two years running the double wing and starting a school and football program from scratch. Can't wait to see what these kids are going to do next year as juniors and playing a full varsity schedule in 2009.

Greg Gibson
Head Football Coach
San Juan Hills High School
San Juan Capistrano, California
*********** Coach, I was at a freshman game last night to watch some of my kids from last year. Andrew Buron and Tanner Wood (former Black Lions) were important in the team's 6-0 win, and Andrew, blitzing from his LB position, sacked the other team's QB late in the game when they were driving...it was a devastating hit and everyone took a knee while the trainer saw to the QB (that has to be a remnant from soccer). I spoke with Andrew's mother in the stands to see if he would help me present the Black Lion award at our banquet.... she said that he still wears his game shirt with the Black Lion patch all the time, watches the highlight films all the time, and would be glad to come to my banquet.
Thanks
Rick Davis,
Duxbury, Massachusetts
*********** The e-mail read... I just read your article on Wildcatting the double wing. This is my first year running double wing- and I would like to put the wildcat in. Do you have examples of the plays you could send me so I can begin the implementation. I have two very good QB's that are tuff-physical kids- and this would be a great fit!
Although we've never had any dealings, this is the second time you have written me for something, so I find myself describing a parallel situation...
I'm a Mac user, and I buy 90 per cent of my software and hardware from one Apple store. Part of my reason for doing so is that when I call their service department for advice, they provide it as a customer service. They're really helpful. But surprise- when they get calls from people who haven't dealt with them, they're not helpful.
That's the way the world of "tech support" works.
I've worked long and hard and gone to considerable expense to acquire the knowledge that makes my system work and the ability to teach it, and it's been my good fortune that people have been willing to pay me for that knowledge and ability. And in return for their loyalty, I put in a lot of time and effort trying to provide them with technical support - doing everything I can to help them be successful.
Since I first hung out my shingle, others have come down the pike, claiming to offer the same thing I do, and certainly coaches are free to deal with them. But when they come to me for "tech support," my approach is understandably the same as the folks at the Apple Store - I suggest that they go for help to the place where they acquired their Double-Wing. t to help us win!" I know that might sound cliché to someone outside of our program, but EVERYONE knows that when Nic Benenati says it, it is truly from the heart. Coach Vonscherer told me that General Shelton once said that the Black Lion Award is mostly about "Love" – the love that a player has for his team. I can tell you with all of my heart that Nic Benenati LOVES his team and that he will be a great representative for the Black Lions. Thank you for creating this award. Coach Vonscherer has spoken with our team several times this year about the Don Hollender story and how important this award has been to him. I can tell you that our players have embraced this ideal and that I am proud to be their coach and prouder still to be able to honor the memory of a great American and a great football player. Thank you Coach Hugh.
Darryl Maple, Head Coach
Palmer Trinity Falcons
I can second Darryl's comments about Nic –he's one of those kids that every coach would want to have on their team. Our Awards Program this year is Friday, Dec. 5th. If possible we would appreciate having the certificate in little bit in advance of that date so we can get it properly framed. Thanks again for everything coach!
Jake von Scherrer, Director of Athletics
Palmer Trinity School
Palmetto Bay, Florida

*********** Its that time of year were we are putting in for the "Black Lion Award" however we have 2 players that are hand in hand or should I say head to head the same when it comes being a Black Lion Award. Have you ever had this happen to you and how did you handle it? Thanks Coach
On my own team I could select more than one. But the rules stipulate that I can't. I can't say how to handle your call, but I would suggest actually listing specific instances in which each player met the award criteria. (That will also make writing your letter of nomination easier!)
In any case, I wish you luck!
And be grateful that you have two. One of the purposes of letting your players know about the award is the hope that in striving to earn it, they will be better team members.
Sad to say, some coaches write me to inform me that they didn't have anyone!
*********** The Beloit Trojans have advanced to the elite 8 in the Kansas 3A State Football Championship with a hard fought 34-17 victory over a very solid Norton Bluejay team.

Beloit trailed 14-0 early in the first quarter but cut it to 14-8 going into the 2nd quarter. Following a Trojan fumble on their own 8 yard line, the Trojan defense forced Norton to settle for a field goal and a 17-8 lead; but Beloit scored before the half to make it a 17-14 game with 2 quarters remaining.

After Norton drove nearly 70 yards and ate up over 6 minutes of the third quarter without scoring, Beloit took the lead 20-17 late in the 3rd quarter and put the game away with a dominant 4th quarter.

Next week (probably Friday) the Trojans will travel to Conway Springs for a quarterfinal match-up featuring the single wing of Conway Springs and the double wing of Beloit. Let's hope that two wings are always better than one!

Coach Greg Koenig
Beloit High School
*********** With the season over, I got to spend my first full fall Saturday doing nothing but watching college football. When you live on the West Coast, that means you start watching at nine in the morning and go until the last dog dies. And since I had to drive to Portland to take coaches Jack Tourtillotte and Mike Creamer to the airport, I spent the day at home in Camas with my multiple TV sets and and my beloved ESPN GameDay.
Overall, the day was a bummer. Penn State lost, Kentucky lost, Kansas State lost, Duke lost, Minnesota lost. Let's not even get into what continues to happen to Washington and Washington State.
But it wasn't a total loss. BC did beat Notre Dame. Granted, it's the worst Notre Dame team since Jimmy Clausen's freshman year. Wait - this is only Jimmy's sophomore year.
Under the field generalship of the legendary Clausen (who unlike earlier Irish legends who earned their legend status on the field, earned his when he announced his decison to go to Notre Dame on the steps of the College Football Hall of Fame, after arriving in a stretch limo) the Irish offensive machine, designed and honed to perfection by former NFL offensive genius Charley Weis, had something in the neighborhood of 50 yards of total offense in the first half. Imagine how bad they'd have been if their coach weren't so brilliant.
Their "running game" consisted mostly of a single back with no speed trying unsuccessfully to sweep the BC ends. Their "passing game" consisted of the aforementioned Clausen dinking and dunking to short receivers.
Absent was the quick release we'd all heard about. Nowhere to be seen was the accuracy that enabled him in high school to put up big scores against teams with lesser talent. What we saw was a backup talent with a rag arm who repeatedly missed anyone beyond the line of scrimmage by wide margins and had no more than four pass plays of more than 10 yards. Which by coincidence happened to also be the number of interceptions he threw,
His protection, against a BC defense that seldom blitzed, continued to suck, just as it did last year, even though ND fans were assured that last year's problems were because the linemen were so young. Part of the reason for the poor protection, though, is Clausen himself. Someone forgot to dump the concrete out of his shoes, and until they do, he will continue to be a sack magnet.
Year after year we hear that Notre Dame has signed the "best recruiting class in the country." Sure makes you wonder what happens to all that talent once Charley Weis gets hold of it.
This much we know - he doesn't know how to coach a running game, and he doesn't have the stones to take the ball away from a quarterback who can't throw.
*********** I had to watch some of the Hampton-Bethune Cookman game after hearing that Bethune Cookman was running the "Wyatt Bone."
No jokes about Viagra, please. It's the name given to the flexbone attack of coach Alvin Wyatt, whom some of you may remember as a one-time Oakland Raiders' DB.
Hmmm. "Wyatt Wing?"
*********** Let's see... there's me and there's Dick Jauron. There may be more, but there aren't too many of us Yalies coaching football.
So it did bother me a bit when I heard Dick Enberg call my fellow Eli "Dick JAHR-in," rather than "Dick juh-RONN."
*********** The son of a friend of mine is a freshman at a big school and he was called up to the varsity to serve on the scout team for the state playoffs.
My friend wrote, "(My son) is ticking seniors off. Apparently while playing defense on the scout team Monday, he didn't make any tackles, but he "held his own". I told him "holding your own", wasn't good enough, you got to kick a little tail. So, with those words of wisdom he set sail, and by the end of practice Tuesday, the head coach and line coach were yelling at the varsity guys "how could you let an inexperienced freshmen tear you up". The varsity linemen asked him to take it easy and he said "nope".
Good for him. Real maturity in a football player - or in the classroom - is not listening to the turds who want you to take it easy.
The slackers in the classroom would like you not to study because you're making them look bad.
They want you to come down to their level.
PS- Those "take it easy on me" seniors got their asses kicked in their first-round playoff game. Is that any surprise?
*********** Mental toughness can be a problem at a private school. A friend of mine in New England who coaches at a private school told the coaches at my Providence clinic last spring that one of his problems is that so many of his kids are at his school because their parents knew they'd get stuffed into lockers at public schools.
*********** From the Yakima Herald - Toppenish 27, Wapato 0 - Carlos Ramirez, the CWAC's leading rusher, ran for 144 yards — including a 30-yard scoring scamper — on 20 carries as the Wildcats under first-year coach Jason Smith won their sixth game to secure their first winning season in 10 years.
Oscar Ramirez added 98 yards rushing and a touchdown, and Rosendo Aguilar ran for 75 yards and two scores for the Wildcats, who totaled 414 yards on the ground.
(You may remember photos of the Toppenish Wildcats from our camp last spring)
*********** Hugh, I have been running your system since 97. The last 8 seasons of the double wing have been on the middle school level. We finished the season undefeated and in 8 years we are 58-3. We had a good center and 2 good guards but the flexibility of the double wing which allows you to maximize your talent saved our bacon. We over came a returning starter moving before the season started, injury to our best player that kept him out of the last 4 games, kicking off our 2nd best player after week 3, not having a single player on the team that could consistently catch a football (less than 50% completion % against no defense), both wingbacks had never played organized football before. Funniest quote of the year from an opposing player going through the line shaking hands after the game "Y'all ran the same play the whole game" I am a firm believer that you can run this system no matter what your talent level is and get the most out of what you have. I plan on making a clinic this year and would like to see some ways to take advantage of a running quarterback.
Keep me anonymous because when people congratulate us and comment on our offense they call it the flex bone or wing-t.
thanks for everything and I will see you in the spring
*********** Jason Whitlock wrote a very interesting article about Ron Prince's firing
http://msn.foxsports.com/cfb/story/8762902/Black-coaches-need-to-pick-
the-right-jobs
I like Jason Whitlock and I wrote to him and told him I enjoyed the article.
Frankly, I don't think Ron Prince's problems with players were with the ag-student types; I suspect they were more with the JC-transfer types that K-State has to recruit if it is to survive.
Tough, was he? How else is a black coach to make his way in major college football except as the stern-father type? If he goes the buddy route, he will almost certainly be stereotyped as having no discipline.
Hard on his assistants? Humiliated them? I would need to know more. I do know that those guys are paid handsome sums to do a job that many, many people would kill to have. Frankly, I think a lot of the problems this country is going through right now were caused by people who screwed things up for others and - at the least - should have been humilated, yet instead were rewarded with enormous bonuses.
*********** I'm going to ask my kids how they feel about giving up some of their "windfall" wins to a nearby team that went winless.
Hell, we could give up a couple of wins and still be 5-3, which isn't bad, and then those other kids would be 3-10 and feeling a whole lot better about themselves.
I'm sure I'll be able to sell my kids on it as the fair thing to do.