TUESDAY, SEPTEMBER 30, 2008- "The greatest part of a writer's time is spent in reading in order to write. A man will turn over half a library to make a book."
Samuel Johnson
*********** The North Beach Hyaks won Friday night, 22-0 over Northwest Christian, of Lacey, Washington. It was not a work of art, but it was a W. (I know, I know - not all that long ago I was coaching a winless inner-city Portland team, so who the hell am I to be worried about style points?)
We're now 3-1, with as many wins as the school had in the previous three years. And it was a league win, the school's first since 2003.
We ran for 354 yards, putting us over 1400 yards rushing in four games, but it wasn't pretty - we lost three fumbles and twice came up short on fourth down plays, once on their one-yard line.
We gave up what seemed to me at the time to be an awful lot of yardage, but it turned out to be just 167 yards rushing and nine passing. (We completed one of two for 28 yards.)
The highlight of the game for me was the goal-line stand our kids put on late in the third quarter. At that point, we led just 15-0, and Northwest Christian had just run the ball down to our one-yard line. They had a first-and-goal from the one, but four plays later, we took over at the three. You can coach and coach and coach, but when your kids' backs are to the wall, they've either got the guts or they don't. They did.
Special thanks to Derek "Coach" Wade for his assist. As many of you know, Derek, who now lives in his native Sumner, Washington is a long-time Double-Winger, and he was able to videotape Northwest Christian for us (it's permissible to do so in Washington) and give us his observations. When we got together last weekend in Tacoma to pick up the tape (and scout another opponent), he and Jack Tourtillotte, both long-time regulars on my site, got to meet each other for the first time.
This Friday, we play Tacoma Baptist, a spread-option team that doesn't huddle. They have dropped a couple of games the last two weeks to two very good teams. They are quite gifted at the skill positions and huge upfront. They have a 6-6, 340 pound FRESHMAN lineman who moves very well and doesn't look at all like a freshman.
*********** Hugh-
The Hyaks look interestingly similar to ARMY! Good luck this week. We play tomorrow - our first real test. I know we are pretty darned good, but we haven't played anyone with a winning record yet. I did have to mention that I wholeheartedly agree with your observation about Auburn. I wondered if I was the only one thinking, some system - The Tony Franklin System. For 5,000 dollars you too can put up scores in the teens and have an anemic offensive output! Sign me up - where can I buy it. Seriously though - they went from Al Borges West Coast to Tony Franklin's spread. I know the philosophies are much different, but they went from one passive blocking system to another. Seems to me the year they were really good they ran the ball a bit. Best of luck to you and coach Tourtilotte. John Dowd, Oakfield, New York
*********** Thanks again coach for the advice. My head coach things its crazy that I e-mail you for questions, but he doesn't understand about your website. I told him if you have a question about the offense why not go straight to the source!
Seems to me your only choice is either to learn from my mistakes or learn from yours. The latter way takes much longer and is a lot costlier.
*********** Shite, I ought to trademark that line. My dad pronounced it "SHE-IT" maybe it is a southern thing.
Tim Brown
Jackson, Tennessee
*********** My college season is already made.
The Beavs win and the Trojans go down.
Does this mean that Oregon State grads, winners over USC, which won big over Ohio State, now get to say THE Oregon State University and claim exclusive rights to "OSU?"
*********** The Beloit Trojans ran their record to 4-0 winning 58-0 in another dominant performance, this time against the previously undefeated Ellsworth Bearcats. For the third consecutive game the Trojans' defense smothered the opposing offense, allowing an unofficial 79 yards for the game. Senior wingback Cas Spangler had 18 carries for 204 yards and 4 TDs, and junior wingback Logan Eck had 11 carries for 129 yards and 2 TDs.

Beloit will travel to Minneapolis for another NCAA League contest next Friday night.

Coach Greg Koenig
Beloit High School, Beloit, Kansas
*********** A couple of nice articles related to Toppenish, Washington, a new Double-Wing team:
http://sports.yakimablogs.com/2008/09/uncommon-formations-can-level-the-playing-field/
http://sports.yakimablogs.com/2008/09/toppenishs-unique-offense-leaves-opponents-scrambling/
*********** Do you suppose Nebraska's Bo Pellini will ever realize that he is now a head coach of a major college and start dressing like the millionaire that he is, instead of like a penniless volunteer assistant who sleeps in the office and has only one sweatshirt to his name?
*********** Coach, We had 407 on the ground Friday. They started crashing and we ran 88 G Sweep for an 89 yard TD. Great play! I have a stud cut-back kid who has great vision. Do you think it is worth the time to put in stack I?
Coach, It is always worth it because it is a great change of pace, and in a small school you never know when you might be down to one true running back. Plus, if a kid has God-given I-back ability, stack does allow him to use all his talents.
*********** Paul Newman's death reminded me of my story in Portland – I got Mychal Thompson's autograph for (sisters) Cathy and Vicky, but Julia felt slighted. The Indy race was in Portland and I ran into Newman in the Red Lion bar and asked him for an autograph. He said "I've been waging a personal war against these things for years now, but I'll buy you a drink." So he bought me a gin and tonic. Ed Wyatt, Melbourne, Australia
*********** The Jets carried the retro crap to the extreme on Sunday, dressing themselves up in the uniforms of their predecessors, the New York Titans. Yecch. The Titans were never very good, and even when they did play well, they were UGLY. They played in the decrepit Polo Grounds, and their unifoms were dingy. The whole renaming of the franchise and the move to Shea Stadium and the change to green-and-white uniforms from the dark, dreary blue-and-gold of the Titans was symbolic of a change in ownership that promised better things - and would eventually take the Jets to the stop of the football world.
But what the hell? If an NFL team thought there was a buck in it - thought that their gullible fans might be persuaded to shell out their hard-earned money (there's sure a lot of pain out there, isn't there?) to buy them - they would wear soccer uniforms.
And no sooner do I write that than the Steelers come out Monday nightin those dreadful retro uniforms with the gold helmets with black stripes that they wore during one of the (many) long, sorry spells of their long, sorry history prior to the Greene-Bradshaw-Lambert-Harris-Ham-Swann-Stallworth years and the introduction of the beautiful uniform design they've worn ever since.
*********** We were eating dinner Sunday night at Billy's, in Aberdeen, Washington, and the NFL game was on the TV. The sound was down but the closed-caption was on, and my wife, looking up at the set, asked, "Is that Madden talking?" I asked her why she said that, and she said, "because I saw 'I mean' so many times."
***********Two huge questions
1. From Tight we were getting caught from behind alot (def. end) This always seems to happen to us. We use no motion, we are tight etc. I call plays like boot and xx to control chase. We run liz 66 etc. as well. We even ran some Right and Left. Nothing really worked well until we started calling Super-O and Reg C. Is there anything else to go to? (I just hate not pulling both guys and so I was stubborn and waited till the last minute to go to Super O and Reg C, but maybe that should be the first thing I look to?)
2. When running Red and Blue from spread (we have had good success with it at times so far). I let the kids decide to hitch or fade (I call slant if I want that). They always seem to make the wrong decision. I told them 5 yards was the decision maker - inside 5 and we fade, deeper than 5 and we hitch. Hitch looks like it is almost always there, but they always say the guy is at 5 so I called fade. They are not the kind of kids to do that just to get a deep ball. What should I do to get better communication or decision making skills?
Answers (I hope):
(1) To combat the chase, try super criss-cross. QB turns and toss and rolls outside (which we do anyhow). When they see you actually toss the ball and go playside, they will sell out. The backside end will either run completely past the play or he will be crushed by your guard.
(2) We teach it with a poem that I got from some coach somewhere (my apology for failing to sttribute): "If he's droppin, I'm stoppin. If we're even, I'm leavin."" In other words, I think you have to test the waters a few times to determine what is most likely to happen. Against a Double Wing team, I doubt that they are going to mix up coverages on you very much.
*********** Hope you guys won. We had a big one and came out on top 28-6 vs. Batavia ND. We struggled at first only up 7-0 at the half - and we fumbled once on the 1yd line. 2nd half we ran a mix of slot and spread with a little tight here and there. We put up 7 in the 3rd and 14 in the 4th. We ran 50 times for 270 yds and 4 TD's. A back Tim Smith did most of the work with 25 for 185 and 3TD's. Our other WB was out all week so he didn't play much until later in the game but he is a key - we will need him to be healthy down the stretch. They really tried to take the FB away and did. They couldn't stop G reach though as we ran it probably 20 times. Super-o and reg 47-C worked nicely from spread.
John Dowd,
Oakfield, New York
*********** Coach Wyatt;

I've been following your season and it looks like you've got things going in the right direction....... We play our first game this Tuesday..... and I'm a little nervous running this Spread offense with this 'cup cake' zone blocking scheme....!! I've got talent on both sides and long for the day when I can run 88spwr..... The hardest thing I had to do today was tell 3 kids who worked hard in practice; they were ineligible to play football because of grades..... Coach, it really got to me to see the disappointment on their faces when they had to clear out their lockers. I don't have to tell you of the challenges of coaching football in the inner city..... A team full of great kids but many, many struggle in the classroom....so that's my biggest challenge.

I'll keep you posted........

Respectfully;

Coach Dwayne Pierce
Washington, DC
Coach, Nice to hear from you. I know well the frustration of working with inner-city kids.
Actually, when they're on the field, there's not much difference between them and country kids or suburban kids. If you let them know what the rules and expectations are, they'll deal with them.
Most kids, wherever they live, are heavily influenced by whatever their environment is. When they're in your environment, I'll bet they're attentive, respectful and hard-working. But no matter how hard you work to keep them straight, no matter how much you stress the importance of grades, you're just one influence in their lives. Unfortunately, when they leave you, they also leave your influence, and a whole new set of influences takes over - and in the case of the inner-city kids, those influences are often harmful. An awful lot of those kids leave practice and head right for the streets and the chaos and disorder of their lives, without strong adults to keep them on the straight and narrow. The great frustration for the coach is that you see how good those kids can be when they really get after it, and how much it hurts them to have to lose something they prize. Like so many kids everywhere, they simply don't even give schoolwork a passing thought unless there's someone to keep on top of them at all times. What's even worse is that now they won't be around your influence at all, and without that, there's no telling what might befall them.
Good luck Tuesday!
*********** Hey Coach - Congratulations so far on what you have done with North Beach !! reminds me of the Legendary Mass coach Jack Welsh when he was at Ipswich, smallest school in the Cape Ann League and the guy was always a factor.

What the F**K has happened at Washington State ? It's one thing getting your doors blown off by an elite program, but it seems they have not had a close game ( with in 21 pts ) at least under Doba they was some level of competitiveness, WOW !! im shocked how far they have fallen.

Coach Great Win for Navy yesterday, and their other two losses are not looking that bad now

I was stunned how good Army played vs. A&M

Coach did you see the piece on ESPN's Game Day about Syracuse last week? First time in a long time I think Lee Corso was right, he blamed the current AD for hiring Robinson a guy with West Coast roots, not familiar with the Northeast corridor, Corso said the second they hired him they threw away 25 + years of relationships with high school programs from CT,NY,NJ,PA they developed under Coach MacPherson and Pasqualoni + the rise of Rutgers & Uconn has also harmed the program.

Coach Good luck for the remainder of they season - John Muckian
Thanks for the note. Don't know that I'm exactly "legendary," but I've got a good bunch of kids who are playing hard, and Jack Tourtillotte has been a big help, once the kids figured out his Maine accent. (Just kidding, of course. Jack's been great.)
Washington - the whole state - is now where Kansas was, back 20 or so years ago when a guy was putting out a weekly list called the Bottom Ten.
The Cougars are beyond poor, and the Huskies have lost four straight and now, with the loss of Jake Locker for God knows how long, could go winless.
The best program in the state right now might be D-IAA (I refuse to say "FCS") Eastern Washington.
The problem with the Cougs seems to be that after they had a couple of really good seasons back-to-back, they deluded themselves into thinking that they could go after blue-chippers. And they spent all their recruiting efforts on trying to land those blue chippers and neglected to go after the kind of kids they would normally have recruited (and the kind of kids they'd built their winning program around) and when the blue chippers did what anyone could have predicted they'd do (turn down a chance to play in the remotest D-IA location in the country), they were left with having to go after the ones who were left. And many of those kids turned out to be criminals. And now the new guy has to try to win games while also having to clean out the stables.
I, too, was shocked by how tough Army played A & M. If not for a fumble return for a TD just before halftimef, when all Army had to do was play cautiously and take a 14-14 lead into the locker room, Army wins the game. But that is going to happen when you run the 'bone.
I have been cautious about Army but I swear that last week I detected small signs of progress against Akron, and I told Coach Brock so. Life has not been easy for the guy - a string of losses on top of a prostate cancer operation, but he may be nearing the turning point.
I was on Syracuse's case when they thought they'd go big-dog and hire a USC guy to be their AD and then he tried to big-dog it by hiring Greg Robinson, who may or may not be a good coach but was an unwise hire at a place that had a long-time Northeast presence, first with Dick MacPherson, a Maine guy, and then Paul Pasqualoni, a Connecticut guy.
Now, Syracuse may not even be the best team in upstate New York. That would probably be Buffalo, where Turner Gill is proving to be a great hire. Come to think of it, he would be a good hire for Syracuse.
*********** Lansingburgh (New York) 42 Averill Park 0

we are now 3-1 and 2-0 in our league.
A back Marcus Hepp had 16 carries for 162 yards and 4 scores
b back kyle murray had 13 carries for 72 yards and a score
c back terrance kemp had 7 carries for 61 yards

we gained close to 400 yards on the ground

we are on the road next week to 4-0 bishop maginn

pete porcelli, head football coach
*********** We were listening to one of those studio shows on Saturday (three guys talking about games instead of the station broadcasting one of them) and one guy was going on and on about Notre Dame's offense, calling it "NDHD" and christening Blondie "Jimmy Touchdown." Never said the score, or even the opponent! We got home and expected a blowout, but saw that ND was only up by 7.
Where do they get these guys, and where do they get the producers who think this is good radio? I've got to think they've all bought into the Coors Light Culture, where boorishness and unprofessionalism is somehow prized.
Christopher Anderson, Arlington, Virginia
Not that Notre Dame - being Notre Dame and being all-powerful - can't appropriate anything and claim it as its own, but Penn State started this HD crap by naming their offense "HD" back when they were maybe two games into the season. The Lions are good, but this HD stuff does seem a bit premature and a bit self-promoting. How about having some consistent success first, and then letting a sportswriter - a real sports guy, and not some blabbermouth radio guy - name it? ( I think immediately of the Wishbone, which was given its name by Mickey Herzkowitz, of the Houston Chronicle.) Of course, this being the age of marketing, all these offensive guys are thinking about the money they're going to be making in the off-season giving clinics and selling videos; and without a good brand name they're just another offensive coordinator. Come to think of it, why didn't I come up with a tricky name for my Double-Wing? It would have eliminated a lot of wannabes. HW
*********** Coach, Strange rivalry game with Warrenton this week. A 14-8 halftime lead turned into a 41-8 lead four minutes into the 3rd quarter. We absolutely exploded offensively and completely shut down their run game. They took away the middle so we reached them all night and finished a 55-8 win with over 600 total yards. The passing game finished 8-10 for 147 yards and 3 touchdowns. The only two incomplete passes were both dropped and one was a touchdown. A- Back had 135 yards on 14 carries and C-Back had 130 yards on only 8 carries. We ran very few offensive plays because we were able to score so quickly. Our league season finally begins this week with a trip to one of your old coaching stops-Gaston. Continued good luck to you and your team.
Jeff Miller, Knappa, Oregon
*********** Coach Wyatt

Glad to hear things are going well for you and your new team. Keep on Coaching! We had a nice win (in overtime) to make it to 2-2 for the season. The kids, and the coaches, are still getting to know each other. Our previous 2 games (and our recent win) it seems like we were playing just well enough to lose! I guess we need to keep on coaching ourselves!

Wanted to let you know 2 things. First, my new school is not listed as a Black Lion School. We are Palmer Trinity in Palmetto Bay, FL. I also wanted to share that I got an email from Jim Shelton who tells me that he and our long time Black Lion friend, Steve Goodman, will both be attending our Fall Awards program to present out Black Lion Award. As you know, Steve has been to every one of our programs (at my previous school) and General Shelton has been able to accompany him on two occasions. They do such a great job of telling the story of Don Holleder that there's not a dry eye in the house nor a single person not standing and applauding when our player's name is announced. Thanks again for creating this great award, and thanks for everything you've done for me as a coach.

Jake von Scherrer
Palmer Trinity School
Palmetto Bay, Florida
*********** Clarinda Academy 20 Lo-Ma 28
A Back 22 carries for 211 yards 2 TD's and 1 2 PAT
B Back 4 carries for 23 yards
C Back 15 carries for 119 yards and 1 TD
QB was 2 of 7 for 10 yards and an INT.
Most of the night the officiating crew was good, but it came down to 4 calls or non calls. Moving forward, my kids need to understand that we can't ever put it in the hands of the officials to decide the outcome. We wasted 3 possessions and did not get points, and we wasted 2 2 point conversion tries as well. I am excited as hell (even in a loss) as we finally found a heart, and kids took the loss hard. We also found a little bit of a defense we can build on. Win 3 of the next 4 and we make the playoffs, and we can do that if we get better every day. I am excited for film/practice today!
Brad Knight
Athletic Director/Head FB Coach
Clarinda Academy
Clarinda, Iowa
FRIDAY, SEPTEMBER 26, 2008- "Be thankful we're not getting all the government we're paying for." Will Rogers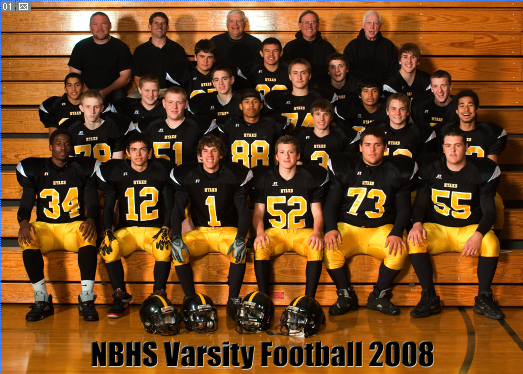 The 2008 North Beach Hyaks, of Ocean Shores, Washington... First Row (L to R) Jamaal Lind, Tres Pope, Mike Bower, Andy Smith, Nick Poplin, Jake Ray; Second Row: Trey Jennings, Sawyer Reed, Russell Alfaro, Derek Archer, Robert Buck, Maurice Alfaro; Third Row: Dominic Deibel, Matt Jennings, Tyler Reed, Robby Patton, Keenan Goodface, Joe Ray; Fourth Row: Justin Law, Kevin Braden, Joey Franklin, Jason Fry; Fifth Row: Coach Maynard Reed, Coach James Vogler, Coach Jack Tourtillotte, Coach Hugh Wyatt, Coach Mike Creamer
The Hyaks, now 2-1, open Pacific League play Friday night against Northwest Christian in search of their first league win in four years.
*********** It has not been a great season for Pacific Northwest teams. Washington State and Washington have one win between them - the Cougars' victory over D-IAA Portland State. Oregon State got killed at Penn State, and Oregon, now down to its sixth-string QB, just lost to Boise State. So it was with great reluctance that I even turned on the TV to watch Oregon State attempt to keep it close against USC. And you know the rest. And college football fans everywhere celebrated - the race for Number One is wide open.
*********** Coach, We didn't play particularly well this week but still beat a weaker opponent 34-14. It was one of those games that you win but don't feel great about. Homecoming is never an easy game in terms of focus, but I thought we would handle it better.
Had a bit of a scare. Our A-back went down with a neck injury. It turned out to be a bad stinger, but our team doc is great (and conservative - which is good) and sent him to the hospital on a spinal board. Good for her. Sure is nice to have her expertise at a small school.
We play state-ranked Aledo this week. If we play our game rather than trying to beat their reputation, we'll do fine.
Congratulations on your win.
Todd Hollis
Head Football Coach
Elmwood-Brimfield Coop
Elmwood, Illinois
*********** Coach Wyatt,
I don't know if you ever tried this. We practiced running 56 C from our tight punt formation in practice. Our qb is our up back in protection. Wings play off the TE slightly slanted outside. We told the QB to move slightly forward about 41/2 yards off the ball lined up in B gap. We directly snap him the ball and he runs toward the a back who gets his normal inside handoff. We block it just like a regular counter. The punter jumps up and fakes as if the ball is over his head. This worked well with ends who are trying like mad to block the punt. I'll get some film if we get the chance to run it in a game and send it to you. Dan King Evans Ga
Coach,
You are onto something that we don't talk much about.
We have 2 wedge, 6-G, 47-C, 88 Power and Power Keep, 99 Power and Power Keep, 88 Brown (Red-Red) and 99 Black (Blue-Blue) and 88 Brown A screen left as part of our Tight Punt package.
We can also run all of those things from PAT formation (then, though, we shuffle-pass on the powers and counters).
Try it!
*********** Coach Wyatt,

Thanks for letting us know about Coach Rice. Although I didn't know the man personally, he frequented some of the same message boards that I do. Tragic, tragic news.

On the other hand, it was great to hear how the Hyaks are rolling along! 556 yards rushing? Incredible. I wish we didn't have the Slaughter Rule just so I could see what kind on numbers we could acrue. We're 3-0, averaging 37 points per game and have hit the Slaughter Rule every time.

Interesting to see that we're not the only area with game officials who want to "comment" on the game, either verbally or through the use of flags. As the only PAID personnel on our field, they are hired ONLY to enforce rules; not to influence the outcome of the game or decide how many points THEY are willing to allow.

"Interesting that while the rules stifle coaches from expressing opinions, officials, apparently, are free to pontificate."

You are spot on.
"I neglected to mention that Chief Leschi had beaten another school 60-0 the week before we played them."
Sweet! Makes it even better.
Give my best to Connie.
Sincerely,
Dave Potter, Durham, North Carolina (Since we have activist judges, who let their hearts decide what the law should say instead of letting their brains decide what the law actually does say, why wouldn't we also have activist officials dedicated to designing a game that's more to their liking? Since we seem fated to have to deal with those types, I just wish there were a few of them who hated the way spread coaches teach their linemen to hold. HW)
*********** Coach, Beat a 4-A school Friday night 37-21 (we are 3-A) to go 3-1.
Got up 29-0 and the offense just tanked it after that.
I realize that this group has been on the receiving end of losses over the past couple of seasons, but they get satisfied way too early for my taste. How have you dealt with newbies to 'winning' finishing off the opponent?
Coach, That's great news.
We have had to deal with something like that, and I talk to them in terms of a boxing match - that maybe we've won the first couple of rounds, but it's a fight to the finish and what really counts is the final deccision. I remind them that every play is like a round, and the opponent is going to answer the bell for the next round, and we'd better be ready, and the way you win the fight is to win the next round. And the next. And the next.
I also use that analogy when we are behind or when we've lost - that it may be a loss, but it's only one round in a big fight. I point out that the greatest fighters who ever lived lost a round here and there, but they were focused on winning the fight by saying "screw it" and putting it behind them and winning the next round. And the next. And the next.
If you have any wrestlers on your team, they will understand that.
Hope that helps some.
*********** Apparently, to be an NFL GM all you need to do is have pictures of the owner in a compromising situation, which is the only way to account for some of the fools in those positions.
*********** The ESPN guys have been near-orgasmic in their praise of the Dolphins for baffling the Patriots with direct-snap football. It was interesting seeing a pro team actually pull a lineman and use him productively. It wasn't very good execution, but when you're playing against a normal pro defense and you show them something other than the push-and-grab blocking they're used to seeing, it doesn't have to be.
Pro defensive coaches are not stupid, of course, and they will all have their Dolphins packages ready. And that will be that, because then it will be up to the Dolphins to do more with it and execute it better, and I rather doubt that they'll have the stones - to spend the time adding enough things to have a real package, and then to execute it to perfection.
That's simply not consistent withe the NFL thinking, which is simply, "come up with another play, come up with another player."
*********** A friend who is an assistant in a program that is heading downhill finds himself in a tricky spot. That's because, I told him, at one and the same time, he has to to be (1) supportive of the head coach, so that he is not seen as a backstabber (which I know he is not), yet (2) not a part of the train wreck that is taking place, so that he can emerge untouched as a candidate to replace the head coach (should he be interested).
*********** Coach, I assume(?) that you are only coaching at the high school and not working there in a teaching capacity. Is this correct? If so, are you at the school at any time other than practice or games? How do you keep tabs on behavior and academic issues when you're not at the school? If the coach is "out of sight," I know that kids can often be "out of their mind." lol
Dave Potter, Durham, North Carolina
Good question.
I do not normally go to school during the day.
The kids know my expectations - I expect them to be good students (sit in the front, be early, be prepared, turn in work) and to be respectful at all times. I tell them that if they hang with knuckleheads - in school or on the street - they deserve whatever happens to them. I tell them that if they cross a teacher, the teacher is always right.
Teachers and administrators know that I support them. I make sure that our kids know that they should never make a working person's job any tougher than it is. They understand that concept when I put it in terms of what a logger, or a fisherman, or a truck driver would do if someone were to screw with their livelihoods. So why, I ask them, should they feel they have the right to screw with a teacher on the job?
And our kids know by now that I mean what I say and I am not afraid to deal with any issue or any player, and they know that if they fall short they are going to have to deal with the Old Man come practice time.
I have been a non-teaching head coach at four different high schools now, and except for a season at an inner-city school with zero administrative leadership, this has always worked for me. I believe that a strong, non-teaching coach who understands the role of the football program in the overall school can be a greater asset to a school than a teacher-coach whose only concern is football and whose players terrorize the school.
*********** A year or so ago I wrote about our summer camp at Clarinda Academy, in Iowa, and the job Brad Knight was doing with the kids there - kids with troubled lives where they originally came from but kids, my wife and I both found, who were learning at Clarinda to be polite and respectful. And football was part of that learning. Lord, did those kids love football.
This year, Coach Knight's hard work with his football team is finally paying off, as Clarinda has already won as many games as it has ever won in an entire season, and the nearby Omaha World Herald has noticed. Here are a couple of great articles about Coach Knight and the Clarinda kids.
http://www.omaha.com/index.php?u_page=1200&u_sid=10442238&u_rss=1
http://www.omaha.com/index.php?u_page=1200&u_sid=10442236
*********** Coach Wyatt, Glad to see you off to a good start. WE just finished playing our second game today . us 20, them 0. we won our first game 32-20 .our b back is running thru everyone to this point he has two 60 plus 2wedges , four long scores on 6 and 7g. Today for the first time in nine years of running your dw . we got to low blocking penalty from the backside end ,I tried to expand to the refs that it was legal because of our splits . he didn't agree. I went back thru your news page to find the rule but could not find it . so could you send me the rule number for this .. Thanks
Hi Coach-
It's covered here -
http://www.coachwyatt.com/officialschecklist.htm
And it's in the book - Rule 2, Section 17, articles 1-5
Ignorance is especially dangerous when people don't know and don't know that they don't know...but they're sure that they're right.
That's very scary, because when they don't know such a basic rule, it makes you wonder how many other rules they don't know.
*********** For a great article on Kansas State, Coach Ron Prince, and the Black Lions...
http://www.saljournal.com/rdsports/story/showcase
*********** Hugh,

I just wanted to drop you a quick note. Because of all of your terrific help last year I have had very few questions this year. My team (9 year olds) have really been fantastic. We are 2 – 1 and have played the top 2 teams on our schedule and we are averaging 6.55 yards per carry. Once we play the weak guys I would bet we end the year well over 7.5 avg. We have a great chance to get to the state title game. Of course once I get to the end of the year I'll give you a write-up that you can use for your website.

I do have a question. I have very good team speed and my fastest player is at FB (he is just a little faster than my wings but the wings are smaller guys). I run traps, wedge, R 7-C and 6-G with my FB. Is there any other play you would recommend for a team with a FB that is probably one of the 5 – 6 fastest guys in the division? On 2 Wedge he is averaging 11.33 per carry.

I hope your team is doing well!

Take care,
David Marco
Hinsdale, Illinois
Coach, For what it is worth... My current B-Back is also very fast.
Last week he ran for 182 yards. Of that total, roughly 50 was on traps, 30 was on wedges, and 100 was on 6-G.
Before I'd put in another play, I would suggest subbing for him at B-Back and letting him run a few plays from A Back or C Back.
In my opinion, that's a more productive use of his talents and our time than making everybody else have to learn a new play.
*********** This Saturday, September 27, 2008, will mark the 50th anniversary of the introduction by Army Coach Earl "Red" Blaik of his "Lonely End" offense. Army rolled up 529 yards of offense in winning, 45-8 over South Carolina. The end, future College Hall of Famer Bill Carpenter, split some 20 yards from the base full house formation and, to save him from wearing himself out, never entered the huddle. Following Army's unbeaten season, Coach Blaik retired and disclosed to the public that Carpenter had been receiving visual signals from quarterback Joe Caldwell. Other notable members of that great Army team were All-America backs Pete Dawkins (who would win the Heisman Trophy that year) and Bob Anderson, and All-America lineman/linebacker Bob Novogratz. To show how much college football has changed in the years since, this was Army's opening game! On September 27!
*********** Hugh,
Congratulations on a great start. Seeing kids "get it" is very satisfying.
I've been working to figure out the best way to get our quarterback involved in the run game. I've tried Super Power "follow" with some success. Also, Power Keep (both guards pulling). How have you utilized mobile quarterbacks in the past (I know you had a really good one in one of your early tapes)?
Power Keep - sending the wingback in motion to the outside and having the QB run it like an option - 2 steps back and then run off tackle - has been a good one. We have put it in this week. It has the added virtue of looking like an option (which it could very well turn into).
Next will be 2 trap at 3 keep/3 trap at 2 keep - fake a dive to the B-Back tp the side of the trapping guard, then slipping inside the trap to the other side.
Those are the first two.
Then we will run our G-reach (sweep) follow.
*********** Perhaps by now you've read about the football players in Las Vegas, New Mexico who sodomized younger players with broomsticks while at camp.
Certain newspaper headlines have referrred to the demented acts as "hazing." Bullsh--. This is a lot more than hazing.
This is sick stuff and those kids are sickos. Where is this sickness coming from?
First of all, is hard for me not to hold coaches culpable. This stuff is incubated in a culture in which there is a tradition of older kids feeling that they can haze younger kids. A major problem is that today's kids don't seem to understand limits, so that seemingly innocuous hazing can easily give way to bullying, which can lead to perverted acts of sexual molestation.
While I can't guarantee that this would never happen on one of my teams - no coach can - I can guarantee that while they are under my supervision, they will not find opportunities such as the ones those kids were provided.
Which leads to the question - who was supervising? You mean to tell me that large numbers of kids spent large amounts of time unsupervised?
Thanks for another reason not to take kids to a camp. To me - and I think I run a fairly tight ship and do a good job of making sure that kids understand my expectations - the danger still exists. The spectre of what can go on in the dorms far outweighs all the supposed team-building benefits.
I also heard of a similar incident in Florida that took place in the back of a team bus. Evidently t here was so much noise being made that the coaches couldn't hear the kid's cries for help. And get this - other kids took photos and videos of the incident with their cell cams.
Another reason for quiet on a bus, among other things.
I'm especially interested in the role cell-cams play in these modern-day atrocities.
You have to wonder what sort of sickness is behind these perverted acts.
********** M son Ed is head of PR for the South Dragons, a team in the NBL, Australia's pro basketball league, and in a recent interview, he asked newest Dragon Mark Worthington what, if he had ro cook, was his "specialty dish."
Replied Worthington, "I'm very, very good - with phones... and numbers... and delivery."
*********** I wrote, "I find it very interesting that the spread-no huddle guru at Auburn has managed to score exactly TWO touchdowns in the Tigers' last two games"
And then I heard from a correspondent who happens to write professionally and chooses to publish on this page under the nom de plume (pen name, for those of you who are not, as I am, a distinguished French scholar) of "D.P. Gumby", (because, as he says, "I'm a big fan of anonymity. And I'm a bigger fan of Monty Python)"...
Yeah, I was thinking that myself driving home from work Saturday
As I said to a fellow writer, "if the spread is the sure-fire solution to scoring, then why do I see so many spread teams struggle to score 21?"
I enjoy a chuck-and-duck offense as much as the next person, but too many have forgotten the value of a solid running game
When it's first-and-goal at the 3 and your throwing, come on now. Don't make coaching any harder than it is. Even an Xs and Os idjit like myself knows that. And if you can't get at least two yards per play thanks to a push from your o-line, well, you might have a problem
Laughed when I read someone write how Mike Shanahan is known for going back to the same play if it's working. The writer seemed almost puzzled that Shanahan would do such a thing
Duh - why would he go away from something that works? He should keep running something that works. It's just damned common sense
Just because an NFL playbook is thicker than the Manhattan Yellow Pages doesn't mean you're obligated to run half of it every game
A reporter wouldn't forgo their trusty recorder one day at work and take their chances with shorthand. On the contrary, they would use what they're most comfortable with
Why make the job harder than it is?
Shite, I ought to trademark that line
I will say that all the passing leagues has made it a lot easier for (our state's) high schools to be ready to run the spread come fall. And I've seen my share of pass-first teams win under adverse conditions
Still, with 12 minute quarters, the unlikelihood of a high school offense going 80 yards in two minutes, limited practice time and how almost nobody can platoon, I don't know why more coaches don't understand the value of strong run-based offense
Run the ball. Run the clock. Gas the opposing defense. And for God's sake let your o-linemen hit somebody rather than be hit in pass protection. Those kids are already stuck doing the thankless grunt work - let them have their fun and knock someone down
Why make the job harder than it is?
Sigh
Guess I'm a crazy dreamer - I'm still holding out hope that somebody around these parts will bring back the wishbone before I die
TUESDAY, SEPTEMBER 23, 2008- "It is better to suffer wrong than to do it, and happier to be sometimes cheated than not to trust." Samuel Johnson
***********Coach Wyatt,
Coach Mark Rice from the Brighton Township Bear Football Team located in Beaver, PA has been a regular writer to you and your "News you can use" forum. Coach Rice wrote to you just this past September 12th requesting information for our Black Lion Award Information.

It is with a heavy heart that I regret to inform that Coach Rice passed away unexpectedly Sunday September 21st of an apparent heart attack leaving behind his wife Levidia, and three children Lauren (20), Morgan (18) and Natalie (15). Coach Rice was a large supporter of you and your football, military and political philosophies. The fact that I am writing to you the day after he went to be with our Lord is hopefully an indication of the respect Mark had for you and how often he conveyed the Hugh Wyatt football wisdom to any coach that was smart enough to listen. He was a treasure that will be sorely missed by our organization. His mother has requested that he be buried in his coaching attire and that all donations be made to his youth football team. I don't believe I can say anything more that would indicate the dedication Coach Rice showed to the young boys in our football community. The youth coaching profession lost a good one, but I am confident he is coaching a better team now with a smarter Head Coach!

I am respectfully requesting that you send me the Black Lion Award information at 218 Edgewood Drive-Beaver, PA 15009. Coach Rice brought this prestigious award to our football program and our young people look forward to Coach Rice's presentation every year. We would like to somehow link this award with Coach Rice, but do not quite know how to do that within the requirements of the Black Lion Award. If you have any suggestions on how we can accomplish this goal, they would be greatly appreciated.

Thank you and please keep the Rice Family in your prayers.

Sincerely,

David D. Thompson
Brighton Township Bears
Beaver, Pennsylvania
(This is such very sad news. I had tremendous respect for Mark Rice, and I have asked Coach Thompson to provide me with information so that I can make a contribution in his name. The information is below. HW)
Here is Coach Rice's obituary...
Mark M. Rice, 50, of Industry, passed away unexpect-edly Sunday afternoon, September 21, 2008 at his home.
Born November 28, 1957, in Charleroi, PA, he was a son of Suzanne Sparks Rice, of Jefferson, PA, and Walter (Annice) Rice, of Derby, KS. He had been a resident of Industry since 1986 and was an engineer with Michael Baker Corporation, Brighton Township, for the past three years having worked previously for Duquesne Light for over 25 years. He was a 1980 graduate of Carnegie Mellon, where he had played on the football team. Mark was an avid outdoorsman and loved to hunt both with black powder and rifle. Other than his family, his greatest passion was football and he was well known for coaching and supporting both the Brighton Township and Western Beaver youth football programs. He will be sadly missed by his family including both of his parents, his wife of 20 years, Levida Butalla Rice; a son, Morgan Joseph Rice, at home; two daughters, Lauren Nicole Rice, Rochester, and Natalie Louise Rice, at home; a sister and brother-in-law and their two daughters, Pam and Chris O'Neill and Brenna and Patricia O'Neill of Annandale, VA, and his mother-in-law, Leona Butalla, Carmichaels, PA. Mark also leaves behind his cousins, his wife's family, and many friends, coworkers, and neighbors. Friends will be received today from 6 to 8 p.m. and Wednesday from 2 to 4 and 6 to 8 p.m. in the NOLL FUNERAL HOME INC., 333 Third St., Beaver, where a service will be conducted Thursday at 11 a.m. by Pastor Tim Michaux of the Beaver Assembly of God Church, Brighton Township.
May Mark Rice rest in peace and may the Lord watch over his family and comfort them. He was special. It was obvious in our correspondence that he was a very intelligent and well-informed person who loved his football and an ethical and moral person who cared very deeply about coaching and about his players. I will especially miss his devotion to the Black Lion Award. Memorial contributions may be made in Coach Mark Rice's name to the Brighton Township Bears, P.O. Box 13, Beaver, PA 15009.
SPECIAL - North Beach 53, Chief Leschi 8 -
OCEAN SHORES, WASHINGTON - The North Beach Hyaks rushed 48 times for 556 yards to defeat visiting Chief Leschi, 53-8, and move to 2-1 on the season. Three North Beach backs rushed for more than 100 yards - C-Back Maurice Alfaro (192 yards on 10 carries), B-Back Kevin Braden (182 yards on 18 carries) and A-Back Jamaal Lind (143 yards on 14 carries).
*********** We (North Beach High) beat Chief Leschi, of Puyallup, 53-8. Rushed for 556 yards. Threw three passes and completed one (two were dropped in the end zone). We are now 2-1, doubling last year's total win output, and within six points (124) of last season's point total (130).
The people in the North Beach community are beginning to get excited.
But there's always someone who can't stand to see you succeed.
After our final score, the official on our sideline sarcastically asked if we were going to be onside kicking, accusing me of running it up because I had left our offensive starters in the whole game. I pointed out that, uh, we had only 20 kids in uniform and NO offensive subs, but then, realizing that it was useless to try to reason with a fool, told him after the game was over that he was full of crap.
It's not as if this guy had been calling such a great game that he could afford to offer me the benefit of his coaching wisdom, but that's not the point; the point is that any official is way out of line in offering an opinion like that to any coach - before, during, or after a game. If I had told him that I thought the officiating crew was making a travesty of the game, he'd have flagged me in a heartbeat. Interesting that while the rules stifle coaches from expressing opinions, officials, apparently, are free to pontificate.
The fact is, it was none of his business how much we won by or how we did it. We were paying him to come and enforce the rules. Period. Not to give us a clinic on coaching ethics. Not to try to make us play the sort of game he'd like us to play. Our kids work hard all week for the opportunity to go out on Friday night and enjoy the fruits of their labors, and I'm not going to take their precious playing time from them by having them take a knee for an entire quarter, simply because the other team is not conditioned, or quits, or can't tackle. (Or can't line up correctly. Without divulging any secrets, our B-Back ran for 182 yards, and they never did figure out what we were doing.)
If that official felt so strongly about the game getting out of control, he should have called time out and marched over to the other side of the field and given the other coach some advice on stopping us. As it was, we subbed all of our kids in on defense with six minutes to play; unfortunately, their kids didn't seem to be able to hold onto the ball, so we got it back with two minutes left.
At that point, at risk of having some sore loser claim that we were rubbing it in, we even let two of our bigger linemen carry on wedges - those kids have earned the right to have a little fun, too. We could have had 60 easily, but Instead, we let the clock run out on their one-yard line.
I will probably see this particular official again. When I do, I will challenge him to stick to officiating this time and write to his newspaper if he has an opinion.
I neglected to mention that Chief Leschi had beaten another school 60-0 the week before we played them.
*********** Coach,

With only 3 days of practice we put in the DW and got spanked by a State Ranked Team (like we would have with any Offense we ran) ... our Players did not compete and just went through the motions ... the lived up to their own expectations of losing to that team, BADLY!

However, in week #2 of the DW we gained over 400 yards of TO and won 46-19 (against an opponent who was 2-2 ... now 2-3 ... and we gave away the 19 points!). We converted to your terminology and it went smooth (we had been a Delaware Wing-T Team using Delaware Terminology and you know how confusing that is!). Our A Back gained 192 yards, mostly on 88 Super Power. We even got the pitch back to the QB on a badly needed 1st Down on 47C Lead Criss Cross (we had been running Criss Cross so the ball handling was not an issue with us). The Offense is great, BUT it is the PHILOSOPHY of the Offense that will make us successful. "WE BELIEVE"

Thanks for all you do for us "little guys".

"One Vision ... One Goal",

Coach Steve Fickert
Parker, Colorado
GO LIONS!
(Coach, As a "little guy" myself - 200-250 kids in the high school - I am extremely pleased to hear how well it went. We continue to improve and rushed for 556 Friday night. We also dropped two passes in the end zone. Don't listen to anybody who tries to tell you they have us figured out. Keep it up! HW)
*********** I know you're busy but I wanted to pass along to you something one of my kids said at practice tonight. He asked me why our varsity doesn't run our offense. I thought it was funny, but I told the kid to not say that to anyone else. People were asking me a few weeks ago why we weren't running the spread option. By the way our varsity got beat bad tonight by a team that they haven't lost to in forever. Defense wasn't bad but the O stunk it up.
That is funny. Expect to hear more of that.
One of the worst things about the spread is that even when a play "works"- when you've called the right play - a kid still has to throw the ball to the right receiver, and throw it accurately. And the receiver has to catch it. And then run with it. Those of us whose system is based on running the ball in a team concept can get our kids to execute better as the season goes on, but with an offense that depends so much on talent, it's way too late in the season for coaching to do much about a lack of it. I find it very interesting that the spread-no huddle guru at Auburn has managed to score exactly TWO touchdowns in the Tigers' last two games.
***********CORNING, New York --
Corning West dominated the fourth quarter against Vestal on Friday night, scoring three touchdowns to break open a tie game in a 27-7 victory at Corning Memorial Stadium. The win put the Vikings at 3-0 overall and 2-0 in Section 4 Division 2. It was the first loss for Vestal (2-1, 1-1).
"This is an unselfish, true team," West coach Mike Johnston said of his players. "And tonight they were focused and you can tell they believe in our system."
Anthony Nybeck scored on a 1-yard run early in the fourth quarter to break a 7-7 tie, then added a 5-yard run later in the quarter to give the Vikings some breathing room. Greg Riff capped the win over the state's 16th-ranked Class A team with a 95-yard touchdown run.
Four players ran for 50 yards or more for 20th-ranked West, which produced 321 yards on the ground on 50 carries. Riff led the way with 163 yards on just 11 touches.
************ Coach,
Just saw this on your latest news
Coach,
Sorry to hear about your tough loss in Seattle. We really stepped up our game this week and beat a good Vernonia team 35-0. Through three games we have averaged 420 rushing yards and 35 points. Passing game was improved with 5/6 for 60 yards. This week we hope some of our injured players return as we take on 3A Clatskanie in our first road game. They were a semi-finalist in 3A last season and are favored to be a contender again this year at that level. Should be a very good test and an extremely physical game for us. They too, run the double wing, although a new coach has tweaked it to the point that it looks quite different now. Good luck to you and the Hyaks this week.

Sincerely,
Jeff Miller, Knappa, Oregon
I'm not sure if you know Jeff or not. He is also the head baseball coach at Knappa. He is a tremendous baseball coach and an even better person. His teams are always competitive. Here's a quick illustration of the kind of person he is:
We had a 3-game series with Knappa at the end of the regular season last year. We needed 1 win to lock up the league title, they needed all 3 to win it. Knappa had the reigning state player of the year. He beat us on the mound in the first game in nine innings, then came back on two days rest to beat us again. We were finally able to win game 3 and win the league.
While those games were exciting, I'll never forget how Jeff handled the situation. They drove to Portland on a Tuesday when their field wasn't playable. We waited out some rain and managed to somehow get the game in. We could have easily canceled the game and not had to face their stud twice that week. Because we don't have our own busses at Portland Christian we couldn't get transportation to Knappa after Friday's schedule was reversed due to weather. Administrators spent 2 days shooting emails back and forth about where the game should be played. When the dust settled Knappa came back to Portland and when they arrived I apologized to Jeff for the problems and he said to me, "I don't care where we play, I just want to get the game in."
This coming from a coach that needed to win both games of a doubleheader to win the league title. He put the kids and the integrity of the game above everything else.
We faced Umpqua Valley Christian in the state title game. They beat Knappa in the quarterfinals. Jeff was very helpful with the scouting report he shared and it came in very handy when we beat UVC to win the state title.
I know you have been doing this a lot longer than I have and have come across many great coaches. In my short time coaching Jeff is one of the greatest COACHES I have had the pleasure of knowing.
KEEP COACHING!
Ryan Miller
Head Baseball Coach
Portland Christian High School, Portland, Oregon (I appreciate the story. I not only know Jeff from our Pacific Northwest camp this past spring, but I coached against his dad. The apple doesn't fall far from the tree.
Knappa beat Vernonia Friday night, 19-0 to go 4-0. They have outscored their opponents, 124-6.
Needless to say, I am pleased to hear of his success, but even pleased to hear that it is happening to a deserving coach. HW)
*********** Coach, Yesterday, I attending a screening of a movie called Forever Strong, hosted by the Worcester Rugby Club. I don't usually like sports movies because they can tend to be a little cliched or corny (and this one was like that at times), but it was still pretty enjoyable and had a good, positive message.
I wouldn't say it was as good as Hoosiers or Chariots of Fire, but it was sort of a cross between those movies (similar themes) and it was about rugby. The main character was a high school-aged rugby player who played for his father's team. He gets into trouble with the law and goes to a juvenile facility in Salt Lake City. He ends up playing for his team's rivals, Highland (in real life, Highland has won 17 national under-19 titles).
It was, like many movies you don't like, "based on actual events" but since the coach of the team the movie was based on (Larry Gelwix) was involved in the production, I don't imagine it strayed too far from the truth.
I don't imagine Forever Strong will be a commercial success, but if you get a chance to see it, you might enjoy it.
You can find out more at rugbymovie.com.
Steve Tobey
Malden, Massachusetts (Thanks for the tip! You're right - I don't care for the license that the moviemakers take. But since it's not football, I'm not in a position to spot the inaccuracies in a rugby movie and I might find it enjoyable. HW)
*********** Hey Coach,
In our gameplanning yesterday for our next opponent we decided we wanted to run some "slot" look this week. I've got a couple of questions for you:
1. Can you leave your WBs in a 2 pt stance? (Our HC is determined we need to be in a 3 pt stance, but we always work from a 2 pt stance. I understand his logic but now we are asking our kids to do something we don't normally do.)
2. If you see a 7 tech and you have super power called what are you telling your TE and WB in the slot look? We run a lot of super power to the weak side so our T's and WBs work together a lot on the on/off call. But I was just wondering how you teach that call in the slot formation with the TE and WB.
Thanks again for the help and good luck with your season. I just had a chance to catch back up on your news we can use segment.
By the way, we beat a team 2 weeks ago for the first time in 12 years! We are 2-2, but the 2 losses have come in the 4th quarter when we've run out of gas. Our WBs are also having to spot play at DB against good passing teams. Over these next couple of weeks we are going to see teams that dont run any Wing T stuff. Hopefully that is going to work to our advantage!
Take Care and thanks for the help.
Coach,
To be honest, this year for the first time I've got my wingbacks in 3-point stances. They are also squared to the LOS, but I have had my backs squared up for years.
Now everybody on the team learns one stance (unless we split an end).
I'm not sure it matters that much, but I like it and it doesn't interfere with anything we do.
In slot, we rarely see a man in a "7" - normally, we see a man head-up or down in the slot, but if we did, we'd assume that our end could block him down. If he is a danger to slant, we'd have the wingback wait and then we'd double-team him. If you can handle that guy, the only one left to force is the corner. This is counter to the way 8-man front teams like to force the run. I like the idea of our corner on their wingback.
Glad to hear that things are going well.
*********** I'm reading my rule book right now and can't understand half of it. What is the rule on blocked Punts and FG's if they cross the line of scrimmage?
If a kick is blocked
(A) And it remains behind the LOS... it is the same as a fumble
(B) And it goes across the LOS... it is just a kick, the same as if it had never even been touched
*********** Coach -
Oakfield-Alabama defeated Alexander 63-14 Friday night. First quarter score was 42-0 and 63-0 at the half. We deferred to start the game and kicked off to start the second half (after the official was kind enough to remind me that we had the choice). We ran 36 times for 275 (mostly in the first half) and our QB went 4-6 for 72 yards and 3 TD's (+1 rushing). A back Joe Natalizia ran 15 times for 109 and 2 TD's rush (+1 rec.) B back Brad Riner had 7-for 60 something and a TD, and A back Tim Smith had 6 for 65. We scored on a QB scramble on Slot Liz 38 Black OX, on a flat pass on Tight Liz 38 black ox, on Spread Red (hit C back on seam), Spread Blue slant (hit A back on seam), Slot liz T@3, Spread Rip 88 G reach (2x). We scored two TD's on defense (INT's) and recovered our first two squibs to start the game. Some seconds got in in the 2nd quarter and everyone played the whole second half. We ran a lot from spread and Rip 3 Geoge and Base worked nicely (you will get to see it all on our highlight film at the end of the year). We even gave our next opponent something extra to think about on accident when I called slot, but our one end lined up spread (we wound up in slot right spread left). Hope you won as well.
Keep Coaching
John Dowd, Oakfield, New York
(Nice going. 63-0 at the half, eh? Careful. They'll start to call you names.
We won, 53-8, and I had an official tell me DURING THE GAME that we were running it up.
Hahahaha. The team we beat had won its last game, 60-0.
Hell, I've been on both ends of it, so go ahead and call me anything you like. HW)
*********** The Beloit Trojans improved to 3-0 with a very dominant 58-0 victory in their first road game of the season. The Trojans powerful Double Wing offense ran for 445 yards on 46 carries and completed 4 of 4 passes for an additional 36 yards. Senior wingback Cas Spangler had 20 carries for 269 yards and 6 TDs.

The defenses continues to smother opponents, allowing 23 carries for -11 yards and 6 of 13 passing for 62 yards and 2 INTs. The Trojans allowed a total of 51 yards of total offense and only 4 first downs.

This Friday night the Beloit Trojans will host Ellsworth in a battle of undefeated teams.
Greg Koenig, Beloit, Kansas
*********** Coach Wyatt,

Greetings from Reed City, MI. I hope all is well with you and your family. Furthermore, it is great to see that you are on the sidelines again!

A quick question for you. What has been successful for you against a 5-3 and a 5-4? We have not really seen this defense in many years. In the past, we have not been too successful against it. I want to make certain that I am attacking it the way that I should be. Any advice would be greatly appreciated.

Take care and God Bless!!

Monty Price
Reed City, Michigan
Hi Coach,
Nice to hear from you. I hope things are going well. It is fun to be working with my own team, after spending so much time working with other coaches' kids.
Despite what some of the Internet geniuses recommend, I don't see much 5-2 or 5-4. Friday night we did and rushed for 556 yards. Almost anything will go against it. Maybe that's why we don't see much of it.
I have seen a fair amount of 5-3. "G" is always good against it. In blocking powers and counters, we may have to treat it as a T-N-T. If you run any slot, 5-3 has a very tough time lining up against you, because the DTs don't know where to line up.
Good luck to you this week!
*********** Clarinda Academy 50, West Monona 36
A Back 27 carries for 237 yards 2 catches for 78 yards 3 TD's, 1 2 pt PAT
B Back 5 carries for 15 yards 2 2pt PAT
C Back 21 carries for 198 yards 2 TD's 1 2 pt. PAT and 1 88 yard KO Return TD 1 catch for 33 yards
QB 5 of 11 for 123 yards, 6 carries for 18 yards
Defense still is BAD, can't stop anyone, gotta hope for 1 or 2 stops a game, or a TO so we can get a lead. Gave up 318 yards on the ground and 63 yards in the air. Did force 3 TO's (2 INT's and a fumble).
Brad Knight
Clarinda Academy
Clarinda, Iowa
*********** Hey Coach,

Good job in starting your season 2-1....We Finally had our first game this week and we won 48-0, we had six possessions and scored on all six. We scored on 88 super power(twice), 88 G-reach, 99 G-Reach, 3 Trap at 2, & 99 Super Power. The opposing coach stop the game and called the refs over 3 times to plead his case that we were false starting, but the refs believe or not knew better and complemented us on how fast we got off the ball. The opposing coach was screaming over to us that OUR offense is illegal!
Kevin Rivas
Montebello Indians, Montebello, California (Hahahahaha! Break up the Double Wing. And then we can move on to the final step in the evolution of our game - flag football. HW)
*********** We had to laugh, After the game Sat. night the other coach finally admitted and said," We just can't stop it (O). We try crashing the ends (wrong shouldering) and you kill us with the Dives (Bases) and Traps. We submarine our interior and you Sweep us, we bring the Corners up and you throw over us. What and unbelievable Offense. Boy! do I wish we had the athletes to run it.

We felt like saying, "you jackass if you only knew". Believe me he has better athletes then us.
Name Withheld
*********** Lansingburgh 48 Mohonasen 6

a back marcus hepp 14 carries for 101 yards 3 scores
qb tj mclaughlin 13-106 yds
and c back kyle murray 7 carries 108 yds 2 scores

we are now 2-1 and host Averill Park next week

pete porcelli, lansingburgh, New York
*********** Coach: For the first time since I believe the mid 1980's, Crystal Lake Central is 4-0 as we head into division play. The last time CLC beat McHenry was 1988 and none of our kids were even born. We rushed for 316 yards as A Back Anthony Niemo had some big runs and 126 yards rushing. Five other backs carried the mail as well. QB Connor Buxton was 4-5 for 120 yards and two TD passed. Left End Taylor Kendrick had over 100 yards receiving, a first for me in ten years playing with the DW. Hope you got a W last night.
Bill Lawlor, Crystal Lake, Illinois
FRIDAY, SEPTEMBER 19, 2008- "Do not go where the path may lead, go instead where there is no path and leave a trail." Ralph Waldo Emerson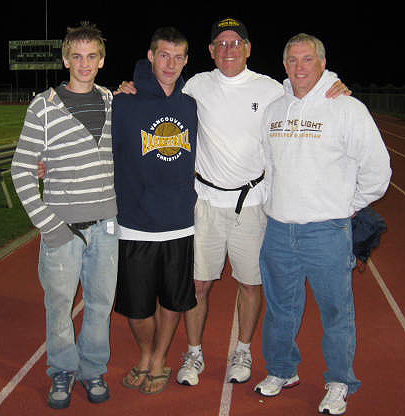 At our game in Seattle last Saturday night I enjoyed a mini-reunion with some friends I'd been working with for over a year, before leaving for Ocean Shores: from left to right, they're Caleb Millay, a junior at Vancouver Christian HS; Justin LaCasse, also a junior; myself, and DJ Millay. Caleb is the QB at Vancouver Christian and Justin is the B-Back; DJ is Caleb's dad as well as the VC offensive coordinator. At the start of last season, when Caleb was forced into duty at QB after the sudden transfer of the projected starter, I volunteered to help him learn the job. Caleb and I - and a host of receivers, including Justin - put in a lot of time since then, and he has made enormous strides. I wish I had shot video of Caleb at the start, so I could better demonstrate what he's accomplished. I also wish that Caleb's progress were translating into VC wins, but they are a small school - smaller even than North Beach - and they've been whacked by injuries. But I think it's fair to say that, thanks to his hard work and dedication, Caleb would be recognized anywhere as a bona fide high school quarterback.
*********** It had to kill the true Syracuse fans to have all the Orange legends (Jim Brown, Floyd Little) in town for the premiere of the Ernie Davis movie and then watch Penn State dismember a once-proud Orange program.
Poor Syracuse. There was a time when they could play with Penn State. Now, with the rise of Buffalo under Turner Gill, they might not even be the best team in upstate New York. Damn shame, but it sure is hard to feel sorry for the creeps who screamed for Paul Pasqualoni's scalp, and rejoiced at his firing.
*********** The football field was not the only place where Syracuse f--ked up on Saturday.
As part of their honoring of the late, great Ernie Davis last Saturday, the university unveiled a statue of Davis, one in a long line of great Syracuse runners and first black man to win the Heisman Trophy. One slight problem - the statue is wearing shoes with the Nike swoosh logo on them. Now, the swoosh first appeared in 1971, while Ernie Davis died of leukemia in 1963. I know what you're thinking, and I caution you not to be so cynical. Not for one minute do I think that the Nike people would be behind a stunt like that. Or the Syracuse people. Colleges simply don't sell their soul just for money. As for the artist, he claims it was a simple mistake, and of course I believe him.
But I would be interested in knowing what kind of car he or the Syracuse AD are driving these days.
*********** What's great about this season is that on film every week you see a immediate visable improvement from the week before. Our B Back got so much better this week that it didn't look like the same kid making the kickout. FYI- Your training the young QB DVD is making a huge difference in our QB play. Our starter is 5-6 in the last two games, he is developing outstanding touch with the football.

On a side note I would like to register our team for the Black Lion Award. I've spoken with our HC about it and he has approved it. For the first time I think I have a player who is what the Black Lions are looking for.

Gabe McCown
Piedmont, Oklahoma-USA
*********** Coach Wyatt,
We played our second middle school game of the season today, and witnessed the incredible power of the Double Wing. Going into this game, we were 1-0 with an ugly 14-6 win, last week. Today's opponent had whitewashed the defending undefeated conference champion, 22-0. In addition, our opponent is loaded with talent. My youth team's leading rusher and offensive MVP from 2004 is their RB and LB. My Team MVP from 2006 is another of their Linebackers. My Safety from last year who had 8 interceptions plays for them. My hellacious hitter from last year and leading receiver from 2006 and 2007 is their Cornerback. My starting TE from 2005 is their other CB. They've got way too many bullets in the gun for us. We decide our strategy is to keep their offense off the field.
We begin the game wobbly. We have a 3 and out, followed by a bad snap on the punt which gives them the ball at our 26. They complete a pass on their first play and get to our 8. A run gets them to our 5 before they fumble (and we recover) on the next play.
Taking over at our own 10, we suffer back-to-back penalties that move the ball back to our own 5-yard-line. Then the machine begins... Ten plays and 95 yards later, we are on the board with a 6-0 lead. They follow with a 3-and-out. Taking over at mid-field, we take our time driving 50 yards on 7 plays and going up, 12-0. We take that lead into the half.
Our opponent begins the 2nd Half with a renewed intensity. However, after picking up a 1st Down, they fumble again, losing possession. We run 3 plays, picking up good yardage but a double penalty on us (holding + an undisclosed personal foul) moves us back to our own 22 and gives us a 1st and forever. We go 8 plays and drive the ball down to their 22 before turning the ball over on a fumble. Our defense holds, and we take over at their 22. 4 plays later, we are in the endzone again. They come down the field quickly and score, but it is too little, too late. Final score: Us--20, Them--6.
We didn't play pretty, but we nickel and dimed them all day. We never broke a long run, we didn't pile up a lot of points, but we succeeded in keeping their offense off the field. I've rarely seen the power of the offense displayed like it was today.
Dave Potter, Durham, North Carolina(That's great to hear.It demonstrates the beauty and power of synergy - playing together, the whole team is greater than the sum of its parts.It's what made America great. Now, unfortunately, it's missing in all professional team sports, where the star system rules.People who know only the star system just don't grasp the concept of synergy. HW)
*********** At the completion of week 3 Clarinda Academy leads the state in total offense. (all classes)
Brad Knight
Athletic Director/Head FB Coach
Clarinda Academy
Clarinda, Iowa
*********** UConn's Darius Butler celebrated the birth of a daughter with a great performance over Virginia. "I wanted to do something special for her today," he told reporters.
Uh, Darius. It was only a football game. You want to do something really special for her? Marry her mother.
*********** Coach,
My first four years here we ran the ball with excellent success here at ----- running super power. The past two years my talent has been way down and we have struggled. There is a group of parents in our small town trying to get my job because we will not play "modern football". This past Friday I ran the double wing from the single wing and we won 41-39 over a spread team that was far more talented. I had a parent screaming at me from the sideline after the game that it was about time we went to shotgun and spread. We basically ran tight, slot, spread and unbalanced from a direct snap. They are pretty clueless to believe we put a new system in, but that is what I battle for right now. Thanks for your help over the years.
*********** Coach,
Sorry to hear about your tough loss in Seattle. We really stepped up our game this week and beat a good Vernonia team 35-0. Through three games we have averaged 420 rushing yards and 35 points. Passing game was improved with 5/6 for 60 yards. This week we hope some of our injured players return as we take on 3A Clatskanie in our first road game. They were a semi-finalist in 3A last season and are favored to be a contender again this year at that level. Should be a very good test and an extremely physical game for us. They too, run the double wing, although a new coach has tweeked it to the point that it looks quite different now. Good luck to you and the Hyaks this week.

Sincerely,
Jeff Miller, Knappa, Oregon
*********** From the Elmira, New York Star-Gazette-
Mike Johnston's plan was to keep it simple on offense. It worked.
His Corning West football team beat host Southside 34-12 in a Section 4 Division 2 game Saturday afternoon behind a running attack that piled up 418 yards and produced three 100-yard rushers. Except for a pass attempt that was called back because of a penalty, the Vikings ran on every play.
Brian Guilfoyle opened the scoring for West (2-0, 1-0 Division 2) with a 91-yard touchdown run halfway through the first quarter, right after Greg Riff's 88-yard run was called back because of a holding penalty. Riff broke another long one with 3:04 left in the first, this time for 73 yards and without a flag.
West's first sustained drive also resulted in a touchdown, with Austin Rose finding a hole in the middle for a score on first-and-goal from the 8 with 3:22 gone in the second quarter. Riff's run on the two-point conversion was good, making it 20-0 Vikings.
Exactly one minute later, after a Southside fumble that the Vikings recovered, Anthony Nybeck ran for a 23-yard score, and the PAT by Riff gave West a 27-0 lead.
"The kids are confident in what we do offensively," Johnston said. "And they're pretty unselfish. They don't care who gets the glory and they don't mind blocking for each other."
*********** In answer to a question... Two things that work against a stack 4-4 team are (1) run from slot, and then (2) work on the "5" techniques.
When we run Super O, we double-team the "5" technique with our playside tackle and wingback and come down hard with our flexed ends.
We scramble block the playside "2" technique
Center does not block away. He snaps and hold the fort. Backside tackle cuts off the backside 2 tech. Backside end takes a narrow split (so he is still in the free blocking zone) and cuts off the 5 tech.
And then, when those 5 techniques get tired of being double-teamed, we trap them - 3 trap at 4, 2 trap at 5. We don't bother with trying to trap at 2 and 3.
A 4x Lead or 5X Lead compensates for the loss of 6-G/7-G because of the absence of a tight end.
If you run 44-X lead and 55-X lead, that's great against this, too.
Trust me - you will see a "5". If they play those men in "4" techniques, they are too easy to Doubkle-team on powers; if they play them any wider than a "5",we will "X" block them or trap them to death.
*********** Hugh,
The Elmwood/Brimfield Trojans improved to 2-1 on the season by beating
West Central 30-0 in a tremendous rain storm. Our area got over 8
inches of rain from Thursday to Saturday. We dominated the game on both
sides of the ball, playing the second and third quarters entirely on
their side of the field, resulting in a complete mud pit. They did
everything they could to stop super power, which opened up the fullback
trap plays. Still, we "kept punching" where we always want to and they
softened up.
We host a "Blackout" game this Friday to raise money for Easter Seals.
Fans have purchased black t-shirts. Our team goal is to raise $15,000
before the March telethon. I'm very proud of the boys and how much they
have gotten behind this charity.
Good luck this week,
Todd Hollis
Head Football Coach
Elmwood-Brimfield Coop
Elmwood, Illinois
thollis@elmwood.peoria.k12.il.us
*********** Hugh, We won again Friday night against Barker (they used to run double wing, but now they run double wing plays from pro set with no splits). We ran 50-some times for 428 yards. Our wedge never looked better and we ran a really nice 6-G for a TD. B back Brad Riner rushed 16 times for 156 yards and 3 TD's, C back Tim Smith ran 9 times for 129 and a TD and A back Jason Stanley ran 5 times for 65 yards. We were not impressive passing, but I think we are going to get better in that regard - our timing is just a tad off.
John Dowd, Oakfield, New York
*********** I got this from Pat Forde's column on ESPN.com...very interesting comparison of what Pete Carroll and Jim Tressel faced in the off-season and what they've done...Love, Ed
Carroll was tasked with replacing his starting quarterback, leading rusher, leading receiver and four-fifths of his offensive line, plus three first-round draft picks from his defensive front seven. All told, the Trojans lost 26 lettermen. Yet the net effect shows USC is better than in 2007, better than anyone else in the nation so far and possibly better than ever. Despite having several potential weaknesses on paper heading into the season, none has been exposed on the field. That's recruiting, and that's player development. Nobody does it better.
Tressel, on the other hand, welcomed back 19 starters from a team that played in the BCS National Championship Game. Lettermen lost from '07: only 12, second-fewest nationally among teams from BCS conferences. There was no rebuilding effort. Yet the Buckeyes have been only slightly more successful than Merrill Lynch in 2008. Beating Youngstown State doesn't matter. Flailing past Ohio was bad. Being pummeled in another high-profile game -- USC joins LSU and Florida in the Sweater Swatters Club -- was worse.
*********** Josh Howard, on his buffoonery while the national anthem was being sung, was caught on YouTube saying, "I don't celebrate this sh--. I'm black."
Now, this dopesmoker is no more a spokesman for anybody than Lindsay Lohan is, but stupid comments by stupid people are no less annnoying because of their stupidity.
Not to minimize in any way the evil of slavery or subsequent legal attempts to degrade black Americans by keeping them "in their place," and not to say that black peoples' resentment of that ugly part of our history is not understandable, but Mr. Howard doesn't seem to know his history. Of course, he was probably absent from school when (if?) they taught about the hundreds of thousands of innocent, non-slave-owning white Americans who died in the war that ended slavery.
Perhaps Mr. Howard has lived elsewhere and seen how much better it is elsewhere, and perhaps he would be able to enjoy the same sort of lavish lifestyle and freedom to shoot off his mouth that he now enjoys if he were playing professional basketball in, say, Haiti. Or Zimbabwe. But I doubt it.
TUESDAY, SEPTEMBER 16, 2008- "The morale is to the physical as three is to one." Napoleon Bonaparte
*********** We (the North Beach Hyaks) lost Saturday night to Seattle Lutheran, 35-29.
There were missed assignments and dumb penalties to go with a couple of turnovers, and, at the end, mistakes on pass defense. It was apparent in pre-game that the kids weren't as focused as we are used to seeing. I think that part of it may have been the extra day (we played Saturday night and I hate Saturday games), and part of it may have been the "heat" (only 75 degrees at kickoff time, but it hasn't been over 65 degrees at Ocean Shores in a couple of weeks). And part of it was inexperience with putting someone away when you have them on the ropes.
Get this - we led 29-13 and HAD POSSESSION OF THE BALL IN THEIR TERRITORY early in the fourth quarter. And then came a fumble and a runback to our 30, and the wheels began to come off. They couldn't run against us - a Wing-T team, they had only 87 yards rushing all night - but they hit a quick slant for the first of three fourth quarter scores, and then went up top for two more.
An example of blown assignments in crucial situations: at one point, still leading, we needed a fourth-and-one to put it away and I called unbalanced-G. The opponents made no adjustment, so we were looking at a hole a mile wide - until the ball was snapped and our wingback blocked down, on the same man our guard is supposed to kick out. And so, with the wingback's help, that defender arrived at the B-Back before the guard could get to him. And we missed the first down by a foot. I'd have bet the farm that the kid knew his assignment. I still would. But in the heat of competition, strange things can happen to inexperienced kids to cause them to lose their focus.
We didn't play a particularly good game, but in looking at the tape, there were a lot of encouraging signs. We did outgain Seattle Lutheran, 316-216, and we did have 26 first downs. The line blocked well, and we showed a bit of the passing game we've been working so hard on, throwing three times and completing two for 86 yards and two TDs.
*********** Belated congrats on the new gig, coach W. Sounds like your kids are off to a running start.

How you find time to run a varsity football program and still do your "blog" regularly is beyond me. Your enthusiasm and energy are an inspiration.

Anyway, two items in your latest NYCU caught my eye.

The first was the segment about running up the score. If you or your readers are interested, I did a piece about that very subject quote awhile ago, on my website. I think you'll find it ... ahem ... right in line with your thinking. Here's the link...

http://www.oldschoolsportsparenting.com/Running%20up%20the%20score.htm
Even when I suspect that another coach may have done less than he could have to keep from running it up, I keep my mouth shut. I hate whiners, and I refuse to be one.
When a guy keeps his starters in too long, he is screwing over his own backups. That means that if he doesn't already have a morale problem and a parent problem, he will, and they are both richly deserved.
The second thing that caught my interest was the early success you're having with that once moribund "Hyaks" program. It sparked a question that I'd love to know your thoughts on:

Which do you think has contributed more to the resurgence of your team: The double-wing scheme, or the skill and energy with which you coach it?

Mike Brusko, Zionsville Pennsylvania
As for the second thing, bearing in mind that we have not turned anything around but rather are in the process of doing so...
There is no doubt in my mind that my Double-Wing has helped us get off to a good start. I know it and believe in it and I know how to teach it. Combine that with the help of some very knowledgeable assistants - Gary Garland, who now lives in Idaho and helped us during two-a-days, and Jack Tourtillotte, who despite the disparaging remarks of a certain someone still learning how to be a high school coach at his old place also knows and believes in my system and knows how to teach it, and as a career coach is knowledgeable about football in general and really good with kids.
But it is a lot more than schemes. It is much more about the atmosphere we create.
Our whole deal is built on my Three R's: Respect - Responsibility - Resilience
Respect: Creating an atmosphere of respect... Kids respecting kids, coaches respecting coaches. Kids respecting coaqches, coaches respecting kids.
Responsibility: Demonstrating that you can be depended on... Being early and being ready... Doing whatever has to be done and doing it the best you can - all the time.
Resilience: Football is a game of good things gone wrong... Suck it up and deal with... Get up off the mat and keep punching.
(1) We NEVER make ANY reference to what has gone on in the past either in public or to the kids.
(2) Although I didn't arrive in Ocean Shores until August 10, I let them know from the start that we had minimum conditioning standards - a certain number of circuit workouts (in this case only 3 because of my late start) that had to be completed in order to be issued equipment. Only one kid attended the first AM workout. There were three at the PM workout. Then four, then six, and so forth. Suffice it to say that at first, my optimistic nature was put to a test.
(3) I let the parents and kids know right up front what my personal mission statement is, and I do everything I can every day to demonstrate that it is my guide.
(4) Before we set foot on the field, I spent time starting to instill our culture - the way we are going to do things. I carefully went over our rules, one by one, stopping after each point to make sure that everyone understood. . If they did, they initialed next to that point on the contract they were given, with all the assistants circulating to make sure everyone had initialed. If they didn't understand, I went over it again. It took me a little over an hour of valuable practice time, but it was time well spent. When I was done, they signed their contracts and handed them to me. This is really big - latecomers who miss the rules meeting can turn out to be big problems if they miss out, so as late arrivals have come on board, they have been required to look at a PowerPoint presentation of our rules, and then answer questions on them to the satisfaction of a coach.
(5) From the start, we had coaches swarming all over everything they did, making sure that everything, down to the tiniest detail, was done correctly, while constantly reinforcing the importance of our rules.
(6) Practices were well-organized but not overly so, to the point where we might have to move on even if we hadn't accomplished our objective.
(7) We always had some fun component in the practice plan.
(8) We do coach with energy and enthusiasm. We love our kids and we let them now that. They know that we care - about them and about the team. They know that caring means they will be corrected. We will correct every little thing, and we try to make sure that they understand that correction is an act of love - we love them and the team enough to be willing to do the things that will make them and the team get better.
(9) We have a very supportive administration. Remember, in a job interview, you are interviewing them as much as they are interviewing you, and they impressed me. Both of our co-superintendents and our principal - a former football coach at our school - pay visits to our practices. One of the superintendents has actually come out onto the practice field to visit. Both of them were in our locker room after our first game, wearing their "North Beach Football" hats, and both of them were at our game in Seattle (3 hours away) last Saturday night.
(10) The kids were ready. They have been receptive. They have bought in. They have an excellent work ethic and are very tough. They have done everything we have asked of them, with never a squawk or hesitation. Perhaps to some extent my reputation has helped, because the nearest daily newspaper, the Aberdeen World, ran a nice article about me before I arrived.
(11) Finally, I have spent a fair amount of time on senior leadership - cultivating a sense of ownership among them, putting them in positions where they have to step out front and take charge of things, and helping them to overcome most peoples' natural reluctance to take charge. They are responding. I encourage them to come to me with suggestions, and I always listen to them. Sometimes I go along, and sometimes I don't. When I don't, I make sure to tell them why.
*********** Napoleon said, "the largest army is useless if it has lost the will to fight. The morale is to the physical as three is to one."
The older I get the more I realize how important all the "extraneous" stuff is - all the stuff other than schemes and systems.
I see older coaches coaching very good football teams that are still running a supposedly obsolete Double-Tight, Full House T, and they're whipping up on spread-it-out younger coaches, because they understand that the people stuff is at least as important as the scheme.
*********** A coach whose team is very good, year in and year out, unexpectedly got hammered Friday night, and he wasn't taking it well.
Not that any of us does take losing well, but he's wrote a few things to me indicating that his kids had let him down.
I tried a gentle reminder that we're all in this with together with our kids. They don't lose. We lose. If they are losers, so are we.
They are still just kids, I reminded him. I'm sure that they didn't TRY to lose. Or lose big. And they didn't do it to their coach, personally.
I would imagine they're hurting, too.
Part of a coach's life is dealing with a very tough loss. I am having to do that right now, after we blew a 29-13 fourth quarter lead and lost, 35-29.
If I may say so, I told him, the kids really need his direction right now, not his derision. Everybody else is probably ridiculing them, which is why they especially need their coach.
*********** Bud Light may no longer be the world's number one brand of beer. According to an article in the Wall Street Journal, Snow Beer, a Chinese brand, either is now or soon will be the best-selling beer in the world.
*********** Forbes Magazine ranked college football's five most underpaid coaches (on the basis of what they have done for their schools as opposed to what they are paid), and the five most overpaid...
The Five Most Underpaid
Jim Tressel, Ohio State
No. 1 Most Underpaid

Mike Riley, Oregon State
No. 2 Most Underpaid

Jim Grobe, Wake Forest
No. 3 Most Underpaid

Pete Carroll, USC
No. 4 Most Underpaid

Frank Beamer, Virginia Tech
No. 5 Most Underpaid
And the Five Most Overpaid

Kirk Ferentz, Iowa
No. 1 Most Overpaid

Greg Robinson, Syracuse
No. 2 Most Overpaid

Charlie Weis, Notre Dame
No. 3 Most Overpaid

Ralph Friedgen, Maryland
No. 4 Most Overpaid

Al Groh, Virginia
No. 5 Most Overpaid
*********** Coach we are now 2-0 (24-0 and 42-7) in the toughest kids division in Maryland. Already many naysayers are starting to believe in the double wing. The only thing slowing us down so far is the confidence of my 2nd string QB.
Next week we play a very good team that runs a 4-4 defense. They usually blitz one of their inside backers. What suggestions or adjustments do you recommend. They line up their linemen on the guards and TE's. Thanks in advance
Coach,
Congratulations on a good start.
Just dealing with your question with regard to power blocking...
You didn't say where the Inside LBer blitzes.
If it is through the "B" gap, your uncovered tackle is well prepared. Unless, of course, he leaves his post too soon and leaves a gap in the line.
If it's through the "A" gap - either one - your options are (1) to treat him as a nose man, which means that you now have a T-N-T front and you could block down across the front, leaving the man on the TE to be kicked out (since the TE would also block down), (2) to block as normal and make sure that the playside guard, while he is double-teaming, keeps one eye on the LBer and picks him up if he blitzes, or (3) to run Super O and assign the center to snap and wait for the backer to blitz and have the backside tackle cut off their backside DT.
*********** Thank God the Ohio State-USC game is finally over and ESPN can now return to cross-promoting some other program that will be showing on ESPN/ABC. Looks as if it will be "The Express."
Many sportswriters for major publications seem finally to have awakened to ESPN's disgustingly excessive cross-promotions: the Great Sports Network practically ignored the Olympics - because they were on a competing channel - but then, for the last 10 days, turned themselves into the All Beanie Wells Channel.
*********** One of the experiences we've all been through in running the Double Wing is a tendency to bail too soon - to get away from the basics - when in fact we might actually be making progress. I liken it to splitting firewood. You can't be sure that your early strokes are getting you anywhere, because they don't seem to be having any effect, but eventually, when you do split the wood, those early strokes turn out to have been just as important as the one that split it.
*********** Can't say he's not appropriately named. In Brazil, where soccer players frequently are known by just one name (Pele, for instance), one of them was just given a two-year suspension for violating a drug policy. His name? Dodo.
*********** Funny - ever since that chickensh-- call against Washington's Jake Locker for jumping in the air and letting the ball go as he jumped (after driving his team the length of the field to score with seconds left), I sure have seen a lot of jackass strutting by receivers and tacklers going unnoticed by the ever-vigilant officials, who following the Locker fiasco told us that "excessive celebration" was not a judgment call. Dodos.
*********** The NFL season is just two weeks old, but this year's Jackass Strutter of the Year Award has already been locked up by the Eagles' DeSean Jackson.
*********** Get this - an Indian company called Maverick Mobile Applications has a great way to protect your cell phone from thieves.
If your phone should be lost or stolen, its Maverick Secure Mobile will encrypts your data, send you a text message with the location of the phone and, if you wish , play a loud siren to drive the thief nuts.
The software is concealed, so the thief can't tell whether or not your phone has it. You give the company a second phone number, such as a friend's, and as soon as a thief replaces your SIM card with his, the phone encrypts all of your remaining data, such as your contact or photos, so that the thief can't see them, and sends that data to your second phone so that you still have it.
Then you can start to play with the thief's mind. You can see all the phone calls and text messages he sends or receives and any new contacts he enters in the phone book. You can call your phone and eavesdrop on the thief's calls without his knowledge. And if you really get pissed, you can make the stolen phone play a blaring siren.
You can even send him a text message with your name and location and, maybe, if you're feeling compassionate, offer a reward for returning the phone.
*********** Eddie Crowder, a standout split-T QB under Bud Wilkinson at Oklahoma and one of the most successful head coaches in University of Colorado history, died last week in Lafayette, Colorado.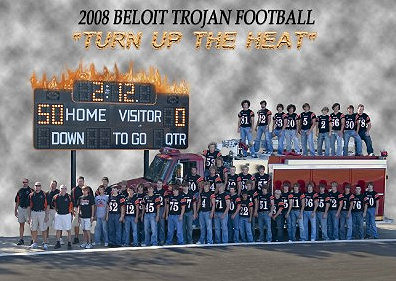 *********** The Beloit Trojans are 2-0 after a dominating defeat of league rival Salina Sacred Heart. After building a 22-0 halftime lead, the Trojans dismantled the high scoring Sacred Heart attack in the second half. For the game the Trojans gave up fewer than 80 yards of total offense and only allowed the Knights to cross midfield (the 49 and a half yard line) once. The smothering defense and improved special teams play gave the Trojan offense great field position all night, resulting in many short scoring drives. Next Friday the Trojans will go on the road to take on another league opponent, the Republic County Buffaloes. Greg Koenig, Beloit, Kansas

Here's a nice article about Beloit running back Cas Spangler, from the Salina Journal...
By HUEY COUNTS JR
Being a small guy in a world of giants isn't all bad. In fact, Cas Spangler finds it downright delightful on the football field.
Beloit's senior running back, at about 5-foot-9 and 160 pounds, is turning his small frame into a big advantage and putting up huge numbers for the Trojans.
"It's hard to see Cas when we run him tight behind the tackle," Beloit coach Greg Koenig said, "Then he is so good in the open field. He has great balance, and it takes more than one person to get him to the ground, that's for sure."
Spangler admits he isn't the fastest running back around, "but I've always been naturally quick."
Opponents can catch Spangler near the top of the North Central Activities Association statistics for running backs going into Week 2. One of the backs ahead of him is teammate Logan Eck, who took advantage of Southeast of Saline's defense keying on Spangler last Friday to race for 244 yards and two touchdowns.
Still, even with a target on his chest, Spangler managed to wiggle free for 152 yards and two scores on 20 carries in Beloit's 38-14 victory.
"What I tell the guys all the time is if a team wants to key on someone, great, because that opens it up for somebody else," Koenig said.
Koenig took over the reins at Beloit in 2006 and immediately installed the double-tight, double-wing as his base offense. There are variations to the scheme, and every coach adds his own bells and whistles, but it's a deception-based misdirection offense built around one play, the power off-tackle run.
The offense has been literally a dream come true for Spangler, who last season led the NCAA and topped much of the state in rushing with his 2,171 yards on 182 carries, good for an eye-popping 11.9 yards per carry and 217 yards a game, and 30 rushing touchdowns.
When he was informed after his sophomore season he'd return as the main man, Spangler said, "I was real excited for the opportunity. I got into it at first just kind of feeling things out. But once I got into the flow and got the hang of the reads and stuff, I was like 'Yeah, this is alright.' "
Koenig said the offense isn't designed to focus on just one running back, but it looked that way last season. Spangler had 107 yards in the season opener, which proved to be a season-low, before exploding for a season-high 336 yards and four touchdowns the following week against Sacred Heart, the Trojans' opponent tonight.
Spangler, whose full first name is Cassidy, went for more than 300 yards three times, including a 319-yard, six-TD effort against Riley County. He led the squad in rushing every week.
Though Spangler may not have sprinter's speed, Koenig said his little back with the strong leg drive does have "football speed."
"It became apparent to me as soon as I saw him in our offense that he hit the hole faster than any other back I had coached," Koenig said. "His vision and balance were just amazing. I don't think he's the fastest kid, but he does have great quickness."
Spangler moved to Beloit from Nebraska when he was in third grade. He immediately became involved in the city's youth wrestling and football programs and was an immediate standout in both sports. Just last winter he was the Kansas Class 3A wrestling champ at 152 pounds.
Because Beloit's football numbers are somewhat limited, Spangler will also see time in the defensive secondary, though Koenig said he hopes to rotate some players as much as possible.
Spangler started in the secondary as a sophomore, but did squeak in some reps on offense, averaging 11.4 yards on 20 carries, giving fans a peak at what lay ahead.
He's looking forward to tonight's matchup with Sacred Heart (0-1) and a chance to avenge the Trojans' two losses to the Knights a year ago, 44-38 and 55-30.
"When you lose a game to a team, you're definitely hungry for a win," Spangler said.
And chances are good that the dinner table will be set with a big helping of Spangler toting the pigskin.
(PS: Beloit beat Sacred Heart last week for the first time in the last three attempts. HW)
*********** CA 26 Griswold 74
Week 3 Stats
42 rushing attempts for 256 yards
A Back 21 carries for 161 yards
B Backs 6 carries for 25 yards
C Back 11 carries for 57 yards
QB 4 carries for 13 yards and 7 of 12 passing for 163 yards 2 TD's and 1 Int.
419 total yards of offense through basically 3 quarters of the game
Gave up OUCH!!! 570 yards to them.
17 penalties for 93 yards against us
2 penalties for 15 yards against them....I detect a problem here....
Oh well, we will get better.
Worst officials I have seen in 14 years as a coach. What can you do???? Keep coaching.
Brad Knight
Athletic Director/Head FB Coach
Clarinda Academy
Clarinda, Iowa
(Not as bad as our officials, I'll bet. They were not the reason why we lost, but they sure took a lot of the fun out of the game. They were officious and, at times, downright nasty. I'm told it happens to all the bumpkins like us who pay a visit the Big City. Every penalty required a lengthy conference that seemed more like a meeting of the United Nations Security Council, but even less productive; without any preliminary signal, we could only stand there, as if waiting for a jury to return with a verdict. We threw just three passes and our opponents threw only 17 - yet the game took THREE F--KING HOURS to play! A high school game! And on top of it all, supposedly in the interest of Prostate Cancer Awareness - gee, I had no idea it was so bad, did you? - the refs were throwing blue flags. Gimme a f--king break. HW)
*********** Hugh: We got a big win last night vs. Jacobs High School. We won 14-6 in a constant rain storm. We rushed for 245 yards and QB Connor Buxton was 2-2 for 30 yards and a touchdown pass. We saw a 3-5-3 but against us it was 5-3 with ends coming down the heel line of our ends very hard after initially lining up outside our wings. Jacobs is twice our size and two classifications above us and our kids had not beaten them since 1996. It was a statement game but we have another one coming up next week with McHenry, who has been to the playoffs for twenty straight years in Illinois. We will see if we come to play.

Bill Lawlor, Crystal Lake Central HS, Crystal Lake, Illinois
*********** Hi Coach Wyatt, I noticed in the playbook you make mention of the option. What would be the best way of running it. This is for high school JV level . I have been using your double wing for 5 years now and have kicked the thought of the option around but never really figured out the best way to run it.
Coach, We have all sorts of options that look good on paper and in camps, but we've never gotten too deeply into running option simply because it takes so much of our time and between running the base double wing and having a passing game, too, we just don't have that time.
FRIDAY, SEPTEMBER 12, 2008- "Just be glad you're getting kicked from the rear because it means you're still out front." Mike Huckabee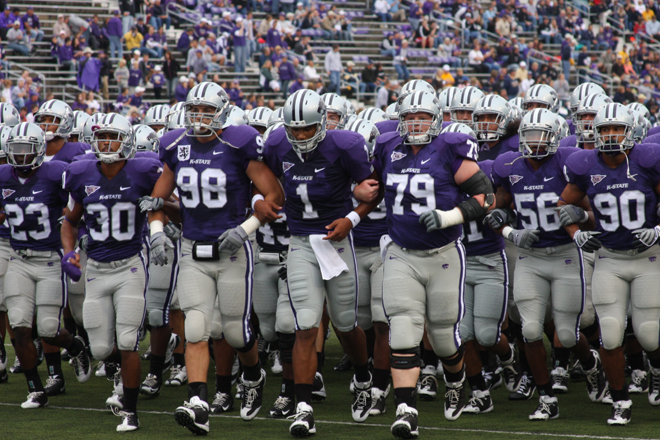 BLACK LION IAN CAMPBELL AND HIS KANSAS STATE WILDCAT TEAMMATES FORM THE "CAT-PACK"
*********** At this point, we've played only one game, and it's still the honeymoon at North Beach High, but our kids have bought in and they continue to work hard and work smart. They are a lot of fun to work with.
No doubt the win itself Friday night was exciting enough, but the convincing nature of it really has the kids believing. Their only win last year was over a team that EVERYBODY beat.
Our kids have done everything we've asked of them and they have begun to see the results of their efforts.
Now we have had to introduce them to the reality - unfamiliar to them - that while you have to work hard to win, you have to work even harder to continue to win.
They have responded well, and after a lackadaisical Monday practice they have been sharper than ever the last three days.
This week, we play Saturday night at Seattle Lutheran.
*********** Coach,

You wrote, "But after all the euphoria of a big win, Monday afternoon's practice sucked. Remember, these are kids who've never before had a winning record - not even 1-0 after one game. They still don't understand that winning a game doesn't end the pressure to get better, it increases it - that the world doesn't stop for you just because you won one football game"

Man are you right on that one! Convincing staff and players, and in some cases parents, that a blowout win doesn't mean you've accomplished your goal for the game is really difficult. Our 1st practice after last weeks 30-0 win really stunk. How do you get the point across that just because a play gains yards or even scores doesn't mean the play was ran correctly, or that we used perfect technique? Film study seems to help but what I keep hearing (not from players) is...the play went for a TD.
Gabe McCown
Piedmont, OK-USA
That's the difference between a coach and a clipboard holder. The coach is always looking for ways to get better and he's always looking for potential signs of trouble down the line. He looks under the hood and checks all the gauges. The clipboard holder simply looks at results. He's caught up in looking at the chrome trim.
You are a coach, and it's hard for some other guys to understand that.
*********** Greg Koenig, close friend and coaching associate in Beloit Kansas, sent me the following note Thursday...
Coach,
I received this message this morning. Luke Denecke started at left tackle (#61) for us the past two seasons. He is a great kid. Last year his mom was in the hospital dying of cancer when we went to Oberlin in Week 8. Luke got to score a 2 pt. conversion on 2 Wedge to honor his mother. She died that weekend, and Luke had an outstanding game vs. Phillipsburg in Week 9. He is now attending Ft. Hays State University. He is going to be a teacher and a coach. I have to admit that this message gave me a lump in my throat this morning. This is why we do what we do. Keep coaching!
Greg Koenig, Beloit Kansas
I was so moved by the thoughts expressed by this young man that I asked for his permission to reprint it, in the hopes that other players might understand the powerful yet short-lived nature of what football means to them, and the importance of cherishing the experience right now...
Coach K,
Hope you and the team are doing well and in high spirits. I am having a hard time making it through a single day without wishing away everything for one more play underneath those Friday night lights. I'm proud to call the BELOIT TROJANS my younger brothers,and I will be there Friday night to support my brothers. You and the team may never know the support you offered me and the amount of strength that I drew from that support. Practices may get hard to get through TROJANS, and when you're down this season, it might be easy to let things slip away. REMEMBER that every time you put your hand on the ground you have something to play for and what you play for tonight might not be there in the morning so never let anything in life go unfinished or half done, for those you play for appreciate the work you do.
In the words of Theodore Roosevelt "If I want a man under me to do a job, I will give him the power to do it, and will say: 'I will take another man. I will take someone else to do it.'If I am trusted to do a job, I want the power given to me and then I will be held accountable for it. But give me the chance to make or mar that job myself."
You the chosen few, lucky and dedicated, wear the Black jersey on Friday nights and I cannot, so I leave with these words: BELOIT TROJANS DO WORK... run down hill... and always HIT HIT HIT
Your brother and teammate,
Luke Deneke
************ Army coach Stan Brock was quoted by someone as saying that his players - or some of them, at least - quit in their last game. I hope he was misquoted, because I don't think any coach - other than an NFL coach - should publicly criticize his players. NFL coaches should do it a lot more, but there's probably something in the union contract that prohibits it.
The rumor is also out and about among Army faithful that the AD, an incompetent ass named Anderson, ripped the Army players in the locker room. Called them an embarrassment, or somesuch. If this is true, and Coach Brock didn't defend his players and throw Anderson out on his ass, then shame on Brock.
Many of these yung men will be leading platoons in Iraq next year. They know Anderson not at all, and respect him even less. He came to Army as a professional fund-raiser type, with zero credentials in the area of athletics. Who TF is he to criticize an Army football player?
Actually, the only thing any AD should say to a team in a locker room is that they've been invited to play in a bowl game.
*********** Hello Coach Wyatt:

Glad to see you are back doing what you love to do. Keeps you young! Last Saturday, while running the sticks at our local HS game, I got to meet coach Chuck Wagner of Springdale HS, Pa. Coach Wagner is 73 years old, and has coached in the 60s, 70s, 80s, 90s, 2000s, and has just signed a contract extension that will carry him through 2111. He will have coached in 6 decades. He looks about 55.

I am writing to ask that you once again register the 2008 Brighton Township Bears Mightey Mite football team for the Black Lion award. It has become a fixture at the annual dinner and the kids and parents look forward to the presentation.

Most respectfully yours,

Mark Rice
Beaver, Pa
***********From a coach in another section of rhe country...We were up 41-7 after the first drive in the 3rd quarter - our second backfield scored with our first line and with about 4-5 min left in the third I cleared the bench for all 3 phases of the game (my mistake for sure - I should have left a few starters on defense). The other coach left his starters in and they scored in one play (we only have 22 kids - so our seconds struggle). So, okay - they get a confidence builder for their starters - fine with me. Then they go on to go hurry up, onsides kick etc. you know the drill. I stay calm... pissed... but calm. Now with 4:30 left in the game their starters punch in a TD to make it 41-27. I know they are going to onside - so I put my first team out there and we recover. We would have marched down for another score, but an untimely fumble almost became a scoop and score (Im sure it would have been followed by an onside kick) - however the kid tripped. To say the least I told my 1st team defense to beat the p--- out of them - within the rules of course. 4 and out and then we wedged 3 in a row and took a knee. Sad to say my days of being a nice guy are somewhat over. I won't pass if we don't need to - and I will get my seconds in at some point (I wish coaches thought about how hard those kids work and how little they get to play), but I'll be damned if I let that happen again. We will hang 60 + on people before we sub in the 4th quarter (not the third) and I will run 2nd backfield behind starting O line in the 3rd with mostly a first team defense. I will not wholesale sub our defense out again. We've won the sportsmanship award 4 of my 5 years here. I'd like to win it in my 6th, but other coaches don't seem to get it - so we will see. Keep Coaching (Why can't guys just say, "We lost to a better team?" I nearly laughed my ass off Saturday when I read the post-game comments of the coach whose team we'd whipped Friday night. Quoted in his hometown paper, he said that several of his key players were ineligible (so whose fault is that?) and he'd been forced to start several freshmen. For the record, we started two freshmen and four sophomores ourselves. He also noted that we had "left our starters in" (after the score was 35-0). Well, yes, I guess we did. We had exactly 18 players dressed for the game, so even when we put in all our subs, we still had four starters in there. Now, maybe I was wrong in leaving them in there, but I just couldn't see any sense in playing with only seven men. I guess the guy was bitter because after we went up and down the field on them (we never punted), it finally took his starters (who were still in the game) the last five minutes of the game to score against our mixture of starters and non-starters. HW)
*********** As a Washington fan who hopes that Tyrone Willingham can turn it around, I admit to a certain prejudice. But my question regarding the "excessive celebration" call against the Huskies' Jake Locker is this - who would have been hurt if the officious official had not made that call?
God, I despise officials like that. Cowards. They let holding go (openly admitting that they won't call it, simply because it is so commonplace) but they go and muck up a game with a call like that and say they're simply going by the rule book.
*********** Hugh: Crystal Lake Central is now 2-0 after a 30-14 victory over Lakes Community last night. We rushed for 300 yards and passed for 70, but we also made a lot of mistakes on a wet and sloppy field, putting it on the ground twice. A-Back Anthony Niemo rushed for 107 yards, B-Back Adam Smythe had 119 and QB Connor Buxton ran for 70. It was a good victory but I don't think we have played anyone close to playoff caliber yet and next week will be a real test for us against a school twice our size. Best of luck next week.

Bill Lawlor, Crystal Lake, Illinois
*********** A non-Double-Wing friend writes -
I wish I could report some good news about (the place where I coach) . But the truth is that we are now 0-2 and suck. Sad, but true. The only way we will win a game is if our opponent just happens to suck worse than we do. I wish I could get my hands on this program and clean it up.
Thanks for the note.
I guess all I can suggest is that you soldier on and keep your nose clean and keep making notes of what you'd do - and NOT do - when it's your job!
*********** You're soon going to be seeing such faux microbrews as Shock Top Belgian White; organic Stone Mill Pale Ale; and seasonal beers Jack's Pumpkin Spice Ale, Winter's Bourbon Cask Ale, Sun Dog Amber Wheat and Beach Bum Blonde Ale.
Don't be fooled. Not for a minute.
They might sound as if they've been made in some brewpub in Portland or Seattle or somesuch place, but in fact they're nothing more than industrial brews made by that good old Belgian/Brazilian firm, Anheuser Busch and its newest division, the Michelob Brewing Company.
Phony bastards.
*********** Haw, haw! Make me laugh. Check out ESPN's depiction of Syracuse coach Ben Schwartzwalder in "The Express," the soon-to-be-released movie ( "based on a true story") about the late Ernie Davis. One thing that Hollywood just can't do is find actors who can play credible coaches. They blew it twice on Bear Bryant.
I have no doubt the movie will dwell heavily on the racism issue. Why not, if you're ESPN? That'll draw in the casual viewers, even if it is at the expense of detracting from the real story - the tragedy of a young man of great courage who died young, before he could achieve the success in the pros that his college career foretold.
Yes, to be sure, there were racial issues in the 1950s and 1960s and many were the black athletes who had to deal with them. But they did. And the Ernie Davis story is less about the yahoos who couldn't understand the concept of racial equality, and more about the strength and courage of the black men - and the good will of many white coaches and teammates - who prevailed and made it possible for there to be an NFL today whose makeup is 70+ per cent black.
From what I know of Ernie Davis, he was a young man of remarkable maturity, class and dignity who would have been uncomfortable to see his life story used in such a way.
*********** Coach Just wanted to give you a update on the 2008 season. As I had e-mailed you before I moved from my old school at Orange High School to open up this brand new high school San Juan Hills. This is our second season and we have have freshman and sophomores this year. We are playing a freelance schedule this year. We have two varsity games this year and 8 JV games. We played our first game on Friday and it was one of the varsity games we are playing this year. We won 35-12. We were winning 35-0 with 9:00 to go in the 4th and emptied our bench for the remaining of the game. We had 245 yards rushing with 2 touchdowns and we had 110 yards passing with 3 TD's. We had all of our backs make significant yards rushing. Not a bad opening for a sophomore only team. Thanks again for all your help over the years. I can say this is complete confidence, as long as I am a head coach, the only offense I will ever run is the double wing.


Greg Gibson
Head Football Coach
San Juan Hills High School
San Juan Capistrano, California
*********** Hugh,
Oakfield-Alabama defeated Elba 41-27. C back Tim Smith gained 114 yards on 13 carries and 3 TD's. A back Jason Stanley gained 92 yards on 9 carries, and starting B back Brad Riner had 16 for 67 and a TD (his backup carried another 17 for 66). We ripped off a whopping 69 runs for 377 yards and went 3-7 for 22 yards passing (actually called 9 passes but got sacked twice). OA dominated in all phases of the game. John Dowd, Oakfield, New York
*********** Hey Coach,
Congratulations on your win last week! Just wanted to "report in", so to speak. Our 7th and 8th grade teams both won this week, 7th by a score of 30-8 and 8th by a score 16-14. Both teams moved the ball well but our 8th graders lost 3 turnovers (all on good drives) plus we didn't convert on a 4th and 2 inside the 5 yardline (how can you go wrong with wedge?). I guess an ugly win beats a pretty loss any day.
Anyway Coach, what I wanted to tell you is how much our execution has improved since last season. I am so proud of our guys! If you remember, back in May I sent you some video of our teams and we used your criticisms as our points of emphasis during the summer and pre-season practice. That plus the PVC hoop idea you showed us at the Charlotte clinic has transformed our offense. Over half our plays in each game were super power or unbalanced Super-o. Our linemen were running circles like champs and our backs did a great job of sticking it up in there instead of trying to bounce it wide. Granted, there were some ugly moments in both games, but overall we have a great foundation to build on. After watching the video I got so jacked up that I wanted to write you to thank you for your help. I hope you have a great game this week! By the way, I'll take any advice you have on how to beat an /athletic/ 5-3 defense (next opponent; we'll start by working on not fumbling the ball).
Jim Crawley
China Grove Middle School
China Grove, North Carolina
TUESDAY, SEPTEMBER 9, 2008- "The truth is incontrovertible. Malice may attack it. Ignorance may deride it. But in the end, there it is." Winston Churchill
*********** NORTH BEACH HYAKS OPEN WITH 42-7 WIN OVER MORTON
OCEAN SHORES, WASHINGTON… It was a glorious evening for football at Lt. Jim Davis Field - 60 degrees and sunny at kickoff time - and the host North Beach Hyaks showed that they intend to end their long striong of losing seasons, defeating the Morton Huskies 42-7.
After kicking off, then stopping the Huskies and forcing a short punt, the Hyaks scored on their first offensive play, as Jamaal Lind, 6-2, 190 pound A-Back, ran right, broke one arm tackle, and outraced defenders 42 yards for a score. The blocking was impressive, none more so than the kickout block of B-Back Kevin Braden, called on to replace injured starter Jason Fry.
It appeared that the game might run into a blowout when the Hyaks stopped the Huskies once more and in two plays drove deep into Morton territory, but a fumble ended the drive, and then a series of mishaps –including an encroachment penalty on fourth-and-four – enabled the Huskies to control the ball for much of the half.
But time and again the Hyaks' defense held firm, until finally free safety Tres Pope intercepted a Morton pass and returned it to the Huskies' three-yard line. Although a blocking-in-the-back penalty brought the ball back to the 33 yard line, it took just three plays for the Hyaks to score, with Lind going the final 19 on a great cutback run to make the score 14-0 just before the half.
Morton came right back, though, driving into North Beach territory, where Derek Archer, doubling as quarterback on offense and corner on defense, scooped up a Morton fumble and outraced everyone on the field – including his "faster" teammates, to score from 73 yards away to make the score 21-0.
With 9.9 seconds left in the half, that just about did the Huskies in, but they did try one more roll of the dice – they onside-kicked to start the second half. The Hyaks recovered, though, and scored in four plays, with B-Back Kevin Braden taking it the final 20 yards on a wedge.
After a wind-aided Morton punt (did I mention the wind coming off the ocean?) pinned the Hyaks on the own three, they drove 97 yards in 14 plays, eating up what remained of the third quarter and putting the game away for good. Old reliable Wedge started and finished the drive, getting the Hyaks off their own goal line, and finally getting them the score.
After recovering the ensuing kickoff (no, it was not an onside kick), the Hyaks then drove 40 yards in eight plays to finish the scoring, with Lind taking it in from two yards out. The highlight of the drive came on a third-and-15 situation following a penalty, when Lind picked up 14 yards off tackle.
With the remaining North Beach frosh and sophs playing the final eight minutes of the game, the Huskies finally punched in a score with under a minute to play.
Fort the night, the Hyaks rushed 43 times for 357 yards, while holding Morton to 131 yards on 41 carries. North Beach did not attempt as pass, while Morton threw twice and had one intercepted.
Jamaal Lind carried 15 times for 200 yards even, while B-Back Kevin Braden rushed 14 times for 76 yards and C-Back Maurice Alfaro picked up 75 yards on eight carries.
Not to say that there is enthusiasm and support for football in the North Beach school district, but making their appearance in our post-game locker room - and wearing their "North Beach Football" caps - were our two superintendents. (Yes, two superintendents - that's a great story in itself.) Contrast that with the fact that in three years of coaching at Madison High in Portland, I never once so much as met the principal.
Next game for North Beach is Saturday night, at Seattle Lutheran, a good Wing-T, 3-5-3 team that opened with a 20-18 win over Darrington.
| | | | | | |
| --- | --- | --- | --- | --- | --- |
| | 1 | 2 | 3 | 4 | TOTAL |
| MORTON | 0 | 0 | 0 | 7 | 7 |
| NORTH BEACH | 7 | 14 | 14 | 7 | 42 |
SCORING:
NB: (9:05 1st) Jamaal Lind, 45 Run (Russell Alfaro Kick)
NB: (2:45 1st) Lind, 19 Run (Alfaro Kick)
NB: (0:12 2nd) Derek Archer, 73 Fumble Advance (Alfaro Kick)
NB: (10:30 3rd) Kevin Braden, 20 Run (Alfaro Kick)
NB: (0:09 3rd) Braden, 2 Run (Alfaro Kick)
NB: (8:06 4th) Lind, 2 Run (Alfaro Kick)
MORT: (0:56 4th) Anderson, 2 Run (Brown, Kick)
*********** What a weekend. Bear Bryant once said that when you when, everything's better - the food tastes better and the girls look prettier.
So we won Friday night, and trust me - Coach Bryant was right.
Not even an eight-hour, 444-mile round-trip to scout our next week's opponent in a Saturday night game could bring us down from our high. Besides, the weather was beautiful during our entire drive, and easterner Jack Tourtillotte got his first look at Olympia, Tacoma (and the Tacoma Dome, where the state championships are played) and Seattle, on one of those days when you wouldn't trade living in the Pacific Northwest for anyplace in the world.
Actually, after a win like that, we could have dealt with the nastiest weather imaginable, but God saw fit to throw in a few bonuses of His own.
Sunday night as we ate dinner we looked out our front window at Grays Harbor, where we followed the progress of a whale as he swam around and spouted. (Tell your tree-hugger friends about that!)
Monday morning, a bright orange-red sunrise silhouetted the top of Mount Rainer, 110 miles away.
So clear were the skies that we could see the snow-capped Olympic Mountains far to the north.
God's in His heaven - all's right with the world.
But after all the euphoria of a big win, Monday afternoon's practice sucked. Remember, these are kids who've never before had a winning record - not even 1-0 after one game. They still don't understand that winning a game doesn't end the pressure to get better, it increases it - that the world doesn't stop for you just because you won one football game.
*********** Hi Coach,
I'm sure you are real busy, but I have a couple questions.
1) When we run 47 xx counter, we face a lot of 5 man fronts. Center blocks
nose, FB takes tackle, but we are constantly getting blitzed by an LB in the
vacated guard slot. Any advice?
If that blitzing is a major problem and it is occuring regularly, then you have to treat that backside LBer as if he is a linemen, which means you are looking at a TNT and you block down across the front
2) My A back is a bull. He is fast and powerful. Any A or C back plays
that can get him running inside(iso, etc)?
My A-Back is probably as good as yours (6-2, 190, 4.6) and we don't do anything special. He runs Super Power, Counter, Sweep. Friday night he carried 15 times for 200 yards and 14 of the carries were Super Powers. We still need to get better at what we're already doing. About the only thing I might consider adding would be Super Power from Stack-I.
3) We are facing the #1 team this weekend and they run a 3-5-3. Any
experience/advice for attacking it? I assume wedge should work.
3-5-3 can be target practice for a Double-Wing team. We face one this week also and if we execute, we could be okay. 3-5-3 is pretty good against spread teams but it is not all that great against a power off-tackle (Super Power, counter). But you will want to make sure that you work hard this week at blocking down.
Good luck to you!
*********** Coach Wyatt, You are right about people changing their defense when they play us. The team we just played (a 4-4 team) runs a 50 TNT defense which they call "Ridgeview" They have never been able to completely stop us over the years and we haven't changed our blocking rules at all.
Good luck tonight!

Mike Benton, Ridgeview HS, Colfax, Illinois
*********** Coach:
Hope all goes as well as it possibly can for you tonight! It's great to know that you are back coaching and I hope your guys know how lucky they are.
Down here at Lake Havasu, the local Pop Warner teams, and they have about 8 teams here in different age groups that play all over from Kingman, Arizona down to Blythe, California, decided to have all teams put in the double wing as their offense. The president of the league made the decision over the winter. He obviously got a lot of resistance from coaches and "experts," but he stuck with it and pulled it off.
A couple of months ago, I ran into one of the coaches and we got to talking football and somehow the double wing came up, and he told me about the league plans to implement it at all levels. I told him about my experience and belief in the system, so all of a sudden they wanted my help. The league president and a few of his guys invited my wife and I out to dinner. Unfortunately, they had purchased a play book off the internet and had already given it to each coach and expected them to use the numbering system that another coach had come up with. Quite a bit different from your numbering system or the one I used, which is very similar to yours. I encouraged them to get online to your site because the numbering system they are going with, requires quite a bit of memorization for these little guys.
Long story short, they felt like they were too far down the road to change, so I gave them a bunch of things to watch out for. Their first games are next weekend, so I'm planning to go see what they look like.
Book update.....I have worked day and night on this thing, writing a book is a daunting task. If anyone thinks it's easy, they haven't written one yet. But the book is done and is being printed, probably 2 weeks away from distribution. Since it's football season now, I doubt if anyone has the time to read it.
Go gettem', Coach! Show 'em what smash-mouth......oops......ball-control football looks like.
Gary Creek, Lake Havasu City, Arizona
Thanks for the note.
I fear for those guys because it sounds as if they got their Double Wing puppy from a puppy mill breeder, and my experience has been that people that start out like that, relying heavily on Internet experts when they run into trouble, ultimately wind up searching blindly for solutions. From there, they usually junk the offense or "tweak" it to the point where it is no longer recognizable. Or effective.
I do wish them luck.
********** Congratulations!! - From the newspaper account I read it seems like you had a very good 1st game. Go Hyaks!! (btw I attended one of your clinics in Birmingham Alabama a few years back.) We moved to South Carolina and I have been out of coaching for 4 years. I found out this past Tuesday that I would be coaching an 11-12 year old team this year. Wednesday we drafted kids and conducted our 1st practice on Thursday. I have 21 kids no assistants in site and no time to plan. I will be breaking out your DW manual and videos this weekend.!!!
God Bless You
Carl Dozier, Cheraw, South Carolina
Coach,
Of course I remember you, and I appreciate the note. It was certainly a memorable opener.
I'm pleased to hear that you're coaching again.
Trust me - you can do it all by yourself until you find an assistant who is good with kids and in harmony with your philosophy.
God Bless you, too!
*********** The Beloit Trojans opened the 2008 high school football season with a 38-14 victory in a game which was not as close as the score might indicate.

Beloit ran their Double Wing offense effectively with 57 rushing attempts for 469 yards and 4 TDs, but they did lose two fumbles on the night. While Beloit opened the scoring with a 26 yard TD pass from junior QB Jordan Adams to senior TE Brett Melton on their first offensive series, the passing game will need some improvement as 2 out of 6 for 17 yards, 1 TD, and 2 interceptions will not get it done. Junior wingback Logan Eck had 21 carries for 244 yards and 2 TDs while senior wingback Cas Spangler had 20 carries for 152 yards and 2 TDs.

The Trojan defense was dominant for most of the game, allowing only 31 rushing yards on 28 attempts and 9 completions on 19 attempts for 124 yards. A missed open field tackle led to the first SES TD, and a short field in the 4th quarter led to their second score. The Trojan defense recorded 3 sacks and 1 interception.

For the first game of the season, it was a solid performance; but there is much room for improvement. With league rival Salina Sacred Heart coming to town this Friday night, the Trojans will have to be ready for a battle.
Greg Koenig, Beloit, Kansas
*********** we won a nice opener for us. we were down at the half but rallied to win 45-26 over Glens Falls

A back Marcus Hepp had 19 carries 274 yards with 5 td's

QB T J McLaughlin had 10 carries for 64 yards

Used a lot of formations and added double over and double under that produced a 15 yard penalty in our favor of an illegal chop block by a crabber.

Next week we go on the road and play our rival Burnt Hills

Pete Porcelli, Lansingburgh HS, Troy, New York
*********** Hello coach I'm going against a football team that has nothing but speed at there skills positions , they have tight splits on the line and I run a 5-3 defense with cover 3 Im thinking of running cover2 to not get beat long on the fly routes and to take away there out patterns and swing patterns to the backs and toss/sweeps. and on defense all he does is blitiz , I like to run the spread offens / and single wing t , Im thinking of running the pwr - I offense and just run right at him to stop that speed. HELP?
With all due respect, it seems to me that you would be best advised to settle on one offense and get better at that. You need an offense that you can run no matter what defense the opposition runs. If you are trying to combine a spread and a Wing-T, you are already trying to do too much. Unless you're jerking my chain, I frankly doubt that a team that's used to running the spread will be able to make a quick and easy transition to a power game anyhow, because your kids will be used to standing up and powder-puff blocking.
*********** Hey Coach,

We are playing a team that likes to run a shade 50 defense. I know that you have put on your web site several times that you don't see much 50.

We aren't sure how this team is going to line up to our two tight set, so I was wondering if you had any advice to share about seeing the 50.

Thanks,
If we run Super Power we will try to Double Team the DE, which forces the corner into primary run support. If we can't Double-Team him because he plays outside, we will make an OFF call and kick him out. In that case, they can expect to see a lot of G.
There is nothing in our package that won't go against a 50.
I don't see how they can run a shade because we can force them to balance.
If they were actually to declare a side, we would call Super Power - Check With Me and automatic to one side or the other.
If they try stemming at the LOS we will snap everything on GO.
Good luck.
*********** Hi Coach

We opened up Friday night with a 48-0 victory over Newfound Regional H.S. We scored 3 Touchdowns in our first 8 plays to put the game away. We were able to play 56 players and a lot of first year football players saw their first Varsity action which was a thrill for them. Our opponent displayed excellent sportsmanship and they played hard until the final whistle. They are a young developing program with a bright future.

Seventeen different backs rushed for 358 yards on 45 carries. We also opened up our passing attack going 2-2 for 40 yards. This week we go on the road for our first league game against the defending Champion Pelham H.S. squad. They were 11-0 last season with 10 starters returning on each side of the ball. I'll keep you posted.

Trish - John Trisciani, Trinity HS, Manchester, New Hampshire
*********** Coach,
I coach at --------- High School Illinois.
I have run your offense successfully now for several years. We have a new high school coach that runs a DW system very similar to yours. He has coached at Joliet Catholic here in IL under Gordie Gillespie some years back. We are in the process of turning around this program. I wanted to ask a question concerning the 3-5 defense. In your opinion...what are the best pass routes against a 3-5 defense?
They are playing Man outside inside zone with cover 2. Seams, Fades drags? Also is it best to have a roll out pocket or quick passes.

Coach,
Gordie Gillespie is one great coach and one fine gentleman. He was a guest at our house several years ago while in Portland to do a clinic. Much of what I do from "slot" formation was a result of that dinner.
In passing, we don't distinguish between one defense and another. Our receivers are all able to run an out, out & up, corner, dig, post, post-corner and fade, each from two or three different set-ups, as well as hitch/slant/fade from spread formation.
Frankly, if we see a 3-5-3, we don't expect to have to pass much because in my experience that defense, designed to work against spread teams which often have no tight end at all, is not particularly strong against a double-tight running team.
*********** Clarinda Academy 74 Shenandoah 14
A and C combine for 476 yards rushing and 7 td's. My C back is averaging 30 yards per carry.
Brad Knight, Clarinda, Iowa

*********** A coach making his first start as a Double-Wing coach writes:
Hugh, we started off slow, was down 12-0 and then put together a 94 yard drive and from then on accelerated. the final was 41 -12, we had 371 yards rushing both A an C over 100 and 60 yards passing for 431 yards. I swear we didn't start moving the ball till halfway through the 2nd qtr. Anyway good luck and I will talk to you later.
Hey ----- You moved the ball. And best of all, you now have some video to show you where you can get better.
It's all about confidence - on your part AND the kids - and that start ought to give you all some confidence!
FRIDAY, SEPTEMBER 5, 2008- "If you wait until you see the whites of their eyes, you'll never know what hit you." President Franklin D. Roosevelt
*********** I was preparing to talk with my players about ways that even good offenses can beat themselves, and damned if Oregon State didn't come through for me with a shining example.
The first way, I always tell a team, is turnovers. We will stress the correct way to carry the ball, and a guy who is a persistent fumbler simply won't play running back, no matter how talented he is. We will control our passes and our quarterback's field of vision and his choices so that the chance of interceptions is minimized.
Next are foolish penalities. We start drills, plays and sprints on our snap count. We do not mix our snap counts very much. We do a few other things as well, but there's no sense giving away something that might disadvantage another Double-Wing team who is doing the same things. And in our blocking drills, we insist that the hands stay hidden. We block the classic, "obsolete" way, and if we do it correctly we should not be able to see the blocker's hands. We tell our players that if we can't see their hands, the officials can't either, and if they can't see the hands, they won't call holding.
A third way is blown assignments, and we are constantly trying to simplify the assignments and our way of teaching them, and constantly testing the players on them.
Finally, there is the matter of dumbass calls. That is totally a function of coaching. Can't blame that on the players. It constantly amazes me the number of coaches I see who can't stand prosperity - they refuse to stick with a successful play and instead insist on showing everybody how many different plays they have in their repertoire.
And it also amazes me how many coaches fail to weigh the upside of a call against its downside. That's where Oregon State comes in. They hadgot the ball inside their own 10, and they called a swing pass. The QB was on maybe the 2-yard line when he threw the ball - to a back who happened to be on the 1-yard line. For those of you on the East Coast who didn't stay up late and watch - the ball was mishandled, and, travelling backward, went through the end zone and out of bounds for a safety.
Two points for Stanford, and Oregon State had to kick. Stanford took the kick and put on a drive for a score that put the game away.
Now consider - We all know what the downside of that call was. So WTF was the upside, anyhow? Maybe getting the ball out to the 10? Whoopee do.
A businessman who made decisions like that would soon be holding a "GOING OUT OF BUSINESS" sale.
Seems to me it was not unlike racing a train to a railroad crossing. The upside if you make? You save a couple of minutes. The downside?
*********** The North Beach Hyaks open tonight against Morton, a big team that beat us last year (as did nine of the ten teams on the schedule). Although we lost our starting B-Back, a 6-1, 205 pound sophomore, last Friday to a knee injury, our kids do seem to be developing a resiliency that apparently has been missing here over the last several years.
We have had a few other injuries that have really tested our ingenuity in juggling game plans, but as LTC Pat Frank of the Black Lions says, "We will find a way or make one."
The loss of a solid B-Back can be devastating to a Double-Wing offense, but we do have a tough, if undersized, backup. We have some size up front, to go with a trio of fast wingbacks, a couple of ends with very good hands and a QB who can throw. We are not without talent. But with our slim numbers (we're now at 24 kids) we haven't had any meaningful contact on either side of the ball, so tonight is sure to bring some surprises.
As we told our kids, tonight's game is just Round One, and all we expect is a videotape that will enable us to see where we need work.
*********** My daughter Julia, a Duke grad who married another Duke grad and settled in Durham. North Carolina to raise three of my grandsons, sent me a photo of an unusual site - a jam-packed Wallace Wade Stadium, where Duke beat James Madison to oppen the season, and wrote,
"And this is after the game was delayed for one and a half hours for lightning. The students were soaked but stuck it out. Apparently Coach Cutcliffe went to their tailgate, asked them to do that first march from the chapel, which they did, then went and greeted them during the delay. Those kids love him. Before the game he asked them to stay in the stands after the win (love that) and wait for another game to storm the field. They did; he was smart enough to send the players over to the students to thank them right after the game as a further incentive to stay in the stands. He also said after the game that he would need to work with his team on celebrating a win, since they didn't really know how and they would need to learn because it was going to keep happening. He's already completely changed the mentality. And the conditioning- the teams, particularly the defense, in the last few years were dead tired by the 3rd quarter. This team stepped it up after halftime. It's so exciting!"
*********** Coach Wyatt, Best of Luck this season, read the newspaper preview. You have some big kids for a smaller school. Read a bit about Ocean Shores, once called the "Richest Little City," the scenery looks beautiful.
Take care,
Mick Yanke
Cokato, Minnesota
*********** Coach Wyatt, I am new to the double wing system and was reading on the "(I WON'T GIVE IT PUBLICITY) " website and saw a mention of a "hockey stick" technique that you had developed. It seemed to be helping several coaches with their teams and was hoping you could explain what it is?
Coach,
It has always been my policy to make sure before I recommend anything to other coaches that I first make sure (1) that I have tested it myself, and (2) that other coaches have been able to take my ideas and put them to use in their programs.
Everything I tell people in my clinics and on my vidoes is the product of actual use in high school football.
At the present time it is being "field tested" by a small group of very good coaches with whom I have worked closely over the years and whose input is invaluable to me.
I will share the information when I am certain of its effectiveness.
*********** Coach Wyatt:

I purchased your playbook and video Dynamics of the Double Wing this summer and so far they have done wonders for my 11-12 year old youth football team. We are going to put in the Wildcat plays next week and wanted to ask for clarification on the depth of the "L" and "R" back? Are they the same depth as the B back in Tight formation 3 yards off the ball?

Additionally, I wanted to get your philosophy on changing blocking assignments week to week based on scouting your opponent. I think it would be simpler to run the offense the same way for consistency and only allow the 9 or 6 call by the end and the TNT call by the Center. My line coach wants to adjust more to the defenses we face.

Thank you,
Coach,
First of all, the depth of the backs in Wildcat is as you thought - heels at 3 yards from the ball. Make sure that the snap is SOFT and LOW (keep the center's tail down, make sure he holds the ball loosely, and puts almost no weight on the ball). And make sure that the backs have their "knuckles on the ground." Otherwise, they won't be able to field a low snap. We work hard on keeping the snap low, and we don't want them spoiling it by trying to imitate a shotgun QB. The whole point of this is to keep the snap lower than our linemen so the defense can't find the football.
As for the blocking --- we teach ONE set of rules, and that is what we apply against ANY defense. Our game plan doesn't change a whole lot from week to week. We are going to run certain things, and the opponents know it, and based on what they try to do to stop us, we are either going to take it to them with our base stuff or hit them where they have weakened themselves in order to stop the base stuff.
People will try to gap us or "TNT" us and for those cases we always have DOWN blocking ready. We do spend time every day on down blocking, just in case (a major reason why we cut down on splits, get back off the ball as far as legal, and keep the inside hand down and inside foot back, taking the correct first step.) If we can protect our inside gaps, we can handle anything.
These blocking rules, I should point out, derive from the old unbalanced line Princeton/Michigan single wing and were adapted to the balanced-line single wing more than 50 years ago at the University of Maine and perfected at the University of Delaware by a line coach named Mike Lude, who now it is my good fortune to include as a friend. These blocking rules have stood the test of time, and their beauty is that we do NOT change them from week to week. Our linemen at North Beach High are being coached by a real Double Wing expert with years of experience in Maine, Jack Tourtillotte, and the blocking rules that they worked on this week (power, counter, trap, tackle trap, G, O, Wedge, G-Reach, Brown/Black) are the same ones they will be working on the final week of the season.
What you find, frankly, is that the defenses will have to change for YOU.
If I suggested to Jack that we change our blocking rules each week, he would probably be on the next flight back to Maine.
Good luck!
TUESDAY, SEPTEMBER 2, 2008- "A ship in harbor is safe, but that's not why the ship is built." Sarah Palin, Governor of Alaska
*********** Here's the Abderdeen World's pre-season preview of the North Beach Hyaks -
http://www.thedailyworld.com/articles/2008/08/30/sports/01sports.txt
Things are good - but not great - in the home of the Hyaks. Last Friday, we lost our starting B-Back, a converted offensive lineman who at 6-1, 205 was a real force on the Super Power kickout block. Fortunately, we do have a backup ready. But in a small school, most injuries to starters mean having to start to reshuffle positions.
*********** As a rule, what do you do against crashing ends?
Coach, Depending on what you mean by a crashing end...
If he is outside our wing, we will deal with him with our fullback or we will G-Block him.
If he is crashing between the TE and wingback, we will do the same as above, and we will also reach him with the TE, and sweep.
We will also counter away, because NO crashing end crashes shallow enough to stop a counter. They all come "deep as the ball," which runs them right past the inside handoff.
*********** 1. Does it bother you that the QB isn't leading through on superpower anymore (it was always a big selling point to me that he had to get dirty like everyone else).
Doesn't bother me at all. To me, the benefits far outweigh any disadvantages. The possibility to lead through is still there. We call the roll-out version Super Power Roll.
2. What do you do if the CB is "falling in and making the play on superpower? (Red Red I assume)
Super Power Keep (and I only tell the QB), and 88 Super halfback pass. C Back comes over the top for the backer inside - about 4-5 steps - then breaks for the corner. QB tosses and runs the stick. A Back runs into the hole, then stops and drops back and throws. Backside G-T-TE all hinge.
3. Now that you don't hand off on sweep or on xx - do you not run 38 black ox anymore??? (or do you feel 47 brown is enough)
Not running a waggle this year - yet
4. Without the threat of bootleg, do you feel there is more of a threat of backside chase?
Lemme tell ya - the Super Criss Cross is death on chasers.
*********** I don't know if you noticed that a majority of the Top 25 teams opened against teams a good step below their level. Just as I had predicted they would, the big-money schools used their 12th game to screw their season ticket holders by charging them full-fare to watch the college equivalent of a pro exhibition game. (Not as bad as a pro "pre-season" game, though, because at least back when they were called exhibition games, the pros actually let their starting quarterbacks play a fair amount of the game.)
One really nice thing about opening against the likes of Coastal Carolina (Penn State's challenging opener) is that it offers a great chance to discipline the knuckleheads on your team without affecting the old W-L record. Take Miami, for example. (Please take Miami, as the old comedian used to say.) The Hurricanes were able to give the appearance of running a disciplined program by suspending seven players for various offenses and - whaddaya know? - still managing to beat Charleston Southern.
*********** I hope that football itself builds character, because there sure are some a**hole coaches who don't. From a youth coach, whose team won, 39-13: Their head coach was the only coach on their staff who wouldn't shake hands with me after the game. He also refused to have his team share a team prayer with us. Now, if he doesn't want to pray - that I can understand, if it's motivated by his religious (or non-religious) beliefs. But atheist or devout Christian, a coach has to be an example of good sportsmanship for his players.
*********** Greetings Coach Wyatt and congratulations on your new venture with the Hyaks. We opened the season with a 19-13 victory over traditional rival Laredo Nixon. We led 19-0 in the third quarter and then they were able to close the gap with some incredible officiating gifts in the fourth. While I have been here five seasons, Martin had not won this big rivalry game since 1999. We averaged over 8 yds. per carry, Sadly, we attempted only one pass and it was incomplete. Oh well. C-back Jerry Delgado scored on the first play from scrimmage (your 99 super power) and had 86 yds on 11 carries. A-back Ricky Munoz rushed 18 times for 97 yds. and B-back Erik Chavez had 5 carries for 110 yds and two touchdowns. My young Defensive Coordinator Matias Ydrogo did an outstanding job preparing our defense, limiting their spread (surprise) offense to under 200 total yds. We are open this week and play our other LISD "sister school" next week. I'll try to do a better job of keeping in touch this season. Thanks for all your help.
Best of luck!

DON DAVIS
Head Football Coach
Martin High School
Laredo, Texas
*********** I heard some network doofus say that Nicholls State's game at New Mexico State had been cancelled, "but they're trying to reschedule it."
Now, wait a minute - WTF is so tough about understanding the difference between "postponed" and "cancelled?" If a game is cancelled, it ain't gonna be played, simple as that.
*********** Give Rick Neuheisel credit - that was one hell of a job of coaching we saw Monday night against Tennessee.
*********** Coach, How are things progressing with your new challenge?

I wanted to share a story with you. We played this past weekend in our league's jamboree. This season's team is brand new to the DW and we are...learning.

We played 4 teams in 20 minute mini-games. We were really rough in the first game, barely moving the ball and making a lot of mistakes.

As we met as a team during the break, getting hydrated and preparing for the next contest, a parent approached me and said, "Hey that offense is not working. You need to dump it. I've got a better offense for you. The kids will like it better. "

At first I thought he was joking with me, but he repeated it. I told him there was nothing wrong with the offense and that all we needed to do was execute and stay with our blocks. He insisted on pestering me, so I told him to please leave the team area so we could prepare for our next game. I am sure I was not as polite as I could have been. I was hot!

We had three more contests to go. After going over where we needed improvement and firing the boys up ( I was certainly motviated for that!), we went out and scored on our first drive against one of the toughest teams in the league. Our next game we tied one of the fastest teams, and whalloped the perennial North Division power in our final match up.

Funny...I didn't see that dad around anywhere after the last game. (Dad pestered the wrong coach. The writer is a long-time Double-Wing coach with plenty of experience in coaching the Double Wing and dealing with ignoramuses. HW)
*********** What I once called Red-Red I am now calling (at least at North Beach) 88 Brown. Similarly, Blue-Blue is now 99 Black. I have three reasons:
(1) For the linemen, there is no difference, so why give them two terms when one will do?
(2) It is the same steps for our QB on 88 Black or 88 Super Power Roll, which is becoming my power play of choice.
(2) If/when our QB comes to the line and automatics to RED or BLUE, he may need to be able to repeat it - RED! RED! - which could cause quite a bit of confusion.
*********** Boy, talk about the anti-Hillary... Sarah Palin. She hunts and fishes and is a member of the NRA. She and her husband ran a salmon boat. If she owned a liquor store, she'd be perfect. And unlike Hillary, she's married to a real man - a guy who races snowmobiles and works on oil rigs on the North Slope. Put a guy with Bill Clinton's goat glands that far away from women and not even the female polar bears would be safe. Come to think of it, somebody could have saved this country a lot of grief if they'd told Slick Willie that a polar bear is a great lay.
********** I am walking a tightrope in regards to not offering a lot of corrections that I hear the other coaches demand but don't follow up on; how can I reinforce to the players the requests the other coaches have made without stepping on the coaches toes (ie – where to line up, saying yes sir and no sir while responding to the coaches, telling them to tackle that guy when we only went through tackling for about a half hour during only one practice, etc)
What is the biggest thing to reinforce to the cornerbacks?
Don't get beat deep.
How do I respond to the questions from the players on what are we going to cover today?
Think of yourself as a substitute teacher and always have an everyday plan ready. Have a list of everyday things that they need to be good at
Drills the receivers can do while waiting for one of the other coaches to come over?
The receivers need to run their routes, they need to practice getting off the ball with a man in their face, they need to practice catching a lot of footballs, and they need to practice running with the ball (and protecting it). And, of course, they need to block.
And drills the cornerbacks can do while waiting?
Sounds as if everybody on the team needs to practice tackling. You don't have to kill each other. Practice good form tackling. And don't take a kid to the ground.
Expand it to an open-field tackle.
Work on back-pedal, and then back-pedal and changing directions.
Work on not getting beat deep - covering a man whose instructions are to beat them deep. If they can't cover a guy when they know it's coming, they will never do it in a game when they have no idea what's coming.
Just a few things to keep them occupied.
You really could benefit from my Safer and Surer Tackling and Practice Without Pads video.
And from being on a different staff.
*********** I think I know what you are going through - We started the season with 27 kids- already have lost 3 to injury and we have one kid who I never know if he will make it to practice or not. (needle to say if he don't show up, he doen't play.) We will take on the Smith Center Redmen on Friday - they have 56 kids out. The same Smith Center team that scored 72 points on us in the first quarter of the first round of the playoffs - We are just trying to survive - Question - how are you running your practices? It's hard to get a full defensive practice in - We can't get a look at the offense. Any suggestions? John Petrie, Plainville, Kansas
Hi Coach, Nice to hear from you. I sure know of Smith Center. Very tough assignment.
I hope I didn't come across as complaining, because I took this job with my eyes open. But as you noted, it's hard, if not impossible, to practice a full defense because you'd just crush your scout offense.
Defensively, we have "inside drill" and "outside drill."
Inside drill formally includes the defensive linemen and inside backers, although we could expand it to the outside LBers as well.
Outside drill can be your usual 7 on 7 although we may add DE's and we may go against an entire offensive unti.
The only time the entire unit is together is for making adjustments to various formations and motions.
Hope that helps.
*********** So let me get this straight...
Michigan pretty much lets Lloyd Carr go and hires Rich Rodriguez, whose first appearance on the Michigan sideline is an inglorious, embarrassing opening game loss to Utah. In the Big House.
Amazingly, the media are already cutting him slack, saying "it's a rebuilding year." Rebuilding? Gimme a break.
As Bo Schembechler once told a young reporter, "This is Michigan, son." Right on, Bo. When you're Michigan, you don't have a rebuilding year.
So, okay, okay. Mighty Michigan, one of the proudest of proud programs, is officially rebuilding. I'm sure all those Michigan fans who lost their minds over Carr's annual loss to Ohio State will be happy to accept that explanation for the lifeless display against Utah.
They're being asked to have patience with a coach whom their school lured away from West Virginia with an obscenely lucrative package. It's as if they went out trolling for a whore who turned out to be an undercover police officer. They're out all that money and the sex is lousy.
So Mighty Michigan is stuck with a coach whose celebrated offensive system has one major flaw that's already glaringly evident - it is so dependent on a quarterback Rodriguez made a phone call to highly-recruited Pennsylvania QB Terrelle Pryor to tell him about his move to Michigan before he even told his West Virginia players... it is so dependent on a quarterback that when he doesn't have one, he is punchless. (In Rodriguez' last game at West Virginia, with QB Pat White injured, his fantastic system of the future produced a meager nine points and less than 200 yards total offense in a loss to Pitt.
For the record. Mister Millionaire is 0-2 in his last two games.
*********** Considering that they desperately want us to take them seriously... does EVERY woman on sports TV now have to show off her jugs and/or legs?
*********** ANY TRUTH TO THE FACT THAT OHIO STATE'S BEANIE WELLS HURT HIS FOOT? Considering it was all they talked about at halftime of the Lousville-Kentucky game, Is there anything left to be said about it?
*********** Clarinda Academy 42 Wayne Community 18
41 rushing attempts for 500 yards
A Back (starter) 16 carries 211 yards 2 TD's and a 20 yard reception for a TD
C Back (starter) 14 carries 241 yards 2 TD's
B Backs (starter and backup) 2 carries for 15 yards
QB was 4 of 6 for 40 yards and a TD (2 INT's as well) something to work on.
Ran 88/99 SP
47/56 C
Super XX 47/56 C
Traps
Red Red/Blue Blue
47 Brown
That's it. Have a ton of work to do, as we were not as good on film as the stat sheet showed, but we will get better.
Brad Knight
Athletic Director/Head FB Coach
Clarinda Academy
Clarinda, Iowa (Coach Knight neglected to say it, so I will - this win was only the second in the history of the Clarinda Academy program! Clarinda is an "alternative correction facility," for kids who have "had contact" with the justice system wherever their home happens to be. That could be someplace in Iowa, but it could be inner-city Baltimore, Washington, DC, and Detroit. I have worked with Coach Knight's kids and on the football field they are typical kids - hard-working and eager to please, and in need of some success in their lives. This win might make a difference in the lives of kids who put themselves in Coach Knight's hands and are now beginning to see how the hard work and discipline and selflessness he's introduced them to can help them achieve success. HW)
*********** Coach Wyatt,
I hope you can help me with my iMovie question. I've gotten no help from my two iMovie books or from those on the Apple message board.

I have some old iMovie projects that I want to get rid of. How do I do this? If I drag all the clips of an old project into the trash, I can empty the trash but it still saves the file. For instance, if I drag all the clips of my 2007 highlights into the iMovie trash and then empty that trash, the contents are gone, but I still have a project in iMovie that says "2007 Highlights."

It also seems like there would be an easier way than dragging all of my clips to the trash. There is no "delete project" or "delete file" that I can find.

When I've asked this same question on the message board, I've been told to drag the file to the desktop trash. (They won't drag.) I've also been told to "right clicK to get a "contextual menu" and select "move to trash." I fear this is something akin to a "snipe hunt" as the Apple mouse doesn't have "buttons" to right or left click.

Anyhoos, I am loaded up on old projects and just need to clear out a lot of old stuff. I thought with as many movie projects as you have, you might know a way to perform this function. Thanks.

BTW--We won our season opener yesterday, 39-13.

In Finder, highlight the file and click on the "Delete" icon - the red circle with the red slash through it.
That will trash everything, clips, file folder and all. And after you empty the trash, you will notice the return of all the hard disc space that frees up.
I am such a packrat that I just keep buying more hard drive storage. It's getting cheaper all the time.
Congratulations on the win!
*********** Don't get me wrong - I am not big John McCain supporter. But the man spent more than five of what should have been the best years of his life in a North Vietnamese prison. I resent anyone who diminishes in any way the contribution of anyone who served his country in a sh--hole like Vietnam, so it really pisses me off when a zero like Jimmy Carter says that McCain is "milking every drop of advantage" from his POW experience.
*********** Remember my gloating over the new policy of no soccer practice on the all-new FieldTurf surface of Vancouver, Washington's Kiggins Bowl? It gets better. There'll be none of that Gatorade bath idiocy, either. Seems that sports drinks can damage the "blades" of the artificial grass and void the warranty!
*********** Coach,

I noticed on your video that when the lead pull man goes straight as to show a kick out is it crucial as to what shoulder he has into the defender,example pull right hit with the right shoulder or to maintain that eye contact up field.
Kickout Right- Right shoulder; kick out left - left shoulder
Another way to say it is "helmet in the hole."
*********** If you thought Coach Holtz' Pep Talks last year were bad, you haven't seen "Dr. Lou" yet. This one is going to get old really quickly. They give him almost five minutes of halftime, and he manages to waste all of it with corny coaching cliches that most of us have heard oh, maybe seven or eight hundred times.
*********** Hi Coach

I checked the NEWS this morning. How awesome to be coaching with Coach Garland (say hi for me) and Coach Tourtillotte.

I saw you had someone email you regarding firing off the ball. We had this problem earlier this week and have made tremendous strides since then by:

1) Show our players our practice video and how high and non-aggressive we were getting off the ball (we film our practices)
2) Showed a film of some of our past teams and how good of a job we getting off the ball.
3) Explained there were 2 reasons for not getting off the ball

1- not enough sled work...driving the sled...staying low...driving our feet...butt down...head up...no holding the sled (extra pushups)...and wide base with our feet as we are driving
2- reemphasis on the blocking rules by coaches and players...to increase confidence...which will lead to more aggressive play

The kids bought into what we were telling them and we have been hitting the sled hard. After doing these things...we have been much more effective driving off the ball the last 2 practices.

Keep up the good work!

Go Hyaks!

John Lambert, La Center, Washington (John Lambert was a solid student and player of mine at Hudson's Bay High in Vancouver, Washington, and after a playing career at Western Washington he was an assistant to me for two years at LaCenter. He was instrumental in helping turn the program around, and after succeeding me he has built the program to a point no one would ever have thought possible. Going into his tenth year as head coach of the Wildcats, he has failed to make the state playoffs just twice. HW)
*********** Can it be possible that Chad Johnson is so full of himself (or so demented) that he has really changed his legal name to Chad Javon Ocho Cinco?
*********** CHECK THIS OUT - http://tom-phillips.info/images/funny.military.htm VERY FUNNY!!!!!
*********** Hi Coach

I am enjoying hearing about your new team and its progress. I especially like the fact Coach Tourtillotte is on the staff!

We are playing our third scrimmage today on Wednesday with a Jamboree Friday night playing one half with game conditions. Trinity with 440 students will play in Division 5 this season. We have scrimmaged Div.1 Central (2200 students) and Division 3 Portsmouth (1000 students) and are getting better every day.

Offensively we rotate 9 backs and are big and getting tougher up front. We have benefited from 2 transfer lineman from public school looking for a better educational environment. One is a 5'10" 265lb. Senior Guard with DW experience and the other is a 6'4" 265lb. Junior Tackle. We also start a Freshman TE 6"4 230lb. and Senior TE 6"4 240lb. Add in a 5'9"225LB. Sophomore Guard and 6"2 260lb. Sophomore tackle and we look pretty good in pads.

We open the regular season Sept. 5th with 58 players. A long way from 18 months ago when we dropped from a league due to low numbers and had to play an independent schedule.

Double Wing football is running strong and we expect to compete for a title at Trinity H.S. Thank you for your assistance over the years and I wish you and your staff and players the best this season. Please say hello to Connie,Jack and Sue.

Trish
John Trisciani
Trinity H.S. FOOTBALL
Manchester, New Hampshire (Hi Coach,I am so glad to hear how well you're doing. You have paid your dues to get to where you are and those kids are lucky to have a coach of your ability and enthusiasm.
We continue to do well, although a scrimmage or a jamboree would be nice before we play a game. Jack is great. He is really having fun. He works the kids hard and cuts them no slack, but he is warm and enthusiastic and they know he loves them.
We are having a blast. Keep me posted and I'll do the same! HW)

*********** I'm still really nervous about our ability to get off the football. I compared our scrimmage footage side by side with my last two 8th grade teams to make sure I wasn't crazy and these guys really are SLOOOOWWWW off the ball.

Did I mention that they can't even move the 5 man sled if I stand on it and they barely move it with no added weight? I actually had a starting center bounce off the first time we hit it. I've haven't seen anything like this...ever. This is a real, real challenge and it is taxing me to the limits of my abilities as a coach. It may be beyond me. I've dealt with idiots in semi pro and undersized kids who want to win, but this is different. The kids look good standing there but they don't seem to bring anything to the table when it comes down to it, and more importantly they don't seem to care either way. If we get a big play there is zero emotion or congrats to the person who scored or from the person who scored (by the team). If we get a bad play they don't give a flip about that either.

The worst thing is our other coaches are ready to give up, settle, and have a bad year. They just don't have the stomach for the fight. At this point I am pretty much alone on making this work.

I don't mean to seem like a whiner. I'm just trying to find an answer.
Coach-
So they can't move a sled. It is what it is. At least now you know what you are starting with.
Don't give up on the kids. Be there with them and for them even after everyone else has given up on them.
And especially don't give up on yourself. You are well qualified and quite capable of at least getting them better than they are. Sometimes that in itself is a great accomplishment. And be patient. No use chewing their asses for what God didn't give them. Progress is going to some slowly. And be quick to praise the slightest sign of improved effort.
They might benefit from a little agility work and a little squat work.
You will all be better off if you don't listen to the naysayers.
*********** Oh, dear God... if only this weren't so true... http://www.peteyandpetunia.com/VoteHere/VoteHere.htm