FRIDAY, APRIL 30, 2010- "A lot of coaches - I mean a lot - take great talent and screw it up." Red Auerbach
************ The way NBA Commissioner David Stern has taken league coaches to the woodshed for criticizing officials, you'd think he owned the f--king league. Either that, or he's in cahoots with the officials, many of whom seem unusually determined to, um "shape" the results of games...
"...coaches should be quiet because this is a good business that makes them good livings and supports a lot of families...

"And if they don't like it, they should go get a job someplace else. I don't mean to be too subtle...

"And if someone wants to try me in the rest of this playoffs, you know, make my day. Because the game is too important and I don't think that the people who trash it are respecting it, and we'll do what we have to do-the players and coaches alike-because they give the impression to our fans that the referees somehow have an agenda."
Bear in mind that this is the same Commissioner who insists that Tim Donaghy was no more than a "rogue referee," acting on his own.
*********** Dear Hugh,
Re: Northwestern-Illinois at Wrigley
Whenever CFB games move off campus, it's usually for the alcohol revenues to be raked in. The NCAA and BigT(elev)en do not allow on-campus sales of alcohol. Minnesota built their new stadium off-campus essentially for the express purpose of widening the loop-hole for in-stadium alchohol sales off-campus. The Chic-Fil-A Kickoff-Classic, World's Largest Outdoor Cocktail Party, Red River Shootout, etc. are all day-long drinking parties loosely organized around a college football game, off-campus. Illinois and Missouri have their own off-campus "Border War" played in St. Louis. Don't tell me that ABinBev isn't raking it in at the Edward Jones Dome.
God Bless,
Tyler Sellhorn
Fort Wayne, Indiana
Quite plausible...
Ditto Army vs Notre Dame at Yankee Stadium (ND's home game!)... Ditto Boise State "at" Virginia Tech in FedEx Field, Laurel, Maryland (4+ hours away from Blacksburg, Virginia, and 15-20 minutes away from the Maryland campus).... Ditto Penn State "at" Indiana, at the same FedEx Field. (FedEx Field is, oh, some 8 hours closer by car to State College, Pennsylvania than it is to Bloomington, Indiana. WTF???
What's next - Alabama vs Auburn in Birmingham? No, wait - they used to do that, back before they figured out they could make more money playing on-campus. Besides, based on the illogic of today's transient "home" games, they'd play in Georgia Dome. Or even the Super Dome. Hey - as rabid as those fans are, you could hold the Alabama-Auburn game in the Rose Bowl and still sell out.
*********** An article in the New York Times suggests that an athlete may perform better in hot weather if he/she drinks a slushie/slurpee before competing.
http://www.nytimes.com/2010/04/27/health/nutrition/27best.html?src=me&ref=general
*********** You want one really good reason why Americans are not going to swallow European-style socialism without being force-fed?
A 2005 World Values Survey found that 71 per cent of Americans see poverty as a condition that can be overcome by dint of hard work, while only 40 per cent of Europeans share that viewpoint.
(Jason L. Riley, "ObamaCare and Immigration Reform," Wall Street Journal 3-29-10)
*********** Clay Travis, FanHouse - Myron Rolle
The Tennessee Titans drafted Florida State safety Myron Rolle in the sixth round of the NFL Draft.
Rolle played college football for three years, but after graduating in 2 1/2 years he gave up his fourth year of eligibility to attend Oxford University on a Rhodes Scholarship.
It is possibly the highest honor that can be bestowed on an American college student. Every year, only 32 American students are chosen as Rhodes Scholars.
Despite the stipulation of Cecil Rhodes, whose will established the scholarships, that one of the criteria for the award should be "energy to use one's talents to the full, as exemplified by fondness for and success in sports", few Rhodes scholars have been athletes of any distinction.
So Myron Rolle especially stands out, because he is not only a scholar but an athlete as well.
He joins such distinguished people as Byron "Whizzer" White, football player from Colorado State, who returned and played for the Steelers, then attained greater fame as a Supreme Court Justice; Pete Dawkins, who won the Heisman Trophy at Army, and went on to become a Brigadier General and then built a second career as a banker; Kurt Schmoke, who played football and lacrosse at Yale and went on to become Mayor of Baltimore; Bill Bradley of Princeton, who would star for the Knicks and then serve as Senator from New Jersey; Tom McMillen, of Maryland, who would play in the NBA and then represent Maryland in Congress; Pat Haden, of USC, who is a successful attorney and serves as an analyst on Notre Dame telecasts.
You'd think the NFL would welcome a man like this as a representative of a true scholar-athlete, but many people in a league that would find a way to play Stalin if he were the best man at his position have questioned Rolle's commitment to football.
Tampa Bay's head coach Raheem Morris actually asked Rolle at the Senior Bowl how it felt to desert his teammates for his senior season.
Say, "desert?"
Asks Clay Travis, in FanHouse, "Would the Tampa Bay Bucs 'brain trust' have asked a player who left college early to play pro football how he felt about deserting his teammates?"
"Would the Bucs have asked a player who was caught smoking pot how he felt about letting his teammates down?
HEY - SMOKIN' WEED AND CHILLIN' IN "GENTLEMEN'S CLUBS" - THAT SHOWS COMMITMENT TO FOOTBALL!!!
*********** Not justifying the Dolphins' GM asking Dez Bryant if his mother was a prostitute, but the media have hammered the guy hard.
Meantime, few are the media types who seem to see anything wrong with asking Myron Rolle how he feels about "deserting"his teammates (to study in England on a Rhodes Scholarship.)
*********** Just in case you think everybody in the Pentagon puts our national security ahead of anything else... The Secretary of Defense announced Thursday that women will be allowed to serve on submarines. With a straight face, he announced that no one in leadership was opposed. Well, duh. Next he'll tell us no one in leadership was opposed to being promoted, either.
It's only going to involve female officers (for now) and it's only going to involve "Boomers" - Trident Class, nuclear missile-carrying subs - because they have "more room." I swear I heard that.
Listen - I've been on a boomer (USS Alaska), and yes, it was one big-ass ship. But every square inch of space on it was put to use, and sailors slept in quarters so tight that if they were felons in a prison, the ACLU would be squawking about their conditions.
This is what you get when your nation's defense takes second place to social engineering and political correctness. Sleep well, Ahmadinejad.
*********** Good morning, Coach.
Have you seen the new concussion rule the NFHS has put into the rule book? Now the game officials get to decide if a player has a concussion or not! If the player shows any of the "symptoms" of concussion, the officials make them leave the game and only medical personnel can get them back in.
So I talked to a couple of the local football guys who also work basketball games with me. Gave them the situation from last year when (my son) Jacob took a shot in the ribs from a cracking slot receiver (he was playing linebacker). Jacob took about 4 or 5 more steps and then went down with the wind knocked out of him. When he got up, he staggered a few times, then caught his breath and was fine. All 3 of the football guys said that - under this new rule - he would have to leave the game and not return until evaluated by "medical personnel" - not just a trainer, mind you.
Not really sure where this is all headed, but I am not really liking it very much.
DJ Millay
Vancouver, Washington
How in the world can most small schools have "an appropriate health-care professional" on hand, and with the threat of a lawsuit ever present, what "appropriate health care professional" is going to send a kid back into the game after he's been sent off by an official - who, by the way, is not likely to be "an appropriate health-care professional?"
The NFHS press release:
INDIANAPOLIS, IN - Effective with the 2010 high school football season, any player who shows signs, symptoms or behaviors associated with a concussion must be removed from the game and shall not return to play until cleared by an appropriate health-care professional.

The concussion rule was one of 12 changes approved by the National Federation of State High School Associations (NFHS) Football Rules Committee at its meeting last month in Indianapolis. The rule changes subsequently were approved by the NFHS Board of Directors.

The previous rule directed officials to remove an athlete from play if "unconscious or apparently unconscious." The previous rule also allowed for return to play based on written authorization by a medical doctor. Now, officials are charged with removing any player who shows signs, symptoms or behaviors consistent with a concussion, such as loss of consciousness, headache, dizziness, confusion or balance problems, and shall not return to play until cleared by an appropriate health-care professional.

"Given that the vast majority of concussions do not include a loss of consciousness, but that athletes often show obvious evidence of concussion, the NFHS Sports Medicine Advisory Committee (SMAC) strongly believes that officials must continue to be empowered to remove these athletes from play, thus protecting them from further injury," said Dr. Michael Koester, chair of the SMAC. "Continued participation in any sport following a concussion can lead to worsening concussion symptoms, as well as increased risk for further injury to the brain and even death.

"The safety of the athlete is of paramount concern during any athletic contest. Officials, coaches and administrators are being asked to make all efforts at ensuring that concussed athletes do not continue to participate. Thus, coaches, players and administrators should also be looking for signs of concussion in all athletes and should immediately remove any suspected concussed athlete from play."

*********** Hey Coach,

Well, they just won't let me ride off into the sunset. I was running your offense in the late '90s when everyone thought it was a gimmick. Then I was promoted(?) to an administrator in a brand new school that had merged two high schools (one was mine) and I helped behind the scenes with the football program. Then I was moved again to run the district alternative school. The local high school hired a new young coach to resurrect a dead program. He remembered my(your) offense from the '90s and asked permission to get me to help. We finished 5-5 and finished 2nd in the region and hosted the 1st round of the playoffs; a first in a while there. I was moved again and told not to coach because of my position. The same young coach has now been hired to take over another program in the county and told the superintendent only if I came along for the ride. Here we go again.
I guess I need to update my materials and was wondering what changes have been made since the 2nd Edition(my bible). I have all of the training videos except Dynamics II that I loaned out to an upstate coach and it vanished....go figure. Get me updated Coach and I hope all is well. Jim Ferdon
Coach-
Congratulations. That young coach sounds like he's wise beyond his years.
You do have some catching up to do, but you can do it. I haven't updated my playbook but I've really evolved. Too bad you couldn't get to my Durham clinic.
Go here--- http://www.coachwyatt.com/prod.html
My first suggestion would be to get my two "Virtual Clinics" ($89.95 for both) and a copy of my 2008 highlights DVD ($29.95). That ought to get you up to date.
You already know the language so you will understand everything I'm talking about on the clinic videos.
Welcome back!
*********** Hugh,

I heard an interesting take recently at and FCA dinner on the bullying-type language that you spoke about in your News. Wish I could remember the coach, but he had previously coached at a Christian college in Illinios. Anyway, he said they had a portion of practice where they actively practiced "put ups." You know, the opposite of put downs. He asked his players to focus, in addition to the physical aspects of practice, on praising their teammates during a 5-10 minutes practice session. Sounds a bit touchy-feely on the surface. Having given the idea some thought it seems like it should be a very effective practice for developing commaraderie, confidence, and a better team enviroment. This is not to say that mistakes should not be pointed out. But, like I tell my kids when they get on each other in negative (non-constructive) ways, "your wasting your energy on something that isn't helping you or your teammate be successful."
Todd Hollis
Head Football Coach
Elmwood High School
Elmwood, Illinois
Coach,
This was part of Frosty Westering's mantra - "put up or shut up."
But contrived "put-ups" aren't me. I think that near-forcing kids to invent positive things to say about other kids verges on phony self-esteem building. I think that kids are a lot wiser at detecting phoniness than we give them credit for.
But we can - and should - combat bullying/hazing at all times.
That's a major reason why I believe in making respect - giving it and getting it - a bedrock principle of my programs. That means kids respecting each other, coaches respecting each other, kids and coaches respecting each other. I extend that to respect for the community (including police), the school and its teachers and administrators, and parents/family. And to the game itself, including opponents and officials. (I have had to work really hard in that latter area to set the proper example.) And for our program and its rules.
What they learn is something Americans in general don't seem to be learning - that they don't have to like each other, but that as part of membership on the team they do have to treat each other with respect.
It starts with me. I let kids know right from the start that I will give them unconditional respect, and all they have to do to keep it that way is to show respect themselves. It's a rare kid that doesn't want to be repected.
I believe very strongly that it's my job to cultivate and maintain an atmosphere of respect at all times, even down to the point of eliminating such cleverness as going "quack-quack" when the QB throws a wobbler.
*********** So they want to elinminate all of those exciting KOR's for touchdowns? Why again? This seems so contradictory to their stance on tying the hands of the defense up so as to keep the scores high.
Ben Rushing
Fort Worth, Texas
Most of the excitement of the pro and college kickoff is about gone, anyhow. Considering how far back they've moved the kickoff line and still kickers kick it out of the end zone, I predict that soon they'll just start out with a first down on the 30 or thereabouts.
I've long maintained that the kickoff should be one of the most exciting plays in football, and the penalty for kicking it out of the end zone - depriving the opponent of the chance to return - should be placement of the ball at the 40.
And - to increase the chances of an onside kick - kick off from the 40.
At the very least, it could take one roster spot away from a kicking specialist.
But if they really want to make the game safer, they should just eliminate tackling and be done with it.
*********** Police in Monroe, Washington nailed a guy with 372 pounds of cocaine in his car. Wow.
They also noticed that the guy had stickers on his car indicating that he favored "ANIMAL-MAN-LOVE." Uh, oh. Time to put on the rubber gloves.
He was accompanied by his (female) German shepherd, of whom the police said he was "strangely protective."
Turns out the guy had a farm in remote, rural Washington where, according to the Associated Press, "visitors could engage in twisted sex acts with animals."
Twisted? As opposed to normal sex acts with animals?
*********** Want to make some fast money?
Alabama fans can't get enough of the Tide, right? I mean, there were 90,000 people at the spring game in Tuscaloosa.
So get this -
Alabama is playing at Duke this year. That's right - at Duke. In Durham, North Carolina, a mere 9-1/2 hour drive from Tuscaloosa.
Duke's stadium seats under 40,000, but as bad as the Devils have been for the last several years, they never sell out.
They will sell out for the Bama game, of course, thanks to all the Bama fans who'll drive over, but there will be many, many Alabama fans who won't be able to buy tickets. Which means that they might be willing to purchase a couple from you... if you were smart enough to purchase season tickets, which include the Alabama game.
So here's what you do --- Duke sells reserved-seat season tickets for only $200 and General Admission season books for $135. There's even a family plan - four season tickets for $250.
But I suggest you act fast - Alabama fans will go to great lengths to watch their Tide play, and they could get there before you. There are plenty of them willing to pay $135 for a Duke season ticket just to watch the Tide play - and then throw away the rest of the games.
TUESDAY, APRIL 27, 2010- "Everywhere I go, I'm asked if I think the universities stifle writers. My opinion is that they don't stifle enough of them." Flannery O'Connor
*********** The NCAA Football Rules Committee has outlawed wedge formations of three or more players on kickoff returns.
A 15-yard penalty will be called for a team forming an illegal wedge. It will be considered a live-ball foul, regardless of whether there is contact between opponents, and the penalty will be marked from the spot of the foul or from the spot of where the kick returner was tackled (if it's behind the spot where the illegal wedge was formed).
A wedge will not be illegal if the kick is from an obvious onside kick formation.
The NFHS is expected to follow the NCAA in outlawing the kickoff wedge.
Damn shame for all those guys who made careers for themselves by showing their fearlessness as wedge-busters
*********** A Portland "psychotherapist" and "conflct resolution educator" wrote in the Portland Oregonian about the way kids today are verbally bullying, boosting their self-esteem by putting down others with shots like this...
"You're so stupid! You ran the wrong way!"

"You can't play. We have enough people."

"You throw like a girl."
Wow. I have to confess that by today's standards, we bullied. In a very matter-of-fact way. Like this...
"You guys have to take Timmy (somebody's little brother)."

"Timmy, you're in right." (Timmy knew we couldn't trust him in the field.)

"Timmy, you're up last." (Timmy knew we knew he couldn't hit.)
As for today's more modern bullying, that wouldn't have happened very often in the old days. I guess back then kids were smart enough to figure out what they had to do to put an end to it...
"You ran the wrong way?" Unthinkable. EVERYBODY knew which way to run.

"We have enough people?" Well, duh. Where were you when we chose up sides?

"You throw like a girl?" Learn to throw right. Nowadays, lots of girls do. Actually, we had a girl in our neighborhood named Myrt Touhy, and she was as good as any of us. She'd have been the first to tell a guy that he threw like a girl. If he did. But in those bygone days when most of us were self taught, without benefit of personal coaches, I can't recall any guy ever throwing like a girl. Not more than once.
*********** Notre Dame AD Jack Swarbrick is on record as saying that his "highest priority is maintaining football independence."
But if the Big Ten decides to add five teams, weakening the Big 12 and eviscerating the Big East, and the SEC adds Texas and Texas A & M and then makes a move on Miami, or Florida State or Georgia Tech, and the ACC moves to defend itself...
Notre Dame could be left standing alone, scrambling for people to play. NBC, Notre Dame's very own network, wouldn't like that.
*********** It looks like the University of Oregon has still not found the "right guy" for their basketball coaching position yet. Interesting considering what you wrote about the job a while ago.

I am a little biased but as a northern Illinois guy I was really put out that they fired Ernie Kent. He grew up and played in Rockford, Illinois at now closed West High School. He has gotten back to Rockford for some events and has always been great. He is a hero to a town that needs some.

What makes them think that they can find a better man is beyond me.

John Bothe
Oregon, Illinois
Coach,
Oregon is in a bad spot right now, short a basketball coach as well as an AD to hire one. And with a brand spanking new arena set to open next year.
I can understand your bias. I also like Ernie Kent. I remember him from his days as a player at UO. He is a good man and the kind of guy you'd want coaching your son.
BUT- and that new arena and all its yet-to-be-sold seats has a lot to do with it - it is a business, and the fact is that with Ernie as coach, business has been bad the last several years. The wild enthusiasm of the basketball crowds is gone. So, for that matter, are the crowds themselves. People haven't been coming to the games. The Oregon athletic dept. has a lot of bills to pay, and basketball hasn't been bringing in its share of the revenue.
Many people think that Ernie was in a no-win situation the last couple of years, and that the decision to keep him on as long as they did, motivated by the university's regard for him as a person, wound up doing the program great harm, since he was like a dead man walking. In what everyone considered a really, really bad year for the Pac-10 overall, Oregon had an especially bad year.
Ernie Kent isn't the first good man to be let go, and he won't be the last.
And meanwhile, an athletic department that needs to make a sensational hire to try to restart the enthusiasm seems unable to convince anyone to replace him.
I'm a little surprised UO did not have a guy in their back pocket before they made the move with Coach Kent. I know the ethics are questionable but in this day and age a college has to do their homework before they fire someone. Tell me Notre Dame didn't have a good idea that Brian Kelly was going to bite before they fired Charlie Weis? I know a school is not supposed to contact a coach before their is an opening but everything is handled by their agents now.
Ordinarily they'd have been on this, but in effect they had no AD.
They had a real, professional AD named Bill Moos but he and Phil Knight (Nike) and a few other alumni had their differences and they bought him out.
One of the rich alumni, a guy named Pat Kilkenny, replaced him.
On Kilkenny's watch Mike Belotti hired Chip kelly from New Hampshire and from that point on it's anybody's guess how and why things happened. What we do know is that after a good year Kelly became a hot commodity and in order to keep him, Oregon made him head coach-designate.
And shortly after, Belotti was offered the AD job and he stepped down as football coach in favor of Chip Kelly.
Belotti, then, had to fire Ernie Kent, a guy he'd known for years. I'm sure it was not a pleasant task.
Not long after that, Belotti "resigned" as AD to take a job at ESPN. But he was paid $2.3 million, which as we all know is not customarily done when a guy truly resigns. And the UO president, when questioned about paying severance money to a guy who resigned, as much as said that they needed somebody with more experience in the AD job.
So right now they have no AD, and Kilkenny is out trying to find a basketball coach, as one player after another transfers out and recruiting is nonexistent.
And Bill Moos, the AD they deposed, has just been hired at Washington State.
Who knows where Mike Belotti will wind up? Guy can coach.
*********** Flash--- I heard the new Oregon basketball coach today. Sounds like a good man, but wait -
He said he was looking for "guys who want to play as a team and play unselfish basketball."
Wow. Those guys are hard to find these days.
Makes you wonder how he's managed to do as well as he did at Creighton, where he's spent the last 13 years or so.
*********** The Number One Little League Father of all time has to be Maurice McDermott, Sr.
This, from Wikipedia...

Mickey McDermott was the third son of Maurice McDermott Sr., a police officer and former minor league baseball player. Maurice, replaced at first base on the Hartford Senators in the Eastern League by Lou Gehrig, had determined one of his three sons would grow up to be a baseball player and fulfill his dream, but his first-born son, Jimmy, died at the age of seven and his second son, Billy, was born with deformed legs.

Mickey McDermott started playing first base, his father's position, until his coach at St. Mary's Grammar School noticed that his ball had a natural curve when thrown. By the time he was playing in the parochial school league for St. Patrick's High, he was averaging twenty strikeouts per game. McDermott played for the semi-pro Ferrara Trucking Company at the age of 13 against adults and some major league baseball players moonlighting to pick up some extra money. He went to his first tryout, also at the age of 13, with the Brooklyn Dodgers.

Mule Haas, a scout for the Dodgers, said that he wanted to sign McDermott, but because of his age it was illegal. At the age of 15, his father changed his birth certificate to make it appear that Mickey was 18 years old. Joe Cronin, general manager of the Red Sox, did some research and found out McDermott was only 15. Cronin and McDermott's father worked it out so that McDermott's father got a $5,000 signing bonus and two truck loads of Ballantine Beer.
*********** We've all heard about "outing" gays. But what would you call this? "In-ing?"
In Philadelphia, state Representative Babette Josephs has accused her opponent of being a heterosexual who is merely pretending to be bisexual in order to pander to the district's GLBT (in case you're not hip, that's Gay-Lesbian-Bisexual-Transgendered) "community."
"I outed him as a straight person," Josephs told attendees at a fundraiser.
The nerve of her, calling him straight.
Her opponent, Gregg Kravitz, called Joseph's remarks offensive, saying that he is sexually attracted to both men and women.
*********** The draft on the NFL Network turned into a panel show, a bunch of guys talking right over many of the draft selections. The panel? Charles Davis was good; Corey Chavous seemed to have had some good things to say but he used way too many words to say them, and it's really hard for me to listen to him; Mike Mayock? No sooner had I finished telling my wife, "he talks too much" than his voice cracker and had to go to the sidelines on Saturday.
The highlight of the draft for me was when John Harbaugh came on and took a shot at Mayock for being quick to criticize players who won't play hurt.
*********** The rousing ovation that Roger Goodell received from fans at the opening of the third day of the NFL draft may have been the first time I've ever seen a commissioner of any sport received warmly. Wait till the lockout.
************ The baffling trend of playing college football games in major league ballparks continues.
Army and Notre Dame will play in Yankee Stadium this year, and now comes news that Northwestern and Illinois will play their 2010 game at Wrigley Field.
WTF?
Wrigley Field, the second-oldest ballpark in the major leagues, was the home field of the Chicago Bears from 1921-1970. (Delighted to be able to play in what was then a state-of-the-art facility, owner George Halas named his team the Bears because they were bigger versions of Cubs. True story.)
Hard to say what's in it for two schools with nice stadia of their own, moving their annual game to a place which is small even as baseball fields go and downright miniature by college football standards.
But size is just one of many, many reasons why the Bears no longer play in Wrigley Field. A ballpark - sorry, Yankees; sorry, Army; sorry, Notre Dame - is a terrible place for a football game.
As one who remembers Bears' games in Wrigley, I'm just waiting until the first kid gets knocked cold running into that ivy-covered wall.
*********** "Let the celebration begin," goes the commercial, featuring NFL players, most of them wide receivers. Lotsa dancin' and assorted jackass antics.
Thanks a lot, Verizon.
*********** The pill has now been with us for 50 years, and there are numerous other birth control devices available, along with information on how to use them. There is Planned Parenthood, eager to hand out free condoms. And, of course, there are sex education classes in American schools.
And still, studies show that 1/3 of all pregnancies in the US are unplanned.
*********** Coach Wyatt--
Just read through your news from this past Friday. One thing that I do (just started) with my guys is essentially reading a book.
The book we use is, Make The Big Time Where You Are, by Frosty Westering. I'm sure that you have read it. I first read Coach Westering's book about 4 years ago and was just amazed at his insight on winning, leadership, competition, life, etc. I offer the leadership class to my seniors-to-be on Tuesday morning from 7:40-8:10. We first met on April 6 and will continue this through June 1. (8 weeks). All nine of them are taking advantage of the training. I have my copy of the book and made copies of most of the pages for the guys to read. I will reuse the copies year-to-year. I also created a training packet of my own that goes with the reading so I don't get too off course during our 30 minutes together. I would be willing to share any of that information with anyone that is interested.
Looks like your yearly clinic tour is almost over. I hope that you have enjoyed it. I know I certainly enjoyed Chicago. Thanks for everything,
Clay Harrold
Head Football Coach
North Cedar High School
Stanwood, Iowa
Great choice. Frosty Westering - long-time head coach at Pacific Lutheran U - is well known to all coaches in the Northwest and his philosophy was important in helping me get my eyes off the "big time" and realizing that my ambitions were keeping me from being as effective as I could be right where I was.
*********** With all the football metaphors available to the draft analysts, did you notice how many times it was said that this team or that "hit a home run" with a selection?
Look for the guys at NFL headquarters to take care of that one before next year's draft.

*********** Wow. George O'Leary was found to have a false entry on his resume - a claim to having taken a course he never took. As a result, O'Leary, a good coach with solid credentials, had to step down from the Notre Dame job he'd just been offered.
Everyone agreed that O'Leary was wrong, and life moved on. (The Irish, it should be noted, have yet to recover.)
In upstate New York, it's been revealed that a guy who'd just been offered a head coaching job at an Albany high school had padded his resume by inventing a career as a pro football player, and the job offer was withdrawn before the board could approve it.
Similar cases, right?
Not exactly. See, George O'Leary is white. The guy in Albany is black. And the reporter who uncovered the phony career is - are you ready for this? - white.
Sadly, he has had to deal with accusations of racism. Personally, I consider it racism to imply that a black man should be held to a lower standard - to suggest that it's okay for him to lie.
By JAMES ALLEN, Albany Times-Union
First published: Monday, April 26, 2010

First came the answers. Then came the questions -- and the outrage.

I've written thousands of articles over nearly 21 years, but I've never experienced anything quite like the reaction generated by my April 16 story on Robbin Williams and the Albany High football coaching vacancy.

To recap: Williams was set to be named the new coach at the school district's Board of Education meeting April 15.

I had learned Williams was going to be Albany's choice a few weeks earlier, but I knew very little about him and found myself scrambling to try to get a phone number to interview him. I finally got in touch with him April 13. The first thing I asked him that evening was, "Robbin, tell me a little about your background."

What I expected to hear was something about Williams that I did know: that he previously coached at Hudson Valley Community College. Or, perhaps details about his family. The routine stuff.

Instead, he immediately talked about his career as a football player.

Williams explained that he was a replacement player with the striking Washington Redskins in 1988 and played on the first Albany Firebirds' Arena Football League team in 1992.

When Williams told me about Washington, I just figured he mistakenly gave me the wrong year -- as anyone who knows NFL football knows, the strike came in 1987, not 1988.

But when he told me about the Firebirds, an alarm immediately went off in my head.

Through newspaper assignments and my work covering the Firebirds on radio, I was around the team its entire run in Albany. The Firebirds' first season was 1990, not 1992. I didn't remember Robbin Williams as someone who ever appeared in a game. Only after discovering an archived story from 1991 did my memory get jogged that coach Rick Buffington brought in a local player named Robbin Williams after training camp started. He never made the roster that season and never appeared in a game with the franchise.

After completing my first interview with Williams, I started making some phone calls. It was then that I learned Williams made references to attending six NFL training camps and being with the Albany Firebirds in 1993 and 1994 on his resume. Those claims needed to be checked into.

The day before Williams was to be named, I contacted three NFL teams Williams listed on his resume: the Washington Redskins, New York Giants and New England Patriots. They all had no record of him ever attending a training camp or playing in a preseason game. He did have very brief tryouts -- most one-day looks -- with those teams. He was not with the Firebirds in 1993-94.

I then contacted Albany athletic director Kathy Ryan to inform her of the issues I discovered with Williams' resume. The school interviewed him and decided not to forward his name to the Board of Education for final approval.

Once the story ran in the paper, the phone calls, e-mails and blog posts poured in. Falcons fans were not happy.

People who have known me for years wondered why I would delve into Williams' resume in the first place.

People who have liked my work for two decades and found little to complain about were suddenly questioning my motives and my integrity.

People who didn't know me weren't very flattering in their assessment of my work on this story. I was told I had ulterior motives -- that I was out to get Albany High. I even was called a racist more than once because I'm white and Robbin Williams is black.

In other words, a number of the people who read his saga wondered why I pursued this story, or assumed the answer.

The real answer is the story chased me, not the other way around, once Williams started talking and facts started getting fractured. I simply wouldn't be doing my job unless I looked into something I knew was wrong.

I didn't write Robbin Williams' resume, nor did I force him to tell me sketchy details about his playing career. In both instances, he chose his own path.

He no longer is a candidate for the Albany coaching job, and the path of the program without a varsity victory since 2007 still founders. The school is still searching for an answer to reviving this program. An honest answer.

James Allen can be reached at 454-5062 or by e-mail at jallen@timesunion.com.
*********** Is Tim Tebow the first first-round draft choice to be home schooled?
*********** Following a death threat from a radical Muslim group, Comedy Central cut out a portion of a South Park episode that might have been construed as insulting the Prophet Muhammad. Now, in retaliation, Seattle cartoonist Molly Norris has declared May 20th "Everybody Draw Mohammed Day."
Norris has asked other artists to submit drawings of any religious figure to be posted as part of Citizens Against Citizens Against Humor (CACAH - I have a feeling it rhymes with "kaka") on May 20th.
*********** WOW. 54,000 people were in Franklin Field to watch the Penn Relays, a reminder of the days when track was a major spectator sport in the US.
*********** The best PR firm in the world has to be the one that remade Jimmy Clausen's image over the last several months to the point where we woke up one day to discover that Jimmy was being included in the QB-talk along with Bradford, Tebow and McCoy, and therefore we were all supposed to be shocked that he wasn't a first-round draft choice.
*********** Before NFL Commissioner Roger Goodell announced the suspension of Ben Roethlisberger, Bob Cohn in the Pittsburgh Tribune-Review reported that more than eight of 10 Western Pennsylvanians polled were calling for either a fine, a suspension or a trade.
61 percent of those calling themselves Steelers fans said he should be fined or suspended, and 23 percent said they wanted a trade. Only 9 percent favored no disciplinary action.
Gender didn't seem to make much difference: 61 percent of the women and 59 percent of the men polled favored some sort of disciplinary action, and 24 percent of the men and 20 percent of the women endorsed a trade.
Surprisingly, younger fans, who might ordinarily be expected to be more tolerant, favored a trade more than older fans. Among women in the 18-29 age group (Roethlisberger's prey?), 38 percent wanted the Steelers to go with another quarterback, higher than any other group of females, and the 28 percent of men ages 18-29 in favor of a trade was also higher than for any other age group.
*********** Coach, First gotta tell you I love your invention of the Demo Deck, very good idea! My question for you is can you get it in additional formations or does it only come in double wing double tight?
Jason Mensing
Head Football Coach
Tecumseh High School
Tecumseh, Michigan
Coach,
Thanks. I have worked with other formations, such as slot, but I find I run into the problem of there being a lot more variables in what the defenses might do.
Last season, however, I did make some up for one Wildcat formation.
FRIDAY, APRIL 23, 2010- "Never think you've seen the last of anything." Eudora Welty
PHOTO ESSAY - MY VISIT TO POTTSVILLE!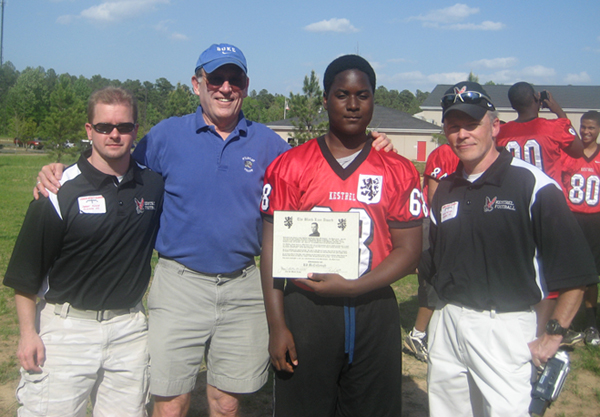 The presentation of the Black Lion Award at Kestrel Heights School, Durham, NC followed last Saturday's clinic - (L to R): Coach Derek Wade, Kestrel Heights; Coach Wyatt, Black Lions' administrator; Black Lion Award winner BJ McCullough; Coach Dave Potter, Kestrel Heights ----
*********** The Planet thanks those of you who were so into celebrating Earth Day that you went without electricity for 24 hours even though that meant missing the first round of the NFL draft.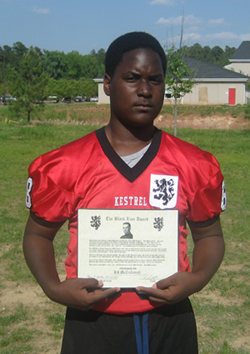 *********** I have mailed out hundreds of Black Lion Awards, but I rarely get the chance to actually present one myself. I had that rare honor this past Saturday, when following the Durham clinic, I was asked to make the presentation to BJ McCullough, of Kestrel Heights School. I could tell by what I'd seen of BJ during our brief workout earlier in the afternoon that he was the kind of kid we'd all like to have more of - coachable, respectful, hard working and intelligent. BJ, it turns out, is just a freshman(!), but this past fall, in Kestrel Heights' first-ever season in high school football, he was pressed into service as the starting varsity center.
(That's BJ on the left.)
I'll let his coach, Dave Potter, take it from there. As part of his letter nominating BJ, Coach Potter wrote,
In his first year, he was thrown in to the deep-end of the pool where simply surviving was the goal. However, BJ not only survived but excelled. In game after game, he would fight, claw and scratch with every ounce of his ability to "win the objective." When he was hurt or injured he would refuse to come out. He worked too hard to leave the field or sit on the bench. BJ leads by example and is an inspiration. If "exhaustion makes cowards of us all," then BJ defied the cliche. While he got tired, he never quit, he never backed down. His physical toughness was exceeded only by his mental toughness. In game after game, BJ would be bruised, bloodied and battered, but he would not come off the field of play. Like Don Holleder, his determination and toughness inspired others. He stayed cool under pressure. He led by example. Pain took no toll on him. He never let down his teammates, nor himself.
*********** It used to be that teaching, while not particularly well-paying, was at least secure. Not any more.
All over the country, hundreds of thousands of teachers are being notified that their jobs may be eliminated.
In California 22,000 teachers have been put on notice, and Illinois officials predict 17,000 teacher layoffs.
Secretary of Education Arne Duncan estimated that state budget cuts could endanger as many as 100,000 to 300,000 public school jobs, and a survey by the American Association of School Administrators found that 9 of 10 superintendents expect to lay off teachers before the next school year starts.
***********Betting on games is anathema to our sports leagues, but in Australia betting may have alerted sports officials to the existence of big-time cheating.
Australia's National Rugby League (NRL) has stripped the Melbourne Storm of two premierships (championships) , after it was discovered that the club had paid its players $1.7 million above the league's salary cap over the past five years.
It seems the Storm kept two sets of books. In statement released by the NRL, it was revealed that "the Storm maintained a dual contract system and the club has today confirmed that side letters promising extra payments were stored in a secret file at the home of the Chief Executive. The accounts were structured in such a way that it would appear the commitments were not apparent to either the Melbourne Storm Board or its owners."
Well before the NRL's action was announced, though, savvy bettors knew that something fishy was going on.
Betting is legal in Australia, and it's customary for bettors to wager on which team will "win the wooden spoon" - finish last.
With the Storm favored to win the league premiership, odds against them winning the wooden spoon were 250-1, so bookmakers noticed something amiss when they began taking an unusual number of large bets on the Storm to finish last. The odds they'd offered put the bookies in a bad spot.
"We took three bets to win $10,000 and another to win $8000 for the Storm to win the wooden spoon, all within 10 minutes of each other this morning," Sportingbet Australia spokesman Bill Richmond said. "You don't take a series of bets like that unless someone knows something, and we have suspended betting on the wooden spoon as a result."
*********** Coach,

I hope you are doing well. Raining here in KC this morning, we needed it though.

I was wondering if you have ever had your teams read a book together? I have heard of coaches doing this with their teams but I have never put a project like this together. What do you think some good titles would be for a team to discuss in regards to team building and such?

Keep in mind where I coach and if there is one thing they can do well it's analyze literature!

Thanks,
Sam Knopik
Kansas City, Missouri
Hi Sam---
Great idea.
I have given it some thought in the past and rejected it, for three reasons-
1. Time with my players is scarce.
2. The expense of buying the books - (Although I could just read aloud. I know what inflections to give, and I do know from my teaching days that even high school kids can enjoy being read to)
3. The intellectual level of the kids. (Maybe it was unfair of me to sell them short.)
I guess #1 was my main objection. Or maybe just inertia.
Now that I think of it, I am less inclined to reject it.
I can think of many good "football books" that will give kids a lot to think about and discuss besides football. Looking at my shelves, here are ten - (Not necessarily in any order
1. Just finished it - "The Teammates" by David Halberstam. It's not even a football book. It picks up four old Red Sox greats - Doerr, Pesky, DiMaggio and Williams - nearing the end of their lives, and goes back and traces their careers as individuals, but especially as teammates. It's a good read as is anything by David Halberstam, and although it's a short book, it's quite deep in the serious life topics it addresses.
2. "Ten Men You Meet in the Huddle" by Bill Curry - writes about the ten men who most influenced him in his career - coaches, players and even a writer (George Plimpton) --- broken up in lesson-size chapters.
3. "Our Boys," by Joe Drape - a season with Smith Center (KS) High School football team
4. "Gifford on Courage" by Frank Gifford - hard to find - examples of great courage by athletes in different sports - also in bite-size chapters
5. "The Game That Was," by Myron Cope - hard to find - interviews with many of the pioneers of Pro Football, most of them now dead. Really helps kids understand how the game has evolved, and how tough life in America once was
6. "Never Before, Never Again" by Eddie Robinson with Richard Lapchick - the life story of a great coach
7. "A Civil War" by John Feinstein - a timeless look from the inside at the preparations of the Army and Navy teams as they prepare for the big game
8. "Gridiron Gauntlet," by Andy Pisarcik. In a series of interviews, twelve of the first blacks to play in the NFL tell what it was like to be a part of the integration of the sport
9. "The Glory Game," by Frank Gifford. A look at "The Greatest Game Ever Played" - the 1958 Colts-Giants NFL title game - from the viewpoint of one of its most respected participants. Great reflections on team and teammates by many of the players
10. "When Pride Still Mattered," by David Maraniss. I am prejudiced. I know David Maraniss and I love anything he writes. This biography of Vince Lombardi is a masterpiece.
There are others, but these would all be on any list.
If you want to get deep and non-football, the floodgates are open - "Band of Brothers" is excellent, as is David Maraniss' "They Marched Into Sunlight."
I didn't think "When the Game Stands Tall" (about DeLaSalle HS) was well enough written to be worth a recommendation.
When you get into advice-books like "Good to Great" I think you might get kids starting to ask among themselves, "Why are we reading this?"
I think that you need the hook of football (or at least sports).
Back to football - Quiet Strength (Tony Dungy) would make my list, but there might be objections owing to his unabashed Christian outlook. There's no point in stirring up problems in the community.
I try to stay away from current coaches and athletes, mainly because I know that it's not their writing, and I'd like for there to be a literary component to the book.
I made the exception for Eddie Robinson.
Bill Curry's book, near as I can tell, is his writing.
"The Sweet Season" by Austin Murphy is good. It tells of the author's season spent with the legendary John Gagliardi, at St. John's College in Minnesota.
And in Willie Morris' "The Courting of Marcus Dupree" a great writer masterfully intertwines southern high school football and the recruiting of a superstar with the Civil Rights struggle in Mississippi
*********** Larry King interviewed Oregon State basketball coach Craig Robinson recently, probably because he is Michelle Obama's brother, and in a twinkling of an eye angered millions of Oregonians.
TIP FOR SPEAKING LIKE A NATIVE: Do NOT try to sound pretentious by saying ARR-i-gahn, as if it's some place in France or Spain. It does not sound like "argon," the gas.
It's more like "organ." A native says "ORE-uh-gun" and says it fast - really fast - almost for fear that somebody might actually hear the word "gun." (Wouldn't want to violate any zero-tolerance policy. Guns are fine and dandy - a way of life, even - in most of Oregon, but the part of Oregon where most weenies live, a narrow strip that runs for about 100 miles along I-5 from Eugene to Portland, is about as anti-gun as New York or Washington, DC.)
*********** Coach,
Great photo essay on Pottsville. I was surprised you did not make it to the stadium Pottsville HS plays in - Veteran's Memorial Stadium:
http://www.pottsvillefootball.com/stadium.php
It's a WPA stadium and just oozes history. It's built right into a hillside. I coached at Reading, PA one year and we played at Pottsville. That was one of the highlights of my coaching career having to climb (old school) a ladder up to a crow's next build into a light tower. What a view!
Todd Bross, Union, Maine
Oh, I made it to the stadium. It's a sight to see. I took a few photos, but none better than the one on the Pottsville Football site.
Yes, it is a WPA stadium and would have been perfect for the Maroons themselves, who had to make do with a lot less. Maybe they could have lasted a little longer if they'd had a nice place to play.
Pottsville HS actually has a separate basketball building - Martz Hall - with permanent seating. It is not your basic roll-out-the-bleachers high school gym.
Gen George Joulwan, a former Pottsville HIgh star who went on to start for Army, wrote me, "Pottsville is a great town and wonderful place for sports. A Friday night High School football game is a special event."
Meantime, thanks in no small part to my property taxes, Camas, Washington is constructing a stadium second to none...
| | |
| --- | --- |
| | |
| The stadium last Wednesday; the tower is the press box elevator | The steel towers and "castles" will support the roof (all decent stadiums in the rainy Northwest are covered) and the press box |
| | |
| The stadium a few days later, on our return from North Carolina | Overlooking all the construction, our usual family of ospreys |
*********** "NFL players are held to a higher standard," said commissioner Roger Goodell, explaining his suspension of Big Ben.
Uh, Commish - "higher" is a comparative word. Higher compared to what?
*********** Comments on the NFL Draft (or should I say "NFL Linemen Draft"?)...
Hand it to the NFL. They made sure that all those high draft picks that they invited to NYC were nicely dressed and not pimped out (like Michael Irvin).
And they handed them caps that fit properly, too - real ball caps, with bent brims yet - so it was difficult to turn them askew.
But then, after they were selected, they were turned over to Neon Deion and the jive talk ensued. (Question: is Deion relevant any longer?)
Maybe it's me, but I thought the first round was b-o-o-o-o-ring.
Yes, Sam Bradford went first, but then, with the exception of two running backs, one of whom was Clemson running back C. J. Spiller, taken by the Bills (great pick) the rest of the first 20 guys chosen were linemen and defensive backs.
Yes, linemen are necessary. Yes, they help a team win. And yes - so do defensive backs. But, jeez - the League claims it's selling excitement, but a draft of mostly lineman and defenders is not exactly a thriller. Who besides draftniks knows who any of these guys are? I just can't see the average fan buying a ticket (or, more likely, turning on his TV set) in order to watch the big dude at left tackle hold his man.
The NFL is in the entertainment business, and somebody ought to remind its leaders that it was only when the public stormed the gates to see Red Grange (a running back) play that the League showed any pulse financially.
*********** I actually heard NFL draft guru Mike Mayock, a man excessively given to NFL jargon, say that one problem with a certain offensive linemen was that his arms were only 33 inches long. Gimme a break. That kind of scoutspeak, that near-slavish reliance on measurements, explains why the NFL spends so much money on scouting and yet, in view of the high number of draft choices that never make it, gets so little in return.
*********** The newly-hired coach at one of our area schools was quoted in the local paper as saying, "I want to raise the self-esteem of my players so they can be not only good football players, but also better people in general who will stand a better chance of being successful when they graduate."
Oh, boy. Raise that self esteem. Uh, isn't there something else that comes first, before self-esteem?
"Nice job, fellas. We got beat, 45-0, but you were great. Give yourselves a big hand."
Did he say "better chance of being successful?" Show me the employers who are waiting for all those former players who think their God's gift to mankind, whose self-esteem is sky-high, even though they've never done a damn thing to justify it.
*********** Certain elements may be doing their damnedest to kill football, but they'd better pack a big lunch, because it's going to be an all-day job. Football - high school version at least - is stronger than ever.
According to annual high school athletics participation surveys conducted by the National Federation of State High School Athletic Associations (NFHS), the number of boys playing high school football is more than that of the next two sports (track and field, basketball) combined.
Not only that, but the number of boys playing high school football continues to increase, showing a jump of 35,000 from 2006-2007 to 2008-2009, the largest increase by far of all high school sports.
The following figures are for the 2008-2009 school year, followed by the increases (+) or decreases (-) vs the 2006-2007 school year
Tackle football (11, 9, 8 and 6-man) 1,139,202 (+35,000)
Track and Field (Outdoor) 558,007 (+2,000)
Basketball 545,145 (-11,000)
Baseball 473,184 (-4,000)
Soccer 383,824 (+6,000)
*********** The late Commissioner of Baseball, A. Bartlett (Bart) Giamatti was a college classmate of mine. Good guy. Before becoming President of the National League, he was President of Yale. He had something to say back in 1988 on the subject of the special power our society confers on a great athlete...
Whether the athletes like it or not, whether the sportswriter likes it or not, whether you like it or not, the sports section is the only place in the paper where there are any heroes, where a modern society finds authentically larger-than-life figures who do something better than anyone in the world.

Object to the hero worship; deplore the values involved; say what you will: millions of people, and not just children, will live in awe or have their lives changed by the image and supramundane aura of these athletes.

The power of any great athlete in any society in the world is immense, and it has been thus for millenia. Anyone who can raise the general mass of humanity out of itself, even for a moment, by doing something that teaches us again of how free from mortal constraints we can be - and still be seen as one of us - deserves all the awe he or she can get.
It's the immoral abuse of that power by a Ben Roethlisberger, a Pacman Jones or a Tiger Woods that leaves those of us who love sports with a sense of betrayal.
TUESDAY, APRIL 20, 2010- "Learn as if you were going to live forever. Live as if you were going to die tomorrow." John Wooden
********** We keep hearing about pro athletes jumping from one team to another because they want "a ring," but the truth is, few athletes who win championship rings ever wear them.
The Yankess' Andy Pettitte just received a World Series championship ring - his fifth. He says he'll never wear it.
"A few years ago, I built a little display case in my den for the rings," he said. "I've never actually worn them. I'm not the type who wants to attract attention."
C. C. Sabathia received his first ring, and said, "I won't be wearing mine. Most of them are huge - you don't want to be walking around with those things. To be honest, I haven't seen anybody wearing one for years.
*********** I came across this recently. It refers to a military officer, but it's excellent advice for any assistant coach who finds himself disagreeing with his head coach...
"The responsibility of an officer is to argue a recommended decision as vigorously as facts and principles allow, but once the decision is made, and though it be contrary to what he proposed, he is to carry it out as though it were entirely his own."
*********** Our booster club is going to get a camera. I was going to get the same one I have - Sony HC62. It has Super Steady shot, and is mini dv format. To my dismay best buy does not sell this type of camera anymore, and sony does not list this type of camera anymore either. I know they are the best quality, and like you - I like their ease of use - bring a few tapes wherever, rather than having to lug an external hard drive around. Furthermore, I don't know if any of the new ones come with a remote (most of the touch screens you have to sit there and use right next to the TV). What are you using now? What would you recommend? Is it time to switch to High Def. (I don't think you can burn high def. DVD's yet anyway can you?).
Quick answer- Only Sony and Canon even mess around with Mini-DV any more. In consumer terms, it's not a big enough market. The market has been flooded with much lower price cameras that give the average Joe all he needs - not to mention all the digital cameras (and cell phones) that shoot short video clips.
Mini-DV isn't really available any more in many consumer-level cameras. You have to go to their "professional" cameras, and there is quite a jump in price from consumer to professional-level cameras.
SONY makes two reasonably-priced professional cameras that shoot in Mini-DV. Both will shoot in HDV or DV format, and both offer you the "compact flash" option as well
HVR HD1000U is the lower priced one ($1799)
http://www.sonystyle.com/webapp/wcs/stores/servlet/ProductDisplay?catalogId=10551&storeId=10151&langId=-1&productId=8198552921665551067#compatability
It is very good but it's a shoulder-mount. That means it's heavy (about 6 pounds)
HVR-A1U is the one I'd buy ($2499) -
http://www.sonystyle.com/webapp/wcs/stores/servlet/ProductDisplay?catalogId=10551&storeId=10151&langId=-1&productId=8198552921665185977
It has all the features of the lower-priced one and it's only 1-1/2 pounds so it can be hand held.
They both appear to have remotes but I can't remember the last time I used a remote because I seldom use a camera as a player any more. I make DVDs and play them, saving wear and tear on my camera. I don't like to use my camera as a tape deck. The original tapes provide me with the ultimate backup, and for editing, I find it's a lot easier to edit tape than to edit a DVD.
My main camera is a DCR TRV900. I paid about $1200 for it in 2000 and it still does a good job. It's what they called a "prosumer" model, between professional and consumer. I only use it for games. I have a couple of other lighter, more portable cameras that I use for camps and practices. Unfortunately, Sony has discontinued the DCR TRV900
CANON's GL2 has been out for some time and it's well thought of. Its recommended price is $2799
http://www.usa.canon.com/consumer/controller?act=ModelInfoAct&fcategoryid=227&modelid=7512
*********** I don't know the writer, but I was copied on this, a letter from a former player and assistant to the great Mike Lude, and I wanted to share it, because it's the sort of "pay" a coach receives that's far greater than money. Tell me you wouldn't like to have one of your former players or assistants writes this sort of thing about you. It's obvious that the writer let out a lot of emotions that have been bottled up over a lot of years...
I know all of you on this list either as "family" or former teammates or former workmates or by reputation. I wish to address the the subject matter of Mike's letter to us. OUR OWN HERO. And no one fits that position better than Mike Lude. All of you , even my kids (whom I am sending a copy of this) have been "touched" by Mike's life as he has woven it into ours. To all of us Mike and Rena have been teachers, friends, family and role models. Mike is the brother I never had and my Father when I lost mine. The short history of our more than 55 year relationship. Interwoven in this short history you will discover why Mike Lude is my real HERO.

Mike recruited me out of high school. We were playing basketball in Salisbury MD and I knew in advance that he would be there to witness my athletic prowess. Our coach for some reason did not play me and Mike and I had a short discussion after the game. He offered me a "scholarship" (based on need) at Delaware. How he knew that I had any athletic ability just by watching our warm-up, I have no idea. Once I was at Delaware he made a player out of me. Ethan Stinger and I still hold the record for having played in the most "Monday Nite Bowls". For my last three years, Mike worked every nite after prax on my "short snapping" until I got 10 consecutive "snaps" in the box. (I never knew until I was coaching just how much time that took out of his day.) Then he must have convinced "the Admiral" that I could snap better than anyone else and I "won" a letter for each of my last 3 years. He went 2x to the school to get me re-instated. I failed English so many times that when I did graduate and looked for my first job I had an "English Minor" and in fact taught 9th grade English at Newark Jr. High.

As I was teaching there Mike got me "hired" as an assistant/assistant coach for Delaware. He even made it possible for me to borrow Jim Flinn's motor bike to go to Phila. and back with the film of our games. (I received "travel $" for each mile.)

When Mike left for Colo. State he hired Paul Lanham who had been at Del. , but was then coaching at U. of Dayton. And at that point made sure that I got Paul's job . Then when we got fired he paved the way for me to go to Lebanon Valley. And then, to my great joy, he hired me at CSU. Mike spoiled us (the staff) for any other coach. He was fair beyond belief. When he went home at night , he always came by our offices to make sure that we were on the way out , too. (I don't know if ever knew that Bill Hickey use to hide under his desk and even when Mike opened the door to check on him there was no one there. On second thought, I am pretty sure that Mike always knew.)

Mike never let us even think of failure. We always found a way . . . !! He encouraged me to be myself - not just to imitate his coaching techniques. He always wanted us to express ourselves. His and my discussions during staff meetings at Spring Practice time were legendary and usually scared some of the newer coaches. But, we exchanged ideas and I am sure that I learned more than he did. (Or, did I??)

After we were "let go" he contacted all of us about every 10 days. And, I still hear from him on a regular basis. Years later he offered me a job on his Admin. staff at Washington, but I was still hung up on wanting to coach. (Another lost opportunity to learn and be creative.)

All of Mike's players and associates were good - some were just better than others. And we all were sure that we fit into the latter group !!! (When I had been coaching a while and began to understand what I should have been as a player - we discussed my abilities. "Oh, you were a Great One . . ." As I reflect on it, maybe I was.)

Even in the heat of his discussions with players, staff or superiors, Mike was respectful. We were taught by him that all of our families mattered. His insistance that our kids call he and Rena - Uncle Mike and Aunt Rena has lasted through the years and they often remind me that I have failed to keep them informed of "Uncle Mike's whereabouts."

There are not enough words to say "Thank You" . Except, to say "Thanks" for it all. We (your extended family) will always be indebted to you and can only repay you by treating others the way you have treated us.

Thanks for everything Mike and Rena. We love you. You are our HEROS.

Much love and respect -
*********** In a USA Today survey, asking whether baseball should ban smokeless (chewing) tobacco, 47 per cent of all respondents answered "yes."
But here's the scary part - 53 per cent answered "No - not until it's banned for everybody."
If you didn't see anything wrong with the way that was worded - "not until it's banned for everybody" - you may be ready to become the slave of the state. Do you really believe that that day will come? If you believe in liberty and independence and someone asks you a question like that, your first instinct should be to ask, "And just who TF has the right to ban chewing tobacco for everybody?"
What's next? Chewing gum? Soft drinks? Salty snacks?
*********** FROM CHARACTER COUNTS - A recent study of more than 10,000 people by the Josephson Institute of Ethics shows that the younger you are, the more likely you are to be cynical. This is important because cynics, regardless of their age, are far more likely to lie and cheat in both their personal and work lives (see below).
The correlation between cynicism and age is striking. Only 11% of people over 40 are cynics compared to 47% of youngsters 17 and under and 35% of those 18 to 24 (19% of those 25 to 40 are cynics).
This turns out to be a big deal because cynicism is a powerful predictor of conduct. People who believe lying and cheating are a necessary part of success are nearly four times as likely to deceive their boss (31% v. 8%), three times more likely to inflate an insurance (6% vs. 2%) or expense claim (13% v. 4%), or lie to a customer (22% vs. 7%). They are also one-and-a half-times more likely to cheat on their taxes (20% vs. 13%).
*********** Um, I know that Michael Vick was convicted by a jury, and Ben Roethlisberger (thanks in part to a cop who undoubtedly had a little help writing up the incident) had charges against him dropped, but is cruelty to animals really a crime on a par with the actions Roethlisberger has been (very plausibly) accused of? Guy's an egomaniacal bozo.
*********** Joe Barry Carroll, former NBA star, has filed a discrimination suit against an Atlanta tavern. Based on what I've read, this does not sound like some bogus " I'm very sensitive and my feelings were hurt" case.
Evidently Carroll and another black man were asked to give up their seats at the bar so some young white women could be seated.
When they refused to give up their seats they were asked to leave.
The tavern owners say that this is a house policy, and they routinely ask both white and black men to give up seats when women are standing.
But whoa - as my daughter said, this isn't a bus. It's a bar and in a bar gentleman are not normally expected to give up their seats, especially in the very enlightened age we live in, when there are plenty of harpies who are offended when you hold a door open for them or offer them your seat.
I suspect that the owners are going to have a hard time defending themselves against racial discrimination charges, after testimony by former employees, who claim that back at the time of the 2003 NBA All-Star game, the tavern took several steps to discourage patronage by blacks, including...
Dropping Hennessy Cognac (a favorite of young urban males) from the menu;
Ditto Heineken Beer;
Playing country music exclusively;
Displaying a large banner saying 'WELCOME RODEO FANS" (there actually was a rodeo in town at the time);
Hmmmm.
*********** Take me out to the ball game...
IN CHICAGO: White Sox fan Paul Nemeth took his six-year-old son to Opening Day, as millions of men have done with their sons over the last century or so.
But when his son had to go to the bathroom, he had an experience few other men have ever had.
As he and his son waited for an available urinal, Nemeth said he heard noises coming from one of the stalls, and looked done and saw a man's legs ("clad in blue jeans and sneakers," according to the Chicago Tribune) sticking out from under the door.
"The toes were pointing up," said Nemeth. "The legs were shaking and quivering. From a visual standpoint, all you had to see was the legs quivering to know something was going on."
Finally, the guy, um, "finished," and emerged from the stall. "His arms were straight up, like in victory," Nemeth said. "Everybody was hooting and hollering and giving high-fives.
"It was disgusting. Probably the most disgusting thing was the encouragement this guy received from the other guys in the bathroom. You can't even go to a baseball game anymore without being subjected to this?"
IN PHILLY: A bunch of drunken louts at a Phillies' game bombarded a father and his two daughters with vulgarity and beer, and spit at his 11-year-old daughter. The father, an off-duty Easton, PA cop, showed admirable restraint and reported the bums to security, which removed them. But wait! That's not all! Another drunk proceeded to harass the family, topping off his act by sticking his fingers down his throat and projectile-vomiting all over the dad and the 11-year old.
Here's dad, telling about it: http://sports.yahoo.com/mlb/blog/big_league_stew/post/Phillies-fan-allegedly-throws-up-on-11-year-ol;_ylt=AkAHBcD6k0G4VQR4xIyzTVARvLYF?urn=mlb,234711
*********** Spirit Airlines has decided to charge people for carry-on luggage.
New York Senator Chuck Shumer, never one to pass up a chance to get on camera or in front of a microphone, somehow sees this as the government's business, and has been raising hell about it for all to hear.
Of course, Mr. Shumer doesn't have to fly commercial with the great unwashed, or else he'd sign my petition calling for the firing squad for anybody who (1) stuffs more than one item in an overhead bin; (2) stuffs overly-large things overhead; (3) Puts something in the overhead bin that would have fit under the seat in front of him; (4) sticks his stuff in a bin above someone else's seat - screwing whoever will be sitting there - then waltzes to his own seat several rows farther back; (5) brings on a "carry-on" that she can't lift off the ground, much less into an overhead compartment, and then plays "poor me."
*********** Want to get a veteran's blood boiling? Tell him about some guy who claims to have been in combat - and wasn't. Or claims to have won a military honor - and hasn't. It's called "Stolen Valor," and there's a book by that name.
I can tell you that the same sort of thing exists in football. I've experienced it ever since I started coacjing in smipro ball, back in 1970, and guys would come to me and tell me they'd played with this or that NFL team - as if I couldn't check 'em out. But I had my ways, and 90 per cent of the time, they turned out to be total phonies.
Today, even though it's far easier to check a guy's story, they still keep trying, as you'll see in this story by James Allen in the Albany (NY) Times Union
Robbin Williams' appointment as Albany High football coach is on hold so the school can take a closer look at his resume, school officials said Thursday.

Williams' hiring was all but certain two days ago, and he was expected to be approved by the school board Thursday night. Prospective football players were told they would meet their new coach Friday afternoon.

That all changed when the Times Union raised questions about the validity of the resume Williams presented to the school before being interviewed.

It's another delay for a troubled Albany football program. The position has been open since Pete Porcelli resigned more than four months ago. The team hasn't won a game since 2007, and the new coach will be the fourth in the past four seasons.

A copy of Williams' resume, obtained by the Times Union, states he has an extensive pro football background, including participation in six NFL training camps, and says he was a member of the Albany Firebirds in 1993 and 1994.

To attend an NFL training camp, a player must sign a contract with the team. Officials from three of the NFL teams listed on Williams' resume -- the Washington Redskins, New York Giants and New England Patriots -- confirmed Wednesday afternoon no one named Robbin Williams ever participated in any games or had been invited to a training or free-agent camp.

When questioned Wednesday evening, Williams stated he had tryouts with six NFL teams lasting one to two days. He said he never signed with a team or attended a training camp. He said he couldn't specifically remember what he wrote on his resume.

Williams also told the Times Union he was a member of the 1988 Washington Redskins as a replacement player. Replacement players were used in the NFL for three weeks during the 1987 season while the regular players were on strike. Williams never appeared in any game and could not give a specific amount of time he was with the team.

Williams also said Tuesday that he "played with the Albany Firebirds during their first season in 1992." The Albany Firebirds were a member of the Arena Football League and played at the Knickerbocker Arena, now the Times Union Center, from 1990 through 2000.

A story that appeared in the May 21, 1991, edition of the Times Union regarding area players trying to make it with the Firebirds included Williams, who signed a few days earlier, but who was cut before Albany's June 1 opener. The last sentence from the article was a quote from Williams, who said about his fervent desire of making the Firebirds' roster: "Just to say that I was there, just to say to a little kid that I used to play with this pro team."
When asked Tuesday about his time with the Firebirds, Williams said he never appeared in a game for the franchise.

He was then asked if he was a practice player with the team, he said, "You could say I was a practice player." Williams said he was with the Firebirds for "about one month."

On his resume, however, Williams states being a Firebirds' team member in 1993 and 1994.
Williams met Friday morning with Albany superintendent Raymond Colucciello, principal David McCalla and athletic director Kathleen Ryan to discuss his resume. Albany City School District spokesman Ron Lesko said Thursday night the school will look further into the resume.

Albany appointed a 15-member search committee to find a replacement for Pete Porcelli, who resigned Dec. 5. Williams was one of three finalists for the position. Another candidate, former Albany baseball coach Joey DiPiazza, removed his name from consideration March 16.

Williams, who has worked for 22 years at the Albany County Correctional Facility, played at the University at Albany from 1984-86, had previous coaching stops at Hudson Valley Community College, Shenendehowa, Christian Brothers Academy and Albany Academy. That information has been confirmed by the Times Union.

Asked if anyone on the search committee checked Williams' resume, Lesko said, "All of the pieces of the resume that directly related to the job as coach were checked thoroughly."
*********** Brad McCoy, head coach at Graham, Texas, resigned, just a few months after taking his team to the state Class 3A finals. Coach McCoy is going to work with an organization designed to help young men grow into leaders. We've all heard the old bit about getting out of coaching in order to spend more time with the kids, but in this case it's believable - This year, Coach McCoy will have one son, Case, playing at Texas on Saturdays and another - fella named Colt - playing someplace on Sundays.
*********** Ben Rushing, of Ft. Worth, sent me the following link
http://www.reporternews.com/news/2010/mar/29/tarleton-st-freshman-fatally-injured-on-field/
and wrote,
Don't know if you saw this, but it looks like the nanny state has more ammo to regulate football. Sad story to hear. No medical explanation was provided in the article, but rumor has it that he had concussion like syndromes a practice or two before. I feel bad for the young man, things like this don't happen very often. But there is one thing I know, there will be a big fuss made over this and it is unfortunate that in such times the emotions are high enough to where very few take a reasoned and sound approach to issues like this event.
Tragic. And another log on the fire for the foes of football. We would never have developed cars, or motorcyles, or even bicycles or scooters in today's overly-protective climate.
*********** Hugh,

I need to thank you for the help and assistance that you provide all of us double-wingers out there. Reading your News this week I came across a comment that shook me a bit and opened my eyes, hopefully making me a better coach.

The comment was made by a reader who helped his varsity coach prepare for a double wing team. His comment that the opponent was the type that (my words) "lined up double tight double wing and beat their heads against a wall to run super power" really hit home for me. I am and have been that guy, but I think I fought against doing too much else (despite your suggestions) out of pride, stupidity (I took over here at the the age of 24 and your Dynamics video was the only thing I had, so I held on to it tight), and lack of confidence in our kids' ability to absorb it. That single comment made me aware that I have handcuffed myself as a coach and my kids as players.

So, I need to:
1. stretch myself as a coach in terms of formations and my understanding of how they can help give me an advantage
2. prepare myself as a coach so that once something has been stopped by the opponent, I know what to go to (rather than guessing or being stubborn)
3. coach my coaches and players better so that they can run multiple formations and the base plays out of them (they can do it, I just haven't trusted them to, I guess)
4. work on throwing the ball rather than looking at the forward pass as a sin - there is a time and a place and sometimes it is necessary and appropriate

Again, thank you so much for all you do for us. It is greatly appreciated.

Your further suggestions are welcomed (and desired).
Introspection - the ability to look inward, is a great asset to a coach. It is a wise coach, indeed, who can see in another coach's mistakes ways to improve his own program.
Of course we all enjoy the basic simplicity of our offense, and executing it to near-perfection. But there is such a thing as too much simplicity. To go along with simplicity our system offers breadth - the ability to run a relatively few plays in a wide variety of ways. To refuse to do so is to make the defense's job easier. We play the game to win, not to make some sort of personal statement, and when we insist on limiting our arsenal to a handful of plays from one formation, eschewing the passing game entirely, we are every bit as guilty of vanity as the coach who goes to a couple of clinics and decides he's going to go to a cutting-edge offense without first determining whether he has the players to run it.
FRIDAY, APRIL 16, 2010- "You must be interested in finding the best way, not in having your own way." John Wooden
*********** Poor Poland. What a tragedy to lose so many leaders in a plane crash. And what a sad coincidence it was that those leaders were on their way to observe the anniversary of one of the most monstrous events in modern history - the assassination in the Katyn Forest of as many as 20,000 Polish Army officers by the Russian secret police (an assassination that the Russians didn't own up to for almost 50 years). Poland can't catch a break.
*********** Walt Harris, who has been head coach at Pacific, Pitt and Stanford, has hired on as an assistant football coach at California University of Pennsylvania (it's actually in a place called California, Pennsylvania).

Head coach John Luckhardt said Harris will be a "quality control" coach for the offense.
He will work closely with offensive coordinator Mike Jacobs and quarterbacks coach Chad Salisbury.
Gonna be a lotta cooks in that kitchen, I'd say.
*********** Al Reser died Monday night at his vacation home in Florida. He was 74.
More than anyone else, he was responsible for Oregon State's ending 28 straight losing football seasons.
Al's is a great American story. His parents moved from the Dust-Bowl Midwest during the Depression and settled in Oregon, where his mother made potato salad and his father sold it door-to-door.
Their big moment came when a Safeway manager asked his mother what it would take to supply potato salad to every Safeway store in Oregon. That was 1951.
At the age of 12, Al would sometimes work a 24-hour day delivering his mother's potato salad fresh to stores every Sunday.
Al would go on to graduate from Oregon State.
It was there that he met his wife, Pat, and it was there that he invented his first chip dip. It was developed with the help of OSU's food science department, and it was an immediate hit, starting Reser's Fine Foods on its way to becoming a prepared-foods giant.
By 25, he became the company's CEO, and he built it to where it now has sales of over $800 million a year.
But he never forgot Oregon State, and he spent the last years of his life giving back to his and his wife's alma mater.
In all, they gave nearly $20 million to the OSU athletic department, most of it directed to the football program. It was at the university's insistence, and not through his instigation, that Oregon State's stadium was renamed Reser Stadium.
Thanks to Al Reser, Oregon State is competitive in football.
"He and his family are the architects of whatever success this department has enjoyed," said AD Bob DeCarolis.
Said another long-time OSU official, "He carried us when it was important.Without him, nothing would have happened.''
*********** Anyone see the Allen Iverson special on ESPN's "30 for 30?"
Anyone else notice that as he grew more famous, he grew less articulate?
*********** The mic was open at the Masters when Tiger "I'm a Reformed Man" Woods hit a bad shot and blurted out the Lord's name. My Lord's name, at least, if not his.
Amazingly, there was little adverse reaction in the media, other than Jim Nantz' remark in an interview that he'd have been fired if he'd said it.
But, hey - that's Tiger. He's so intense, see.
So does that mean if I flub one, it's okay for me to holler "BUDDHA?"
*********** The NCAA is said to have paid a visit to West Virginia University recently. Depending on whether they uncovered any irregularities in recruiting by the Mountaineers, and when they occured, it is quite possible that Rich Rodriguez, also under the microscope at Michigan, could make Jerry Tarkanian look like a piker as a serial violater.
For the record: when Rodriguez made his decision to bolt for Michgan, he called a Pennsylvania high school kid to tell him before even telling his players at WVU. Didn't do him any good anyhow. The kid went to Ohio State. Kid named Terelle Pryor.
*********** "I have a really good friendship with Mark McGwire. I'm proud of him," said Barry Bonds.
*********** It's just a matter of time before they're on the menu in French restaurants...
InBev, the global giant that owns Anheuser Busch, brewers of Budweiser, which they have the effrontery to advertise as an "American lager," is slowly killing the Clydesdales.
They tried to slip a non-Clydesdale Super Bowl past us, but when the public got wind of it, the outcry was so great it was heard in Belgium, and the fans got their annual Clydesdale fix after all.
But now comes the news that if your town would like to have the Clydesdales march in the Fourth of July parade, or if your volunteer fire department would like to have them at its annual carnival, it's going to cost $2,000 an appearance.
No word from headquarters on who gets to keep the fertilizer.
*********** A word on Yuengling...
Man, there is so much demand for that beer in Texas from former Pennsylvania residents that are now here. I have seen a couple of online petitions some of which I have signed. You are one lucky man to have gotten to take a tour of their facility. I was first exposed to that beer in Virginia when I was in the Navy. Still one of my favorites. Kind of embarrassing to admit that you once waited for Coors to come to Washington when you had beer like that in Pennsylvania huh? There is a small strip mall liqour store where I buy my beer at from the local Texas breweries Rahr in Fort Worth and Shiner in the small south Texas town with the same name. The owner of that store is a big fan of Yuengling's black and Tan and if you bring him a case he pays $20 for it. Needless to say he too has been trying to get that company to expand beyond the East Coast. You are one lucky guy. If that would have been me there I would have dropped $500 just to have a years supply of Yuengling with me back home.
Ben Rushing, Fort Worth, Texas
Hard to believe the way time changes things but when I was growing up, Philadelphians looked down their noses at "upstaters," especially the Coal Regions, and later when I was in the beer business in Maryland, you couldn't give Yuengling's away. Thankfully for the Pottsville economy, for the Yuengling family, which is highly regarded for its good citizenship in the community, and for beer drinkers throughout the mid-Atlantic states (and a few other fortunate locations), Yuengling survived the wipeout of independent American breweries by McBeer - the mass-marketers (Bud-Schlitz-Miller-Coors) now all foreign owned.
*********** Still on beer...
There was a front-page article about it in the Wall Street Journal recently about the decision of the people at the Carlsberg Brewery in Copenhagen to restrict the availability of beer to its workers to lunchtime only.
Bit by bit, an era comes to an end.
Back in the 60s, when I worked in marketing for Baltimore's National Brewing Company, it was in our union's contract that beer had to be available to all workers at all times. The same policy was standard at all American breweries.
That enlightened policy extended to us non-union workers as well, and it was customary for those of us in headquarters to have a beer at lunch, to take a mid-afternoon beer break, and maybe to hoist a few after work, down in the "Boh" Room (short for Bohemian, our main brand being National Bohemian).
Our VP of production assured me that industry-wide studies showed that the beer-available policy did not adversely affect worker productivity or safety.
Those were the days when men were expected to "hold their booze," not to like a obnoxious drunks. Those days, alas, are gone.
*********** Congress seems to think that one way to boost its abysmal approval rating is to take on the subject of chew.
Congress has let major league baseball know that it may target use of tobacco in any form by players and managers.
No word yet on whether they'll still be able to spit or check their cups.
*********** Sent to me by my old friend Frank "Pope Franjo" Lovinski -
Mark Kriegel, FoxSports.com: "Early Monday evening, after the world learned he would not be prosecuted for sexual assault, Ben Roethlisberger appeared in front of his locker and issued a statement that made Tiger Woods look like a master of humility and introspection. He didn't mention his conduct or his drinking. He said he was 'truly sorry,' but not for what.

He said he wanted to be a leader and a 'role model to kids,' but didn't say how. And, of course, he didn't take any questions. It wasn't the kind of performance that helps a man reclaim his reputation. Even after a month-plus investigation resulted in no charges, there remain only three reasonable ways to consider Roethlisberger. One, he's a bad guy. Two, he's a bad guy when drunk. Three — and this really strains credulity — he's as dumb as he looks."
Hard to believe, after the way the Masters Mob (sorry, Augusta National Members - you can't fire me for calling them a mob) bowed and kissed Tigers' sorry tuchus that there's still a place in America where they expect civilized behavior from an athlete. For that we can all thank Pittsburgh and the Rooney family.
*********** Greetings Coach Wyatt, I am a high school coach in Arizona and I'm going into a small school that has no blocking shields. i want to start showing the kids how to block as soon as I start. The school says they are going to order me some shields at the end of May. Do you have any ideas what I can use to teach them blocking until I can get some shields? I'm also asking area high schools if I can borrow some shields from them in the mean time. Thanks coach for all that you do. Brian Hughes PS I figured that you seem to come up with some pretty amazing ways to do your drills without the proper equipment it seems like. Thanks again for any suggestions.
If you can get hold of them, small auto (or motorcycle) inner tubes can be taped tightly around the middle so they form a sort of "bowtie" which will work in a pinch. Don't inflate them so full that you can't tape them. You can improvise handles with duct tape.
*********** From Character Counts...
Legendary basketball coach John Wooden often describes a time when college football coach Amos Alonzo Stagg was asked whether his undefeated team was the best he'd ever coached. Stagg responded, "I won't know for another 20 years."
*********** Rex Ryan surely must love to beat himself up.
The acquisition of Santonio Holmes, ditched by the Steelers, gives the Jets a corps of miscreants that stand out even by NFL standards. Holmes joins Braylon Edwards (pled no contest to misdemeanor aggravated disorderly conduct) and Antonio Cromartie (seven children in five states).
No truth to any rumors that the Jets are trying to deal for Plaxico Burress.
*********** A former high school coach who's now coaching a semi-pro team writes (requesting anonymity)
Coaching a semi pro football team after being in the high school game now for 18 years. What a difference that I am liking. Actual guys who play for the all the right reasons and do it because they love the sport. Just think - I do not have to check any grades or call parents or deal with administrators or deal with teachers with an axe to grind because they could not chew gum and walk at the same time in high school or principals who know nothing about the sport and are world class organ players wearing a tie telling people they "know" the game or an athletic director who does not have the "balls" (literally) to back you when things don't always go right or parents who feel just because they watch Monday Night Football religiously and can use all the great catch phrases like "smash mouth football" and "run the rock" and "when will my son get his touches" or how he should get his hair done for the press conference when his son signs with Florida State or "coach - there are 9 guys in the box!" or basketball coaches who tell the kids not to lift because it will "hurt" their jump shot, or Doctors who just because little Johnny has some discomfort and should suck it up will write down 3 weeks out of sports and gym or bus drivers who are 45 minutes late to drive you for an away game on a Friday night with rush hour traffic.

(Signed) Anonymous and happy football coach, somewhere in the good ol USA
TUESDAY, APRIL 13, 2010- "Opinions alter, manners change, creeds rise and fall, but the moral laws are written on the table of eternity." Lord Acton
FOR MORE INFO - CLINICS - NOW TAKING PAYPAL!
PACIFIC NORTHWEST CLINIC UPDATE - THE PACIFIC NORTHWEST CLINIC WILL BE HELD SATURDAY, MAY 15 AT THE BEST WESTERN IN WASHOUGAL, WA - JUST OFF HWY 14 ABOUT 10 MILES EAST OF I-205 AND 15 MILES FROM THE PORTLAND AIRPORT
*********** Former Giants running back, and current NBC broadcaster, Tiki Barber is leaving his wife for a former NBC intern. Tiki's wife of 11 years is eight months pregnant. With twins.
Like irony?
Once upon a time, a former Virginia Tech running back named J.B. Barber skipped out on his wife and their twins. Tiki and Rhonde.
Said Tiki in a 2004 interview in the New York Post, "I have a hard time forgiving that."
PHOTO ESSAY - MY VISIT TO POTTSVILLE!
FRIDAY, APRIL 10, 2010- "When you travel, remember that a foreign country is not designed to make you comfortable. It is designed to make its own people comfortable." Clifton Paul Fadiman
*********** Funny - everybody's been talking about what a great game Duke and Butler played. You'll get no argument here. I, too, thought it was a great game. Fifteen lead changes and aggressive defensive play.
What's funny, though, is that the kind of game they played - a low-scoring game characterized by tough defense and sub-par shooting - is not what the public supposedly wants. In fact, Oregon, in the market for a coach, has said that whoever their new guy turns out to be, he will have to play up-tempo, high-scoring basketball, defense be damned.
But the public, which does, in fact, prefer racehorse basketball, has nevertheless decided that this defensive struggle was a great game.
Maybe it was because a lovable underdog was involved, and the great majority of fans - and reporters - wanted Butler to win, but as the Bulldogs continued to go toe-to-toe with Duke the TV guys kept telling us what a great game it was, and the post-game writers all picked up the tune as well.
The fact that the public is now poll-parrotting the "great game" line is a classic example of the propensity of intellectually-lazy Americans to allow the media to form their opinions for them.
*********** Hope you haven't thrown away the old Double Wing playbook. Hope you haven't gone completely to blocking with the hands. Hope you haven't put all your chips on the spread passing game, praying that that 14-year-old incoming freshman will turn out to be the QB you need.
Guess what, guys? It's okay to run the ball. Mack Brown says so.
Texas, after six seasons running the spread, is putting a quarterback back under center. Look for more formerly wide-open teams to do the same.
The Longhorns' move is especially significant, because with Colt McCoy operating their spread attack, they've gone 25-2 over the last two seasons.
But the Longhorns' worst running attack in seven seasons, averaging just 147.6 yards per game, may have prompted the move.
"We just kept getting further away from balance," Coach Brown told Sports Illustrated's Andy Staples. "We threw the ball so much that we lost our play-action pass. And that's the best way to get explosive plays downfield." (Italics mine - HW)
The move is meeting with the approval of the guys up front. "You're coming off the ball and hitting people in the mouth instead of trying to zone and reach block them," said Senior tackle Kyle Hix. "It's a lot more fun."
Oh, dear - who's going to break the news to the A-11 guys that they're not the Wave of the Future after all?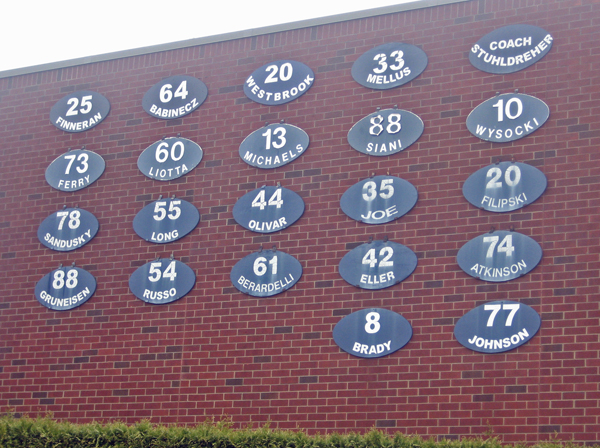 *********** While in Philadelphia recently, I swung by the campus of Villanova. I looked up on the stadium wall at the names of Villanova football greats and to my great surprise and delight, there was the name of my college coach, Jordan Olivar, between Hall-of-Famer Howie Long and Broncos/Bills running back Billy Joe. (You'll no doubt see a few other names you recognize - not bad for a school that's always struggled financially to keep its football program going, and actually gave it up for a few years back in the early 1980s.) I do think, considering the success of the 'Nova basketball program and the fact that is football team won the most recent D-IAA championship, they could give the plaques a fresh coat of paint.
*********** Speaking of Villanova, here's a great article on Matt Szczur, a former Double Winger from Cape May, New Jersey who was a key player in the Wildcat's D-IAA championship, and is considered do good at baseball that he might not return for his senior year of football - and yet he's prepared to put it all on hold to become a bone-marrow donor:
http://www.pressofatlanticcity.com/sports/article_713d751b-4ce4-55f9-b312-26b6af3e74a0.html
*********** Anybody catch Lefty throwing out the first pitch on Monday? It actually takes stones to march out to the mound of a major league ball park when you throw like a three-year-old.
Afterward I heard this professed "White Sox fan" talk about going to "Kaminsky Park." And when asked to name his favorite White Sox player, he couldn't come up with one. Without a teleprompter he wasn't quick-witted enough to say, "I don't have a favorite - I love 'em all."
*********** If you pay taxes, the news is never good. But it's starting to get downright scary. The percentage of Americans who pay NO income tax is now at 47, and it's increasing.
Do you understand what that means? Do you understand that almost half of all Americans not only do not oppose taxes, but actually favor them, since they aren't adversely affected?
Very soon, those who wish to take others' hard-earned money will have the votes they need to do so - and politicians eager to give them what they want in exchange for their votes. Unfortunately for you and me, what they want can only be paid for with our taxes.
The top 10 per cent of taxpayers (you know, "the rich?" The ones our leaders keep telling us will be the only ones paying for all of the government's largesse?) now pay 73 per cent of all taxes.
*********** Even if I tell you that this was sent to me by someone I know and trust, it is still hard to believe that it was written by the principal of a high school in these United States. Please note especially the last sentence.
If you have seniors in your class, please take a moment to find out if you have any seniors from homes that are first generation in the United States. Then please find out their country of origin so that we may purchase flags for the graduation ceremony, representing the nations our students represent. Please email those countries and the students representing those countries to me.

We are going to have students process with flags from those nations at the graduation ceremony this year. We will have the United States flag represented as well.
"Process?" Huh? Typical pseudo-intellectul educator. The principal's faulty use of the word "process" leads me to believe that he/she is unaware that the word "procession" comes from "proceed," not "process."
*********** Lest you laughed at the e-mail from the principal reassuring the school staff that the American flag will also be on display at graduation, along with all the other flags of kids' or their parents' native countries, there's this, From USA Today...
The many nations helping Haiti recover from the devastating earthquake that struck there have set up their own military compounds and fly their flags at the entrances.

France's tricolor, Britain's Union Jack and even Croatia's coat of arms flap in the breeze.

But the country whose contributions dwarf the rest of the world's — the United States — has no flag at its main installation near the Port-au-Prince airport.

The lack of the Stars and Stripes does not sit well with some veterans and servicemembers who say the U.S. government should be proud to fly the flag in Haiti, given the amount of money and manpower the U.S. is donating to help the country recover from the Jan. 12 quake.

The Obama administration says flying the flag could give Haiti the wrong idea.

"We are not here as an occupation force, but as an international partner committed to supporting the government of Haiti on the road to recovery," the U.S. government's Haiti Joint Information Center said in response to a query about the flag.
*********** By 1964 some may have been using the term "Tight End", but Vince Lombardi had not yet begun to use it. 1964 magazine, "Who's Who in Football," coach Lombardi refers to Ron Kramer, his All-Pro tight end whose key block made the famed Green Bay sweep work, as "the best closed end in football."
*********** Hello Coach, Joe Espinosa, from San Antonio, TX. I was watching your 2006 virtual clinic with several of my assistant coaches and we couldn't figure out how many 10 feet pvc pipe you had to use to make your circle (I heard 3 in the video but several of my assistants thought you only used two).
Hi Coach-
They are 3 10-foot long PVC pipes joined by PVC sleeves. PVC conduit would work as well, and it already has the fitting at each end.
Here's a little video clip.
Glad to help!
http://www.coachwyatt.com/makingthecircle.mov
*********** I had a couple of out-of-town coaches at my Philadelphia clinic who soon discovered that they shared a common experience - they have been highly successful offensive coordinators in their respective towns, but - perhaps because they are both outsiders - their performances have been unappreciated by the local football power structure.
They are living examples of the fact that despite paying lip service to winning, there are way too many people in football who don't REALLY, REALLY want to win.
*********** A law professor named Eldon Ham, writing in Sports Business Journal, suggests a way to expand the NCAA basketball tournament AND maintain its integrity AND keep the NIT.
His idea? Have the 32 NIT teams play not for an NIT championship that few care about anyhow, but for four spots in the NCAA field. The NCAA would leave four spots open for the NIT's Final Four. Call it the "NIT Play-in Tournament." (I suggest "Cull-out Tournament.)
The plan has no chance, of course, because it appears to make some sense. There are problems, to be sure, but none any greater than defending the absurdity of a 96-team tournament, with its four 24-seeds.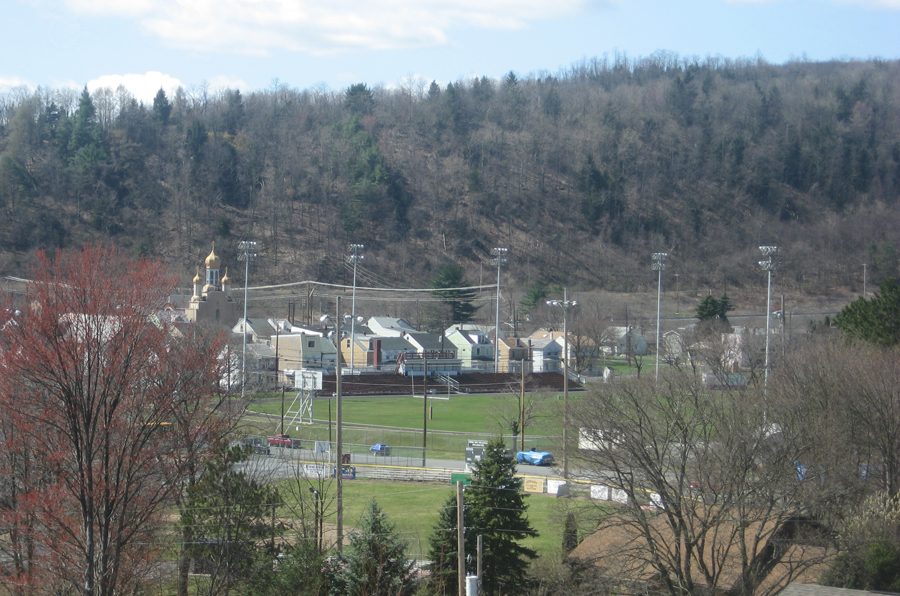 Down o n that field, at the foot of the hill overlooking the small coal mining town of St. Clair, Pennsylvania, I played - and coached - two of the most memorable games of my life, both against the Schuykill (pronounced SKOO-kull) Coal Crackers. (Neither game turned out well for me. As a player, my Frederick (Md) Falcons saw our 15-game win streak come to an end, in a real thriller. A year later, in the third game I ever coached, my Hagerstown Bears were handed a 66-0 defeat.) St. Clair, just outside Pottsville, was a tough place to play. The fans loved their football and they loved their team. And they loved their beer. And conveniently located right across the street from the field was a corner tavern to which the locals would rush for halftime refreshments. Thus fortified, they would return for the second half and cheer even more enthusiastically than before. Note the spires of the Russian Orthodox church in the background. Reflecting the diversity of the coal region - this area was diverse before the word became fashionable - there are at least three different types of Catholic church in St. Clair in addition to Roman Catholic.
*********** Coaches, you're probably too busy coaching on Friday nights to see what's really going on up in the stands. Or, should I say, back behind the stands?
Sorry to tell you this, guys, but for large numbers of school kids, back there is where the action is. In other words, they're not watching your game!
Some genius with the Phillies' organization must have understood this phenomenon when they planned the Phils' new ball park, because they're succeeding in attracting the young demographic that studies show doesn't care for baseball - by providing them with the equivalent of the high school's place behind the stands, a party area where they can eat, drink and socialize. Some of them could even tell you there's a baseball game going on someplace nearby.
*********** The old advertising formula for making a commercial was "P-P-P" : Problem... Product... Pleasure.
FRED: "Gee, I'd like to play softball with you guys, but these hemorrhoids are killing me."
TIM: "I had the same problem, until I tried Preparation H. Now my hemorrhoids are gone."
(That night, before bed) FRED (looking at a tube of Preparation H): "Well, here goes!"
(The next day, at the softball game, Fred is at shortstop): TEAMMATE: "Nice play, Fred!"
FRED: "Thanks!" (in an aside to us, off camera): Thanks, Preparation H!"
Now, they've turned the formula on its head. Now, they come up with the Product first. Then they invent the problem.
In the wake of the tragic bullying incident in South Hadley, Massachusetts, comes the news that there is an outfit in Washington state that charges school districts to put on workshops to prevent bullying - bullying of teachers by teachers. WTF? Bet you didn't know that was even a problem.
*********** As I stand at the urinal, I reflect on the wisdom of Vice President Joe Biden, interviewed at the start of the UConn-Stanford women's basketball game: "I've been telling my daughters and granddaughters they can do anything a boy can do..."
AT THE PHILADELPHIA CLINIC...
AT THE PROVIDENCE CLINIC...
TUESDAY, APRIL 6, 2010- "The money you have can give you freedom, but the money you pursue enslaves you." Jean-Jacques Rousseau
FOR MORE INFO - CLINICS - NOW TAKING PAYPAL!
*********** It's not often that a coach sends me a story praising his school superintendent, but Frank Simonsen, of Cape May, New Jersey, said I had to read about his local guy...
Atlantic City Press - School Superintendent Joe Cirrinicione will take a pay cut of more than $115,000 a year to help save the jobs of 32 people.
Cirrinicione on Tuesday explained a detailed plan to not raise taxes and save the jobs of 32 employees while absorbing $2.1 million in state aid cuts. He brought up his decision at the very end of an interview. He said he didn't want a lot of publicity about it.
"Everybody has to make this work. Everybody's got to do their little part," said Cirrinicione.
His part is to cut his own job when the school year ends. By law he must take off 120 days, but then he will return in November as an "interim superintendent" with starting teacher pay of $43,660 a year with no benefits. That compares with a current salary of $160,000 a year with benefits.
"We can save about $120,000 in salary and benefits by me cutting me," said Cirrinicione.
As Frank Simonsen said to me, "this guy could be a coach."
*********** The NCAA final was a hell of a game. Butler is really tough and certainly would have been a worthy champion. I'm not sure when I've seen a team play better defense against Duke.
But let's not give CBS any credit. They simply do not know how to televise a basketball game, going again and again to an overhead shot that made it nearly impossible to follow the game.
And before we could even get to the main event, we had to fight off the nausea induced by their thug rap intro, featuring basketball legend Diddy.
And then there's the NCAA. What can you say about an organization of clowns that hands out championship hats fit only to be worn on street corners - even when you wear them straight, the insignia is cockeyed?
MVP of the finals? Why, Kyle Singler of Duke - a former high school football player from Medford, Oregon (we played against him when he was a soph), son of an Oregon State quarterback, nephew of an Oregon State lineman and a Stanford receiver.
*********** Remember when B.F. Goodrich advertised itself as the company that didn't have a blimp? One of the Goodrich TV commercials featured a pro football lineman pointing to the sky and saying to his opponent on the other side of the line of scrimmage, "Look! The Goodrich Blimp!"
The opponent looked up, but then realized he'd been bamboozled. And no sooner did he say, "Goodrich doesn't have a blimp!" than he got drilled.
Character Counts tells a story about Tim Wrightman, a rookie NFL offensive lineman facing the great Lawrence Taylor for the first time. Not only was Taylor a very good pass rusher, but he was also a master trash talker.

Lining up against Wrightman, he said, "Sonny, get ready. I'm going to the left and there's nothing you can do about it."
Wrightman replied, "Sir, would that be your left or mine?"
The question caught Taylor off guard just long enough to allow Wrightman to block him.
*********** Dear Hugh,
Sorry, I didn't make it to the Chicago Clinic this year. I am interested in purchasing the clinic clips you discussed making available. Also, when are you running the Clarinda clinic? I would like to come out and see you, Greg, and Brad on the field coaching kids up.
Besides connecting back with all the Mid-West DWers, I was looking forward to sharing a story about "STOPPING" the Double-Wing ran by Kokomo, IN. The Indiana HS Athletic Association has a crummy playoff system where everyone makes it in with a blind draw in your Sectional (like the old-school basketball tournament, think "Hoosiers", at least football has had a class system), and Fort Wayne Snider 7-2 (the team I coach for) drew the 9-0 North Central Conference Champion Kokomo WildKats in the first round. Our head coach is the de facto DC, knew that I have studied the DW, and invited me to help prepare the defense by talking philosophy and known adjustments to our defensive plan (I coach with the offensive line. Kokomo is headed up by the classic "Got a Set" DW coach with no counter-punches for a well-coached defense. They ran 2 TE and 2WB 99% of the time, never had the center block back to the backside versus a wide TNT look, and worst of all, the quarterback was completely unprepared to pass the ball. No adjustments to the defense with scheme or playcalling, even after coming out from halftime down 21-0. Finished the game 42-7. Snider went on to win the Sectional Championship but lose to the state finalist from our side of the state in the Regional Final.
Worst part about it was that as a DW guy, I wanted to see them give us a game (our staff is I-formation, thankfully we have talented tailbacks). Oh well, just another warning for the DWingers out there that do not prepare their QBs or know enough about our offense to compete at the highest level. You have to have an answer for when they decide you will not run power off-tackle. They ran 6G three times (all for positive yardage) and 47C less than five times (more success than power-power-power-punt). Keep Punching!
The question I was dying to ask you was: what are your percentages for various playcalls on first down/how do you decide what to call on first down? Kokomo had been scoring 50+ points a game before the playoffs, but they played the game against us behind schedule down and distance for the first three quarters (facing the starting defense). My impression was that the game would have come out much closer if their staff had called first down with a little more thought/variety/awareness of the defense ran against them. All the same they did not tackle very well and the scoreboard showed it, but I still would have liked to see a better DW up close and personal.
Thank you so much for your conviction and determination. It is blessing to know people like you and other DW men that know what they are good at, stick to it, and make themselves the best selves they can be.
Sincerely,
Tyler Sellhorn
Fort Wayne Snider HS, Fort Wayne, Indiana
P.S. They didn't even mix in any direct snap and their team's nickname is WildKat!
Sorry you couldn't make it. It was a good clinic.
Your story is very useful because it confirms what I've been saying at my clinics - Run it Right... and Run it All.
I honestly can't say how I determine what to run on first down, but it certainly isn't always Super Power.
I tell people that even when opponents are stopping it, Super Power is still working - because it means they're giving us something else.
There are games when we're running so much else that running off-tackle becomes a form of changeup.
*********** Coach Armando Castro, who attended my Philadelphia clinic, was bursting with pride when he told me the news about David Williams. David, a Black Lion when he played for Coach Castro on the Cave Spring Renegades in Roanoke, Virginia, went on to star at Hidden Valley High and has committed to play at the US Naval Academy.
Coach Castro said that David still proudly displays the Black Lion Award certificate on the wall of his room, and wants to become a Marine.
Excerpts from a game writeup this past season:
David Williams made it look easy Friday night, carrying 39 times for a career-high 367 yards in Hidden Valley's 35-14 victory over visiting Pulaski County.

Williams has 2,071 yards with two regular-season games remaining.

"You've just got one heck of a running back right there," Pulaski County coach Jack Turner said. "He's a throwback running back; he runs hard, [with] pad level low.

"Everybody I talk to says, 'Don't pay attention to the film because he's better in person than he is on film.' I agree with them 100 percent."
David Williams Highlights - http://www.youtube.com/watch?v=mvcw92J_F6o&feature=related
*********** As we sat in this rather large, reasonably crowded pub on Sunday, with the Duke-Baylor (men's) game on several large screens, my wife and I seemed to be the only ones watching the game. So much for all the "March Madness" hoopla. In America, there is no simply no such thing as event that EVERYBODY is interested in.
*********** The Moscow subway attacks were so horrible that they made me stop and wonder if they could happen here. In America, we have become so inured to wackos and bizarre behavior that I wonder what would happen if someone dressed up as a stereotypical "Middle Easterner" were to board a New York subway carrying a cardboard box with the words "BOMB - DEATH TO AMERICA" lettered on it.
*********** Remember the treacly, heartwarming story of the autistic kid in upstate New York? He'd been serving as manager of his high school basketball team when the coach inserted him in an actual game - and the kid proceeded to light it up, hitting one three-pointer after another.
Now, it seems, the coach is lighting it up as well, parlaying the incident, Rudy-style, into a motivational-speaking career. Only in America.
http://www.coachjimjohnson.com/
*********** Hugh, The New York Times quotes a study saying that time parents spend on their children has risen dramatically since the early 90's. The change is most notable among highly-educated parents.
http://freakonomics.blogs.nytimes.com/2009/06/30/why-are-you-spending-more-time-with-your-kids/
The obvious hidden numbers here are probably less time for kids to spend with their peers around the neighborhood, figuring life out unencumbered by helicopters.
My high school English teacher is in his mid-60's now, and he said to me "what is it with parents coming to practice? Our parents didn't even come to our
GAMES!"
Christopher Anderson, Arlington, Virginia
*********** They may have all the best of intentions, and one of these days American Muslims may figure out a way to keep from pissing the rest of Americans off, but until they do...
A Muslim student at Trinity University in Texas wants the school to remove the words "Our Lord" from its diplomas, the Houston Chronicle reported.
"A diploma is a very personal item, and people want to proudly display it in their offices and homes," Sidra Qureshi, a Muslim and president of Trinity Diversity Connection, told the Chronicle. "By having the phrase 'In the Year of Our Lord,' it is directly referencing Jesus Christ, and not everyone believes in Jesus Christ."
You're right, Sidra - and if references to "Our Lord" and "Jesus Christ" bother people, they should be smart enough not to go to a school with "Trinity" in its name. But if they go ahead and attend there anyhow, they should be gracious enough not to start trying to remove the names of one of the Trinity from official school documents.
*********** This week's "Hey - how did that get in there?" Award goes to Browns' nose guard Shaun Rogers, caught by the airport screeners in Cleveland with a .45 in his carryon. A loaded .45.
Told police he "forgot" the gun was in the bag. Scariest of all, he may actually have been telling the truth.
*********** First it was Boise State and its blue field. No doubt figuring that there were still some bounds to good taste, no one on the rules committee did anything. So then along came Eastern Washington and its plans to install a red field. No big deal in Eastern's case, because few of us will ever actually see the field in use.
But LSU? Maybe. A recent article states that the Tigers intend to play on a purple field.
I am hoping that the article is what I think it is. (It was dated April 1.)
But if true, what's next?
Gold? (Notre Dame, Navy, Purdue, Missouri)
Orange? (Clemson, Oklahoma State, Oregon State, Tennessee)
Black? (Any number of schools)
White? (Any number of schools)
Where/when will it stop? When will Nike and Oregon take the bait?
*********** Okay. So I'm a Duke fan. Have been for many years. Duke has a lot of white players, so I guess that makes me racist. So say certain racist sportswriters, who seem to think that only black players should be permitted to play college basketball. (Which begs the question - with all the talented young black players leaving college after one year, are they inadvertently creating a reverse affirmative action program by creating spots for white guys?)
Anyhow, needless to say, I don't like the idea of the New Jersey Nets offering megabucks to Coach K to lure him into coaching in the NBA. I defnitely like the idea that he has responded to rumors that they've money at him by saying, "I wouldn't be interested."
Figures. The new owner of the Nets is Russian, and Krzyzewski is Polish. I doubt that there are many Poles anywhere in the world who would willingly go to work for a Russian.
By the way - among the black guys who have played for Duke: Tommy Amaker, William Avery, Gene Banks, Shane Battier, Elton Brand, Robert Brickey, Jeff Capel, Johnny Dawkins, Chris Duhon, Daniel Ewing, Gerald Henderson, Grant Hill, Corey Maggette, Nolan Smith, Jason Williams, Shelden Williams
*********** So the Donovan McNabb era in Philadelphia is over. The know-nothings started in early on him, raising hell at the draft when the Birds selected him instead of Ricky Williams, and many of them never let up, but my sense was that most Philadelphia fans appreciated him.
And now, two questions come to mind:
1. Other than getting out of the $6 million bonus McNabb was due to receive shortly, did the Eagles receive anything comparable in value to what a starting NFL quarterback is worth?
2. Did the Eagles really want to send a starting NFL quarterback to a division rival, the Redskins, and give their new Washington head coach, Mike Shanahan, one of the major pieces he needs to put his puzzle together?
Writes Peter King, in SI.com - In 1995, Shanahan took the Denver coaching job and inherited a quarterback who couldn't win the big one, who'd gotten stale, who'd lost the faith of the locals in Denver to deliver a Super Bowl. Elway, then 35, went on to play four years for Shanahan and win two Super Bowls. In 2010, Shanahan takes the Washington coaching job and deals for a quarterback who couldn't win the big one, who'd gotten stale, who'd lost the faith of the locals in Philadelphia to deliver a Super Bowl. McNabb is 33. He wants to play at least four more years.
*********** Got to admire Geno Auriemma.
Look - UConn is limited to just so many players on scholarship. So why are all the other good female basketball players being wasted?
WTF is the matter with all those other coaches - paid quite generously, I might add, thanks to Title IX - that they can't put a team on the floor that even on a good night can come with 20 points of the Huskies?
And is it possible to take back all those things people have said about Pat Summitt being the best womens' basketball coach of all time?
*********** When former Oregon coach/AD Mike Bellotti announced he was leaving to take a job with ESPN, Oregon must have thought it could slip him a $2.3 million going-away present and that would be that.
Mais non.
Where in his contract did it call for such a payment? asked many in the media. Um, replied the folks at the university, actually, there was no written contract. Turns out that many highly-paid individuals in the Ducks' athletic department have been working with oral contracts, possibly with the intent of avoiding media scrutiny.
Executive compensation experts consulted by the Portland Oregonian said that they were mystified at the notion that a guy would resign on his own, yet still be paid a severance fee, and a very sizeable one at that. They said the Ducks' action was unprecedented in a case where a guy simply quit.
Which led to speculation that perhaps Bellotti hadn't quit. That he'd been fired. No one is saying.
The university folks have assured the public that no university money was used to pay Bellotti - that the money came from "private donors," but that hasn't appeased those who claim something's wrong.
Kind of amazing how shaky things suddenly seem at a place which just three months ago was on top of the football world.
*********** Last year, the Miami Red Hawks lost to Boston U in the final minute of the NCAA hockey final, and there went the MAC's chance to win its first-ever NCAA title. This year, Miami heads into hockey's Frozen Four as the Number One seed.
A Miami win wouldn't technically be a MAC win, since only a handful of MAC teams compete in hockey, but it would mark the first NCAA title ever for a team from the last major conference never to have an NCAA championship team.
COMING FRIDAY - PHOTOS FROM MY EASTERN TRIP (PHILADELPHIA, PROVIDENCE AND - POTTSVILLE, PA)
FRIDAY, APRIL 2, 2010- "Once everyone's wearing rhinestones, you might not notice someone wearing diamonds." Chester E. Finn, education expert, talking about grade inflation
YES, THE PROVIDENCE CLINIC IS ON! DESPITE THE HORRIBLE FLOODING IN RHODE ISLAND, I HAVE BEEN ASSURED BY THE FOLKS AT THE SHERATON THAT IT IS BUSINESS AS USUAL FOR THEM!
FOR MORE INFO - CLINICS - NOW TAKING PAYPAL!
*********** Damn. No sooner do I finish writing about what an arrogant jackass Pope Urban Meyer can be, than he "apologizes" to the Orlando Sentinel reporter whom he abused and threatened at his practice. Very clever, Urban. Now if the reporter writes anything at all negative, like, say, reporting a Facebook entry by one of the Gators in which he implies that Tim Tebow is not a "real" quarterback, he'll look like he's being vindictive.
Meantime, your player started the whole thing with sillyass post, but you put on ths big act about protecting this "kid" from the evil media, and you skate.
Whew. Bullying reporters sure is stressful, isn't it, Coach?
(Just in case you all missed Meyer's act... http://www.youtube.com/watch?v=xgqQshESm8s&feature=player_embedde
*********** This one came to me recently...
It has came to our attention that your PayPal billing information are out of date. This require you to update your billing information as soon as possible.
Needless to say, I didn't respond, but I wanted to write and say, "I'll bet if you knew you were going to wind up being an Internet scammer, you'd have paid closer attention in English class..."
*********** Coach Wyatt:
Our youth league prohibits what is called "side snapping". The interpretation of this is that the center cannot snap the ball at ANY angle other than directly behind him. Does your Wildcat system violate our league rule. I'm not sure that it does since the backs line-up elbow-to-elbow right behind the center.
I suppose the snap could be construed as a "side snap" since the ball could go to EITHER back in the backfield. Could you advise me on this? Have you dealt with such restrictions in other youth leagues?
Sincerely,
(Here is the letter from the league to the coach---

This rule is to eliminate the Trick plays that coaches have adapted through the years - To SIGNIFICANTLY remove this from the game.

The goal for the **** league is to teach fundamental football; Side snapping and trick plays do not teach fundamental football strategy. We encourage an exchange in the backfield.

There are plenty of offensive formations that offer the better of balance and deception. Honestly I cannot tell you what I am going to run next year because I base my offense on the talent I am able to draft.

Double wing, Power I and the Spread are all strong offensive packages that offer balance and deception.
We have had numerous coaches meetings and will continue to do so; we also have a Board meeting every month that you can attend to table this with the competition committee.

This year we will be conducting various coaches seminars prior to the season starting to review and explain the interpretation of the rules set forth by the league.

If you are selected to coach a team this year, you will have plenty of chances to talk with other coaches on how to run a different offense that fits within the scope of our rules.
Coach,
Apart from the fact that it does seem to me unwise to take the fun out of it for kids by altering the rules of the game to suit the tastes of one group of people who seem to know best, there is nothing here that would outlaw what we do.
Our center is instructed to snap the ball straight back, which means it is between the two backs, either of whom can catch the ball. We do not ask our center to try to remember who gets the ball; that's the job of the backs.
If that is still unsatisfactory, then you have an organization that is attempting to outlaw everything that Pop Warner himself introduced to the game, much of it based on the fact that a large part of football IS trickery, and therein lies a lot of the fun for the kids. In that case, shame on them.
*********** So there I was in my hometown, the City of Brotherly Love. BIG sports town. NBA still going on... Ditto NHL... Phillies in spring training... Final Four heating up... And what's the only thing one anybody's mind, anywhere you go?
Donovan McNabb
*********** A commercial for a Philly restaurant urges listeners to, "Eat like an Italian and drink like the Irish." (I'm assuming that they know "drink like an Irishman" would have been better copy, but it might have offended some women.)
*********** Ah, Philly, the city of my birth, where sarcasm still thrives. Responding to a sportswriter named John ("Gonzo") Gonzalez, who spews hatred of Duke, a guy named "Tom" wrote,
I do hate Duke basketball. They're masterfully coached by an Olympic gold medalist, they graduate over 90 per cent, they're smart, articulate and ethical, and they win-win-win basketball games. Loathsome stuff. Nuttin' I can see to like.
*********** I don't know whether someone from Oregon actually contacted Tom Izzo about the Ducks' vacant coaching position, but if they did, or if they floated the rumor, they had a hell of a nerve screwing with the Michigan State situation while he Spartans still have to games left to play.
The Russian subway bombing is as ugly as it gets, and there seems to be no way that the Russian government can protect its people from the wrath of the Chechens.
May I humbly suggest we lend the Russians the TSA for a couple of months?
*********** Hard to believe, but it's been 25 years since Villanova's monumental upset of Patrick Ewing-led Georgetown in the NCAA tournament final.
http://m.philly.com/phillycom/db_41091/contentdetail.htm?contentguid=IkZsONb2&src=cat
*********** I wrote this in December, 1998 -
Just finished talking to my high school coach, Ed Lawless, back in Pennsylvania. He is a single wing guy (he played his college ball in the late '40s, at Penn, then a single-wing power whose center was Hall of Famer Chuck Bednarik), and he agrees with me that the offense is made to order for the so-called "slash" player - imagine Kordell Stewart as a single wing tailback! In fact, a lot of what Kansas State does with Michael Bishop out of their "shotgun" sure looks like single wing stuff to me. Some of the guys I've seen just this year - Akili Smith at Oregon, Ortege Jenkins at Arizona, Corby Jones at Missouri - convince me that it's just a matter of time before somebody brings back the single wing. (Whether they'll have the guts to call it by that name is another matter! )
*********** The New York Times reports that a Nielsen study last year found that children aged 6 to 11 spent more than 28 hours a week using computers, cellphones, televisions and other electronic devices. A University of Michigan study found that from 1979 to 1999, children on the whole lost 12 hours of free time a week, including eight hours of unstructured play and outdoor activities.
One consequence of these changes is the disappearance of what child-development experts call "the culture of childhood." This culture, which is to be found all over the world, was best documented in its English-language form by the British folklorists Peter and Iona Opie in the 1950s. They cataloged the songs, riddles, jibes and incantations ("step on a crack, break your mother's back") that were passed on by oral tradition. Games like marbles, hopscotch and hide and seek date back hundreds of years. The children of each generation adapted these games to their own circumstances.
Yet this culture has disappeared almost overnight, and not just in America. For example, in the 1970s a Japanese photographer, Keiki Haginoya, undertook what was to be a lifelong project to compile a photo documentary of children's play on the streets of Tokyo. He gave up the project in 1996, noting that the spontaneous play and laughter that once filled the city's streets, alleys and vacant lots had utterly vanished.
For children in past eras, participating in the culture of childhood was a socializing process. They learned to settle their own quarrels, to make and break their own rules, and to respect the rights of others. They learned that friends could be mean as well as kind, and that life was not always fair.
Now that most children no longer participate in this free-form experience — play dates arranged by parents are no substitute — their peer socialization has suffered. One tangible result of this lack of socialization is the increase in bullying, teasing and discrimination that we see in all too many of our schools.
*********** It was a new-look Joe Paterno that greeted sportswriters at the start of Penn State's spring practice. No more glasses with coke-bottle lenses. After off-season eye surgery, the lenses are much thinner. He told reporters that he could actually read his notes without his glasses: "Even the one that says, 'Be parient with these guys.'"
*********** Think college basketball isn't f--ked up? This, in the New York Times...
INDIANAPOLIS — Three years ago, when Royce Waltman was fired as the coach at Indiana State, he gave a memorable and prophetic news conference at the Missouri Valley Conference tournament.
He opened by thanking the university administration for handling his dismissal with "the deft touch of a 20-mule team." He continued with a statement so honest and salient that it resonated deeply as the college coaching carousel spun again this week.
"If you get fired for cheating, you can get hired right back again," he said. "If you get fired for losing, it's like you've got leprosy, so young coaches need to bear that in mind. Cheating and not graduating players will not get you in trouble, but that damn losing. ..."
Waltman, 68, might have lost too often, but he could see the future. He has not been rehired as a head coach, instead working as a part-time assistant at Roncalli High School here.
*********** Coach Wyatt, I highly value your response. Thank you very much. I am excited to start coaching your system this year it makes alot of sense to me after watching your Dynamics DVD. I do have another question though.

I wanted your opinion on some personnel and what we could do to better suit them out of this offense. We had a 230 lb. FB returning who ran like a TB. We were gonna put him at B back now that he is gone, we are unsudre of who to put there. We do not have an abundance of lineman so I can't really move G or TE. I do have tons of 140-160 lb. kids. Can this offense still go with this type of B back and will I need to modify it any? Anything I can run to offset this fact?

Your help is greatly appreciated!!!!
Coach, It's possible to run it without a big fullback, provided he has guts and is a very good runner AND provided you have a lot of other weapons - because you are not going to be able to frighten anyone withe Super Power, which is a staple play, and should be the first play the defense has to set out to stop. With two big DE's (a lot bigger than 160) they will be able to throw your B-Back into the runner's lap.
That means Super Power will only be successful as a changeup play, and that runs counter to our philosophy of forcing you to set up to stop that and then seeing what else you give us.
I had a very small B-Back two years ago (my big guy went down in pre-season camp) and we were still very good offensively. But that's because I had really good kids at every running back position plus QB, and as a result, I ran Super Power less than I ever have. (You might be interested in seeing that highlights video.)
There are other ways. It's fair to point out, though, that I've been running this basic offense since 1982, so I know most of the tricks, and at your stage of development as a Double Wing coach it puts a lot more stress on your know-how.
I hope I haven't discouraged you.
*********** I had a brief visit with Doug Moister, who back in 1996 as head coach at Abington (PA) HS was the first coach to take a chance on my then-new system. Doug's been out of coaching for some time now, but he confessed he misses coaching terribly and wants to get back in.
In the meantime, he and his wife, Peggy, are kept busy with a foster baby - their 82nd!
Doug and Peggy provide homes for the babies of teenage mothers until they either give the babies up for adoption or manage to find the support necessary for them to keep the babies.
*********** Instead of being measured and timed and poked and prodded by NFL scouts, Washington's Jake Lockr, who might have come out a year early and been the top quarterback drafted, instead was on the field Tuesday with his fellow Huskies for the first day of spring practice.
"I was really excited. Just the atmosphere, the intensity and the overall enjoyment that you have when you're out here is something that you miss when you're not," Locker said. "It was great to get back out here with the guys and get yelled at and coached and play a little football."
*********** Coach:
Can you give me any information about coaching football in Europe? I know that you did it for a while. I am checking out all angles since I am looking for a job. I think that coach ------ and I have a good chance of working things out. But I still need to cover my bases. Hope to see you in Durham.
Hi Coach- By now most teams have hired coaches, and I should point out that with a very few exceptions, it's not highly remunerative.
The most you can expect to get is an apartment, a couple of meals a day, round-trip airfare, and maybe up to 1,000 Euros (about $1300) a month. Also - maybe - a car to use. A lot of that stuff has to be negotiated.
It was a great summer gig for me back before coaching became year-round. There used to be lots of D-III coaches over there because they were free in the summers anyhow. It's still not a bad deal for guys who are retired.
At this point the best way to proceed is to go to a site called Europlayers, which is owned by a friend of mine, a Canadian named Roger Kelly.
*********** You take over a fallen-down inner-city program and you hire some good assistants and work hard at building your kids' trust and turning them into a team, and you install the Double Wing. Result? More wins than they've had in eight years. And now you're looking for work.
The following story is by Matt Trowbridge of the Rockford (Illinois) Star, and it's reprinted in its entirely, with his permission.
By Matt Trowbridge
RRSTAR.COM
Posted Mar 25, 2010 @ 02:39 PM
Last update Mar 25, 2010 @ 05:25 PM

ROCKFORD — Chris Dertz got his money, but lost his job.

Dertz led East to its best season in eight years in his only year as head football coach, but he was fired Monday for "gross insubordination" after winning a four-month fight to get an extra $350 owed to him and $300 for each of his five first-year assistants.

"I didn't get fired for being a bad coach. I guess I got fired for being a pain in the butt," Dertz said. "I can live with that."

Carl Armato, the District 205 athletic director, said "we'd like to thank Chris Dertz and we appreciate his time and effort" for leading East to a 3-6 record last year, but said he was "not authorized to comment any further."

East was 2-25 the three seasons before hiring Dertz. East athletic director Steve Powers said Dertz had the E-Rabs finally headed in the right direction.

"It was his first year as head coach and he still had stuff to learn," Powers said, "but we won three games while he was putting in a whole new offense. Now we have to start over. It upsets the kids.

"It wasn't my decision. This was totally out of my hands."

According to Dertz, this is what happened:

During football season, Dertz and the first-year assistants received only 90 percent of their coaching stipend. Dertz spoke to Powers, who learned human resources wouldn't pay the new coaches for their summer work because they missed their paperwork deadline.

Dertz told Armato the coaches weren't told of the deadline. After "realizing this is above Carl's head," Dertz left phone messages for high-ranking District 205 officials Earl Hernandez and Cedric Lewis, but neither called back. He then e-mailed District 205 Superintendent LaVonne
Sheffield, who e-mailed she would look into it.

Dertz received his check earlier this month, but the five assistants weren't paid.
"That puts a head coach in a bad position, making it look like he's looking out for himself," Dertz said.

Dertz fired off an angry e-mail to Armato, who said the assistants would be paid the following week. They were. But Armato also forwarded Dertz's e-mail to Lori Saxman, a director in human resources. Saxman called Dertz.

"She began lecturing me and insulting me, telling me how inappropriate my e-mail was," Dertz said. "She was fishing for an apology, and I wasn't going to apologize. It was her department that hadn't paid my guys for four months."

When Dertz didn't apologize, he said Saxman told him: "You are not going to be the coach at East next year." Then she hung up.

Shantina Davenport, the special assistant to the chief financial officer for District 205, said no one in HR could comment unless Dertz signed a release giving them permission.

After his assistants were paid, Dertz missed a meeting. He then received a letter Monday notifying him he was being fired for "gross insubordination."

"I didn't refuse to go to a meeting," Dertz said. "I simply wanted to know what the meeting was about and they wouldn't tell me. I am not comfortable walking into a meeting with high ranking district personnel without knowing why.

"It cost me my job, but I don't have any regrets. Somebody down at human resources got upset because I was going over people's heads, but sometimes you've got to do what you've got to do."

Assistant sports editor Matt Trowbridge can be reached at 815-987-1383 or mtrowbridge@rrstar.com.
Copyright 2010 Rockford Register Star. Some rights reserved Reprinted by permission
I should add that Superintendent Lavonne Sheffield, who's ultimately responsible for this mess, has not exactly been associated with winners. Her last three stops were in the school systems of Philadelphia, Detroit and Baton Rouge. That's like hiring a head coach whose only prior experience as a head coach was with the Oakland Raiders. Oh, wait - you say Tennessee did that?
*********** From my old mentor at the Hagerstown Morning Herald, sports editor Frank Lovinski, a Mountaineer from Wheeling, West Virginia who eventually left Hagerstown - and sports - for bigger and better things in the newspaper business in Rochester and Detroit. But he never really left sports...
Being a Duke fan myself, I find myself on the opposite side this weekend, but after the WVU win over Kentucky I asked him, "Now are you happy?"
He wrote back,
It has been a long haul, Coach Wyatt. And because you are involved there is of course a coincidence.

In 1959 when the Mountaineers were making their run to the title game, they ran into some trouble - about as bad as trouble gets.

In a regional game they were down 16 points to the St. Joseph's Philly Steaks in the second half.

I was overloaded with a couple extra gallons of anxiety. Well, it won't surprise you that Jerry West played a major role in bringing the Eers back and they went on to lose the finale to California. Darryl Imhoff, a redwood planted under the basket, and Tandy Gillis, who couldn't miss,` edged my team by the hairs on their chinny chin chins 71-70. I think the Golden Bears had another sharpshooter name of McClintock.

AM I happy now? Yes and no. The Mountaineers are far too hard on my system. I was in Morgantown for game against UConn last fall and that was first game for Nutmegs after a running back had been murdered on campus. UConn had heightened emotions as you can understand.

The Megs outsmarted and outplayed the Eers and scored to go ahead late in the game and I reached to call 911 ... for me. But, Noel Devine got loose in the ensuing series and 70 yards later that was that. Hold on my heart! Wow. I told my friends I cannot take another game like that one. I decided I could no longer withstand that.
Point is that was a heart attack type game for a poor feller like myself. I seriously cannot take those games anymore. This basketball team has been playing with TNT in their shorts on the court all year long. They fall behind big then come back. They have a big lead only to wither in last minutes but hold on. Since I don't bite my nails I have to leave the room when they play or if she is here have Claire switch to CNBC.

So am I happy? You bet I am! ... but tortured.

I've become attached to teams where I have lived and I have been fortunate. Syracuse blew a championship game then won one later. Michigan had Fab Five. Pistons won two titles as did Red Wings (I became a big Wing fan). My daughter went to Mich State and so forth.

Then we moved back here and Ohio State won title under Tressel. I became Buckeye fan when Jim took over. (Didn't care for Coop because I thought rightly or wrongly that he never had eye on the prize and was spending too much time collecitng monies for extracurricular activities. That and fact Michigan was stealing his top players every year. I allowed as how he was a good coach but that distractions kept him from being a great one.)

Then there were Steelers and Penguins of course and Mountaineers winning NIT a couple years ago. I won't mention how a distracted Rich Rodriguez blew the Pitt game and a chance at title game which he had good chance of winning. Somewhere in there ny lifelong love the St. Louisians improbably won the World Series.

Through all of this I have been heart and soul Mountaineer. I will spare you an account of my rantings of 10 years about the need to dump Gale Catlett. I liked Nehlen a lot but thought he had taken the program as far as he could and didn't have a next step but he only stayed a year too long.

So, the Eers are good for my psyche and sometimes the worse thing for it.

My son and I talk baseball. He is more knowledgeable. A couple years ago he asked me who I liked. My answer: Phillies. He bought me a cap and I wore it and you know what happened. So in a way you owe me a cheese steak or a fish sandwich at Pike Place or better I have always wanted to be on receiving end of one of those fish tosses. I'd spike it after catching a long pass from you. As you say so well ... Ha ha.
When I suggested that given his history he was something of a good luck charm, he cleared that up in a hurry...
I should have said I was fortunate. I am far from being a lucky guy. I was a Steeler fan when they couldn't win a game. I am a Lions fan too and after Layne well you can go figure. I have always been a Buffbills fan since All America Conference and you know what happened to BIlls.

Claire and I saw a game at old stadium in Buffalo. Kemp vs. Namath. I went to buy a coffee as it was WNY cold on a Sunday! As I left seats I saw foam running down steps. I thought it was from refreshment stand like pop exploding. Well it was from top of steps. Few restrooms and abject cold in Buffalo will cause guys to pee beer out anywhere and they were. Amazing seeing that foam roll down those steps. Yucko!
*********** The Duke-Baylor men's game got very good ratings. USA Today says that's because "Duke is the Dallas Cowboys of college basketball." Unless they simply mean that Duke will always draw a TV audience, I would have to challenge that. Duke wins, and Duke does not have Jerry Jones.
*********** USA TODAY ---- "He doesn't have any judgment," says Pittsburgh-based sports agent Ralph Cindrich, a former NFL linebacker. "He is definitely, in the eyes of the law, not guilty (at this stage of the case). Still, you have to question his judgment with a 20-year-old college student. ... Where is your mind?
"I don't think there's any question that Ben has lost the city. The Rooney family is just on hold trying to see what the facts are. But there isn't a bank of goodwill that Ben has to go to."
Stan Savran, a Pittsburgh TV and radio broadcaster for 34 years, says Roethlisberger's local reputation has taken a hit. "I think his image has suffered. ... Almost 100% have kind of lined up against him," says Savran, who does a talk show on ESPN Radio 1250 and regional TV for FSN Pittsburgh. Savran links that reaction to the region's devotion to the Rooneys.
"I think they buy into the fact that the Steelers not only win, but do things the right way. ... They feel what Ben has done is a slap in the face to the Rooneys."
After nearly a week in Philly, I have just the solution - swap McNabb and Roethisberger, even up. It will give the Eagles a starter and the Eagles' fans a new target, and at the same time get Roethlisberger the hell out of Pittsburgh and give the Steelers a proven winner - not to mention a guy who will keep his nose clean in the best Rooney tradition. The Philadelphia fans will get Rothlisberger straightened out or run his ass out of town.
*********** If you're looking for evidence that the neutering of the American male is nearing completion, look no further than Philadelphia, where the 76ers are advertising something called "Sixers' Guys' Night Out."