TUESDAY, AUGUST 31, 2010 --- "The great enemy of the truth is very often not the lie -- deliberate, contrived and dishonest, but the myth, persistent, persuasive, and unrealistic. Belief in myths allows the comfort of opinion without the discomfort of thought." John F Kennedy
*********** Pacific University, in Forest Grove, Oregon, is back at it again.
After discontinuing its football program following the 1991 season, it's getting ready to restart football, kicking off this coming Saturday against Puget Sound.
Colleges struggling with declining male enrollment (a bigger problem than some of you may realize) should take careful note: Pacific, with an overall enrollment of roughly 1500, had nearly 140 guys out for football. More than hundred of them were freshmen. That's at least 100 young men who likely would have been going someplace if Pacific hadn't afforded them the chance to play football.
This year's freshman class, 500 strong, is believed to be the largest in school history.
And, added the Pacific AD, "Football has everything to do with it."
*********** What a great first weekend of football! I saw all or parts of nine high school games, from Florida, South Carolina, Texas, Ohio, Mississippi and California
Best team, in my opinion, was either Hoover, Alabama, Euless (Texas) Trinity or Brandenton (Florida) Manitee. Grant High of Sacramento could be in there, too, but it was hard to tell whether their opponent was in the same class as the teams Hoover, Trinity and Manitee beat.
Best game was Pearl, Mississippi vs. Brandon - two nearby schools with a tradition of chanting "eat dirt" at each other. The game was won in OT on a spectacular play by Pearl QB Devante Nichols, as clever a triple option operator as you'd ever want to see. Asked after the game if he said, "Eat dirt, Brandon" he said, Oh, no sir, no sir. I was too happy. I was giving God the glory."
Next best game was between two San Antonio area schools, Madison and Steele. They featured two great runners in Steele's Malcolm Brown, a Texas commit, and Madison's Aaron Green. Brown is big and strong and fast. On one 80-yard run, he broke five tackles. (I ran it and reran it to make sure.) Green is smaller, but very explosive.
Best player had to be a kid from Rock Hill, South Carolina Southpointe High named Jadeveon Clowney. Damn near unmanageable at DE.
I was impressed by running back Shaq Thompson, of Grant. And Manatee's Mike Blakeley scored three touchdowns and threw for a fourth against Plant, one of the nation's top teams.
Most surprising result was Olney, Maryland Good Counsel's win over Cincinnati's St. Xavier. St. Xavier took the opening kickoff and drove right in for a score, then shut Good Counsel down for three quarters of play. But the kids from Maryland, ranked Number One in the DC area, finally got on the board early in the fourth quarter, and then returned two St. Xavier passes for TDs in the final five minutes to win, 21-6.
*********** "The Boys of Fall" was pretty good. Lots of good shots for those of us who know and love their football history. Lots of good footage of real HS kids.
But I'm not going to trip all over myself in praise. I can't give it five stars because of the pro influence (Madden and Parcells, for example), and because the song's lyrics repeatedly refer to "knockin' heads and talkin' trash."
The "knockin' heads" could be dismissed as football jargon any other time, but not now, when our game is in peril because of well-meaning peoples' concerns about concussions.
And "talking' trash," as if that's just an accepted part of our game, and not something insidious that crept in from street ball? Please tell me what that has to do with all the good things we tell people our game promotes.
Damn. Is there nothing we can do to keep that "culture" from infecting our game?
*********** In New York State semi-pro ball, the Troy Fighting Irish are now 7-1 after a win over the Oneida County Titans.
Writes offensive coordinator Pete Porcelli, who has been running my Double Wing exclusively from spread formation, " had over 600 yards of total offense - 508 on the ground and 95 thru the air. Everyone touched the ball!"
*********** A Midwest HS coach who is new to my system writes, "I forgot to tell you how much the pancake drill has helped us stress physicality and finishing blocks."
*********** WTF? Sports Business Journal reports that as part of a $50 million "Back to Football" campaign, the NFL has signed up more than 5,000 schools for a program called Back to Football Friday. The idea is that on Friday, September 10 - the day after the opening game and before the first weekend of games - schools and offices across the country will have NFL "pep rallies" and can win prizes for their efforts. There are 1,800 "school events" planned, in 49 of 50 states and in all 32 NFL markets.
Cool. Let's let the kids out of school out so they can all celebrate the NFL's opening weekend. (Hey – there's a new Gap store opening in the mall next weekend. Can we have a pep rally for that, too? Hey, wait a minute - don't we have a game of our own tonight?)
Meanwhile, in less fortunate countries, children are forced to stay in class because they don't yet have NFL-sponsored "pep rallies." They will all wave to us as they pass us by educationally.
*********** Back in November of 2007, Allen St. John wrote in the Wall Street Journal…
"The spread offense does have an Achilles' heel, however. It is based on perfect execution by skill players, rather than the physical dominance exerted by teams with a traditional running game. This can result in a delicate balance between the players on the offensive squad – one that can make spread-offense teams especially vulnerable to upsets when a key player drops out of the picture. Oregon, another team that runs a spread offense, relied heavily on versatile quarterback Dennis Dixon. When Mr. Dixon suffered a season-ending injury to an already-damaged knee, it cost the team not simply a win against Arizona, but quite likely a shot at the national championship."
This past Saturday morning, the last one around here before the high school season starts, I made the rounds of some local high school practices. A couple of them had intra-squad scrimmages going on.
As expected , the trend is to mimic the Big Boys, which means a lot spread/shotgun. Pistol, especially. Gawd, some of them looked awful.
Giving them the benefit of the doubt, the head coaches are inexperienced, and most of them don't know anything else. They haven't served significant apprenticeships under successful head coaches with solid systems of their own, and the spread shotgun is easy to pick up. It's everywhere – at all the clinics and in the clinic manuals, on TV round the clock - and in video games.
Most of the new guys are so green they really don't know where to go to get something else.
Besides, that entails learning, which can be a long and laborious process. So why not just lift what obviously works for Oregon, and Boise State, and West Virginia, and Nevada, etc., etc? Why not just run their plays?
Well guys, I'll tell you why not – because Oregon, and Boise State, and West Virginia and Nevada have been able to recruit players to run their systems. Their passers can put the ball on the money; their receivers run exact routes and they don't waste plays by dropping passes. Their quarterbacks and receivers know exactly what they're looking at defensively and how to react, and so do their offensive linemen. Oh – and their coaches know WTF they're doing, and they know how to teach it. And they have the time to teach it. And they know how to troubleshoot it when things go wrong, or when they see something they haven't seen before.
This sort of offense does transfer well to certain high-profile high school programs, and occasionally to smaller high schools, when they're blessed with once-in-a-generation talent. (Or when they can recruit.)
But even the really good teams can become so dependent on a great quarterback that when they lose him, they become very ordinary. A case in point happened this past Friday night, when nationally-ranked Plant, Florida lost its quarterback early in the game against Bradenton Manatee. The kid is really good. He's already committed to Alabama, and when he was in the game, the two teams appeared well-matched. But when he went down, Plant didn't have a backup of comparable ability or preparation (how many teams do?) and the result was a blowout – a very good Manatee team beat anotherwise solid but punchless Plant, 48-10.
And what I saw Saturday morning was no Plant. I saw a team that couldn't even snap the ball back successfully. The QB was probably 6-1 or -6-2, and yet he repeatedly had to jump for the snap, and lost the ball five times as a result.
The running game was largely ineffective. The line took enormous splits – that's what they see the big-timers doing - and couldn't protect their gaps.
From a pistol set, they actually tried to run a triple option. As if the triple is just another play in the grab-bag. The result was sorry - the ball wound up on the ground.
I'm guessing that I saw them throw a dozen passes and complete - at most - three of them.
I was looking at one more in a long list of teams that will do the politically-safe thing and attempt to ape successful spread teams, but will fall short. Way short. How would you like to be the defensive coordinator on this team when it repeatedly goes three-and-out, as it undoubtedly will? Do you realize how quickly your defensive unit will be back on that field again when the offense throws three incompletions and then punts? Do you realize how little time will haverun off the clock? What if this happens, series after series?
Better to line up in full house and run dives and quarterback sneaks. But, of course, that's not cool.
*********** Hugh, Had to deal with a bad situation last night. We had a JV kid leave early for (another sport) practice. We ran him and told him it can't happen again. It did. We ran him and told him he'd sit a half of the first game and next time he should just hand in his gear and choose (the other sport). He told the coaches he couldn't make our scrimmage because of a (other sport) tournament. I took a stand. He handed in his gear. Mom and Dad aren't happy. Luckily the AD has my back. Been a real pain though - they might go to the superintendent. I will survive, but its the last thing a Varsity coach wants to deal with right before a scrimmage. It really took the wind out of my sails. On a positive note the Varsity has been a dream so far... for the most part. We have tremendous senior leaders and we have total buy in. Now we just have to win some games!
The kid and/or his parents violated my number one rule: The Team Comes First. Religious Events, Important Family Functions and School take precedence, of course, but otherwise, no personal matter can be allowed to interfere with a kid's commitment to his team.
As soon as you step outside that Holy Trinity (faith, family, school), you lose your standing when you say a kid can go to a tournament and then the next kid says he has concert tickets, or another one wants to stay home and play X-Box with his cousin who's visiting from Michigan. Another one has a chance to spend a week elk hunting with his grandpa. Yet another one has piano lessons every Tuesday afternoon. Every one of those other activities is important to a kid or his parents, but they have to be put aside because of the requirements of football. Otherwise, you are going to have to tell them that a sports tournament , which isn't important to them at all, is more important than their concert, which maybe they've been waiting months to attend. What's important to one kid (and the kid's parents) is not important to another.
There have to be excused absences, of course. But for the good of the team, unexcused absences can't be tolerated.
Like so many kids, he either wasn't listening when you talked about sacrifice, about commitment, or didn't really understand, or didn't want to understand. I get the impression that this has gone on in the past, and it might be indicative of the sort of attitude toward football has that led to all those losing seasons.
I believe you had to take a stand, and I'm glad that you've had a chance to discover that your AD will stand up for you.
Today's parents can be very selfish and narcissistic, and they insist on having it all. Bad timing? People like that have zero concern about their kids' teammates or respect for their kids' coaches.
The only grounds on which those parents could take it to the Supe would be - did you inform the kid that the next offense would be a firing offense? That you did.
FWIW - There is a very good chance that it's DAD's ambition you're f--king with - not to mention a big part of his social life - and he gave the kid no choice. In my opinion, when you sense a situation that could wind up with your having to kick a kid off the team, you need to look further down the line and give Dad the warning, too, in front of the AD if possible. At the least, you need to give the AD a heads up. Maybe you did. If the AD chooses, he can pass it up the line. But ADs don't like surprises, and they need to be forewarned.
In my experience, I have found it works well for all concerned to let kids know in no uncertain terms that missing a practice will mean missing a game, and missing a second practice will mean missing two more games.
I once made a mistake and softheartedly (and softheadedly) sat a kid out for just one half. ("The team needs him," blah, blah, blah.) Not only did the kid's replacement do just fine in the first half, but in the second half, when I put the transgressor in, he rewarded us by pussing out on a tackle and letting the opposing QB go all the way for the winning touchdown.
*********** Hi Coach,
I coach a 7th and 8th grade team from a small school. Last year we purchased a book by Jack Reed, the single wing. Great book, but wanted to add a little more this year. Two teams will have very large aggressive players and I thought the deception from the double wing would be a better suit for these teams. I saw your web site on a blog that also discussed Reed's book and was hoping your book and video were written in a similar fashion. He takes you through step by step, each players responsibilities and keeps it simple. I noticed your book has quite a few plays in it. I guess my big question is, is it a book with a lot of plays or is it an instructional book. I was hoping you might be able to elaborate a little. Looking forward to hearing from you, THANKS!!
HI Coach,
Nice to hear from you.
I don't know how to answer your question other than to say that my playbook is a meat-and-potatoes, technical book for coaches, and the video that accompanies it illustrates the plays with several hundred clips from games.
To the extent that my playbook contains a complete, ready-to-use system, with every player's assignment, I think it is an "instructional" book, but you may disagree.
It does not, however, deal with coaching philosophies or sea stories. My NEWS page, which I have been publishing for more than 12 years, covers that aspect of it.
Hope that helps.
*********** Alan Goldenbach of the Washington Post described the scene in Washington, D.C. Friday night as the Coolidge High team took the field for its opening game:
Cameras followed Natalie Randolph as she emerged from a long tunnel leading from Coolidge's locker room onto the football field. A boom microphone hovered over her head as she coached her first game for the Colts. A news conference followed with more than two dozen media members asking her what it meant and how it felt for a woman to lead a Washington-area football team for the first time.
Oh - Coolidge lost to Carroll, 28-0.
I have stayed away from this story because from the start it has been a media circus. None other than Himself, His Honor the Mayor, showed up for the news conference announcing her hiring. ESPN, never one to pass up a story, has been all over this one, and has made significant donations to the Coolidge program. Anybody sense a made-for-TV movie?
Unfortunately for ESPN and all those of you who believe in fairy tales, who believe this bullsh—about being able to be anything you want to be, it could get ugly.
Yes, we can all achieve our dreams – provided we have the ability. But there is something else, too – it's called paying your dues along the way. Inner-city schools do not usually have the best of facilities, and they don't normally get much attention, and suddenly Coolidge makes a hire that couldn't possibly be justified if the new coach were a man, and the attention of a nation is focused on one inner-city school. I have a feeling that there are some long-time coaches in DC high schools who have paid their dues, who have labored in obscurity and made do with substandard facilities, and are eager to extend a warm, football welcome to the newest member of their group.
*********** Hi Coach,
Just wondering, who gives the signal to the center to snap the ball on your fake punt wedge? We plan to use that this fall.
Typically, it is the punter, because he gives the signal when to snap on punts. His first job is to check and make sure that we have enough men, and then to make sure everyone is set.
http://www.coachwyatt.com/WEDGEonPUNT/WEDGEonPUNT.mov
*********** Looking for some advice.
Last night my son who is a Sophomore dislocated his shoulder in the 4th Quarter. He is 6'3" but only weighs 170 so that may have contributed.
My question is this. In your opinion should he try to return this year or wait until next season and just rehab the shoulder?
As an FYI. He plays wide receiver and strong safety. He does not start but he is on the kickoff team. (We played a weak team so we kicked off a lot last night and he had 6 special teams tackles and 2 in the game before getting hurt.)
But - here's where it could inconvenience you - I would find the very best I could find at treating sports injuries, which in your case would mean in (where the state university is located) . I know that's a haul from (where you live), but you're dealing with your own son in a time of urgency (for him at least). I wouldn't hesitate to call the (state university) football office and explain my predicament and see who they recommend you see.
I have found that an orthopod who deals regularly with athletic injuries - and with healthy young people - is better able to balance the possibility of long-term damage with the youngster's desire to play than the one who deals with people like you and me and our injuries.
I think that in general the local practitioner tends to be overly conservative in approach, and doesn't take into consideration that fact that a kid has better recuperative powers than the average patient, and may be able to return to play without long-term risk. The one who deals with college athletes on a regular basis understands this better, and will be better able to tell you whether it's just a matter of your son's having to deal with a little discomfort, or whether it's best for him to take the rest of the season off - or maybe it's possible to rehab for a period of time and see how it responds.
I wish you and your son the best. I'm sure that this is discouraging and I hope it turns out for the best.
In the meantime, there might be some way he can stay close to the team and make himself very useful - maybe by keeping charts for the coaches, or videotaping practices.
*********** It always amazed me when I taught - this is 10 years ago, now - how few kids read anything. Anything.
What also amazed me was that high school kids actually enjoyed being read to! I would read to them and they'd sit and listen; and then I'd pause and we'd discuss things.
It was as if they had no idea what the written word sounded like, and so they were incapable of "hearing" what the author intended.
*********** Good Morning Hugh,
Goodness, I had a moment of nostalgia watching those North Beach clips. That really was a heck of a coaching job and I think of that time often. From the classic: "It was the best of times it was ..." . What might have been for them if they had only understood the meaning of the word commitment--I truly believe the next couple of seasons they would have been really good!! My wish is that I get to coach with you one more time--giving what I know and learned I would take what we did there and make you an even better assistant. Thanks so much for that chance and that opportunity it was the "Best of times it was..."
Jack Tourtillotte, Boothbay, Maine
*********** I had some dumbass from another team film my practice. Is this against high school rules?
I can't imagine any state that allows a team - or a representative - to film another team's practices. In Washington, although you may videotape another team's games, you may not videotape its practices. I once started to videotape an upcoming opponent's intrasquad scrimmage and was informed by their AD that even though it was in their stadium and under the lights and advertised and promoted in the community, technically it was a practice, and although it was open to the public, and as a resident of th community I could stay and watch, I was not permitted to videotape it. Made sense to me.
It is definitely considered a serious breach of coaching ethics to watch another team's practice (it's called "skunking"), much less videotape it.
If there's any consolation, he probably didn't have a good enough vantage point to get much of any use.
*********** Yeah, and I'm the Queen of England. I don't care who you are, buddy - without a pass, you can't be in the press box...
Dan Rooney, the owner of the Pittsburgh Steelers is the son of the founder of the Steelers, the late and much-revered Art Rooney. Dan Rooney has been a close confidant of NFL commissioners. He is a member of the Pro Football Hall of Fame. The NFL's rule requiring that minority candidates be interviewed for any NFL coaching vacancy is named the Rooney Rule in recognition of his work on behalf of minorities. Oh - and at the present time, he is the US Ambassador to Ireland.
But Saturday night, according to the Pittsburgh Post-Gazette, he was talking to people in the press box at the New Meadowlands Stadium before the game when a press box attendant told him to leave and return to the private box where he was sitting because he lacked the proper press box credentials.
Hmmm. Maybe we should put that attendant in charge or border security.
FRIDAY, AUGUST 27, 2010 --- "You only learn who's been swimming naked when the tide has gone out." Warren Buffett
*********** They keep speculating about how the McMinnville Medical Mystery could have happened, and on Thursday the Oregon School Activities Association (OSAA) doctor gave us what amounted to an "it's rare but not unusual" explanation.
Right, Doc. So how come I've been involved in football as a player or coach since 1950 and I hadn't heard of a single case until this week? Nobody I've spoken to has, either. And yet at one high school, in one town in Oregon – and no place else within 1,000 miles - some 40 kids had symptoms of this previously unheard-of syndrome. 13 of the kids were hospitalized, and three of them required surgery.
The doctor hasn't come close to explaining convincingly how this problem, rare or unusual, could have happened to even one kid, let alone so many kids in just one place.
Heat? Come on. Football players have worked out in intense heat for generations.
Exercize? Gimme a break Are you telling me that this is the only group of kids that have ever done pushups to excess?
Lack of water? Make me laugh. Yeah, we all know you should drink plenty of water. No doubt about that. Yet why didn't this ever happen back in the days when our coaches even wouldn't let us near the water bucket? When we'd wring out damp towels just to get a few drops of moisture out of them?
So what's left?
Hmmm. Is that an elephant I see over there?
*********** In Oregon, full contact is prohibited by the Oregon School Activities Association (OSAA) during the first three days of sanctioned practices. Yet during the summer, from Memorial Day until July 1, no OSAA rules apply, so teams routinely issue pads and helmets in June, then attend "contact camps," where they take part in full-contact scrimmages.
Says Dr. Michael Koester, chairman of the OSAA's Medical Aspects of Sports Committee, "Those kids step off the bus, put their pads on and start whaling on each other. Why do we have that OSAA rule in place versus why do they have no rules in place at the football camps."
Back home from camp, for many schools the contact work continues through July.
For coaches in the northwest, and many other places in the country, football has become a year-round monster.
I don't know why more coaches don't listen to Tom Smythe. He has long been opposed to summer football. That includes camps, combines and 7-on-7.
But what would he know? He's 70 years old. Yeah, right. And for my money, he's the best high school football coach in the Northwest. He's won three Oregon championships in the state's highest classification - in 1987, 1997 and 2001 - and now, in the second year of a major rebuild, it won't surprise anyone if he's in contention again this year.
In six years as head coach at Portland's Lewis and Clark College, a small, private, liberal arts college with high academic standards, he posted a remarkable 29-25-3 record.
If anybody would benefit from year-round football, it would be Tom Smythe – he was among the first in the Northwest to advocate spread-it-out, pass-first football. Way back in the 1970s, when Mouse Davis was run-and-shooting it at Portland State, Tom Smythe was doing the same at Lake Oswego's Lakeridge High School. When he and I played against each other in 1983 (he won), he was already an old master of the passing game.
Yet in an article in the Portland Oregonian at this time last year, Smythe said that he reminds his players that he has a few state championship trophies in his den, "and not one of them says 'Summer 7-on-7 Champion.'"
He says, "The whole thing has escalated to where some programs scrimmage all summer. I mean, they issue full gear and they're practicing and scrimmaging each other, and then the OSAA says, 'Well, we can't govern everything.'"
Lamented Dr. Koester: "The OSAA doesn't have the mechanism in place to enforce things during the summer. It would have to be enforced at the school level. Coming from the state superintendent's office, coming from liability insurance carriers, coming from somebody with a bigger stick than the OSAA would be ideal."
I'm unable to understand why schools can't see the potential liability issue here. I guess it's going to take a serious injury to a player, and the discovery that the school's insurance doesn't consider summer football to be a "school activity."
*********** Coach I am having a dilemma as we started our 1st day of full contact and have our 1st scrimmage on September 9th and we are having real issues with center/Qb exchange. I am at the point of trouble shooting it until tomorrow and scrapping it and go full bore into the wildcat. 1st I need to make sure we are doing everything we can with the center QB. Thumbs in contact with the center. Thumbs together fingers fanned wide.
What am I losing going to Wildcat versus the conventional under center?
Coach,
In my opinion you are not losing much and you are gaining quite a bit more deception.
The only possible drawback is that it is hard to have a quick passing game because the QB has to look at the snap and can't concentrate on coverage.
I've attached a short presentation that I use... http://www.coachwyatt.com/whythewildcat/whythewildcat.mov
Let me know if there is anything I can help with.
*********** With Bobby Bowden's recent announcement that he was not exactly fired but he was, indeed, "forced out," my thoughts turned to Joe Paterno…
I like Joe Paterno and respect him and all that he's done, and I hope that he will go out with honor and dignity, and on his terms.
I'd expect that one of those terms is the right to designate his successor. I'd be shocked if it weren't.
My take, based on interest more than inside knowledge...
Over the years, Joe has passed up several opportunities to anoint his successor and step aside gracefully. I suspect that it was the failure to take advantage of one of those opportunities that finally persuaded Jerry Sandusky, the Lions' highly-successful defensive coordinator, that it was time to retire. Many of us on the coaching scene had a lot of respect for Sandusky and his work and believed he'd be the guy to replace Joe.
Then there was Fran Ganter, the offensive coordinator and another long-time State assistant. I'm not sure of the timing, but I think his best chance may have come at about the time the State program hit bottom and people were calling for Joe's head - not exactly the right time to be telling people who you want to succeed you. Not that Joe was about to bail when things were tough, anyhow. And now Fran Ganter is working someplace else in the athletic department.
More recently, it's been Tom Bradley, the defensive coordinator. He could be an excellent choice, too. Presumably, Sandusky and Ganter grew tired of waiting, and Bradley probably will, too.
Lately, Jay Paterno, who's been serving as quarterbacks' coach, has been getting a fair amount of exposure in the media. You don't suppose...? I have no reason to doubt that someone qualified to coach at Penn State is capable of being a head coach, but irrespective of Jay Paterno's qualifications, there are grave dangers in Joe's even suggesting that his own son succeed him. Things could get ugly. The Bobby Bowden-Jeff Bowden story comes immediately to mind. Joe can't be unaware of how that played out.
It would be nice if a Penn State guy could succeed him, carrying on the long line, but Joe has not exactly been a Hayden Fry or Bill Snyder in spinning off large numbers of assistants who've gone off to become successful head coaches themselves. The very staff stability that Joe has fostered and has provided his program with such consistency has also meant that a relatively few of his assistants have left to head their own programs.
One successful head coach with Penn State ties is the Indianapolis Colts' Jim Caldwell, but he lacks successful college head coaching experience (he was not particularly successful at Wake Forest, admittedly never an easy place to win), and now he's probably out of Penn State's price range, anyhow. Another is Rutgers' Greg Schiano, who spent a year as a graduate assistant and five years as an assistant at Penn State back in the 90s. Should State go "off-staff" for Joe's successor, he would seem to be a great choice.
Temple's Al Golden certainly bears watching. He's a Jersey guy who lettered three times at Penn State, captaining the 1991 Nittany Lions team. He was a GA at Virginia under long-time Paterno assistant George Welsh, and between stints as linebacker coach at Boston College and defensive coordinator at Virginia, he spent one season at Penn State as linebackers coach. Taking over at Temple in 2006, Golden's first team went 1-11, but last year's Owls were 9-4, and this year they could be even better.
Few people now remember Joe's predecessor, Rip Engle, but he was a heck of a coach in his own right. He turned a solid program over to a young Joe Paterno, who had played for him at Brown and then worked under him at Penn State for 16 years. The ironic thing is that when Engle announced - well in advance - his intention of retiring, the transition to Joe was almost seamless, one of the smoothest and most successful in the history of college football. Now, sadly, Joe appears unable to hand off the reins in the same way.
*********** Hugh, The debate over how to align the Big (12) Ten's newly-created divisions reached a new level of acrimony last week when people from Michigan and Ohio State made statements suggesting the possibility of (a) putting OSU and UM in different divisions, such that they might rematch in the Big Ten championship game, and/or (b) moving The Game to midseason instead of late November.
Needless to say, this produced a huge amount of hugh and cry. Personally I think both moves would devalue the game tremendously. Florida State-Miami has been OK, but Nebraska-Oklahoma hasn't been what it used to be and most of the SEC's rivalries are in intra-division and better for it.
This could have been a strategic PR move, to float a trial balloon so offensive that they can come back with a better but still weak "solution" that would have been unpalatable as an opening move.
Christopher Anderson, Arlington, Virginia
*********** Thank you, Peyton Manning, for giving the NFL poohbahs a demonstration Thursday night of The Law of Unintended Consequences… How exactly, with the referee and umpire now taking a position behind the deepest back, is the QB supposed to know when the ball is ready for play, without turning and taking his eyes off the defense????
*********** Jeenius Jon Gruden, after the Colts' Bob Sanders was penalized for launching himself and taking a dirty shot at a defenseless Packers' receiver (hit him in the back, long after he'd missed the ball): "That's the only way Bob Sanders knows how to play."
Um, isn't that where coaching comes in, Jon?
Otherwise, it's a damn shame, because he's a pretty good player. If only somebody had been there during his formative years to teach him how to play the game by the rules.
*********** Speaking of Jeenius Jon... he was talking about Donald Driver, from Alcorn State. Now, wouldn't you think a guy as smart as Gruden would pronounce the name of Driver's school correctly? It's AWL-corn State. Don't be tricked by Gruden into thinking it's OWL-corn State.
*********** Recently, Legendary New York Giants QB Charlie Conerly was inducted posthumously into the Marine Corps Sports Hall of Fame. This is no trivial honor.
He joins an illustrious list of great athletes who served in the USMC, such as baseball players Hank Bauer, Roberto Clemente, Gil Hodges, Tom Seaver and Ted Williams; boxers Ken Norton, and Barney Ross; Basketball players Bobby Wanzer and Jo Jo White; golfer Lee Trevino; two-time Olympic decathlon champion Bob Mathias; and football players Angelo Bertelli, Art Donovan, Eddie LeBaron, Ernie Nevers, Leo Nomellini and Ernie Stautner.
I spoke with Mrs. Conerly not so long ago, and she said that she and a niece were on hand for the induction at Quantico. She said that the Marines treated them like royalty – they sat at the Commandant's table, and were guests at a reception at the Commandant's home.
I don't bring up the topic of her the Pro Football Hall of Fame's failure to include her late husband – who has many times, by highly qualified people, been called "The best football player who's not in the Hall of Fame" – but it does come up from time to time. During his career it was his good fortune to play with eight men now in the Pro Football Hall of Fame – Roosevelt Brown, Frank Gifford, Sam Huff, Tom Landry, Andy Robustelli, Y.A. Tittle, Emlen Tunnell and Arnie Weinmeister – in addition to many "almosts" such as Kyle Rote and Roosevelt Grier. But his good fortune may also have hurt his chances to make the Hall of Fame because of the belief in some quarters of a New York GIants' bias among HOF voters.
The 2007 Marine Corps Sports Hall of Fame induction was interesting because of the four inductees, only one was still living. There were Dodgers' great Gil Hodges, Notre Dame Heisman Trophy winner Angelo Bertelli, and the 49ers great defensive linemen Leo "The Lion" Nomellini, all deceased.
And there was 86 year old Bobby Wanzer, five time All-NBA guard. (Yeah, yeah, I know – basketball is so much better now. Basketball players are so much better now. But Bobby Wanzer was the first player in NBA history to shoot over 90 per cent from the free throw line in a season, and only six players in today's greatly-expanded NBA managed to do it this past season.)
"I want to welcome you back to the Corps," Marine Corps Lieutenant General James Amos said. ''Some of you may have been away from the Corps for sometime, but we haven't changed; we're still here. And we're here just like we were for your father or your grandfather or, in your case Bobby, just the same way we were when you were a United States Marine.
''Once you're a Marine, the DNA takes," Amos said. ''This generation has become tattoo crazy, but in the Marine Corps, besides those physical tattoos, you get one tattooed on your heart – the title United States Marine – and it never goes away, not even when you retire. You may not shave every day, but every day you'll look in the mirror and say, 'Good morning Marine.' And that hasn't changed. And it's the same with all our inductees. They were tremendous athletes, but in their heart-of-hearts, that tattoo was always there, that Marine Corps DNA took, and they always were and always will be United States Marines."
Said Wanzer, 'It's wonderful to be surrounded by so many Marines again, but I don't know if they'd recognize me as a Marine anymore. The Marine Corps gave me a lot. I was an undisciplined kid when I first joined, so I learned to take orders, team play, and discipline, things that being a kid from New York you never get. The best part was when my daughters asked, 'Why the Marine Corps?' I said it was because athletes have egos and want to be the best, so I had to go to the finest outfit."
***********Coach, Yesterday in practice we ran 88-Brown A Throwback - and the safety picked it off. We were practicing it against a 4-4. My question to you how do we prevent that...who do I have the QB read to prevent that interception. I have taught him on his 4th Step to plant and hit the throwback back route.
Coach, This is not a play that is always "there." It isn't a good call until it is a good call. In other words, when the corners are rolled up close, and when you run 88 Super Power or you throw 88 Brown, the safety is moving in the direction of flow, it could be a very good call.
We normally occupy the safety on 88 Brown by having our X-End run a "backside choice" based on what the safety does: he starts out running a skinny post, and if the safety rotates he stays on the post; but if the safety hangs, the end breaks off his post route and runs what we call a "Dig," trailing across at 12 yards or so behind the linebackers.
On "Throwback, this should be enough to occupy the safety.
But even without that, I'm willing to bet that the receiver (the A-Back) contributed to the interception by not sufficiently stretching the coverage, by not getting as much width as he could. This is a fade route, and width is every bit as important as depth. The idea is to get outside the 3-deep umbrella. Running this correctly takes a fair amount of work, because receivers all want to get upfield without also getting wide, breaking the umbrella. To help the receiver get started correctly, I want to make sure his first step is a crossover step with the inside foot. If his first step is flat, his second step will be, too.
Then, I want to make sure the receiver knows where the ball is going to be thrown. I tell the QB to throw to a spot - to take four steps and and plant throw to the spot, putting the ball just inside the sideline at 20-25 yards (maybe less with younger kids) - regardless of where the receiver is! I tell the receiver that if he wants the ball he'd better be there, because that is where I'm telling the QB to throw it. The QB must throw to that spot. He is NOT to throw to the receiver, because the receiver can lead him into trouble: if the receiver doesn't stretch the coverage, the safety will get there. Bingo.
It's possible, too, that the QB caused the problem by holding the ball too long. First of all, because he doesn't have the A-Back blocking for him on the backside, as usual, he has to avoid a sack. But also, it holding the ball too long means that the receiver might outrun the QB's arm. And worst of all, it also takes away the element of surprise: the longer he holds the ball, telegraphing his intentions, the more ground a safety will be able to cover.
It takes work, but if the QB throws to the right spot, the throwback won't be intercepted.
And if your receiver runs to the right spot, it will be a touchdown.
Here's a couple of examples: first is 88 Brown Throwback: It's a TD but it's almost intercepted by the safety because the A back isn't near wide enough. Plus, it's not a great call against a 2-deep secondary because the safeties are set wider; second is 99 Black Throwback: It's a better-executed play but the pass is dropped. I'd still like the receiver to be wider.
In both cases, note how fast the QB gets it off. He doesn't waste any time back there. He's only a split-second from being sacked. *********** Old friend and longtime journalist Frank (Pope Franjo) Lovinski sent me this great photo that he took at a game between Steubenville, Ohio and Inkster, Michigan, along with a little writeup: Steubenville QB Anthony Pierro (7) blasts through textbook blocking Thursday evening for a 30-yard open field romp against Inkster (Michigan) Vikings at Harding Stadium in Steubenville.The Big Red took care of business 36-0. Inkster, runner-up in Michigan state final last year, ended Big Red's 65-game regular season winning streak last year 32-28. A partisan packed house enjoyed it all as Big Red made up for that devastating last minute loss last year.
Franjo added, "I have always admired the Steubenville coach. He plays as many kids as he can and he begins subbing on second and third series.
"As a result, he rarely if ever starts over with empty cupboard. He always has experienced players returning. I have never understood why coaches don't practice this. In Ought Eight, I coached 6th-7th-8th graders and played them all. I figured that I had a first team coming back. But, I had to resign my heavily remunerated position. The teams I left went undefeated for three years.
"Last year (and every year) I saw a team losing by 30 late in 4th quarter and the coach still had his first team, senior laden, in the game. Unbelievable. I will never understand that philosophy. Ever.
"And, I have seen teams leading by 30 late in 4th and the coach still has most of his first teamers in the game."
*********** Good Morning Coach
I hope this finds you well. I really like your way of doing things. The logic you use really hits home with me. You have a military way of doing things (simple straight forward and logical) which resonnates with me ( I guess my 15 years as an Army officer helps a bit). I like the 5-3 looks you use, I will need to go with man coverages, my experience with youth football ( 12yrs and younger) is the concept of zone is too much to ask given the amount of time we have to practice.
Coach
Glad you agree with my approach. I appreciate the assessment of simple, straight forward and logical. I think back to my college playing days - to a system that I couldn't figure out. So, like other guys, I suspect, I often faked it. When I became a coach, I thought back to my college experience and figured that there had to be a way for players to understand. Really understand.
Agreed on man for man. Teaching zone can suck up a lot of practice time.
I also like the no huddle system you use. I was really impressed with the "coding the game plan" tab. It did raise a few questions. I will ask the questions but I understand if you prefer not to answer all of them...leave them wanting more! Here goes…
What is the color code for the plays? Some are red and some are green, what do the colors mean?
Answer: Red and Green don't mean a thing, and they aren't necessary. They are just additional ways of calling a play, because a play in the Green column can be called by the number of the column (say, "1-20" but also by the color ("RED 20"). They might be easier for some players to locate on their play cards.
What is 99/88 GTO? Logic would say it is a blocking scheme per your naming convention but there is nothing in the hymnal about a GTO Scheme.
Answer: "GTO" is a form of sweep blocking that I rejected some time ago. Forget it.
Does "follow" mean the same thing as "keep"? I have a great athlete at QB and plan to run him as often as possible.
Answer: "Follow" is a tag that means that the QB will carry. All blocking remains the same. Only the QB and the back who normally carries are affected. The carries out his usual assignment, but instead of handing off, he keeps the ball, following the normal running back through the hole (or around the end). The normal running back becomes the lead blocker. EXAMPLE: "6-G FOLLOW" Answer: "Keep" is a tag that also means the the QB will carry. Again, all blocking remains the same, and again, only the QB and the back who normally carries are affected. Now, though, the normal running back on the play will do something else. Maybe we will flank him or send him in motion as a diversion. EXAMPLE: "RIP 88 POWER KEEP"
Utah Cal Gold and Omaha Art Green, I understand the over and under out of wildcat, I understand both wings to the same side, what does Gold and Green mean?
Answer: "Gold" and "Green" were codes for Wildcat sets. But as the Wildcat evolves, realizing that this is inconsistent with my use of colors for passes, I "retired" Gold and Green. Now, my normal Wildcat set, with the B Back on the right, is "CAT." If I want the B-Back on the left, I say "LYNX" (a cat name beginning with an "L" . "Links" also happens to be German for LEFT).
What is 3 Charlie/ 3 George? Again I assume charlie is a fold block, what is George?
Answer: "Charlie" is a fold block with the center going first; "George" is a guard-tackle fold block with the guard going first
What is your Silver formation?
Answer: "Silver" has been retired
Thanks Coach!
The ability to take something complex, break it down to the simplest terms and make it executable by even the youngest football players is exceptional. I think back to my very successful high school football days and all I did was execute assignments without knowing the big picture. I transferred in as a sophomore to a very good program in Texas, but no one on the staff took the time to teach me the system. In hind site now as I look back I have figured it out. My boys who play for me now know and understand the entire system and the rules. It is so much better when they understand the process and the logic. I wish I had coaches that taught the way you do. I marvel at how smooth a properly run double wing system works versus some of the teams that line up in a "double wing formation" yet don't pull anyone. I talk with some of these coaches and there is no system per se in how they execute their system. You have done a great job of taking a very dynamic system and making it easy to understand and teach. Thanks again.
Best Regards,
Troy Daugherty
Enterprise F&O Training Manager
Dallas, Texas
*********** Midway through the third round of the recent LPGA Safeway Open, Julie Inkster was just three strokes back of the leader. Should she manage to win, Inkster, 50, would be the oldest woman ever to win a tour event.
But while waiting to tee off at the 10th hole, she first gave an interview to the Golf Channel, then put a weighted doughnut on a club and took a few swings with it to loosen up.
For that, she was disqualified. See, the rules of golf prohibit use of any practice devices during rounds, and they specifically mention weighted "doughnuts."
But here's the really interesting part – the violation was reported by someone watching the tournament on the Golf Channel. An e-mail or phone call to tour officials, and a review of the video, and that was that. It's not the first time that a rules infraction has been spotted and reported by a TV viewer. (I don't know how these inspector-types know where to call to make their reports. I almost went nuts trying to find a way to contact ESPN, back when they kept giving Craig James face time to tell us all how he and his families were victims of that evil Mike Leach.)
Wow. I thought about all those times I've pointed at the set and shouted, "That f--king Number 62 is F—king HOLDING!!!" and it hit me.
Look - we all know that as widespread as the players on a football field are, and as adept as they've become at cheating, the officials can't catch everything. Face it - they could use a little help from fans.
Voila! Based on the way this seems to work for golf, I've figured out a great promotion for the NFL Network. Here's how it works:
Instead of indignantly screaming at their sets, fans will report infractions that they see on TV. They'll have ten seconds from the end of any play to text their call to a number displayed on the screen. (The ten seconds are counted down on the screen.)
First they'll text the offending player's number: in this case O62 for number 62 on offense),
And then they'll text the violation:
@ - offensive holding; # - defensive holding; $ - illegal procedure; % - offside; & - illegal contact; ? - offensive pass interference; + - defensive pass interference; ! – helmet-to-helmet contact … you get the idea
In this case, for example, I would text "O62@"
And if a certain specified number of similar texts were to come in during the time allotted, the penalty would be called.
Everybody wins:
The viewers are involved. REALLY involved.
The integrity of the game is enhanced because cheaters are more likely to be caught.
The NFL Network has a great way of attracting viewers.
The phone companies all benefit.
The NFL charges viewers for each text message.
The only people who lose out are the poor schlubs in the stadium. They'd have to wait. Screw them. They don't count anymore, anyhow.
Oh. I did leave one penalty out. Taunting or excessive celebration. The text symbol for that would be

. If you've read Kurt Vonnegut's "Breakfast of Champions," you may remember that that's how Vonnegut depicted the human anus.
So if you're watching Cincinnati, be prepared to hit "O85*" and "O81*" a bunch. *********** Pete Porcelli sent me this shot of his kids at Green Tech, Albany, New York, at the end of their first practice. Pete added, "I went to Giants practice because it was at SUNY Albany and what do you know - the Giants D line was doing the pancake drill on some porta-pit mats. good stuff!!"
*********** I happened to catch ESPN's feature on this summer's Baseball Hall of Fame induction, and it didn't take me long to say, WTF?
One player. (Andre Dawson.)
One manager. (Whitey Herzog.)
One umpire. (Doug Harvey.)
Wait. Out of all the greats who have played the game and haven't been elected - only one player?
But you got room for a f—king umpire? Gimme a break. Nobody ever went home after a game thrilled to death by the great balls and strikes the umpire called. Nobody ever took the afternoon off because Doug Harvey was going to be behind the plate.
Yeah, umpires are important. So are scoreboards. So is home plate.
*********** After golfer Jim Furyk overslept and missed a pro-am, resulting in his disqualification from a tournament, the New York Times had an article on "Players Who Couldn't Get to the Game on Time"
http://onpar.blogs.nytimes.com/2010/08/25/players-who-couldnt-get-to-the-game-on-time/?th&emc=th
*********** Here's a nice preseason preview of a Black Lion school in Lakeland, Florida – Victory Christian Academy and its coach, Jeff Schaum…
http://polkpreps.com/2010/08/victory-christian-football-preview/
TUESDAY, AUGUST 24, 2010 --- "I'm convinced that video games are Japan's stealth strategy to turn our kids' brains into silly putty for dropping the big one on Hiroshima." Stephen Moore, Wall Street Journal
*********** In McMinnviille, Oregon, a small city about 30 miles southwest of Portland, 14 high school fotball players had to be hospitalized and three required surgery to relieve swelling of the triceps muscles caused by a condition known as "compartment syndrome."
Essentially, a muscle group swells and becomes too large for the sheathing (fascia) that surrounds it, and the resultant pressure and intense pain can only be relieved surgically, by cutting into the sheathing. In extreme cases the disorder can result in kidney damage.
From the Internet:
Acute compartment syndrome is a surgical emergency. There is no effective nonsurgical treatment.

Your doctor will make an incision and cut open the skin and fascia covering the affected compartment. This procedure is called a fasciotomy.

Sometimes, the swelling can be severe enough that the skin incision cannot be closed immediately. The incision is surgically repaired when swelling subsides. Sometimes a skin graft is used.
It all came about when the first-year head coach at McMinnville High School brought the entire team to school last Sunday (the 15th) for an "immersion camp," a full-week devoted to various things including, one would presume, team-building. It is a big story local right now and it's either going to get bigger (if an investigation reveals that the coach did something dangerous) or it is going to die out, as high school football gets into full swing.
Contributing factors, in addition to unusually heavy stress on the muscles (check: in this case, it appears that the kids were required to do an inordinate number of pushups and chair dips); heat (check: it was in the 90s outside, and they were inside a non-air conditioned building); dehydration (check: the kids say they were not permitted to drink until they "finished the workout" whatever that means); and possible use of "supplements" containing creatine (No check: mere conjecture at this point.)
Although a few parents have expressed anger at the coach, they do not appear to be in the majority.
Random thoughts:
The kids were inside the school – I presume that means the gymnasium - without benefit of air conditioning. (Few schools in the relatively cool Northwest have air condiitoning.) It was at least 90 degrees outside. According to the local physician who also serves as the team doctor, it was 115 degrees inside. (Although the school superintendent say that there was no thermometer inside). It does sound to me like the sort of combination of heat and humidity - the latter created by all the kids' working out - that in most states would require schools to cancel practice for the day.
Although the coach said he was instructed not to comment, he did manage to make one statement that I think he'll come to regret, telling the Portland Oregonian, "I didn't know it could get that hot in Oregon." Uh, Coach – that's what newspapers and radio stations and thermometers outside banks are for. Not to mention the fact that you've been here all summer (he relocated from California), and it was a lot hotter than 90 degrees around here just a couple of weeks ago.
The incident had its start on Sunday, August 15, a week and a day before the officially-sanctioned start of football practice in Oregon, as part of what has been described as a weeklong "immersion camp." Oregon has a state-imposed "dead period" from August 1 until the first official day of practice, during which time coaches cannot be engaged in any football drills with players. But conditioning drills are not proscribed, and most coaches do make use of the three-week period to condition their kids. I'm not aware of other coaches who have gone to the extent of a week-long lockdown of their kids prior to the start of practices, and I personally oppose the way high school sports compete with each other to see how much of their kids' summer vacations they can deprive them of, but I don't know that there's anything illegal about it.
Any coach knows that even under the most favorable of conditions, much less conditions conducive to heat stress, kids need to have frequent access to water. I'm quite sure that a lawyer or two will check carefully into that aspect.
What, exactly, was the point of obsessing on one particular muscle group (the triceps?) Other than team-building, what was the point of such intensive workouts? Was it to weed out kids – to work them to the point that some would quit?
*********** Mention "Pacific Northwest" and people who know a little about this part of the country break out the tired old jokes about rain.
Fact: It rains a lot along the coast. The rainiest place in the lower 48 is on the Olympic Peninsula, in northwest Washington State.
Fact: The further inland you get, the less it rains. The Coast Range (which runs the length of the coast (duh) separates the very, very rainy coastal communities from the not-quite-so-rainy areas where most of the Northwest's people live, in cities such as Seattle, Tacoma, Olympia, Portland, Salem and Eugene.
Fact: The Cascade Mountain Range runs north-south the length of Washington and Oregon. In the valleys to the west of them, in places like Seattle, Tacoma, Olympia, Portland, Salem and Eugene, winters are rainy; to the east of them, in places like Yakima, Bend, Tri-Cities and Spokane, it is rather dry, even desert in many places.
Fact: In the cities west of the Cascades (on the "wet side") we get a lot of gray, dreary, rainy days all winter long. But we don't get an unusual amount of rain! We have a lot of rainy days, but in terms of actual rainfall, we don't get any more than any typical eastern seaboard city (such as New York).
Fact: On the Wet Side, it rarely snows, and when it does, the snow doesn't stay around very long.
Fact: Our summers are dry sunny and quite pleasant. Like many old-time Northwesterners, we don't have air conditioning. We have had maybe a dozen days this summer with temperatures over 90 degrees. A 95-degree day can still be pleasant because of our low humidity. Rain? We had a few drips of water fall from the sky Sunday - maybe enough to count as rain. If so, it would end a 50-day stretch (since July 2) with no measurable rainfall.
*********** A youth coach writes… "At this moment I am in my 3rd hour of the USA football coach RE- CERTIFICATION test!!! after paying my $25 dollars!! While the information is useful and informative I can't believe they are charging $25 dollars!!! It is a requirement nationwide for all pop warner teams to have at least 1 certified individual on each team!! Wow, $25 per team, flag all the way up times how many??? thats a lot of cash!!"
True. But the NFL needs the money.
*********** You wrote, "Without them, we're just another bunch of guys standing on the sidelines yelling 'BLOCK SOMEBODY!'"
Sounds like I'm not the only one that finds "block somebody" highly offensive! Gabe McCown, Piedmont, Oklahoma
*********** There was a great story in the Pittsburgh Post-Gazette about a long tradition of sandlot baseball in the small Southwestern Pennsylvania town of Mill Run.
To indicate how serious the players, many in their 20s, but some in their 30s and 40s are about baseball, one of them said, "One time, one of our players got dumped by his girlfriend, and he was so despondent he threatened to commit suicide. A bunch of us teammates went up to talk him out of it. We weren't against him killing himself, but we asked him if it would wait until after the playoffs."
*********** THE REDSKINS' ALBERT HAYNESWORTH (following last weekend's exhibition game against the Ravens): I'm a ninth year pro. I don't think I should have been out there in the third quarter."
THE REDSKINS' MIKE SHANAHAN, on being Albert Haynesworth's coach for the first time: "One thing for sure that is clear to me is that Albert has gotten away in the past with playing without practicing. That will not happen under this regime. If he's going to play, he's going to practice, and that is the same with every player here. The days of him playing without practicing are over. And that, to me, says it all.''
*********** In 1989, I was in Kingsville, Texas to broadcast the Portland State-Texas A & I game. Texas A & I (now West Texas A & M) had a dynamite little running back out of Houston named Johnny Bailey.
They had a few other decent players, too, including a defensive tackle named John Randle, who would go on to a Hall of Fame career with the Minnesota Vikings.
But the guy who struck fear into a very good Portland State team was Johnny Bailey. He had a good game that night as the Javelinas won. I recall saying something brilliant to the effect that Johnnny Bailey would have a decent career in the NFL. Well, duh. (Back then, the cliché was "he'll be playing on Sundays.")
A three-time Division II Player of the Year, he rushed for 6,320 yards at A & I, making him only the second college running back – after Pitts' Tony Dorsett – to run for more than 6,000 yards in a career.
He rushed for 2,011 yards as a freshman, becoming just the third college running back to go over 2,000 yards in a season.
Drafted by the Bears in the ninth round in 1990, he played six seasons in the NFL. He played 81 games and scored nine touchdowns in six seasons in the N.F.L., two each with the Bears, Cardinals and Rams. In 1992 he averaged 13.2 returning punts for the Cardinals, and made the Pro Bowl as a returner. His 95-yard punt return for a touchdown in his rookie year is still the longest punt return in Bears' history.
He was inducted into the College Football Hall of Fame in 2000.
Johnny Bailey died last Friday of pancreatic cancer at the way-too young age of 43.
*********** Wonder why people like T.O. and Ochocinco dominate the news? Don't blame them. They're simply satisfying – along with the media – our desire to stargaze.
Writes Jake Halpern in the Wall Street Journal, "The stargazing instinct may even be primal. Researchers at Duke University, led by Prof. Michael Platt, have recently shown that rhesus monkeys will actually give up food to stare at the pictures of dominant monkeys in their group."
*********** Just one way in which soccer undermines what America stands for…
Back in April, while preparing for the World Cup, a guy named Danny Jordaan, CEO of the World Cup and a former member of South Africa's parliament, visited a school in Harlem, and told the kids, most of them black, "The only Africans in this world who are not playing soccer are the African-Americans, so if you want to be true Africans, you must play the sport of Africa."
WTF? "True Africans?" Not so fast, Mister.
If I'd been next to speak after Mr. Jordaan, I'd have said, "Welcome Mr. Jordaan to our country, but don't listen to him. You live in America, and he wishes he could, too. The only 'Africans' who enjoy true freedom are those lucky enough to live in America, a nation where they can choose to play many sports. You are Americans, and in America you can not only play soccer, like Africans, but also sports that most Africans can only dream of playing."
*********** (From a new Double Wing coach) Coach, This offense is limitless it seems.
It is limitless, and that puts a lot of pressure on you and your staff not to do more than you can execute very, very well.
You lose a lot of the offense's effectiveness when you begin to sacrifice repetitions of a relatively small number of plays in the interest of doing more things.
First, get very, very good at the basics, and then look at one thing that you can do new or differently each game. And if you can't do it very well in practice, junk it, because you definitely won't do it well in the game.
*********** Last I checked, Warren Buffett, of Omaha, Nebraska was the nation's wealthiest man. He doesn't live in a fancy house or drive a flashy car (he doesn't have a chauffeur, either) and he doesn't frequent fancy restaurants. I've eaten at Gorat's, the Omaha steak house he favors. Nice enough place, great steaks, but nothing elaborate. After I asked, the waitress showed me the table where he likes to sit. No big deal to her. He's not the celebrity type. To the people at Gorat's, he's just Mister Buffett.
He made his money the old-fashioned way, and expected his son to do the same. When his son was 19, his father gave him a sum of money: "enough to do anything, but not enough to do nothing."
Enough, in other words, to support him while he pursued a career in a field of his choosing. But not enough for him to sit on his ass and live off his father's wealth the rest of his life.
*********** I read another one of those feel-good stories about a college kid who's been looking really good in preseason drills, despite a shaky high school career.
"I was getting in a lot of trouble," he said. "I'd sneak out of my house at night and do things I couldn't even think about doing now."
He didn't even play high school football until his senior year, because he was never academically eligible. Says he "fell in with the wrong crowd."
But here's the worst: the kid had a father at home. Where was dad all this time?
I'm guessing he was busy making excuses, or brushing up on his stupid clichés, which he's now trotting out.
Stupid Cliché Number One: "He always had a good heart."
Yeah. Just like any inner-city mother will tell the police that her son didn't run with a gang.
Stupid Cliché Number Two: "He just lost his compass for a while."
Gimme a break. I got news for you, Dad. That's your fault. Until your kid can make his own way in life, it's your job to be his f—king compass.
*********** A shootout in Pittsburgh neighborhood put inner-city youth football in jeopardy…
http://www.pittsburghlive.com/x/pittsburghtrib/news/pittsburgh/s_695203.html
*********** Knowing that the path to the Pac-10 was closed to it, and knowing that a Mountain West (MWC) team stood little chance of ever winning a national title, BYU's move to leave the MWC and become an independent makes some sense. Provided, of course, they can find major conference teams with open dates in the heart of their conference schedules.
As an independent, BYU has no conference members to share bowl money with. The Cougs, provided they can navigate their way around the bowl prearrangements and find an attractive bowl to play in, get to keep it all. I can see the Cougars as being very desirable to a bowl. They "travel well" – they have a strong following.
BYU would make an attractive addition to any conference that can afford to put political correctness aside. At least in the West, BYU has a large loyal following wherever it goes, and would make a nice addition, I think, to a Big 12. BYU would have been a far better addition to the Pac-10 than Colorado, but political correctness stood in the way. In fact, other than the loss of a decent rivalry in Colorado-Nebraska, the Big 12 would come out way ahead by what would amount to ditching Colorado and adding BYU.
One big problem with all this, though, is that now BYU finds itself in the position of having to shore up the WAC, a crumbling second- or third-tier conference, simply to provide schedules for its other sports, including one not-so-minor sport – basketball. (Somehow, I don't see crowds of Cougar fans packing the Marriott Center to watch Idaho, or Louisiana Tech, or San Jose State.)
*********** BYU certainly started off its life as a football independent on a bright note, announcing a home-and-home series of games with Texas in 2013 and 2014.
*********** Reconsider Pac-10 expansion? I wish.
http://www.sfexaminer.com/sports/Dickey-Latest-additions-to-Pac-10-Conference-not-all-positive-101138474.html
*********** I speculated a short while ago that there might be fewer holding calls in the NFL as a result of the league's moving the umpire to a spot in the offensive backfield – 12 to 15 yards off the line and to the left of the QB. But to my surprise, I discovered that it might not make all that much difference: since 1994, the referee, positioned at the same depth as the umpire but to the right of the QB, has called more holding penalties than the umpire.
*********** "As an old quarterback, I truly believe football improves fitness, coordination, self-discipline, sense of accomplishment and overall well-being. It is no panacea to society's problems, but football teaches important life lessons, including dealing with adversity, developing a strong work ethic, learning the value of teamwork and building character."
Jack Kemp - Quarterback/Congressman/Cabinet Official
In a letter to the Editor
Wall Street Journal
12-20-04
FRIDAY, AUGUST 20, 2010 ---¨After listing to commentators on sports channels, I wonder why anyone bothered to invent anesthesia.¨ Father George Rutler
*********** BYU plans to drop out of the Mountain West Conference, going independent in football, and hooking up with the WAC in all other sports.
In my mind, BYU, with a national following and the ability to compete in football year-in and year-out, would have been an ideal candidate for the Pac-10, along with Utah. I've said previously that I can't see Colorado adding anything to the Pac-10, but the BYU-Utah rivalry would be an outstanding addition.
Alas, it was not to be, owing to one BIG problem: BYU is a Mormon Church school, and the Church (actually Church of Jesus Christ of Latter-Day Saints) actively opposed to gay marriage in California. With four of the conference located in California, the conference had to be afraid of the political repercussions of even discussing extending an invitation to BYU.
Damn shame.
BYU might want to reconsider, at least in terms of its non-football sports. At just about the same time BYU made its announcment, two WAC schools – Fresno State and Nevada – appeared ready to jump to the Mountain West. Following on the heels of Boise State's move to the Mountain West, the MWC looks pretty doggone strong, while the WAC is weakened tremendously.
*********** The Bills played the Colts in Toronto and drew... empty seats. Wow. Just like a real NFL city. Maybe the folks in Toronto have been hearing so much about the possibility of the Bills eventually moving there that they're practicing for the day when the BIlls will be their team, and they'll get to pay full price for preseason games just like real NFL season ticket holders.
Hey, NFL - Canadians aren't the chumps you thought they were. They'd still rather watch a regular season CFL game that means something than a preseason NFL game that means nothing.
*********** Good Afternoon Hugh,
We are three practices into the season-- good work ethic and spirit. This is going to be the perfect team for the DW approach. We do not have a senior lineman but the kids are working hard and we should be able to move the ball ( 70 kids out for football). I was talking to the staff about being able to run as many as 50 variations of plays in a single session and got a lot of push back -- you wouldn't have a copy of one of the scripted offensive play sheets we used at North Beach would you so I could show them that it is in fact possible? I tried to locate one of my copies and of course could not find it. I did talk to them about wrist bands etc and how to get a lot done in a 45-60 minute team time. It would be great to show them a copy of the real thing. Would it be possible to email me a copy? If you could that would be great.
I sure can appreciate your comments about using the numbering system to the coach who did not think his young kids could learn it. The system works, is logical, and easy to learn. Heck we still talk about the "farthest back from the point of attack" It really is the best way to go!!
Last but not least your video playbook stuff is absolutely the best and that is the way I would go in the future. Once you put one together and do some marketing you will not be able to keep it in stock. I have showed the one we used at North Beech to our staff and they rave about how good it is!! With your talent for graphics and technology an updated version would be a sure winner.
Jack Tourtillotte - living in Boothbay, Maine - coaching in Gorham, Maine
*********** I had a coach write me to discuss the issue of shirttails hanging out.
I personally hate the sloppiness of the blouse look, but good luck keeping those shirts tucked in. Anybody who's coached today's kids knows it's a constant battle - for those coaches who choose to fight it.
Watch college basketball players sometime. The rules require them to keep their shirts tucked in, but the instant the game's over - out come the shirttails.
Seen all those kids walking down the street with their tee shirts down around their knees, like skirts? It's teenage fashion, the same thing that drives all those bizarre Nike re-designs. Going against what we oldtimers like, fashion-wise, is part of a teenager's job description.
I coached at an inner-city school and it was a daily struggle. Maybe they couldn't get it out of their heads that out on the football field they weren't saggin'.
The old half-length shirts we used to use (they called them Schimmel-length) are outlawed. Now, the best we can hope for is the form-fitting shirt with the short tail being pushed by most manufacturers.
(When I was in college, our game jerseys had long tails that actually buttoned together below the crotch. Not that they didn't have their drawbacks, but there was no chance of them ever coming out.)
*********** In "How Life Imitates Chess," Russian Chess Master Garry Kasparov takes on the question of whether success in chess – or any other sport – is more a matter of talent or of hard work. His answer? Maybe the ability to work hard is itself a talent.
*********** Hey Coach,
I hope things are going well. We are getting ready for out 1st ever varsity football game here at Cannon. I wish I could tell you that things were going swimmingly, but we have been hit hard by the injury bug. Actually, it's more like a wildfire in a dry prairie with gale-force winds pushing it along. Here is the list of injuries:
Starting QB – broken metacarpal (thumb) on throwing hand (needs surgery – 6 to 10 weeks)
Starting A Back – muscle pull mid-back (day to day)
Starting C Back – grade 3 tear of MCL (4-6 weeks)
Starting RT – strained ligament in lower back (indefinitely)
Starting TE – broken hand (4-6 weeks)
We don't even know when our QB hurt his hand. He said that his hand hurt after practice 2 weeks ago and trainers thought that maybe it was a sprained thumb.
C back got hurt Saturday night at our jamboree taking a late hit.
The really bad thing is that, as you know, we are a small school and all of those guys listed above (except for the QB) are 2 way players. So, in reality, we are down about 9 starters. Tami has been sure to remove all sharp objects from the house. We are trying to patch things up as best we can. We currently have a freshman that has run the offense for 2 years and a soph. that is new to the school as our QBs. The freshman knows the offense better than the soph., but he is not a running threat (our starter was a serious threat running the ball) and cannot throw real well. The soph. is okay with the base stuff, but is a better athlete and can give us back some of the QB keep stuff, he can also throw a bit. We worked really hard this summer on our passing game and had become very, very good at it and that is all gone. We are hoping that we can keep it together for the first half of the season and sneak into the playoffs and then get our starters back for a playoff run. I am trying to have a real strong "glass is half full" outlook on things right now.
I feel really bad for our kids. They really came together this summer and worked hard as a group. We have a roster of 36 kids and we consistently had 26-27 kids at workouts 4 days each week. They have really bought in to what we were doing to get them ready physically and we had a good shot at a run at the State Title.
Anyhow, my question is this. Is it legal for the offense to line up with the ball at the end of the LOS and have the snapper have an eligible number?
Please say hello to Connie for me. Have a great day!
Donnie Hayes, Concord, North Carolina
At a time when you should be all excited about the upcoming season and your first varsity game, it's distressing to hear of all your problems.
About all I can say in consolation is that it's been times like this when I've stumbled across some so-called "innovations" that I would never have bothered with if things had been going smoothly.
Here's something I've screwed around with, based on an idea passed on to me several years ago by a youth coach in Texas named Greg Cotharn.
| | |
| --- | --- |
| | |
| Here, it's a "Right" backfield... | And here, the backs are in "Split Right." |
It is perfectly legal. The ball does not have to be snapped through the "center's" legs.
As you can see, once the ball is in the "A" or "B" back's hands, you can run a lot of the offense. And, of course, you can flip the formation.
The "QB" is eligible, but the player next to him is no longer eligible.
Let me know how it goes. You may actually have some fun working your way through this!
*********** If you like craft beers, and we're seeing them in more and more out-of-the way places, beware of wolves in sheeps' clothing.
Many of them are faux craft beers, put out by the foreign giants that now control the industrial beer market and want a piece of the little guys' action, too.
Don't be fooled by Blue Moon. Coor's (now Molson-Coors) first introduced Blue Moon in 1995. Or Leinenkugel's. Leinenkugel's, once a small, Chippewa Falls, Wisconsin brewer, has been owned by Miller (now SAB Miller) since 1988.
Anheuser-Busch (actually, a Belgian company now known as AB Inbev) has not stood idly by, either. Not content with dominating the market with Bud ("an American lager"), it's also acquired a 40 per cent share of Portland's Widmer Brothers Brewing Company, and a 33 per cent share of Seattle's Redhook Brewing. As a result, Widmer's brands, especially it's top-selling Hefeweizen, are available on both coasts, and Redhook even has a brewery in New Hampshire now.
*********** After reading your site today I had a technical question regarding helmets.
Your blog refers to helmets popping off of heads at the NFL level. I have noticed the same thing at the college level too. When I talked to some folks regarding this issue I was told that some of the new helmets are designed that way to prevent neck injury...are they mis-informed?
I am not aware of this. It could be, but I am skeptical.
There is a reason why all college and high school players are now required to use four-point chins straps, and that is to keep the helmet on the player's head. I haven't seen or heard of any suggestion that this might be reversed.
And in checking the how-to-fit videos produced by the manufacturers I find this to be a common theme.
"If the helmet moves (on the player's head) proper fit has not been achieved."
Properly fitted, there is no way a helmet can come off - and go on - these NFL players' heads as fast as they do.
(Just one more way the NFL - through its USA Football puppet - disserves the ordinary coach with its do-as-we-say, now-as-we-do preachiness.)
*********** OMG--- while on the Internet to check out helmet-fitting videos, I came across this…
http://www.youtube.com/watch?v=Vf-qgqLqzds&feature=related
Damn. Don't let your kids' mothers see that. With "Coaches" like those, soccer doesn't need to do any promotion.
Are any of you allowing this to go on in your practices? Are any of your kids' coaches allowing this to happen?
If those were your players, do you think that you could face a good lawyer in a courtroom and convince a jury that had just seen that video that you put your players' safety uppermost? That you had properly prepared your players for high-speed football collisions? That before you put them in a full-speed tackling drill you had gone over and over the rules, and the reasons for tackling with the head up?
If those were your sons, would you subject them coaching like that? Could you sleep at night?
Just as bad – read some of the comments below the video. They'll give you the creeps.
*********** Hugh,
-The helmets popping off came up last night. We had a kid who showed me how he didn't have to unstrap the helmet because he could pull it right off. I told
him to get that tightened up before he got hurt. He said "but I see the pros doing it!"
-I hate to sound like an old fart but I am surprised by kids these days. We were doing catching drills and one of them shouts "coach you suck at throwing!" The
seven-day evaluation period we have is a real drag for a lot of reasons, one of which is we can't do any real teambuilding since the kids are flipping between staffs every other day. Some kids are mailing it in with me because they think they'll be picked for the other guy's team. Some have even told me so. A couple of these kids are nowhere near the top talent level and are in for a big surprise.
At least they call you "Coach." The lack of any sense that they have to prove themselves, to earn their stripes, is a result of the Great Self-Esteem Movement.
And also of today's "we're more like best friends" parenting.
Good luck. You'll still have some good kids. And you'll still have some influence on the rest of them.
*********** Prince Charles of England had a few things to say about the self-esteem movement and the weenies it's been creating...
"What is it that makes everyone think they are qualified to do things beyond their technical capabilities? This is all to do with the learning culture in schools. It is a consequence of a child-centered system which admits no failure and tells people they can all be pop stars, high court judges, brilliant TV personalities… without ever putting in the necessary effort or having natural abilities."
*********** Still on the Self-Esteem Tragedy... Mel Levine, a professor at the University of North Carolina, is not a fan of the collaborative education movement, claiming that it has damaged an entire generation of students. Without what he calls a strong sense of what they're good at (and what they're not), he predicted back in 2007, members of this Generation Y would be in for quite a surprise on their first day on the job. (Note: this has already begun to happen, and these marvelous children are devastated to learn that the boss doesn't tell them hourly how wonderful they are. HW) "They expect to be immediate heroes and heroines," he told Rebecca-Segall Wallace in the Wall Street Journal. "They expect a lot of feedback on a daily basis. They expect grade inflation, they expect to be told what a wonderful job they're doing."
*********** Still more on the Self-Esteem Tragedy... Observing today's graduate business school students, Daphne Atkinson, vice president of the Graduate Management Admission Council told the Wall Street Journal, "Another challenge is the sense that it is either irrelevant or meaningless to 'pay dues.' It can be disappointing to find out that you won't be president of the company in two years."
*********** I know that a lot of teams are going to zone blocking what is your take on zone blocking? Please go easy on me Coach.
Coach,
A lot of teams are going to the spread offense, too. That's their choice.
But if by "teams" you mean Double Wing teams, my advice to you would be to let them go and dig their own graves.
If you drive a Ford, you don't put Chevy parts in it.
The key to our offense is our blocking schemes. They were developed long before I came along and they've stood the test of time. Without them, we're just another bunch of guys standing on the sidelines yelling "BLOCK SOMEBODY!"
*********** On the subject of the questionable reliability of "facts" on Wikipedia, there's the case of author Tom Wolfe, who was said to have responded to rumors of his death by calling Larry King and saying, "I ain't dead yet, but give me a little more time and no doubt it will become true."
Totally false, wrote Wolfe.
First of all, he said, "I wouldn't have a clue as to how to call Larry King."
Second of all, "I wouldn't have called him, in any case. I would have called my internist."
And finally, "I wouldn't say 'ain't' even if I were singing a country music song. In fact, I have posted a $5,000 reward for anyone who can write a song containing the verb forms 'am not,' 'doesn't,' or 'isn't' that makes the Billboard Top Twenty."
*********** A "diversity consultant" (that's quite a layoff-proof industry they've got for themselves, eh?) quoted in the Wall Street Journal advises some ways of avoiding "sexual-orientation" issues in the workplace. One of them is "Always assume there's a gay or transgender person present."
Even in the Marines?
*********** Coach Wyatt,
It is recognized that you have an "attitude," with good reason, concerning NFL wide receivers. It is also recognized that your system does not utilize receivers as do other systems such as the Spread Option.
If you were a college offensive coordinator or head coach, how would you recruit receivers?
Jim Franklin
Flora, Indiana
Coach,
Reasonable question.
There are several factors that are measurable, others that are observable and many that you can't know (personal) without knowing the person.
Measurable: speed... agility... jumping ability... strength
Observable: ability to run routes and get open... ability to catch... ability to run after the catch... ability to block
Personal: character... consistency... responsibility... toughness... intelligence... coachability... unselfishness (desire to put team ahead of self; willingness to block; willingness to run decoy routes)
It's in the latter area that in my opinion the pros and major colleges either fail to dig out the answers, or else know the answers but delude themselves into thinking that any personal deficiencies will be offset by a player's "talent." Or, saddest to contemplate, there just aren't enough guys with the necessary "measurables and observables" who can also pass the personal test.
Most wide receivers are such divas that I can't imagine being a college offensive coordinator or head coach and having to recruit them, much less coach them.
Maybe if I'm good God won't make me spend eternity having to do that.
*********** I was a little confused on blocking assignments for the 88 super power on the 3-3-5 since they are stacked on the tight end? Does the tight end protect inside gap first or does he block the defender that's on?
Coach,
On powers, you need to treat this as a GAP defense and be blocking DOWN across the front.
The mistake a lot of people make is thinking that they should base their assignment on where a guy lines up, rather than where he is when the ball is snapped.
When the ball is snapped, in all likelihood there will be a man - either a lineman or a backer - in every player's inside gap. Including the TE.
Therefore, the TE assumes a man in his gap (as does everyone else) and makes an OFF call. And at that the playside wingback comes over the top and blocks first backer to the inside.
And the B Back aims at the TE's near hip and runs along that track and blocks out on whoever appears past the TE. Whether it's a LBer or a lineman, it doesn't matter.
Fortunately, this is something you can work on in a half-line situation so you can play "good against good": run plays to the right without your backside linemen and TE, letting them serve as your playside defenders.
*********** What do you find works better wings in 3 pt or 2pt? Or is it just personal preference?
It's personal preference, although my preference tends to be 3 point, because then all my wingbacks and ends use the same 3-point stance and that's the only stance I have to teach.
In the evolution of things, though, I have become quite set on having my wingbacks squared-up to the line of scrimmage.
*********** http://news.yahoo.com/s/ap/20100816/ap_on_sp_ot/us_ramadan_football_4 - Great story about kids at Fordson High, in Deaborn, Michigan, most of whom are Muslim, having to practice late at night while observing Ramadan. Good for them. They're American kids playing football! I'm for America and I'm for assimilation, and what is more Americanizing and assimilating than kids playing football?
*********** Mike Leach has joined CBS College Sports as an analyst. I was sorta hoping ESPN could sign him and pair him up with Craig James.
*********** A young woman - a Florida graduate - was fired by an Arkansas radio station because she wore a Gators hat to a Bobby Petrino press conference.
Petrino answered a question she asked and then said, "And that will be the last question I answer with that hat on."
Tsk, tsk. So many people think it's (sniff, sniff) so said that that poor young lady was treated so cruelly.
Of course, she had the right to wear that hat. She also had to understand that doing so - while working for a radio station that calls itself "The Voice of the Hogs" might have consequences. (If she didn't, someone failed to prepare her for the World of Work.)
Hey, folks. You don't embarrass your employers.
She says it was raining when she left her place, and she picked up the hat "by mistake" on her way out the door, but if you believe that a young woman never stopped to check her appearance before leaving the house, you've never known a young woman.
That we have a nation of clueless, tone-deaf people like this, who don't understand how deep peoples' feelings can go helps explain why so many people see nothing wrong with putting a mosque within two blocks of the (former) World Trade Center.
But this was the Southeast, where football means as much to people as our national honor.
*********** Hugh,
Quote: The judges? I dunno. But I'll bet none of them ever saw Sammy Baugh in action. Or Joe Perry. Or Tom Fears. Or Steve Van Buren. Or Emlen Tunnell. Or Chuck Bednarik. Or Night Train Lane. Or Bobby Layne. Or John Henry Johnson.
Actually, getting a little more modern, probably not too many of them saw Jim Brown, or John Unitas, or Frank Gifford, or Lenny Moore, or Gino Marchetti, or Yale Lary, or Merlin Olsen, or Deacon Jones, either.
Or Y.A. Tittle, Sam Huff, Frank Gifford and many, many more! Y.A. is the reason I'm a NY Football Giants fan to this day.....he was a tough "son-of-a-gun"! Go Giants!
Tough? Yeah, Y.A. was tough. But how about the guy he succeeded, Charlie Conerly, who spent a little time during the 40s with the Marines in Guadalcanal?
Wouldn't you like to sit down over a couple of beers and try to whittle our list down to 100?
TUESDAY, AUGUST 17, 2010 --- "Until recently, people inside the Beltway had a hard time figuring out why the tea parties exist. They exist because disgust is still a basic human emotion." Daniel Henninger, in the Wall Street Journal
*********** The NFL Network says it's soon going to be revealing its Top 100 Players of all time. Gag me. Another one of those arrogant attempts to impose somebody else's opinion on us as if to shut off all disagreement. Argument over, peasants.
The judges? I dunno. But I'll bet none of them ever saw Sammy Baugh in action. Or Joe Perry. Or Tom Fears. Or Steve Van Buren. Or Emlen Tunnell. Or Chuck Bednarik. Or Night Train Lane. Or Bobby Layne. Or John Henry Johnson.
Actually, getting a little more modern, probably not too many of them saw Jim Brown, or John Unitas, or Frank Gifford, or Lenny Moore, or Gino Marchetti, or Yale Lary, or Merlin Olsen, or Deacon Jones, either.
I could go on and on, well past 100. I've seen an awful lot of players since I started following the NFL in 1947, and I possibly couldn't cut the list to 100, simply to adhere to the constraints of some arbitrary number.
Come to think of it, who will be making the cuts? The kind of people who could wait more than 20 years to recognize Floyd Little?
Based on the promos I've seen, I'm guessing that some of the judges are going to be celebrity types.
Yeah, right. Like I'm really going to defer to the opinions of such noted football historians as Burt Reynolds and Spike Lee.
******* Between the rain and the fog, Ocean Shores, Washington and the surrounding area, known collectively as the North Beach, goes days at a time without sunshine. Even in summer. And this summer has been an especially gray one.
So, noting a recent forecast of several rare sunny days in a row, Tom Scanlon, editor of the North Coast News, offered readers some helpful tips:
For those heading out to the North Beach, or those locals who have not been exposed to the "Daytime Star" in quite some time, here are some helpful hints:
Do NOT look directly at the sun
If you're feeling "warm and fuzzy," do not call 911. This is normal.
Remember to apply sunscreen BEFORE going outside, not AFTER
Remember that alcohol can accentuate the "Sunshine Experience." So if you're drinking beer, remember to stop by the newspaper office for "how to" tips
Venturing into the Sunshine in heavy, woolen clothing might make you "feel hot."
*********** Don't like Oregon's uniforms? Tough. Mock you may, you old farts, but they're not designed to please you. And today's college players happen to love them.
ESPN polled 135 major college players players on an assortment of topics, including who has the best uniforms, and Oregon was a runaway winner. Of all the college uniforms, the Ducks' were the favorites of 53.7 per cent of the players polled.
One guy, described as "a Big Ten star," said, "I don't even have to think about that one. I almost wanted to transfer there just for those uniforms."
*********** Donovan McNabb looked good. Kevin Kolb looked okay. Too early to tell.
*********** The Eagles' broadcast crew, consisting of a nameless play-by-play guy plus former Eagles' great Hugh Douglas and long-time NFL front-office guy Charlie Casserly, set a new record for non-stop chatter unrelated to the game taking place.
Surely there was one play that they actually described at the time it happened, but otherwise it seemed an intrusion on their Guys' Night Out..
At one point, play on the field was stopped for several minutes while officials reviewed a controversial play. Not once did they STFU to acknowledge what was going on.
And as if those three weren't enough, from time to time they'd send us (kicking and screaming) down to the sideline to watch the bimbo chat with a long series of players. These were not just voice-over interviews either, allowing us to watch the action while they chattered away. The camera stayed on them as the game went on somewhere off in the distance. Who wouldn't rather watch two people talking than see football action?
*********** Who was that blowhard on the NFL Network at halftime of the Dolphins game? He kept saying "Vee-Wye" for Vince Young. Wow. He must be a close personal friend of THE Vince Young to be callin' him by gang namez.
Never mind. Just found out. His name is Jamie Dukes. Can somebody tell me how to program my mute function to work whenever he comes on the screen?
*********** The Dolphins' owner came on and blabbed and blabbed at halftime.
This is the guy who said not so long ago that he was going to make his team's football more entertaining because, after all, his market was South Florida, where people are way too sophisticated to pay to watch a mere football game.
Sure enough, the first words out of his mouth were, "This is South Florida… people expect to be entertained…"
So what did he give the people? How about a 10-7 game? Dolphins had somewhere close to 200 yards of total offense. How's that for entertainment?
Lotsa unfilled orange seats showing, though, so maybe the word won't get out so fast that it was one dull-ass game.
*********** Gee – as bad as the Dolphins' were offensively, you'd think we'd have seen that there Wildcat offense they claim to have invented.
*********** You also wouldthink they'd take a good look at Pat White. Well, they did - he got into the game at the two-minute mark. With the ball on his own 20. On the mud of the baseball infield.
*********** The Seahawks' backup QB, David Whitehurst, looked better than Tim Hasselbeck. A LOT better.
*********** The Bills really sucked. And on top of that they weren't very interesting or exciting.
Punted on a fourth-and-a-foot near midfield. Hey – maybe it is just an exhibition game, but you can't be too careful.
*********** Tennessee's Jeff Fisher, on the other hand, successfully pulled off a fake punt (a pass by the punter) on fourth-and-five.
*********** I guess this year's league-wide interview format is going to be a shot by a ground-level camera looking up at the participants.
*********** The Colts wore throwback uniforms. Quite a throwback, to the original Colts, who were BAD… REALLY bad. Wearing old dark blue helmets with horseshoes on the back, they were 3-9 as an expansion team in 1953. They were 3-9 again in 1954 and 5-6-1 in 1955.
In 1956, they changed to the white helmets and put the horseshoes on the sides. They were only 5-6-1, but they were showing signs of becoming the team that would be an NFL power for the next 15 years or so, because along with the white helmets, they found themselves a QB: midway through the season starter George Shaw went down and was replaced by a rookie named Unitas.
*********** Hey – what happened to those adorable black slacks that made NFL officials look so... so metrosexual?
*********** Now that the NFL umpires are no longer behind the defensive line, there is only one official in the picture on the typical play.
*********** You tellin' me those NFL umpires are going to be able to call holding, positioned as they are, off to the side and behind the offense? You don't suppose this is just one more way to try to give offenses a goose, do you?
Oh, well – in exchange for being able to get away with more holding, the offenses will have to give up using the umpire to work picks.
*********** Tired of hearing this yet?
A USA Football-trained coach makes the game safer… and more fun
Promote safer football… Become a better coach… At USA Football.com
Give… me… a… f—king… break.
Right. Under the guise of USA Football, the NFL, that paragon of good sportsmanship, that exemplar of good fundamentals, is going to teach youth coaches how to coach.
How much you wanna bet the next step is some attempt at certification ("Hey moms - make sure you insist that your little boy's coach is USA Football-certified!")
The camel of Big Football sticks its nose deeper into the tent.
*********** Big-Time Brandon Marshall dropped the two passes thrown to him on Saturday. T.O. is noted for his drops. The list goes on.
So why aren't receivers charged with drops? Why are receivers' drops any different from errors in baseball? Don't know whether to charge the receiver or the quarterback for an incompletion? Since long before instant replay, baseball's official scorers have done a decent job of deciding between hits and errors.
It sure would be interesting to see how some of the classic loudmouth, self-promoting receiver types stack up against the lesser-paid guys so dismissively referred to as "possession receivers."
And while we're at it, if pitchers can be evaluated on the basis of earned and unearned runs, a function of the "support" their fielders give them, why should quarterbacks' ratings be marred by incompletions – and interceptions - that are clearly the fault of a receiver?
Don't tell me the NFL is concerned about the effort of having to revise passers' ratings because of the need to be able to compare passers from different eras.
Big Football has never had any compunctions about lengthening the regular season, knowing full well that every time it did it was diminishing the efforts of runners who set their records in an earlier time, in shorter seasons. (Remember when rushing for 1,000-yard season was like hitting 50 home runs? Come to think of it, remember when hitting 50 home runs was like hitting 50 home runs?)
Every bit as bad as baseball's juicing the ball, lowering the pitcher's mound and moving the fences in, Big Football cynically rigs the rules in favor of the offense in general and passing in particular, then disingenuously boasts about the bloated passing and receiving statistics that result.
And don't tell me that they can't introduce a new stat such as drops. The NFL operated successfully for years before 1982, when it first began keeping track of sacks. Now, they've become a hallowed part of the game, a way of objectively comparing defensive (and offensive) linemen.
Yes, yes, I know – the NFL loves to promote its more flamboyant characters, many of whom happen to be receivers, and drops are a "negative" stat.
But for every receiver who might suffer bruised dignity, there'd one less quarterback shafted by having incompetent receivers.
And besides, if it would shut up just one receiver…
*********** The Cowboys had two different players called for holding on the same play. And on top of that, the guy I was specifically watching was also holding. Flagrantly.
Wow. Three guys holding on the same play. What a coincidence!
Unless… unless… unless, of course, they're teaching it.
You think? Naaah.
*********** The Cowboys' offense is bad right now, but they'll be okay as soon as they figure out that they need to put an eligible number on whoever that "Number 77" is, that guy that they keep having to announce on every other play that he's eligible.
*********** Poor Stafon Johnson. Kid nearly kills himself dropping a barbell on his neck, then makes a great recovery and earns a spot on the Titans' training camp roster. In the Titans' first preseason game he gets a chance to carry the ball - and dislocates an ankle.
*********** Rare enough to see punts blocked in the NFL, but two of them in two nights? Sheesh. In both cases, the blocker came clean because a back failed to protect his inside gap.
*********** I have one comment on Jon Gruden in the booth: I sure hope he gets another coaching job. Soon. Maybe Tony Dungy will be nice enough to get nack into coaching and build up another program and turn it over to him. Soon.
The guy goes non-stop, combining Madden's ability to say the same thing three different ways, with the authoritative arrogance of - God help us all - Howard Cosell.
*********** Give ESPN this much, though - on the one hand they give us Gruden, but on the other, they had only one sideline interview, that with LaDainian Tomlinson, and it didn't interfere with the action on the field.
*********** When the Jets and the Giants play - in their brand-new stadium - and the game is close, and the house is half empty (would an optimist say "half full"). for the entire fourth quarter, you'd have to say that New York fans are wise to the NFL's "preseason" scam.
*********** Giants-Jets halftime: hard to believe Monday was Frank Gifford's 80th birthday
*********** No doubt you've noticed how in the NFL, which is going to help youth coaches make the game safer, helmets pop off routinely. And when they do, the players pop them right back on again.
There's no way that those guys are wearing the helmets as recommended by the manufacturers. (Seen their instructional videos, cautioning us to make sure helmets fit snugly?)
Seen how many NFL player don't bother to fasten their chin straps?
Now that they're about to be skewered by lawsuits claiming that various infirmities of retired NFL players can be traced back to concussions they suffered years ago, you'd think that the high and mighty NFL would first make sure its own house is secure before telling young coaches how to coach "safer" football.
And as I type this I see Eli Manning's helmet fly off. Hmmm. Could the bloody gash on his head have been prevented?
*********** You tell 'em, coach.
Steelers' defensive coordinator Dick LeBeau,71, speaking at his induction into the Pro Football Hall of Fame: "Age is just a number."
*********** Dear Coach, I was wondering how you teach blocking vs 7-1? More specifically, when the Center has on-away responsibility, say on a Super Power or C play, should he reach away to the player lined up in the B Gap, even though it's a far reach, or would it be better the have the TE scramble him (more likely a better result)?
Had a nice opening day win 41-0...only made bad by a pre-game meeting at the 50 yard line with officials who insisted the free blocking zone is from Tackle to Tackle???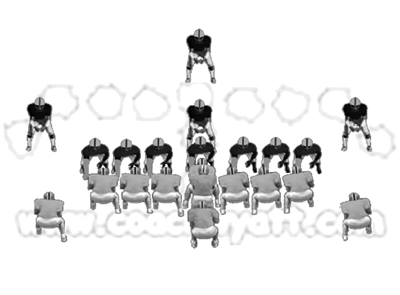 A 7-1 is not all that different from a 5-3 except that with the 7-1 the "OLBs" are now linemen.
Your TEs will likely have men on their inside shoulders. If they can get past those guys to block the men in the B gaps, you can block as usual, but if those B gap men start to pinch, you may have to call "DOG" (or whatever you say) and down block. At least be ready for it.
A 7-1 defense can be vulnerable to counters because the MLB will likely to with initial flow and he may not be able to recover, even if he's not blocked.
Hope that helps.
*********** There are 20,000 high schools in the US, and 2,000 of them - 10 per cent – account for more than half of all dropouts.
*********** Coach, I received your book and DVDs. Can't wait to get into them. I notice right off the bat that play numbers are much different than we've taught in past. We use digits to name the BACK (1st #), then the HOLE (2nd #). Your 1st # tells the B Back (we call it #3 Back) where to block and the 2nd # tells where the ball is going. This will be very difficult to train our 5,6,7 graders I fear since most have been in the system for at least a year or 2 and are programmed to our play number calling. I plan to deviate and use our number system but all else equal. Have you heard or addressed this in the past?
Coach,
You underestimate your kids and you underestimate yourself.
If I may say so, you do the kids a disservice by locking them into something simply because that's what they've been doing. In my experience, they are not locked in to the extent you may think. Kids are quite resilient and capable of learning new things. They are not nearly so stuck in their ways as older people (who frequently need to get out of their comfort zones).
If this were the problem you suggest it is, Windows would never have been successful. We would all still be using MS-DOS (if we even used computers).
I have addressed this many times in the past 13 years and I simply tell people that I can't coach their team. It is their choice to deviate from my system as they wish, but I must advise them that because I am kept plenty busy helping people with whom I am able to communicate effectively, from the point where people choose to use another language, they are on their own and I can't help.
My system is most effective run "right out of the can," as has been proved by hundreds of coaches. In my opinion, the inability to speak the same language will keep you from running the Double Wing as well as you can.
Since you can't have seen the main video yet, why don't you take the time to go through it and see the logic of the system? (Trust me, I used to run the old "3 Back at the 4 Hole" system myself. It is as old as the hills and it is not well-suited to teaching a misdirection offense.
*********** Hi Coach,
Hope you are doing well. How's the team looking? I see a lot of references to later Dynamics versions. Have you updated or revised the Dynamics playbook or videos and if so how would I get my hands on a copy? Are the changes such that I would need it or is the original playbook fine. The book I have says 2nd Edition. I'm the OC for the 8th grade team this year and we're running your system. So far things are shaping up nicely. Thanks in advance!
Hi Coach-
Short answer- Your playbook is the most recent.
Long answer - Since its publication, I have done a fair amount of "evolving", and my main means of communicating those things has been through my annual clinics.
In other words, another edition is long overdue. I have actually been using a "video playbook" (on DVD) to teach my teams.
I am debating whether this is the way to go, rather than a book. What do you think?
Glad to hear that things are going well.
*********** Shouldn't he have cleared this first with NFL headquarters?
John Madden, who works for the NFL now, told USA Today, "The way the game is played today, you have to have a quarterback, And there are not enough quarterbacks to go around. There are 32 teams and there are not 32 quarterbacks that can play the game the way it has to be played."
Wow. That's like a guy in the White House saying, "You know, this Health Care Reform sh—is really going to screw things up!"
*********** Coach, I bought your ENTIRE set of tapes 7 years ago when I was the Head Coach at Brookside High School. Problem is now, you can't even find VHS players.
I figure you probably have a data base of coaches who purchased your system.
I was hoping to get the same tapes on DVD. Do you do anything price wise for coaches who have already purchased your tapes but have it on VHS tape but need it on DVD? I hate to spend all that money for a second time just because VHS tapes have been phased out.
Thanks
Hi Coach-
I understand your problem. Hard to find even one tape deck for sale at Best Buy.
If you mail us the tapes we will upgrade you to DVD for $15 off the price of each one.
One way to do it is to (1) notify us by e-mail that you're requesting the upgrade then (2) mail us the old tapes, then (3) order the items via PayPal at the price advertised. We will then ship the DVDs along with a rebate for the difference of $15 per item.
Or, you could send us a check (or PO #) for the discounted amount ($15 off each item) and accompany it with the old tapes.
Hope that helps.
*********** Even in a football-crazy part of the country, Schuylkill County, Pennsylvania, football faces competition from year-round sports...
http://link.brightcove.com/services/player/bcpid1155399824?bctid=541442749001
*********** From my NEWS in 2001 - A coach wrote me recently asking me to recommend some books on coaching.
There are lots of older books that I would recommend, including "Football Principles and Play," by Dave Nelson and "Football Coaching" by John McKay.
Unfortunately, there haven't been too many published in the last 20 years by successful college coaches that are much help to other coaches. Mostly they're a compilation of stories, and more often than not the coach himself has had little to do with the actual writing.
I would, however, put Coach Bob Reade's book, published in 1994, right up there with the best I've read. Coach Reade won three state titles at Geneseo, Illinois High, and four consecutive NCAA Division III national titles at Augustana College. How's that for credentials?
His book is entitled "Coaching Football Successfully," by Bob Reade, 1994
FRIDAY, AUGUST 13, 2010 --- "Compulsive texting gives me the willies; it's just another form of butt scratching." Garrison Keillor
*********** By now we know of the tragic death in Alaska of former Senator Ted Stevens and several others. The crash will have an impact on three college programs.
One of those killed was William Phillips, a former football player at Evansville and father of three major college football players.
The three sons, all of them graduates of Washington, D.C.'s Georgetown Prep, are Andrew, a senior offensive lineman at Stanford, Colt, a sophomore tight end at Virginia, and Paul, a freshman tight end at Indiana.
A fourth son, 13-year-old Willy, miraculously survived the crash.
*********** January 9, 2011. Mark it on your calendar. You may not believe this – I didn't, at first – but on that date, somebody's going to be playing in the first-ever Kraft Fight Hunger Bowl. I know you won't believe me, so you'll have to check it out on the Internet.
*********** Coach,
I have used the Demo Deck to help teach the kids in practice and it is a good teaching tool. The kids seem to be really picking up the playside blocking. I am pretty confident that it is going to help us this season. Thanks for a great but simple idea that's going to save me many headaches down the road!
Mike Benton
Ridgeview HS
Colfax, Illinois
(I consider this to be a strong endorsement, from a true professional who has been running the Double Wing for over 10 years at two different high schools and has presented at my clinics. HW)
*********** I don't know how I fell into the habit – maybe ADHD or maybe just plain short attention span - but I always have a few books going at any time. I just finished one, entitled "Gridiron Gauntlet," by Andy Piascik, a series of interviews of some of the first black players to play in the modern NFL.
Many of them are men I remembered from the time – Joe "The Jet" Perry, whom I once met when I was living in Baltimore and he was finishing up his career with the Colts; George Taliaferro, who by today's announcers would be considered the NFL's first black quarterback – he was actually a single-wing tailback, but today, they'd call it the shotgun (or Wildcat), thereby making him, with their slim knowledge of the game, the quarterback; Charlie Powell, who actually gave up pro football to pursue a career as a professional prizefighter – he was such a good boxer that he fought his way to become number one contender for the heavyweight title, but never got a shot at champion Floyd Paterson; Eddie Bell, who as a kid growing up in Philly I remember because he was also a Philly guy, and after becoming one of the first two black men to play football at Penn, then a national power, also became one of the first black members of the Eagles.
They're old men now. Some of them have died since the book was published (2009). Their words describe a world that fewer and fewer people are alive today to recall – a world in which daily life for most black people, even professional football players, was a continuing string of reminders that they were less than equal to whites, reminders that might pop up, unexpected, at any time:
One player, one of a handful of blacks on his college team, recalled the time his coach, up to then a nice enough guy, said, "Boys, we had a good practice, and I'm giving you the rest of the day off. The last one to the gate is a "(N-word) baby."
The player said he and the other players, in the excitement of practice being over, took off at full speed; he got about halfway to the gate before suddenly pulling up and saying, "Oh, no, what did he say?"
Most of the indignities they had to deal with were off the field, not on. They speak highly of most of their white teammates, coaches and even owners, but most of them, back in the days when NFL teams would play exhibition games in the segregated South, had stories to tell about having to stay in separate quarters from their white teammates.
And once games and practices were over, the two races went their separate ways. Ironically, this had a side benefit for the black players, because they grew close with black players from opposing teams, and often, having to stay in a blacks-only hotel meant the opportunity to meet and socialize with black entertainers and black athletes in other sports.
One exception to the rule of separate socializing by race was Charlie Powell, who recalled his friendship with Lions' Hall of Fame QB Bobby Layne:
"We would just get through playing, and either the Lions would whip our butts or we'd whip their butts, and he would say, "Charlie, go get dressed. I'll wait for you outside your dressing room." And it seemed like anyplace we went, everybody knew him. We'd go to a place with a band, and Bobby knew everybody in the whole damn band. He would introduce me to everybody he knew.

He would take me to the nicest clubs in Detroit, and they would roll out the carpet for him. He would even take me to the black clubs in Detroit, and everybody in those place knew him, too. They loved him in Detroit. Anywhere we went, people were crazy about Bobby Layne because he was a character and a beautiful person. We had a hell of a relationship."
These were men who, thanks to their ability and their mental toughness, and often a tiny bit of good fortune, had the opportunity to play in the NFL at a time when opportunities for black men to do so were severely limited. They were rarities of their time. With the exception of George Taliaferro and Joe Perry, these were not big-name players. Certainly, unlike today's players, none of them made enough as a football player to take care of him financially for the rest of his life, but they all managed to care out successful careers in a variety of fields. An astonishing number of them enjoyed long, happy marriages.
For one who enjoys football history and finds it refreshing to get a glimpse of a seldom-told side of it, "Gridiron Gauntlet" is a good read – and an enlightening one.
*********** Coach,
Have you ever heard of such a thing? The coach in charge of Special team ask me to look at what he printed out off of the internet. I was wondering if you have a clip of this actually being done. I for the life of me can't picture what is supposed to take place. This is the link that he referred me to:
http://www.johntreed.com/placekickpunt.html
Thanks,
Jason Clarke
Glen Burnie, Maryland
They are talking about "punting" by placekicking. Perfectly legal, as the author, Jack Reed, points out.
I know Jack Reed - very bright guy with some good ideas.
I happen to disagree with him on the advisability of this one, for five main reasons:
(1) In my opinion, blocked field goals are more common than blocked. The place kick comes off at a much lower trajectory than the punt.
(2) Few placekicks, even with a running start, stay in the air as long as punts
(3) You have to devote every man possible to protect placekicks, which means that you can't cover them
(4) In punt formation, the punter or his personal protector can check to another play or another style of protection if he sees the defense lined up a certain way; there isn't much chance for the holder or kicker to do that.
(5) You're pretty limited as to what you can do other than placekick; from our punt formation, we can run 90 per cent of our base offense.
I have demonstrated that I am willing to do some unconventional things that others may question, from the offense I run to my reluctance to kick off high and deep. But I steer clear of things so unorthodox that they are sure to provoke the geniuses in the grandstands, without providing any significant benefit in return.
*********** Coach,
You will get a kick out of this. The audacity of some people never ceases to amaze me!
At the Linfield Team camp, we (La Center) scrimmaged Ridgefield. The format was 10 plays/10 plays/10/10. They did not score on us. We scored 4 times on them (might have been 5 times). Then the JV went 15/15. They did not score, and we scored 3 times. So it is safe to say that we thumped them pretty soundly in that format. Following the scrimmage, the Ridgefield Coach went absolutely bonkers on his kids - screaming at them for about 10 minutes and then making them run windsprints for I honestly don't know how long as we left the field.
Fast forward to July, when all of the baseball "all-star" teams are playing in tournaments all over the place. It seems that kids from Ridgefield and La Center all play on the same all-star teams. The Ridgefield kids started talking some trash (nothing major) and told the LC kids what their Coach said about our program. According to these kids, and backed up by some conversations with parents, the Coach said he was glad that Ridgefield is in the same league with LC now so they can play every season because "anyone who runs the Double Wing is either stupid or lazy, and those guys (us at LC) are both!"
Good grief. Why would a coach give the other team that kind of locker room motivation??
DJ Millay
Vancouver, Washington
Coach,
That is so unbelievably ignorant.
First of all, he obviously doesn't know much football, and he doesn't know that he doesn't know.
And second of all he certainly doesn't know Ridgefield football or he'd know - and respect - the fact that the 1995 Ridgefield team won the very first state title ever won by a Southwest Washington team (it's only been done once since). And it won it running the Double Wing.
That team went undefeated (13-0) and didn't have a close game the entire way. They won the championship game 44-30. For the record, they outscored opponents 615-136. (Lazy, stupid teams don't average more than 47 points a game over a 13-game season.)
During one stretch, they won four league games by scores of 61-0, 51-7, 70-0 and 50-0. In those games, their starting backs were done by halftime. (Talk about lazy kids – get a bunch of quick scores and then kick back!)
No, it wasn't a modern-day passing offense. Two of their running backs ran for close to 2,000 yards each. Their quarterback, Ryan Greear threw only 29 passes all season. He could throw. I know. I coached him. "Ryan could have thrown for 2,000 yards, easy," Ridgefield head coach Ozzie Osmundson remembered. "A lot of people asked, 'Why don't you throw the ball more?' Well, you blink your eyes twice and you're up 28-0. What do you want us to do?"
The coaches and players from that team and the people in the community who remember what they accomplished would be highly offended to hear what some fool - whose offense is so potent that last year's Ridgefield team was one of just two teams to lose to a league rival in the last two years - had to say about people who run the Double Wing.
*********** Hey Coach,
I hope you and the wife are doing well. Looks like you're getting some traveling done. I need some advice for my 8th grade team this year. Let me give you a personnel rundown and you tell me if this is a good scenario for Wildcat or if we should just stick with regular DW: We have lots of linemen with good size; we have two large and athletic TE/FB types, one was the starting FB last year and the other a tackle; we have a tall, fast, skinny kid with excellent hands to play wide out. We are short on WB's. Here is what we have: my A and C backs from last year (one can throw strong and accurate and can run; the other is an excellent inside runner, hard to bring down, good speed) and two backups, one a fast slasher type and the other a good athlete but has never played football. What do you think? In one of your columns last week you said a good situation for the Wildcat was when you had a shortage of wing backs. Any advice you can offer would be greatly appreciated.
On a side note, we have had a good turnout for our summer sessions with 50+ kids each session (Mondays and Thursdays), totally voluntary. A lot of kids around here like football. Coach Mills sends his regards.
Hi Coach-
Based on what you describe, this might be a good situation to go to Wildcat.
I think, though, that you don't want to give your kids the idea that you are going to a new offense, but that this is just one of the packages you have - one of many ways you can run it.
I think I would start out with the basic Double Wing, teaching the numbering, etc., and then say, let me show your our Wildcat series (or package, or whatever).
And then you show them how you line up in "CAT", with A and C Backs as usual, QB on the left and B-Back on the right. When you flip QB and B-Back, you say "Lynx" (B-Back Left).
And you show them how you can run 88 Power (with a handoff to the A-Back) and also Rip 88 Power keep (A back motions to outside and QB carries) and then 88 Power Follow (A back leads through and QB follows him through).
And soon you will find that for most plays you don't really need an A Back, so now your "A" back can move around - to "ALLEY" if you want to flank him wide left, "ART" if you want him just a yard outside the C Back or "ARTIE" if you want him flanked wide right. Also "ARBY" if you want him back of the RIGHT B GAP (a blocking back in single wing right)
You will be surprised to find that if you line up in ALLEY CAT or ARTIE CAT you will still be able to run almost anything in your package. If the A back is not particularly good, at the very least people will still have to cover him. If he is a player, you can find ways to get the ball to him.
For example, even if he is flanked left (ALLEY CAT) you can send him in Rip motion (on the flash of the QB's hands) and hand him the ball on sweeps or powers (or use him as a diversion).
Hope I haven't confused you.
Thanks a lot. Your advice has been very helpful. You've given me some insight on some things I haven't thought about before. I'm not really worried about our kids; they like the Wildcat. The way we've approached it, they see it as just a different way to run what we already run. In our situation, I've got a kid who is a legitimate double threat; he is a very good passer, as good as I have seen at this level. I want to take advantage of that especially since our passing game was our weakness last year.
One last question: if you try to run Wildcat and under center at the same time, do you feel like you are practicing two different offenses when it comes to practice time? Does one take time from the other? Are you better off execution wise being all under center or all Wildcat or have you found you can blend them well? We have one hour of offense per day (state rules limit our practices to two hours). I'd like to hear your thoughts on that.
I can do it and you can, too.
I think the trick is not to waste your linemen's time repping the plays with the entire team.
I would suggest about at least 20 minutes of line together/backs and ends together and then 40 minutes team, or maybe even 30 minutes group/30 minutes team.
You can do a lot of things and get a lot more reps if you keep the backs and ends separate as long as possible; but at the same time you have to have the team work that you need for timing purposes.
For sure, keep your center with the backs and ends. His exchange responsibilities are much more important than his blocking responsibilities. (And also put a man on his nose as much as possible.)
And, of course, simplify your package and don't spend too much time on pass plays. It seems to me that a lot of the passing stuff can be done before or after practice on their own. If the kids want to pass more, they'll put the time in. If not, no problem.
*********** Dear Coach Wyatt,
I am sold on no motion and to be honest I was having problems this year with the pass plays because of the no motion. I had 10-12 year olds. I was asking Greg Koenig and he told me to ask you:) I purchased your playbook way back (I think its been more than 10 years!!) but most of the plays have motion. I was wondering what youth passes you recommend with no motion? Or what adjustments do you make to Red/Red and 58 Black O?? BTW, Greg calls Red/Red "88 Brown" now with the no motion.
I try to find the simplest way for the kids and "NO MO" was a big help this year so it is very important for me to fix the only weak spot in our playbook. I am anxiously waiting for your 2010 clinic DVD set just because of this. Greg mentioned you had a whole power point presentation on the no mo pass plays. Will this be included in the DVDs??
Coach, I really appreciate any help,
Coach,
Since I no longer run 88 Super Power and 99 Super Power using motion, it made sense to me to give the pass that they set up (formerly Red-Red/Blue-Blue) a more appropriate name - 88 Brown/99 Black.
First of all, it reinforces in our B-Back's mind the importance of blocking exactly as he does on Super Power. You don't want him taking a couple of lazy steps and squatting there, which forces the QB to pull up.
And also, it eliminates one more bit of verbiage for our linemen to have to learn, because now 90 per cent of our passes employ Brown or Black blocking.
We may or may not use motion with most of our plays, but we NEVER use motion on Super Power and we seldom use it on 88 Brown/99 Black. When we do use motion on 88 Brown/99 Black, it is usually very quick (Rip-Stop/Liz-stop) and doesn't change the assignment of the motioning wingback (hinge and block backside). Sometime,s we will motion that wingback across the formation as an extra receiver.
88 Brown/99 Black are my staple passes, and they can be tagged with any number of alternate routes (for example: 88 Brown X Post, 88 Brown A Screen Left, etc)
Here is a clip of 99 Black. http://www.coachwyatt.com/99blackNBandWB/99blackNBandWB.mov
My QB is told to run his Super Power steps and then flatten out and sprint until/unless he has to pull up. In the first case, 99 Black 1-3, the QB has to pull up because they have blitzed the playside corner. This puts extra pressure on the QB, but he knows that it means that they can only cover the short out (his primary receiver) with an inside linebacker, which isn't possible.
In the remaining instances, 99 Black 3-1, the QB is looking to throw to the wingback running he "3"
Hope that helps. As you can see, we do things a bit differently and an update of my playbook is probably way overdue.
*********** A friend of mine in Canada called to tell me, excitedly, "There's some guy on YouTube who's talking about the Double Wing as if he invented it, and I guarantee you – it's your stuff!"
Hmmm. I don't think there's any question where the offense came from. First, the coach has bought my materials. Second, his snap cadence is "Go! Ready Hut!" And the clincher: he runs a play called "Super Power."
But does he give the impression that it's "his" offense? I dunno. You decide. Here's the video.
http://www.youtube.com/watch?v=XwgPfZBhmRw
TUESDAY, AUGUST 10, 2010 --- "The machinery of information has brought into being a new substitute for the hero, who is the celebrity, and whose main characteristic is well-knownness. In the democracy of pseudo-events, anyone can become a celebrity, if only he can get into the news and stay there." Daniel Boorstin
*********** Oregon's new John E. Jaqua Academic Center for Student-Athletes is a sight to see.
A big glass box called "The Jock Box," the Jaqua Center was named for a late Oregon alumnus who was a founding board member of Nike.
It cost $41.7 million – a staggering $1,100 per square feet. Needless to say, some on campus are horrified.
"Forty million dollars buys a lot of new faculty, reduced class sizes, better facilities for the rest of the campus," whined the president of the UO Senate.
Eat your heart out, guy. It was entirely paid for by one man, Nike founder Phil Knight.
Replied a university spokesman, "The building was a gift. When someone buys you a birthday present, you don't ask them how much they spent for it."
*********** On August 9 more than 30 classes of Yale football players gathered in New Haven, Connecticut to celebrate the 80th birthday of their coach.

The coach, Carmen Cozza is truly an great American success story. It's a story he would attribute to his belief in hard work.

The son of Italian immigrants, he rose to become head football coach at one of America's elite institutions, the leader, mentor and confidant of young men who would go on to achieve great success in a wide variety of fields.

Cozza, a native of Parma, Ohio, played quarterback at the "Cradle of Coaches" – Miami of Ohio - under two of the greatest coaches of all time – Woody Hayes and Ara Parseghian. Also an outstanding baseball player at Miami, he played minor league ball in the Indians and White Sox organizations for the next 11 years.

But he had also started on a football coaching career, made possible by the extra money he was earning playing baseball.

Following graduation, he spent a season as a graduate assistant under Parseghian, then spent two years as a high school coach at a small private school in suburban Cleveland before returning to Miami in 1956 as head freshman coach under John Pont. When Pont left to go to Yale in 1963, Cozza applied for the head position at Miami, but lost out to a guy named Bo Schembechler.
Offered the chance to stay at Miami under Schembechler or go to Yale with Pont, he chose to go to New Haven, and two years later, when Pont left to become head coach at Indiana, Cozza was prepared to accept the head coaching position at New Hampshire. He was persuaded by Yale AD Delaney Kiphuth to hold off on his acceptance for 48 hours to enable Kiphuth to talk with a few people.
Before the time was up, Cozza was offered the Yale job. (Such was the way things were done back in those days before search committees and affirmative action, back when professional athletic directors, brought up in the business, ran the athletic departments and took full responsibility for their hires.)

Despite two good seasons under Pont, things did not start out well for Coach Cozza. In his first game as head coach, he became the first coach in Yale history to lose to UConn, and in the final game of his first season, he lost to Harvard, 13-0, to finish 3-6. The alumni were not happy.
Yale wasn't much better in 1966, finishing 4-5, but Cozza had introduced his first recruiting class, a host of talented sophomores, including an all-state quarterback from Cleveland's St. Ignatius High named Brian Dowling and a big, fast running back named Calvin Hill, and once things started to click, the Bulldogs ran off 16 straight wins spanning the 1967-1968 seasons (the latter ending in the infamous 29-29 tie with Harvard.)

Give credit to an athletic director who had the stones to stand by his choice: despite the scary start, Coach Cozza would stay at Yale through 1995, compiling an overall record of 179-119-5 and winning ten Ivy League titles.

For a great article on Carm Cozza, written at the time of his retirement in the Yale Daily News…

http://www.yalealumnimagazine.com/issues/96_11/cozza.html
*********** My friend Lou Orlando in Boston, who played at Yale many years after I did and had the good fortune to play under the great Carm Cozza, passed along numerous tributes to the great coach by his former players, leading up to their celebration of his 80th birthday Monday…

... I arrived as a freshman in 1963 in Carm's first year. He was an assistant to John Pont who assembled a great team of coaches, most of whom went on to head coaching positions. The standouts were Carm, Bill Mallory and Bill Narduzzi. All three commanded fear and respect. Carm added a nice measure of humanity too.
In 1964, I was in awe of everything about Yale football; the crowds, the excitement, the talent and the coaches. My earliest memory of Carm was doing wind sprints with the running backs and ends and Carm coming in first every time. I also remember Carm as the only coach who knew what you were doing during every minute of every practice even when looking in the other direction.
... As I write my own tribute to Carm Cozza in celebration of his 80th birthday, I have only one question: In the 309-year history of our esteemed University has anyone ever looked better in a Yale cap? Carm was wearing his "Y" cap when I first met him in 1972. As an unheralded prospect out of suburban St. Louis, I was, at best, a faint blip on Yale's recruitment radar. I had come to New Haven to visit my older sister and decided to stop by the football office. I did not expect to meet the head coach and was surprised when I was escorted into his office. At the time, Carm was well on his way to becoming a legend and the impression he made on me that day remains indelible. First, I should note that my high school football coach, whom I dearly loved and respected, was a rotund, avuncular man who reminded his players every day of the season that nothing was more important than being good to our mommies and daddies. With his square jaw, serious sideburns, commanding voice and that cap, Carm cut a more imposing figure. If my beloved high school coach was Benjamin Franklin, Carm was General George Washington. I remember thinking: this is a warrior-statesman and I would die to play for this man. My first impressions held true. In style and substance, Coach Cozza was a class act all the way. I was always proud to say that I played football, not just for Yale, but for Coach Cozza. I think all of his players felt that way and still do. Carm is one of the most impressive people I have ever known—measured by his strength of character, integrity, competitiveness and compassion. Although Carm could radiate intensity, rarely did you ever hear him curse. Even in the heat of competition, he was a gentleman. And he expected such conduct from his fellow coaches and team. As clichéd as it sounds, Carm's belief in all of us, as players and people, truly made us better, on the field and off.
...Prior to my junior year, in the summer of 1983, I did not want to return to Yale for a semester as my family had just started a business and my father suffered a heart attack. Reluctantly and at my father's direct orders, I reported to camp and fractured my collar bone during the first 7 on 7 drill. Minor complications ensued as well as a four day stay in the hospital. Every morning, someone tapped my wrist, said good morning, checked on how I was doing and went off to practice, Carm. I decided to take a personal leave that semester. It seemed like fate, but before I did, Carm summoned me to his office. We did not discuss my role on the team or what my physical status was, Carm wanted to make sure that I was going home for the right reasons and I had to give him my word that I would be back to get my education, not to play football. Leaving his office, in tears, I knew I made the right decision.
... "Cream rises to the top" - My name for Coach's welcome back speech to us at Ray Tompkins Hall where he laid out the team goals and what was expected of us for the coming season. "Cream rises to the top" was Coach's answer to our unasked questions regarding playing time and the depth chart. Upper
classmen always held the top slots on the preseason depth chart and it was their job to lose. If a younger player out performed an older player, he would gain more playing time and might eventually start, but he had to earn both. Younger players might think they should have "arrived" sooner and older players might be disappointed to see their playing time diminished, but nobody could say they did not get a fair shot. I use this phrase all the time in discussing coaching and high school athletics (and in my work). I am amazed at how often this sound organizing principle is ignored. Recognizing current players and earning your spot - "Cream rises to the top" - is a sound management principle recognizing loyalty and achievement while building coherence, trust and productivity. We all wanted to produce and knew we would get our chance.
... I can't believe it has been 26 years since I first met you during a visit to Yale during the winter of 1984. I have such wonderful memories of my 4 years at Yale and more specifically of my 4 years with the incredible group of men of the Yale football team. I have one memory which stands out above many other cherished memories. After graduation I was hospitalized with blood clots and was more scared and anxious than I ever was on a football field. Alone in the intensive care unit was way more intimidating than any of our Ivy League foes. When you visited me you were remarkable. You told me you had talked to the doctors and assured me I was going to be ok. You called my parents to make sure they knew I was in good hands and was going to completely recover. And you told me to call if I needed anything. After you left I felt better both physically and emotionally. I knew everything was going to be ok. Coach had said so.
... "An army of lions led by a lamb will always be defeated by an army of lambs led by a lion." The first time I heard this ancient proverb, inspired by words from Alexander the Great, was in a Middle East war zone. A determined young Palestinian fighter was paying tribute to a commander not much older than himself. The second time I heard it was at a black tie dinner in New York City. Calvin Hill was speaking about his college football coach. "Perfect," I thought to myself as Calvin recited the proverb. He had captured a quintessential quality in a coach we all love—the ability to inspire confidence in his players and a belief that the day belonged to Yale.
... Carm was a very clever recruiter. He would call my home every Saturday morning in the late Winter and early Spring. I played baseball at the time and Saturdays were practice days. My mother would say Coach Cozza had called and that he would get in touch with me during the week. Then I would hear from line coach, Russ Wickerham. After about two months of Saturday morning calls, I assumed I was simply someone on a weekly call list and Carm sat in his office and went down the list each weekend. In April, when it became time to select a college, my mother – who knew nothing about football – leaned over at Sunday dinner and told me, "Go play for that nice Italian man who calls me every Saturday." Italian fathers always tell you what to do – and you sometimes listen. Italian mothers whisper in your ear and you have no choice. Only later – more than 25 years later – at the celebration for the refurbishment of the Bowl, did Carm tell me that he knew I played baseball every Saturday, but his Italian background told him that the best way for me to come to Yale was to recruit my mother – and he was right. Less than 18 months later, my mother's instincts rang true because Carm's influence on those he recruited went well beyond the four corners of the football field. Yale was undefeated and ranked 20th in the nation, poised to play on ABC before a packed Harvard stadium. My father passed away on the Wednesday before the game and I left school to make the funeral arrangements. It was a time of grief and uncertainty for me. On Thursday evening several of my teammates came to Long Island. They asked me if I wanted to fly to Boston on Saturday morning, play, and return for the funeral on Saturday evening. Carm would arrange everything. It is difficult to put into words how important that offer was for me. It told me that my teammates and coaches – in the midst of preparing for one of the biggest championship games of their careers – cared about me, supported me, and that life would go on.
... Fall 1989 – Three games left in our undefeated season. The accident. Tuesday night. We were struck by a drunk driver on our way from practice to training table. Unbelievably, I was the only player seriously hurt. Bob Bennet, my roommate and defensive back, suffered a concussion. I was thrown through the windshield and suffered a broken nose, shattered upper jaw, several teeth were torn out, broken lower jaw and dislocated my elbow. Carm did a nice job recalling the accident in his book. I don't remember much of the next few days, but Carm recalls that when I regained consciousness in the hospital, he had already been at my bedside. And although it was difficult to talk, my first words were "I'm sorry". I really hadn't done anything wrong. We were hit by a drunk driver who ran a red light. But those words tell you how I feel about Carm Cozza. About how we all feel about Carm Cozza. You never wanted to let him down… That's why I believe I was able to check out of the hospital on Saturday morning and get on the field and help the team beat Cornell. And then do it again the next week against Princeton and win the Ivy Championship. Carm showed us how to be men. He was and is the man that we want to be. A great husband, a great father, a great man. I love you Coach. Thank you for so much more than you or I could ever know. Your effect on all the men of Yale football has been passed on to thousands. You truly have changed the world
... As I mentioned at the top, Carm has been there for me and my teammates in so many ways over the years. Whenever I've stopped by his office at Ray Tompkins House, one of the first questions he puts to me, after I've caught him up on my family and my career, is whether any of my teammates are in need of help. I know that my friends on those great teams of the late 1960's feel blessed that our great coach is there for us, so available, and so free with his time. My best experience in setting up one of my meetings with Carm occurred in September 1998, when my high school senior daughter visited Yale for an interview at the Admissions Office. I called Carm's office the morning before the interview, and suggested that, instead of spending time cooling my heels up on Hillhouse Avenue during my daughter's interview, I would stop by his office for a chat. Carm's response was quite revealing--he said "----, I'm happy to see you, but what I'd really like to do is speak with your daughter." Well, with an offer like that, what could I do--I immediately said that we would walk down to his office as soon as the Admissions interview was over. When I told my daughter that Coach Cozza would be on her itinerary the next day, I sensed that she was excited to meet my great mentor, but a little puzzled that someone with as little interest in sports as she would be talking with such a football icon. At this time, I was really concerned that my daughter might actually decide to chart her own course and not go to Yale. I was therefore slightly concerned that maybe, just maybe, her sitting in the great oak-paneled office might be laying all the boola-boola stuff a little too thick. But, during the thirty or so minutes she was with the great Mr. Cozza, I tried to allay any fear that she might defect with the fact that she now was in the presence of the hands-down greatest recruiter in the history of the Ivy League. Well, sure enough, Carm's magic was still working that day, a couple of years into his retirement. (My daughter) emerged from her talk with the Great Man with that look in her eyes, and once again, when it really counted, Carmen Louis Cozza had sealed the deal.
... Carm always stood at the 30 yard line for end of practice sprints during two-a-days. This one practice he was not there even though he had been at practice. Another coach took over his "sprint duties" until we noticed an ice cream truck being driven onto the field. And who was driving the truck - Carm! greatly counteracting a lot of physical and psychological fatigue.
... Senior season (1977), we are on our way to an undisputed Ivy title. We have a bit of a rough patch mid-season: losing a game to Miami of Ohio due to silly mistakes after we largely dominated them, then during a tropical storm in an incredibly sloppy muddy Yale Bowl we lose to Dartmouth 3-0 the following week. Much later that night after the severely disappointing loss to Dartmouth as we are polishing off our fifth keg during an impromptu post mortem players meeting, we impose on our humble Captain, Bob Rizzo, and insist that he must confront Carm and tell him to open up the offense a bit. (Ah yes, the lawlessness and audacity of the 70's). The Captain's meeting with the Coach does not go well. Carm is furious, and he has no reservations about sharing that fact with us. He lays down the law, instructs us on the proper role and authority of coaches vs. players, and generally kicks our butts for the rest of the season. He is totally vindicated as we proceed to win out, running 28 right and 28 left fifty times a game. Coach Carmen Cozza...that's a lot of "c's"...as in caring, compassionate, competitive, constant, courageous, and in control. Thank you, Carm, for four outstanding years at Yale, for the wonderful coaching staffs and teams you assembled, and for the opportunity to interact and remains friends with an outstanding cast of fine athletes and gentlemen.
... In New Haven, the Italian-American elders have a great saying: "that guy is all crust and no pie." Well, Carm was all pie, and we are all outliers for having known him.
*********** The following appeared, year after year, on the cover of Yale playbooks...
If you are poor, WORK. If you are rich, WORK. If you are burdened with seemingly unfair responsibilities, WORK.

If you are happy, continue to WORK. Idleness gives room for doubts and fears. If sorrow overwhelms you and loved ones seem not true, WORK. If disappointments come, WORK.

If faith falters and reason fails, just WORK. When dreams are shattered and hope seems dead - WORK. WORK as if your life were in peril; it really is.

No matter what ails you, WORK. WORK faithfully, and WORK with faith. WORK IS THE GREATEST MATERIAL REMEDY AVAILABLE. WORK will cure both mental and physical afflictions.

Carm Cozza
Legendary Yale Football Coach
*********** Bob Fenimore was a great football player in the postwar years at Oklahoma A & M - now Oklahoma State - and he died last week. In searching for more information on him, I came across this great interview with him, done sometime in the last few years...
http://www.youtube.com/watch?v=9STzXE9nsE8&feature=related *********** Spent most of last week visiting with family in Victoria, BC. Great place.
I believe I mentioned last time that gas is expensive in Canada - converting out to about $5 a gallon. So, I should point out, is beer - in the neighborhood of $22-$25 for a 12-pack. I can only imagine what tobacco costs. (See how "free" Canada's free medical care is?)
I should point out to those who've never been to Canada that Canada is metric: speed limits are in kilometers per hour. I learned while in Europe to multiple times .6 to convert to miles per hour: 50 kilometers per hour is really about 30 mph; 80 kilometers per hour is really about 50 mph.
I also had my first dish of poutine, which seems to be something of a national dish - french fries, mixed with cheese curds, topped with gravy. I gather that it originated in French Canada, but now I'm told it's found everywhere in the country, in one form or another, in every sort of restaurant and carry-out place.
*********** I watched some of the Hall of Fame inductions only because I wanted to see and hear Floyd Little.
So I sat through Jerry Rice's stupefying "speech" – which he read… and read… and read… zzzzz
That's how much I wanted to hear Floyd Little. I've been a fan of his since I was in college in New Haven, Connecticut, and he was a standout at New Haven's Hillhouse High School. I continued to follow his career at Syracuse, and then with the Denver Broncos, and I always thought he was a sure Hall of Famer.
It took him way too long to get there, and over the years he had a thing or two to say about the selection process. I'm not usually a fan of self-promotion in any form, but in this case, especially after seeing some marginally-qualified recent retirees inducted, I sided with Floyd Little.
And this year he finally made it, and lemme tell you – his speech alone was worth the wait.
It was stirring, to say the least. My wife said, "I think he's given a speech or two before." I said, "If he hasn't, it's time he started."
He introduced his family, and what a tribute to him they are. His three children are all college graduates. He has, it was obvious, been a loving father – been there for them.
He thanked his father and mother, and mentioned his brother, who served two tours in Vietnam. ("He's a hero.")
He mentioned Ernie Davis and Jim Brown, who wore number 44 at Syracuse before him, and Ben Schwartzwalder, the great Syracuse coach who, because it served the purposes of the story, was wrongly portrayed in "The Express" as something of a racist.
And he concluded by challenging everyone who could hear him: "Don't listen to the naysayers."
*********** Emmitt Smith did a great job, too, showing a lot of class in singling out his fullback, Moose Johnson: "You took care of me as though you were taking care of your little brother."
*********** Some Hall of Fame game. What a stinker. Tens of millions of dollars in playing and coaching talent, and all they can come up with is three lousy field goals, a defensive touchdown on an interception return, and one measly offensive touchdown. That is, if you call a two-play, two-yard drive an offensive touchdown. The punt return that set it up was easily the play of the game.
For the record, the Bengals, with an offense featuring the two most boastful players in the game – and in a league full of braggarts, that's saying something - didn't cross the 50 until 3:28 left in the third quarter.
*********** Who in the world does those hideous Pro Football Hall of Fame busts? Kings have killed sculptors who turned out better work than that. Is there even one that remotely resembles the honoree? I sure hope they've all got names on them, because if anybody should ever break into the Hall of Fame and rearrange them, they'll never get the busts back where they belong. ("Hey! Where does this bust of Walter Payton go?" "Idiot. That's Sammy Baugh." "You're both wrong. It's Paul Hornung.")
*********** Dear coach Wyatt,
My name is Phillip Ketterman. I am from Temple,Texas a question that i would like to ask is, I love the slot-t offense. I'm not sure if you have ever heard of that offense but I also like the double wing offense. I know that running multiple types of offenses may hurt your team more than help it but I just wanted to know if there was a way to mix both offenses without hurting the team more.
Thank you very much
Hi Coach-
In answer to your question, I would imagine that one major obstacle to marrying the two concepts is the spacing - our lack of splits and our fullback's being closer to the QB. That, more than anything, is what sets us apart.
Otherwise, we have a lot in common. I would imagine that you are using wing-T principles in your blocking. And we often line up in a slot to on side or the other - or both.
*********** Another chapter in the never-ending story of the Invasion of the Men in Bras…
So....
Went to coaches meeting tonight. Refs held up (State) High School leagues rule book and proclaimed it to be the Gospel when local rules do not apply.
They suggested we buy our own copy and get familiar with it.
After the meeting thought it would be a good idea to let them know some of the common mistakes I have seen over the years.
I started with the free blocking zone. I told them my TE frequently get called for an illegal block because new refs think the zone is between the tackles.
They ( head of refs ) said, "It is between the tackles".
I grabbed his rule book and showed him it was 4 yard either side of center.
He said, "You shouldn't be teaching little kids to block below the waist."
I used to think guys got into refereeing because of a love for the game. I now think it is a way for men with small d--ks to have some sort of power in their lives.
(Name - and state - withheld - because he has to coach this season)
*********** In the process of turning the Eastern Michigan program around, Ron English, the head guy, had to let 25 players go, for reasons mostly associated with academics and conduct. Only then could he rebuild.
He told Ann Arbor.com, "If you go to Detroit right now and you buy one of these old houses, are you going to try and refurbish it or are you going to knock the thing down and start over? You're probably going to knock it down and that's what we did. We said, 'We're going to take a hit here, but we're not going to tread water. We're going to knock the thing down and start over."
"We wanted to recruit football players that love football," he said at MAC media day. "I felt like we had a lot of guys who really didn't love football."
So what's he looking for?
"We wanted guys that had a father in their background," he told the Detroit News. "A guy that's raised by his mom all the time, and please don't take me wrong, but the reality is that you've got to teach that guy how to be taught by a man."
Whew. It's a good thing he's a black man, because even so, he's going to catch hell for speaking the truth.
Whoops. NO sooner do I write that than he's apologized. Sort of.
"What came out is not the way I intended for it to come out," he told the Detroit News' Terry Foster.
"And I apologize. I want to apologize to all the single moms out there who read that statement. What came out in print was not my intention and it is not my belief. It is too bad that it puts the university in a bad light but I am the head football coach here and I represent the school."
Noting that he himself was raised by his grandmother, English said that just because he wants players with a man in their life doesn't mean he doesn't want a kid with a single parent. He was merely saying that he wants kids who have been either raised by men or coached by men, and cited many instances of single mothers wanting to make sure that their sons were coached by men.
"I have coached a number of kids with a single mom in their lives and they've said thank you for being in my kid's life," English said.
*********** The Troy Fighting irish defeated the Lydonville Tigers 35-14. Troy had over 350 yards rushing and 27 yards passing. Andre McAuley C back, had over 100 yards rushing and Jahmel Tarver and Neil Keels both playing A back, had over 100 yards rushing.
Troy plays the 6-0 Buffalo Gladiators August 21st in a league showdown of unbeatens
Pete Porcelli, offensive coordinator, Troy Fighting irish
(Coach Porcelli, who has been a successful high school coach running the Double Wing mostly from tight formation, is running it from spread with the Fighting Irish.)
*********** In an interview, Texas' linebacker Brian Cushing says he's "pretty positive" that he knows the reason for his positive test for performance enhancing drugs.
"Everything points to that overtrained athlete syndrome,'' he said. "I'm pretty sure it is. I'm pretty positive. I didn't take anything. It's not a tainted supplement. So all roads lead to that.''
"Overtrained athlete syndrome" supposedly can occur when athletes train intensely for long periods and then stop, resulting in a testosterone imbalance.
It would be a trifle easier to believe the guy if he were Tim Tebow, but rightly or wrongly, Cushing's past includes allegations of steroid use both in high school and at USC.
It's worth noting that no NFL player has yet been able to squirm out of a suspension using this as an excuse.
*********** God help today's poor classroom teachers and the angry moms whose kids' names they misspell. (Checked some of the spellings lately? They're enough to strip the gears on your Spellchecker.)
Now, a 49ers' rookie informs the team that his name is not Navorro Bowman, as he was the whole time he was at Penn State and as he was when drafted, but "NaVorro" Bowman. With a capital "V." He told the Niners that that was his mother's request.
Sincerely,
Hu'Gh Wyatt
*********** I still hear from time to time from people asking me why we tackle above the waist, instead of lowering the shoulder and hitting the man low, helmet on the ball, wrapping up the runner's legs, blah, blah, blah…
I try to be as patient as possible, but after all these years, it is discouraging to think that there are still guys teaching kids to go in low, ducking the head. And the TV bozos with their sick definition of what a "great hit" is - and the pros who try to get on ESPN by exciting the TV bozos with their "great hits"- don't make things any easier.
So it was gratifying to open the latest edition of Coach and Athletic Director (formerly Scholastic Coach and Athletic Director) and read a feature article on Iowa's Kirk Ferentz, for my money one of the top coaches in the business.
Iowa's defense, under the direction of defensive coordinator Norma Parker is not too bad, to put it mildly, and Coach Ferentz attributes a lot of the Hawkeyes' success to the way they teach tackling. They teach it the way I've taught it for nearly 30 years. Check this out...
CHEST TO CHEST – It is imperative that a defender makes contact with the chest, not the helmet. Not only is contacting a ball carrier with the helmet unsafe and illegal, it is an unsound way to tackle. Ferentz instructs his players to keep their eyes up when making a tackle.
I'm sorry - what was that you were saying about tackling down around the knees…?
*********** Coach,
I just read your news section and what to you recommend the best sweep to install. I honestly have not given the sweep the time of day, but I will need to this season to take advantage of the speed we have and to add to the arsenal.
Thanks in advance,
Coach, It's great the way the sweep and the power complement each other - when they are pinching into stop Super Power you hit them with the sweep - and with just a step or two of motion it's on them before they can react. Plus the motion really opens up "G" and Trap
88/99 G-Reach is now the only one I use...
http://www.coachwyatt.com/88-99greachpractice.mov
I can run it from slot, spread, over, under and from right and left formation and split (without motion) and - by tossing the ball - I can run it from I and Stack. (Also toward Bull and Bear.)
*********** With the Broncos' Elis Dumervil, possibly out for the season with what's described as a "torn chest muscle," you have to wonder if there might be a point of diminishing returns where strength training is concerned.
Has anybody else noticed how many of these unbelievably strong NFL players miss playing time because of various pulls and tears?
*********** Greg Koenig, of Beloit, Kansas, sent me an article about Kansas' having to rewrite the lyrics to their fight song, now that their age-old rival, Nebraska, is leaving for the Big Ten.
Hahahaha.
And then there are schools that have had to change their alma maters to accomodate coeducation.
US Naval Academy Alma Mater (Revised in 2004)
First Verse:
Now college men (changed to: colleges) from sea to sea
May sing of colors true,
But who has better right than we
To hoist a symbol hue?
For sailor men (changed to: sailors brave) in battle fair
Since fighting days of old,
Have proved a sailor's right to wear
The Navy Blue and Gold.

US Military Academy Alma Mater (Revised in 2008)
Second Verse
Guide us, thy sons (changed to: thine own), aright,
Teach us by day, by night,
To keep thine honor bright,
For thee to fight.
When we depart from thee,
Serving on land or sea,
May we still loyal be,
West Point, to thee!
Penn State's alma mater was changed in 1975 ("International Year of the Woman)
When we stood at boyhood's (changed to: childhood's) gate,
Shapeless in the hands of fate,
Thou didst mold us, dear old State,
Into men, into men (changed to: Dear old State, dear old State)
Not that it mattered to generations of Penn State students who once stood at football games as the band played the alma mater and joined in by singing
We don't know the g-d words,
We don't know the g-d words,
We don't know the g-d words,
We don't know the g-d words!
Those were the days before modern technology. Presumably, the g-d words now appear on the giant screen
*********** College Football Hall of Fame inductee and Ole Miss All-America halfback Charlie Conerly was posthumously inducted into the United States Marine Corps Sports Hall of Fame August 6.
This is especially pleasing to me because in researching an article I wrote about Charlie Conerly a few years ago, I got to know his widow, Mrs. Perian Conerly. She's quite a lady. Once, while her husband quarterbacked the Giants, she wrote a syndicated column on football, and she takes great pride in being the first female member of the Football Writers' Association of America.
We still speak every couple of months or so. She lives in Clarksdale, Mississippi, the town where she and Charlie grew up, and listening to her talk, with that fantastic Mississippi accent, is like listening to beautiful music.
Charlie Conerly had the good fortune as a teammate to play with a great number of players who are now in the Hall of Fame. But as a candidate for the Hall of Fame himself, he has suffered from being a part of such a star-filled cast. And fewer and fewer are the people who saw him play, and claimed that he was the "Best Player Not to be in the Hall of Fame."
*********** It's all about the kids.
Milwaukee schools have had to lay off up to 400 teachers.
Meanwhile, the Milwaukee Teachers' Union is resisting the school district's move to eliminate Viagra coverage (cost to taxpayers: $786,000 a year) from the union's taxpayer-paid medical plan.
Yup, it's all about the kids.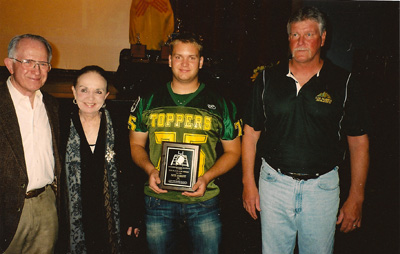 *********** Bill McWilliams, who graduated from West Point in the class ahead of Don Holleder, arranged for the Black Lion Award to become part of the football program at Los Alamos (New Mexico) High School. The town of Los Alamos was established during World War II to house employees of the Manhattan Project (the atomic bomb) and Bill's dad was the high school's first coach.
Bill and his wife were in Los Alamos recently to present the award.
Bill writes, "I'm on the left, Ronnie, my wife, Nate Robbins, the Award recipient (aiming for the Air Force Academy), and his retiring head football coach, Bob Scott."
*********** Hugh
Sorry to hear about Ed Burke's passing. Hopefully we can continue to help keep the Black Lion memory alive.
Sounds like you've had a busy summer. Jan and I managed to get a little vacation in (trip to Cape Cod and Washington D.C.) before our summer ended.
I'm not coaching this year – JUST being an athletic director – but we are still very much a BLACK LION team. I still have parents asking me if Steve Goodman and General Jim Shelton will be coming back again. Also, our pre-season game this year will be against my old school, Coral Springs Christian Academy, and their new head coach is one of my former players – George LePorte (Black Lion of 2003). He is also running the Double Wing so hopefully we will be able to "slow them down" as I know you just can't STOP the DW!
Thanks as always for your help, support, and encouragement. It is not lost on me at all that you were a big part in my choosing coaching as a profession. I've been doing this now for 30 years - so I only have about 20-25 more left in me! I tell people all the time that I am Living the Dream. Hope your season is a great one!
Take care.
Jake
Jake von Scherrer, CAA
Athletic Director
Palmer Trinity School
Palmetto Bay, Florida
Hi Jake-
Thanks for the note.
Ed Burke will be a hard man to replace. But with real Black Lions like Steve Goodman and Jim Shelton, and coaches like you, the Black Lion Award will live on.
I'm not coaching this year either, it appears. It's not as if I can't use the time profitably, and I do have a team or two that I can help on a (very) part-time basis. I'm definitely not done coaching, so I'm glad to hear that you're also taking a page from my book and planning a long coaching career!
When you played for me, I never realized that I might be making an impression on you - when you're a younger coach you tend not to think about those things - but if I had any influence on your decision to become a coach, I am grateful. It has to be very gratifying to you to know that one of your former players - one of your Black Lions, yet! - is now coaching at Coral Springs! That is obviously a tribute to George's character and upbringing, but also to your ability to recognize good character in others and to model it for your young men.
Enjoy your season!
*********** Coach,
How do you teach the Gap, On, Area Late progression for the offensive line in the power scheme? I feel like the kids are making it into a Gap, On, Down scheme and we are missing some LB run through that we should be picking up. Thanks for the advice, I appreciate it!
Coach-
To reinforce the idea of ANGLE... LATE!
Almost anything, including "OKAY, THEN - JUST F--KING STAY THERE!" will work.
I have had some success with having the uncovered lineman take a jab step with the outside foot and repeat the "READY-HUT!" (about one second) before angling.
Some places I've gone we've simplified teaching by sending guys in Rip motion that way - motion starts on the lift of the QB's foot and the QB says "GO" when his foot hits the ground.
Hope that helps. Let me know how it goes.
*********** Writes Peter King in si.com about Tim Layden's "Blood Sweat and Chalk"...
The great thing about this book, in my opinion, is it teaches us the geniuses of football didn't start with Bill Walsh. We do not respect history nearly as much as we should in covering and watching this game; too often, we all disregard football history and those who made it. We think of the the sixties Packers as prehistoric. But there were great thinkers, such as Tiger Ellison, with great ideas, before that. The stories Tim Layden tells in this book will peel back the layers of the game for you. If you love the game, or even like it, Blood, Sweat and Chalk is a must-read, and I don't say that because I work with the man.
And I don't say it because the author, Tom Layden, actually devotes a couple of pages to giving me credit for introducing the Wildcat. (Maybe that will settle it?) True, he does call me "slightly eccentric" (what? only slightly?) but in fairness he also calls me call me "a true pioneer." Whoa - in a book that deals with the originators of the single wing, the wing-T, the wishbone and the West Coast, I'm in over my head.
No, I say it because it's a great look at the origins of the great offensive trends in the history of the game. Also because the author actually devotes a couple of pages to giving me credit for naming the Wildcat and calls me call me "a true pioneer."
Better get your copy before I buy them all to give to my grandkids.
FRIDAY, AUGUST 6, 2010 --- "The combination of economic and political power in the same hands is a sure recipe for tyranny." Rose Friedman.
It is with great sadness that I note the passing, on Thursday, August 5, of Colonel Ed Burke, President of the 28th Infantry Association and one of the founding members of the Board of Advisors of the Black Lion Award.
Ed was untiring in his efforts to keep the men of the 28th Infantry - the Black Lions - connected, and he was an enormous help to me in helping to establish the Black Lion Award.
In his roles as "the man" with the 28th Infantry Association but also the Society of the First Infantry Division, Colonel Ed Burke came as close as any man can come to being irreplaceable. He was a great American - a Black Lion in every sense of the word.
May he rest in peace.
*********** Not long after mentioning that Boothbay, Maine lobsterman and long-time football supporter Danny Kaler was gravely ill, I received this news from old friend and long-time Boothbay coach Jack Tourtillotte...
Hugh,
Danny passed away Sunday night. No news yet on funeral arrangements but you can be sure the whole town will turn out. Football, the community, and life have lost a good friend and you can be sure he will be missed by all those who knew him.
Jack
I am sad and sorry. In the brief time I knew him, he proved to be a very memorable person.
He was a real "Mainer" - truly "Boothbay."
My sympathies to his family.
*********** Coach,
Here's a link to an article that has some good info. about 6 man ball... http://www.americanprofile.com/article/36276.html. It was started in Chester, NE in 1934. Stephen Epler, the man credited with inventing the game, was inducted into the Nebraska High School Sports Hall of Fame in 1995 and passed away in 1997.
Joel Mathews
Independence, Missouri
*********** The University of Central Florida's "institute for Diversity and Ethics in Sport," a who-asked-you? Bunch if ever there was one, has given its highest grade for racial and gender diversity to… (drum roll, please)… the WNBA.
*********** Coach,
Ran this year's clinic from "Practice Without Pads" right out of the box.
Kids really enjoy bulldozer and towel tug of war.
I have 30 kids this year so I have to run 2 full offenses with all different kids.
I lined both offense up last night, one to my left and one to my right. Put in 88SP coaching both at the same time. I had my assistants work directly with them and I roamed back and forth tweaking on the run.
Dennis Cook,
Roanoke, Virginia
***********Hugh,
I've had the good fortune recently of being asked to explain "our system" to JFL coaches in two different programs. This was not clinic talk. It was sit down at lunch and talk football man to man. Handing over the entire playbook and saying "here's what we do and here's why we do it." The great thing about doing something like this is it forces you to evaluate and re-evaluate what you do so you can answer the "why" questions. You have to know yourself, which I think puts you on a more solid foundation, especially at this point in the summer. Great thing was, a D-III coach sat in on one of the conversations, kept asking questions like "these blocking rules work for everything?", and in the end said "I love this offense. It's simple, sound, and lets your kids play (fast)."
Thanks for the consistent and persistent advice and encouragement you give all of us.
Todd Hollis
Head Football Coach
Elmwood High School
Elmwood, Illinois
That's a great story. Take our system and throw in your combination of know-how and enthusiasm and you've given those coaches something that they can teach their kids and their kids can run, not simply something that the high school coach runs and wants them to run, too.
The D-III coach's comment is priceless!
Good luck. I know you start soon.
*********** On Aug 3, 2010, at 3:24 PM, Corcoran, Jason wrote:
Mr. Wyatt,
My name is Jason Corcoran and I am a head coach and president of a youth program in Lynnwood, Washington. Football in Lynnwood is quite famous for high school football futility. Many long losing streaks and 6 different head coaches during my 10 years at the youth level. This is area is not unlike many suburban communities we service many kids from hard working families that are often nomadic apartment dwellers. I started as an assistant coach in 2000 within 10 minutes of the first practice the head coach sent the kids on a lap and turned to me and said "That is all I got. You got anything to add?" I was hooked as I am a passionate competitive guy that loves teaching kids a subject they choose to learn about. We were a rag tag bunch finding players at parks or talking to parents at the grocery store. We were the lovable losers.
In 2002 my second season as head coach we joined a new league and were consistently at a size and athletic disadvantage. That brought me to the Double Wing and specifically you. I bought Dynamics and the playbook and by midseason I was running power, wedge, trap, counter and red red. The DW complimented us as the underdog offense for the underdog program. Over the years we became a complete DW program. Over the last 3 years my teams have averaged over 30 points per game and a record of 24-7 playing for 2 championships. Last season 3 of our 4 teams played for championships (we won 2)!
During the years I have met with many of the coaches at the high school. I always make it a point to meet the coach and offer support give them a chance to talk to our kids and parents. Well it happened again this April Lynnwood High School hired a new head coach. Within weeks we had spoke he is young and high energy he runs the spread option. He has come to our camp and helped out. Did some training for our coaches on his offense and defense. He is a very smart football coach from all I can tell. He seems to appreciate our position as youth coaches and wants to have a relationship with our program. I have to admit I was excited to learn about his offense especially the offense de jour the "Spread Option". I immediately felt the need to help the high school by teaching our kids the new approach to football. I have studied and done my homework. I watched videos and saw the dominant running game of Oregon and West Virginia I was all set to cheat on the double wing!
Then I spoke to a couple of my closest friends who have coached with and have supported me over the years. They went with me to meet with his staff and hear the pitch. We all think it is great offense. After the meeting we got to talking about how we would attack this 4WR system. Now with the season upon us I have real concerns about this system at the youth level. If you don't have a legitimate threat to pass to the outside receivers I think the moving the ball could get real tough. I don't think I know the offense well enough to be able to install and troubleshoot.
What do you think is the right thing to do? Go all in spread all the way and learn on the go? Run DW core and a series of Spread look to master few concepts? I really want to support the new staff in any way I can. Any advice you have would be appreciated.
My belief has always been that you coach your kids and your kids only and do the things it takes to make them successful. That is the only reason to do the things you do. You do not do things to please a group or parents or unhappy assistants. Or the local high school coach. You obviously have hit on the right combination of things, and I see no reason to change.
You have by all accounts shown the new man courtesy. In my opinion, he has jumped the gun by requesting that you run a system that, yes, West Virginia has run successfully (but not, I might add, Michigan - what does that tell you about the need for the right talent?), but he has yet to do himself.
Without putting down the new head coach, he has yet to demonstrate that he will be around for any length of time. If he is unsuccessful, he will be gone. If he is successful, he might skip. At this point I would not recommend hitching the youth program to a high school program that may or may not make it. He is really putting the cart before the horse. He has more pressing problems of his own right now than whether the local sixth graders are running his offense. His ability to keep his job is not in any way going to depend on what offense you run.
Once he is successful, there will be plenty of off-season work - camps and 7-on-7 - in which he'll have the opportunity to teach kids his offense.
But don't tell him all this.
Tell him exactly what you just told me. It makes perfect sense to me.
And graciously offer to run a few pass plays from spread formation. OUR spread formation. Don't change your offense. This guy could be gone in a year or two.
Not to be a smartass, but given that high school program's history of futility, it would be reasonable to ask, knowing what this particular group of kids can do, and do well , why the high school coach isn't looking at running your offense.
Best of luck and KEEP COACHING.
*********** An actual exchange that took place recently…
July 28
I wonder if you've had a chance to look at my resume.
Teacher/coach applicant
Jul 28, 2010
I'll take a look today and get back to you tomorrow or Monday at the latest.
Principal
8/4/2010 (a week later)
Wondering if this is a dead issue and would appreciate some guidance as to what is happening. Coach ----- is waiting on me in regards to the JV Football coaching position and I don't want to hold him up any longer. Thanks
Applicant
Aug 4, 2010
Sorry for the delay. We just made the decision to forward another candidate for the position. For our purposes, he met certain teaching criteria that were pretty important. I appreciate your interest in the job and wish you the best in the future.
Principal
Aug 4, 2010 --- sent to me
Hugh,
Education speak for "he has a MA teaching certification and you don't"...never got an interview...and the fact that I had to "ping" him to get an answer after he said he would get back to me on "Monday at the latest" tells me I didn't want to work for him...Learning very quickly that the education sector is a whole hell of a lot different than the business world...so for now I'll concentrate on (my job)
Coach,
To put it bluntly, education administration is largely populated by a bunch of gutless, witless self-important turds who couldn't make it anyplace else except the Department of Motor Vehicles.
This is not to say that there aren't good principals and good superintendents. When you luck out and find one who's worth a damn you'd better stay with him forever!
Hugh
*********** Last Sunday, as part of my duties as a member of the West Point Admissions Field Force for Washington State, I spent the afternoon at Fort Lewis, Washington assisting with what are called Cadet Fitness Assessments. Passing the Cadet Fitness Assessment (CFA) is required of applicants for all the service academies.
It's the same test for all academies, and it consists of a one-handed basketball throw (from a kneeling position); pull-ups (bent-arm hangs are optional for females); shuttle run; situps; pushups; mile run - in that order.
Things were run like clockwork. All events were timed and measured by soldiers from Fort Lewis, and took place in precise order, with a precise amount of recovery time between events.
The prospective cadets were rising high school seniors, more than 30 of them on this afternoon. They were divided up into groups of three, and each group was accompanied throughout the test by a Field Force member. My assignment was to accompany - and support and counsel - Dylan Hyder, Alex McKenna, and David Richardson, three oustanding young men and potential officers. It was exciting for me to watch the way they "bonded" (sorry for the sociobabble) as the tests progressed, encouraging each other all the way.
Dylan Hyder is a wrestler, and it showed. He maxed out on both the pushups (75 in two minutes) and situps (95 in two minutes).
The highlight of my day was the mile run. They agreed to run together as a team as far as they could, and that they did. In an event in which a time of 6:43 is considered average and 5:20 outstanding, they ran 5:36, 5:38 and 5:40.
I volunteered my wife for duty, too, and she wound up with three great kids, too - two young ladies and a male rugby/football player.
(For more info: http://www.usmma.edu/admissions/PDFs/CFA_Instructions05.pdf)
| | |
| --- | --- |
| | |
| The candidates get their orders. | Here's how you will do pull-ups... |
| | |
| and pushups... | and situps... |
| | |
| My three guys: Dylan Hyder, David Richardson, Alex McKenna | |
*********** Hugh,
I bought your video a couple years back. This year I'll finally be able to install it since I have the cooperation of my staff.
Quick question, I'm sure you get this question all the time. It seems hard to teach our tacklers to keep eyes to the sky when they're going to get run over by a running back who drops their head and tries to run through them. I can teach our RB's not to but most teams we play against (8th graders), have always been taught to lower their shoulders and tilt their head up and run through the tackler.
Am I missing something?
Coach, Been asked it a bunch
Answers: (1) 99 per cent of tackles are not head on. The runner rarely has the opportunity to run over a tackler; (2) an aggressive football player does not squat stationary and wait for a ball carrier to run over him. (3) it is very difficult for a player to lower his shoulder and tilt his head up
*********** Yeah, but did you say, "Please?"
In Spokane, on the far eastern side of our state, a guy who happens to be running for Congress (a Democrat, if you have to know) told police that he was assaulted by a man.
Seems he'd asked the guy to perform oral sex on him, and with that, he told police, the guy grabbed him in a bear bug and threw him to the ground.
Apparently, the guy's violent reaction came as a surprise. According to the police report, the candidate said, "I don't understand. I asked him nicely."
*********** There are 43 schools in Oregon Class 6A. This season, only nine of them will play on grass fields.
*********** Caution Gallagher fans – do NOT rush the stage.
That's what a woman did at the Washington County Fair in Hillsboro, Oregon - and she wound up breaking an ankle.
If you haven't seen Gallagher perform, much of his act consists of smashing various foods with a giant mallet ("Sledge-O-Matic", he calls it), making an enormous mess on stage – and in the first several rows of the audience, many of whom cover themselves with plastic sheeting.
Gallagher himself warned her not to, but the woman insisted on making her way toward the stage. Unfortunately, she never made it there, slipping on, according to the Portland Oregonian, "remnants of creamed corn, honey, fruit, marshmallows and sauerkraut, among other food items."
The show was held up briefly as the woman was attended to and then helped away by paramedics, as the audience applauded her.
Doesn't sound as if there are any hard feelings. According to the story, the woman cheered Gallagher as she left.
*********** Isn't it hilarious the way the soccer guys like to play wannabe Brits, using arcane soccer terms like "pitch" and "nil?" And calling soccer teams "FC?"
I almost split a gut recently, when I read about a Portland-area team winning the national "U-18" (there's another soccer term) championship.
The team's name? East Side United Liverpool Red. WTF?
*********** Hello coach, my name is ----- -----. I'm a second year double wing coach and this is my first year at ----- High School . First thanks for all of the great knowledge that you provide on this GREAT offense and coaching in general. I think the most important thing I've learned from you is your idea of what's most important from your assistant coaches, LOYALTY. I plan on running super power off tackle, counter off super power, FB & QB trap, wedge, keep, roll out and an outside sweep. My question is do you think it's sound to run the rocket toss sweep without running jet sweep with the hand off which I think takes more work? I plan on using the traditional double tight double formation as well as your slot formation. The plan when running the slot is to off set the FB both strong and weak, use the TE's to get unbalanced and use heavy rocket toss with FB and QB trap with some occasional vertical passes. Do you think this is sound? Any suggestions for plays out of the slot formation? Thanks again for all of your help.
Coach,
Nice to hear from you. You appear to have a good enough package, but with the Double-Wing, more than most offenses, it's every bit as much how you do it as what you do. Not all Double Wing coaches will give it the attention it requires. (And, of course, what kind of players you have.)
I hope I'm able to help, given that I don't really know your or your kids or whether you are a stickler for really coaching the fine details.
In answer to suggestions that he branch out from pizza, John Schnatter of Papa John's has said: "The main thing is to keep the main thing the main thing."
I can tell you that slot has many advantages, and we can run just about anything from it that we run from double tight/double wing. I would suggest, however, that at your stage of learning the offense you really shouldn't take time away from the basic stuff to do more than run it as anything more than a diversion. Same with an offset fullback. I think at this point you and your staff need to force yourselves to stay on mission and not to try to do too much and concentrate on being as good a Double Wing team as you can possibly be.
The answer is not more plays, it's getting better at running what you're already running. The beauty of simplicity is being able to troubleshoot - to find out what's going on and fix it. To understand how to attack a defense. You will find that the more things you try to do, the harder it is to follow that philosophy.
I personally believe in finding one sweep and staying with it so it can be run as well as possible. I want a sweep that can be run from tight, slot or spread, and I want a sweep that can be run by a wingback or by the quarterback, I want a sweep that can be run from direct-snap, and I want a sweep that fits right in with everything else we do.
For me, the jet sweep is easy to run, and it is a nice surprise play, but otherwise unless you have great speed and a decent passing threat, in my opinion it is easy to defend. The rocket sweep either has to be an orphan play, or you have to build a series around it, which means taking time from the basic stuff. Either way, I personally, and coaches I work closely with, have found it to be a high-maintenance play that requires more time than it's worth.
Hope that helps.
TUESDAY, AUGUST 3, 2010 --- OUT OF TOWN - SEE YOU FRIDAY