TUESDAY, DECEMBER 29, 2009- "There's so much you can learn in sports that you don't learn from academics." David Bing, Mayor of Detroit and former NBA All-Star
*********** Early this past season, because its roster consisted heavily of soldiers from Fort Lewis, I signed up the Sound Sound Shockers, a semi-pro football team in Lacey, Washington, to present the Black Lion Award. There followed, shortly after, the coach's nominating letter...
Dear Coach Wyatt-
The South Sound Shockers proudly submit fullback Sgt. David Gutierrez as our Black Lion Award nominee. David Gutierrez is a tremendous leader on and off the football field, playing a position not known for gridiron glory or star treatment.
David epitomizes the "team" mentality doing anything and everything he can to help his team. During practices he is the consumate lead by example player. During wind sprints and drills, while other players are starting to lose focus and making mental mistakes, David is clear headed, dedicated to perfection and cheering on his teammates to finish strong and ignore the fatigue. During off days, David led voluntary conditioning workouts on base with other soldiers playing for the Shockers.
On game day David has been the starting fullback two of his three seasons and a member of every special team formation, never complaining about playing time in our pass-happy offense, or about play selection. But he takes full advantage of his opportunities as the second leading scorer in the backfield, and second leading tackler on special teams. Improving his game every year is no easy task at our level of football as most players are on their downhill slide of their athletic abilities, but David continues to improve his mental game, conditioning and performance. Even during the 2009 season, as his wife Patty went through a difficult pregnancy and silent birth of their daughter, David never missed a practice or game and had his best season ever, dedicating the season to his family whom he would leave behind immediately after the season for a 12-month deployment to Afghanistan.
A tough player, David also played through ankle, wrist and thumb injuries without complaint. The Shockers would be unstoppable if the entire team could have the drive, dedication and desire to excel that David has. The Shockers will miss David's leadership in 2010 as he serves his country.
Thank you for the opportunity to nominate Sgt. David Gutierrez whom we feel upholds the ideals of the Black Lion Award in all aspects of his life including football.
Respectfully,
Coach Stephen Matychowiak,
Olympia, Washington
Sergeant Gutierrez was to be presented his award in January, when he came home on leave from Afghanistan.
On Christmas Day, I received the following e-mail:
It is with great sadness that I inform you SSG David Hector Gutierrez of the South Sound Shockers on whom you bestowed the Black Lion Award a couple of months ago was killed in action Christmas morning in Afghanistan. David was stationed at Fort Lewis, WA part of Alpha Company Stryker Brigade. Please direct your thoughts and prayers to David's wife Patty and their 3 sons.

Mark Meadows
South Sound Shockers
(MORE: http://www.shockersfootball.org/blacklion.htm) This is so terribly sad, on so many levels.
It's not only a great loss to America and to the Army and to his family, but to young men and their coaches everywhere who know what the Black Lion Award represents.
David Gutierrez will always be one of us.
On behalf of Black Lions and kids and coaches everywhere, I have asked that our prayers and sympathy be extended to Mrs. Gutierrez.
Here is SSG Gutierrez' obituary from his hometown newspaper, the San Francisco Chronicle.
http://www.sfgate.com/cgi-bin/article.cgi?f=/c/a/2009/12/28/MNND1BAAUR.DTL A San Francisco soldier and father of three was killed Christmas Day in Kandahar, Afghanistan, when insurgents bombed his patrol, the Department of Defense announced Sunday.
Army Staff Sgt. David H. Gutierrez, 35, was deployed to Afghanistan in July with his brigade based at Fort Lewis, Wash.
"We extend our sincere condolences to the family and friends of Staff Sgt. Gutierrez," said Fort Lewis spokesman Joe Kubistek.
Gutierrez earned numerous service medals and commendations, and he was a decorated player for his amateur football team, the South Sound Shockers, in Lacey, Wash.
In October, the Shockers honored Gutierrez with an award for teamwork and leadership. The 5-foot-10, 240-pound fullback was slated to receive the Black Lion Award at a ceremony in January.
"I wish I had an entire team of Guties," said his coach, Steve Matychowiak. "He never complains. ... He's always working hard. He does anything we ask him to do. Team before individual."
Gutierrez's wife and sons were frequently seen on the Shockers sidelines, according to the team Web site, and his wife served as the team photographer.
Gutierrez was born in San Jose, attended San Jose City College and married his wife, Patty Smith, in 1996. His first son, Andrew, was born in 1997.
After enlisting in the Army in 1998, Gutierrez was stationed at Fort Campbell, Ky., until he was sent to Korea in 2000.
On Sept. 11, 2001 - the day of the terrorist strikes in New York and Washington - Gutierrez was flying back to the United States for an assignment at Schofield Barracks in Hawaii. While there, he and his wife housed two Japanese orphans in their home, his family said.
In 2003, his second son, Jeremiah, was born. A month later, Gutierrez was deployed to Iraq, where he remained for one year. His third son, Gabriel, was born in 2005.
It's humbling and gratifying that it lists as one of his honors the Black Lion Award.
Sergeant Gutierrez certainly did the Award proud.
*********** It's funny, Hugh - in years past I used to look at this (your Christmas wish list) and when I was winning at ---------- these things weren't at the forefront but I copied and pasted the things that happened to me this year, so your Christmas wish this year spoke volumes.
You can be sure that all of those things came to me from experience, some of it painful.
Only a coach who's been knocked around a little bit can fully appreciate my Christmas letter.
Merry Christmas.
*********** Whenever a coach says he's getting out of coaching in order to spend more time with his family, I take it with a grain of salt. Either coaching just isn't in his blood - or he's been asked to resign.
So the instant Urban Meyer came out with his announcement - BEFORE his team's last game, and not after - my cynical mind went to work. There's no doubt in my mind that coaching is in his blood, so I got the impression from what he said initally that his very life was threatened by his continuing to coach. Yet just a day later, none other than Coach Meyer himself announced that his mysterious medical condition was not, indeed, life-threatening. So WTF?
Possible explanations for his flip-flopping, other than the ones already given us...
(1) He is an egomaniac and it killed him that he hadn't been on the front page since the Alabama loss in the SEC title game.
(2) Given a White House that has elevated flip-flopping to an art form, he was auditioning for a political career.
(3) Nike paid him - and Florida - a large sum to announce his "resignation" as a way of getting Tiger Woods off the front pages.
(4) He conspired with several of his coaching buddies who all share the same agent to get them raises after their names were brought up as possible successors.
(5) The big donors - the "Bull Gators" - were upset about the Gators' performance in the SEC title game, and Pope Urban, feeling unappreciated, staged his resignation so that, in Tom Sawyer fashion, he could watch his own funeral and hear all the nice things people would say.
But then there's the real reason he decided that coaching at Florida wasn't so bad after all (I have my sources). It's that he actually investigated an opportunity to remain in coaching at a "less stressful" level - at a local high school - and here's how it went...
He was told that they had a procedure to follow, and they couldn't deviate from it no matter who he was. So just like all the other candidates, he would have to be interviewed by the selection committee, consisting of a member of the coaching staff, a member of the faculty, one of the players, the volleyball coach, the assistant principal, the AD, the faculty union representative, the head of the parent-teacher association, the president of the booster club and the president of the student council. He was told to expect to spend the whole day interviewing.

At the interview, he would be required to teach a sample lesson, complete with lesson plan, on a subject to be assigned a day in advance.

They would call the five finalists back in 10 days for a second round of interviews.

He wouldn't be able to hire any of his own assistants because the whole current staff planned on returning - they liked the money, which counted toward their retirement - and their jobs were protected by the union contract.

He did get to meet with the assistants. Half of them were late to the meeting.

Three of the assistants informed him they expected to coach wide receivers; two others insisted on coaching quarterbacks. None of them wanted to coach the JVs.

The freshman coach said he'd had "great success" running his own offense for the last nine years and saw no need to change for any new coach.

They all told him they had plans for the summer that would preclude their helping in the weight room.

After the meeting, three fathers introduced themselves and asked to see his playbook before deciding whether tor not to transfer their kids.

The weight room was a mess. Every member of the faculty had a key, and no one ever straightened out the weight room when they were done.

The weight room was in use all day long by assorted PE classes, which refused to make room for football players.

They are the smallest school in their class. (The state just reclassified, and won't do it again for five years.) Their three non-league opponents next year are all in a class higher, and all made it at least as far as this year's quarter-finals.

The band director chose the date for next year's homecoming, and the opponent turned out to be the perennial league power.

He would be required to teach. For seniority reasons, his teaching assignment would be monitoring the "time-out" room in the alternative high school. it is on the other side of town and doesn't let out until 3:30. The regular high school lets out at 2:30.

The principal informed him that faculty meetings are held every Wednesday afternoon and he would be expected to attend at least for the first two hours.

The principal said he invited any parent with a grievance concerning a coach to meet directly with him, and showed Meyer the athletic policy manual which stated that no player could be deprived of playing time simply for missing practice.

The AD told him that the new coach's first order of business would be to raise enough funds to repay the $7500 budget deficit left when the previous coach bought new uniforms. He suggested car washes and candy bar sales.

When he asked to see video of last year's games he was told that they were nowhere to be found - that the last coach "must have them."

His hiring couldn't be confirmed officially until the next school board meeting, three weeks from now.

He got a phone call from the president of the school board, whose son, a quarterback, was told by his personal coach that he was a "D-I prospect" but wasn't being properly showcased by the old coach.

Two other school board members called to ask what offense he planned on running.

The basketball program has won three straight state championships. (Did I say that the basketball coach is the AD?)

The district business manager asked him if he would want his head coaching stipend ($4500 before withholding) paid in monthly installments or in one lump sum at the end of the season.
*********** Suddenly, there are just too many hot and juicy stories for me to handle. Couldn't Craig James and his wife have waited another week or so, when the bowl season would have started to wear down, and I'd need stories, before making their accusations against Mike Leach?
Memo to Coach Leach: Lubbock, Texas is not on another planet. So where have you been that you didn't hear that some very influential people have been saying - over and over - that coaches need to take concussions more seriously? I doubt that you read my site, which is a damn shame, because maybe if you had you wouldn't have your tits in the wringer now for (allegedly) implying that a kid with a suspected concussion was malingering. And (allegedly) confining that kid to a small room for several hours. And - dumb, dumb, dumb - doing it to the son of a guy who works for ESPN.
Meantime, James, whose son Leach allegedly mistreated, is scheduled to call the Red Raiders' game against Michigan State in the Alamo Bowl Saturday. (Between Michigan State's mass suspensions and Texas Tech's suspension of Leach, the poor Alamo Bowl people have to feel jinxed.)
*********** Does it say anything about the upcoming so-called national championship game that a so-so Georgia team, run off the field earlier in the season by Florida, hammers a Texas A & M team that gave Texas all it wanted?
*********** Does Drew Brees really need money so bad that he has to endorse a f--king energy drink?
*********** I didn't see the Saints-Bucs game, but a friend of mine who did (and he's a Buccaneers fan) said that if there's any doubt in your mind that there's something fishy going on in the NFL, it would have been dispelled by watching that one.
*********** And then there was the Colts-Jets fiasco, with Colts' coach Jim Caldwell letting the air out of his own team's tires by pulling key starters shortly after the start of the second half, and allowing the Jets to win (and end the Colts' win streak).
Look - I know all about the risk of injury, blah, blah, blah. But if you're not going to go with your best, say so. In advance. And offer your fans a refund.
And then, take your chances that this his may or may not hurt the team's morale and hurt your chances down the line. Who knows?
I don't. The only thing I do know is that the way the Colts did it stinks like a dead fish. The game was thrown. Fixed. Look up the names Merle Hapes and Frank Filchock if you want to see how seriously the NFL once took even the hint of a game being monkeyed with.
Look- first of all, I will let Coach Jim Caldwell off the hook. You know good and well that no coach who values his job does something like this on his own. This either came on orders from above, or at least took place with the full approval of the higher-ups.
Where is the pride in doing less than your best? In my lifetime, I've seen some great dynasties. And I can't even imagine the Yankees of Casey Stengel, the Celtics of Red Auerbach, or the Packers of Vince Lombardi, pulling their starters in mid-game and giving an opponent - any opponent - a break. They adhered to a standard of excellence that demanded they play to win. Every game. Granted, those guys were often literally playing for their jobs. In those days of 16-team major league baseball, 22-team pro football (NFL & AFL combined) and a nine-team NBA, they were motivated by a job insecurity unknown to today's players, who can always find some sucker willing to hire them.
I just finished "On Any Given Sunday," a biography of the late, great NFL commissioner Bert Bell. He knew his way around town, and he knew how gamblers operated. He knew there was one piece of information that would give them an edge - "who's not going to be playing Sunday?" - and he knew that they were willing to pay for that inside information. So to keep the gamblers at bay - to head off any chance of their befriending players to get that information from them - he convinced the club owners to take the information "outside" - to give it away. And that's why we have the injury reports every week. So what would it have been worth to gamblers in the Colts-Jets case to know - when the public did not - "who's not going to be playing Sunday?" To know that they would be pulling their starters, and at what point they'd be doing so? The mere suggestion of anything underhanded activity is bad for the game.
Putting aside the absurd idea that there is such a thing as sports "immortality," an undefeated season confers a sort of immortality that even a Super Bowl does not. Quick - what's the only team in NFL history to make it through an entire regular season undefeated? Correct. Good for you. I thought you'd know. Now, then, for question number two - name me the winner of Super Bowl XXIII. Oops. Sorry. Nice try. See, the thing is, there's a Super Bowl every year, and soon enough, they all start to fade into memory. But there's still been only one undefeated team, and any time some other team comes close, out come the reporters to locate the old-timers and interview them. That's as immortal as sports immortality gets these days. Look - I know that Michael Irvin is a lowlife, but he does sometimes say some profound things, and I heard him say just last week - and I quote - "I would turn in all three Super Bowls and my Hall of Fame bust for one undefeated season."
The Colts have a lot of f--king nerve charging their people big bucks for season tickets and then pulling their starters super-early, for whatever reason, from a regular-season game.
Sure was nice of them to surround a green rookie quarterback with a bunch of backups and throw him out there against a team that still has a chance to make the playoffs. Great for a young player's development.
I'm sure that Baltimore, Denver, Houston and Pittsburgh, all of whom are fighting for the two remaining AFC playoff spots, appreciate the extra boost the Colts gave the Jets.
Finally, there is the damage this does to the integrity of the NFL, whose secret is now out: on certain occasions, certain teams don't give a sh-- whether or not they win. So how long before fans begin suspect that NFL players are no more than NBA players in pads, not caring one way or another whether they win or lose, as long as they get theirs? NBA turd Rasheed Wallace once put it this way to a critic of his play: "CTC". (Cut the check.)
Bert Bell - and Pete Rozelle, I believe - would have been right out in front, saying, "We expect - NFL fans have a right to expect - that NFL teams will always play to win. You have my word on that."
So where is Commissioner Goodell, Tsar of All Football, on this one?
*********** And then, as if to fumigate the league, the Vikings (and Favre) and the Bears (and Cutler!) go at it hammer-and-tong and give us one of the better Monday night games in recent memory.
*********** If you needed any proof that there is a Santa Claus...
We're going to start with the injury report, obviously," New York Jets Rex Ryan said to the press last Wednesday. "Manning, Clark, Addai, Reggie Wayne(notes), Freeney, Mathis, Brackett—all those guys will not play."
And then, laughing at his own joke, he said, "That was my wish list for Santa Claus."
On Christmas, Santa came as he does every year, and on Sunday, just after halftime, Rex Ryan got what he asked for.
*********** For too long now, with one atrocity after another committed by an, uh, "Islamic terrorist," we've heard, "why don't all these 'good Muslims' we hear so much about do something?"
Well, one of them finally did - told our authorities that his own son was a potential danger. And we ignored him.
For years now, we've been taking our shoes off, watching the officious asses in their TSA uniforms confiscate our mini-cans of deodorant because they weren't mini enough, and watching them pull grannies out of line and pat-search five-year-olds, all because no one in our government has the common sense (or the stones) to take a closer look at Abdullah over there - the one with the weirdass get up and the shifty eyes.
And now, although we've been told for years that a young male with some Middle East affiliation or heritage, buying a one-way ticket, and paying cash, and not checking any luggage - on a f--king trans-Atlantic flight, yet - is more likely than Granny to be a bad guy who's up to no good, we find that the guy who tried blowing up a recent Amsterdam-to-Detroit flight fit every one of those indicators. (Does the word "duh!" come to mind?)
Oh - and he was banned from the UK.
And his father - definitely a "good Muslim" - took the trouble to go to our embassy in Nigeria to report his son's suspicious activities, but our government paid little attention other than to add the son's name to some "person of interest" database. And now it wants us to believe that it was too difficult to search that database for his name because it's got some (gasp!) 550,000 names on it. (BFD. As Mark Steyn points out, you can routinely go on to amazon.com and they'll instantly search millions of names and immediately identify you and greet you by name and tell you that if you liked that book about the Chicago Bears that you bought a few months ago, you might also like this new biography of Red Grange that's just come out.)
So look - you and I aren't nearly as smart as that bright-as-a-whip guy who promised us all that hope, but we're smart enough to know that the government's been pulling the wool over our eyes - that the answer to the problem is to take a closer look at Abdullah over there - the one with the weirdass get up and the shifty eyes. Pull his ass out of line and grill him. Pat him down. Strip-search him if you have to.
But, no. Couldn't do that. No nation as intent as we are on our own self-destruction would ever do anything that sensible. What - and reject all those years of sensitivity training and multicultural indoctrination, as if they were just so much feel-good nonsense? What would the rest of the world think? Besides, as we all know, it would just breed more terrorists!
So what's our solution? Why, increased security for you and me and Granny. Be sure to arrive at the airport at least three hours before flying.
And tell travelers that for the last hour of every flight they must sit stock still (I imagine that planes will soon be refitted with flashing "SILENCE!" signs), with no access to their carry-on materials and nothing on their laps - no laptop computer, no book or magazine, not even a deck of playing cards.
Oh - and never pass up a chance to enlarge government. Double the size of the TSA. And unionize its workers.
*********** I laugh my ass off at the way the news media allows itself to get caught up in the excitement of all the mediocre NFL teams, none of which can put together a win streak of more than two games, fighting for the right to get blown out in the first round of the playoffs (assuming they even win their wild card games).
*********** If Vanderbilt's Bobby Johnson makes less than $1 million a year (Vanderbilt, as a private institution, declines to release that information) he's the only SEC head coach who does.
But at the same time SEC coaches rake in the big bucks, there's only one SEC university president who's paid close to his football coach's salary - Vanderbilt's chancellor, who pulls in about $1.3 million.
The Volunteer State's other SEC member, Tennessee, makes it embarrassingly clear where its president ranks relative to its football coach.
The UT head coach, one Lane Kiffin, is paid in excess of a million dollars a year. Well in excess. Two million dollars, actually. Hell, his defensive coordinator - who happens to be his dad - makes more than a million.
Meanwhile the UT president - the head not just of the campus in Knoxville but of the entire state university system - makes $400,000 a year, or about a quarter of what the defensive coordinator makes.
And that's it. According to a ruling of the board of trustees, he gets no housing allowance and no vehicle. (How'd you like to have to get by on $400,000 a year and still have to make house payments and car payments?)
But the fact remains that while the president of the University of Tennessee pedals around Knoxville on his Schwinn, his head football coach has two complimentary cars to choose from. And so does his dad.
*********** Garrison Keillor, commenting on the way some of Ralph Waldo Emerson's quotations have been "leading people astray," took special aim at this one: "To be great is to be misunderstood."
Wrote Keillor, "This tiny gem of self-pity has given license to a million arrogant and unlovable people to imagine that their unpopularity somehow was proof of their greatness."
*********** Villanova's Matt Szuzr, whom I wrote about a week ago, is not only a hell of a football player (who played youth football for some friends of mine), but he's also a very impressive young man. Read the story in the New York Daily News about his becoming a marrow donor to try to save the life of a 15-month-old girl ---
2009/12/20/2009-12-20_star_of_villanovas_fcs_title_may_help_save_.html
And if it's not too late... Matt Szuzr for Sportsman of the Year. Think of him as the Un-Tiger.
Thanks for the tip to Coach Andrew Gonzalez, Staten Island, New York
*********** Nike founder Phil Knight has poo-pood the impact of Tiger's serial screwing on the sports giant, saying that in time this whole deal will just be "a blip."
Don't you believe him. Those comments were aimed at the stock market. Nike has enormous sums invested in Woods, and has intertwined its fortunes with his career from the day he turned pro. (Actually, I suspect, well before he actually turned pro), and when Tiger goes down the gurgler, he could take a lot of Nike with him.
And don't believe the people who tell you that the golf audience, being heavily male, will overlook Woods' "sex addiction." (Question: shouldn't he have checked into rehab by now?)
Anybody remember the way Nike shoved that "If you'll just let me play..." campaign down our throats until we gagged?
If you let me play.
If you let me play sports,
I will like myself more.
I will have more self-confidence.
If you let me play sports.
If you let me play.
If you let me play I'll be 60% less likely to get breast cancer.
will suffer less depression.
If you let me play sports,
I will be more likely to leave a man who beats me.
If you let me play,
Il be less likely to get pregnant before I want to.
I will learn what it means to be strong.
If you let me play.
If you let me play sports.
That was 1995. More recently, Nike capitalized on the Don Imus-Rutgers kerfuffle by giving us this beauty...
Thank you, ignorance.
Thank you for starting the conversation.
Thank you for making an entire nation listen to the Rutgers team story.
And for making us wonder what other great stories we've missed.
Thank you for reminding us to think before we speak.
Thank you for showing us how strong and poised 18 and 20-year-old women can be.
Thank you for reminding us that another basketball tournament goes on in March.
Thank you for showing us that sport includes more than the time spent on the court.
Thank you for unintentionally moving women's sport forward.
And thank you for making all of us realize that we still have a long way to go.
Words, Nike. Just words. You told us all how non-sexist you were, how supportive you were of the dignity of our women, but they were just words.
Nike's good with words. Nike's always been very, very clever in using its marketing power and savvy to deliver social messages advancing one fashionable, anti-establishment cause or another, as if it's been anointed to be our cultural overseer.
But now, Nike, it's going to take more than words. You're going to back it up with action.
Which Nike are you going to be? The one that celebrates and liberates young women, and makes us feel guilty oif we don't "let them play?"
Or the one that winks at the sexual sickness of a pampered professional athlete, and tells us his sickness will one day be "just a blip?" (Tell me that one again, will you? The one about nobody at Nike knowing anything about Tiger's wick-dipping?)
You can't be both, Nike. You're going to have to cut this f--ker loose.
This isn't going to be a blip any time soon.
*********** Serena Williams was named Female Athlete of the Year. Between Marian Jones on steroids and the WNBA tanking, it tells you something about the current state of women's sports when the runner-up is a mare - a racehorse.
*********** Wow. Some global warming. The MAACO Las Vegas Bowl was played in 40-degree temperatures. Fans at the Poinsettia Bowl, in San Diego, shivered in 50-degree temperatures.
Meanwhile, the East was pounded by Winter Storm Barack, and as I write, people in the Plains States are digging out from under Winter Storm Clinton.
*********** Just in case any of you who favor a playoff because it will "spread the wealth," helping the Utahs and Boise States and TCUs crash the BCS party, it ain't gonna work out that way - not if the three lower NCAA classifications are any indication of how the wealth is concentrated.
Take a look at their championship games for the last five years...
Division III? Only two teams - Mount Union and Wisconsin-Whitewater - have played in the last five finals.
Division II? Only four teams have made appearances in their last five finals. Northwest Missouri has played in all five of them and Grand Valley State in three of them. Valdosta State and Minnesota-Duluth have each made a single appearance.
Division IAA (aka FCS)? Six different teams have appeared in the last five finals: Appalachian State has been in three of them and Montana in two. That's two tems taking up half the spots. Delaware, UMass, Northern Iowa, Richmond and Villanova have been in one each. You think the six BCS Conferences monopolize the the FBS "championship" game? The 10 teams who've played in the last five FCS finals have represented only four conferences.
*********** When you want to get a good laugh out of a college coach you mention a prospect who's been given four (or five) stars by Rivals or Scout.com or somesuch.
Yes, everyone knows who the really big names are, but you go back over the years and check them out and it's amazing how few of those guys actually live up to their supposed promise.
For one thing, the so-called "scouting services" don't dig very deeply into a kid's character, attitude or work ethic. Not to mention classwork.
David Biderman, in last Monday's Wall Street Journal, notes something that anyone who's followed Notre Dame's recent misfortunes will conform - success in landing "Blue Chip" recruits does not automatically assure success on the field; nor does failure to land Blue-chippers consign a team to the college football trash heap.
When USC signed every prized football recruit west of the Mississippi over the past five years, most fans expected national titles every season. Instead, the Trojans are playing in something called the Emerald Bowl on Saturday.
If bowl season teaches fans anything, it's that getting top recruits doesn't guarantee success. In this year's 34 bowls, half of the participating teams didn't have a single starter in their final regular-season game that was considered a top-100 prospect in high school, according to recruiting Web site Rivals.com. The Count analyzed 1,496 bowl-game starters and found that just 8.4% of them were top-100 recruits.
USC started 13 top prospects—most among all bowl teams. By contrast, its opponent Saturday, Boston College, didn't start a single top-100 prospect in its final regular-season game. In the title game, Texas starts nine top prospects and Alabama only has three - yet Alabama is a 4-point favorite. Both teams are led by players (Colt McCoy and Heisman winner Mark Ingram) who weren't top-100 prospects in high school. This trend continues in the Rose Bowl, where underdog Ohio State has eight top prospects compared to Oregon's zero. Then there's the Fiesta Bowl, featuring undefeated TCU and Boise State. Neither team starts a top recruit.
http://online.wsj.com/article/SB10001424052748704304504574610421544186330.html
The number of "top 100" recruits starting on offense and defense in BCS bowl games *********** Barack Obama may have a decent jump shot, but I'll bet he couldn't beat the Mayor of Detroit in a game of HORSE. Yes, His Honor Dave Bing may be 66 years old, and he hasn't played in an NBA game since 1978, but in 1968, he was the second player taken in the NBA draft (out of Syracuse) and he had a pro career outstanding enough to get him voted one of the 50 greatest pro basketball players of all time. I'm betting he's got a few tricks left.
After basketball, Mr. Bing started a steel company with $250,000 of his basketball earnings, and built it to the point where it was a $60 million business, which is why he's now able to take on the one of the most difficult and thankless jobs in American politics and not take a dollar in salary.
With a deficit of $325 million, Detroit's facing cuts in every area, but one thing Mr. Bing is determined not to do if he can help it is cut sports in the city's schools.
Before becoming mayor, he helped raise funds - and donated some of his own money - to help keep sports going.
"I think sports are critical," he told the Wall Street Journal's Stephen Moore. "I don't care whether it's in the inner city or not, if the only thing that we prepare young folks today for is classroom activities they lose a lot. There's so much you can learn in sports that you don't learn from academics. It's understanding how to get along and communicate with people. Being part of a team. Sports gives you a sense of what it's like to win, and how you handle losing and setbacks, which life is full of."
*********** According to Forbes Magazine, Texas is the most valuable college football program, with an estimated value of $119 million. Last year's leader, Notre Dame, came in second, at $108 million and Penn State was third at $99 million.
The $82 million in revenue brought in by the Longhorns broke down like this: $30 million came from donations by alumni and fans to get in line for season tickets. Another $33 million came from ticket sales to seven home games (Darrell K. Royal-Texas Memorial Stadium seats 101,000). Sponsorship agreements with Coca-Cola and Gatorade are worth $842,000. Nike pays $1 million to put its swoosh logo on jerseys.
According to Forbes, Texas had a $59 million profit. Notre Dame's team value was $108 million, with a $38 million profit.
FORBES' MOST VALUABLE TEAMS
1. Texas $119
2. Notre Dame $108
3. Penn State $99
4. Nebraska $93
5. Alabama $92
6. Florida $88
7. LSU $86
8. Ohio State $85
9. Georgia $84
10. Oklahoma $83
11. Michigan $81
12. South Carolina $80
13. Tennessee $78
14. Auburn $70
15. Southern California $68
16. Michigan State $57
17. Arkansas $56
18. Texas A&M $52
19. Wisconsin $48
20. Okla. State $47
(figures in millions of dollars)
TUESDAY, DECEMBER 22, 2009- "Remember that a government big enough to give you everything you want is also big enough to take away everything you have." Barry Goldwater
MY ANNUAL CHRISTMAS WISH FOR FOOTBALL COACHES EVERYWHERE (First printed in 2000, and printed every Christmas since): May you have.... Parents who recognize that you are the football expert; who stand back and let you coach their kids; who know their kids' limitations and don't expect them to start unless in your opinion they are better than the other kids; who don't sit in the stands and openly criticize their kids' teammates; who don't think it's your job to get their kid an athletic scholarship; who schedule their vacations so their kids won't miss any practices; who know that your rules apply to everybody, and are not designed just to pick on their kid... A community that can recognize a year when even Vince Lombardi himself would have trouble getting those kids to line up straight... Opponents who are fun to play against; who love and respect the game and its rules as much as you do, and refuse to let their kids act like jerks... Students who want to be in your class and want to learn; who laugh at your jokes and turn their work in on time... Freshmen who listen carefully, hear everything you say and understand all instructions the first time... Officials who will address you and your kids respectfully; who know and respect the rulebook; who will have as little effect on the game as possible; who will let you step a yard onto the playing field without snarling at you... Newspaper reporters who understand the game, always quote you accurately, and know when not to quote you at all... A school district that provides you with a budget sufficient to run a competitive program... A superintendent who schedules teachers' workdays so that coaches don't have to miss any practices... An athletic director who has been a coach himself and knows what you need to be successful and knows that one of those things is not another head coach in the AD's office; who can say "No" to the bigger schools that want you on their schedules; who understands deep down that despite Title IX, all sports are not equal... Assistants who love the game as much as you do, buy completely into your philosophy, put in the time in the off-season, and are eager to learn everything they can about what you are doing. And if they disagree with you, will tell you and nobody else.. A booster club that puts its money back into the sports that earn it, and doesn't demand a voice in your team's operation... A principal who figures that when there is a teachers' position open, the applicant who is qualified to be an assistant coach deserves extra consideration; who doesn't come in to evaluate you on game day; who makes weight-training classes available to football players first, before opening them up to the general student body; who knows that during the season you are very busy, and heads off parent complaints so that you don't have to waste your time dealing with them; who can tell you in the morning in five minutes what took place in yesterday afternoon's two-hour-long faculty meeting that you missed because you had practice... A faculty that will notify you as soon as a player starts screwing off or causing problems in class, and will trust you to handle it without having to notify the administration... A basketball coach who encourages kids to play football and doesn't discourage them from lifting, or hold "open gym" every night after football practice... A baseball coach who encourages kids to play football and doesn't have them involved in tournaments that are still going on into late August... A wrestling coach who encourages kids to play football and doesn't ask your promising 215-pound sophomore guard to wrestle at 178... A class schedule that gives you and at least your top assistant the same prep period... Doctors that don't automatically tell kids with little aches and pains to stay out of football for two weeks, even when there's nothing seriously wrong with them... Cheerleaders who occasionally turn their backs to the crowd and actually watch the game; who understand the game - and like it... A couple of transfers who play just the positions where you need help... A country that appreciates the good that football - and football coaches - can do for its young men... A chance, like the one I've had, to get to know coaches and friends of football all over the country and find out what great people they are... The wisdom to "Make the Big Time Where You Are" - to stop worrying about the next job and appreciate the one you have -... Children of your own who love, respect and try to bring honor to their family in everything they do... A wife like mine, who understands how much football means to you... Motivated, disciplined, coachable players who love the game of football and love being around other guys who do, too - players like the ones I've been blessed with. A nation at peace - a peace that exists thanks to a strong and dedicated military that defends us while we sleep. Merry Christmas.
Sounds like the things I have - may you be blessed to have them, too.

And one special wish for those coaching brothers who find themselves "between positions" at this time of year - May your Christmas joy not be dimmed by the fact that you are temporarily without a team, and instead brightened by the belief that your next job is just around the corner. And if my experience is any indicator, it will be a far better one, anyhow!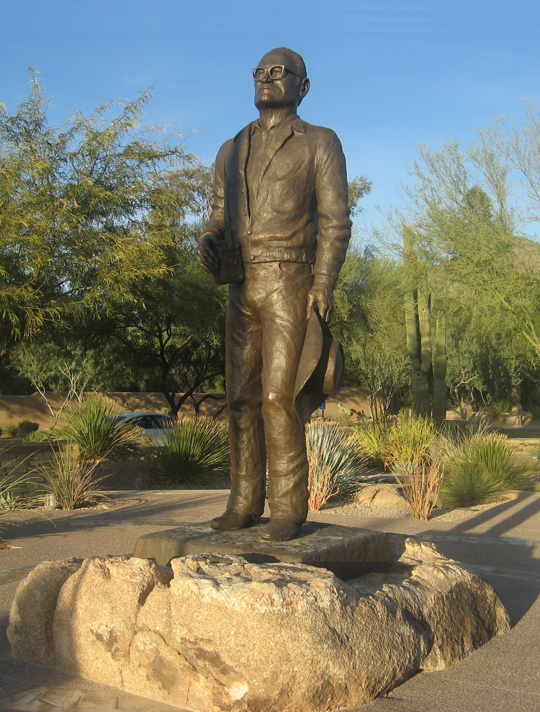 *********** My wife and I slipped away to Arizona for a few days last week - keep shoveling that snow, East Coasters - and quite by chance we stumbled upon the Goldwater Memorial in the town of Paradise Valley.
Barry M. Goldwater, longtime Senator from Arizona and unsuccessful Republican candidate for President in 1964, has long been one of my favorite Americans.
He was a man's man who fought hard for Arizona - he was born there when it was still a territory - but always put his country first. Never one to mince words, he was the Republican who told Republican Richard Nixon that it was time for him to resign (having told others, "Nixon should get his ass out of the White House - today!")
Oh, if only there'd been a Barry Goldwater back when Clinton was getting BJ's in the Oval Office. And lying about them.
And after all the hoopla associated with the recent Copenhagen Plan to Permanently Destroy the American Economy, imagine an American politician with the stones to say, "I suggested on the floor of the Senate today that we stop all funds for the United Nations. Now, what that'll do to the United Nations, I don't know. I have a hunch it would cause them to fold up, which would make me very happy at this particular point. I think if this happens, they can well move their headquarters to Peking or Moscow and get 'em out of this country."
It's a source of great sadness to me to look at today's Senate - at the Harry Reids and Charlie Shumers and Christopher Dodds and Patrick Leahys and assorted lice on both sides of the aisle - and then recall that we once had a man of such wisdom and common sense and courage as Barry Goldwater.
*********** I don't care for heat, which rules out a summer trip to Phoenix, but this is a great time of the year to visit. On our recent stay, it was in the 70s during the day and got down into the 40s at night.
Scottsdale, where we stayed, adjoins Phoenix - you wouldn't really know when you left one and entered the other - and it is quite nice. Old Town Scottsdale is especially nice, with all sorts of restaurants, stores and art galleries.
I think it would be a lot of fun to hang around here at Fiesta Bowl time. Lots of cool places. Couple of restaurant recommendations: Saddle Ranch on Scottsdale Road - big, informal, Western-themed, part of a small, four-restaurant chain only in Southern California and Arizona; My Big Fat Greek Restaurant, also on Scottsdale Road, one of eight family-owned Greek restaurants in the Greater Phoenix area. Great lamb. Also, of course, whenever you're in California, Nevada, Arizona (and now Utah): In-N-Out Burger. A family-owned burger chain that refuses to grow too fast, and continues to live up to the kind of reputation that's almost impossible to live up to.
I mention the art galleries because a gentleman we met told us about having had a piece of sculpture done and commissioning an sculptor named Glenna Goodacre to do it. He suggested we stop in at one of the galleries and check out some of her work.
We did. One of her works on display was entitled "The Winner," a young boy joyously and triumphantly raising his arms in the air. Price: $50,000. Gulp. No, thank you - we're just looking.
Glenna Goodacre, whom I must confess to my dismay I had never heard of before, happens to have done the faces of Sacajawea and her little boy on the dollar coin. Want to impress strangers? Next time someone brings up the subject of art, tell them your favorite sculptor is Glenna Goodacre. (No way you'll impress your friends with that. They'll simply say, "Okay - how the hell did you hear about her?")
More of Glenna Goodacre's work... http://www.legacygallery.com/gallery_artists/glenna_goodacre.html
*********** When you watch Oregon State-BYU in the MAACO Las Vegas Bowl... You won't be able to miss all the Polynesian players on the two teams.
And when OSU is on offense, you won't be able to miss the Rodgers brothers - James and Jacquizz. They were both All-Pac 10. James was named second team All-American, Jacquizz second. James is a wide receiver who is hell for defenses when he runs fly sweeps. Jacquizz is maybe 5-7, easily the shortest power runner in America.
They are Texans. Oregon State found out about 'Quizz while recruiting James.
Their dad won't see the game. He's in prison. He's done some bad sh-- and now he's in a place some 44 miles from Houston that doesn't get cable.
This is not a feel-good story.
He knows what his criminal past has cost him. "I missed all their good times," he told the Portland Oregonian's John Canzano. "I hate that. Hurts me to the heart."
*********** Watch the Villanova-Montana game Friday night? How'd you like that Matt Szczur from Villanova? Kid did everything.
He rushed for 159 yards - mostly from the "Wildcat" - and two touchdowns on 14 carries. He also caught four passes for 68 yards and returned two kickoffs for 43 yards.
For the season, he was named Colonial Athletic Conference Offensive Player of the Year as well as its Special Teams Player of the Year.
Matt played as an eight grader for my friends Frank Simonsen and Flash Hughes in Cape May, New Jersey.
Wrote Frank when I congratulated him after the Montana game, "He was our C-Back. Believe it or not we had another kid in the backfield that year that was just as good as he was, as an 8th grader. That was the year we were putting 50+ points up on everyone."
*********** Coach
You're probably right, that the World team is a joke. I know of not one player from here in the United Kingdom University league invited to attend any trials and I suspect it's similar for our junior game.

However, despite being overmatched in experience what would you're thoughts be if The World come out running a ball control offence that overwhelmed defenders at the point of attack? An offence that relies on power and misdirection? An offence that relies upon a core number of plays practiced again and again?

Does that ring any bells?

(I will now await with heavy heart the news that The World will run the spread option out of a five receiver set. Ho, hum.)

Yours in football
Graeme Saint
United Kingdom
Good luck running the Double Wing in THAT game.
We all KNOW that Headquarters (Big Football, which is promoting the game in conjunction with the Pro Bowl) will not permit any deviation from the One True Faith.
So they will line up with one running back only, and three - maybe four - wide receivers. And their linemen will all be in two point stances, tackles with their outside feet a yard back off the line.
Billing this game as USA against the World is a typically American promotional stunt, making it appear as if this Team USA will actually be accomplishing something when it beats a bunch of kids from places where football doesn't have near the coaching, facilities and funding we have. It's not unlike the self-back-patting we do when one of our women's teams wins a "world" compeitition - in a world that doesn't afford its women anywhere near the opportunities we do (thanks, I should add, to funding provided by football).
*********** How about this one - College teams ranked according to points per play:
http://www.teamrankings.com/college-football/stat/points-per-play
1. Boise State (no surprise) 2. Cincinnati (no surprise) 3. Nevada (no surprise) 4. Arkansas (Petrino is back to his old tricks) 5. Stanford (wait- aren't they just a power team?) 6. TCU (I thought they were known for their defense) 7. Oregon (no surprise) 8. Texas (Give it up for Colt McCoy!) 9. Pitt (Huh? Give Wannstedt a little more credit) 10. Houston (no surprise) 11. BYU (No surprise) 12. GEORGIA TECH (Georgia Tech? - don't they know the triple option is a slow-scoring, grind-it-out, ball-control offense? ---- Behind Georgia Tech were such acknowledged offensive powers as Florida (14) and Texas Tech (19). Alabama, with the Heisman Trophy winner in the backfield, is no better than 25th.
*********** Coach,

Having attended college at USD (South Dakota....the Coyotes, recognized by one student to another with the term "Go Yotes"), you could cause a severe riot with your column. The level of hatred / passion for the other teams between students at all the schools in the Dakotas is second to none nationally.

South Dakota State is the Jackrabbits. North Dakota is the Fighting Sioux.

USD vs UND from 1953 to 2000 played each year for the traveling Sitting Bull Trophy before it was retired for the same reasons that UND may have to give up the nickname. Lots of heated views pro and con on the mascot for more than a decade now.

Merry Christmas,
Jerry Lovell
Bellevue East HS
Bellevue, Nebraska (I made the mistake of referring to the South Dakota Fighting Sioux, when it should have read North Dakota! The correction was very quickly made. HW)
*********** Coach,

As always thanks for the reply. I did not know that about Coach Ellerson's background. Very interesting.

Wonder if any of the Clemson people ever think about the most successful era in Clemson football 1978-1991 and the base play of the offense was the "inside veer." Oh, but that was too boring and didn't attract enough recruits. Needless to say since '00 Clemson has produced only a handful of guys from the offensive side of the ball that were good enough to play in the NFL.

Here is a great interview with former Clemson coach Danny Ford.
http://www.thestate.com/tigers/story/1055918.html

My favorite part of the interview was when Coach Ford said you don't "outsmart" people because someone on the other side is always smarter. You might out hit them, or out fundamental them but not out coach them. Good stuff!

Take Care and Merry Christmas!
Stan

Stan Yarborough
Palmetto High School
Anderson, South Carolina
Coach, Thanks for the story.
Coach Ford is very gracious about the people who laid the foundation for him.
And he's surprisingly frank about his dislike for what he's been seeing (I'm assuming he;s referring to T. Bowden) and about Dabo's needing to learn things (just as he did).
Here's my favorite: "What never changes is, if you knock (opponents) on their butts, you ain't going to get beat."
Best,
Hugh Wyatt
PS- I just can't picture Danny Ford with white hair and can't believe he's been out for 20 years!
A few excerpts from the interview in The State (Columbia, South Carolina)
Q: Compare Kyle Parker to Steve Fuller and some of your other quarterbacks.
A: I spoke to (Parker's) momma and daddy in Augusta (where) they live now, and I told them, 'Man, y'all got a hard four years ahead of you, because you're going to be loved and you're going to be hated every week; that's the way it's going to be.'

Q: Clemson hasn't won an ACC championship since 1991. Why has it been so long?
A: In my opinion, a lot of them didn't play Clemson football. I mean, if you say Ohio State to me, I know what Ohio State football is, I know how they play through reputation, what it meant. And I know what Clemson football was about, and I never saw it (in recent seasons).
Clemson football isn't fancy. Clemson football is having a good kicking game, winning with the kicking game, hit(ting) you on defense, don't turn the ball over and be(ing) able to control the ball. Now, they do it different than we did; they control the ball with the pass better than we did; we did it with the run, shorten(ed) the game.
(In recent seasons) it was always trying to be too cute, outcoach you. You don't outcoach people. You might outwork people, might out-hit people, you might out-fundamental people. But if you think you're smart, there's always someone on the other side just as smart, maybe smarter. It ain't what you know, it's how those kids perform. You got to have that philosophy, and I think I've seen it more (this season).
They've gotten back to it a little bit - not enough for me, but I don't coach anymore (laugh). If they win (the ACC), more power to them, congratulations, and don't forget how you got there.
What never changes is, if you knock (opponents) on their butts, you ain't going to get beat.
*********** Hi Coach, Hope all is well with you and yours as we enter the Holiday Season.
As I was reading the News today I read your statement that no MAC team has one a NCAA championship. In 1984, Bowling Green State University won the NCAA Hockey title in 4 OT against Minnesota-Duluth. While the Falcon Hockey team plays in the CCHA, they are in the MAC for all other sports. Not sure if that counts, but is worth at least an asterisk. As a proud alum, as well as a freshman at the time, I thought I'd send that info your way.
On a sad note, the new university president has the currently struggling program on her radar to save money.
Hope to see you again in Chicago this spring,
Merry Christmas,
Dan D. Burkholder
Head Football Coach
Pinckney High School
Pinckney, Michigan
(I'm betting that it's a technicality - that since hockey has these weirdass conferences, BGSU's title is not considered a "MAC" title. But congratulations to the Falcons - if not the MAC. HW)
*********** "...we've got a coach at Kentucky (John Calipari), who put two schools on probation and he's still coaching. I really don't understand that." Bob Knight (Actually, UMass and Memphis both had to give back tournament finishes - and money - but they didn't go on probation. HW)
*********** Coach,

If the Big Ten does expand again, I certainly look forward to see what the graphic artists will propose…the expansion to 11 teams resulted in the present logo, which is ingenious!!!

On a side note, my son Zachary, junior at Iowa, is working in the football office as a student intern in quality control and recruiting…he desires to coach and teach (history & Political Science) at the secondary level and is using his experience to build his résumé, as that he wasn't a great player…as a result, on the 12th, we attended the "Black & Gold" Banquet with the entire football family…the program of the banquet was dedicated to the 17 graduating seniors as well as an awards assembly…What a class act!!!...I can see why Iowa Football can compete nationally!!!

Mark Kaczmarek
Davenport, Iowa
*********** Bob Greene - "Hey - What Happened to Tackling?" http://www.cnn.com/2009/OPINION/12/13/greene.tackling.football/
Sent to me by Steve Tobey - Malden, Massachusetts
Thanks, Steve-
Interesting that a writer of Bob Greene's stature would reach out to football. That shows that others have begun to notice.
I think that a major factor that even Michaels and Costas (who say it's partly because tacklers are so big and strong and fast, but also because there is so much emphasis on forcing fumbles) have overlooked is the Sports Center Syndrome.
Big hits (not sure tackles) get you on Sports Center. It's not only an ego thing. A clever agent can parlay a "big hitter" rep into more dollars.
I happened to notice that way at the top of ESPN's top plays of the past season is a "big hit" - a rocket-launch shot by an LSU defensive back against a helpless Arkansas receiver. There was no clear intent to tackle. Only to punish. And get on Sports Center. (Worked, didn't it?)
*********** A kid named Braden Wieking kicked 3 field goals to help Sioux Falls beat Lindenwood 25-22 in the NAIA championship game.
Okay, okay. That I can deal with.
But not this: "This is my first year of playing football," he said afterwards. "I played 14 years of soccer so this is all new to me "
"Playing football," eh? Braden Old Fella, you may have spent the season with the team, but you still ain't played the game.
Tell me - is there any team sport other than American football that so debases itself?
Is there any other team sport that allows guys who DON'T EVEN PLAY THE GAME to have such an impact????
*********** With all these restaurants going out of business... what can the Beef O'Brady's people know that all the others don't, that they'll jump in and be a major sponsor of a bowl game?
*********** While waiting for them to shovel the snow so Wisconsin-Whitewater could play Mount Union, I watched ESPN's "The U" again.
It was just as good the second time.
I laughed like mad at the part where Dennis Erickson came in. Coach Erickson, as we would later see at Oregon State, was not what you would call "overly controlling" of his players.
Said one player, "He was a player's coach."
Said another, "He was like a substitute teacher" (in that he let the kids get a little out of control).
Dan LeBatard, a Miami reporter, noted that it would have been futile to try to control those guys: "He was trying very hard to keep a hundred pit bulls on a chain."
*********** Lord, the Rams looked good in those "throwback" jerseys. Hard to believe any team can look and play as bad as those other guys in the dingy "Rams" uniforms they normally wear. Sunday, they still sucked, but at least they looked good.
And then there were the Seahawks.
Blecch. Talk about looking ugly and playing ugly. Sunday was one of those "Seahawks only" afternoons here in the Portland area, when watch the Seahawks or we watch nothing. See, we live only180 miles away from Seattle, so naturally we're all supposed to love those Seahawks. So the geniuses at the network who push the buttons and flick the switches let us watch what they seem to think is "our" team. Thanks a lot.
Sunday, the Seahawks played the Buccaneers, in a matchup whose only possible purpose for even taking place had to be to goose sales of Direct TV's Sunday Ticket.
And so it was that the Seahawks - hard to believe they could have make those uniforms any drabber, but they did, going out and adding some black trim - went out and made the Buccaneers look like Super Bowl contenders.
*********** Did you watch that punter from the Browns allow the Chiefs a touchdown because he didn't have the stones to fall on a loose ball in the end zone?
*********** How about Jerome Harris?
286 yards rushing. 208 yards in the second half alone! (Hmmm. Maybe somebody needs to tell the Chiefs to stop going for the strip and start tackling.)
Kid's from Washington State. There were those who said that Bill Doba couldn't recruit, but he found Jerome Harrison, a Kalamazoo, Michigan kid playing at a California JC. Bill Doba was fired with a .508 record. Mike Price, his predecessor, parlayed a .516 overall into the Alabama job. Now that WSU has won two games in the two years since he was let go, I wonder what those people think about Bill Doba now.
*********** Anybody know what Pacman Jones is doing now? Anybody care?
*********** Is it possible that Sunday's disagreement between Favre and Brad Childress is the first sign that the Vikings have gone about as far as they're going to go with Favre?
*********** nhl.com has a new online video player called , and a great way to get a look at it is by looking at some great video devoted to "Winter Classic," it's now-annual outdoor game to be played this year in Fenway Park.
http://www.nhl.com/ice/eventhome.htm?location=/winterclassic/2010
*********** California's ruling body, the CIF, seems to have a sort of "Plus One" arrangement as a part of its high school Bowl game setup. It has "championships" for four class sizes, but also a Super-Bowl-size event in the "OPEN DIVISION," which is designed to put the two best schools regardless of class. This year it was Crenshaw, first "city section" (inner city) team ever to make it to a bowl game, and fabled DeLaSalle, from the Bay Area.
For the record, De La Salle won, 28-14, over a Crenshaw team that featured the first crop of kids from rapper Snoop Dogg's inner-city youth program (even lowlifes are capable of some good), including running back DeAnthony Thomas.
(If anybody wants to tell me how the "Open Division" works, I'm ready to listen)
*********** Tobaccofreecalifornia.com was a sponsor of the California championships.
Another state asks its smokers to pay cigarette txes so they can tell others not to smoke.
So support the kids of California. Light up.
*********** Hugh,
I'm watching the Ca. Div. 1 State CIF Championship. Bellarrmine Prep of San Jose doing a nice job of running the true DW. Oceanside has 7 D1 prospects, Bellarmine - 0 What a way to start the weekend! 7-3 Bellarmine end of 1st. MIke Norlock, Atascadero, California
They did a nice job and almost managed to pull it off. A very unfortunate fumble in their own end right before halftime led to an Oceanside TD and led to their downfall.
They had some very good athletes - a really good quarterback - but Oceanside had some super athletes and a lot of them.
Strangely, I don't think I saw Bellarmine run a single counter!
*********** I had a chance this past weekend to watch two Double-Wing teams playing in California "Bowl" games (so-called because they're not technically state championships).
Both excellent teams, they both played well but ultimately lost to what most experts considered to be better teams.
Both were very good Double Wing teams. Obviously. They didn't get to where they got - the equivalent of a state final - without excellent coaching and very good players.
Of course, they were also facing very talented, very well-coached teams.
Like any other Double Wing coach watching another Double Wing team, it's impossible for me not to critique. You know how it goes - you just can't watch any Double-Wing team play without at some point saying "why don't they....?" or "why do they...?" and this weekend's games were no different.
For example...
Why don't they..... run any counters? Other than a QB Keep opposite, I can't recall any. Unless you consider their modification of a Wing-T buck sweep to be a counter.
Why don't they... ever run a wedge?
Why do they... run so many sweeps when the defense seems set up to stop sweeps?
Why do they... only run Super Power (I doubt that they call it that) to one side?
I take care to remind readers - before they write me to point it out - those teams made it to the final game. Mine did not.
*********** As the 11-member Big Ten looks around for a 12th team, Joe Paterno, one of the league's leading proponents of expansion, has been quoted as saying that he's against adding Notre Dame, saying, "They had their chance."
That they did. Back in 1999. So how has turning down the Big Ten worked out for the Irish?
Uh, not so well, actually. Since they walked away from the Big Ten, their football team has gone 75-59.
Writes Greg Doyel in cbssports.com -
Since 1999, Notre Dame football has fallen off the cliff. The school with 11 national championships and seven Heisman winners has added zilch to those totals. Notre Dame has finished in the top 10 just once, way up there at No. 9 in 2005, and although it strong-armed a private door for itself into the BCS, it has used that door just three times -- and gone 0-3 in those bowl games.
Since 1999 Notre Dame has fired three or four coaches, depending on whether you count George O'Leary, and has failed to land the coach (Urban Meyer) of its dreams (Bob Stoops). It has lost eight consecutive years to Southern California, which is understandable, and twice in a row at home to Navy, which is not.
Financially, its BCS payout has been reduced nearly 75 percent since the BCS was created in 1998, from $17 million then to $4.5 million now. That's the same as Boise State gets, with one big difference: Boise State football is better. And the Fighting Irish's exclusive network television deal? Notre Dame makes barely half as much from NBC as each Big Ten school -- even Northwestern -- makes from the Big Ten's deals with ESPN, ABC and the Big Ten Network.
*********** So with the heavy snowstorm that hit Washington, DC over the weekend, and the oh, so urgent need for our oh, so important Democratic senators to vote on health care, how'd they manage to round 'em all up and get 'em to the Capitol?
Why, they sent out chauffeur-driven vehicles to get them. Remember, these are very important people, doing very important business.
Oh - and those chauffeurs were driving SUVs. That's right, gas-guzzlers. What - you thought that for something this important they'd be driving Priuses?
*********** One of the more tiring sports cliches describes a young player who's just done something good: "And he can only get better."
Only? I want to ask. Even if he breaks a leg?
*********** Support the seals - http://www.youtube.com/watch?v=YRc_au_DdGQ&feature=player_embedded
*********** Neither one of them would have made it into a playoff, but Wyoming and Fresno State sure got the bowl season off to a great start.
*********** With Virginia's hiring of Mike London from Richmond, he becomes the seventh coach to win a D-IAA title and then move on to a D-IA head job. Others: Joe Glenn (Montana to Wyoming), Paul Johnson (Georgia Southern to Navy), Jim Tressel (Youngstown State to Ohio State), Jim Donnan (Marshall to Georgia), Jim Criner (Boise State to Iowa State), and Dave Kragthorpe (Idaho State to Oregon State)
*********** Just to show that it's finally getting serious about the after-effects of football-related concussions, the NFL has asked retired players to donate their brains to scientific research. (After death, of course.)
Which brought me to the old joke about the cannibal who opened a butcher shop.
The sign outside read "SPECIAL TODAY: NFL BRAINS!" and the customer walked inside.
The cheapest, it seemd were defensive linemen at $5 a pound. The customer looked at the price tag and said to himself, "Okay. I can understand that. There's not a lot of intelligence involved in what they do."
Linebackers were more expensive, at $10 a pound. Quarterbacks' brains, at $20 a pound, were most expensive of all. That made sense to the customer.
Looking around the display, though, he noticed one position group was missing.
"Hey!" he said to the owner. "I don't see any wide receivers."
"Oh, they're so expensive we don't even put them out," said the owner. "They're $500 a pound. We just keep a small supply for our very special customers."
"Huh?" Said the customer. "Look - I can understand the rest of your prices, but why so much for wide receivers?"
Said the cannibal, "You realize how many of those bastards you gotta kill to get a pound of brains?"
FRIDAY, DECEMBER 18, 2009- "... what appears to drive these people is their self-aggrandizing belief that the job of a football coach is to Innovate and operate in the Realm of Big and Important Ideas, so that as a result they might be called geniuses." Chris Brown - http://smartfootball.com
*********** Hey Coach,

I was wondering what you thought about how Army defended the Navy offense? As a Clemson fan (I was in Tampa to see it 1st Hand) we saw Tech twice this year gash Clemson for over 300 yards. I thought it was interesting that Army decided to play what looked like a TNT "double eagle" front. I did not see the 2nd half to see Navy's adjustment, but have it on DVR so that I can watch it over the break.

As a Clemson fan I am hoping that they will figure something out to that can "slow" down Tech enough to maybe force 1 punt a game!

Hope all is well.

Thanks,
Stan Yarborough
Palmetto High School
Anderson, South Carolina
Their base defense is the Arizona Desert Swarm - the flex - which Coach Ellerson helped devise while coaching at Arizona, so they didn't have to make a whole lot of adjustments from their base set.
And, of course, since they run the same basic offense, they are able to run a decent scout team.
I know that schools all over the country want a look at the game video.
Their problem is that they don't want to be too cooperative because they'll be giving people the poison pill that could defeat their own offense! (If there really is such a thing.)
But I'm sure the Clemson people are smart enough to see some things!
*********** The way the stories have been flipping, there's no way I touch the Jim Leavitt story at this point other than to say I hope he comes out of it clean.
*********** North Dakota's nickname, the Fighting Sioux, has long been a target of the NCAA, which claims it is hostile and abusive to Native Americans. On the other hand, the Spirit Lake Sioux tribe approves of the nickname, saying that it can lead to an understanding of - and respect for - their culture.
Granted, I am not an attorney, but I am having a bit of trouble understanding why it's okay to have Chippewas and Utes and - most notably - Seminoles, but not Sioux.
*********** Jake Locker has done it twice: first, he turned down a big baseball bonus out of high school in order to play football at Washington; now, all but assured of going in the first round of this year's NFL draft, he's announced he's coming back for his senior year. In this era of "I went to college to make money", Locker, a history major, should be an inspiration to kids all over the country. For those of you who've never seen the Huskies play because up until this season they've, um, sucked, this kid is at least a good as Tim Tebow. He is big and he is strong, with a gun for an arm and 4.4 speed (legit).
*********** Mount Hood is a real, honest-to-God mountain - snow-covered most of the year, its peak is sharply pointed (like all major peaks in the Cascade Range, known to the south as the Sierra Nevada, it is volcanic in origin), and it's almost perfectly pyramidal no matter what angle you view it from.
It's a big sucker. Its altitude is 11,249 feet, puny by Colorado standards, except that when you look out at the Rockies from, say, Denver, you're already standing at an elevation or 5,000 feet or more. Mount Hood, though, like the other peaks in the Cascade Range, is quite a bit higher than the surrounding terrain. On a clear day, for instance, we have a great view of much of Mount Hood from our house, even though it's some 50 miles away.
Like the other Cascade peaks, Mount Rainier juts high up into the moisture-laden air that comes off the Pacific in the wintertime. Down where we live, at sea level, that moist air usually means rain. Up on Hood, though, it means snow. A lot of it.
(For some absolutely s pectacular 360 degree video "virtual tours" of Mount Hood - http://www.pmru.org/pressroom/virtualhood.html click where it says "Click Here")
Because Mount Hood is so near to a major metropolitan area, it gets a lot of use. From skiers, of course - the US Olympic ski team takes advantage of the fact that some of the snow sticks around all summer - but also from climbers.
Mount Hood is not K-2 or Mount Everest, or even Mount Rainier, but it is a serious climb. But under the right conditions, it's possible for a non-expert in decent physical condition to climb to the summit and return in one day. With a good guide. And with decent weather.
Ah, the weather. A mountain that high can make its own weather. Storms at 10,000 feet or so can be quite unpredictable, and many's the experienced climber who's been caught on Mount Hood by a storm that can dump several feet in a very short time. The wise ones make sure to pack a shovel so they can dig themselves a snow cave and ride out the storm.
Combine the usual cliffs and crevasses and avalanches and falling rocks and chunks of ice with snowstorms, and climbing Mount Hood is especially dicey in the winter months, as you might espect. But that doesn't stop climbers from giving it a go.
And so it was that just over a week ago a party of three experienced climbers set out to reach the summit but came up missing. One of them was found dead. The others, despite intensive searches by sno-cat and helicopter as well as on foot, have not been found. Rescue attempts have been halted.
The three climbers could have taken "beacons" with them, not unlike those that enable wildlife experts to trace the migrations of animals, but they chose not to.
Which immediately led a number of people, mostly non-climbers, to ask why not? Why was it appropriate for the rescuers to risk their lives trying to find people who could very easily have made the rescuers' job a whole lot simpler?
Why, came the outcry from more than one politician, there ought to be a law....
Climbers should be required to have beacons!
Whoa. Not so fast, said the rescuers, an organization known as Portland Mountain Rescue, with considerable experience in these matters.
Huh? We flatlanders asked. Who could oppose something that would make climbing the mountain safer?
Portland Mountain Rescue, that's who. Their official position, as stated on their Web site:
Contrary to what might seem common sense, we believe that mandating beacons actually increases risks for both climbers and the rescuers.
Our organization has decades of mountain rescue experience that suggests people tend to take more risks than they would otherwise if beacons are too strongly promoted. Requiring beacons to be carried suggests that the devices are so effective that they will save your life and that rescue is almost assured if a climber carries one.
We are talking about a phenomenon known as "Risk Homeostasis"
Simply stated:
Every individual has his or her own idea of what constitutes an acceptable level of risk.
If you introduce a new technology to improve safety, then people tend to respond by taking more risks than they would have without the technology, keeping their perceived level of risk the same as it was prior to the introduction of the new technology.
A study done several years ago in Munich, Germany with two groups of cab drivers - one with cabs equipped with ABS systems, the other without - determined that over the length of the study there was no difference in accidents between the two groups. Those drivers whose taxis had the ABS systems apparently indulged in riskier behavior than their counterparts.
Call it a false sense of security, if you will.
So what's it got to do with football? Read again:
If you introduce a new technology to improve safety, then people tend to respond by taking more risks than they would have without the technology, keeping their perceived level of risk the same as it was prior to the introduction of the new technology.
Doesn't this describe perfectly the way football players put on state-of-the-art protective helmets - and then feel empowered to engage in risky blocking and tackling (and running) techniques that increase the chances of their incurring the very brain injuries that the helmets are designed to protect against?
BASED ON THE THEORY OF RISK HOMEOSTASIS, IT'S HARD TO AVOID CONCLUDING THAT WITHOUT MAJOR CHANGES IN THE GAME OF FOOTBALL ITSELF, IT WILL NEVER BE POSSIBLE TO MAKE FOOTBALL HELMETS SAFE ENOUGH!

On somewhat the same topic: http://www.kansascity.com/844/story/1628367.html
*********** Hugh, First Army goes and loses to Navy, then the Heisman goes to the most statistically anomalous winner in 30 years...
...and now the Big Ten has put expansion on the "front burner" (to quote the conference commish) to get that yearly field hockey fundraiser, oops I mean conference championship game.
*sigh* I feel as though the college game I grew to love is being eroded in the name of money, marketability and TV ratings.
The Big Ten is down bigtime, and should think about whether an expansion could take them into ACC territory - a wild mix of mediocre teams in contrived divisions with no opportunity for a good team to shine through the volatility.
A Big Ten expansion would leave the Pac-10 as the only major conference that hasn't undergone these tumor-like expansions. Save for the Big East - there are some good programs in the Big East, but like the campus fraternity that was made up of all the guys the other frats didn't want, the Big East is the reactive accordion of the other BCS conferences. Due to its awkward geographical footprint, I find it hard to view it as anything but a foil to the power leagues that happens to double as a really good basketball league.
Of course, that might not be true if JoePa had taken my advice and moved his school into the Big East, but he's certainly not taking my calls...
You may recall that a few years back - before the formation of the Big 12 - the Pac 10 debated adding Colorado and Texas.
I still think that the Big Ten and Pac 10 should pull out of the BCS and just declare the Rose Bowl winner to be the National Champion. And then, if anyone disputes them, why, they could promote a game between the Rose Bowl winner and the challenger. Call it a "Plus One." A sort of....playoff!?!? Help. Somebody Stop me before I go too far with this apostasy!
If the Big Ten does add a team, I don't see it being Pitt. I just don't think that Penn State wants to have to play the Panthers every year. (And fight with them over Western Pennsylvania.) Here's one tht hasn't been mentioned - Boston College. Man, wouldn't that piss off the Irish.
Some comedian asked whether, if the Big Ten were to add another team, it would have to call itself the Big Eleven?
*********** Coach, I am a Freshmen high school coach. Our varsity is going to use a "wildcat" package. I am very familiar with the DW package. I used it at the youth level for 11 years. I have been at the freshmen level for 7 years. I was just wondering if super power can be done out of the "gun" formation. Thanks
We really can't snap the ball to the QB then toss it to a wingback and still get the QB out in front of him, leading through the hole. We either run "Power", and hand it to the Wingback and have the QB roll or boot opposite...
or
We have the QB run it and either lead the Wingback thru to do the QBs usual job or send the Wingback in motion to get into a pitch relationship (see where this is headed?). Or sometimes we will flank that Wingback wide right or left or even use him as a blocking back.
The Double Wing from Wildcat allows us a lot of flexibility.
*********** Cool. Jim Harbaugh's dad, Jack, will coach the Stanford running backs for the Cardinal's appearance in the Sun Bowl against Oklahoma. Jack Harbaugh, long-time Michigan assistant under Bo Schembechler, won the Division I-AA championship as head coach at Western Kentucky.
*********** Maybe it was the option offenses... The Army-Navy game drew a 4.2 overnight rating on Saturday, the highest rating the game has drawn in over a decade, up 75-percent from last year.
*********** In a letter to the editor of the Arizona Republic, the writer responded to a Global Warming expert and said he'd come over to the expert's side if he can just answer three questions:
1 What is the temperature that the earth is supposed to be?
2. What percent of the earth's history has it been at this optimum temperature?
3. If man is successful at reducing the Earth's temperature, what is his plan to raise the temperature if necessary at some point to avoid global cooling?
(Just in case the emissions might be needed in the event of global cooling, I'm going to do my patriotic duty and hang onto the old Expedition.)
*********** Jay Leno: "The good news for taxpayers is that the bankers have paid back all that money; the bad news is that now Congress has got it."
*********** As an Army fan, I'm of course distressed that Navy has now won eight straight.
But I'm able to put things in perspective. Among rivals that should be evenly-matched....
Ohio State has beaten Michigan six straight, Wisconsin has beaten Minnesota six straight, Florida has beaten Florida State six straight.
USC has beaten Notre Dame eight straight.
Oklahoma has beaten Oklahoma State eight straight.
Until just last year, Georgia had beaten Georgia Tech seven straight.
And - for when I'm really inclined to let it bother me...
Minnesota has beaten Michigan just ONCE in the 20 times they've met since 1986; MInnesota once won nine straight (1934-1942), and four straight (1960-1963, when Murray Warmath was coaching the Gophers).
Oh - and Kentucky hasn't beaten Tennessee in 24 years.
*********** Time to give the MAC a little love... Not only are its teams willing to provided Division I opposition at a reasonable price, but it has served as a great incubator of "Big-Time" coaches.
Not to mention all the pleasure it gives those of us who enjoy watching college football on Tuesday and Wednesday nights.
So it just doesn't seem fair: Akron's loss in the finals of this year's NCAA soccer championships means that in the 43 years of its existence, no MAC team has ever won an NCAA title.
*********** HUGH: You asked if anyone watched the App State-Montana FCS semifinal. I did. Watched it from cover to cover and I have to say it was the kind of game that DEFINES my love for college football. Two teams knocking the living dogcrap out of each other ... battling brutal elements ... running ... passing ... great defense ... multiple lead changes ... everything on the line ... a great last-minute drive ... packed stadium ... game never decided until the final play ...
Are you kidding me? It was a privilege just to WATCH that game. I was literally sitting on the edge of my couch cushion staring at the TV for the entire 4th quarter. I don't even know if I blinked.
Mike Brusko,
Zionville, Pennsylvania
In the years that I've gotten to know Mike Brusko, I've learned three things (1) we occasionally disagree politically; (2) we always disagree on a Division IA (sorry- FBS) playoff; and (3) we agree on nearly everything else. I've enjoyed corresponding with him and sharing ideas, and hearing about his son, Mike, a senior football player at the University of Maine.
Not so long ago, Mike Senior shared the following article with me. I wanted to share it with you because if the University of Maine gave out the Black Lion Award, Mike Brusko would win it this year, hands down...
Football: Brusko fills leadership role to fullest for Bears By Adam Clark
November 12, 2009

Bill Belichick is one of the greatest coaching minds ever to set foot on an NFL sideline. If there are two things the three-time Super Bowl winning coach of the New England Patriots loves most of all in his players though, they are versatility and a team-first attitude.

At the University of Maine, Jack Cosgrove has one of the most versatile players and great team leaders that have ever stepped foot on the campus.

While he will not be moving on to the professional ranks after finishing up his senior season, Mike Brusko is the perfect example of a player not only Belichick covets, but any coach would be lucky to have and that Cosgrove is grateful for.

On Saturday afternoon, the senior tri-captain will set foot on the playing surface of Alfond Stadium for the last time. Brusko, who has played quarterback and wide receiver as well as being on the special teams unit and punting, leads his team into a Senior Day game against the University of Rhode Island at noon.

"When you put Michael out on the field, you have not only a gifted, talented player, you have an instinctively smart, intelligent, effort guy," said 17-year head coach Jack Cosgrove. "I would say 99 percent of the guys that play the game aren't even close to where he is upstairs."

In addition to excelling on the field, Brusko is a top performer in the classroom. At Maine, he was in the Honors College and graduated last spring with a degree in broadcast journalism. He is currently taking graduate classes while he finishes out his football eligibility.

Despite success on and off the field though, Brusko's time with the Black Bears has been a rollercoaster, where he has lost the starting quarterback job twice in his tenure. In addition to losing the starting job three games into his sophomore season, he also lost the job to sophomore Warren Smith three games into this year's season after leading the Black Bears to the national playoffs last year.

"Both times it was difficult, and I talked to the coaching staff and they knew how I felt about it as far as being upset and disappointed," Brusko said. "But I told them at the same time I'd do what you think is best for the team, and I'll do what will help us win."

Cosgrove commended Brusko for keeping his head high and putting the team first.

"There are those that pout and moan and think they got screwed," Cosgrove said. "Michael's response was, 'How can I help in other ways?'"

While he isn't the quarterback anymore, his unselfish and team-first attitude has resonated throughout the young Black Bears locker room, particularly with the rest of the young quarterbacks on the roster.

"[Quarterbacks] Warren [Smith] and Chris Treister, I've tried to show them the way and show them the things they need to do to be successful," Brusko said. "It's a role that I embrace, and I just try to my best to help them out."

No longer behind center, Brusko has not only provided a terrific locker room presence with his leadership skills, but he has thrived as a wide receiver and punter.

In last week's game at James Madison, Brusko caught a career-high 12 passes for 90 yards and scored a touchdown. He also pinned two punts inside James Madison's 5-yard line and threw an 82-yard touchdown pass on a fake punt.

"He's as complete a football player as I've ever been around," said Cosgrove, who has placed several players in the NFL. "He goes out and catches passes like he's been a receiver his whole life."

The 6-foot-3-inch Brusko only played wide receiver for only a few games during his sophomore season at Emmaus (PA) High.

The former star from Zionsville, Pennsylvania, has enjoyed his time at UMaine. Brusko cited the family environment as one of the biggest positives, something that made him choose to come to Orono.

"Up here it just felt like guys were a much tighter unit, a lot closer and just cared for each other in general," said Brusko, who chose UMaine over the University of New Hampshire. "That's really what drew me up here between the two and I'm glad I came up here. I have no regrets."

With a roster comprised of mostly underclassmen, the future is bright for the Black Bears. One thing that must be replaced for the team to take the next step is filling the leadership void left by Mike Brusko.
*********** Reading through my USA Today, I came across this, and nearly gagged: "USA Football, the sport's national governing body at the youth and amateur levels..."
Say, "national governing body?" Says who?
The NFL, that's who.
Damn, did I call this one? Do you recall my saying that Big Football's long-term plan is wrap its tentacles around every aspect of our game, using USA Football as its front? Read on.
Another headline read....
USA Football's 2010 Junior National Team will face top global competition on January 30 in South Florida.
Uh-oh. There's that damn USA Football, again - that damn tentacle of the Big Football.
WTF? Junior National Team? Okay, semi-believable.
But "Top global competition?" Gimme a f--king break.
USA Football's "Team USA vs. The World" game will be televised live by - gee, I wonder who? - the NFL Network (surprise!). It's billed as a matchup between USA Football's so-called "2010 Junior National Team" (45 high school seniors) and a "World" select team composed of "the best players aged 19 and under from outside the United States."
Talk about a setup.
Some guy named Jan Jenmert, head coach of Sweden's junior national football team, will be the head coach of the "World" team. Look - I'm sure that Jan's a hard worker and book-knowledgeable and all that, and he's probably played a lot of Madden and has a library full of NFL videos, but if his actual coaching experience is limited to coaching junior players in Sweden, he is in way over his head. He simply doesn't have the background to go up against an experienced US high school coach, let alone a whole staff of them. And then there are the almost unbelievable organizational obstacles he faces: his 12-man coaching staff comes from six nations on four different continents. Anybody ever heard of the Tower of Babel? How about the United Nations? How's that been working out, anyhow?
Let's be sensible and stop calling this deal "Team USA vs the World" as if it's going to be a game. It's a farce. Evidently the Washington Generals were already booked.
Nothing against the kids or coaches who've been selected for the US team, but if "Team USA" doesn't win 90-0, they need to step aside, because with a fair amount of overseas experience, I'm going to venture a very conservative guess that there are, oh, four or five hundred high school teams in the US - maybe 100 each in California, Florida or Texas alone - who would beat this "Team World" bunch.
Look - there's not another nation in the world that has high school football with paid coaches the way we do. In fact, other than Canada - where coaches serve as volunteers - there's not another nation on earth that has high school sports. Period.
I know, I know - this is America and we have to have All-Star teams. We have a compulsion to turn team games into a exhibitions of talented individuals (come to think of it, that sounds like the NFL doesn't it?)
Appropriately, the game, part of "Pro Bowl Weekend," will be played on the day before the Pro Bowl Game, a perfect lead-up to a useless All-Star game that nobody cares about - including the players themselves.
TUESDAY, DECEMBER 15, 2009- "Our critics say, 'Isn't that silly; so much emotion about a game.' Thank goodness I'm not that smart." Phil Knight, Nike Founder
*********** Several years ago, while coaching in Finland, I drove to scout an upcoming opponent, and on the way home, I was caught speeding. Radar.
The Polisiimies sat me down in the back of his cruiser and told me I'd been nailed. "And now," he said, in decent English, "I must give you a fine."
He opened a book to a page full of numbers, and put his finger at the top of a column, indicating how fast I'd been going.
And then he asked me how much money I made. "You mean in Finland?" I asked. He said, "Yes," and I told him that I wasn't making any money in Finland. (It was true. I was being given a nice apartment, and free meals, and a car, and gas, and a couple of round-trips on Finnair, but I wasn't being paid anything.)
So he found my income - zero - over on the side of the page, then ran his finger across to where it lined up with how fast I'd been going, and told me that my fine was three hundred marks. Finland has since adopted the Euro, but at that time, it worked out to about $75 US.
Good thing I wasn't Anssi Vanjoki. He's the executive V-P for markets at Nokia, the Finnish cell-phone giant. Not so long ago, he was caught racing his motorcycle on the streets of Helsinki and fined 116,000 Euros ($170,000).
In Finland, you see, they believe a fine should hurt, so they base it on your ability to pay!
Boy, would I love to see the NFL give Chad Johnson a taste of Finnish justice the next time he "celebrates."
*********** Not long ago I mentioned how a Finnish football team could get money from the government in return for wearing uniform patches designating it as a "No Smoking Team."
It always sounded funny, and I could always get people to laugh when I told them about it. And then Saturday I tuned in on a Florida HS playoff game and damned if one of the sponsors wasn't "Tobacco-Free Florida."
I'm guessing "No Smoking Team" patches are next.
Paradoxically, I'm sure the money to sponsor high school football games is coming from cigarette taxes. So light up, folks.
*********** Okay, okay. I'll go along with playoffs. But in return, you're going to have to arrange for all the colleges - ALL the colleges, even Notre Dame - to agree to hold off on talking to each other's coaches - OR THEIR AGENTS! - until after the playoffs. BCS conferences could get together and do that. If they can't, then what's a monopoly for?
*********** Hahahaha. The NCAA goes and runs all those phony PSA's about student-athletes, and then all it takes is one guy to come clean and tell it like it is - to tell the public what college is really for ...
Texas sophomore safety Earl Thomas, asked if he'd turn pro if it were likely he'd be drafted in the first round: "I came to college to make money..."
*********** The latest in the "30 for 30" series, "The U," followed the Heisman. I traced the development of Miami ("The U") football from doormat status in the 1970's to the point where in the 1980's the Hurricanes were the scourge of college football. Whatever self-celebration and taunting that you see in pro football today, chances are that it started with the 'Canes. (The NCAA, for all its other faults, has done a much better job than the NFL of dealing with the horsesh-- antics.)
"The U" was very good. Very well done. Let me tell you how well done: before coming to my senses and realizing how much of what I despise about the NFL can be traced directly to those Miami teams, I actually found myself rooting for them, at least sympathizing with them.
*********** Coach - don't get me wrong I have loved watching Brian Kelly teams the last few years at Cent.Michigan and Cincinnati and he had done and an incredible job at Cincinnati elevating that program to a Top 10 caliber program I think he is a great fit for ND and he will be a helluva a lot easier to root for than that arrogant Jack ass Weis but ... but I'm getting a little sick of the National media acting like Cincinnati was nothing before he took over - if they had any clue, they would know or should know Cinncy actually had two previous coaches that elevated that program and Kelly just happened to be the beneficiary of their hard work .

It was Rick Minter that picked that program off the mat and gave it a boot in the Ass and actually lead them to some winning season and some Bowl games and made them a solid program when they were in Conference USA and it was Mark Dantonio that made them competitive in the Big East, Kelly to his credit just picked up the program where those guys left it off and has done a marvelous job with it, If anyone should be getting credit for Cincinnati recent football success and it should be the AD' s and administration that hired three solid Football coaches in a row

- John Muckian Lynn,Massachusetts ( True, Cincinnati was not exactly a doormat when he arrived. But under Kelly, Cincinnati did make the jump from respectability to powerhouse, with three straight seasons of 10 wins or more.
Interesting point - he came into Cincinnati after Mark Dantonio had left for Michigan State and coached the Bearcats to an International Bowl win over Western Michigan. Since he had beaten Western earlier that season when he was coaching at Central Michigan, this made him the only coach in NCAA history to have beaten the same team twice in the same season while coaching two different teams! HW)
*********** The pros wear the absolute minimum in hip pads or thigh pads (if, in fact they wear them at all), and their knees, ludicrously uncovered, give them the looks of Tour de France competitors.
Their skimpy shoulder pads make already overweight offensive linemen look pear-shaped.
And now come people suggesting a return to - leather helmets.
I am not kidding. Their argument? While the modern highly-cushioned, high-impact plastic helmet certainly protects as much as possible, it also emboldens a player to use his head as a weapon, with the unintended effect of actually endangering its wearer.
*********** On Sunday I saw a QB "Spike" the ball by simply taking it from center and dropping it to the ground, as if dribbling a basketball.
Question 1: Since it is (in my opinion) clearly intentional grounding, and clearly taking unfair advantage of a rule that originally was intended simply to get the ball back to the line of scrimmage before too much time ran off the clock, shouldn't it at least resemble an actual PASS? Shouldn't the QB be required to bring the ball chin-high before "throwing" it?
Question 2: How careful are officials to make sure that a spike is actually a FORWARD pass? If it's not - if it's dropped straight down - it's a free ball.
*********** I was watching the Dallas-San Diego game when something seemed funny. "Wait," I said to my wife, "Why does the ref have a black stripe down the side of his white...knickers?"
Wait a minute- an NFL ref going back to wearing white knickers?
WTF? What happened to those sillyass slacks they usually wear?
Hmmm. I checked out Red Zone, and in every other game the officials were dressed in the usual black slacks, looking like the usual waiters. Or male figure skaters (wink, wink).
So what were we looking at in the Dallas-San Diego game - throwback officials' uniforms?
*********** As with so many states that hold their high school football championship games at some larger venue, Oregon held the finals of its three largest classifications this past weekend at Oregon State's Reser Stadium.
I know it's a thrill for the coaches and kids, but as a spectator I find it sort of silly-looking. I find myself looking at a decent-sized high school crowd of 5,000-10,000 getting lost in a large stadium and wishing there were a smaller, more intimate place that would still convey the idea that "this is a big game."
Something on the order of Montana's Washington-Grizzly Stadium (did you catch that Montana-Appalachian State game?).
Playing those games in college stadiums can be a nice deal for the host college. I heard a radio guy interviewing Oregon State's Mike Riley and asking him whether he'd watched the high school games. "Yes," he said. "I did. From my office." (With its great view of the stadium.)
*********** Without getting too deeply into the Heisman nonsense - it is what it is - can anyone dispute the argument that you can no longer win it without playing in a conference championship game?
* Wasn't it pretty much Colt McCoy's Heisman until his less-than-spectacular performance against Nebraska?

* Were there more than a dozen Heisman voters who had even heard of Ndamukong Suh before the Texas game?

* Before Alabama beat Florida - in the SEC championship game - could anyone have made a credible case for a running back who in his most recent game - against his team's archrival - had carried 16 times for only 30 yards?
*********** No doubt about it - Tiger's a lecherous lowlife. But why do those women who've so willingly come out of the woodwork claiming to be his paramours get a pass? Aren't they scum, too?
We used to have words like tart, chippy, floozy, trollop and slut to describe them. Now? Girls just wanna have fun.
Have we lost all sense of the concept of shame, of feminine modesty, to the point where a woman can knowingly bed down with a married man - with children, yet - and boast about it?
While Tiger Woods is going to pay an enormous price for his immoral conduct, nothing adverse appears to be happening to those bitches.
*********** Apparently adultery is still a crime in New Hampshire. The law's been on the books for 200 years, but now they're getting around to repealing it. You know how it goes - it's nobody's business, you can't legislate morality, the government should stay out of peoples' bedrooms, blah, blah, blah.
Nice arguments, all.
But wait a minute - we make drivers wear seat belts, we force people to put their kids in (government-approved) car seats, we tell motorcyclists that they can't ride without wearing helmets, and we tell restaurants that they can't allow their patrons to smoke. The list is endless. And always, the reason given for government's regulation of our behavior has something to do with the cost of that behavior to society.
Hmmmm. Has anyone considered the cost to society of adultery? What about all the kids whose lives are turned upside-down, whose families are broken up, by people who can't keep it in their pants?
*********** You helped us win a state championship. This is Doug Williams from Catoctin H.S. in MD. we just won the MD. 1A state championship running some of the double wing you taught us in 1997, thank you very much. (Doug Williams has worked hard and built good times and after 18 years at Catoctin, not far from Hagerstown, where I got my coaching start, he has made it to the top. My congratulations on the great job he did. HW)
*********** Coach, you wrote...
" As the ferocious storm swept across the Midwest and the Northeast, sending temperatures plummeting and dumping as much as three feet of snow in parts of upstate New York, I heard Rush Limbaugh suggest that we start naming winter storms, same as we do tropical storms. We should name them for heroes of the Global Warming (er, Global "Climate Change") movement. Hmmmm. By any chance would this first one be called "Blizzard AL?""
I cracked up when I read this. I spent last week driving around in that mess going from Oklahoma City to Gallup, NM to Liberal, KS and back to OKC. It sure was reassuring to understand that the -15 wind chill in Liberal, Kansas was due to "Global Climate Change" and was therefore my fault due to the large American-made truck/trailer I was driving. Had I been driving a Prius I'm sure I would have been much warmer.
Gabe McCown
Piedmont, Oklahoma (There you go - you have a chance to save Our Planet and you have to go and put your family first! HW)
*********** Our President, asked how he'd grade his performance so far, said that he'd give himself a "good, solid B Plus."
I actually heard him say it. (Just in case you wondered where grade inflation has been taking us.)
*********** I DID NOT WRITE THIS....
The average rank of an SEC non conference opponent? 103. With the exception of Georgia, every single team in the SEC played at least 2 teams ranked #100 or lower. Four teams played 3 of them, including Alabama. The total number of top 25 non-conference opponents played? 2.
And while the rest of us drool over how great the SEC is, they go into conference play and what you end up with is a bunch of mediocre teams playing mediocre football. Meanwhile, the sports machine tells us that they're all beating each other because they're all so good. It's brilliant, really. Send just about every team into conference play with 4 wins against virtual high school teams, figuring most of them will find 2 or 3 wins somewhere in conference. Send just about the whole crew to bowls, sit back and get paid. Meanwhile, we all tell TCU and Boise State that if they want a piece of the pie, they need to schedule 'real' non conference opposition. TCU knocks off Virginia and Clemson, Boise State takes out Rose Bowl bound Oregon, and Alabama and Florida play Douchebag State over and over and get to play for the big one while TCU and Boise get sent to the corner to play with each other.
Perhaps it's time we all see the SEC for what it is; A farce. Just another conference.
That was on sportales.com (Guy wouldn't write his name. Wonder why. So what's the big deal if Florida wants to play Florida International and Alabama wants to play Chattanooga on the next-to-last week of the season? And what is so wrong with a conference whose members play exactly three games - LSU at Washington, Vanderbilt at Army, Kentucky vs Miami of Ohio in Cincinnati - outside the South? Wait - make that two games outside the South. Kentucky is just across the river from Cincinnati, and Wildcat fans greatly outnumbered Miami fans at the game.)
*********** Ever had to watch a TV news show when the talking head had no video to accompany what he was reading? You might as well be reading a newspaper. In fact, in this case the newspaper's better - it can go into greater detail.
What to do? The answer lies in reconstructing events using animation. Think EA Sports meets News at Eleven.
Take a look at what a Hong Kong news service did to fill in some of the missing info from the famous Tiger Woods accident ---
http://www.youtube.com/watch?v=7i5FlC1MpkE
*********** Not suggesting that anyone cheat on his/her spouse, but let anyone contemplating doing so be forewarned: "Text messages are the new lipstick on the collar," writes Laura Holson in the New York Times.
Like phone calls, text messages are considered private. But, writes Ms. Holson in The Times, if a cheating spouse's cellphone is part of a family calling plan or regularly left unlocked and unattended on the dinner table or night stand, it's conceivable that a partner suspecting infidelity could make a case for checking out the in-box.
As most people seem not to realize, it doesn't take much to put words of affection or endearment - or worse - into far wider circulaton than you intended. In other words, assume that if you text it, it's not going to disappear. It's going to be out there.
"People who have something really private to say probably shouldn't do it in a text on their cellphone," said Marc Rotenberg, executive director of the Electronic Privacy Information Center, a public interest research group based in Washington.
FRIDAY, DECEMBER 11, 2009- "Even a good cause can be subverted by the roughshod methods used to achieve it ." Author Andrew Klavan
*********** (You asked) Why is ND paying an AD ...if he then has to hire a search firm to find a coach?
For the same reason businesses hire consultants... so the mangers can't be held accountable for the pending disaster.
Dennis Cook,
Roanoke, Virginia
Hahaha.
Yes, I know. That was a rhetorical question.
Actually, it's not totally CYA.
In a day and age when AD's know nothing about sports, they really have to pay consultants to provide them with a list of coaches. They are that clueless.
But then, what's worse, they put together a committee full of people who know nothing about coaching football and entrust them with actually selecting the football coach.
Portland State, for example, just named a new head coach. The program is on life support. They had a chance to hire a guy named Mark Speckman, who is bright and engaging and great with his players. He has been highly successful at D-III Willamette University. He knows more about the Fly offense than any man alive, and is constantly consulted by major college coaches wanting to know more about it. He had strong recommendations from Oregon's Chip Kelly and Oregon State's Mike Riley (who himself makes good use of a lot of Fly stuff with Jacquizz and James Rogers).
But this committee of geniuses, according to the Portland Oregonian's John Canzano, "had questions about his Fly offense."
Right. Like they knew the difference between a fly sweep and a fly swatter.
So they "went in another direction."
I predict that before the new guy works out his contract, the Portland State program will be dead.
So much for the days when a strong athletic director - with a football background - kept his Rolodex up-to-date and had only to make a few phone calls to hire a football coach.
*********** While Our President goes to the Global Warming Summit in Copenhagen with plans to trash our economy and our standard of living in order to impress World Opinion, here in our little part of Our Sacred Planet, normally temperate Southwest Washington, it hit 13 degrees last night, a new record low for the date.
*********** Clay Travis, in ncaafootball/fanhouse, is a man after my own heart...
I'll say it again, Mark Ingram is not the best back in the SEC West, Anthony Dixon is.

And now that the votes are in, hopefully the extremely august Heisman voters -- more on what clown shows many of these guys are soon -- took note of the fact that Anthony Dixon has outperformed Mark Ingram when the two backs have gone up against five similar opponents.

Here's what I wrote in last week's Starting 11:

"Dixon and Ingram happen to share five common SEC opponents -- Ole Miss, Arkansas, Kentucky, LSU, and Auburn. In those five games Dixon has rushed for 759 yards to Ingram's 537 and outgained him on a per carry basis 5.71 to 5.11."

So Ingram isn't even the best back in the SEC West. And, oh by the way, Ingram is also averaging fewer yards per game than 11 other backs, and five of those 11 backs average more yards per carry than Ingram does.

But Ingram plays for Alabama and most Heisman voters are lazy tools.
(Anthony Dixon, of Mississippi State, may very well be the best runner in the country. Yes, I include Toby Gerhart. If Dixon is back next year, expect to hear plenty about him. HW)
*********** (A mild disagreement with a Clemson fan) Reading your blog. Gerhart didn't get 100 yards on Wake (one of the ACC's worst) and by the same token, Spiller rushed for 11.7 yards per carry (9 rushes for 106 yards) and two TDs against Wake Forest in the first half. And that was it for him. He didn't play in the second half of a lot of games this year. CJ also ran for 112 yards and got another 79 receiving against a very good TCU defense. Throw in his return skills and receiving skills and he is simply the most outstanding player in college football. Granted I'm considered biased, but I stayed up and watched Gerhart this year and still to this day Barry Sanders, Tommie Frazier, and CJ Spiller are the only players that I get "excited/hold my breath" for, cause you just don't know if they're going to put on a show. I agree Gerhart is the most outstanding power runner in college football right now but the Heisman is for the most outstanding player. Its a shame, and a sham, that Spiller wasn't invited. I'd also love to see Spiller behind Stanford's OL.
Gerhart is not a "show" runner.
Spiller is that, but I don't think that Spiller could have carried Stanford - or any other team - the way Gerhart carried them.
I really don't think that a guy who rushed for over 100 yards in only four games and came up short in two games (Md and USC) when he could have made a difference is Heisman material.
Gerhart showed up to play every game. He had only 82 yards against Wake, but he had only 17 carries against Wake, and averaged 4.8 yards per carry. But if we hold that game against him, it's only fair to point out that Spiller didn't exactly light 'em up against weak teams like Maryland, UVa and NC State, none of them any better than Wake. And all of them conference games.
Heck of a player, and I know he's given you many great moments, but looking at it as I do from a non-Clemson point of view, there are lots of very good players like him all over America.
I could name four or five in the Pac 10 alone.
(We wound up agreeing to disagree)
*********** Coach Wyatt,
I'm having a lot of trouble with my A-backs and their RIP motion, they're all pretty fast runners but I cant seem to get it into their heads to slow down and be deliberate going in RIP motion. Running Super Powers and Powers seem to not be a problem, however I really want to use motion because I think it will influence the backers in setting up 47-c and 56-c. Any suggestions?
Tony Douglas, Wheeling, West Virginia
I'm suspecting that your problem may not be the speed of your motioning backs, but the QB's cadence. Unlike in the earlier days, I think it's best for your linemen that your QBs learn one "Ready-hut", about one second or so in duration between the "R" and the "H".
I do not think that you should slow your backs down. Among other things, the faster your motion, the less time the defense will have to react.
*********** Great piece today in "NYCU" but a slight correction. In its never-ending pursuit of a Lake Woebegon-type Nirvana, the MIAA (Mass governing body for high school athletics) there are no "State Champs" but only EMass, Central Mass, and WMass champs in 6 different divisions, so no child be left behind nor feel slighted. While typically the EMass top programs are de facto State Champs, at the lower levels some games would be more competitive and interesting. In any event, great season for Austin Prep!
KC Smith, Walpole, Massachusetts
*********** Good Morning Hugh,
Just finished the latest edition of the News--sure classic coach Wyatt. It always is a sore spot with me when I hear that one cannot pass out of the DW. I do not know who figures those passing ratings for the NFL but I suspect if they were applied to DW teams coached by us we would have a very high rating. Without question the DW is a "great" passing set and provides with its play action a truly exceptional passing attack. I offer as an example our season at North Beach. We had a sophomore QB who by anyone's standard was very average passer of the ball but we passed the ball very well which allowed us to set up wins in some of our games. My experience has been ( and at this stage of my life I now have a fair amount of that --lol) the passing attack has to be an important part of any successful DW attack.
The young coach who wrote and used only last names and wanting information on passing out of the DW certainly got some good advice from you. Again vintage Wyatt my only comment was wow have you mellowed over the last 15 years--chuckle.
Finally I generally tend to agree with you on the pros and cons of a play-off system but this latest bowl match ups by the BCS may have flipped me over to darks side and in-favor of a play-off system, perhaps the plus one idea. Anyway a thought.
Merry Christmas to You, Connie and the family!! And please say a special hi to Kathy for me!!
Jack Tourtillotte, Boothbay, Maine
PS: Sue and I are headed for the Army/ Navy game this weekend and looking forward to it with great anticipation.
(Jack, who as long-time offensive coach helped take Boothbay Region HS to two state titles in ten years, spent the 2008 season working with me at North Beach HS in Ocean Shores, Washington. HW)
*********** I'm on record as saying that Matt Millen (of Detroit Lions' fame) has no business calling a college game.
Thursday night, though, he was back in the confines of the NFL, something he is alleged to know something about, when I heard him say, regarding some Steelers' player, "They really don't know how he fits in this offense yet."
Resisting the temptation to say "Offense? Steelers? What offense?" I actually said, "Yet? They've been playing for twelve weeks! Plus pre-season. Plus 'voluntary' camps in the off-season. They've got at least a dozen coaches, and it's their full-time job - 24-7. And they can't figure out what to do with a guy?"
Do I hear the high school coaches and youth coaches going, "Awwwwww...?"
*********** As the ferocious storm swept across the Midwest and the Northeast, sending temperatures plummeting and dumping as much as three feet of snow in parts of upstate New York, I heard Rush Limbaugh suggest that we start naming winter storms, same as we do tropical storms. We should name them for heroes of the Global Warming (er, Global "Climate Change") movement. Hmmmm. By any chance would this first one be called "Blizzard AL?"
*********** No doubt you've read about the lovely young University of Tennessee ladies said to be assisting in various ways in the recruiting of young football players.
Now, I don't want the daddies of any of those young ladies coming after me with shotguns, so I ain't going any further than that.
Meantime, though, there is no truth to the rumor that Stanford has been calling recruits and asking if they'd like to go out with Tiger Woods and "play a round."
*********** Florida quarterback Tim Tebow was awarded the William V. Campbell Trophy, given by the National Football Foundation to its College Football Scholar-Athlete of the Year.
*********** Dear Coach Hugh,
Funny you mentioned Jim Karvellas - I went to high school with his daughter, Jamie Karvellas. In Silver Spring, Md. Springbrook HS.
I agree with your comments re ripping coaches from the booth
Merry Christmas, friend!
Mike Talentino
Twinsburg, Ohio
Jim once hired me to be PR Director of the Washington Diplomats (yes, a soccer team).
http://www.coachwyatt.com/diplomatsoccer.htm (I never took the job.)
Great guy.
Wound up doing the Knicks' games.
http://www.usatoday.com/sports/2007-01-02-karvellas-obit_x.htm
*********** Just wondering if you read the comments from the AD at Notre Dame where he said it was important for college football that Notre Dame be playing for national championships? Are they really that pompous? College football seems to have been doing just fine without the Irish playing for national championships.
Arnold Wardwell
Creswell, Oregon
Coach,
I didn't read that, and frankly I'm guessing it was mostly for the sake of Notre Dame alumni and fans who have been reading and hearing a lot about Notre Dame's no longer being "relevant," and possibly motivated by the fear that the BCS people might no longer give ND special treatment, and that a Comcast-owned NBC might wind up shunting ND games onto some cable channel up in the 400's.
But I do think that college football would be worse off if Notre Dame really were irrelevant.
It's not unlike our situation on the West Coast. I don't care for USC, but I respect them because they are always the gold standard out here. And this past season, as USC continued to lose, a win over USC turned out not to mean as much to us Ducks and Huskies and Cardinal fans as we thought it did back at the time we beat them.
I don't care for Notre Dame's arrogance, which was compounded by the snotty attitude of Charlie Weis and that brat of a quarterback. But I have enormous respect for Notre Dame's history, and there have been times - especially during the Ara Parsgehian era, but also when Devine and Holtz and Willingham were in charge - when I actually found myself rooting for them.
Overall, I would like to see Notre Dame (1) hire a good man (one who didn't think the sun rose and set on him); (2) join a conference and stop insisting on special favors from the BCS; and (3) remain strong.
*********** How did the TV guys, alert as they are for the most trivial of trivia, fail to note last Saturday that Florida's DC was named Strong and Alabama's was named Smart?
*********** Good afternoon Coach Wyatt,

This is my 10th season running the DW using the materials I received from you. I coach a 7th grade feeder team for a local high school. We finished our '09 season with 6 wins-1 loss using the basic DW with QB under center. In our only loss we had a long touchdown called back because of an inadvertent whistle by the referee on the side opposite the play. This created quite a "teaching moment" for our young team. The only formation variation we used was unbalanced slot which caused our opponents problems because they often failed to adjust or they would adjust with only half their defensive line, leaving gaping holes for the Wedge and Power. The Wedge has always been a successful play for us but this year it was phenomenal. It was our leading play on both yardage and points scored. We made a couple of adjustments to our Wedge blocking that seemed to make all the difference – (1) we criss-crossed the WB's with good fakes, and (2) instead of having the TE's fold into the Wedge we had them shoe-shine the men over the offensive tackles (this stopped the leakage we were experiencing between the TE and OT because the TE was always slow getting there).

When my starting QB broke his foot the first week of the season and left me with only one kid who could operate under center, I was more or less forced to seek an alternative…enter the "Wildcat". I started slowly with it in practice, gradually working one of my WB's into the tailback role until it started to gel. I was hesitant to use it in a game but as luck would have it my second starting QB went down the first series in our next to last game against a strong opponent. We played the rest of the game using the Wildcat, won the game, and racked up almost 300 yds rushing (including a 50 yd Wedge play). We were able to run all our basic DW plays with little adjustment. We even put in a bit of "spin" action which really froze the LB's and DE's. At first we had the TB and FB up close and tried to make the Power handoff to the WB behind the TB. We had problems with this because our WB's kept going too deep and wide. So, we moved our TB and FB back one step (still crouching very low) and made the handoff inside to the WB. This worked very well and the "split action" seemed to cause problems for the LB's when the FB went one way to kick out the DE and the TB went the other way to make the handoff. The Criss-Cross Counter was a killer too.

How do you make the Power handoff in your Wildcat offense…inside or outside? I apologize if you have already answered this question in one of your tips but I couldn't find it.

Thanks Coach for all the help and advice you give to our coaching community, especially to the volunteer coaches like me who do it for the love of the kids and the game.

Sincerely,

Eddie Hughes
Blessed Trinity Titans
Roswell, Georgia
Hi Coach Hughes-
Good question. Here's what we've finally arrived at (remember, I was new to this when it all started back in 1997)-
(1) If we're running (or faking) power, the handoff is in front (inside)
(2) If we're running (or faking) sweep, the handoff is behind (outside)
"RIP" motion is the same - aiming for the heels of the B-Back. (we don't motion on power plays)
This past season, as we continue evolving, we frequently used one of our wingbacks as a flanker, and our powers and sweeps were all run by our "QB" (we called him our "K" or "Kat" back).
I'm glad things are going well for you, especially the wedge. The double-shoeshine makes good sense!
*********** Tired of whiners? Tell them to join a nearby Complain Choir. Evidently it's a fast-growing movement that started in Finland and has spread all over the world. Complaint choirs set complaints ("I hate my job... Nobody listens to me...") to music. God knows there's never a shortage of materials.
I don't know about you, but I laughed my ass off at the Philly choir ("Jersey drivers can't drive or park") - http://www.complaintschoir.org/history.html
*********** Two black coaches have been have been hired at places where a guy has a chance to be successful. Mike London is moving from Richmond to UVa, and Charlie Strong is moving from DC at Florida to Louisville.
*********** Tired of NFL players - Chad Ochocinco and Flozell Adams the most recent examples - who quite willingly incur penalties against their teams in order to further their own selfish agendas?
Me, too.
So I'm proposing that the NFL institute - immediately - a penalty for "extremely selfish conduct."
The penalty will not be yardage but time served. In a penalty box.
It's t ime for teams that seem willing to tolerate these selfish asses to have to pay a price for their tolerance - playing a man short.
I figure, for example, that Ochcocinco's cape-and-sombrero act is worth, oh, 10 minutes. (Or, just like hockey, until the opponents score.)
*********** NBA Commissioner David Stern actually said in an interview with Sports Illustrated that he believes women could be playing in the NBA within the next decade. Gimme a break, Commish. If you really said this, you are certifiable.
"I don't want to get into all kinds of arguments with players and coaches about the likelihood," he told SI. "But I really think it's a good possibility."
Enough, already. Stop feeding the "You can be anything you want to be/girls can do anything boys can do" crowd.
Surely you've seen how much talent - male - there is in Europe, in Australia, and in "developmental leagues," just itching to play in the NBA. Those guys are pretty damn good.
Call me sexist. Wow. I really care. But I guarantee you this, Commissioner Stern - whenever you choose your token female, I will go right out and within a half hour of landing at the airport I will pluck a dozen better players off the playgrounds of Philly (to pick just one city).
TUESDAY, DECEMBER 8, 2009- "Yesterday, December 7, 1941 - a date which will live in infamy - the United States of America was suddenly and deliberately attacked by naval and air forces of the Empire of Japan." President Franklin D. Roosevelt
*********** However you feel, about a playoff, you have to despise those bastards from the BCS after the way they took the two outsiders, Boise State and TCU, and cast them out into the desert - stuck them out by themselves in Tempe so there'd no chance of another Boise State-Oklahoma or Utah-Alabama embarrassment. Wouldn't want to risk having a "BCS Buster" beat the champion of a BCS conference, now, would we?
Damn! Two good teams with plenty to prove and no chance to prove anything.
*********** It ain't gonna happen, not the way BCS politics work, but after Texas' pathetic performance in the Big 12 title game, I would vote to put TCU - or Cincinnati, or Boise State - in the so-called Title game.
Writes Ivan Maisel - Texas coach Mack Brown spins so well that if he owned ice skates, he'd be favored to medal in Vancouver. Maybe when the disbelief evaporates and my jaw returns to its upright position, I'll return to thinking that the Longhorns deserve to play in the BCS National Championship Game. But the slapstick finish to the Nebraska game, coupled with the inability to put mediocre Texas A&M away the week before, are reason enough to believe that the wrong team from Texas will play Alabama.
I've said right along that Texas hasn't played anybody, and I continue to say that. Only five of the 13 teams they played finished with winning records. And only Oklahoma State and Missouri could be considered quality wins. Non-league? Wyoming, Texas-El Paso, Louisiana-Monroe and Central Florida. Scare me!
And of the automatic qualifiers for a BCS game plus the two qualified "outsiders," Texas is the only one that didn't play an opponent from another BCS conference.
Compare with Oregon: Purdue (plus Boise State and Utah)
Georgia Tech: Mississippi State, Georgia
Cincinnati: Oregon State, Illinois
Alabama: Virginia Tech
Ohio State: USC
TCU: Virginia, Clemson
Boise State: Oregon
*********** Perhaps the biggest reason Texas will be lined up across from Alabama is not because the Longhorns are better than Cincinnati, Boise State or T.C.U. It is because of Vince Young, Ricky Williams and Earl Campbell; brand names are rewarded for their history in modern college football. Pete Thamel, in Monday's New York Times
*********** Bellevue, Washington won the state Class 3A (second-largest) state title Friday night over Liberty High of Issaquah, 23-17.
Liberty had a spread offense and the guns to run it.
But Bellevue had the Wing-T. The Wolverines took the opening kick off and held the ball for 8:55, taking 17 plays to score and go ahead, 6-0.
After a Liberty three-and-out, Bellevue then drove close enough to kick a field goal.
The score at the half was Bellevue 16, Liberty 7. Time of possession for Bellevue was 22:09; for Liberty, it was 1:51. Liberty had run a total of SIX offensive plays.
*********** If any doubt remained that Charlie Weis was a Richard Cranium, first there was the supposed comment about Pete Carroll's private life, and then this...
According to the Chicago Sun-Times... A source close to Charlie Weis confirmed that the former Notre Dame coach would be interested in the Bears' offensive coordinator position if it were to become available after this season. Ron Turner holds that job with the Bears, though the offense's poor performance and quarterback Jay Cutler's struggles have led to speculation that the Bears will dump Turner.
If true, if he's actively trolling for another coach's job, he's a creep.
*********** Jimmy Clausen told ESPN.com on Monday that he is skipping his senior season to enter the NFL draft. He said made his decision after talking Friday with Charlie Weis and with his parents.
"Coach Weis told me whether he was going to be here or not be here, it was time for me to go. He thought I've improved so much since I came to Notre Dame. So, I'm taking his advice, and I'm going to head out," Clausen said.
Yes. And he's grown so much as a human being, too.
*********** I read some pre-game chatter among the players in the Civil War game (between Oregon and Oregon State) that it would have unexpected recruiting importance - they don't get many games live on TV in Samoa, but they do get the Rose Bowl!!!! Fantastic exposure for the Pac-10 team that plays in it. (Samoa, if you just arrived from Mars and don't follow recruiting, produces an astoundingly high number of Division 1 football players for its population.)
*********** Here's another Rose Bowl angle - wonder if Terrelle Pryor, who once had Oregon on his short list, watched the Civil War and found himself wishing he'd gone to Oregon where he could run that offense!
*********** Athletic director Jack Swarbrick announced Friday that Notre Dame has decided against going to a bowl game with a 6-6 record, citing "unique circumstances."
Hmmm. Notre Dame went to the Insight Bowl back in 2004 after Tyrone Willingham was fired, but the school accepted the bid before he was fired. (The Irish were beaten 38-21 by Oregon State.)
And it was only a year ago that the Irish went to the Hawaii Bowl with a 6-6 record - and beat Hawaii, 49-21, and reacted as if they'd won the Super Bowl.
Evidently the AD made the call. It should have been up to the kids - if they had wanted to play in a bowl game, they should have had that chance.
*********** I haven't read anywhere one of the main reasons why I disliked Charlie Weis - I would bet my bottom dollar that the excitement at the very thought that they could - gasp! - land him as their coach was the reason Notre Dame threw Tyrone Willingham overboard. In retrospect, isn't it reasonable to think that if he'd stayed, Willingham would have done at least as well as Weis did? Never forget that Weis' best years came with Willingham's recruits.
*********** Why is Notre Dame paying an AD if he then has to hire a search firm to find a coach - for the best-known program in college football?????
*********** It's that time of year again - that time when the networks begin to foist NFL announcers onto us and our beloved college game, so on Saturday we had to listen to Matt Millen (of Detroit Lions fame) blabber that as field conditions at the Pitt-Cincinnati game worsened, they'd have to use longer cleats. But not to worry, he said : "you can go from one-half inch to five-eighths inch to three-quarters of an inch."
Mais non, Monsieur Millen.
The NCAA rule book is quite clear on this matter. Should you ever open it, you'll find, on the list of illegal equipment:
e. Shoe cleats (Rule 9-2-2-d)—detachable:

1. More than 1⁄2-inch in length (measured from tip of cleat to the shoe)
*********** Nice to see Pitt wearing real blue again. Maybe the next step will be to return to the lighter blue and sunflower gold (and script "Pitt" on the helmets) of the Dorsett/Marino era.
*********** WTF? I really enjoy ESPN Game Day, but they really had no business inviting Little Lord Kiffin on and letting him take a shot at Urban Meyer. When The Brat was asked to make a call on the Bama-Florida game, he said he gave the "coaching edge" to Alabama.
*********** Sean McDonough, calling the Pitt-Cincinnati game, was caught with his pants down when Cinci relocated ace return man Mardy Gilyard in order to foil Pitt's plan to kickoff short. Gilyard was hard to miss. He's small and he wears dreads. And he wears jersey number 1.
*********** The Massachusetts "Super Bowl" game (how do they get away with using that name when the NFL sues churches that advertise "Super Bowl Telecasts?") between Austin Prep and Holliston was a classic. Austin, under coach BIll Maradei, is a classic Double-Wing team.
"We bang it out, bang it out and make the other team breathe heavy," Coach Maradei said. "We have to use every little thing we have because we don't have any big stars on this team. That's what we do in every game we play: keep it away from you so you can't score on us."
Seldom breaking the basic double-tight set, Austin rushed for 195 yards, spreading the carries among five different ball carriers.
But Austin also passed with the kind of efficiency great Double Wing teams are noted for: Five attempts, three completions (for 132 yards) two TDs.
One of Austin's non-completions was an interception returned to the Austin one yard line, which led to Holliston's second TD. To punch it in, Holliston - a spread team - jumped into the Double Wing.
*********** Congratulations to another Double Wing team, Catoctin High of Thurmont, Maryland, 37-12 winners over Joppatowne for the Maryland State Class A title. Special congratulations to Coach Doug Williams, in his 18th year at Catoctin.
*********** Ndamakong Suh is an absolute stud.
Colt McCoy was Chris Simms-esque.
I had thought CJ Spiller was overrated; I have changed my mind. GT's offense was pretty darned impressive too.
Christopher Anderson,
Arlington, Virginia
McCoy is Major Applewhite with more size and speed. McCoy did not have a great game against Nebraska - give the Huskers' defense credit - but he is so good that Mack Brown would probably even have been forced to play him ahead of Chris Simms. Probably.
Spiller is great, but a Heisman candidate? Give me a break. South Carolina was able to stifle him a week ago. He had a helluva game against GT - but he rushed for more than 100 yards only four times in 18 games.
Ingram? Take the Alabama-has-never-had-a-Hesiman-winner argument off the table and this one is a joke. How can a Heisman winner carry 17 times and gain only 50 yards (against Arkansas) or, worse, carry 16 times for only 30 yards (against Auburn)?
Toby Gerhart, on the other hand, had only two games under 100 yards - 96 against Oregon State and 82 against Wake Forest.
*********** I don't think that Tim Tebow has been the same player since his concussion.
And... is it my imagination - or has Florida's offense lacked imagination, since losing offensive coordinator Dan Mullen to Mississippi State?
********** Dad
1 - Bama absolutely opened a can of whipass on Florida. Impressive.
2 - Suh is the best player I've seen all year based on that one game.
3 - Colt McCoy nearly went down in history with the biggest bonehead play of all time.
Love Ed - Melbourne, Australia (Yes, they do get college football in Australia...)
PS I get Army-Navy live next week!
Suh was so good that I found myself watching him much of the game. If Nebraska had done a better job of making the nation aware of Suh, he definitely had a chance to be the first interior lineman ever to win the Heisman Trophy. Damn shame. He is worthy. You can actually enjoy a game just watching him and how opponents try to deal with him.
Good games most of the day. The worst were the most-ballyhooed.
I thought Bama-Florida sucked. Bama is really good, but I think that Tebow hasn't been the same since he came back, and I don't think that Florida successfully replaced Dan Mullen, the former OC who is now at Mississippi State. They miss Percy Harvin, too.
Texas-Nebraska had its suspense, mainly wondering how long Nebraska could keep the lid on Texas, since you knew there was no way Nebraska's offense was going to put together more than a first down or two.
I think Texas was exposed. McCoy IS their offense. I am prepared for a REALLY boring "National Championship" game with Alabama winning as efficiently as it did against Florida.
Pitt-Cincinnati was great, but Pitt, as it also showed against WVU, just can't get it done at the end.
Arizona-USC was a good game. 'Zona is really tough.
Washington and Locker were very impressive against Cal. The UW fans kept chanting "DON'T! GO! JAKE!" AND "ONE! MORE! YEAR!" I think there's a good chance the kid will come back.
Georgia Tech-Clemson was a hell of a game. Clemson couldn't stop the triple option and Tech couldn't stop Spiller.
*********** Mark Ingram - hell of a football player, but if he gets the Heisman, after the egg he laid against Auburn, it would seem that the Award is slanted in favor of players who play in conference championship games. So okay, then - be fair and wait until after the bowls are over to mail out the ballots.
*********** I was reading your news about how great the ESPN broadcast was of the Civil War.
I think another key to the great broadcast is the fact that we did not have to suffer through some guy in a booth calling timeout to review plays while the commentators argue over whether or not the call on the field was correct. I can't remember the last time I watched a college football game with no reviews.
Ryan Miller
Portland, Oregon
*********** Coach - I hope some of these College Football play-off zealots got to see the Oregon-Oregon St game tonight, What a scene at the end of the game, Don't know if it would be the same electricity and atmosphere if the Ducks clinched the # 8 or # 16 play-off seed. something special about clinching a PAC-10 Title and a Rose Bowl berth

John Muckian
Lynn, Massachusetts (John- It was also better because it was played at one of the campuses, instead of one of those "neutered site" games in Atlanta and Tampa and Dallas attended mostly by sponsors and big donors. HW)
*********** If you've been looking for a way to illustrate to your kids why to carry the ball in the correct arm, you have got to show them a clip of the Saints' bizarre search-and-strip of the Redskin' Kareem Moore, who had just made an interception and probably never imagined that that old bit of football fundamentals pertained to him.
*********** Speaking of which... how important is it to the NFL and its marketing to have the Saints remain unbeaten? You don't have to be the kind of conspiracy buff who believes that Barack Obama was born in Kenya to catch the smell of the all-but-scripted manner in which the Redskins-Saints game ended. Let's just put it this way - I saw the second Ali-Liston fight, the one in Maine that ended with Liston wallowing on the canvas, the supposed victim of a phantom punch, and the way the Redskins took a dive ranks right there with it.
*********** Years ago, I rmember a guy named Jim Karvellas, who broadcast the Baltimore Bullets NBA games, interviewing an official and saying, "I remember when you first came into the league - you weren't that good an official..." and the guy came right back with, "That's all right Jimmy - you weren't a very good announcer then, either."
I'm sick of hearing negative analysts - guys who've never coached - criticizing coaches. I was up to here all season listening to Mr. Know-Everything Jason Sehorn critique Army football, and I almost lost it Saturday listening to some fool commenting at the Austin Prep game in Massachusetts. "I don't like this call here," the guy said. "why would you have a right handed quarterback and roll him to the left?"
I wanted to say, "Well, I don't know, genius, and neither do you. We're not the coach. I could try to explain that to you, but you wouldn't understand."
*********** For those of you who wonder why I don't believe in kicking off deep - Pitt blocked a Cincinnati punt and scored to take a 21-point lead - and then gave the score right back, seconds later, with a kickoff return.
And they had scholarship athletes covering that kickoff.
I don't. Do you?
*********** Defensive coordinator Willie Martinez and two other Georgia assistants fired by coach Mark Richt last week declined the invitation to stay on and coach in the Bulldogs' bowl game.
Well, duh.
*********** I have a lot of (-----)'s stuff I want to pass a lot can I do that from your system and the double wing? I will work with (-----) right now trying to learn. I am sure I will be asking lots of question to you too. Thanks for getting back to me
(note: "-----" is the previous coach at his place. He is referred to by his last name only, which absolutely galls me.)
Coach,
You can pass very effectively from my system. By effectively, I mean when it is a good idea to do so. A Mass. team just won a state title (Super Bowl) by throwing 5 times, completing three, two for TDs. Let me be the first to tell you that whether or not you pass should be determined by whether it is a good idea to do so and not by whether you want to.
Which brings us to this point...
If you want to pass "a lot," I suggest you look elsewhere for an offense because in my opinion you will never be content running my system. You probably should get out and check out all the clinics you can to find out which passing offense you prefer. I wish you well. I am assuming that you have the kids to "pass a lot" and that you are capable of teaching them the necessary skills.
I do suggest though, whatever you do, that you refrain from referring to Coach (-----) as ( "-----.") As a longtime coach, it offends me.
It is disrespectful and unprofessional. Coach (----- )has worked hard to earn the title "Coach."
You will notice if you stay in this game long enough that we coaches use the term "Coach" when speaking to one another or referring to one another.
*********** A CAUTIONARY WORD TO ALL YOU FATHER FLANAGANS OUT THERE....
A little over a year ago,Michigan State running back Glenn Winston attacked an MSU hockey player, fracuring his skull.
Winston pleaded guilty to misdemeanor assault and battery and aggravated assault and In April was sentenced to 180 days in jail. He was also put on two years' probation and ordered to pay $1768 in fines and court costs, and told not to purchase, possess or consume alcohol or illegal drugs, not to enter ant bars, and to submit to urine testing at the request of his probation officer.
What do you know? Instead of serving 180 days (six months), Mr. Winston was released after four months - just in time for the start of football practice. Amazing the things they can do these days to speed up a young man's rehabilitation!
"Glenn has done everything that he's been asked to do from a judicial and a team standpoint," head coach Mark Dantonio said at the time. "He has paid the penalty for his actions -- publicly, legally and athletically -- and he worked hard to maintain his academic eligibility while doing so. We regret the entire incident, however at this time, it is important that we support Glenn socially, academically and athletically. He still has a lot of work to do."
Right you are, Coach.
And evidently he left a lot of work unfinished, too, because on November 22 - approximately 90 minutes after the conclusion of the team's awards banquet - Winston was one of several football players alleged to have participated in an attack on the members of a campus fraternity.
Coach Dantonio, no doubt shocked to learn that Glenn Winston missed out on all that rehabilitation, then kicked him and another miscreant off the team and suspended numerous others.
Alamo Bowl officials, concerned about inviting a team depleted by suspensions, were said to be reluctant to offer an invitation to the Spartans.
*********** Coach, In the past I have used your pancake drill for my player's 1st experiences of full-speed blocking and tackling (from your tackling and line tapes).
Unfortunatly, when we start our pre-season in February next year we most likely wont have access to enough shields/bags/etc to build ourselves a 'bed of padding' ...
Do you have any suggestions on what drills I could use instead, to ensure my players get a good 1st experience of tackling?
(Just so you know, we don't do any of this 'finding your hitters' rubish... we start really slow and close together and only move on once I am happy they are safe and have good form)
Thanks
Ben Armstrong
Berkshire Renegades Youth HC, England
Hi Ben-
Don't know whether you have access to a camping and outdoors store, but I know coaches who have purchased inflatable mattresses and used them in my pancake drill.
You didn't say whether you will have pads on, but since you are discussing using pancake drill, I'm assuming that you are, so here is a brief clip of a couple of my favorite drills. They are full-speed, high-impact drills, but they are done at short range so that there is a greater chance that they'll employ correct technique and a lesser chance of injury. Note that the pancake drill is the ONLY drill in which we take the "runner" to the ground.
http://www.coachwyatt.com/tacklingdrills.mov
It is VERY important that before you DO the drill, you TEACH the drill - in other words, VERY SLOWLY explain and demonstrate and take them through the drill and the things you are looking for - especially the key safety point of keeping the eyes (and therefore the head) up. More than the contact itself, stress the things that happen after contact: stress locking-up, and keeping the feet moving, and keeping the body between the runner and the goal line. It is hard to start out at full speed and then expect to correct their technique.
*********** Coach, Just a quick update on our Junior Midget team the Ogden Bears. We won the 2009 Eastern Regional Championship game in Jackson, NJ!

I felt the Wyatt DW was very important in our success. We used:

Your snap count
Shifting
multiple formation (right left etc..)
Unbalanced
G series
Power O and Power hand off (no toss)

Highlighs can be found at:

http://www.youtube.com/user/ogdenbears#p/u

Thanks again coach!

Coach Darryl Tinney
Rochester, New York
*********** You may know a young person - football player or not - who would be interested in a SUMMER LEADERS SEMINAR at West Point... http://admissions.westpoint.edu/moreinfo/SLS2010.pdf
Summer Leaders Seminar (SLS) 2010 will take place in two separate sessions 29 May-4 June 2010 and 5-11 June 2010. It will bring together approximately 1000 outstanding rising high school seniors from around the country for a six-day immersion into West Point. The Director of Admissions and the Dean of the Academic Board co-sponsor SLS. The program consists of daily morning physical training, academic classes, afternoon sports, a day of military training, administration of the Candidate Fitness Assessment (CFA), a West Point tour, and social functions. The academic program features workshops and class samplings from the Academy's curriculum.
All participants are housed in the cadet barracks and meals are in the Cadet Mess. Students pay their own travel expenses plus a registration fee of $350 to pay for food, workshop materials, and some West Point apparel. A total of 53 First and Second Class Cadets participate in the program and earn cadet summer training detail credit while serving as workshop chain of command down to the squad leader level and they are responsible for planning and executing all SLS activities.

Students apply for SLS online only at http://admissions.westpoint.edu/. There will be a link to "click" to apply for SLS starting 14 December 2009 and ending on 1 April 2010. Students are selected from among the top performers academically and in leadership potential as gauged by their extracurricular and athletic activities with consideration given to class composition goals. The SLS selection process is an abbreviated version of the West Point admissions process. Last year, we received over 3,500 applications for SLS and we anticipate similar interest this year. Generally, students invited to attend SLS will be competitive for admission to West Point.

Once a student applies for SLS, their status becomes "Pending." Upon review of their application, applicants will be placed into one of three categories: Offered, on the Waiting List, or Not Selected. Students invited to SLS in December and January will have until 1 March to accept, those offered in February will have until 1 April, and those offered in March and April will have until 1 May. The intent is to draw from the Waiting List as needed to fill the SLS class with the best 1000 students.

The SLS brochure, course descriptions and additional SLS information are located online at http://admissions.westpoint.edu/. Each SLS session will be a great week of academic, military, and physical excellence as well as providing many social opportunities. What better way for a student to understand our academy than to live it? SLS provides a unique overview of cadet life and a once in a lifetime opportunity for competitive candidates. SLS is the number one accessions program with nearly half of the attendees joining the next class of the United States Corps of Cadets and becoming future members of the Long Gray Line.

FRIDAY, DECEMBER 4, 2009- "As government grows, its increased power to grant favors or inflict pain attracts more people who would abuse the system." John Fund
*********** If you watched the President's address from West Point, and noticed that a few of the cadets in the audience appeared to be fighting hard to stay awake, it isn't fair to jump to the conclusion that they were bored by the speech or disrespectful of the President.
It's simply that b ecause of the demands on their time, sleep - or the lack of it - is an obsession with West Point cadets.
Those kids were up and at it at 6 AM, and with only a half-hour break for lunch, they were in their seats in the auditorium at 4 PM - for an 8 PM address. They had to remain seated the entire time. Conditions were conducive to nodding off - The seats were quite comfortable, and all the TV lighting made the room extra-warm.
Frankly, I think that long wait was a hell of an imposition on kids who squeeze every last minute out of every day and still come up short on study time. Supposedly it was all about security, but bear in mind that this is the same administration that doesn't seem to think it's a big deal that a couple of twits crashed an official state dinner. Besides, if the POTUS isn't secure at the United States Military Academy, then he's not safe anywhere.
Meantime, as West Point cadets fought off sleep, Florida defensive end Carlos Dunlap was catching up on his.
At the wheel of his car. In the middle of an intersection. With the car's engine running. At 3:30 AM. According to police, who did notice the smell of alcohol on his breath, he slept through "multiple green-light cycles."
He told police he had been at a "gathering," but I'm not buying. I believe that he was coming home late from the library, and he finally just gave in to the stress and demands of his studies.
All kidding aside... God, would I love to see that guy spend just one day at a service academy.
*********** If you stayed up to watch the Oregon-Oregon State game, you saw a great game. You also - in my opinion - saw the better team emerge the winner. Oregon should prove to be a worthy adversary for Ohio State in the Rose Bowl, and for the way he rallied his team after the opening game disaster against Boise State to go on to win the Pac 10 championship, Oregon's Chip Kelly gets my vote for Coach of the Year.
Best of all, it was a game televised the way a game should be televised. On nearly every play, ESPN used just one camera, from higb atop the action, that showed us the entire field of play - all 22 players - at the snap, like the game videos we coaches are used to watching.
None of this Hollywood-type crap that we get every Sunday, with tight closeups that deprive those of us who understand the game of the chance to see not only what's happening but what's likely to happen.
I don't know what got into them at ESPN, but it was the best-televised game I've seen in years.
*********** GPS is wonderful. It does a great job of getting people where they want to go. Ordinarily. But not always. A few weeks ago, a California couple, driving along the southern Oregon coast, wanted to get from Highway 101, which runs north-south along the Pacific Coast, to Interstate 5, which runs north-south about 40 miles or so to the east. So they took the advice of a navigation aid and headed eastward along the recommended route.
Uh-oh. Did I mention that the two highways are separated by the rugged Coast Range? And that the recommended route wound through those mountains? Hmmm. Evidently Garmin and Tom-Tom don't take into account elevation. Or snow.
And it wasn't too long before the outlanders found themselves lost, high in the Coast Range, in a couple of feet of snow. Fortunately, they were able to get cell phone service, and they were rescued by snowmobiles.
Last year, another California family attempting a similar shortcut ran into the same situation, but they weren't so fortunate. Dad left the car to go for help and died. Rescuers found the rest of the family still in the car.
*********** Just wondering... When Tiger swings, is it appropriate to yell "Get in the hole!"
*********** Hi Coach,
I saw you were impressed with the uniform make over in college football. Here's the link to them. I will confess my 11-year old son liked the TCU version.
Adam Wesoloski
Pulaski, Wisconsin
http://www.nike.com/nikeos/p/usnikefootball/en_US/rivalries09
Of course your young son would like it. That's Nike's point - appeal to young kids, who have nothing invested in a "storied program's" looks, and are likely to want a hot new shirt for Christmas. (Notice the timing?)
In addition, all the hard-core fans that make up the target market for team apparel already have at least one of everything of the old look.
It does piss me off, though, the way this represents today's everything-is-for-sale college athletics mentality. It is my position that there are certain things that no one has the right to peddle. I maintain that a school's football team, the same as its colors, its nickname, its alma mater and its fight songs, belongs to those who went there, not those who now play there or coach there or watch it on TV or buy its gear. Certainly not those who dress it.
While we're on the same subject... Welcome, fans all over America, to the Oregon experience --- WTF gooney outfits will they come out wearing in the Rose Bowl?
http://blog.oregonlive.com/behindducksbeat/2009/09/oregon_ducks_uniforms_so_many.html
Ironically, none of the options shown was what they wore in the Civil War.
*********** Grrrr. The bimbo reading the news on local radio announced the retirement of "Florida State coach Bobby BOH-den."
*********** CHRIS MATTHEWS: I saw if not resentment, skepticism. I didn't see a lot of warmth in that crowd out there, uh, that the President chose to address tonight. I thought that was interesting. He went to maybe the enemy camp tonight to make his case. I mean that's where Paul Wolfowitz used to write speeches for back in the old Bush days. That's where he went to rabble rouse the "we're gonna democratize the world" campaign back in '02. Uh, so I thought it was a strange venue. (That was Chris Matthews on MSNBC, referring to West Point - the United States Military Academy as "enemy territory." I can state unequivocally that although there may be some disagreement with Mr. Obama's policies, those people are respectful of everybody, even government leaders, and even when you and I might not think respect is warranted. HW)
********* It's way too premature for me to say this just on the basis of the Big Ten's first win in the Big Ten-ACC basketball challenge, but it does seem to me that the ACC's absurd addition of Boston College, Miami and Virginia Tech in hopes of strengthening it as a football conference has not only failed to do that, but may also have cost the ACC its position as the premier basketball conference.
*********** Back in the 70's, Temple had a QB who lit it up pretty good but never made it in the pro's. His name was Steve Joachim. Since you were associated with pro ball, I would imagine that you or some guys you knew in the scouting aspect of things, might have taken a look at him. Any reason that you were aware of that the guy didn't attract alot of attention or make it in the NFL?
Steve Joachim was pretty good and the Temple people who were pushing their kids (including their coach, Wayne Hardin) seemed to give us the idea that they wanted us to sign all their seniors, but Joachim was in a class by himself and was definitely going NFL - too rich for our blood, in other words. And in checking back, I see that he still had eligibility left, anyhow.
We did sign several Temple kids, including a backup QB named Frank DiMaggio. DiMaggio had a very strong arm - "a gun," as Hardin said - but the coach was infatuated with the starter, Jim "King" Corcoran. DiMaggio did stay with us the entire year, though. Another QB named Marty Ginestra didn't last so long. There was a little wide receiver from the Wilkes-Barre area who I liked but we were deep at wide receiver (including Vince Papale).
Hardin was way over the top in pushing his kids, and we signed a bunch of them, largely for PR purposes. One of them, Bob Paschall, started for us immediately at center at played well all season, but otherwise very few of them made it, even in the WFL - which says a lot for the job of coaching that Hardin and his staff did.
One guy from that group who did make a significant impact in the NFL was TE Randy Grossman who played several years with the Steelers. We had no shot at him.
*********** The Hofstra University board of trustees voted unanimously Wednesday night to drop the school's football program, which had been in existence since the Long Island school's founding in 1937.
"The cost of the football program (estimated to be $4.5 million a year), now and in the future, far exceeds the return possible," Hofstra president Stuart Rabinowitz said Thursday. He added that despite Hofstra having sent several players to the NFL, the program does not attract enough national attention.
"Given that, along with the low level of interest, financial support and attendance among our students, our alumni and the community, the choice was painful, but clear."
Rabinowitz noted that even on the Hofstra campus, there was little interest in the team. He said students were offered free tickets to games, but an average of only 500 students attended games at the 13,000-seat campus stadium, and that included cheerleaders and a pep band.
In November, Northeastern University dropped football after 74 years. Northeastern and Hofstra both played in the Colonial Athletic Association, four of whose teams (New Hampshire, Richmond, Villanova and William & Mary) are among the eight teams remaining in the FCS playoffs.
*********** Two different families... two different reactions to evil in their midst...
Several years ago, former Arkansas governor Mike Huckabee commuted the 100-plus-year sentence of a guy who then moved from Washington state. Other people have since passed up other chances to send the guy away, too - until Sunday, when out on bail, he murdered four police officers outside Tacoma.
Yet even after the guy announced to them that he had killed the cops, his friends and family provided a support group for the bastard, helping him hide from the manhunt.
"The man was charismatic," said a counselor who had dealt with the guy. "He had a whole community of family and friends. They loved him."
Right. And just because he murdered four cops, they're supposed to turn our backs on him?
Well, yes. Evil is evil.
Meantime, outside Portland, a guy killed his ex-girlfriend then turned the gun on himself. He hung on for a while. But the guy's brother, who lives in Texas and hadn't seen him since 1995, was not exactly supportive, telling police and hospital officials not to keep him on life support. "He committed a grave crime," the brother said, hoping that at least his brother's organs might be used to help someone else, so that "his life might have some meaning."
He summed things up very aptly, I thought: "He erased everything good in his life by this one act."
*********** Beware of the parent who thinks you don't give his kid enough playing time. Especially if you coach at a school where richbitch parents will spend the money to get the goods on you - which, in the case of a certain Portland high school basketball coach, turned out to be a DUI conviction.
The disaffected parent in this case hired a private investigator to shadow the coach. He may have felt he had good reason to do so, since the coach did have an earlier DUI case that was expunged from his record after he jumped through the usual hoops.
In any event, one night last year the investigator finally got her man. Not identiying herself as a private investigator, and giving only her first name, she made a call to 911 stating that a guy had just downed 10 drinks in a tavern and, despite the efforts of her and others, had gotten into his car and driven off.
And then she called back a few minutes later to say that he was in the drive-thru lane at a nearby Taco Bell.
Police responded, an officer pulled the guy over for some sort of minor infraction and, sure enough, he was over the limit. WAY over the limit.
Gotcha.
But after all the trouble the parent went to, the coach is still on the job - such is life at that high school, which excused the offense because it didn't happen while the coach was on the job.
The coach is aware of Dad's role in all this, so I rather doubt that the kid is getting significantly more playing time.
*********** My dark horse candidate for next Notre Dame coach: Mike Bellotti, former Oregon coach, now serving as Oregon's AD. This is his first season out of coaching.
Ohio State and UCLA took runs at him over the years, but Nike money kept him at UO.
Yes, yes, I know - he's got a good job now. But have you ever heard of a guy who got out of coaching and became an AD who didn't miss coaching?
*********** Next time you think somebody else has the world by the ass...
There's Tiger Woods... with youth, health, good looks, all the money in the world, the best golf game anyone could ever hope to have, access to the palaces of the rich and powerful, and a drop-dead gorgeous wife...
And it still wasn't enough.
Time to take stock of what you have, fellas, and in the famous words of long-time coach Frosty Westering. "Make the Big Time where you are."
*********** Regarding Toby Gerhart and the Heisman:
"It seems like 50 percent of the Heisman is preseason hype. Twenty-five percent is playing for an undefeated team. And 25 percent is what they actually do." Stanford coach Jim Harbaugh.
On not winning: "I wanted to help re-establish Stanford football," he said. "To make a difference. It's taken four years to do it. But that's the most satisfying thing."
On his hometown, Norco, California: "It's real country. People think of Southern California as hip and Hollywood-y. But my home town is isolated. And crazy for football."
*********** Take this guy's Heisman ballot away from him... NOW
By Mike DeArmond - Kansas City Star
I just sent in my ballot for the Heisman Trophy. And, as I do sometimes, I used my third choice of three as recognition for a player who has absolutely no chance of winning the Heisman.
This year that vote went to Danario Alexander, Missouri's senior wide receiver who in the last four games has finished with 200 or more yards receiving in three of them.
That means that - under the rules of Heisman voting - Alexander will receive one point.
My first choice, Florida quarterback Tim Tebow, receives three points from me.
My second choice, Texas quarterback Colt McCoy, receives two points from my ballot.
Until last Saturday, my third-place vote was going to running back Toby Gerhart of Stanford.
And Gerhart would still be worthy of my throw-away support. He ran for 205 yards, ran for three touchdowns and passed for another over the weekend.
Alexander receives my vote not because I cover Missouri football, but because people who rise from the ashes of three knee surgeries and have to wait around until their senior seasons to show the world what has been hidden inside deserve to be recognized.
It may be the only vote Danario Alexander receives for the Heisman Trophy.
And if so, I'll be darned proud to have been the person to cast that vote.
Alexander may not have been the best football player in college this season. But he was for sure the best receiver in college football this season.
And perhaps the best wide receiver I've ever seen in college football.
Holy sh--! Guy gets a Heisman vote and he turns it into a sympathetic, Feel Good Award.
*********** Coach:

I haven't taken the time to update you on our past season and wanted to let you know of our successes thanks to your Double Wing and the use of the original Wildcat formation. I don't think I mentioned the fact that when I inherited the program it was in disarray...in 2007 we were outscored 442-6 for the year, and in 2008 439-6. However this past fall we went 2-7 and were outscored 116-314, which was actually the 8th best turnaround in the state!. That probably sounds like a disaster to most coaches and communities, but for the first time in nearly a decade there is some excitement about playing football in our building, because those 116 points all came on the ground and represented the hightest season total in 8 years.

Next year, we will be heading into a newly formed conference with schools our size and the kids are expecting and working towards a playoff berth. Another highlight this past year was that we used the Wildcat to amass 472 rushing yards in 1 game...a new school record. Our kids, staff, and community love the double wing and appreciate your work even though they haven't met you, I always take care to mention your name when talking about our offense. Just wanted to give credit where credit is due.

On your comments about my beloved Meeechigan:

I grew up watching Bo's teams and understood that there was one way to play football...run the ball, stop the run, don't drop the stinkin' ball, tackle and knock the ball loose. I loved watching that style of play, and I love coaching in that way now. With that said, I made the mistake of going to watch M play OSU in Ann Arbor and was appalled by a few things:

1. Scarlet and Gray gear was everywhere! So many OSU fans were there that after the final gun had sounded the Bucknuts were rightfully chanting "This is OUR HOUSE"!

2. Running the ball, and not turning it over apparently don't mean much to the spreadaholics out here, because everybody knows that spread teams can make it up in a hurry and pile on the points...right?!?! So why worry about ball security...even in your own endzone!

3. You can't ever expect to stop a solid running team on gameday if you never see one in practice.

4. Tackling by many teams (and sadly the boys in winged helmets) looks like a padded version of a New York City mugging...one guy to grab you and another one to snatch your wallet or 'strip' grandma's purse. In short it is cowardly and ineffective because it says to the runner that one man can't bring you down!

Take care,

Jeff Degner
Head Coach
River Valley High School
Three Oaks, Michigan
(I LOVED the comparison to the NYC mugging/purse-snatching! That is EXACTLY what a lot of today's "tackling" looks like. Oh, dear. Does that make me a racist? HW)
*********** Was just reading your blog today and wanted to let you know that Clemson ad for CJ Spiller cost $128,000. As a Clemson fan I'd rather have that as a bonus to hire a new offensive line coach or at least a strength and conditioning coach that put an emphasis on not letting the OL become total fat asses.
And also as a fan of Tom Osborne and how he ran his offense/program I can tell you that Nebraska did indeed line up in the Double Wing in 1997. They lined up that way several times that year, though with wide splits.
Wilson Hawthorne
Columbia, South Carolina
*********** I ran into a guy in downtown Portland last week and we got to talking football. He's from Concinnati originally, and very knowledgeable about Ohio high school and college football. Said he's opposed to a college playoff because the BCS is doing its job: "College football is all anybody I know is talking about... so it must be working."
*********** "You're a very polarizing figure," said Chris Fowler to Tim Tebow last Saturday, no doubt referring to the objections of some people to the way the kid refuses to hide his faith funder a bushel.
Polarizing, is he? You mean because millions admire him for his athletic ability and his leadership and his willingness not only to profess his faith but to live it, while a relative handful resents his success and can't deal with the fact that they'll never be the person he is?
That's not polarizing.
Hillary Clinton is polarizing - people either love her or they hate her.
But Tim Tebow? Polarizing? You may think he's a goody-goody or a Holy Joe, but if you hate Tim Tebow, you are one sick puppy.
*********** "I don't like Utah," BYU's Max Hall told the media before the BYU-Utah game last week. "In fact, I hate them. I hate everything about them. I hate their program, I hate their fans, I hate everything.... I think the whole university, their fans and their organization, is classless. They threw beer on my family and stuff last year, and they did a whole bunch of nasty things, and I don't respect them, and they deserve to lose."
Oooo, Max. Chill. You need a dish of ice cream.
*********** I used the technique you mentioned (lie on the ground, kick the bottom of the heel) stopping a bloody nose on one of my players. Worked perfect!
Matt Bastardi,
Montgomery, New Jersey
(Matt's brother, Joe, is a world-renowned meteorologist/climatologist in State College, Pennsylvania. I'd love to hear his take on the fraud and deceit that we have recently learned has been the pretext for all the energy/environmental sacrifices we are told we MUST make or "the planet" will go all to hell. HW)
TUESDAY, DECEMBER 1, 2009- "The person who has nothing for which he is willing to fight, nothing which is more important than his own personal safety, is a miserable creature and has no chance of being free unless made and kept so by the exertions of better men than himself." - John Stuart Mill
*********** I really enjoyed watching the Grey Cup game, the game for the championship of the Canadian Football League.
Trailing the entire game, and behind 20-10 going into the fourth quarter, the heavily-favored Montreal Alouettes defeated the Saskatchewan Roughriders at the final gun, 28-27. Well, actually, after the final gun.
Behind 27-25, in 40 seconds the "Als" drove into position to attempt a 38-yard field goal on the game's final play - and missed.
The crowd, mostly Saskatchewan fans - the game was played in (relatively) nearby Calgary - went wild.
But wait -
Saskatchewan had too many men on the field. The game can't end on a penalty against the defense, and on his second attempt, the Montreal kicker drilled it, right down the middle, and Montreal led for the first time all day.
Talk about a swing in emotions.
While the Alouettes and their handful of fans exulted, the Saskatchewan players staggered off the field, as their green-clad adherents sat stunned.
*********** Tossing the coin for the Grey Cup game, we were told, was "The Honourable Norman Kwong, Lieutenant Governor of Alberta."
No, I thought - it can't be. That can't be Normie Kwong.
I remembered that name from when I was a boy, when the CFL was a viable competitor of the NFL, and we'd get news reports from up north about star CFL backs like Jackie Parker, and Johnny Bright, and Leo Lewis. And Normie Kwong, a native Canadian who was as good as any running back in the league.
Yup. The same Normie Kwong. The first Chinese-Canadian to play in the CFL, Normie Kwong played three years with Calgary and 10 years with Edmonton, and in his CFL career rushed for over 9,000 yards and scored 93 touchdowns.
He was on four Grey Cup championship teams, was twice named CFL's outstanding Canadian, and in 1955 was named Canadian Athlete of the Year.
Successful in real estate, Mr. Kwong was one of the original owners of the NHL Calgary Flames.
*********** Although they have their mindless bimbos, too ("Walk me through the final series..."), the Canadian TV guys could teach our networks a thing or two about covering a big game - particularly the aftermath. They stayed on the field and let us see the celebrations, and never went to commercial.
*********** As with big games in the US, the Canadian TV people took us into the opposing pre-game lockerrooms. Montreal coach Marc Trestman, who is thin and studious-looking, was quite soft-spoken in his talk. But at the end he got me to sit up straight when he said to his players, "We're 16 and 3 and we're entitled to what???" and his players responded, in unison, "NOT A THING!"
VANCOUVER (WASHINGTON) CHRISTIAN HIGH SCHOOL'S BLACK LION AWARDS
| | |
| --- | --- |
| | |
| Vancouver Christian's Black Lion Award winner Caleb Millay with Mom Dori and Dad DJ. Caleb's older brother Sean, now in the Air Force, was also a Black Lion | Vancouver Christian's captains, Justin LaCasse (on left) and Caleb Millay presented me with a memento of all the work we did together in the off-seasons |
*********** Said a TV guy about Tim Tebow, "I think he could be a quarterback (in the NFL) if they'd give him three or four years to re-tool his technique."
Hahahaha. Who, in today's NFL, is going to give anybody three or four years? Hell, think how much better Matthew Stafford would be if they'd give him three or four years.
Actually, in view of the difficulty they've had in fitting Vince Young into their system - and almost certainly will also have with Tim Tebow and Colt McCoy - I wonder how many NFL types have given any thought to whether it might be their game that needs retooling.
*********** Damn. Here I donate $100,000 to the Obama 2012 campaign in hopes of getting an invitation to a state dinner at the White House and this couple from Virginia just walks right in.
*********** UConn's Randy Edsall, asked about the possibility of taking the job at Kansas, put the questioner, some guy named Quint Kessenich, in his place by saying, "I feel bad because there's no opening at Kansas."
Quick observations on Saturday on TV...
*********** MIami with green and orange numbers, the green gradually changing into orange. Oh, hell - you have to see it....Virginia Tech with the same effect, only with maroon-and-orange numbers. And WHITE helmets,
*********** It's hard for me to dislike USC after the Game Day feature about a young football player going blind and his love for the Trojans.
*********** Things are tough at UCLA. Cheesy, cheesy powder blue shirts, with plain white stripes and numbers and no gold trim whatsoever.
*********** Did anyone catch the grim, black-on-gray helmets that Missouri evidently picked up at an Russian Army surplus store in Kansas City? They'd even look bad on a radio broadcast.
*********** Give credit to LSU for coming back after that disastrous ending last week. But what were they wearing? I sympathize with LSU's wish to wear white jerseys even at home games, in accordance with long tradition. But those white jerseys? And those gold helmets? Sheesh. That's what they wore back when they were bad.
*********** Doc Walker (Duke-Wake Forest on ESPN Game Plan) engages in way too much playatalk ("get a helmet on him")
*********** Eric Collins (Kentucky-Tennessee on ESPNU) is a screamer. Hell would be spending eternity listening to him call home runs.
*********** In my opinion, Brent Musburger and Kirk Herbstreit are the class of the business
*********** Rick Reilly writes that NBA's Kenyon Martin has so many tattoos that his skin is "a kind of human bathroom stall."
*********** The SEC absolutely ruined the ACC championship game, first with South Carolina beating Clemson and then with Georgia beating Georgia Tech.
*********** Did you stay up late enough to watch Toby Gerhart? Did you? Did you?
Did you see what I've been saying about that kid?
There were comparisons to Earl Campbell, as he ran around, through and over the Irish defenders on his way to a 200+ yard game.
The TV cameras kept showing us the kid's dad, who looked like a - football coach. Which is what he is.
For the fourth week in a row, Notre Dame showed an inability to stand up to a stout running game.
Boy, I wish I could have asked Stanford coach Jim Harbaugh just one question after the game. Actually, it woiud be more a statement than a question: you mean to tell me with a back like that and first down on the Cal 15 and the Cal defense sucking air you still think it was smart to throw the ball?
*********** Time to brag about a couple of Northwest kids...
Nebraska's Ndamukong Suh. He went to Portland's Grant High, which beat us (Madison High) for the city title in 2004. Uh, he was pretty good. Seemed like a nice enough kid, so it's good to see him enjoying success at Nebraska as perhaps the nation's top defensive lineman.
Boise State's Kellen Moore. Got to like him. He's a coach's kid from little Prosser, Washington, a perennial small-school power.
************* Skippy evidently will never grow up.
Even after the way he screwed up the Washington program, I was starting to give Skippy - Rick Neuheisel - the benefit of the doubt, starting to think that maybe he was growing up.
And then...
There USC was, at the UCLA 48 with 54 second left. The Trojans led 21-7.
The Trojans, in a sign of mercy, took a knee.
At which Neuheisel, in a sign of - what? - called a time out.
The crowd booed. Neuheisel had two more timeouts, and apparently intended to use them.
"What the f--k?" Said USC's Pete Carroll.
Okay, okay. I made that up. What he did say was, "So Skippy wants to keep playing, does he? Okay, then - bombs away!"
Okay, okay. I made that up, too. But whatever he said, on the next play, Matt Barkey went deep for a 48-yard touchdown.
And then the bad feelings bubbled to the surface.
Said Neuheisel afterward, "I don't forget very much."
Said Bill Plaschke of the L.A. Times, "Here's guessing he'll want to forget this one," adding, "On this night, the brat who called a timeout needed to be put in one."
************* SI probably jinxed Alabama's Mark Ingram's Heisman hopes with its feature story on Ingram and the lengths to which his father goes to see him play. The writer tried to make a nice, warm story out of it, but it's not exactly a "Blind Man in the Bleachers" kind of story. His father's in prison because he (don't they always?) made some "bad decisions."
*********** I beat him to it long ago, but he's got the microphone and he can make more noise, so all credit to Tim Brando on CBS - "I'd like to say a word about these incredibly bad uniform decisions being made... all for money."
*********** Clemson's C. J. Spiller, a late entry to the Heisman race, returned the opening kickoff for a touchdown against South Carolina. And then the Gamecocks took over, and that was that for the Tigers and C.J. Spiller's Heisman hopes.
By which time it was probably too late for the Clemson booster club, "IPTAY" (I Pay Ten a Year) to cancel the full-page, full-color ad it bought in Monday's USA Today lauding Spiller and his accomplishments.
*********** I'm sorry, but despite all the nasty tough coming out about Mark Mangino, I felt sorry for the guy. HIs kids played their tails off and they've got a 3-point lead. There's 2:45 left, and Kansas, winning 39-36, is backed up on their own 2 or 3. They drop back a couple of times and then the QB runs out of the end zone and up the middle. Couldn't tell whether it was a scramble out of the pocket or a called QB draw, but either way, he didn't make it. Safety. Now it's a one-point game and Kansas is kicking from their own 20. Game over.
*********** I sure hope Notre Dame signs Jon Gruden, because I think he has the potential to Maddenize even faster than Madden himself did.
*********** I've said in the past that I didn't think an undefeated TCU or Boise State should get a BCS spot ahead of a one-loss team from a BCS conference.
But guess what? There aren't any one-loss BCS-conference teams, and I do think that undefeated TCU and undefeated Boise State have earned BCS-bowl spots.
But wait - not so fast, my friend. If you'd like to see TCU and/or Boise State in a BCS game, you'd better be pulling for Texas against Nebraska. That's because if the Cornhuskers win, they'll get the Big 12's automatic BCS berth, and Texas, with only one loss, would be certain to get one of the BCS spots that could otherwise go to TCU or Boise State.
*********** Coach Wyatt, Did you see Nebraska running the Double Wing at the end of their game with Colorado? The announcer called it "the victory formation" and was surprised that the Huskers ran a few plays out of it. As soon as they lined up I screamed, "It's the Double Wing!" It was definitely "misdirection," as in "They're going to take a knee and go home."
Jim Franklin
Flora Indiana
Coach- I didn't see it. I try to keep four games going on with two sets and I guess by then I'd moved to another game. Sorry I missed it. Wonder if they tightened their splits???
Coach,
Thanks for the quick answer. Originally I wrote that they DIDN'T tighten the formation, but cut the comment out before sending it to you. Nebraska* ran their last three or four plays out of the formation.
Love your comments about Meeeechigan. My son goes to Purdue. He is a Computer Graphics Technology major. Interestingly, former Purdue QBCurtis Painter was also a CGT major, and he DID go to class from what I heard.
The Big Ten Network had a few extended interviews with former Michigan coach Lloyd Carr after he retired. He stated that he sat down with each player at least once a semester and reviewed their grades and attendance with them. Maybe that's standard stuff for college football, I don't know. Honestly, I really liked what I heard concerning education. Maybe THAT was his downfall.
Coach, Lloyd Carr represented a tie to the Bo Schembechler era. To all the Meechigan people who appreciated what Bo had done to keep Michigan above reproach, letting Lloyd go and hiring a guy whose contract at another college called for an enormous buyout was symbolic of cutting ties with Bo's way of doing things.
I do believe that Carr did things like meeting with his players individually and going over their grades and class attendance. That sounds like Bo, too. I do know that Bo had a firm open-door policy allowing any player who needed to talk with him to see him - any time. He instructed his secretaries to interrupt any meeting he was in if a player ever needed to see him.
Since you mentioned Nebraska, you know the headaches they caused themselves by bringing in a hotshot AD who very quickly let longtime Nebraskan Frank Solich go (his last team won 9 games) and then hired Bill Callahan, a man with no ties to Nebraska who showed an all-time lack of good judgment by taking a shot at Tom Osborne. In Nebraska yet. In Kansas maybe you take a shot at Tom Osborne, but not in Nebraska. Nebraska is still fighting to come back from that train wreck. (I'm sure Tom Osborne, by the way, would have had them in a Double-Wing at some point.)
*********** According to a story by Daniel Kaplan in Sports Business Weekly, the United Football League lost some $30 million in its first year of operation, a loss about 25 per cent higher than the league's founders projected before the season.
The loss works out to about $2.3 million a game for each of the 13 games played by the league, including its championship game.
Average attendance was under 10,000 a game, less than half of the projected 20,000.
If there's any bright spot in the bad news, one of the biggest investors in the league is Nancy Pelosi's husband.
********* Was this soccer I was watching, and not football?
I swear I was watching NFL Red Zone, and there was a player named Chavez, lying on the ground in obvious pain. Oh, dear, I thought. This guy is hurt. Out for the season, probably.
Not long after, a fellow from the other team, "Williams" by name, also went to the ground in pain, and had to be helped off the field.
They were both wearing football uniforms - "Chavez" wearing the uniform of the Jets, "Williams" the uniform of the Panthers - yet in the great soccer tradition, where guys writhe on the ground in excruciating pain, are tended to and taken off as if critically injured, both Rob Chavez and DeAngelo Williams magically returned to the field only minutes later.
*********** Coach Wyatt, My name is Dave Dempsey - met you the last 2 years at your Philadelphia clinics. This year a young man I coached in the late 70's came to learn all he could. You even put our picture on your April 14th newsletter from your clinic. I am pleased to say he took a downtrodden program/team from Allentown, N.J., installed the DW and led them to a 10-3-1 record that was capped off yesterday with a 13-12 win in the Garden State Pop Warner games played at Rutgers University stadium. The Garden State games are for all league runners-up and runs for 3 weeks. He won 3 games in the playoffs and each week was a big "underdog", especially yesterday against Asbury Park. His team was at the Junior Midget level (11-13 year olds). Jim Cadigan studied your materials, called me twice a week minimum for advice (we live 100 miles apart and I have my own team) and we even visited each other on occasion to do film study. While my team had a respectable season, I felt I had a vested interest in Jim's program ever since he ran into me last winter and asked about the DW. I think I was more proud and choked up than some of his parents about his leadership accomplishments and the results they produced. I know he idolized you since the day he met you and he was able to take his 4 parent/coaches and get them to "buy in" to the system which they also now swear by. Just thought you would be interested. Dave Dempsey Millville, New Jersey (Thanks a lot for writing and telling me about Jim Cadigan's success. I remember that he was proud to be identified at the clinic as one of your former players! It is a great thrill to be able to help someone you know and like and see him succeed, and you have a right to be proud of Jim's success. Thanks again for sharing that with me! HW)
*********** Notre Dame players were reportedly meeting Monday to vote on whether they want to play in a bowl game. To think that a more-deserving team could get aced out of a bowl spot in order to make way for a coachless Notre Dame team, 6-6 and sporting a four-game losing streak. The Irish should stay home and put an end to this Weis/Clausen soap opera, one that was prolonged by last year's bowl game and the self-delusion Irish worshippers allowed themselves to indulge in after that epic win over Hawai'i.
*********** Whew. Think Steelers' coach Mike Tomlin doesn't have himself a giant problem? Every day there's another article about the NFL's increasing concern about concussions, so what does Hines Ward do? Why, Hines Ward goes on national TV and all but says that Ben Roethlisberger is jaking it, that the team is split 50-50 on the subject of whether Roethlisberger should have played in Sunday night's game, concussion or no concussion.
*********** Clay Travis, in ncaafootball/fanhouse, wrote...
If Boise State and TCU wanted to play an unscheduled game against each other, could they?
I was sitting around doodling in the dentist's office the other day, when I wondered about this. What if both teams decided to play the weekend after the conference championship games? I mean, Boise is already playing 13 games this season so what does one more, a cool 14, hurt?
If Boise didn't already have a game scheduled on Dec. 5, they could have played against each other and tried to stick a thumb in the eye of the BCS rankings. Regardless, wouldn't it be great if two small conference teams agreed to a playoff-level game just to spit in the eye of the BCS?
And then got a major corporation to sponsor the game and award the winner the national championship?
*********** Hugh, Hope you had a great Turkey day. Had to comment about the Texas - Texas A&M game. Glad a kicker put the final nail in the coffin by missing one instead of making one. Neither QB deserved to be the goat in that one. I too was impressed with Colt - how could you not be. BUT - the kid from A&M out passed him and ran for around 100 as well. He is a stud. And number 33 from A&M is a true freshman and runs EXACTLY the way I'd want a guy to run. His pad level and acceleration through contact should be bottled and sold. He would be perfect in the double wing!!!! I came away from the game very impressed with A&M, they have talent there. If Colt doesn't win the Heisman it is a royal shame. They said he is the winningest QB in the history of college football. John Dowd, Caledonia, New York.
I wasn't expecting much of a game, but it turned out to be a great one.
Jerrod Johnson played a hell of a game, and so did A&M's 33. And they have some guys who can catch, too. And play a little defense. I would have to say the Aggies are going to be a force next year.
You know there is something wrong with the NFL's product when it places a higher value on a Jimmy Clausen than on a Colt McCoy or Tim Tebow.
*********** A Jets' receiver reached out with the ball to penetrate the magic hymen that protects the goal line - and fumbled. The poor thing, said the announcers. All they could do was commiserate. Not a word about his damnfool stunt. "What do you tell the young man?" one of them asked.
Why, simple, I wanted to holler into the TV set. You just bring him over next to you on the sideline and put your arm around him so that everyone in the stadium can see that you feel bad for him, too, and you whisper in his ear, "HANG ONTO THE F--KING BALL!"