FRIDAY, FEBRUARY 26, 2010- "An oppressive government is much worse than a man-eating tiger." Confucious
SOUTHERN CALIORNIA CLINIC ANNOUNCED - MAY 1 IN THE SANTA CLARITA/VALENCIA AREA - CAROLINAS CLINIC APRIL 17 IN DURHAM NC-- FOR MORE INFO - CLINICS - NOW TAKING PAYPAL!
ON THE ROAD - SEE YOU AGAIN FRIDAY, MARCH 5!
*********** Remember when Michigan used to be good in basketball? Really good? It's been a long time, hasn't it? So long that maybe some of you don't even remember. What you see out on the floor today is the long, steep climb back from the depths of NCAA sanctions.
That that could happen to Michigan football was once unthinkable.
But that, says the Detroit Free Press in an editorial, could be where the football program is headed if the latest NCAA charges of cheating and, worse, a lack of institutional control are true...
Some excerpts...
Those are damaging charges. They're about the culture and the defining principles at the university. They're about what kind of football program the state of Michigan has at its premier university.

For decades, the university has held itself up as the standard-bearer for winning while doing it the right way. Michigan doesn't bend the rules, let alone break them, was the story.

Of course, you can say that all you want, and U-M has never been slow to chest-thump over its football program's clean reputation. But it's meaningless if it's not girded by action and a strong culture that promotes those kinds of values.

And if significant stretches of the NCAA's allegations are to be believed, the university has fallen pretty far away from the kind of control that it was reputed to have in years past.
The whole editorial... http://www.freep.com/article/20100224/OPINION01/2240426/1054/SPORTS06/Get-back-to-doing-things-the-right-way-at-U-M
*********** There was Welcome Back Kotter, and Kindergarten Cop, and there might be a movie, or a TV series, in the story of Brad Ecklund, who died last week. Ecklund, a former Oregon Duck and NFL player, spent a long career as an NFL assistant and then, after retirement, spent his remaining years as a substitute teacher in New Jersey schools...
http://www.philly.com/philly/obituaries/20100210_Brad_Ecklund__former_NFL_player_and_coach.html
*********** In Portland this week, a spokesman for the Portland Public Schools told the Portland Oregonian that "the district is working on a plan to make its high schools less socioeconomically segregated by redrawing attendance boundaries soon."
The paper quoted the guy as saying,
"The main reason for doing this is that it gives your students more of a real-world perspective that will make it easier for them to navigate society in general once they leave school."
Leaving aside the eduspeak that gives us bizarre terms like "navigate society," I submit that it is fools like this who are responsible for the derelict condition of our big cities' public schools by viewing them as social laboratories, when most peoples' "real-world perspective" (and who better to lecture us on the real world than a career educational administrator?) has always been to work hard to improve their condition - to "navigate society" - by steering clear of its flotsam and jetsam, even when that meant moving out of a city and away from its schools.
*********** More on Lane Kiffin. Say what you want about the guy, he's got a great-looking wife.
But I predict that the Kiffin marriage is headed for trouble.
See, Mrs. Kiffin is the daughter of former Florida (and NFL quarterback) John Reaves.
At Tennessee, Kiffin's quarterback coach was David Reaves, his brother-in-law.
When Kiffin left for USC, he hired another QB coach. He did not take David Reaves along with him.
Hmmmm.
*********** Hey Coach,
I have been to a number of your clinics. Just found out that I will be moving to Olympia Wa. One of the first things I thought about was Hugh Wyatt! Are you still coaching a team up there? If so I would really like to see one of you games this year. I have 6 kids, my youngest is 8 (boy) I have been coaching 19 years all football. The last 10 years or so have been using your DW system. I have had nothing but success using your system. Age levels include 7-8 year old and on up to the varsity HS. (OC at HIghland High School Palmdale CA and Lancaster High School Lancaster Ca. both in the Antelope Valley SO Cal).. Your system has brought a lot of fun to my life to say the least! Still have 4 at home. Still have more coaching years. Hopefully I will find something in Olympia.
Thanks once more
Hope to see you in action.
Don Means, Palmdale, California
*********** When he finally admitted last month that he used steroids, Mark McGwire said it was only to help him deal with injuries.
Not exactly, says his young brother, Jay, in "Mark and Me: Mark McGwire and the Truth Behind Baseball's Worst-Kept Secret," which is scheduled for publication Monday.
"I know that the main motive to justify taking steroids was healing," Jay McGwire said in an interview with The Associated Press. "I know that for a fact. But in the long run he knew the strength and the size and endurance will increase. I don't know why he's coming across that it was all healing.
"He knows his game went to the next level because his body went to the next level," Jay McGwire said. "He knows. The body, the before and after pictures, are amazing."
Jay McGwire says in the book he persuaded his brother to start using steroids regularly in 1994 and set him up with a supplier.
*********** To hell with the Olympics. There was better TV in Washington Thursday...
**** What a study in body language was Barack Obama. Watching the President of the United States looking bored, petulant, disdainful or preoccupied while Republicans were talking, the teacher in me (or the parent) wanted to snap my fingers and say, "Barack Obama! Look at people when they're talking to you!"

**** When one Republican complained that the Democrats were getting almost twice as much face time as the Republicans, Mr. President looked mystified, then suddenly it seemed to dawn on him - "Oh. I see how you're figuring. You're counting me in with the Democrats. But I'm the President."

**** Barack Obama to John McCain: "We're not campaigning anymore. The election's over."

John McCain to Barack Obama: "I'm reminded of that every day."

**** This is what we have to look forward to when Big Brother takes over --- After a morning of posturing, the people who propose to take over our nationa's medical care system broke for lunch, and then, in true government fashion, started the afternoon session 20 minutes late.
*********** Coach:

I'm not in the practice of categorizing coaches as good or bad, time always reveals a man's true character and coaching ability. With that said, knowing how much time it takes to patiently and properly implement a run-oriented offense, is it any shock that a spread/passing team would need the extra time and coaching, such as is alleged at Michigan?

As a lifelong Wolverine fan, I can't believe how quickly folks have forgotten about the 1997 Championship (okay, "split-title" to the Husker faithful) and the fact that U of M essentially ran about 10 different offensive plays! Of course, they were multiple in formations, forcing different alignment problems for opposing defenses, and played tough defense themselves. Gee, I think I've heard of that winning formula somewhere before...

In any case, there's no other word to describe how I'm feeling about this report except, ashamed. How could Bo's program get to this point?! Win at all costs...no, wait, they haven't done much of that since Lloyd retired!

Maize and very Blue in Michigan,

Jeff Degner
Head Coach
River Valley HS
Three Oaks, Michigan
(Coach, it is sad that a school that used to win consistently without a hint of a scandal finds itself in a mess like this. I must say, though, that it was a mess of their own making. They didn't have to go out and buy themselves a coach. There is no question that Rich Rodriguez can win, but in my opinion he was a bad fit at Michigan. His leaving West Virginia was unseemly and it made Michigan look predatory. And on top of it, his record has left Michigan a laughing stock. The program is so low that the guy will have to win his first eight games in 2010 to get to .500. HW)
*********** Tony Kornheiser was on PTI (Pardon the Interruption) criticizing the getup of fellow ESPN talent Hannah Storm. Said she was on the air wearing a "horrifying outfit." Said her skirt was "way too short for somebody her age." And concluded with, "She's what I would call a Holden Caulfield fantasy at this point." (Holden Caulfield, the hero of "The Catcher in the Rye," was, like most adolescent males, quite a bit interested in sex.)
Bad Tony! Bad! ESPN immediately gave him two weeks off.
Asked if his real sin had been talking bad about a fellow ESPN staffer, an ESPN spokesman named Mike Soltys said, "Yes. Respect for colleagues is paramount."
Well, yeah. But after watching the way the "colleagues" rallied around that poor victim Craig James, we already knew that.
*********** I heard someone jumping on Kornheiser, saying "what if that had been your daughter?" and I wanted to say, "My daughter would have gone out in public looking like that over my dead body."
*********** No doubt ESPN had to move on Kornheiser because not to do so might have opened them to charges that theirs is a hostile work environment for women. But the lousy thing about the whole affair is that the octopus that is ESPN, and ABC, and Disney, and the professional sports that they contract to broadcast, represents a real threat to any employee who might have a critical - but truthful - thought to express.
*********** Give me a f--king break. First it was gays in the military. Now it's women in combat and, worst of all women on submarines.
Not for the sake of our national security, either. Oh, not. Said the doofus admiral who serves as Chairman of the Joint Chiefs of Staff, it had to do with "broadening (poor choice of word, your worship) opportunities for women."
So the cat's finally out of the bag. Sure, sure, the military is to protect us, in the same sense that public education is to educate.
But what the military is really about, according to our highest-ranking officer, is furthering diversity and broadening job opportunities.
And guess what? T he Lord Admiral said he hasn't heard "a lot of opposition."
Well, I guess not. Who is going to speak against an idea with the political momentum this one has behind it? Any officer close enough to the Chairman of the Joint Chiefs of Staff to be asked his opinion is astute to recognise a career killer when he sees one.
"Women on submarines? Splendid idea, Sir."
Sleep well, America.
TUESDAY, FEBRUARY 23, 2010- "Man is not free unless government is limited." Ronald Reagan
SOUTHERN CALIORNIA CLINIC ANNOUNCED - MAY 1 IN THE SANTA CLARITA/VALENCIA AREA - CAROLINAS CLINIC APRIL 17 IN DURHAM NC-- FOR MORE INFO - CLINICS - NOW TAKING PAYPAL!
*********** Oregon coach Chip Kelly has had his share of detractors saying that he's been too easy on misbehaving players, starting with his very first game as a head coach when LeGarrette Blount livened up the post-game by sucker-punching a Boise State player.
But while Coach Kelly may have gained a reputation as leaning a bit too much toward second chances, there's one Oregon player - make that one former Oregon player - who now knows that there are limits to his tolerance.
That former player, a wide receiver (wouldn't you just know?) lit into the coach on his Facebook page after hearing that a teammate had been kicked off the team for picking up a DUI.
In two different entries, the player managed to insult his coach in wording that was insulting, vulgar and racist, and - worst of all for the University of Oregon's academic reputation - semi-literate.
Also wrong. It's too late now to save our wide receiver's career at Oregon, but in a bit of irony, it turned out that the teammate hadn't been kicked off after all.
It was reminiscent of an old Emily Litella routine from Saturday Night Live's glory days...
Emily: "How you (expletive) kick kinko (sic) off the team on some weak (expletive). ... he slipped up but ive been slippn up, and I'm still here, that (expletive) ... could damage for the ducks, that (expletive) is weak, weak (expletive), quote me."
Announcer, off-camera: Uh, Emily - he wasn't thrown off the team.
Emily: Oh. He wasn't? Never mind.
*********** Not to say that I've had better things to do than watch the Olympics - no, make that NBC's "presentation" of the Olympics - but an article in Monday's Wall Street Journal breaking down Friday night's 3-1/2 hours of "Olympic coverage" shows how a major network can take sports event and turn it into a giant ripoff of its viewers.
| | | |
| --- | --- | --- |
| | | |
| Commercials | 56 min 41 sec | |
| Olympics Action | 53 min 37 sec | |
| Bob Costas | 17 min 19 sec | 8.2 |
| Replays | 10 min 26 sec | 5 |
| Video Segments | 10 min 13 sec | 4.9 |
| Medal Ceremonies | 5 min 25 sec | 2.6 |
| On-site athlete interviews | 4 min 59 sec | 2.3 |
*********** I am NOT advocating overthrowing the government and I am not condoning crashing airplanes into government agencies... No, no no.
But I do find it interesting that after all we've been told about terrorism having its "root causes" in so many of the things we've done (Abu Ghraib, Guantanamo, etc.) --- again, I am NOT advocating overthrowing the government and I am not condoning crashing airplanes into government agencies --- no one has advanced the idea that there might - in the eyes of the pilot - have been a root cause for the plane crash into the IRS offices in Austin.
One more time - I am NOT advocating overthrowing the government and I am not condoning crashing airplanes into government agencies. Understand?
*********** Hello Coach.
I saw your NEWS item about Chester, PA which reminded me that's the hometown of Wisconsin basketball head coach, Bo Ryan. I've come to really respect what he does in Madison without the blue-chippers and all they do is win. Anyway, he played football against Reggie Jackson and Vince Papale and his HS teammate was Ted Cotrell.
Adam Wesoloski
Pulaski, Wisconsin
Yup.
Bo Ryan is from there. So is Jack McKinney, who coached the Lakers, the Pacers and the Kings, and was the NBA Coach of the Year in 1980.
Chester is a tough town. Chester High played in the "Suburban One" league, whose other members were affluent suburban schools who didn't particularly relish the idea of having to play night games there.
As a sort of inner-city school in a "suburban" city, Chester High has never been particularly good in football, but has always had a great basketball tradition. The local Catholic School, St. James, has had its football moments. Joe Klecko played there (I know I've told the story about his being ineligible to play at St. James and instead playing semipro ball against my team under the assumed name of "Jimmy Jones"), and before him, there was an oustanding runner named Dick Christy, who went on to become a consensus All-American at NC State and then played in the AFL.
But Chester was ALWAYS good in basketball. The first Chester guy that I was familiar with was Horace Walker, a big star at Chester High who went on to Michigan State...
From hoopedia ... At Michigan State University Walker was named to the All-Big Ten team and a third-team All-American. Walker still holds the Michigan State record for rebounds in a game with 28. He achieved the mark in a game against Iowa in 1960. Walker also holds the Big Ten record for most rebounds in a season with 256. He averaged 22.7 points and 18.2 rebounds, which led the conference. He finished second to Jerry Lucas in the voting for Big Ten MVP, inspiring Michigan State coach Forddy Anderson to call Walker the best basketball player he ever coached. In 2000 Walker was voted one of the 25 greatest players in Spartan history.
*********** The USA-Canada hockey game on Sunday was about as good as it gets, a peek into the past, for all you younger guys, at what all the pro All-Star games used to be: the very best against the very best, motivated by professional pride to play as hard as they could possibly play.
*********** WTF? There we were watching USA play Canada. In ICE HOCKEY. In the OLYMPICS. And they're playing "YMCA" over the PA system.
*********** How slender is the difference between hero and goat...
While Ryan Miller, the USA Olympic team goalie, is toasted as the hero of Sunday's win over Canada, over in the losing camp there's talk about replacing their goalie, Martin Brodeur. Yet until the Canadians pulled Brodeur in the closing moments of their game, allowing the Americans an empty-net goal, the score was 4-3.
*********** With the opening game of MLS (sorry - I have to use the initials because I just can't bring myself to say "Major League" and "Soccer" in the same sentence) about a month away, there's talk of a strike by the players. I am not making this up.
What's next - a strike by the WNBA? Jeez. Is it too late to strike the Arena League?
Someone writing about the MLS asked, "What else can the players do?"
What else can the players do? What a stupid f--king question.
They can either STFU and be glad there's someone with enough money who's willing to pay them to play a sport that few Americans will pay to watch.
Or they can just go back to doing whatever it was they were doing before the MLS owners decided to give it a go, which I am guessing was playing soccer for no pay at all.
Which is what they're likely to wind up doing if they strike a league that's struggling to establish itself.
*********** Hugh, I couldn't agree with you more on the Rugby style of tackling and making football safer. If the "shoulder charge" as it's called in Rugby were outlawed in football, we would indeed have a safer game. The other rule in Rugby that ought to be looked at is that it is illegal to tackle anyone in the air. (The "launching," that's so in favor with NFL DBs- HW) The only time a player can be hit in the air is if the other player is also contesting the ball. I'm kind of surprised that this hasn't been implemented yet in football as it would most likely enhance the passing game, I would think.
I hope all is well with you.
Sam Keator
Litchfield Connecticut
*********** A friend who took over a down program writes, "I have been watching film of last year lately. We should be able to turn things around quickly (although we will be out gunned some and the teams at this level are always tough week in and week out). But, just looking at film there are a few ways to get better fast. 1. Don't kick deep (I have seen at least 2 kickoff ret. for TD's and a bunch returned to the 50 or better. 2. Don't turn the ball over - tons of fumbles and INT's (They threw 5 picks in one game!). 3. No dumbass calls or moves - I've seen them drive the field and throw a slant in the endzone (picked) and I've seen them get down 14-0 and go shotgun spread from there on out (only to make it worse). I think if we do these little things we are in striking distance. If we run the double wing they can't/won't score so much b/c our defense won't be on the field. We will use T.O.P and the advantages of the double wing and we will have a chance to win. Plus the kids have bought in and are lifting hard."
Amazing how many tennis matches you can win if you stop trying to hit winners and concentrating on not hitting losers. The same principle works in football - first eliminate the ways you lose - then find a way to win.
*********** Rick Burton Professor of Sports Marketing at Syracuse, writes...
Denver is the No. 1 American city watching the Olympics, with roughly a 23.2/38 household rating.
Denver, you say?
Yup, it appears the home of the Avalanche, Rockies, Broncos and Nuggets is the No. 1 Winter Olympic city in America. And that's interesting because we could probably make a case that Denver (with easy access to Aspen, Vail, Winter Park, Breckenridge, etc.) is the best place in the world for winter sports never to have hosted the Winter Games.
Further, Denver has proven it can host big dances (as evidenced by President Obama's Democratic National Convention or the IOC's SportAccord conference), numerous league All-Star Games, the NCAA Final Four, national governing body championships (figure skating) and Olympic Trials (curling).
We also know it snows in the Denver area, that the city's mile-high downtown often feels more like a small village and the people in the area are active participants in the sports that comprise the Winter Olympics. In fact, in more than a few studies, Colorado has been written up as the fittest (and thinnest) state in the U.S.
*********** The NHL may have initially balked at the idea of an interruption to its season, but allowing its players to participate in the Olympics could turn out to have created the greatest promotional opportunitity in the league's history.
On Saturday night, the league put on a party at "Club Bud" for approximately 1,000 people, with the Stanley Cup on display on a balcony overlooking the dance floor. The party provided a great opportunity for league officials to peddle their sport to existing and potential "partners" (that would be big sponsors, in our terminology).
And then the league treated 40 of those partners, including higher-ups from Pepsi, Budweiser, Scotiabank, Visa, Energizer, Kraft, McDonald's and Cisco to tickets to Sunday's three games - Russia vs. Czech Republic, U.S. vs. Canada and Sweden vs. Finland.
************ Coach Wyatt,
I saw Tim Murphy at the Washington State Coaches Association Clinic last month near Seattle. We had a great time catching up since my visit last spring to Clovis East. He took a year off of coaching to spend time with his family. I believe that his daughter had medical issues and he wanted to step back for a season.

It is interesting you said he purchased your materials and that you used to talk with him regularly. Outside of the numbering system, which of course is a key component with your system, he pretty much teaches the same thing. Then you realize how important the numbering system is and how it is major benefit to teaching the program to less experienced kids.

I did pick up his book, 101 double wing offense plays, to look at when I want to draw something up. It is virtually many of the variations you draw in the clinic videos numbered differently. I found last year that we seldomely used any variations and just blocked them the ways we learned them on the DVD. Like I heard Mark Speckman say one time, "You don't need 101 things you need 3 or 4."

Tim is an outstanding coach, a very nice man, and gives a great clinic lecture. As I told you last spring his weight room and facilities are outstanding and he has athletes that are truly committed to the program. He says he is coaching average athletes but that I think that is a stretch. (I say I coach average athletes and we don't have as many kids as I saw in Clovis repping out Power Cleans at 150+ in the PE class. All of his running backs were stronger than my linemen.)

As you said many times before, the numbering system in the biggest benefit in installing your version of the offense. It, in my opinion, clearly sets it apart.

Juan Cotto
Seattle, Washington
*********** General Alexander Haig died Saturday at 85. He was a long-time public servant, and a military hero.
"I think of him as a patriot's patriot," said George P. Shultz, who succeeded General Haig as Secretary of State in 1982."No matter how you sliced him it came out red, white and blue. He was always willing to serve."
Before serving in government, General Haig man was General Douglas MacArthur's aide in Korea, and he served with valor as an infantryman in Vietnam.

He was a true hero. Among his many honors, he was awarded three of the most prestigious awards an American soldier can earn, the Distinguished Service Cross (DSC), second only to the Medal of Honor; the Silver Star, which ranks behind only the Medal of Honor and the DSC; and the Purple Heart. And also, one of the most coveted of all military awards, since it can only be earned in active combat on the ground, as part of an infantry unit, the Combat Infantryman Badge (CIB), seen at left.
*********** I read in the Wall Street Journal about a guy who left his job, his "fiancee" and their baby to chase his dream. He's a bobsledder, see, and he was picked to be on the US Olympic team.
One problem with that dream of his is that bobsledding doesn't pay too well, and without the paycheck from a regular job, they weren't able to keep up payments on their house, so they lost it.
We are not talking about an artist or a writer. We're talking about a guy just wantin' to have fun. The guy's 36 years old, for God's sake, with a wife (okay - fiancee) and a kid, and he's simply pursuing pleasure at the expense of his responsibilities as a man.
Uh, isn't this the sort of obsessive behavior that under other circumstances would call for rehab?
If he'd given up his job and neglected his family so he could shoot pool or play video poker or go fishing with his buddies every day, he'd be called a f--king bum.
Well, maybe not anymore. There's undoubtedly somebody out there hustling a buck by saying he's addicted to pocket billiards.
*********** The Aussie half-pipe winner stood on the medal stand and NBC actually let us listen as they played "Advance Australia Fair!"
If only they could start out our sporting events with the same national anthems that the Olympics use.
*********** SI's Peter King quotes an NFL personnel guy on the value (or lack of same) of the upcoming combine -
"guys go to the Scouting Combine and they change their grade on a player based on things that have nothing to do with playing football. I'm convinced if you took the stopwatches away from a lot of these guys, most of them would not be able to tell you whether they liked a player or not.
"These guys go out and watch players all fall, then we all watch the tape of all these guys, and we see what kind of football players they are. That's scouting. Who plays good football in pads? That's scouting. Now we need the combine for the medical evaluations and the personal baggage stuff. But don't come in after the combine and tell me you want to change some guy and move him way up because he ran faster than you thought he would. That's where you get in trouble, and that's why our draft board is pretty well set."
*********** Coach,

Reading your comment in today's news about the basketball teams making the playoffs with less than stellar records reminded me of the time I spent down in Viera, FL. You may recall that during our first season of varsity football (in our 2nd year of football at the school and without any seniors) we had a rough year and went 1-9. Our one victory was a district win, however. Anyhow, I am in an early morning faculty meeting at the end of the first semester and the principal is talking about sports at the school and is going around the room praising/mentioning the teams that had competed during the fall season. He starts going on and on about how he wants to send out a special congratulation to our girls volleyball team that made the playoffs in their 1st season of varsity competition and how great an accomplishment that was. I am sitting there thinking, "they didn't even win one f***ing game all season!" Every team in the district made the playoffs. Don't worry though, he did mention the football team and told the entire faculty that we had a rough season but there were some positives, he told everyone that the thing he was most proud of about the football team was that we didn't get many personal foul penalties. WTF! How about winning a district game? How about the fact that our kids never ever quit during that rough season? How about the fact that we took the 5th ranked team in the state in our classification into halftime only down by 6? No wonder I had to get the hell outta there.

Take care, see you next week in Atlanta!
Donnie Hayes
Concord, North Carolina
FRIDAY, FEBRUARY 19, 2010- "Experience is simply the name we give our mistakes." Oscar Wilde
SOUTHERN CALIORNIA CLINIC ANNOUNCED - MAY 1 IN THE SANTA CLARITA/VALENCIA AREA - CAROLINAS CLINIC APRIL 17 IN DURHAM NC-- FOR MORE INFO - CLINICS - NOW TAKING PAYPAL!
*********** It wasn't all that long ago that I suggested that players who draw flags for taunting on their way to a touchdown should have their penalty assessed from the spot of the foul, taking away their score. Damned if the NCAA isn't going to consider such a rule! Cool.
I can see referees looking at video replay to determine the start of the strut.
*********** The NCAA is also concerned about the issue of concussions, but it doesn't seem to know what to do. I was going to suggest keeping concussed players in a dark shed, but I guess that's been tried. One of these days they'll get serious and change the rules to require players to use their arms when tackling. Don't laugh. I can hear you saying it would be "impossible to enforce," but that's simply not so. It's the rule in rugby (the ball carrier must be "held" while "being grounded") and they somehow manage to enforce it. With 40 per cent more players and only one referee.
*********** The NCAA may outlaw messages on eye-black patches. Tim Tebow and his biblical messages brought the issue to the forefront, but the real problem is that not all college football players are as theologically-inclined as Tebow, yet they still find the patches to be great means of self-expression. (Bear in mind that these are college football players, and that's about all the writing they ever do.) So in trying to head off players' sporting vulgar or taunting messages. coaches have found themselves having to play "eye-black cop." And then there was Terrelle Pryor, who, you may recall, chose to use eye-black to honor noted dog fancier Michael Vick.
This is not the first time that Tebow has affected legislation. Alabama has a "Tim Tebow Bill" which allows home-schooled students equal access to high school-sponsored sports and activities, and the Kentucky General Assembly has a similar bill pending. (Tebow was home-schooled while growing up in Jacksonville).
*********** The NFL has renewed Commissioner Roger Goodell's contract through March 1, 2015. His original contract was due to expire in September 2011, but when he noted that there might not ven be an NFL in September 2011, he asked for an extension.
*********** I keep hearing about this being the Great Recession, but then I read that the Raiders can afford to pay a f--king placekicker $16 million over four years, and I think maybe it wouldn't be such a bad thing for the NFL to take a year or two off. Funny that the Chosen One, who's all over bankers and CEO's, hasn't noticed what professional athletes make.
*********** My daughter, Vicky, lives with her husband and kids in Victoria, BC, and I pitched her some crap about Canadians trying so hard to be like Americans that now they, too stand idly by while pop singers screw with their national anthem - which, until the recent opening ceremonies of the Winter Olympics, I'd always considered so beautiful and stirring that it was beyond defiling.
She sent me this... "A letter to the editor this morning from an Australian who used to live in Canada complained about Americans, Canadians, and Australians trying to make their national anthems into pop songs - it's widespread!"
And then she sent me this, from the Toronto Globe and Mail:
"With a show that represented Canada so well, it was a shame the national anthem did not. While young Montrealer Nikki Yanofsky...has a stellar voice, this hyped-up version of O Canada made the anthem unrecognizable at times. Few were singing along - not even the Prime Minister."
At least Canada still cares enough to realize when its anthem is being trashed.
*********** You read about the woman who killed three people at Alabama-Huntsville because she was denied tenure, and you want to go "hmmmmm..."
Her husband said he knew she had a gun, but "I really don't know how she got it or where she got it from." Huh?
He also told police that they'd gone to a shooting range recently, but that he didn't know where she got the gun she used for practice that day. Huh?
Hmmm. I'm no cop, but I think I'd have to call this guy a "person of interest." At the least.
I mean, how many of you out there, on seeing your wife start to fire away at a practice range, would just stand there and not ask, "Where TF did you get that?"
*********** Coach,

I think I may have solved one of the mysteries surrounding the lasting effect of having a concussion at a young age. I had at least three or four instances myself, which I believe is a contributing factor in why I became a coach. How else could we explain our love for a vocation of immense frustration. Little or no pay, selfish kids and even more selfish parents, disloyalty from administrations and fellow coaches, wet weather, hot weather, cold weather (but never perfect weather), all contribute to decades of self-inflicted anguish that few if any of us can ever truly walk away from. The only possible explanation is the lasting effects from our brains being scrambled by upper classmen when we were all JV players. So by my theory if you never played hard enough to get your brain at least half scrambled, it can only serve as a detriment to ones future in coaching. I still have no explanation for why our wives all stick with us during our years of coaching. I will assign this question to the NFL researchers.
God Bless,

Richard Cropp
Tallahassee, Florida
*********** My name is Steve Hawkins, I'm from Detroit, Michigan. I think you do a wonderful job with the site and love the old school mentality which you don;t see as much in today's game. This will be my second year running the double wing which I love. I wanted to know what is the difference between your double wing and Tim Murphy's double wing. Are there any major differences and if so what are they?
Hi Coach- Nice to hear from you and glad you like my site.
The simplest way to answer your question is to say that since I introduced my first video in 1997 and started the popularizing of the Double Wing, there have been hundreds and hundreds of people who have tried it. Many have moved on to other things. Many have stayed with it.
Some have given it their own twist, and some of them, perhaps inspired by the spirit of Show and Tell, have actually gone on to promoting their own version of the Double Wing, with powerpoints and videos and clinics and such. But ultimately the origin of their Double Wing can be traced back either to me or to a long-time California coach named Don Markham. (Or, if you want to get really technical, to Pop Warner himself. I credit the origin of my system to Dave Nelson, Mike Lude and Harold Westerman, first at the University of Maine, and then at Delaware.)
I do know that Tim Murphy purchased my materials several years ago. He used to call me regularly, but he's moved on, and we haven't communicated in some time. I do know that he has been a successful coach at a large high school in California and that he has produced some videos of his own. As a matter of fact, at his request, I helped him promote the sale of his first video.
To be honest, I don't pay much attention to competitors and I'm not able to comment on any differences between us. A business principle I learned long ago is that it's best not to discuss the competition, even when they take some shots at you and you're tempted to fire back. My business plan is to try to distinguish myself from competitors through the backup and tech support I provide the people who choose to deal with me.
Hope that helps. Thanks for writing.
*********** So Mark McGwire, back from his drug-induced exile, returns to baseball and announces, "It's time to turn the page. I've turned the page."
Nice. HE destroys the most hallowed records in the game, and ought to be as much of an outcast as shoeless Joe Jackson or Pete Rose, but somehow he's allowed back in, and now HE decides that it's time to "move on."
*********** Then there's Eldrick Woods. He's been reduced to a joke, but he's still trying to call the shots, announcing that he's going to give a press conference, but that he'll restrict the number of reporters invited, and he won't anser any questions.
Man, talk about living in the past. Guy thinks people still worship him.
He was so valuable to the Tour, and to Nike, that he was protected, his image carefully sanitized.
Not only does it turn out that the guy is a serial swordsman, but the big secret was how despised he was by his fellow golfers because of his aloofness, his arrogance, and his downright meanness, which toady sportswriters explained away as gamesmanship. I mean, when Tom Watson, the most gentlemanly of golfers, publicly tells you you need to clean up your act, you should listen. Even if you are Eldrick Woods.
*********** Imagine someone who's been dead 50 years coming back to life and learning...
Washington is about to witness its first gay divorce suit.
In Oregon, a female prosecutor was arrested for domestic violence - after beating up her wife. (That's not a misprint.)
*********** Sports Business Journal described the new Philadelphia MLS soccer stadium as " the 18,500-seat facility in Chester, a Philly suburb."
Chester? A "Philly suburb?" I don't think so.
Uh, no offense, Chester, but I was born and raised in Philly. I go back a ways, and I'll be damned if I ever heard anyone refer to Chester as a "suburb." To us, living in our city rowhouses, suburbs were a definite step up. But not Chester. Not even 50 years ago.
To those of you who don't know Chester... think East St. Louis. Think Gary.
*********** Nebraska has sold 52,000 tickets to its spring game April 17
*********** The Oregon legislature has overturned a law proscribing the wearing of religious garb by teachers in public schools. Its purpose years ago was to prevent the proselytizing of public school kids by - gasp! - Roman Catholic nuns, but more recently it has been aimed at Muslim women wearing scarves and Sikh men wearing turbans.
Religious proselytizing of our kids doesn't bother me at all. It's the political brainwashing that bothers the hell out of me - the half-baked "intellectuals" ridiculing Republicans and teaching our kids to worship the planet.
Come to think of it, as devout as these damn environmentalists are, that is religious teaching, isn't it?
*********** Holy sh--!!!! How did they film this???
http://www.flixxy.com/bear-animal-nature-film.htm
*********** An Oklahoma QB named Matt Luetjen announced that he'd committed to attend West Point, and said Army offered him a chance to compete immediately for a spot at quarterback. (Service academies do not permit redshirting, but typically, Army's new recruits spend a year at the US Military Academy Prep School, mostly for the purpose of getting them up to speed academically.)
"That's the initial idea," said Luetjen. "I'll get there and see how I do. If not, they can always change my position. The way I understand it, they are kind of shallow on the quarterback depth chart. They are going to have to have someone to at least back up Trent (Steelman)."
Did you get that? "I'll get there and see how I do. If not, they can always change my position."
I already like this kid.
*********** Washington State's AD Jim Sherk has moved on to San Diego State. You wouldn't think that a Pac-10 AD would move to the Mountain West, but WSU is facing some problems, not the least of which is the likelihood that it is facing its third straight really, really bad football season and it will be necessary to fire current head coach Paul Wolff - and then try to persuade somebody good to take on a massive rebuilding job.
The SDSU job came open when their AD turned out to be either arrogant as hell or dumber than owlsh--.
To summarize, the guy attended an AD meeting in Washington, DC, and then flew back by way of Atlanta, where he was supposed to meet with an executive search firm. He never made it to the meeting, though, instead renting a car and driving to a place on the Alabama Gulf Coast where he, um, spent some quality time with a (married) woman.
Then he drove back to Atlanta where he got on a plane to San Diego.
On his return, he put in for his trip expenses, including the car rental and an airline change-of-ticket charge. Oh- and the gas.
He might have gotten away with it all, except that the woman's husband subpoenaed the school records and - whaddaya know - he'd put 666 miles on the rental car. Round-trip mileage from Atlanta's Hartsfield Airport to Point Clear, Alabama? 660 miles.
And that's why San Diego State was in the market for an AD.
*********** I once assisted at a place where we went 8-1 and didn't make the playoffs. Only the top team in the league went, and that happened to be the team that gave us our one loss.
But that was football. Now basketball? That's another story. What a f--king joke. When you want to talk about lowering the bar of success, start with high school basketball. They'll play an entire season to eliminate two teams in an eight-team league. We have one local league in which three teams, with records of 2-6, 2-6, 1-7 still had a shot last weekend at the league's fourth spot. Fourth place meant entry into double-elimination district playoffs. In other words, a miserable season extended another week.
And yet those same basketball coaches will piss and moan when their school's football team makes the playoffs and some of the two-sport athletes are a week late reporting for basketball.
********** Bill Battle was just named to the Board of Directors of the National Football Foundation and College Football Hall of Fame.
You may not remember him as a coach, but if you wear a jacket or a hat or a sweatshirt that says North Carolina, or Michigan, or UCLA, or Texas or Tennessee - you get the idea - you have almost certainly done business with him.
In 1981, Battle founded The Collegiate Licensing Company (CLC), and served as its president and CEO until 2002 when he turned the day-to-day operations over to his son, Pat.
If you've ever bought a piece of athletic apparel with a college's name or logo on it, CLC almost certainly had something to do with it. CLC currently represents nearly 200 colleges, universities, bowls, and conferences, as well as the NCAA and The Heisman Trophy. CLC has driven the growth of the U.S. retail market for collegiate merchandise from about $250 million in 1984 to more than $4 billion in 2009.
In 2007, CLC was acquired by IMG, the world's leading sports and entertainmenet marketing company.
A native of Birmingham, Bill Battle was a member of Bear Bryant's first freshman class at Alabama. He was a three-year starter for the Tide and played on Coach Bryant's first national championship team. After a grad assistantship at the University of Oklahoma under Bud Wilkinson, he moved to West Point in 1964 and 1965, serving as an assistant coach at the United States Military Academy while serving a two-year Army tour.
In 1966, he moved to Tennessee, where he was an assistant coach for four years until being named head coach in 1970. At 28, he was by far the youngest major college coach in America.
His record was outstanding. In his seven years as head coach of the Vols, they went 59-22-2. They appeared in five bowl games, winning four of them, and ranked three times in the top-10 and five times in the top-20
One big problem - he couldn't beat Alabama.
He beat Bama and his old coach once, 24-0 in his first season in Knoxville, but then went six years without beating him. That, combined with a 6-5 season in 1976, and enormous pressure to hire UT alum Johnny Majors, the legendary Vol tailback and coach of a national championship team at Pitt, was enough to get him fired.
After leaving Tennessee, he never coached again. Instead, he turned his ample energy to business.
The story goes that he first became aware of opportunity in the sports licensing field when Coach Bryant called him to see what could be done about the licensing of Alabama merchandise, and Bama, the team he couldn't beat, became his first client.
FRIDAY, FEBRUARY 12, 2010- "This is why we watch sports. Not just to see the thrill of victory and the agony of defeat, but because it is the one world left with clear rules abided by all. Compared with sports, real life has become constant chaos." Daniel Henninger, Wall Street Journal
SOUTHERN CALIORNIA CLINIC ANNOUNCED - MAY 1 IN THE SANTA CLARITA/VALENCIA AREA --- FOR MORE INFO - CLINICS - NOW TAKING PAYPAL!
IN CELEBRATION OF MARDI GRAS, THERE WAS NO "NEWS" TUESDAY, FEB. 16 - SEE YOU FRIDAY!
*********** Dr. Bennet Omalu, a co-Founder of the Brain Injury Research Institute at West Virginia University, told a House Judiciary Committee hearing on head injuries in college and youth football that children under 18 should be held out for three months following a concussion.
You read that right. Three months. An entire football season. To a 17-year-old high school senior, a lifetime.
"There is no such thing as a mild concussion," Dr. Omalu said. "Doctors are beginning to move away from that term. It's a misnomer. It's like saying there is mild cigarette smoking. If you are smoking a cigarette, it is bad."
He said the immediate absence of symptoms does not mean the brain is healed.
"Your brain will never forget the impact," he said. "But just to give it time to balance itself, you need about three months."
He didn't say anything about banning the three-point stance.
Seriously, though, how did so many of us survive "having our bells rung?" (Remember when even our coaches used to joke about it?)
How many of us know anyone - other than a former pro football player - who suffers serious after-effects from a football-related concussion?
*********** The vice chairman of the Pennsylvania Turnpike Commission has resigned over a pair of drunken driving convictions while driving a turnpike commission vehicle.
The guy says he is now taking responsibility for the incidents and has been in treatment since the second conviction, more than five years ago. He didn't explain why he waited five years to resign.
*********** Cam Smith, Duxbury, Massachusetts Black Lion, is a tough little sucker. In addition to playing football, he's also a wrestler, and good enough as a fourth-grader to wrestle against mostly sixth- and seventh-grade competition! His coach, Rick Davis, sent along this video of one of his pins...
http://www.youtube.com/watch?v=fEYNAuXx8SU
*********** It's that time of the year again - time for the Sportsman's Shows, the Hunting and Fishing Shows - and the Wall Street Journal reports from Harrisburg, Pennsylvania, where every year one of the largest outdoor shows takes place, that the outlook isn't good for people who make their living taking people hunting and fishing. It seems fewer and fewer kids are getting involved.
They cite lots of reasons - America is becoming increasingly urbanized... American kids are constantly being reminded that guns are bad... the ranks of kids being brought up without fathers continues to grow...
But the reason cited by most fishing and hunting outfitters is - tada! - video games.
No mention from the NFL, which pushes its "Play 60" campaign to get kids to go out and play for 60 minutes (some of us old-timers can actually remember being told we had to stop playing for 60 minutes and come in and eat), while Big Football profits mightily from sales of (officially licensed, of course) video games.
No mention for Mrs. Obama, either. While she campaigns against obesity, she ignores the millions of kids lounging in their bedrooms playing games with their thumbs.
Instead, she'll go after soft drinks, starting with eliminating the vending machines from our schools, even though the proceeds from those machines fund so many of the schools' athletic programs. (Sort of a reverse socialism - weak minds feed the pop machines so that strong legs can run.)
*********** Before you push too hard for repeal of "Don't ask, don't tell..."
"There is no basic right to serve in the military. That's why forms of discrimination we would ban in civilian life are permitted. Women have less opportunity to fight than men. The disabled are discriminated against, as are the short, the near-sighted and the old." William Kristol, editor, The Weekly Standard
*********** "We feel that we can create an environment where the tailback can flourish. The first thing he must be able to do is hang onto the ball. The second thing he must be able to do is take it, as he must be a tough player. Running the ball as a tailback means you are attacking. I am not sure I am tough enough to be a tailback. It is about like me looking out there at all of you and saying, 'I see a big hole out there in front of me and I am going to run down the middle of you guys and you can't stop me.' But the ball carrier has other ideas. He is thinking, 'I will beat the hell out of these guys because I am going out that side door. They will never catch me.' We switch those backs to wide receivers. The back that says, 'You guys are not fast enough to catch me and I am going to run straight down the middle of you' - that is the type of back that we want playing tailback." John Robinson, USC
*********** Coach,
Been spending a snowy Saturday morning here in Philly reviewing game DVD's of last season. I got interested in running the double wing when I saw & highlight of Clovis East HS on one of those Fox sports Channels. I went on the net did some research, & your name kept showing up so I bought a couple of your DVD's, Dynamics & Dynamics II. Over the last 3 years I gradually worked aspects of the offense in but only started running it exclusively last season. Prior to that I was a triple option & later converted to the shotgun spread option, copying a dumb down version of it when I saw Urban Meyer's Utah teams play. I coach at the CYO level (7th & 8th grade); it's all volunteer staff of younger guys, mostly former high school & college players who went through our grade school program. When these younger guys played for me I was totally different, I love to pass, & would normally run shotgun 3 & 4 wide all the time. And now they come to help coach & a majority of the time all 11 players on offense are within 8 yards of the ball on both sides. They tell me they've seen the offense on NFL network...the guys had no face masks & the film is in black & white...I must be getting REALLY old, I just recently turned 40.

So not only do I have to teach 12 & 13 year old kids about the offense, I have to teach 18 to 24 year old guys how to coach it as well. Of my 6 children, 5 are girls so while I don't claim to be the most patient of people I do have some patience & I am used to people thinking that they know more than I do. But what I really do enjoy is the teaching part of. I absolutely love this offense esp. all the misdirection, not only that I was able to incorporate some of the very same things we used to do in our passing game with our shotgun spread into your /our Wildcat.

The main issue is that the Super Power, Powers, & Counters off of them are so effective at this level of football that most games we don't run more than 4 or 5 plays tops. If that happens 2, 3, or 4 games in a row & then we play some one who has more talent than us or their players can't be tricked so easily, we run into problems. Mostly because while we do a variety of plays in practice, some of the plays have not been called in an actual game setting, so the kids are not as sure of what to do. I am a very demanding person so I expect the players to remember what we practice & they know they we always have to be ready counter punch if someone should be able to stop our strength. But we only get about 6 to 6½ hours of practice a week & a majority of that time is spent practicing blocking & tackling.

Long story short, without putting any extra burden on the players I am looking to improve myself by constantly scouting my own tendencies. I wanted to purchase some other material that could possibly help me find what it is we could do better or fine tune the offense. So I'm asking you if you have such material available?

Sam DuMond
Philadelphia, Pa
18 inches & still snowing
I understand what you're saying.
I guess that one suggestion is to devote a little time in practice to plays that are simply "insurance" - you'd rather not use them but there may come a time when you'll need them - or sometimes, in games, "advertising" - in other words, we can do other things, so don't think all you have to prepare for is four or five plays. I saw Navy throw for a score on the opening play a few years ago, and when Paul Johnson was asked what he had seen to make him call the play, he simply said, "I just wanted them to know we could throw."
I also might suggest incorporating a little Wildcat into your package. Without doing a single thing differently up front you will present people with a totally different offense to prepare for. Even the pros have their problems with that concept.
I will be talking about that at my clinics, including Phila. (Fort Washington) on April 27.
Any more snow shoveling and you will understand, if you don't already, that our rain out here in the Northwest isn't all that bad!

*********** Coach Wyatt,
Good morning! ! ! I was certainly excited to hear that the NFL's crack research department overseen by Roger Goodell has determined that a potential cause for an increase in concussions and other head injuries is due to the use of the three-point stance (what else could it be?). It is comforting to know that other potential possibilities such as increased nutrition, weight lifting, and better helmet development(?) probably had a significantly more limited effect on this matter. I can now sleep more safely knowing the NFL is on watch.

Secondly, in your response to the coach who was concerned regarding using players who may be new to the game or not as physically aggressive as one would like to see, I thought you made some very good points in stating where the "minimum play" kids could participate on offense.

One year at the freshman level at a former school, we started a boy at end who weighed 87 pounds. Actually, our starters on offense came in at an average of 140. This was, again, at the freshman level in a conference where over half of our opponents were in a state classification larger than us. Well, when we met with the parents at our pre-fall practice meeting, we said we can use anyone and we meant what we said. Plays such as "Over Rip 3 Trap at 2" ; "Spread 2 Wedge"; and "Under Liz 56-C" were easily implemented as they were part of our basic core. We had no difficulty teaching our smaller end to downfield block and told him that his block would be a touchdown maker if we could get past the line of scrimmage with our ball carrier.

While it can be a challenge to find where some of these less physically mature players can participate, we have always felt it still is the role of the coaches to find a way to get everyone a quality football experience. This does not mean that everyone plays the same amount but it does mean that everyone gets excellent coaching every day they are at practice and at games from our staff of professionals who care about the kids as both students and players.

Keep up the great work! ! !

Mike O'Donnell
Grantsburg, Wisconsin
*********** It's that time again, and in response to similar questions, it's time to repeat this... I coach 7th grade football. I have finished watching your "Fine Line" video and started watching your "Dynamics I" tape. My question is "Is it worth it to properly teach the DW to my kids for one year only to have them learn a different offense in 8th grade?" Your offense calls for a different snap, a different stance, a different offensive numbering system, and a different way to pull. I don't doubt my coach's and my ability to teach your system, and I'm not shy about running something different than the 8th grade or our high school. I really want what is best for our kids.
It is a good question, one I get asked all the time, and one I can handle easily. It is the classic "prepare them for the next level" garbage.
I think that the best situation is when there is cooperation among all parties, and it is great when a successful high school program is able to offer its services to its youth coaches and they all run the same thing, but that is the exception.
Many people hear of those exceptional situations, though, and seem to think that the ideal situation in a school system or a community is for youth coaches and middle school coaches to be robots, controlled by the coaches above them. I disagree. I subscribe to the old football philosophy that you can only coach one team at a time.
In high school, of course, all levels of the program should - and normally do - play basically the same offense and defense.
But in most cases, youth coaches and middle school coach are free to coach their own kids as they see fit, without any input from high school coaches. (After all, it is not unusual for several different middle schools to feed one high school, or for kids from one middle school to wind up going to several different high schools.)
Obviously, there are dangers if youth or middle school coaches don't know what they're doing, and high school coaches can be of great help in many areas. But the high school coach who complains that the youth coaches don't run his system is often guilty of not really providing them with proper support and direction, or with a system that they can use. A good example of the latter would be the high school coach who runs an offense that requires skills not yet found in little guys.
(All too often, the high school coach has enough problems of his own without getting involved in other programs.)
Your obligation as a coach of younger kids is to your kids. Period. It is first and foremost to treat them right and to help them to be as successful as they can be - this year. It is a matter of your professional judgment to decide what offense and defense are best suited to your kids to enable them to be successful. (Naturally, you need to do your homework.)
It would be ideal if you and the next guy up the food chain were to run the same system, but if you are not doing so and you can't reach agreement, then assuming that you are doing what is best for your kids, is NOT your obligation to make it easier for him when he gets the kids next year by teaching your kids techniques, terminology, snap count, formations, etc. specific to his system. If he is any coach at all, he can make the necessary changes the first morning of the first practice next year.
It IS your obligation to him - and to everybody else who will ever coach your kids - to teach them teamwork, coachability, good work habits and sound fundamentals (blocking, tackling, block protection, hit position, how to fall and get back up, etc.).
It IS your obligation to him to try to put your kids in a position where they have the best possible chance to win, so they will develop confidence. And it IS your obligation to him to leave your kids liking football and wanting more, so they will turn out for football next year.
As to any arguments that you might be stifling the kids' advancement, that is pure horse manure. In fact, if you are successful and the guy above you is not, isn't it every bit as reasonable for you to insist that the he adopt your system so that your kids will continue to be successful?
Suggestion - if this proves to be a hang-up, why not propose staying with the kids for two years - 7th and 8th grade - and then starting over again?
*********** Fun from the Aussies - the Sound Racer! http://www.youtube.com/watch?v=b9XAC-BvUyo
*********** As they say in Louisiana, "Laissez les bon temps roullez!" (Let the good times roll!)
Better enjoy dem good times now, Saints' fans, because tempus fugit (time flies), and with 29 free agents on the Saints' squad, you're soon gonna be sayin', "Who dat playin' in dem Saints' uniforms?"
Just one more way the NFL (and the NFLPA) stick it to fans.
*********** Sean Payton's onside kick has been applauded as an act of genius. Or at least as a sign that the man has a set of stones.
But it wasn't that long ago that BIll Belichick was ridiculed, defiled and derided, accused of arrogance, when he went for it on fourth-and-short against those same Colts.
The shame of the whole deal is that if the NFL weren't so in the thrall of kickers, we'd see a lot more onside kicks. But in trying to fight the guys with the strong legs by moving the kickoff line back to the 30, the NFL has added way too much downside to the onside kick.
My suggestion? Kick off from the 50. All balls in the field of play or in the end zone must be returned. And if the ball's kicked out of the end zone, it comes out to the 30. Screw the kickers.
*********** Small schools- Only way to go. Doesn't come without some BS, but typically it is BS that is easily handled since the majority of people in a small town will support you as long as you do things the right way and treat kids well. Remind guys that the minority is always the loudest voice. I learned that in Holstein after I left. Didn't realize how much love and support from the community I had until they heard I was leaving. I look back at both previous places of employment and remember all the good times, and some of the great lessons I learned by being a part of things there. Wouldn't trade those experiences for anything. Big schools sometimes bring big headaches. Make the big time where you are.
All my love to you and Connie.
PS- Have I told you I HATE winter weather. This Global Warming thing isn't named right. Below zero temps and more snow than I have seen in years. If I see Al Gore I will kick his a$$.
Brad Knight
Clarinda Academy
Clarinda, Iowa (You know, of course, that now the story line is that all this snow is caused by global warming. Personally, I believe it's all George Bush's fault. HW)
*********** Dear Coach Wyatt,
How are you? I was reading some past articles on your website. You had a tribute to Terry Baker of Oregon State. I find him very amazing. I have seen film of him on YouTube. The 99 yard run in the Liberty Bowl is fantastic! It is basically a QB Sweep. Baker takes the snap and sprints left behind the HB, FB, and two guards. It is ran away from the wingback. It is almost like Coach Prothro's old Single Wing offense.
There is film of Baker running the QB Sweep/Sprint out to the wingback side. The FB and the two guards lead him on this touchdown run. The left halfback goes out on a pass route/downfield block. The left HB is too far left to lead in the blocking to the right. What would be LHB's possible pass route if Baker pulled up to pass?
There is another interesting video where Baker fakes the FB Belly to the left, and he half spins around to the right and follows the Wingback's ISO block on a linebacker. They are lined up with the wingback to the right. I have never seen this play except from Notre Dame Box teams in North Carolina. Very similar to the Half Spin Series of that offense.
From what I have seen on YouTube, Tommy Prothro did not run the Delaware Wing-T! It looks like a homemade version with still his single wing roots to it! He must of ran a lot of Quarterback sweeps/sprint outs.
Do you have anything to add to my observations of Terry Baker? How great of a basketball player was he? I know he led Oregon State to the Final 4, too!
Dear Bill,
Tommy Prothro was a single-wing coach who while at Oregon State combined what he felt were the best qualities of the single wing and T formation into what he called the "sprint-out T." Most people believe he did it to make the best use of Terry Baker's skills, although some say it was because in 1959 the old Pacific Coast Conference (PCC) disbanded and when several of the old PCC schools formed the Athletic Associates of Western Universities (AAWU), Oregon and Oregon State were left out. This meant that OSU was forced to play an independent schedule and few colleges were willing to schedule a single wing team. (Oregon and Oregon State joined the AAWU in 1964, and in 1968 the league was renamed the Pac 8. The addition of Arizona and Arizona State - and the change to Pac 10 - took place in 1978. Now, there is talk of adding two more teams.)
Terry Baker was a great high school student and all-state in football, basketball and baseball at Jefferson High in Portland. He chose Oregon State partly because he wanted to stay in state and OSU offered the mechanical engineering program he wanted, and he attended originally on a basketball scholarship. He did not play football his freshman year, playing basketball and baseball. He was a good basketball player, called "one of the best in the nation" by sports historian John D. McCallum, and despite being a left-handed quarterback, he was a baseball standout throwing righthanded.
After taking up football as a sophomore, he never played baseball again.
As a sophomore, he set a new Oregon State total offense record and was named All-Coast.
As a senior, in 1962, he won the Heisman Trophy. Years later, running his same "sprint-out T" attack at UCLA, Prothro would coach another Heisman winner in Gary Beban.
Interestingly, Terry Baker's backup - and the guy who came in for him on defense - was a fellow named Rich Brooks.
Heck of a guy. Still lives in Portland.
That 99-yard run in the Liberty Bowl, by the way, was on a frozen field. In those days, before the NFL got too big for its britches, few poeple thought it was a good idea to play football around New Year's day in places like Philadelphia.
*********** I mentioned the talk about the Pac-10 adding two more teams. Among those mentioned have been BYU, Colorado, Fresno State, Utah, and Boise State.
I had to laugh when some local sports guy dismissed Boise State because, while they are plenty good in football, they pretty much suck in basketball. Hell, that means they'd fit right into the Pac-10 this year.
*********** Lou Orlando, a fellow Yalie and coach from Sudbury, Massachusetts, sent me an old Sports Illustrated article about the Yale team on which he played, and its big win over Harvard. (SI wrote about the Yalies celebrating in the locker room afterward with champagne and cigars! Nowadays, there'd be some female sports writer suing over the second-hand smoke.)
I mentioned to Lou being struck by the number of really good home-grown players on that team, Connecticut kids. Connecticut is not a big state, but it does play some good high school football, and, in those days before UConn went big time, Yale used to do a great job of getting those kids.
Lou wrote, "That was due to Buddy Amendola, defensive coordinator and UCONN running back great...he and my Dad (basketball) were at UCONN at the same time. Buddy OWNED Ct. High school recruiting when he was at Yale... P.S. He was my legal Godfather....

http://www.findagrave.com/cgi-bin/fg.cgi?page=gr&GRid=23849342
I suppose it didn't hurt, either, that Yale head coach Carm Cozza and many of his assistants - Sebby LaSpina, Bill Narduzzi, Buddy Amendola - were sons of sunny Italy. Can't hurt you in Connecticut!

It's always interesting what an influence one guy on the staff can have. Years ago, Miami had a coach named Walt Kichefski from a from a little town in northern Wisconsin called Rhinelander, and he ran something of a pipeline between the North Woods and Miami. One of his prize gets was Jim Otto.
NIcknamed "The Gator Hater," Kichevski spent 30 years as a coach at Miami, including part of one season as an interim coach in a mop-up role.
Great story about Walt Kichefski. He recruited Ted Hendricks for Miami and they became "like father and son,'' according to Hendricks.
Hendricks had been an outstanding tight end at Hialeah High School, and Kichefski coached the tight ends at Miami, so Hendricks was set to play offense. "I was going to be where Coach 'Ski was on the team,'' Hendricks said.
But when former Hurricane Fran Curci was assigned to coach tight ends, Kichefski was asked to coach the defensive ends. He reluctantly agreed, but on one condition: that he could bring Hendricks along with him.
And the rest is history.
Kichefski's widow told a story that illustrated why players loved him. She said that when he had bed-check duty in the football dorm, he would take their springer spaniel along, and the dog, its metal tags jangling around its neck, would wander on ahead, alerting the players to its master's approach.
Walt Kichefski was proud of his Polish heritage, and his wife said he loved to tell the story about the time he was out recruiting and checked into a motel in Tennessee. After looking at his name, the desk clerk asked it he was married, and when he said yes, she asked what his wife's maiden name was. When he said, "Putnam," she shook her head and asked, of no one in particular, "How could a name like that marry a name like this?"
As you might expect of a guy who devoted 30 years of his life to Miami, he remained a huge fan of the "U" long after he retired. One year, a fan gave him a birthday gift of two pillow cases with the orange and green "U" on them. He put them on a pair of pillows and slept every night with his head between them.
*********** Army - aka West Point, or the United States Military Academy - does its recruiting differently from other major colleges. For one thing, it is not bound by - and does not honor - the National Letter of Intent. It also doesn't reveal the names of players who commit to attend. The players themselves are free to notify their local media, but the USMA doesn't disclose the names of its recruits until "R Day" - reception day, the first day of cadet basic training, in June, when they are sworn in.
Since every cadet is on full scholarship, there are no such things as athletic scholarships at a service academy, so Army coach Rich Ellerson, like his fellow coaches at Navy and Air Force, can bring in as many players as he chooses.
But because of the rigors of academy life, and because there is a commitment to service in the military after graduation, Ellerson is very careful to screen potential recruits.
"You have to find young men that fit the institution, that want the mission," Ellerson said. "That have the character, ambition and willingness to choose that steeper path."
To help him identify those young men, Ellerson relies on the advice of his current players.
He says that in their role as hosts on recruiting visits, they are his eyes and ears. He tells them, "Make sure I don't make a mistake and get someone that doesn't belong. Protect the brotherhood."
TUESDAY, FEBRUARY 9, 2010- "When you run in debt, you give to another power over your liberty" Benjamin Franklin
*********** If you liked the Pro Bowl - 7-on-7 on the outside, sumo on the inside - you're going to love what Tsar Roger Goodell has in store for you.
Speaking on CBS's "Face the Nation" just hours before the Super Bowl, Goodell, Tsar of All Football, suggested the possibility of banning the three-point stance for linemen as one way to reduce concussions.
"As you'll see tonight (in the Super Bowl)," Tsar Roger said, "You'll see a lot of players that never get down in a three-point stance. So it's possible that would happen."
Um, Your Worship - I doubt that the really serious collisions are taking place in close line play, between guys whose job it is to keep opponents at arm's length. But if you want to go ahead with your New Age football, leaving the door open to some upstart league that offers the public real football, you just go ahead and outlaw the three point stance.
The ghosts of NFL greats too numerous to name will haunt your sleep.
SUPER BOWL DRIBBLINGS...
*********** For the first time in a long while, I thought the game outshone the commercials. Part of that was owing to the poor work that went into the commercials, but it was a pretty good game. And it was far more watchable than most NFL games, not to mention Super Bowls, because they weren't out to show us how many cameras they had. We had far fewer quick cuts than usual, far fewer closeups, far fewer cute, creative angles, far fewer crowd shots (saw the Manning family maybe once) and far more reliance on a single camera to show us the action. Unbelievable. They actually let us watch the game.
*********** Don't you just wonder now how many Colts' players, deep down in their hearts, wish they'd gone for that win against the Jets?
Super Bowls come and go, and the rings are nice and gaudy and all that, but an undefeated regular season? Even close calls are few and far between.
*********** So what was Manning's problem? A couple of times in the second half, he was shown sitting off by himself, looking pissed. I said to my wife that I thought it was strange that he, the team leader, seemed to be sulking.
*********** I should have listened to the Journal. Some time last week, the Wall Street Journal warned its readers that New Orleans' defensive coordinator Gregg Williams seemed to have Manning's number - especially in the second halves of games when they've faced each other.
Time and again, watching Manning check-check-check without finding a receiver, you had to wonder what Williams had thrown at him.
*********** Whew. Time to put "Who dat?" to rest.
*********** Puppy Bowl's national anthem was MUCH better.
*********** After just killing, oh, eight hours or so of time with a pre-game show, they really ought to take a few minutes to introduce every player on both rosters. They've earned it.
It wouldn't take any longer than it takes your basic Grammy Award-winning artist to loll dawdle through the national anthem. AND "America the Beautiful."
Speaking of which... don't ever let Queen Latifah or Carrie Underwood anywhere near Ave Maria or the Lord's Prayer.
*********** A Super Bowl is like a 50-pound sack of potatoes.
You can make the bag out of silk... have it hand-delivered by the Prince of Wales, after stepping out of his chauffeur-driven Bentley... have the Ohio State University marching band playing and the Mormon Tabernacle Choir singing... have John Madden open the bag in front of a packed house in Madison Square Garden.
But after all the to-do, it's still just 50 pounds of potatoes.
*********** The Bears' "Super Bowl Shuffle" reprise... And I thought Jim McMahon was obnoxious when he was young.
*********** The little kid hits a guy who's been giving the kid's mom the eye, and says, "Keep your (yo?) hands off my mama - and off my Doritos."
Whoa. Bad enough we got single women with little children "entertaining" men in their homes. What often results is little kids being abused, if not killed by mama's boyfriends all the time.
In that context, it ain't cute.
*********** Bud Lite ads weren't that funny and the production looked cheesy. To be honest, it looked like they sneaked into the Miller ad agency and stole a bunch of Miller Light commercials and just changed a few graphics.
*********** Do those E-Trade ads using the little kids actually work, or are those the grandchildren of the CEO?
*********** Notice how the focus of the Hyundai ad was that it's made at a plant in Alabama (making it an American-made car)?
*********** WTF? A Saints' cornerback removed himself from the game, then "refused to allow the trainers to treat him?"
*********** Haw, haw, haw. Wonder if the environazis liked the Audi ad (theme: "Green has never felt so good") - featuring the fictional (so far) "Green Police" hassling ordinary people for doing simple little everyday things that so annoy the greenies. It was very, very funny ("You picked the wrong day to mess with the ecosystem, Plastic Boy" "What do you guys think about plastic bottles now?" "Are those styrofoam cups you're drinking from? Please step out of the car and put 'em on the hood.") except that it was also scary, an all-too-believable depiction of the Brave New (Green) World you're going to be living in when today's little children, who learn environmentalism as the state religion, are old enough to vote.
*********** So why all the fuss about the Tim Tebow spot? Did you hear the word "abortion" mentioned once?
Actually, the spot was so benign it reminded me of those old "Have you called your mother lately?" spots that the phone companies used to run around Mother's Day, back when they charged you by the minute for long-distance calls.
Undeterred by the lack of any abortion action, the NOW witches quickly changed directions, saying instead that the spot promoted "violence against women." (The kid pretended to tackle Mom.)
*********** On the theory that it's not healthy for us to have to go a day without seeing Barack Obama on the tube, CBS led us to believe we were going to a Super Bowl party at the White House - this was, after all, the Super Bowl pregame show - and instead we got Katie Couric asking "The nation's first fan" (as sycophant James Brown referred to him) about - health care. Stop. Enough already. Enough about the strugglin' middle class. Let him get back to his party.
*********** Dear Hugh, I know how much you loathe kickers. This NFL statistics wonk thinks that the Super Bowl turned on the decision to kick a 51 yard field goal on a 4th and 11 in the 4th quarter.
Money parargraph:
Those four plays—a run for 2 yards, a screen for a loss of 3, an incomplete pass, and a missed FG—are what really turned the tide. The Colts went from a 71% chance of winning to a 47% chance, all in a matter of a minute and a half. That single series cost -0.24 WP.
WP is "Winning Percentage" A.K.A how often a team has won in at similar statistical snapshots within NFL games.
His synopsis: the Colts lost because they played it safe and sent in the kicker. Thought you'd like that.
God Bless,
Tyler Sellhorn
Fort Wayne, Indiana
Well, I find it hard to argue against a theory based on a misguided decision to send in a kicker who was clearly out of his range. That certainly may have turned the tide, but you could point to other turning points as well. In my opinion the game was still quite winnable right up until Manning threw the fatal interception. I haven't read much about the game so I don't know whether that was on him or on the receiver, who on replay looked kind of lazy to me.
*********** Greetings Coach … I've ordered many of your materials and have a great deal of respect for you and your ability to teach. I have a few questions I'm hoping you might have time to answer … I'll start with just 1 at a time J

1) Once the season gets rolling, we can practice up to 4 days a week for no more than 1.5 hours/day. Of our 15-17 players, 9-11 of them typically go both ways … the others are usually kids that really don't belong playing football, but have min. play requirements (so some kids play every snap and some get a few plays off to let min. play kids fill in). That being the case, conditioning is a significant issue. With as much pulling as the o-line does in the double wing (keeping in mind that all of them will likely be playing defense as well), would that concern you? If so, what approach might you take to plan and prepare for that?

So far my approach has been to run fast paced practices and not do many (if any) solely conditioning focused drills. It seems to take all our practice time just to accomplish our football offense / defense and special teams tasks. Our first season ( 9yo) it worked fine … last year, we had several injuries to key players and it took our kids until about the last 2 games of the season to be successful at going full steam both ways.

Thank You,
Hi Coach- Nice to hear from you.
A few suggestions...
1. This is obvious and not very thought-provoking... get them in shape and condition them every day. The idea of fast-paced practices instead of conditioning has been sold to younger coaches by big-time college coaches whose players are ALREADY in prime physical condition. You can find 10-15 minutes to devote to running.
2. I would go to my wrist-band scheme so that it's not necessary to huddle during offensive team period.
3. If your kids are wearing down I would slow down the tempo while on offense. A ball-control offense such as ours is helpful. You are probably only playing 8, or at most 10-minute quarters, so a good offensive drive can eat up the better part of a quarter.
4. Pull only your guards on Super Power (in others words, run Super O).
5. Have plays where minimum-play kids can play on offense:
a. Put him in at wingback and send him in motion and run counter or wedge
b. Put him in at end and split him out and run the other way - or run toward him and have him run off the DB
c. Put him in at tackle and run Super-O the other way (you could get away with running counter this way, too)
*********** A double wing coach in a new job writes, "I've got to get a couple of the veterans on the line to buy into my way of doing things. It's hard to convince a bunch of guys that are 20-2 in two years that they aren't doing it right."
You will never convince them that they're not doing it right. No point trying. What you have to do is convince them that it can be done even better your way.
It's like going to a newer computer operating system. You're very comfortable with the one you've been using, and it works - but you're going to be able to do things better with the new one.

*********** Will someone please tell me how MIchael Irvin stays on the air?
Rape charges against him, and now Warren Sapp is accused of choking a woman.
I sure hope that neither is true, because otherwise people might get the impression that some of those old Miami teams had some real thugs on them.
*********** Remember my saying that our growing preoccupation with college recruiting is becoming somewhat creepy... almost pedophilic?
No sooner do I write that than Lane Kiffin goes out and gets a commitment from a 13-year-old.
I asked a friend who coaches middle school how he'd enjoy coaching a kid like that. Lotsa fun, huh? Imagine getting calls at night from Coach Kiffin - "I'm not pleased with the way your offense is preparing that young man for USC."
Actually, I suspect that soon enough, kids like this one will go off to special (for pay) football academies run by coaching gurus, similar to what's been going on for years with precocious young gymnasts and tennis players.
*********** Hugh,

Your advice to the coach considering taking a job in a small town was spot on and incredibly insightful. Like you, I can't see myself coaching any where but in a small town.

Greg Koenig
Beloit, Kansas
*********** Hugh,

As always - Dead on with the small town stuff. Lots of good and some bad too. I had a blast at Oakfield - tight knit community with good, hard working, tough A$$ kids. The numbers thing is no joke. I had good discipline but shrinking enrollment can make you think "eventually - I won't be able to do it the right way and still have enough kids to be successful." Politics and the microscope are also definitely true. Nonetheless, I loved my 6 years at OA as a coach and will always think of it fondly.

John Dowd
Spencerport, New York
*********** Hugh, It's nuts out here, they've restored only 50% of the power outages and over 100,000 still don't have electricity. The snow stopped last night, but it's going to be bad tomorrow when pedestrians are walking to work in the street with cars trying to get to work as well.
My buddy who works sports radio is beyond pissed that the NHL put on the Caps-Pens game today...biggest home game of the season for the Capitals, and no one can drive and half the Metro is closed. The game is 70% full for what should be standing room only.
Christopher Anderson
Arlington, Virginia
You easterners who are snowed in will like this... (so will the rest of you)
http://forum.treasurenet.com/index.php/topic,213971.0/topicseen.html
*********** Sent me by George Honeycutt , of Myrtle Beach, South Carolina, an example of oustanding sportsmanship by the people at BYU in a pre-game message to their fans ...
http://www.youtube.com/watch_popup?v=72OhOWFMf84
*********** I don't have the time to write all I should about Bill Dudley. I do remember him at th end of his career, and what really sticks in my mind is the way he kicked extra points - head-on, of course, but without so much as taking a step!
Youtube montage - http://www.youtube.com/watch?v=zaa-pDCeVfI&feature=related
Richmond newspaper - http://www2.timesdispatch.com/rtd/lifestyles/announcements/obituaries/article/BDOB05_20100204-222803/322380/
*********** I keep hearing politicians refer to the "deep, dark recession" we're in.
Not to deny that things are tough, but the Winter Olympics coming up, and I heard some skier say he hopes that winning a medal will help launch his career on the "pro skiing circuit." Now, to me, as long as you can make money as a professional f--king skier, things can't be that tough.
*********** Coach Wyatt,

Thanks for the opportunity HW) to share the Golden Raiders' success with the Double Wing. ( 9-3 and second round of the state playoffs.This offense is a big talent-equalizer which keeps our opponents on their heels. The misdirection and power packages make it hard for our opponents to prepare. We led the Three Rivers Conference in rushing in 2009 and was second in rushing yards in the Mountain Lakes Conference in 2008. Our success is a direct correlation to the implementation of the Double Wing!

Feel free to use any of my comments above to promote your work and the Double Wing.

Coach Robbie Norris
Sullivan North HS
Kingsport, Tennessee
*********** Floyd Little finally made it to the Hall of Fame! WTF took them so long? Okay - I'm a bit prejudiced. He played at New Haven's Hillhouse High School when I was in college there, and I followed his career closely at Syracuse, where in the great tradition of Jim Brown and Ernie Davis, he wore #44. (Davis was instrumental in recruiting Little.)
Get this - technically, he's only the second Bronco to make it to the HOF. (John Elway is the other one.) Yes, you could count Gary Zimmerman, but Zimmerman spent 6 years as a Viking, and 5 years as a Bronco. And he's in the Hall of Fame for his years as a Viking, during four of which he was named All-Pro. (He was named once as a Bronco.) an All Pro.
*********** Zipping through the channels Sunday night, I came across one funny movie, AN AMERICAN CAROL, a spoof of MIchaek Moore. If your think Michael Moore is a jerk, you will laugh your ass off. If you like him - ah, hell, you probably don't read this anyhow.
the trailer: http://www.youtube.com/watch?v=3CYSGCoflAA
FRIDAY, FEBRUARY 5, 2010- "You can't make a weak man strong by making a strong man weak." Abraham Lincoln
*********** Beware the preseason poll, writes Keith McMillan, in d3football.com, citing this past season's D-3 semifinalists. "Everyone knew to rank UW-Whitewater and Mount Union first and second, regardless of the order. But where did the other semifinalists, Wesley and Linfield, show up?"
He then goes on to answer his own question...
D3football.com poll
Wesley and Linfield: Wesley began the season at No. 9; Linfield entered the poll at No. 14 in Week 2, following a 37-22 win over then No.-15 Hardin-Simmons.
Kickoff '08's 1-239 ranking
Wesley and Linfield: Nos. 12 and 29.
The Sporting News
Wesley and Linfield: Wesley ranked 15th.
Lindy's
Wesley and Linfield: Both unranked.
USA Today Sports Weekly
Wesley and Linfield: Wesley ranked 11th.
AFCA (coaches' poll)
Wesley and Linfield: Nos. 5 and 12
http://www.d3football.com/columns/around-the-nation/2010-01-26/ATN%27s+final+take+on+2009%3A+Top+moments%2C+picks
*********** Hahahahaha. We've been had. The joke's on us. Fell for the oldest trick in the books. We've just been informed by Anheuser-Busch that so many Americans squawked at the news that A-B wouldn't be showing the Clydesdales in this year's Super Bowl that - whaddaya know? - they're going to run a Clydesdale spot after all. Gotcha.
*********** In case you've been hearing complaints of unfairness - that CBS agreed to run the Tebow (pro-life) ad while turning down one from a gay dating service - you might take a look at the one they turned down...
http://www.fannation.com/throwdowns/show/448780-mancrunch-commercial-is-not-inappropriate?category_id=1
*********** Abortion provider Planned Parenthood has come up with a video of its own, supposedly in answer to the Tebow ad. It features Olympic gold medalist Al Joyner and another guy who says, "I'm Sean James. I'm a former college and professional football player." Well. Maybe most people won't check out a claim like that, but I sure as hell will. I cut my coaching teeth in the minor leagues, and guys were constantly showing up claiming all sorts of experience, thinking I'd never bother to check on them. And I always did. It only took a phone call or two. (Now, it takes even less.) Lord, what frauds some guys are when it comes to claiming to have played pro football. The most I've been able to find about this Sean James guy is that he's a professional model who once ran track and played football at Missouri State. Model? I'll give him that. He's very telegenic. But professional football player? He claims to have signed as a free agent with Minnesota in 1991 and 1992. At most, he had a very short cup of coffee with the Vikings, because his name doesn't appear on their 1991 or 1992 list of players who were on their active roster for at least one regular season game. Isn't there some minimum qualification for being able to call yourself a "professional football player?" Did I miss out on the definition of "profession," or "professional?" Hey, Planned Parenthood - with all the real active and retired pro football players out there, that was the best you could come up with?
*********** Should you find Sunday that eight hours of pregame are a bit much even for you, my friend Tom Hinger in Winter Haven, Florida reminds me of an alternative - Puppy Bowl, on Animal Planet.
*********** Today (Friday), if you read this early enough, you may be able to go here http://www.610wip.com/Wingbowl-18-Headquarters/5791083 and catch some of the action at Philly's Wing Bowl.
It is impossible to describe the hold that this traditional event has on Philadelphians. Think of it as the 700 Level (the notorious cheap seats at old Veterans' Stadium and all the rowdy behavior they harbored) combined with an eating contest, taking place in a sold-out Wachovia Center full of 700 Level types who've been let inside the building at 8 AM after camping out and, um, "tailgating" all night.
The contestants, who have had to "qualify" for Wing Bowl through preliminary contests and assorted feats of heroic eating, take Wing Bowl as seriously as anyone can take such an event, but their biogs are hilarious.
One of them, when asked "Would you rather win Wing Bowl or see the Eagles win the Super Bowl?" answered, "Since I have a better chance of winning Wing Bowl than the Eagles will ever have of winning the Super bowl, I'd rather have myself win Wing Bowl."
Another was asked, "What was your first food-eating contest?" and he answered, "I was born a twin, my twin didn't make it because I had womb dominance, I ate everything my mother had. Sorry twin."
*********** There are two things I'm pretty sure of Sunday - a lot of fumbles, and a lot of missed tackles.
The Saints, especially, are masters of the Strip.
When NFL owners voted unanimously in 2002 to allow batting or punching the ball, it was a sorry day for tackling, for the NFL, and for those of us whose kids take their cues from the pros.
These days, at the NFL level, stripping is unapologetically practiced in preference to tackling, and a missed tackle is seen as an acceptable risk to be taken in return for upside potential, a turnover. Think of it as The Lottery Mentality Meets Tackling.
"I'm ashamed of what I've seen in the last four or five years of tackling and the way these guys play," Hall of Fame defensive back Rod Woodson told the New York Times. "The fundamental art of tackling is gone and the strip is so in. What is the percentage of you getting that strip? If somebody did a study of players trying to make a strip before tackling, I bet a couple of miles is being had in yards after for trying to get the strip. That would bring to light how silly it is to always try to get the strip. I was always taught since 1987, tackle-strip, tackle-strip. Now it seems like it's strip-tackle. That's the reason we see a lot of big plays.
*********** With former Navy fullback Kyle Eckel set to play some special teams and backup fullback for the Saints Sunday, broadcasters will probably at some point mention that he played football at Navy and go on to mouth some platitudes about "patriotic service" and "character."
They would be well-advised simply to say, "He played fullback at Navy," and stop right there. Period.
Eckel, you see, was a hell of a fullback at Navy, but he had "issues," and for reasons undisclosed by him or the Navy, he was kicked out of the United States Navy. Fired. Not something most of us would be proud of.
From leatherneck.com, November, 2006 -
By Philip Creed and Andrew Scutro
Staff writers

Former Naval Academy standout football player Kyle Eckel, now playing professionally for the Miami Dolphins (and now the Saints. HW) , was kicked out of the Navy last month and will have to repay a portion of the cost of his Annapolis education.

Citing privacy concerns, the Navy would not characterize the specific nature of Eckel's "administrative separation" saying only that it was "involuntary." Eckel declined an interview request through a team representative, and attempts to reach his agent were unsuccessful.

"Ensign Eckel was administratively separated on 31 October 2006," said Lt. Ryan Perry, a spokesman for the Navy's Office of Information at the Pentagon. "Due to personal privacy of the individual being discharged, the Navy does not discuss the reason for the service member's discharge, nor the characterization of that discharge."

In recent months, Eckel has been battling more than just the Navy and NFL lineman. He faced two assault charges and a sex-offense charge in Anne Arundel County District Court for an August incident, according to District Court of Maryland records. The charges were later dropped. Navy officials, however, said those charges were not connected to Eckel being booted from military service.

"The [Anne Arundel County] charges were not a factor in Ensign Eckel's separation from the Navy," Perry, the Navy Pentagon spokesman, said.

Eckel, however, could face another court appearance very soon, this time as a witness in a rape case involving former Navy football teammate Kenny Ray Morrison. In the criminal charging documents against Morrison, Eckel is identified as being present in a Washington, D.C., hotel room during a midshipman party Feb. 3.

During that party, Midshipman 1st Class Morrison is alleged to have raped a female midshipman.

The charges against Morrison allege he showed the "nude or partially nude" body of the female midshipman to Eckel and another male midshipman by lifting a blanket off her.

Evidence against Morrison was presented at an Article 32 hearing at the Washington Navy Yard on Nov. 2, but Eckel was not called as a witness.

The Navy would not comment Nov. 16 on whether that incident played any role in Eckel's discharge.

Regardless, Navy officials decided Oct. 31 to boot Eckel from the service.

By law, Naval Academy graduates who do not fulfill the required follow-on service commitment must repay the education expense on a prorated basis, according to Perry.

"Ensign Eckel did not fulfill his service commitment and must repay $96,229.56," said Perry.
*********** Not intending to beat up on Navy, but WTF is going on at the United States Naval Academy, when a sophomore football player tests positive for marijuana use and on the basis of Navy's zero tolerance policy is recommended for separation (expulsion) all the way up the chain of command, before the Superintendent runs a reverse on everyone else and allows him to stay?
One suspicion is that football players are being protected. The other is that diversity is overruling common sense. (The player is black.) Maybe neither is correct, but in any case, the brigade of midshipmen, and Navy people everywhere, are up in arms over the ruling, and a facebook page has been started called zero tolerance=zero exceptions.
http://www.facebook.com/group.php?gid=315739174740
Apparently, the Superintendent wiggled out of making the tough call by stating that in order to be a violation of the drug policy, the drug use has to take place "with the knowledge" of the user. And in this case, the kid said he had unknowingly shared a blunt (a marijuana-enhanced cigar) with another smoker.
Maybe. Except for a few problems. First, tthe kid's credibility is less than sterling. He has accumulated more than 300 demerits and, according to the Navy Times, has picked up three honor code violations in little more than a year and a half at the academy.
Second, I suspect he might have noticed that his cigar smelled a little funny.
And third - except maybe for some twelve-year-olds out behind the barn, I can't even picture two people sharing the same cigar.
*********** Watched a little of the ESPNU "Signing Day Special," and I have to say that there's something a little bit creepy - near pedophilic - watching four adults in suits sit in a TV studio and gush over high school kids.
*********** A kid named Calvin Smith, from Florida, chose New Mexico over Florida State and Tennessee. WTF?
Made me think about the time Joe Paterno was addressing a clinic in California and someone asked him if he'd been doing any recruiting while out there. "Are you kidding?" JoePa asked. "I wouldn't want any kid stupid enough to leave weather like this."
Hmmm. How much you wanna bet the NCAA is gonna be checking to see what Calvin's driving around campus?
*********** What was very enlightening to me was the number of kids who said that the deciding factor in their decision was the relationship they'd developed with a coach.
Now, based on simple demographics, I am surmising that many of these kids came from homes with no serious man in the house, and they were looking for a surrogate father, and the recruiter was all too willing to suggest that he'd play that role.
Not to imply for a minute that all coaches are insincere, but their first obligation is to put food on their family's table, and if a little insincerity is what it takes to get the job done, well...
The scary part is realizing that this newly acquired Daddy is only going to be around until he's fired or he leaves for a better job.
*********** Stick a microphone in front of a high school kid who's had his head filled with recruiting pitches and you're liable to hear anything. I heard one signee, a quarterback, say proudly, "I'm a competer." (Giving him the benefit of the doubt, maybe he means he's a competitor with a mind like a computer.)
*********** I listened to all the smoke being blown up the butts of freaking teenagers on Wednesday, and thought how glad I was that I wasn't a college coach, having to deal with all these bloated egos. And then I heard new Tennessee coach Derek Dooley being interviewed. He understands what has to be done next, saying that now that they've signed all those kids, they're going to have to start bringing them back down to earth - "de-recruiting" them, he called it.
*********** "I'll let the cat out of the bag," Tom Watson said last week about Tiger Woods. "Tiger has to take ownership of what he has done. He must get his personal life in order. I think that's what he's trying to do. And when he comes back he has to show some humility to the public.
"I would come out and I would do an interview with somebody and say, 'You know what? I screwed up. And I admit it. I am going to try to change. I am trying to change. I want my wife and family back."
The 60-year-old Watson, one of golf's elder statesmen, also criticized Woods -- a 14-time major winner -- for bad language and other on-course behavior.
"I feel that he has not carried the same stature that other great players that have come along like Jack [Nicklaus], Arnold [Palmer], Byron Nelson, the Hogans, in the sense that there was language and club throwing on the golf course," Watson said. "You can grant that of a young person that has not been out here for a while. But I think he needs to clean up his act and show the respect for the game that other people before him have shown."
(Just wondering - does being a sex addict allow you to park in the disabled spots?)
*********** Hugh, I just saw that clip on 1971 Ohio State vs. Michigan. That sure did look like a super power, or the closest thing we'll see from a D1 team running it. I think the QB for Michigan was a guy named Tom Slade a real hard ass who used to lead the I formation toss sweeps also. Man, watching the clip gets the blood flowing to the right body parts.
Ralph Balducci
Portland Oregon
*********** Perhaps it has something to do with Comcast's acquisition on NBC, but a little over a week from now, the cable giant will change its name to XFinity. I can't wait for them to tell the people at Notre Dame that their games are going to be switched to pay cable.
*********** An elementary school in nearby Vancouver, Washington was locked down recently and police did a full sweep of the building after two first graders claimed they had been threatened by a second-grader with a "gun" that made a noise and gave off smoke.
The little "victims" both said they knew that it was a toy gun (it was an orange cap pistol) but, hey - they've a zero-tolerance policy in the Vancouver schools, so the police had to be called in. Can't be too careful, right?
Is it any wonder that American taxpayers are scornful of public education (oxymoron), when school people, like their counterparts in other bureaucracies, so often seem lacking in common sense and utterly unwilling to make a decision on their own?
Let this be a warning to any Vancouver high school coaches who've been considering going to the shotgun...
*********** Many years ago, French leader Charles deGaulle had this to say about one of our neighbors to the south: "Brazil is not a serious country."
Before you laugh at Brazil... The United States Government, using our tax dollars, has bought a commercial spot in Sunday's Super Bowl - to promote the census.
Meanwhile, Our President goes out on the stump and actually tells people, "We can't continue to spend as if deficits don't have consequences."
*********** Exercize tips for those over 50, from my Physical Fitness Advisor, Don Capaldo, of Keokuk, Iowa---
Begin by standing on a comfortable surface, where you have plenty of room at each side. With a 5-lb potato bag in each hand, extend your arms straight out from your sides and hold them there as long as you can. Try to reach a full minute, and then relax. Each day you'll find that you can hold this position for just a bit longer. After a couple of weeks, move up to 10-lb potato bags.. Then try 50-lb potato bags and then eventually try to get to where you can lift a 100-lb potato bag in each hand and hold your arms straight for more than a full minute. (I'm at this level.) After you feel confident at that level, put a potato in each bag..
*********** Hugh: I've probably spelled Tom Brookshire's name wrong but I had to comment on my memories of him when he played for the Eagles and later as a TV announcer. As Chuck Bednarik said, the first thing you would remember was that he was a "hitter', a fearless defensive back who hit like a linebacker and he would take anyone on. He was also a "wise guy" in the sense that he didn't mind talking the game. I admired him as a player and a fearless announcer who would call the shots like he saw them. As I remember he got in some trouble for his frank comments from time to time, but most of his commentary was true and many times, funny. He had a great sense of humor. and he even got funnier as the years went on.. Thanks for the memories. Jim Shelton, Englewood, Florida
*********** A young coach - really good guy - who took over a down program and installed the Double Wing last spring had some very encouraging results this past season. Knowing how young coaches have a tendency to have a roving eye at clinic time, I wrote him and said, "I hope that you are getting ready for next year and resisting the temptation to wander. I should have warned you that that is a young Double Wing coach's biggest problem!"
He wrote back,
"We would like to add some bubble screens and slip screens to the offense. The bubble where the inside receiver gets the ball and gets blocks from the outside receiver. Or the slip screen where the outside receiver gets the ball. Have you looked at implementing the outside screen game?"
As those of you who know me you might have suspected, I answered in th following fashion---
With all due respect... this is what I was cautioning you about. Please don't take offense, but you can't possibly be running the core double wing plays as well as you can be running them. Which means they need more time. So you're going to spend time instead on something else?
(I have been through this many, many times before. I predict that this time next year, after a so-so season running a not-so-great double wing augmented by the sexiness of bubble screens and jailbreak screens, he and his staff will conclude that the Double Wing "doesn't work," and will go on to the next flavor. You can't save people from themselves.)
*********** Last Spring, while in North Carolina, I stopped in and introduced myself to Duke coach David Cutcliffe. "Coach Cut" coached both Manning boys - still does - and he told me that Peyton is such a student of the game, and so thorough, that he brings a note pad to every workout and jots down the things that Coach Cut tells him and all the things that they work on. And there have been times, Coach Cut said, when he'd tell Peyton something, and Peyton would whip out the note pad and shuffle through the pages until he came to what he'd been looking for, and say, "Yes, but a couple of weeks ago, you said..."
*********** It's nice that we've reached the point where Jim Caldwell is referred to more as a "rookie coach" than as a "black coach."
Actually, there's something a lot more remarkable than either, I think.
Coach Caldwell was on Joe Paterno's staff at Penn State from 1986 through 1992, before leaving to bcome head coach at Wake Forest. He wasn't successful at Wake, but then, in those days before Jim Grobe, who was? From there, he became a pro assistant until this year, when he succeeded Tony Dungy.
Now, JoePa has been legendary for retaining coaches, and that staff continuity has to be one of the reasons for Penn State's coninued success. But there's another side to that coin - Joe has not exactly been an Earl Blaik or a Hayden Fry in terms of spawning other successful head coaches.
So what's remarkable to me is that, with as little staff turnover as JoePa has had over the years, Jim Caldwell may be the only Penn State assistant who has left there and been successful.
*********** Toyota and superior, snotnose Prius drivers vs Government Motors and the UAW.
Cage match. Loser leaves town.
*********** Hugh, There are some boys on our team who said they weren't coming back because our head coach yells too much...seriously, he does it all the time....some of the parents also have issues with his screaming
I have spoken to him about it.....his response - "Oh, they say that every year...."
I'd hate to see it become an issue that could drive him out. He's too good a man to lose.
Maybe the whole staff should all sit down with him and bring this to his attention. He needs to hear it from several people. At the same time.
It's just like dealing with a loved one with some other sort of problem (such as drugs or drinking). In that case, it's called an intervention.
There often comes a time in a coach's career when he needs to be taken by the shoulders and shaken - to be made aware of something that's being noticed by others that could cause problems. And we have to be man enough and wise enough to accept the fact that others care enough to tell us about it. Unfortunately, for some of us - I can tell you this from personal experience - the only way we find out is by being fired.
*********** Remember a few years ago when people at the Air Force Academy were in a snit over coach Fisher DeBerry's open Christianity? Last week, the Academy set aside an outdoor worship area on the AFA campus - a double circle of stones atop a hill - for Pagans, Wiccans, Druids and other "Earth-centered believers."
*********** A few years back I coached at a school and in three years as a coach there, never once so much as saw, much less met, the (female) principal.
A few days ago, Todd Bross, of Union, Maine but formerly from Western Pennsylvania, sent me a link to a story of the longtime McKeesport (PA) high school head coach parting ways with his school after he submitted a list of needed improvements which essentially wound up in the district trash can.
http://www.pittsburghlive.com/x/pittsburghtrib/sports/highschool/football/s_664468.html
Hate to say it, ladies, but this answered a few of my questions ..."The principal (Dr. Karen Chapman)"
That, in my opinion, is the sad story in too many places.
Okay. In the interest of fairness, I invite readers to bring to my attention consistently strong football programs that have female principals and/or ADs. (Or, if you wish, horror stories about life with a female administrator. You are guaranteed confidentiality.)
*********** Coach, If you were going to take over a program that has been down for a while, going into a very competitve league and there was a rival school in the league that you were in that ran the double wing and did it really well would you run the double wing also at the school you were going into or run something else unique like the flexbone, wing-t, fly? Thanks
For that very sort of situation you describe, I made the decision a long time ago that although I am Double Wing at the core, I wasn't going to allow myself to be fenced in - to be one of these six-plays-from-one-formation teams.
Let the online wizards show everyone how to defeat the "Double Wing." Let them diagram to their hearts' content.
I am still a Double Winger (Wing-T guy, for that matter) at heart, but I have long made a conscious effort to require defenses to adjust. To show them a different look every week. To be multiple and not necessarily recognizable.
One great thing my Wildcat package does is give me a true escape from people who think they're geared up to play a conventional Double Wing.
*********** Coach,

My wife and I are looking to re-locate to a small town that has open space and a slower pace of life. I have gotten interest form a couple of schools in the area that we want to live that don't have much history of success and very few assistant coaches. What are the challenges of turing around a program like that? I would have to assume that because of the rural area that there isn't going to be people moving into the town so you have what you have there. Thanks
I have been a coach in six different small towns, a head coach in five, and I've been able to work with other head coaches in countless small towns, and I have a few observations...
1. In a small school, the two biggest problems are numbers and discipline, and they're usually related. Discipline problems are more common in small schools because numbers are often a problem and coaches are afraid to throw kids off the team or install rules that may "chase kids off." So they give in and the result is that the kids are in control. And without discipline, they lose to better-disciplined teams. You have to make sure before you take the job that the administration wants discipline, too, and will support your efforts, or you are doomed.
2. You have to be able to be very flexible in what you do, offensively and defensively, because quite often what you might have planned on doing bumps up against the reality of what your talent will enable you to do. On the other hand, at a smaller school you are afforded a lot more flexibility in doing different things, even from week to week.
3. Because of a lack of numbers, you may have to make adjustments in how you practice - half-line scrimmages, for example.
4. You will probably, at least in the early years of your program, have to make accommodations for kids who have never played football before. You'll need to find ways to bring them up to speed and find a place for them, while at the same time getting the rest of the team ready for a game.
5. Beware of the school with a crummy football program and lots of basketball championship banners hanging on the gym wall. Chances are the basketball coach has those kids playing in one league or tournament after another all summer long, and he probably runs "open gym" every night during football season, and kids have gotten the message that if they want to play during the season, they'll be there. And he's convinced them that the only thing that will prevent them from getting a college scholarship will be getting injured playing football.
6. Assuming that the basketball coach is not a player-hog, your best players will still be multi-sport athletes, and you'll have to work together with the other coaches. That means being prepared to make certain compromises where your summer workouts are concerned. Get used to smaller numbers in the weight room, and sometimes not having all the kids there for 7 on 7.
7. Depending on how isolated you are, finding assistants may be a problem. Do not take on members of the previous staff or allow yourself to be pressured into hiring someone without carefully checking them out first. I advise against hiring guys from the community, and unless he's a teacher, do not hire a dad. Even then, lay down the law to him about giving any appearances of favoring his son.
8. There is usually a need for parental discipline, too. It's possible they've been treating the high school football team as if it's a rec program. You need to find out what they're used to getting away with in terms of taking kids out of practice for various reasons, and when they go hunting, when they take vacations, etc. You'll need to spell out your expectations to parents, and you'll certainly want to make sure that the administration will back you on this, too.
9. Small towns and small schools can be very political. School board members are well-known and quite accessible to the community. And quite responsive. They don't get elected by telling people to butt out. It's common for community members with grievances of one sort or another to bypass the chain of command and go right to a board member (or two, or three).
10. Growing up in a small town, there are certain well-established roles that kids are expected to play, and roles that have been reinforced by years and years of living in the same place with the same group. This can be good or bad. Sometimes it can mean that a kid is locked into a role that's not necessarily what's best for him or for your program.
11. You will be under a microscope at all times. Does he go to church? Why there? Why not? Everything you say and do is likely to be discussed wherever people gather. Depending on the community, that could mean not wanting to be seen buying beer at a local store, or having a beer in a local tavern, or ordering a drink with your meal at a restaurant. And although there might not be a daily paper in town, there will probably be a weekly, and possibly a radio station, and you may find yourself getting the kind of coverage you'd never get in a larger community with several schools, so you have to treat the local media with respect and accommodate them as much as possible.
12. In many small towns, talent comes and goes in waves. In some cases, the whole community has known from the time a group of kids was in first grade that they'd be something special when they got to high school; or, conversely, that that group is going to be a real problem someday. Sometimes you find a town where you have a run of several good classes. Sometimes, it works the other way around.
13. In general, small-town America is declining in population. This can mean the sudden loss of a good player or two. it could mean shrinking to the point where you're one of the smallest teams in your classification. Or, worst of all, it could mean consolidation with another small school. This would not necessarily be a good thing for you, so you'd want to try to check this out in advance.
14. And remember - you may be able to change the culture of the football team for a while, but you will not be able to change the culture of a town. It is what it is. Some towns turn out championship team after championship team. In others, kids don't know what hard work is. Their parents don't have any aspirations for them and don't demand anything of them.
Just a few insights.
I'm sure I've made it sound bad, but I wouldn't coach anyplace else.
*********** If I were wounded in combat, I wouldn't feel very confident if the medic treating me said he was a "corpse man." If you've been following the news, you'll know what I'm talking about.
TUESDAY, FEBRUARY 2, 2010- "The person who has nothing for which he is willing to fight, nothing which is more important than his own personal safety, is a miserable creature and has no chance of being free unless made and kept so by the exertions of better men than himself." -- John Stuart Mill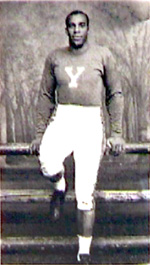 ***********In February, 2001 I opened the latest issue of my alumni magazine and read that Levi Jackson had died.
I couldn't believe that I'd missed the news - couldn't believe it wouldn't have been news in all the papers. As a fellow alum, I knew about him, of course, but I was determined to learn more. That I did.

Although it was no less sad to have lost such a man, it was nevertheless fitting that I learned of his passing during Black History Month, because Levi Jackson, a black man, a great American, a true pioneer, a man of many significant firsts, deserved an honored place in American history.
He passed away December 7, 2001 in Detroit at the age of 74, and I can't imagine how the news of his death escaped my notice. Truly, at a time when we deplore the behavior of so many of today's athletes, we should have read about a man of Levi Jackson's accomplishments on front pages everywhere.

Mr. Jackson retired in 1983 after a long career with Ford Motor Company. He was that company's first black executive. Years before, he was the first black man to play football at Yale, and the first to become captain of any Yale varsity sport. (He is shown at left in 1949 in the traditional pose of Yale football captains - on a section of the fence which once surrounded the old campus, against a backdrop of the elms for which New Haven is famous.) He nearly became the first black player of the modern NFL.
Levi Jackson was born not far from Yale in Branford, Connecticut. His father worked as a chef at the university. The first football game he ever attended was in the Yale Bowl in 1937, watching a Yale team that featured Clint Frank, that year's Heisman Trophy winner. He played two years of high school ball at Branford High, and when his family moved to New Haven, he transferred to Hillhouse High School there. (Years later, Hillhouse would produce another football great in Floyd Little). His coach at Hillhouse was Reggie Root, a Yale alumnus who had played and coached at Yale, and Root encouraged him to apply to Yale. But with World War II going on, Mr. Jackson entered the Army after graduation.
While stationed at Camp Lee, Virginia, he played service football, and after his Army team beat the New York Giants, the Giants offered him a sum said to be $10,000 to sign with them. Had he done so, he would have become the first black man to play in the modern NFL (post-1933), but his parents wanted him to go to college, and he rejected the Giants' offer. (He would later say, "I didn't want to play for money.") Instead, with the the GI Bill paying $500 of Yale's $600 tuition, he entered Yale in the fall of 1946.
He was one of only three black men in an undergraduate student body of 8,500.
Eligible to play as a freshman, he started at fullback and punted, as Yale finished 7-1-1, and ranked 12th in the nation. His 806 yards rushing ranked him fifth in the nation, and he was named third team All-American and received the Lowe Award as the outstanding football player in New England.

Injured much of his sophomore year, he never did truly regain his freshman form, but a highlight of his career came in his junior year, when Yale travelled to Wisconsin and upset the Badgers, 17-7.

When he was elected captain of the 1949 team following the 1948 season, not only was it a source of enormous pride to the townspeople of New Haven, it was national front-page news. A black man even playing on a previously all-white Ivy team

Levi Jackson and his coach, Herman Hickman, himself an all-time All-American, in the Yale Bowl

was news enough. But captain? This was barely a year after Jackie Robinson had integrated baseball. The New York Times saw fit to put the story on its front page.
Yale has a long tradition, dating back to 1880, of selecting just one captain. There have never been co-captains. It is a position of enormous prestige. The captain is chosen democratically, by vote of the lettermen, and Levi Jackson's election was a sign of the great esteem in which he was held by his teammates.
William N. Wallace, who would go on to a long, distinguished career as a sports reporter for the New York Times, was at the time a Yale undergraduate, working as an assistant to sports information director Charley Loftus. On the day Jackson's election was announced, he had been busy all day fielding phone calls.
Writing in 1998, he remembered returning to his room at the end of the long day and asking his roommate, Swede Larson, a football player (whose father had been head coach at Navy) if he and his teammates realized what they done in electing a "negro." ("We didn't use the term 'black' back then," Wallace wrote.)
"The whole world wants to know about him being elected captain," Wallace said. "I've been on the phone all afternoon."
Larson, Wallace wrote, looked blank. Finally, he said, "The voting took only about 10 minutes. There was no one else. It had to be Levi."
He was no less respected by his fellow students - on the eve of the first game of his senior year, 3,000 of them marched in a torchlight parade in his honor.
In his farewell game, the traditional season finale against Harvard, he ran 34 yards for the first touchdown and caught a pass for the second as Yale won, 29-6.

When his Yale football career came to an end, he held 13 different school records. He also lettered twice in basketball, playing as a reserve on Yale's 1948-49 team that made it to the NCAA tournament.

Apart from sport, he majored in engineering and excelled academically. One of his classmates, William Clay Ford, Sr., of the automaking family, persuaded him to take a job with Ford after graduation, and so began a 32-year career with the automaker, in which he would become Ford's first black executive, making his way up the corporate ladder to the position of vice-president which he held at the time of his retirement.

"We were classmates," Mr. Ford told the Detroit News at the time of Mr. Jackson's death. "He was extremely competent and talented. He did an outstanding job at Ford."

Working in the area of personnel and labor relations, Mr. Jackson spent nearly a year after the Detroit riots in 1967 "on loan" to a special committee of business and government people dedicated to helping the city recover. As a result of his proposals to improve hiring and training of minorities, Ford hired 10,000 new people. In 1969, Ford named him Citizen of the Year in recognition of his efforts.

Among Mr. Jackson's other noteworthy accomplishments was his role in spearheading Ford's minority dealership program.

Mr. Jackson was selected by two different presidents - Johnson and Nixon - to serve on two diifferent national bodies, the Presidential Commission on White House Fellows, and the Selective Service Appeals Board.

In 1987, he received the Walter Camp Man of the Year Award for outstanding accomplishment in football and in citizenship.

Mr. Jackson remained close to Yale by serving as a member of an alumni advisory group, and was active in interviewing prospective Yale students from Michigan.

"Yale has always been close to his heart," a family friend told the Detroit Free Press. "He was able to go back to New Haven this past summer for his 50th class reunion, and that was a high point for everyone."

Regrettably, there are those nowadays who would look at a Levi Jackson, setting out to make his mark in "a white man's world" - on a white football team, in a white college, and then in a white corporation - and say, "Uncle Tom."
To them I say, shame on you for attempting to discourage any person from following in the footsteps of a Levi Jackson. Thanks to the strength and character of Mr. Jackson, Yale is a better university, Ford is a better company, America is a better country.
*********** Riddell has been around for a long time, and growing up hearing its name pronounced "rid-DELL," it always grates on my ears when I hear it pronounced "rye-DELL."
It's a basic rule of English that double consonants dictate that the vowel that precedes them is the short form, as in riddle, sudden, rabbit, peddle. (They actually used to teach this stuff in English, before it became "Language Arts" and we began telling kids just to put their feelings down on paper. It's no wonder they grow into adults who can neither write or speak.)
So Saturday, we saw a Riddell commercial in which the company pronounced its own name rid-DELL (RID as in "riddle"). Then we saw a sideline interview with the CEO of Riddel and he, too, pronounced it rid-DELL.
That ought to settle it, right?
Wrong.
Back we went back to the booth, and damned if the announcer didn't say "rye-DELL."
What a missed opportunity. Here a company with a name problem (whether it knows it or not) spends good money on TV sponsorship of a game and doesn't do something as simple giving a pronunciation guide to the guys in the booth.
*********** You youth coaches out there ... can you feel Big Brother circling?
If not, you didn't hear USA Football (an arm of the NFL) describe itself as "Official youth football development partner of the NFL."
*********** That "USA Against the World" game drew maybe 2,000 people - maybe - which leds me to the suspicion that all those guys who spend all that money subscribing to all those recruiting services aren't necessarily football fans.
The announcers kept referring to one team as "The World," which led to such disquieting statements as, "Time's running short on The World."
*********** Unsuccessful in cramming health care reform down our throats, Our Fearless leader appears to have turned his attention to college football, where he may try to do the same thing with a college football playoff.
Nebraska, in exchange for Senator Ben Nelson's vote, has been guaranteed a lifetime spot in the championship game.
*********** If you're looking forward to the Super Bowl commercials, be forewarned...
Do NOT expect to see the Clydesdales. Not sure what the reasoning is, but now that Anheuser-Busch is European-pwned, the guys in St. Louis may have been having trouble explaining to guys in Belgium that draft horses can sell draft beer.
Also... do NOT be surprised if the Bud Light commercials are not up to their usual standards.
Bob Lachky, chief creative officer of A-B, , left the company since last year's Super Bowl after 20 years of involvement with Bud and Bud Light commercials. He's the guy who gave us the Frogs, Cedric the Entertainer shaking the Bud Light bottles, and "Whussup?"
*********** The Pro Bowl gave us a look at the future of football, non-contact version, successfuly combining 7 on 7 with ballroom dancing.
The game was a sellout. So they say. But either a lot of the people were sitting in free seats or a lot of them began to realize what a hoax the game was when, with the game tied 34-34 at the start of the fourth quarter, the stands were already starting to empty.
*********** Suzy Kolber, talking with Vince Young, said, "Steve (McNair) passed..."
Um, Suzy-Q - this is not a guy who passed away with his loving family at his bedside.
*********** I just got back from an extended stay on Mars. Can anybody possibly tell me what the Super Bowl halftime show is going to be?
*********** Hugh, Where has the time gone? Don Capaldo retired - seems just like yesterday he and his wife spent some time vacationing here in Boothbay. We talked some football of course and I grilled some Mackerel he had caught. Sure would like a current email or snail mail address if you had one. I would love to drop him a note.
Nice piece on Mike Lude - enjoyed meeting him with you in Seattle when we played a game there. He was helping to coach his grandson who played on a wing-T team and rats if they didn't beat us in the last minute of the game. After the game we chatted about the wing t and the university of Maine a real gentleman of the old school!!
Sue and I will see you folks on the third (in Providence) and dinner is a must!!
Jack Tourtillotte
Boothbay, Maine
*********** The Senior Bowl was a sellout. I have a one-word explanation: Tebow
*********** Listening to Myron Rolle talk... I don't care if the kid can play or not. With rosters full of jackasses and degenerates, what f--king pro team couldn't find room for one kid like THAT?
*********** Jeez - if we are going to have to listen to this guys all the time...
Give Corey Chavous speech lessons. Or speech therapy.
*********** Ironic that it was an NFL championship game that gave birth to sudden death. Seemed very exciting at the time.
Nobody had ever anticipated using it, and therefore nobody had ever really thought it through.
Now, it has the potential to knock higu-and-mighty the NFL on its ass.
I'm sure that the Vegas sports books will be ready on a minute's notice to offer a bet on any coin toss.
*********** From Tyler Sellhorn, Fort Wayne, Indiana came a link to video of the 1971 Michigan team - running wishbone! - against Ohio State
http://www.youtube.com/watch?v=xqOfmRUGxys
They're actually running something that looks a lot like Super Power except they're pulling the backside tackle.
Michigan won, 10-7 and went into the Rose Bowl 11-0, outscoring opponents 421-83.Wolverines lost to Stanford 13-12
The Michigan roster --- http://bentley.umich.edu/athdept/football/fbteam/1971fbt.htm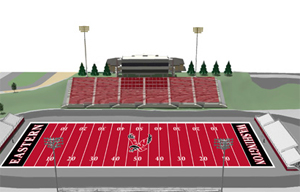 *********** You probably thought Boise State's blue turf was as bad as it could get. Eastern Washington, which last I heard wasn't exactly swimming in money, is trying to raise $500,000 to lay down a RED field.
Gee - why not pink?
*********** I wrote, "I have a sneaking suspicion that at least one member of the Saints will be playing the Super Bowl for fun. Or, at most, for a ring on his finger.
Based on some of the shots those guys took at Brett Favre - including that late, low dive into Favre's legs by one Bobby McCray - I think a healthy fine or two might be in order. I can't imagine the league office will let it pass.
I'm not one for putting dresses on quarterbacks, but when punters get better protection than quarterbacks, the league is headed for trouble."
Now comes word from the NFL office that McCray has been fined $20,000 - hope he likes his ring - and , even worse, should have been penalized for roughing the passer, which could have altered the course of the game.
So go ahead, everybody - get caught up in the warm and fuzzy story about the Saints and the city that refused to die. Not me. In my opinion, the Saints were out to hurt Favre - and they succeeded.
It would do irreparable damage to the NFL if the Saints' defenders were permitted to get away with the same sort of stuff against Manning.
*********** Tom Brookshier died last week. The name took me back to the Eagles of my younger days - McDonald, Walston, Retzlaff, Barnes, Van Brocklin, Khayat, Peaks, Pellegrini, Baughan, Bednarik - and Brookshier.
I've mentioned before that my wife and I spent part of our honeymoon at Hershey, Pennsylvania, watching the Eagles train. No security in those days. You could stand - or sit - right on the sidelines, and we thought it was funny that the guys in the secondary kept yelling, "Rookie! Rookie!"
It took us a while to learn that they were saying, "Brookie!"
Tom Brookshier was a very good player - an All-Pro defensive back on an NFL championship team.
"He might have been the toughest defensive back of our era,'' said teammate, Chuck Bednarik. "He was a hitter.'' Quite a compliment from a guy who in my estimation could possibly be the toughest man ever to play the game.
He went on to become one of the earliest of the former-player-turn-announcer guys, teaming with Pat Summerall to make up CBS' top broadcast crew. Summerall was at his side when he died.
But he did have one uncomfortable moment after Super Bowl VI. The Cowboys' Duane Thomas, a spectacularly talented runner with several loose screws in his head had refused all week to talk to the media, and after the Cowboys' 24-3 win over Miami Brookshier, after talking about Thomas' speed, asked the enigmatic Cowboy, "Are you really that fast?"
Replied Thomas, "Evidently."
Here's something about Brookshier that people all over America can thank him - or curse him - for.
He was a part owner of Philadelphia radio station WIP when it decided to go all-sports, all-the-time. But he knew he needed something more than just the usual "How about those Phillies?" pap. He needed personalities, the kind of wise-asses that Philly is famous for, but ones who knew their sports inside and out, and who could talk guy-talk on a number of subjects.
He wound up being, in the words of longtime Philly sportswriter Bill Conlin," the father of the sportstalk radio-as-variety show format."
He lined up a cast of guys working at the Philadelphia Inquirer (damn, that paper was really loaded with talent) like Angelo Cataldi, Al Morganti, Glen Macnow and Mike Missanelli, and he and Cataldi did the morning drive-time show as "Brookie and the Rookie." WIP wound up becoming must listening for any sports fan, of which Philly has plenty. The first thing I do when I get to Philly and pick up the rental car is tune in to 610, WIP. It usually takes me less than a day to get up to speed on the hot topics of Philly sports, and before I know it, I've regained (ore reverted to) my Philly accent.
Cataldi said that Brookshier was amazing in that he knew so many people - that he could get anybody to come on the show. Cataldi wrote in his memories about "Brookie's" last day at WIP:
Tom left WIP the way he did everything in his remarkable life, with a show unlike any in the history of our station. That last day, 34 guests joined him, a Who's Who in American sports: Wilt Chamberlain, Bobby Knight, John Unitas, Dick Vermeil, Pat Summerall, John Madden. There were so many stories, so many memories. The only time Tom would cringe was when one of the guests tried to get sentimental on him. He had no tolerance for that.
Go to http://www.610wip.com/ and listen to Angelo Cataldi and Ron Charry reminisce about om Brookshier.
*********** Our President announced $8 billion (wonder where that's coming from?) would be spent on a "high speed rail improvement plan."
Oregon is going to spend the bulk of its money on fixing the roof of Portland's Union Station. Across the river, Washington will spend most of its $590 million supercharging the "high speed" service between Vancouver - just north of Portland - to Seattle.
The trip between Vancouver and Seattle now takes three hours and 15 minutes, station-to-station. It's expected that the $590 million will "narrow the gap" between taking the train and driving.
The gap ? It takes less than three hours to drive. Door-to-door.
The average subsidy for Amtrak works out to about 22 cents per passenger mile. That's $79 round-trip for every passenger on the train. If a couple were to be take the subsidy and drive to Seattle, they'd have enough money for gas and three decent restaurant meals.
All aboard. Your tax dollars at work.
*********** Bengals linebacker Rey Maualuga has pleaded not guilty in Covington, Kentucky to drunken and careless driving.
A Covington police spokesman said Maualuga hit a parking meter and two parked cars early Friday with his 2003 Pontiac.
I am still trying to figure out WTF an NFL player is doing in a 2003 Pontiac.
Maybe it's his "going-out-drinking" car.