FRIDAY, MAY 28, 2010- "They never fail who die in a great cause: the block may soak their gore, their heads may sodden in the sun; their limbs be strung to city gates and castle walls - but still their spirit walks abroad. Though years elapse, and others share as dark a doom, they but augment the deep and sweeping thoughts which overpower all others, and conduct the world at last to freedom." Lord Byron
IN OBSERVANCE OF MEMORIAL DAY
*********** Several years ago, while visiting the First Division (Big Red One) Museum in Wheaton, Illinois I read these lines, and thought of all the Americans who died in service of their country, men who in the memories of those they left behind will be forever young...
If you are able
Save a place for them inside of you,
And save one backward glance
When you are leaving for places
They can no longer go.
Be not ashamed to say you loved them,
Though you may or may not always have.
Take what they have left
And what they have taught you with their dying,
And keep it with your own.
And in that time when men feel safe
To call the war insane,
Take one moment to embrace these gentle heroes
You left behind.
by Major Michael D. O'Donnell... shortly before he was killed in action in Vietnam, 1970
*********** Memorial Day, once known as Decoration Day, was originally set aside to honor the men who died in the Civil War. (There was a time when certain southern states did not observe it, preferring instead to observe their own Memorial Days to honor Confederate war dead.)
The Civil War soldiers called it "seeing the elephant." It meant experiencing combat. They started out cocky, but soon learned how suddenly horrible - how unforgiving and inescapable - combat could be. By the end of the Civil War 620,000 of them on both sides lay dead. Hundreds of thousands of civilians were left dead or homeless.

"I have never realized the 'pomp and circumstance' of glorious war before this," a Confederate soldier bitterly wrote, "Men...lying in every conceivable position; the dead...with eyes open, the wounded begging piteously for help."

"All around, strange mingled roar - shouts of defiance, rally, and desperation; and underneath, murmured entreaty and stifled moans; gasping prayers, snatches of Sabbath song, whispers of loved names; everywhere men torn and broken, staggering, creeping, quivering on the earth, and dead faces with strangely fixed eyes staring stark into the sky. Things which cannot be told - nor dreamed. How men held on, each one knows, - not I."

Each battle was a story of great courage and audacity, sometimes of miscommunication and foolishness. But it's the casualty numbers that catch our eyes. The numbers roll by and they are hard for us to believe even in these days of modern warfare. Shiloh: 23,741, Seven Days': 36,463, Antietam: 26,134, Fredericksburg: 17,962, Gettysburg: 51,112, and on and on (in most cases, the South named battles after the town that served as their headquarters in that conflict, the North named them after rivers or creeks nearby. So Manassas for the South was Bull Run for the North; Antietam for the Union was Sharpsburg for the Confederacy).

General William T. Sherman looked at the aftermath of Shiloh and wrote, "The scenes on this field would have cured anybody of war."
From "Seeing the Elephant" Raw Recruits at the Battle of Shiloh - Joseph Allan Frank and George A. Reaves - New York: Greenwood Press, 1989

Probably the best known poem from the Civil War, The Blue and the Gray, by Frances Miles Finch illustrates the truth that as bitterly as the men of the two sides were divided, as ferociously as they fought, the fallen - winner and loser alike - are finally united, "Under the sod and the dew... Waiting the judgment day."

The Blue and the Gray, by Frances Miles Finch
By the flow of the inland river, Whence the fleets of iron have fled,
Where the blades of the grave-grass quiver, Asleep on the ranks of the dead;
Under the sod and the dew, Waiting the judgment day;
Under the one, the Blue; Under the other, the Gray.
These in the robings of glory, Those in the gloom of defeat;
All with the battle-blood gory, In the dusk of eternity meet;
Under the sod and the dew, Waiting the judgment day;
Under the laurel, the Blue; Under the willow, the Gray.
From the silence of sorrowful hours, The desolate mourners go,
Lovingly laden with flowers, Alike for the friend and the foe;
Under the sod and the dew, Waiting the judgment day;
Under the roses, the Blue; Under the lilies, the Gray.
So, with an equal splendor, The morning sun-rays fall,
With a touch impartially tender, On the blossoms blooming for all;
Under the sod and the dew, Waiting the judgment day;
Broidered with gold, the Blue; Mellowed with gold, the Gray.
So, when the summer calleth, On forest and field of grain,
With an equal murmur falleth The cooling drip of the rain;
Under the sod and the dew, Waiting the judgment day;
Wet with the rain, the Blue; Wet with the rain, the Gray.
Sadly, but not with upbraiding, The generous deed was done;
In the storm of the years that are fading, No braver battle was won;
Under the sod and the dew, Waiting the judgment day;
Under the blossoms, the Blue; Under the garlands, the Gray.
No more shall the war-cry sever, Or the winding rivers be red;
They banish our anger forever, When they laurel the graves of our dead.
Under the sod and the dew, Waiting the judgment day;
Love and tears for the Blue; Tears and love for the Gray.
*********** Following World War I, Americans began to celebrate the week leading up to Memorial Day as Poppy Week.
It was all because of a poem by Major John McCrae, a Canadian surgeon, that the poppy, which burst into bloom all over the once-bloody battlefields of northern Europe, came to symbolize the rebirth of life following the tragedy of war.
Long after World War I ended, veterans' organizations in America, Australia and other nations which fought in the war still sold imitation poppies at this time of year to raise funds to assist disabled veterans.

After having spent seventeen days hearing the screams and dealing with the suffering of men wounded in the bloody battle at Ypres, in Flanders (a part of Belgium) in the spring of 1915, Major McCrae wrote, "I wish I could embody on paper some of the varied sensations of that seventeen days... Seventeen days of Hades! At the end of the first day if anyone had told us we had to spend seventeen days there, we would have folded our hands and said it could not have been done."
Major McCrae was especially affected by the death of a close friend and former student. Following his burial - at which, in the absence of a chaplain, Major McCrae himself had had to preside - the Major sat in the back of an ambulance and, gazing out at the wild poppies growing in profusion in a nearby cemetery, began composing a poem, scribbling the words in a notebook as he went.
But when he was done, he discarded it. It was only through the efforts of a fellow officer, who rescued it and sent it to newspapers in England, that it was ever published.
Now the poem, "In Flanders Fields", is considered perhaps the greatest of all wartime poems.
The special significance of the poppies is that poppy seeds can lie dormant in the ground for years; only when the soil has been turned over do they flower.
The violence of war had so churned up the soil of northern Belgium that by the time Major McCrae wrote his poem, poppies were said to be blossoming in a way that no one could ever remember having seen them do before.
In Flanders Fields... by John McCrae
In Flanders fields the poppies blow
Between the crosses, row on row,
That mark our place; and in the sky
The larks, still bravely singing, fly
Scarce heard amid the guns below.
We are the Dead. Short days ago
We lived, felt dawn, saw sunset glow,
Loved, and were loved, and now we lie
In Flanders fields.
Take up our quarrel with the foe:
To you from failing hands we throw
The torch; be yours to hold it high.
If ye break faith with us who die
We shall not sleep, though poppies grow
In Flanders fields.
MEMORIAL DAY IN OUR TOWN - CAMAS, WASHINGTON
It's not the worst thing in the world to live across the street from a cemetery, as we have, for more than 20 years - not when the cemetery is as beautiful as our town's. And it's especially beautiful on Memorial Day and Veterans' Day, when the lush green hilltop is studded with flags and flowers. Tall evergreens, silhouetted against the sky, stand guard in the background.
My wife and I look forward to Memorial Day as the informal kickoff to summer, but also as a reminder that real Americans still care.
Every year, the routine is the same: a local Boy Scout troop places flags on the graves of veterans at the town cemetery while each Veteran's name is read aloud by a member of the local American Legion post.
All weekend, a steady stream of visitors passes through to place flowers and pay their respects.
*********** Robert W. Service is one of my favorite poets. I especially like his poems about the Alaska Gold Rush, but this one, about a young Englishman and his loving father, is especially poignant on a day when we remember our people who gave everything, and extend our sympathy to those they left behind.
"Young Fellow My Lad" by Robert W. Service
"Where are you going, Young Fellow My Lad, On this glittering morn of May?"
"I'm going to join the Colours, Dad; They're looking for men, they say."
"But you're only a boy, Young Fellow My Lad; You aren't obliged to go."
"I'm seventeen and a quarter, Dad, And ever so strong, you know."
"So you're off to France, Young Fellow My Lad, And you're looking so fit and bright."
"I'm terribly sorry to leave you, Dad, But I feel that I'm doing right."
"God bless you and keep you, Young Fellow My Lad, You're all of my life, you know."
"Don't worry. I'll soon be back, dear Dad, And I'm awfully proud to go."
"Why don't you write, Young Fellow My Lad? I watch for the post each day;
And I miss you so, and I'm awfully sad, And it's months since you went away.
And I've had the fire in the parlour lit, And I'm keeping it burning bright
Till my boy comes home; and here I sit Into the quiet night."
"What is the matter, Young Fellow My Lad? No letter again to-day.
Why did the postman look so sad, And sigh as he turned away?
I hear them tell that we've gained new ground, But a terrible price we've paid:
God grant, my boy, that you're safe and sound; But oh I'm afraid, afraid."
"They've told me the truth, Young Fellow My Lad: You'll never come back again:
(OH GOD! THE DREAMS AND THE DREAMS I'VE HAD, AND THE HOPES I'VE NURSED IN VAIN!)
For you passed in the night, Young Fellow My Lad, And you proved in the cruel test
Of the screaming shell and the battle hell That my boy was one of the best.
"So you'll live, you'll live, Young Fellow My Lad, In the gleam of the evening star,
In the wood-note wild and the laugh of the child, In all sweet things that are.
And you'll never die, my wonderful boy, While life is noble and true;
For all our beauty and hope and joy We will owe to our lads like you."

ON MEMORIAL DAY, I ESPECIALLY HONOR THE MEN OF THE BLACK LIONS, AND ALL-AMERICA DON HOLLEDER
LOST AT ONG THANH, VIET NAM, OCTOBER 17, 1967
K I A ... Adkins, Donald W.... Allen, Terry... Anderson, Larry M.... Barker, Gary L.... Blackwell, James L., Jr.... Bolen, Jackie Jr. ... Booker, Joseph O. ... Breeden, Clifford L. Jr ... Camero, Santos... Carrasco, Ralph ... Chaney, Elwood D. Jr... Cook, Melvin B.... Crites, Richard L.... Crutcher, Joe A. ...... Dodson, Wesley E.... Dowling, Francis E.... Durham, Harold B. Jr ... Dye, Edward P. ... East, Leon N.... Ellis, Maurice S.... Familiare, Anthony ... Farrell, Michael J. ...Fuqua, Robert L. Jr. ...Gallagher, Michael J. ...Garcia, Arturo ...Garcia, Melesso ...Gilbert, Stanley D. ...Gilbertson, Verland ...Gribble, Ray N. ...Holleder, Donald W. ...Jagielo, Allen D. ...Johnson, Willie C. Jr ...Jones, Richard W. ...Krischie, John D. ...Lancaster, James E. ...Larson, James E. ...Lincoln, Gary G. ...Lovato, Joe Jr. ...Luberta, Andrew P. ...Megiveron, Emil G. ...Miller, Michael M. ...Moultrie, Joe D. ...Nagy, Robert J. ...Ostroff, Steven L. ...Platosz, Walter ...Plier, Eugene J. ...Porter, Archie ...Randall, Garland J. ...Reece, Ronney D. ...Reilly, Allan V. ...Sarsfield, Harry C. ...Schroder, Jack W. ...Shubert, Jackie E. ...Sikorski, Daniel ...Smith, Luther ...Thomas, Theodore D. Jr. ...Tizzio, Pasquale T. ...Wilson, Kenneth P. .... M I A ... Fitzgerald, Paul ...Hargrove, Olin Jr.
*********** You don't have to be a George Jones fan (I happen to be a BIG one) to appreciate his "50,000 NAMES" - a tribute to the 58,000 Americans who died in Vietnam
(Warning - it takes a strong man to watch this and not tear up) http://www.youtube.com/watch?v=Ou7y8AyTwIY
*********** "THE BIG RED ONE", the 1st Infantry Division, of which the Black Lions are a part, is a very proud U.S. Army division.

The 2nd Battalion, 28th Infantry "Black Lions", the U.S. battalion which fought the Battle of Ong Thanh on October 17, 1967, was part of a rich military tradition.
The first U.S. victory of World War I was won when the 28th Infantry Regiment of the !st Division attacked and seized the small French village of CANTIGNY on the 28th of May 1918, earning for The 28th Infantry Regiment the nickname "Black Lions of CANTIGNY".
General John J. Pershing, Commander of the American Expeditionary Forces in World War I, said of the 1st Division: "The Commander-in-Chief has noted in this division a special pride of service and a high state of morale, never broken by hardship nor battle."
These words have never been forgotten by the 1st Infantry Division. All military units seek to be known as special and unique - the best. The 1st Infantry Division has been able, over the many years of its existence, to retain that esprit, and most of those who have served in many different US Army divisions remember the special esprit which the 1st Division was able to imbue throughout its ranks.
DON HOLLEDER - THE MAN WHOSE STORY INSPIRED THE BLACK LION AWARD...

A TRIBUTE TO DONALD WALTER HOLLEDER UNITED STATES MILITARY ACADEMY CLASS OF 1956 - KILLED IN BATTLE IN VIETNAM 17 OCTOBER 1967
By retired Air Force General Perry Smith (Don Holleder's West Point classmate, roommate and best man)
"If you doubt the axiom, 'An aggressive leader is priceless,' ...if you prefer the air arm to the infantry in football, if you are not convinced we recruited cadet-athletes of superior leadership potential, then you must hear the story of Donald Walter Holleder. The saga of Holleder stands unique in Army and, perhaps, all college gridiron lore." Hence begins the chapter, "You are my quarterback", in Coach Red Blaik's 1960 book, You Have to Pay the Price. Every cadet in the classes of 1956, 57, 58 and 59, and everyone who was part of the Army family at West Point and throughout the world will remember, even 50 years after the fact, the "Great Experiment". But there is much more to the Holleder story. .
Holly was born and brought up in a tight knit Catholic family in upstate New York. He was an only child whose father died when Don was quite young. Doc Blanchard recruited high school All American Holleder who entered the Point just a few days after he graduated from Aquinas Institute in Rochester. Twice turned out for academic difficulties, he struggled mightily to stay in the Corps. However as a cadet leader he excelled, serving as a cadet captain and company commander of M-2 his senior year.
Of course, it was in the field of athletics that Don is best known. Never a starter on the basketball team, he nevertheless got playing time as a forward who brought rebounding strength to a team that beat a heavily favored Navy team in the early spring of 1954. That fall, the passing combination of Vann to Holleder quickly caught the attention of the college football world. No one who watched those games will ever forget Holly going deep and leaping into the air to grab a perfectly thrown bomb from Peter Vann. Don was a consensus first team All American that year as a junior.
Three football defeats in 1955 after Holly's conversion to quarterback brought criticism of Coach Blaik and Don from many quarters but the dramatic Army victory over Navy, 14 to 6 brought redemption. Shortly thereafter, Holly received the Swede Nelson award for sportsmanship. The fact that he had given up all chances of becoming a two time all-American and a candidate for the Heisman trophy and he did so without protest or complaint played heavily in the decision by the Nelson committee to select him for this prestigious award.
Holly's eleven year career in the Army included the normal schools at Benning and Leavenworth, company command in Korea, coaching and recruiting at West Point and serving as the commanding general's aide at Fortress Monroe. After graduating from Command and General Staff College, he was off to Vietnam.
Arriving in July, 1967, Holly was assigned to the Big Red One--the First Infantry Division-- and had considerable combat experience before that tragic day in the fall--October 17. Lieutenant Colonel Terry Allen's battalion was ambushed and overrun--the troops on the ground were is desperate shape. Holleder was serving as the operations officer of the 28th Brigade--famous Black Lions. Hearing the anguished radio calls for help from the soldiers on the ground, Holly convinced his brigade commander that he had to get on the ground to help. Jumping out of his helicopter, Holly rallied some troops and raced toward the spot where the wounded soldiers were fighting. The Newsweek article a few days after his death tells what happened next. "With the Viet Cong firing from two sides, the U. S. troops now began retreating pell-mell back to their base camp, carrying as many of their wounded as they could, The medic Hinger was among those who staggered out of the bush and headed across an open marshy plain toward the base, 200 meters away. But on the way he ran into big, forceful Major Donald W. Holleder, 33, an All-American football player at West Point..., going the other way--toward the scene of the battle. Holleder, operations officer for the brigade, had not been in the fight until now. ' Come on Doc, he shouted to Hinger, 'There are still wounded in there. I need your help.'
"Hinger said later: 'I was exhausted. But having never seen such a commander, I ran after him. What an officer! He went on ahead of us--literally running to the point position'. Then a burst of fire from the trees caught Holleder. 'He was hit in the shoulder recalled Hinger. 'I started to patch him up, but he died in my arms.' The medic added he had been with Holleder for only three minutes, but would remember the Major's gallantry for the rest of his life." Holly died as he lived: the willingness to make great sacrifices prevailed to the minute of his death.
Caroline was left a young widow. She later married our West Point classmate, Ernie Ruffner, who became a loving husband and father to the four Holleder daughters. All the daughters are happily married and there are eight wonderful and loving grandchildren.
The legacy of Donald Walter Holleder will remain an important part of the West Point story forever. The Holleder Army Reserve Center in Webster, New York, the Holleder Parkway in Rochester and the Holleder Athletic Center at West Point all help further Don's legacy. In 1985, Holly was inducted into College Football Hall of Fame. A 2003 best selling book, They Marched into Sunlight, by David Maraniss tells the story of Holleder and the Black Lions. Tom Hanks has purchased the film rights to the book.
An innovative high school coach, Hugh Wyatt, decide to further memorialize Don's legacy by establishing the Black Lion Award. Each year at hundreds of high schools, middle schools and youth football programs across the country, a single football player on each team is selected "who best exemplifies the character of Don Holleder: leadership, courage, devotion to duty, self-sacrifice, and--above all--an unselfish concern for his team ahead of himself." Starting in 2005, this award is presented to a member of the Army football team each year.
Anyone who wishes to extend Holleder's legacy can do so by approaching their local football coaches and encouraging them to make the Black Lion Award a part of their tradition. Coach Hugh Wyatt can be contacted by e mail (coachwyatt@aol.com).
All West Pointers can be proud of Donald Walter Holleder; for him there were no impossible dreams, only challenges to seek out and to conquer. Forty years after his death thousands of friends and millions of fans still remember him and salute him for his character and supreme courage.
By Retired Air Force General Perry Smith, classmate and roommate, with great assistance from Don's family members, Stacey Jones and Ernie Ruffner, classmates, Jerry Amlong, Peter Vann and JJ McGinn, and battlefield medic, Doc Hinger.

*********** A YOUNG MAN'S REMEMBRANCES OF DON HOLLEDER...
In 1954-55 I lived at West Point N.Y. where my father was stationed as a member of the staff at the United States Military Academy.
Don Holleder was an All American end on the Red Blaik coached Army football team which was a perennial eastern gridiron power in 40s and 50s. On Fall days I would run home from the post school, drop off my books, and head directly to the Army varsity practice field which overlooked the Hudson River and was only a short sprint from my house.
Army had a number of outstanding players on the roster back then, but my focus was on Don Holleder, our All-America end turned quarterback in a controversial position change that had sportswriters and Army fans buzzing throughout the college football community that year.
Don looked like a hero, tall, square jawed, almost stately in his appearance. He practiced like he played, full out all the time. He was the obvious leader of the team in addition to being its best athlete and player.
In 1955 it was common for star players to play both sides of the ball and Don was no exception delivering the most punishing tackles in practice as well as game situations. At the end of practice the Army players would walk past the parade ground (The Plain), then past my house and into the Arvin Gymnasium where the team's locker room was located.
Very often I would take that walk stride for stride with Don and the team and best of all, Don would sometimes let me carry his helmet. It was gold with a black stripe down the middle and had the most wonderful smell of sweat and leather. Inside the helmet suspension was taped a sweaty number 16, Don's jersey number.
While Don's teammates would talk and laugh among themselves in typical locker room banter, Don would ask me about school, show me how to grip the ball and occasionally chide his buddies if the joking ever got bawdy in front of "the little guy". On Saturdays I lived and died with Don's exploits on the field in Michie Stadium.

In his senior year Don's picture graced the cover of Sports Illustrated magazine and he led Army to a winning season culminating in a stirring victory over Navy in front of 100,000 fans in Philadelphia. During that incredible year I don't ever remember Don not taking time to talk to me and patiently answer my boyish questions about the South Carolina or Michigan defense ("I'll bet they don't have anybody as fast as you, huh, Don?").

Don graduated with his class in June 1956 and was assigned to the 25th Infantry Division in Schofield Barracks, Hawaii. Coincidentally, my Dad was also assigned to the 25th at the same time so I got to watch Don quarterback the 14th Infantry Regiment football team to the Division championship in 1957.
There was one major drawback to all of Don's football-gained notoriety - he wanted no part of it. He wanted to be a soldier and an infantry leader. But division recreational football was a big deal in the Army back then and for someone with Don's college credentials not to play was unheard of.
In the first place players got a lot of perks for representing their Regiment, not to mention hero status with the chain of command. Nevertheless, Don wanted to trade his football helmet for a steel pot and finally, with the help of my Dad, he succeeded in retiring from competitive football and getting on with his military profession.

It came as no surprise to anyone who knew Don that he was a natural leader of men in arms, demanding yet compassionate, dedicated to his men and above all fearless. Sure enough after a couple of TO&E infantry tours his reputation as a soldier matched his former prowess as an athlete.

It was this reputation that won him the favor of the Army brass and he soon found himself as an Aide-de-camp to the four star commander of the Continental Army Command in beautiful Ft Monroe, Virginia.

With the Viet Nam War escalating and American combat casualties increasing every day, Ft Monroe would be a great place to wait out the action and still promote one's Army career - a high-profile job with a four star senior rater, safely distanced from the conflict in southeast Asia.

Once again, Don wanted no part of this safe harbor and respectfully lobbied his boss, General Hugh P. Harris to get him to Troops in Viet Nam. Don got his wish but not very long after arriving at the First Division he was killed attempting to lead a relief column to wounded comrades caught in a Viet Cong ambush.
I remember the day I found out about Don's death. I was in the barber's chair at The Citadel my sophomore year when General Harris (Don's old boss at Ft Monroe, now President of The Citadel) walked over to me and motioned me outside.
He knew Don was a friend of mine and sought me out to tell me that he was KIA. It was one of the most defining moments of my life. As I stood there in front of the General the tears welled up in my eyes and I said "No, please, sir. Don't say that." General Harris showed no emotion and I realized that he had experienced this kind of hurt too many times to let it show. "Biff", he said, "Don died doing his duty and serving his country. He had alternatives but wouldn't have it any other way. We will always be proud of him, Biff."

With that, he turned and walked away. As I watched him go I didn't know the truth of his parting words. I shed tears of both pride and sorrow that day in 1967, just as I am doing now, 34 years later, as I write this remembrance. In my mind's eye I see Don walking with his teammates after practice back at West Point, their football cleats making that signature metallic clicking on concrete as they pass my house at the edge of the parade ground; he was a leader among leaders.

As I have been writing this, I periodically looked up at the November 28, 1955 Sports Illustrated cover which hangs on my office wall, to make sure I'm not saying anything Don wouldn't approve of, but he's smiling out from under that beautiful gold helmet and thinking about the Navy game. General Harris was right. We will always be proud of Don Holleder, my boyhood hero...
Biff Messinger, Mountainville, New York, 2001
*********** Like many other phenomena in life, history has a tendency to be fickle. In 2001, some thirty-four years after the Battle of Ông Thanh, and the subsequent withdrawal of U.S. forces from Vietnam in 1973, which was followed by the "honorable peace" that saw the North Vietnamese army conquer South Vietnam in 1975 in violation of the Paris Peace Accords, most historians, as well as a large majority of the American people, may consider the U.S. involvement in Vietnam a disastrous and tragic waste and a time of shame in U.S. history. Consider, however, the fact that since the late 1940s, the Soviet Union was the greatest single threat to U.S. security. Yet for forty years, war between the Soviet Union and the United States was averted. Each time a Soviet threat surfaced during that time (Greece, Turkey, Korea, Berlin, Cuba, Vietnam, and Afghanistan), although it may have been in the form of a "war of national liberation," as the Vietnam war was characterized, the United States gave the Soviet Union the distinct message that each successive threat would not be a Soviet walkover. In fact, the Soviets were stunned by the U.S. reactions in both Korea and Vietnam. They shook their heads, wondering what interest a great power like the United States could have in those two godforsaken countries. They thought: "These Americans are crazy. They have nothing to gain; and yet they fight and lose thousands of men over nothing. They are irrational." Perhaps history in the long-term--two hundred or three hundred years from now--will say that the western democracies, led by the United States, survived in the world, and their philosophy of government of the people, by the people, for the people continues to survive today (in 2301) in some measure due to resolute sacrifices made in the mid-twentieth century by men like those listed in the last chapter of this book. Then the words of Lord Byron, as quoted in this book's preface, will not ring hollow, but instead they will inspire other men and women of honor in the years to come.
From "The Beast was Out There", by Brigadier General James Shelton, USA (Ret.)
Jim Shelton is a former Delaware football player (a wing-T guard) who served in Korea and Vietnam and as a combat infantryman rose to the rank of General. He was at Ong Thanh on that fateful day in October, 1967 when Don Holleder was killed. He had played football against Don Holleder in college, and was one of those called on to identify Major Holleder's body.

Now retired, he serves as Colonel of the Black Lions and has been instrumental in the establishment of the Black Lion Award for young American football players. General Shelton personally signs every Black Lions Award certificate.

The title of his book is taken from Captain Jim Kasik's description of the enemy: "the beast was out there, and the beast was hungry."

*********** "Major Holleder overflew the area (under attack) and saw a whole lot of Viet Cong and many American soldiers, most wounded, trying to make their way our of the ambush area. He landed and headed straight into the jungle, gathering a few soldiers to help him go get the wounded. A sniper's shot killed him before he could get very far. He was a risk-taker who put the common good ahead of himself, whether it was giving up a position in which he had excelled or putting himself in harm's way in an attempt to save the lives of his men. My contact with Major Holleder was very brief and occured just before he was killed, but I have never forgotten him and the sacrifice he made. On a day when acts of heroism were the rule, rather than the exception, his stood out." Dave Berry

*********** THE YANKEE FROM OLYMPUS - AND MEMORIAL DAY

"We have shared the incommunicable experience of war. We felt - we still feel - the passion of life to its top.... In our youths, our hearts were touched with fire." Oliver Wendel Holmes, Jr.

Oliver Wendel Holmes, Jr. was born in Boston in 1841, the son of a famous poet and physician. In his lifetime he would see combat in the Civil War then go on to become a noted lawyer and, finally, for 30 years, a justice of the Supreme Court. So respected was he that he became known as "The Yankee From Olympus."

He graduated from Harvard University in 1861. After graduation, with the Civil War underway, he joined the United States Army and saw combat action in the Peninsula Campaign and the Wilderness, and was injured at the Battles of Ball's Bluff, Antietam, and Fredericksburg. He was discharged in 1864 as a Lieutenant Colonel.

The story is told of Holmes that in July 1864, as the Confederate general Jubal Early conducted a raid north of Washington, D.C. President Abraham Lincoln came out to watch the battle. As Lincoln watched, an officer right next to him was hit by a sniper's bullet. The young Holmes, not realizing who he was speaking to, shouted to the President, "Get down, you damn fool, before you get shot!"

After the war's conclusion, Holmes returned to Harvard to study law. He was admitted to the bar in 1866, and went into private practice in Boston.

In 1882, he became both a professor at Harvard Law School and a justice of the Supreme Judicial Court of Massachusetts. In 1899, he was appointed Chief Justice of the court.

In 1902, President Theodore Roosevelt named Holmes to the United States Supreme Court, where he served for more than 30 years, until January 1932.

Over the years, as a distinguished citizen who knew what it meant to fight for his country, he would reflect on the meaning of Memorial Day, and of the soldier's contribution to preserving our way of life...

On Memorial Day, 1884, 20 years after the end of the Civil War, Mr. Holmes said,
Accidents may call up the events of the war. You see a battery of guns go by at a trot, and for a moment you are back at White Oak Swamp, or Antietam, or on the Jerusalem Road. You hear a few shots fired in the distance, and for an instant your heart stops as you say to yourself, The skirmishers are at it, and listen for the long roll of fire from the main line.

You meet an old comrade after many years of absence; he recalls the moment that you were nearly surrounded by the enemy, and again there comes up to you that swift and cunning thinking on which once hung life and freedom--Shall I stand the best chance if I try the pistol or the sabre on that man who means to stop me? Will he get his carbine free before I reach him, or can I kill him first? These and the thousand other events we have known are called up, I say, by accident, and, apart from accident, they lie forgotten.

But as surely as this day comes round we are in the presence of the dead. For one hour, twice a year at least--at the regimental dinner, where the ghosts sit at table more numerous than the living, and on this day when we decorate their graves--the dead come back and live with us.

I see them now, more than I can number, as once I saw them on this earth. They are the same bright figures, or their counterparts, that come also before your eyes; and when I speak of those who were my brothers, the same words describe yours.

On Memorial Day, 1895, Mr. Holmes addressed the graduating class of Harvard University.
The society for which many philanthropists, labor reformers, and men of fashion unite in longing is one in which they may be comfortable and may shine without much trouble or any danger. The unfortunately growing hatred of the poor for the rich seems to me to rest on the belief that money is the main thing (a belief in which the poor have been encouraged by the rich), more than on any other grievance. Most of my hearers would rather that their daughters or their sisters should marry a son of one of the great rich families than a regular army officer, were he as beautiful, brave, and gifted as Sir William Napier. I have heard the question asked whether our war was worth fighting, after all. There are many, poor and rich, who think that love of country is an old wife's tale, to be replaced by interest in a labor union, or, under the name of cosmopolitanism, by a rootless self-seeking search for a place where the most enjoyment may be had at the least cost.

I do not know the meaning of the universe. But in the midst of doubt, in the collapse of creeds, there is one thing I do not doubt, that no man who lives in the same world with most of us can doubt, and that is that the faith is true and adorable which leads a soldier to throw away his life in obedience to a blindly accepted duty, in a cause which he little understands, in a plan of campaign of which he has little notion, under tactics of which he does not see the use.

Most men who know battle know the cynic force with which the thoughts of common sense will assail them in times of stress; but they know that in their greatest moments faith has trampled those thoughts under foot. If you wait in line, suppose on Tremont Street Mall, ordered simply to wait and do nothing, and have watched the enemy bring their guns to bear upon you down a gentle slope like that of Beacon Street, have seen the puff of the firing, have felt the burst of the spherical case-shot as it came toward you, have heard and seen the shrieking fragments go tearing through your company, and have known that the next or the next shot carries your fate; if you have advanced in line and have seen ahead of you the spot you must pass where the rifle bullets are striking; if you have ridden at night at a walk toward the blue line of fire at the dead angle of Spottsylvania, where for twenty-four hours the soldiers were fighting on the two sides of an earthwork, and in the morning the dead and dying lay piled in a row six deep, and as you rode you heard the bullets splashing in the mud and earth about you; if you have been in the picket-line at night in a black and unknown wood, have heard the splat of the bullets upon the trees, and as you moved have felt your foot slip upon a dead man's body; if you have had a blind fierce gallop against the enemy, with your blood up and a pace that left no time for fear --if, in short, as some, I hope many, who hear me, have known, you have known the vicissitudes of terror and triumph in war; you know that there is such a thing as the faith I spoke of. You know your own weakness and are modest; but you know that man has in him that unspeakable somewhat which makes him capable of miracle, able to lift himself by the might of his own soul, unaided, able to face anniliation for a blind belief.
On the eve of Memorial Day, 1931, at the age of 90, Mr. Holmes wrote to a friend:

"I shall go out to Arlington tomorrow, Memorial Day, and visit the gravestone with my name and my wife's on it, and be stirred by the military music, and, instead of bothering about the Unknown Soldier shall go to another stone that tells beneath it are the bones of, I don't remember the number but two or three thousand and odd, once soldiers gathered from the Virginia fields after the Civil War. I heard a woman say there once, 'They gave their all. They gave their very names.' Later perhaps some people will come in to say goodbye."
Justice Holmes died on March 6, 1935, two days short of his 94th birthday, and was buried in Arlington National Cemetery.

So spry and alert was he, right up to the end, that it's said that one day, when he was in his nineties, he saw an attractive young woman and said, "Oh, to be seventy again!"

A 1951 Hollywood motion picture, The Magnificent Yankee, was based on his life.
*********** Hugh Brodie, an Australian, enlisted in the Royal Australian Air Force in Melbourne on 15 September 1940. In 1942, Sergeant Brodie was listed Missing in Action. Before he left us, though, he wrote "A Sergeant's Prayer"
Almighty and all present Power,
Short is the prayer I make to Thee,
I do not ask in battle hour
For any shield to cover me.
The vast unalterable way,
From which the stars do not depart
May not be turned aside to stay
The bullet flying to my heart.
I ask no help to strike my foe,
I seek no petty victory here,
The enemy I hate, I know,
To Thee is also dear.
But this I pray, be at my side
When death is drawing through the sky.
Almighty God who also died
Teach me the way that I should die.

*********** Randy Shrader, head coach at Rockford College, Rockford Illinois, wrote, "Coach, as a father of a soldier in the U.S. Army and with Memorial Day just around the corner, I am in hopes that you will pass this along to your readership. It is riveting!" http://www.nragive.com/ringoffreedom/index.html
*********** It's easier to understand why the 2014 Super Bowl will be played in New York... in February... at night... when you realize that it's for a worthy cause...
You see, it could help the Giants and Jets get a naming sponsor for their $1.6 billion stadium which, like a newborn and yet-unnamed baby at the hospital, is still called New Stadium at the Meadowlands.
Experts believe that the naming rights for the stadium could bring in some $20 million a year for the two teams to divvy up.
You realize how many drug-addled criminals you can hire for $10 million a year?
*********** Dumb criminal of the week award goes to a guy in Pueblo, Colorado who was wanted for a home invasion and identified by a tattoo.
Commented a police officer, "With 'East Side' tattooed on his upper lip, it's hard to miss him."
*********** An actual headline in the Los Angeles Times online...
Obama White House probe of Obama White House finds no Obama White House impropriety on Sestak
*********** They keep electing people like this...
New Mexico Governor Bill Richardson: "I'm not supporting boycotts against Arizona or Arizona sports teams, but I want to commend Major League Baseball and the Phoenix Suns for taking a position against this law that infringes on the rights of their potential Hispanic players that are going to be affected."
ESPN's Bob Ley: "What has baseball done, governor?"
Richardson: "Major League Baseball put out a statement basically saying this is a bad law, it needs to be changed, it needs to be challenged …"
Ley: "I believe that was the union, sir, was it not? We haven't heard from the commissioner."
Richardson: "Well, whatever."
(It didn't seem to matter to the people of New Mexico that for nearly 40 years, when he was finally exposed by the Albuquerque Journal, Governor Richardson promoted the lie that he had been a 1966 draft choice of the Kansas City Royals. He misspoke.)
*********** Tucson's chief of police calls having to enforce the new Arizona immigration law "burdensome."
It wouldn't be at all burdensome for Portland's police, who have things so under control that they have the time to dress as prostitutes, trying to entice "Johns" into propositioning them.
*********** Stan Jones, a member of the Pro Football Hall of Fame and one of the first well-known football players to regularly engage in weight training, died last week at the age of 78.
Mr. Jones was a two-way starter at Maryland, starring on the Terps' 1953 national championship team. Drafted by the Chicago Bears as a "future" (he was the equivalent of a redshirt by today's standards, making him eligible to be drafted, but not signed until his elgibility ended), he joined the Bears in 1954 and played in seven straight Pro Bowls, from 1955-61, first as a guard and then as an offensive tackle.
In 1960, he played both offense and defense, one of the last 60-minute men in the NFL, and in 1963 he switched to defensive tackle exclusively.
In 1966 he was traded to the Washington Redskins so he could play his final season near his home in suburban Maryland.
Following retirement as a player, Mr. Jones spent a second career as an NFL assistant, 18 years of it with the Denver Broncos.
Born in Altoona, Pennsylvania, Mr. Jones grew up in the Harrisburg area, not far from York, which in the 1950s, thanks to Bob Hoffman and his York Barbell Club, was something of a world center of weight lifting,
"He was ahead of his time," Mr. Jones' daughter said. "In high school and college, his friends and teammates used to make fun of him because he was in the gym while they were out dancing and chasing girls. He first got hooked on weights because he grew up near York, Pa., where York Barbells were made. He figured that was the way to go.
"He didn't consider himself a natural athlete, so he thought weight training would put him over the top" she said. "And it definitely did. he started out as a skinny pip-squeak and by the time he finished his career, he was one of the giants."
THE NEW CAMAS STADIUM PROGRESSES... Note in the shot on top that the pre-cast concrete risers are in place on the left part of the grandstands, laid on top of the yellow steel beams. The roof structure is going to be elaborate: the erector-set towers will anchor it at the rear, and if you look closely at the field you'll see a steel cage ready to be hoisted into place to support the roof. In the photo on the bottom, the geese are busy fertilizing the soccer fields. TUESDAY, MAY 25, 2010- "If we fail to protect our games by insisting the rules must be obeyed, we will see our favorite sports begin to look like pro wrestling. We will have entertainment and not sports." Fay Vincent, former Commissioner of Baseball
PHOTO ESSAY - MY VISIT TO POTTSVILLE!
*********** You can take today's quote in many different ways.
You can talk about football coaches teaching holding.
You can talk about NBA officials allowing travelling and palming, or calling games differently for Kobe and LeBron than for the rest of the proles.
You can talk about baseball players corking bats or doctoring the balls, or umpires who take pride in having their own, distinctive strike zone.
But in today's quote, Mr. Vincent is talking about PED's - Performance Enhancing Drugs.
Writing in Monday's Wall Street Journal, he expresses special concern at the way the news media have begun to react to revelations of sports doping - with "So what?" shrugs - and suggests that nothing less than the future of our sports is at stake.
He quotes his predecessor, Bart Giamatti (a college classmate of mine. Ahem) who repeatedly stated, Mr. Vincent says, "that athletic contests are defined by rules, and without them there can be no fair contest. Cheating involves the primacy of the rules and must be condemned, whether it is the use of a corked bat, steroids or blood refreshers."
Condemned? How about endorsed? The sports media all but endorsed cheating by naming Brian Cushing National Football League Defensive Rookie of the Year - after the NFL suspended him for testing positive for a "banned substance."
*********** If Brett Favre should decide to retire, Peyton Manning, who is second to Favre in consecutive starts at 192, will have to start every game for the next seven years to pass him. Manning is now 34.
*********** Sent by my friend Paul Herzog in Woodbury, Minnesota, who said, "Thought you'd enjoy this."
Rochester Community College (JUCO) seeks a place-kicker for their 2010 season. Scholarship money is on the table...

Coach has asked for a player who can consistently kick it in the 10 (sic). And kick from 40yds out...

Grades are not an issues (sic) as this is a Junior College, not administrated (sic) under NCAA guidelines.

If you have questions please contact Coach Aaron Short directly
"sic" - Latin for "thus" - means that's exactly the (incorrect) way it was written
*********** There was a nice article in our local paper about a couple of kids from a Portland private secondary school who both won $50,000 awards at the recent Intel International Science and Engineering Fair in San Jose.
One of them has figured out a way for microprocessors to work faster; the other did something to show "the benefits of quantum computing." (I could explain it all to you, but you probably wouldn't understand.)
One of the kids is going to MIT.
The other is going to Harvard, which apparently didn't hold his name against him: it's Yale Fan. I couldn't make that up.
(True story - http://www.oregonlive.com/north-of-26/index.ssf/2010/05/catlin_gabels_yale_fan_joins_2010_us_physics_team.html)
*********** By the time you read this, the NFL may have decided to hold the 2014 Super Bowl in New York. Well, actually, in New Jersey, in the new Giants/Jets stadium in the Meadowlands.
Bear in mind, we are talking outdoors. In February. There is a reason why our ancestors stopped playing football around Thanksgiving and then - with the exception of a handful of bowl games in warm-weather places - moved inside to play basketball or talk about baseball trades.
But, hey- if baseball can get away with playing the World Series in November, why can't football play the Super Bowl in New York (okay, okay - New Jersey) in February?
They've played it in cold-weather climes before - Detroit and the Twin Cities - but never outdoors. Worried about empty seats? No problem. Let's see - 80,000 movie extras at minumum wage for four hours comes to some $2.5 million to put bodies in all the seats. No problem there. One NFL team alone can waste that much money on a pot smoker that never plays.
*********** Commissioner Roger Goodell, Tsar of All Football, has sent letters to governors around the country urging them to promote legislation similar to Washington's law making it difficult for a player suspected of having a concussion to return to a contest.
Thanks a lot, Rog. Considering all the problems you have under your own roof, it's nice of you to take time out of your busy day to look out for us.
*********** "Let's give him a fair trial - and then we'll hang him."
LEESBURG, Va. (AP) -- Washington Redskins coach Mike Shanahan is taking a "wait and see" approach to reports that receiver Santana Moss is linked to a Canadian doctor charged with smuggling and supplying human growth hormone.

Shanahan said Thursday that he will speak to Moss "at the right time" about the matter and not been contacted by the league.

"Let's just wait and see before we throw him underneath the bus," Shanahan said after speaking at a local Chamber of Commerce luncheon.
*********** Hugh,
I read with interest your comments to the coach inquiring about his dilemma of "facing a difficult season" and his interest in your viewpoints on how to the "ship" righted through the pending disaster (Difficult Season).
Wow, you are "right on" with all of your assessment and advice to the coach. Having been in the same situation more than once in my career and knowing that the season was going to be difficult with the returning talent I can't agree more with your advice to the coach!
Especially the comment about "kids perceptions that any changes in the status quo demonstrate that you've given up on them"! One can make changes based on personnel assessments, but the normal everyday routines and emphasis must remain the same or your athletes will quickly recognize that you don't think they can get it done!
Any team, regardless of talent, would benefit from this discipline in everyday matters, but teams with less talent will almost always fail if the "FUNdaMENTALS" aren't stress the same at the end of the season as in the beginning.
Reading your take on others "dilemma's" is one of the reasons I look forward to your posts each Tuesday & Friday! Great advice Hugh! This coach would be well served if he heeded your advice! I know, sticking with the "plan" is the only way to survive TOUGH SEASONS!
His athletes will appreciate his "belief in them" too!
Don Capaldo
Keokuk, Iowa

Glad you enjoyed it. I maintain that you're not truly a coach until you've been through a tough season.
It takes a steady hand to get through a tough season: "In a calm sea every man is a pilot." John Ray
*********** A Charlotte waitress was fired for facebook comments about a low-tipping customer---
http://www.charlotteobserver.com/2010/05/17/1440447/facebook-post-costs-waitress-her.html
I wonder how many of these fools who insist on sharing every trivial thought, every minute detail of their private lives, ever give a thought to the fact that nowadays if you hope to be elected President or appointed to the Supreme Court, you don't want to have ANY track record.
(Thanks for the story tip to Christopher Anderson, Arlington, Virginia)
*********** Baseball has come a long way from the Old Orioles, whose preferred treatment for a spike wound was to tape a large, wet poultice of chewing tobacco on it.
Now, we've got Milton Bradley, who says he's been beset by "negative thoughts."
"I just didn't feel good about myself," he told the Seattle Times, explaining why he'd been AWOL for the last couple of weeks after asking the Mariners for "help."
Evidently the "help" he received included the discovery that his problems go back to childhood. "I played baseball, but there were no brothers (black people) playing on my baseball team. Then when I'd go to the basketball court, because I liked playing basketball, it was all brothers. But they were like 'You don't play basketball, you play baseball. You ain't a brother..."
Oh. So that's why the guy's such a jerk. So that's why he wears out his welcome everywhere he goes. Why didn't he just tell us that and we'd all have given him a pass, now that we know it's not his fault.
He even suggested that he'd had suicidal thoughts, so now every touchy-feely type in a very touchy-feely city has come out of the woodwork, "reaching out to him."
That includes Geoff Baker, who writes for the Seattle Times and calls himself a sports writer but clutters the sports page with sociobabble: "Bradley doesn't want people to feel sorry for him. Just to understand that he's also a human being, a person with likes and dislikes and a need to feel good about himself."
*********** So the First Bulls' Fan has stepped in and tried to influence LeBron to move to Chicago. I have this bit of advice for Bulls' fans: tell him to butt out. Remember what happened when he tried to get you the Olympics.
*********** So women say they want to be taken seriously and not "objectified"... and then Erin Andrews, who has a dream job on ESPN sports events, who was stalked by some sick f--ker who took nude pictures of her through a keyhole or some damn thing, goes on Dancing With the Stars and destroys whatever credibility she had as anything other than eye candy by dressing and acting like a $50 whore. If that.
*********** Camas High School has become a powerhouse in both boys' and girls' soccer (surely something good has to come from all those little kids playing soccer year-round on all our fields) and this past Saturday, second-ranked Camas faced number-one-ranked Shorecrest High in the state 3A quarterfinals. Going into the game, ESPN RISE had Shorecrest (19-0) Ranked #3 nationally and Camas (16-0-1) ranked 9th. (Washington plays boys' soccer in the spring.)
Camas wound up winning, 1-0, and my son, Ed, wrote to say, "I was pleasantly surprised to read this..."
Michael Harris found a hand to shake. It would have been easy for the Shorecrest senior to hang his head after his Scots fell to second-ranked Camas 1-0 in the Class 3A quarterfinals at Shoreline Stadium on Saturday. After all, the top-ranked Scots had won 39 straight games and were the defending champions. But after the final whistle, he went right over to (Camas') Nick Palodichuk, who had the assist on the only goal, to wish him good luck going forward.

"We came out and played hard, but they just had that extra little bit of charisma," Harris said. "I think that was the main difference. To be honest, I think the best team won today."

"These guys were a class act," Harris said. "I wish we could play these guys all game, every game. That's how you get better, playing the best teams in the state. Unfortunately, we met them in the quarterfinals instead of the finals."
Wow, a kid saying and doing the right thing. And a soccer kid!
Give that kid a pat on the back for being a sportsman. In our local paper, the Vancouver Columbian, he added (about Palodichuk), "He's a great player. great kid. He's got a bright future." And - high praise for a soccer player - "He wasn't a jerk, and I love that."
*********** Meantime, how about a pie in the face for high school sports associations? Who else but a state high school sports association, in this case Washington's WIAA, would be so clueless, so out of touch with reality, as to allow two nationally-ranked soccer teams, Shorecrest (#4) and Camas (#9) to meet in its state tournament's quarterfinals?
*********** I came across a classic story the other day about a man named Jack Stephens.
Mr. Stephens, who died in 2005, must have been quite a man. A 1947 graduate of the US Naval Academy, he was a classmate of future President Jimmy Carter, and future admirals Stansfield Turner, who became Director of the CIA, William Crowe, who became Chairman of the Joint Chiefs of Staff and James Stockdale, Medal of Honor winner who spent seven and a half years in North Vietnam as a prisoner of war, four of those years in solitary confinement.
He was, by anyone's standards, a heavy hitter, his personal worth measured in the billions. A native Arkansan, he was head of Little Rock-based Stephens, Inc. the largest investment banking firm outside Wall Street. Stephens, Inc. gained renown (and riches for Mr. Stephens) when it took Wal-Mart and Tyson Foods - both Arkansas firms - public.
But like "Mr. Sam" - Sam Walton, the founder of Wal-Mart, who long after he'd made his first billion still drove around Bentonville in an old pickup - Mr. Stephens was not given to displays of wealth.
Mr. Stephens was a member of the ultra-exclusive Augusta National Golf Club (home of the Masters) and served as its chairman from 1992 to 1997.
Jack Sheehan, writing in World Golf, told a story told him by several members of Augusta, including another Arkansan, broadcaster Pat Summerall,
It seems that Mr. Stephens and a group were at the first tee at August National when a new member asked if he could join them.
They welcomed the man, who then suggested a little wager.
Mr. Stephens told the man that would be fine with him; that at Augusta they played games for a friendly $10.
The newcomer said that at his home club, "we play for a hundred-dollar Nassau."
Mr. Stephens acted impressed, but informed the guy that "we keep our betting to $10 here."
The new guy wasn't happy, and for the entire round complained that he'd expected more action; that he thought that members of Augusta National could afford larger wagers than a piddly $10.
Mr. Stephens kept his calm and refused to comment.
Back at the clubhouse, after they'd finished the round, the new member sat at the bar and suggested a game of gin rummy.
Okay with me, said Mr. Stephens, informing the guy that at Augusta the custom was to play for a penny a point.
"What?" said the newcomer incredulously. "At my home club, we play for $10 a point."
Mr. Stephens had finally had enough.
"Mr --------," he addressed the guy, loud enough for the other members in the room to hear, "If you were to tally up all your holdings - stocks, real estate, everything - what would you say your net worth would come to?"
With some pride, the guy replied, "Oh, I'd say I'm probably worth between 15 and 20 million."
With that, Mr. Stephens picked up a deck of cards from a nearby table, slapped it on the bar and said, "I'll cut you for it." *********** From Sports Business Journal comes news of the next fad...
By TERRY LEFTON
Staff writer
May 24, 2010

At a time when every 9-year-old has a cell phone, can something as low-tech as a licensed rubber band be the next Beanie Baby?
It's the next generation of the Livestrong phenomenon. After those yellow bracelets hit their peak with more than 70 million sold, kids used to wearing brightly colored silicone on their wrist more recently have taken to snapping on colored rubber bands — sometimes as many as dozens at a time.

These aren't, however, the kind of rubber bands sold at Staples. Companies like Crazy Bands, Zanybandz and Silly Bandz have sold hundreds of millions of colorful bands in the shapes of animals, food and flowers. They stretch like a normal rubber band to fit on a wrist but snap back into shape when they are removed.

Generally, a pack of 20 to 24 of the bands sells for $5 to $6. Eyeing those kinds of margins, sports licensors are jumping on the trend, hoping to sell more of the fashion bands by adding team logos to a product that's turning white hot while not quite yet a national fad.

"We've shipped more than a million packs already and I think we'll do tens of millions," said Howard Smith, who heads MLB's consumer products as senior vice president for licensing.

Even before sports licensing put its imprint on them, the bands were a force among the school-age set. EBay had more than 6,800 listings for the bands last week; Amazon has 50 different kinds for sale. The bands have been banned at some public schools across the country - the equivalent of the Good Housekeeping Seal for a developing fad.

Team Beans/Forever Collectibles, a company that milked crazes like Beanie Babies and bobbleheads with licensed versions, has already shipped millions of MLB-licensed Logo Bandz and has NBA, NHL, NFL and college versions in the pipeline or at retail. Coming soon are bands with numbers and silhouettes of popular pro athletes.

"Logo Bandz will be enormous for the NFL this year," said Leo Kane, NFL consumer products vice president.

"It's the perfect product," said Team Beans/Forever Collectibles CEO Michael Lewis. "You can produce and ship them quickly and cheaply, their popularity spans an age demo from 5 to college, and its appeal is gender neutral, which never happens. They're a wearable that are also a collectible. I haven't seen that in 35 years in this business."

Another thing driving sales is that almost any retailer can find space to sell the bands. Convenience and chain drug stores have been among the biggest retailers. Demand is strong enough that some team stores can sell the licensed bands for $10 or more. Remember: We're talking about $10 for 20 or so silicone bands.

"We got 2,000 packs at the end of April, and as soon they were in, they were [sold] out," said Scott Brandreth, the Philadelphia Phillies' director of merchandising. "They're a perfect impulse purchase, so we put them right at the registers. And it's an easy price point."

Considering that low price point, teams will almost certainly soon use them as a gate premium. After that happens, it's just a question of adding variety to keep the fad alive.

Like any fad, tracing the history is difficult. Smith said the same Chinese factories producing the bands have been shipping them to Taiwan and Japan for four to five years. In the United States, the fad seems to have started in Alabama and Florida last year, migrating to the Northeast.

Another fascinating thing about the bands is that their growth has been completely viral. Nary an advertising dollar has been spent.

"This fad is almost entirely fueled by word of mouth and kids texting each other," Lewis said. "If there had been some kind of marketing campaign on Saturday morning cartoons, it probably would have killed them already."

*********** Every May, the Bureau of Labor Statistics releases its Occupational Employment Statistics survey, which shows the number of people employed in each of about 1,000 occupations. The Pittsburgh Post-Gazette compared the just-released 2009 list to the survey compiled 10 years ago for May 1999.
With employment down in many key areas - manufacturing (obviously), radio, newspapers, one area showed astonishing growth----
"The number of professional athletes has barely risen from 10,620 to 13,620, but the number of paid coaches and scouts finding and training those people has gone from 65,820 to 179,830."
144,000 more "coaches and scouts," eh? They can't be talking about conventional sports organizations - pro or college. There's no way they can account for the enormous growth in the numbers of non-players.
Look - if every NFL team had added 10 coaches in that time it would still only add 320 to the number. And if every D-IA (FBS) college had also added another 10 staffers, it would only account for 1200 or so. Something more is happening to cause such a huge increase.
That still leaves us with more than 140,000 new jobs created in that time.
I think we'll most likely find them in the "finding and training" area. The "training" would include personal trainers and personal hitting coaches and (paid) elite travel team coaches. The "finding" would include the hundreds of people associated with assorted "scouting services," which didn't exist until the Internet mde them viable.
(Thanks for the tip to Matt Oravetz, Milford, Connecticut)
Full story - http://www.post-gazette.com/pg/10143/1060196-407.stm#ixzz0olrpgtVo
*********** Say what you will about the BCS, Bill Hancock, its executive director, sounds like my kind of guy.
When Senators Orrin Hatch of Utah and Max Baucus of Montana, both opportunistic politicians (is there any other kind?), and both BCS critics, asked him for information such as how the BCS determines which conferences get automatic berths and how its revenue is distributed, he wrote them,
"While I appreciate your interest, I believe that decisions about college football should be made by university presidents, athletic directors, coaches and conference commissioners rather than members of Congress."
So f--k off.
FRIDAY, MAY 21, 2010- "Women's liberation is the liberation of the feminine in the man and the masculine in the woman." Corita Ken
*********** HARTFORD, Conn. -- Democratic Senate candidate Richard Blumenthal has conceded he has "misspoken" in claiming he served in Vietnam but defended his military record and his commitment to veterans.
At a news conference backed by veterans, the popular Connecticut attorney general said he meant to say he served "during Vietnam" instead of "in Vietnam." He called it a matter of "a few misplaced words" that were "totally unintentional."
So you say you heard me claim, did you, that Vince Lombardi used to call me every Sunday night and ask me what I thought he'd done wrong in that afternoon's game? If I said that, I must have misspoken. What I meant to say was that I once leaned over the stadium railing and told Lombardi what he'd done wrong and he called me, all right - he called an a**hole.
*********** You're not going to believe this until you read it, but a high school kid in Florida named Wayne Lyons - who evidently is a very good player and a very good student - has come up with a list of 50 questions that anyone who recruits him will have to answer.
http://sportsillustrated.cnn.com/2010/writers/andy_staples/05/17/lyons-questionnaire/index.html
There's one in there asking for the names of former football players who are now engineers and another asking specifically about African-American engineers. Whew - if the number of engineers they turn out is going to be a difference maker, you can rule out maybe 100 knucklehead schools right off the bat.
*********** The cover of the latest Sports Illustrated shows a bunch of street urchins in some Third World country playing soccer. The headline reads "THE BEAUTIFUL GAME." The sub-head reads, "WHAT SOCCER MEANS TO THE WORLD."
Give me a break. An entire article telling us to eat our sports vegetables. Hey - they're good for us.
Yeah - and then there's that "one world" crap. "Soccer unites mankind like no other passion."
"Unites?" How precious. Maybe somebody ought to tell its fans that. Or maybe there's another reason why they have chain link fencing to separate fans of opposing teams?
"Unites?" Sounds like more of that "One World" thinking. You know the bit - all cultures are equal.
Bullsh--. Count me as one who still believes in American exceptionalism. We still have the highest standard of living in the world. We have done better than any nation in the history of civilization at bringing together under one roof people of every imaginable nationality and color and belief. We still provide the world's poor and downtrodden - not to mention the world's skilled and educated - with the best possible chance at success and security, a fact they confirm every day by their efforts to come here.
And we got where we are without soccer playing any role whatsoever. The metaphors of football, baseball and basketball are found throughout the language of business, but soccer? For the most part, it's for little kids and those who've been exposed to it overseas. And, of course, foreigners with no intention of assimilating.
Show me a nation that plays some sort of football in which brave men expose themselves to danger - American and Canadian football, Gaelic football, Australian Rules football, rugby - and I'll show you a fit place to live in. (Not to mention the fact that they will likely speak English.)
Show me a nation with nothing going for it except soccer and I'll show you a nation that can't defend itself or support itself.
*********** Speaking of soccer, the game of the downtrodden...
Coach, After the Class A (largest class) state championship soccer game in Nebraska between Lincoln East and Omaha South, fans threw green cards on field. What's the big deal? Well, Omaha South is largely Hispanic and some of the East fans had brought those cards to the game to taunt the opposing team and fans about immigration status. The Omaha World-Herald did a report on the incident and all it talks about is how South fans and players were hurt and offended and the what the Lincoln East administration is doing to restore their standing with the PC police.
http://www.omaha.com/article/20100519/NEWS01/705199885#-green-cards-bring-suspensions

Bottom line: I'm sure the green cards weren't the only thing that EITHER side was doing to taunt the other. Would it be nice if fans could respectfully cheer on their teams all the time? Certainly yes, however, since that doesn't happen you should just ignore the yahoos and cheer for your team.

Joel Mathews
Independence, Missouri
Dumb, dumb, dumb. Many kids really don't know any better. Early every school year, teaching in a community not noted for its diversity, I used to spend an entire lesson (this was geography class and we were studying cultures) teaching kids about the sort of racial and ethnic slurs that could get them in BIG trouble out there in the real world. I would talk to them about never, never using the highly inflammatory N-word and they, heavy consumers of TV and movies, would ingenuously say, "But they call each other that!" HW
*********** In your experience what are some things that you emphasize when you feel you are going to have a tough season? Not just the togetherness and attitude things but the game strategies.
Thanks in advance for the help.
Coach, Ouch. Sorry to hear that you might be facing such a situation.
Having been there on a couple of occasions, I'd say that it's been best for me not to mess with the offense - for the most part that hasn't been my problem, and when I tinkered with it, it didn't help a bit.
The problem has been that we just weren't athletic enough to play enough defense to stop anybody.
Out of sheer hopelessness we kept looking for something that would work defensively, and we never found it. I'd prefer to simply get better at what we believe in but I don't think things would have been any better if we'd stayed with something that we had already seen wasn't going to work.
I can't tell you that I solved anything from a win-loss standpoint, but I did find myself focused more than usual on the morale factor.
I think kids are pretty perceptive in recognizing when you've given up on them.
So as much as possible, we never changed from our basic format. We made sure that we continued to work on the basics - blocking, tackling, block protection, conditioning, etc. - just as hard the last week as the first week.
And, of course, as you mentioned, we worked really hard on keeping the team together.
*********** RE: The intentional bad shot off the first tee...
What makes this even worse is the fact that he made such a spectacle of it.
"Look at me. Look at what a nice guy I am".
He could have just as easily missed a putt and no one would have been the wiser.
Dennis Cook,
Roanoke, Virginia
*********** Where have you gone, Vince Lombardi?
I guess you've read by now that the Redksins' highest-paid player, Albert Haynesworth, blew off the team's recent mini-camp.
Did you read the reason?
He's unhappy about new coach Mike Shanahan's decision to switch to a 3-4 defense.
*********** DON'T BE SO QUICK TO RIDICULE BUD SELIG. IF BARRY BONDS AND MARK MCGWIRE WERE PRO FOOTBALL PLAYERS, THEY'D BE SHOO-INS FOR THE HALL OF FAME...
As Steve Politi wrote in the Star Ledger (New Jersey), "This is the lesson for young athletes from the Brian Cushing saga: If you plan on beating the system with the needle, your most important decision is not which steroid or masking agent to choose. It's which sport.
"Cushing, the former Bergen Catholic star, chose wisely. He picked football, where the lack of outrage about performance-enhancing drugs all but encourages players to use them. The 18 voters who again handed Cushing the defensive rookie of the year award, even after learning about his four-game suspension for failing a drug test in September, confirmed that.
"They had a chance to send a message – albeit a small and symbolic one – to future generations of football players by stripping the Houston linebacker of an honor he earned after cheating. Instead they sent another message altogether: Nobody cares about PEDs in professional football."
17 OF THE 18 VOTERS WHO VOTED TO KEEP BRIAN CUSHING (the 18th actually switched his vote to Cushing to protest the re-vote)
Don Banks, Sports Illustrated.com
Bob Berger, Sporting News Radio
Chris Berman, ESPN
Steve Cohen, Sirius Satellite Radio
Frank Cooney, SportsXChange
Mark Craig, Minneapolis Star Tribune
Tom Curran, Comcast Sportsnet
Vinny Ditrani, The Record
Rick Gosselin, Dallas Morning News
Paul Gutierrez, Sacramento Bee
Clark Judge, CBSSports.com
John McClain, Houston Chronicle
Gary Myers, New York Daily News
Danny O'Neil, Seattle Times
Pete Prisco, CBSSports.com
Adam Teicher, Kansas City Star
Charean Williams Fort Worth Star-Telegram
*********** Good Morning Coach Wyatt,

Haven't communicated with you in some time, but thought I would chime in on the "tallest player" thread. Years ago when I coached o-line at Riverside Community College in Riverside, CA, we had a tackle named Mike Rockwood from Rubidoux HS. Mike was a legitimate seven footer, weighed about 290 then. He had not played football in high school, not surprisingly, he did play basketball. When he completed his two years at RCC, he played at the University of Nevada, where his bodyweight hit around 340 by his senior year. He did spend some time with the Buffalo Bills, as well as the London Monarchs. While his was not a lengthy pro career, he did get there for awhile. Thought I would share...

Thanks for all your help over the years. Take care.

Don Davis
Head Football Coach
Martin High School
Laredo, Texas
Hi Coach-
Nice to hear from you!
According to official stats, Mike Lockwood played in one NFL game, for Buffalo, in 1997.
He is listed at 6-10---
Full Name: Michael Lural Rockwood
Position: T
Height: 6' 10'' Weight: 345
*********** Hugh,

Your NEWS got me motivated to do a little online search about the smallest pro football player ever, and here is what I came up with:

-As far as the NFL is concerned, that distinction goes to Jack Shapiro who played one game for the Staten Island Stapletons in 1929. Shapiro was listed at 5 feet 1/2 inch and weighing 119 pounds. (http://wiki.answers.com/Q/Who_was_the_smallest_pro_football_player_ever)
-Billy Cross was the smallest to play in the NFL (http://www.profootballresearchers.org/Coffin_Corner/20-06-772.pdf)

Greg Koenig
Beloit, Kansas
Good research!
I don't count Jack Shapiro or other such short-timers.
Billy Cross, however, was a player, both a runner and a receiver (before there was such a position) for the Chicago Cardinals, from 1951-1953. They were a bad team, in decline from the late 40s when they were among the NFL's best.
Believe it or not, I do remember Billy Cross.
In this case, it's a matter of how one defines "smallest."
Billy Cross was small, in the sense that he was both short (5-6) and lean (155).
Buddy Young was variously listed as 5-4 and 5-5, but he weighed at least 170, so while he was shorter than Billy Cross, he was by no means "lean." 5-4, 170 is a big man who's just not very tall.
Another "little big man" was the original "human bowling ball," Charlie Tolar, running back for the Houston Oilers in their AFL years. He was 5-6 but weighed over 200. When he lowered the boom on tacklers he knocked much bigger men on their asses. In 1962 he led the AFL in carries and was third in rushing yards. He had to be one tough dude - in the off-season he worked for the famed Red Adair putting out oil well fires.
*********** At risk of sounding ethnically insensitive, I pass this along from my friend and fellow coach Lou Orlando, in Sudbury, Massachusetts...
An old Italian lived alone in New Jersey. He wanted to plant his annual tomato garden, but it was very difficult work. The ground was hard. His only son, Vincent, who used to help him, was in prison. The old man wrote a letter to his son describing his predicament:
Dear Vincent,

I am feeling pretty sad, because it looks like I won't be able to plant my tomato garden this year. I'm just getting too old to be digging up a garden plot. I know if you were here my troubles would be over. I know you would be happy to dig the plot for me, like in the old days.

Love, Papa
A few days later he received this letter from his son:
Dear Pop,

Don't dig up that garden. That's where the bodies are buried.

Love, Vinnie
At 6 am the next morning, FBI agents and local police arrived and dug up the entire area without finding any bodies. They apologized to the old man and left.
That same day the old man received another letter from his son.
Dear Pop,

Go ahead and plant the tomatoes now. That's the best I could do under the circumstances.

Love, Vinnie
*********** Dear Coach Wyatt,
I wrote awhile back about competing against a DW coaching staff that only understood the rudiments of the DW system (clearly had not been to any of your clinics recently). The team had been very successful against inferior competition (Undefeated!). The coaches we played against needed to hear your exhortation from this Tuesday's NEWS YOU CAN USE:
All it takes is a coach who's smart enough and understands the system well enough to know how flexible it is!
Also as a warning, the inverse is also true:
It doesn't take much to stop a coach who is stupid and doesn't understand the system well enough and remains stubbornly inflexible!
Speaking for myself as a DW believer on an I-formation staff, I get really peeved when DW coaches (two opponents on our schedule) are stuck in the double tight-double wing "SUPER POWER!" mindset. Do what all good offenses do: Make your opponent defend the entire field, show different looks (lining up in Spread, unbalanced, slot, etc.), or heaven forbid, throw a pass on first down!
God Bless,
Tyler Sellhorn
Assistant Football Coach
Fort Wayne (Indiana) Snider HS
Very well put HW
*********** If you like irony, you'll love this little sentence from CNN's story about the state dinner at the White House for the President of Mexico:
"The White House promised enhanced security measures to keep out the uninvited."
*********** I was talking recently with friend of mine who interviewed for a job not so long ago. I came away from our conversation convinced more than ever of something I've been talking about in some of my clinics: A lot of places don't really want to win. Not enough to hire the best coach.
The school where he interviewed hasn't won in years, and he is a very successful coach who is interested in the challenge it presents.
But he said the interview was bizarre - the panel consisted of the usual school administrators, but in addition there were a couple of parents on hand, and they dominated the proceedings by outlining their demands, especially as regards the kind of off-season program they insist he provide. (In their behalf, they didn't insist that the ball be snapped on any particular count.)
Needless to say, my friend has his concerns about stepping into such a situation.
He said that he outlined his program, which didn't exactly line up with theirs, and came away with the impression that the administration had been cowed by these parents, brought up on Little League baseball and youth soccer, into letting them think they can dictate the direction of a high school football program.
Scary. Common sense would say that the school should hire the best man for the job and then leave it up to him to make things work. He's their football expert.
Look- we're not talking about an Ohio State, where any new guy coming in should listen carefully, because he can't be allowed screw up a winning tradition.
We're talking about a school with a long history of losing. Obviously, no one there knows the first thing about winning football, yet instead of hiring a proven winner and stepping aside, they're allowing parents to give their new coach orders before he's even picked up his whistle.
My prediction: they will hire a guy who will agree to do their bidding, regardless of his other qualifications.
My advice: beware of a situation like this, where it's obvious that parents - certain parents anyhow - already have the upper hand.
*********** A few of my close coaching friends and I sometimes start the e-mails going on a particular subject - this exchange too place on the topic of the spread guys' trying to soften up the game...
Coach 1: Coach, the spread guys might not want to outlaw cutting b/c they still can use it on 3 step game (no step in the gun) - that is if they cut instantly before the ball leaves the free block zone. Anyway - let them outlaw it. I will run super O and 47 -C without the lead blocker, but they won't be able to tackle my pullers anymore by going low or submarining the wedge right??? We could do it out of 2 pt. stances if we had to... we'd look like sissy boys - but it could be done. I'll be damned if they try and run me out of the Double Wing - It Ain't Gonna Happen!
Coach W: Eliminating blocking low might kill the wishbone/flexbone guys, as intended, but it isn't going to hurt us.
Eliminating the 3 and 4 point stance would actually be an advantage for us, because it would have to apply to defenses as well and if they couldn't put a hand down we could wedge people to death.
Coach 2: Until they outlaw the wedge for (unsound) safety reasons.

Coach W: Don't give them any ideas! They can do that by just requiring a minimum one-yard split between linemen.
Coach 2: Can you imagine the officials having to make sure of a one-yard split prior to every snap? They would love that.
Coach W: Not tough- they could do it along the lines of the way officials check lacrosse sticks. Stop and check.
Football? Blow the whistle - Everybody freeze! Walk up to the line and measure - with an official NFHS yardstick, of course.
(Actually, in the spirit of globalization, they will probably make it a meter. Oops- metre.)
TUESDAY, MAY 18, 2010- "The art of taxation consists in so plucking the goose as to obtain the largest amount of feathers with the smallest amount of hissing." Jean-Baptiste Colbert
*********** Many of you have been through floods and blizzards, hurricanes and tornadoes. Some of you have experienced wildfires.
Not to upstage you, but - how many of you can say you've been through an eruption?
I can. 30 years ago today - it was a Sunday morning, and we were just awakening - Mt. St. Helens blew.
Lord, that was one beautiful mountain. Perfectly formed, like a giant scoop of vanilla ice cream. Only Mt. Fuji's symmetry could compare.
The country around it was gorgeous in any season. My wife and I once went cross-country skiing around Spirit Lake; my daughters and I skiied through its forests.
And then it blew. And it took Spirit Lake and those forests with it. Knocked down giant evergreens as if they were matchsticks. Flooded streams and rivers when its glaciers melted.
Smoke - actually pulverized rock, a cubic mile of it - poured out of its top like the world's largest steam locomotive.
We lived about 30 miles to the southwest, and fortunately for us, the prevailing winds took the "ash" (that's what they called the gray, gritty powder spewing out of the volcano) in the opposite direction, away from us. To the east of us, though, in cities like Yakima, it was so dark in the daytime that street lights went on.
I remember sitting at a school track meet on Monday as the ash fell on us like gray snow.
Ash accumulated in our streets, and blew up in clouds of powdered rock when cars travelled by too fast. The damned stuff was powdery, but it was heavy - so heavy that it was hard to sweep and impossible to wash away with a garden hose.
Who knew what was going to happen? Was this simply an incident to put behind us as we went on with our lives, or was this something that would permanently change our lives? We had nothing to go by.
Yes, it caused some problems. Yes, it interfered with our lives to varying degrees. But now, from the perspective of 30 years, I would have to say that Mt. St. Helens and the way we all "came back"from it was just another of many, many examples of the great resilience of the American people. Americans can take a punch.
*********** One of the problems with the Pac-10's acceptence nationwide, in my opinion, is the way it has married itself to Fox Sports. I just don't think that Fox does a very professional job of it, giving the appearance that it is a local-yokel production that accidentally happened to be carried nationally. Now, ESPN has announced that it will televise 16 games involving Pac-10 conference teams (but probably not between Pac-10 teams) for the 2010 season.
Overall, ABC and its cousins, ESPN and ESPN2, will combine to televise 20 Pac-10 home games plus additional broadcasts to be announced as the season progresses. The first game will be September 2 with USC at Hawaii.
*********** CBS College and Division II have announced a six-game football television package for the 2010 season. The first game is September 2, between West Texas A&M and Grand Valley State.
*********** Masculinity in our culture is dying if not already dead. Based entirely on the increasing number of cases I see in which a kid (despite living with both parents) says "my mother won't let me play football," or, worse, a married man will say unashamedly "his mother doesn't want him playing football," the death of football as we know it is not that far off.
*********** The Black Hawks still have to beat the Sharks, and the Canadiens still have to beat the Flyers, but imagine a Chicago-Montreal Stanley Cup Final. I wonder how long it's been since two of the original six teams faced each other in a final series.
*********** Uh-oh. This is going to cost somebody a lot of money. A LOT.
Last week, just three months before the Jets' opening game in the new Meadowlands stadium, owner Woody Johnson admitted that his team still has more than 10,000 "personal seat licenses" to sell.
A personal seat license (PSL) is a form of extortion which requires anyone wanting to buy tickets to first buy a "license" - f--king license! - giving him the right to then buy those tickets. Depending on the location of the seats, Jets' personal seat licenses go for $4,000 to as much as $30,000 a seat.
PSLs are the scheme/scam by which the Jets and Giants figured to pay for their new stadium. But the PSLs have proved to be so unpopular with fans that in trying to peddle them, both teams have worked their way through long lists of people who had been waiting to buy season tickets. (The Giants are said to be within 1,000 of a sellout.)
Here's the worst - now that you've bought your PSL, reach into your pocket and come up with the money for the tickets. No money left? Oooooo. That's a damn shame. See, if you don't buy your tickets, they still keep your personal seat license money.
So you're out several thousand bucks, and you won't get to see your beloved Jets in person. Your only consolation is the thought that at least you'll be able to see them on TV.
Not so fast, big guy. If they can't get 10,000 more people to come up with the money for PSLs (and tickets), the Jets won't sell out, and a long-time NFL rule calls for the TV blackout of an area within a 75-mile radius of any game that isn't sold out. The rule was established back in the early days of television when NFL owners feared that one day, TV might kill their live gate.
That day has arrived.
Why else, other than to give people at the stadium the same experience they could have just sitting at home on the couch, do you think Jerry Jones hung that monster TV screen from the roof of his new stadium?
So here are the Jets, looking at a potential blackout of all their home games. More to the point, here is the NFL, looking at a TV blackout of the largest market in the US every time the Jets play at home. How much is it going to cost the networks when sponsors start calling for "make-goods" - for free TV time to compensate them for the fact that they paid to be seen on NFL games in the New York market and their ads never ran?
*********** Washington State's lawmakers just voted to apply the state sales tax, on which food is exampt, to candy and gum.
But in their infinite wisdom, they decided that there is candy, and there is candy.
For example... Good 'n' Plenty is exempt, but Mike and Ike is taxable.... A Milky Way is exempt, but a 3 Musketeers is taxable.... A Kit-Kat is exempt, but a Baby Ruth is taxable.
And so it goes.
The difference is that those candies that contain flour - grain-based flour, that is - aren't "candy." Undoubtedly this was a concession to the state's powerful wheat growers.
Therefore, licorice is "not candy", since licorice, red or black, is made with flour.
On the other hand, Licorice Jelly Bellys are "candy," because they are made with peanut flour, not grain flour.
Are you still with me? It's really not complicated at all, but to help ease any potential confusion, the state has posted a list of some 3,000 "candies" and "non-candies."
Its plan is to tie in to the universal bar code so that checkout lines don't jam up while clerks look up whether or not to add a dime's worth of sales tax to the price of a candy bar.
Aren't you glad you don't own a candy store?
*********** Robin Roberts died a week or so ago at the age of 83, and it hurt me. As a pitching great for the Phillies, he was a boyhood hero of mine.
He was a great pitcher by any standards, and in Philadelphia, when Robbie whenever he was due to start that night, the whole city talked about it. He was that special.
He was special, too, in that he was one of the big-time big leaguers who came up through college ball (Michigan State). He also came along at the same time as television, and his being very well-spoken had a lot to do with his popularity.
He was strong and he had an blazing fastball and the control to put the ball wherever he wanted. He gave up very few walks, and he struck out a lot of batters but also, because he had that great control, he gave up a lot of home runs. Batters knew they could dig in against him because he was too nice a guy to brush them back.
In 19 seasons of baseball, he came up 14 wins short of 300, with 286 wins. In 14 of his 19 seasons, he had more than 100 strikeouts. In his career, he struck out 2557, and gave up only 902 walks.
For six straight seasons, from 1950 (when he led the Philliess to the pennant with a 20-11 record) through 1955 he won 20 or more games . His best season was 28-7 in 1952.
But get this - it's hard to believe, in these days of pitch counts and long relievers, but over those six years, 1950-1955, he averaged 39 starts a season and finished most games he started - he also average 327 innings pitched per season.
In 1953, he started 41 games and pitched 346 2/3 innings. Figure it out - that's roughly 8-1/2 innings per start!
He "fell off" to 19-18 in 1956, and then, as he lost his fastball, his wins dwindled until 1961 when he finished 1-10.
And then ...
I was living in Baltimore when he attempted a comeback with the Orioles. as a completely different kind of pitcher. Now, his fast ball gone, he had reinvented himself as a control pitcher - he always had that great control - with an assortment of stuff. There was the guy I'd known since I was a kid of 10, now trying to make a comeback, and I was now a married guy with two kids. I liked the guy so much and yet his comeback seemed so hopeless, so typical of the one-time star who just doesn't know when he's finished. I lived and died with every pitch.
To my amazement, he was successful his second time around. In his four years with the Orioles, he won 47 games. In 1964, he was 13-7, with a 2.91 ERA.
I greatly admired Robin Roberts for the indomitable way he re-invented himself - for the way he played in two different leagues as two different pitchers.
*********** Last month, after the University of St. Francis (Illinois) golf team won its league title and qualified for the NAIA national championship, its best player, his trip to the nationals secured, deliberately hit a bad shot off the tee of the first playoff hole at the league individual championship so that his opponent, a friend, could win, and qualify for the national championship.
I have read letters and articles praising him for his warm and fuzzy act. I mean, who was hurt?
Well, for starters - how about the spirit of competition, which implies that a competitor will always do his or her best?
How about that other golfer, who was deprived of the chance to actually earn a spot in the national championships, instead of having it handed to him on a silver platter, like a kid's soccer trophy?
How about the sport itself?
We know it's bad for basketball when a team shaves points - when it actually wins, but wins by less than expected, in order to assist gamblers. Players have deliberately done less than their best, in return for a payoff.
Is it good for football when an NFL team sits out its starters because it's already got a playoff spot locked up? There, an entire team is doing less than its best.
Is it ever right for any athlete to give less than his best, whatever the reason?
*********** Our season came to an end yesterday with a 22-13 playoff loss. We led 13-7 at the half and they scored in the 3rd to go up 14-13. We drove inside their 20 and lined up to kick a field goal that would have put us on top 16-14 with a little over 5 min to play. The kick was blocked and returned for a TD and two point conversion to make the final score 22-13.
On another note. In the crazy world of semi pro yesterday I saw a glimpse of the true backbone of our country. One of our defensive starters, Chuck, is a long career Marine who has already served 3 tours in the current conflict. Yesterday as we stood side by side waiting for the National anthem you could tell from his face that their was more to that anthem yesterday than any other day. I asked him if he was okay and he said "coach, I've defended that flag and now I'm defending this field, when we are done here I'll be going back to defend the flag again". Chuck has requested to return to combat from his current recruiting post and in a months time he will be back on the front lines. After the game he said goodbye to his teammates of two seasons and walked away from a game he truly loves for a calling that he loves more. May God bless him on his journey.
Gabe McCown
Piedmont, Oklahoma

*********** It seems like only yesterday the slogan was, 'WE GOT NEXT." But actually, it was way back in 1997. The WNBA was using ungrammatical playground talk - street jargon - to announce its arrival.
Now, here it is 2010 and the WNBA is back for more, with another interesting slogan: "BASKETBALL IS BASKETBALL." Right. Like there's no difference between watching eight-year-olds trying to bring the ball up court and watching the Cavs face the Celtics.
Nice try, girls, but basketball fans don't seem to agree with you.
Last season's TV ratings are way down compared with the WNBA's first year - down 51 per cent for the playoffs and 65 per cent for the regular season. Any other sport with numbers like that would have been euthanized by now, but stupefied by political correctness, the NBA continues to provide it with life support.
The NBA's continued subsidization of the money-losing WNBA is a huge mistake. Look - agents are not dumb. And they can smell money a mile away. If I were a player's agent, I would figure that as long as the NBA can afford to throw money away on the WNBA, it has to have enough in the bank to pay my client what I'm asking for.
No worries about any single NBA team claiming that it can't afford to come up with the money, either, because so long as the league demonstrates its stubborn willingness to keep the WNBA alive, there's no chance it will let one of its member clubs go under.
*********** Coach,

I purchased your Dynamics of the Double Wing DVD's and loved the system and will be running the DW this year. However in the youth league that we play in they do not allow motion and most of your plays do involve motion.

I feel we can still run the system however are there certain plays that shouldn't be run (super-power) and should we make any adjustments such as moving the wing backs back a little? Any insight you can give would be appreciated.
Hi Coach---
You can run about 90 per cent of the offense - and certainly everything you need for an effective youth offense - without using any motion at all.
For example - I haven't used motion with Super Power in years and it hasn't affected the play in the slightest.
You can still give people an illusion of motion, and thereby enhance misdirection, by still using the terms "RIP" and "LIZ" in places where you ordinarily would use motion, and instructing the man to go in "Virtual Motion" - AFTER the snap. I would recommend doing that, because for one thing it will assure you that at least one of the backs know what he's doing!
Try it - you will be surprised at how effective it is.
*********** OK, coach, how 'bout the little guys? I'll lead off with the underrated Buddy Young and Mini-Mack Herron out of Kansas State in the 70's. Both were listed at 5-4, I think.

Shep Clarke
Puyallup, Washington
It's almost certainly Buddy Young. He's listed at 5-4 and occasionally 5-5. Every publication and resource I've checked has Mack Herron at 5-5, 175.
I only saw highlights of Buddy Young, when he was at Illinois and then in the pros, but what highlights they were! He was the mind of guy who could reverse his field three or four times on a run. Defenders had to hate him, because he wound up setting up all sorts of peelback blocks. He was very fast - an sprint champion in track - and although he was not tall, he was not a little man. He was quite stocky. Not that anyone ever got a good shot at him, anyhow, as quick as he was. (In those days, theatres would show sports highlights, plus news and cartoons, between the features at a double feature.) Buddy Young finished up with the Colts in the mid-50s, and was an executive of sorts with the Colts when I was living in Baltimore. He is without question one of the most exciting runners I have ever seen.
*********** A friend who has just taken over at a new school writes...
everything is going ok so far. Getting the guys to practice is defintely a chore but they are quick learners. Both tight ends decided not to show up so we ran spread and instead of 6 and 7 g we ran 4 and 5 x. Worked out good. 12 plays, we scored on 4 of them. Very coachable offensive line, and got 3 ready to go b backs - one is a 260 pound terror! Got wings that can run well and everything is falling into place. the moral of the story is you can run this offense without the tight ends and still be a very very effective double wing team

All it takes is a coach who's smart enough and understands the system well enough to know how flexible it is!
FRIDAY, MAY 14, 2010- "I've had to overcome a lot of diversity." Drew Gooden
*********** Ben Rushing, of Fort Worth, Texas writes, "I am worried about next year's looking into low blocking. I wouldn't be suprised if they just completely ban it. The rules committee has really gone down hill lately."
Actually, the rules committee hasn't been going downhill so much as going "up top", because for years it's been stacked by passing advocates. The NCAA rules committee is a classic example of how to undermine a culture.
I think it is just a matter of time before low blocking is outlawed. None of the passing teams (90+ pct of all teams) employ it, and the same percentage hates to have to defend against it.
And they can hide their real reasons behind the cover of "safety."
And just to be on the safe side, they can also eliminate the 3- and 4-point stance (which some people are trying to say is a cause of concussions)
*********** Following up your item about tall players, you may recall that in the early 1970s the Kansas City Chiefs had a tight end named Morris Stroud who stood 6'10". When opposing teams attempted long field goals, they would station him in front of the goal post to try and bat down the kick, which prompted the NFL to adopt a new rule prohibiting this tactic. Hank Stram seemed to have a fascination with really big players (Stroud, Buck Buchanan) and really small ones (Mike Garrett, Noland Smith, Robert Holmes).
Don Shipley
Washington, DC
(Dave Potter, of Durham, North Carolina also mentioned Morris Stroud. There's also Bob St. Clair, many times an all-pro OL with the 49ers, at 6-9. And Ernie Ladd, at 6-9. When he came into pro football he was billed as "Bigger Than Big Daddy." THat would be the legendary Gene "big Daddy" Lipscomb, who was "only" 6-6.
***********Coach,
Adam Terry, who just signed with Indianapolis from the Ravens is also 6'8".
John Irion
Queensbury, New York
(Queensbury also happens to be where Adam Terry played his high school ball, and Coach Irion, his high school coach, was too modest to note that.)
***********Coach -- re: tallest men in the NFL: Jerry Kramer wrote about blocking a 7-foot- tall Oakland Raider tackle named Richard Sligh in Super Bowl I or II. Also, I recall a Kansas City tight end named Morris Stroud(?) who was listed at 6-10 and played in the early 70's. I can recall him standing under the crossbar trying to "goaltend" one of George Blanda's longer FG's. And wasn't Ernie Ladd listed at 6-9? When he and Buck Buchannan took the field, the whole stadium tilted...

Shep Clarke
Puyallup, Washington
Allowing for the dubious reliability of some Wikipedia entries, this could be the last word... Richard Ellis Sligh (born August 18, 1944) was an American football player who was drafted to the Oakland Raiders in the tenth round of the 1967 NFL Draft as a defensive tackle[1]. During his time in the league he played in a total of eight professional games[2]. At seven feet tall he is the tallest person to have ever played professional American football and the only player to reach seven foot tall[3].
*********** Note to those who believe that guns cause murders: in China, where ordinary citizens can't get guns, there has been a rash of incidents in which madmen have been killing school children - with knives and meat cleavers.
*********** Big Ten commissioner Jim Delany e-mailed conference officials Tuesday to deny rumors that four schools - Missouri, Nebraska, Notre Dame and Rutgers - had already been offered membership.
*********** A California girl won the pole vault, the last event of the meet, and her win gave her team enough points to win the conference championship.
But wait - the opposing coach, who has coached a long time, and knows the rules of track and field, brought to everyone's attention that the girl was wearing a friendship bracelet. You know - something like the Lance Armstrong "Livestrong" deals. And that bracelet, believe it or not, is "jewelry," and the rules prohibit an athlete's wearing jewelry. Penalty? Disqualification. And, in this case, reversal of the meet results. Good-bye conference championship.
And then the opposing coach and his athletes celebrated their ill-gotten gain.
http://sportsillustrated.cnn.com/2010/highschool/05/11/track.controversy/index.html
I know, I know, rules are rules.
But rules are meant primarily to protect the athletes: to provide for safety and for fairness.
The complaining coach emphasized that the incident would teach the young lady a lesson. Maybe so. But I think he could have told her coach before the young lady jumped. (There are those who claim that he knew beforehand and was just waiting to nail her.)
But even then, he could have gotten together with the girl and her coach and read them the rule. And then told them, "First of all, congratulations. Technically, that bracelet is jewelry, and technically, what you did calls for disqualification. But we all know who won that event. And the meet. And the championship. So congratulations. Let's all learn from this, and let's pretend it didn't happen."
*********** This is, after all, America, and therefore we shouldn't be astounded by any money-making scheme.
A high school coach forwarded me an email he'd received recently, from an organization promoting "Junior Football Combines"
"Get ranked among the best 6th-9th grade athletes!"

"MVP Awards for each grade!"

"Top performers selected for the All-American Diamond Bowl!"

"8th and 9th graders - jump-start your recruiting process now!"
The coach wrote, "I have received at least forty e-mails sent to me over the last year from this group ... who want to get parents to fork over hundreds of dollars so they can run their elementary school kids through combine courses and time them. Then magically this data will somehow make their kids potential D1 prospects...I forwarded the e-mail because I was afraid you wouldn't believe it if you didn't actually see it."
Hey, dads, it's only $99 if you pay in advance ($129 at the door).
So dads, pony up your money. You little stud could be the next Jimmy Clausen.
*********** 40 per cent of Brits aged 16-24 couldn't identify Winston Churchill. I would imagine about the same percentage of Americans in the same age group couldn't identify Roosevelt, Truman, Eisenhower or MacArthur. Not when we have teachers who refer to "World War Eleven."
*********** Thanks for New Griffen, of New London, Connecticut, for this by Dan Jenkins, writing in Golf Digest about Tiger Woods:
I covered Tiger winning his 14 professional majors, but I can't say I know him. I knew the smile he put on for TV. I knew the orchestrated remarks he granted us in his press-room interviews. I knew the air he punched when another outrageous putt went in the cup. That's it.

I once made an effort to get to know the old silicone collector. Tried to arrange dinners with him for a little Q&A, on or off the record, his choice. But the closest I ever got was this word from his agent: "We have nothing to gain."
Thus did Eldrick The Great blow off one of the great sports journalists of our time.
*********** On the subject of the 25-year-old "kid" in Odessa, Texas, John Dowd wrote, from Spencerport, New York... A few years after I graduated from HS a lacrosse coach got fired for putting himself in the game for a half. When word leaked out - the media supposedly approached the other coach to find out what he thought and he said something to the effect of "he must not have been very good, we didn't even notice him out there."
*********** Football coaches, epitomized by Dick Vermeils' sleeping in his office during the season, are notorious workaholics. And now comes a study showing a clear connection between long work days - 10 to 11 hours a day - and serious heart problems.
Although working one to two hours beyond a normal work day was not associated with any increased risk, the risk of having an "adverse event" (angina or even heart attack) was 60 percent higher for those who worked three to four hours overtime.
"It seems there might a threshold, so it is not so bad if you work another hour or so more than usual," said Dr Marianna Virtanen, an epidemiologist at the Finnish Institute of Occupational Health.
In the findings, published in the European Heart Journal, Virtanen said that it was possible that the lifestyle of the people working long hours was associated with other risk factors, such as poor diet, lack of exercize or increased consumption of alcohol.
But more to the point, the longer workday is likely to be associated with work-related stress, which can interfere with metabolic processes.
Poor diet? Lack of exercize? Work-related stress? In football coaches? C'mon.
*********** While LeBron's future plans take all the oxygen out of the already-tedious NBA playoffs, over on Versus the NHL has been providing us with some amazing displays. The Canadiens have now beaten two superior opponents - the Capitals and then the Penguins - in seven-game series, and the Flyers have come back from three games down to force a game-seven against the Bruins.
*********** Just named to the College Football Hall of Fame: Coach Willie Jeffries. Although named mainly for his work at South Carolina State, where he coached such NFL greats as Donnie Shell and Harry Carson, he was also the first black man to be named head coach at a Division I-A college - Wichita State, where he coached from 1979-1983 (Wichita State discontinued football in 1986). Coach Jeffries is also the only man to coach against both Eddie Robinson and Bear Bryant.
*********** Defend your game...
BY DR. ALAN R. STOCKARD
Special to the Fort Worth Star-Telegram
As a sports medicine physician, I take strong exception to Michael Tomasic's March 15 column, "The high price of fleeting fame on the high school gridiron."
Tomasic mentions an inordinate number of injuries in football while failing to realize that gymnastics, cheerleading and other "noncontact" sports have a higher per-capita injury rate than football.
The injury rate for bicycle riding is more than 50 times that of football. Should we ban or curtail bicycle riding?
Tomasic wrote that smaller players go up against players who weigh "50 to 100 pounds more" as if this were a bad thing.
In Texas, we call that a challenge. Life often presents us with challenges that seem too big to overcome, but we don't just quit and go find something easier to do. We meet them head-on and try to overcome them.
Tomasic suggested the year-round conditioning for football is a bad thing. It is exactly this attention to strength and conditioning that prevents injuries during the season. At least football only has a 10-game season. What should be done about sports such as baseball, softball, volleyball, basketball, etc. that go from the school-sponsored season directly into their respective club seasons that compete literally year- round and account for an epidemic in overuse injuries? Should we ban or curtail those sports?
The most objectionable statement to me was the comparison of the positive character traits of teamwork, self-confidence, time sacrifice, self-ambition sacrifice, obedience, respectfulness and resourcefulness to membership in a street gang.
Do street gangs have coaches, teachers and teammates who are positive role models?
If Tomasic had joined a street gang in high school, how far would he have gotten in life?
More needs to be done to improve academics, and there is no argument that a great deal of money is spent on high school football in Texas, but it is not to the detriment of academics. Coaches stress academics in Texas (remember no-pass-no-play?), and countless athletes stay in school because of football and other sports. Students who are non-athletes often identify with their schools because of successful athletic programs, and therefore do not drop out and become a statistic.
High school football is more than a game in Texas and is important for many reasons. As a former Texas high school football player, I think I speak for all Texans -- past, present and future -- who are or will become solid citizens because of the many important lessons learned during our high school football years. We are simply better men than we would have been otherwise.
Dr. Alan R. Stockard of Lakeside, Texas is a sports medicine physician.
Read more: http://www.star-telegram.com/2010/04/18/2122935/stockard-high-school-football.html#ixzz0lkOC1mMl
*********** I could make myself obnoxious between now and the next NFL draft, but I really - really - like Jake Locker.
He is big and very fast - an honest 4.4 - and he might very well have been the top draft choice, ahead of Sam Bradford, but he chose instead to return for his senior year at Washington.
Before and after his team's game against Washington last September, then-USC coach Pete Carroll called the Huskies' Jake Locker "the best quarterback we've played against" while he was at USC, including former Texas star Vince Young. Arizona State's Dennis Erickson once called Locker the best high school quarterback he'd ever seen.
Said draft expert Mel Kiper, Jr., on draft day, "If you had to ask me right now who is going to be the No. 1 pick in the 2011 draft, I would say it's etched in stone it's going to be Jake Locker. You can mark that down. Jake Locker, if he's not the No. 1 pick, it's an upset."
TUESDAY, MAY 11, 2010- "If you put the federal government in charge of the Sahara Desert, in five years there'd be a shortage of sand." Milton Friedman
*********** When St. Louis Rams owner Georgia Frontiere died in 2008, she left her majority share of the club (which she inherited when owner Carroll Rosenbloom, her sixth husband, died) to her children Chip Rosenbloom and Lucia Rodriguez. They put it on the market last year, and found a buyer.
But wait - another guy named Stan Kroenke, who owns 40 per cent of the club, had an option to buy the entire club, and he stepped into the deal, announcing his intention to exercize his option.
One problem - Kroenke owns both the Denver Nuggets and the Colorado Avalanche, and the NFL policy preventing "cross ownership" of other sports franchises would seem to stand in his way.
Problem solved, according to Kroenke: his wife will purchase the Rams.
This is not necessarily your basic "put-it-in-my-wife's-name" dodge. Mr. Kroenke married well. Mrs. Kroenke - Ann Walton Kroenke - is an heir to the Wal-Mart fortune, and she has plenty of money of her own.
*********** Hey Cincinnati fans - things are looking up. You got Pacman!
*********** News Flash: Nutrisystem has dropped Lawrence Taylor as a spokesman.
I'm sure the Nutrisystem folks feel really bad now, because someone apparently misunderstood LT when he said that with all the weight he'd lost he "felt like a 16-year-old."
*********** New Hampshire, famous for its license plates' motto ("Live Free or Die") is the only state that doesn't act like a nanny and tell you to buckle up.
In an editorial, the New Hampshire Union-Leader expressed the view of a majority of New Hampshirites:
"If we passively accept Concord's (state government's) authority to fine us for not clicking our seat belts - no matter the circumstances - then we have accepted the general premise that the state not only can, but must bully us for our own good. There will be no stopping the flood of laws that will come, all to protect us from ourselves.''
*********** Brian Cushing, Houston Texans' LBer and 2009 AP NFL Defensive Rookie of the Year, was suspended by the NFL last week for violating its steroid policy.
Take his f--king award from him.
*********** Tallest NFL players. Trying to answer a question, I came across these.
Ed "Too Tall" Jones, 6-9
Jonathan Ogden, 6-9
Ben Davidson, 6-8
Doug Atkins, 6-8
Harold Carmichael and numerous others - 6-7
Apparently there was a 7-footer back during WW II, but in terms of real professional football, I ruled him out. You have to remember that back during the War, when able-bodied men were hard to find, a one-armed guy named Pete Gray played major league baseball.
*********** (Beer Marketer's Insight) 2002 - Bud 15.6% market share; it's declined every year since then, and in 2009 dropped below 10% to 9.3
Bud Light's market share has increased over that span from 17.8% to 19.3%
*********** The Major League Baseball Channel (MLB) has a ways to go... during prime time, for the four-week period beginning of March 29 and ending April 25, it averaged 98,000 viewers, according to the Nielsen Ratings. That's about on a par with the History Channel, and about 5 per cent that of ESPN. Among sports-oriented cable networks, MLB ranked ahead of only Fox Soccer Channel.
Rankings (viewers in the 000s):
ESPN......... 1,733
ESPN2.......... 675
Versus........... 391
Speed............ 197
Golf Channel 138
NFL Network 132
MLB Network 98
Fox Soccer...... 44
*********** Good news out of Philly, where Temple coach Al Golden has been given a five-year contract extension. Unless it was Wayne Hardin in the 1970s, I can't even imagine the last time a Temple coach was around long enough to earn a contract extension.
*********** On Sunday, on the telecast of the Players' Cup, NBC ran a promo for the upcoming US Open, showing us images of Tiger Woods. On Mother's Day.
*********** Surely as easy as it is for people to get prescriptions for medical marijuana, Tiger Woods can find a doctor somewhere willing to prescribe sex treatments for his bad back. (Sorry - don't expect any jokes here about Tiger pulling out.)
*********** Great article from Omaha (that's in Nebraska) in favor of Nebraska's joining the Big 10....
http://www.omaha.com/article/20100501/SPORTS/705019719
*********** What is the NFL going to do when one of its players, living in a state where marijuana is legalized, gets a prescription for marijuana because of chronic pain?
*********** With his recent quote on the Donovan McNabb trade, Eagles' receiver DeSean Jackson has moved into the select company of Ricky Watters and Allen Iverson in the MOST OUTRAGEOUS QUOTE BY A PHILADELPHIA ATHLETE category:
Watters: (When asked, after his first game with the Eagles, why he didn't go all-out for a pass thrown over the middle)
"For who? For what?"
Iverson: (When asked about missing practice)
"We're talkin' about practice."

Actually, he repeated the phrase numerous times in answering a reporter's question: "If I can't practice, I can't practice. It is as simple as that. It ain't about that at all. It's easy to sum it up if you're just talking about practice. We're sitting here, and I'm supposed to be the franchise player, and we're talking about practice. I mean listen, we're sitting here talking about practice, not a game, not a game, not a game, but we're talking about practice. Not the game that I go out there and die for and play every game last it's my last but we're talking about practice man. How silly is that?
Now I know that I'm supposed to lead by example and all that but I'm not shoving that aside like it don't mean anything. I know it's important, I honestly do but we're talking about practice. We're talking about practice man. (laughter from the media crowd) We're talking about practice. We're talking about practice. We're not talking about the game. We're talking about practice. When you come to the arena, and you see me play, you've seen me play right, you've seen me give everything I've got, but we're talking about practice right now.
Jackson: (When asked about the trade that sent Donovan McNabb to the Redskins)
"I don't think we lost anything."
Based on my knowledge of Philly fans, I have one little word of advice to Mr. Jackson this season: produce.
*********** Slotback Marcus Curry has been dismissed from the Navy football team.
Curry starred in Navy's 35-13 upset of Missouri in the Texas Bowl, rushing for 109 yards and a touchdown while adding another 97 yards on five pass receptions.
You may recall that back in January he was the center of controversy when he tested positive for drugs and the Academy Superintendent overruled recommendations that he be dismissed. (Hard to believe that someone naive enough to actually believe, as he did, that the positive test could have resulted from "accidental ingestion" could rise to the position of Superintendent of a service academy, but there you are.)
The Annapolis Capital revealed that in his three semesters at the Academy, Curry had been found guilty of one honor offense and had accumulated 335 demerits.
The tipping point appears to have been an "unauthorized absence" - failing to be in his dormitory room as required.
*********** A coach writes,
One of the plays that I have come to rely upon as a complement to power is an interior run that has the fullback and wingback lead on the playside with our base blocking or maybe with pulling the backside guard. There are 2 reasons I run this play about as much as I run power:
1. For the first couple of steps, it looks exactly like our counter. This encourages the defense to continue to flow playside even if they see the wing open up behind the LOS. We have had counter plays where my wing-back looked like he just jumped out of a plane - there was not a soul to be found near him!
2. Most of our competition play their DEs wide, so the DT tries to flow into the C-gap to stop Power. That's precisely the wrong place for the DT to be on this play as it results in a huge hole and my lead blockers get a free shot on the LBs and maybe the S. DT is one of the places where weaker kids get "hidden" in youth football, so it's a good place for an offense to attack.

Would I call this as RIGHT 22 C-LEAD / RIGHT 44 C-LEAD or maybe RIGHT 22/44 C-LEAD O?

Also, I like leading with the fullback on the counter rather than trading him for the tackle (as on 47-C). My fullback is a much nastier, more physical open field blocker than my OT. But RIGHT 77 wouldn't send the fullback forward around the QB (initially toward the 4) but rather straight to the 7, which isn't what I want. Is there a convention for calling that or would I just adjust with my own tag / rule?

Part of what I want to achieve this year is a much expanded use of formations. We were unbalanced and loose occasionally last year. Your material will also help quite a bit with this!
The play you describe would be Super 44/55 lead (Super because we toss the ball). We either base block with the linemen or x-block the guard and tackle (TE blocks out), so if we were to run right and X-block the G-T the full name if run from your formation would be RIGHT SUPER 44-X LEAD
Here is a video clip - http://www.coachwyatt.com/4455reduced.mov
This is also a pretty good play from spread formation, and a good play to the shortside of an unbalanced formation.
If you were to use the B-Back to block on a counter it would actually be 77 power (and the QB would reverse handoff) or, if you didn't want to pull the tackle, 77-O.
*********** I cracked up on your news about the psychologist said about bullying, what a candy ass, you know here at the Language Academy kids come from all over the world and thank God they are not sissified, they tell it like it is when we choose teams for basket ball/ softball/ or even soccer... and they always say I don't want this kid or that kid because he plays like a girl or he sucks - whatever it is, they are truthful about it... You know, this was changing over 10 years ago - when I was out at PE and we were playing softball, and one of the guys threw the ball in just as poorly as you could imagine, I told the kid "Nice throw Alice!!" The next day I am in the principal's office with the mom and principal. Mom went on and on how I damaged her child by calling him Alice. I tried my best to tell the mom that the kid needs to work on skills of this nature so he wouldn't be teased, She said something to the effect that I was a neanderthal, and this conversation was over. I still wonder today what happened to old Alice??? Hey L.T.???? Then they go on to say he is a loving family man??? Man how times have changed. Take care. Mike Foristiere, Boise, Idaho
FRIDAY, MAY 7, 2010- "If everybody's thinking alike, somebody isn't thinking." General George S. Patton
PHOTO ESSAY - MY VISIT TO POTTSVILLE!
*********** By now, we've all heard about the 17-year-old kid who ran onto the field at a Phillies game and got tased by a Philly cop.
Hahahahahaha. Cool. Who hasn't known a teenage kid he'd like to see tased?
What is instructive is that evidently, before the kid did it, he said, "Dad, can I run on the field?"
And doofus dad said he told the kid, "I don't think you should, son."
But what the hell - in the grand tradition of "look at me - I'm part of the show," the narcissism that's given us face-painting and defiantly shaking fingers at the TV cameras and reaching out of the stands with baseball gloves to take catches away from the fielders, the kid lit out. And the rest is history.
How was dad supposed to stop him? He's probably spent the last 17 years afraid that the kid wouldn't love him if he ever said "No" to him
*********** Last Sunday, while in Southern California, my wife and I visited the Ronald Reagan Library, in the hills above Simi Valley. It was a very emotional time for us, owing partly to the respect in which we hold the man, and partly to the breathtaking beauty of the place.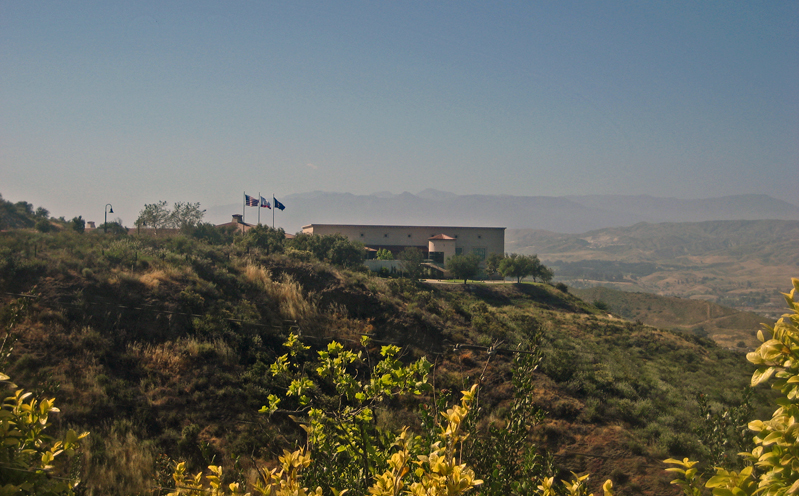 It sits atop a hill, with a panoramic view of mountains and valleys - the California he loved so much that he spent most of his days after leaving the presidency at his ranch in the hills not that far from here.
There is an exact replica of the Oval Office (in unsullied, pre-Clinton condition), and a fantastic scale model of the White House.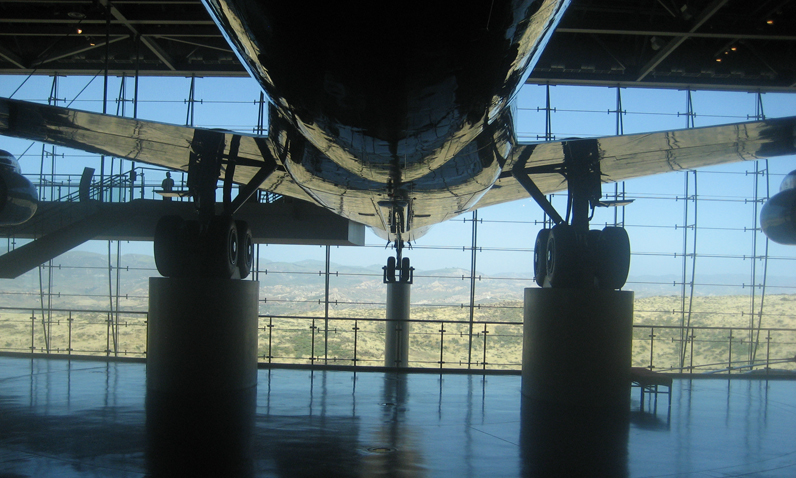 And inside a separate wing of the library, in a massive room donated by well-known Oklahoma State alum T. Boone Pickens, is housed Air Force One, the actual Boeing 707 that flew President Reagan all over the world. The giant plane faces an enormous wall of glass, looking out at over a vast valley as if, like an old firehorse, eager to take off on just one more mission.
| | |
| --- | --- |
| | |
| T. Boone Pickens donated a room large enough to house a 707! | Now that's what I call a vanity plate! |
| | |
| Compare this form with that of a certain White House lefty who can't reach the plate! | Doesn't sound as if the Reagans spent a lot of time pitying themselves, does it? |
| | |
| A piece of the Berlin Wall, which Mr. Reagan helped bring down! | President Reagan's final resting place: "What is right will always eventually triumph" |
And then there was the grave of the late President; miles to the west is his beloved Rancho Del Cielo. It's ennobling to stand there and realize that in America a small-town kid from Illinois could rise to become the leader of the free world, the man who more than anyone else was able to bring an end to the Cold War.
But at the same time it's distressing to look out at the horizon and think how we've betrayed his leadership; to think that that beautiful land out there, the California that President Reagan loved so dearly, is in danger of becoming America's Greece, sold for votes by its politicians, looted for personal gain by many of its employees.
*********** Three American hikers have been held in Iran since they strayed across the border last summer. Now, why anyone would get any closer than necessary to a hostile country, I'll never know. When I coached in Finland, I visited the border with the USSR, and it was scary as hell - dogs on patrol, and watchtowers with armed guards in them. I started getting chills when I got within a quarter mile of it. And these three knuckleheads "stray" into Iran?
Can you blame the Iranians for thinking they're American spies?
I heard an Iranian on the radio asking why we have trouble understanding that.
Through a translator, he said something like this (my Farsi not being what it used to be):
"Every country has borders. When someone comes into your country illegally, you don't just let them wander around, do you?"
Ha! Shows how much he knows about the United States.
*********** Hello Coach,

I purchased your basic playbook and video which I received promptly - thank you. I coach within a reasonably large youth program, which is part of the Detroit CYO. We will probably have 7 teams this year with kids ranging from 4th to 8th grade. I will spend my time with a group of very dedicated 6th graders.

I was looking for two things when I bought your package. The first was how to better integrate the fullback into the attack. We've been running out of a pro-set look with two TEs and a wing, and aside from some quick hits up the middle, my FB has basically been a blocking back. You've given me plenty to think about there! The second was a framework for the passing game, which it's time for us to start adding. I also like what you have there - so thanks again!

Best Regards,
Joe Schudt
Macomb, Michigan
Coach, Thanks for the note.
For what it's worth, you can run everything you're currently running by leaving everyone else where they are and just moving your fullback up behind the QB, as we have him.
That is what we call "Right" formation.
Please feel free to e-mail me if I can ever be of help.
*********** Take a look at an interesting workout concept called "Parkour." http://www.revolutionparkour.com/
*********** You're going to shake your head when I tell you the answer to this one.
(Q) What's America's favorite soccer team? (Answer at the end of today's NEWS)
*********** A bit of advice from a frequent flier (not me):
Something like this happened to me several months ago on a flight. After the child kicked my seat for the 25th time and his father told him "not to kick the seat in front" for maybe the third time; I turned and looked at that father and said "if your kid kicks my seat one more time, the first step you take off airport property, we are going to have words"....The father switched seats with his kid....
*********** One of our daughters lives in Durham, North Carolina, and she and our son-in-law have three boys, all of whom play lacrosse.
She wrote to tell us that one grandson's high school team had lost its playoff game and noted that a major reason was that the opponent's faceoff guy had won every single faceoff.
She added, "my only real objection to lacrosse is the advantage a team with a good faceoff guy has. I wish they'd do alternate possessions. They now have an expression "FOGO"- Face Off, Get Off, for guys who are only good at that aspect of the game. I worry that it will be too removed from the rest of the game and skillset, much like football's kickers."
Good point about the faceoff. The impact of the kicking specialist, in my opinion, does great harm to the game of football.
Basketball wouldn't be where it is today if they still had a center jump after every basket. It doesn't seem that long ago that there was still such a thing as an actual "jump ball" any time the ball was tied up.
*********** Coach, Is it true they changed the rule regarding contact with the center when the man receiving the snap is 7 yards or more from the LOS to add a clause that the rule only applies when the ball is actually kicked? Our coach is under the impression that the rule does not apply to direct snap offenses such as the single wing.
I'm not aware of any change, but it would be welcome.
That was one of the ways that the f--king A-11 was able to operate.
Here is the NFHS synopsis... http://www.nfhs.org/content.aspx?id=3998
Don't know about the NCAA.
I notice that "assisting the runner" is a point of emphasis...
*********** Chances are you heard about this already, but if not, the Eagles today unveiled throwback uniforms they'll wear in their home opener against the Packers to commemorate the 50th anniversary of the 1960 championship team. It's a great look, even if at least some of the intent is to move merchandise. If you visit their website, there's a nice highlight montage of the 1960 championship game (http://www.philadelphiaeagles.com/index2.html).
Don Shipley
Washington, DC
I don't recall the "Kelly" being quite that bright in the 60s, but compared to the current "midnight green," I'll take it.
And I'd rather see "McNABB" on the back of one of those jerseys.
Of course, I'd rather see 'BEDNARIK" too.
(By the way, the best-selling NFL jersey right now is a Bronco shirt - TEBOW. Second-best seller is a Redskins' jersey - McNABB!)
*********** Coach Wyatt, I purchased your Fine Line video, and found it very useful. In visiting your site often the last four years, I have been able to get some invaluable drills from you. Last season, I used your scramble block drill, where the players scramble into the heavy bag, which I found to be a much better technique than just cutting and lying on the ground. I also used your pulling drill with the PVC circle, which was the best pulling drill I have ever used. I did not see these drills on the Fine Line video. What video has these drills? Our biggest issue last season was backside run-throughs, where the post blocker on the double teams didn't get vision, and missed the backside backers coming through. Do you have any advise or drills for improving technique on the post blockers coming off their double teams to pick up the backside LB's. I think I emphasized coming off the ball so hard and getting movement on the DL, the posts were not able the get their eyes insided enought to see the backers. Thank you for your site and your advise. You are a wealth of knowledge to young coaches like myself.

Brandon Dahle
OL Coach
Vallivue High School
Caldwell, ID
Coach, Thanks for the note.
The drills you describe are not on A Fine Line. They are drills I have added since. They are available online.
When we double-team we stand behind the blockers to make sure that they have their hips together and heads up.
In drills, you'll have to stand behind the defender to check on that, and you may want to signal to your post man from time to time, just to keep him alert.
Coming off the double-team to pick up a backer has not been much of a problem for us. We seldom come off our double team, and we discourage it. We stress making contact and then taking the "12-step cure" - driving for at least 12 steps.
But we do always stress eyes up and eyes open.
I find that the lead man has come off the double team (because the defender ducks inside the post) more than the post man does.
I had a guy at my Southern California clinic just last Saturday ask me why our guys' heads are up while we double-team. This is the major reason.
I hope this helps.
*********** It was Goebbels, Hitler's chief propagandist, who is famous for saying - and acting upon the saying - "If you tell a lie big enough and keep repeating it, people will eventually come to believe it."
No, no, no, no, no - I am NOT accusing anyone of being a Nazi. No, no, no, no, no. Just of being as smart Goebbels, who as evil as he was, was one smart cookie.
According to a little notice in Sports Business Journal, USA Football, is moving its offices from Washington, DC to Indianapolis. The article identified USA Football as "the sport's national governing body on the youth and amateur levels."
"National governing body," eh? Says who?
Says the NFL, that's who. USA Football is just another tentacle of Big Football, the NFL's way of insinuating itself into football at all levels in hopes of eventually exerting monopoly control over our sport.
The move to Indianapolis? Call me a conspiracy theorist, but Indianapolis is also the headquarters of the both the NCAA and the IFHS.
Meantime, though, "National governing body?" My ass. Nice try, NFL.
*********** Way back in the mid-60s, I was working for a Baltimore brewing company, and I was in charge of the test marketing of a product in Boston, Sacramento and Nashville. So I got to spend a lot of time in Nashville. Loved the place. Had a lot of good times there. Had a drink or two in Tootsie's Orchid Lounge, a sort of Country Music Hall of Fame before there even was one. One of the things that impressed me about Nashville was the way it sat high above the Cumberland River. High and dry.
Now, we've got a grandson who's a freshman at Vanderbilt, and on our way to this past winter's Atlanta clinic, we flew in and out of Nashville so we could visit him.
The city wasn't exactly as I remembered it. It's quite a bit bigger now, and it's big-league: it's got an arena where the NHL Predators play, and - across the river from downtown - a stadium where the NFL Titans play.
Tootsie's and the Cumberland River was about the only thing I remembered, and at the time, the idea of its flooding was unthinkable.
But a flood of biblical proportions - 14 inches of rain in two days - has sent the Cumberland and its tributaries out of their banks, and brought the heartache of lost homes - and lives - to people who had no idea they weren't safe.
It may not be as spectacular a disaster as Katrina, but it is an enormous disaster nonetheless, and yet it's page-two stuff in most of the papers.
So, while our administration's attention is being focused on an oil spill, an Arizona law and a car bomb, the people of Tennessee, in true American fashion, begin to pick up the pieces themselves.
*********** The owners of the Phoenix Suns chose to observe Cinco de Mayo by getting involved in Arizona politics, renaming their team "Los Suns" for the night.
To prove that they weren't showboating hypocrites, they let everyone without a ticket in free.
*********** They waved Mexican flags at their rallies, and Americans got so pissed off at the sheer effrontery that when President Bush mentioned amnesty, all hell broke loose.
Then, someone wiser in the ways of PR suggested that henceforth they should all wave American flags at their rallies.
So now, before any "pro-immigration" rally, someone hands out little American flags.
Problem solved, no?
No. They may wave the proper flags now, but they still don't get it.
Now, it seems, Americans are expected to reverently observe Cinco de Mayo as a Mexican High Holy Day.
Look - Cinco de Mayo is a made-in-America day of festivities, a day of no great significance in Mexico itself.
It happens to break the drought between St. Patrick's Day and Memorial Day.
My wife and I celebrated by having fajitas for dinner, and I drank a couple of Dos Equis ("I don't always drink beer, but when I do..")
But in some places, apparently, it's a bit more serious than that.
In the town of Morgan Hill, California, five boys at Live Oak High School were asked by the vice principal - told, actually - to remove their American flag bandanas and turn their American flag tee-shirts inside-out.
When they refused to do so they were sent to the principal's office where, according to one of the boys, "They said we could wear it (the American flag) on any other day, but today is sensitive to Mexican-Americans because it's supposed to be their holiday so we were not allowed to wear it today."
The boys said the administrators called their Tee-shirts "incendiary", something that could lead to fights on campus.
"They said if we tried to go back to class with our shirts not taken off, they said it was defiance and we would get suspended," another said.
So the boys chose to go home.
Apparently, some of their schoolmates sided with the administrators. Said one girl, "I think that they should apologize, because it is a Mexican heritage day. We don't deserve to be get disrespected like that. We wouldn't do that on Fourth of July."
Well, thanks a lot for letting us have a holiday of our own here in America.
But meanwhile, they still don't get it, and his is definitely not going to help sell amnesty.
Actually, I'm a little disappointed in those five kids for being good citizens and doing the responsible thing and going home. I mean, there comes a time to stand up for what's right, and I'm glad that they didn't actually remove - or hide - the flags.
But what if those kids had gone to class and taken their seats? I believe the lefties call it "civil disobedience." We know that no teacher or school administrator would have laid a hand on them. They'd have called the cops.
And then what? What red-blooded cop - who's probably wearing an American flag on his uniform sleeve - would have forcibly removed those kids for resisting such a cowardly and illegal order?
Their action could have been the start of the revolution - the one about "Taking back our country."
Oh, wait - that's racist, I'm told.
Okay, then - How about we just take it back from the idiots that run our schools?
*********** Don't know whether Clemson people would willingly fly on a South Carolina plane, or Auburn people on a Bama plane, but if you're a Duck or a Beaver and you're flying from Portland to Burbank, as we did last week, you pretty much have to do it on one of these Horizon Air Lines planes...
*********** Hugh, Funny you mention the WFL reunion; before my trip I bought a copy of The Forgettables. It was a great read. I have a few notes/questions:
1. At first I was concerned that the author had written a biography of Ralph Nader and an almanac on "the New Left," but I grew to value his writing on the town, the police chief, the city paper and other matters, and the 360 perspective. I doubt many of today's sportwriter-ghostwriters would have been able to properly fit those things into the book (although a David Halberstam comes to mind).
2. The King had a hell of a persona, but was he really cheating on his wife with abandon or was that just part of the bluster?
3. Dave DeFilippo was called a "legend in minor league coaching circles"; he may have been full of it and a self-promoter, but how credible a candidate was he for an NFL coaching gig or even an assistantship?
Christopher Anderson
Arlington, Virginia
(We are talking about "The Forgettables," by Jay Acton, the story of a season spent with the minor-league Pottstown Firebirds, back in the early 1970s. The Firebirds were very good. They probably could have beaten one of the bottom teams in the NFL. The central character of the book was the head coach, a classic Philly guy named Dave DeFillippo.)
I thought Acton did a good job. I especially enjoyed it at the time I read it because I knew so many of the characters.
One person who didn't like it was a PR guy with the Bell named Bill Dougherty, who despised the author because he had (accurately) described Bill, a real trencherman, as 'the fastest fork in the East."
But characterization is subject to the perception of the author, and few people disputed the overall accuracy of the story. Acton has been welcomed back, I'm told, at Firebirds' reunions.
Unfortunately for the author, his shot at a movie was preempted by NFL Films' "Pro Football, Pottstown, PA," which ran on network TV just before the Super Bowl in 1974.
Corcoran was one sick puppy. When he wasn't playing football or promoting himself, he was chasing, um, "ladies." He had the morals of a Tiger Woods, without Tiger's discretion. In his behalf, Corcoran had no caddies or agents. He had to make his own arrangements. In today's world, Corcoran would be a poster boy for a sexual addiction clinic.
In the few brief encounters I had with Dave, it appeared that it was very important to him that I knew how important he was. I found him likeable, but to those outside his circle he might seem something of a blowhard. His circle, I should add, was wide. He was well connected with unions and politics (in Philly they are one and the same) and I think he really did think he had a shot at an NFL job, especially after "Pro Football, Pottstown, PA" aired. Unfortunately, his circle wasn't that wide, and it didn't include the right people to get him a job in pro football.
And it appears, from all accounts, he wasn't that good a coach.
The success of the Pottstown Firebirds, as most of the former Firebirds told it (we had many of them on the Bell), was due to two factors: (1) in Ed Gruber, they had a wealthy owner who paid freely to get the best players possible outside the NFL; (2) the real coaching was done by Ron Waller, who in a few years would become head coach of The Bell (and my boss).
It had to kill Dave to see Waller get the job he craved - head coach of a pro football team in his own home town - but in our early stages, while the WFL trolled for owners, we were owned by the league, and Waller had far better connections with Gary Davidson, the founder of the WFL. Waller didn't like Dave or respect him. I think he resented the fact that Dave received most of the credit for the Firebirds' success. I can recall him saying a few disparaging things about Dave from time to time, and in my season with The Bell, I never saw Waller and DeFilippo together.
No way would anyone have wanted Dave on his staff as an assistant.
*********** Hi Coach,
Question: Are you growing an additional leg?
The reason I ask, is because after years of promoting your Offensive Philosophy, you're still kicking more ass than a Pennsylvania mule in heat!!! I just received the "WildCat" dvd set and thoroughly enjoyed them from both a learning perspective, as well as, an entertainment one. Edu-Tainment, if you will.
I know many good coaches who would find it difficult to develop a cohesive layout, that explains step by step, in detail, how to go about building an Offensive structure that is repeatable by others. If I could digitally tip back a Yuengling in your honor, I would do just that. But, I'd rather just say, "Thank-You."
Keep up the great work.
Ed Campbell
Land o' Lakes, Florida
*********** Ben Roethlisberger's conduct may be caused by brain injuries!
http://sportsillustrated.cnn.com/2010/writers/david_epstein/05/05/ben.roethlisberger/index.html?eref=sircrc
Poor guy. Next thing you know, he'll be able to park in the disabled spots.
(A) It's the Mexican National Team. In the last year, it has played before crowds of 90,000 in the Rose Bowl and 63,000 in Charlotte. And tonight it is expected to draw 80,000 to the Meadowlands when it plays an exhibition against Ecuador.
TUESDAY, MAY 4, 2010- "To be an excellent leader you have to be a superb follower." Herb Kelleher, former CEO of Southwest Airline
PHOTO ESSAY - MY VISIT TO POTTSVILLE!
*********** Jim Trotter, in Inside the NFL, wrote that Miami GM Jeff Ireland wasn't totally out of line in his questioning of Dez Bryant:
Two sources familiar with the situation contend that Ireland's question was nothing more than the logical follow-up to comments Bryant had made about his family.

According to the sources, Ireland began the meeting by asking Bryant, 21, about his upbringing and his relationship with his siblings. Then he asked what Bryant's father did for a living when Bryant was growing up. The following exchange allegedly ensued:

"My dad was a pimp."

"What did your mom do [for a living]?"

"She worked for my dad."

"Your mom was a prostitute?"

"No, she wasn't a prostitute.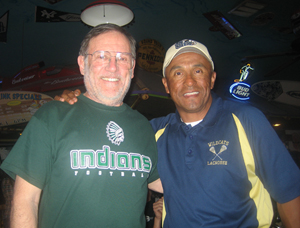 *********** The Southern California clinic, held Saturday at Saugus High School, was a big success. John (JT) Torres, who hosted it on behalf of the Santa Clarita Wildcats organization, did his usual fine job of arranging things,and the facilities at Saugus High School were first-rate. That's Coach JT at left with a bearded friend.
For those who aren't familiar with the greater LA area, the Santa Clarita Valley, made up of a conglomeraton of towns such as Santa Clarita, Valencia, Castaic, Saugus and Canyon Country, is way up in the mountains north of LA, about as far north as you can go before descending into the San Joaquin Valley on the other side.
Under good conditions - traffic in the area is never predictable - it's just a half hour or so from Burbank Airport, but once up in the mountains, it's another world. It's a metro area of a quarter-million people, in a high desert valley walled by mountains on all sides.
Coach Torres originally coached teams in the Castaic organization. That's when I first met him, some 12 years ago, and he did quite well as a Double Wing coach. After a job transfer to Northern California, he applied his coaching expertise in the Lathrop, California area, until a promotion brought him back to the Santa Clarita Valley.
This time, things were not the same in the Castaic organization, and Coach Torres elected to "branch out" - to try to start his own organization. (A monumental job, when you consider having to get equipment, coaches and players, and line up fields and opponents. Oh - and raise money.)
Four years later though, that organization, the Santa Clarita Wildcats, has 23 teams. (21 Wildcats' coaches attended my clinic Saturday.) And now, Coach JT has been asked by several local high school coaches to set up similar youth organizations to feed their programs.
Never one to sit still, he's now branching out into lacrosse. He started this spring with one 7th- and 8th-grade team, but the sport is proving so popular that he says he averages a call a day from one parent or another hoping to sign up their son. Or daughter. As a result, he has plans next year for the Wildcats to sponsor boys' teams in two younger age groups, and a girls' team as well.
*********** While in sunny California, my wife and I took a drive Sunday down "the 101" (Southern Californians refer to their freeways that way - Interstate 5, called "I-5" in the Northwest, is "The 5" in the LA area) through Thousand Oaks and Westlake Village, and before I could get out a camera, we were whizzing past Oaks Christian, high school of Jimmy Clausen and Nick Montana and the sons of Wayne Gretzky and Will Smith. It's very impressive - and right on "the 101."
*********** Chris Erskine, in the LA Times, described a place near Dodger Stadium called The Short Stop: "Not quite a dive, but neaither is it at all clubby. LA has more bad bars than good, and not nearly enough joints like this, reminscent of the taverns you find more commonly back East."
Noting that at one time The Short Stop was a "Notorious former cop bar," Erskine told of the time "In 1983 a poor sap named Carl Blackwell wandered through the door of the short stop, pretended his pocket comb was a gun and robbed the bartender while a bunch of cops looked on. When Blackwell fled, one of them fired four rounds, dropping the robber on the sidewalk for good - or bad, I'll let you decide. A sign in the bar still reds, USE A COMB, GO TO HEAVEN."
*********** It was with great regret that I read of the death of former Tennessee fullback Andy Kozar. Dr. Kozar (he was a retired professor of physical education at Tennessee) passed away last Thursday at the age of 79. Dr. Kozar devoted many years to collecting the notes and journals of his college coach, the legendary General Robert Neyland, and published them as "Football as a War Game." I wrote this, back in October, 2005-
Eat your hearts out, all you single-wingers and football historians out there. But while you're at it, get your checkbooks out.

Eat your hearts out, because I was fortunate enough to have a conversation last week with Andy Kozar.

That's Andy Kozar, who played linebacker and single wing at Tennessee for the legendary General Bob Neyland (yes, the man the stadium's named for) in the photo at left.

It was pretty exciting for me, talking nuts-and-bolts single wing football with a man whose 1951 Cotton Bowl performance as a sophomore (two fourth quarter touchdown runs that enabled the Vols to come from behind to defeat Texas, 20-14) earned him a spot in the Cotton Bowl Hall of Fame, who starred the next year on Tennessee's 1951 national championship team, and made All-SEC as a senior.

Andy Kozar came from the Johnstown, Pennsylvania area originally, and recalled being recruited, along with an undersized guard from the same are named Frank Kush, by Michigan State's Duffy Daugherty.

But he chose Tennessee, and despite his size - 6-3, 230 pounds, quite large in those days - he was converted from a lineman to a fullback his freshman year.

He told me that Coach Neyland didn't particularly care whether his players were big - he wanted them lean and fast, and he tried in vain to get his fullback's weight down. When his best efforts were to no avail, he did the next best thing, and listed Kozar in the game program at only 192 pounds.

Andy remembered his first game against Alabama, when a Bama defender tackled him, and finding him quite a handful, looked at him as they both lay on the ground and said, "By God, you ain't no 192!"

In 1952, his senior year, he led the Vols in rushing. Think about that one a minute, you single-wingers - your fullback is your leading rusher! For his performance that year, Andy Kozar was named All-SEC.

Following graduation, he pursued a career in physical education, earning both his Master's and his Ph. D. from the University of Michigan. (In 1998 he would receive the Alumni Achievement Award from Michigan's Division of Kinesiology.

After Michigan, he returned to Tennessee, where over a 37-year academic career he advanced from instructor to professor to department head to executive assistant to the President of the University.

He became a nationally-renowned expert on paddleball and racquetball, and among his many achievements, he has been a national champion in paddelball and a Michigan state champion in racquetball, and has written several books on both sports.

Now Professor Emeritus of health, exercise and safety science at the University of Tennessee, Dr. Kozar remains very close to Tennessee sports. "Phil Fullmer and Pat Head (Summitt) were both students of mine," he told me proudly, and now his game-day responsbility entails arranging for the clergymen who give the invocations at every UT game. ("This is the Bible Belt," he reminded me.)

Dr. Kozar remains a strong advocate of exercize himself, and still works out faithfully five days a week, riding a stationary bike every morning for 30 minutes and running in the pool at the University twice a week.

Our conversation went on at some length, touching on the General's dabbling in sidesaddle-T, as well as his decision to run his single-wing from a balanced line. Believe me when I tell you that Dr. Kozar really knows - and remembers - his football.

Now- here's why I said, "get your checkbooks out."

Dr. Kozar's book, "Football as a War Game: The Annotated Journals of General R.R. Neyland" (Falcon Press, 2003) is an amazing look into how the General approached the game of football.

It is like going to a college library and digging into the notebooks of a great coach, except that Dr. Kozar has already done the hard research for us, with page-by-page copies of General Neyland's journals, along with explanatory notes, photographs, lists, practice schedules and, yes, doodles. Even great coaches doodle occasionally. (Remind your wife of that the next time she catches you drawing plays on the placemat at the restaurant.)

In the words of Dr. Kozar, it's "the General's own words and thoughts on a day to day, game to game basis, as he wrote them on paper." And the General certainly kept amazingly detailed journals. He wrote down everything, including his innermost thoughts on his players and his opponents.

"Football as a War Game" contains more than 200 pages of General Neyland's handwritten thoughts, coaching strategies, play diagrams (including some really wild ones, from formations you've probably never seen anywhere else), practice schedules, lists of maxims and beliefs, anecdotes and more. There are more than 250 photographs. Dr. Kozar's commentary all along the way provides his personal insight into the general's thinking.

The book is beautifully bound, and in my estimation is well worth the $75 price. It is not for the casual fan, but for the serious football historian, for the devoted single-winger, and anyone building a football library, it is a must.

Mail orders to Dr. Andy Kozar/ 6501 Sherwood Drive/ Knoxville TN 37919 - and make checks payable to FALCON PRESS

Incidentally, Dr. Kozar told me he sold a couple of copies not long ago to Bill Belichick, who I am betting kept one for his own private collection (I am told he has a very extensive one) and gave the other to his dad, Steve, a long-time college coach who once coached against General Neyland while at Vanderbilt.

Opponents of the Vols may not like to hear this, but all proceeds from the sales of Dr. Kozar's book will go to the Robert R. Neyland Athletic Endowment in the Volunteer Athletic Scholarship Fund.
*********** Unintended consequences:
Will players ( and coaches ) be looking to rock the other team's star player, then demand he be taken out?
Will refs now be liable for leaving a player in when they shouldn't?
Dennis Cook
Roanoke, Virginia
Coach-
(1) I predict that this new rule (calling on officials to send off any players they suspect of showing concussion symptoms) will actually increase head shots. There are plenty of unethical guys in our business who will teach their kids to take shots at another kid's head in hopes of removing him from the game
(2) In this litigious society, there is no question- refs, like anybody else, will err on the side of caution.
*********** Coach,

The rule change regarding concussions is concerning. My question is, what training are these referees going to get to help them identify the signs of a concussion or is it going to be a completely subjective judgment? How can refs (no medical training whatsoever) be given the authority to remove a player, but only "qualified" medical personnel can clear that player for return? Does that clearance have to be in writing?

We have a team doctor at our games, but like you said, what doctor is going to "clear" a kid that was sent off the field by an official? Our training staff is very proactive with regard to concussions. We do pre-season baseline testing of all players and use that data to evaluate players in the event of a possible head injury. This rule seems to circumvent or even sabotage our efforts to protect our players. What keeps a ref from trying to "keep a game fair" by removing a player from one team to help even things out a bit? Many refs don't even know the rules of the game and now we are going to bestow upon them the power to make medical decisions. Jeeesh!

P.S. I hope you and Connie are well.
Donnie Hayes
Head Football Coach
Cannon School
Concord, North Carolina
(I think we're all going to have to work hard on some sort of "bounce right back up onto your feet after you're knocked down" drill. HW)
*********** My friend Tom Hinger, of Winter Haven, Florida, has an ability to analyze things in a way not everyone can do, and he thinks that if the idea of empowering high school officials to send players off the field with suspected concussions were ever to make it to the NFL, it would be the greatest gift ever to professional gamblers.
Think of it - the Patriots are down by four with a minute to go, and they're driving - but Brady is sacked, and he's slow to get up. The referee looks Brady in the eye and says, "I'm afraid you might have a concussion, son. You've had enough today. I'm sending you off." Without Brady, the Patriots' drive stalls and they fail to win - and fail to cover.
After the game, the referee calls his wife and tells her to go ahead and buy that new Mercedes she's been wanting.
Hmmmm.
*********** (Re Alabama @ Duke)
This sellout has happened for years at Vandy; for years Vanderbilt alternated Alabama and Tennessee one year even thru in Notre Dame.
Vandy seats about 45,000 and 35,000 would be in wearing the Crimson RED
Tim Brown,
Jackson, Tennessee
(It was also an every-other-year routine at Tulane, too, back when they used to play LSU. Actually, it happens at Duke whenever Virginia Tech and Clemson come to town.)
*********** The new defensive coordinator at San Marcos (CA) HS, in San Diego County, is 74 years old. Too old? You decide.
He does have some experience. He's coached in the NFL and in the big-time college ranks.
Does the name John Robinson ring a bell?
It's the same John Robinson who won four Rose Bowls as head coach at USC, and twice took the Rams - the LA Rams - to the NFC title game, and now he's back teaching the game to high schoolers.
He told Eric Sondheimer of the LA Times, "You spend your life coaching and then all of a sudden retire. I owed something to somebody and felt this was the way I might pay it off."
*********** I'm pretty excited by an effort to put together a reunion this fall of the guys of the Philadelphia Bell, which existed for a season and a piece (all of 1974 and part of 1975) until the World Football League folded.
As a result, many of us have begun to renew lost connections.
I got this one a few days ago, from Vince Papale:
Hey Hugh. How are you. Thanks to you I became Invincible. Vince
(You may remember my refutation of some of the movie based - loosely - on Vince's story - http://www.coachwyatt.com/vincepapale.htm )