| | |
| --- | --- |
| | ALL NEW!!! Late last July (the 23rd, to be exact), I took the job as head coach at North Beach High School, in Ocean Shores, Washington. North Beach had not had much success in recent years, and finished 1-9 in 2007. Long story short - The North Beach Hyaks finished 2008 with a 7-3 record, and the three losses were all close, by a total of just 11 points. Why were we successful? I applied all the lessons I've learned (many of them the hard way) over the years, and had the help of some very good assistants and a small but hard-working group of kids who really bought in. And also my Double-Wing system: we rushed 504 times for 3670 yards (7.28 yards per play) and outscored opponents 353-172. Not bad for a group of kids running it for the first time. And although we were pretty basic in sticking to a solid core of plays, we didn't stick to just one formation. True to the versatility that I've been advocating for several years now, we ran only 32 per cent of the time from plain old double tight-double wing - and that was in the early going, before we took off the training wheels. We wound up running more than 10 per cent of the time from unbalanced, 22 per cent of the time from slot, 22 per cent of the time from Stack. We passed pretty well, too. This highlight video shows it all- and it's available FREE to all coaches attending my 2009 clinics. In order to make sure that we have enough on hand for clinic attendees, it will NOT be available for sale until after the Providence clinic |

FRIDAY, FEBRUARY 27, 2009- "Our Constitution was made only for a moral and religious people. It is wholly inadequate to the government of any other." John Adams
NOTE: The 2009 Coach Wyatt SoCal Clinic originally scheduled for Sat Feb 21 will be re-scheduled for May
The 2009 Coach Wyatt Atlanta Clinic will be held Sat Feb 28 at the Hilton Garden Inn Atlanta Airport
The 2009 Coach Wyatt Chicago Clinic will be held Sat Mar 21 at the Hilton Garden Inn MidwayAirport
The 2009 Coach Wyatt Philadelphia Clinic will be held Sat Apr 4 at the Holiday Inn Fort Washington
The 2009 Coach Wyatt Providence Clinic will be held Sat Apr 11 at the Sheraton Providence Airport
Every registrant at 2009 Coach Wyatt Clinics will receive a complimentary copy of my 2008 North Beach Highlights
*********** Hugh, It's now official. I am the new Athletic Director/Head Football Coach at Cardinal Stritch High School in Toledo, OH. The school president contacted me last night to confirm everything. I will be going up there on Monday to sign my contract, get all the paperwork in order, and meet with the team (and any other athletes interested in playing football).

I will be staying up there on M-T-W of each week for the remainder of the school year in order to get started with football (weight training, individual meetings with returning and prospective players, building my staff, and introducing the new offense and defense). At the same time it will give me the opportunity to observe the current AD and how he manages the athletic department, get the lay of the land so to speak, and help with the transition. I plan to schedule an installation camp for the second week of June, and from that point on I will be up there T-W-Th during the summer. I promised my wife that I would devote those long summer weekends to her before I have to make the permanent move up there in August to start football practices and the new school year. Since Toledo is only a 2 hour drive from Columbus we're going to see how things go for the first year. My wife has a great job here and since both of our girls on their own and living elsewhere we think we can make it work...for awhile at least.
The best part is that we have nowhere to go but up, and that most of the players are young, so they haven't had enough time to develop any really bad habits. We'll start from scratch (I'm only keeping two coaches from the old staff since they are teachers at the school, and that they both came highly recommended by the outgoing AD - a former football coach), so I'll not only be coaching the players but the coaches as well.

Needless to say I'm thrilled and can't wait to get started. I feel like I've been given new life and look forward to the challenges and work ahead of me.
If you'd like to put a blurb in your news that would be great. Am looking forward to making the trip to Chicago. Take care and GO CARDS!
Joe Gutilla, Columbus, Ohio (Great news! Before moving to Columbus, Coach Gutilla did a fantastic job at Benilde-St. Margaret's High School in Minneapolis, and before that at Trinity Catholic High School in Manchester, New Hampshire. HW)

*********** Years ago, with gas stations running short of gas because of consumer panic, Johnny Carson joked about a run on toilet paper and by golly, the next day Americans went out and cleared out the stocks of toilet paper in America's super markets.
Today, if environmentalists have their way, the same thing could happen again, but this time it won't be all toilet paper - just the soft, fluffy kind.
Thanks to Mr. Whipple, the fictional grocer who sneaked around the store catching women squeezing the Charmin, we were once the envy of the world.
Father Karath, one of the priests I once taught with at Portland's Central Catholic High School, used to travel extensively, and when he went to the Holy Land, he would take one suitcase filled with toilet paper. I laughed. And then I started coaching in Europe, and I saw why. Let's put it this way - they haven't heard about Charmin over there.
Millions of Europeans went to their graves without feeling the soft fluffiness of good old US "bathroom tissue" on their bottoms.
But now, those who want us to be like Europeans - to get out of our SUV and walk or ride a bike or take the bus, to live in tiny flats instead of our big homes out in the country, to keep our homes heated at 65 degrees, and to play soccer - are after our Charmin.
On Monday, Greenpeace issued a national guide for American consumers, rating toilet paper brands on their environmental soundness.
"No forest of any kind should be used to make toilet paper," said Dr. Allen Hershkowitz, a senior scientist and waste expert with the Natural Resource Defense Council. (Wait- wasn't Tony Soprano a "waste expert?")
The problem is, to fluff-up the soft toilet paper that we Americans prefer (I'm not even going to bring up the barbarians in certain parts of the world who still use their bare hands) it takes the longer fiber of a cut tree. You just can't do it with the shorter fiber of recycled paper.
Environmental groups are hoping that Americans will become as conscious of the environmental effects of their toilet paper use as they are about light bulbs or other products.
Personally, I can see what's coming, and I plan to start running back and forth to and from the Safeway with loads of Charmin and Quilted Northern (made by Georgia-Pacific, which has a mill in our town). In my SUV.
If we would all stock up on soft, fluffy toilet paper we could even help the economy. Even in these tough times, I can see builders finding work putting up sheds to store the stuff.
T-P tepees.
*********** In answer to numerous questions...
Three advantages of the Wildcat are
(1) Simplification of the center-QB exchange (although the way I teach it is rather simple)
If you haven't seen this...
http://homepage.mac.com/coachhw/CENTERSNAP/iMovieTheater5.html
(1) Elimination of much of the need to train the QB
(2) Making it truly a four-back offense by getting a talented QB more involved in the offense
*********** The fight to save football at Western Washington has exposed the sort of duplicitousness that only educrats could be capable of.
First, in answering the po-football peoples' argument that the addition to the Great Northwest Athletic Conference (GNAC) would reduce travel costs, WWU president Bruce Shepard met with a small group of major donors that guaranteed significant financial backing of the football program were it to be reinstated. Bruce Shepard told a group of donors that those schools, "didn't want to play football."
Your nose is growing, Bruce...
Members of savewwufootball.com spoke personally to two athletic department officials at Simon Fraser University who stated that it is their intention to play football in the United States, and if possible, in the GNAC.
*********** The WWU deal gets even worse... when it was discovered that dropping football would mean no summer camps, which would mean some $340,000 every year in lost revenue by university housing and food services, the university eggheads immediately began planning to contract with an outside group to put on camps. The Washington State Coaches Association (of which I am a member) is already working on a proposal to advise its members against supporting a university that has just eliminated 100+ football-playing opportunities for Washington kids.
*********** More on WWU...
Apparently late today, WWU's lobbyist (we're assuming Sherry Burkey, but I could be wrong) was roaming the halls circulating information on WWU diversity. Uh huh. Apparently this is becoming an issue in Olympia, and in the upcoming weeks WWU has to make its case on this issue in order to receive certain portions of federal funding that are tied to diversity.
So guess what we have to do now? That's correct - write our representatives in Olympia and tell them HEY! We already had a group that positively impacted diversity, is CHEAPER TO KEEP than to start a new program to attract students of diverse backgrounds, and is valuable in providing opportunities to students of diverse backgrounds and cultures.
Here are some talking points (again - aren't you getting sick of this by now?):
· Football program accounts for 60% of the minority athletes in the athletic department
· Football program had all of the university-paid minority assistant coaches (one other coach was paid for by the NCAA); the head coach is also half-Cherokee
· Elimination of football program negatively impacts student and employment diversity at WWU
· Cutting football program negatively impacts 14% of the African-American students at WWU
· We know from their own internal documents and communications that two university leaders on diversity - Dean of Students Ted Pratt and Special Assistant to the President for Diversity, Dr. Kunle Ojikutu - were never consulted on the decision to eliminate football. WHY?
· Football program had NO students on academic probation; after cancellation and loss of coaches, five minority student-athletes are now on academic probation. Reason? Loss of structure and support.
· According to campusexplorer.com, WWU's minority population is made up of 3% Hispanic students and 1% African American students. This would be consistent (although not an exact match) with WWU's own statistics, which list 329 African American students, 496 Hispanic students, and 298 American Indian students - out of 13,300!
· One publication ranked WWU dead last among all Division II schools on student diversity
· A university memo, detailing economic opportunities and 'threats' (their words) to the school, listed economically disadvantaged students, non-traditional students, international students, and specifically Hispanic students as economic 'threats' because of the amount of resources they require. This document is available on Western's web site.
*********** Coach,
I am forwarding an email written by one of my parents from last season. Unfortunately, one of my assistants has put his name in to run against me for HC next season. He is a nice guy, quiet, played football in college, but for some reason did not step up last season when I told him that I wanted him to run my defense...that I really needed help in that area, and really wanted to someone to take responsibility for the defense. For whatever reason, he did not step up, and that's fine, but was very surprised that he put his name in to run against me. I spoke with him and he said that he became interested when a couple of people approached him to run. One from on our team and one from outside of our team...the 3 reasons he gave the president for wanting to run was that he wanted to coach his son (didn't realize that I prevented him from doing that last year), that I didn't have a son in the program, and that he didn't like my offense (surprise there, like that isn't a broken record). After speaking with him, I really thought that he was going to withdraw to avoid an awkward situation, but in the end, he didn't. So I emailed 2-3 parents to ask them to write an email to the board in anticipation for the vote on Wednesday....the parents ended up contacting other parents, so the email below is unsolicited from me, but solicited by another parent. I thought that you'd appreciate it...the parents are from Europe (Germany and Belgium), so I think that I can say that I've successfully converted them to a football family. One more thing, again, unsolicited, the remaining assistant coaches on my staff have drafted and signed a letter in support of me, and are hand delivering it to the board on Wednesday....unless the fix is in (and it may be), the guy running against me is certainly not getting good advice from whoever is advising him. If the vote goes my way, then there will definitely be some awkwardness, but I will tell him that he can still coach with me (this might be a mistake), but that he got a free pass this year....I don't want to have to be doing this every year (running against him) or looking my shoulder while I'm coaching next year...if he ever plans to run again, then he won't be able to coach with me. BTW, I'm the only coach in the program who is not running unopposed......and I could forward a dozen similar emails like the one below, and that's not including my assistant coaches....the politics of youth sports I guess.
Hope all is well and I hope that most of my coaches will be attending the clinic with me in April. I haven't sent them the details yet until after I know for sure if I'll be coaching next season or not. (Name Withheld)
We have learned that another person would like the head coaching job in place of ----- . In our view, that would be a mistake. ---- has been one of the great influences on our son's interest in sports, and football in particular. ----- exemplifies passion, fairness, and discipline. Rick hopes to coach our kids as long as possible. Within one short season, he molded them into a cohesive working unit. His end of year party at ------- this year was charged with emotion and gratitude. If you have not seen the DVD he produced of the season, we suggest you see it before choosing someone else to coach. I grew up playing soccer, and was originally ambivalent about our son, ------- , playing football. ---- proved me wrong. ----- has brought out the best in our kids, and instilled in them respect for the game, their coaches, their team mates, and fair play. Rick is absolutely the BEST.
If it ain't broke, don't fix it.
(My personal feeling is that wanting to coach his own son is not sufficient reason to hire the guy (unless he's got some other, very good reasons). In fact, it's a little scary. And in my opinion, the fact that you don't have a son in the program is among the strongest arguments in your favor. HW)
*********** Has anybody out there answered one of these flushing-out-your-colon ads yet? I'm dying to hear.
*********** In case anyone might wonder why we're as f--ked up as we are...
The Harris Poll recently asked a cross-section of adult Americans to name the persons they admire enough to call their heroes, and there were the results:
Based on the number of mentions, Barack Obama, the Man Nobody Really Knows, was first.
Have no fear of false idols, though. Christians will be relieved to know that the Lord Jesus Christ was right behind in second place. Whew.
Third was Martin Luther King, Jr., followed in order by Ronald Reagan, George W. Bush, Abraham Lincoln, John McCain, John F. Kennedy, Chesley Sullenberger and Mother Teresa.
God (the father of Jesus Christ, for people who aren't familiar with either, and also believed to be the Creator of all things) finished in 11th place, one place ahead of Hillary Clinton.
*********** HUGH: You'll love this.

And when I say, "love," I mean the kind of love best expressed by puking in your own mouth.

The dad of two brothers who are incoming freshman football players at our high school presented our freshman coaching staff with a highlight DVD of his two boys, starting with their exploits as 4th Grade flag football players. Complete with background music and on-screen text (to make sure the viewer knew exactly which kids we should watch), the DVD runs for 20-plus minutes.

Sigh … I don't know where to begin.

I mean … no one begrudges a proud dad of the joy of making a home movie about his talented, athletic sons.

But this guy doesn't realize that he has already put his boys – who appear to have decent talent, by the way – into a touchy situation with their soon-to-be coaches. First, we're already anticipating that he's going to be a pain in the you-know-what, and we'll have to work extra hard to prevent ourselves from subconsciously holding that against his kids. Along the same lines … we find it distasteful (if not utterly repulsive) that a dad would try so hard to promote his kids above other incoming players.

The other kids on the team already know about the DVD, so that's not going to help.

And worse yet, the varsity coaches know about it.

I know this is all wishful-thinking rhetoric … but for heaven's sake, parents, keep your highlight videos at home and let your kids prove themselves to their coaches and teammates on the field.

Excuse me. I believe my stomach is telling me something. (Sheesh - Memories are short, and people don't know their history anyhow, so this fool has undoubtedly never heard of the Marinoviches, father Marv and son Todd. Google that if you haven't heard of them. HW)
*********** Coach,

Hope this email finds you well.

Just wanted to say thank you. Coach, three years ago, my father and I met you at the Single Wing Conclave when you gave a class on the Wildcat. (Bought your CD) You probably don't remember me, I was the Naval Academy graduated who served as a Marine Infantry officer. For the last two seasons, we have run the Double Wing and Single Wing (Wild Cat). Last year, we won the Super Bowl. Have attached the article. This victory would not have been possible with out your class and the video I purchased. So just wanted to say thank you.

Also, have a question......have been studying veer and midline option the past off season. Do you have any advice running the veer and midline from no splits? I call this my experiment in terror.

Thanks in advance,

Semper Fidelis,

Virg Palumbo
Seneca Valley Youth Football
Pittsburgh, Pennsylvania
*********** A story about our culture's need for instant gratification...
Go back in time nearly 40 years, to another America. That's almost two generations ago. People who had fought in World War II (and won!) were in the prime of their lives, and they were running things.
They were people used to working hard today for rewards that might or might not come in the future.
So picture yourself as one of those people, except that you're a wealthy one, and you own an NFL football team, and you've just hired yourself a coach.
Son of a gun goes out and finishes his first season 0-11-1. The tie came in the last game of the season. There was no overtime then, so there were more ties. Otherwise, with overtime, your team might have lost 'em all.
But what the hell. The team was young, and it was his first year as a head coach.
His second year wasn't as bad. Your team went 4-9-1, and hopes were high for the third year. (Nowadays, there's supposed to be something magical about giving a coach three years.)
But a 5-8-1 finish in the third year had fans getting impatient. Somehow, though, you stayed the course for a fourth year, but what you got was regression - 4-10.
Resisting calls to fire your coach, you stayed with him. And what did you get? 5-8-1.
By now, you'd think you'd have given him the ultimatum - win or else. And when he didn't win - came in 7-7 - your patience should have worn out.
But no... After six seasons, he's 25-53-4, but back he comes for another round.
And the rest is history. In his seventh season, he begins to win. And win. Over the next 23 years his regular season record would be 225-109-2. He would win for 20 straight years, an NFL record.
Counting playoff games, his overall regular season record was 250-162-6. His playoff record of 20-16 includes 13 divisional championships, five NFC championships, and two Super Bowls.
His 20 playoff wins are still an NFL record.
And so, your patience and your willingness to keep working hard sacrifice immediate payoff for long-term gain was amply rewarded. So powerful did your franchise become that you were able to market it as "America's Team."
What present-day owner would have given Tom Landry a fourth year?
And so, speaking of present-day owners, Wednesday marked the 20th anniversary of the firing of Coach Landry by that most typical of present-day owners, Jerry Jones.
*********** The more desperate the financial plight of our newspapers becomes, the less appealing the thought of their survival.
Apart from the disgusting left-wing slant of supposed "news" articles, and the coverage of Barack Obama that approaches adoration, there are the little things.
Everybody knows that the median age of a newspaper reader is now around 50, which means that one of the best-read sections of most newspapers is the obituary. At least until somebody finds a way to make a buck with www.seewhojustdied.com
So the green-eyeshade guys at our local newspaper came up with the bright idea of charging people to print any obituaries beyond the basic born/died/survived by/services information, and charging extra to include a photo.
And so it was that this week, that the paper published the obituary of a stillborn child. Had to be a heartbreaking experience for the family.
Photo? Not exactly. A sonogram.
*********** While the NFL veterans - the old retirees who built the game - beg for crumbs from the NFL, there comes word that the league had the money to pay retired commissioner Paul Tagliabue $3.6 million in consulting fees. Some pension, huh?

TUESDAY, FEBRUARY 24, 2009- "The trouble with socialism is that you eventually run out of other people's money." Margaret Thatcher
NOTE: The 2009 Coach Wyatt SoCal Clinic originally scheduled for Sat Feb 21 will be re-scheduled for May
The 2009 Coach Wyatt Atlanta Clinic will be held Sat Feb 28 at the Hilton Garden Inn Atlanta Airport
The 2009 Coach Wyatt Chicago Clinic will be held Sat Mar 21 at the Hilton Garden Inn MidwayAirport
The 2009 Coach Wyatt Philadelphia Clinic will be held Sat Apr 4 at the Holiday Inn Fort Washington
The 2009 Coach Wyatt Providence Clinic will be held Sat Apr 11 at the Sheraton Providence Airport
Every registrant at 2009 Coach Wyatt Clinics will receive a complimentary copy of my 2008 North Beach Highlights
*********** A group wants us to get Congress rolling on requiring a college football playoff. http://bcsreform.org/ Congress? Aren't they the people who didn't have the time to read a bill that condemns our country to bankruptcy and our children to a socialist future?
*********** I happened to mention Wayne Hardin as coach of the Philadelphia Bulldogs of the Continental Football League, and that got me onto the fact that he has to be one of the least appreciated good coached I know of.
Forget the fact that he is the last coach to field consistently strong teams at temple, and consider what he accomplished at Navy, where from 1959 to 1964 he built a record that places him near the top of any list of great service academy coaches.
Consider...
He had a winning percentage at Navy of .629, playing VERY tough national schedules - BC, Cal, Maryland, Miami, Michigan, Minnesota, Notre Dame, Penn State, Pitt, Syracuse, USC, Washington. Few softies: no more than one Ivy opponent a year, usually Penn, and an annual breather against nearby William and Mary.
Best of all, from the standpoint of a Navy coach, he was 5-1 against Army. Even more impressive in the years since is his 3-3 record against Notre Dame.
At a time when there were few bowls, he took the Midshipmen to two major bowls - the Orange Bowl agaiants Missouri, and the Cotton Bowl against Texas.
He coached two Heisman Trophy winners: Joe Bellino and Roger Staubach
Taking nothing away from Air Force's Fisher DeBerry and Navy's Paul Johnson, two great service academy coaches of more recent times, Hardin was coaching on another level entirely. Under Wayne Hardin, Navy was truly a national power.
*********** "The idea that the most heavily recruited player is the best player is never true. The best player is always the guy that came out of nowhere." New Army coach Rich Ellerson
*********** Still want to own a professional sports franchise? Terry Porter is fired by the Phoenix Suns, and it's no secret that a major reason for his firing was the players' resistance to a unique demand he made on them - he expected them to play defense! Imagine a bunch of guys who could probably pull down, oh, $25,000 on the job market with the educations they have making tens of millions of dollars to play basketball, and whining about having to execute the system of the guy you hired to coach your team.
************ Thomas Friedman writes in the New York Times ---
Leave it to a brainy Indian to come up with the cheapest and surest way to stimulate our economy: immigration.
"All you need to do is grant visas to two million Indians, Chinese and Koreans," said Shekhar Gupta, editor of The Indian Express newspaper. "We will buy up all the subprime homes. We will work 18 hours a day to pay for them. We will immediately improve your savings rate — no Indian bank today has more than 2 percent nonperforming loans because not paying your mortgage is considered shameful here. And we will start new companies to create our own jobs and jobs for more Americans."

*********** I found an officials' forum which the "inventor" of the A-11 crashed, back before the start of last season, and they lit the guy up....
What is the purpose of the player numbering rule which is so fundamental that it is included in the HS, college, and NFL rulebooks??
You must really think we are ignorant. Do you honestly (assuming you know what that means) believe that any of us for a second thinks that is a "sample" instead of the entire list??? If you had more schools suckered in you would have listed them.
You can say it is a "fact" that the A-11 does not give an unfair advantage but that does not make it a fact. It goes back to the fundamental question which you continue to ignore because to address it you would have to concede your "fact" is bogus.
NPR...now there is a source for good, reliable, info on football. Most of the weenies there hate organized sports because organized sports have winners and losers.
Have you given any thought to what you will be doing next year at this time when you are a piece of forgotten history?
Enjoy your year exploiting a loophole in the rules. It will be closed. Haven't seen it yet on the field, but I've told my crew to be super-sticklers on formation/shift/motion rules if we ever do. In other words, if you wish to exploit this loophole, you better do it PERFECTLY.
Please go pitch your little silly offense somewhere else. Honestly no one here cares what you think the offense is going to do in the future. Actually, it is likely not to have much future. For one I have not seen much success with teams that have used it. The team I had earlier this year got killed when they played good non-conference teams. They might only make the playoffs because they are members of a conference that plays everyone twice. They probably are in the worst conference in their division in the state. I would not be surprised if they get rid of the offense next year not only as a team, but the rules committee. But Kurt it is time to go away. Your stay is becoming less and less welcome if all you are going to do is pitch a silly loophole in the rules.
*********** Somebody should tell President Obama about this guy... Craig Alan Bittner, Beverly Hills doctor who until recently specialized in liposuction (that's a form of surgical fat removal, and it works pretty much the way it sounds) found a great source of alternative energy - his patients' harvested fat.
I am not making that up. Guy was using it to fuel his car, and even had a Web site, no longer in existence, entitled lipodiesel.org.
What a movie...
(1) It's late at night. Guy's driving out in the middle of nowhere and notices his tank's nearly empty. Sees a sign - "EAT" - and pulls in to see where he can get gas. Waitress, the only person in the joint, says there isn't another gas station for 75 miles. While she's talking, the guy notices that she's not unattractive, but she could stand to lose a few pounds. Hmmm, he thinks. Says to her, "I have an idea that works for both of us..."
(2) A gang preys on women as they sit in their living rooms watching daytime soap operas, harvesting their body fat and selling it to lipodiesel refineries...
(3) The Obama plan to make us loved around the world hits a snag when a worldwide spike in the price of lipodiesel is blamed on the United States' Department of Health and Personal Wellness and its compulsory exercise and diet program for all citizens, combined with a new high taxes on soft drinks and salty snacks...
*********** I was honored two years ago to be asked to deliver the keynote presentation at the annual Single Wing Conclave, in Wilkes-Barre, Pennsylvania. My topic - my Wildcat (Emphasis on "my"). It is, after all, a direct-snap offense related to the single-wing and those other of today's "innovations" for which we can thank the likes of the great Pop Warner. Todd Bross, a single-wing devotee from Maine, is the guy who for several years now has run Single Wing Conclave, and he sent me this clip from SI.com...
• Quote of the day: From Dolphins head coach Tony Sparano, when asked if he was surprised at the widespread use of the Dolphins' Wildcat formation last season: "I was pretty surprised, to be honest with you. At the end of this, I wish I had a dollar for every person who ran it.''
I told Todd to be careful - that this time next year, he may have to pay royalties to the NFL for the use of "their" term, "Single Wing."
*********** Brad Van Pelt, 57, the two-time All-America Michigan State safety (1970-72) died of a heart attack last Tuesday in Owosso, Mich. He was the first defensive back to win the Maxwell Award in 1972. He played 14 years in the NFL and was inducted into the College Football Hall of Fame in 2001. His son, Bradlee, was an outstanding quarterback at Colorado State.
*********** The New York State Public High School Athletic Association, which oversees public high school athletics in New York state, recently approved shorter schedules in all sports next school year as a cost-cutting measure.
For example, baseball teams will go from 24 regular-season games to 20, and football teams will go from 10 games to either 9 or 8, depending on the region.
The Association says the shorter schedules will allow schools to cut budgets without having to cut programs.
By cutting every sport - boys and girls - schools also avoid violating any provisions of Title IX, which prohibits discrimination in education spending based on gendeR.

FRIDAY, FEBRUARY 20, 2009- "The thrill isn't in the winning, it's in the doing...A life of frustration is inevitable for any coach whose main enjoyment is winning." Chuck Noll
NOTE: The 2009 Coach Wyatt SoCal Clinic originally scheduled for Sat Feb 21 will be re-scheduled for May
The 2009 Coach Wyatt Atlanta Clinic will be held Sat Feb 28 at the Hilton Garden Inn Atlanta Airport
The 2009 Coach Wyatt Chicago Clinic will be held Sat Mar 21 at the Hilton Garden Inn MidwayAirport
The 2009 Coach Wyatt Philadelphia Clinic will be held Sat Apr 4 at the Holiday Inn Fort Washington
The 2009 Coach Wyatt Providence Clinic will be held Sat Apr 11 at the Sheraton Providence Airport
Every registrant at 2009 Coach Wyatt Clinics will receive a complimentary copy of my 2008 North Beach Highlights
********** Don't know whether you noticed, but Gatorade is now being sold as "G." (Remember the teaser campaign they ran to ease us into the name change?)
The point of the whole thing is to expand the market for a product that Gatorade's makers fear has come to be known exclusively as a "sports drink."
Well, duh. After years of Be Like Mike, and beads of purple sweat popping out of athletes' faces, what did they expect?
My concern is what they're going to do with all those towels... and cups... and orange five-gallon jugs.
Instead of a Gatorade bath, will winning coaches now be doused with "G"?
Could be worse. Could be "P".
*********** A Midwestern teacher/football coach of my acquaintance makes a good living, but he has deliberately missed the last two payments on his mortgage in hopes of qualifying for a bailout. Rick Santelli lays into the proposed mortgage bailout .... http://www.youtube.com/watch?v=bEZB4taSEoA
*********** Still reeling from the knowledge that our Esteemed Leaders in Congress just committed us and our kids and their kids and their kids' kids to repay trillions - with interest - without even knowing WTF they were voting for (hey! how'd that get in there?), I felt a lot better when I leaned that one of them had a really good reason for not reading the so-called Stimulus Bill - he'd been busy writing a bill to require a Division IA football playoff. I am not kidding. Now, that's the sort of stuff we pay our Congressmen to look into.
*********** COACH: Your mention of the old Continental League caused some long-dormant synapses to fire in my brain. As a young freshman QB at Gloucester High in the mid-'60s, I had a head coach named George Potts, who, I believe, was a punter on a local (Philly?) CFL team. He probably played another position, too -- given that teams at that level probably didn't have the financial luxury of carrying a punter who could do nothing but punt.

He was our only coach. Today, on the freshman staff that I'm part of, we have five coaches. I can't imagine doing it myself.

I remember Coach Potts having the most massive calf muscles I had ever seen. (Of course, I was, like, 12 at the time, so my perspective wasn't real broad!) Always wondered what became of him.

Mike Brusko, Zionsville PA
Coach Potts probably played for the Philadelphia Bulldogs, who existed during the mid-60s.
Wayne Hardin was their coach, and their QB was Bob Brodhead, who'd shared duties with Sonny Jurgenson at Duke, and after being drafted by the Browns wound up serving in the Army and missing training camp. After his return from the service, he played a year in Canada with the Saskatchewan Rough Riders and a year in Buffalo of the AFL.
And then he returned to Cleveland, where he had landed a job with an accounting firm, while picking up a little money on the side playing for the Cleveland Bulldogs of the United Football league. The Bulldogs, typical of the instability of minor league football, moved to Canton as the Canton Bulldogs, and then to Philadelphia, with new ownership in a new league - the Continental Football League - as the Philadelphia Bulldogs.
At first, Bob commuted from his home and job in Cleveland to his part-time job in Philadelphia. He would fly to Philly on Wednesdays, practice Wednesday and Thursday night, fly back to Cleveland and his job on Friday, then fly to wherever that weekend's game was.
Coach Hardin didn't like that idea, but the owners insisted that they bought the franchise with the idea that Bob would play quarterback, and finally they worked out an arrangement by which they could pay him enough for him to move to Philadelphia - he would become assistant coach, assistant general manager, and business manager. And quarterback.
Someone wrote an article in a national publication about this guy who was juggling all these jobs, and Browns' owner Art Modell, taken with Bob's energy and ambition, offered him the position of Business Manager of the Browns.
Ten years later, Bob was my boss with the Portland Thunder. From there he went to the Miami Dolphins as their business manager (I turned down a chance to join him there, but that's another story), and then to LSU as athletic director.
I spent the summer of 1986 at LSU as an intern in the athletic department, staying in Bob's house, and during that time, I learned an awful lot about college athletics in general and LSU in particular.
Bob left LSU under a cloud, largely because, believing that NCAA investigators were violating student-athletes' basic rights by interrogating them without benefit of counsel, he wired his office to record their secret questioning. Uh-oh. Federal offense. It cost him his job, and on the advice of his attorneys, who told him that he didn't have the money to go to war with the United States Government, pled guilty to a federal felony charge. There's no question in my mind that he was set up, and over the years my sights have narrowed down to..... but (in case anybody from down there is reading this) I KNOW NOTHING AND I CAN"T PROVE ANYTHING
But that doesn't change the fact that Bob did some really, really good things there. He hired some really good coaches - Bill Arnsparger in football, Skip Bertman in baseball, Sue Gunter in women's basketball - and under him Tiger athletics thrived. LSU won a couple of Bernie Moore Trophies, awarded for overall excellence in SEC athletics, and there was one year in which LSU had its football team in a bowl game, its men's basketball team in the Final Four, and its baseball team in the College World Series.
While at LSU, Bob concocted the idea of a "raffle" similar to what they do at county fairs with cows - he would impose an imaginary grid on the field and then hold a raffle, selling one-yard squares to people. The winner of the "raffle" would be the person in whose square the nose of the ball landed on a specific play. Bob just knew that it could be done, and it's a damn shame he didn't live to see GPS. Just a little chip, somewhere on the ball...
Bob's downfall came because he made enemies. That's not really a good thing anywhere, but in Louisiana it is very dangerous. Bob very bright and very cocky and in my opinion h didn't have sufficient respect for some of his adversaries. He felt he was smarter than all of them (which may or may not have been true), and if they weren't smart enough to recognize that, why, his works would just have to speak for themselves. There wasn't anything he didn't think he could accomplish, including surviving the unique politics of South Louisiana and emerging a winner. Big mistake.
I was reminded of something Mrs. Pat Nixon once said about Lee Iacocca, whom many people will remember as the darling of the automobile business, back when it was a real business. He was said to be considering running for public office, and Mrs. Nixon, who knew Mr. Iacocca, said he had one serious flaw common to bright, achieving people, one that he shared with her husband: He didn't suffer fools gladly.
For a politician, she said, that was a fatal flaw - first, because so many people are fools; and second, because so many of the people you think are fools are not.
That was my boss and dear friend, Bob Brodhead.
*********** Good afternoon, Coach.
I was just reading your News section and read the story on the Garfield-Redmond game. I heard about it over the weekend while in Boise to ref some basketball games there. One of my partners was from the Seattle area and told me about the incident.
He also added that the following night there was a game involving another Seattle area school - in this game, the home team was up by two points when the buzzer sounded to "end" the game. One of the home team players ran to the visitor's
bench and screamed "Game over, bitches" while pounding on his chest.
The officials had not left the court yet, and one of them assessed a technical foul on the home player (completely correct within the rules).
The visiting player made both free throws and sent the game into overtime. Unfortunately, the home team was able to pull out the win, but the offending player was sent to the locker room by his coach and did not get to participate in the overtime period.
Good grief.
DJ Millay
Vancouver, Washington
*********** Rhonda Koenig, whose husband, Greg, is head football coach at Beloit, Kansas, is a great football wife and a great hostess as well. Every summer when Greg puts on his football camp, she opens up the house to us visiting coaches, entertaining us and and feeding us in a royal manner. She's a major part of Greg's success at Beloit.
She sent me a most inspiring article in the LA Times about a woman named Lorraine Lorraine Melgosa, from Manzanola, Colorado, who has been providing a horse-drawn hearse for funerals of American servicemen. Manzanola, she wrote, is about 40 miles from where she and Greg once lived in Las Animas, Colorado. Read it, It is very moving

http://www.latimes.com/news/nationworld/nation/la-na-funeral-carriage29-2009jan29,0,4909547,full.story
*********** A solid veteran defensive back was just cut by the Ravens. Damn shame, I thought. And then I read that he was due to make $8 million last year. When you're being paid that kind of money, you have to expect to be held to a higher standard of performance than the rest of us. Unless you're a banker.
We watch NFL games and most of us block out of our minds the obscene amounts of money those guys are making. I don't. I pine for the days when pro athletes made good money, but not fortunes, playing kids' games. And were grateful that they were able to spend a portion of their lives doing something we all wished we could do, but couldn't.
Today's players actually feel entitled to the huge sums they make, as if they built the stadiums they play in and filled them with fans; as if they're the reason for the TV contracts that make everybody rich. As if they're the ones that built the game.
The ones that actually built the game? The ones who - if they're still alive - hobble around on bad knees - if they can walk.
What they once thought would be generous pensions now turn out to be peanuts.
And today's players, the ones who sit at the table that the old-timers set, gorge themselves and say "tough sh.."
They even stood by while the makers of video games deliberately distorted the images of the old-timers, so they wouldn't have to pay them royalties.
But it wouldn't be fair to say that all of today's players are greedy, selfish, money-grubbing ingrates.
Matt Birk isn't. Back during this past season, the Vikings' center sent out a letter to every active NFL player, suggesting that they contribute a portion of their game check from the weekend of December 21, which he designated as Gridiron Guardian Sunday - to go to retired NFL players. He didn't specify an amount, but he announced that he was starting the ball rolling by donating $50,000 himself.
http://www.gridirongreats.org/December2008PressConference/GGAF_MattBirkLetter_Dec2008.html
"We are members of a brotherhood," he wrote.
The letters went out to 1696 current players.
By Super Bowl time, he'd heard from exactly 15 of them.
Assuming that they contributed something, that leaves 1680 greedy, selfish, money-grubbing ingrates.
http://www.gridirongreats.org/
*********** Ryan White is one humorous sports writer. Every day he writes something in the Portland Oregonian that makes my wife worry that I might spit out my morning coffee, laughing.
Wednesday, it was this...
From 2001 through 2003, (Alex) Rodriguez let his cousin inject him with an over-the-counter energy booster. Doesn't sound so bad? Consider: it was sold over Dominican Republic counters.
*********** Comic books and trading cards. Guy worked in a comic book store and got paid in merchandise.
Another guy said his collection of 20,000 baseball and basketball cards is "technically worth $10,000." But he can't get $5,000.
*********** Coach, Chris Davis here. Just wanted to update you on our 2006 Black Lion Award winner, Anthony Gleis. If you remember this was the fast undersized lineman (could have been a great FB) that played both ways for us and never, ever gave anything but everything he had on every play. His senior year, he spoke at the veteren's program at are school and had the entire gym speachless. Receiving the Black Lion award was a great honor to him.
As we stated when we nominated him in 2006, "He is one I always want in my corner."
" The United States Naval Academy has named Anthony Gleis to the Dean's List for the fall 2008 semester. The criteria for this honor are: SQPR (semester quality point rating, same as GPA) of at least 3.4; B in conduct; B in Military Performance; C or better in Physical Education and C or better on Physical Readiness Test. Midshipmen on the Dean's list are qualified to wear a bronze star on their uniform, along with the usual recognition they receive on their grade report. Anthony is a member of the Third Class (which would be a sophomore at a civilian college) at the United States Naval Academy, Annapolis, MD. He is the son of Steve and Karla Gleis, Lake Wilson, MN and a 2007 graduate of Murray County Central."
Chris Davis, Martin, Minnesota
*********** A large high school in Vancouver, Washington just hired a successful coach from a large Las Vegas high school as its new head coach.
According to the AD at the local school, he came "very highly recommended."
But then at the end of the story I read this...
"In five seasons at ------- High School, -------- 's teams had a record of 43-15. The 2008 team went 10-2 and reached the state semifinals, but ------- was not retained as that school's coach."
WTF???? 43-15, and 10-2 this past season, and he's not retained? I had to check into this one, and this is what I found.
The coach was let go on January 14th.
Said the principal at the time, "I decided to go in a different direction next school year." (Damn. There's that weaselly "different direction" copout again.)
Asked why the coach was fired, the principal would only say, "Nothing specific. Coach ------- is a good man, and his heart's in the right place. I wish him nothing but luck in the future."
Several parents of players called the Las Vegas Review-Journal to question the coach's firing.
One parent, the booster club president, said some 20 players went to the principal's office to discuss the firing but were turned away.
Regarding the principal's "other direction" statement, the booster club president said, "what other direction would you be going in when ------- has had a winning season every year he's been here?"
Maybe I can help. I don't know the coach, but in my research I found he runs a Double Wing of one sort or another.
Now, you don't suppose the principal suggested that he might open things up a bit, do you? You don't suppose there might be a doting father of a quarterback lurking somewhere backstage, do you?
*********** Coach,
In your northern CA 2006 clinic you talked about teaching and executing the fundamentlals in all sports. You referenced how countries around the world are playing basketball and beating the US and you also referenced the World Baseball Classic where Japan and Cuba beat the world by playing fundamental baseball. I AGREE WITH THIS SO MUCH!!

Obviously the Double Wing as you teach it is the answer on offense. I see this pretty clearly.

What is the answer on Defense? Is there a defense or philosophy that matches the Double Wing? A Defense that focuses on the fundamentals and consistency during the course of a game? Is the twin tilt that defense? Or is is any defense but applied in a manner that minimizes risk and keeps away from the big play?
Juan Cotto,
Seattle, Washington
You could also say that the fundamental approach I refer to applies to basketball, where countries like Brazil and Greece and Croatia and Australia have given us problems because of their stress on fundamentals and team play. For that reason, I think Coach K's job in the recent Olympics is one of the great coaching jobs of all time.
In terms of defense, it's a matter of what works for you and what you can coach and your team can play. To me, this is a lot tougher a choice than on offense, because you can play the Double-Wing without good talent, and you can even hide a mediocre player or two. But on defense it's hard to hide a player.
I like what I do because it gives us the flexibility to use the kids we have in some manner, and to match up with the offenses we see.
I think whatever you run the main thing is that you be able to adjust to anything you see, and that you can teach it and your kids can be confident that they can play it.
I don't think that if you play a ball-control offense, you should play a reckless, all-out blitzing defense, which can throw opponents for a big loss but at the same time can give up quick scores. My expectation is that if our defense can keep us close, we can score points.
************* Coach Wyatt,
Some very interesting photos. I look forward to seeing you and the Mrs. in Providence.
Take care,
Scott Wendel
Woodstock, Connecticut (They are not just "very interesting." They are AWESOME.HW)
http://www.tom-phillips.info/images/cool.pics.military.htm
http://www.tom-phillips.info/images/cool.pics.military.2.htm
http://www.tom-phillips.info/images/cool.pics.military.3.htm
*********** Coach Wyatt,
I just received the DVDs I purchased from you. All I can say is WOW! Some great stuff. I really like the video playbook. What an awesome teaching tool. I think I'm in football heaven. I did want to get your opinion (and I may already know your answer). I was thinking about incorporating a "Spin" series into the offense. I'm sure you're familiar. It's been around, but the football magazines are labeling it as a newest thing in football. Anyway, it's run from the old double slot (run and shoot) formation. I wanted to run a sweep, counter, wedge, and play-action passing game out of it. Do you think this is something that would mesh well with your double wing system? Or am I trying to do too much? I know you don't use the term "receiver", but I've got some good ones and would like to take advantage of their abilities and spread the field out a bit. My thinking is that it will make it even more difficult to prepare for us during the week. I was just curious on your thoughts. I can always trust you to tell it as it is. I appreciate your help! I'm sure I'll have many more questions about the double wing in the very near future as I begin to teach it to my staff.
On another note, our booster club approved to send the entire staff to your clinic in Philly. How can I best prepare them so they benefit from the session?
Glad you like the materials. You have a lot of work and study in front of you.
I guess the short answer to your question is that you really have to choose one or the other and go with it. There simply isn't enough time in the day for you to do both things as well as you have to do them.
Not to sound boastful, but I really do believe that I know more about this offense than any man alive, and for sure I have more experience teaching it than anybody, and I had the assistance of another coach, Jack Tourtillotte, who is right there with me in double-wing know-how, and I can show you lots of things we still need to improve on if we're going to keep pace with the defenses we face. In other words, as much as we knew and as hard as we worked and as much time as we put into our offense, we still could have done better. I think we spent our time wisely and productively, but we simply didn't have enough time.
It's not as if we didn't spend an inordinate amount of time on passing, either, because we did.
So what I'm saying is that, given a finite amount of practice time, if we had had to devote a significant amount of it to another, parallel offensive system (whatever it might be), and therefore less time on our Double Wing, I don't think we'd have done an acceptable job of running either.
The good news is that even in our first year with our kids, we did a wide variety of things within our system, including ways to get the ball to a good receiver. And yes, I can run a reasonable amount of my system with one or two ends split. But it's important to stress that it's not a different offensive system from what we run week in and week out, and it doesn't require installing new plays.
I won't kid you - if I had a Larry Fitzgerald or some such, a truly dominant receiver, I would find ways to make him a more integral part of our offense. He might even be the focus of it. But I deal in reality, and I have to go with the thing that's been proven to work for me, given the likelihood that I won't have a Larry Fitzgerald.
I think that if your guys are totally on board as to what you're going to do this year, you'll have them prepared. Now is the time to find that out and make any necessary reassignments, because one Doubting Thomas can kill you.
*********** You wan to hear something scary?
A 16-year-old girl was found dead last week inside Fort Lewis, Washington, a huge Army post outside Tacoma. Drugs were involved.
Outsiders are only permitted on base with special permission, and no minor is permitted unless a family member of the person hosting him or her. This girl did not live on the base, nor did she have any relatives living there.
Not to be overly disrespectful of the girl, but it appears that Fort Lewis has been infested recently with camp followers (so-called because in earlier days, when armies marched during the day and camped at night, opportunistic young ladies would trail along behind them until they encamped, then move in and ply their, um, trade).
One local merchant outside the base said she'd seen girls in her parking lot going from car to car, looking for rides onto the base, and had seen at least one of them get inside a trunk.
Huh? They don't check trunks? Any time I want to drive onto the post at West Point, post security requires me to pop open my trunk.
But not, apparently, at Fort Lewis.
Scary?
If they can that casually sneak 16-year-old girls onto one of the largest Army bases in the United States, how much tougher can it be to sneak in a person with a deep-seated hatred of the United States and a bomb strapped to his body?

TUESDAY, FEBRUARY 17, 2009- "Nothing is so firmly believed as what we least know." Michel de Montaigne
NOTE: The 2009 Coach Wyatt SoCal Clinic originally scheduled for Sat Feb 21 will be re-scheduled for May
The 2009 Coach Wyatt Atlanta Clinic will be held Sat Feb 28 at the Hilton Garden Inn Atlanta Airport
The 2009 Coach Wyatt Chicago Clinic will be held Sat Mar 21 at the Hilton Garden Inn MidwayAirport
The 2009 Coach Wyatt Philadelphia Clinic will be held Sat Apr 4 at the Holiday Inn Fort Washington
The 2009 Coach Wyatt Providence Clinic will be held Sat Apr 11 at the Sheraton Providence Airport
Every registrant at 2009 Coach Wyatt Clinics will receive a complimentary copy of my 2008 North Beach Highlights
*********** Garfield High (inner-city Seattle) was playing at Redmond High (upper-middle class suburban) and apparently there had been trash-talking going on among the players plus some sophomoric taunts aimed by Redmond fans at the Garfield players, and finally a Redmond student (white) came out of the stands and punched a Garfield player (most likely black).
At that, rather understandably, the Garfield bench emptied, and in the resulting melee, a Redmond kid suffered a broken jaw. Ironically, the kid is racially mixed. His father is black and his mother is white.
His mother blames the whole thing on the refs. "It's not a race issue," she said. "It's a leadership lssue. It's a question of how the refs control the game. The kind of trash talking that was allowed to go on - that just excites things and sooner or later, it's going to escalate."
Well, yeah - but the refs can't control the student body and their chants of "SAT! SAT! SAT!" when an opposing player with college-level basketball talent but low admissions scores goes to the line.
(I actually sit on the fence on that one - yes, it's poor sportsmanship to be make taunting personal, but by the same token, it does show a kid that somewhere, he will be held accountable for his academic laziness.)
Personally, I think the refs have all they can do as it is. And in their defense, they point out that the kids are pretty clever about the trash-talking, managing to get it done under the radar, without the officials' knowledge.
Which leaves - the coaches. You telling me they couldn't put a stop to the trash-talking if they really wanted to?
I know that that their job is made tougher by the oafs in the NBA and colleges who make an art of trash talking and brag about their proficiency, and by the SportsCenter guys who yuck it up as if it's just boyz bein boyz, and by the video games that glorify it as just a part of the sport, like dunkin and shootin threes.
But still, after all the excuses, it's time for those coaches to step up and be the men in those boys' lives.
*********** I was leafing through the 1928 Army-Yale game program and I came across "Summary of Penalties - Reprinted from Spalding's Official Football Guide"
It might be interesting to see what would happen if we had to abide by two of the rules then in existence -
"Side Line coaching: (Rule 22, section 1) - penalty 15 yards (this was designed to make sure that the game, once under way, belonged to the players.)
"Substitute communicating with player before ball is put in play" (Rule 3, section 2) - penalty 15 yards (this was designed to keep a coach from sending in a play with a substitute)
*********** Hugh, Loved your commentary on the latest edition of the "news" regarding the A-11 offense and the national federation. Adios, bon voyage, arriverderci, and GOOD-BYE! As far as the inventors of the offense claiming it's a better fit for smaller schools I'd have to argue where they're getting their statistics. I've been coaching at smaller schools for most of my career and never needed the A-11 offense or anything similar to it to get my football teams to compete and win! We just worked hard, played hard, taught the fundamentals, and did I mention worked hard?

Also enjoyed the piece on the athletic spending per athlete (football program) at Western Washington. Now if THAT doesn't tell a story I don't know what will. I just hope the folks who want football back at WWU will win their battle.

Finally, I have a gut feeling that Army football will be back and that the cadets will once again stand proud with the commander-in-chief trophy in tow. Their new coach coming in truly gets what academy football is all about, and I for one think he will resurrect that program, and do it very quickly.

Regards,
Joe Gutilla
Columbus, Ohio
*********** Hugh, just got back from the Seattle clinic and they had 4 segments on the A-11.
Well, I went to the first one and a guy brought up the thing where it will become illegal. The little pencil neck guy went on to say this thing was only in the third inning and he expects to overturn their decision. He went on to say this is what his lawyer said. So I spoke up and said do you suppose this is just wrong and it goes against the rules and the ethics and integrity of the game?
Needless to say you could have heard a pin drop. I might be getting a call from his lawyer. Oh well, I had a good laugh!
Take care, Mike Foristiere, Boise, Idaho (This is getting sillier by the minute. Don't accept the rules of the game and figure out how to play by them. No, no - look for a loophole. And if they close the loophole, why, lawyer up. Sue. That's the American way. Isn't that what all football coaches do when the breaks go against them? HW)
*********** Reading about those poor, poor A-11 coaches and the talk about their hiring legal help to continue their flimflam game takes me back to that copy of the 1928 Army-Yale program, and the listing of the penalties.
One of the rules was "Failure to come to stop in 'shift' play" (Rule 9, section 6). It's still in the books, of course, but back then it was 15 yards!
The rule was passed in 1927, specifically to try to throttle Knute Rockne. (At least Rockne liked to claim that.)
Leo Riordan, executive sports editor of the Philadelphia Inquirer, writing in the 1957 Penn-Yale program, told of meeting with Rockne right after the rule had passed...
In 1927, they outlawed Rockne's shift, which triggered his offense. It was simple - A team must now come to a full second's pause before putting the ball in play after a shift. The announcement came late on a Saturday night and the Ledger (the long-gone Philadelphia Public Ledger, for which Riordan then worked) discovered Rockne would be here the next morning. By luck, I was assigned to interview him.

"I'll just have to start over again," Rockne sighed. "But I have myself to blame. A coach should be prudent enough not to get too far ahead of the pack. If he does, he'll be outvoted. After what happened to Woodruff, I should have been warned."

Rockne must have sensed my puzzlement, because he said, "You know the rule which says you must have seven men on the line when the ball is passed (snapped)? Well, that evolved because they couldn't stop Woodruff's 'guards back.'" (He was referring to famed Penn coach George Woodruff. More later about Woodruff and his "guards back.")
Actually, wrote Dave Nelson in "Anatomy of a Game," the question of what was a "complete stop," which had long been after a shift, had been the source of considerable dissatisfaction among coaches for years, well before Rockne came on the scene. For some three decades, Nelson wrote, "coaches continued to beat the rule and violate its intended spirit." No rule, he wrote, "provoked as much animosity among coaches as the complete stop rule."
Finally, in 1922, a rule was passed atempting to define a "complete stop." It required a player who had shifted to be stationary, with both feet on the ground, before moving again. But as precise as Rockne's men were in their shifting, who could say with certainty that they didn't all come to a complete stop at some point? The rules makers failed to define "stationary." But the one-second-pause rule, passed in 1927, finally settled things, and it's worked well since (although the penalty for an infraction has been reduced from the original draconian 15 yards down to its present 5).
The rule may or may not have been aimed at Rockne, but certainly, with his winning percentage up around .900, it's fair to say that if he was not the target, he was a target.
Rockne had a lot invested in his beautifully-choreographed shifting. It was the basis of his offense's deception, and he had a lot to lose by allowing defenses time to react to his shifting.
But, being Rockne, he did manage to "start over." In 1927, Notre Dame was 7-1-1. In 1928, he had an off year, needing the 12-6 "win one for the Gipper" victory over Army to finish 5-4. But in 1929, the Irish went 9-0 and won the mythical national championship. Alas, it would be Rockne's last team.
So don't despair, A-11 guys. You'll just have to start over. Like Knute Rockne.
Of course, the comparison between you and Rockne ends there. Rockne didn't go out and hire a lawyer.
*********** I have applied for 780 million dollars in stimulus funds. I estimate that paying me to publish my NEWS page and distributing one of my DVDs free with every condom handed out will create or save 4,000,000 jobs over the next year. Just like the President, maybe I won't be able to prove I created any jobs, but no one will be able to prove I didn't save any.
*********** Now that the "stimulus" money is making its way to the local level, watch the fighting that goes on between this group and that cause. It's like watching the relatives fight over the old man's will.
MORAL" There's never enough.
*********** A friend wrote to tell me that his friend's son has accepted an offer to play for Navy, and he'll spend next year at the US Naval Academy Prep School in Newport, Rhode Island. My friend asked me if I knew anything about the Naval Academy's Prep School, and this was all I could tell him...
I would imagine that the Naval Academy Prep School is exactly the same as the USMAPS (US MIlitary Academy Prep School) in Ft Monmouth, NJ. A majority of the kids West Point signs spend a year there. Tuition, room and board a free, and paid for by private contributions, not the US government. It is mostly for athletes but there are some spots for non-athletes. It's not about getting kids ready athletically - it's to help kids prepare academically for the challenge of West Point. It is not an insult. Very few kids come out of high school ready to handle the demands.
The USMAPS football team plays other prep schools and some college JV squads.
It's not that much different from a private prep school except that everything is paid for, and unless a kid screws up, he is assured of admission to West Point. Think of it as a redshirt year, except that he's not at Annapolis.
The year at the prep school does not count against a kid's college eligibility, nor does it count toward a kid's service obligation after graduation. But it does count as a year of service toward his retirement, should be choose a military career.
And here is something a lot of people don't know - those kids aren't sworn in so they can still go elsewhere rather than enter a service academy. There is some poaching that goes on, and some kids just decide that the life is not for them.
*********** Just to show you how strong the NFL is... the Pro Bowl's ratings beat Kobe vs LeBron. Killed them, in fact.
*********** I was corresponding with old friend Frank (Pope Franjo) Lovinski, and one of us happened to mention the Continental Football League, and off we went.
There were some good football players in the Continental League. Because of my involvement in minor league football in Hagerstown, Maryland, I kept up on it, and between the Continental League and the Atlantic Football League there were some pretty good football players. When we started up the World Football League, there were more than a few veterans of the CFL and ACFL scattered around, and in Philly we put together a respectable team full of them.
Frank grew up near Wheeling, West Virginia, which, as the home of the Ohio Valley Ironmen, once prided itself as the smallest city in all of pro football.
For a really good read about Wheeling and its Ironmen...
http://vault.sportsillustrated.cnn.com/vault/article/magazine/MAG1081907/index.htm
*********** A great story from football's minor leagues illustrates why people don't mind spending money when they think it;s somebody else's money... "The other night, we're making a bus trip...We have a few seats left over, so we tell the boys we'd sell them the seats for three bucks for their wives. Maybe 10 guys hold up their hands, saying they'll pay the three. Then we get on the bus and the owner says, 'What the heck, it's only 30 bucks. I'll pay it.' So we got to where we're going to play the game, one guy gets up and says if he knew the club was paying he would of brought his wife. He wants the three bucks and won't suit up until he gets it. We gave it to him." (From a 1962 Sports Illustrated article)

FRIDAY, FEBRUARY 13, 2009- "Life is not all Beer and Skittles." Robert Louis Stevenson
NOTE: The 2009 Coach Wyatt SoCal Clinic originally scheduled for Sat Feb 21 will be re-scheduled for May
The 2009 Coach Wyatt Atlanta Clinic will be held Sat Feb 28 at the Hilton Garden Inn Atlanta Airport
The 2009 Coach Wyatt Chicago Clinic will be held Sat Mar 21 at the Hilton Garden Inn MidwayAirport
The 2009 Coach Wyatt Philadelphia Clinic will be held Sat Apr 4 at the Holiday Inn Fort Washington
The 2009 Coach Wyatt Providence Clinic will be held Sat Apr 11 at the Sheraton Providence Airport
Every registrant at 2009 Coach Wyatt Clinics will receive a complimentary copy of my 2008 North Beach Highlights
*********** "Maybe they should have two sets of records - one for those who used steroids and one for those of us who didn't." Bob Feller, all-time great
*********** Former Eagles' wide receiver -and a very erratic one at that - Freddie Mitchell is under investigation after a package said to contain some seven pounds of marijuana was delivered to him at his Lakeland, Florida barbecue restaurant.
Law enforcement sources said the package, believed to have been sent from Texas via FedEx, had been "hit on" by a drug-sniffing dog and Lakeland police were notified.
The package was originally delivered to Mitchell's grandmother, and then forwarded to him.
Mitchell said his grandmother, who does not live with him, is 90 years old and "takes memory pills."
Maybe he could sell me some.
*********** Yale man Pudge Heffelfinger may have been the first professional football player, but that doesn't mean they didn't "pay" players before he came along.
One of the most common ways to compensate a player was to "award" him a watch for his services.
The player would then take the watch to a local pawn shop and hock it for $20.
He'd then go back to the team manager and sell him the pawn ticket for another $20.
The player came out of it with $40 in his pocket, and after getting the watch out of hock, the team would be out maybe $45 total.
And next game, another player - or maybe the same one - would be awarded the same watch!
*********** Hahahahaha.
The town I live in, Camas, Washington, is a very nice town. It grew up around a large paper mill, first owned by Crown Paper, then Crown-Zellerbach, then James River Corporation, then Fort Howard Paper, and now Georgia Pacific.
Lots of social events in town take place at the AWPPW (Association of Western Pulp and Paper Workers) Hall.
Our high school teams are the Papermakers.
For years, between the east wind and the usual stench of any paper mill, Camas was held in low regard by the larger city to the west, Vancouver.
Vancouver is where we first settled when we moved west, and for years I coached there. Whenever a Vancouver school played Camas, you could count on something on the order of
"Cam-as (clap-clap-clap)
"You Stink! (clap-clap-clap)"
But back in 1989, after searching all over our entire county, we found the home of our dreams in - of all place - Camas. We got a really nice home for our money and, interestingly, we found we seldom noticed the mill's smell, because our home (and most of the others in town - those settlers weren't stupid) is upwind of the mill.
But not many outsiders knew this. They only knew that Camas smelled. The growth that was taking place all over our county didn't affect Camas, and we caught strange looks from some Vancouverites when we told them we were moving there. Just 30 minutes from downtown Portland, Camas remained a quaint, little mill town.
But then the paper company spent millions on odor mitigation.
And almost at the same time, developers noticed the large lake and wooded hillsides, all within the Camas city limits, and it didn't take them long to log the hillsides bare and throw up hundreds and hundreds of McMansions, so close together you couldn't climb a ladder between them. The fact that Camas was (at least at that time) a short commute to Portland and just 20 minutes from the Portland airport added to the attractiveness. As a result, in the last 10 years our population has about doubled, and the demographic has definitely trended upward.
But the newcomers merely commute from their homes on the lake to their jobs in Portland; they couldn't find downtown Camas on a bet. In the other direction from the shops and offices of Portland, the little mill town we settled in nearly 20 years ago remains a little mill town.
So imagine our shock when my wife and I happened to be watching HGTV a few nights ago and a couple's home search was taking place right in our own Clark County, Washington. Cool. And after they looked at two nice enough places in Vancouver, just to the west of us, the announcer said they were next headed to the "Upscale suburb of Camas."
*********** Not sure how I feel about imposing a $500,000 salary cap on "senior officials" of companies receiving bailout money, but I've long been an opponent of sports teams' receiving taxpayer dollars to build their luxurious stadia, only to turn right around (do the Yankees come to mind?) and lavish enormous contracts on athletes.
*********** So why did the stock market take another dive at the very time that our tax-dodging Secretary of the Treasury was outlining his strategy to help the banking industry?
"The good news is they are going to spend a trillion dollars. The bad news is they don't know how," said a partner at a New York financial group.
Added a portfolio manager at a management consulting firm, "People bought on rumor and hope, and now they're selling on reality."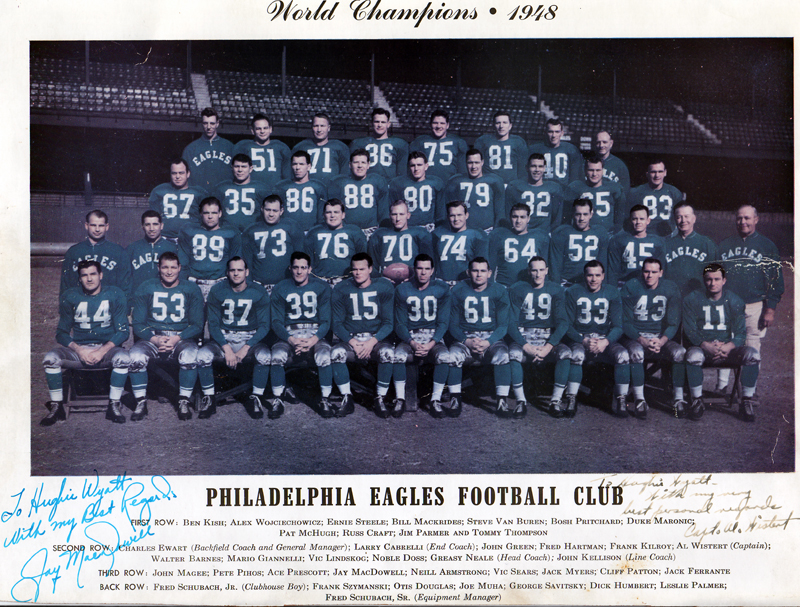 *********** A lot was made at Super Bowl time about the Cardinals' last NFL title, way back in 1947. They beat the Eagles, which bummed me, because I was a Philadelphia kid and Philadelphia, at least back then, was a lot like Nebraska or Louisiana in the sense that growing up and rooting for a team from the outside simply didn't happen.
Not that is was all that easy rooting for rhe home team. In baseball, the Phillies and A's were sorryass. Oh, we'd all get excited when they'd do great in the Grapefruit League every spring, but by Memorial Day they'd be in their usual fight to stay out of the cellar. We sort of followed the Warriors, but pro basketball, with its constant reshuffling of leagues, not to mention teams in places like Rochester and Syracuse and Fort Wayne, was only marginally a big-league sport. Hockey? The NHL consisted of just six cities, and Philadelphia wasn't one of them.
But in 1948, our Eagles beat the Cardinals and won the NFL championship. I wasn't worldly enough then to understand that few people outside Philadelphia knew or cared. All I knew was that "we" (it's always been common in Philadelphia to identify very closely with our teams) were the "World Champions!"
Some time that next spring, the spring of 1949, my uncle Bill Kinnard had a picnic in his backyard and - omigod - two of his guests were Al Wistert, tackle and captain of the Eagles, and Jay MacDowell, defensive end. My uncle was in the insurance business and, as was always the case with football players in those days, those guys were working at some other kind of job in the off-season, and, my uncle being something of a wheeler-dealer, my guess is that they were probably in on some deal with him. Whatever, there I was, playing catch (baseball) with the captain of the Eagles. I'd died and gone to heaven. Nobody believed me afterwards - not even when I produced the team photo my uncle later sent me, autographed by MacDowell and Wistert. Al Wistert's read, "To Hughie Wyatt, with my very best personal regards. Capt. Al Wistert". (I didn't shed the Scots-Irish "Hughie" - pronounced "YOU-ee," by all Philadelphians - until I went away to college.)
That was 60 years ago, and I'm still in awe of those guys.
(You may have noticed in the photot that head coach Greasy Neale had just three assistants, one of whom also served as the general manager.)
A great Eagles site, for whose location I have Don Shipley to thank, has a short video of the 40th reunion of the team, featuring its Hall of Fame running back, Steve Van Buren, as well as old film clips of Van Buren in action -
http://www.philadelphiaeagles.com/multimedia/index.asp?mm_file_id=6851
*********** You'll remember my writing last week about the upcoming, unlamented death of the so-called A-11 offense. Sure hope they don't have too many unsold A-11 DVDs on hand. Maybe they can sell them as souvenir coasters.
It appears, as I predicted, that their brief moment in the national limelight is about over, and that the NFHS is going to close the loophole that these self-styled "innovators" exploited in order to make a mockery of our game.
The NFHS board is expected to announce its rule changes for 2009 some time in the next week, and among the proposed changes known to have been discussed is one that would pretty much kill the A-11 by eliminating the scrimmage-kick exception to the usual rule requiring five linemen to have ineligible numbers.
"The rule was written for a scrimmage kick exception, the number requirement, to aid in terms of long snappers and blocking situations," said Mark Dreibelbis, the supervisor of officials for the North Carolina High School Athletic Association. "They are taking a rule book exception for a scrimmage kick and putting it [in] place every down of the game and that is not the intent of the rule and it is outside the spirit of the rule code and it is an attempt to deceive and attempts to deceive are unsporting acts."
As I mentioned before, these A-11 guys are sounding like a bunch of spoiled brats with a hyper-enlarged sense of entitlement.
The head coach and his "director of football operations," - does that sound a little self-important, or what? - say, let the National Federation go ahead and pass its rules to block the use of the A-11 by member schools - that's not going to make our offense go away.
"There is a demonstrative benefit of using the A-11 offense, and there is room in America for more than one style of football," the head coach said. "There is a loud, ugly minority out there that is against this offense."
Two out of three ain't bad, coach. I may be loud, and I may be ugly, and sometimes I'm in the minority, but not on this one.
(Funny, isn't it, how people like this get so wrapped up in themselves that they think everybody else with half a brain secretly feels the same way they do?)
Oh- and Coachhe claims to speak for The Little Guy. "This is standing up for the little guy in football, the schools without the numbers of kids or the big linemen," he said.
Hmmm. As a Little Guy myself (I coach at a high school with 200 kids), I say, thanks a lot for your thoughtfulness, fellas, but I find that the best bet is to forget the shortcuts and just coach your kids to play the game the right way.
He went on to say, "There is a huge disconnect between the players on the ground, the kids that play in this offense and the National Federation. " Man, he got that right.
And then he ended with a threat. Ooooooooh.
If the National Federation should adopt rules "curtailing the use of the A-11 among NFHS members," (in straight talk, "outlawing it"), he said, then there will be a movement to create a federation for schools that want to use the A-11.
Right. Let us know when you draw up your schedule.
*********** Good Morning Hugh-- I read your comments on passing in the News this morning. I wonder if coaches realize how much time we practiced the pass game. It was part of daily practice plan all season. Over the years our Seahawk passing stats were consistent with ours last season. In a 12 year period we completed 50 % of our passes averaging not quite one TD pass per game and nearly 17 yards per catch. The DW has a very good passing game that can and in my opinion should be part of the offense. Our discipline patterns based on steps, our hinge scramble base protection, our play action stuff is all very good and worth those interested in the Dw taking a look at. I really think you have improved the passing game in this offense significantly including the use of the "hockey stick" techniques by the QB. This would be a good DVD to produce for coaches, you have a lot to offer here!!
Jack Tourtillotte, Boothbay, Maine ("Coach T," who was such a great help to me this past season at North Beach High, knows well from his years as offensive coordinator at Boothbay Region High in Maine that the Double Wing is a potent passing offense. Double Wing coaches who spurn the passing game as somehow unmanly do so at their own risk. As a matter of fact, the things that Jack alludes to are a part of the agenda at this year's Coach Wyatt Clinics. HW)
*********** Uh-oh. Officials at Tigard, Oregon High School self-reported that one of their athletes was ineligible when he competed on the school's football and basketball teams, and as a result the state association, the OSAA, has ordered Tigard to forfeit any games the kid played in.
That means eight football games and 16 basketball games.
Usually, this sort of thing happens when it's discovered after the fact that some underachieving sophomore fourth stringer had been inserted into a blowout game to cover a kickoff.
But that's not the case here. This kid is a good athlete. Tigard is a large high school, the kind where kids tend to specialize in one sport, and he was good enough to be a contributor on the varsity football and basketball teams.
Apparently he's not a doofus, either. The kid is a 3.0 student, a senior with enough credits to graduate. He was ineligible, it turns out, because he was not enrolled in enough classes.
"This student passed eight classes in the previous semester, enrolled in five classes at the beginning of the semester but dropped a class three weeks into the term and continued to participate," the Tigard superintendent said.
The kid apparently did not understand that he needed to be taking five classes, or whatever was required, and his mistake was not caught. Uh-oh. I have a feeling that might be the AD's job.
The superintendent pretty much said so - "I think it really is primarily the responsibility of the administration at the school to ensure that all students are properly enrolled and eligible."
Uh-oh.
The eight forfeits change the football team's record from 7-3 to 2-8, and cost it a piece of its league's title.
"We'll have to take that trophy out of the trophy case," said the superintendent.
He doesn't sound happy.
*********** Most of us are aware of street agents, many of whom pose as AAU basketball coaches, and their pernicious influence on college basketball recruiting.
But football, for the most part, has been blessedly free of those parasites.
Oh, there are a few gurus, who as a by-product of training quarterbacks or kickers or somesuch may have some say in a kid's recruiting, but for the most part they play a minor role in recruiting.
Now, though, if a story in the New York Times by Thayer Adams and Pete Thamel is any indication, the street agent is entering football recruiting, in on notable case in the person of Brian Butler, a guy in Wichita who is serving as the gatekeeper of Bryce Brown, the country's most highly-recruited running back.
In brief... The kid's coach, Brian Byers of Wichita East High School, said that Butler encouraged the kid and his brother to put themselves ahead of their team, and even suggested that Butler had told the brothers Brown to "shut it down" in games once they had piled up big statistics.
According to the Times article-
Byers, who has coached football for 30 years, described Butler's philosophy this way: "It's all about me, me, me. That's not what football is about. We're a proven fact. We had supposedly the best football player in the country in high school, and we went 6-3. We didn't have a team because of that."

Byers said Butler disrupted his program and got into the Brown brothers' heads by promoting a selfish approach, which he described this way: "We're not going to worry about what happens with the team. If we can do what we need to do and the team wins, fine, but we just need to take care of ourselves."

The brothers skipped a football camp that Wichita East held before the 2007 season. During his junior season, Bryce Brown did not even stretch with his teammates, Byers said. Brown went with his teammates to a team camp at Pittsburg State last summer but did not participate because he was concerned about being hurt. Nonetheless, he piled up impressive statistics during the season, rushing for 1,850 yards and 31 touchdowns.

"It's always been him and then everybody else," Byers said. "Our team chemistry was nonexistent."
Said former Kansas State coach Ron Prince to the Times, "Recruiting for college football is obviously changing. It's become much more like the basketball model. When that happens, you then have people who are intermediaries like this gentleman is."
Bryrce Brown, who is being recruited by Miami, USC, Oregon, Tennessee, Auburn and Kansas State, has not yet even made all his official visits, and may not decide on a college until mid-March.
In fact, says Butler, he may not even attend a college. Butler suggested that he might explore the possibility of shipping his "client" to the Canadian Football League, for $5 million dollars or so. Only problem with that - the CFL has a salary cap of $4.2 million Canadian. Per team.
http://www.nytimes.com/2009/02/04/sports/ncaafootball/04recruit.html?th&emc=th
*********** With all the complaints in certain quarters about how much it costs a college to run a football program, Kirk Kriskovich, who has been spearheading the fight to keep Western Washington's adminstration from killing football, has produced one of the most illuminating arguments I have yet seen to advance the benefits of football relative to its costs.
Based on the astonishing graph below, which illustrates the costs of each of WWU's sports (including coaches' salaries), less the revenues (if any) that it generates, divided by the number of its participants, it's clear that per participant, football was not exactly a drain on the university.
Per participant, WWU spent twice as much on its men and women basketball players as it did on its football players. It also spent considerably more per volleyball player and golfer. Interestingly, the cost per football player is just about the same as the cost per softball player.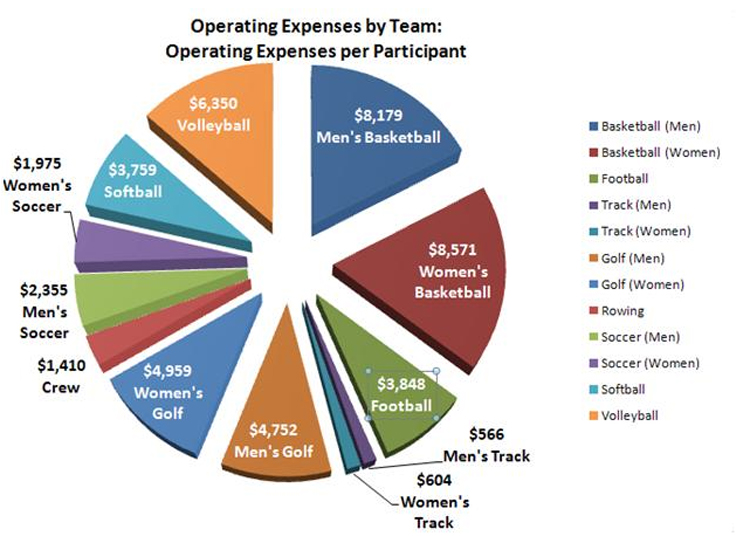 TUESDAY, FEBRUARY 10, 2009- "The cemeteries of the world are full of indispensable men." Charles de Gaulle
The 2009 Coach Wyatt Atlanta Clinic will be held Sat Feb 28 at the Hilton Garden Inn Atlanta Airport
The 2009 Coach Wyatt Chicago Clinic will be held Sat Mar 21 at the Hilton Garden Inn MidwayAirport
The 2009 Coach Wyatt Philadelphia Clinic will be held Sat Apr 4 at the Holiday Inn Fort Washington
NEW! The 2009 Coach Wyatt Providence Clinic will be held Sat Apr 11 at the Sheraton Providence Airport
*********** In an interview with Sal Interdonato of the Times-Herald-Record of Middletown, New York, new Army coach Rich Ellerson, who runs a flexbone option on offense and the Desert Swarm flex on defense, explained his philosophy of recruiting-
"Interior defensive linemen and offensive guards and centers are the same guy. When you start talking about the skilled positions, our fullbacks and linebackers are big backs. They are the same cats. Our DBs, wide receivers, A-backs and quarterbacks are the same athletes. When we think we have a great recruit and we think this guy is a great prospect, that means we can probably visualize him playing three, four or five positions. That's a great recruit. If a guy can only play one thing, that's going to be tough."
"Interior defensive linemen and offensive guards and centers are the same guy," eh? I like that. In other words, it doesn't sound as if he'll be looking at any 300-pound high school offensive linemen, because any 300-pound offensive lineman who is athletic enough that he can also play defense is probably being recruited by the likes of USC, Florida and Oklahoma.
*********** Whenever some little kid or elderly person or family pet is mauled by a pit bulls, the Defenders of the Breed come out of the woodwork, telling us that the answer is not to ban pit bulls, because there are no bad breeds, just bad owners, blah, blah, blah.
Not that I wouldn't be in favor of euthanizing certain pit bull owners, but there are certain statistics that can't be denied...
First of all, the number one breed in animal shelters is the pit bull. Probably people who think it's cool to have a pit bull don't understand that even a mean-ass dog requires care.
And then there are the bites - the Seattle Animal Shelter tracks the number of bites attributed to the most popular breeds.
In 2008...
Pit bulls made up 4 per cent of all licensed breeds, but 22 per cent of all bites
Golden Retrievers were 6 per cent of all licensed breeds and accounted for 0 per cent of all bites
Second to pit bulls with 12 per cent of all bites were labrador retrievers, but then, there were a lot more of them - they made up 18 per cent of all licensed dogs
*********** A rule in any bureaucracy is never to use one word when two will suffice. Example: the incorrect use of the term "backslash."
My source: Common Errors in English - http://www.wsu.edu/~brians/errors/ -Paul Brian, Professor of English, Washington State University
This is a slash: /. Because the top of it leans forward, it is sometimes called a "forward slash."
This is a backslash: \. Notice the way it leans back, distinguishing it from the regular slash.
Slashes are often used to indicate directories and subdirectories in computer systems such as Unix and in World Wide Web addresses. Unfortunately, many people, assuming "backslash" is some sort of technical term for the regular slash, use the term incorrectly, which risks confusing those who know enough to distinguish between the two but not enough to realize that Web addresses rarely contain backslashes.
*********** Internet humor
September, 1850 - over 158 years ago
California became a state.
The State had no electricity.
The State had no money.
Almost everyone spoke Spanish.
There were gunfights in the streets.
So basically, it was just like California today; except the
women had real breasts and the men didn't hold hands.
*********** I saw the headline OBAMA: EXECUTIVES WON'T BE REWARDED FOR FAILURE
I dug into the story. Nowhere did it say that Congress would not get paid.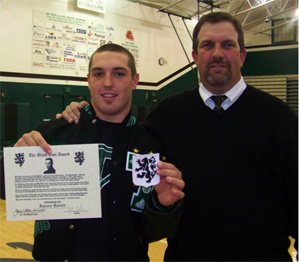 *********** Dear Coach Wyatt, Finally I got our Black Lion Award picture. This young man's name is Spencer Hanson. He started as LB the past three years at Tigard and was an All League LB. Great choice. His teammates confirmed that the award fit Spencer in all it represents. Thanks Hugh. Doug Bilodeau, Tigard HS, Tigard, Oregon
*********** The Alabama athletics department has asked the university's Board of Trustees to approve an additional 9,000 seats and 36 luxury boxes to Bryant-Denny Stadium, increasing the capacity to some 101,000. I am going to go way, way out on a limb and predict that the Board of Trustees will approve.
*********** Syracuse, led all Big East conference schools in placing 16 of its players on the conference All-Academic teams. Boy - if the Syracuse athletic department had only known this a couple of months ago, they would never have fired Greg Robinson.
*********** Duke has announced that it will play North Carolina Central, this fall. Duke knows it's taking a chance - a loss to NCC, a small traditionally-black college from across town, would be devastating. But it is a very nice gesture on Duke's part, and it could help Duke's relationship with the Durham community after all the nastiness of the so-called Duke Lacrosse Rape Case.
*********** Great Ernie Davis site, writes Pete Porcelli, of Lansingburgh, New York - and on a lot of the clips what do you know, the quarterback is lead blocking! I love it!
Yes, it sure is a good site, and there are some nice old film clips on it. But as for the movie - if you expect accuracy in your "true stories," it's a piece of sh--.
The way Hollywood played fast and loose with the truth in the Ernie Davis story reminds me of something author David Maraniss told us at a Black Lions reunion at West Point a few years ago.
As we sat around the breakfast table, David informed us that Tom Hanks had just acquired the option to make a movie of his book, "They Marched Into Sunlight," and I asked David how much input he would have - how much control he would have over the faithfulness of the movie to his book.
David said that it wasn't really feasible for an author to get involved, that Hollywood would make the movie they wanted to make, and there wasn't a lot the author could do about it. He told us about an earlier attempt at a movie about Vince Lombardi - whose biography, "When Pride Still Mattered," remains David's best-selling work. Let it be cautionary word for anyone who thinks that Hollywood can tell a story straight.
Seems that one scene in the script had Lombardi's raising hell over some hotel or restaurant refusing service to one of his black players, Henry Jordan.
Only one problem. The late Henry Jordan, a Hall of Fame defensive tackle, was white. But what the hell? Picky, picky, pikcy. You gonna let facts like that get in the way of a good story?
*********** A coach asked me about our passing game, and I wrote, "I believe that we have an excellent passing package, but frankly, we moved the ball so effectively on the ground this year that we seldom had any occasion to pass."
When you rush for 3670 yards (367/game) and average 7.3 yards per rush, you don't find ourselves in that many "passing situations." But in the course of running our offense, when we chose to throw, we threw effectively.
Our QB was 13 of 26 for 329 (12.7 yds per attempt) and 5 TDs, with only 2 interceptions. He took good care of the ball - his two interceptions came in desperate "what the hell" situations at the very end of two losing efforts. (Whatever your offense, when you really have to throw, you greatly lower your chances of success.)
Three of his incompletions were spikes to stop the clock.
And he was 4 for 6 on passes for 2-point conversions.
*********** My son, Ed, who lives and works in Melbourne, Australia (safe, for the moment, from the "bushfires") sent me a Super Bowl article by an Aussie writer for an Aussie newspaper, noting "this guy's a really well-respected Australian writer. I like how he approaches the Super Bowl and American football in this column..."
http://www.theage.com.au/articles/2009/02/06/1233423501109.html
It's a good article. Just a few small samples.
"The mighty All Blacks perform the haka before they play. In the Super Bowl, someone performs a haka at the end of each play."
"My first impression of Super Bowl XLIII was that the players were even bigger than before. To be frank, they were tubbier."
"The second thing I noticed about Super Bowl XLIII was the hair. Troy Polomanu, of the Pittsburgh Steelers, had a thick expanse of crinkly black hair like Yoko Ono at the time of her love-in with John Lennon in Amsterdam. One of the stars of the game, Larry Fitzgerald, had a mane of braided locks which made him look like a chic Bob Marley."
Ed added,
...with regard to your website story about smoking and gambling taxes, I found this from the Sydney Morning Herald. Rugby League clubs (some in the elite NRL and others in lower leagues) are struggling financially at the moment, and a big problem is the anti-smoking and poker machine taxes on the "Leagues clubs" which are like bars or pubs with poker machines owned by the teams...
"Leagues clubs, for so long the lifeblood of Sydney teams, are already near breaking point due to the impact of the new smoking legislation and poker machine taxation. A survey of 34 leagues clubs - seven of them licensed NRL leagues clubs - conducted by accounting firm PKF last year found revenue had fallen $56 million (6 per cent) over the past four years."
*********** I fly a lot. It's not a lot of fun these days. I guess 9-11 was the turning point, because ever since then, it's been mostly a pain in the ass. But in truth, it hasn't been fun since the days of deregulation, when airlines turned into Air Greyhound.
One of the biggest problems is people who seldom fly. They don't know the drill. They slow things down at security check points and, especially since airlines started charging for checked luggage, they bring unbelievable things onto the planes as "carry on."
But they're the ones who squawk loudest when those who fly the airlines the most get certain perks, such as early boarding. I'm one of those frequent fliers myself, and I hear the occasional snide remarks from those who have to stand and wait as we board.
The airlines should post signs that say, "Our frequent fliers are only 5 per cent of our passengers but they account for 25 per cent of our revenue (true fact, by the way). They're the ones who make it possible for us to give you low fares. Face it - those of you who are complaining about the treatment we give our frequent fliers are only flying with us because we had the lowest fare. So shut up."
What I want to say is, "Hey - I've got a great idea. Why don't you write Nancy Pelosi? She flies coast-to-coast every weekend on a private jet, so she'll understand your problems."
*********** Coach, I purchased your tackling DVD a few months back. I like the teaching progression you use and will likely modify our approach to match what you have done. My question is in regards to the angle tackle. Is the technique the same (as far as "lifting the shoulderpads off") as it is hard to get the "chest to chest" position on an angle? What do you do differently to teach this skill? Thanks in advance
It is exactly the same once we have made contact - we keep driving our feet and work to get our numbers against his numbers. We tell our tackler to "look into the ball-carrier's cage." You'd be amazed at how effective a technique that is.
*********** The school administration at Western Washington, which precipitously pulled the plug on the football program shortly after the season ended, just as suddenly made plans to sell off the football equipment last Saturday. But the sale didn't take place as scheduled. Thanks to an amazing job of organization, those intent on saving football have managed to bring their concerns about the way school officials have handled matters to state legislators, who told the administration, not so fast, fellas.
In the meantime, the Save the Vikings guys have also managed to marshal some $500,000 in pledges to resuscitate the football program.
Not that that matters to the school president, a pseudointellectual who continues to disparage their efforts, pointing out that it's only a small group of angry ex-footballers making a lot of noise, and the pledges aren't to be taken as seriously as "real money." Meanwhile, he is having more and more trouble dodging the real issue legislators are raising, which is the lack of openness and transparency attending his efforts to kill football.
By eliminating football, diversity-crazy WWU will potentially lose 14% of its African-American students
Interestingly, the president said that the choice was between eliminating football and allowing the school's other sports to maintain their current standard of excellence, or making severe, debilitating cuts to all sports. But then the university VP Eileen Coughlin was quoted as saying that cutting football would save the athletic department $450,000 over two years, while a simple across-the-board 10% budget reduction in the athletic department would net $640,000 over the same span. *********** Good Morning Coach,
I just thought that you might enjoy this photo that one of our parents
just sent me. It is a picture of our Middle School team running 88 SP
against our final opponent last season. Obviously it is apparent that
there are things that we still need to work on, but they are doing a
pretty good job for a group of kids that never played a single down of
football before last August. Regards,
Donnie Hayes
Cannon School
Concord, North Carolina
*********** I was thinking about Hawaii, which got me to thinking about the Pro Bowl (something I rarely do) which got me to thinking about the fact that next year it will be in Miami, which got me to thinking that maybe the real reason they're moving it from Hawaii (while saying publicly that it's because of the bad shape Aloha Stadium is in) is that Madden, who refuses to fly, can't take a bus there.
Meantime, while at Ocean Shores, Washington this weekend, I saw a large ship, the Jean Anne, headed into the port of Grays Harbor, which serves the Twin Cities of Aberdeen and Hoquiam, and I later learned it was coming in to pick up 1,000 new cars - A THOUSAND CARS! - to be hauled to Hawaii to replace the cars in Enterprise Rent-a-Car's fleet over there.
Photos of the ship: http://www.pashagroup.com/shell/frame.phtml?section=PHTL&page=Home+Page&email
Now, with all the money that Madden makes on his video games, wouldn't you think he could afford to charter that ship to haul him and his bus to Hawaii for the Pro Bowl?
*********** The Pro Bowl. Make me laugh. Cris Collinsworth said all those people were in the stands because "they want to see great athletes play great athletes."
Even if it's at something other than real football, Cris?
Then there was the lout who "introduced" himself by saying his name, followed by "This jersey is too tight."
Drop a few, fool.
*********** Hi Coach

I just have to tell what I saw today. In my class a student was wearing a T-shirt that said on the back "The most important thing in life is the ability to show up". I said it out loud to the class and told the kid that that was the lowest common denominator...just showing up...are you kidding me. And of course I went to see what was on the front of the shirt...it had some premier soccer club on it...and I said..."Ohhh...that makes sense...it's soccer." (a few of my football players chuckled).

Hope all is well!

John Lambert, La Center, Washington (The kid doesn't know how true it is - that the big appeal of youth soccer, for parents and kids both, is that all a kid has to do is show up. HW)
*********** Hugh
This is Rick Desotell from Michigan.
Saw that you were going to speak at Larry Smith Clinic and wanted to tell you that I once new him very well when he was the coach at SC and I was a young coach / writer in Glendale Ca.
I wrote an article about him and his son (who was a QB at Loyola High) and spent many hours in his office.
He gave me his list for extra points (when to go for two or one) and I still have it to this day. He was and still remains the most generous of all the big time coaches I have been privileged to meet. *********** Coach,

A couple of buddies and I went hunting in Uruguay this week. We then met up with our wives in a great little village called Punta de Este. We rented scooters today, and toured the area. We passed this scene and decided to stop so I could snap a couple of pics. It's a youth soccer team going to practice. The Coach goes around and picks the kids up in the TRAILER and takes them…even have one that just grabs ahold while he is on his bike! Man..ya gotta love a Coach that finds a way – even if it IS soccer! I'm in the airport in Montevideo, but couldn't wait to send these to you!! Take care Coach!! Scott Barnes, Rockwall, Texas
And our kids get driven to practice in Mommy's air-conditioned Volvo. Which is why the US will never be a soccer power. HW
*********** At this year's NBA All-Star game, the game of "H-O-R-S-E" will be added to the slam-dunk contest and the three-point competition. But it won't be called "H-O-R-S-E." No, not "S-P-O-T" or "P-I-G", either.
No, no. The NBA, like all sports, is looking for additional ways to squeeze money out of sponsors.
Would you believe G-E-I-C-O?
It coulda been V-I-A-G-R-A.

FRIDAY, FEBRUARY 6, 2009- "It is the tragedy of the world that no one knows what he doesn't know; and the less a man knows, the more sure he is that he knows everything." Joyce Cary
The 2009 Coach Wyatt SoCal Clinic will be held Sat Feb 21 at Saugus HS- 21900 Centurion Blvd, Saugus
The 2009 Coach Wyatt Atlanta Clinic will be held Sat Feb 28 at the Hilton Garden Inn Atlanta Airport
The 2009 Coach Wyatt Chicago Clinic will be held Sat Mar 21 at the Hilton Garden Inn MidwayAirport
The 2009 Coach Wyatt Philadelphia Clinic will be held Sat Apr 4 at the Holiday Inn Fort Washington
NEW! The 2009 Coach Wyatt Providence Clinic will be held Sat Apr 11 at the Sheraton Providence Airp
*********** Coach,
I don't know if you pay any attention to this A-11 offense stuff, but a
number of my basketball officiating friends also officiate football and
they were laughing about this the other night. It seems that the NFHS is
going to be examining and addressing the use of the scrimmage kick
numbering exception, with the purpose being to close the loophole that
the A-11 exploits. So the "founders" of the offense have a new proposal
they are throwing around - Coaches and teams who still want to run the
offense should simply break away from their State Athletic Associations
and form a new, independent group in their individual states!!
http://www.humphinternet.com/a11/pdf/A11Future.pdf
Can you believe that?!!? In their grand plan, they envision schools
forming some kind of A-11 intra-state group that will hold their own
play-offs, championships, etc.
Hard to believe the lengths some people will go to to be able to
continue cheating.

DJ Millay
Vancouver, Washington
I saw a rather extensive and self-serving proposal that the A-11 cult prepared for the NFHS rules committee, arguing, among other things, that football has always been innovative, that the game naturally evolves into more wide open play, and that wide-open football is safer for the participants.
Oh- and they argue that competent officials have no problem keeping track of who is eligible and who is not, despite the fact that all 11 players are wearing eligible numbers.
The suggestion that schools break away from the NFHS simply to accommodate the whims of an offensive coordinator is, of course, idiotic, because schools still have to belong to state associations - and leagues - for all their other sports. And most state associations - except Massachusetts and Texas, as I understand it - affiliate with the NFHS.
Makes me laugh at the egotism. Yeah, maybe some of us should have broken away when they voted to legalize holding. But no, being the chumps that we are, we just did what we'd always done - we went on coaching.
But these guys, evidently, are bigger than the game. How very Twenty-first Century - it's all about them. They know what's best for our game. And if the people charged with the good of the game won't see things their way, why, they're not going to go back to coaching real football - they'll take their ball and go someplace else and play.
Maybe they're right when they say there is room for more than one type of football. Maybe not. But I do know that the Arena Football League is going broke trying to prove it.
The interesting thing about the rules of football is how many of them exist today because the rules makers had to close loopholes that clever coaches had found and exploited. Stop and think -
You now must have seven men on the line of scrimmage (will somebody please tell the Arizona Cardinals?) because innovative coaches ran "guards back" and "tackle back" formations. You think we run power plays?
The entire team has to come to a full and complete stop (sound like an airline?) after a shift. One man - Knute Rockne - inspired that rule.
Unless pushed out of bounds by an opponent, a player can't leave the field and then return top the field and catch a pass.
No "sticky or greasy substance" can be applied to a player's uniform. (Several years ago, a Colorado high school coach caught hell for spraying Pam on his defensive linemen's jerseys because he was sick of the holding going on. Can't say I haven't considered it myself.)
You can't sew brown, football-shaped patches on the fronts of your running backs' jerseys.
The very use of eligible and ineligible numbers came about because people were playing fast and loose with the rules regarding who is an eligible receiver and who is not.
The big problem was the tackle eligible play.
Let me quote from Dave Nelson's "Anatomy of a Game," a marvelous history of the rules of football and the stories behind them. It's written by Dave Nelson. Yes, the same Dave Nelson who invented the Delaware Wing-T (with the assistance of Mike Lude) and served for 33 years on the NCAA Rules Committee. The book was published after his death.
He recalled the 1968 Rules Committee meeting...
The tackle-eligible pass was finally dead and buried after this meeting with two rule changes insisted upon by Mississippi coach John Vaught, who had lost two games in recent years to Bear Bryant of Alabama by less than a touchdown on tackle-eligible passes. As the meeting moved to a close and no action was taken on the tackle-eligible pass, John left the table, went to the door, put a chair under the door knob, and said, "We are not leaving this meeting until we do something about that damn tackle-eligible pass."
The meeting finally broke up, but not before, as Nelson put it, "the committee appeased John."
The two rules that resulted read:
(1) On a scrimmage down, at least five offensive players on the scrimmage line shall be numbered 50-79.
(2) A player in the end position on the line and not wearing 50-79 is an eligible receiver.
So now, more than 40 years later, because they'd rather play flag football, we've got these A-11 guys wanting to bring back the problem. Betcha Ole John Vaught would have known what to do with them.
*********** I have to laugh at the notion that our Congressmen think we'll buy the line that expanded health care for children (many of them from decidedly middle-class families, some of them up to 30 years old) will be paid for by a heavy increase in cigarette taxes.
It's asking too much to require that our Congressmen have a basic understanding of economics, but they might read the Aesop's fable about the goose that laid the golden eggs.
States that have hit cigarette smokers hard with high taxes have noted what any college freshman economics student could have told them - you can increase the price of almost ant good to the point where people will buy significantly less of it.
Then there's Oregon, which spawned the microbrew movement, and now is proposing to drop the tax hammer on beer.
Maybe the powers that be in the Beaver State ought to take a good look at what they've done to video poker.
For some time now, folks sitting at video poker machines have kept the revenue flowing in to the state, and kept many a tavern from going out of business. People would sit down and keep plugging their money into those machines. And smoking.
At the start of the year, Oregon banned smoking in all taverns and restaurants.
Now, both the tavern owners and the state are losing millions in lost revenue from the poker games as the smokers stay away.
The state's solution? Market the video games to non-smokers.
Gee. If they increase the tax on beer and then people drink less, maybe they can make up the lost tax revenue by marketing beer to non-drinkers.
*********** I have the great honor of being asked to speak in Tucson on March 14 at the Larry Smith Coaching Academy. Sponsored by the Southern Arizona Chapter Football Foundation and College Hall of Fame, the academy, a clinic for area high school and youth coaches, is named for the late Larry Smith, who coached at Tulane, Arizona and USC. The hook to get me there was the chance to appear on the agenda with my friend Mike Lude, co-inventor of the Delaware Wing-T and former AD at Washington and Auburn. For more information, coaches should call Dennis Bene, head football coach at Salpointe Catholic High School - 520-547-4445
*********** In Valparaiso, Indiana, a basketball fan came out of the stands at Washington Township High School, yelling at the referees, one of whom happened to be an Indiana State Trooper.
The officer said he tried to walk away but the man pushed him. He said he identified himself as a police officer and told the man he was under arrest, but the guy said he couldn't be arrested by a referee, and then he tried to choke the ref/state trooper with his whistle neckstrap.
Once the guy realized that he really had attacked a state trooper, he said, "That's not fair."
(Thanks to Ned Griffen, New London, Connecticut. When they finally get "In God We Trust" off our currency, I suggest replacing it with "That's Not Fair." HW)
***********It's fashionable for Portland mayors to be anti-automobile. Both the present Mayor, lover-boy Sam Adams, and his predecessor, Tom Potter, a former police chief who pushed for "diversifying" the police department by recruiting gays, have been quite open about the need to force people out of their cars.
They just can't seem to understand why people stubbornly insist on driving. Maybe I can help.
Dan Pacholke, Washington Corrections Department Deputy Director, talked about a program being run at the Washington State Penitentiary at Walla Walla to try to curb prison violence.
"The idea is to stress upon them that if you live in peace here," he said, "then you can move somewhere else and engage in other activities. Ninety-seven per cent of those people will be in the neighborhood, riding on a bus next to you or me."
Oh, no they won't, Dan. Not next to me. Not next to you, either, probably. Nor next to anybody else who can avoid having to ride a bus. Which is the one thing the "mass transit" guys just can't seem to understand as they try to force us out of our cars and onto buses.
*********** Joe Gordon, PR Director of the Steelers from 1969 to 1998, explaining what makes the Rooney's organization so special... "Let's put it this way - you were never going to see the Steelers signing Pacman Jones."
*********** Hugh,

We have 8 senior fb players who have committed to playing fb next fall. Five of them will be playing for Highland Community College, 2 will be playing for Hutchinson Community College, and 1 will be playing for Dodge City Community College. I really believe that 3 or 4 of them wouldn't be going to college if not for the opportunity to play football. I am so excited for them and incredibly proud of them.

Greg Koenig, Beloit, Kansas (That is just great. I am very happy for those kids. They are motivated and hard working and who knows where this could lead for them.
When I first moved West, we had six JCs playing football in Washington. Now there are none. It was a sad day for our young men when the last one gave up football. HW)
*********** Below President Bush came Congress... Below Congress came trial lawyers... And now comes a new most-unpopular class, Wall Street money manipulators...
Young Chuck moved to Texas and bought a donkey from a farmer for $100. The farmer agreed to deliver the donkey the next day. The next day the farmer drove up and said, 'Sorry Chuck, but I have some bad news, the donkey died.' Chuck replied, 'Well, then just give me my money back.' The farmer said, 'Can't do that. I went and spent it already.' Chuck said, 'OK, then, just bring me the dead donkey.' The farmer asked, 'What ya gonna do with a dead donkey? Chuck said, 'I'm going to raffle him off.' The farmer said 'You can't raffle off a dead donkey!' Chuck said, 'Sure I can. Watch me. I just won't tell anybody he's dead.' A month later, the farmer met up with Chuck and asked, 'What happened with that dead donkey?' Chuck said, 'I raffled him off. I sold 500 tickets at two dollars apiece and made a profit of $898.00.' The farmer said, 'Didn't anyone complain?' Chuck said, 'Just the guy who won. So I gave him his two dollars back.' Chuck now works for Morgan Stanley.
*********** "People say football is hard work, but I just laugh sometimes," he said. "Until they've worked on a tobacco farm, they don't know what hard work is." Giant's fullback Madison Hedgecock, who grew up on a tobacco farm in North Carolina.
*********** In the Wildcat, what method do you use to tell the center to snap the ball to the QB or the B-Back?
I tell the center just to snap it straight back between the two backs - that it's their job to know who's supposed to get it. Problem solved. I learned that from Jerry Carle, who as head coach at Colorado College once ran the single wing and a direct-snap double-wing that looked a lot like the Wildcat except that his backs were deeper.

TUESDAY, FEBRUARY 3, 2009- "Nothing that's any good works by itself. You got to make the damn thing work." Thomas Edison
The 2009 Coach Wyatt SoCal Clinic will be held Sat Feb 21 at Saugus HS- 21900 Centurion Blvd, Saugus
The 2009 Coach Wyatt Atlanta Clinic will be held Sat Feb 28 at the Hilton Garden Inn Atlanta Airport
The 2009 Coach Wyatt Chicago Clinic will be held Sat Mar 21 at the Hilton Garden Inn MidwayAirport
The 2009 Coach Wyatt Philadelphia Clinic will be held Sat Apr 4 at the Holiday Inn Fort Washington
The 2009 Coach Wyatt Providence Clinic will be held Sat Apr 11 at the Sheraton Providence Airport
*********** I have the great honor of being asked to speak in Tucson on March 14 at the Larry Smith Coaching Academy. Sponsored by the Southern Arizona Chapter Football Foundation and College Hall of Fame, the academy, a clinic for area high school and youth coaches, is named for the late Larry Smith, who coached at Tulane, Arizona and USC. The hook to get me there was the chance to appear on the agenda with my friend Mike Lude, co-inventor of the Delaware Wing-T and former AD at Washington and Auburn. For more information, coaches should call Dennis Bene, head football coach at Salpointe Catholic High School - 520-547-4445
*********** At the end, the Super Bowl was exciting and fun to watch. But best ever? C'mon. Overall, it was sloppy and there was an astonishing lack of discipline. And you could have tuned in with under 15 minutes to play and seen most of the excitement. Hmmm. Sounds like the NBA, doesn't it?
Lack of discipline, did I say? How about 18 penalties? (That's accepted penalties!) For a while, it seemed destined to be called the Bonehead Bowl. How about... the Cardinals' left tackle, #69 (the fact that a guy wears #69 says all I need to know) gets THREE holding calls. And they were only the blatant ones - he could have had a lot more... The Steelers' Ike Taylor, who helpfully introduced himself to a world-wide audience as going to a school called "Swagger," showed that that's probably where he did get his education when he threw an elbow at a receiver who'd been knocked out of bounds, adding 15 yards to the play... How about the Steelers' James Harrison, who almost passed out after having to run 100 yards, later mugging a guy in plain view of God and everybody else. And then, for good measure, taking another shot at the guy. Somebody really ought to tell these guys that there are no fewer than 30 - THIRTY - f--king cameras in use at a Super Bowl... How about roughing the holder on a field goal... How about holding in the end zone...????????
There was lotsa passing, so it escaped most peoples' notice that the two teams between them combined for less than 100 yards rushing (58 yards for the Steelers, 33 for the Cardinals). Edgerrin James, who not so long ago was bitching about not being used, came up a trifle short of making a contribution, carrying 9 times for a whopping 33 yards.
*********** Madden was okay, except that he still doesn't know what a chop block is and therefore wasn't able to tell us that that call they made was definitely NOT a chop block, and he made what is perhaps the most idiotic statement ever by a guy who's paid to enlighten. When the Steelers' runner barely made it out of the end zone, Madden enlightened us with this one: "If Laboy (Card defender) could have held him there, that would have been a safety." Well, duh.
*********** Nyuk, nyuk. Slapstick used to be considered the lowest form of humor, but it's downnright cerebral compared to what tickles the public's funny bone nowadays. And so the brain-dead element, whose funny bone can only be tickled by toilet humor and dick jokes, voted as best Super Bowl commercial the Doritos spot where a guy throws a crystal ball at the boss and - you'll never guess where he hits him! Hilarious! Nyuk, nyuk.
Got me to wondering how the Three Stooges ever stayed funny without once hitting anyone in the crotch.
*********** Danica Patrick is hailed as a role model for little girls. But how many of you really want your little girls aspiring to one day being in commercials where they're naked in the shower, being ogled online by leering teenage boys?
*********** There sure are some sorryass movies and TV shows coming up. (With the exception of "Land of the Lost." If Will Ferrell's in it, I'm betting that it's good.)
*********** Had to laugh at two things in the Bud commercials: (1) Budweiser is now billing itself as "The Great American Lager." Yeah, in the sense that the Toyota Tundra, which is also made in America by a foreign company, might call itself "The Great American Pickup." (2) If patriotism is the last refuge of a scoundrel, then Clydesdale commercials are the last refuge of a sellout company that wants us to feel warm and cuddly about it. I really guffawed at the one about the Clydesdale telling us about his great-granddaddy first coming to America (we're a nation of immigrants - get it?)
My bet: before the next Super Bowl, the Clydesdales will be headed back overseas, on their way to Belgium, where they'll be served to rich brewery executives and made into glue for Stella Artois labels.
*********** I've always felt that a huddle has uses every bit as important as the call of the play...
Dan Patrick's question for Ben Roethlisberger: "What did you say in the huddle?" (In that last drive.)
Roethlisberger: "I said, 'It's now or never.'"
My question for you no-huddle coaches: "Does your quarterback have a special hand signal for 'It's now or never,' or do you just flash it from the sideline while the line turns and looks at you?
*********** I spent most of the pre-game watching Puppy Bowl on the Animal Planet, and I enjoyed it at least as much as watching pro football players. But finally, with an hour to go before kickoff, I switched to NBC, hoping to catch something about the game, and I'll be damned if I didn't find myself watching Matt Lauer interviewing Barack Obama.
*********** Remember my mention of Danny Kaler, ("Dan, Dan the Lobsterman) the Maine lobsterman-restaurant owner and analyst on football cablecasts who once told me, "Oughtta make puntin' illegal! If they knew you weren't gonna punt, they'd try harder?"
That sounds very much like - and makes every bit as much sense as - NFL Commissioner Roger Goodell's claim that there's nothing wrong with NFL overtime and its giving an edge to the team that wins the coin toss: "The recognition that a game is going to be determined by a coin flip forces teams to play more aggressively during regulation."
*********** Knowing the NFL, I'm sure that Jennifer Hudson was not chosen to sing (sorry - perform) the National Anthem at the Super Bowl simply because of the fact that this would be her first public gig since she suffered an unspeakable family tragedy. Oh, no. Not the NFL. The NFL wouldn't crassly capitalize on a family tragedy and the publicity that it generated..
"How did I do?" she is reported to have asked when she was done.
Well, duh. It was recorded.
Nothing against Ms. Hudson, and after all she's been through it's nice to see her performing, but I preferred the parrot who sang before Puppy Bowl.
*********** Check out my brief biography of Ernie Davis - December 8, 2000 ---- http://www.coachwyatt.com/dec00.html">http://www.coachwyatt.com/dec00.html">http://www.coachwyatt.com/dec00.html
Way back then, long-time reader Dave Potter, of Durham, North Carolina, wrote, "Why there has never been a movie made about his life, I have no idea."
I wrote,
Hey. Great idea. A movie about Ernie Davis.
A handsome, likeable young football player wins the Heisman Trophy but dies of leukemia before ever playing a pro football game.
Sad but true, that's the story of Ernie Davis, who as a running back at Syracuse came as close as any human being ever could to making people there forget about another Syracuse great, Jim Brown (who was only, in my humble estimation, the greatest runner in the history of the game).
Nicknamed the Elmira Express for the town in New York where he played his high school ball, Ernie Davis was loved by all who knew him - good looking, personable, humble, and a dapper dresser who favored the so-called Ivy League fashion of the time.
So the movie had to happen eventually, and now it's due out soon. It's going to be called "The Express."
My fear is that, like "Invinceable"; it's going to be "based on a true story."
They're sure to try to sex it up a bit, but that won't be easy, since in those days cheerleaders wore sweaters and wool skirts.
But wait - Ernie Davis was black, so there's sure to be the black-kid-in-a-racist America slant.
Knowing Hollywood, that's my biggest fear and strongest suspicion.
Elmira is a mostly-white city in upstate New York, so there's some story potential in the growing-up-black-in-a-white-town stuff. Searching for his identity and all that. And then one day he stepped on a football field and people began to notice, etc., etc.
And then he went to a mostly-white university, where as a football star he was lionized until - uh-oh - he dated white women. Actually, I don't know, or care, whether he did or not, but it makes a great story. They can do wonders with the interracial dating angle and the local yokels' racist reaction to it. Probably Hollywood will show a few rednecks driving by "Ernie" and his (white) date, throwing beer cans and shouting racial epithets at him - and her. Not that it necessarily happened, you understand, but, then it's only "based on" a true story.
Besides, by the time Ernie arrived, that was a dead story at Syracuse, where years before a black player named Avatus Stone actually did cause a stir by dating white women at a time when those things just weren't done.
Then there's always Davis' coach, Ben Schwarzwalder, a gruff, no-nonsense type. It'll be easy for the Hollywood types to portray him as a crusty old racist. The real Ben Schwarzwalder was from West Virginia, which is all the moviemakers will need to know. I predict that when Hollywood gets finished with him, he'll be the reincarnation of Boss Hogg.
And finally, there's the story of Davis' being taken first overall in the 1962 NFL draft.
The first pick in the draft belonged to the Washington Redskins, whose owner, George Preston Marshall - a real, honest-to-God, crusty old racist - had once vowed that no black (he used another term) player would ever play for him.
But with congressional pressure on Marshall to integrate his team, it became apparent that it would be Ernie Davis' fate to become the first black Redskin.
Before the draft, though, Cleveland obtained the Redskins' first-round choice by giving up a first-round draft choice of their own, plus star running back Bobby Mitchell, to whom fell the honor of integrating the Redskins.
The Browns drafted and signed Davis, but not too long after that came the word that he had been diagnosed with leukemia.
The trade had been totally coach Paul Brown's idea, done without consulting owner Art Modell. It wasn't easy giving up Bobby Mitchell, one of the most dangerous runners in the game, but Brown must have salivated at the thought of Jim Brown and Ernie Davis, two big, strong speedsters, in the same backfield.
Modell wasn't happy about how much it had cost him to sign Davis (at the time, the WFL and NFL were at war, opening their checkbooks to sign rookies), and later, in his book "PB," coach Brown accused owner Modell of insisting that he play the dying Davis in an exhibition game in order to draw the kind of crowd that would help him recover some of the bonus money he'd had to pay out to Davis.
Modell denied the charge, and Brown, by then the owner of the Bengals, was fined $100,000 by NFL commissioner Pete Rozelle for publicly criticizing a fellow owner.
So yes, there's a lot of sociological stuff in there, and my suspicion is that what football there is will merely be the hook to get everyone to watch as the movie makers exploit the tragic story of an Athlete Dying Young to tell us once again what an evil, racist country this is.

Since then, of course, the movie came out. I had my chances to see it. One of my players' dads even bought tickets for our entire team. But I just can't bear to see people manipulate historical facts.
Suer enough, I made the right call, according to Gordon White, retired sports editor of the New York Times, who knew Syracuse, and knew Ernie Davis, and knew his coach, Ben Schwartzwalder.
http://www.thepilot.com/stories/20081019/sports/sports/20081019WHITECOL.html
Thanks to Adam Wesoloski, of Pulaski, Wisconsin, who came across this article...
As Gordon White writes, it would have been a good-enough story straight-up, but, no - they had to exploit the racial issue. Enhance it. A cynic might even say, given the timing of the movie's release, that it was the producer's contribution to the recent election. The Obama Express.
*********** Hey Coach,

Watched the game last night and during the first quarter, I was afraid that it wasn't going to be much of a game, but the Cardinals made a game of it. Thank God. It was pretty exciting there in the 4th quarter.

I like John Madden's comment when the Steelers were down on the Cardinal 1 foot line and decided to kick instead of going for the TD. Madden said that it was a more difficult decision to actually kick than it was to go for the TD. Unbelievable, a freakin 17 yard field goal is AUTOMATIC in the NFL. Madden was trying to make it sound like it was a more ballsy decision to kick than it would have been to go for the TD. I mean, come on, it was the first drive of the game and even if you don't get the TD, you give the Cardinals the ball on their own 1. Don't the Steelers have the #1 defense in the NFL. There is no way in hell that I kick a FG in that situation, we are going to punch it in for the TD!! But, I am not auditioning for my NEXT coaching job in the NFL.

Its bad enough that some of the players can't even say the names of their alma mater correctly (i.e., the "U") but one of these jokers simply (with emphasis on simply) said, "swaggin". The talking head thought that was kinda cool and kept talking about it for the rest of the game.

On another note, there will be 2 coaches coming to the Atlanta Clinic from Cannon School. One of my assistants, Earnest Bostick, and me. I will get the paperwork started this week.

Say hey to Connie for me.

Donnie Hayes
Head Football Coach
Cannon School - Concord, North Carolina
*********** Why would the NFL hire a guy who doesn't know what a "Hail Mary" is to do their halftime show? Come to think of it, how does a guy grow up in America and not know what a "Hail Mary" is?
"The Boss" my ass. Bruce Springsteen is a pussy.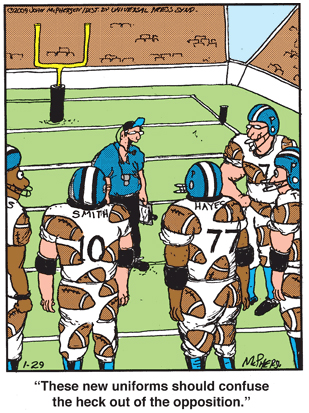 *********** Coach, As you know the rivalry with the Adrian Dragons has been hot and heavy over the years, but I never thought they had a sense of humor. It all goes back to all the faking we do in this offense. Kevin is Adrian's D-Coord. Read it and then open the attachment. I got a good laugh out of
it. Chris Davis, Marshall, Minnesota
Dear Chris:
Wanted you to know over the years that at Adrian we have had a problem finding the ball with your dark uniforms and the older ball you use to hide its location.
Please find attached Adrian's New Uniforms for next year.
Have a good day.
Kevin Nowotny (Sorry - I can't identify the cartoonist to give him/her credit. HW)
*********** Chad Beermann writes from Elgin, Iowa, "That cartoon was the January 29th edition of "Close to Home" by John McPherson. I just thought those were next year's Army uniforms." Ouch.

*********** Pacific University has a problem with male shrinkage. No, no, no- not the kind that we get e-mails about. Not the kind that those women with sexy voices advertise on ESPN radio.
Pacific University, in Forest Grove, Oregon, is small and private. And, since it gave up football several years ago, increasingly female. Its male enrollment has been shrinking, and now that it's only 36 per cent male, Pacific is looking seriously at restarting football.
For years we've heard about how schools were neglecting "our girls" , especially in the areas of math and science, but the truth is that American girls have thrived, while at the same time American boys are becoming bigger and bigger slackers, to the point where there is scarcely a college whose student body doesn't contain more females than males.
If the situation were reversed, there would be a hue and cry about discrimination against females, but this is America, the land where it's okay to slam males, the land where TV dads are nitwits and many people see no need for a father in a family anyhow, so no one chooses to acknowledge that there's a problem here. No one, that is, except colleges, which realize that as their male student body continues to shrink, so, in a time when there is greater competition for students, will their college's overall appeal to high school kids.
Not all that surprisingly, male shrinkage is greatest at schools that don't offer football, and many of those schools are starting to address the problem by adding football. Presto! Instant male enhancement. (Male enrollment enhancement, that is.)
If adding football increases male enrollment, the converse may also be true - dropping football may lead to a decrease in male enrollment. Which means there may be an unintended consequence to dropping football that the poohbahs at Western Washington seem to have overlooked in their rush to kill the sport - they may find themselves having to drop a women's sport or two in order to comply with Title IX's proportionality requirements.
Somehow, I don't think there's a college administration in the country that would want the national headlines that reports like this would get them...
"We go now to Bellingham, Washington, where Andrea Wilson reports that after years of increased opportunities for women in sports, a college has had to do something no other college has had to do since the passage of Title IX in the 1970's - drop women's sports..."
Hahahahahaha. Hoist by their own petard.
*********** I have the great honor of being asked to speak in Tucson on March 14 at the Larry Smith Coaching Academy. Sponsored by the Southern Arizona Chapter Football Foundation and College Hall of Fame, the academy, a clinic for area high school and youth coaches, is named for the late Larry Smith, who coached at Tulane, Arizona and USC. The hook to get me there was the chance to appear on the agenda with my friend Mike Lude, co-inventor of the Delaware Wing-T and former AD at Washington and Auburn. For more information, coaches should call Dennis Bene, head football coach at Salpointe Catholic High School - 520-547-4445
*********** Fifty years ago - February 3, 1959 - Buddy Holly, Ritchie Valens and the Big Bopper died in the crash of a small plane near Clear Lake, Iowa.
*********** A friend happened to mention that the Double Wing, with its emphasis on "smash-mouth, ball control" would do well in a pass-happy league.
No disagreement there, but certain phrases do make my antennae go up, and "smash-mouth" being one of them, here's what I wrote back...
Take it from a friend - the AFCA frowns on the use of "smash-mouth" and I think coaches would be wise to refrain from it, too. With the AFCA on record as being against it, if a coach continues to use it to promote his program and one of his kids were to be seriously injured, he wouldn't have leg to stand on once a lawyer threw that one at the jury. I know that you're a good, caring coach who's only using a figure of speech, but civilians are inclined to take sports expressions literally and lawyers know that.
HERE WE GO AGAIN...
Coach,
I do worry about soccer' influence on our culture - it grabs kids at an early age because it's the only sport available to them when they're too young to have the skills to play anything else, and then parents grow up with it, comfortable with the social aspect, and secure in the knowledge that they don't have to worry about their kids' safety.
I also notice that most youth soccer coaches I see are very patient and mild-mannered - almost Mister Rogersish - with kids, and that's what kids get used to. I get the impression that kids are comfortable with them. I think it is very important that football be introduced to kids the same way.
Not that youth football is anywhere close to dying. I have been fortunate to deal with many very good youth coaches who I would be happy to have coaching one of my grandkids. They are exceptionally good in dealing with kids. But I have seen some who are pretty aggressive with youngsters, and I can't help thinking that that's the stereotype coach that keeps parents from letting their kids play football.
Of course there are guys who played football themselves whose kids are going to play regardless. But for the rest of the kids, Mom has to be sold.
In this age, it is a rare household in which a father can say, "Tim's playing football - and that's that." Where kids aren't being raised by a single mom, they are being raised more and more in households in which Mom has veto power over whether junior is going to play football. I'm not going to get into the need for prescribing testosterone shots and that sort of stuff, because that's just the way many modern families are. Call it a byproduct of the sexual revolution, but it's a fact and football needs to address it.
That's one of the reasons why football coaches should stop trying to sound so macho with some of the terms they use. For example, take "smash-mouth." As Henny Youngman would say, Please take "smash-mouth."
The headline in an American Football Coaches Associaton manual reads,
"'Smash Mouth' Football, Similar Terms, Should Not Be in a Coach's Vocabulary."
The article goes on to say...
"Hard-nosed, maybe, but 'smash-mouth' football is not how competent coaches refer to their game. Football is a contact game, but terms that reflect brutality and violence do not belong in a coach's vocabulary. Image is one reason to clean up slang terms like smash-mouth that have become popular in the media, but a more compelling reason comes from a legal standpoint. In a courtroom, descriptive terms are used against coaches and the game. Don't hesitate to ask your fellow coaches, student-athletes and especially the media who cover your team to cooperate and refrain from using overly-descriptive terms that reflect poorly on the game and your profession."
Little boys - and the moms who let them play - are the future of our game. Somehow, I doubt that there are many moms who get overly excited at the prospect of their little boys getting involved in "smash-mouth" football.
************ A coach whose site offers advice to youth coaches is hawking a DVD like this: "Topics range from Assistant Coach Responsiblities to Dealing with Zebras"
*********** "Make no mistake - tax cheaters cheat us all." Tom Daschel
In another dismaying move, President Obama, who ran as an opponent of Washington business as usual, has just apppinted Tom Daschle to his cabinet. Talk about a Washington guy. Daschle was one of the snarkiest bastards ever to serve in the Senate. Now, though, he's at his apologetic best, because he wants to be approved, but it seems he's a tax cheat, like our Secretary of the Treasury.
Guy was sharp enough to wheel and deal his way to become Senate Majority Leader, yet now he expects us to believe he didn't know that the use of a car - and driver - was income. He actually said he thought it was just a gift from a friend. You try that one some time.
Remember when all Americans were held to the same standard?
Remember when nobody dared to mess with the IRS?
Anyone remember that the one thing they were finally able to nail Al Capone on was failure to pay his taxes?