FRIDAY, OCTOBER 29, 2010 - "Government response to crises once they occur is slow and inept. This is not because either Republicans or Democrats are in power, but because big government doesn't work. It can't deliver on its promises. Big government overpromises and underdelivers." Gerald P. O'Driscoll, Jr., senior fellow at the Cato Institute and former vice president of the Federal Reserve Bank of Dallas.
*********** The Pasadena City Council recently approved a $152 million renovation plan for the Rose Bowl.
The 88-year-old stadium will get a new scoreboard, safety improvements, more restrooms and more concession stands – and an increase in luxury seats from 550 to 2500.
The city plans to pay for the upgrade with a bond issue, money from the Tournament of Roses and profits from previous games and – you'll like this - federal stimulus funds.
*********** Up 42-13, Boise State started the fourth quarter with their backup QB. Made sense.
But on the very next play, starter Kellen Moore was back in.
Damned if he didn't throw an interception.
And then, being the competitor that he is, he made the tackle.
I'm not sayin' whether I think Moore should still have been in the game because, as that famous studio expert Lou Holtz has said, "You don't want to second-guess a coach…"
*********** Like baseball in November? You'll love it in December.
They are talking about adding more wild-card teams, and making division series best-of-seven.
That's the answer to baseball's problems, of course. Not adding replay or cutting down on the enormous amount of wasted time. People don't like our product? F—k 'em. Give 'em more.
*********** A friend whose son is caught in a dysfunctional program called me at halftime of his son's game last Friday to tell me that things were so out of hand, both on and off the field, that he was going to go sit in his car the second half for fear he'd say or do something he regretted.
He followed up with this e-mail to me on Tuesday…
the you-know-what has finally hit the fan. They had a team meeting after their Monday practice and (the coach) made some pretty outrageous statements:

Accused several kids of faking injuries – he did not use names, but made it clear that he was talking about (my son) and (a teammate).

Accused the team of quitting last Friday in the game.

Told them he was disgusted with them.

Told them he didn't care if they liked him or not because he had (the principal's) vote of confidence and "short of swearing at you or punching one of you in the face I will be the football coach so get over it."

Then he went around the room and asked each player if they wanted to keep playing. When he got to (my son), his answer was "Honestly, I wish this season was over. I'm tired of all this." So then (my son) had to spend an extra hour after practice in the coach's office being chewed out for having a "poor attitude."
This was the coach who almost blew the team's only win a week ago by continuing to throw the ball instead of protecting a lead because he'd determined before the game that he was going to throw the ball 40 times – and he hadn't reached 40 yet.
Coming off that first win, last week he gave the kids 15 new plays – on Wednesday. Predictably, the kids were confused, and just as predoctably, they got slaughtered. During and after the game, the coach made sure the kids knew it was their fault that they were confused and misaligned. (Like it was also their fault they had two just first downs the entire game, several of their "drives" taking less than a minute off the clock.)
For this week's game, he has told the kids that every play would be a pass.
*********** Went to a very exciting game last night.
Team A won 38-37 by running it in as time expired. Team B is protesting the game.
Right before the half, team A scored with 25 seconds left. Team A kicked on-side and recovered, or so it seemed.
It was a slow roller and didn't look like it would go 10. Team B backed off and ball trickled over the line.
Team A player casually picks up the ball and just stands there. Ball was not blown dead. Team A coach tells him to run. Nobody on team B touched the ball.
He gained anywhere between 6 and 25 yards depending on who you talk to.
Anyway, on next play they throw for a TD. Kid was WIDE open.
They are thinking about making them come back and play the game from that point.
What do you think?
Replay seems reasonable. This was an inexcusable officiating error resulting from not knowing the rules.
Team A (kicking team) can only recover a kickoff. They cannot advance it. In the case you described: Team A's ball at the point of recovery.
*********** Frank Marcucio, head coach at Bassick High School, in Bridgeport, Connecticut, wrote me to sing up for the Black Lion Award, and asked if I'd be interested in seeing an award-winning documentary about Bassick sports, done by Bassick students.
It is very well done, and it documents the things that the coaches and players in an inner-city school must do to overcome all the obstacles in their way - emphasis on "overcome."
http://www.ctpost.com/default/article/Bassick-students-create-best-sports-documentary-719039.php
*********** On the subject of violent sports, Ned Griffen writes from New London, Connecticut,
I've enjoyed Aussie Rules the few times I've watched it
Watched the first Grand Final few weeks back (i.e. the one with the tie). Gobsmacked when I watched two opposing players haul back and punch one another in the jaw
The two then raced back to the action as if nothing happened
Given all of the hitting, violence and other chicanery, I'm shocked it's not the most popular sport in the world. Having met a few Aussies, it makes perfect sense that it's their game....
(Part of the reason that otherwise violent sports such as ice hockey and Australian Rules manage to keep an even keel is that the play goes on. If the NFL had less time between plays, I think they'd cut down on a lot of the shenanigans. HW)
*********** I am hoping I can convince (my head coach) to go Double Wing with some Wildcat. We will see. Thanks for your help and response.
Coach, I wish you luck. In football, as in business, the trick is getting the boss to think that it's his idea!
*********** Coach,
I just wanted to drop you a quick note to update you on our season. We just wrapped up the regular season with a 40-0 victory. We finished the season 8-0. We scored 251 points and only gave up 40. Average margin of victory 31-5. Two milestone victories, first we beat a team that hadn't lost a regular season game for two straight seasons 23-0, and the second was a hard fought 14-12 win over a team that our kids had lost to every year since they were 65 pounds. That win clinched our Division Championship. All of this with an entire new staff of coaches that these kids had never met before 21 July this year. This was their very first experience with the double wing as this was a spread offense team last year. We have had 15 different kids score this year and I even managed to get both my center and my back-up center into the endzone in our last game when I lined them up at B back and run Tight 2 Wedge. My starting center actually cried, he was so happy. I can't thank you enough for all the videos and knowledge you have shared since I started using your system in 2003. I will definitely be at a clinic next spring. Can't wait to thank you in person.
Coach Larry Stump
Offensive Coordinator
Cape St. Claire Cougars
13U Division II Champs
Annapolis Maryland
Coach Stump-
That's great news. Congratulations on the great season, especially those two BIG wins.
But I reserve my biggest pat on the back for what you did for those linemen, in letting them experience the thrill of running the ball!
Thanks for the update. Looking forward to meeting you, too!
*********** Hi Coach,
We beat LaConner 41-12 last Friday. It was interesting, they played a fast kid at their right tackle and a bear crawler at their left tackle. The fast kid tried to chase the play down and the bear crawler tried to stop super power by causing a pile up. Of course it worked a little but we still scored 41 using double wing. Our play action pass off of super power has been huge all season even after all the teams film us and attend our games.
We play Orcas next and they also run the DW. They run a different version and also run shotgun spread.
Our A-back is only 150 yards away from the all time Skagit County rushing record. Every team keys him. Last Friday he rushed for 71 yards but our C-back rushed for 97 mostly on 99 s/p..
If a team sells out to stop a certain play or player they are giving something else up, and so far we are figuring out what that is.
Chad Clark
Concrete, Washington
Coach,
Sounds as if you all have a really good understanding of what to do and when to do it.
That includes, as you noted, a willingness to throw the ball. The Double Wing is a really good passing offense, and I just don't understand some Double-Wingers who think that there's something unmanly about passing. That's just as bad as the spread guys who set out before a game to throw the ball 40 times. The point is to do what it takes to win.
Good luck against Orcas!
*********** We went by Hershey ,PA. What an interesting place.I certainly was very impressed by the founder Mr M.Hershey - what a biblically centered man.Man and that school for parentless kids they have there that he founded- MDs,LT General all kinds of success stories. Most or should I say that only a man that believes the Bible and knows Christ does the things that he did. Everyone else is selfish and oppressive. And again it reconfirmed what I already know- that America is and was made great because of Judeo Christian virtues.And I will give up that belief or let go of our system when they get me when I'm trying to RELOAD.
KEEP COACHING.Just KEEP COACHING.HI to Connie.
Blessings,
Armando Castro
Roanoke, Virginia
So you got to Hershey! Once a summer when I was a kid I would get to go there and spend an entire day, first at the chocolate factory, and then at the amusement park (Hershey Park). One of my very favorite places.
The Milton Hershey School, founded by Mr. Hershey (back when it was still okay to be a Christian in America) to house and educate orphans, has turned out some very impressive graduates.
Connie and I spent the first couple of days of our honeymoon in a place in upstate Pennsylvania that was really boring, so we decided to bail out of there and we wound up spending the rest of our honeymoon in Hershey, where the Eagles were training. We were at every practice. If I didn't know I had the right girl before that, I did then.
*********** Coach Wyatt,
Hope all is going well. I know that you get tons of emails with the same story, but I feel compelled to tell you about the great win we had last weekend. We needed to beat our arch rival (Thanksgiving Day game rival, Marshfield) to keep in the playoff picture. We had played their JV team the day before and beat them soundly....after running 8 wedges in a row, they finally started bear crawling their line....no worries, switch to power and we teach our offensive linemen how to deal with submarining D linemen. But it does give the opposing team a day to get a feel for what their varsity is going to do the next day. They also have a ball control team and we ended up only running 5 offensive plays in the first half....and I felt lucky to only be down 6-0. We came out in the second half and scored on 2 plays (88 brown and 88 SP) and made the extra point (88 SP). We made some adjustments on defense and finally stopped them deep in our territory where we took over the ball with about 1 minute to go in the 3rd quarter (9-minute quarters)....we then proceeded with a long drive that ate up 9 minutes on the clock. We ran 16 plays, thirteen 88 SPs, two 47Cs, and one 44 base lead. We scored on a 88 SP to take a 14-6 lead and that was the final score. The other great thing was that my good buddy, Chuck Rossetti, has been helping us with offense 1 day a week (he still coaches at the HS level) and was finally able to come to one of our games......it was great....he'd just lean toward me and quietly say, "run it again", lest I did anything stupid to stop my team. The kids were very psyched as you can imagine. Our FB was absolutely destroying their left DE....our QB wasn't blocking particularly well, but did cut the cornerback once near the goal line (we play NCAA rules). We have another big game this weekend, and unfortunately, our FB's mom took him to Disney for the week.....our back-up did well in a scrimmage that we had yesterday....plus, I have some tape on the opposing team and their left DE flies upfield...wonder what play they'll see a lot of on Saturday. I've included a link to youtube of the 2 drives that I uploaded. I've made my hotel reservations for Army-Navy but still need to get my tickets. We'll definitely have to get together.
Rick Davis
Duxbury Youth Football
http://www.youtube.com/watch?v=AJqtpSBdx4c
PS- I can't say enough good things about the 2 Black Lion award winners on my team. Brad (#33) moved from C back to TE and has played incredibly.....my other TE was driving me nuts...was not blocking and kept asking to have his pass play called...something I can assure you that Brad never does. Cam (#50) is my center and is tough as nails. He got a pretty bad foot injury a few weeks back that hasn't healed but the doctor assured him that he can't do any damage to his foot, it's just going to hurt. The nurse got a little "push back" from Cam when she wanted to put a cast on his foot....he's been wearing a boot during the week and playing on weekends
*********** My two-year-old grandson has been visiting us, and I'm not saying that my son has been indoctrinating him or anything, but the kid's seen enough Oregon football on TV that the other morning when I was doing pushups he pointed at me and said, "OREGON DUCK!"
*********** Coach,
We travelled to 4-4 Bushnell on Friday. With a win, they would be in the playoffs (probably) based on strength of schedule. With a loss, we probably would be on the outside looking in. After being down 6-8 at the half, we took advantage of turnovers and ended up winning 30-14 (they scored as time ran out).
Highlights of the game: Our first drive was 22 plays and took up 11:23. Sophomore running back Brady Westart, seeing his first significant time after a dislocated elbow in week one, rushed for 122 yards on 6 carries. Our defense held their best running back, who'd rushed for 599 the previous two games, to 71 yards.
At 6-3, we ended up with the #2 seed in our playoff bracket. We travel to 8-1 Clifton Central on Saturday. They are a running team primarily, doing so out of multiple sets. To our benefit should be the fact that the teams on their schedule run the spread. Hopefully the physical nature of the offense will wear on them.
After sitting at 3-3 and wondering if we could put the wins together that we needed, it feels pretty good to have had the kids respond the way they have.
Thank you,
Todd Hollis
Head Football Coach
Elmwood High School
Elmwood, Illinois
*********** VMI is taking a bus to West Point to play Army Saturday. From Lexington, Virginia to West Point, New York has to be an 8-hour bus ride. I have made a few of those long bus trips, back in my minor-league days, and when I was coaching in Finland, and I don't recommend them.
But VMI works on a tight budget, which only allows one plane trip a year, and although Army is paying the Keydets $125,000 to make the trip, they are going to save the money for a flight to Stony Brook, which is also in New York. But Stony Brook is on Long Island, which means having to go through New York City en route, and an even longer bus trip.
*********** I was on the subject of Political Correctness a few days ago, and Tuesday night we got a good example of it. Its name was Beth Mowen, and that was her strident voice doing the play-by-play on ESPN's national telecast of the Boise State-Louisiana Tech game. Grrr.
*********** Don't know about you, but I thought the first time they said "VAH Tech" for Virginia Tech and "LAH Tech" for Virginia Tech it was borderline cute 'n' clever, but now it's trite, and it's time to go back to calling them by their given names. It's not as if the TV motormouths have so many other important things to say that they need to abbreviate.
*********** Sounds like No More Mister Nice Guy in the Texas football offices...
In an interview with Chip Brown in orangebloods.com, Mack Brown said some things that tend to make you think he's under a bit of pressure...
"I told the coaches Sunday, 'What I said Saturday and what I meant was, if you're coaching a position, and your position is not playing well every week, I can't trust that you're doing a good job coaching them. If one of your guys is playing bad, I can change him. If three of your guys are playing bad, I gotta change you.

"I want them to understand it's the players' responsibility, but also the assistant coaches' responsibility to get the guy to play with passion each week. That's what we pay him for. And it doesn't seem that hard to me.

"No one in America does it. But it sure seems like it shouldn't be that hard to get kids to play for 12 weeks when you prepare 300-something days for 12. It amazes me.

"I am ready to play each week. I can't. But I'm ready. I get excited about the games. I want us to win. I want to see a fun team. I can handle a loss if we are playing with passion and busting our tails and mess some things up. But I can't handle it if we're standing around. And there was too much standing around Saturday.

"It's my responsibility through the assistant coaches to the players. Everybody gets confused on where to go with it. It goes to me because I'm the CEO that's
responsible for it. Then it goes to the coordinators, all three of them. Then it goes to the assistant coach. Then it goes to the players.

"When I sit in those staff meetings, I expect Greg Davis to run the offense and get his coaches ready to get their players ready to play. I expect Will Muschamp to run the defense and get his assistant coaches to get the players ready to play.

"And I expect Mike Tolleson - and he has more help because he's got guys responsible for each phase - to do their jobs in special teams. And when that doesn't happen, they are called out on Sunday like everyone else.

"There's no finger to be pointed to one person, and I've always said unless that one person is me. That's the one person who is responsible for all of it. It's a coaching cliche to throw this out, but I am responsible for all of it.

"Like I said, I'm a CEO and the difference in my job from most other CEOs is I've got kids running it, and it's all public."
Hmmm. To whom much is given, from him much is expected. Knowing how impatient some of those Texas Big Hitters can get, I'll betcha some of the things Mack Brown said about his coordinators were also said about him. To him. Things such as, " If one of your guys is playing bad, I can change him. If three of your guys are playing bad, I gotta change you."
*********** BIG game this weekend for Oregon - USC in the Coliseum. It will be interesting to see if the Trojans, with all those NFL prospects and the Great Monte Kiffin (father of the not-so-great Lane Kiffin) coaching their defense, can keep up the pace.
Only two teams - Texas Tech and Houston - run more plays per game than Oregon, but TT and Houston are both passing teams. Oregon's blazing-fast paced offense is running-based, and as a result the Ducks have been wearing people out - only 23 points have been scored against them in the second half this year, and only seven points in the fourth quarter.
Oregon defensive coordinator Nick Aliotti knows what it's like being on the other side of the ball from the Oregon offense, even if it's only in practice. As he told The Portland Oregonian's John Hunt, "Sometimes as a defensive coach I can barely get a a call in before the next play is played. Until you really see it live and in color... when you see it live, it's something to see. "
*********** Coach Wyatt,

We (Harrison Central) beat Ocean Springs 21-6 for the Division 4 9th grade championship. We finished the season 8-0.
This is actually my first ever undefeated team. The kids played great all year. Harrison Central was split into 2 schools last year, when West Harrison High School was opened.We have 1605 students and WH has 1200.

Steve Jones, Boloxi, Mississippi
(In 2007, Coach Jones, a long-time friend, took Ocean Springs HS to the Mississippi large school state title game. HW)
TUESDAY, OCTOBER 26, 2010 - "In America, anyone can become president. That's the problem." George Carlin
*********** Think the NFL's product doesn't suck?
Despite everything The League has done to juice up the offense (which to the NFL means the passing game), the NFL is a study in offensive ineptitude.
So proficient are field goal kickers that there is little incentive for coaches to take chances and press on for a touchdown when the field goal is almost a sure thing.
Sunday, in all 13 NFL games, there were 56 field goals attempted – and 53 made! Think of that – only three missed field goals all day!
That works out to 94.6 per cent! Almost no chance of a miss. As a result, a field goal attempt in the NFL contains all the breathtaking suspense of a one-foot putt.
In only five of the 13 games were there more touchdowns scored – even counting the amazing total of ten scored by interception or fumble returns – than field goals.
Turkey games of the week:
Miami-Pittsburgh: 8 of 8 field goals, 3 offensive TDs
Philadelphia-Tennessee: 7 of 7 field goals, 4 offensive TDs
Arizona-Seattle: 6 of 6 field goals, 2 offensive TDs
San Francisco-Carolina: 5 of 5 field goals, 3 TDs
St Louis-Tampa Bay: 5 of 5 field goals, 3 TDs
New England-San Diego: 5 of 6 field goals, 4 TDs
*********** "Political correctness can lead to some kind of paralysis where you don't address reality. I mean, look Bill [O'Reilly], I'm not a bigot, you know the kind of books I've written on the civil right movement in this country, but when I get on a plane, I got to tell you, if I see people who are in Muslim garb and I think, you know, they are identifying themselves first and foremost as Muslims, I get worried. I get nervous. Now, I remember also that when the Times Square bomber was at court, I think this was just last week. He said the war with Muslims, America's war is just beginning, first drop of blood. I don't think there's any way to get away from these facts. But I think there are people who want to somehow remind us all as President Bush did after 9/11, it's not a war against Islam." Juan Williams
*********** In discussing possible candidates for the Minnesota job, Kirk Herbstreit noted that it might be time to try a "different approach." Does that sound as if he might be suggesting talking to a service academy coach?
*********** Wow. Just when I thought that this could be the year that Army has a reasonable shot at Navy, the Mids go and deliver a serious ass-whupping to Notre Dame.
*********** Hugh, The Notre Dame forums are beyond delusional - it's hilarious. According to them, everyone in the program has no heart, has quit on the team, and needs to be benched and/or fired. "Lou Holtz would never let his happen."
Before the ND people get on Kelly's ass, they should ask themselves who recruited all those ND players. Charlie sure left the cupboard full of talent, didn't he?
*********** Ole Miss, down by 14, got down to the Arkansas 1. Then they pulled Jeremiah Masoli, their QB, and went to their direct snap series with a running back taking the ball – and he fumbled.
Game over, essentially.
Don't know who the announcer was, but he said that Mississippi was "getting too carried away with this Wildcat, Wild Rebel… why take your quarterback out of the game?"
Second that. Especially if your quarterback is Jeremiah Masoli. Guy's a horse. I can't think of many backs I'd rather have running the ball when I needed a yard than Masoli.
*********** Now it's Knile Davis. Where does Arkansas keep coming up with these running backs?
*********** How did LSU keep winning without receivers who can catch passes?
*********** Somebody should tell college players that the NFL is cracking down on head shots, because I saw lots of college guys taking shots instead of making tackles.
*********** I have the utmost respect for Iowa and Kirk Ferentz, but I was absolutely dumbfounded that with 12 seconds to go they called their last time out but didn't prepare their QB for what might happen, and in an attempt to make a play he shoveled the ball to a back who was tackled inbounds, short of the first-down marker, as time expired.
*********** For the first time this year, Auburn showed that it can play tough in defense, too. Combine that with 440 yards rushing and you're going to be hard to beat. The Tigers are understandably Number One in this week's BCS poll, and if they can beat Alabama and also win their conference championship, (maybe also against Alabama) I'll say they belong there.
*********** Meantime, Missouri beats last week's Number One and still can't get past once-beaten Alabama in the USA Today Coaches' Poll, in which it helps to be born rich (to start the season as Number One).
*********** I was mystified by Oklahoma's Bob Stoops' decision to go for two when OU scored with 6:05 left to pull within nine. Down 36-27, the Sooners failed to get the two point conversion.
And then OU tried an onside kick, and failed at that, too. Now it's Missouri's ball, in good field position, with a nine-point lead.
Holtz said, afterwards, "You don't want to second-guess a coach…"
And I wanted to say, "Oh you don't, eh? Why do you think they're paying you? Do you think you're Dick Vitale, who never met a coach he didn't suck up to? No second-guessing coaches, huh? Do you really think that stupid 'Doctor Lou' garbage is going to go on much longer?"
*********** Times must really be tough in South Florida, because between the U on Saturday and the Dolphins on Sunday I don't think they'd have filled that stadium.
*********** Has Herman Edwards had too much Red Bull or does he always sound that hyper?
*********** Couldn't they have found a more efficient way to hold that tent that shielded the Steelers from the South Florida sun than having guys hold it overhead? Or was it a union job?
*********** Backward Bill Ben reached out to score, or so the officials ruled. But review showed that the ball slipped out of his hands just before he reached over the goal, and into the end zone, where – it appeared – the Dolphins recovered for a touchback. But review didn't show who recovered?!?! WTF?!?! So the officials were able to review the fumble - but not the recovery! And without video evidence of the recovery by either team, the ball was awarded to Pittsburgh at the point at which Backward Bill lost the ball. But this I'd like to know - why was there any need to review the recovery? Why didn't the officials already determine that on the field? Don't officials routinely decide who recovers, right down there on the field? Did they go to sleep in this case?
*********** The NFL Red Zone Channel isn't what it used to be. Sunday, it seemed to consist mostly of defensive TD's and "further reviews."
*********** The state of Oregon is considering helping school districts, whose athletic budgets are stretched to the breaking point, by reducing schedules.
The rule would mostly help small, rural school districts who spend an inordinate amount of money on transportation.
Which gave me an idea. Call it the a**hole bonus.
Any time an NFL player is fined, the NFL should donate the money to a cash-strapped high school football program someplace in the US.
(Just joking. As we all know, any attempt to donate money specifically for football would bring out the Title IX harpies in full shriek.)
*********** The Sunday night commentators noted what a great job the Packers' left tackle Chad Clifton was doing on Vikings' defensive end Jared Allen. Maybe so, but on the very play they chose to make their point, Clifton lined up as deep as humanly possible, and in a stance with his shoulders turned at least 30 degrees to the outside, so that he was facing directly at Allen.
*********** From the Internet
The Fable of the Porcupine…
It was the coldest winter ever, and many animals died from the cold. The porcupines, realizing the situation, decided to huddle together. This way they covered and protected themselves; but although they kept ech other warm, their sharp quills wounded those closest to them. After a while, they began to distance themselves from each other – but, alone and cold, they began to die off. They were forced to make a choice: accept the sharp the quills of their companions - or face extinction. Wisely, they chose to go back to being together. They learned to live with the little wounds that caused by their close relationships with their companion, because thanks to the warmth they generated, they were able to survive. Moral: The best relationship is not the one that brings together perfect people, but the one where each individual learns to live with the imperfections of others and to focus on their good qualities.
In short: sometimes you have to put up with the pricks in your life.
*********** Hi Coach,
I want to give you an update on Trinity H.S. and the 2010 season. Trinity is 7-0 so far after moving up to Division 4 this season. By enrollment the team falls into Division 6. The Pioneers have won 18 consecutive games since I left for Saint Anselm College. Yes, they are still in the Double Wing and averaging over 300 yards rushing per game. My former Defensive Coordinator Steve Burns is now running the offense with a little more flair and I refer to him as the Wizard. Coach Burns will actually call a pass play now and then.
Head Coach Gary Leonard has done a fantastic job and the way his players play physical,disciplined and continue to "pound the rock" is a credit to the staff and the program. Double Wing football is alive and strong at Trinity.
Keep in mind that in 2007 we were not in a league and begging for players and games. Since Trinity returned to NHIAA football in 2008 the program is 26-2. All of this without ever running the "Spread Offense". It is amazing what supportive administration,parents,players and coaching staff can accomplish. I can't thank you enough for your part in this resurgence. After all, you taught us the offense!
Best wishes to you and Connie.
John Trisciani
Manchester, New Hampshire
(Coach Trisciani, a longtime youth and high school coach in the Manchester area, is too modest about his own accomplishments. Now a coach at St. Anselm's College, he took over the Trinity program a few years ago when it was totally down at the heels and brought it back to respectability before leaving for the college ranks. HW)
*********** A youth coach who wound up with all the "first-timers" wrote to tell me that while his season didn't live up to his win-loss expectations, " I really hope the kids have a fulfilling end to the season, wins or not, and want to play again (next year)."
My response: That is the main goal. If you fall short of all your other goals and still achieve this one, you'll have been successful.
*********** Thanks Coach. Love the Double Wing! We are 7-0 and defending District Champs. Made it to quarter-finals last year & were 11-2. One of our wing backs is on pace to break the SW La. rushing record. The off line & I are determined we will get him to 2500 yards. He has 1865 after 7 games.
Thanks again for your prompt reply.
Best of Luck,
Ted Mckee
Oberlin, Louisiana
*********** Hugh,
After reading your post today about the football coach who committed suicide I got to thinking about experiences I've had at 3 different stops coaching in my career!
Having experienced some of the cyberbullying of fans (who are nameless & shameless) on message boards and even unsigned letters to my mailbox at school & home I wonder if these instances are related to geography!
I coached 16 years in one community where I was never a victim of such bullying tactics, then moved to another school in the same league and the bullying started in my first year and continued throughout my tenure there. Then again at another school nearby after a short sabbatical from coaching. (Despite making the playoffs at the latter two schools and winning a title early on.)
Some communities don't deserve to be successful if they cannot back a coach for the work he does with young people regardless of his X's & O's smarts! It's also noteworthy that we were very successful during those 16 years.....83% winning percentage! See a correlation here?
Don Capaldo
Keokuk, Iowa
*********** I would love to see the NFL institute a Penalty Box for personal fouls or unsportsmanlike conduct, with the offending player's team having to play a man short.
*********** A friend who as a youth coach has been highly successful over the years wrote to express his frustration at his lack of success against one opponent in particular. No doubt the pain of the most recent loss was still keen, because he mentioned that he was considering returning to coach his kids for another year. I answered him this way...
I sensed your frustration throughout your letter, but I also sense that you are so close to where you'd like to be that you want to be very careful about letting your frustration dictate your decision before you've had a chance to get over the loss.
Since you believe that your kids have sufficient ability, and since you and I both know that you are quite capable of teaching them, it seems to me that getting them over this hump represents a great test of your abilities as a coach. The ability to deal with a challenge like this is one of the greatest of all abilities of a coach.
You made reference to you and your assistants getting the kids "pumped up" before the game, and I would just like to suggest that this might be one area to look at. It has been my belief for some time that when we are playing a big game, the last thing my kids need is to get pumped up - that what they really need is my calm assurance that they are ready, that they are good enough, that as far as I am concerned this is just another opponent in our path. I have come to believe that the more I would talk about an opponent, the more I would talk about how big a game it was, the more fired up I would try to get them, the less likely they would be to play at the level they were capable of.
In other words, it is possible - just saying - that if the kids are properly prepared, they don't need to get "fired up." Pre-game emotion doesn't last that long, anyhow. What they need is confidence that they are good enough to win. They get that from their coach. They trust you, I know, and therefore when you tell them that they're good enough, and that they're prepared, and that the plan they've been working on is good enough, and that all they have to do is do what they know - as well as they can and as hard as they, on every play - things will take care of themselves.
In my opinion, getting kids "fired up," or "pumped up" is overrated, and only increases their anxiety to the point where they make the sort of mistakes that people who don't know better call "choking."
If it's a big game, the kids know it. I don't need to tell them, and my telling them so just increases their anxiety. I think my job as a big game approaches is to radiate calm and confidence and go about things as preparations that way I always do.
It's possible that you've let the kids see your personal frustrations over not beating this opponent.
It's your call, but personally, I would love the challenge that these kids present.
There's no question that you can get over this hump.
*********** A hiker in the Olympic National Park, in the far northwest corner of our state, died after being gored by a mountain goat. It's rare enough that one sees mountain goats, even with binoculars. They're rather shy and, being good on their feet, capable of going places where humans couldn't go without a helicopter.
But this one was not afraid of humans, and after it gored the guy - take a look at those spiked horms - it stood over him and challenged anyone to come close. As the goat stood there, the guy bled to death.
Experts theorize that the animal's lack of fear of humans may have been the result of humans feeding it.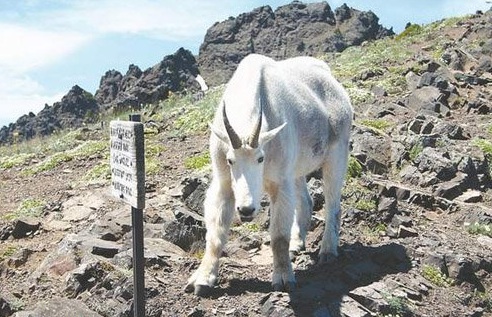 (Think those suckers are cute and cuddly? Take a look at this 300-pounder, in a photo by Diane Urbani de la Paz that ran in the Peninsula Daily News, in Port Angeles, Washington)
*********** The International Rugby Board has a rule that requires players to sit out for three weeks after being diagnosed with a concussion. In the last year or so, American football bodies have passed similar rules.
They're not necessarily helping matters, says Mark Lovell, founding director of the University of Pittsburgh Medical Center's Sports Medicine Concussion Program.
"The unintended effect of all those rules is that people are extremely reluctant to admit they have a concussion. There's potential incentive for people to not recognize it because you could lose a player."
*********** As much money as they pay the NFL for television rights, wouldn't you think the TV people would realize how it degrades their product and disserves their audience when they let those those NFL dolts introduce themselves, as if they're pro wrestlers? Do we really want to hear what high school they went to?
Or is this just one more way (I am always suspicious of Big Football) that the NFL can dismiss the college game (college football being the competition that the NFL doesn't like to admit that it is)?
*********** After all I've said about DeAngelo Hall and his inability (or unwillingness to tackle) I do have an obligation to point out that he picked off four passes on Sunday. It's obvious that certain people can get by without having to tackle – provided they're playing a team that only runs the ball 16 times anyhow (for a puny 66 yards), and whose quarterback insists on throwing the ball to the opponents.
*********** Hugh
With all this "focus" on tackling, do you think there would be a market out there for a series of tackling "clinics"? Obviously it would have to be more than a one day or one weekend event, but if you could get an inexpensive facility and some shields, put together perhaps a 4 or 6 week, 2 night a week program and implement the techniques you've put together on "Safer and Surer Tackling"?????? Try and draw from the surrounding communities….
Lou Orlando
Sudbury, Massachusetts
It might be a good idea except (here I am being negative) you would be surprised at the number of ignoramuses who think that the way I teach it is wrong and continue to teach their kids to "put the helmet on the ball" or some such instruction guaranteed to get them to lower their heads.
I am convinced that most coaches think that tackling just happens and missed tackles are just bad luck. Same as they think fumble prevention just happens and fumbles are just bad luck.
*********** Hard to say what will happen to Brett Favre. Maybe the ankle injury will save the Commissioner Goodell a heap of trouble.
I know, I know – I'm assuming he's guilty as charged. Interestingly, though, isn't 90 per cent of the public doing the same? Not that he's necessarily guilty, but the fact that there hasn't been anybody stepping up and saying "I refuse to believe that Brett would do something like that" has to make you wonder...
Come to think of it, who is left in the NFL with a reputation good enough that he can stand up and testify on behalf of someone else's good character?
*********** What position is "Troubled Tight End?"
That's how Jerremy Stevens was described, so it must be the position he plays – sorry, "played" - for the Bucs.
Tampa Police pulled him over because of the loud music coming from his truck and then discovered enough pot inside to charge him with two felonies. Yes, he went to the University of Washington, but that doesn't mean he's smart.
Jerremy Stevens no longer plays "Troubled Tight End" for the Bucs.
Going all the way back to his high school days in Olympia, Washington, the guy has been a poster child for coddled, misbehaving athletes.
In high school he had assault and marijuana arrests, but that didn't stop the Washington Huskies from recruiting him. I mean, hey – the guy could play!
In college, he had a highly-publicized reckless driving incident which resulted in his pleading guilty to hit and run, but that didn't stop the Seahawks from drafting him Number One because – the guy could play!
He has been arrested three times on various alcohol-related charges, and a 2007 conviction in Arizona for drunken driving got him a 30-day jail sentence and led to an NFL suspension.
*********** Greetings Coach,
I'm not a football coach but your News is one of my regular reads (as it should be for any knowledgeable fan). I'm a native Iowan, in high school we played against Coach Aldrich's NUHS single wing offense. I saw the note in the News from Coach Harrold that his game would be on radio tonight so I'm tuned in to it. In case you aren't able to follow it tonight, the DW'ers from North Cedar are leading West Branch 21-0 at the half.
Best Regards,
Jeff Hansen
Goldsboro, North Carolina
*********** I forwarded Jeff Hansen's e-mail, but alas, North Cedar was unable to hang on against perennial power West Branch, as Coach Clay Harrold informed me…
Coach,
I wish I could say that things turned out well. We ended up losing the game 28-21. We were up 21-0 with the ball in the 3rd quarter. On 1st and 10 our C-back (and a VERY good linebacker) hurt his ankle (badly) on a 7 yard 99 S-P. Things went badly from there. We ended the game with multiple injuries. It was a terrible downfall. We turned it over and they scored. Then they kicked deep and we fumbled the kickoff. Another score...West Branch has won 14 of the last 17 district championships. We own 0. It was new territory for all of us, but we will learn and adapt. They average DL of 6'4 215 lbs wore down our 5'10 170 line. The kids played HARD, and I am extremely proud of them. Also, it was a GREAT environment, and our program will get stronger. I have never seen a h.s. team as diverse (and productive) offensively as West Branch. They are very solid.
It is amazing how powerful the DW network is...I've learned and adapted because of the thoughts and helping of others.
We open the state play-offs at home Wednesday night. We must get healthy in a hurry! Thanks coach,
Clay Harrold
Head Football Coach
North Cedar High School
Stanwood, Iowa
*********** Coach
Last night we played our last game of the season. The team we were playing is the #1 seed from our region from the playoffs and beat us earlier in the year 51-13. Our kids had no reason on paper to play hard as our playoff hopes were non-existent. Our kids refused to make that an excuse and prepared hard all week and it showed last night. We ended up losing 28-21. Failed to convert a 4th down with 40 seconds left inside their 30 yard line.
We led at halftime for the first time all year. Two of our scores were on Red-Red and Lightning. It helps having very athletic wingbacks (obviously). The pass plays were successful as a "home run" as you call them because of the way we run power consistently and the defense wanting to load the box. They had 9 in the box last night, keeping two safeties deep. Adding the Wildcat was really the turning point for us. It increased our output immediately in yardage and in points.
We moved to a freshman QB several weeks ago to prepare us for the future and to have our best athletes at A and C. He is not a world beater but he is tough as snot. There are few positives you can take from a winless season but our kids believe in what we are doing and they believe in each other. Our school will be adding 12th grade next year so we are not losing anyone from this season. There is excitement. Our next big step is strength and conditioning equipment. We just started our big push to raise the funds. Our kids being close in some helps because parents see that something like that could be the difference in the future.
This is most positive I have seen people from an 0-9 season in my life.
I appreciate your work in the profession and its encouraging for a younger coach like myself to see someone like you who probably has "seen it all" and still wants to teach the game. Thanks again for the materials you produce. My middle school coach wants to add Wildcat next season so we will be ordering the Wildcat DVD's soon!
Looking forward to the clinic next year!
God Bless,
--
Jeremy Blackstock
Athletic Director/Head Football Coach
Creekside Christian Academy
McDonough, Georgia
(It is a tribute to coaching – and, of course, to the kids - when a team finishes a winless season playing better than when they started. That's a team you can build a future on! HW)
*********** Hi Coach Wyatt,
Big fan of the website and "The Coach Wyatt DW System". I purchased your safer and surer tackling video this summer and have done just some side work with my son using the principles and drills in the video. My son has gone from not enjoying contact much to "having a nose for the ball", playing middle linebacker, and is the leading tackler on his youth team.
Aaron Carlson
Parker, Colorado
*********** Hi Coach,
Hope you have had a beautiful NW Fall season. Our team has just finished the regular season 10-0...a real blessing to be a part of their journey.
Now, I am trying to get these young boys to understand that all the playoff teams will be 0-0 and while they may be the top seed, they have to earn the distinction of being called a Champion. Which leads to my question...
I have been resisting the idea of putting in too many new wrinkles, but, felt I better be ready with a few new tricks. How did you handle this part of the season? Did you seek to only perfect the best parts of your Offense & Defense? Or, did you feel it necessary to have a few new twists in the reservoir.
I am not the type to take anything for granted or underestimate anyone...sometimes, that can almost be a flaw of mine. I'd appreciate any personal experience you could relay to me.
Hi Coach-
First of all, my congratulations on a great season!
Your question is one that I have wrestled with over the years. In retrospect, I think that I may have given in to the belief that somehow, we needed to do something different - something "better" - for a big game, when in reality, what got us there was good enough.
I always like to have a wrinkle or two for any game, but by the end of a season I already have enough offense in that I should have a response for just about anything I'm likely to see.
I don't advocate underestimating anyone, but at the same time I think that we can give opponents too much credit and ourselves not enough. I've usually found that when I was stopped, it was as much my team's fault as the opponent's.
I believe I would spend a lot of time looking for little mistakes we may have made in the past and eliminating them.
A big game is as much a mind game as anything else, and the team that plays with confidence has a great edge. I think that if I were to have doubts about whether what we're doing is enough to win with, I'd surely convey that same attitude to the players by spending too much time on something we'd never worked on before.
FRIDAY, OCTOBER 22, 2010 - " If you don't recognize who your competition is you will underestimate them." Nick Brien, CEO, McCann Worldwide
*********** It was just about this very date in 1975 that the World Football League folded. For the second time in two years.
I was Assistant GM of the Portland Thunder then, and after a considerable struggle to win back the fans who'd been screwed over the year before by our predecessors, the Portland Storm, we had finally begun to turn things around.
We were lean. Our front office consisted of just four people: my boss, Bob Brodhead, the GM, who also doubled as business manager; me – I was also PR Director; Paul Lindgren, our ticket manager; and Dom Flora, in charge of sales promotion. Besides two very sharp and hard-working secretaries, Chris Anderson and Janey Eppley, that was it.
We had our finances under control and we were meeting our payroll.
Unfortunately, as anyone who's ever spent any time in professional or semi-professional sports knows, you're only as good as the people you play against. And if you don't have anyone to play against, you're out of business.
And one by one, the other teams in the league gave up the fight.
I'll never forget that day 35 years ago, when Bob Brodhead called from the emergency league meeting in New York and in his first two words tersely announced that it was all over: "We're done."
*********** If you want to coach in the big time but you don't like the idea of taking big time heat, you could do a lot worse than Oregon State.
After the Beavers fell 21 points down to most Washington last Saturday night, they managed to collect themselves and rally and take the game to OT.
Tied after the first OT, Washington scored a TD in the top half of the second OT and kicked the PAT. The Beavers responded with a TD of their own in the bottom half and then – called time out.
One of the announcers speculated that OSU might be thinking about going for two.
Naaah. I thought. Keep yourself alive. Hey - you're going to have to go for two in the next OT, anyhow.
Then, the announcer said something like "Mike Riley wants to get this over with."
Huh? I thought. Get it over with? Is that the point? Isn't the point to win?
What are the odds against making a two point conversion, anyhow?
Anyhow, I'll be damned if they didn't come out and go for two – and the receiver, closely covered, dropped the pass.
Game over. Washington wins, Oregon State loses. (So, too, do Boise State and TCU, both of whose wins over the Beavers are diminished by the loss.)
But here's what's interesting: Mike Riley, although a heck of a guy and a really good coach, made a stupid decision, and NOBODY in the Portland news media took a switch to him. Nothing but softball questions lobbed at him.
Not that I accepted any of the explanations he gave, but to his credit, he didn't pull out the "on the road, go for two" cliché, given that Corvallis, Oregon and Seattle are a four-hour bus ride apart.
*********** I wrote, "No player on a team may kick the ball more than once in any game."
Dennis Cook, of Roanoke, Virginia, asks
If this were the rule, how many scholarships do you think would go to keekers? 2? 3?
Damn few. Two or three would be too many. Part of the beauty of my idea is: no more FOOTBALL scholarships for SOCCER players.
Think of some of the ramifications of my rule:
Strategy – do we use him now, or save him?
Crowd Excitement – do we have anybody left who can punt? Has this guy ever kicked before?
Team Morale – Every man a kicker! Kicking contests after practice every day
Keeping soccer's tendrils out of our game - High school soccer players will stop pestering high school football coaches and go back to playing soccer on Friday afternoons and sitting in the stands on Friday nights
An end to Political Correctness - No more feel-good stories about girls "playing football" when all they're doing is kicking extra points
*********** Something to consider, as more and more college games are moved to huge, sterile, built-for-the-pro crowd "neutral sites," is the absence of college atmosphere. From a poster on the Army Football Forum…
The New Meadowlands is a horrible stadium. The old Giants Stadium was a dump but it had some charm and character. This new stadium looks like the Death Star - gray, dreary, soulless, sanitized, and highly impersonal. I'd much rather play Rutgers in Piscataway.
*********** Hugh- Having worked Iowa's camp I can tell you firsthand tackling is taught every day, and it is taught well. The tackling circuit they run is amazing, and takes all of about 10 minutes. I am always walking away super impressed with the staff at Iowa (which you knew already).
Brad Knight
Clarinda, Iowa
(I guarantee you – NFL teams do not practice tackling properly and – more importantly - do not insist on tackling properly. The number of missed tackles in the open field is astonishing. You want a few laughs? Next time the Redskins are on TV, watch DeAngelo "Cover Corner" Hall. Watch him duck and take cover whenever it's impossible for him to avoid a runner.)
*********** Coach, Have you had a chance to hear Pittsburgh's James Harrison's response to his $75,000 fine for his illegal hits last Sunday?

Poor guy…he actually might have to retire if they aren't going to let him play football his way.

DJ Millay
Vancouver, Washington
Fool incriminated himself in the first place by saying that he was out to injure people.
Funny- in the old days the players themselves took care of guys who talked and acted like that.
*********** Hi Coach,

Sorry to bug you. Do you have any clips or suggestions on best Double Wing Red Zone plays? We like the Thunder Throwback and Tight 2 Red. Our PAT team has struggled.

Also, do you have a fake punt play in your arsenal that I could look at?

I hope you don't mind the inquiry/request. If you do, I understand and will avoid in the future.

Regards,
Matt Ryan
Sudbury, Massachusetts
No problem at all with the inquiry. Glad to be able to help.
In my thinking, we are always in the so-called "Red Zone."
We can - and do- run nearly anything from tight punt that we can run from Wildcat.
Here's an example of our "Tight Punt 2 Wedge" which my teams practice every day
http://www.coachwyatt.com/WEDGEonPUNT/WEDGEonPUNT.mov
*********** Kerry Byrne in coldhardfootballfacts.com thinks PC is driving the NFL to overreact to the recent rash of head injuries...
"Lily-livered political correctness has infected every level of American society, from the campus to the board room to the military.

"So it's no surprise that political correctness has infected the national blood sport, too. Yup, the USA's grown weak, folks. It's too bad.

"The sissification of pro football has been years in the making. And days like Sunday bring the PC crowd out of the woodwork"
Now, look - no one despises Political Correctness and the way it is making cowards of us any more than I do, but this is decidedly not about Political Correctness. Political Correctness uses irrational means to further questionable ends. Political correctness puts pink shoes on linebackers, and political correctness may someday require that 50 per cent of the NFL's players be female.
We are dealing here with using rational means to achieve a highly desirable end – player safety. Maybe even the survival of football itself. Football players, especially professional football players, are being exposed more than ever to potential life-altering injuries by intentional actions by opponents, actions which rulesmakers and officials have been slow to control.

Danger is inherent in many of our sports, including football. That there is danger adds to the spectators' excitement. But football, like all sports, must always balance the inherent dangers of the sport and with the need to make it as safe as possible.
Unfortunately, there will always be that small, bloodthirsty minority that watches NASCAR in hopes of seeing a fatal crash... or a horse race in hopes that a jockey will get thrown or a horse will break a leg. There's no pleasing those people, nor should there be.
Football has its share of those types, too. And for those people who watch football solely for its violence, who enjoy seeing players injure one another, I say - go away. Football made it without you and football will survive without you. You'll find what you're looking for in pro wrestling (if you believe that its real)... or MMA... or dog fighting.
The NFL right now has far bigger concerns than pleasing you. The NFL is worred about the day that some ambitious politician wakes up to the opportunity presented by an issue as attention-getting as player safety, and the need for government to regulate it.
Think there aren't precedents for government taking action?
Think this isn't an issue of workplace safety? Listen – any government that outlaws smoking in taverns in order to protect bartenders from secondhand smoke is not going to stand by much longer and allow guys to knock each other senseless. All it would take would be a request from the NFLPA (or someone in the highest of places) and OSHA would be on the scene.
Many people may not be aware that boxing was once considered so brutal that it was illegal in much of the United States. Only the introduction of the Marquess of Queensberry Rules - calling for gloves, fighting in an enclosed ring, three-minute rounds and a limited number of rounds - saved the sport from extinction here.
Outlaw football? Not likely. But early in the last century it almost happened. President Roosevelt (Theodore, that is) was so alarmed by the numbers of deaths resulting from college football injuries that he summoned the presidents of leading colleges to the White House and told them to clean up their sport. What do you know? They did. And the sport survived.
I suspect that the NFL people know their history, and now that head injuries have been brought to the attention of the public, they know that it might only take one fatality - or one paralyzed player - resulting from actions it hasn't been carefully policing to bring in the Feds.
Personally, I don't care about saving pro football. I dislike the sport and the players. If pro football wishes to be seen as a "blood sport," I say screw it.
I care about saving the game of football.
I don't call that political correctness. I call it player safety. I call it common sense.
*********** On thje same subject, John Feinstein, for whose writing I have a lot of respect, says...
Already players and a lot of the ex-jock talking heads are screaming that you might as well rename the league the NFFL (National Flag Football League) if they crack down on this sort of violence.

What garbage.

The fact is that, more often than not, the sort of tackle that we're talking about here—one where a player launches himself at another player—is BAD FOOTBALL. A good tackle is usually made by not leaving your feet; by wrapping a player up and by gaining control of his legs. Sometimes you aren't in position to do that, so you dive or lunge at a player. But when you're close enough to someone that by launching yourself at him you're going to hit him in the head or up high, that's just lousy tackling. More often than not, when a player does that he either misses the tackle completely or the ball carrier bounces off him because he sees him coming and moves in such a way that the tackler doesn't get a clean shot at him.

No one is saying you can't go after the guy with the ball. You do it the way Ray Lewis does it, driving your body—arms first—into the player while running at him at full speed. On the college level, Navy has a safety named Wyatt Middleton. He's been a four year starter. I promise you I can count on my hands the number of times he has left his feet to make a tackle. I have never seen him make a tackle where he drives his head into someone and jumps up celebrating because his victim is lying on the ground in pain.
Read it all… http://www.feinsteinonthebrink.com/index.php?id=4280407285689885256
*********** There was a big article in Thursday's New York Times about the supposedly shameful fact that football helmets are intended to prevent damage to the skull (such as skull fractures) and not concussions. Well, no kidding.
And your point was....?
Helmets, used properly, are doing exactly what they were designed to do. When was the last time a player fractured his skull?
Funny - I don't recall incidents of serious bain or spinal injury back when I was playing. (I last played semi-pro ball in 1910.) I can remember exactly one player on my high school team being knocked woozy. It was at a practice. We all thought it was funny. ( "Punch-drunk" was a laughing matter in those days.)
No one could possibly claim that today's helmets are not far superior to the ones we wore when I was in high school. College, even.
Nobody when I played was nuts enough to ram the top of his head into an opponent. With those helmets? But today, the helmet, at least at the pro level, is used as a weapon. (It's possible that college and high school players are more careful about use of the head because coaches are more careful to explain the issue in terms of danger to the tackler himself, not to his opponent.)
It's my opinion - with no way of supporting it - that the concussions that occurred when I played were accidental, incidental to the game, while today's are, at least in the pro game, largely the result of unsafe or dirty intentional tactics, many of them encouraged by an over-reliance on the helmet's protection.
*********** I read where someone has suggested the idea putting padding on the outside of the helmet to absorb blows to the head.
Duke and Ohio State pioneered that back in the 1960s.
One problem with messing with the outside of the helmet is that the shape of the current plastic helmet is designed to provide a maximum amount of deflection in the event of contact with another helmet, or with the ground.
Not only that, but the slickness of its surface leads to greater deflection.
A helmet with soft padding on the outside would almost certainly result in less deflection - a stickiness, if you will - when contacting a helmet or the ground, and might (emphasis on "might") create more torsion, transferring more of the impact to the neck and spine, and might (emphasis on "might") lead to more neck and spine injuries.
*********** Greetings coach, I have 2 questions that I have tried and wonder if you have ever tried these and your thoughts on it? Cheating my playside line up so they get contact faster and quicker? 2nd question is if you ever at times widen your splits a little on the playside to widen out the defense, not every play but a few times a game if they are pinching real hard on you? Just wondered your thoughts and feelings since you are the man when it comes to the Dw.
Coach,
I have addressed these questions many, many times in the past and while you are free to experiment, it always helps to hear what to expect:
(1) Play up closer? Defenses will tackle your pulling linemen (I know, I know. It's illegal. So?); your pulling linemen will have to turn their shoulders too much to get past the center; defensive linemen will be more likely to beat your linemen to the gap
(2) WIden split? I'm not sure how opening up splits deals with a pinching defense, but if you tinker with splits for any reason other than to faciitate trap blocking, you had better be prepared to deal with blitzes and gap stunts.
I would say that these two areas define my system as opposed to several other versions of the Double Wing.
*********** They've since taken them off their site, but for a while, in their zeal not to leave a dime on the table, the NFL was selling photos of some of the same ugly hits from this weekend for which it fined players.
*********** I have said over and over that the NFL is possibly the greatest marketing machine ever. It is able to take a substandard product and convince the public that it needs it, and that it likes it.
Want proof?
Tennessee 30, Jacksonville 3. Sure was a stinker of a football game Monday night, wasn't it? About as bad as an NFL game can get, which is saying something.
Nevertheless, that dreadful game between two small-market NFL teams drew a TV audience 19% larger than the one that at the same time was watching the Yankees (#1 market) and Rangers (#5 market) in the so-called American League Championship Series in a sport called baseball.
Some of you may remember baseball. Like the NFL, it also has a bad product - but unlike the NFL, it doesn't have the slightest clue how to market it.
*********** A Rutgers freshman committed suicide a couple of weeks ago, jumping off the George Washington Bridge. It's almost certainly no coincidence that his roommate had recently made a video of him participating in a sexual act with another male, and had uploaded it to the Internet.
Hard not to make the connection there.
A few days ago, a high school football coach in Illinois also committed suicide, lying down on railroad tracks as a train approached. In his two years on the job, he was 0-17 and was said to have been "possibly suicidal."
What's the connecton here?
Can't say. But I suspect that the man was under a great deal of pressure. Maybe even got an e-mail or two – or three or four - telling him how bad a coach he was. Maybe phone calls. Who knows?
They're calling the Rutgers suicide a result of cyberbullying or cyberharassment.
So tell me this - is there any group of people that's on the receiving end of bullying – from the public, from parents, from administration - more than coaches and teachers?
When I see the way parents go after coaches and teachers, knowing that they're limited in the ways they can respond, I'm reminded of people who stand just out of reach and torment a chained dog.
********** In an informal St. Paul Pioneer-Press poll, the leading vote-getter to become next U of Minnesota head coach is Mike Grant, highly successful longtime local high school coach and son of the legendary Vickings coach Bud Grant.
I've never heard anyting but good about Mike Grant, and I have the highest respect for his father, but for what it's worth…
At Texas' Southlake Carroll High School, Todd Dodge was one of the most celebrated high school coach in America: in his last five years there he won four state 5A titles and compiled a 79-1 record.
His spread, no-huddle offense was virtually unstoppable; major college coaches paid visits to Southlake to learn his system. He was that good.
As happens so often, though, his high school success didn't transfer to college. Todd Dodge, 1-6 this year and 6-37 since he took over at North Texas in 2006, was fired Wednesday.
*********** I actually heard one of these NFL headhunters say that he only knew one way to play (the way he's been playing and the way that got him the fine, I presume) and that he'd quit before he changed.
I guess he was waiting for someone to say, "that's okay… you're so valuable to the league that we'll make an exception for you."
Either that or he heard they were hiring down at the car wash.
*********** You want an idea for a Web site with a gigantic following? Get yourself some good sources and tell us what all these "violations of team rules" are that keep getting college players suspended from their teams. I would pay to subscribe.
*********** The State, Columbia, South Carolina, talked with former Vanderbilt coach Bobby Johnson about his first season out of coaching…
For the first time, Johnson said he is enjoying being a fan of college football. He said he will watch as many games as possible on TV on a given Saturday. He waited until he was fully prepared to attend a Vanderbilt home game, missing the Northwestern and LSU contests.
Then Johnson attended Vanderbilt's victory over Eastern Michigan. It marked the first time Johnson had attended a football game as a fan since the late 1970s, when he was an assistant coach at Furman and used an off week to watch his alma mater, Clemson, play.
"I was amazed at how many experts were sitting near us," Johnson said of the experience. "They knew everything to do, plays to call. That was kind of eye-opening."
*********** Send a message to Rutgers' Eric LeGrand
http://www.scarletknights.com/football/eric/submitted.asp
*********** A young man named Chris Norton, a freshman at Luther College, is also facing a logn recovery from a football injury. (Thanks to Pope Franjo for the tip)
http://www.desmoinesregister.com/article/20101019/SPORTS0208/10200340/-1/ragbrai07_splash/Football-Luther-s-Norton-improves-in-hospital
Franjo…
http://www.caringbridge.org/visit/chrisnorton
You can send cards to:
Chris Norton
Saint Marys Hospital
8E Care Unit Rm 8736
1216 Second St SW
Rochester, MN 55902
*********** Um, what would have happened to Brett Favre if he'd whipped out his schlong and exposed himself to the woman in question?
But he didn't do it in person. Somehow, it's not as bad, because he did it (if he did it) via cellphone.
Maybe that's not considered as bad as flashing, but for Favre it could be worse, because she's got photographic evidence. She says.
Can he be "positively identified?" If so, isn't he guilty of indecent exposure? Do police have a lineup for this kind of thing? ( "Well, no, officer… now I'm not so sure… coul I see them all again?")
But if he did send those photos, how would you like a sick motherf—ker like that sending them to your wife/sister/mother/daughter?
This ain't over yet, folks.
I'm betting the NFL will wind up suspending him. Unless he starts playing better.
*********** A friend of mine is going through a rough season. This ought to tell you something about his players…
My leading rusher (just an ok back, but he never gets hurt...that is why he is leading us) is excited to play SE in spread. He was a WR last year. I told him, "you know we are still going to run the heck out of the ball. You might catch two passes this week, but not a lot more." He said no problem - he thinks RB is boring!!!
Sheesh. To think of all the linemen I've known in my life who would have given their left nut for a chance to carry the ball - just once - and this wimp would rather stand out on the edge and adjust his armbands and pose - because running the ball is "boring."
*********** I was tinkering with on some plays keeping the backside of the line back off the ball and then the playside closer to the L.O. S. on like a 3rd and one so they can get contact quicker for that yard? Just wanted your thoughts on this?
That will probably work the first time you try it. But it will only continue to work so long as you can be sure that opposing defensive coordinators are not bright enough to figure it out. The ones I know are, and I've known some that even go so far as to teach their defenders to read our down hands: "heavy" (pressure) means they're on the playside, "light" means they're pulling.
TUESDAY, OCTOBER 19, 2010 - "The one thing that doesn't abide by majority rule is a person's conscience." Harper Lee
*********** It's common enough that you're watching a game closely and you see a hard hit, and then you see a player – usually a tackler – lying on the ground afterward. Fortunately, though, he's usually able to get up and leave the field okay.
So Saturday I saw the hit, and I winced because it was so hard, and afterward the player lay there, motionless… and then I saw the replay and said to my wife, "Oh, my God."
And so, after the violent collision that brought an Army kickoff to an abrupt end, the Rutgers tackler lay still on the ground.
In a flash, it seemed, Rutgers medical people were out on the field attending to him.
We saw him appear to shake his head, as if dazed. But we never saw him move a hand or a foot. He was, we were told, Eric LeGrand, a defensive tackle from Avenel, New Jersey.
We saw Rutgers coach Greg Schiano on the sidelines, talking with a woman wearing a #52 jersey (Eric LeGrand's number), who we assumed was his mother. Nest to her was a younger woman, perhaps his sister or girlfriend.
Rather than my going on, here's a video of the incident. You'll notice that Eric dropped his head so that at impact, the crown of his helmet took the full force of the collision.
http://www.youtube.com/watch?v=-BbNe5Kv56k
Heartbreaking? Look at this interview with the kid in better times, back at the end of preseason camp, and tell me you don't feel yourself starting to tear up at the thought that this very likeable young kid lies motionless in a hospital bed, hoping to regain the use of his arms and legs.
http://www.youtube.com/watch?v=xABOhERpYL0&feature=related
Say a prayer for Eric LeGrand and his family. If you're not the type to pray, suck it up and say a prayer anyhow. It won't do you any harm.
*********** It has always been my worst nightmare as a coach that what happened to Rutgers' Eric LeGrand would happen to a player in my care.
I count myself fortunate that in all my years of coaching I have seen my share of fractures and sprains, but in the neck/spine/head area, I have never had a kid so much as suffer a concussion. No lie. (Not that we were always as precise with our diagnoses as we seem to be now.)
In my early years, it was dumb luck, but around 1982 I started to become pretty good at teaching tackling, and I became insistent that players never lower their heads to do anything on the field. (Except maybe scoop up a fumble or look for a missing contact lens.) There isn't a player I've coached who won't remember that.
Accidents are going to happen, and in a game played with the force and intensity of football you can't control everything that happens, but It's amazing how many licks to and with helmets a coach's zero-tolerance attitude can prevent.
*********** A Vancouver, Washington woman made a late-in-the-year bid for PTA Mother of the Year when she hosted a party last weekend for her daughter and several dozen of her 16-year-old daughter's school friends.
Sheriff's deputies, hearing that they might find some prescription drugs, raided the place and nabbed a bunch of the kids and confiscated a bunch of pot and alcohol. But no prescription drugs.
Whew. Had me worried there for a minute.
*********** After all those great college games we saw on Saturday - Kentucky-South Carolina, Auburn-Arkansas, Wisconsin-Ohio State, Mississippi State-Florida, among others - the NFL serves up a Tennessee-Jacksonville snoozer on Monday night. Not even a good pro game!
*********** Not to say that NFL players played hard all the time in the old days, but…
Look - I know he was a first-round draft choice and all that, but after watching him drop an easy pass as the QB got mauled, and then carelessly fumble inside the 10 as his team was going in for a score, you've got to wonder… in an earlier , 26-team NFL, with 44-man rosters - would they have kept a Mercedes Lewis around?
*********** Tim Brewster has been fired at Minnesota.
The offensive coordinator has been named interim head coach.
Poor guy. He's Brewster fourth offensive coordinator in the last five years, and I doubt he'll be back next year.
*********** In Bellevue, Washington, just across Lake Washington from Seattle, an anger management class was watching a video last Saturday when a female "student" came in late and gave the video a thumbs down. Something about the casting, I suppose. Or maybe the direction.
Another woman, however, spoke up to say she thought it was pretty good. Gave it a thumbs up.
Uh-oh. The first would-be film critic swore at her, and an angry – yes, angry, in an anger-management class, yet – exchange of words ensued.
Apparently frustrated by her inability to get the second critic to see her point of view, the first critic pulled a knife and stabbed her several times, wounding her in her shoulder and arm. And threatening to kill her and her family.
The first critic was charged with assault and held on $50,000 bail.
(She was probably pissed because she'd already seen that same video a couple dozen times.)
*********** John Madden at first was a very appealing guy on TV, but eventually, as overexposure set in, he became a self-parody - a guy playing a guy named John Madden - and he grew tiresome. But it took him, oh, twenty or so years to get to that point.
John Gruden? In the astonishingly short time of less than a year, I find yourself wanting to give him the STFU Award.
*********** Back when he was a high school kid being recruited, we heard all the Todd Marinovich jokes. They were based on the way his father, Marv, a former USC player and pro assistant coach, had groomed the kid from the time he was in the womb ("Kick! Harder! You call that a kick?") to be a top-notch quarterback. I wouldn't say Dad went overboard in training the kid, except that when he finally entered USC, he had never had a hamburger.
Anyhow, the kid went through several identity crises, with a little substance abuse thrown in along the way, but his story may yet have a happy ending.
Todd Marinovich may not have been the athlete that his father wanted him to be, but he is an accomplished artist.
Take a look at some of his work.
http://www.toddmarinovich.com/paintings.html
*********** Dear Coach Wyatt:
I purchased your playbook and video a few months ago. I am coaching an 8th grade "senior team". This is the first year we implemented the DW. So far it is working very well.
We play in a league that allows teams to have up to 3 unlimited weight players (i.e. boys over 200 lbs) on the field at a time. Our biggest players are 160lbs and under. Every week we have been at a substantial size disadvantage. The DW has allowed us to compete. We have been able to move the ball consistently and wear down physically superior opponents. Through 4 games we are averaging about 225 years on the ground and about 75 through the air. We only pass 5 or 6 times per game, but we are completing more than 50% and just about every other pass completion has led to a score. By focusing on execution we have minimized mistakes that can stall an offense. We have run close to 170 offensive plays and have probably had no more than 10 negative yardage plays all year. We have been able to control the clock to shorten the game. This has at least given us a chance against superior teams.
Your offensive system is a big reason why we have been so competitive. Last year we ran the spread and wishbone. With the spread we probably had 10 negative plays every game (bad shotgun snaps, QB sacks, etc.). When things went bad, they went downhill in a hurry. We are currently 2-2 and have dominated the games we should win. Although we lost games we were expected to lose, we were surprisingly competitive and the DW gave us a chance. In one game where we were giving up close to 50 pounds per player, we were leading 8-6 at halftime only to be worn down in the second half and lose.
No system is the cure against better athletes, but I agree the DW at least gives you a chance to be competitive and pull out a win against physically superior athletes. Our kids are having a great time and they enjoy running the 2 Wedge, 88 Power and 47 C. Our Trap play is still a work in process but we hope to have it working smoothly for your final games against divisional opponents.
I just wanted you to know that your offensive system has been embraced by me, my 5 assistant coaches, and my players. The DW offense is truly team football and has been the catalyst for building team camaraderie.
Coach Bill Osborn
Agoura, California
Coach Osborn,
Thanks a lot for writing. I'm glad that things are going well.
You're right that there's no substitute for talent, but a system - well-coached - can narrow the talent gap and sometimes overcome it.
I urge you to read my NEWS page regularly, because there are often tips, ideas and plays on there that only the vigilant will pick up on!
*********** Coach, due to injuries over the course of a brutal non-district schedule, we no longer have live contact on the offensive side of the ball during our team segment of practice. We instead go against bags. We are putting up some points still but it seems it takes our guys a couple of series during the game before they get good and lubricated for contact. I also think it makes our lineman naturally play high despite the fact we preach pad level. Do you have any advice on ways to avoid this or is it unavoidable?
Coach,
I've always been a big scrimmage guy, but sometimes you have no choice.
So there have been times when we've just gone against shields. Always shields, because you can drive a man holding a shield. Never bags, because you can't move bags.
One suggestion is a short "power period" every day devoted solely to super power. If you are short on people, just load up on the playside, or simply at the point of attack.
Otherwise, I'm at a loss.
Good luck tonight.
*********** Wonder what the a**holes that make up "world opinion" think about this greedy, profit-hungry, capitalist American company, without whose product those Chilean miners would still be underground...
http://www.msnbc.msn.com/id/39656218/ns/business-us_business/
*********** Bud Withers, Seattle Times…
Oregon's Darron Thomas pulled out of a commitment to LSU when he sensed they were recruiting him as an "athlete." Boise State's Kellen Moore had two other offers, from Idaho and Eastern Washington. And Pac-10 schools let Nebraska's Taylor Martinez leave the West Coast because they didn't think he could play quarterback. Now those are the quarterbacks for the Nos. 2-3-5 teams in the country.
*********** Bob Lutz, Wichita Eagle…
In less than three seasons, KU has fallen from the Orange Bowl to Amber Alert.
*********** Nice article in the Charlotte Observer by Tim Donelli about a BIG win by Double Wing team South Mecklenburg…
South Mecklenburg got a signature win Friday night at home, beating perennial power Independence 42-35 and putting the Patriots' playoff hopes in jeopardy.
In a game featuring high-powered but different offenses, the Sabres (6-2, 3-1 Southwestern 4A) hung on for the league win over Independence (2-6, 2-2).
South Mecklenburg threw only two passes and relied on three running backs and a solid offensive line to rush for 332 yards.
The Sabres were led by senior wingback Corwin Moore, who rushed for 131 yards and two touchdowns on 24 carries. Senior Michael Campbell carried 20 times for 113 yards, and junior Adam Nix had 87 yards on nine carries and two touchdowns for the Sabres.
"I think a lot of people might be surprised how much we ran tonight, but we thought that would be the center of our offense and game plan and it ran true tonight," said Sabres' coach James Martin.
"We challenged the guys all week, the linemen, the running backs, the quarterback, that we just have to be all-in on every play. We just wanted three to three and a half yards and we got more than that tonight."
South Mecklenburg stopped the Patriots' running game early and forced Independence to pass. The Patriots responded with big plays and quick strikes through the air.
Independence quarterback Evan Guest torched the South Meck secondary, going 21-for-33 passing for 387 yards and five touchdowns.
But Guest also threw a pair of costly second-half interceptions that thwarted two Independence scoring drives in South Meck territory.
Senior Patriots wide receiver Adisa Batten had five catches for 150 yards and two touchdowns, with junior Austin Duke grabbing two touchdowns on five catches.
After a scoreless first quarter, both offenses exploded in the second quarter, combining for 49 points as the Sabres led 28-21 at the half.
South Meck's Demario Johnson had an interception and a 90-yard kickoff return for a touchdown to help secure the Sabres' win.
After South Meck built a two-touchdown lead with 1 minute, 16 seconds left in the game, the Patriots quickly scored to pull within one score.
But the Sabres recovered the onside kick to seal the win.
*********** In front of the largest crowd in its history, in a game that had been a sellout for weeks, East Carolina jumped out to a first-quarter 21-0 lead over NC State. State was undoubtedly shocked, but to its credit came back to tie the game, before falling to ECU in overtime.
*********** Mike Leach worked the ECU game. To his credit, considering that his former assistant, Ruffin McNeill, coaches ECU and that ECU is the Pirates (and Leach loves Pirates), I thought he did a great job of hiding his sentiments.
*********** Way too much stuff Saturday about the two Grieses working together.
*********** East Carolina's #47 is named Lineback. Great name. Pretty good football player, too. Definitely not a keeker.
*********** I have coached several hundred football games in my life and never seen a kid get hurt by a horse collar tackle. In my opinion it is a bullsh—penalty, just one more way to insert officials' judgment into the game. What's really sad is that it started in the NFL, where perhaps there was some justification for it, and instantly worked its way down through college and high school, without a whole lot of debate about the necessity for it.
(Aren't you just waiting for the first time someone gets pulled down from behind by his mane?)
*********** I heard some Duke sorority sisters talking on TV about it being National Breast Cancer Awareness Month (I didn't know that – did you?) and then giving out a cute little cheer that I swear went like this: "Tackling Breast Cancer One Tit at a Time"
*********** With Denard Robinson slowed down for the second week in a row, I swear I saw Michigan playing a little Bo Ball (Schembechler, that is), running out of I formation. Considering the good job that backup QB Tate Forcier did when Robinson went down, I have to wonder if Rodriguez is willing to put his system aside briefly in the interest of his team. With Robinson, he is putting all his money on one horse, just as he did with Pat White at West Virginia. (Remember how that worked out?)
*********** Former Penn State and Seattle Seahawks' running back Curt Warner broke his maiden as an analyst on the Army-Rutgers game and did a decent job. Warner, a car dealer in our area, has been helping as an assistant at Camas High School.
*********** After watching the TV people explaining the college overtime procedure for, oh, maybe the 100th time in the last five years, I have to wonder how we managed to grow up understanding baseball's concept of extra innings without anybody ever stopping and explaining it to us.
*********** I knew I should have taken that speed reading course. Now that college basketball is also underway, between the two major college sports, the crawler at the bottom of the TV screen is just about at "disciplinary infraction" overload, and the technicians in charge may have to crank up its speed a notch or to.
*********** Until I see better, Auburn's Cam Newton is the single best football player in America, the one guy who could take any decent team and instantly make it a national title contender. . Cam Newton is Jim Brown with an arm. While Terrell Pryor will high-step out of your tackles, Cam Newton will knock you on your ass.
Sheesh. Giving up 43 points to Arkansas, even after their starting QB goes down? If Auburn were strong on defense, they'd be unstoppable.
*********** That DirecTV commercial where they manage to steal first-run movies by shooting the kid projectionist with a poison blowdart? Sick.
*********** Kid from Wisconsin returns the opening kickoff against the Number One team in the country, and as if 80,000 red-shirted Badger fans weren't making enough noise already, he has to give it that obnoxious "let's hear it for me" arm wave.
*********** Did you catch Mark Hartline, the Kentucky QB, throw to the corner and then, lying on his back, realizing that he'd just thrown for a go-ahead TD, excitedly doing what our kids used to call the Dying Cockroach?
*********** Jeez. Spurrier's down by three to Kentucky, 31-28, and he's in field-goal range. Let's win it in overtime, right? But wait - there's still 11 seconds left. Damn shame to let all that time go to waste, right? What the hell – let's take a shot at it.
Uh-oh. Intercepted in the end zone. Kentucky wins.
And now the SEC East is a royal mess.
*********** Not sure there's a better tackling team in America than Iowa.
*********** San Diego State downs Air Force for its first win over a ranked team since 1996. SDSU's Ronnie Hillman – a freshman – can RUN.
*********** Do NOT try this as a way of motivating your high school team…
Last week, when New Mexico and New Mexico State met, both were winless.
Some wise ass on the NM State campus circulated leaflets calling on female Aggies not to have sex with football players until they won.
Whatever the reason, New Mexico State won.
*********** Lawsuit alert… Lawsuit alert…
Notice how easily helmets have been coming off? And notice how easily the players pop them right back on?
Ever had the responsibility of fitting helmets?
Saturday, I saw a college player whose helmet flew off, and one-handed, he put it right back on, without even missing a beat. Never had to mess with the 4-point chin strap, which had never come unsnapped.
*********** Florida's placekicker missed an easy field goal attempt. But he wasn't the regular kicker, see – he was the punter.
See how much excitement my rule would bring to the game?
"No player on a team may kick the ball more than once in any game."
*********** Next year, Michigan will open against… Alabama.
In the Big House? Or Bryant-Denny Stadium.
At Cowboys Stadium. WTF?
Money, fellas. Money.
Rutgers was paid $2.7 million for playing its home game against Army at New Meadowland Stadium Saturday. Rutgers usually pulls in about $1.5 million for a home game at its own, on-campus.
Rutgers' coach Greg Schiano acknowledged it was all about the money: "Again, if the money is right and the situation is right, we'll do it. ... It's so hard to run an athletic program. It's 24 teams. Football is the only mechanism to generate large amounts of money. I thought this was a great opportunity."
Not much of that money came out of the pockets of students, who had to pay full-price for tickets. And parking. If any of them could afford it.
*********** The Mountain West Conference has voted to ban employees or alumni of the home team from serving as instant replay officials.
A week ago, when onfield officials failed to rule that a BYU back had fumbled, San Diego State coach Brady Hoke asked for a review, but replay officials ruled there was not enough evidence to overrule.
Five plays later, BYU scored, and went on to win, 24-21
*********** We came to the realization late in the game that our new B back had been faking it in practice and didn't know the plays.
Very few kids are brought up to say simply, "I don't know." Or to ask a question. It is cooler to pretend you know.
As a result, we live in a world in which people fake it.
You have to aggressively go after them to find out who doesn't know, and then make sure they do.
*********** Discussing Steelers' linebacker James Harrison, whose questionable hits (neither was penalized) laid out two Browns' players Sunday, the AP writes…
Harrison's style of play is raising questions about whether it's possible to stay within the rules, yet also play dirty.
Huh? Did you know that you could play dirty without breaking any rules? Cool.
*********** I'll bet none of you on the East Coast stayed up to watch the end of that Titans-Jaguars fiasco, so I'll tell you - I'll bet there are more people in the stands at your game Friday night than there were at the end of this one Monday night. Hell, there weren't that many in the stands at halftime.
*********** Let there be no doubt: Texas ends the series owning Nebraska.
And, (to paraphrase Mark Twain), reports of Mack Brown's death are greatly exaggerated, but…
The Texas pooch punt (which resulted in a return for a TD) was risky and unnecessary. An attempt, I suspect, to show how clever they were. If the Nebraska kid doesn't pick it up, Texas looks brilliant. But it's hard to cover a punt from that formation, not to mention with big, slow, offensive linemen...
*********** The news from the National Football Foundation that Tom Jernstedt would be the recipient of this year's National Football Foundation Legacy Award gave me room for pause.
Not that he doesn't deserve the award. Jernstedt, as the NCAA's man in charge of its Men's Basketball Tournament, saw it grow to where "Final Four" is a part of our language, and the Final Four itself is one of a handful of sports events that can make the wheels of American commerce grind to a stop. More to the point – money is always the point – when he took over in 1973, the tournament was bringing in $1 million, and now, starting in 2011, it will put close to $1 billion a year into the hands of the NCAA.
So, yes, he deserves the award. But more than that, he deserves to still be on the job.
Instead, he was given his walking papers by new NCAA President Mark Emmert, formerly president of the University of Washington. A purge? Of the guy whose astute management of the NCAA's most valuable property made that bureaucracy possible? Marl Emmert, do you really have somebody as good?
I have my suspicions about Mark Emmert. One of his major moves while president of UW was to install as AD a crony whose main job experience has been as a Louisiana lobbyist. These are not glory days for University of Washington sports.
*********** A friend told me about the squeaker his son's team was involved in. They won, but he said that twice in the second half, despite holding a narrow lead over a stronger opponent, they had "drives" that consisted of three straight incompletions. One "consumed" 22 seconds, the other 42 seconds.
He wrote, "After the game, (my son) asked (his coach) why they didn't run the ball more in the second half to use up clock, and his response (I was standing there and heard it) was that his goal was to throw the ball 40 times in the game and they weren't there yet."
Wow. His goal was not to win. HIs goal was to throw the ball 40 times! Why? To prove that he can? Bet you didn't know there was a coach anywhere who put any goal whatsoever ahead of WINNING THE GAME.
I wonder how many of those kids worked their tails off all week in practice so that they could throw the ball 40 times!
(Come on fellas. Throw it 40 times for The Gipper!)
*********** The NFL announced that it might start suspending players for "dangerous helmet-to-helmet hits," according to vice president of football operations Ray Anderson.
Mr. Anderson said that the league might need to do more than simply fining players to prevent such hits.
Hey, Mr. Anderson:
If you're really serious about this, listen up...
1. The problem is a lot bigger than "Helmet-to-helmet"
The problem is helmet-to-ANYTHING ---- you must not hit ANYTHING with your head
As one example, the horrifying injury to Rutgers' Erik LeGrand: he hit an Army runner with his head – the top of his helmet. But he didn't hit the Army player in the head. It wasn't helmet-to-helmet. So how does cracking down on "helmet-to-helmet hits" prevent that sort in injury?
And the problem is ANYTHING-to-helmet ---- you must not hit another player in the head with ANYTHING (remember when they outlawed the defensive lineman's head slap?)
2. Any hit with/to the head… First offense: 15 yards and removal from the game for the rest of the period; Second offense (same game) 15 yards and automatic ejection for this game and suspension for the next
*********** Where was all the pink in the Colts-Redskins game? Didn't they get the memo?
***********Hugh, The local paper picked us to lose 41-14. Few gave us a chance. But we told our kids to "keep punching" and good things would happen.
The game plan was to eat as much clock as possible. That meant waiting for the "white hat" to start his 5-second count before starting our cadence. Our opponent thrives on emotion, and I told our boys this would frustrate them and give them an emotional roller coaster all night. If they had a big play, they'd get pumped but would have to sit in their stances that they'd come back to earth.
Well, we did eat tons of clock. While I don't have official stats, I'd say we had the ball for 17+ minutes in the first half. We led at halftime 6-0. They were frustrated and chirping at our kids and at each other. Their sideline was beside themselves. I would be remiss if I didn't give our defense a ton of credit, too. They did a great job defending the pass and shut down their run.
We scored first in the second half to go up 12-0. They got things rolling a bit in the fourth and scored on drives that had some pretty big plays. They could certainly "out athletic" us. So, when they scored with 4 minutes to go, it was 14-12 them. Fortunately, a personal foul forced them to kick from their 25. We return it to the 50 and then start marching. No panic by anyone. We made some big plays in the passing game to complement the run, which kept them
honest. We end up with first and goal inside the ten. Three yards on 1st down to the 5 with 22.4 to go. Ran sprint out with the wing on a banana and the TE on a corner and hit the wing for a TD. We go up 18-14. Squib kick. Two plays later the game is over and we've won a game nobody gave us a chance of winning.
We ran the ball 60 times for 180 yards, which some would think is an unsuccessful night. It certainly looked like we were running into a brick wall over and over again. I say it's what we wanted to do and our kids agree. Play keep-away from the bully and he gets frustrated. We also were very efficient passing (6 of 9 for 70 and 2 TD's).
What a great win. I know you said that all W's are W's, but this one feels a bit different.
P.S. I am a guy who wears a dress shirt and tie to games. A bit of homage to the "old school" and I consider coaching to be my job every bit as much as teaching. The North Fulton coach a few years ago burned a tie to fire his team up before one of our games (found this out from one of his former players). Felt kind of nice to walk across the field to night in my Sunday best to shake his hand.
Have a great weekend. I already am
Todd Hollis
Elmwood, Illinois
*********** Hi Coach,
Just dropping you a note that we are 6-1 and just beat Tacoma Baptist, 35-28. They were ranked #4 and outscored their last 5 opponents 177-15. Tough team, but they could not stop our double wing.
As you may remember I have been running your system since 2003 and have not changed. We still motion, angle the wings. We run s/p both ways, trap, counter, power passes both sides, a waggle pass, QB s/p both ways. We are averaging 40 points a game right now.
Concrete High School.
Thanks for all of your assistance over the years.
Chad Clark
Concrete, Washington
*********** Coach Wyatt,
Just wanted to update you on our season. We are currently 8-0 and are playing for our district championship this coming Friday night against West Branch, a perrenial state power. They are 7-0. It should be an exciting week for our team and the whole community. West Branch has been in the state semi-finals the past two seasons. They have a tradition of excellence that is very admirable. We've only given up 7 points in 8 games and have scored 318 ourselves. It's been a fun group to have around.
This past week we ran some plays from the Wildcat. When we were putting it in one of the guys (a real 'good ole boy' young, tough farm kid) pipes up, "Hey Coach Harrold, is this set also from that awesome coach in Washington?" I thought you would get a kick out of that! We look forward to a tough, physical battle. If you have nothing else going on, http://www.wmtradio.com/main.html and then go to the high school broadcast schedule, our game will be on the radio accessible through this site. Just have to continually get better this week...Thanks for everything, you're responsible for this!
Clay Harrold
Special Education Teacher
Head Football Coach
North Cedar High School
Stanwood, Iowa
I appreciate the note. Needless to say, I am overjoyed to hear how well things have been going for you!
It is very nice of you to assign responsibility for this to me, but I just furnish a tool. Handing me a hammer doesn't make me a carpenter.
I don't recruit the kids out of the halls or run the weight room or find and train the assistants or put the players in the proper positions or coach the offense and defense and special teams or plan the practices or keep the kids eligible and out of trouble and motivated, or design the game plans or call the plays, etc., etc.
I'm always happy to hear testimonials such as yours, but it takes good coaches and coaching - and good players willing to work together - to make my system work.
I know of West Branch. Best of luck to you Friday! I'll try to listen in. I have very few better things to do than that!
*********** Coach Wyatt,
We are currently running your double wing offense. We use multiple formations as you suggested when we spoke to you in Chicago. We run over, under, slot, spread and unbalanced sets. We also have modified your Wildcat. This is where the QB is about 4 yards deep and we keep the FB as a sniffer at two and half yards deep offset to right or left. When he is offset to the right we run 88 Power. When we run to the left we run 27 G-O. And visa-vesra to keep the defense honest. When we run the B back we direct snap to him and we run wedge, trap and 4X and 5X. For our sweeps we run G-O reach and rocket and laser sweeps out of this gun set and we are still able to run 47 and 57C.
We started out the season 4-0 we are now 6-2. We are the 2nd smallest school out of the 16 teams in the Prairie State/Sangamo cross over. We are a 1A school with an enrollment of 199 and we have 40 players. The two teams we lost to are class 3A schools:
Staunton, enrollment 438, 83 players, score: 6-5 (this is not a type-o)
North Mac, enrollment 464, 81 players, score: 21-14(they scored the winning touchdown in the last 22 seconds of game-ouch)
Without your offense, advice and techniques there would be no way we could compete with the much larger sized schools on our schedule. I cannot thank you enough. We are now in the post season playoffs for the 3rd year in a row. This has only happened one other time in our school's history 32 years ago. I will keep you posted once playoffs start.
Thanks again for everything.
Kitt Thein, Head Coach
Pawnee High School
Pawnee, Illinois
FRIDAY, OCTOBER 15, 2010 - "If I have seen further, it's only by standing on the shoulders of giants." Sir Isaac Newton
*********** One of my newer friends, relatively new to the Double Wing, has been off to a rough start, and he wrote,
Coach Wyatt,

Don't look at the scores!! If we were not running the Double Wing we would be losing in the 60/70 to 0 range.

We have played very well and moved the ball at times the last three weeks. We just have not been able to get key first downs, finish drives and get the ball in the end zone.

I pretty much had to take over our Offensive Line. Long story which we will talk about sometime.

Bottom Line: The offense works when coached correctly.

We are very young with some guys that have not figured out some things.

Still working to improve and get better the next four weeks!!
Coach, You have no idea how encouraging your words were.
I've seen your scores and, yes, I've been concerned for you. I know how lonesome it can get sometimes.
Thanks for the pick-me-up. You have the qualities of leadership that those kids need.
I know they look to you for direction, and if you don't lose faith, they won't.
*********** This weekend is off to a great start. I like Kansas, and I want Turner Gill to be successful, but I LOVE Kansas State - they're a BLACK LION TEAM - and I simply couldn't believe the job the Wildcats did against the rival Jayhawks, especially after losing last week to Nebraska.
59-7? Are you kidding me? A near-perfect game! Go Cats.
*********** I have mentioned from time to time the friendship I've been fortunate to strike up with Mrs. Perian Conerly, of Clarksdale, Mississippi, whose late husband, Charlie, was an NFL great - quarterback of the Giants when Lombardi was offensive coach - and, in my estimation and that of others who knew better than me, the greatest football player not yet in the NFL Hall of Fame. Mrs. Conerly is a delight to listen to, not just because of her knock-you-dead Mississippi accent, but because she was treated as "one of the boys" during the 1950s, hanging out with her husband and his teammates, men who were unusually close, and her memory of those days is so clear.
While Charlie Conerly quarterbacked the Giants, Mrs. Conerly wrote a syndicated column about pro football from a woman's perspective, and was the first woman admitted to membership in the Football Writers Association of America.
Not so long ago, I located on YouTube a priceless video of a "What's My LIne," once one of TV's highest-rated shows, in which Mrs. Conerly appeared. The poitn of the show was for panelists to try to guess a guest's occupation. They knew who Mrs. Conerly's husband was - those were the days when the Giants had begun to win the hearts of New Yorkers - but they didn't know what her occupation was.
At the end of the show, Charlie - who'd played that afternoon - made a guest appearance. Talk about a man's man. No backward baseball caps for Charlie Conerly.
http://www.youtube.com/watch?v=VKPrqZlBFlo&feature=related
*********** I have deliberately steered clear of writing about Red Lion Christian, the Delaware private school with the eighth-grader at QB (the one who "committed" to USC as a seventh grader). Let's just say it looks as if they're trying to be the Oak Hill Academy of high school football.
*********** Bill Maradei, of Boston's Austin Prep, is a long-time double-winger, and a very good one. He's been a regular at my New England clinics, and last year he led Austin Prep to its division's "Super Bowl," Massachusetts' equivalent of a state title.
A great side-bar story is the fact that he's coaching his sons, Billy and Mark. Billy is hearing-impaired, but Bill insisted from the time he was very small that Billy be cut no slack, and now he's a mainstay of the Austin team.
I came across a great on-the-field interview of Bill and his boys.
http://bostonherald.com/blogs/sports/high_school/index.php/2010/09/05/the-ace-of-austin-prep/
While there are those who say Bill hollers, Bill says, "I never yell at anybody; I teach loud," but he does admit that he was a little taken aback when he got in Billy's face during the Super Bowl game, played in the Patriots' Gillette Stadium, only to look up and see it all on the Jumbotron screen where everyone - including his wife and dad (Billy's grandfather) - could get the same benefit as Billy.
*********** "I don't need no practice to play," said Michael Vick.
Uh-oh. I know what you mean, but that's the wrong thing to say in Philly, Michael.
Sounds too much like what another son of Tidewater Virginia said when he, too, played in Philadelphia.
In the immortal words of Allen Iverson, "We talkin' 'bout practice, man."
*********** Nice to have good news like the mine rescue in Chile.
First, there was the guy who took charge down there. Told the guys when/how to exercize, when/how to eat, etc. Without his leadership, who knows whether chaos would have resulted? Finally, a true leader, he insisted on being the last one out.
Then, there were the rescuers – who willingly went down into a place where people had been trapped for almost two months.
And it was nice to know there's still a government somewhere with the spirit of "Can Do," a government that basically says, "To hell with whose fault it is; to hell with who gets it done and what union they belong to; just get it done."
To the extent that there can be any downside to a story this good, there was an American touch to it: counseling, we were told, was available for the miners. Counseling? Why do I think these guys would rather spend time with their wives/girlfriends and kids and eat some good food and drink a little cerveza?
Another touch of America – I've heard that some of the miners have already filed suit against the mining company; I imagine there are book agents and ghost writers on the scene ready to crank out books within a week; and I look for miners to be making appearances on Oprah soon. Shame there's not a State of the Union Address coming up any time soon. To paraphrase Rahm Emanuel, it's a shame to let a crisis go to waste.
*********** NOW, after watching Michigan's offensive ineffectiveness once Michigan State shut down Denard Robinson, NOW will the news media overcome the laziness that keeps them calling him a "quarterback," and admit that he's nothing of the sort?
Held to 86 yards rushing on 21 carries – his longest run only 16 yards – he couldn't compensate with his passing, throwing 29 times for just 215 yards, and three interceptions. Simple conclusion: He is NOT a quarterback.
He is a SINGLE-WING TAILBACK. He has the potential of being a damn good one, but when he carries the ball on nearly two-thirds of the running plays (all the other backs combined carried only 13 times), and throws the ball even more than he runs it, he's not even being used like good single-wing tailback.
Not to attempt to tell Rich Rodriguez how to run his offense, but the great Red Sanders of UCLA, who knew as much as anyone about single-wing football, had to come to the sad realization that a great runner and a great passer seldom inhabit the same body, and he once had to employ three different tailbacks: one, a great passer but only a so-so runner; another, a great runner but a so-so passer: and third, who did both reasonably well but neither exceptionally well.
The passer, Ronnie Knox, was at the time one of the most-publicized players on the college football scene, thanks largely to a stage father who was way ahead of his time, and would be notorious even by the standards of today's parents.
For two GREAT ARTICLES on Harvey and Ronnie Knox…
First, Harvey's manner with Ronnie's coaches… "Why Ronnie Knox Quit California"
http://sportsillustrated.cnn.com/vault/article/magazine/MAG1129067/index.htm
And "Three Touchdowns for Harvey," Ronnie's debut against Texas A & M, and its coach, a guy named Bryant…
http://sportsillustrated.cnn.com/vault/article/magazine/MAG1130248/1/index.htm
(To give you some idea of how sportswriting often reflects the attitudes of the time, notice Sports Illustrated's reference to "the best second-string fullback in history, the 202-pound Oakland Negro, Doug Peters…")
*********** Oregon State's James Rodgers was off to a banner night against Arizona when he suffered a knee injury after being hit from behind as he crossed the goal line by a guy more interested in swatting at the ball than making a tackle. OSU coach Mike Riley very graciously finessed a reporter's question seemingly designed to get him to call it a cheap shot.
*********** Until Oregon State's defeat of Arizona last Saturday, there were four teams in the Top Ten coached by Ohio guys – Jim Tressel, Bo Pelini, and Bob and Mike Stoops. Tressel and the Stoops brothers are themselves sons of coaches. Pelini and the Stoopses all went to Youngstown's Cardinal Mooney High School.
*********** Michigan State people have been having a lot of fun with Mike Hart's stupid comment about State being like a "little brother," since Michigan hasn't beaten Michigan State in football OR basketball since 2007. At the end of last Saturday's game, MSU fans were chanting "Little Sister…Little Sister…"
*********** Hugh, just writing to check in, I was watching a little bit of the BSU game last night against Toledo, and believe it or not out of gun they ran 56 criss cross and walked into the end zone.. The boys saw it and said right away that it was double wing play.. Mike Foristiere, Boise, Idaho
*********** A site called Pollspeak reveals which AP voters voted for Alabama ahead of South Carolina, despite South Carolina's decisively winning the head-to-head
http://www.pollspeak.com/pollstalker/pollstalker.php?r=T&s=13&p=26&w=7&t1=3&t2=87&v=0
To save you the time and trouble, here were the guys with the worst judgment:
Desmond Conner, Hartford Courant: Bama #3, SC #13 (WTF?)
Bob Hammond, Laramie Daily Boomerang: Bama #5, SC #14
Kyle Tucker, Virginian-Pilot Bama: #4 SC #11
Randy Rosetta, Baton Rouge Advocate: Bama #5 SC #11
Bob Asmussen Champaign News-Gazette: Bama #8 SC #14
Greg Archuleta, Albuquerque Journal: Bama #9 SC #15
*********** For even a program as down as New Mexico's, being your paper's beat writer is a good job. So you had to know Greg Archuleta who's been the Albuquerque Journal's guy on the Lobos' beat for years, had done something wrong when it was announced this week that he was "reassigned."
What did he do, you ask?
Nothing, really, unless you consider sending a New Mexico player an e-mail suggesting that if he's really quit the team - just sayin' - it might not be such a bad idea...
Apparently, Archuleta heard that Lobos' running back Demond Dennis might be thinking of transferring. To try to get the the bottom of it, he e-mailed Dennis, and concluded by writing,
"…that's why I'm trying to get a hold of you, to get your side of it. Let me know whether you can help, and I hope everything works out for you. If you have quit, maybe that's a step in the right direction."
*********** Dennis Cook, of Roanoke, Virginia, sends me this AP story…
BLACKSBURG -- Virginia Tech left guard Greg Nosal has earned tough-guy points, postponing the reattachment of a torn-off tip of his left pinkie to keep playing.

The school says Nosal lost the finger tip when it got caught between two helmets in the first half Saturday against Central Michigan. After a brief search, team doctors found the severed piece inside his glove and determined that it could be reattached.

They gave 6-foot-6, 293-pound redshirt junior the option to do it right then or have the tip put on ice.

He chose going back in the game, received some pain medication and went back in.

The finger tip was reattached in the fourth quarter, after the pain medication had started to wear off and when the Hokies were substituting liberally in a 45-21 victory.
Guy must have acquired that toughness playing soccer as a little kid…
*********** Go to a clinic these days and it's passing, passing, passing. I spoke at a Nike clinic a few years ago and I was the only coach on the agenda talking on the subject of running the ball. So lest we start believing that the running game is becoming passe, simply something to do after after every third or fourth pass, I stumbled across some VERY interesting material…
(1) Halfway through this season, in the list of the top 25 major college rushing teams (yards per game), there is not one with a losing record; you have to go clear to number 28 before finding one (Wake Forest, at 2-4).
(2) Among the top major college passing teams, however, there are three teams in the top 25 with losing records: Duke at 15, Central Michigan at 18 and Arkansas State at 24.
(3) The Top 10 rushing teams have an overall record of 50-8 (.862) ; the Top 10 passing teams are 35-15 (.700)
(4) The Top 25 rushing teams are 116-30 overall (.795) ; the Top 25 passing teams are 83-48 (.633)
*********** A Maryland high school coached by a friend of mine saw its 20-game win streak (including the 2009 state championship) come to an end last weekend after it discovered – and self-reported – that it had used an academically-ineligible player in its first three games.
The three games in which the kid played were blowouts – wins of 39-0, 47-7 and 48-0. The kid – as so often seems to be the case – scarcely played.
The school's record now drops to 3-3, and although it still has a decent shot at making the state playoffs, it has almost no chance of hosting a playoff game.
*********** When I was teaching, every year I would surprise my classes by telling them that one of their classmates had realized, too late, that he'd made a big mistake. He'd screwed around all semester instead of doing his work - and now he was going to fail. I told them of all the dire consequences he faced - trouble at home, athletic ineligibility, etc.
But there was a way out of this whole mess, I said, if the class would be willing to help him out.
If four of the A students would just give up five points each, I told them, it would give him enough points to get him up to a C. It really wouldn't mean that much of a sacrifice for them - yes, it would drop their A's to an A-, or maybe a B+, but that was still good enough to keep them on the honor roll.
Any volunteers? I'd ask.
Not a hand would go up. Ever. Not once, in four or five years of doing this.
I would point to one of the "A" students and say, "What's the problem? Why won't you do it?"
The reply was always the same: "Because I worked for that A."
*********** A coach bemoaned the lack of a tight end, and wondeed how effectively he'd be able to run the offense. Now obviously, it's a great asset to have two tight ends, because nowadays a lot of defenses aren't even geared to playing against one tight end, let alone two.
But, I wrote him…
I really wouldn't worry about the lack of a TE. That's just a problem we all face, and it's probably better just to let it go than to try making things go with a less than good TE. Good TEs are getting scarce. Actually, when you find a guy good enough to play TE for you, you usually find him on defense. I was talking with a college coach a couple of weeks ago, and he admitted that a major reason he plays without a TE is that anybody good enough to be a factor for them at TE is also good enough to play defense for them - so that's where he goes!
Seems to me that you might "borrow" a LBer or two and teach them a small handful of plays at TE.
*********** Since I started heavy-duty flying a dozen or so years ago, I've made dozens of connections in Minneapolis-St. Paul. Nice airport. Nice area. I could live there.
Nice people, whose teams are going through a very tough time... The Gophers are winless, and things are not looking good for their coach, Tim Brewster... the Twins, after their great season, are done already... The Vikings may soon be wondering who's going to be playing quarterback.
And they don't even have an MLS team.
Oh, well. There's always the Wild. And the Timberwolves.
*********** A fact gleaned by my son, Ed: the last time not a single one of these college elites - Miami, Michigan, Notre Dame, Penn State and Texas - was ranked was November, 1960.
To put that in perspective… Yale went undefeated that year, won the Ivy League championship, and was nationally-ranked. That Yale team is being honored on its 50th anniversary at this year's Yale-Princeton game.
*********** I read someplace that the rumored Brady-Moss came about because Moss told Brady he looked like a girl. Haw, haw, haw. You go, Randy.
Hey, even when you throw like Tom Brady - you wear your hair like a girl, you better be ready for the comments. (Moss probably didn't know the word "metrosexual.")
*********** The Troy Fighting Irish won the NFA championship game 34-24. We beat the Jamestown Chiefs in a hard fought battle.
One of my trusty assistants Kashon Holmes told me something that made a lot of sense, he said "It seems like when the games get bigger the playbook condenses."
Makes a lot of sense because counter was not there but super powers were. Its' crazy how that play alone drives defensive coordinators crazy! I usually run G-O reach for my outside plays but we had to keep the guards home and have them reach playside because of blitzing. We were down at the half 10-7 and made some minor adjustments. We added 88 and 99 super reach because they emulate super power the most. We shoeshined backside B gap D-tackles on super power because they were disciplined trying to fight down the line.
C- back Andre McAuley was instrumental in helping this team go 11-1. He has over 1,200 yards rushing. He is a New Jersey kid who played one year of high school ball but had behavior problems in school. He told me I was the only coach he ever had that actually believed in him. That made me feel good.
We are now just waiting to see if we get a bowl invite. Hopefully down in Florida MLK weekend.
Pete Porcelli, offensive coordinator
Troy, New York
*********** Hi Coach Wyatt,
It's been a while and I wanted to update you (whether you want it or not) on how we've been doing so far this season. Just a reminder, we've never run the Double Wing and installed 1 week into the season this year.
We are 4-1 with 2 very competitive games and 3 mercy games. The one we lost was in last 50 seconds on a 50 yard defensive mistake. 3 games left. We've been a "500 team" at best over the last four years so this is a really fun year for the kids. Avg ages 11-12. Next 3 games we expect will be very competitive and can't wait.
Our kids were very skeptical (and a few coaches) early on but everyone is on board 100%. We've run very few formations other than tight (Toronto, Over/Under 88, Tight Stack). I'd say we've averaged over 200 yards per game rushing, very limited passing with 2 for TDs.
Quick Question: On the Tight Rip 77 Power, does the B-back or the Right Guard have first kick-out responsibility? We've been telling the B-back to kickout the end and the RG to take the next man beyond the end. Thanks for the clarification.
Thanks for listening. Any ideas on late season tactics or favorite plays are more than welcome. I hope you are having a great season as well.
Best regards,
Matt Ryan, Sudbury, Massachusetts
Glad to hear that things are going well.
In answer to your question regarding Liz-66 SP, Rip-77 SP:
B-Back kicks out as usual. With no wingback there, the TE always blocks down.
Guard never kicks out on any power play.
Backside G & T "run the circle," same as always. (No change)
Here's a few clips - http://www.coachwyatt.com/66-77SPatasc/66-77SPatasc.mov
That should help. Thanks for keeping me updated.
*********** At Arizona last Saturday night, Oregon State had a touchdown taken away "after review" by a replay official who…
Lives in Tucson …
Is an Arizona grad…
Is an Arizona Booster…
*********** Is this what they mean by "Fantasy Football?
http://www.hollywoodreporter.com/hr/content_display/news/e3i05a30aa117cd49d62a5113b38162c83e
Marissa Miller (?) has been hired as an NFL "spokesperson"
"Pro Football" sure has come a long way. Inside his coffin, Bert Bell is up to, oh, 7200 rpm or so.
*********** It hurts me to ask this, but does Mike Singletary increasingly look like a man who can't wait for the season to be over with?
*********** Last week, at about the same time Cal was announcing its plans to drop baseball following the 2011 season, Mr. Suit, the new Pac-10 Commissioner who came to us from the highly-successful Women's Tennis Tour, was urging new member Colorado to add a few sports that other Pac-10 teams played. He specifically mentioned baseball.
*********** As one who has what you might call a healthy regard for the English language and its proper use in enabling us to communicate with each other, I have to shake my head and ask: where the hell did this "hatin' on" B-S come from? (I have my suspicions, but I dare not say.)
*********** Ever stop and think how much spread offenses depend on wide receivers' holding?
*********** Satire from The Onion…
WEST MONROE, LA—Doug Laney, the 5-foot-9-inch senior out of West Monroe High School who has garnered much hype and interest from professional teams throughout the season, announced Sunday that he will become the sixth equipment manager in history to forego college and become an equipment manager in the NBA. "It's a big step, and I know a lot of people are going to say that I'm too young and I'm not ready, but that just means I'll have to work extra hard and make sure all the balls have enough air every night," said Laney, who became the youngest-ever equipment manager to be featured on the cover of Equipment Manager Illustrated magazine in July 2009. "I'm excited. Guys like Paul Ackerston and P.J. Schultz have paved the way for high school equipment managers by making instant impacts on the way professional teams' equipment is managed." Laney is currently serving a three-game suspension for accepting vintage water bottles from a local sporting goods store that were valued at $23.
*********** Coach Wyatt,
Just wanted to follow up after receiving your videos. I appreciate the bonus highlight videos you sent along, I love to watch the DW in action.
I am currently coaching 9/10 year olds and we are 6-0 in the TCYFL this year, Chicago suburbs. We ran the basic plays of the DW last year with 7/8 year olds and ended up 9-3. We lost in the Superbowl to a team that did not give up a point all season. (second time we played them). I am looking forward to continuing to develop our offense using your information and videos. I just wanted to say how much I appreciate the time, effort and passion you put into coaching and passing along this valuable information to the rest of us. I missed your Coaches Clinic this past year but plan to attend this year if you are in town again.
All The Best,
Coach Bill Wilson
*********** My grandson, Wyatt Love, is a freshman at Villanova and he's made friends with several members of the women's basketball team. One of them even gave him a pair of sneaks – they were too small for her.
*********** A friend who'd been making strides with his kids' aggressiveness and enthusiasm wrote to tell me that things had suddenly gone sour at a recent practice.
It was a Monday practice following Sunday game (you know how it goes in youth football, with all the field availability issues), and he said the kids were just going through the motions.
I wrote,
"I think that you're at a handicap playing on Sunday and coming back to practice on Monday. It would be unusual, I think, for kids to be focused the day after a game."
Wednesday, he wrote back to say that things were back to normal and the kids were once again making progress…
The kids did come back today with a lot more pep. Kids are resilient but not being a parent I have only recently noticed they can be extremely sensitive to changes in routine like holidays. I get the idea that Sunday games are a real drag for the parents.
-They were hungry for contact, for one. I was running our re-arranged backfield through the Wildcat plays today and our new QB, moved from guard, was begging to lead block on Wildcat 5-X Lead. So we went ahead and installed 5-X Double Lead. Now if we can just keep our B back from giggling when we call plays for him!
I also suggested that since they didn't have enough kids to scrimmage, they could still get some valuable work done by putting the remaining players on defense at "stress points" – such as the point of attack on power/super power.
-Because we only have 15 players, running plays in a half-line against the defense really got everybody cooking on both sides. Much better than against air. It's easy to find problems with X and power plays such as who is not sealing his gap properly, and our RG now realizes how fast he needs to get to his 47-C kickout block. Sweet.
*********** Dear Coach Wyatt,
The Head Coach of our football team and myself went to your workshop this year, 2010 in the San Fernando Valley, or was it Saugus or Thousand Oaks; someplace in the desert, so to speak. We had decided to implement your double wing offense because we felt that it would give us a chance to at least compete with the types of young men we have at our school, especially in our league. It is mid-season and we are just beginning league. I thought it would be a good time to tell you about us, and what has happened so far this year.
Coach, our history is like this. We have never won a league championship. The school is in existence since 1972. We have tried in the past 6 years, a pro-styled offense, the west coast, and the spread, but we did not have the athletes, or I should say, the football players to administer such offenses.
Our record over the past 6 seasons was 12-46. Last year, we were 0-10, and only scored 58 points, and 18 points was from the defense. Time for a change, huh! That's when you came in. We fully bought in to the double wing - coaches, players, administration, and the students at the school. We ran it through passing league. We were in the weight-room and classroom. We spent our spring selling this to the boys.
Here are our results so far.
Our first game was a scrimmage and we played well scoring 7 or 8 times and our JV's scored at will. Our first game was won in overtime 19-13. Then we matched up with a coach that has been running a similar offense and we lost by 3, 10-7. We never gave up, and keep up the power. Week 3 we lost again but we were in the game and came back, if we had another minute we would have won. The score was 45-38.
Week 4 brought upon us a team that previously pushed us around and kept passing even after the game was done, and rolled up the score. We won this year, 40-0. With 3 min. to go we just took knees at their 5-yard line.
Last week we played a team we have never beaten. And 3 out of the last 4 years, they have been in the CIF playoffs. Our scores were getting worse each year we faced them. 0-33. This year we won 49-21, 503 yards on the ground. We are still doing some little things wrong but we are making the corrections.
Our leading running back has 1133 yards in 5 games. He is 2nd in our division of CIF and 3rd in the southern section, and 8th in California, and 60th in the country. He has shattered the single season school record already of 970 yards in 10 games, and broke the single game mark last week of 308 by 55-yards. He had 363 yards. We are 4 plays away from being undefeated. Hey we make mistakes but we are in the games. We will be sending our entire freshman JV and varsity coaches to your workshop as soon as you offer it again in So Cal.
From the bottom of my heart, I thank you. And keep track of us on www.maxpreps.com.
Sincerely,
O.C. Coach
Warren Ortloff
Mountain View High School
El Monte, California
Coach Ortloff,
To say I was pleased to hear of your success is an understatement.
Naturally, I'd like to think that my system has helped make a difference, but it is just a tool. Use properly, and in the right hands, it can help you get the job done.
I think that this, more than anything, indicates that it's in the right hands: "We fully bought in to the double wing, coaches, players, administration, and the students at the school. We ran it though passing league. We were in the weight-room and classroom. We spent our spring selling this to the boys."
If I may - now that your kids are beginning to realize that their coaches have been steering them in the right direction, you need to work extra hard to avoid complacency - not to allow the kids to think that they've "arrived." You want to be extra critical in practice of the little things that will beat you in games, until you get to the point where the kids themselves "take ownership" and understand immediately what you're telling them and even begin to self-correct.
Thanks for the update and be sure to stay in touch, and if I can ever serve as a sounding board, feel free to e-mail me.
Best wishes to you and Coach Wilson for continued success!

*********** It's Francis Amar, formerly of St. Augustine Prep in Richland, New Jersey. I hope that this email finds you and your family doing well.

Friday night, Mike Wilson notched the first win of his varsity coaching career, and Middle Township notched its first win of the season in dramataic fashion, 22-20 over Pleasantville.

After spotting Pleasantville 14 points in the 1st quarter, but cut the lead to 14-8 at halftime (Over 88 Super O with a nice cutback) we got to work pounding them with 88 Super O, 6-G and 6-G Follow. We were in Under/Over about 90% of the game, as we noticed that Pleasantville never adjusted to ends over against the wing-t team they had played 2 weeks earlier, and they never made any defensive line adjustments against us either. The end result was 230 yards rushing, led by sophomore A-back Zach Vogelei (17 carries, 107 yards, 1 TD, 1 2pt coversion, 2 PAT kicks). We finally got the lead 15-14 on the first play of the 4th quarter (Under 99 Super O), and spent the next 8 minutes winning the field position battle and burning clock. We scored our final touchdown with 3:19 left in the 4th, throwing a 25 yd touchdown pass on a 4th and 5 on 99 Power Pass. Pleasantville would drive down and score with 1:30 left but came up a yard short on the 2 point conversion attempt that would have tied the game. As gratifying as the win was for the coaching staff, it was even better to see the excitement and the looks on our kids faces, especially when contrasted with the heartbreak of last week's 14-13 loss to Ocean City. What's even more gratifying is seeing the way the kids warm to the Double Wing in a way that never happened for us when we were at St. Augustine.

As for me, after 2 years of unemployment I've finally landed on my feet. I'm currently a teacher's aide at Salem Middle School in Salem, New Jersey, and after an unplanned 4 year furlough from coaching, Mike rescued me from the scrap heap. While distance (a 90+ minute drive) prevents me from coming to practice, I serve as Mike's Offensive Consultant. Basically, I watch film, help Mike with the offensive game plan, and serve as his "eye in the sky" during games.

Hopefully, we will have some more good news for you in the coming weeks as our team continues to grow.

Sincerely,
Francis Amar
Middle Township High School - Cape May Court House, New Jersey

PS-
On our Spirit Pack t-shirts and sweatshirts, Mike decided that we should play tribute to you, and to firmly establish our identity as Double Wing team. Feel free to post it on your website if you like. (See Below)
(Francis Amar got his double-wing start long ago at St. Augustine High in Richland, New Jersey. Mike Wilson learned his Double Wing playing youth football for Frank Simonsen and Flash Hughes in Cape May, and got the the head job at archrival Middle Township High School less than a week before the start of football this year. Considering that Middle Township was only 3-8 last season and ran a different system, the win is especially encouraging. HW)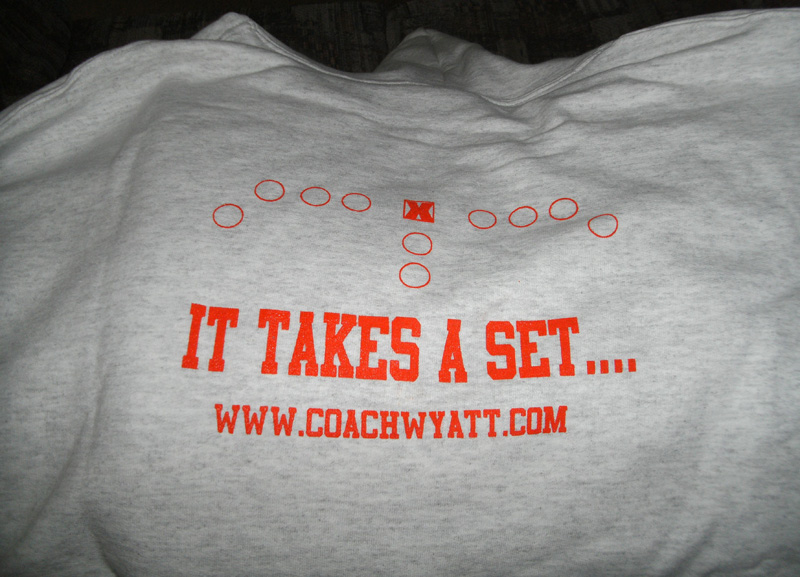 TUESDAY, OCTOBER 12, 2010 - "A government that robs Peter to pay Paul can always depend on the support of Paul." George Bernard Shaw
*********** No, Wisconsin probably shouldn't have been going for two, when they went ahead of Minnesota, 41-16 with under seven minutes to play, but should Gophers' Coach Tom Brewster really have gone nuts over it, giving Badgers' coach Brett Bielema a piece of his mind at their post-game handshake, and then venting to reporters?
Bielema said later that he hadn't even given it any thought at the time – just took a quick look at his card. (You know, the one we all have that tells us what to do when we're beating the sh—out of somebody and we're not sure whether to go for one or two. It's such an important decision, after all.)
Anyhow, Brewster wasn't buying.
"That's a poor excuse," he told reporters. "He'll have to live with it, because it was wrong. Heck, everybody on here knows it, and everybody in college football knows it."
Asked exactly what Brewster had said to him during their brief postgame meeting, Bielema said, "I probably shouldn't say. He wasn't happy. We weren't talking car dealers, I know that."
Back in the TV studio, fomer Tennessee coach Phil Fullmer suggested that there might be more to it than simply Bielema's going for two. Maybe some had blood between the two coaches?
Said Fullmer, "There's something going on there."
*********** Mike Tirico, after Favre midhandled another one: "Is he distracted in any way?" Why, what makes you think his mind might not be on the game?
*********** 500 career TDs or not, betcha Favre wishes he were home in Kiln, Mississippi right now. Forget that last interception - can you believe a millionaire pro quarterback missing a wide-open Percy Harvin the way he did on the previous play?
*********** Why the NFL will NOT suspend Favre, no matter what they find: how would they explain the real reason why his streak of consecutive starts came to an end?
*********** If ever a guy got a break from bad weather it was Favre. Imagine on a nice night what the signs in the Meadowland would have looked like.
*********** I used to argue that football was different from the other sports in that a guy couldn't be traded to a football team and fit right in and make a contribution right away.
The Boyz in the Booth were saying the same thing Monday night, but then Randy Moss proved that in today's pro football, wide receivers are pretty much interchangeable. There they are, out there by themselves, and all they really need to know is whether it's a pass, and they need to go hard, or a run, and they can take the play off.
I might say the same goes for cover corners, who as we all know are out there on their "islands."
Some team game!
*********** So Antonio Cromartie's the "father" of seven kids - including three three-year-olds - by six different mothers in five different states.
So what?
Before rushing to judgment on the guy... Did you see the job he did covering Randy Moss?
*********** When Nebraska AD Tom Osborne started coaching there as an assistant in 1964, Memorial Stadium seated 44,829 people.
Now, it seats 81,067.
Every step of the way, though, it's been sold out. In fact, Nebraska has a string of sellouts dating back to 1962.
And now, on the heels of Nebraska's decision to join the Big 10, the Huskers have announced a $56 million plan to boost stadium capacity to close to 90,000.
*********** With studies showing that tennis players' grunting affects their opponents' reaction time, can we expect pitchers to start to grunt?
*********** The pass went to Temple's Evan Rodriquez, but I misheard. I wasn't paying attention and I swore I heard the announcer say "Effin' Rodriguez," which as we all know is what West Virginians call Michigan's coach.
*********** Big win for Ellinois up in Happy Valley. So now, after two straight Big Ten defeats, and no discernible signs of progress in his freshman QB, how's Joe Pa going to pull out of this nose dive? Think the pressure's not going to be on in this week's trip to Minnesota, which once looked like a walkover?
*********** If you like ball-control football you'd have had trouble controlling yourself, watching Army take the second half kickoff against Tulane and drive 76 yards in 16 plays for a score, consuming 7 minutes and 49 seconds.
Tulane, down 31-7, then responded with a long drive of their own, and and still had the ball at the end of the third quarter. Can you remember ever seeing two teams have only one series apiece in an entire quarter?
*********** "USC linebacker Chris Galippo emphatically said that the whistle didn't blow before his late hit on Stanford's final drive…For Galippo's sake, let's hope he doesn't watch the TV replay. I heard the whistle sitting in a hotel room in Michigan." Ivan Maisel, ESPN.com
*********** I am not going to stoop to using a homophobic slur to refer to the waiter's slacks ("Hi. I'll be your server…") that the refs decided to wear Sunday night, but you did notice, didn't you, that the game was in San Francisco?
*********** (You said) I guess nobody else will say it, so I will…
There is no earthly reason for women to be doing football play-by-play. Broadcasting the UAB-UCF game, Beth Mowin was really hard to listen to. So I didn't listen.
She did the Alabama - Duke game this year. We tuned into Eli Gold and the Alabama radio broadcast. She sounds like she has a mouth full of marbles.
Tim Brown
Jackson, Tennessee
*********** Coach--
Was catching up with your news from Friday and have to take slight issue with this post:
I guess nobody else will say it, so I will…
There is no earthly reason for women to be doing football play-by-play
Broadcasting the UAB-UCF game, Beth Mowin was really hard to listen to. So I didn't listen.
There is a huge earthly reason for women to do football play-by-play: they might actually be better than some of the idiot men they put in the booth. To be honest, I would take three women in the broadcast booth any day over those dipsticks Tirico, Gruden, and Jaworski on Monday Night Football [did you notice a couple of weeks ago how they were defending Reggie Bush? Wanted to throw the remote at the TV.] Not to mention all the others. I will grant you that she has to have the right voice--not necessarily a deep voice, just that is comfortable to listen to.
Otherwise, keep up the great work, love to read what you've got to say every week.
Thanks--
John Mooney
Atlanta, Georgia
(You have, indeed, given me one earthly reason – bad male announcers. After watching the Army-Tulane game on the Web, with audio provided by the Tulane radio crew, I have to say that John Mooney has a point. There had to be two women in America better than that pair. See Below… HW)
*********** So I bought the Tulane-Army online telecast, and for the audio, they simply used the Tulane radio broadcast. Their radio crew was THE worst. I have heard numerous small-town high school broadcasts that were far superior. Homers? Instead of "Tulane," it was always "We."
Any call that went against Tulane and appeared even slightly questionable elicited something on the order of "Here we go again," and "Can we ever get a break?" There were numerous implications that Army always gets the breaks when they play Tulane.
When one Army back went in motion and another also moved, both backs had the presence of mind to stop - and Army's QB Trent Steelman alertly called time out. The boys in the booth went nuts: "TWO MEN JUST MOVED!!!!" the play-by-play guy shouted.
"I'm not a football genius, " he went on, in obvious understatement, "but isn't that illegal?"
Why, no, I wanted to tell him Not so long as Army didn't snap the ball before they both came to a stop. And then reset. And stayed still for a full second. What they did, although inadvertently, is called a "shift," and as many backs as you want can move around back there, so long as the entire team comes to a "full and complete stop" (as the airlines say) for a full second before the ball is snapped.
*********** With all the games on TV every week - I actually found the Bucknell-Cornell game last week - each of them requiring at least two announcers, I find it hard to believe that we are in a recession. ESPN already has two female play-by-play "guys."
Soon, they will be forced to hire new arrivals from Mexico (legal, of course), who, I might add, can't be any worse than some of what I hear.
*********** Notice how many "late hit out of bounds calls" we're getting? It's a really cheesy call that's often unwarranted, and it's a direct result of so many guys running out of bounds! We old-timers will remember when doing so was considered, um, chickensh--. (Remember how everyone had a cow over Franco Harris' deliberately going out of bounds?)
*********** Did you see Andrew Luck stick that USC guy who'd just scooped up a Stanford fumble?
*********** After you've seen games like Stanford-USC and LSU-Florida on Saturday, how can anything that happens on Sunday satisfy you?
*********** I made this observation about Todd Collins last week, but seeing how inaccurate so many NFL quarterbacks are, I have to wonder WTF they do at practice all week.
*********** While the rest of you are wearing your pink in observance of National Breast Cancer Awareness Month, I hope you'll allow me a day or two off to celebrate Italian-American Heritage Month.
*********** Being highly rated in the early polls must be like being born rich… Take Alabama. Alabama loses to South Carolina, yet remains in the Top Ten, ahead of four still-undefeated BCS schools - LSU, Michigan State, Oklahoma State and Missouri – and, in case anyone still thinks these polls are on the up-and-up, ahead of the very Gamecocks that handed it to them on Saturday.
Bama is only one place back of undefeated in-state rival Auburn.
Meantime, Oregon State, which thanks to a late turnover blew a chance to beat TCU, and played Boise State tough until the 4th quarter, is ranked 24th in the AP poll (conducted by sportswriters) but can't even crack the USA Today-Coaches' Top 25; the Beavers are down there in "also receiving votes" land, and the LA Times suggests that conspiracy theorists might suspect coaches of wanting to keep the Beavers down as a means of keeping Boise State "in its place."
I am a proud member of the American Football Coaches Association, but I deplore the taint of corruption that attaches itself to coaches' participating in polls. I don't think that agreeing to get in bed with USA Today in its weekly rankings does a lot for the AFCA and its promoting of coaching ethics.
(Just on the outside chance that coaches already didn't know, I'm sure that their athletic directors have brought it to their attention that with all the dollars at stake in BCS rankings, it's to every coach's advantage to vote for teams in its conference.)
*********** Despite being held to 41 yards by South Carolina Saturday, Mark Ingram could still repeat as the Heisman winner, because he didn't lead the SEC in rushing last year, either.
*********** Most of us, for a great number of reasons, hope that there's nothing to the allegations of Brett Favre's hitting on a fellow Jets' "employee" (whose "job" was... what, exactly?), but let's be honest, fellows…
How many of you, knowing what you know about the narcissism and bloated sense of entitlement of professional athletes, are going to be absolutely shocked if they turn out to be true?
FRIDAY, OCTOBER 8, 2010 - "In America, the young are always ready to give those who are older than themselves the benefit of their experience." Oscar Wilde
*********** Hugh, About what I would do in the game you describe in Westport, WA. Depending on time left on the clock, I would line up on the opponents' 15 for a free kick....kick a field goal....making the score 26-23.....and then kick my onside kick down by 3 pts.
Take my chances from there.... then if we got close enough to kick another FG, we would essentially tie the game and take our chances in Overtime, providing we didn't score a TD.
Good thinking, except... only following a fair catch (or an awarded fair catch) can a free kick result in a field goal. (Rule 8-4-1a: "The field-goal attempt shall be a place kick or a drop kick from scrimmage, or from a free kick following a fair catch, or an awarded fair catch")
Beyond that, I don't think I'd do it that way, anyhow, because if the kick were legal and the kid were to miss... game over. And even if he makes it, you still have to onside-kick successfully - and now from your own 40.
*********** Coach,
I just read your updated NEWS for today and read:
Hugh,
Boy, was Coach Mackell right about running the circle! (CIRCLE DRILL) As I said we were having trouble going through the right hole and kicking out so we ran the circle adding the C, QB, B back and wingback along with a kickout defender so we have a skeleton of all the key roles. Just like he saw, it showed us a lot about what we are doing wrong and also helped us teach the backs how to read their blockers ("run to their color" as it were). We run all the kids through a live drive blocking drill every day, so between the two drills we can practice all the plays with contact even though we can't run an 11 on 11 scrimmage.
It's humbling to hear a successful guy like him say his eyes were opened.
Reminds me how open I need to be about learning every day of the job.
Christopher Anderson
Arlington, Virginia
Man, in less than 24 hours I get words from you that uplifted and humbled me and then I read this and reflect. Truly humbling to know that my words to you had a positive affect on another coach & team and that wasn't my intention when I wrote you.
This season has been one of many changes for me as a coach with regards to my overall view of my purpose and place. In the middle of a career change for the better and a few issues that had to be dealt with the team currently sits at 6 & 0 and I am not chest beating. I am proud of my players for being a band of "undersized-big hearted" kids that give me their all. I can't even begin to explain my emotions when it comes to how I look at the 2010 season and we still have 3 regular season games left before the post season. I can only pray that all that I am and have been to all of those whose lives I have been blessed with being a part of that I leave nothing but positives with them as you have for me.
I have been coaching for almost 19 seasons and running the Double Wing for almost 10 of those and nowhere in all of the football world, in all of my travels, have I found a better band of brothers than those of us that run the DW (yours). As you are always there for me I will always be there for the next up and coming coach. The beauty is that as long as I remain open to change yet stay true to the core system of our offense, success is all in how you measure it and is success inevitable.
I can't thank you enough for everything that you have blessed me with, even non football information.
Keep Coaching,
Brian Mackell
Pasadena, Maryland
*********** Good Morning Coach,
Early here on the East Coast and I am sure you are still getting a good nights sleep but reading this morning's News I wanted to comment on a favorite topic of mine and that is the 'Circle Drill'. I see another coach has learned the benefits of using this tool to teach the Offense. I have found this to be one of the best things a coach can do to work on the DW offense. There are so many uses and so many good ways to teach the proper techniques of the DW that a coach is only limited by imagination. Anyway, I would recommend its use to any DW coach looking for a way to make the offense better.
Jack Tourtillotte
Boothbay, Maine
Jack, a veteran Maine coach and one of the best Double Wing coaches I've come across in my 13+ years of coaching the offense, was my line coach in 2008 at North Beach HS in Washington. Call it bragging if you wish, but between us, in that tiny little Washington school, I doubt that the Double Wing has ever been better coached. HW
*********** Hugh,
We played neighboring Farmington on Friday night and it was, for the fans, a great game. We scored with :11 to go to make it 20-21 them. Ran Super Power (best back in the best hole) to win the game and got stopped on the one foot line. Again, for the fans, it was one for the ages.
For us coaches though, it was one we let get away. Held them to just over 200 yards total offense (75 yard td reception, 50 yard counter for td, 35 yd td reception...you tell me how much more offense they actually had). We had 255 rushing on 54 carries and threw for 105 more (7 completions on 14 attempts). But, when you make Week 1 mistakes in Week 6, you lose games like that. Random procedure penalties, linemen holding on Reach, center jerking the ball and setting it back down. All stuff that you ultimately say "we didn't play well enough to win that game." Lots of work this week.
On a brighter note, our Blackout for Easter Seals week concluded with the game. It is an event that we started three years ago (I have two daughters who receive Easter Seals therapy services) to help raise awareness about children with disabilities. This year we raised over $9000, with our three-year total nearly $35,000! Even better, the event has grown throughout the state and beyond and this year thirty-three schools are participating. We even have a schools in Missouri and Hawaii. If any coaches would like to know about the event and the educational curriculum that comes along with it, please have them contact me - thollis@elmwood322.com
Thank you and have a great day,
Todd Hollis
Head Football Coach
Elmwood High School
Elmwood, Illinois
*********** Loudest noise ever made at a football game? Wikipedia says it occured at Washington's Husky Stadium during a 1992 game against Nebraska, when ESPN measured the noise at 135 decibels. In 2007, CBS got a reading of 130 decibels at LSU's Tiger Stadium in a 2007 game against Florida, and Oregon's Autzen Stadium came in at 127.2 decibels in a 2007 game between the Ducks and USC. (Pain in the human ear begins around 125 decibels.)
*********** A friend of mine actually received the following e-mail this week…
Coach ------,

I need some help from you to get all the senior action photos. I have not gotten good shots of numbers 26, 30,54, 60, and 75.I have seen most of these players on the field at some point but have not been able to get good shot of them. If you could give them a little more playing time during the game I would appreciate it. Any question please contact me.
Thank You

------- Family Photography
My friend's reply…
Dear Mr. -------

I understand your predicament, however, at the Varsity level we play the kids who have earned the starting positions and who give us the best opportunity to win. Playing time is never guaranteed to any player. Obviously when ever the opportunity presents itself (in games of large margin for ex.) we try and get all of the reserves into the game. I hope you understand, but our first responsibility is to put the team in the best position to win the game.

Thank You,

Coach ------
*********** Dinner was on Cowboys' rookie Dez Bryant last week, and the bill at a Dallas steakhouse came to $54,896, according to USAToday.com. It didn't say whether that included the tip, which at 20 per cent would come to $11,000 (if you round up, the way I do).
Supposedly, members of America's Team were tossing down shots of cognac at $1,000 a pop. Think about that for a minute - $1,000 a shot! And there's not a damn one of those gluttonous fools who would have been the wiser if you'd been pouring the shots out of a bottle of Christian Brothers Brandy.
*********** The year before the WFL, I played with the Rockford Rams of the Central States League...your mention of looking like a semi-pro team that "practiced twice a week" brought back the memory that we were paid, not by the game, but by the number of practices we attended!!! (your contract amount divided by 2, 3 or 4; depending on the scheduled practices for that week)
Coach Kaz
Mark Kaczmarek
Davenport, Iowa
Hahaha- I did the same thing when I was coaching the Hagerstown (Md) Bears. Anyone with experience knows that the secret to success if semi-pro ball (and, I might add, in Europe) is getting guys to practice. We figured they were playing for fun, so we paid them to practice! (Coach Kaz and I are blood brothers of a sort – he played center for the New York/Charlotte Stars of the WFL)
*********** LSU and Tennessee? Two big-time screwups on the same play. Wanna know what I think? I think it's a case of too many coaches on the staff.
The old saying goes, "That which is everybody's business is nobody's business." ( Izaak Walton,)
*********** I happen to know John Bonamego slightly. He once coached at West Point, where assistant coaches are all provided housing "on post," and as a result, he told me, he found himself living in the same house Vince Lombardi once lived in.
I find it incredibly sad that he had to take the bullet for the Dolphins' special teams failures against the Patriots Monday night, but as Miami's special teams coach, he was the most likely member of the organization to be served up as a sacrifice.
Oh, well. At least give the NFL this – there is, often, accountability. If only our governments – city, county, state, federal – would send people packing every time their f—kups cost taxpayers millions.
*********** USC (University of Southern California, that is) claimed that the "SC" that USC (University of South Carolina) wanted to trademark for it baseball caps was too close to the one they've been using on theirs, and the courts upheld USC (Southern California).
At last report, the US Postal Service will still be able to use "SC" as its abbreviation for South Carolina.
*********** I heard a guy on the radio say that after his kid's youth football team won by too big a score, its coach was asked to write an apology.
Wow. What a pain in the ass it must be, having to write an insincere apology to someone you have no reason or desire to apologize to.
To save you time, should you ever have to write such a letter, simply print out the following and fill in the missing details.
Dear ___________________,
Please accept my apologies for beating you, ________________.
I'm really sorry that your kids had so much trouble blocking and tackling. Not to sound like a know-it-all, but I have found that practicing those things seems to help us a lot.
I apologize for not telling my quarterback to wait until your kids were lined up correctly on defense before snapping the ball.
I'm also sorry that your kids just couldn't seem to execute the spread offense that you seemed to be trying to run. I know that it works, because I've seen it run at Texas Tech. But what can you do when you holler your loudest at the kids to "block somebody," and they still don't?
I felt really bad about all those turnovers, too. Not much you can do about that, right?
Same goes for all the penalties.
And don't you just hate it when your center snaps the ball over your punter's head? Nobody felt worse than I did when it happened to you for the fourth time.
I'm sorry that the game caused you to lose your temper with your kids and blame them afterwards for the loss. Maybe now they know how much it means to you, and next week they'll play a lot better so as not to disappoint you.
Sincerest apologies and best wishes,
_______________________
*********** Old friend Sam Knopik, head coach at Kansas City's Pembroke Hill School, wrote to tell me this one. Senior Night's coming up, and among other things, he asked his players who(m) they'd like to thank, and why.
And one kid wrote, "My Mom for getting me out of soccer at an early age and putting me in football."
*********** Regarding the guy who expected special arrangements for the Philadelphia Bell reunion...
Must have been Jim Corcoran that sent that in?
Tony Douglas
Kenova, West Virginia
He won't be there, since he's gone to meet his maker. But he would have sent instructions on where the limo was to meet him.
*********** Wait a minute… A disgruntled Randy Moss (shouldn't "disgruntled" be capitalized, so it can be his real first name?) is swapped for a third-round draft choice... and it's being called a "blockbuster" trade?
*********** Coach,
I have communicated with you before and ordered materials from you as well. This year we started a football program from scratch on both the high school varsity and middle school level. I only had one person on our 27 man roster that has played 11 man high school football before. My first goal was to hire someone that I could trust and would be in support of the double wing offense. Fortunately I was able to hire a long time coaching friend to assist me and be the middle school head coach.
Before I even took the position I had decided if I get the job that we will be a double wing team. The first play that we installed on both levels was the Power. We are having the typical first year difficulties but we have scored each game and we are improving defensively each game. Our middle school was able to get the program's first ever victory. To see how much our program is counter to anything in our area our middle school has played three teams that run shotgun spread and call audibles from the sidelines. Their middle school kids must be smarter than ours for them to be able to do (can't hide the sarcasm there). To get their victory our middle school had a 60 yard drive with 4.5 minutes left. 40 of those yards were off the wedge because the other teams lineman were barely getting in a stance because they were so tired.
We moved to widlcat on varsity due to injuries and having to start a freshman at QB. Our kids love it! We were down 14-7 at half to a team that beat us 61-6 earlier in the year. They scored two late on us when we could not convert some 4th downs. Our kids know that the double wing will be successful as long as they execute.
Overall our kids love the double wing and the attitude it brings. We have not won a game on varsity yet but our kids see the improvement and know our time is coming. It is exciting to see this grow from the ground up and the double wing offense fits perfectly with the type of philossophy our program is being built on.
Are you having an Atlanta clinic again this year? We are 20 minutes south of Atlanta so we will be there if you are.
Thanks again!
Jeremy Blackstock
Athletic Director/Head Football Coach
Creekside Christian Academy
McDonough, Georgia
Coach Blackstock,
I appreciate your taking the time to write me. You have no idea how much a note like yours means to me.
I admire your taking on the challenge that you did. Obviously it is a form of ministry to those young men whose parents care enough about them to want them to be in that environment.
I'm glad for any small part that I can play in your program's development and I hope you know that you can bounce any thoughts off me at any time.
I plan on being in Atlanta sometime in February or March and I hope to see you there!
Best wishes for continued success
*********** You wrote: "Whiskey Tango Foxtrot. (WTF) Yale lost to… Albany???"
Not a bad 1-aa program over here. SUNY Albany is a state school in the new york state university system. They have some quality wins this year and in years past against Maine, New Hampshire, and Delaware
Bob Ford is their 7 year old coach and he has a boatload of wins
Pete Porcelli
Troy, New York
I do know of Coach Ford but I didn't realize what he's accomplished.
What bothers me most is that it's just one more sign of how the football world has turned upside-down since my college days, when Yale, which in my freshman year drew 244,000 in seven home games - an average of just under 35,000 - is now playing schools that have trouble drawing 5,000.
That was a world when Duke and Army were strong, if not powerful, and I have trouble outgrowing it. Notre Dame fans can relate.
The world has changed. When I was in college, Boise State was a junior college.
Did I say the world has changed? Get this - ESPN noted on its Thursday night game that this week's AP poll was the first since 1960 not to include either Notre Dame, Penn State, Texas or USC.
BTW- Coach Porcelli, in addition to coaching his high school team, serves as offensive coordinator of the semi-pro Troy Fighting Irish, who recently won their state semi-final game against the Lyndonville Tigers, 35-28, and now face the Jamestown Chiefs for the state title. (Coach Porcelli, a successful HS Doubl-Wing coach, was aware of the possibility of running my system from "Spread" (Double split-end) formation, and made the determination that that best fit his personnel at the semi-pro level. His results with the Fighting Irish have validated his decision.)
NICE ARTICLE IN THE TROY RECORD…
http://troyrecord.com/articles/2010/10/07/sports/doc4cad494c17b95293709621.txt
*********** Hugh....this college FB season looks interesting.....a Big Ten guy like I am is still holding out that a one-loss team from the Big Ten can make the National Title Game.....Oregon looks to be a lock, but then everyone thought they would kick Ohio State last year in the Rose Bowl.
I've betting on the Big Ten vs. Alabama, hoping some Pac-10 school can derail both Oregon and Arizona. How bout Arizona beating Oregon and Stanford returning the favor and beating Arizona. There's my chance for Iowa to run the table and play Alabama! We've got to have help from the BCS rankings! I think Iowa's SOS ranks #35....with a win over the #1 ranked Strength of Schedule school, get this.....IOWA STATE!
Iowa gets help also from each Iowa State win like the one last week over Mike Leach's re-done Texas Tech team of Tommy Tuberville!
Shame what happened to Mike Leach....you would have liked Mike Leach....he was a strange duck but he knew his football....I knew him when he and Hal Mumme coached at Iowa Wesleyan in Mt. Pleasant, IA. Leach was always kooky! But they could recruit Somoans and throw the hell out of the ball....their games took at the minimum, 4 1/2 hours to play! Nothing to throw the ball 60 times! Lots of athletic players who could run and hit! Leach was Mumme's offensive line coach @ Wesleyan and later, OC @ Oklahoma for Stoops before leaving for west Texas!
God Bless Old Friend,
Don Capaldo
Keokuk, Iowa
The Big Ten is looking pretty tough. Your Hawkeyes look good. They already took care of Penn State, and they have Wisconsin, MIchigan State and Ohio State in Iowa City. And every Arizona win helps them.
Oregon is plenty good. They have Southern Cal in LA, but they get Washington and Arizona at home. And, of course, the usual season-ender against Oregon State.
I miss Mike Leach and I bet Texas Tech does, too.
I imagine he'll have his choice of several programs after this season.
*********** This was Bill Plaschke, last week, writing in the Los Angeles Times...
So how did you handle the heat?

If you were one of thousands of local high school football players laboring under heavy pads this week, the answer was, dangerously.

If you were Garrett Updegraft, one of the captains of the Newhall Hart High freshman team, the answer was almost deadly.

If you were his coach, you should have treated it more seriously.
Ouch. Bill Plaschke is a very influential writer, who normally devotes his attention to other subjects than high school freshman sports, and I don't think I would want him to have me in his sights.
Monday a week ago, in the Santa Clarita Valley north of Los Angeles, it got as hot as 113 degrees. But Garrett Updegraft and his teammates practiced. In full gear.
Said his coach later, "We have a lot of hot days here. We're used to it."
(Unlike many states, California's high school governing association takes no stand on when it is inappropriate to practice.)
That night, Garrett complained of a headache, and in practice Tuesday, with the thermometer right at 100 degrees, he complained of dizziness and shortness of breath.
Witnesses said he was ordered off the field by the coach, who later claimed that he sent Garrett to a shaded area to cool down.
But while the team continued to practice out on the field, Garrett went into convulsions.
"He was shaking, his vision was blurry, he wasn't breathing right," said the parent of another player, himself a former major college baseball coach, who was seated nearby. "I was very scared for him."
The parent treated the player with water and cold towels while the coach was notified. When he arrived, he determined that Garrett didn't need emergency medical treatment, and phoned the kid's mother.
"The first thing he said was, 'You need to come pick up your son,' " the mother told Plaschke. "The tone of voice was like, Garrett had done something wrong."
Rushing to the field, she got her son and headed for a local medical center where, she said, the doctor told her the heat had brought on a recurrence of a dormant childhood asthmatic condition. And he had something to say about football in the heat.
"He said he couldn't believe they were practicing in this heat," she said. "He said Garrett was lucky he was in such good shape, or it could have been much worse."
That night, Garrett felt good enough to attend the team's weekly pizza party. Anticipating the coaches' skepticism about his rapid recovery, the mother said she brought him there to show the coach, who had not called to check on Garrett, that her son was okay.
Garrett was cleared to play in that week's game and evidently he did.
Okay, okay… maybe they shouldn't have practiced. That's a matter for debate. I'm not a hot weather guy, myself, which is one reason why I love the Pacific Northwest. But face it – an awful lot of football is played in hot weather, and when you consider that more than a million boys are playing football at the high school or youth level, much of it in hot weather, I'd say that overall we're doing a pretty good job of dealing with heat.
But there is one other issue here - a theme throughout the story that should send up red flags to all coaches, and that is a mother's perception that the coach didn't seem to care about her son's welfare…
And her perception seems to stem not so much from what her son's coach did as from the way he did it - what she sensed as his attitude toward her son.
I'm not going to jump on the coach, as others seem to be doing. End of story. I hope. (Depending on how long it takes a coach to get over being hammered in one of the nation's largest newspapers by one of its best-read columnists.)
But one way or another, there is a parent who's angry with him, and that part of the story could perhaps have been prevented.
Look - out on the field, we can get caught up in the demands of practice, and we can become impatient with anything or anyone that disturbs things. But we need to be constantly aware that it's often an accumulation of seemingly little things, things we may not give lot of thought to at the time, that can lead to lawsuits and influence juries…
When sending a kid off the field with an injury or a health issue, you must make it clear to the kid and everyone else present why you're doing so – that you're doing it out of concern for the player's health. Period. This is no time for sarcasm or wise cracks, either. There can't be any chance of anyone interpreting this as punishment, or as singling him out as a malinger or a wussy.
On the chance that something serious could occur while he is on the sidelines, he should not be sent very far away, and he should not be sent off to be by himself. At the very least, you could ask a parent, if there's one nearby, to please keep an eye on the player and notify you immediately if there's any problem.
Conceding that the mother could very well have mistaken the coach's tone in his phone call ("The tone of voice was like, Garrett had done something wrong"), you need to be very careful about the tone you use in speaking to a parent whose son has been injured or has experienced a health problem.
And always – always – you (the head coach, not a delegated assistant), must follow up. When Mom came and got her son, I'd have asked her to please call me as soon as she knew something. And failing that, I'd have made sure to call her. Several times, if necessary.
And finally, when I saw him at the pizza party, I'd have let the player (and his Mom) know how happy I was to see him and to learn that he was okay.
*********** You wrote "Tim Tebow may no longer be at Florida, but the jump pass is still in the Gators' playbook, but when they brought it out, down on the goal line, Bama was ready for it – and intercepted."
Maybe the Florida QB didn't know that the official would not call "traveling" if he didn't throw the pass and then run it in
Tim Brown
Jackson, Tennessee
*********** If it doesn't work for the NFL, what makes the Tribune Company (Chicago Tribune, LA Times, Baltimore Sun, etc.) think it's going to work for them?
"Working at Tribune means accepting that you might hear a word that you, personally, might not use," the company's employee handbook warns. "You might experience an attitude you don't share. You might hear a joke that you don't consider funny. That is because a loose, fun, nonlinear atmosphere is important to the creative process. This should be understood, should not be a surprise and not considered harassment."
Right. Try that one at your sexual harassment trial.
*********** Coach,
I am watching your "Installing the System" video right now as I just received it. This video is AWESOME and very, very informative. I can't wait to watch and learn from "A Fine Line". I am sure this will cause me to have to buy your other videos, especially the Wildcat!
Thank you for your effort it making these available to youth coaches like me.
Ben Robinson
Dacula, Georgia
*********** Dan Dierdorf, CBS analyst and fomer all-pro offensive lineman on the NFL of his time…
The game was different. You didn't substitute as much. I'm not sure the guys were tougher. The game was a little more personal back then. If you were a good player, you were with one team your whole career. You hated guys on the other team; you never shook hands with them. Now, you see love-fests as the 50-yard line. Now, it's we're all part of one big family, maybe because of free agency. Then, it was my family hated your family. I have a hard time imagining getting a shout-out in a tweet from Dick Butkus saying, "Great game."
*********** I guess nobody else will say it, so I will…
There is no earthly reason for women to be doing football play-by-play
Broadcasting the UAB-UCF game, Beth Mowin was really hard to listen to. So I didn't listen.
*********** Had an epiphany during the Sunday night's game as to why the NFL has gone to such lengths to protect the quarterback - Todd Collins ended up under center in a nationally televised game.
Not good.
I recognize that Martz can coach a pretty potent offense. Only problem is that his recent offenses were among the league leaders in sacks and interceptions (along with fewest rushing yards)
A recipe for disaster - team an offensive coordinator who loves running four-or-five wides and has his QBs take a seven-step drop with a team that has a bad offensive line and a QB who threw 26 interceptions last season. That Chicago GM Jerry Angelo still went ahead with the hiring is a real noggin scratcher
Ned Griffen
New London, Connecticut
Amen. Mike Martz does tend to skate out where the ice is thin, doesn't he? HW
*********** There have been many reasons put forth as to why western Pennsylvania has always been such a hotbed of high school football. One reason certainly had to do with its hardnosed population – an amazing mix of dozens of different nationalities, drawn there by the demand for workers in its steel mills and coal mines. People who lived daily with life and death in the workplace put a premium on toughness and scoffed at the dangers of football.
Another reason, though, was an accident of geography. Partly because of the twists and turns of its rivers, partly because of the many "hills and hollers" of the Allegheny Plateau, western Pennsylvania became an agglomeration of hundreds of towns, each built around its mill or mine, each with its own high school, and each high school with its own football team, to defend the town's reputation against outsiders. Friday nights in the fall became the hieight of the social season.
Rivalries approaching the level of feuds grew up between neighboring towns throughout the region.
Alas, though, the mills are gone and the mines that supplied them are closed. The area has been dying economically for several decades, and when the steel industry left, tens of thousands of people did, too. (It's one reason why there's a loyal Steelers' following in every rival NFL city.)
Now, though, comes a sobering article in the Pittsburgh Post-Gazette about the way the chronically declining economy of Western Pennsylvania has resulted in the closing of some high schools - and the consolidation of others – with the result that many small towns have lost the one thing that identified them: their high school football team.
http://www.post-gazette.com/pg/10280/1092984-55.stm
It's very sad. I see it in the Midwest when I go there.
In northwest Iowa, for example, some time ago Battle Creek and Ida Grove merged, to form Battle Creek-Ida Grove, (absurdly abbreviated locally as BCIG).
Nearby, Odebolt and Arthur also merged to form Odebolt-Arthur.
But as populations continued to decline, another merger came about:
Battle Creek-Ida Grove-Odebolt-Arthur.
Now, obviously, it's better than having no football team at all, but any way you slice it, four small towns have lost a piece of their identity.
*********** Say a prayer for Iowa DC Norm Parker, one of the very best in the business, whose right foot had to be amputated as a result of complications from diabetes. Coach Parker is out of the hospital and hopes to return to the sidelines before the end of the season.
*********** Over the past 30 years, writes the New York Times, consumption of sugary beverages in the United States has more than doubled, to the point where nearly one-sixth of the average teenager's calories comes from soft drinks.
In New York City, where an estimated 57 percent of adults and 40 percent of children in the city's public schools are overweight or obese, leading to escalating costs of treating obesity-related diseases, officials are hoping to do something about it: they're asking the US Department of Agriculture for permission to bar the use of food stamps to buy beverages with low nutritional value that contain more than 10 calories per eight-ounce serving.
With Gatorade – sorry, "G" – included in the list of banned substances, I would suggest that as part of the city's marketing campaign, they require the Giants and Jets to dump buckets of skimmed milk on their coaches following wins.
Oh, wait – those "New York" teams play in New Jersey, don't they?
*********** And I always thought his family came over here from Norway…
I read a post online in which a guy referred to a coach at Notre Dame named "Kunte Rockne."
*********** Coach – I don't know if you've seen this yet, but there is a prep school in RI that refuses to play another school in its own league because of the disparity in sizes of the players (three offensive linemen over 300 lbs, one of whom weighs in at 350). Interesting to note that one of the proposed solutions offered by the school with the larger players is that they play the game at "half speed" to ensure no players get hurt. (Because we all know no one ever gets hurt playing at half speed.)
http://rivals.yahoo.com/highschool/blog/prep_rally/post/Massachusetts-school-pulls-out-of-game-citing-si?urn=highschool-274799
Alan Goodwin
Mooresville, North Carolina
Allowing for the fact that I only know what I've read, it does sound suspiciously like schools with widely differing values playing in the same league. Sounds like a Notre Dame somehow persuading Ivy-League schools to admit it, athletic scholarships and all, and the Ivy League teams, too polite to deal with the situation, going along with it, drubbings and all. I can't say what I'd do if I coached at St. George's, but it seems to me that they could be hiding behind the safety issue when the real issue is whether this Lawrence Academy may have something other than a rigorous, college prep curriculum to attract the kind of talent that enables it to consistently beat the sh—out of the other league teams. I would think that if enough other members of that league would take the same action as St. George's, instead of providing Lawrence Academy with punching bags, the problem would solve itself.
(I would love to hear what the other league members have to say about Lawrence behind closed doors.)
*********** Three observations about the K-State-Nebraska game:
1. Nebraska is really good. (It hurt me to see them beat K-State, a Black Lion team, but give the Huskers credit.)
2. If the Heisman goes (as I think it should) to the best player on the best team, it has either got to be Mark Ingram again, or Taylor Martinez. I am leaning toward Martinez, because without him, Nebraska is merely very good, while without Ingram, Alabama is still the best.
3. I'm not sure I've ever seen a team tackle as well as Nebraska. When they hit you, that's it. You stay stopped. No extra yardage. All you doubters that I've had to respond to over the years might want to take note – they hit high, and they stay on their feet.
TUESDAY, OCTOBER 5, 2010 - "The secret of a good sermon is to have a good beginning and a good ending; and to have the two as close together as possible." George Burns
*********** I believe I mentioned that in late October, the Philadelphia Bell teams of 1974 and 1975 (World Football League) will be holding a reunion in Philly, and a couple of guys have been doing outstanding work in trying to put the deal together.
One of their biggest challenges has been trying to contact guys last seen more than 30 years ago.
90 per cent of the guys they've contacted have expressed interest in attending. And then there are always those few like this one, still living in a dream world where little people are so thrilled just to be in his presence that they'll cough up money for the privilege.
He sent this reply …
definitelty interested tell me more... airline hotel sponsors .....underwriting this ......
Haw, haw!
Rich Pollak, who back in 1975 was in charge of group sales and is now in business in Dallas, nailed the guy good, responding:
We would love to have you sponsor and pay for all the events!
CARLING BLACK LABEL AND MRS. PAUL'S FISH STICKS, OUR MAIN SPONSORS FROM 1975 ARE OUT OF BUSINESS AND DECLINED TO PAY FOR ANYTHING!
THERE IS A DISCOUNT ROUND TRIP FLIGHT FROM DALLAS TO PHILLY FOR $299 ON AMERICAN AIRLINES WHICH EXPIRES TODAY.
PLEASE FEEL FREE TO GET US SOME SPONSORS
*********** Coach,
What is your code word for moving the X end over and split out? I know you have used Omaha, but if I remember correctly, that aligns the X end tight next to the Y end. Thanks.
X End split right would be "OVER."
Move him in to a couple of yards outside the C Back and it is "OVER SLOT"
(Slot on the right with X end Over would be "SLOT OVER")
And, as you know, "OMAHA" takes the place of "OVER TIGHT"
*********** Brewing giant Inbev is a bit uneasy these days as sales of Budweiser continue to slip.
There are a number of reasons, of course, including the fact that Bud drinkers have been growing older and they haven't been replaced by younger drinkers, who have a habit, annoying to marketers, of rejecting their elders' preferences. Another reason is that marketing dollars that once were spent on Bud have been diverted to Bud Light.
But as an old-time beer marketer, I spotted another potential reason: a lack of respect for Budweiser and its tradition.
In talking about the company's recent "sampling" (giveaway) of Bud at selected locations, Inbev's chief marketing guy said, "We want them to taste the brand."
Did you get that? "The brand." As if Bud is just another beer. Or cola. Or pain reliever. Or toilet paper.
I guarantee you, this guy is just a suit who might as well be selling cola or pain relievers. Real brewers, more than any other manufacturers, took – take – great pride in their product, and no member of the Busch family would ever have referred to their company's flagship product as "the brand."
*********** Nevada is ranked in the top 25, for the first time since 1948, when the Wolfpack went to the Harbor Bowl, no longer in existence.
I have a connection to that season through my college coach, Jordan Olivar, about whom I wrote...
He was the first of three members of his Villanova squad to later coach the Wildcats (Raimo and Bell were the two others). When he took over, it was 1943, war time, and not a good time to be coaching a college team that found able-bodied players wherever it could and had to play the likes of Army's great Blanchard-and-Davis teams.

He took his lumps for a while, absorbing an 83-0 defeat at the hands of mighty Army, but he built well and managed to compile a 33-20 record in his five seasons at Villanova. Two of his teams went to bowl games: in 1947, Villanova lost to Kentucky - coached by Bear Bryant - in the Great Lakes Bowl, 24-14; in 1948 his team finished 8-2-1, including victories over Texas A & M, Miami and North Carolina State, and a 13-13 tie with Coach Bryant and Kentucky.

The Wildcats capped the season with a 27-7 win over Nevada in the Harbor Bowl in San Diego.

It was on the way back from San Diego, during a change of trains in Los Angeles, that he learned that Loyola, the small Catholic school whom he'd once played against, was looking for a football coach. He remembered his first view of the Pacific from the Palisades, and how he'd been taken with California, and decided to get off the train to call Loyola and inquire about the job.

As his son (and my college teammate) Harry Olivar told me the story, it was January 19, 1949, and as his dad got off the train in L.A.'s Union Station to make the phone call, it was snowing!

"In California?" he asked himself. "Who needs this? We have snow in Pennsylvania."

But he made the call anyhow. He got through to a receptionist, who told him there was no one in the athletic department. "It's Sunday," she reminded him.

He was tempted to say, "That's too bad," and get back on the train, but instead he persisted. He asked, "Isn't there someone I can speak to about the football position?"

"You could probably talk to Father Connelly," she said. "The priests live on campus. He's the Athletic Director."

Coach Olivar managed to get hold of Father Connelly and explain who he was and why he was calling, but the priest cut him off short, telling him, "I think we've already filled the job."

Coach Olivar asked, "Who do you have in mind?"

Father Connelly replied, "Joe Sheeketski, of the University of Nevada."

"Would it make any difference," Olivar asked, "If I told you my team just beat his team, 27-7?"

Said Father Connelly, "Maybe we should talk!"

So while the Villanova team's train pulled out of Union Station without him, Coach Olivar took a taxi to the Loyola campus to meet with Father Connelly.

Their meeting went well. Later that day, Olivar called his wife, back in Pennsylvania, and told her, "Pack your bags. We're moving to California."
Read more: http://www.coachwyatt.com/jordanolivar.htm
*********** Someone suggested calling what Army's doing offensively the "Wingbone."
Only one problem: it's been done.
When the inventor of the Wishbone, Emory Bellard, took the head job at Mississippi State in 1979, he "broke the bone" by putting one of his halfbacks in a wingback position and he - or someone who knew him - called it the Wingbone.
He had a couple of really good years with it, thanks in large part to a QB named John Bond (not the former Army asst with the same name)
ESPN.com's Chris Low wrote, not so long ago...
Having not played quarterback until his senior season of high school in Valdosta, Ga., Bond fit perfectly into Bellard's wingbone, which is essentially what Air Force is running today. He was 200-plus pounds, tough and could run. He once had an 87-yard run against Auburn in 1982 and threw two 80-yard passes that same season, although the Bulldogs didn't throw it much in those days.
As a senior, Bond rushed for 13 touchdowns, which is still tied for second most in a season for an SEC quarterback.
His favorite moment at Mississippi State was beating Alabama in 1980 as a freshman and snapping the Crimson Tide's 28-game winning streak.
*********** Portland takes great pride in its craft brewers, yet despite having more breweries than any city in the world, Portland also leads the country in per-capita consumption of... Pabst Blue Ribbon.
Many say it's part of the overall rebelliousness of the Portland culture, but the Lutz Tavern, a venerable old Portland establishment, claims to be the place where the Pabst trend started.
The owner claims it was simply a matter of choosing a replacement for Blitz Beer, his best-selling brand, when its brewery went out of business. The Pabst label most closely resembled Blitz's.
Alas, now the Lutz Tavern itself is closing its doors for good.
One of the problems, said co-owner Lilias Barisich, is that people don't sit around and talk much anymore, and, she added, the students at nearby Reed College are the worst:
"I don't know how many times I've seen a good-looking guy sitting next to a good-looking girl, and they're both on their laptops looking at online dating sites."
*********** Hugh,
Boy, was Coach Mackell right about running the circle! (CIRCLE DRILL) As I said we were having trouble going through the right hole and kicking out so we ran the circle adding the C, QB, B back and wingback along with a kickout defender so we have a skeleton of all the key roles. Just like he saw, it showed us a lot about what we are doing wrong and also helped us teach the backs how to read their blockers ("run to their color" as it were). We run all the kids through a live drive blocking drill every day, so between the two drills we can practice all the plays with contact even though we can't run an 11 on 11 scrimmage.
It's humbling to hear a successful guy like him say his eyes were opened.
Reminds me how open I need to be about learning every day of the job.
Christopher Anderson
Arlington, Virginia
*********** Coach,
I read your News today, and got a big kick in the seat of my pants from the post about the linemen's stance being too wide. Went back and watched film from our last games - where we had linebackers slashing into our backfield and disrupting plays - and sure enough, they were coming right between the shoulders/hips of our playside linemen!
We will fix that today!
That man's wife is a genius!
DJ Millay
LaCenter, Washington
*********** Everybody knows that breast cancer is a killer. So, too, are prostate cancer, lung cancer, pancreatic cancer and skin cancer. So is heart disease. So is diabetes, Lou Gehrig's disease and AIDS. And child abuse. And Alzheimer's Disease. And automobile accidents.
But here it is, the first weekend in October and it looks as if we'll be spending the rest of the month having our awareness of breast cancer – but none of those other killers - raised. On display at NFL games will be pink shoes, gloves, caps, ribbons on the fields and on the coaches, goal post pads, whistles, towels, doo-rags, head and arm bands, chin-strap cups and mouthpieces. I'm sure I missed something.
I'm assuming that the point of this is to raise more than our awareness. I'm thinking money, because awareness by itself isn't going to fund a whole lot of research.
Question: When will our awareness of breast cancer be sufficiently raised that the NFL can take the money spent on all those gimmicks and donate it to breast cancer research?
Question: With all the other worthy causes in need of help, too, is this whole pink thing motivated by the guilt of a hypocritical league that knows it's infested with monsters who treat women other than their own mothers or grandmothers as sex objects?
*********** Believe it or not, every year the WIAA (Washington's State HS Assn) sets aside a weekend during which the officials use blue flags.
The first time I saw it, when the officials informed me that they would be doing so in order to raise awareness of prostate cancer, I told them that in my case a digital exam had done pretty much the same thing.
*********** I loved this quote from the Navy quarterback following Navy's loss to Air Force, its first loss to another service academy after 15 straight wins:
"Everyone is really down right now. We've never had this feeling before, losing to a service academy, and we don't know how to take it."
Suggestion: Since presumably you're there to become an officer in the United States Navy, in command of young men and women: How about like a man?
*********** Consider yourself warned, should this ever happen to you...
In all my years of watching, playing and and coaching football, it was a first, and if it doesn't make it onto the AP national wire, it's probably because it happened way out on the edge of the continent, in Westport, Washington.
With less than two minutes to play Saturday night, my old school, North Beach, had a 26-12 lead over Ocosta and was driving for another score, when an Ocosta player pried the ball loose from the ball carrier, then scooped it up and ran it back 72 yards for a touchdown. After a successful two-point conversion, the score was now 26-20.
Time for an onside kick. And get this – at some point during all the action, North Beach got hit with three – THREE – personal foul penalties, all to be enforced on the following kickoff. BIG help to Ocosta, right?
Wrong. Because after the three penalties were stepped off, Ocosta found itself kicking off from the North Beach 15!
In effect, Ocosta wound up having to play target golf, having to land its kick within a strip of field only five yards from front to back: the kick had to go at least 10 yards for Ocosta to recover, but if it were to go five yards beyond that, it would be in the end zone, which under NFHS rules means an automatic touchback.
Alas for Ocosta, the kick did go into the end zone for the touchback, and North Beach was able to run out the clock.
Okay – what would you have done? Would you have had the foresight to realize where three penalities would put you? Would you have realized that you needed to decline one of those 15-yarders? (Would the officials have even thought to give you the option of declining?)
Probably most of us would have been so caught up in the excitement of the moment, so giddy at our sudden good fortune, that we wouldn't have given it a thought.
BUT – once we found ourselves teeing up the ball on the opponents' 15, would we have quickly realized that we needed a larger landing zone?
Would we have taken two or three delay of game penalties to give ourselves more room?
Oooo, I can hear some people complaining, that's unsportsmanlike.
I don't know about that. So what would they call those three personal fouls that put us in that spot?
*********** Hello Coach, My name is Greg Hood and I coach at a small private school in Hollonville, GA. Given your knowledge of running football I thought that you might give me a good answer to this question. Can a wishbone veer team with wide splits effectively run a power toss? We are currently playing 8-man football and doing very well, and we may move up to 11 man next year. We are an I-formation option team and run power effectively with the FB kicking out and QB leading through. Just for clarification I have no intention of pulling my BST, but a BG and QB lead seems to be a solid play against a defense that widens themselves to try to stop our veer.
Thank you for your time
Coach,
The answer to your question is a qualified "Yes."
First of all, large line splits invite playside blitzes, and you have no way to deal with that.
Second of all, without the wingback on either side, you do not have the choice of doubling with either the playside wingback/TE combination or the TE/Tackle combination. You are limited to the TE-Tackle combination. In fact, you may not be able to double-team at all - because of your large line splits, defenses can force you to block down across your front, meaning that you won't be able to double at the point of attack. That also means that your TE could find himself mismatched against a better man on his inside shoulder or inside gap. (In our case, our splits are so narrow that such a man is also on our tackle's outside shoulder, so the tackle and TE may double him.)
And, finally, you may have some difficulty pulling your backside guard against most defensive fronts (see the blitz warning above). Pulling the tackle is out of the question because with your large line splits, your backside TE will not be in the free-blocking zone, as ours is, and without that backside TE's "shoeshine" (cutoff) block, defenses will run you down from the backside.
In my opinion, it is going to be totally up to the defense whether or not they will let you run Super Power (Super-O, actually, since you will only be pulling the backside guard with your line splits), because they can easily set up to stop this one play; but it could be useful as something you could check to against defenses set up to stop the veer.
Coach, I just wanted to thank you for the insightful and very quick reply, I completely agree that this could not be a core play given the line splits and back alignment. I once heard a quote from an option coach, I believe it was Tony DeMeo, " easy to read, hard to block, hard to read, easy to block." my initial thought was to add iso, but what I really like about the toss is it gets the QB blocking and sends the message that he is a football player, just like any one else.
The ironic thing is that as my system has evolved, I now rarely lead my quarterback through. I have several good reasons for this, but one is that I have seen defensive backs going for the quarterbacks' legs as they lead the interference.
Here's how I advocate running it most of the time:
http://www.coachwyatt.com/88spNBpractice/88spNBpractice.mov
I would think that if you're a wishbone guy, your QB doesn't have to prove his toughness, anyhow!
********** She was standing at midfield of the new Meadowlands Stadium just before Sunday night's Bears-Giants game and making singing sounds, so I am going to assume that that was our national anthem that Kelly Rowland was performing.
*********** Good morning, Coach.
I now know why there was so much confusion and so many penalties for delay of game and illegal shift/formation on my son's team in the game Friday night. Talking with my son Saturday, it seems that the Coach had a different playsheet than he and several of the kids. And theirs was different than several of the other kids...My son said some of the guys were griping at each other in the locker room about "stupid penalties" when they realized that the armbands were different, and that the Coach's was different still.
Good grief.
Inexcusable.
That happened to me once - the first year I did it - when I gave kids their new cards and then out on the field I realized some of them still were wearing last week's cards. But that was at practice – not at a game.
From that point, I learned that whenever I give out new cards, I need to collect (and destroy) the old ones.
I also make sure that there is some distinguishing mark on each game's cards to tell them from the last game's.
And every time I give them new cards, I make sure to read aloud to them every play from my play sheet to make sure that the codes on my sheet correspond exactly with what's on their cards.
PPPPPPP (Proper Prior Preparation Prevents Piss-Poor Performance)
*********** Terrell Owens has a serious case of rabbit ears. When Kirk Herbstreit said on College Game Day that Cincinnati's offense was underperforming, despite the addition of T.O., the Great One responded by twittering his legion of admirers, "I dn't even kno who he is besides wht he does on college game day" and "Didn't even kno he played football."
Uh, Terrell, have you heard of a place called Ohio State? Maybe not. It's a real big college, see. You probably never heard of it because for some reason (I can only guess what it might have been), they didn't recruit you. Anyhow, Kirk Herbstreit played quarterback there, and as a senior he was the team MVP.
Now you kno.
*********** Black Lion enrollment… If it is not too late!
Middlesex High School Chargers---Saluda, VA---291 North Oakes Circle, Saluda, VA 23149---tcockerham@mcps.k12.va.us
T. Heath Cockerham
Head Football Coach
Middlesex High School
Saluda, Virginia
Coach-
No, it is definitely not too late. Glad to have you.
Long ago, my wife went to college with a girl from Saluda whose last name was Puller. Said her dad was a general in the Marine Corps. Stupid me. Only later did I learn that he was THE Lewis B. "Chesty" Puller.
Best of luck to you and the Chargers.
What a small world it is! Thank you--BTW: Let your wife know---The physical address of our school is 454 GENERAL PULLER HIGHWAY!
SATURDAY-
*********** Army played hard and well against Temple. Army is much-improved, but at some point Temple's superior strength in the line and speed at key positions made the difference.
In the hands of QB Trent Steelman, Army's waggle/bootleg looked very good as a run/pass option.
*********** It used to be routine for broadcasters to spend a little time before every game talking with the defensive and offensive coordinators of the opposing teams, to get some idea of what they'd be seeing. Evidently this is too much trouble for the fools who do the Army telecasts because they keep calling the Army fly sweep an "end around."
*********** Whiskey Tango Foxtrot. (WTF) Yale lost to… Albany???
*********** Did the colleges pass a rule saying that this year everybody has to use the shield punt?
You know, the one in which the seven front men take huge splits and release downfield immediately, leaving the job of protecting the kicker to the three men back there who form his "shield."
It's been leading to some horrendous collisions as defensive coaches send bigger and bigger guys up the middle to attack the three blockers and knock them back into the punter, and it seems to me it's just a matter of time before the same rules people who did away with wedges on kick returns (except for those "wedges" made up of no more than two men) outlaw it.
*********** Instead of players' names, Air Force had "values" on the backs of their jerseys, such as "SERVICE" and "FREEDOM."
I hope no Ivy League school finds out about this, or (if you watch Ivy League football) you'll be seeing "PEACE"… "DISSENT"… "DIVERSITY"… "NONVIOLENCE"… "PROTEST"
And if a guy is really big, "ALTERNATE ENERGY SOURCES"
*********** How'd you like to be the defensive staff at Tennessee, trying to explain how five guys went onto the field while only three came off? Was it that necessary to substitute at all?
*********** Lou Holtz' mispronouncing Oregon as "Or-i-gahn", over and over, is hard on the ears of anyone out here in the Upper Left Corner, but we're used to it. On the other hand, how do you defend a guy who's spent much of his life in the Midwest saying Ell-in-NOISE?
*********** Tim Tebow may no longer be at Florida, but the jump pass is still in the Gators' playbook, but when they brought it out, down on the goal line, Bama was ready for it – and intercepted.
*********** There's nothing worse than fumbling a kickoff return. It's right up there with a blocked punt in its ability to doom a team. Yet when an Oregon return man fumbled, Kirk Herbstreit excused it by saying he was "just trying to make a play."
My ass. You've done your job. Hang onto the g-d ball and leave it up to our offense to make a play.
*********** Whew. BYU is four games in and they've let their defensive coordinator go. Can any decision by a head coach be tougher to make than firing one of his top assistants? Was this a decision dictated to him by his AD? Is this a sign that he's the next to go?
*********** The curse of the passing team…
Duke and Washington State, both in positions to win and both in need of wins, had apparent TD's spotted short of the goal ("on review") and failed to score from the one in multiple attempts.
*********** I was half joking when I said that Joe Paterno might not want to start an 18-year-old QB at Alabama, but he didn't listen to me, and a punchless Penn State lost in Tuscaloosa.
Same thing this past Saturday at Iowa City.
So he's thinking of the future.
Has anyone yet thought about what an optimist JoePa has to be? Guy's going to be 84 in December - and he's going with an 18 year-old kid at quarterback?
*********** This week's STONES Award to Oregon's Chip Kelly.
(1) On 4th-and-one at his own 30, he went for it (and made it)
(2) After scoring to pull within 11 points of Stanford, he went with an onside kick (which Oregon recovered)
(3) About to be interviewed after the game by the Lovely Erin, he turned and said to the yahoos in the background, "Will you give us a little respect?"
(4) Asked what adjustments his defense made at halftime, he confessed that he concentrates on offense, answering, "I don't know."
*********** Anybody see Stanford QB Andrew Luck sell out to make a touchdown-saving tackle on a fumble return?
*********** WTF? The play is dead when a helmet comes off? Can I have heard that correctly? Hey - if I'm a defensive coach, I've got a Designated Decapitator, whose job on any long play by the opponent is to yank off his helmet, give it a toss, and roll on the ground holding his head.
*********** Forget the disparaging things I said about Colorado. Now that Colorado is officially a Pac-10 team, SEC teams like Georgia would be wise to avoid playing it. At least not on the road. Best to stay at home and play Charleston Southern, as Georgia just announced it will.
*********** Are there any uniforms more gaudy than Florida A & M's bright orange and green outfits?
*********** Jake Locker showed what he was capable of – 410 yards passing, 110 yards rushing – in Washington's last-second upset of USC.
*********** Does anybody else in the country realize that Northwestern is still unbeaten?
SUNDAY
*********** After a day of college football action, Sunday is such a letdown.
What are the odds that in a 16-game season, two NFL teams can get together and give us a game of the quality of Oregon-Stanford? Or that of any number of Saturday's games?
*********** Don't you think that when they get behind closed doors, NFL executives acknowledge what a dog of a product they have? What a house of cards they've built, on a game that continually mutates into some weird form of stage show? Could anything have revealed their problem more than that Giants-Bears fiasco Sunday night? Watching the Bears ' offensive ineptness reminded me of a bad semi-pro team that only practices two nights a week.
***** NFL offenses are so… random. So haphazard. They just keep throwing crap against a wall and sometimes it sticks. Ho hum.
***** From time to time, the public gets up in arms about travelling and palming in basketball, and baseball's phantom put-out at second base, but in my opinion, officials let a lot more go in the NFL, more than in any sport other than pro wrestling. I can put enough clips together to make my point that if it weren't for holding, the NFL wouldn't have any offense.
***** In the upside-down world of the NFL, Hands and arms are used to block - but not to tackle. What used to be blocking is now tackling. Browns' DB TJ Ward put one of those chickensh—launch jobs on the Bengals' Jordan Shipley and could have killed the guy. Forget the fine. Suspend his ass. Let the NFLPA protest. They're so opposed to an 18-game regular season for fear of all the extra injuries it'll produce. So let's see them defend the kind of cheap shots that can end a member's career. And pass a rule like rugby's - you have to use the arms to tackle.
***** A Giants' runner is stopped at the Bears' three, stood up by a good tackle, and yet a second or two later he's in the end zone. Cris Collinsworth lets us in on his secret: "He kept his legs going."
Yeah – that, and the fact that he was pushed into the end zone by one of this offensive linemen.
Does anybody in the NFL know it's illegal? Does anybody care? Cris Collinsworth is a bright guy - you telling me he didn't see that?
***** When Jack Lambert complained, years ago, that they should start putting skirts on quarterbacks, he had no idea that that was exactly what the NFL intended to do. We're undoubtedly seeing an unprecedented number of roughing the passer penalties; now it's reached the point where even if the quarterback's not hit late, certain parts of his body are off limits. I can see the day when, something like fencers, quarterbacks will be wired, and when they get hit in the wrong place, lights will flash, sirens will go off, and the scoreboard will explode.
***** It was kind of pathetic watching career pro Todd Collins misfire on the sort of passes you'd routinely expect any decent high school QB to make. I found myself wondering – does he actually practice during the week?
***** Whew. How'd you like to have to coach Brandon Jacobs? Last week he's pissed off at something and throws his helmet at the ground (or so he says) but it mysteriously winds up in the stands. This week he bobbles a handoff after making a mistake any well-coached 10-year-old knows not to make (failing to open the pocket wide enough), and when a coach talks to him about it he gives him a scowl that would kill.
***** The Bears are throwing a quick slant. Their offensive linemen stand right up. So, too, do the Giants' defensive linemen, and they raise their arms and bat down the pass. It can't be stupidity. Those coaches know their business. They know that the point is to keep the defenders' hands down.
So is it laziness? Or is it, as I suspect, the offensive linemen's physical inability, owing to their gargantuan size, to block low?
***** One of the few positives, for an NFL-hater like me - notoriously hard-nosed Philadelphia fans gave Donovan McNabb the welcome-back tribute that he deserved. And then McNabb gave the Redskins the win. Damn shame that Michael Vick got hurt. It really changed the game.
FRIDAY, OCTOBER 1, 2010 - "The power to tax involves the power to destroy." Chief Justice John Marshall
*********** Hugh, Right now my team is rolling along, they just couldn't stop our FB dive play, it's amazing. We run 88-0 and 99-0 well, we boot off that and we scored 2 TDs doing that. I'm not running very many plays and the kids work very hard we're 3-0 right now. On another subject, one of our 5/6 coaches doesn't get it - he's running multi-formation/multi-play offense, he's a real knob. He has the parents, players, and coaches, ticked off at him, in short he's a control freak that's out of control. They have not scored a point all year. I've got to go to his practice tonight, tell him it's about teaching not winning. Should I just have him install that double slot package? It's awful simple. Please get back to me soon, I'd love your thoughts.
I've been back in North Carolina so this may not get to you fast enough.
In my experience, you'll have trouble trying to force a guy to run something he doesn't want to run.
You might simply say he has to cut it down and run something that his kids are capable of running. ("I don't care what it is - just find something and run it by me.")
Only if he asks, "Do you have any suggestions?" would I bring up the Double Wing, because if you try to make him run it, he will do everything in his power to prove it doesn't work.
*********** 55 YEARS AGO TODAY…On October 1, 1955, at West Point, New York, Number 6-ranked Army defeated Number 18 Penn State, 35-6. Army's senior quarterback Don Holleder, who after earning All-American honors as an end in 1954 was moved to quarterback, completed only one pass, but it was for an eight-yard first-quarter touchdown to end Don Satterfield.
*********** From my son, Ed's blog, written for a mostly-Australian readership (www.backpagelead.com.au)
The best-attended domestic sports league in the world is -- no surprise here -- the National Football League, which averaged a massive 67,509 fans per game in 2009. Next up was the German Bundesliga, with a very healthy 42,499.
The Australian Football League (AFL), with teams in just six or seven cities (is Geelong a city?), was not that far behind, with 37,790 fans per game.
That's better than the English Premier League, which despite its worldwide marketing prowess, massive television audience, and globally famous clubs, finished in fourth place with an average of 34,158.
Major League Baseball was fifth, at 30,338, and was actually the leader in total attendance, pulling more than 73 million fans through the gates. Of course, each MLB team plays 162 games per season, most of any league in the world.
In sixth place, and probably a surprise to many reading this, is the Canadian Football League at 28,572 fans per game. Canadian football, for those unaware, is similar to American football, with slightly different rules, such as 12 players instead of 11 and three downs instead of four.
The top 10 is rounded out with Spain's La Liga (28,474) , the Japanese pro baseball league (25,926), the Italian Serie A (25,282) and cricket's Indian Premier League.
The big winners
AFL: As most "foreigners" to AFL footy soon figure out, this is one of the most unique sporting situations in the world, with nine of 16 (soon to be 17) teams located in Melbourne. I've heard some say that the only thing similar is soccer in London, and while I get the comparison, it doesn't do the AFL phenomenon justice. After all, London's population is almost twice that of Melbourne, and at the moment, has only four teams competing at the highest level. Just FYI, only two London-based English Premier League clubs drew more fans per game for the 2009 season than the AFL average. Arsenal averaged 59,927 per game and Chelsea 41,422. The other two were Tottenham Hostpur (35,794) and Fulham (21,180).
Bundesliga : Long considered the "fourth" league, behind the EPL, La Liga and the Serie A, the Bundesliga is coming on strong, especially at the gate. Most clubs are following a strong financial model, unlike those in England, Spain and Italy, and many experts think the on-field product will close the gap as well.
NFL: Considering how bad the US economy has been, the NFL has been able to keep its attendance figures -- and its TV ratings -- strong and steady. There's no doubt teams are hurting, but creative marketing and unique sponsorship deals have helped sustain elite levels.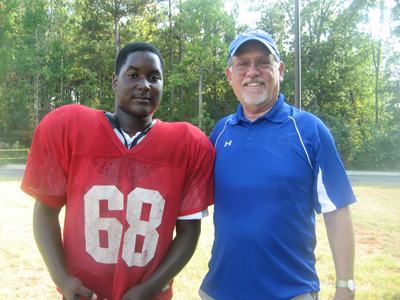 *********** During my visit to Durham, North Carolina last week, I was able to stop by practice at Kestrel Heights School, where my friends Dave Potter and Derek Wade are fighting the good fight. That means introducing a couple dozen youngsters to the harsh realities of high school varsity football. This is their first full season (they played a three-game season last year), and when I visited they were coming off their first win, after three opening losses. Three shutout losses.
Dave said that when they finally scored, his offense came running off the field and he had to tell them to get back on. See, they're mostly freshmen and sophomores who have never played before, and none of them had any idea what goes on after a touchdown.
This week, Kestrel Heights takes on Cannon School of Concord, North Carolina, coached by another coach who has built a program from scratch, longtime friend Donnie Hayes.
The visit also gave me a chance to say "Hi" to Kestrel Heights' 2009 Black Lion Award winner, B.J. McCullough. That's BJ in the photo with me.
*********** Hugh,
Rules question. Is it legal to jam/reroute etc. anywhere on the field in HS as long as the ball is not in the air yet? We had an official tell us that you can not jam a receiver downfield even if the ball is not yet in the air. I thought the 5 yard deal was an NFL only rule.
You were the recipient of bad advice. The "Five-yard chuck" rule was passed by the NFL in an attempt to goose the passing game by allowing receivers to run free in the secondary. Your official has been reading the wrong rule book. He probably never got over the disappointment of not being chosen by the NFL.
In high school (and college) football, until the ball has been thrown, the defender is permitted the presumption that the play is a run, and that any offensive man in front of him represents a potential blocker, and therefore may be fended off - anywhere on the field.
Two conditions must exist:
(1) the potential blocker must be in front of the defender, in a position where he could be construed as a potential legal blocker (since once he is even with the defender he could no longer - technically - throw a legal block on him)
(2) the ball must not have been thrown. Pass interference does not begin until the ball is thrown. Any contact that took place before the ball was thrown (provided it complies with point (1) above) is immaterial.
It should be pointed out that this rule does not apply to defensive holding, which is illegal anywhere on the field (including, as all Double-Wingers know, in the interior line).
The key difference between offensive and defensive pass interference (besides the obvious fact that one team has the ball and one doesn't) is that offensive pass interference can be retroactive to the snap of the ball. In other words, contact with a defender that takes place BEFORE the ball is thrown (such as a pick) will become pass interference once the ball is thrown. That means that if you are a defensive back and that tight end is coming at you six yards downfield, you are allowed to presume that the play is a run, and to deal with him as a blocker.
Hope that helps.
*********** Georgia's AD has cancelled a home-and-home with Oregon, which is not so surprising, given what seems to be the SEC way: blow hard about how tough you are, but make sure you play all your tough ones at home. He is said not to favor playing "high-profile" non-conference games, which probably explains why Georgia will play at powerful Colorado this Saturday.
*********** Eddie Fisher, a South Philly guy, died recently at age 82. The obituary referred to his three "failed marriages" – to Debbie Reynolds, Elizabeth Taylor and Connie Stephens. Not a dog in the bunch.
I wanted to say, "Failed marriages," were they? Hey – he got them to marry him, didn't he?
Listen - A lot of fools have enjoyed blaming Bud Grant and Marv Levy for not winning Super Bowls. Hey - they got there, didn't they?
*********** Just out of curiosity - if you were coaching youth players 9-10 or even 11-12 what defense would you run on the assumption that most in your league were to run either the I or spread formations? I am sold on the 4-4 which is what we used when I was an assistant but am curious what you think is the best for stopping these offenses.
Coach,
The 4-4 is sound and if that's what you know and believe in and you know how to coach it I don't think that I would look any further.
If I were coaching a youth team from scratch I would be inclined to look at a 5-3, for one major reason besides the fact that it is sound and relatively easy to teach: there are three interior line positions that will accommodate a variety of kids from the big, slow ones to the little, quick ones.
At age 9-10, I doubt that a spread team is going to beat you by throwing the ball every down.
*********** Hugh, saw your news today, glad you got to see a game back east, the tough part in my mind is you are not coaching and to me that is something not quite right. Any way for me this is going to be rough, it is not because we are down to our 9th grade QB for a varsity game that is what sometimes happens, no this is the week where we play (my former school) and my oldest will line up across the field, it is so hard and i feel so much anger, but not at the fact my kid is at (my former school) it is because why I am not there with him, I am staying focused on what I need to do or my job in coaching and just keeping it suppressed, but I guess it is what it is. Have you ever ran across this before in your coaching travels, I just don't know anyone that has. Well, enjoy the south and I will let you know how it transpired, no I won't be like the coach back east that mooned the crowd after he was kicked out of the game, that was strange.
I can only imagine how you feel.
For the first time in my life I went through something similar this past Saturday as two teams I have really pulled for over the years, against terrible odds, faced each other. We arrived Wednesday. On Thursdai I wore Duke blue. At noon Friday, I changed to Army black, gray and gold. On Sunday, I changed back to Duke Blue.
I was happy as hell to watch the way Army played. I hurt like hell to watch those Duke kids lose.
So it must be twice as tough for you.
*********** Good Morning Coach,
I hope all is well. I am in the process of trimming and editing game footage and would like your advice.
Is it possible to highlight or produce a circle around a player for a highlight film using imovie?
Thanks for your website and materials.
Max Fuentes
JV Head Coach Rio Americano HS - Sacramento, California
Coach Fuentes - it is possible to do what you want with iMovie but you have to do it in post-production.
For that, you need two additional things: (1) Photoshop, or Photoshop elements (the latter is just as good for this purpose and not nearly so expensive); and (2) QuickTime Pro. For $29.95 (buy it at apple.com) it's the best investment you'll ever make.
Here's how I would do it:
Using iMovie, I would put the video material from which I intend to make the clip in the timeline. I would then make a title, either "on Black" or over a still of the first frame. I am going to assume that you are familiar with how to do that (EDIT>CREATE STILL FRAME)
Whatever I chose to do for the title, I need to create a still of the first frame - Three to five seconds ought to be plenty long enough - where I'll put my yellow circle.
Now, highlight only the clips in the timeline needed to produce your movie and go to FILE>EXPORT
From the window that appears, choose QUICKTIME and choose COMPRESS MOVIE FOR FULL QUALITY
Check SHARE SELECTED CLIPS ONLY and then hit SHARE
It will ask you to give it a name (Let's call it POWER PLAY) and ask where you want to save this mini-movie you've created
Actually, you've created a QuickTime file, a movie which has all sorts of uses. For example, every video that I use in my videos and in my clinics is a QuickTime file.
NOW you need to make a circle. (You'll only have to do this once.)
In Photoshop, go to FILE>NEW>BLANK FILE
Choose a width and height of 170 pixels... Give it a name like YELLOW CIRCLE and then click OKAY
Now, using your ELLIPTICAL MARQUEE TOOL, go up top to MODE. Choose FIXED SIZE, and choose HEIGHT 150 and WIDTH 150
Now, once you start to draw inside the blank file, you will get a perfect circle, 150 pixels in diameter
Center the circle inside the square so it doesn't hit the edges
Now, got to EDIT>STROKE SELECTION, and then choose COLOR (yellow), WIDTH (5 Pixels) and LOCATION (center) and hit OKAY
You should see a yellow circle in the square
NOw, choose FILE>SAVE AS and when you see FORMAT, choose PHOTOSHOP - then choose the location for this new photoshop file ("YELLOW CIRCLE")
Now you're ready to go to QuickTime.
Open QuickTime... Go to FILE>OPEN FILE and open POWER PLAY and then do the same with YELLOW CIRCLE
Go to YELLOW CIRCLE and click COMMAND-A (Select All), and then COMMAND-C (copy the selection)
Go to POWER PLAY and find the 3-5 second still of the first frame. Put the left-hand locator cursor (on the bottom of the time line) at the start of the still and the right-hand locator cursor at the end of the still (move them by clicking on them and dragging them) ; you have now "selected" the area between the two locator cursors
Now, go to EDIT> ADD TO SELECTION AND SCALE
Nothing will seem to have happened, but when you drag the main cursor (the one on the top of the timeline) back to the start of your selection, you will see, in the upper left-hand corner of the still frame, a white square with a yellow circle.
Now, there are two things left to do: (1) Remove the white part of the square so that all that's left is the yellow circle, and (2) locate the circle where you want it. You may also want to re-size the circle, but 150 x 150 is a pretty good starting point.
Go to WINDOW>SHOW MOVIE PROPERTIES
You will now see a window and on it "Video Track 1" - that's the main movie - and "Video Track 2" - that's the yellow circle
Highlight "Video Track Two" and then, down below, click on VISUAL SETTINGS
In the new window, at lower left, from the pull-down menu next to where it says, "Transparency," choose "Straight Alpha"
Voila! The white is gone and you're left with a Yellow Circle
Now to position it where you want it... see where it says "Offset?" The boxes next to it represent the distance to move it (in pixels) from its current location
The left box moves it to the right (or back to the left if you go too far) , and the right box moves it down (or back up if you go too far)
Find the correct position and save the whole clip. You're done.
UNLESS - you want to make the circle larger or smaller. If so - go to "scaled size" and type in the desired size
NOW you can save your clip.
Trust me - Once you've made your circle and saved it, and once you've done this a couple of times, it won't take you as long to add a circle as it took you to read this.
Hope that helps.
*********** What is your policy about bringing sophomores up to play varsity? I can understand if you identify a sophomore in the beginning of the season and you bring them in from the start. But what if you are halfway through the season and your sophomore kid is a team leader on the JV and really enjoying his season?
Coach
That is a tough one which is on a par with a major league baseball team pulling up a guy late in the season when his triple A team needs him badly. Ideally the player stays with his team but the reality is that everything is based on the success of the major league (I.e. varsity) team.
*********** My middle son played his 8th grade game today and this is his first year at FB/ he is used more for blocking, but he did carry the ball today and he fumbled twice/ I asked him how he has been coached to secure the ball, etc etc... The problem is he hasn't been taught. Showed him the picture on your website and then talked about position of the ball and the 4 points of pressure and carrying 2 hands through the line, I felt I was talking Greek to him, so he needs to work on it and I hope his coaches do...
Poor coaching. There isn't a high school kid I've ever coached – back or lineman – who couldn't show you the four points of contact between the ball and the body – hand over the point), forearm, biceps, ribs.
*********** To give you some idea of the sort of program Stanford's two-way stud Owen Marecic comes out of… Jesuit High of Portland is rock-solid, a state contender every year. And Jesuit's coach Ken Potter, himself the son of a longtime coach who won a Washington state championship in 1980, is definitely a no-frills coach. He lines up in the I formation and runs it at you. And at you. And at you.
There was no better demonstration of this than Jesuit's game two weeks against archrival Central Catholic. Down 21-17 at the half, Potter decided to go basic - really basic - opening the second half with two ground-pounding drives, the first covering 91 yards in 15 plays, the second 57 yards in eight plays. 23 plays, 148 yards.
Now, here's what sets Ken Potter apart from so many of today's dink-and-dunk, grab-bag coaches: the same kid carried on every play of thoe two drives – 23 straight carries.
In all, he carried 46 times – 31 times in the second half – for 294 yards.
Always remember this important lesson that some coaches never learn:
Make them stop you. Don't stop yourself. it's not your job to stop your team – it's their job.
*********** My son has never been a back he has always been a lineman and now that his body has changed and he has gained speed, he is now getting a chance to be in the back field and to play LB and we talk about his LB reads and drops etc etc it is the same story, Dad I just have this Gap and then I go to the ball. I just hope in time if it is not me coaching him then it will be somebody who does know the basics. Just like my oldest watching him on film, he doesn't finish his blocks and he is never been taught board work/ 12 steps and so on, and his line coach played at (a major college) in the late 90's and all he understands is zone concepts, don't even have me tell you what he has to read as a blocker when he pulls on counter: if the TE engages the end they are kicking out on, he pulls around the block and wraps up to next level. Talk about screwing with a kid;s aggressiveness and being physical, I will get off the box now!! Sorry!
It can be very frustrating watching someone else coach your kid when you really do know better.
Now you know why college coaches' kids seem to wind up in certain programs. Those guys know enough to scout around and check out the high school coaches.
*********** My grandson grew up in North Carolina and now he's a freshman at Villanova. He's surrounded by easterners – nothing wrong with that – but he says they just don't care about college football - their own college or anybody else's. Says it's all about the NFL.
Gag me.
*********** Stanford and Oregon had to go and keep winning, so now their game this weekend, which was going to be 8 PM Pacific (11 Eastern), has been switched, on a week's notice, to 5 PM Pacific (8 Eastern) so all those easterners who love their NFL can watch it.
*********** Can't say I felt sad at the sight of Sebastian Janikowski wailing after missing a last-second field goal attempt.
*********** Yes! Justice!
Atlanta beat New Orleans when Sean Payton coach called one of those "gotcha!" time outs - and the kicker missed! And then made the second.
If the NFL competition committee doesn't do something about this nonsensical rule, it isn't looking out for the good of the game.
*********** Is it me, or is the NFL game even worse than usual? Way too many plays are being called back because of holding penalties and yet there's no way officials can cut back on the penalties – not when you see replays and see how flagrant the holding was.
I keep hearing about coaches "taking it right to the edge," as if they have some sort of rheostat that they can use to dial "MORE HOLDING" or "LESS HOLDING." From time to time, some of them even blurt out the dirty little secret that they're willing to take the chance that they'll get caught. What the hell? It's only ten yards. And what are the odds we'll get caught, anyhow?
My suggestion is to make the penalty stiffer: go back to levying 15 yards for offensive holding. Yes, it could lead to more sacks. But trust pro coaches, who are paid millions to solve the problem the same way you and I would: (1) Keep an extra blocker in; (2) Look for more mobile quarterbacks.
*********** A few of the obituaries of George Blanda made reference to his being part of the long string of quarterbacks coming out of western Pennsylvania.
To review: Johnny Lujack, Babe Parilli, Blanda, John Unitas, Joe Namath, Jim Kelly, Dan Marino, Jeff Hostetler and Joe Montana. And let's not forget Sandy Stephens of Uniontown, first black man to quarterback a Big Ten team (Minnesota).
George Blanda, by the way, had a younger brother, Tom, who played at West Point, and passed away five years ago.
http://usma1961.westpointaog.com/Blanda.htm
*********** Coach Wyatt, Just a little update. We finally pulled the trigger on the 88 G reach. We ran it as our first play of the game, 65 yard touchdown! We are 3-0 and have scored 92 points so far. Superpower is still our bread and butter.
Thanks for all the help, 4 years and still going strong!!!
Matt Marrs,
Imperial, California
Glad to hear the sweep is working. With speed, it is a major weapon, but even without speed, it warns defenses not to pinch in too tight to try to jam up Super Power!
*********** Starting in 2013, Texas-San Antonio will play a three-game series with Oklahoma State. That same year, Lamar will visit OSU.
Interesting how OSU jumped all over these brand-new programs. It reminds me of high schools I've taught at, where every fall the lecherous senior boys would immediately hit on the freshman girls.
*********** (You wrote) When we were kids (back in the Dark Ages, when parents didn't love their children but we never bothered to worry ourselves about why they didn't), if anybody's parents had ever so much as shown up at the field when we were playing a game, it would have confirmed our suspicions that there was something wrong with him. But forming a f—king tunnel?
Imagine. Kids being worshipped, simply because they just finished playing a game. After several years of that, you think you're going to be able to convince them that schoolwork is more important than sports?
Coach Wyatt,
My parents would have been ostracized today for their behavior back in 1990. Mom and Dad made sure to come to parents night, and 1 other home game (if the weather was nice). My most common memory is getting home from a game after 10 or 11, Dad would be working on something in the garage, we would talk about the game and all. Mom would have some supper, she was busy with "Mom" things. She would ask about the game and how I did.
I can't see them making a tunnel for us to run through, and I don't think they loved us any less for it.
Take care,
Mick Yanke
Cokato, Minnesota
Actually, my dad came to all my HS games. Not sure if my mother ever did. He sat in the stands and kept his mouth shut. He did not come to practices. And when I was younger he never stopped by the fields where we played football and baseball (imagine - playing the sport that's in season!) He was at work, and my mother was fixing dinner. They didn't come to us. We came to them - when it was dark, or when it was time to eat.
*********** It't not every coach that's fortunate enough to have TWO Black Lion Award winners on his team, but as you can see, Coach Rick Davis, of Duxbury, Massachusetts is one such coach.
He sent me this photo of the four captains of his Duxbury Dragons, two of whom are wearing their patches. From left to right: George Rovegno #60 (LT), Ryan Massa #40 (FB/DE; "has about 5 to 6 pancake blocks/game"), Cam Smith #50 (C/NG), and Brad Backlund #33 (C back, TE, DE, CB; "had 2 interceptions last week in his first game at cornerback"). The comments are Coach Davis'.
The Dragons are "Pee Wees," 4th and 5th graders (10/11 year olds).
*********** Christopher Anderson writes, from Arlington, Virginia,
A blogger buddy of mine writes a column called "This Week In Schadenfreude" documenting the rantings of angry fans. Notre Dame is a frequent victim - last week he unearthed this from the delusional ND Nation forum:
"My 11 year old thinks ND football is a joke. She can't grasp why they are even on TV. She said it tonight. "Daddy, why does anyone care about Notre Dame? Have they ever been good?" Basically there isn't a kid alive today that has ever seen real ND football."
Daddy has not done his job. If Daddy is worth a sh-- and he's a true Notre Dame fan, the kid would already know why Notre Dame is on. In such a way is culture transmitted.
PS- "Schadenfreude" is a German word meaning, basically, "enjoying someone else's misfortune."
*********** The Saints have signed John Carney to do their kicking. John Carney is 46 years old. But what the hell -all he has to do is keek de bol. If that doesn't tell you how increasing reliance on kicking specialists has perverted the game of football, I don't know what will.
Meantime, across the street from where I live, I see soccer players practicing placekicks, in hopes of someday "playing football."
I'm tellin' ya – when I become King, the second thing I'll do - right after I've eliminated all illness and suffering – will be to order the NFL to pass a rule specifying that no one on a team may kick the ball – in any manner – more than once in any game.
Think that won't return excitement to the game?
*********** Coach Wyatt,
Can I still purchase a copy of the book "Football as a War Game?"
I know that Dr. Kozar recently passed away and do not want to be a burden to the family. If this is no longer an appropriate manner to purchase his book, then could you help point me in the right direction?
You can, indeed, still purchase a copy of "Football as a War Game." It is best to contactFalcon Press, in Nashville.
You can call: 615-833-2300 and order over the phone
Or you can e-mail Cathy Viola: cathy@falconpress.net
Price is $74.95 + shipping.
I certainly appreciate your concern for Dr. Kozar's family. The book represents a major part of his life's work and I'm sure that they see it as a means of keeping his memory alive.
He was quite a man and it is quite a book. To read more about it:
http://www.coachwyatt.com/may10.html (Scroll down to May 4)
*********** Hi Coach Wyatt,
I must be a step behind...just got my copy of "Blood, Sweat & Chalk" by Tim Layden. Nice research by Layden on how your WildCat formation impacted Single Wing football. Congrats...
It's impacted my team, as well...5-0 with a big conference fight tomorrow. We've outscored folks 219-0.
Best,
Ed Campbell
Land o' Lakes, Florida
*********** On Monday the Tampa Rays, with a chance at a playoff spot (big f—king deal), drew a season-low 12,446 fans.
Oh, dear. That offended millionaire infielder Evan Longoria. "What else do we have to do?" he pleaded. "It's actually embarrassing for us."
Actually, Evan, "embarrassing" would be taking millions to play baseball while more than 10 per cent of the people in your area are unemployed…and then whining because they don't think it's worth the (inflated) price of a ticket to go watch you play.
*********** In all my years of playing and coaching, I've never seen hurdling called… Not until I got this, from Pope Franjo…
This is one of the current high school sensational plays on YouTube.
East Liverpool is not far from Pope Franjo's home turf. Struthers is near Youngstown.
The hurdle is against Ohio high school rules and was called back.
http://www.youtube.com/watch?v=JvTwxIZZOkc&feature=related
Marky Thompkins, quarterback of Ohio's East Liverpool high school, scored a near-touchdown on an incredible run up the middle during his team's OT 28-21 victory over Struthers last Friday. Thompkins took the snap and ran out of the pocket to his left. When he saw a hole, he bolted up the middle and hurdled over defender and ran into the end zone.
While the touchdown was called back, the play was still quite impressive.
*********** A long-time Double Wing coach writes: One thing that I finally realized was hurting us and got corrected this week is that some of our linemen were aligning with a rather wide base in their stances (think duck footed). So although we had no splits with our feet, there were decent sized seams between their hips and shoulders that would facilitate defensive penetration. Our stances are much more narrow now and you can really tell the difference.
I noticed it this year with our RT. tackle who struggled to protect his inside gap. Believe it or not, my wife saw film of us and said "your double wing doesn't look as tight as it used to." So we reinforced the narrow stance thing and is seems to have helped.
Very interesting observation regarding the wide stances and the way they defeat our purpose. I've always fought against wide stances for another reason - because of the way they limit the all-important first step, but this is another thing entirely and I never gave it a thought! Your wife may not know everything, but she sure knows something!
*********** Damn. A friend had to ask me whether I was pulling for Oregon or Stanford.
He had to ask me that. I thought I was over that sort of conflict after last weekend's Duke-Army game.
I guess I'm just hoping that whoever wins will run the table afterwards. I really like Owen Marecic, Stanford's LB/FB. He and Oregon LB Casey Matthews were once teammates on a youth team coached by Casey's father, former 19-year NFL player Clay Matthews.
And I like Stanford QB Andrew Luck. He and Oregon QB Darron Thomas (also from the Houston area) have faced each other before, in a Texas HS playoff.
*********** Back in March, a New Hampshire high school student in an electrical trades class attached an electrical clamp to one of his nipples while another student attached another clamp to his other nipple. And then a third student plugged in the cord. Beavis and Butthead stuff, right?
The kid was critically injured, shocked so badly that his heart stopped.
Now, he and his parents are suing his teacher, the school district, and the town, contending that he suffered brain damage as a result of the teacher's failure to warn his students about the dangers of, um, the kind of damnfool stunt they went ahead and did.
My question: "Brain damage?" Are they sure this wasn't a pre-existing condition?
And to think that this f—ker's vote counts the same as mine!
Rock the vote, my ass. "The ignorance of one voter in a democracy impairs the security of all." John F. Kennedy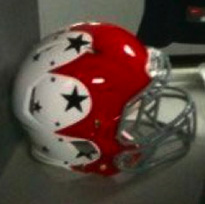 *********** It may look like something out of an XFL surplus store, but watch for it Saturday when Air Force plays Navy. Rumored to be the helmet that Air Force will wear, it's based on the paint job of the planes flown by the Air Force Thunderbirds. Considering that Air Force has lost seven straight to Navy, how can it hurt?
*********** Whew! Am I glad I live on the West Coast - because I got to see the finish of the Texas A & M-Oklahoma State game, a game that changed momentum three times in the last two minutes of play, with A & M driving for the winning field goal, then Oklahoma State intercepting an Aggie pass with 22 seconds left and kicking the winning field goal with 2 seconds to play. Final: Oklahoma State 38, Texas A & M 35.
*********** It's that time again. Sunday, there will be pink ribbons on the NFL footballs; the refs will be blowing pink whistles; the teams will use pink towels; and the players will all have pink chin cups.
The man has not yet been born who can say "No" to the Powerful Pinks.